Trip Report: UA P.S. Business Class SFO-JFK-SFO

Date:
Saturday 3 September 2005
Route:
SFO-JFK
Flight:
UA22
Equipment:
B757-222 (N532UA)
Departure Time:
13:10 (Actual: 13:08)
Arrival Time:
21:40 (Actual: 21:28)
Cruising Altitude:
FL390
Seat:
9A
As the tail end of the year comes around, committed frequent flyers begin to do their accounting: how many miles have I earned so far? How many additional miles do I anticipate flying? Will that be enough for the particular status tier I want to attain?
And so as I arrived in SFO for this Labor Day weekend, I did an accounting and determined that, based on projected travel through year's end, I would be just a few thousand miles short of Premier Executive 1K status with United. This called for some creative accounting, otherwise known as a mileage run.
One of the best runs for the money, barring unusual deals, is a transcontinental return trip: out Saturday afternoon and back Sunday morning. Most people who travel on the weekend have left by Saturday morning and don't want to return before Sunday afternoon, so there are usually many seats and lower fares available. I was able to book on United for $266, return.
Best of all, the flight would be on United's P.S. – Premium Service. In the past year, United replaced its aging 3-cabin B767-200 fleet that had been the backbone of the SFO/LAX-JFK service. Because of various corporate travel contracts in place, along with stiff competition from American, United had to maintain a 3-cabin service but did not have available widebody aircraft to pull from their international fleet. So they created a sub-fleet of B757-222s that instead of the usual 24 F / 158 Y seating mix has 12 F / 26 C / 72 Y+.
UA's P.S. configuration

Boarding pass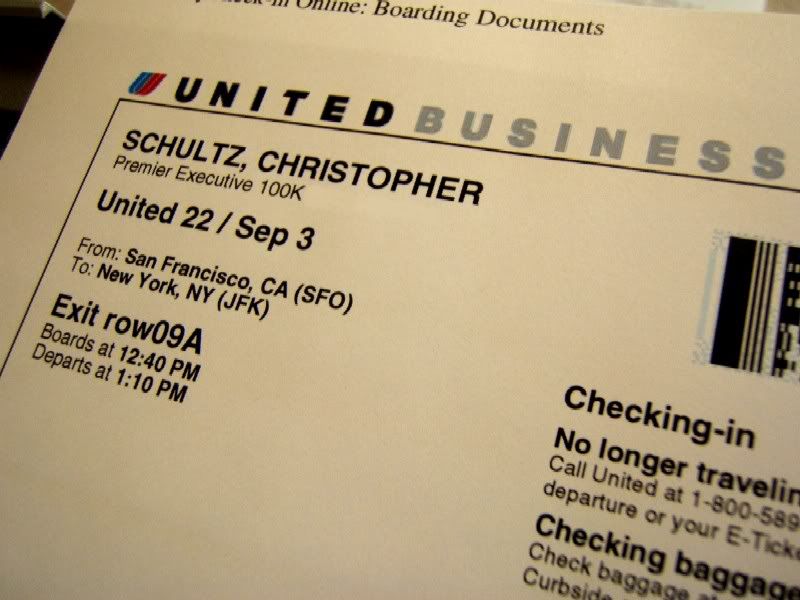 Saturday morning dawned foggy and cool; typical San Francisco summer weather. I had already printed my boarding pass the day before, so didn't have any sense of urgency in getting to the airport. My friend Bob, with whom I am staying on this trip, is a morning person and was already awake at 7:00 so I suggested that we catch breakfast before I headed to the airport. A short cab ride later we were at Miss Millie's restaurant on 24th Street in Noe Valley – a great breakfast restaurant and well worth seeking out when you're in SF.
After breakfast, I packed a change of clothes into my backpack. A ten-minute walk to the 16th Street BART station took me through the heart of the Mission District, a neighborhood undergoing the tension of gentrification. Just over a year ago, BART (Bay Area Rapid Transit) was extended all the way to SFO – some thirty-plus years after it opened. The extension is very convenient and less than a half-hour later I was deposited adjacent to the international terminal at SFO.
BART train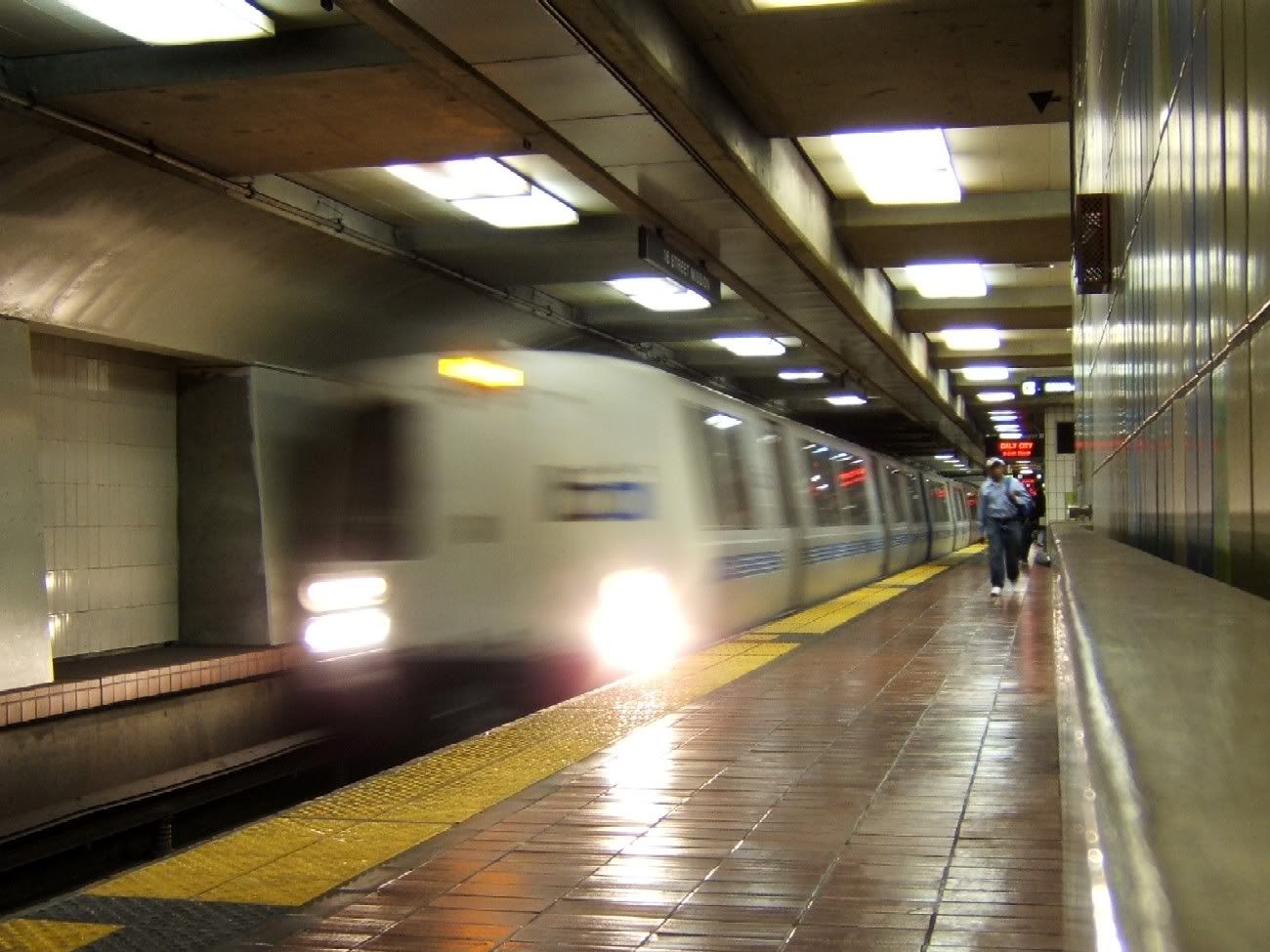 BART pulling into SFO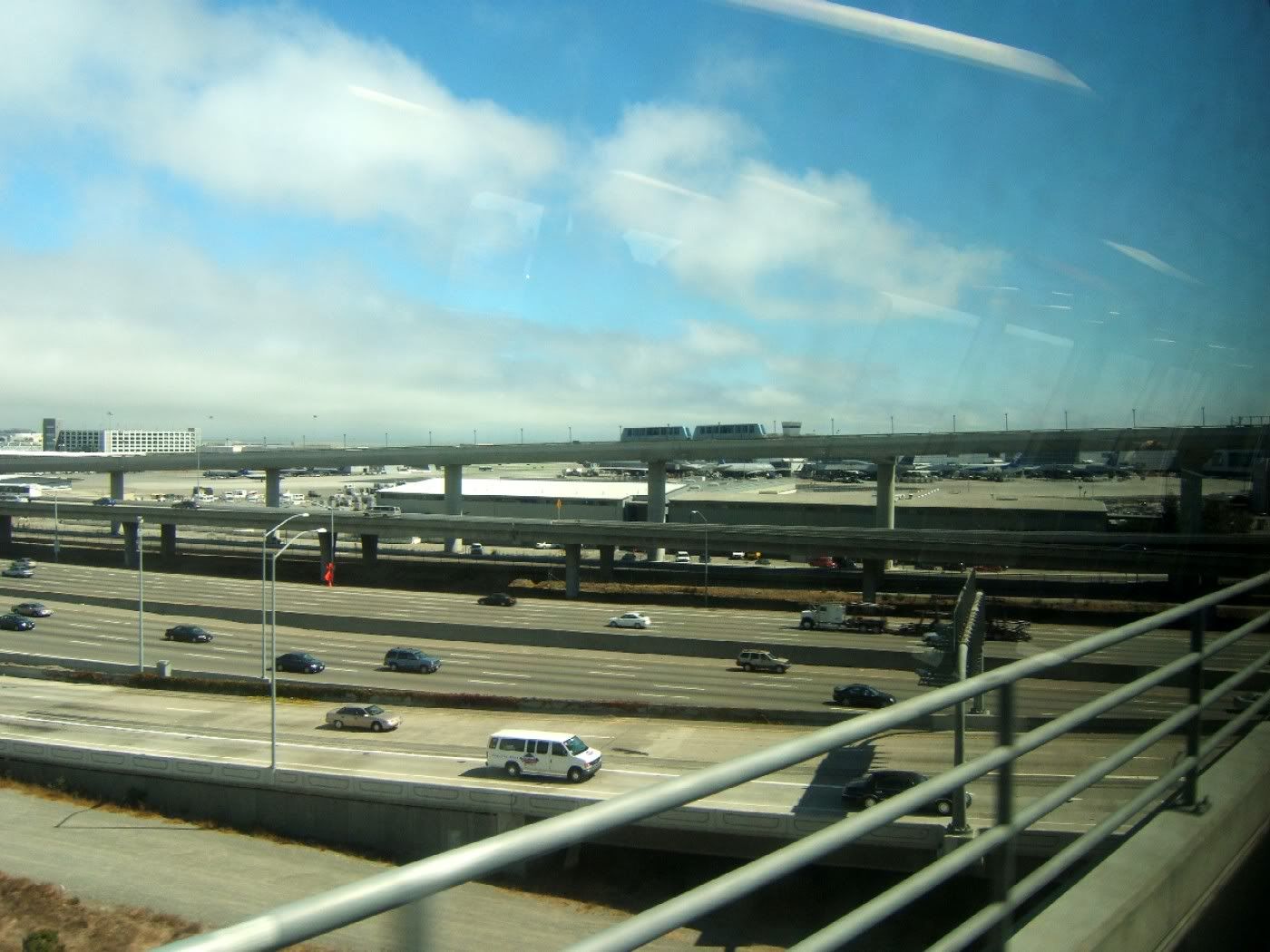 Having already checked in online and printed my boarding pass, I had some time to look around. The international terminal was already bustling as passengers checked in for the Star Alliance flights to Asia. There is a good public art project at SFO and there was a display of glasswork, including some large glass fruit.
The architecture of the international terminal is fantastic: the soaring, cantilevered roof mimics the shape of an airfoil, and the check-in lobby is bright and airy. A stand of bamboo, rooted in the arrivals level, climbs several stories high. The wood paneling on the back wall gives the area warmth not found in many of these steel-and-glass terminals that are all the rage today. This effect is similarly employed at ICN, where wood floors soften the cold lines of the steel.
Art on display: glass fruit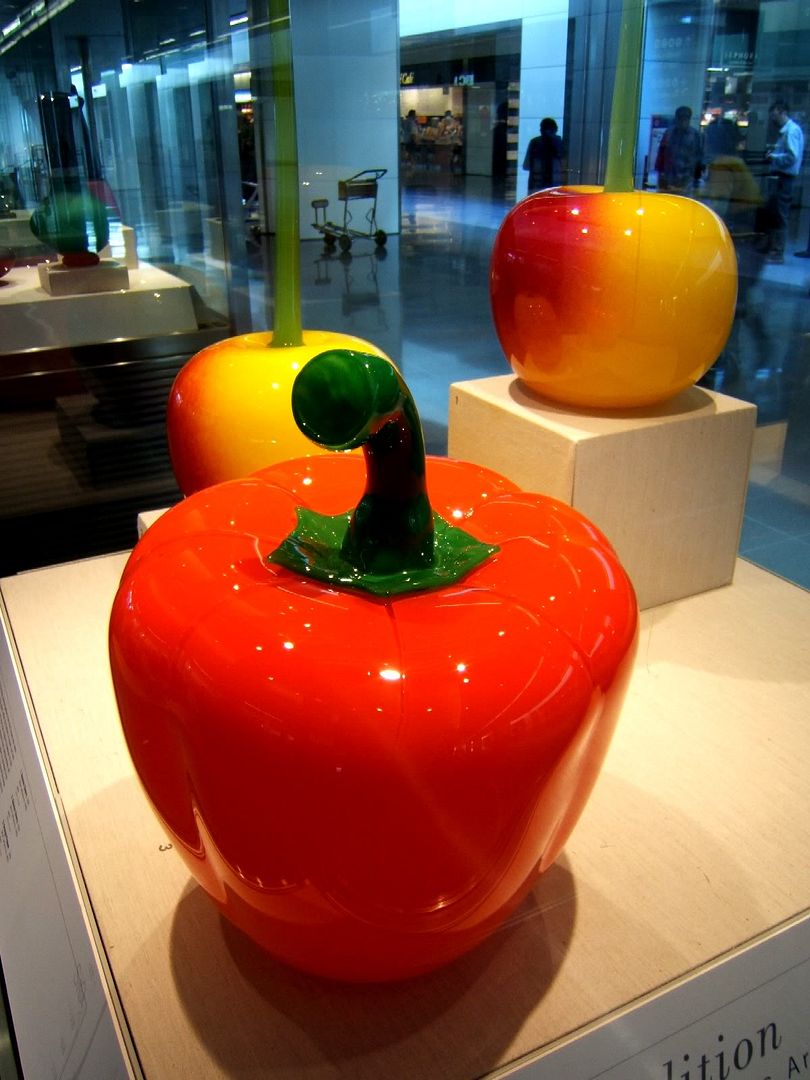 SFO international terminal with a small fleet of B777s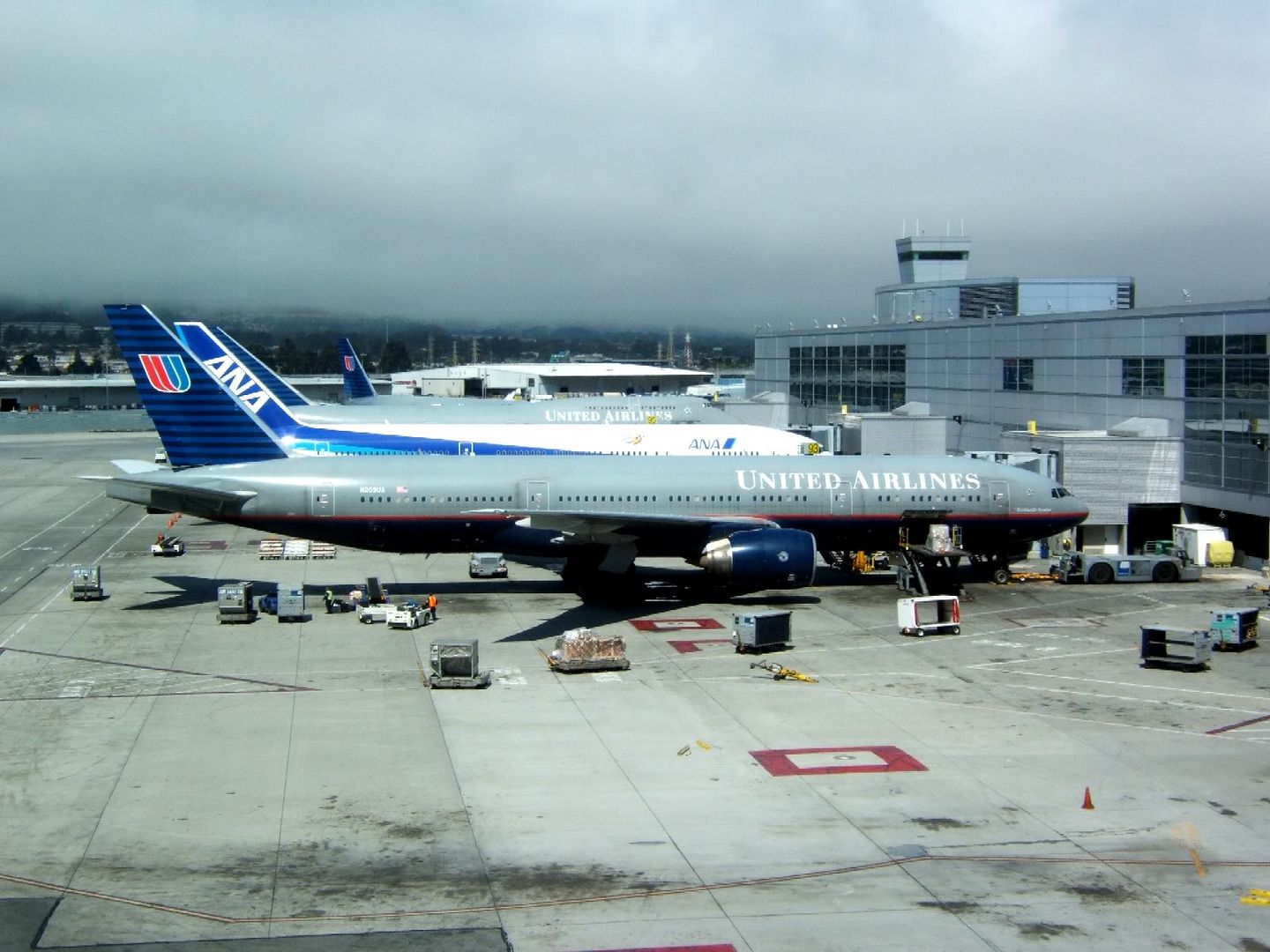 After taking some pictures and depositing a few post cards in the mail, I proceeded to the secondary security checkpoint. For those of you traveling on UA at SFO, there is a smaller checkpoint located at the end of the Terminal 3 ticketing lobby, right near the walkway to the International Terminal. This checkpoint is only busy for a brief while around 9:00 – 11:00 as passengers arriving from Asia connect to domestic UA flights. The rest of the time, the checkpoint is nearly deserted. It probably took less than 60 seconds for me to clear security. If only it was always that easy.
Walking through the terminal, I stopped several times to take pictures. The gates used by Ted, United's "low-cost" unit, are located right by the secondary security checkpoint. So I took some pictures, admiring the eurowhite color scheme and gold tail.
Ted A320-232 pushing back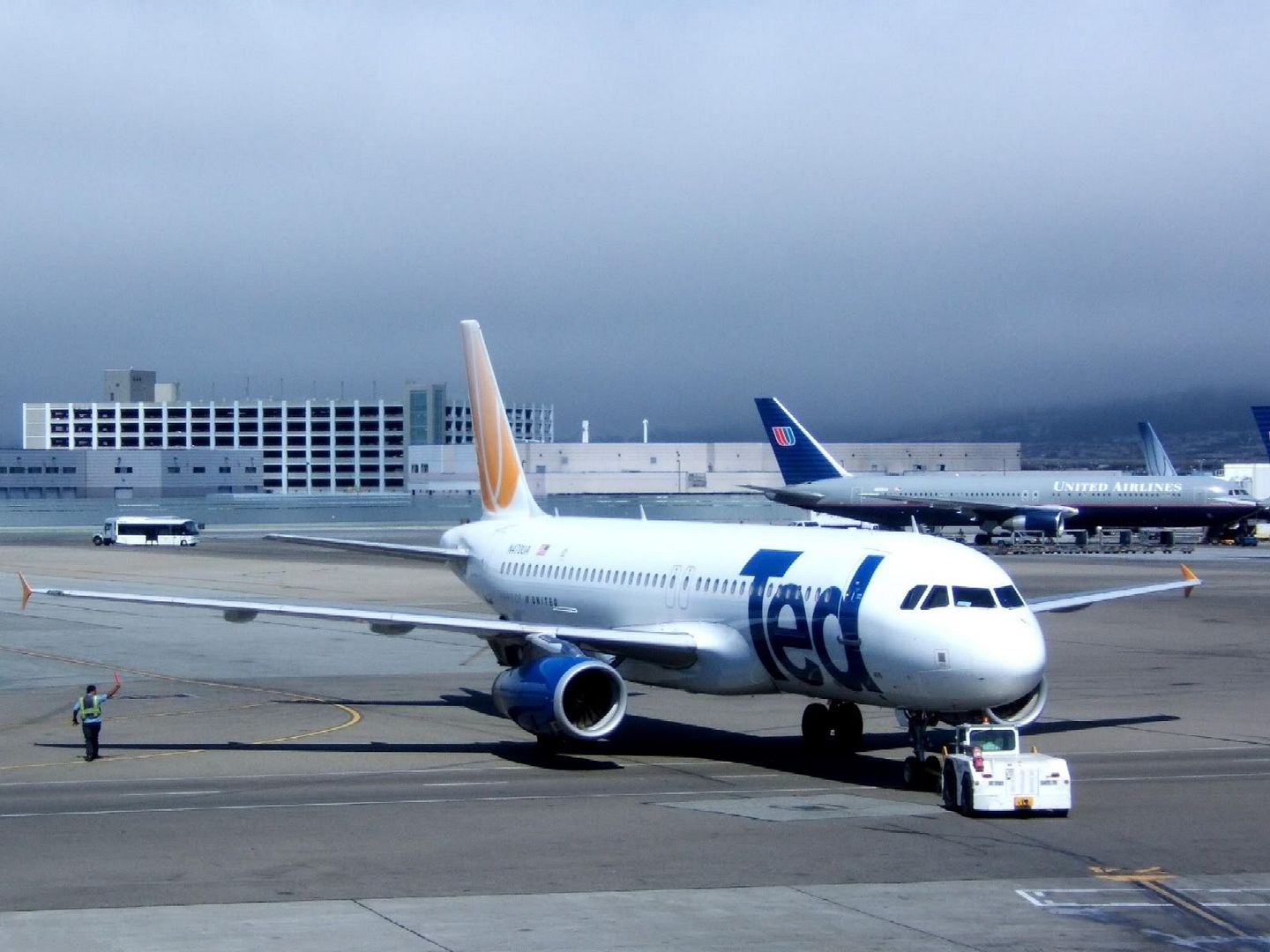 Ted A320-232 with a B777-222 in the background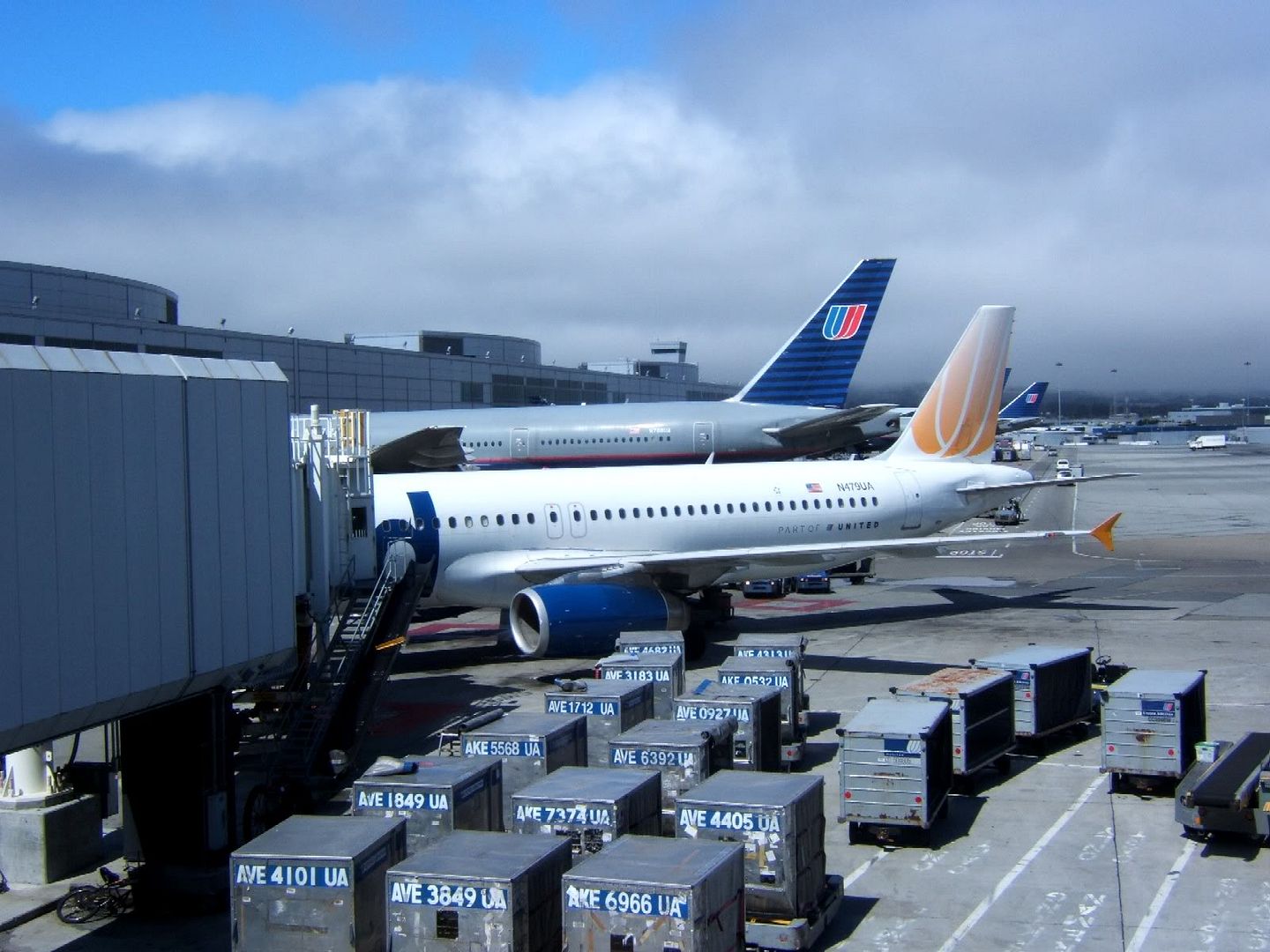 I continued to the Red Carpet Club to finish writing the MCI-DEN-SFO trip report from my trip out to the coast. Checking in with a customer service agent about my seat assignment on Sunday's return flight, I learned that my upgrade had cleared and I had been assigned to row 7. Row 7 is one of those weird rows that has only one window. While it is placed conveniently enough and does offer a good view of the engines, I really wanted to enjoy the spacious exit row and so she kindly reassigned me to seat 9D.
The business corral area of the SFO Red Carpet Club is usually quiet and a good place to work. The view of some of the gates is quite good, and I saw an A320 that looked like it was wearing a bandage on its tail. Unfortunately, the lounge doesn't offer a photocopier, printer, or other amenities. Comparatively, the Air Canada Maple Leaf Lounges usually have really good business facilities. One, in the US departures area at YVR, is so good that I usually schedule myself for an afternoon departure and will just work for several hours beforehand in the lounge.
Bandaged Airbus
A picture of this plane from July 3 shows that the "bandage" has been there for a few months
View Large
View Medium


Photo © Mark Kopczak
After I finished writing my trip report I decided I didn't have enough time to upload it as there are always a few edits that I need to make before final posting. So I wrapped up my work and took a walk around the terminal to shoot some blue and grey aircraft before UA repaints everything to the "jetBlue" knockoff color scheme.
Recently-remodeled rotunda area in Terminal 3 – note the new food court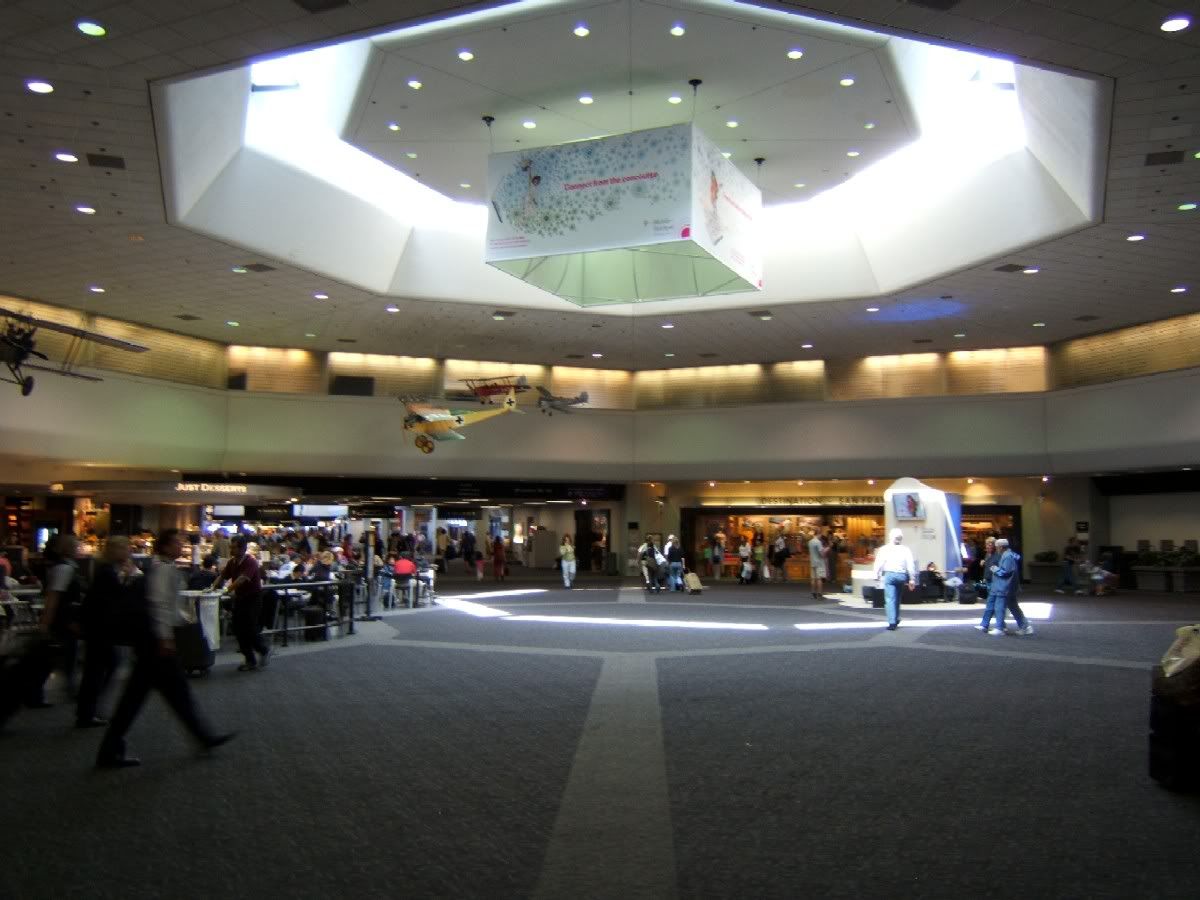 B777-222 departure to Denver later this afternoon
B747-422 to Denver – I'll be on this flight Tuesday morning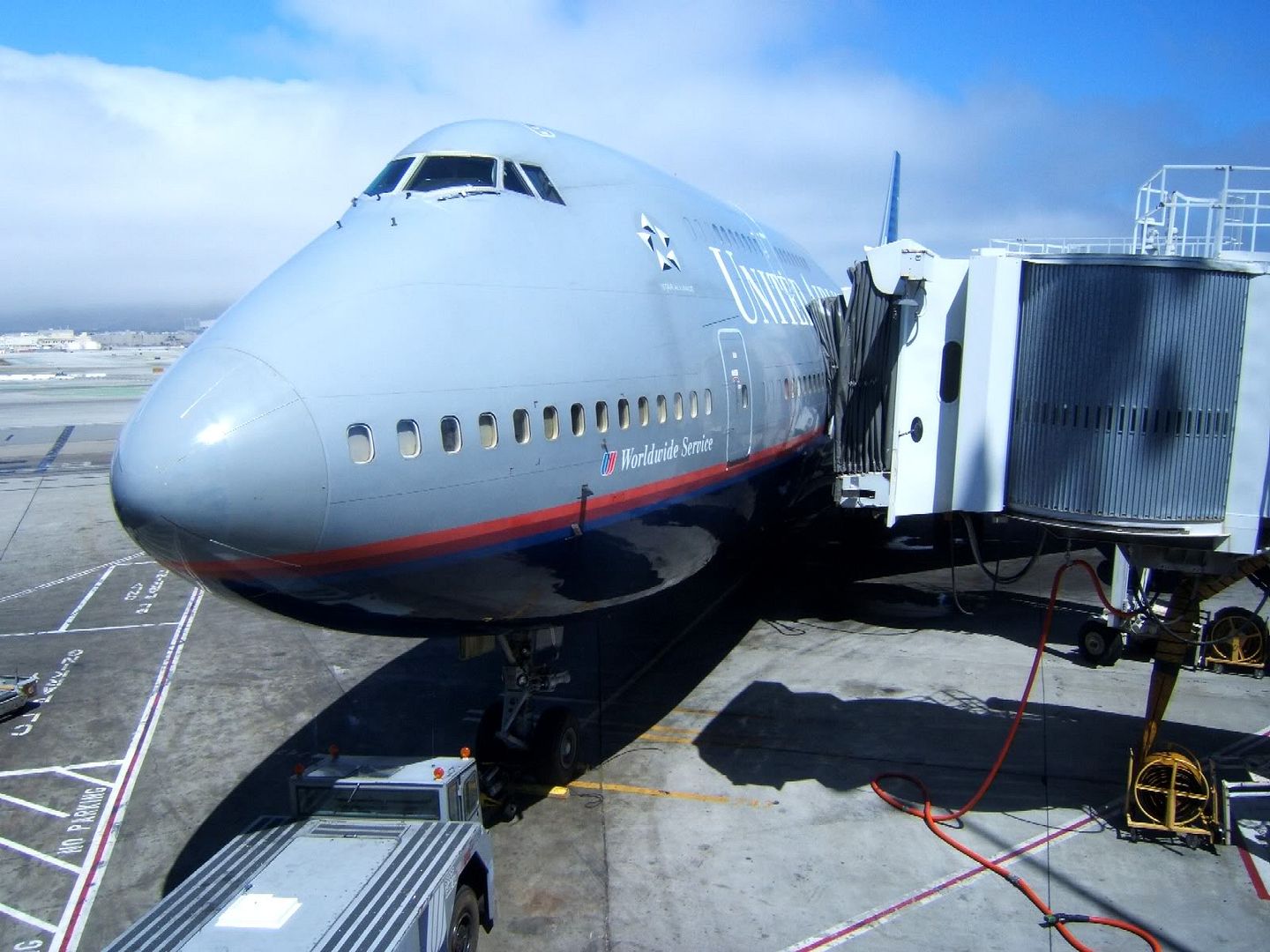 One of the many UA B757s at SFO today (N590UA)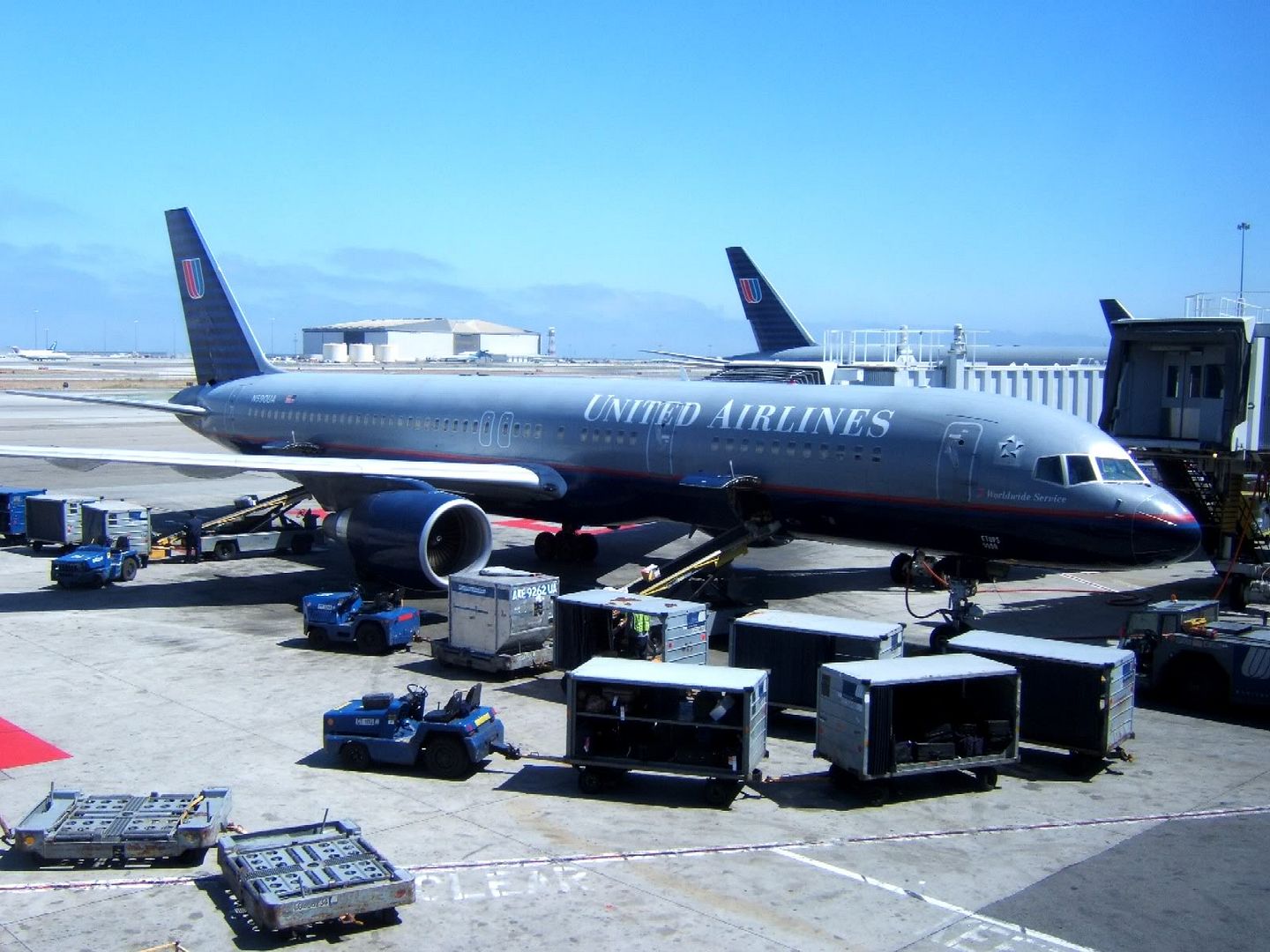 Terminal 3 at SFO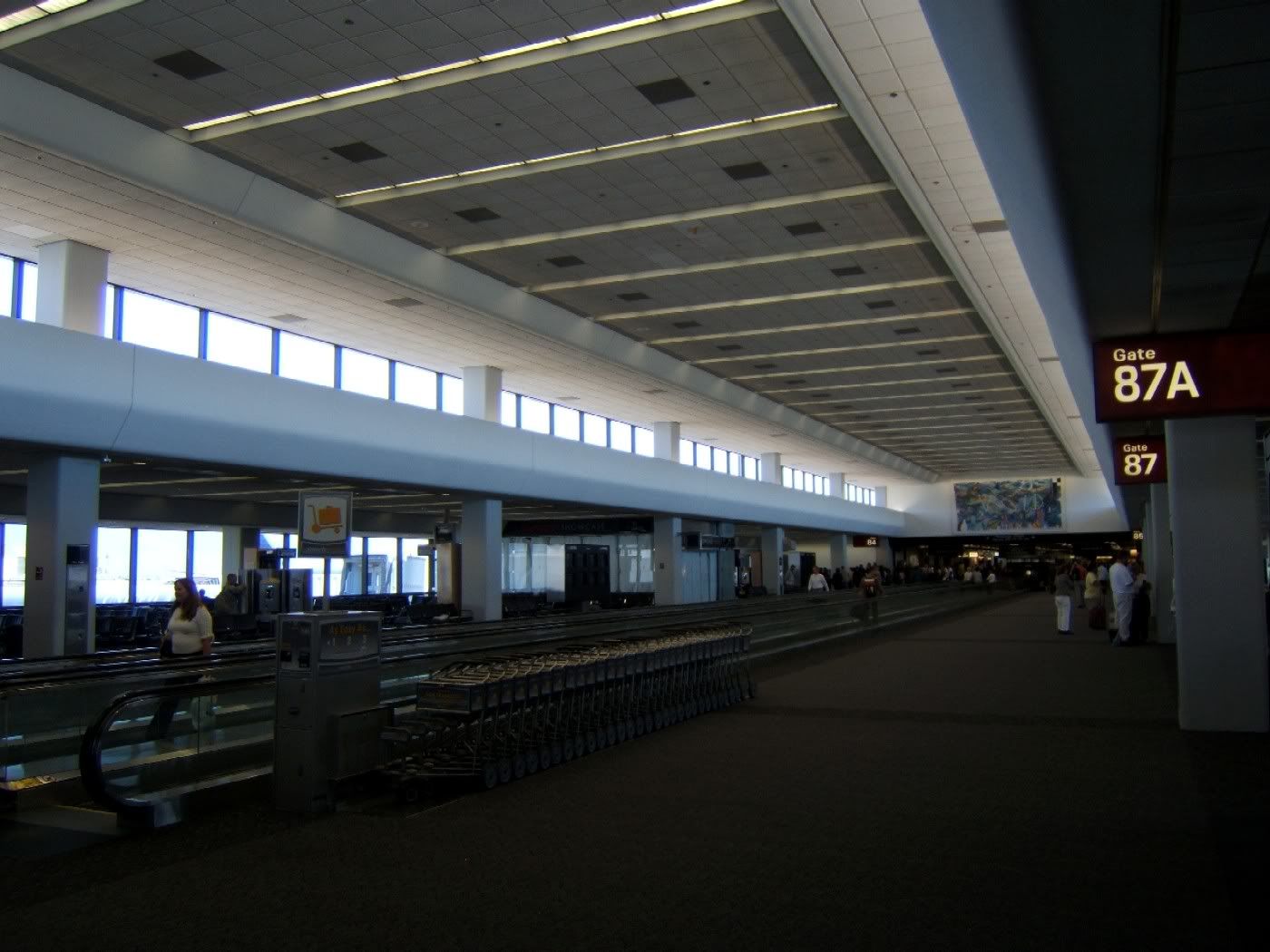 Today's flight was departing from gate 90, the last one on the pier. There were still a few minutes before boarding so I took several portrait shots of N532UA. The blue and white color scheme complements the long lines of the B757 very nicely. The passengers in the lounge looked very much like the types of people who I would expect to see on this route. Having flown this route many times over the years, along with plenty of other domestic US routes, I find that there are some routes that have their own unique clientele and, with that, a particular look.
There are the "uptown artsy" looking New Yorkers – the ones dressed all in black. There are the Long Island moguls – men in their 40s, 50s, and 60s wearing sports coats that clash with their jeans or too-casual khakis and who are topped with boyish baseball caps. There are the students/artists/media hipsters – usually in their late 20s and early 30s and dressed like something out of a Banana Republic ad. There are the Hamptons couples, in their 60s and 70s, dressed in casual but preppy clothes with their silver hair, dignified but relaxed air, and copy of the New Yorker and the Times Sunday edition. Finally, today we also had the club kids, the anorexic gay couple who must be in their 30s but still dress like 18 year olds.
Today's P.S. plane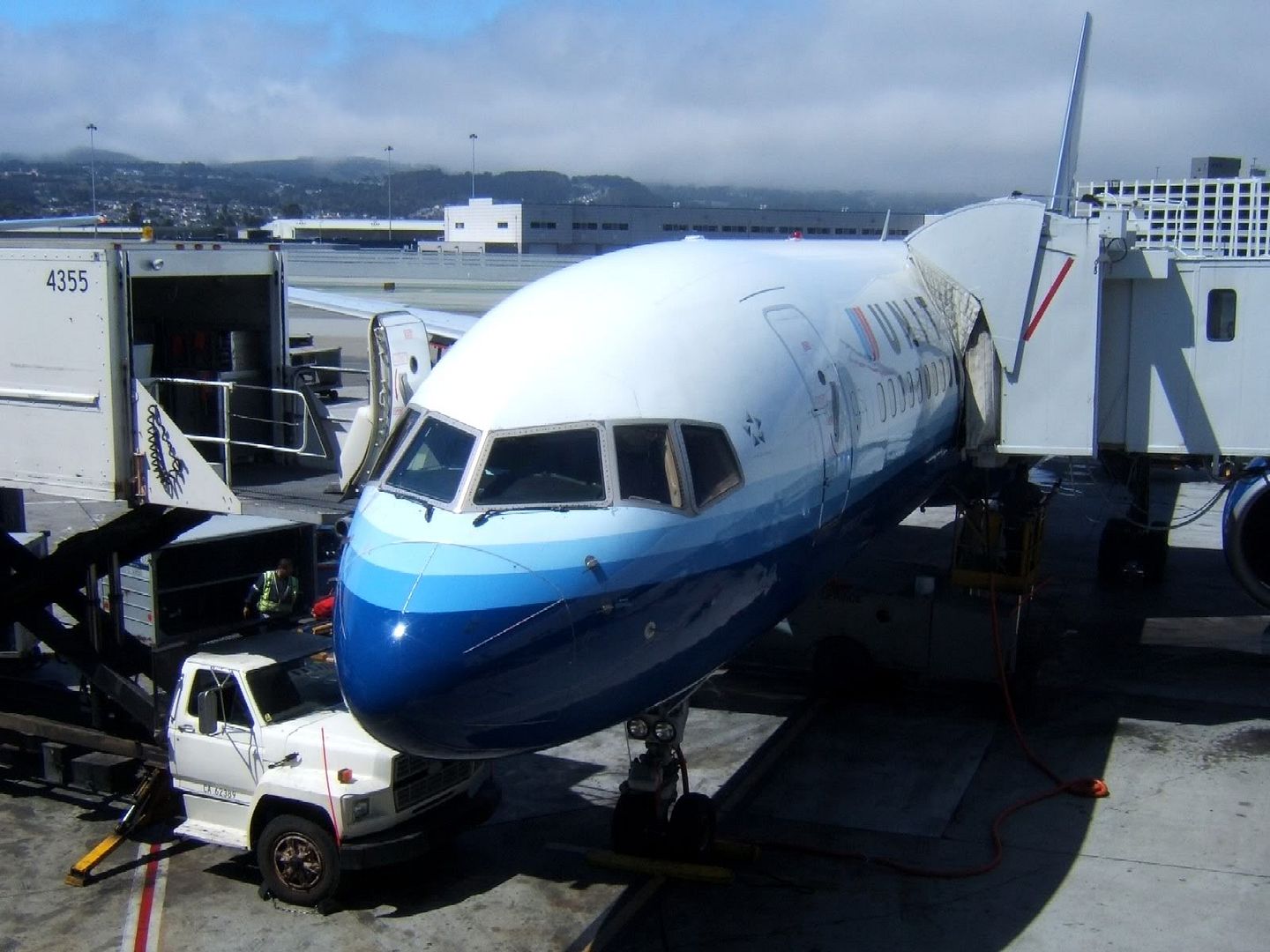 When boarding started, I found it interesting that First and Business Class were boarded together. Even through there are only 12 F class seats, I figured they would let them board first. As soon as I boarded I tried to get some shots of the seats but was having some trouble as many people were already aboard. Plus, I had a seat mate and this limited my ability to shoot around him. The business class cabin of the 757 cabin reminds of nothing so much as the upper deck on UA's B747. There are approximately the same number of seats, laid out in the same configuration, and with the same wide gap in the exit row. I literally had a good seven feet of empty space in front of my seat.
My incredible amount of leg room
The First Class seats are the same type used by Singapore Airlines for their Raffles Class. The seat reclines to a flat 180 degrees, but the entire seat is still inclined at about 10 degrees from the floor. It is comfortable, but when I fly in it I feel like I'm sliding down the seat over time and have to push myself back up every so often.
The Business Class seats are the same ones offered on UA's international fleet with just a few exceptions: the pitch is one inch shorter (54" versus 55"); the seats are covered in leather rather than fabric, which is a nice touch; there is no PTV; there is an actual power outlet rather than an adapter outlet, which is also a nice touch. The seats are 21.5 inches wide, just like the B777 – one inch wider than on the B747.
Because they're so complicated, your seat has a guide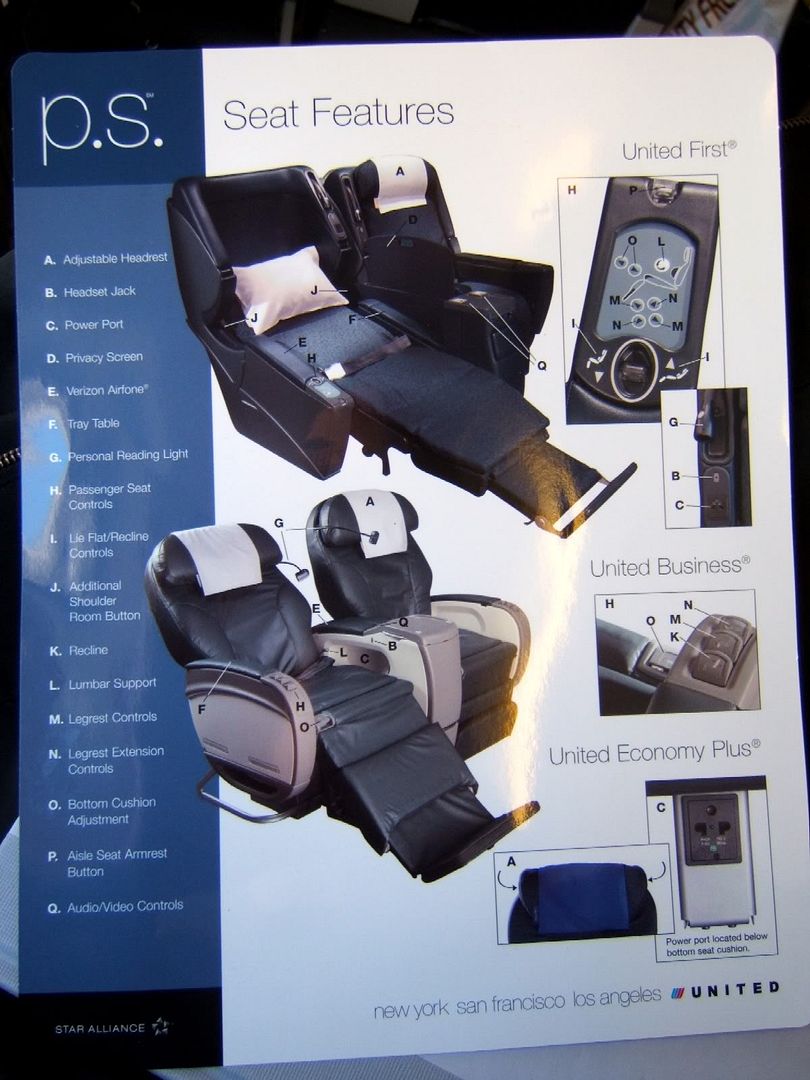 We were offered pre-flight drinks; I took a glass of Domaine Chandon Blanc de Noir – a California sparkling white wine. It is really quite good. Learning a lesson from my last flight, when the purser pulled me into the galley to ask about my picture-taking (read all about it here) I decided to be proactive and introduce myself to the crew before departure. So I went up to the galley, where two flight attendants were engaged with a customer who seemed unhappy about his Economy class seat – all of which are Economy Plus, by the way – but was able to get the attention of a third flight attendant. I explained that I am an aviation enthusiast (I didn't use the "my 10 year old niece" excuse made infamous on my SQ First Class trip from NRT-LAX) and would take some pictures. Further, I stressed that there was nothing to worry about. He thanked me for letting him know, asked a few questions – "Oh, how long did your Dad work for United?", and then I sat down.
Menus were distributed as boarding finished. The selection was interesting but somewhat less… classy? than I had expected. But I'm a big fan of airline food and am always eager to try it just to put one more meal on my "I've eaten that" list.
P.S. Menu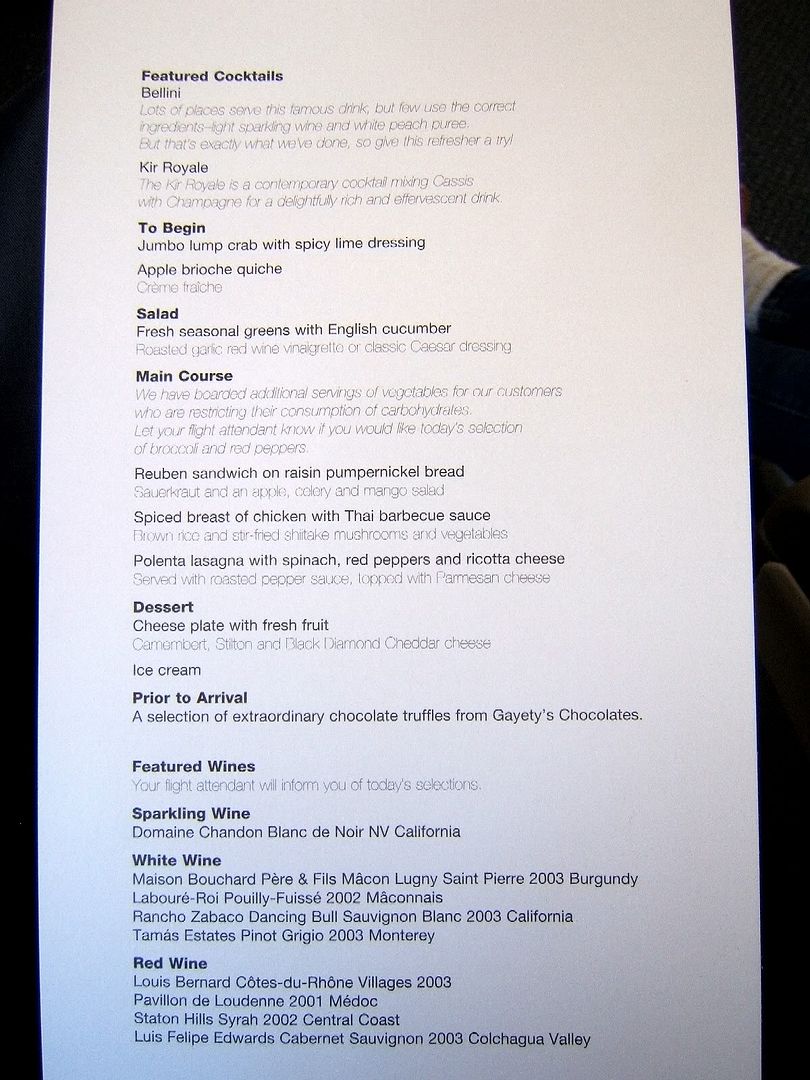 We pushed back on time and were cleared to runway 1R via taxiway Alpha. Just off gate 89 were two fire trucks, one on either side of the taxiway. As were moved into position on 1R, I overheard the following conversation on channel nine:
Tower (woman):
UA955 heavy, you're cleared for landing runway 28R. I understand this is a big day for you, captain?
UA955 (male):
Yes, thank you. It's the last flight. UA955 cleared to land 28R
Tower:
Well, it looks like they're all ready for you. Congratulations and enjoy your retirement.
UA22 (my flight – first officer speaking):
We understand there's a retirement? How many years?
UA955:
36 years and 2 months.
UA22:
Well, best wishes to you sir.
It's always neat when there's a bit of non-business chatter on the radio. It turns out those fire trucks were for a water canon salute of the retiring captain of UA955. Pretty cool stuff, and 36 years of flying is a lot – imagine how much has changed over that time. When he started flying with UA, they were just entering the jet age and still had some prop jets in service. And now, he's flying a B777 non-strop from London to San Francisco.
Into position on 1R as traffic crosses down-field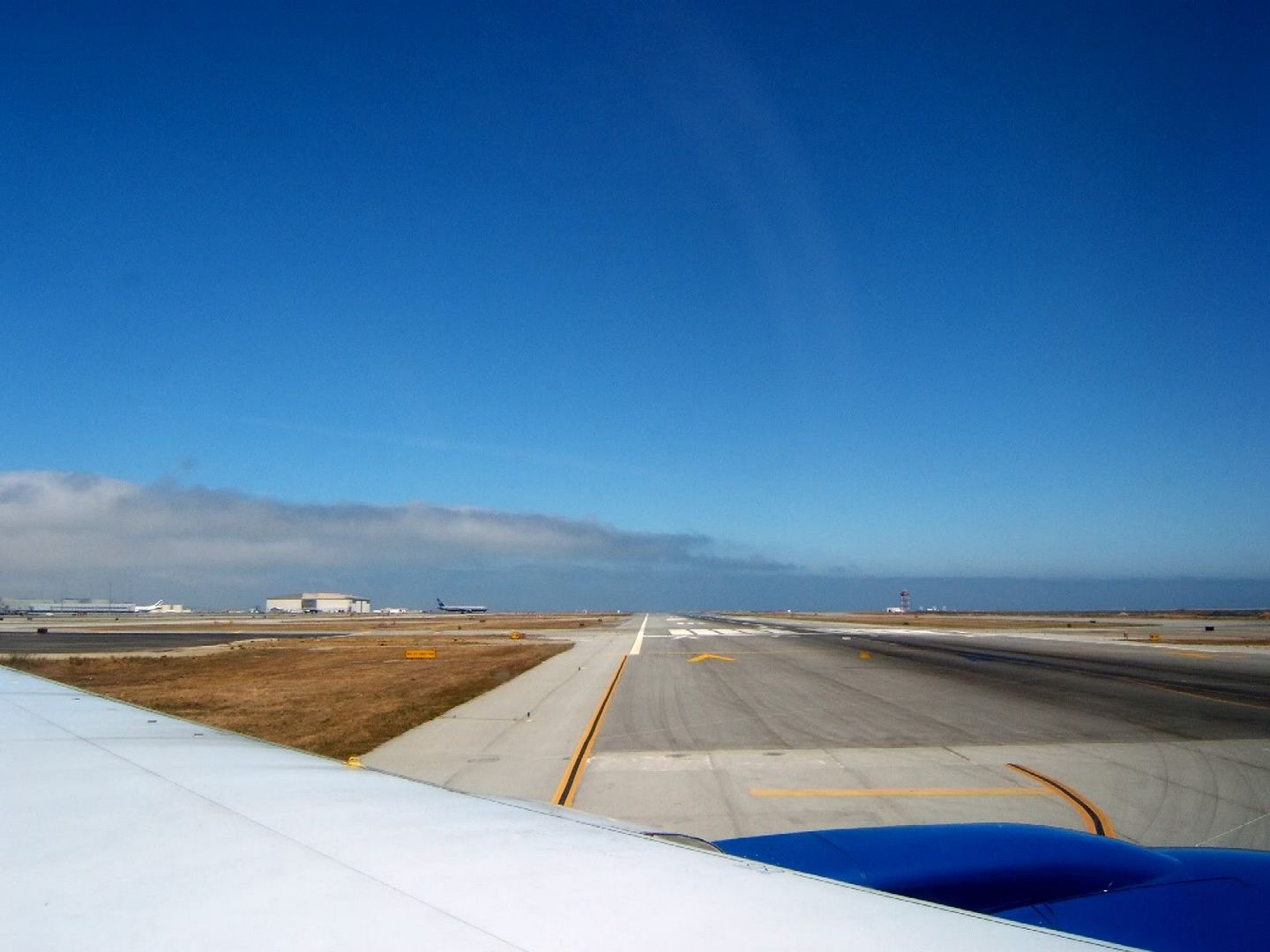 Climbing out of SFO with an Air France B747 crossing 28L
As we took off from 1R we headed north over Oakland, passing through a small bit of marine layer. Nearing the East Bay hills we made a gentle right turn and a few minutes later were climbing over the Central Valley. It was just a beautiful day for flying. 100 miles of visibility and only some very high clouds in the distance.
About twenty minutes after takeoff, one of the flight attendants came around with a cart to distribute the personal DVD players. This is an interesting variation to the regular premium class service UA offers. Instead of having PTVs installed in the seats, the flight attendants distribute portable DVD players that are in a nice leather case with a selection of DVDs. It turns out the DVDs are coded to only play on that player, and that player cannot play regular DVDs. There seems to be a complicated logging procedure, too. Each machine is wrapped in a plastic bag, serial numbers have to be written down, and the carts are actually pulled off the plane after arrival by two people who looked to be from vendor company.
My seat mate, who said he has flown this route frequently for years, finds the lack of PTV to be a deficiency. I suppose that the "on-demand" basis of a portable DVD player is useful, but there's nowhere to put it during dinner service. It is strange that they are distributed before the meal.
I opt for no DVD player as I have a laptop, DVDs, and a power outlet in my seat. When I ask my seat mate if I can take a picture of the DVD player he received, his response is a very lawyerly, "For what purpose?" So I explain and he lets me take a picture.
For what purpose?! So I remember what it looks like, of course.
Personal DVD player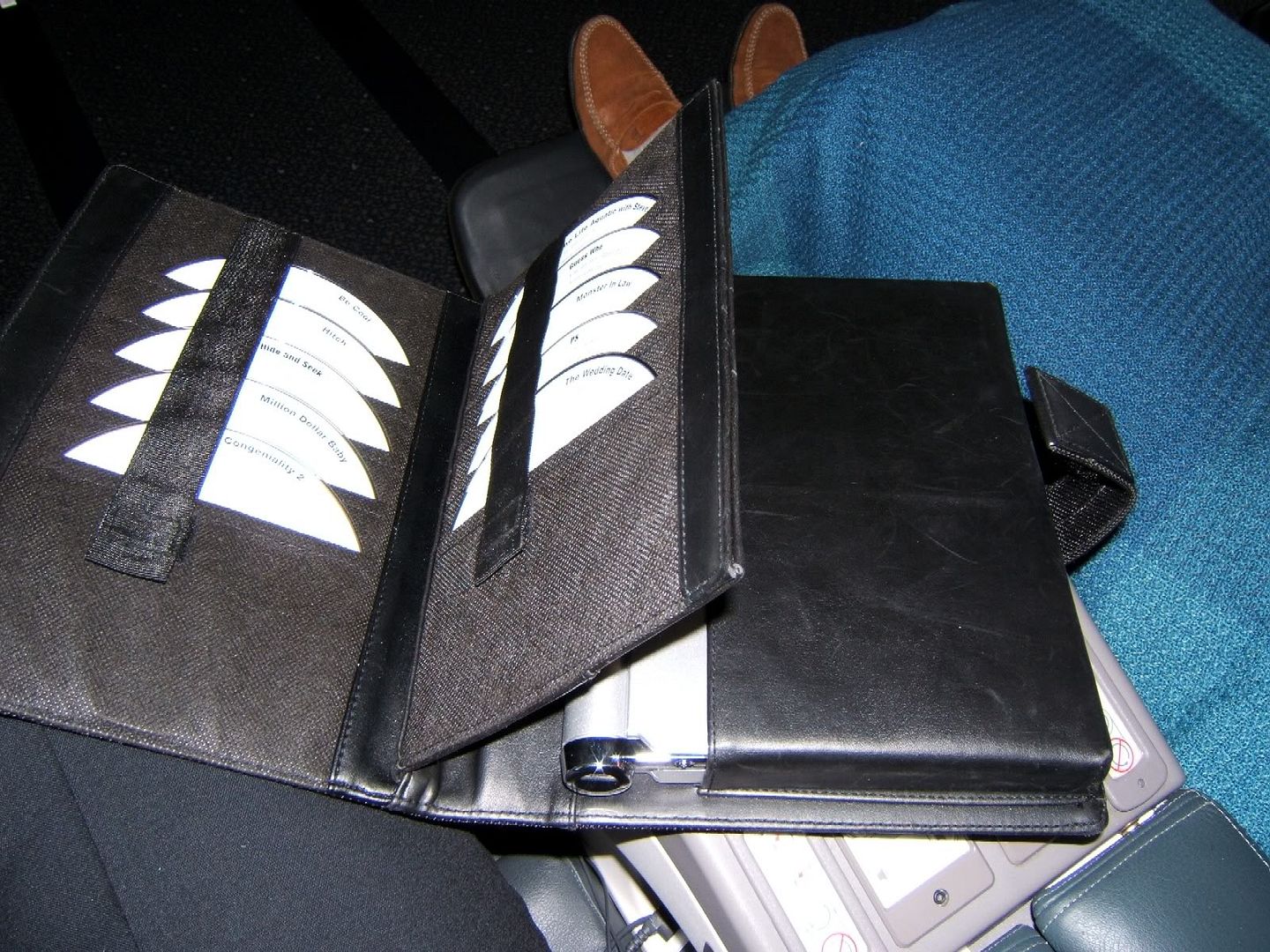 Dinner service doesn't begin until 45 minutes after departure, with drinks being served. I opt for a kir royale – sparkling wine and crème de cassis – which is a nice aperitif but they make it with too much cassis. It tastes sickeningly sweet and syrupy. It really is meant to have just a light blush to it, not look like sparking Welch's grape juice.
Mixed green salad and cumin-spiced crab meat arrived twenty or thirty minutes later along with bread and rolls. The crab was really tasty. The greens were nice and included rocket (arugula) but the balsamic dressing was too heavy. I have a glass of Riesling that was not on the wine list. It is way too sweet for my taste.
Appetizers
Main courses arrived quite a bit later. I opt for the polenta lasagna with spinach. The serving size is generous and it is tasty, but it is also watery: a sign that the spinach was not well-cooked before assembling the lasagna. Service seems a bit disorganized. As entrees are slowly being served, nobody is keeping an eye on be beverages. And even once I do get a flight attendant's attention so I can switch to a glass of red wine (2003 Louis Bernard Côtes-du-Rhône Villages – dry with an aromatic grapey undertone), it doesn't arrive until I'm almost done with the lasagna. Mind you, I'm not a fast eater. Also, no further bread is offered.
Polenta lasagna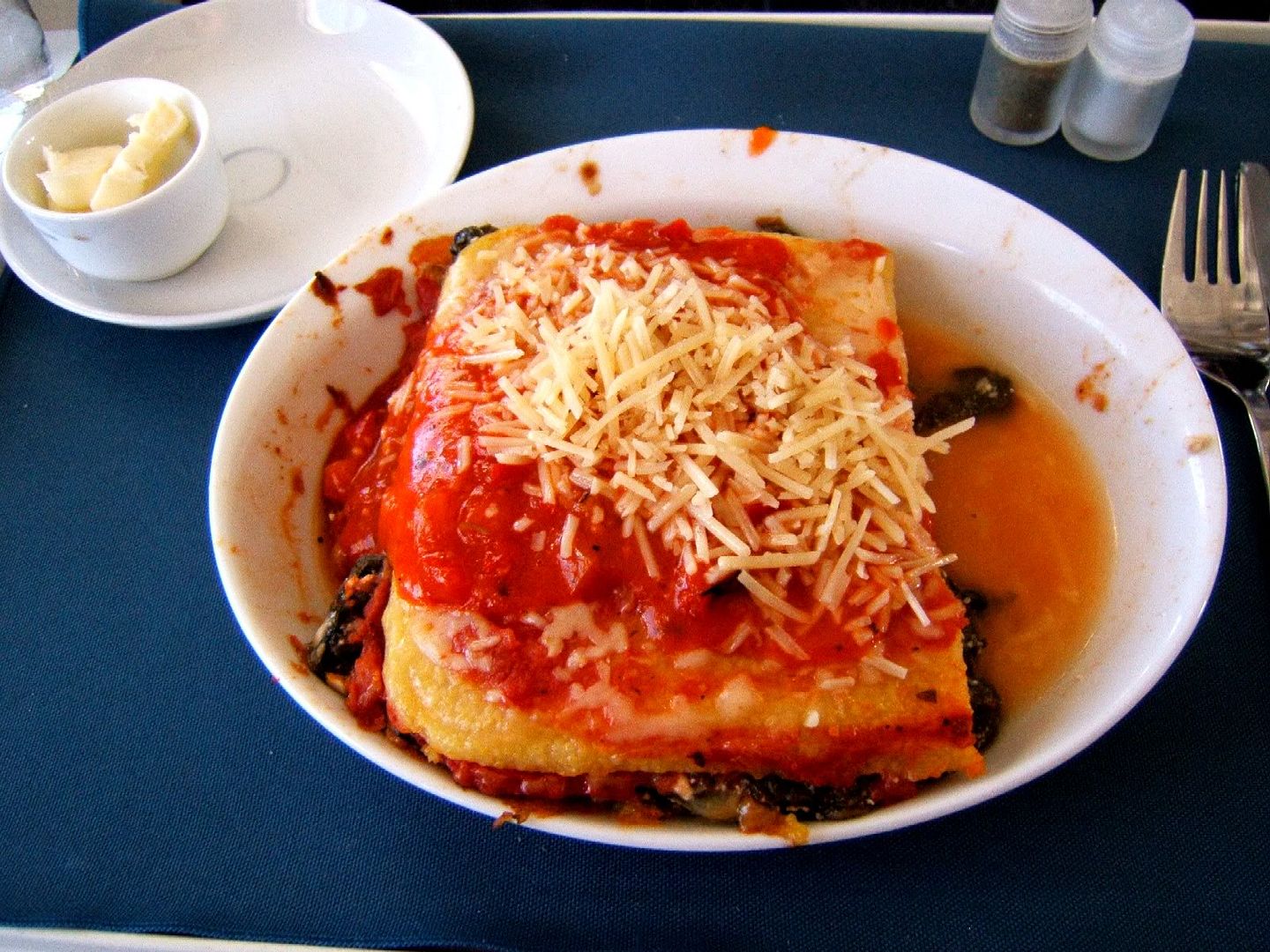 Dessert was a choice of ice cream – two scoops, no toppings – and a fruit and cheese platter: Camembert, Stilton, and Black Diamond Cheddar. The cheese platter I was served was missing the Camembert – I looked at the cart and I was the only one missing it. But the Stilton was incredible, so I'll survive. (Yeah, cry your eyes out over my suffering, right?)
Fruit and cheese plate for dessert
All in all, dinner was what I'd call a 7 on a 10-point scale. Acceptable, but nothing to write home about. Service was a bit sloppy. Maybe I'm overly picky but there's something to be said for coordinated service. There's a fine balance to be arrived at, I realize, but it also seemed to take too long. We didn't finish service until 2 hours, 15 minutes after takeoff, meaning that the service was 90 minutes long with only three courses. Now, when I'm with friends at a nice restaurant, I might find 90 minutes a bit rushed. But on a domestic flight it seems a bit slow.
The remainder of the flight is very smooth. The sky turns a beautiful, brilliant shade of blue and then as the sun sets, the clouds turn pink. Somewhere just south of Toronto the sun finally dips below the horizon and it becomes night.
Gorgeous shot of the wing
The sun sets over Lake Ontario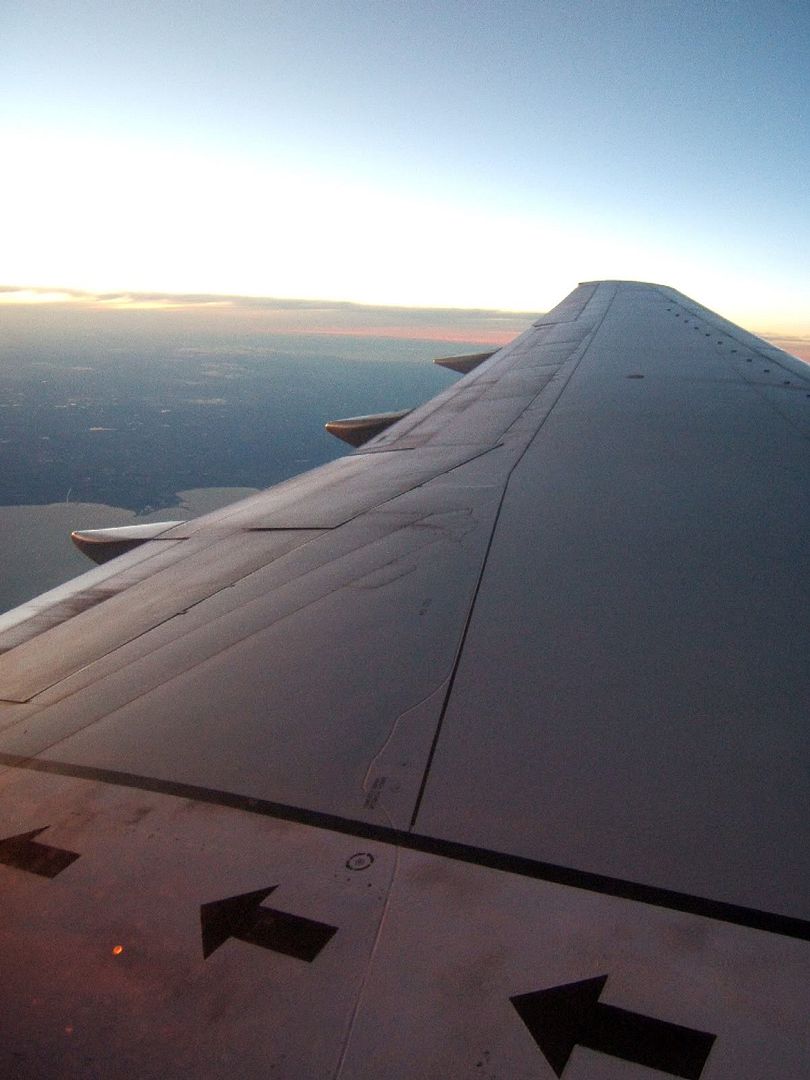 I spend the rest of the flight working on my MCI-DEN-SFO trip report, reading a book, and listening to my i-Pod. About 45 minutes before landing the flight attendants collect the DVD players, logging them back in and securing the cart. A box of chocolate truffles is brought around and I have one. Not Godiva, but from Gayety's Chocolates. Tasty. As we begin our approach, my seat mate engages me in conversation. Ever notice that people will remain uncommunicative for an entire flight but as it gets to the end they figure they won't be stuck with you much longer and it is safe to start talking. The irony is that this is just the point that I want to be listening to ATC!
We do the usual approach into JFK which seems to involve a complicated series of turns and we finally touch down on runway 31R – thunk! – a solid, fast landing. We have touched down almost 25 minutes ahead of schedule. As we taxi into the gate, my seat mate wonders whether we'll have a gate available. When UA consolidated its operations to just Terminal 7 – they were in both Terminals 6 and 7 up until late 2001 / early 2002 – gate space is at a premium and it is common to have to hang out on a taxiway waiting for an aircraft to push. Sure enough, we spent about ten minutes waiting. When we finally arrived, we were just about 12 minutes early. But that counts, right?
On the way out, I ask the first officer for the registration number and that's the end of the flight. Knowing that my return flight is early the next morning, I quickly walk out to AirTrain and take it to the hotel shuttle pick-up point. Twenty minutes later I am at the Marriott Courtyard hotel, checking in. The next hour is spent posting my MCI-DEN-SFO trip report, checking email, talking with a friend in Melbourne, and calling my partner in Bangkok. Wiped out, I take a shower and get to bed.
Date:
Sunday 4 September 2005
Route:
JFK-SFO
Flight:
UA71
Equipment:
B757-222 (N525UA)
Departure Time:
8:00 (Actual: 7:55)
Arrival Time:
11:15 (On Time)
Cruising Altitude:
FL380
Seat:
9D
My mobile phone's alarm clock goes off way too early – 5:20 – and I get up and hit the snooze button. For a moment I'm conscious enough to think this through and decide that snoozing might not be the best use of my time – if I don't get to the airport early enough I won't get any pictures and have a chance to start working on my report from yesterday's flight. So I get up. Adrenaline starts to pump through my veins, prompted by my excitement at another transcontinental flight, and getting up isn't that difficult after all.
Hot shower, shave, and a fresh change of clothes and I'm ready to face the world. I quickly repack my back and head out the door. A quick stop by the front desk is necessary as my bill indicates that I've been charged for the room, even though it was confirmed as a Marriott Reward when I checked in last night. The very friendly front desk clerk apologizes, confirms that I have not been charged, and prints an updated bill. I go outside to make a phone call to Bangkok and wait for the shuttle to the airport. It is warm – about 20 C – and the sky has this beautiful clarity to it: deep blue fading to a light pink at the horizon. The sun is just coming up over Long Island.
The driver comes out a few minutes later, and as I'm the only passenger and there is no traffic he drives me directly to my terminal instead of dropping me off at the AirTrain station. This is much appreciated and I'll definitely come back to this hotel.
Check-in takes just a minute. There is almost nobody in the lobby except one couple who are in the midst of an argument with an agent and the agent's supervisor. The supervisor is explaining to the man that he is being disrespectful and she's not going to be able to help him if that continues. I've noticed that I hear that conversation more at New York airports than anywhere else. I bypass the drama and check in using the Easy Check-in unit.
A decision must be made. I'm assigned in 9D, an exit row window seat. A ton of leg room and nobody is seated next to me yet. There are other empty rows, too, and I'm tempted to move forward to row 7 or 8 just to get some pictures of the engine and leading edge of the wing. But I don't want to give up my legroom. Plus, being further back it is easier to take photos during takeoff and landing with someone coming over and telling me to turn the camera off. I decide to stick with 9D.
The coveted gold boarding pass – just like in Charlie and the Chocolate Factory!
There is nobody at security and I'm through in another minute. At the top of the escalator I'm accosted by the shoe shine man – "Shoe shine, sir?" and I say no, thanks. My shoes were shined in DEN the other day and that will last for several more days. Debating whether to buy a copy of the Sunday Times now or later, I decide to go to the Red Carpet Club instead.
The JFK RCC is quite nice. It has a spectacular view of the JetBlue operations in Terminal 6, a view that is obstructed slightly by these light-reducing shades that cut out about 70% of the glare. Conversely, they obstruct 70% of the view, like being inside a bus that has that wrap-around advertising covering the windows.
Entrance to the First Class lounge at the JFK RCC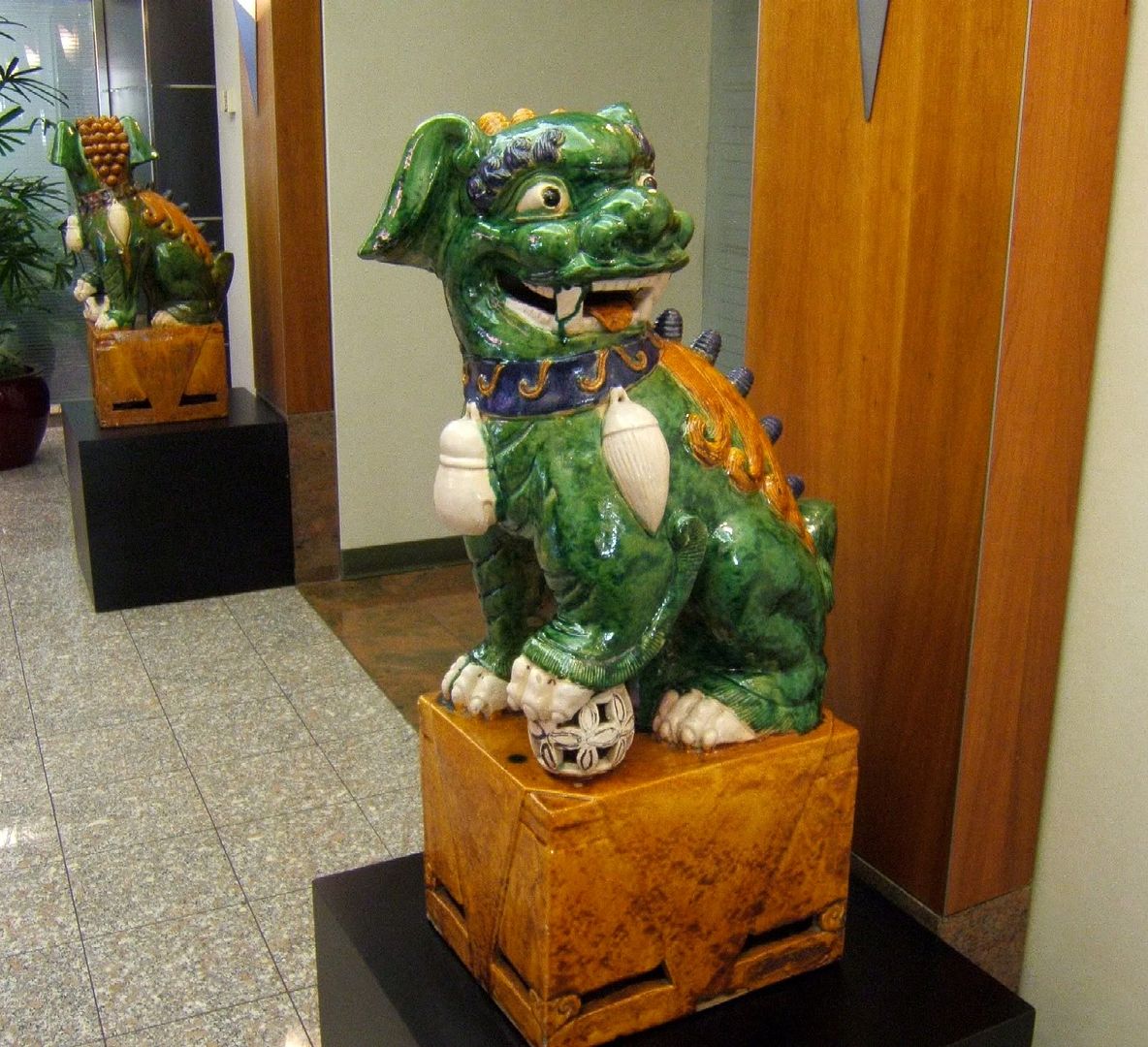 Red Carpet Club at JFK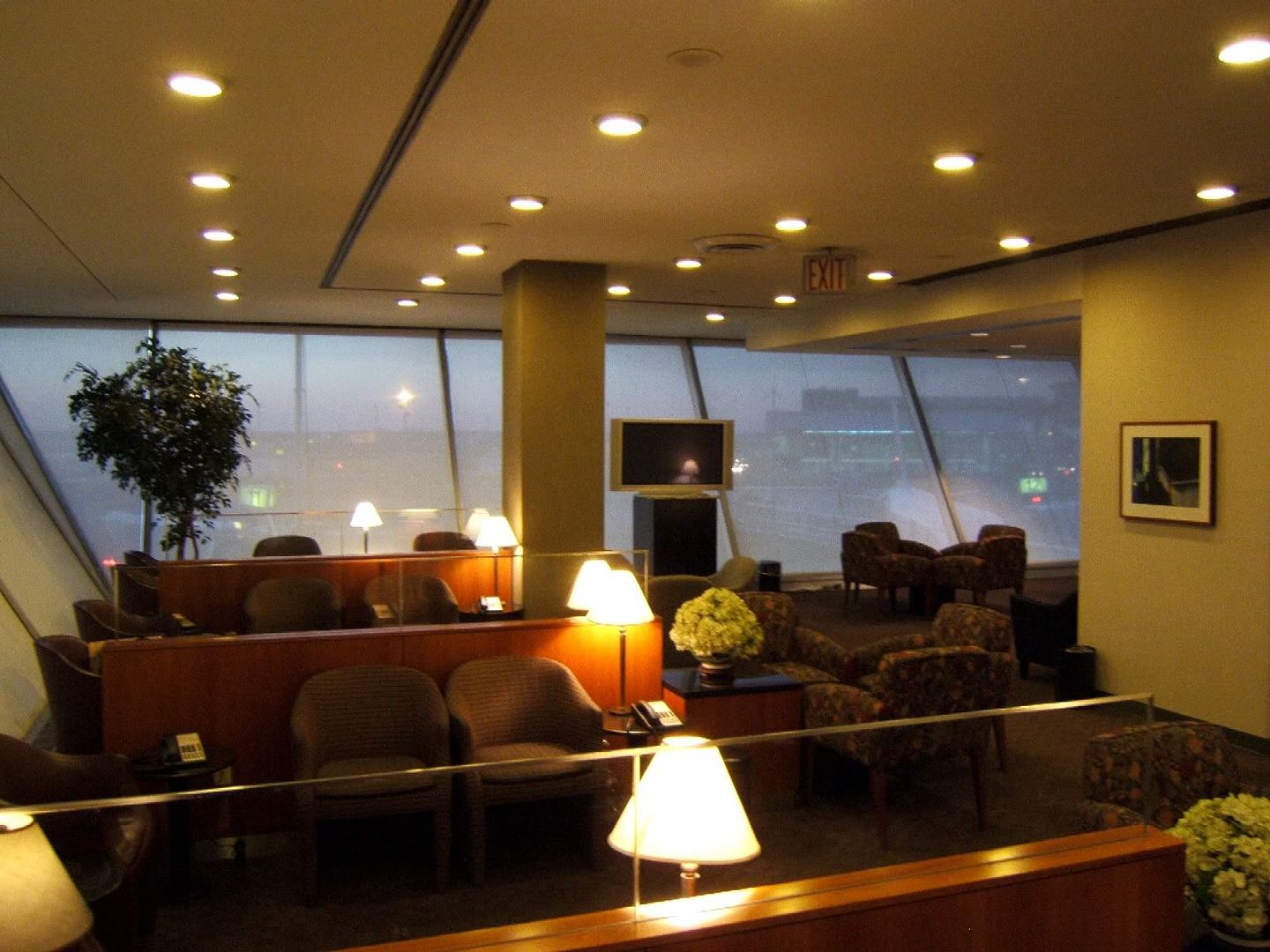 I helped myself to some Bloody Mary mix and a bagel. Unlike the mini bagels that other RCCs have for the morning, the JFK lounge actually has full-size bagels. I set up in a quiet corner – well, all of the corners are quiet this early in the morning – download some photos, make a call about an apartment in Bangkok, and drink my spicy tomato juice.
Something to tide me over until breakfast service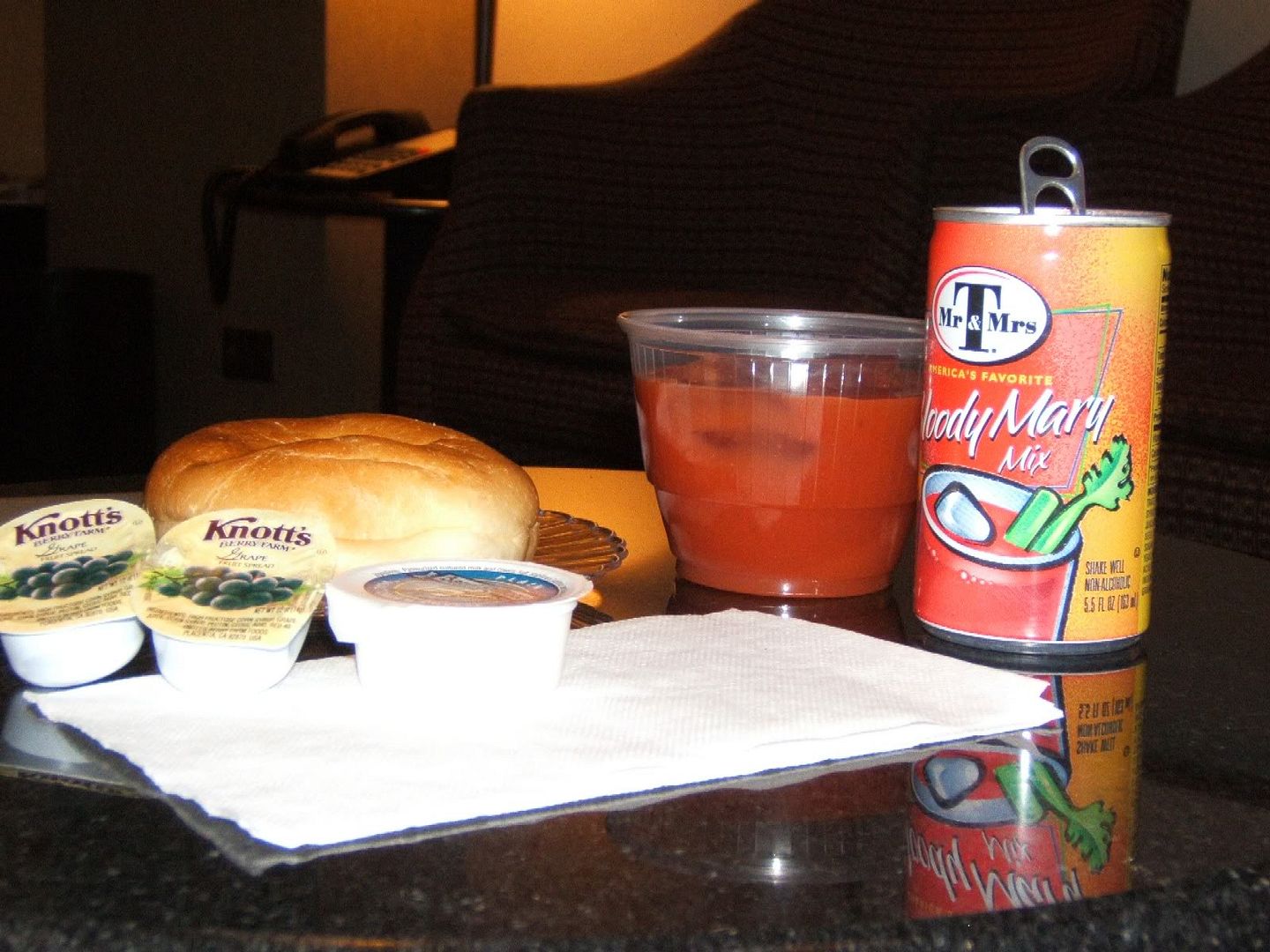 About forty minutes before flight time, I head downstairs to Hudson News and buy a Times. The seating area around gate 9 is not very crowded. This will be a light flight today. The plane, which was already at JFK when my flight arrived last night, is also in the new blue and white color scheme. The gate agent does pre-boarding and one couple with a baby and a stroller take advantage of it. Then she begins boarding, First Class and Global Services Members. One person boards. Then she opens it to Business Class and I board.
Our plane sits at gate 9
The light is better than yesterday afternoon, and I'm able to get several good shots of the Business Class cabin. There is a beverage cart set up in the exit row, which makes a good central point from which to do pre-departure beverage service. I have a mimosa, quite tasty and a
good
start to the flight. When the flight attendant comes over I go ahead and do my "I'm an airline enthusiast and I'll take pictures" routine. She looks at me like she's not really understanding why I'm sharing this information with her and then says, "oh, okay." Big smile. Walk away.
I'm beginning to think that it is better to be chastised by a purser after the fact than to feel like a nut case by telling the flight attendants up front that I'm taking pictures. Crazy, huh?
Seat 9D – exit row window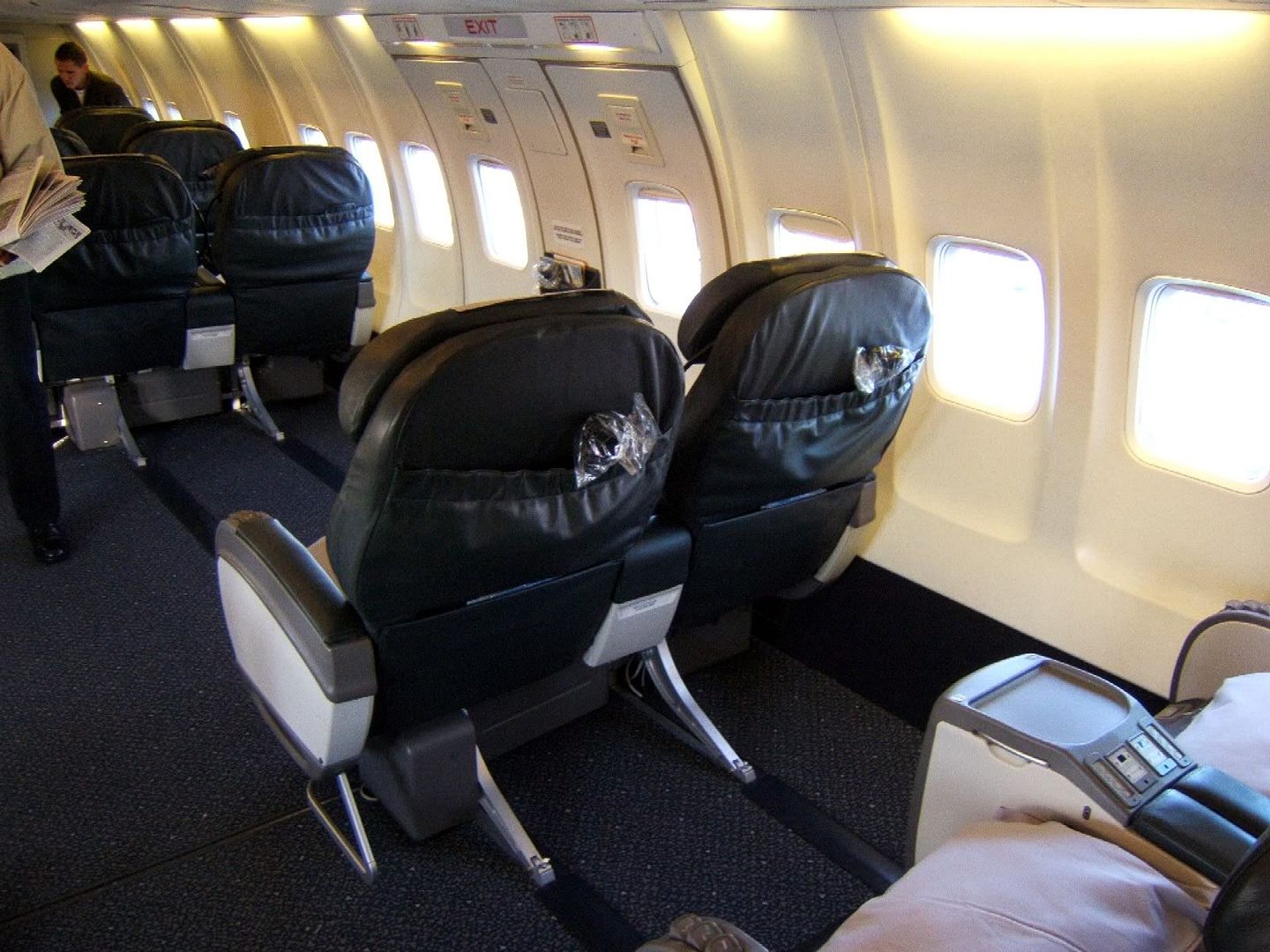 View looking forward from 9D
View looking back from 9D toward the Economy Plus cabin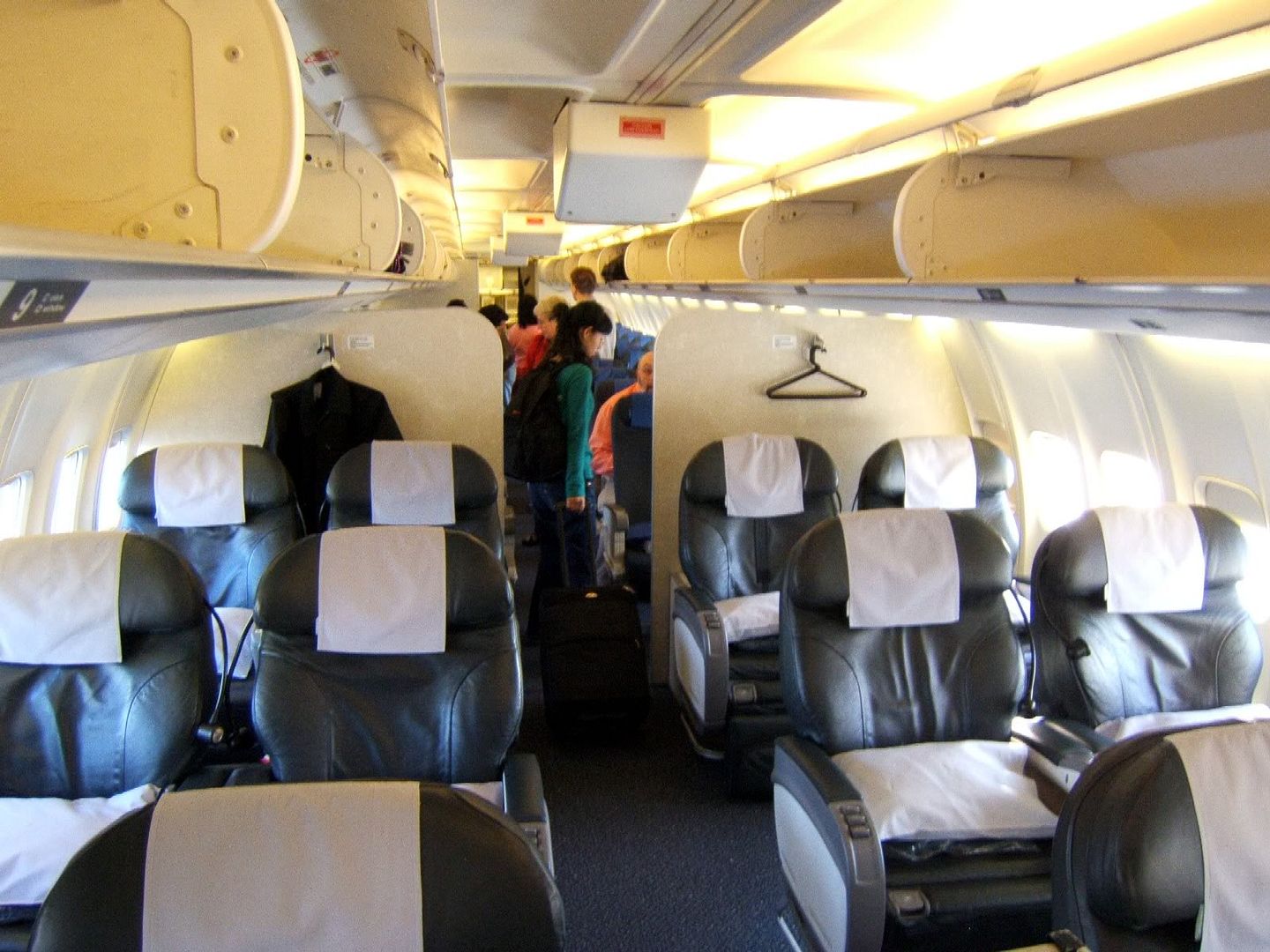 Holy legroom, Batman!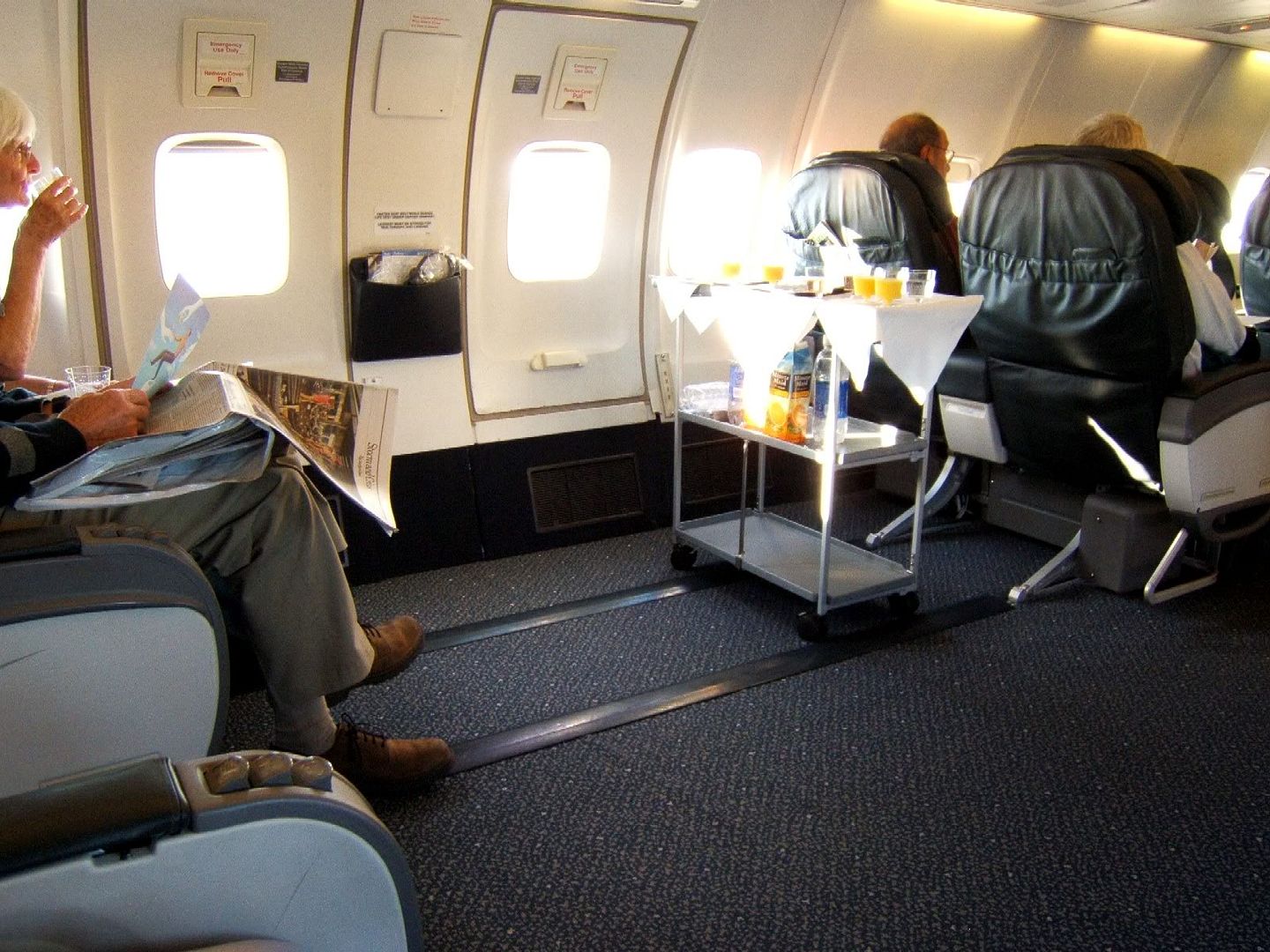 Boarding is very quick as the load is light in all classes of service. The door is closed and we push back at least five minutes early. Menus are distributed, as are eye shades and ear plugs. This is a morning flight and we are expected to sleep. Another flight attendant comes through the cabin to take our breakfast order.
This morning's menu
On our taxi from the gate to Runway 31L we have a great view of dozens of airliners. JFK is one of the best airports in the US for spotting, as it has such a wide range of airlines serving it. Here's a selection of what I saw on our taxi out:
A pair of America West B757s including N901AW in Arizona colors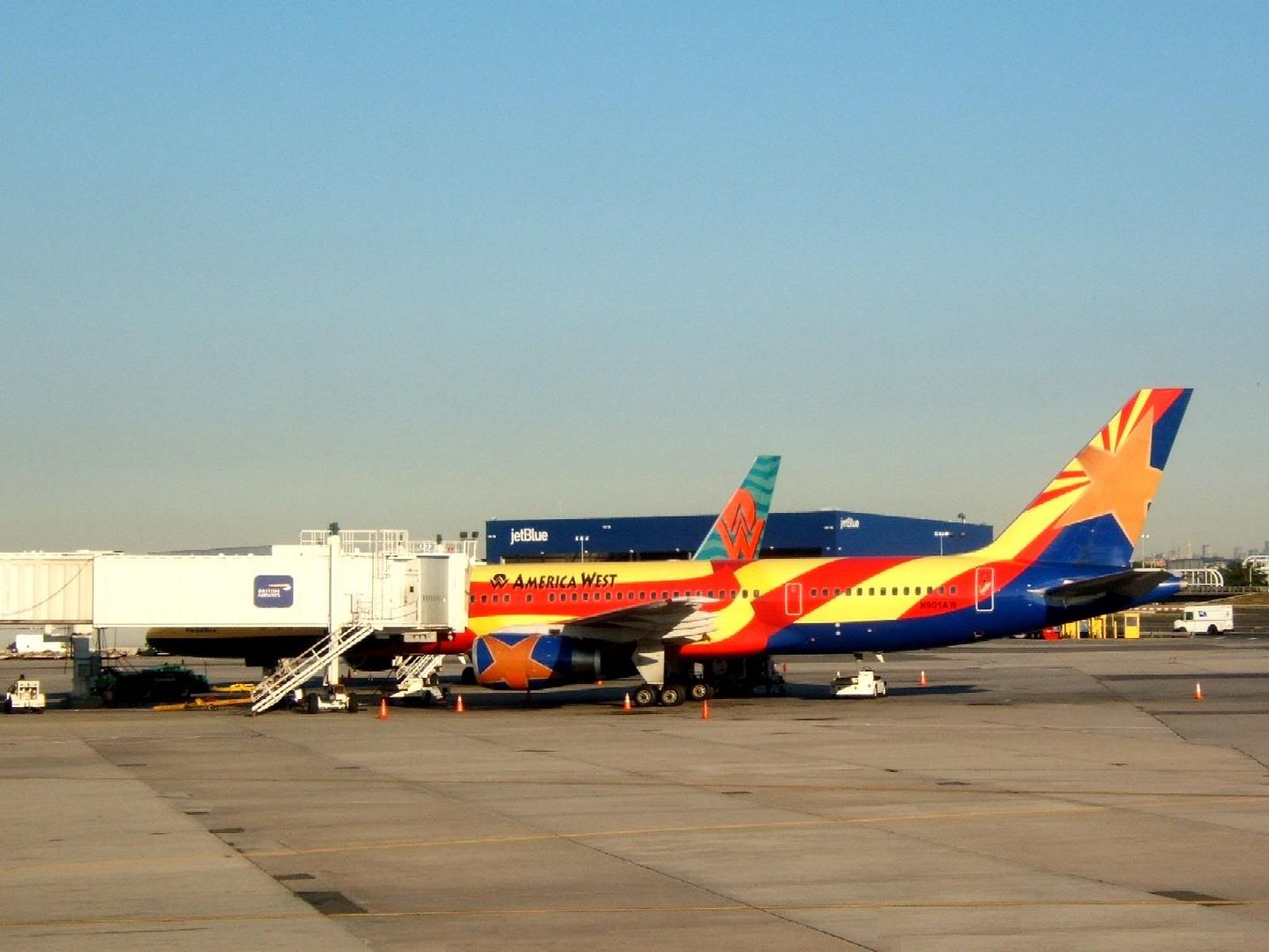 JetBlue A320 (N558JB – Song Sung Blue)
A gaggle of JetBlue Airbii at Terminal 6
NW B747-400 (N569US)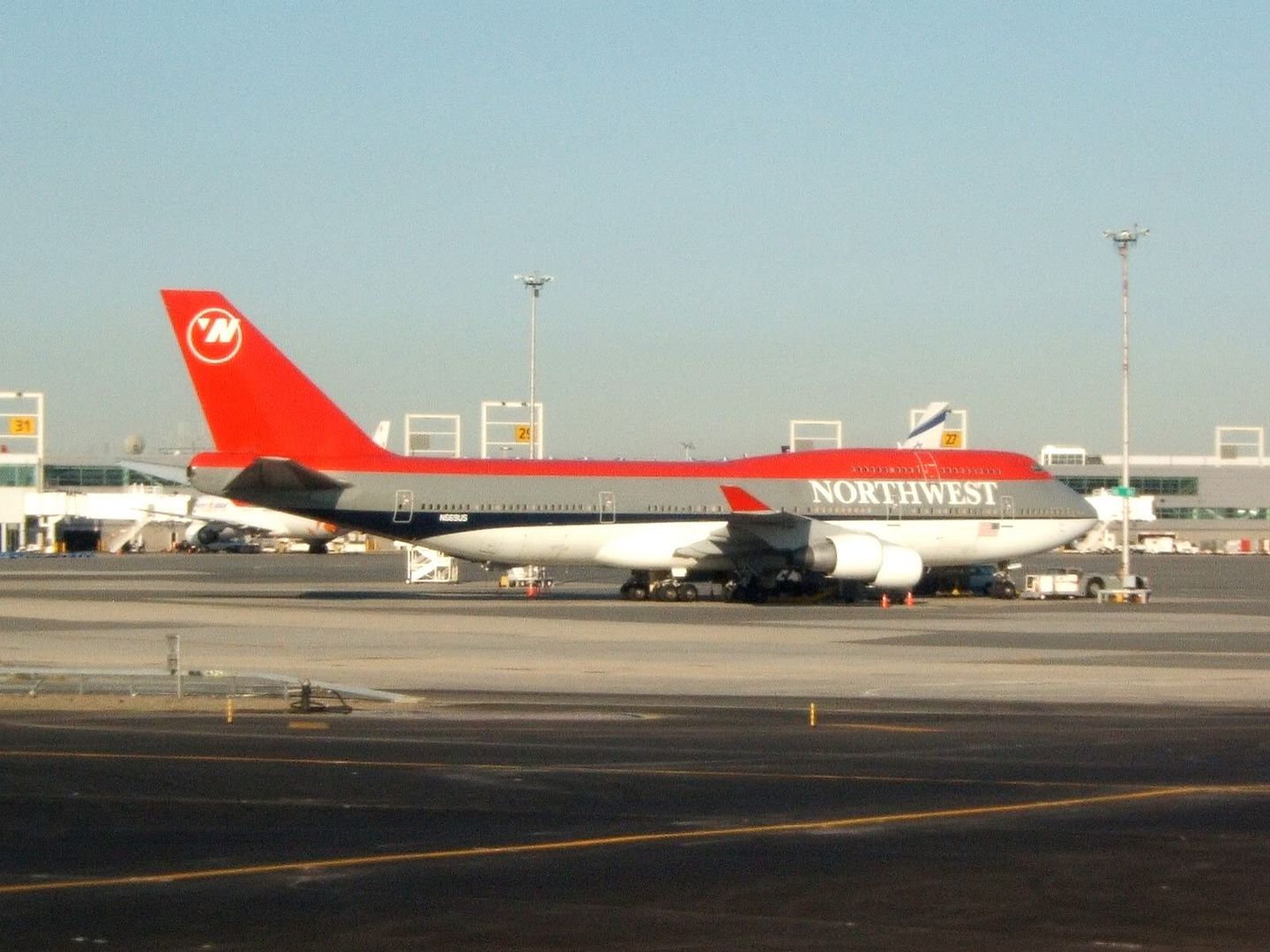 AA B767-200 waiting to get in line behind us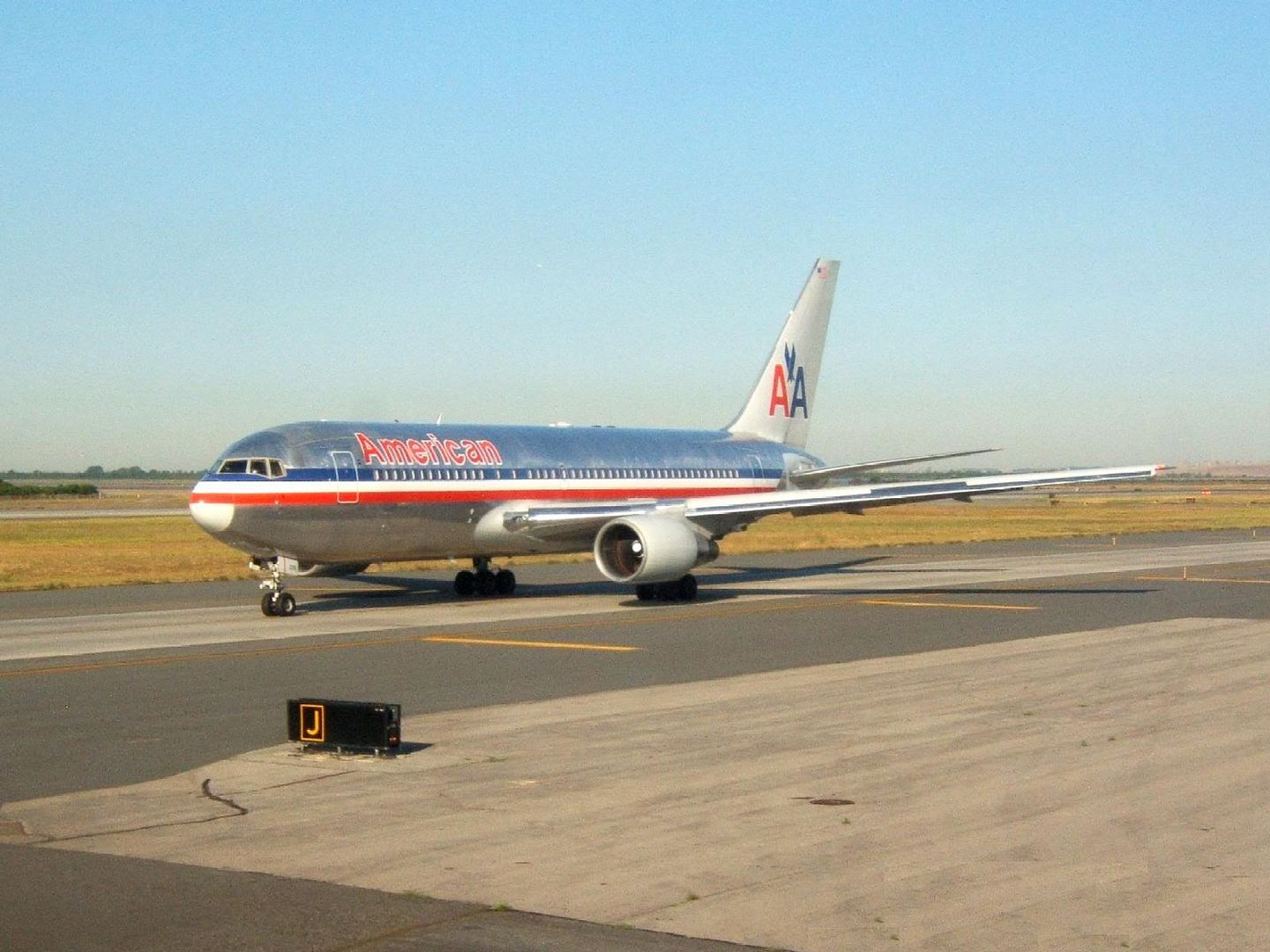 The taxi out only took about ten minutes. There were three aircraft ahead of us by the time we reached the end of the runway. Since they were all heavy jets there was a brief pause between departures. As we pulled into position, I could see the TG A340-500 at Terminal 4 but couldn't get a good picture.
With our light load, the take-off roll was short. We made a left turn at about 1000' out over Jamaica Bay and then a few minutes later turned back to the right, offering some really nice views of the city.
Climbing from runway 31L with Terminals 1, 2 and 3 in the foreground
Lower Manhattan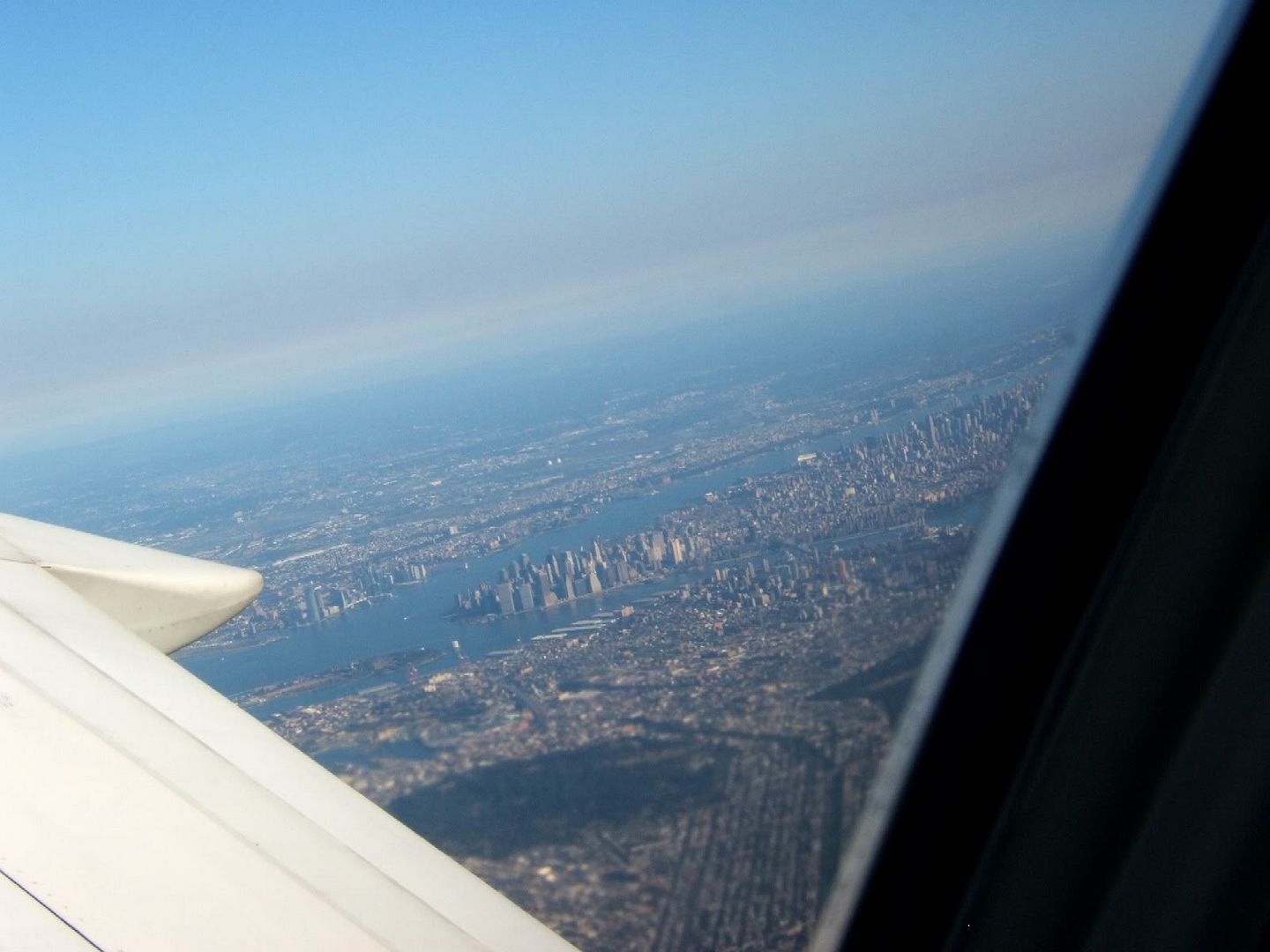 Verrazano-Narrows Bridge and the entrance to New York harbor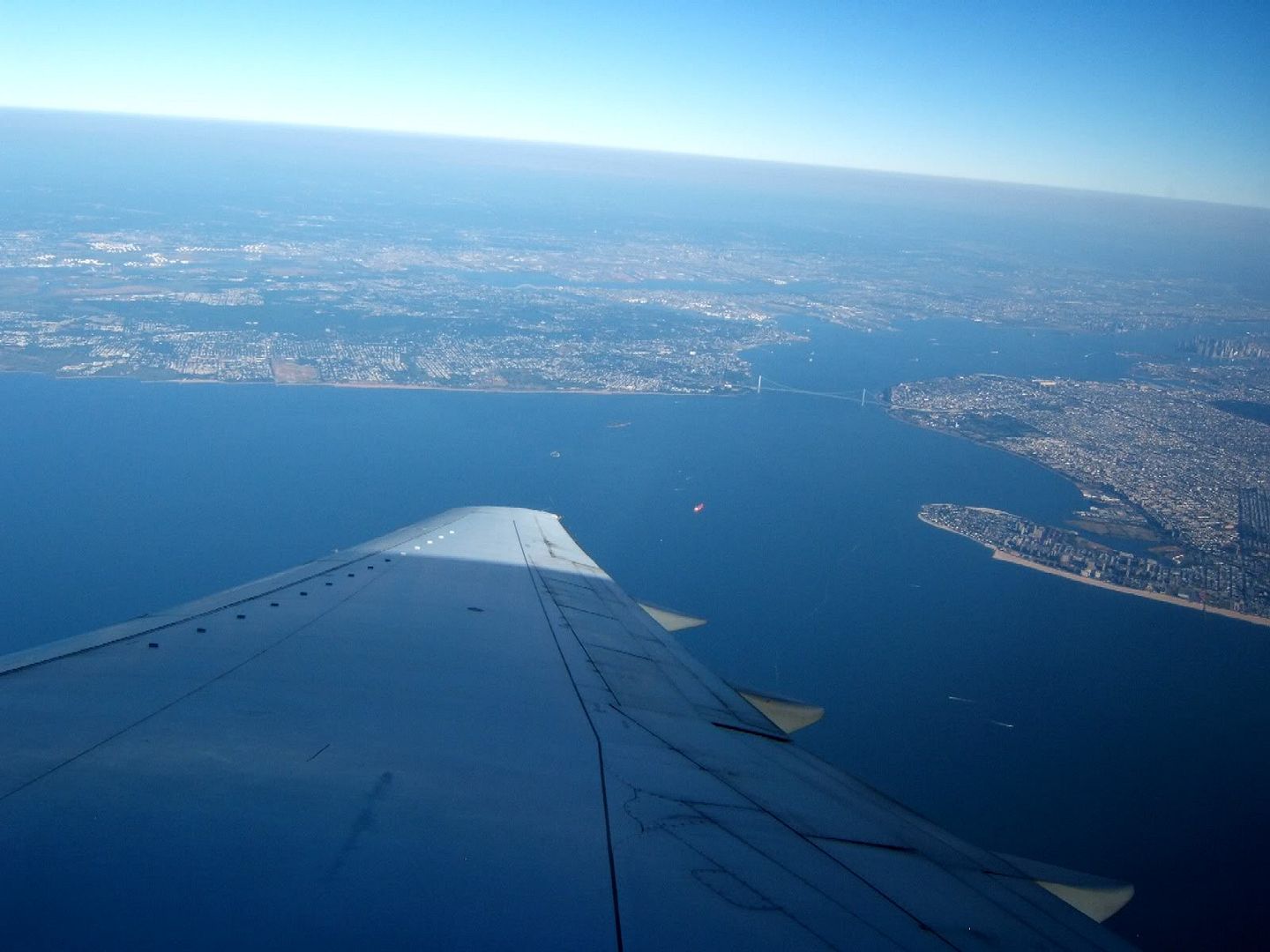 The captain is one I've flown with before, about two months ago from MCI-DEN. He makes several jokes while doing announcements and has a dry sense of humor:
Ladies and gentlemen, we've reached our cruising altitude and I've extinguished the seatbelt sign. You're now welcome to wander aimlessly about the cabin, but when you're in your seat I'd recommend you keep your seatbelt loosely fashioned so you don't fall into the aisle. Be forewarned: if you fall into the aisle you're fair game for the flight attendants and their carts. They are very aggressive and they keep score, so keep your seatbelt fashioned.
Humor is appreciated.
Our breakfast service began about twenty-five minutes after departure and was much smoother than the dinner service on the way out. The choices were simple: omelette or fruit plate. I opted for the omelette, which didn't seem to have much tomato or many chives in it. Airline breakfasts aren't always the best, but they have their own quality. You just have to learn to appreciate them for what they are.
Service was by two flight attendants, neither of whom I got the name of. One was the same nice lady who I had spoken to before departure. She was genuinely friendly throughout the service and was quite attentive. For the sake of this trip report I'll call her Susan. The other flight attendant, a man, was efficient at what he did but lacked the finesse of Susan. No smiles, no "you're welcome".
A very nice sparkling wine is served – Domaine Chandon Blanc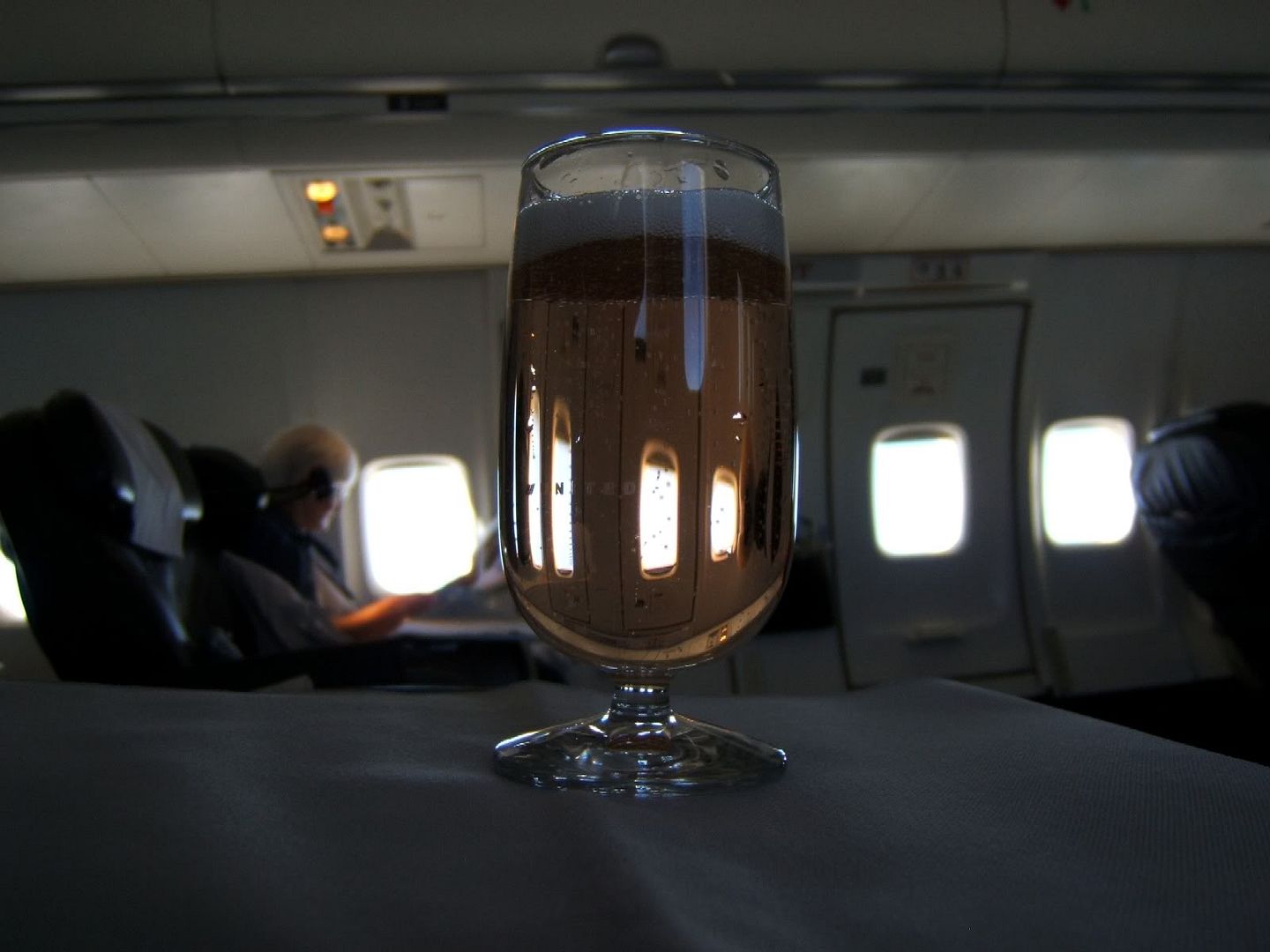 Breakfast – a tomato and chive omelette with Hollandaise sauce
After breakfast, I powered up my computer and worked on this trip report. I really appreciate the "regular" power port in the seat and am considering writing to UA suggesting that they make this improvement on all their seats that have power ports. The converters are fine – I have had one for years – but they seem unreliable. I've been on several flights where the adapter connections didn't work or worked inconsistently. It is great to be able to plug in my computer and work uninterrupted.
The flight went very smoothly. Occasional turbulence, frequent refills on my water – note, no bottles were distributed – and a couple of cups of coffee in one of the nice ceramic mugs they board for morning flights. I was tempted to ask for one to take home, but there isn't a UA logo on it, just the grey fading stripe that they use on all their china. Besides, do I really need another mug?
Mid-flight I was walking back from the lavatory and Susan was sitting in the first row of the cabin, working on a sudoku puzzle that she had copied onto a paper towel.
Sudoku
is a number puzzle, similar to a crossword, that originated in the UK and subsequently gained popularity in Japan. It seems to be catching on worldwide and I'm a regular player. So I stopped by and asked about her interest in sudoku. She said that she is an addict and explained the paper towel copy by telling me that she had copied the puzzles from another flight attendant. I told her that I was carrying twenty puzzles in my bag, none of which I had started. Returning to my seat, I grabbed the folder of puzzles and brought them back up to Susan.
We perused them and I ended up giving her four or five different puzzles so she would have them on regular copy paper instead of on a paper towel! She was very appreciative, and I returned to my seat and she worked on one of the puzzles.
About 70 minutes before arrival, another light meal service was started. The choice was either a fruit and cheese platter or a serving of salmon and shrimp. I decided upon the salmon, which was quite nice. Light and refreshing, but enough to tide me over for a few hours.
Pre-arrival snack of Salmon
While the cabin was being prepared for arrival into SFO, I wrote out two employee appreciation certificates. UA provides a number of these certificates to various premium customers and we can use them to acknowledge employees who provide really great service. I wrote out one for Susan and another for the captain, whose sense of humor struck the perfect balance between professional appropriateness and friendly levity. I was waiting for the opportunity to give Susan her certificate when she came walking down the aisle and stopped to give me a bottle of Cabernet Sauvignon!
Very thoughtful. So I said, "Actually, I have something for you, too," and gave her the certificate. I try to reinforce with employees whenever possible that as a frequent customer, I really appreciate the extra efforts they make.
Our approach into SFO was the FMS Bridge Visual for 28R, bringing us across the East Bay hills at Fremont, out over the salt flats near the Dumbarton Bridge, and then flying over the Bay making a course correction just inside the San Mateo Bridge so we're lined up with the runway.
A Japan Airlines B747 was flying a parallel approach for runway 28L, which is separated from the right by only 750'. It makes for a spectacular landing as the two planes end up very close together for the last three miles of the approach. The JAL jumbo was a bit behind us and as I was sitting on the right I was only able to occasionally see it. Must have been quite a view for people on the left-hand side! I remember one approach into SFO where we were for 28L and there was a UA B747 for 28R. We were almost neck in neck and the view was absolutely amazing. The captain even came on about three minutes before landing to alert us that he knew the other plane was there, and said something to the effect of, "Off to our right you'll get one of the best views of a jumbo jet you'll ever see."
A Japan Airlines B747 on parallel approach for 28L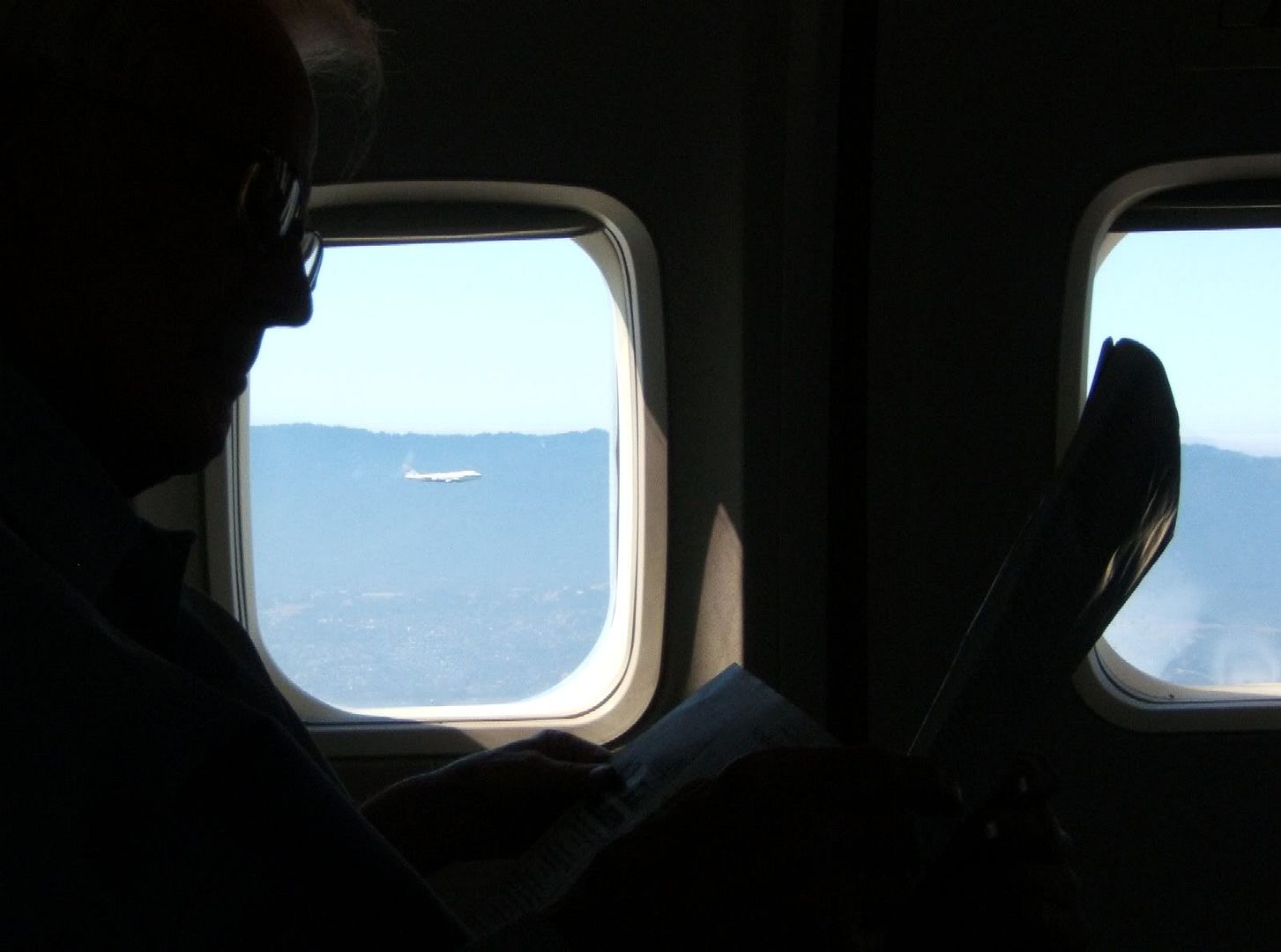 Touchdown on 28R was very smooth and we were off the runway quite quickly as the JAL was able to turn off before us. There was a great view of the UA international fleet, much of which was on the ground in SFO this morning. Many of the planes are parked across the field at the former American Airlines hangar, some are at the gate, and others are at the Maintenance Operations Center – one of the largest in the world – located on the west end of the field. My father worked at the MOC for decades and I remember going there for visits when I was younger and we'd be able to go walking through the maintenance bays and out on the tarmac. Certainly, the seeds of my fascination were sown then.
UA widebodies at the former American Airlines hangar, waiting for later departures
UA Maintenance Operations Center, west of the main field
We had arrived about 20 minutes early and the captain came on the PA:
Ladies and gentleman, we've done it once again. Through a combination of high technology, incredible skill, and sheer luck, we've found Sacrame… er, San Francisco. The good news is we flew the plane so fast we've arrived twenty minutes early. The bad news is, we surprised them and the gate isn't ready yet.
So we had to hold in the alley for about ten minutes as we waited for our gate to be vacated. There was a great view of several UA B777s and B747s at the International Terminal. Every time I see this sight, there's a voice inside my head that says I should walk over, buy a last-minute ticket, and just keep flying west.
UA B747-422 (N194UA) and a sister ship waiting to depart to Asia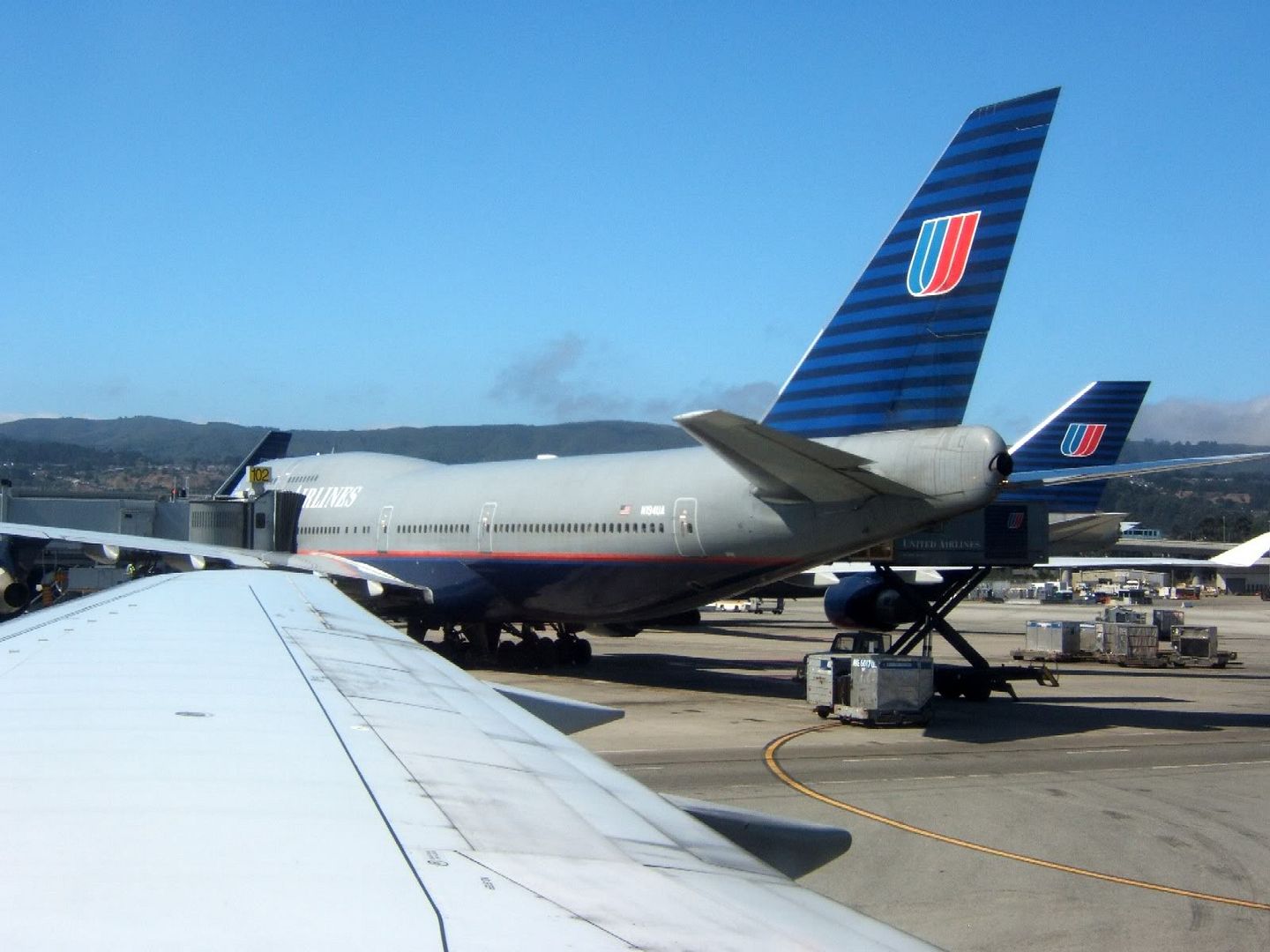 The UA Airbus that just vacated our gate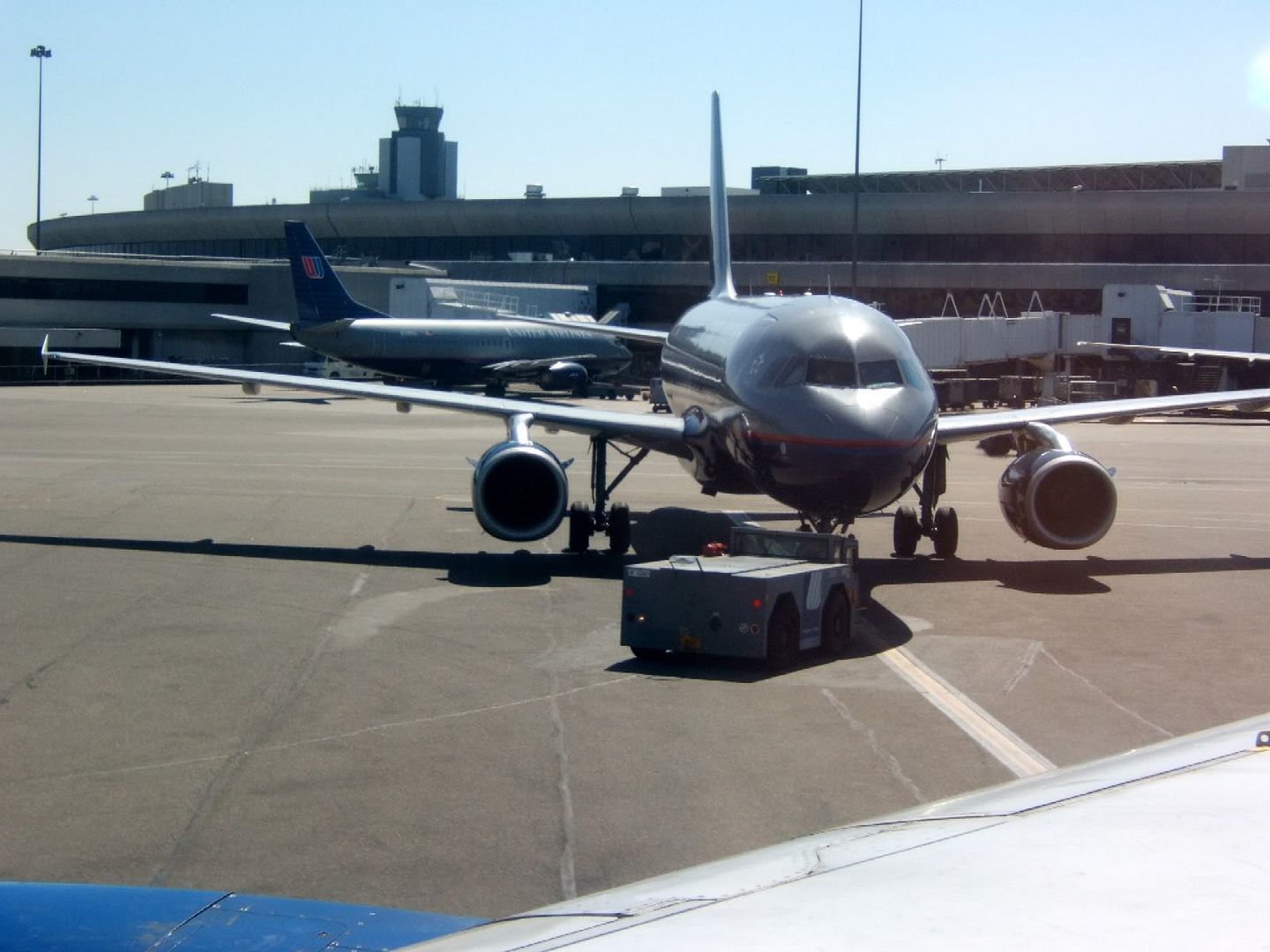 As we pulled into the gate, the captain came on the PA one final time:
Ladies and gentlemen, thanks for your patience and thank you for flying with us today. We sincerely appreciate your business. If you had a good trip, feel free to come up on your way out and let me know. I have a list of all our names written on a piece of paper. If, however, this wasn't one of your better United experiences, please write me a letter. Address it to Bob Crandall, in care of the Airline CEO's Old Folks Home, Dallas, Texas.
On the way out, I stopped up in First and spoke with the captain. While he didn't have the list of names, I did thank him, gave him the recognition certificate, and told him that his manner really made the flight enjoyable. He was a bit surprised that I'd flown with him before and recognized his voice a second time, but with jokes like his it is easy to remember.
He thanked me for my business and told me to come back soon – which I'm doing on Tuesday. On the way out, I thanked the other flight attendants and Susan said that she hoped to see me again. Such friendly folks.
In the terminal, I took a few pictures of the plane and then headed to the Red Carpet Club to drop off my Sunday Times for someone else to read.
Our plane, N525UA, at the gate in SFO
Twenty-two hours after my departure from SFO my mileage run was over.
Feedback and comments greatly appreciated.