Departure Airport:
Abu Dhabi - International, U.A.E. (AUH/OMAA)
Arrival Airport:
Damascus – International, Syria (DAM/OSDI)
Airline:
Syrian Arab Airlines
Flight number:
RB 518
Aircraft type:
Boeing 727-294/Adv
Registration:
YK-AGB (c/n 21204/1194))
Date:
14th October 2005
STD:
1400
Class:
Y (Economy)
Scheduled Flight time:
3 hours
***
View Large
View Medium


Photo © Dmitriy Pichugin
As part of a work trip, I had to travel to Syria and Jordan for a few days, and was booked to travel with Etihad Airways on the AUH-DAM & AMM-AUH sectors. Being something of a fan of classic aircraft, I was aware that the AUH-DAM was also served twice weekly by Syrian Arab Airlines, using Boeing 747SP and 727-200 equipment. As much as I enjoy flying Etihad's A330-200s, I decided two days before my trip that it would be inexcusable of me to miss out on a classic Boeing flight, and made myself a booking with Syrianair on the AUH-DAM sector. As this was the friday flight, I knew that a Boeing 727-200 was scheduled to operate the flight. The only 727 flight I ever took in the past was with United Airlines in 2001, on the ORD-LGA route, and I assumed that this would have been my first and last 727 experience.
I arrived at Abu Dhabi International Airport's Terminal 1, and proceeded to the check-in area, where three desks were manned for this flight. The flight was showing as operating to Aleppo via Damascus, but I would only be traveling as far as Damascus today. I was the only person at the check-in desks, as it was approximately -1hr STD, and check-in closes at -45mins STD. I asked for a window seat as the lady from Abu Dhabi Airport Services checked me in, and was assigned seat 5A.
As there was not much time to do anything else, I proceeded straight through the immigration channel to the departures area, and naturally I took a peek out of the window to make sure RB had not swapped the equipment to an A320 – that would have been gutting. I was happy to see a Boeing 727-200 sitting on the stand, wearing Syrianair's latest colours. Unfortunately, it was impossible to get a photograph from here, so I took a walk down the corridor into Gate 5 to see if I had a chance from there. There were as many policemen in the gate as I suspected there would be, and as taking photographs in the airport is forbidden at AUH, I decided not to risk it. The view of the aircraft from the gate lounge was very restricted anyway, and I would not have been able to take a decent shot.
Within a few minutes of arriving at the gate, boarding commenced. I could see the RTB screen which the load controller was using for the weight and balance documentation, and could see that there were only 60-70 passengers traveling ex-AUH, so I knew I had a good chance of taking a different seat to the one I had been allocated at check-in. As this was almost certainly my last 727 flight, I thought I owed it to myself to sit at the back towards the engines, so I could savour the sounds of a real aircraft.
I handed my boarding pass over at the gate and headed down the jetbridge, where about ten passengers were queuing at the door. An official from Syrianair then came down from the gate to check my visa, despite it having been verified at check-in. I assumed this was because I stood out somewhat, as the only European on the flight. I asked the FA at the aircraft door if it would be okay to take a seat further back than row 5, and she said it would be no problem as the flight was not full. I then walked through the cabin and took a seat one row from the back on the left of the aircraft. There were several more rows on the right side of the cabin, which were partially occupied by positioning RB crew.
I took my seat by the window, and placed my trusty Canon Ixus 700 at my side. I had considered bringing my SLR camera as this was something of a special flight, but already had enough to carry in the way of clothes and training material, so decided against it. I took a look out of the window to see what other aircraft were around, but it was pretty quiet at this time.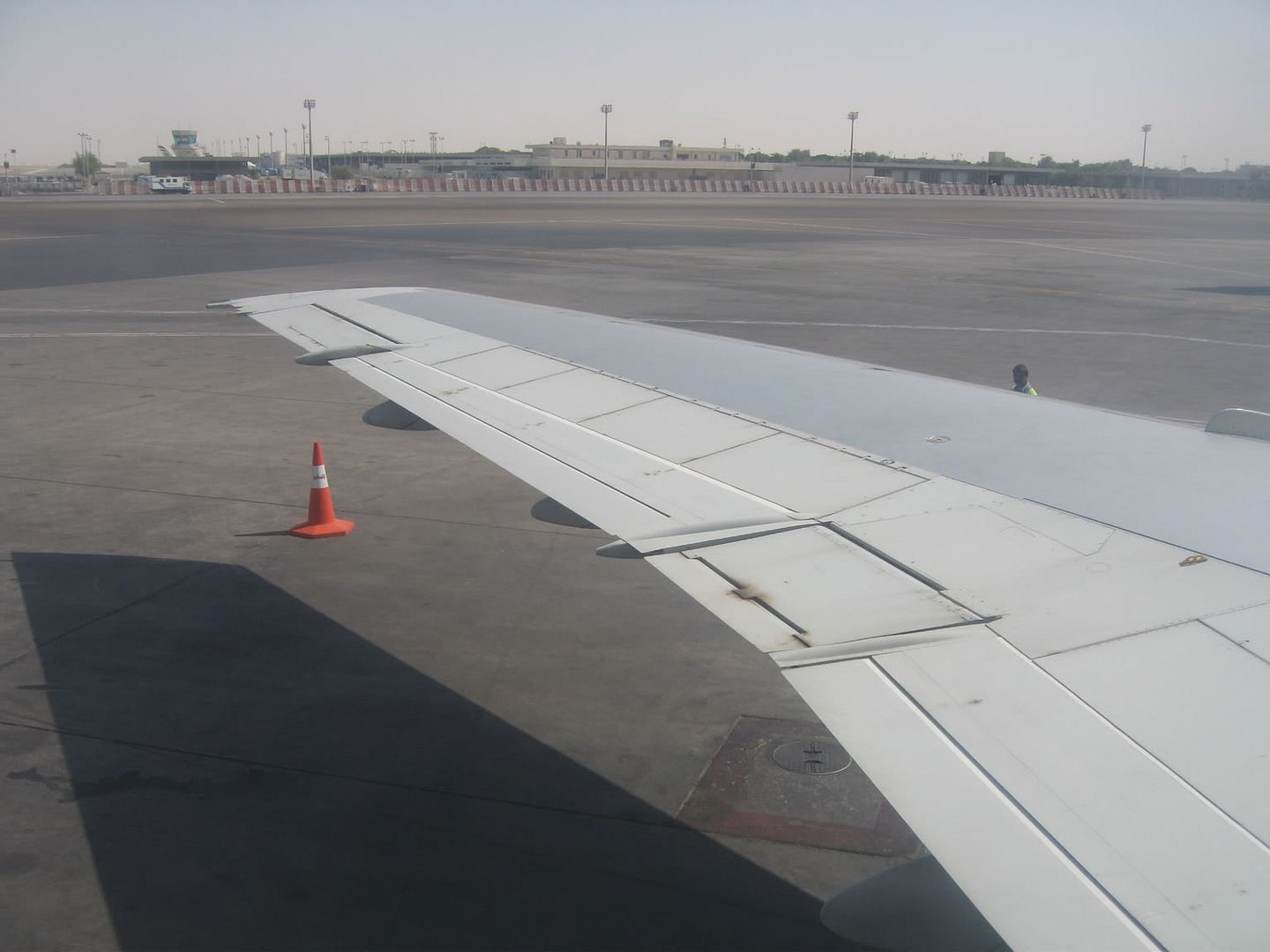 As I took a look around me at the cabin interior, I could see that this aircraft had not had any kind of refurbishment in years. The carpet was dirty, the finish on the tray tables crumbling, and the seat covers generally worn and torn, but it was a 727, and I was happy.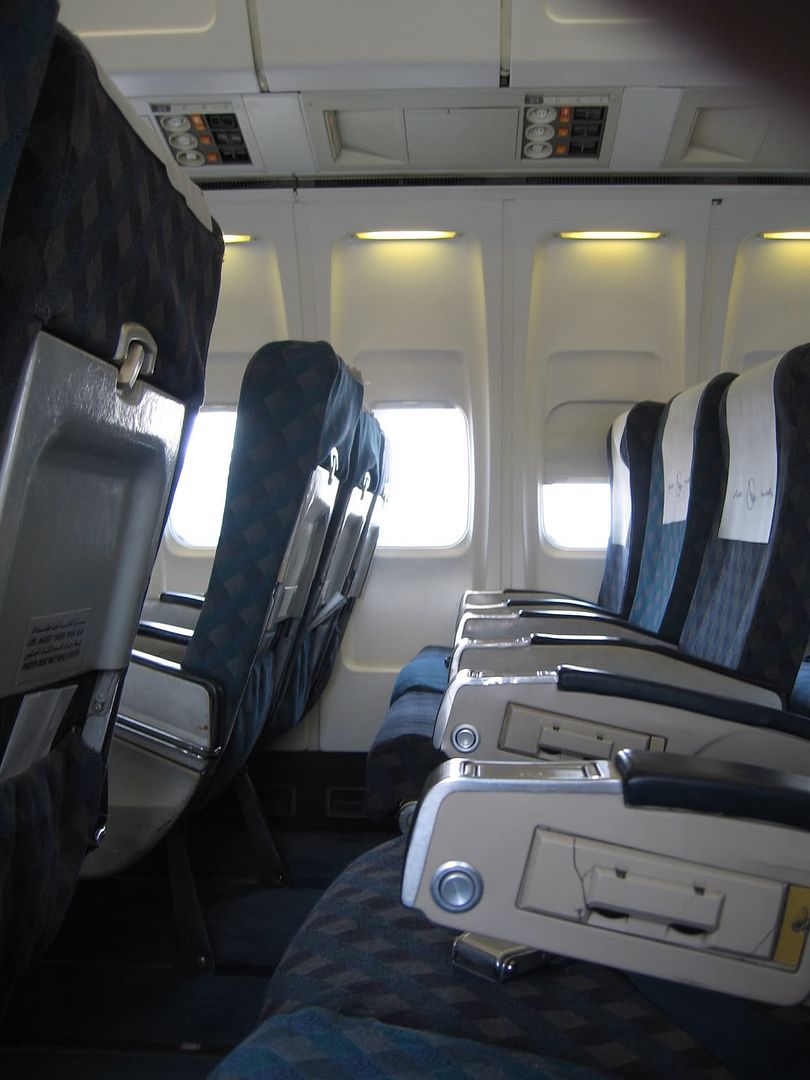 Oh, and here's one for all you safety card collectors out there. I would be prepared to send this to anyone who wants it….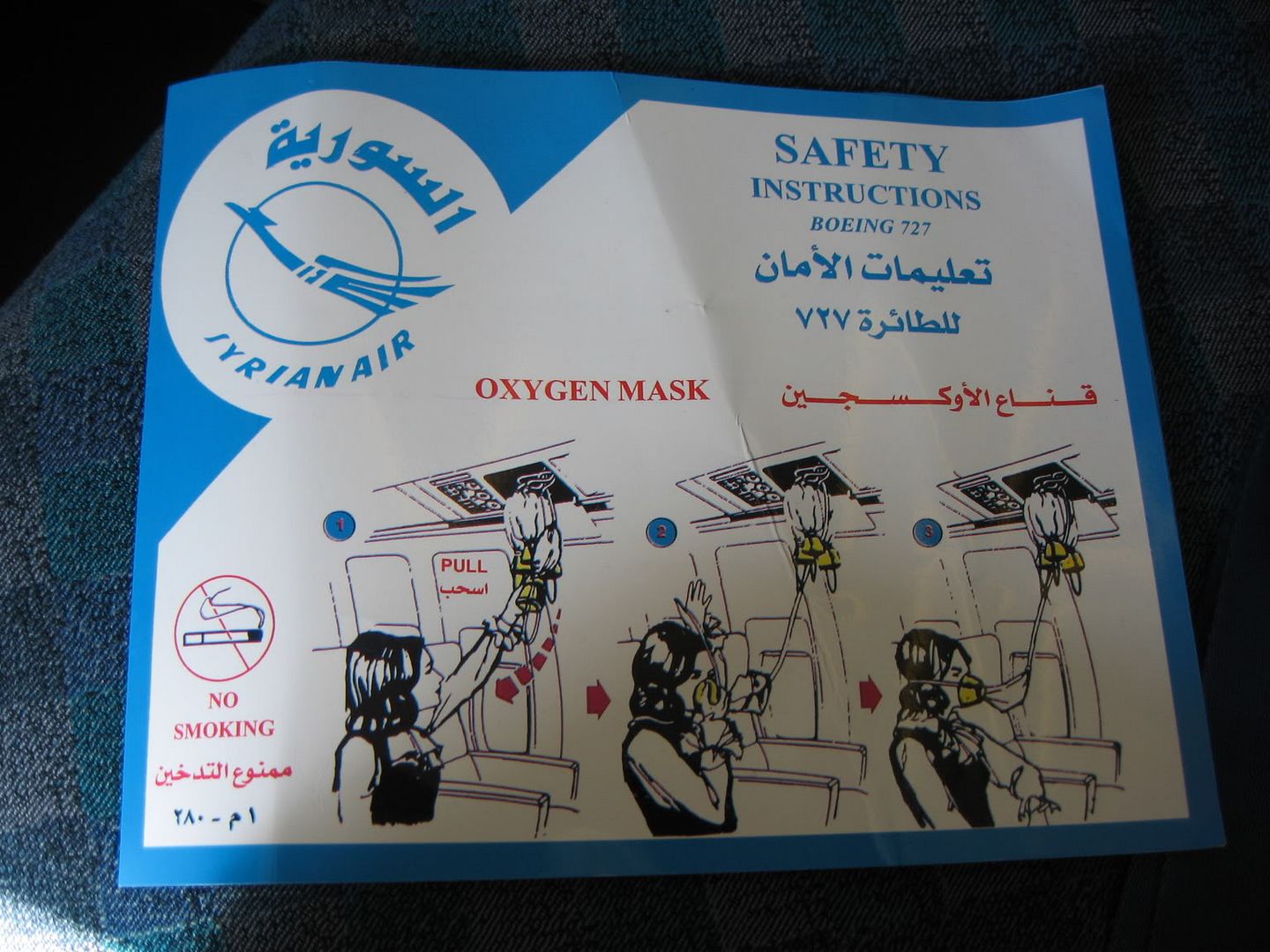 ….. Well, I would if I had not left it on board
After a few minutes, pushback commenced and the JT8D-17s whined into life – such a beautiful sound. The flaps were set for take-off, and we taxied out past the main terminal, and passed the new A380-compatible remote stands, which will soon be served by an interim pier so bridge the gap between now and when the new terminal and runway are opened in a few years' time.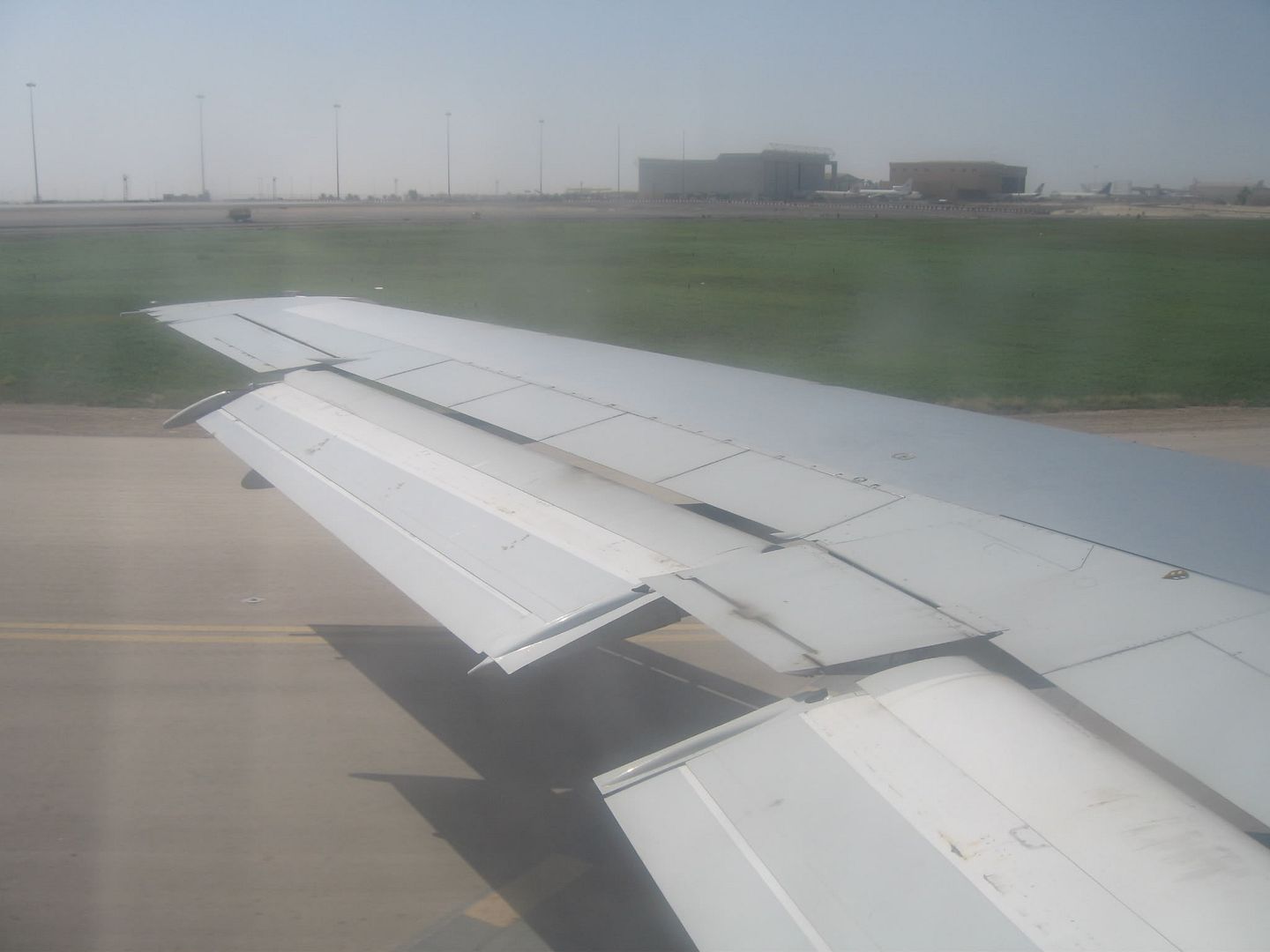 We then taxied past the GAMCO hangars, where the usual mix of classic TriStars and modern Airbus widebodies were present.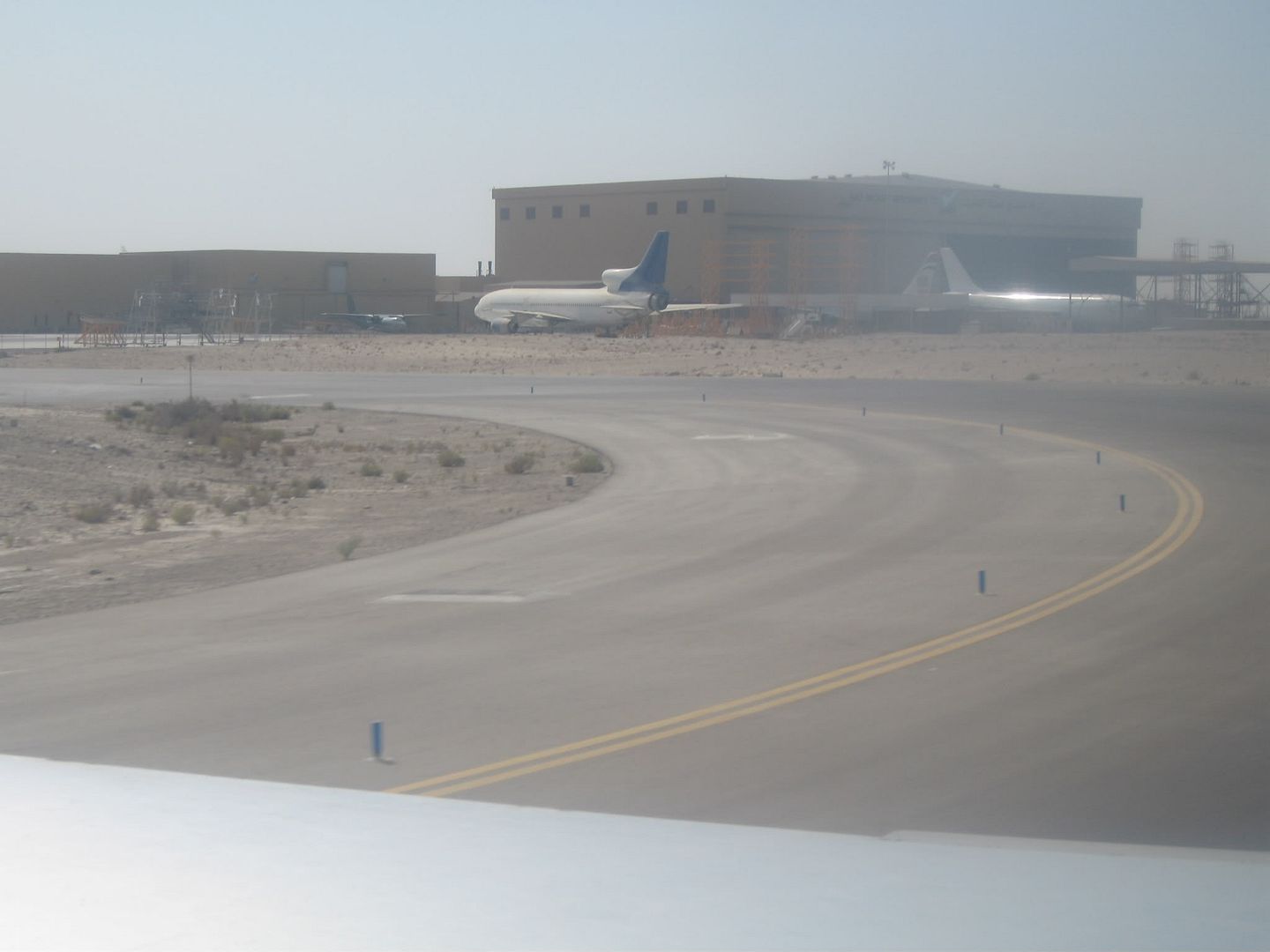 Anyone who remembers the Aer Turas L1011, EI-CNN, may be interested to see the machine now, sitting in the baking Abu Dhabi sun, where she has been since 1999, still wearing the blue tail colours from the 1999 lease to the recently-defunct Air Scandic.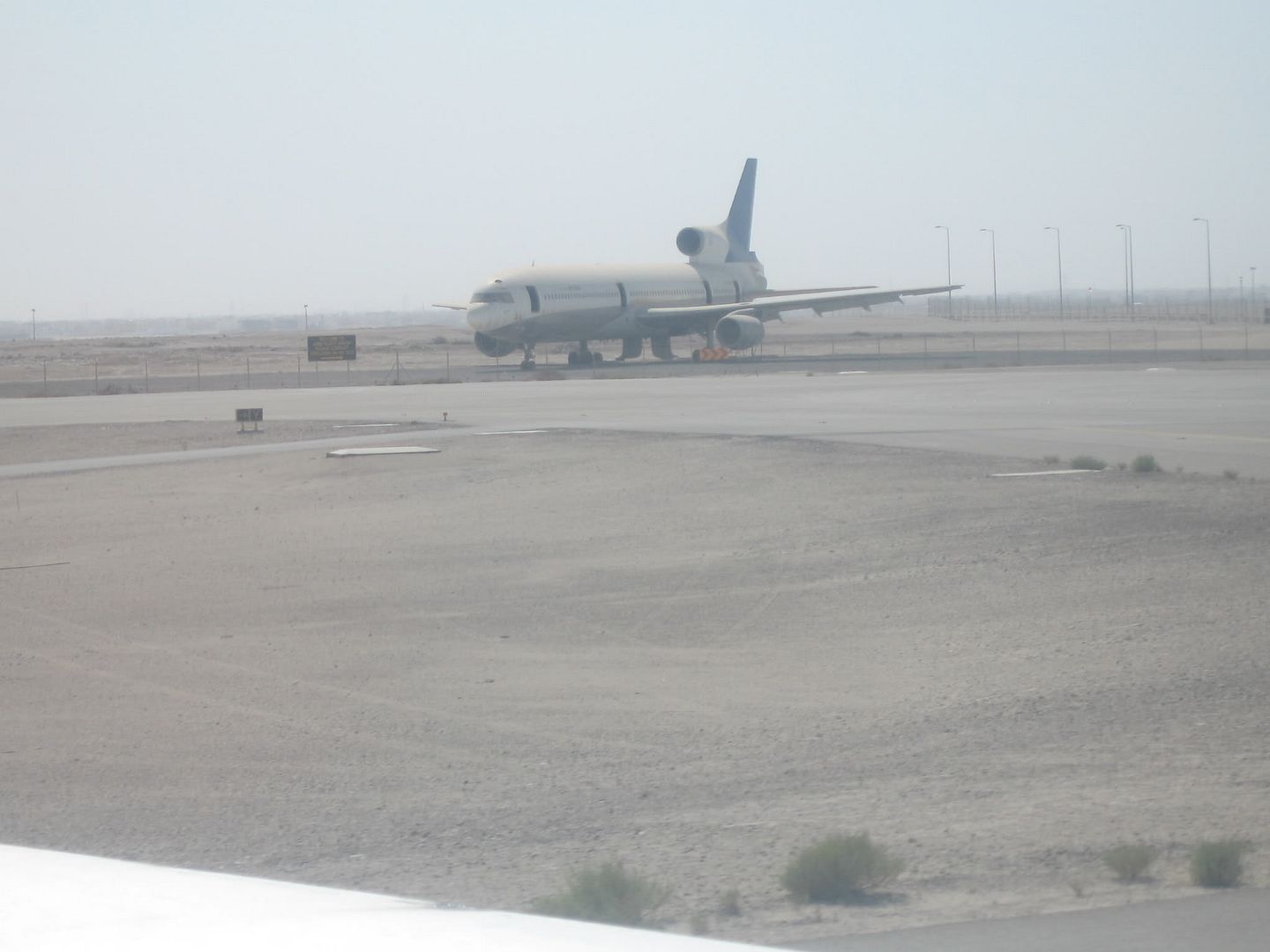 We then passed the Amiri Flight hangar area, turned onto the runway and began the take-off roll.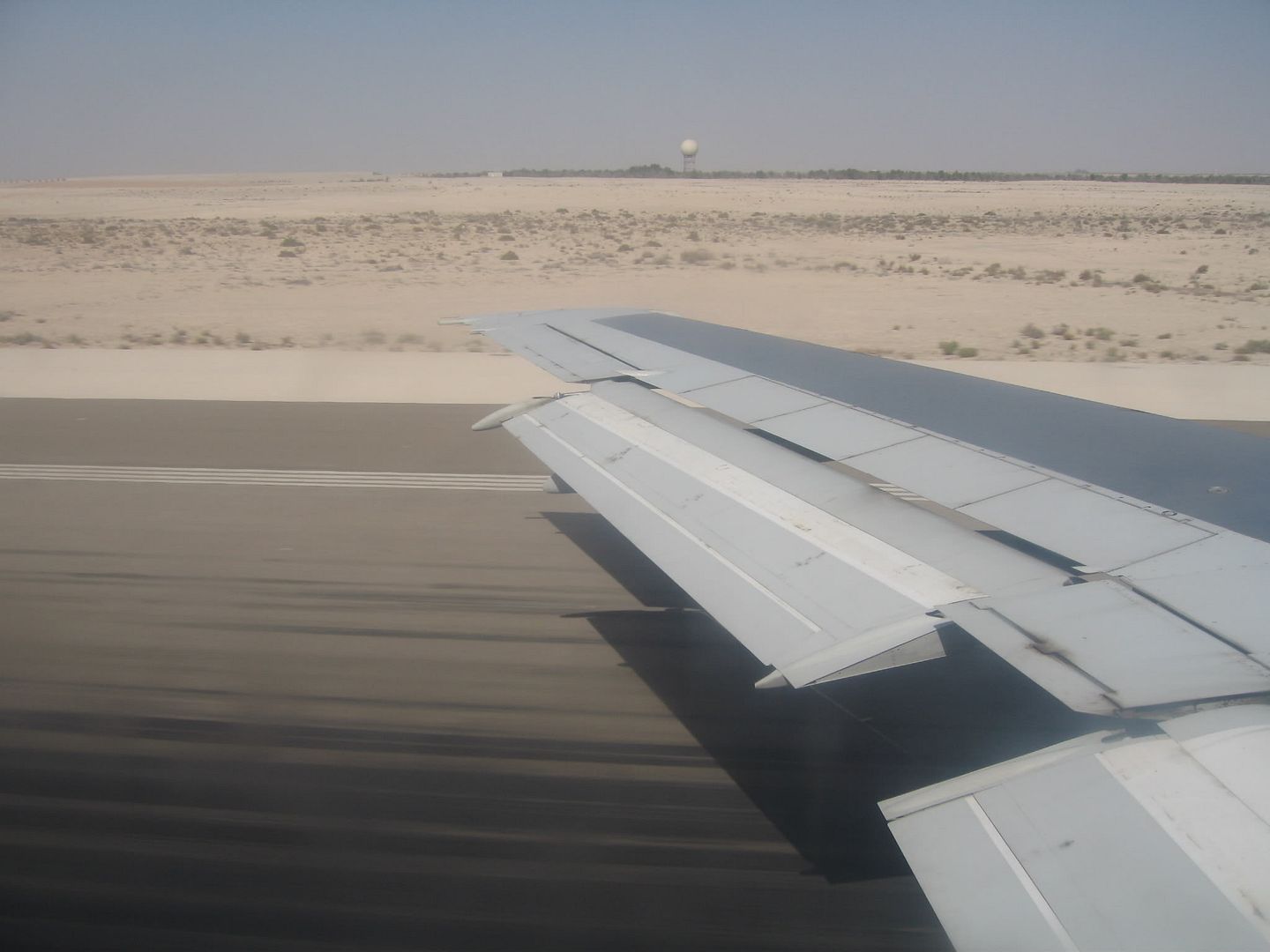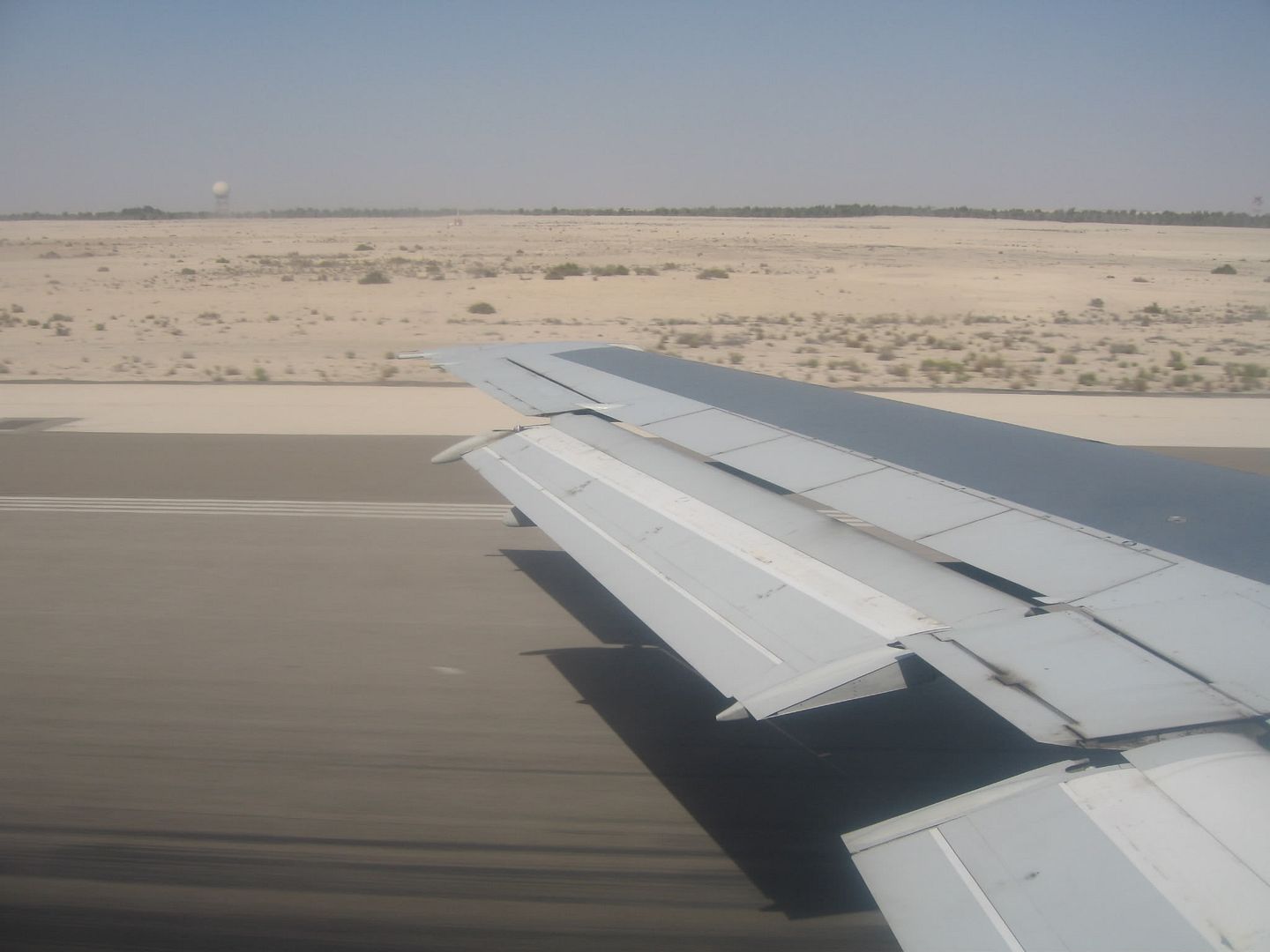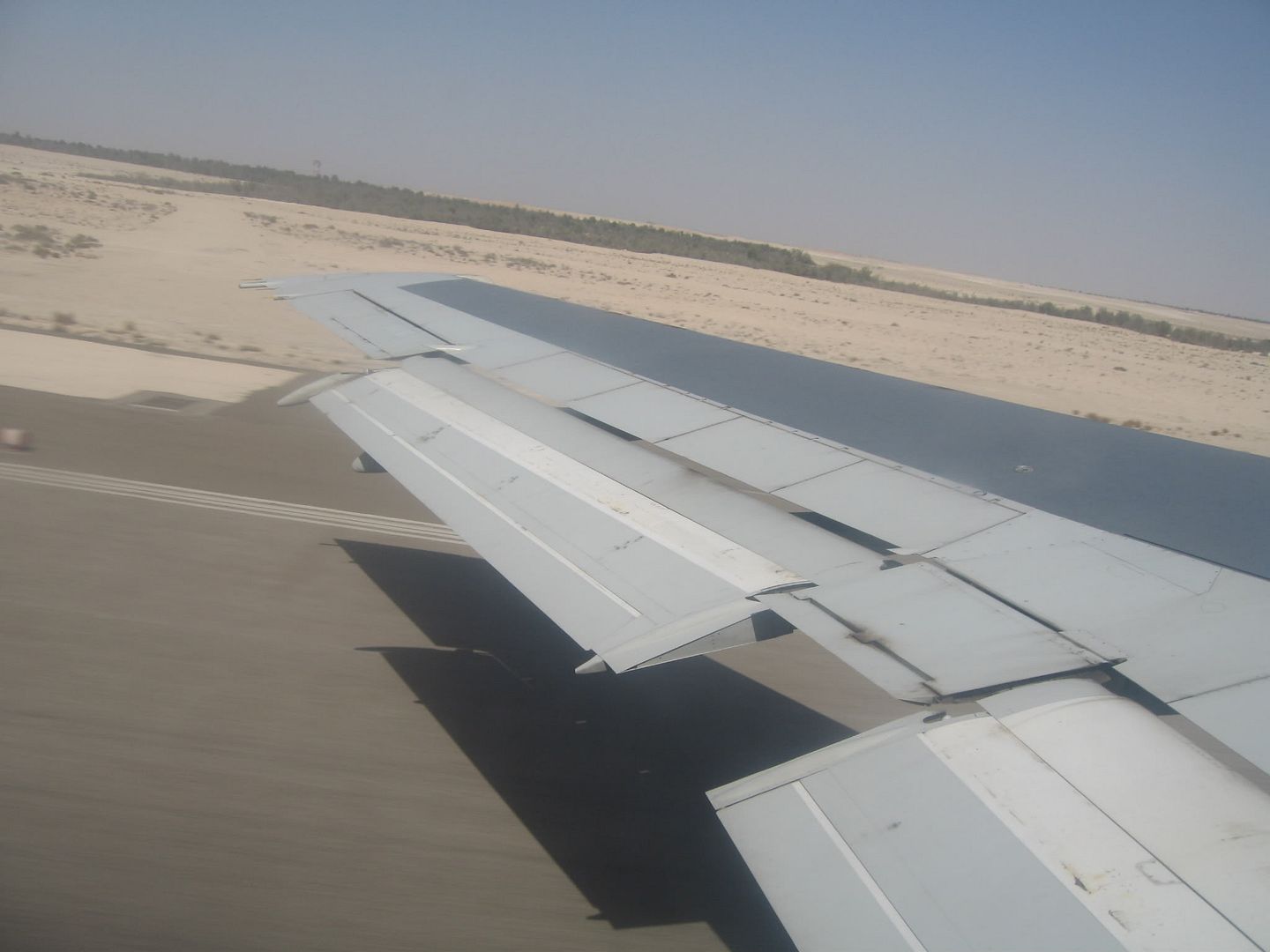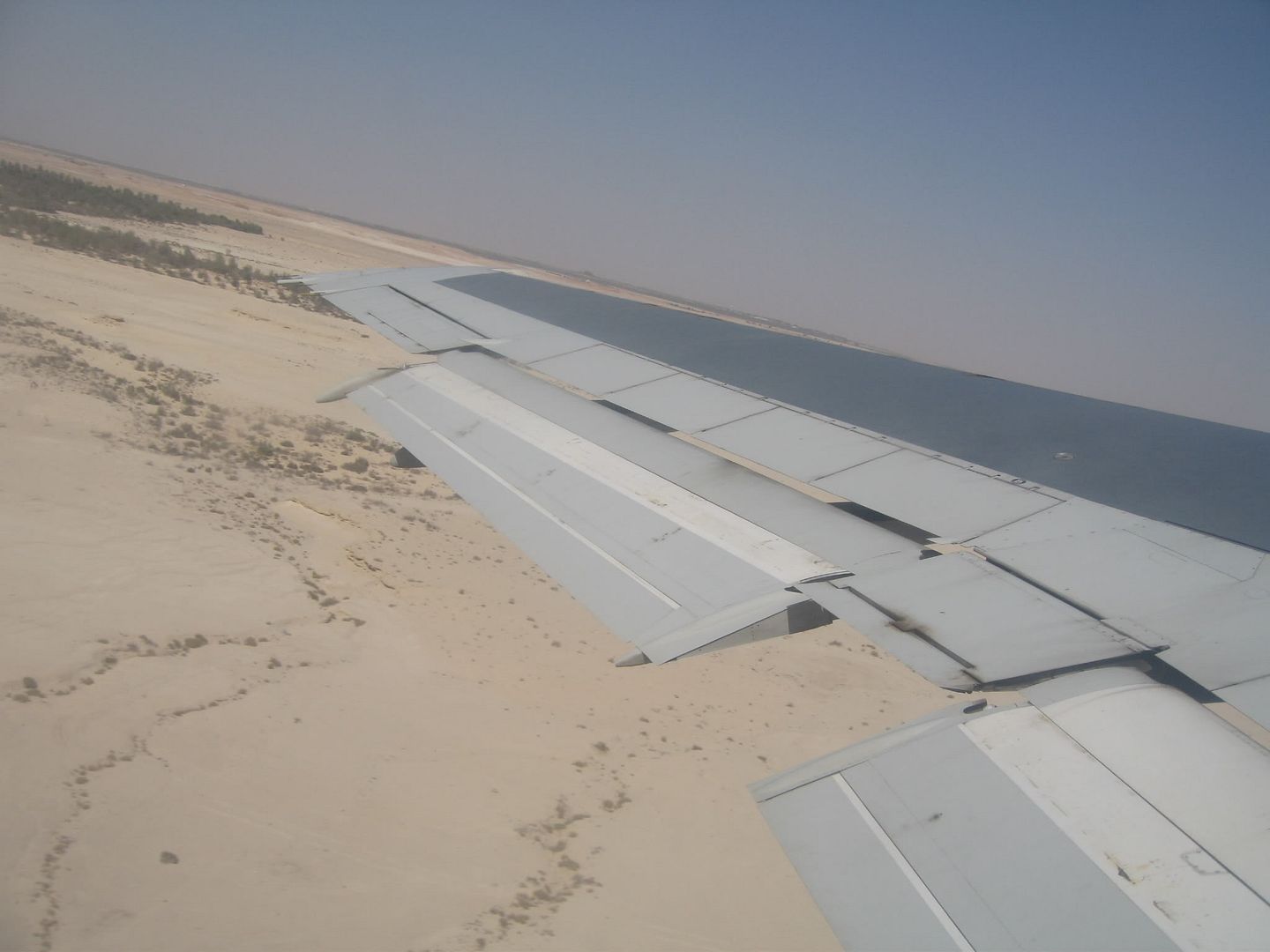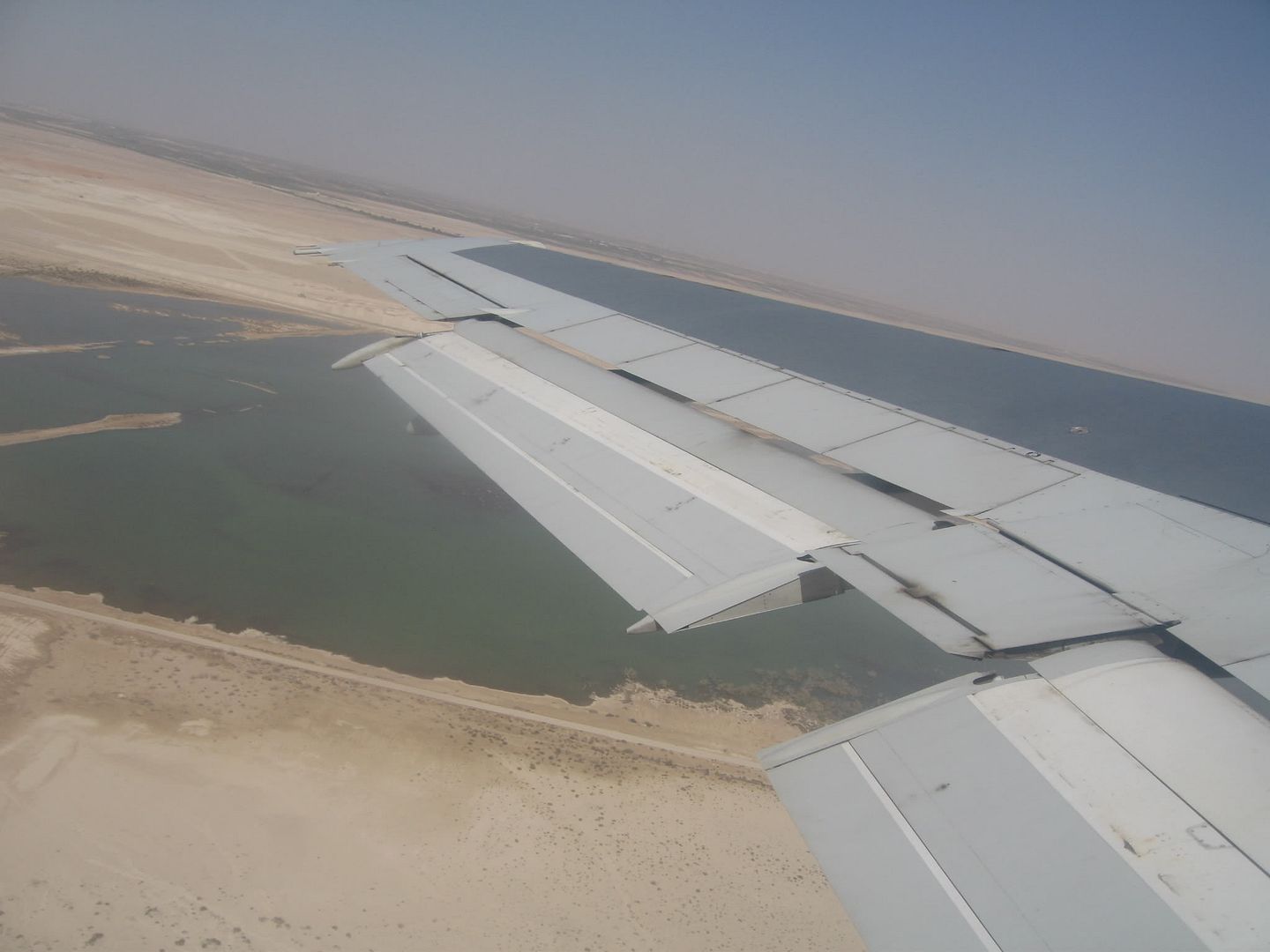 This is what it is all about – here I was in late 2005, flying on a national carrier's 727 on a scheduled flight between the capitals of two countries. I was so glad I took this opportunity.
As the aircraft climbed out, we passed over the highway which leads eventually to Dubai, and banked to the left.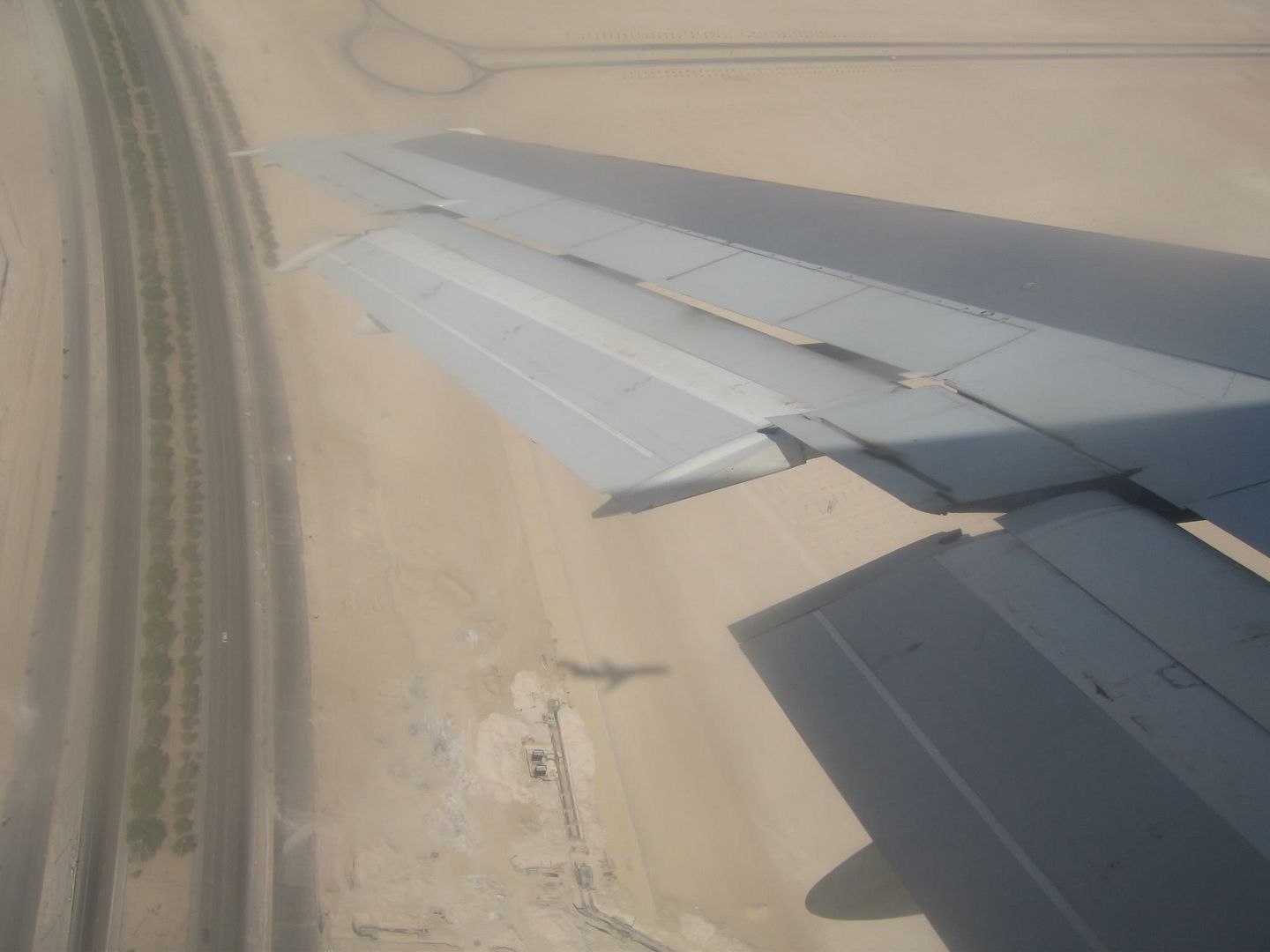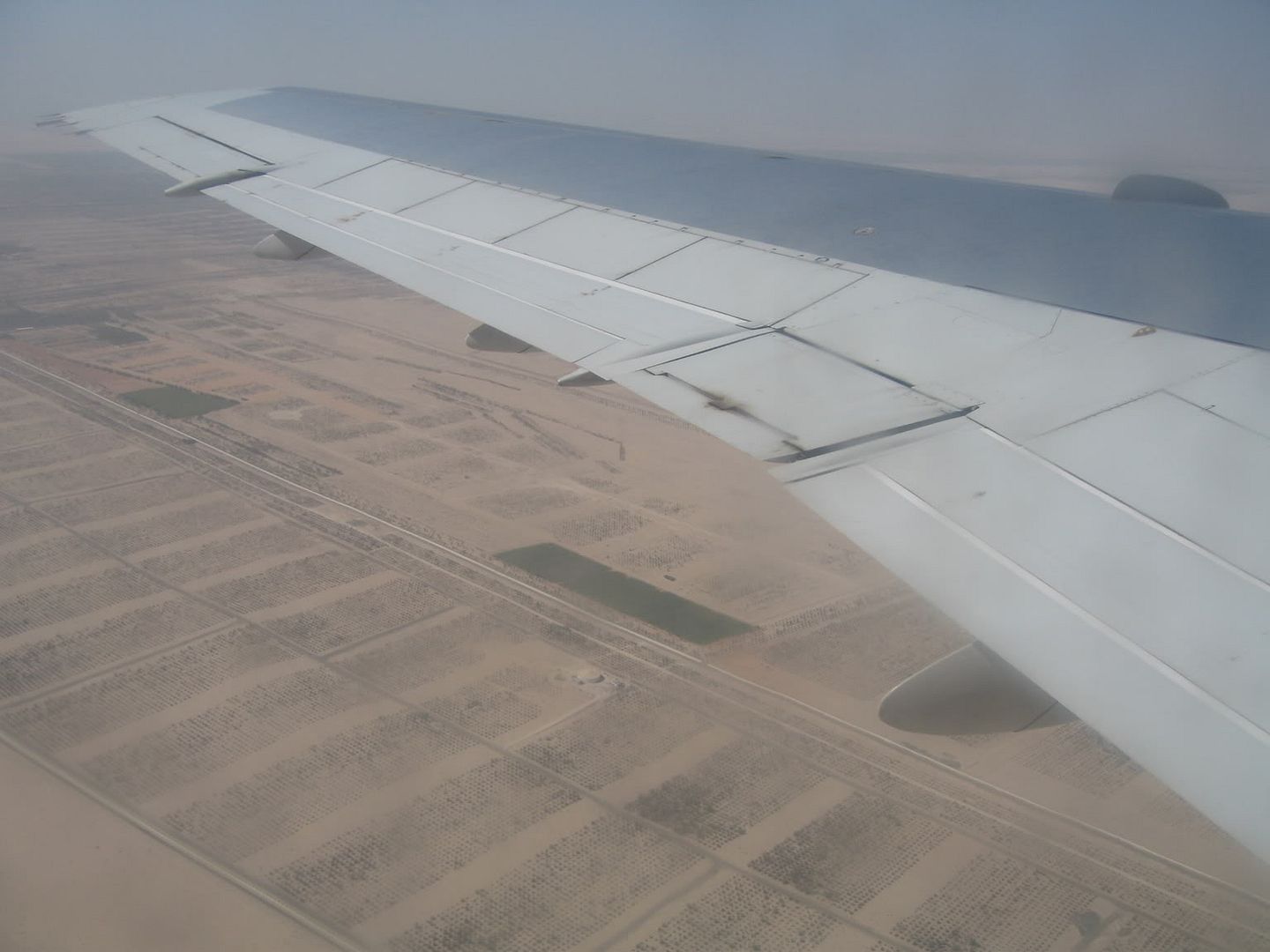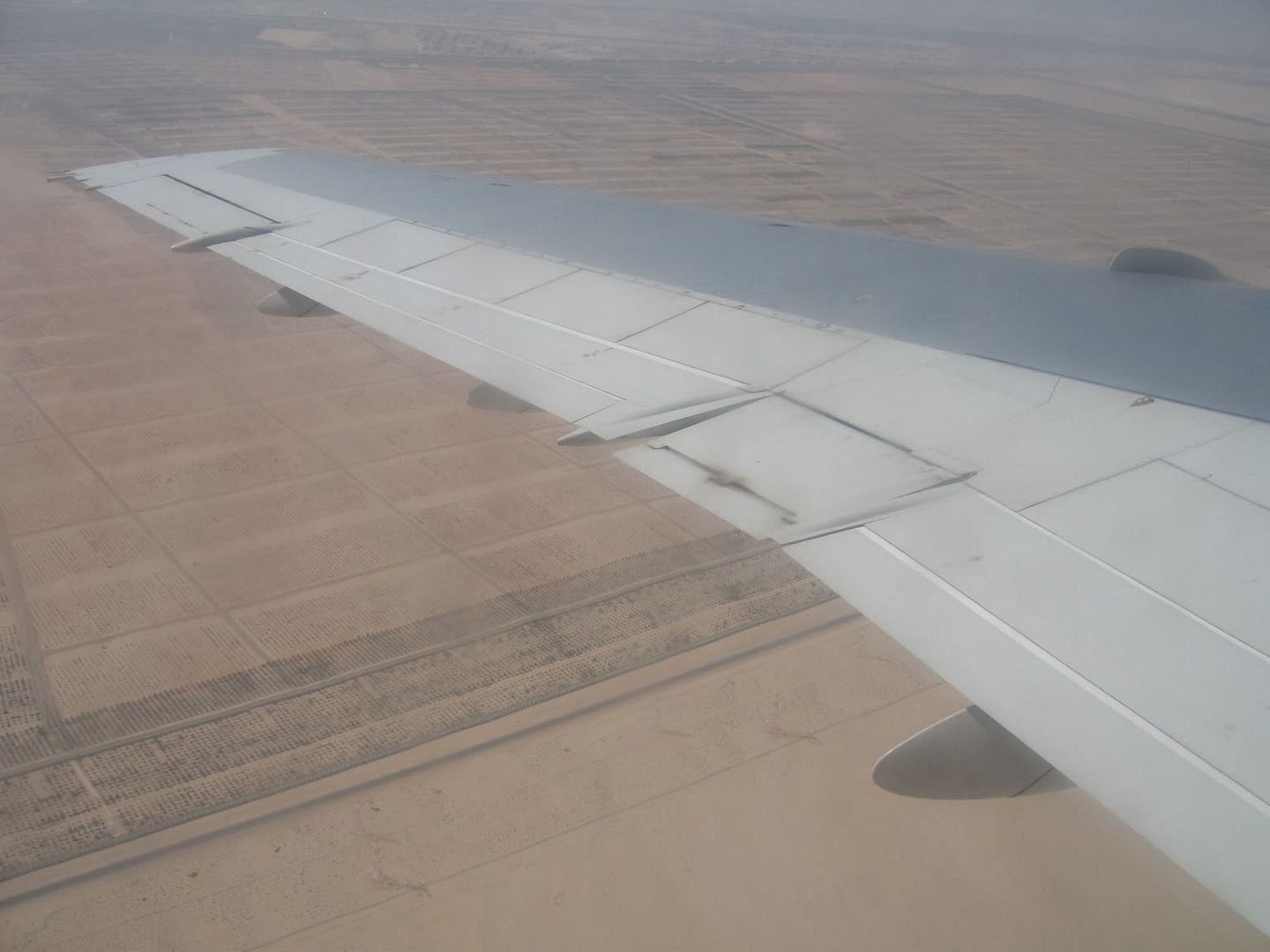 One thing I always liked on the older Boeing types was the aircraft type logo on the window blinds, a rather grimy example of which remained on this classic aircraft.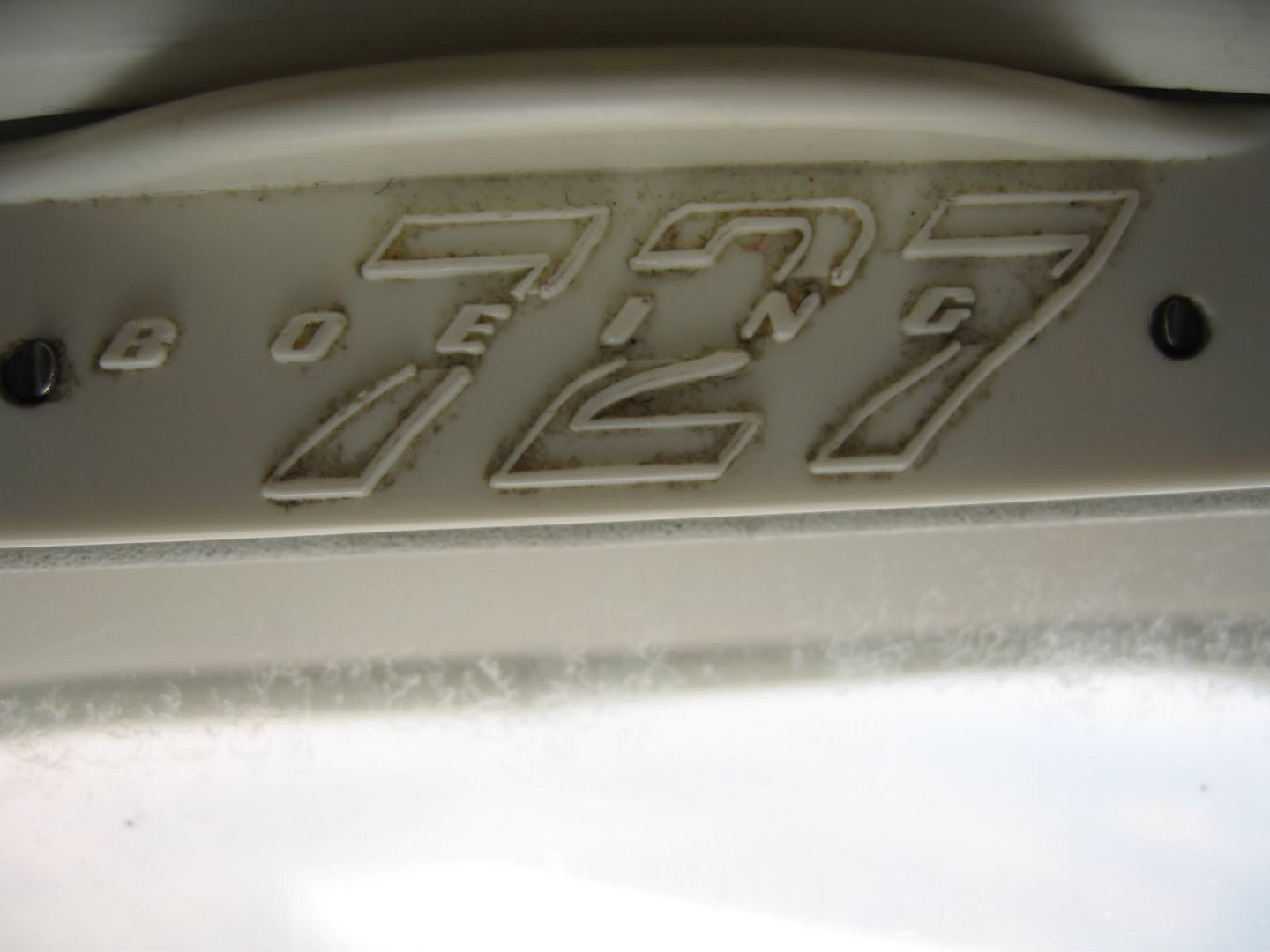 After a few more minutes, we eventually left the coastline of the United Arab Emirates behind, and continued to climb towards cruising altitude.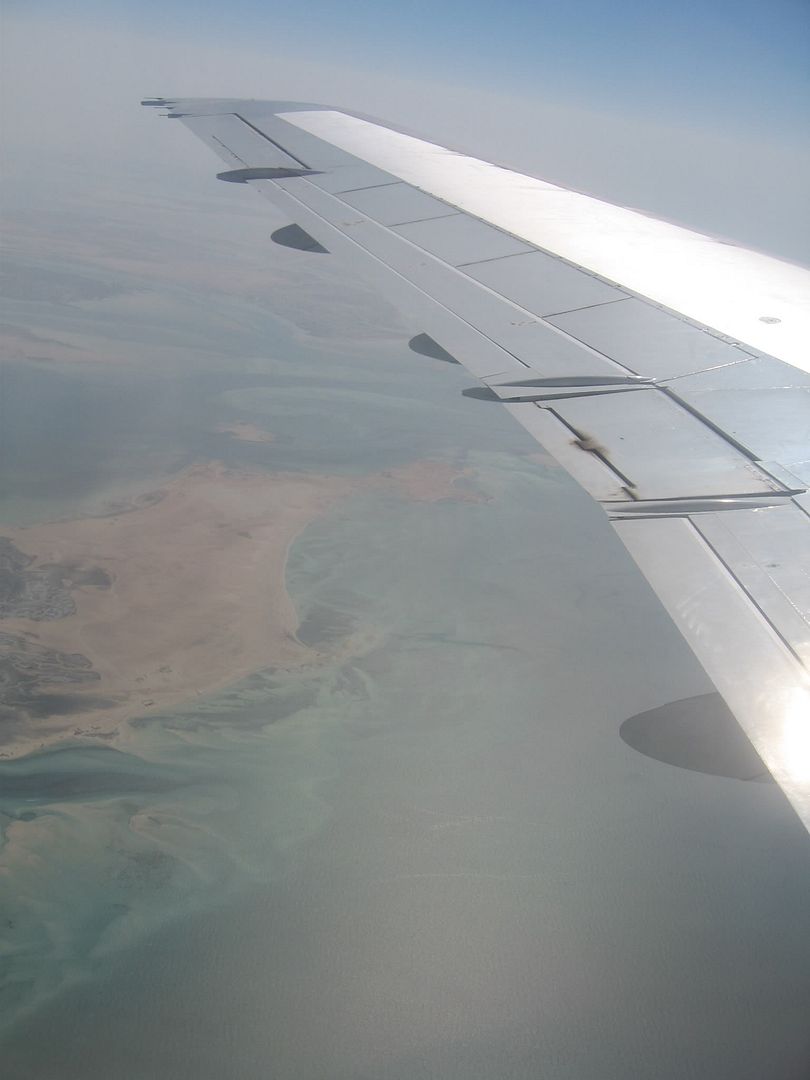 I was not expecting anything in terms of service on this flight during Ramadan, so was very surprised to see that a hot meal and beverage service was being offered. I was glad of this as I had not really eaten so far, having only had a cup of tea in the airport. What I did not realize is that Syria is partially populated by Christians, so not everyone on the flight would have been fasting. I was given my meal, and a glass of orange juice. The meal consisted of a small salad dish, a hot lamb dish in a tomato sauce with rice, and an Arabian style dessert.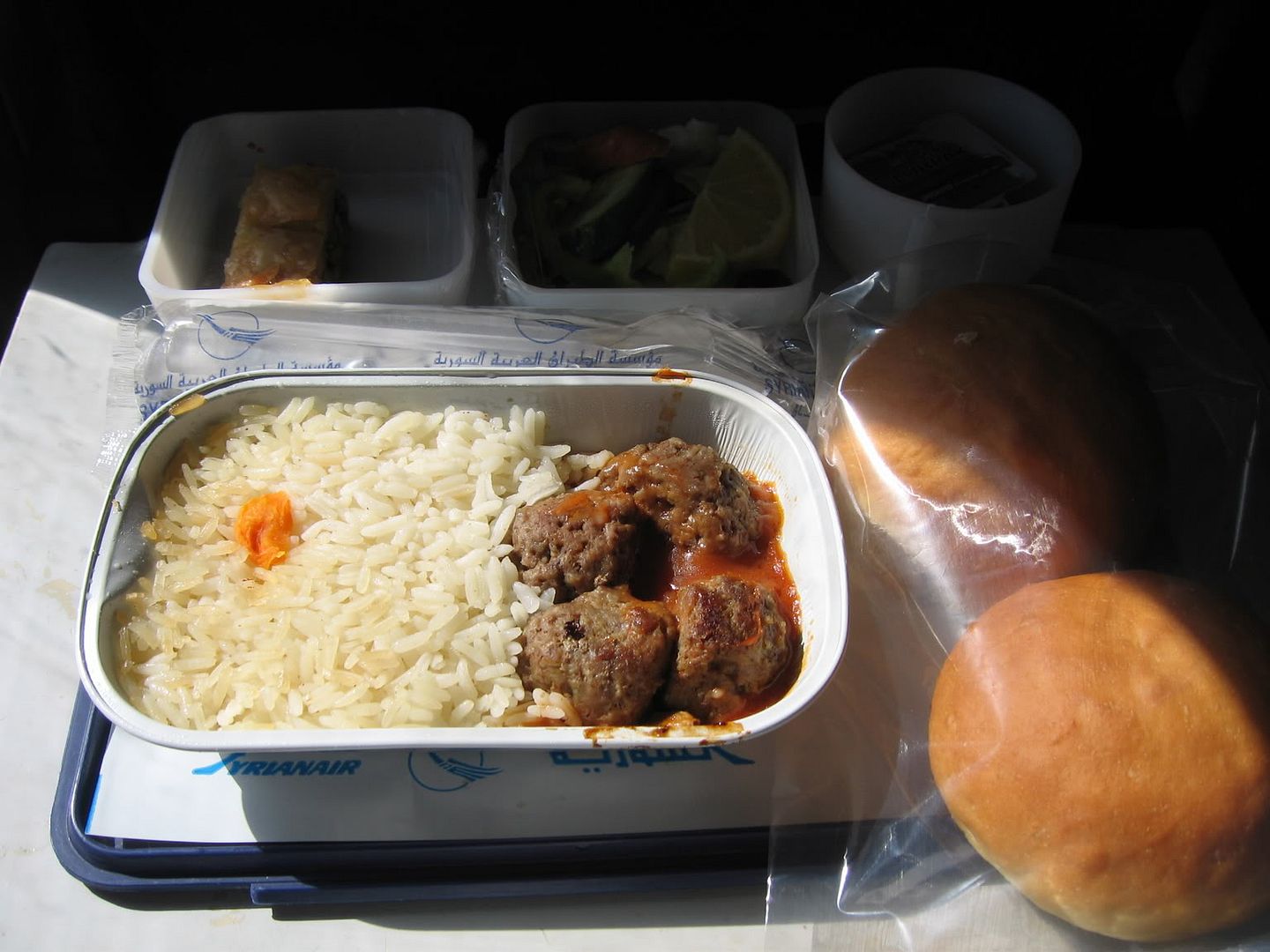 I'm not much of a salad person at all, so went straight to the main dish. It actually looked worse than it was, and nicely filled a gap that needed filling, as did the dessert. We were then offered a hot beverage - I chose to have a cup of tea, being very much a tea person.
By now we had passed over the Qatar and Bahrain area, and were entering the vast expanse that is Saudi Arabia.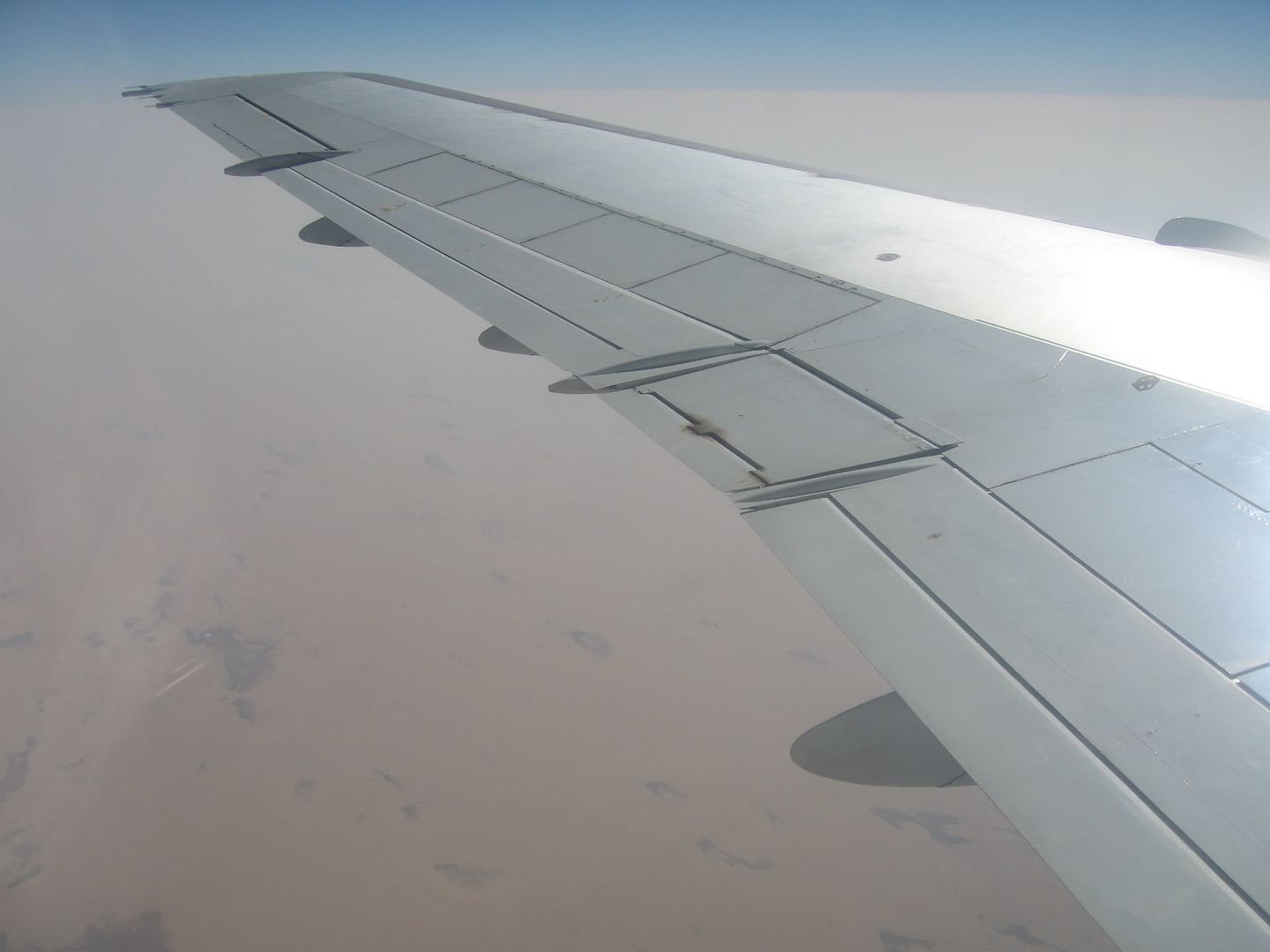 Had I sat further back on the right side of the aircraft, I dare say I would have been able to get an engine shot, but my view of the no. 1 engine was somewhat restricted, to say the least!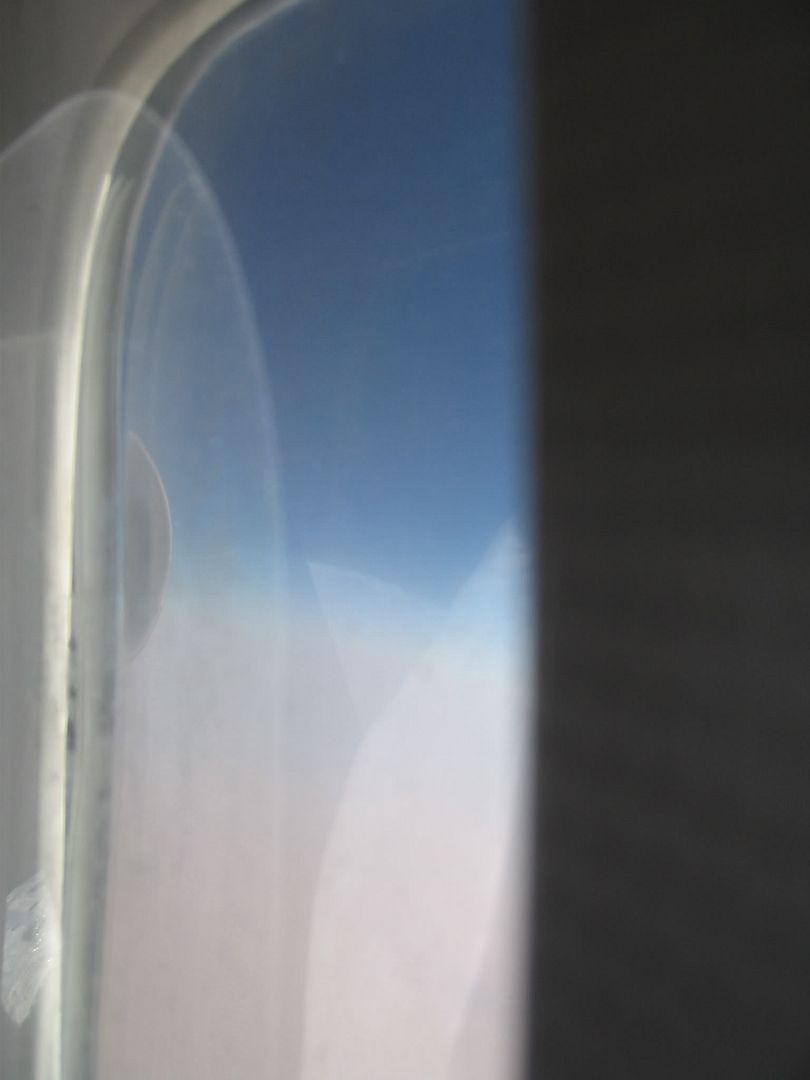 A good indicator of the state of the cabin fittings on this old aircraft were the tray tables, which were cracked and peeling.
The overhead panel reminded me of some of the 737-200s I had flown in the past – now very dated.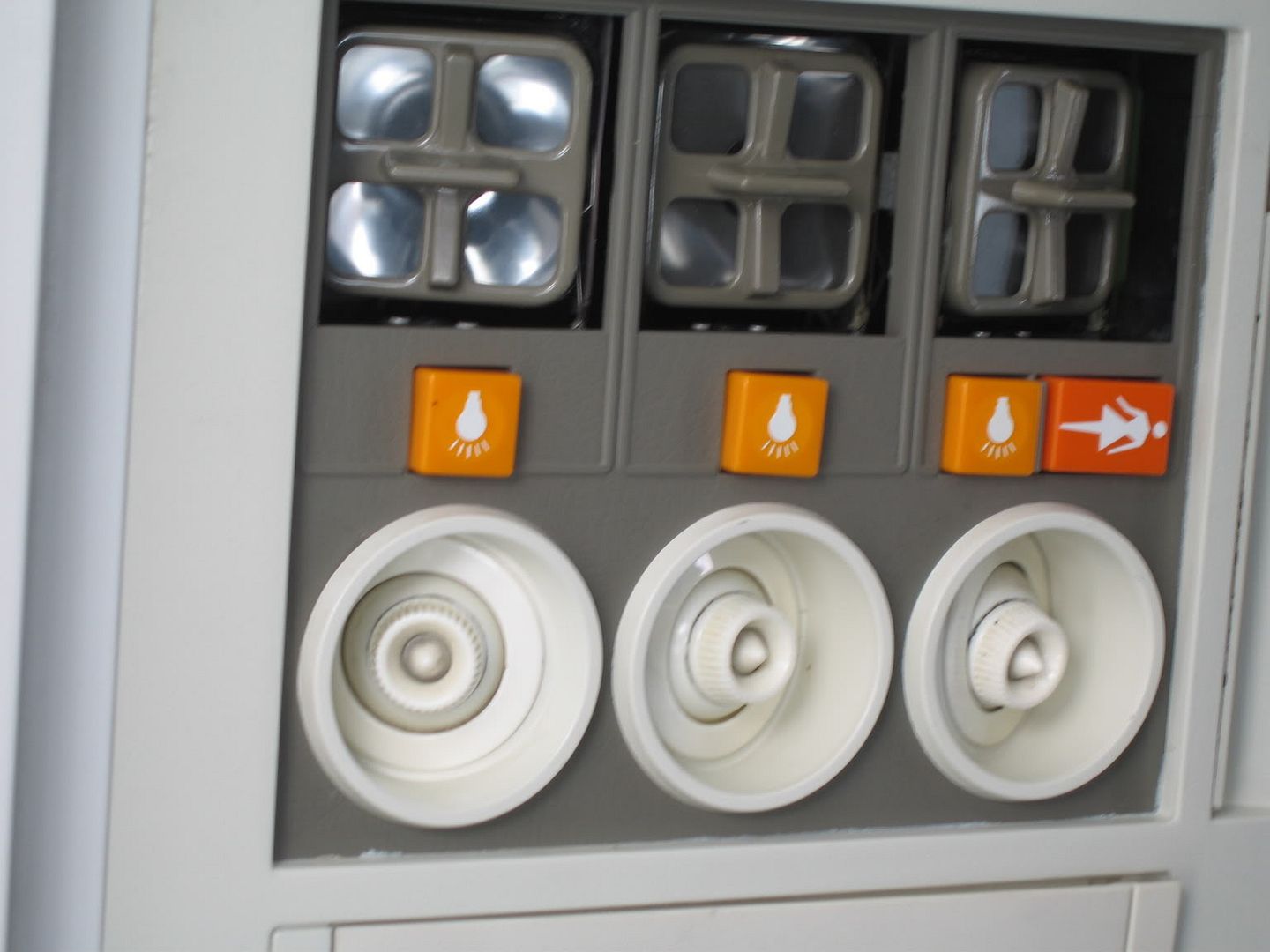 After what seemed like an eternity passing over Saudi Arabia, we entered Syria, and eventually started the descent towards Damascus.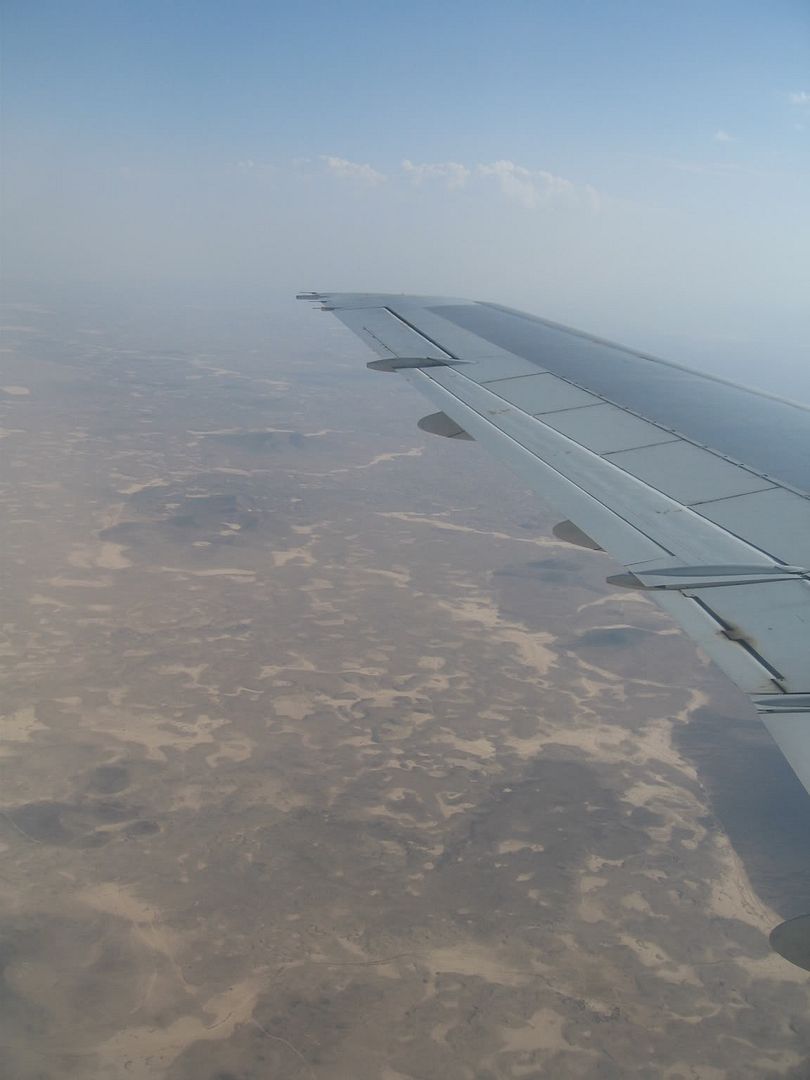 As the aircraft banked to the left during the descent, Damascus International Airport could already be seen in the distance.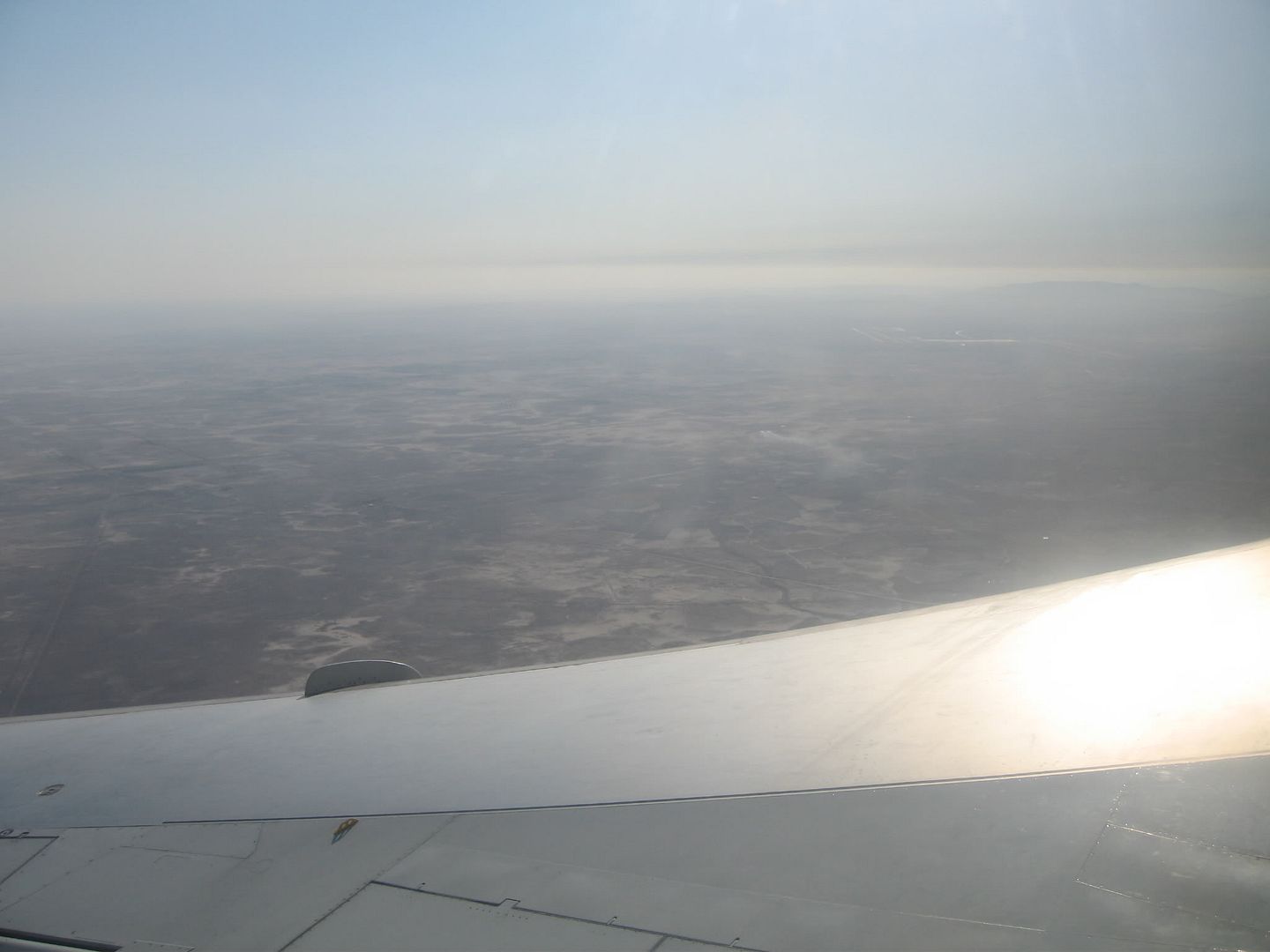 We were now on a long final approach to the airport, and the desert below provided a pleasant view, with its sparsely scattered buildings. A power station was also visible in the distance.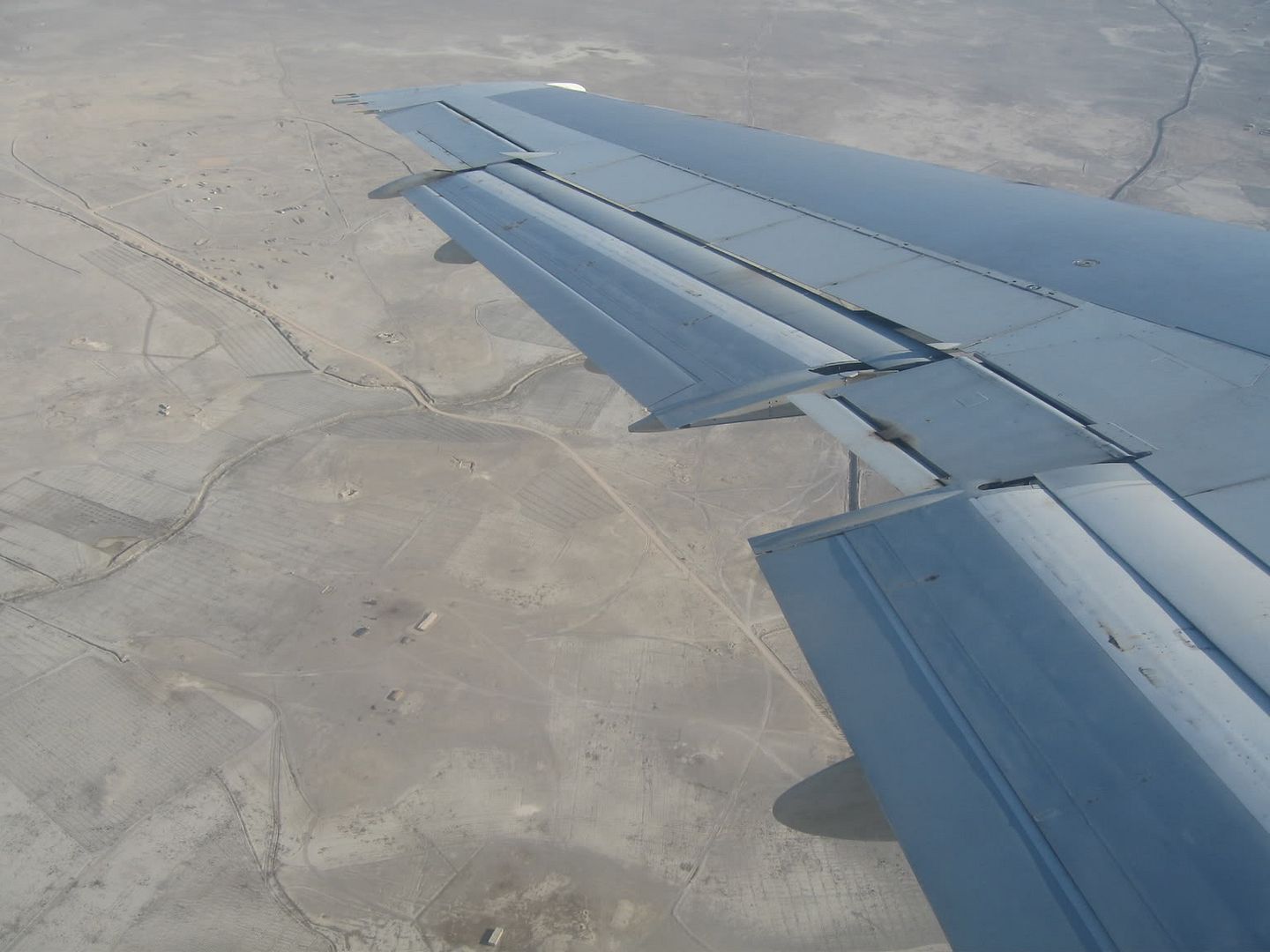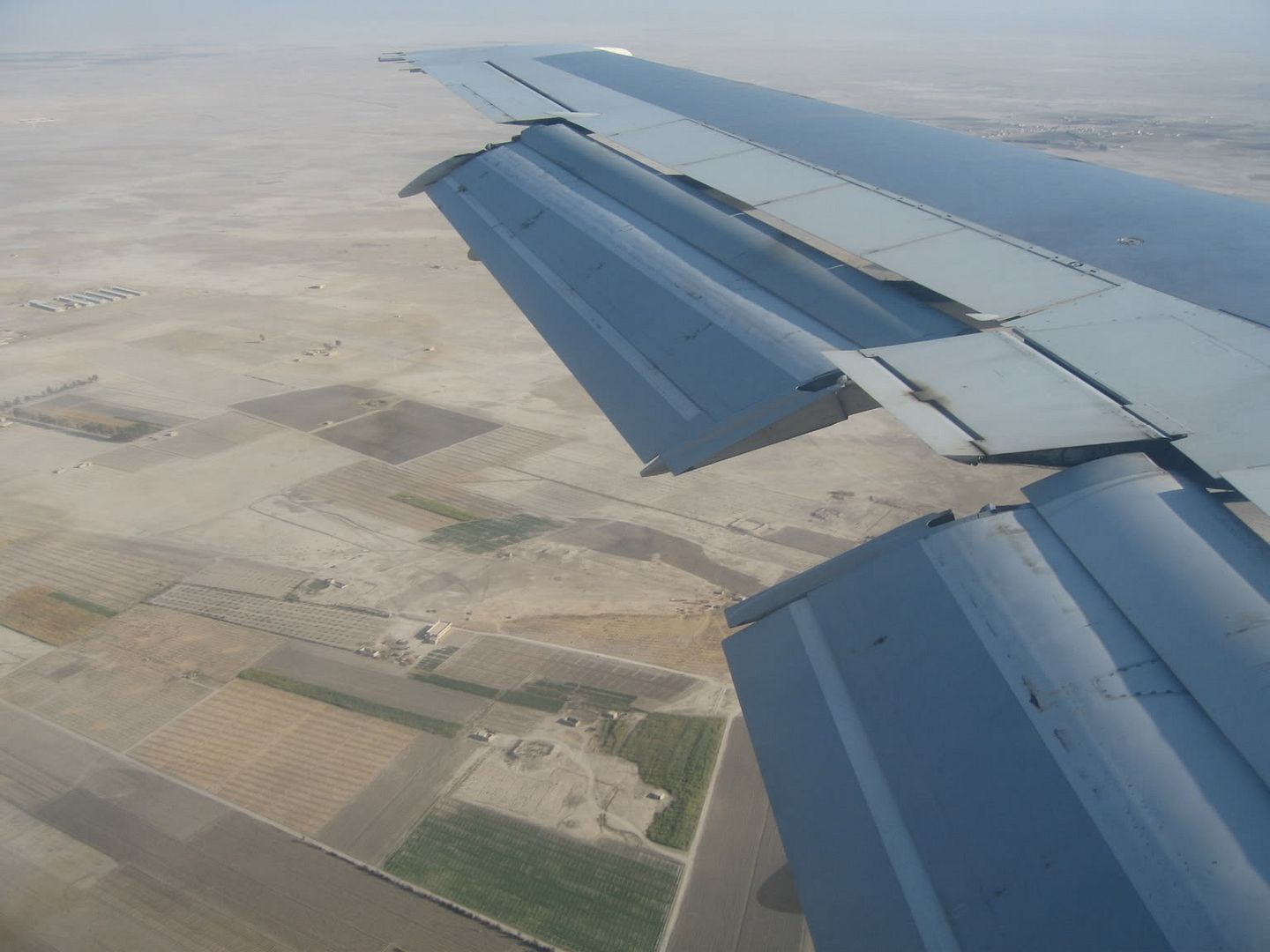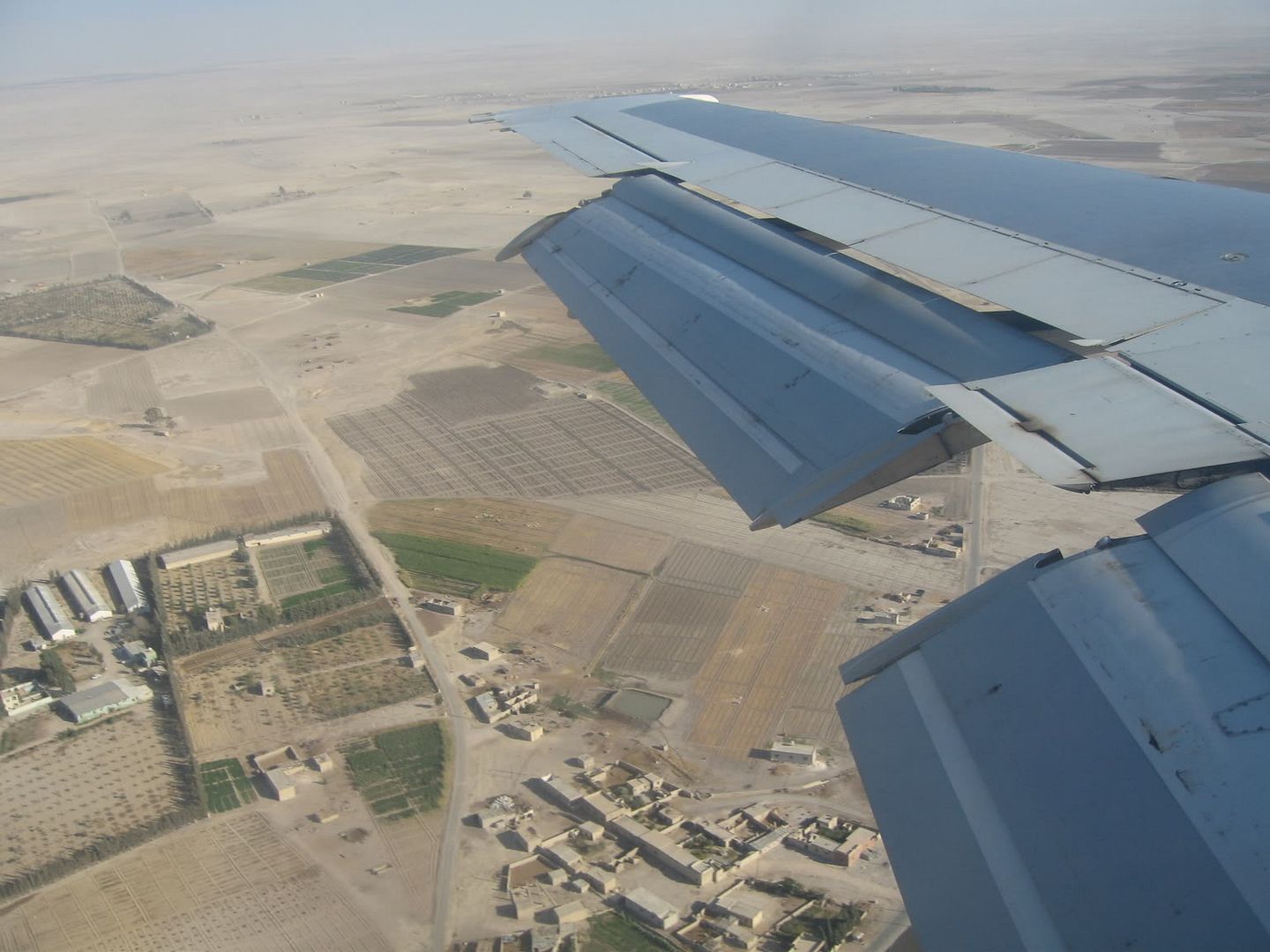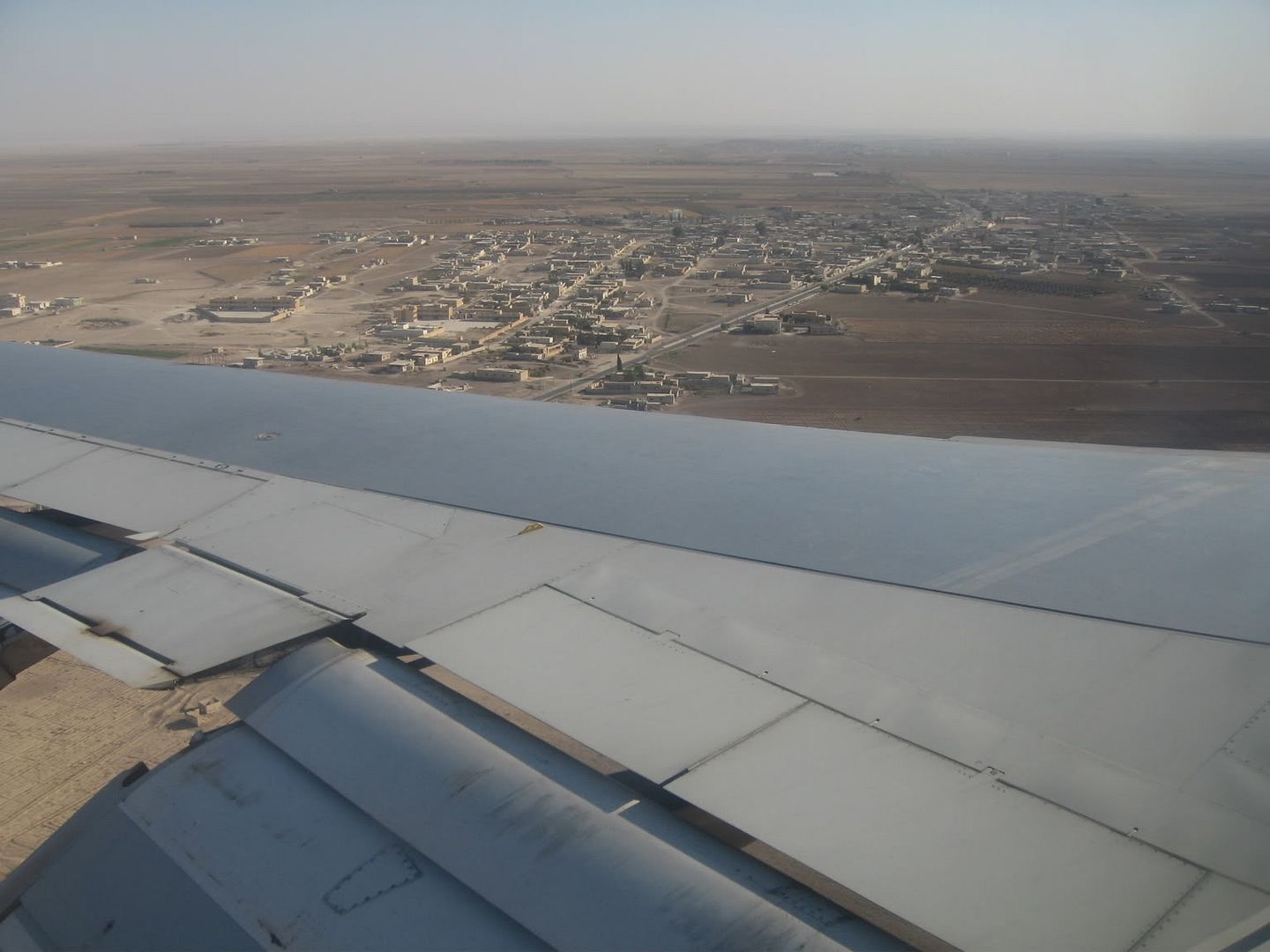 Landing in DAM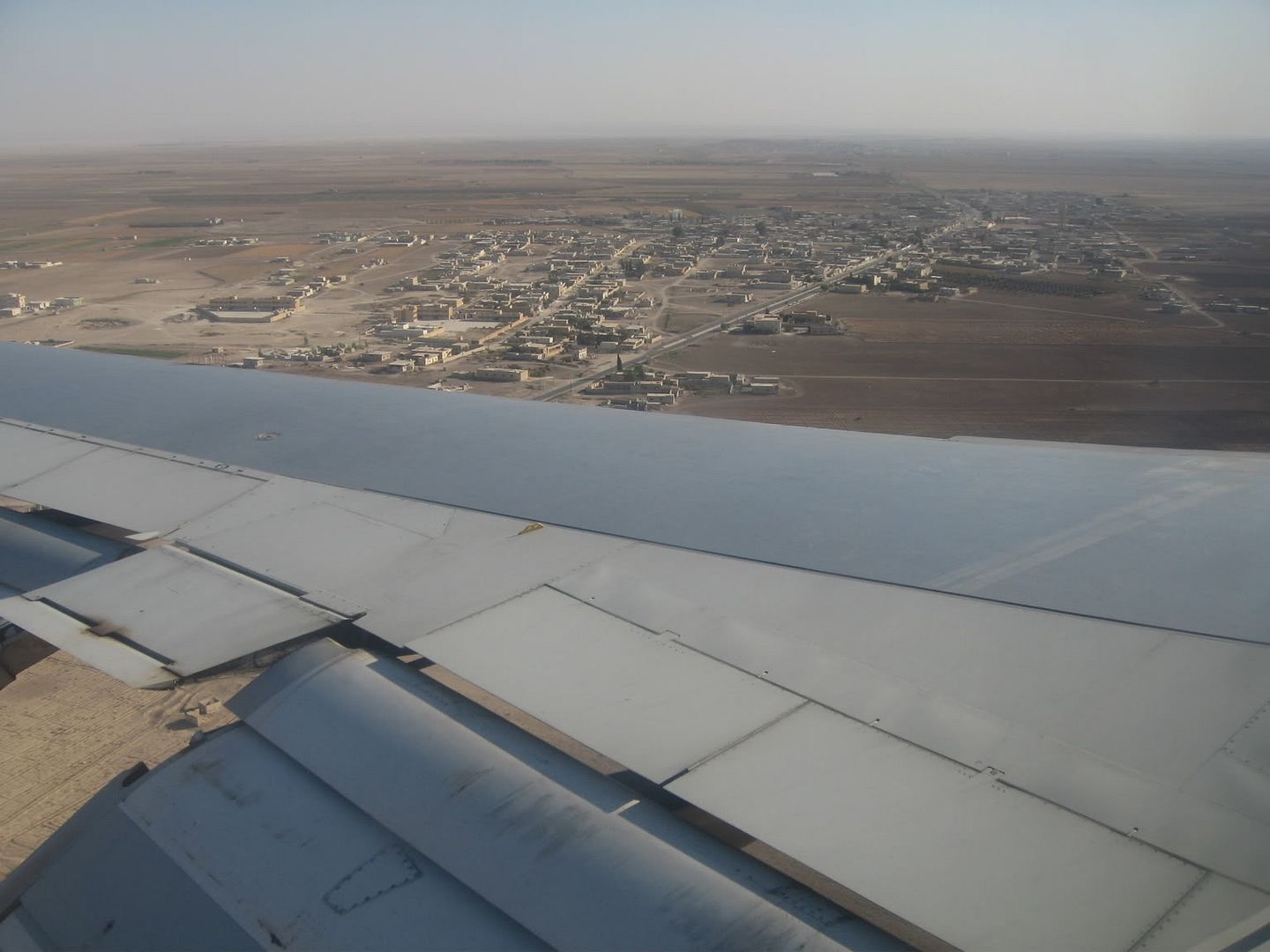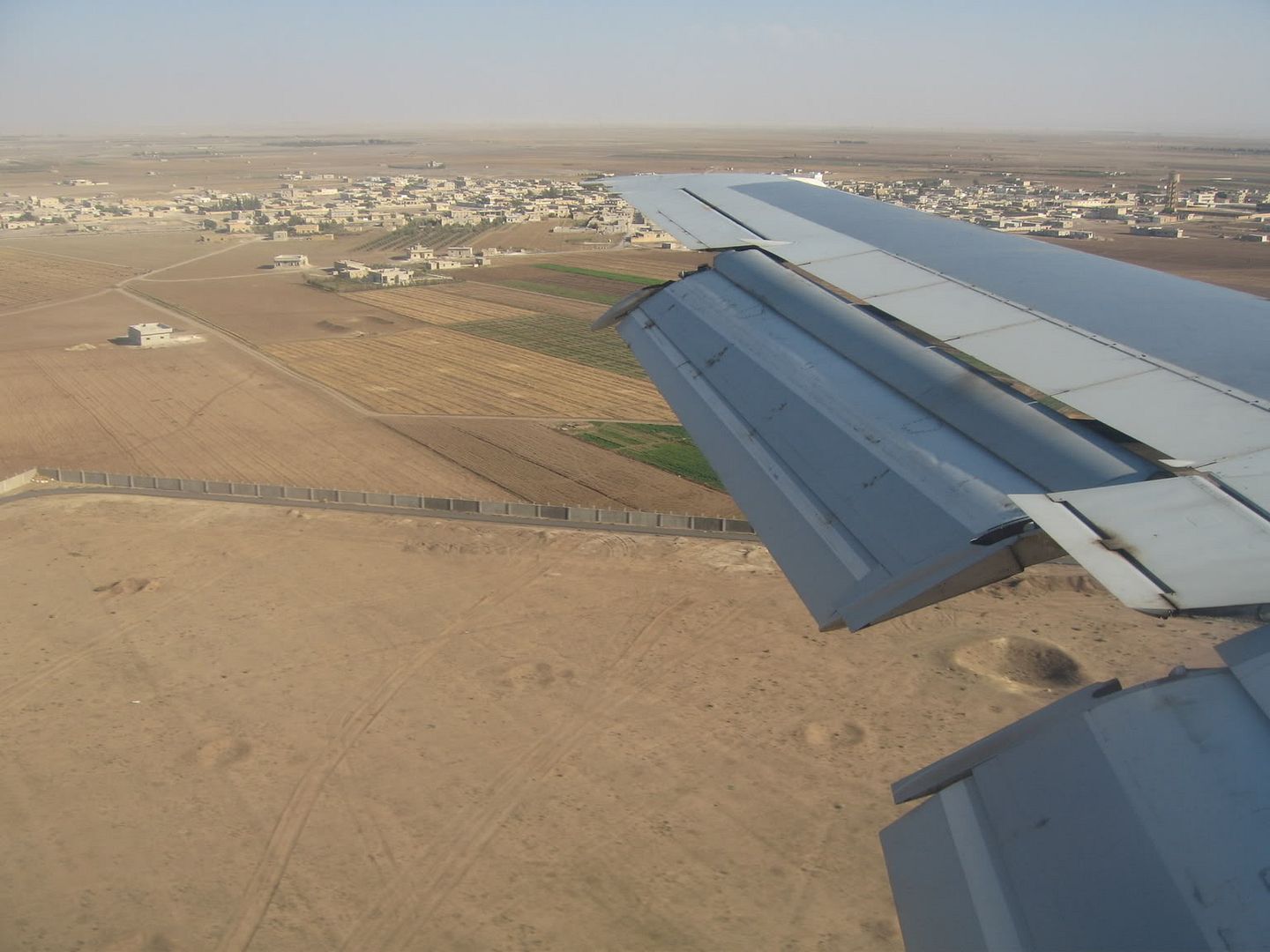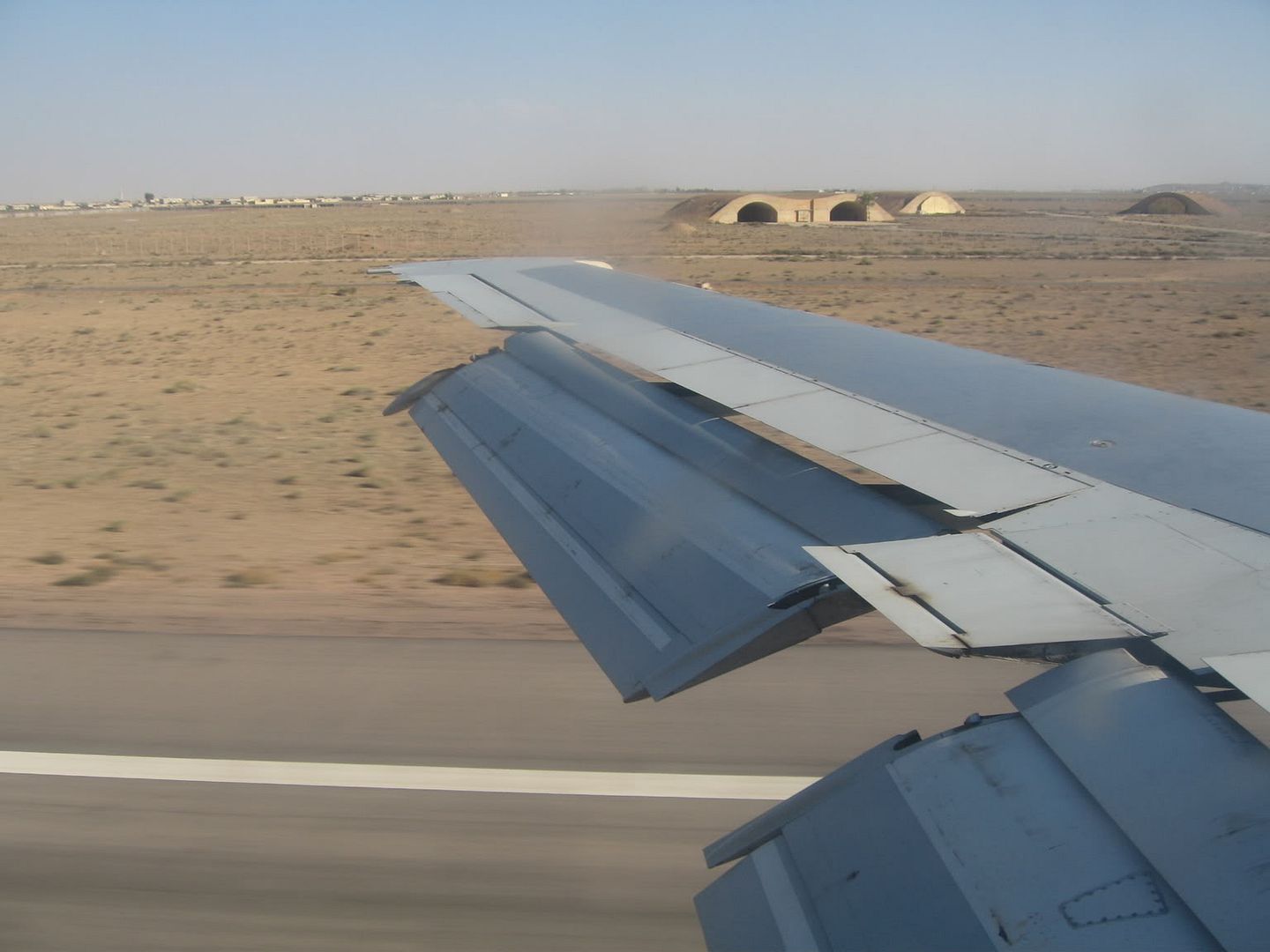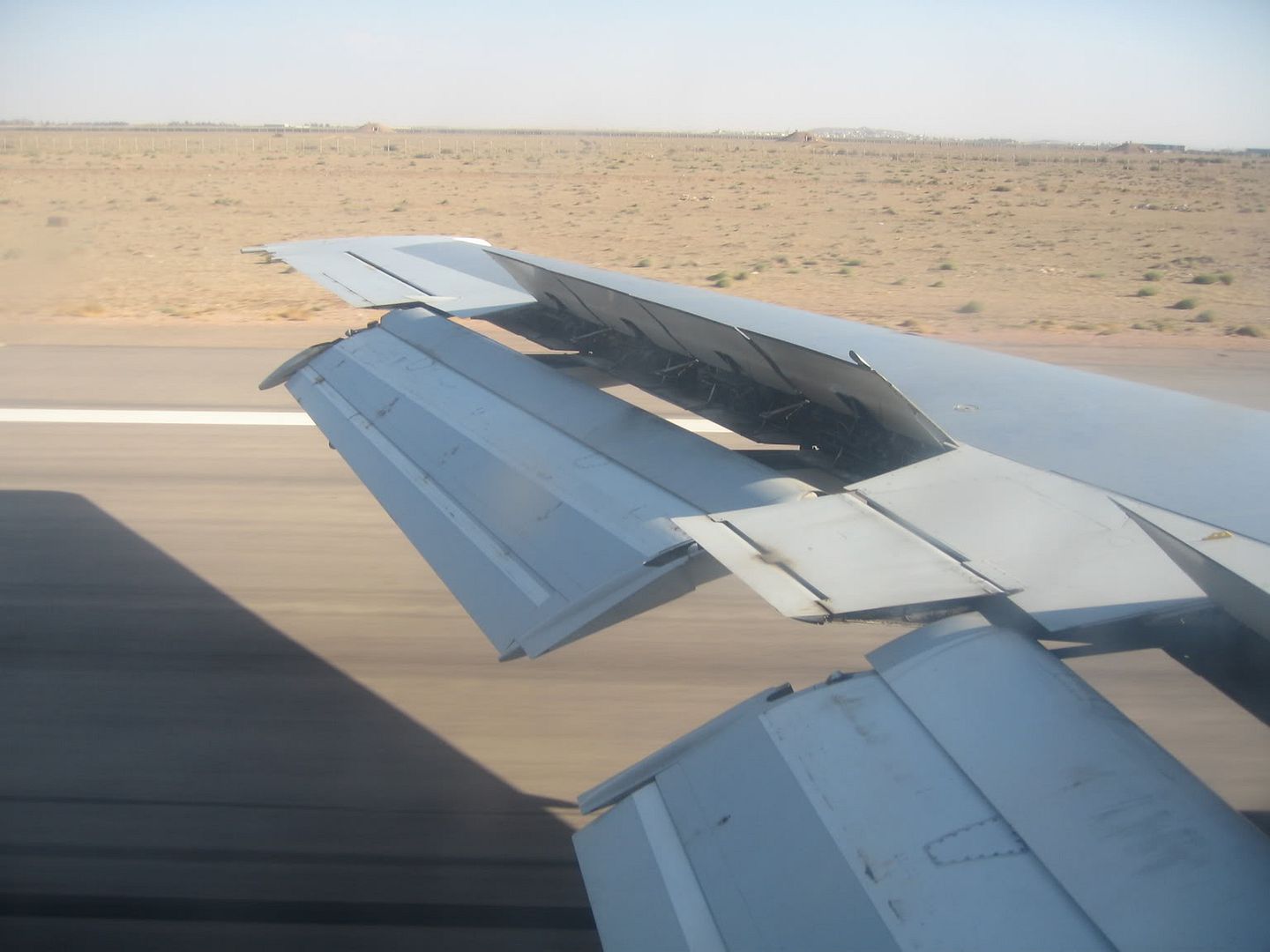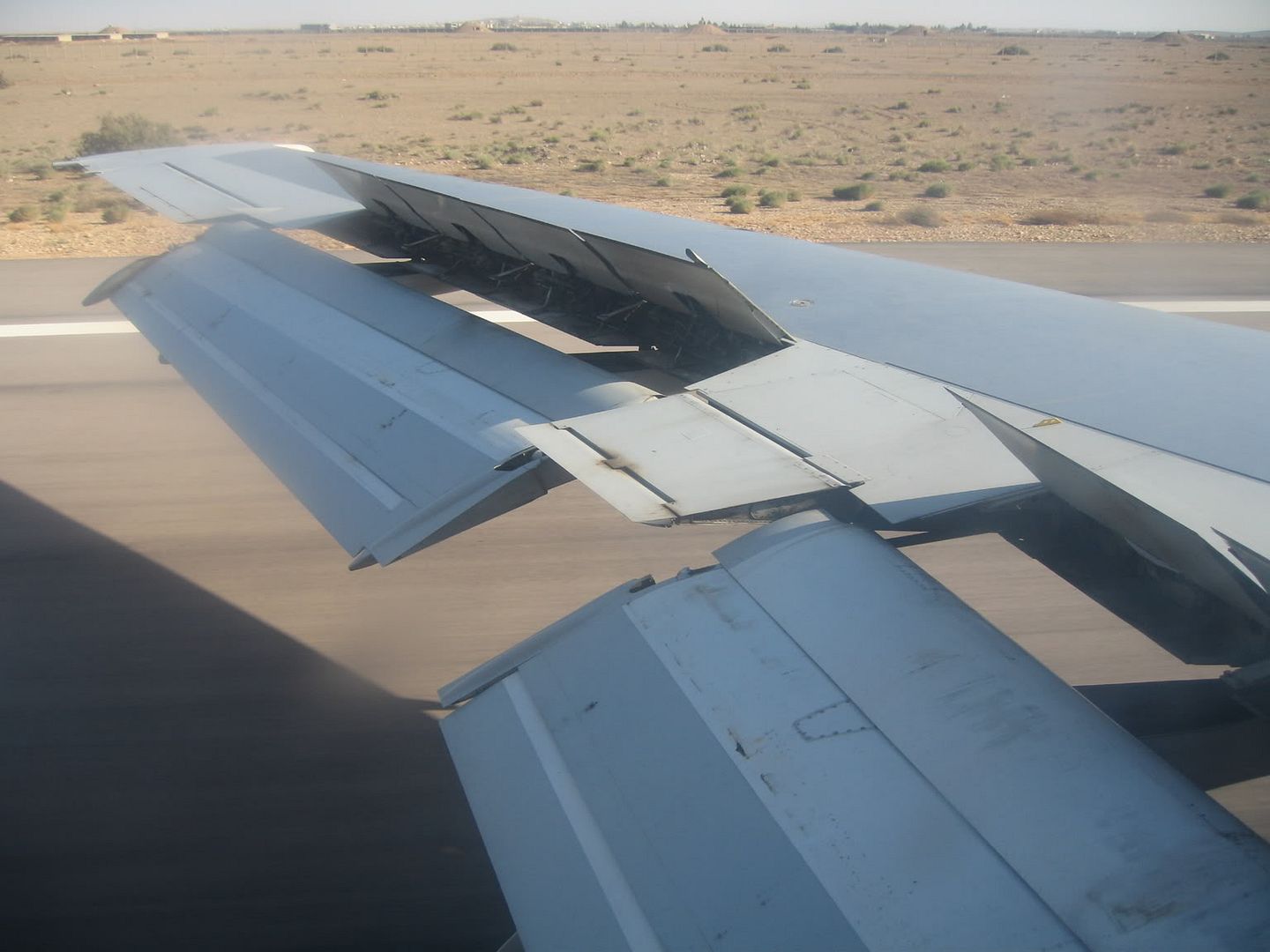 As the aircraft turned off the runway, many stored Syrianair aircraft could be seen, with a number of IL76s visible, but I was unable to get any photos of these. As we taxied towards the terminal, we passed a Syrianair Caravelle which was sitting in a 'tipped' position. Any info on the reg or c/n of this aircraft would be much appreciated.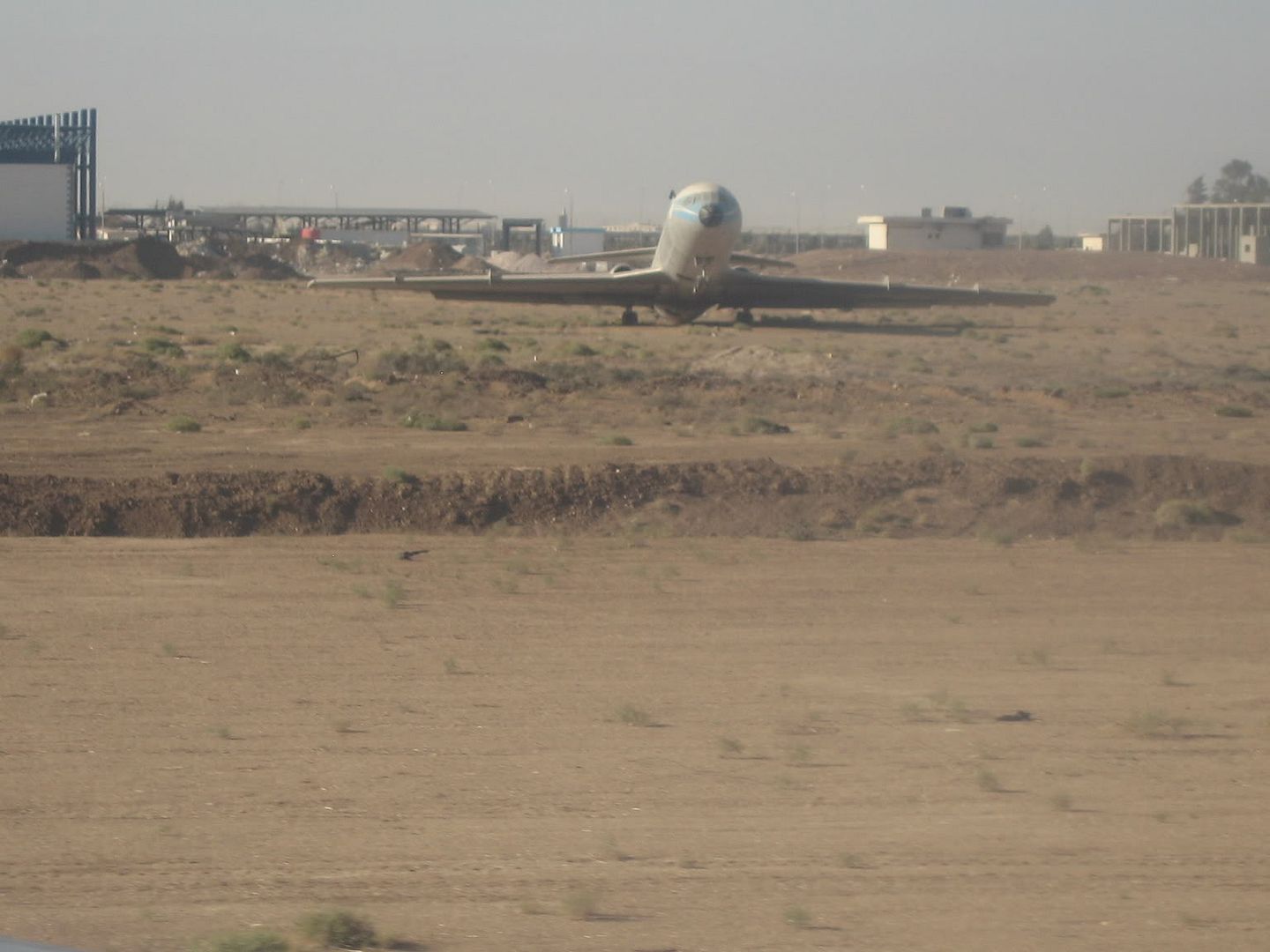 We then taxied past the Syrianair maintenance facility, where a number of TU-154s and 727-200s were in storage. The TU-154 in the foreground is YK-AIB, but I would appreciate info on the other two Tupolevs. There were also three 727-200s in evidence, with YK-AGF in the foreground, another 727 hidden among the TU-154s, and a 727-200 in the new Syrian colours inside the hangar.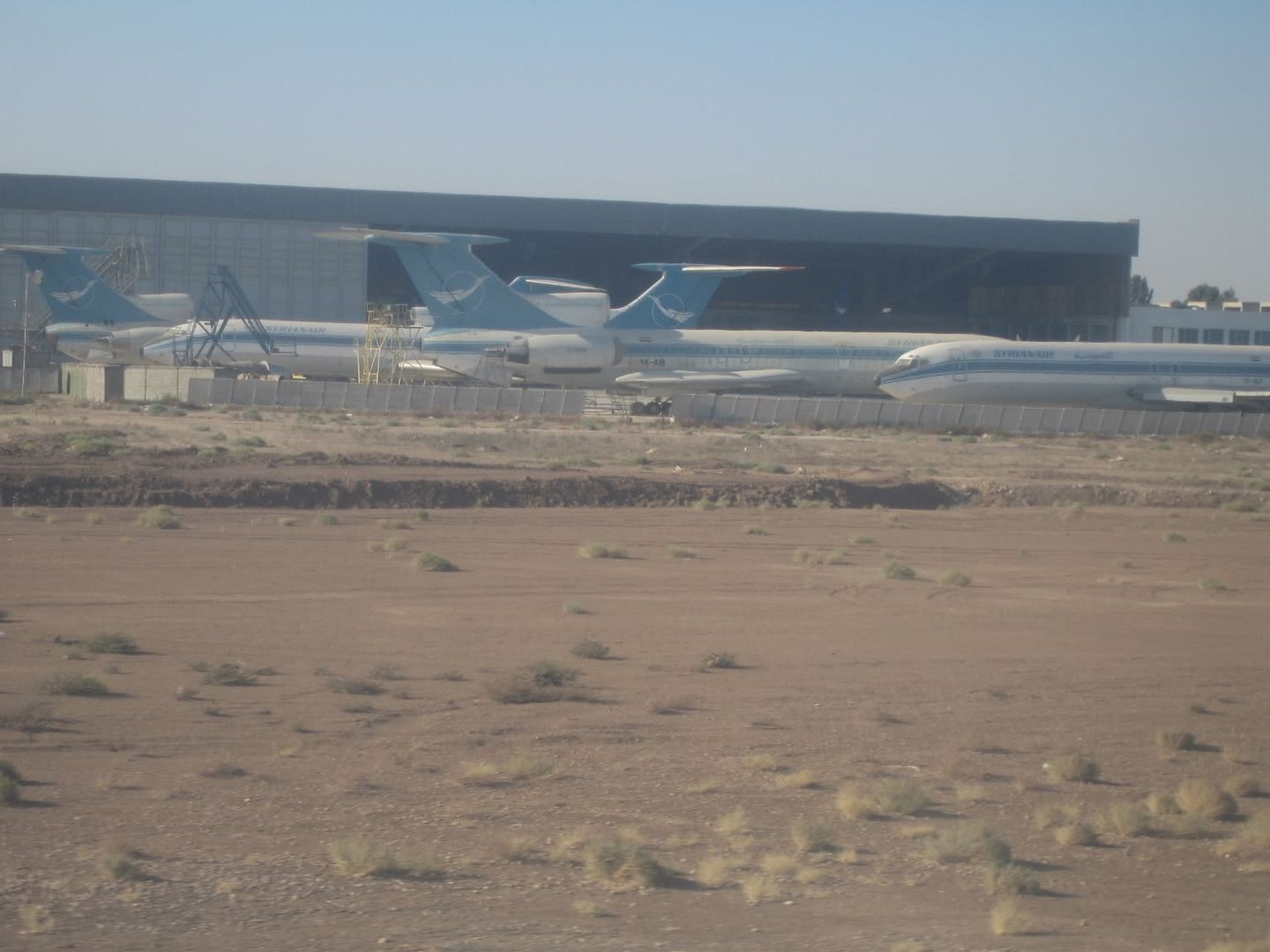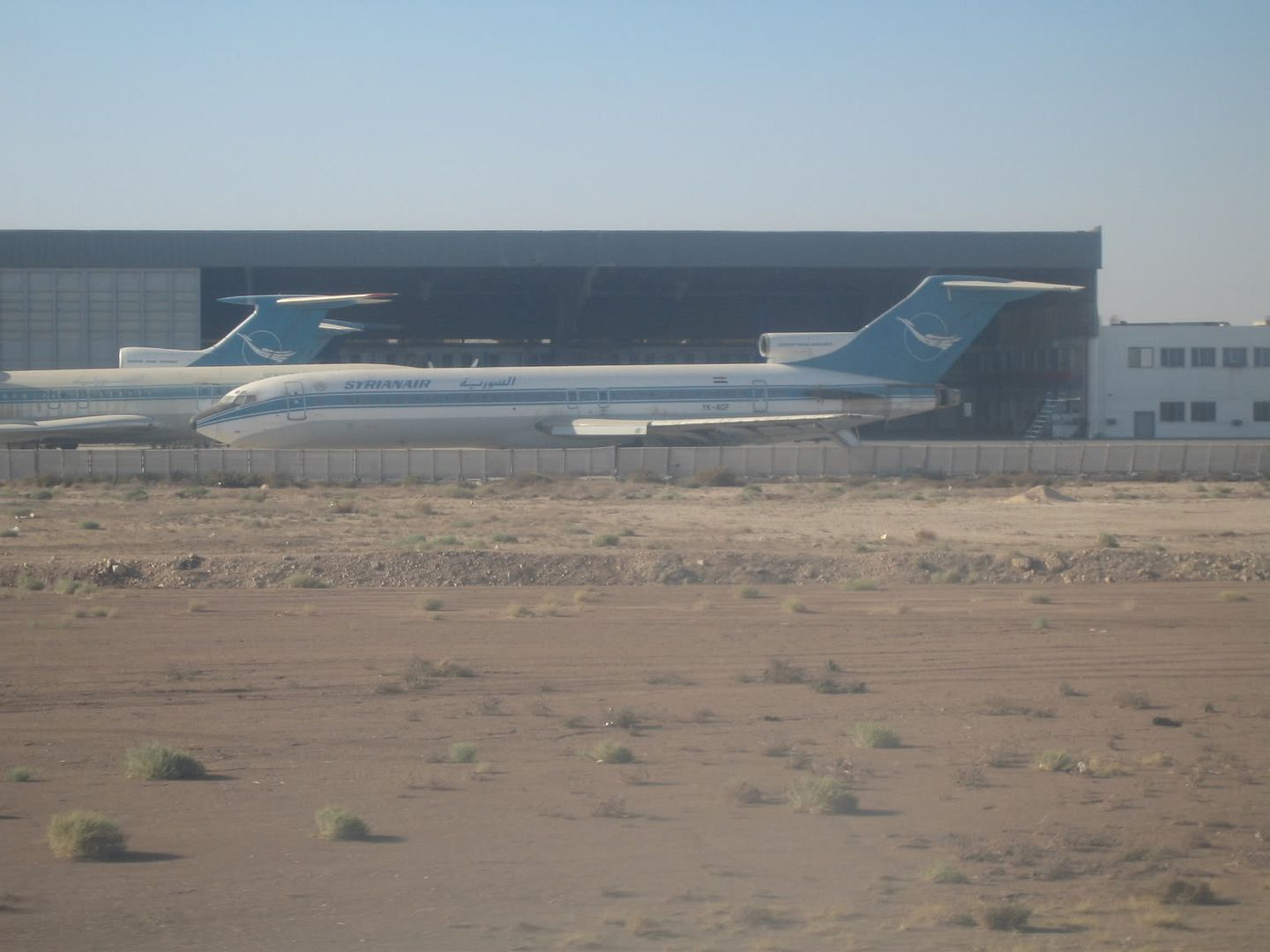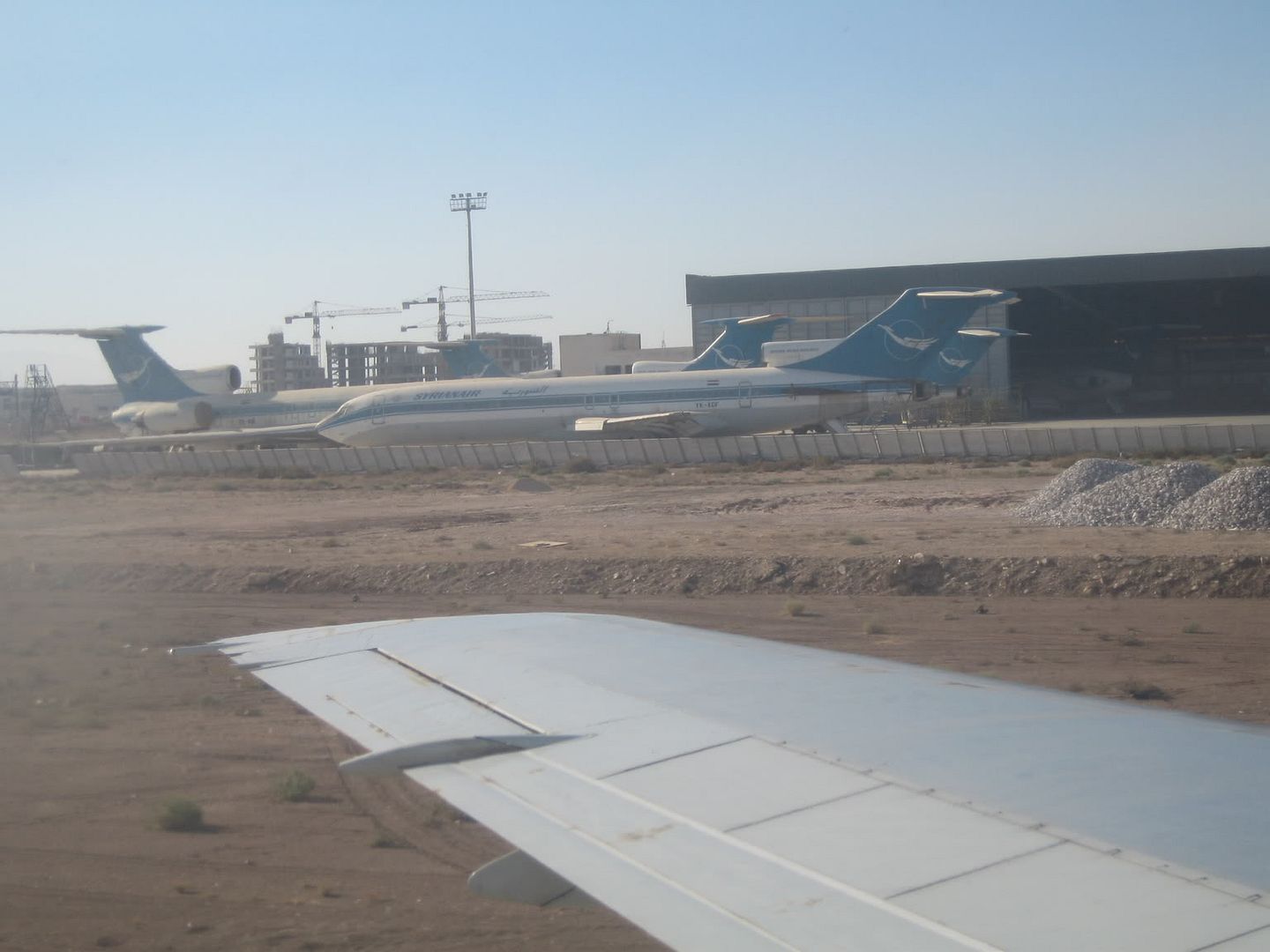 Just past the hangar was an unidentified 727-200, registered 9L-LDM.
Also present, on an apron area near the terminal, were Syrian TU-134, YK-AYE, unmarked B707-321B, 9Q-CWK, as well as Star Air L1011-500, 9L-LDR, the former BWIA 9Y-TGJ 'Sunjet Trinidad'.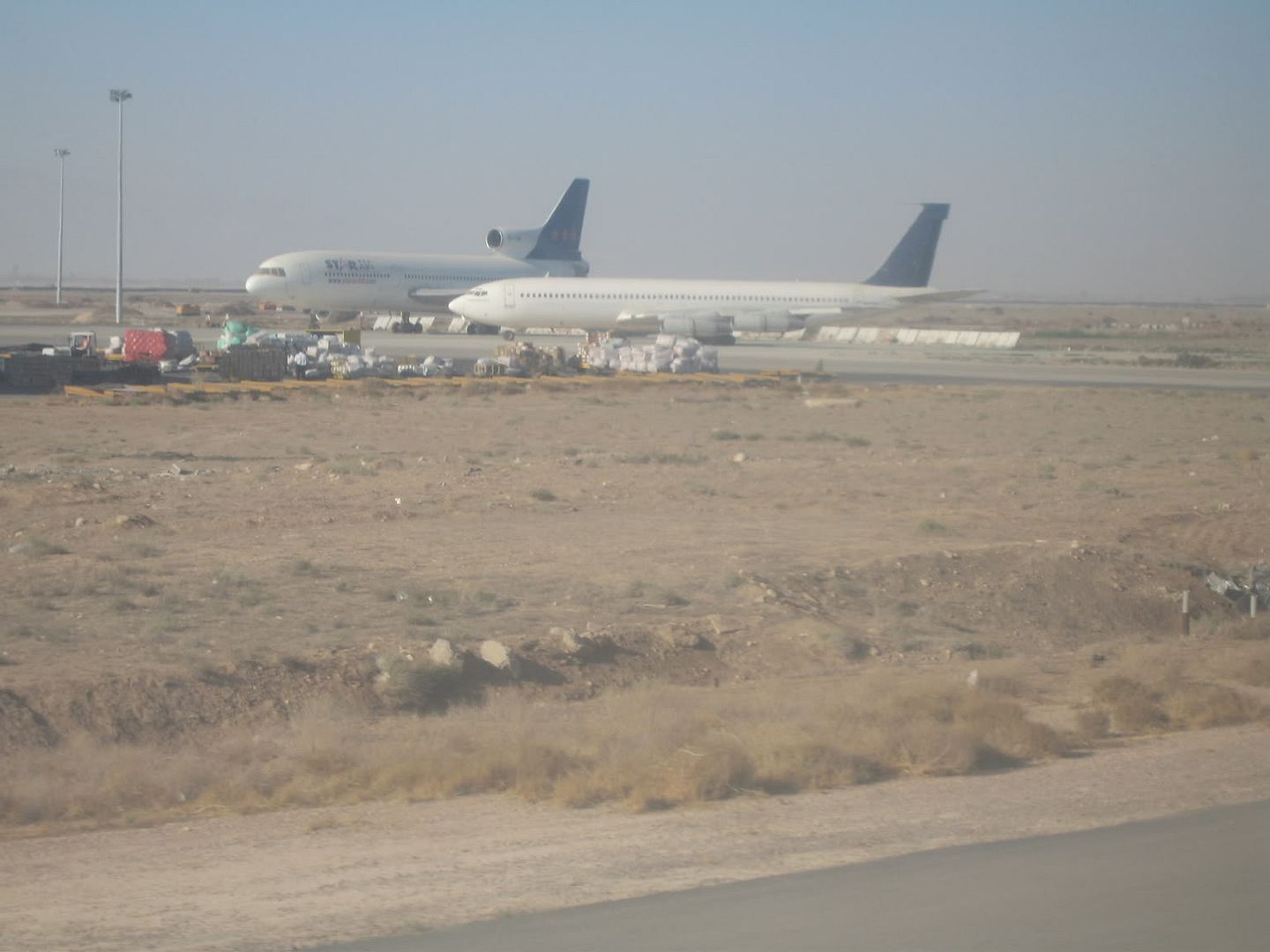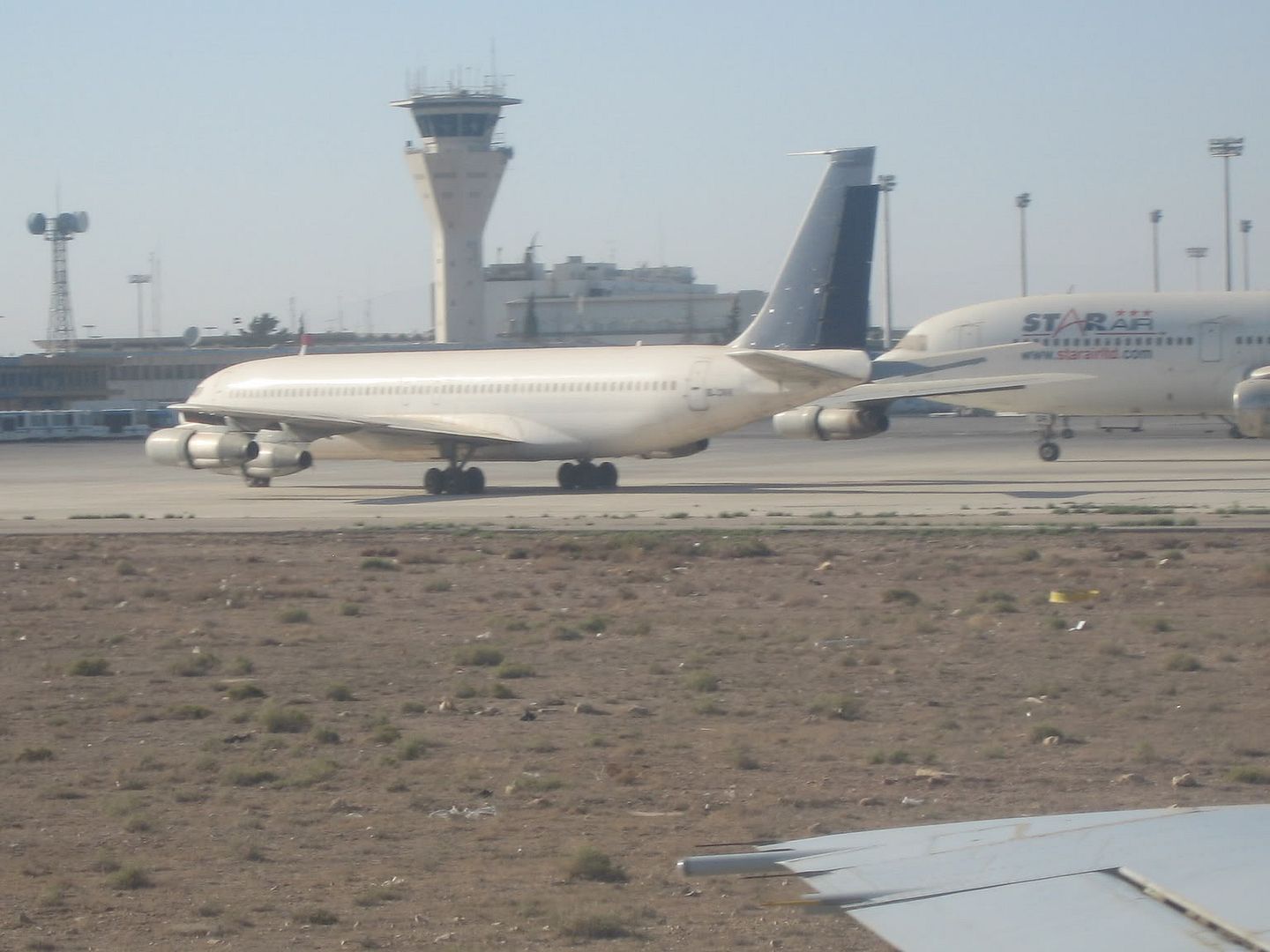 As we taxied towards the gate, there were two Syrianair YAK-40s, which I presume are no longer in service. The aircraft in the foreground was YK-AGE, but info on the other would also be welcome.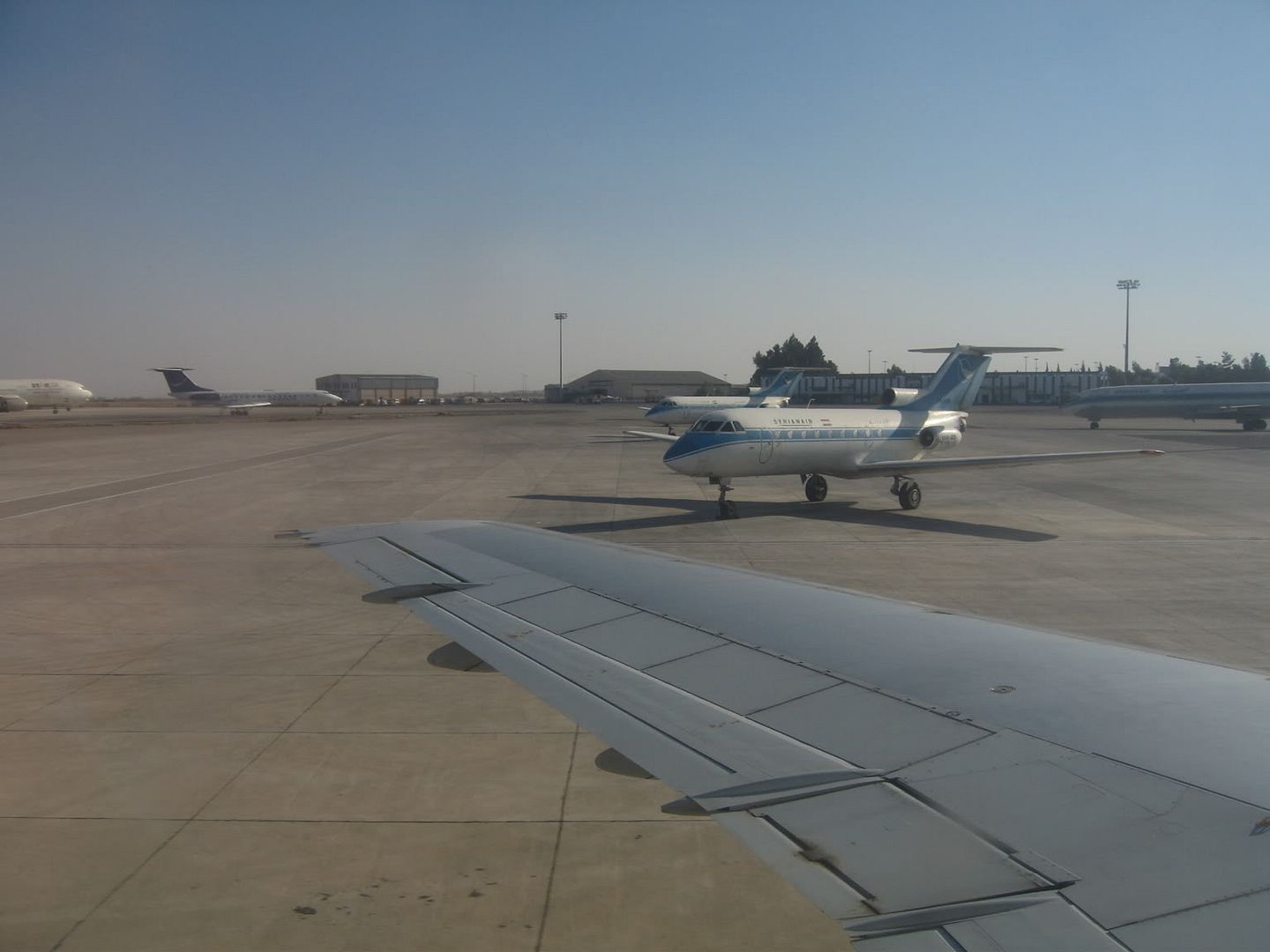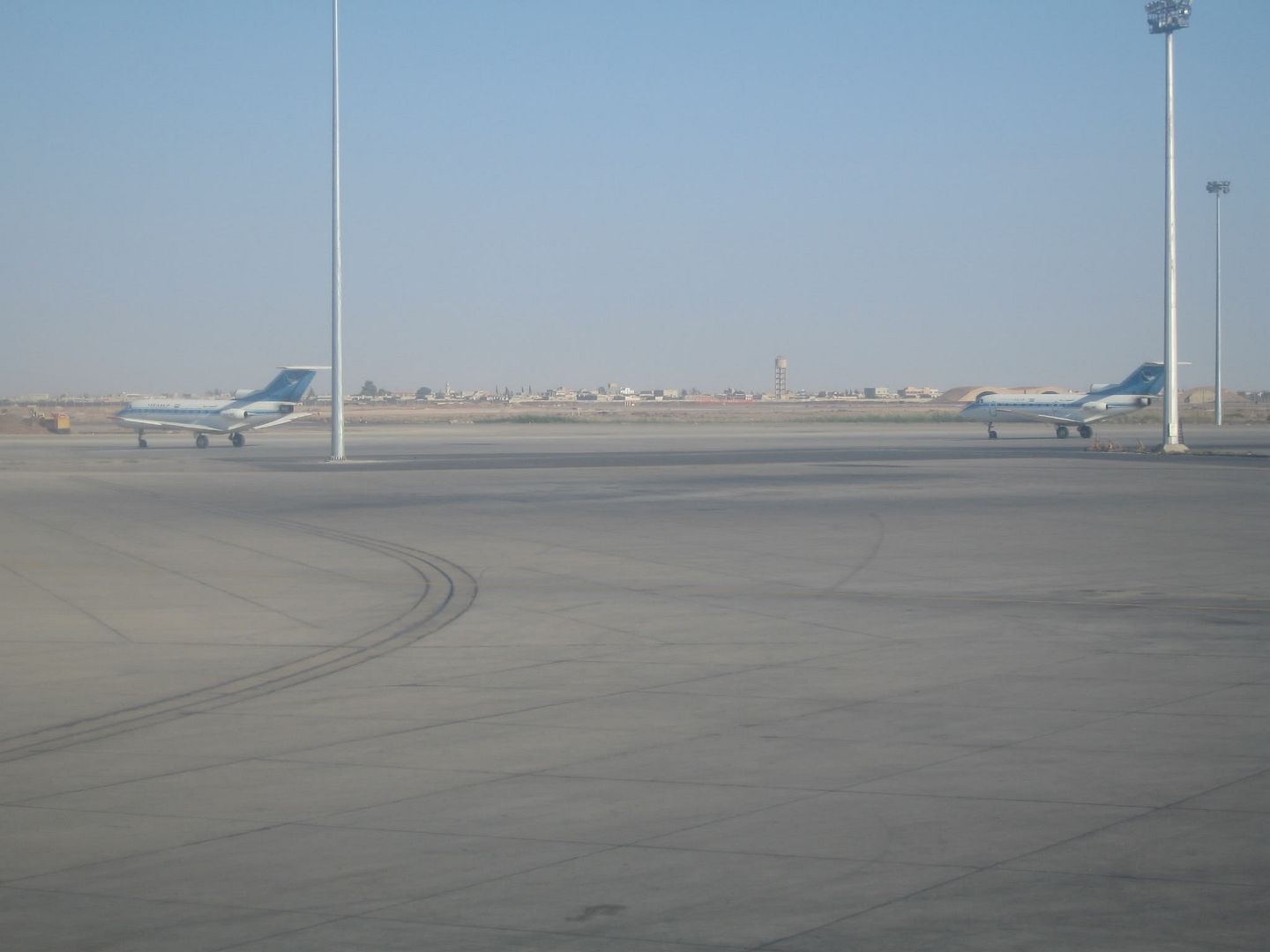 The aircraft then taxied onto its allocated stand, passing Syrian B747SP, YK-AHB. I hope to try and catch a flight on one of these before they are history, too.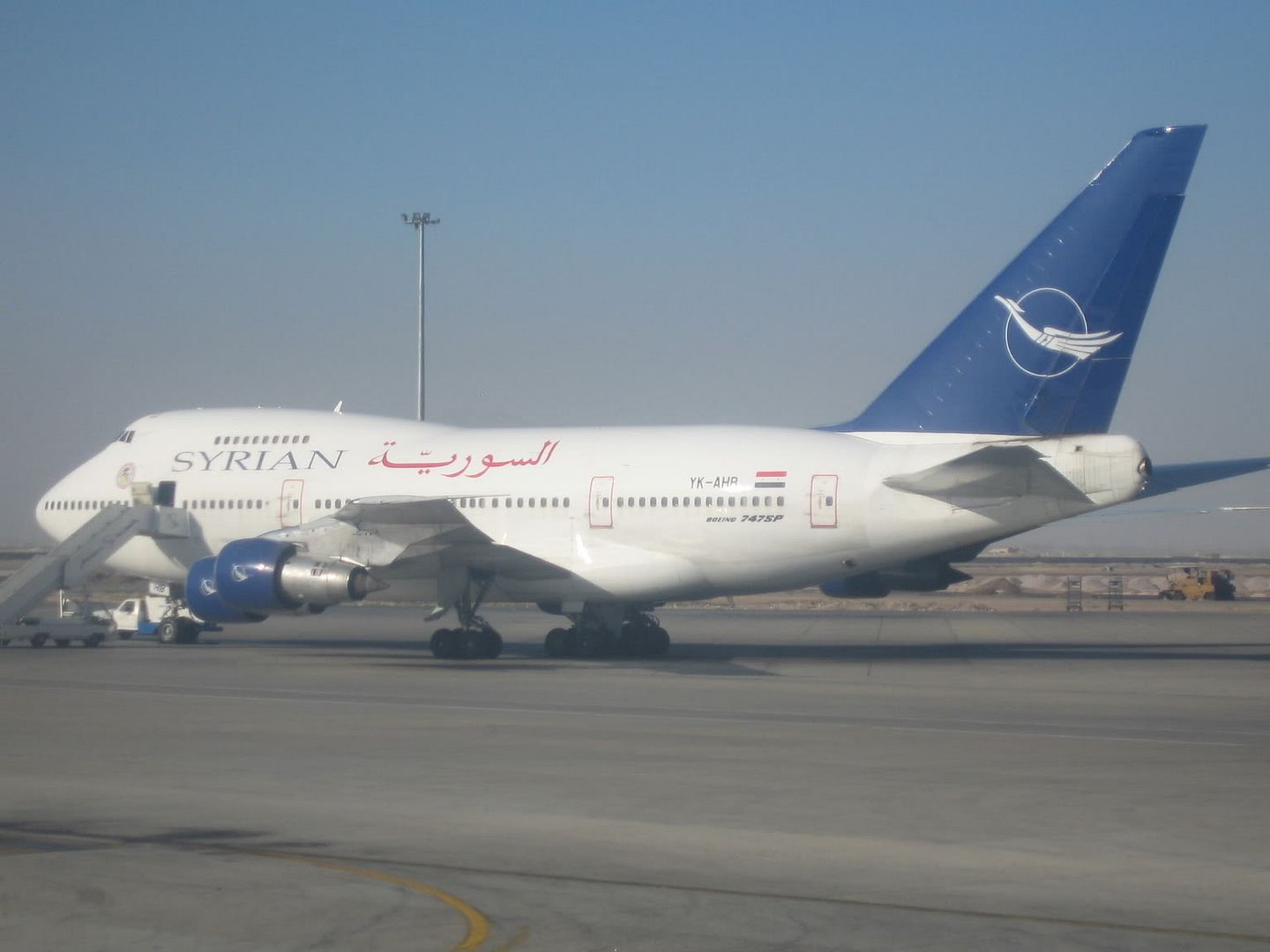 We then arrived at the gate, and the passengers who were not flying on to ALP disembarked. As I walked towards the immigration channels, I stopped by the window where a Qatar Airways A320-200 had just arrived from Doha, and a Syrian A320-200 was also arriving. I could not resist another picture of the 747SP, too.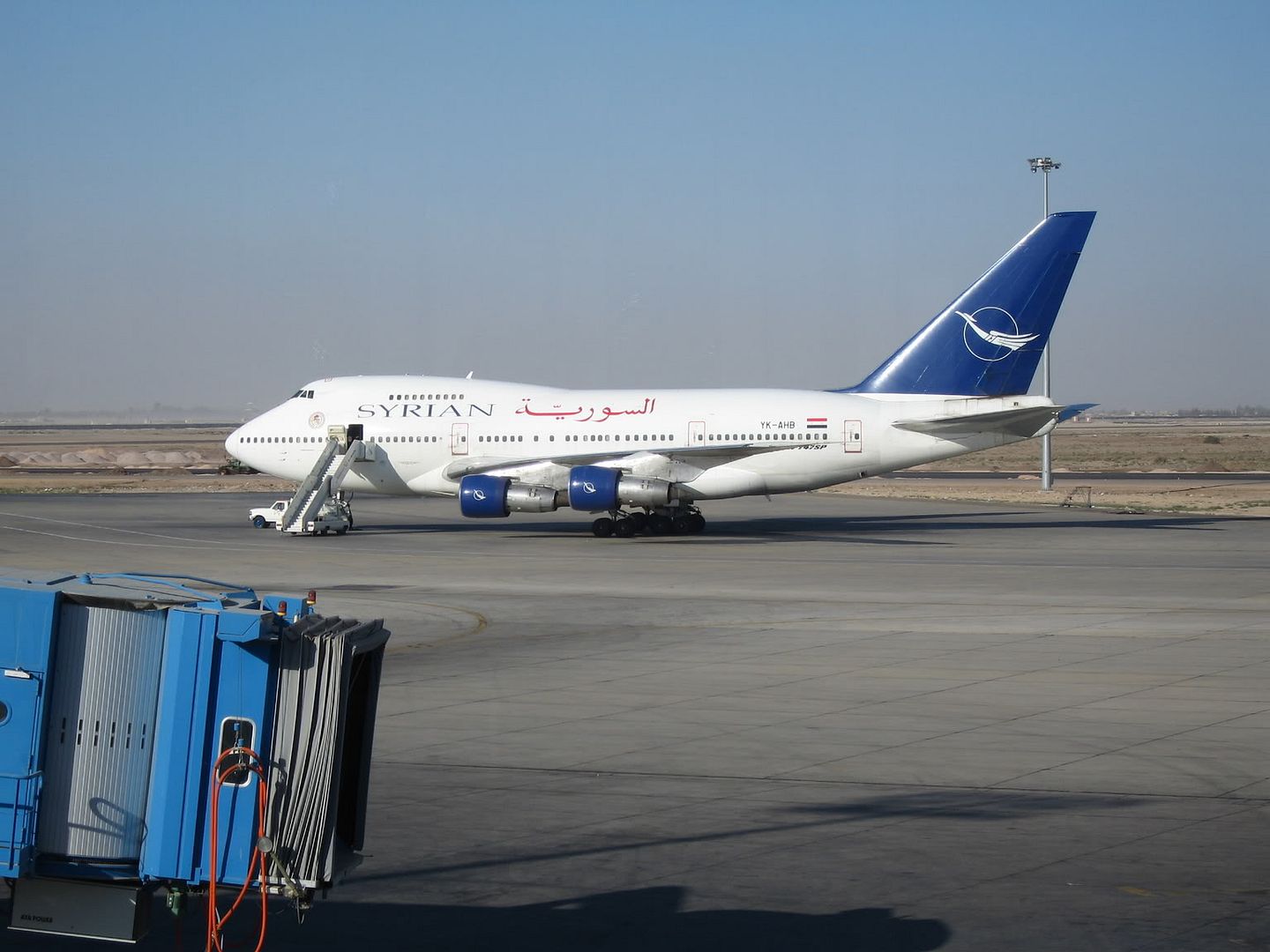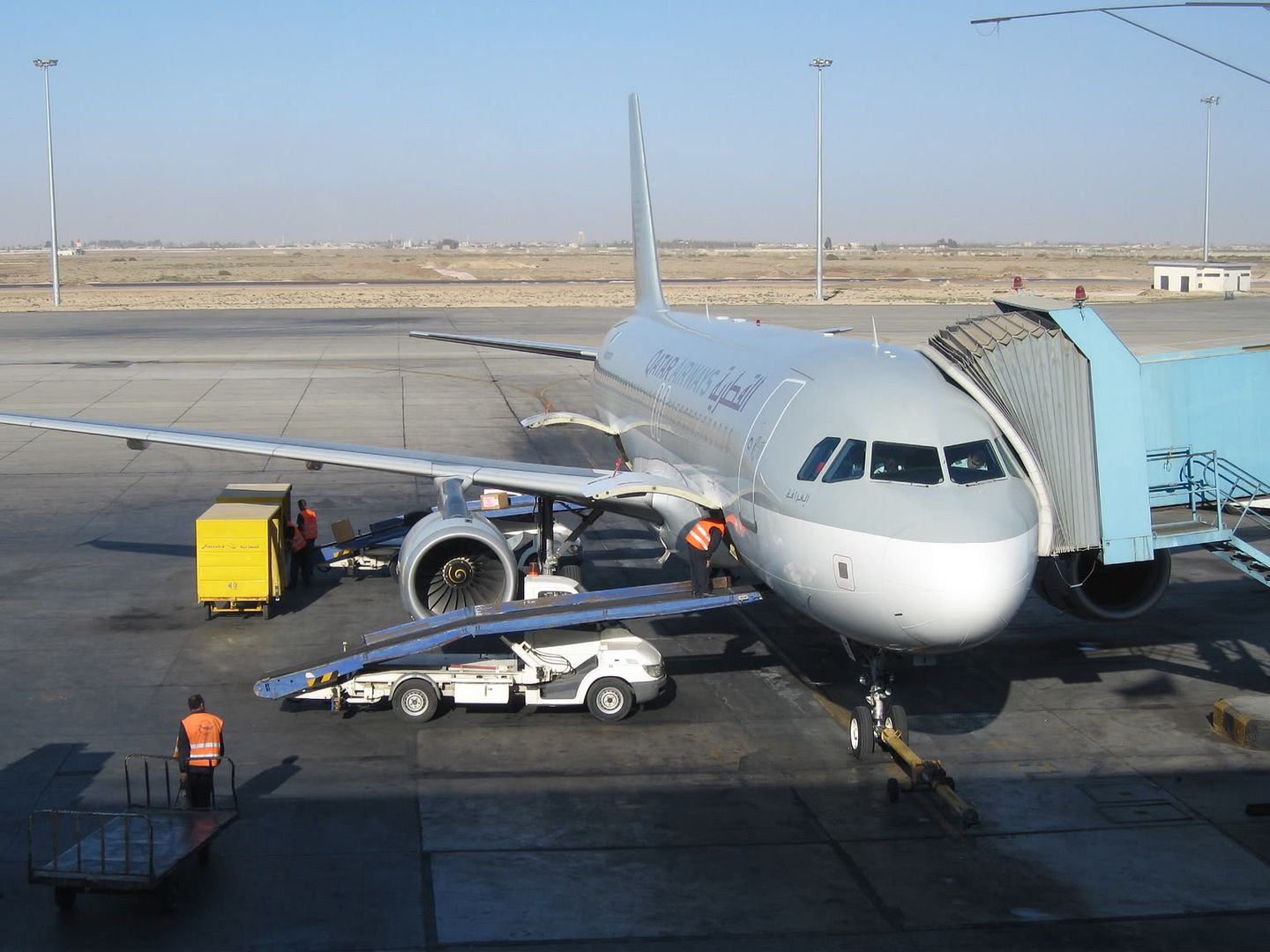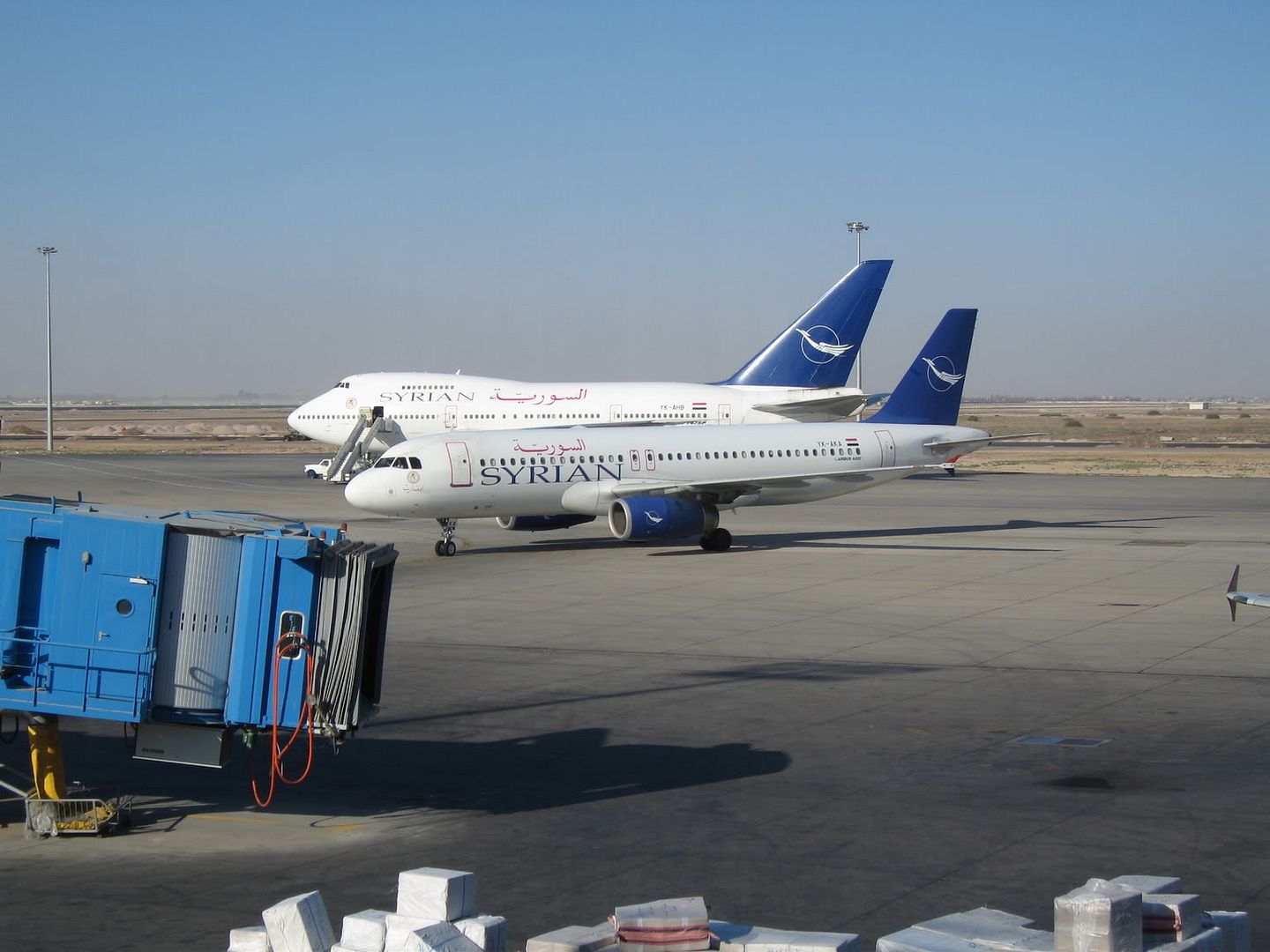 I then passed through immigration, and began my 3 day stay in the fabulous city of Damascus.
***
As always, I checked out the history of the aircraft I had just flown on. The aircraft was built 29 years ago, in 1976, and I believe it has been with Syrian Arab Airlines since delivery. Here is a picture of the aircraft taken in 1986, when the aircraft was wearing the 'classic' Syrianair colours.
View Large
View Medium


Photo © M.Oertle
***
I hope you enjoyed the report – please leave a comment.
Ian.