Fly Cathay´s A343: FRA-HKG-FRA with pix
Introduction: Hongkong was on my to do list since 2 years ago. I´ve checked the fares about 3 months ago and found a real good offer from Cathay Pacific including a double asia miles promotion on the new second daily FRA-HKG flight. Booking was done in no time thereafter.
Flight 1:
05.11.2005
FRA (Frankfurt-Rhein-Main ) - HKG (Chek Lap Kok )
CX 282 operated by Cathay Pacific A 343 B - HXL
Scheduled : 18.55 // 13.50 + 1 7 hours time difference
Actual: 19.10 // 13.30 + 1
Gate: E6 Seat: 70A
Load Factor: near 100 %
Fare: 606,14 EUR return
Delivered new to CX: 22.01.2001
My trip started at around noon, Saturday, 05.11 by train from my hometown to STR and further by ICE, germanys high-speed-train, to FRA airport, where they had a separate station for the long distance trains
built only some years ago.
No problems on the way to FRA, so I was there at 3 pm. 3 hours ahead to scheduled departure time. The station is in walking distance to the older part of FRA = T1, a building place as always, changed to the newer T2 with the sky-rail and was present at the CX check in area at 3.30 pm.
4 desks open this early time, not bad. 1 first, 1 biz, 2 eco-counters all staffed with female agents.
No pax at the first desk, one couple at the biz check in and some 20 pax in front off the 2 eco-desks.
The queue moves quick forward, the biz agent served also eco pax when no biz travellers arrived.
I was in front off the queue after 7 to 8 minutes to wait.
Christmas on short finals, CX desks in the background:
The friendly middle aged chinese lady at the first desk waved me in.
I presented my booking confirmation, my passport and my AsiaMiles card.
She talked to me in english, I answered that I was native german but english was no problem for me
and she stated that her english was fairly better than her german.
Follow the conversation:
She: Sir, why do you wait in the eco line, you look like a biz pax?
Me: Sorry, but I´ve booked a eco fare and that was my line to wait.
She: I will check you in, how many bags?
Me: Nothing, only carry on.
She: I like these pax with carry ons only, another typical biz thing, Sir.
Your seat is reserved from your booking and your Asia Miles number is ok.
Me: What about a upgrade to biz?
She: Let me see, if its possible. She worked with her computer, 1 minute.
She: Biz is fully booked, only some empty seats in eco, I will call you at the gate when there is an upgrade to first or another change in the biz reservations.
Not bad, I thinked.
I crossed security and passport control with no time to wait and was at the gate at 4 pm.
T 2 was nearly empty this time,one AF service to Paris was cancelled and only two other flights till the next 2 hours on the screen, a lot of flights later, after 6 pm.
FRA action: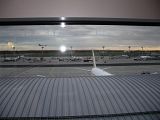 I walked around and searched for a good place to follow the action outside, not easy as most of the gates are closed, only one for an 6. 30 pm flight with Royal Brunei to Bangkok and Bandar Seri Begawan was open, only 10 other pax there, a good place with direct views to the apron and the runways.
FRA T2 gate:
Not much pics from this time as night falls quickly and the saturday evening activity was not to high.
I was back at my gate at 5.50 pm, one hour ahead to departure, they checked the boarding passes before it was possible to enter the gate and the waiting area filled up quickly later. It seems a good load on this service like the statement from check in.
My plane was towed to the gate as I arrived, B-HXL, my second leisure flight on the A343 and the first on this plane.
No announcement for me during waiting, the lady from check in arrived and told me real friendly that there is no change and no upgrade for me, no problem at all.
Boarding started at 6.20 pm with the usual first,biz,families and pax with special needs in front and surprise, all AsiaMiles members also, so I was one of the first pax to board in eco. Welcomed by some friendly FAs,
2 young male and also 3 or 4 young females served eco.
Interior in typical CX style, dark green and grey.
Settled down in my seat in the very last row and followed the boarding process.
Legroom was not to good, fabric seat. Seating 2-4-2. Free newspapers on offer.
The plane itself in good conditions.
Blankets, head sets and a bag with hygienic articles on every seat.
The plane filled up quickly as expected and also the seat beneath me was occupied by a not unfriendly but nevertheless
heavy guy, so not to much space for me on this service.
Were ready to go some minutes late while we waited for connecting pax. The flight deck crew welcomed us by phone, english natives, and explained that we will ontime arrive in Hongkong due to good wheather and winds on the route.
Flight route was real interesting: FRA-Dresden-Warsaw-Minsk-Moscow-Nizhniy Novgorod-Chelyabinsk-Omsk-north of Karganda-Urumqui-Lanzhou-Chongquing-HKG.
A long taxi to the western runway 16 follows, 1 plane in front and than the typical A340 departure,
a long, long, long takeoff roll and a slow clim out.
The fasten seat belt sign was off after 10 minutes and the FA´s prepared their service which began only
after 30 minutes in flight:
First a round with free drinks than:
Crayfish and Mixed Salad with Thousand Island Dressing
Beef Stew Bourguignonne Style, Parsley Mashed Potatoes and Assorted Vegetables
or
Stir-fried Chicken with mushrooms, Steamed Rice and Mixed Vegetables
or
Rigatoni with Pumpkin Sauce
Chocolate Crumble Cheesecake
Bread Roll and Butter
Tea and Coffee
I had the chicken, not bad
The cabin lights were dimmed after they cleared up the trays, offered duty free shopping and than its time to sleep.
I followed the flight route along the whole flight on the PTV, the system stated time at departure point, time at destination and greenwich mean time and altitude and speed.
I sleep from hour 2 in flight till hour 8 as the sun comes up over eastern russia, with a view to the map every 20 to 30 minutes. Clear sky, Moscow was good to view, no turbulences along the whole route. The FAs came around with water and later sanwiches, the bar was open along the whole flight.
Very good views to siberia and northern china, real interesting.
North-west China, near Urumqui:
The mongolian border:
The Gobi desert:
1hour 30 minutes ahead to arrival they switched on the lights, opened the window shades and prepared the cabin for the breakfast service:
Quark Muesli
Frittata with Potatoes and Hollandaise Sauce, Bacon and Mushrooms
or
Breakfast Cold Cuts, my choice, that was ok.
Bread Roll, Jam and Butter
Tea and Coffee
After a tasty breakfast it was nearly time to start our descent into Hongkong. We passed the city and ChekLapKok airport, turned around far over the sea and landed soft on runway 25R.
Chek Lap Kok:
A short taxi and it was time to say goodbye to the crew.
Deboarding:
My plane:
Hongkong airport is a impressive building, a kind of subway shuttled us to the arrivals area, only 5 minutes to wait at immigration and off in the public area.
I bought a 3 day octopus ticket that includes 2 runs with the airport express train and was some 40 minutes thereafter in central Hongkong, at Kowloon station. Picked up a taxi to my hotel in Mongkok.
I recommend the Langham Place Mongkok as a 5 star property in a real good location in the chinese old town, you leave the hotel and stand in the middle of the bustling activity.
View from my roon, 32.floor:
Booked by TUI = 2 nights B&B Business lounge (that means free newspapers in the morning) = 242.-- EUR
less than half of the fare offered by hotel.de, a real good deal.
What about to say about Hongkong, follow my pics and do it for yourself.
What about a skyline?:
Langham place:
Shanghai street:
Street action,note the double-decker tram:
ChungKing mansion, read for yourself, a luxury hotel:
Another well used building:
Good luck to China, the the turtle and the carp:
The SikSikYuan-Temple: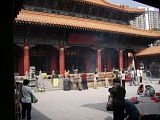 SikSikYuan ceremony:
SikSikYuan again:
Flight 2:
08.11.2005
HKG (Chek Lap Kok ) - FRA ( Frankfurt-Rhein-Main )
CX 283 operated by Cathay Pacific A343 B-HXH
Scheduled: 23.10 // 05.30 +1 time difference 7 hours
Actual: 23.30 // 05.13 +1
Gate: 2 Seat: 70A
Load Factor: not more than 40 %
Delivered new to CX:31.03.l998
Impressive how fast my days gone by. I want to be at ChekLapKok airport at daylight so I started my journey back home at Tuesday, 08.11. around 4 pm by the MTR direct from the hotel to Hongkong central station where it is possible to check in for most of the flights outbound HKG.
Only a very low number of customers around this afternoon, no time to wait at CX check in, 2 agents there, a young, not to friedly chinese female checked me in. Passport, Booking Reference and Asia Miles card again, no bags, and check in was finished.
Another ride with the airport express follows and at the airport at around 5 pm.
Pax area HKG, check-In:
No time to wait at passport control and security and in the pax area in the last rays of sunlight.
Done some pix about the (for me) unusual traffic, walked around and was heavy impressed about this large and wide building with lots of space for the waiting pax and very good views to the planes all around.
SIA: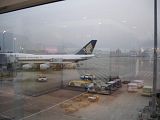 Old fashioned AirIndia:
CI: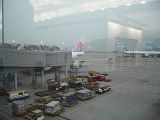 Dragonair:
Virgin and a chinese MD:
Where to go?: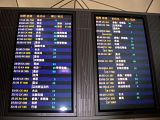 Better:
Night falls quickly and I spent most of the next 3 hours at the few internet connection points in the www.
I was at my gate at around 10 pm, 1 hour 10 minutes ahead to departure, not much other pax around.
My gate: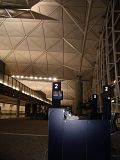 At 9 pm a A346 arrived there, a plane change and my first A346 ride?.
No, the explanation is that CX has prefered gates near to their lounge and to the main building.
The A346 was towed away and my A343 arrived.
B-HXH this time, leisure flight No. 3 on the A343 and the first on this plane.
Interior B-HXH: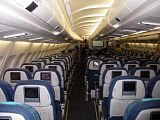 Boarding started at 10.40 pm with two rows, one for First/Biz and the other for eco pax.
I was surprised as I saw the waiting pax in the biz line nearly longer than the eco line.
Again I boarded early, welcomed by a friendly male FA and some very fiendly female FAs.
I walked down to the end of the plane to my seat 70A and a chinese lady welcomed me there with the information that there will be a lot of empty seats in the back of the plane and I had the free choice to seat where I want. We had a conversation and she explained that first and biz was good booked, but eco only about 40 %, amazing.
I take another window, some rows more in front, settled down and watched the outside activity.
Other seats on this plane, IMO newer and more comfortable, with more legroom than on the other A343 from the inbound leg.
The pilot, again english native, welcomed us with the information of a fairly short flighttime of 12 hours
40 minutes, some turbulences on the route and that we had to wait for connecting pax.
He also explained that we take the northernmost route this time:
Hongkong-Wuhan-Zhenzhou-Peking-Ulan Bator-Krasnoyarsk-north of Yekaterinburg-St.Petersburg-South of Helsinki, eastern Sweden and Denmark, Hannover to FRA.
Free international newspapers on offer. Pushed back 20 minutes late and a quick taxi to runway 07R
followed. No time to wait there and a short takeoff roll and a quick departure follows.
No pics as this was a complete night flight from takeoff till arrival in FRA.
After 30 minutes in flight the FAs served a hot dinner:
Ham with Roasted Vegetables
Deep-fried Chicken with Sweet and Sour Sauce, Steamed Rice and Assorted Vegetables
or
Pan-fried Fish with Tomato and Olive Sauce, Roasted New Potato Wedges and Green Beans
or
Penne Rigate with Corn and Zucchini Sauce
Glazed Chocolate Layer Cake
Fitty Bread and Butter
Tea and Coffee
h
I had the fish, delicious: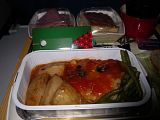 1 hour 30 minutes inflight the lights were dimmed and its time to take a nap. I followed the flight route via the PTV information system and sleep from hour 11 till hour 2 only interrupted with the views on the map system.
Some heavy shakers over eastern china and in the St.Petersburg area, a further calm flight.
1 hour 30 minutes ahead to arrival in FRA they started the breakfast service
Seasonal Fruit Cocktail
Fruit Yoghurt
Scrambled Eggs with Pork Sausage,Hash Brown Potatoes and Baked Beans
or
Braised E-fu Noodles with Mushrooms and Chinese Dim Sum served with Chili Sauce
Croissant, Preserve and Butter
Tea and Coffee
Eggs and Noodles, not the thing for me, they offered me 2 croissants, ok.
Desent to FRA started early at 4.45 am with good views to the nightly area around the airport.
A smooth arrival on FRAs runway 25R and a not to long way to taxi to T2.
I said thank you to the friendly female FA deboarded and found me in a queue, reason, welcome to germany, a special passport control before were allowed to enter FRA airport from the german border police.
Down the stairs to the the second passport control, crossed the bagagge area and in the public part of T2 at 5.45 am, our flight was the first arrival this morning.
As I leave T 2 with the skytrain the 40 minutes later CX B744 service arrived also early ahead of schedule.
I had to wait 1 hour for my ICE ride to STR and had the only interruption at STR main train station while my ICE was 10 minutes late and my connecting express train home did not wait for me.
But only 10 minutes later I was on the way and arrived home 30 minutes after schedule.
Conclusion:I had a great time in Hongkong and with Hongkongs airline Cathay, real friendly employees, good fare, ontime flights and a good eco service level.
The only negative thing was the freezing cold climatisation on the way to Hongkong, and btw all around Hongkong too, better but not real comfortable on the way back.
No problem for me to fly CX again, as soon as possible.
Comments and critics always welcome,
Markus (FLIEGER67)