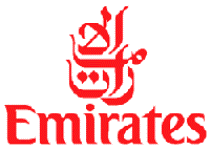 Trip Overview
Well I hadn't been on holiday for about 8 months and was beginning to have withdrawal symptoms! I'd been working for BA for just over 6 months and my travel concessions had just started. The original plan was just to send my parents to Dubai for the weekend, as my mum had always wanted to go there. My parents then suggested myself and my sister join them, to which I happily obliged. So I got my ID tickets from staff travel and decided to list with EK rather than BA, as the BA loads looked really high and I didn't think I'd have a chance to get on. EK however having 5 flights a day from LHR to DXB had one flight pretty empty.
This was only going to be a really short trip returning back on Sunday, so literally only a day and a half.
This trip report is my first so please go easy, also it's pretty long and has a number of pictures.
Friday 25th November 2005
London Heathrow (LHR) - Dubai International (DXB)
Emirates Airlines EK030
Aircraft Type: Airbus A330-200 (A6-EAF)
Economy Class
Seat 29A
ETD 1635 Local
ETA 0345 Local
The day started off with me dragging my butt out of bed at about 9am, opened my curtains and I couldn't believe it, it was snowing!! Slowly made my way to the bathroom and had a shower! Couldn't wait for the 30C heat of Dubai!
Well anyway, the trip to the airport was going to be an interesting one, we've had bad experiences with taxi's in the past, either being really late, or just not turning up, and none of us wanted to deal with that, so we took the good old 140 number bus from Harrow to Heathrow Central Bus Station. My dad was working in the morning so he was going to take the 1325 Heathrow Express from Paddington to Heathrow.
We got on the bus at 12 and made it to Heathrow by 1pm, pretty good going for the 140 that takes you on a scenic tour of London before getting you to Heathrow. We made our way over to the Emirates check-in desks at Zone F in terminal 3. One thing I learnt that I didn't know before was EK was handled by UA at LHR.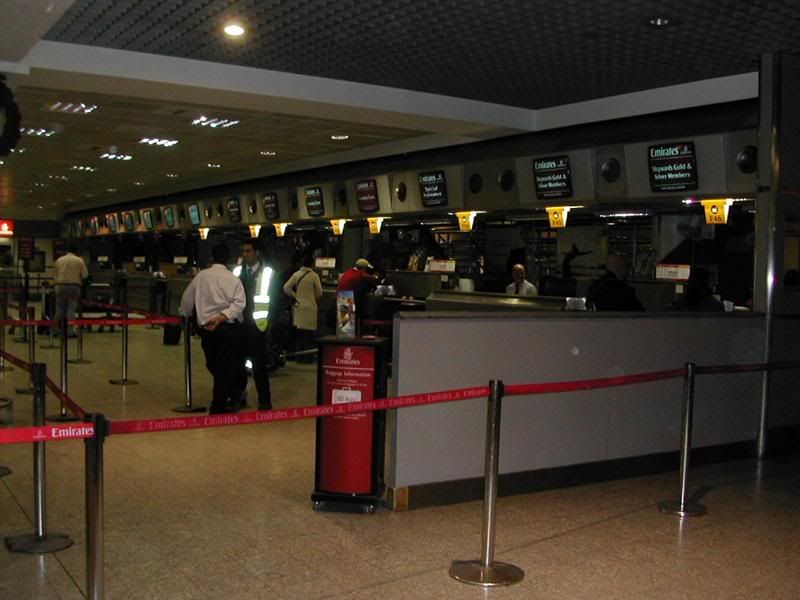 I went over to a lady and asked if myself my mum and sister could check in now, and pre assign my dads seat, so at least we could sit down and relax, she was probably the rudest person I'd met and just said "no wait till he comes, you cant come check in with whom you like" I had a right mind to tell her where she could go but decided not to and just went sat down with my family and waited for my dad.
Dad arrived at about 1345 and we all made our way back over to check in, there was no line at all so we went straight to a desk, thankfully to a nice blonde who was really helpful. She gave us seats 29AB and 30AB, Perfect!!
After check in we made our way over to Burger King were I managed to snap a shot of the T3 departures building.
After eating we went through security which was a breeze, no one in front of us again and straight through with no problems. Right in front of us then was the World Duty Free shop in T3 which is quite big.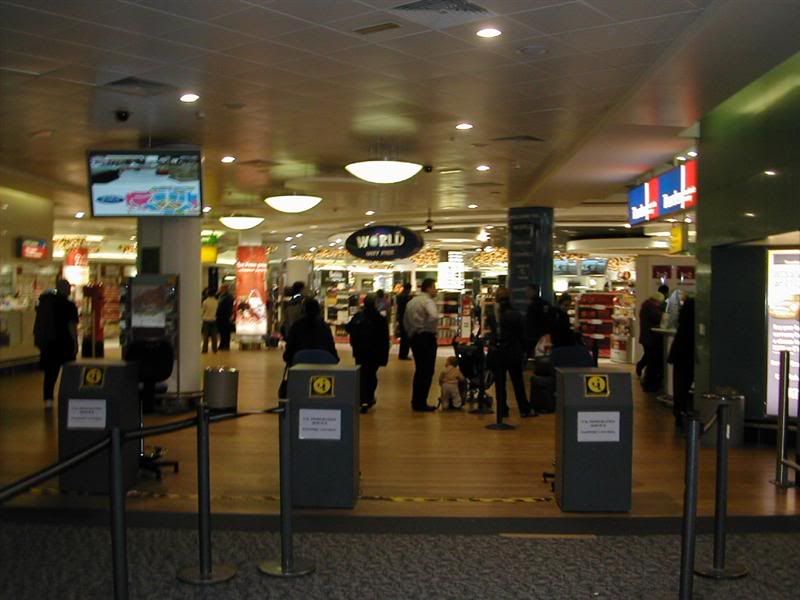 I went over to the Burberry store and then got a coffee from Starbucks. After doing some shopping, our gate flashed up on screen and it was gate 14, dammit, that's a bit of a walk, but oh well. Was about a 7-8 min walk and on the way got a shot of a JAL 744.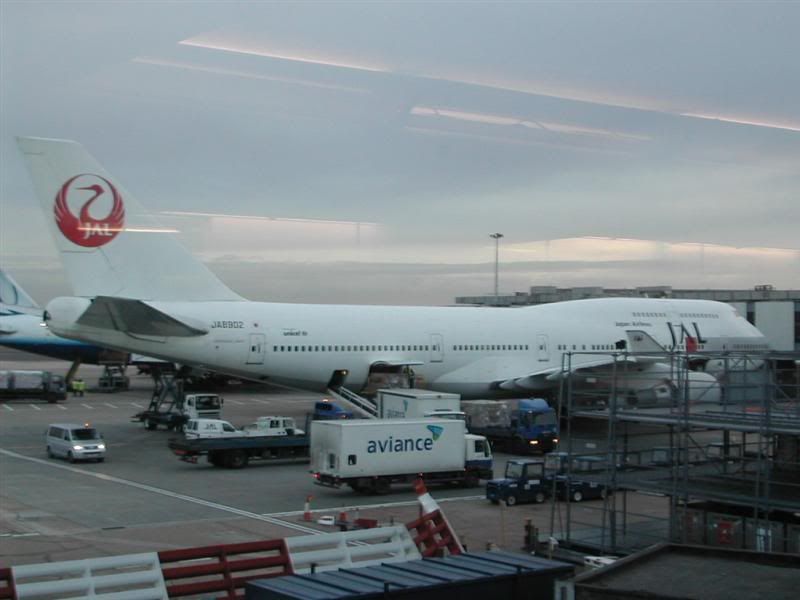 Upon arriving at gate 14 we were greeted by more UA ground staff. My parents and sister took a seat and I got a snap of the aircraft just before it started getting dark.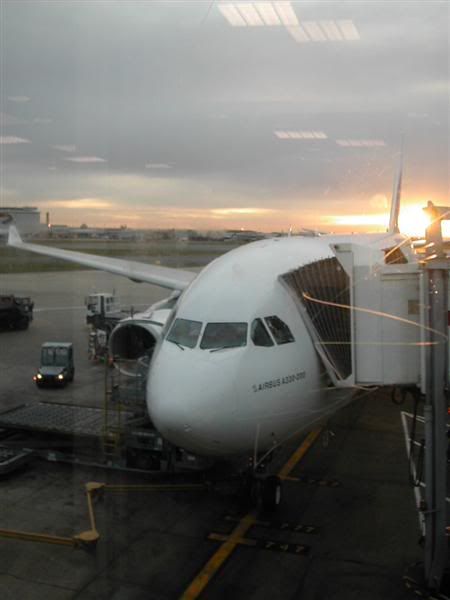 We were only sat for about 10 mins and at -25 we started boarding. We were greeted by two gorgeous crew members and made our way down to our seats. I took a shot of the new LHR control tower and seconds after I saw a Korean 777 and got a snap of her to, lucky enough with her beacon flashing as she pulled into the gate next to ours.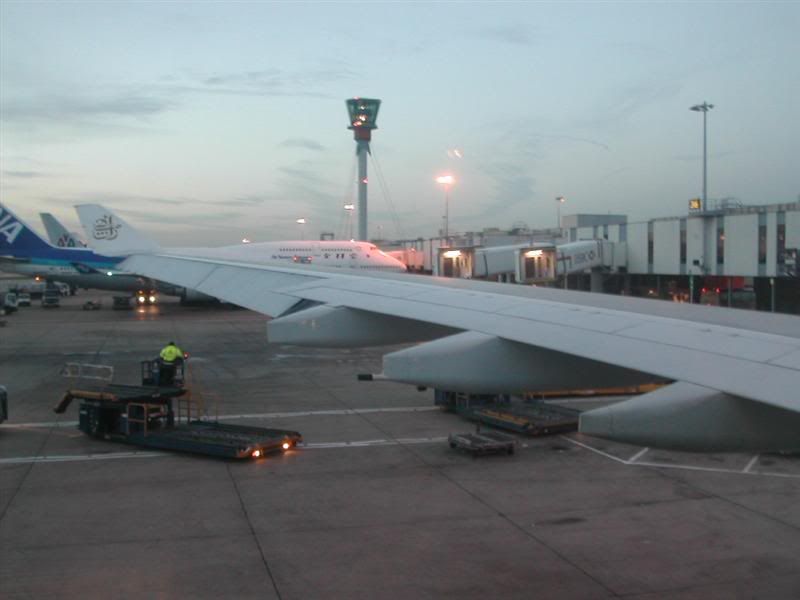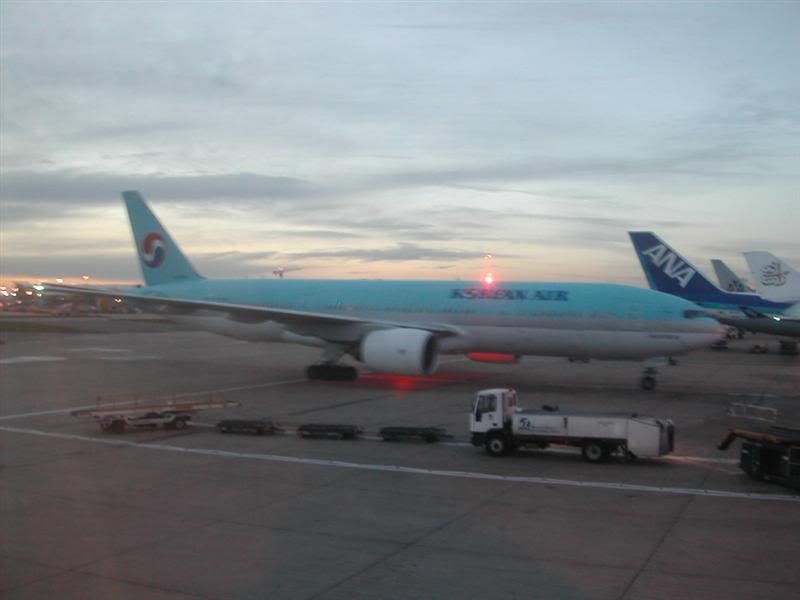 The Capt came over the PA system and let us know that we were going to climb up to 41,000ft en route and had a estimated flight time of about 6 hrs 20 mins, he also mentioned that was a pretty quick flight time.
We pushed back on time and headed over to 27L were we stood for about 15 mins. Unfortunately it was dark by then and no point in taking any photos.
We started our take off roll at 1655 and after a incredibly short take off roll were airborne. One thing I must mention here is how amazing the forward facing camera on the aircraft was! Watching the aircraft taxi from the pilots view and accelerate down the runway and lift off just incredible!!
We took a left turn after take off and watching the moving map looked like we flew the Dover SID. It was a clear evening and I got a magnificent view of Heathrow and then of London.
Anyway, we climbed up to 41,000ft. The cabin crew came round with a beverage service; I took a vodka lemonade (Vodka and a can of sprite not actual lemonade). The crew also handed out dinner menu's which I thought was a nice touch.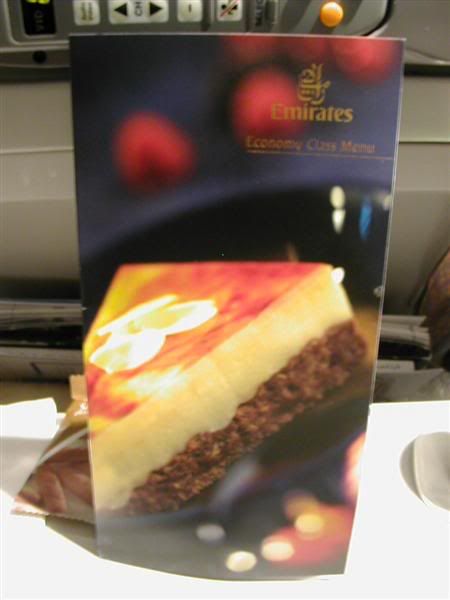 Dinner was then served; the option was chicken of beef. I went for the chicken.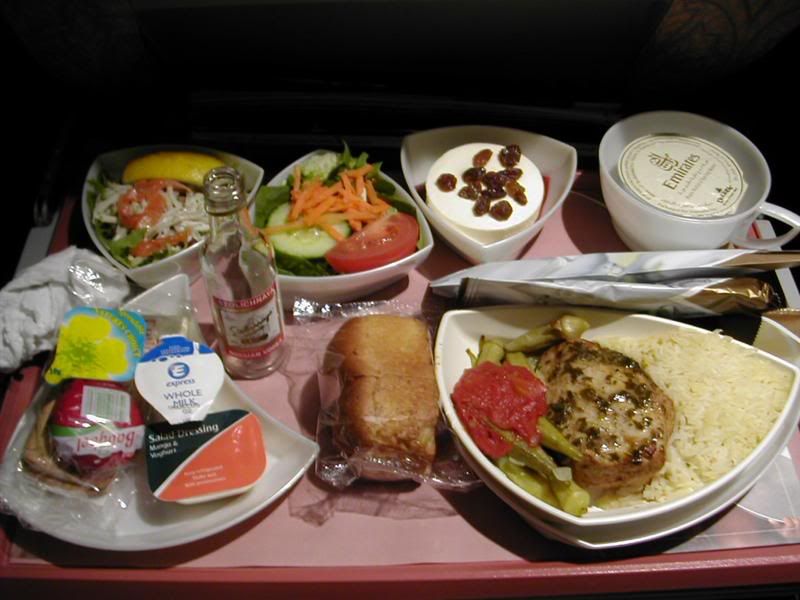 It was possibly, the best meal onboard an aircraft I have ever had. Chicken was just right, and quite tasty and the cheesecake desert was just delicious!!
Leg room wasn't too bad on the flight either, quite comfortable.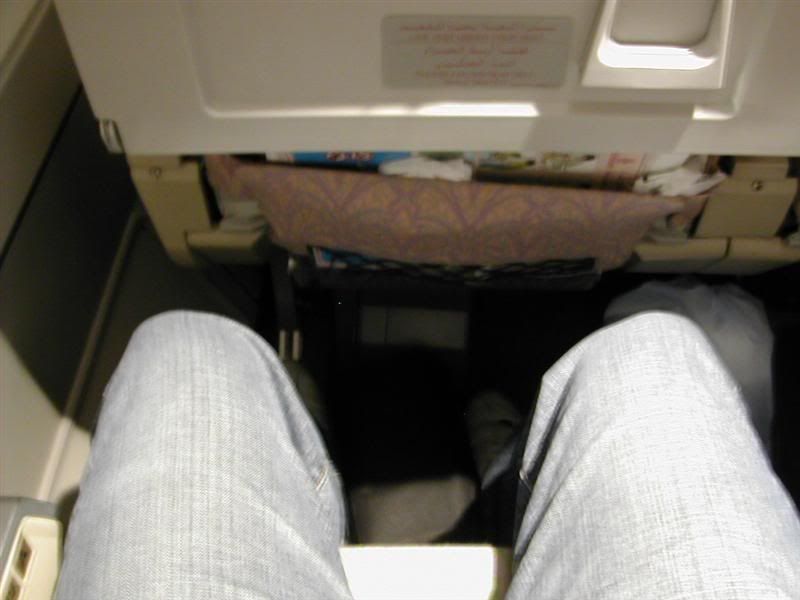 The seats had some sort of airbag thing on bottom part of the back of the seat that you could inflate or deflate using another button next to the recline button on the armrest. I spent a few mins playing around with that. Pretty comfortable though so no complaints!
The IFE onboard was pretty good, EK have different sets 1 to 6 I believe and they were going to play 4 and 5 on our flight, I watched Red Eye first which wasn't to bad and then got a couple of hours sleep in.
When I woke up we had just over an hour to run to DXB and the crew came round with tea and coffee. We started our descent over very dark landscape, nothing out the window but pitch black. This time the f/o came over the PA and told us they'd started their descent and that the weather in Dubai was 22C, and should put us on the ground at 0320am, 25 mins early, great going guys!
I switched on the air map and noticed we took a notable turn around Iraq to stay well clear of their airspace.
I turned on the forward facing camera and could see the lights of Dubai in the distance. We made a few right turns and lined up for runway 30R. It was incredible watching the landing on the screen and it was a superb landing as well.
As we taxied off the runway we held short of 30L and a Lufthansa 744 took off. We crossed the runway and saw a BA 744 taxiing out for departure back to LHR.
We came onto stand and the usual scrum for the exit started, everyone got up way before we had come to a stop.. Idiots!
My family and I always wait for everyone else to get off, makes life a lot easier. As we exited I asked if it was possible to speak to the Capt. I was taken up front and managed to speak to the guys up front. Capt Bruce was a really nice guy, he actually knew of one of my lecturers at University. He was also kind enough to have a picture taken.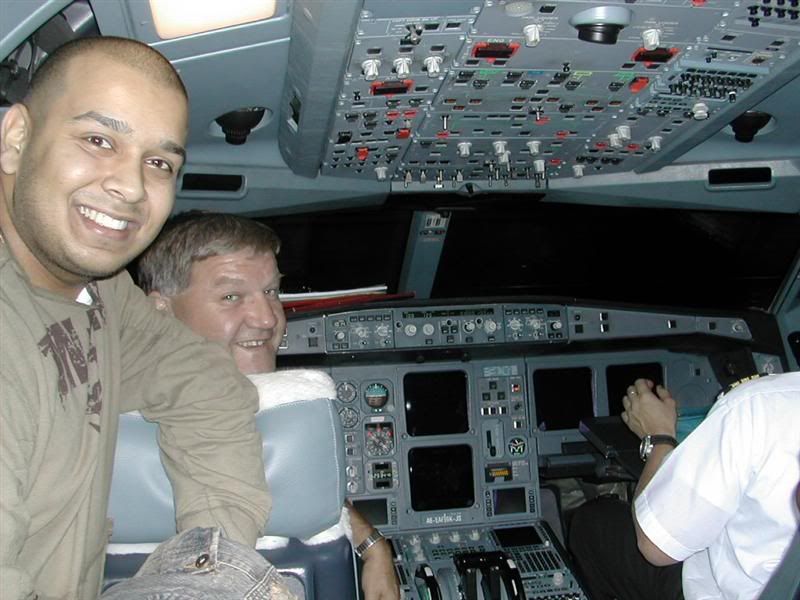 After I said my goodbyes I caught up with my parents and sister. I walked up the jetty and into the terminal and WOW, it was spectacular. Only managed to take one shot but I took more when I returned on Sunday.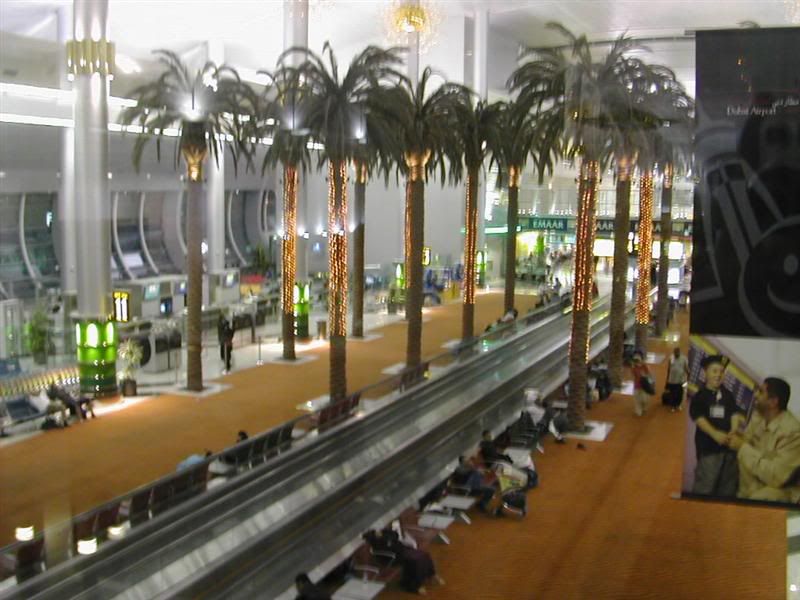 It was a LONG walk from the aircraft to immigration, took about 15 mins, it just showed how big the airport was. It was so clean and so modern, very very impressive, LHR take note!
Being 4am there were no lines at Immigration nor customs, we picked up our bags and were met by our driver who took us to our hotel.
In conclusion, It was a very very enjoyable flight, I had flown EK about 11 years ago, was a bit young to remember my experience, but they sure didn't disappoint. Out of 10 I'd give 9 for the a/c and how clean it was, 10 for the food and 10 for the service.
Awesome Stuff Emirates!!
Stay tuned for my Return leg that I will be writing shortly!!
Thanks for reading guys, and thanks in advance to those who leave messages.