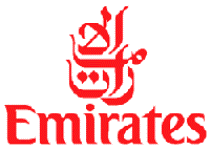 Sunday 27th November 2005
Dubai International (DXB) - London Heathrow (LHR)
Emirates Airlines EK005
Aircraft Type: Boeing 777-200 (Didn't get the Reg
)
Economy Class
Seat 34A
ETD 1635 Local
ETA 2015 Local
Again it's a long report guys and lots of pictures. Enjoy!
After an amazing day and a bit in Dubai it was time to return home to good ole' London. Our flight wasn't until 1635 but I had heard so much about the airport we got there at 1230, do a bit more shopping in the duty free area.
I was even more excited as the aircraft was due to be a 777-300 (773 was what I was expecting), my first flight in one and I couldn't wait!!
We got in the taxi from our Hotel and it took a long time to get to the airport, about 35 mins due to heavy traffic. Soon enough I saw the cranes and construction work going on for the new terminal building, looks impressive!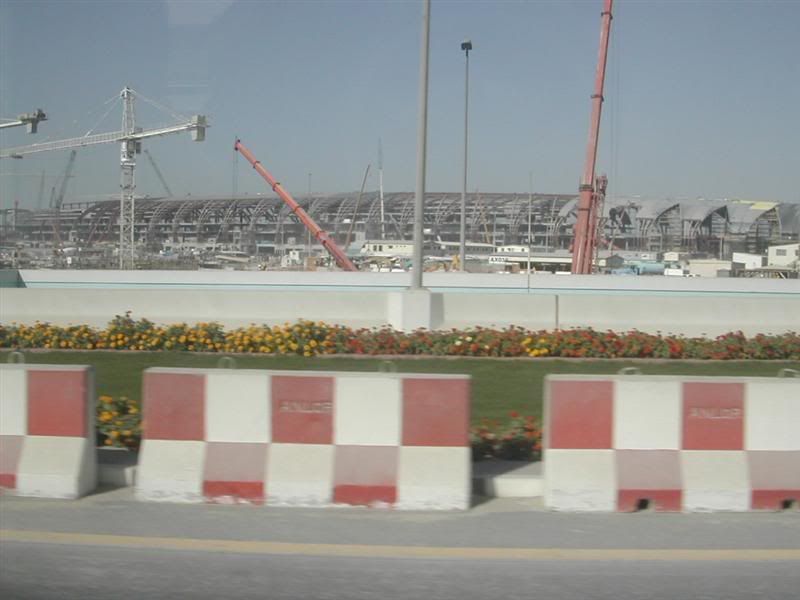 The drive around to the terminal seemed to take ages!! I guess the more you look forward to something the longer it takes to come! Haha Soon enough we got to the terminal and I jumped out into the heat of 32C! Wasn't looking forward to seeing the 5C expected in London. I took a snap of the outside of the terminal.
We entered the terminal and at first it was slightly confusing, where are the check in desks?? I found a screen in English and found that our EK flight was checking in down at Zone 1, down the other side of the terminal. At DXB, the check in desks are after a security check point, where you go through a metal detector and your bags are x rayed there, after which are the check in desks. Below is a picture of us walking down to Zone 1.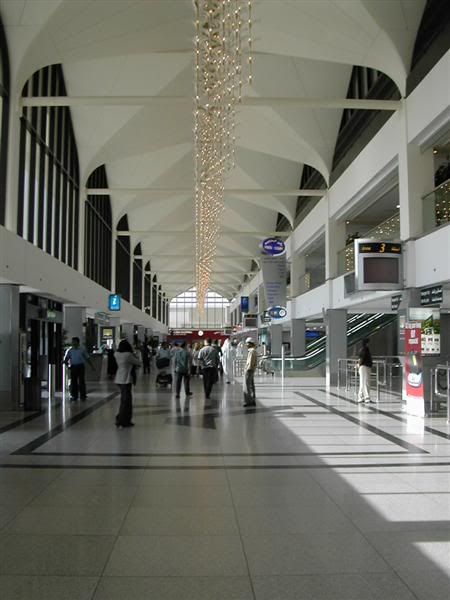 We made it through security no problem and headed over to the check in desks. There was a fair line, and so I went and spoke to an EK employee and enquired if those on staff tickets could check in somewhere else, Yayy She directed us over to a desk opposite where there was no line, and we were checked-in in no time. We managed to get seats 34ABCD. The check in agent seemed to be new as he was being shadowed. For those who don't know what that means, basically they have someone who has been there a while just looking over their shoulder helping them along. Nice enough guy though so no arguments there.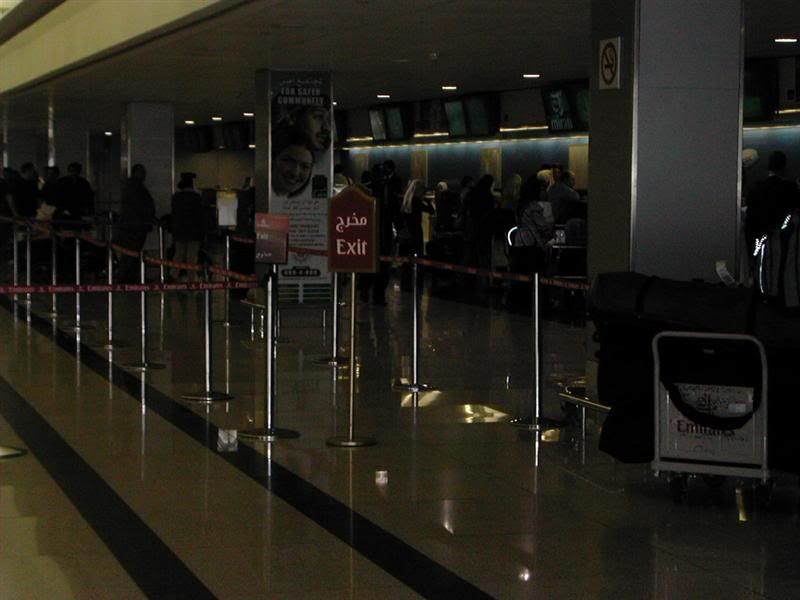 Part of EK check in area.
Once we checked in we made our way to passport control, and yet another security check point? Why was there need for two when we just went through one? Just before that I managed to get a snap of an EK A330-200.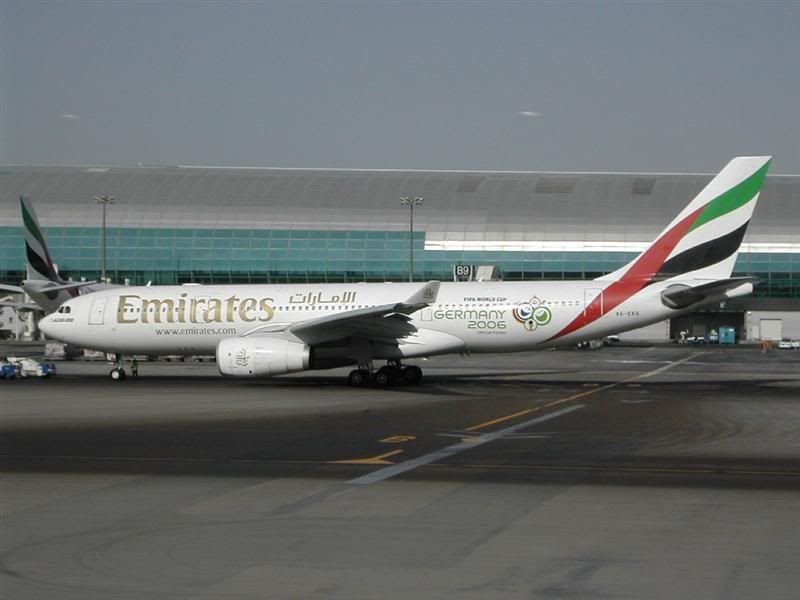 Seconds after I took it I had a pretty scary man come tell me not to take photos in a sensitive area; I wasn't up for arguing with him so I put my camera away for a short while. After passport control, we followed the signs to Departure Gates. It was possibly the longest walk imaginable! It took a good 10-15 mins to walk down a huge tunnel way as you can see in the picture below.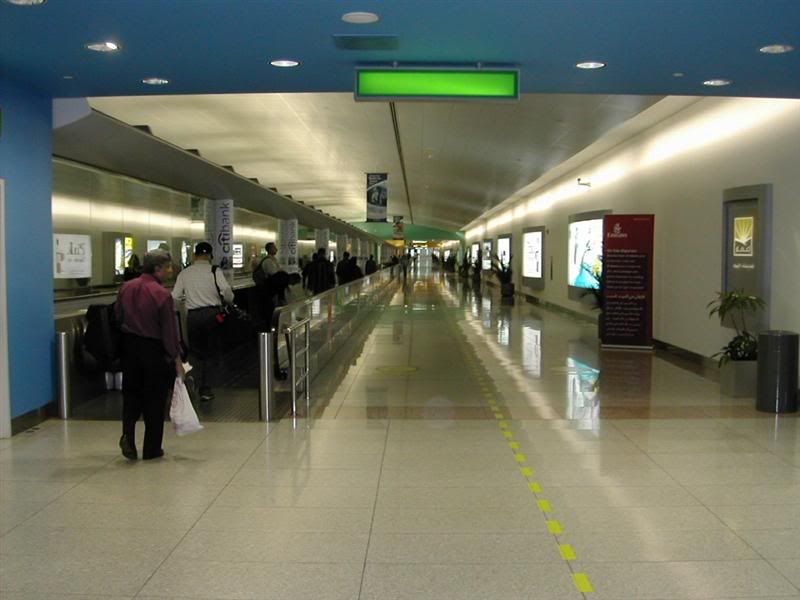 It seemed to take an eternity!! Well we eventually got there and I got a snap of the Gate map and approximate walking time to each one.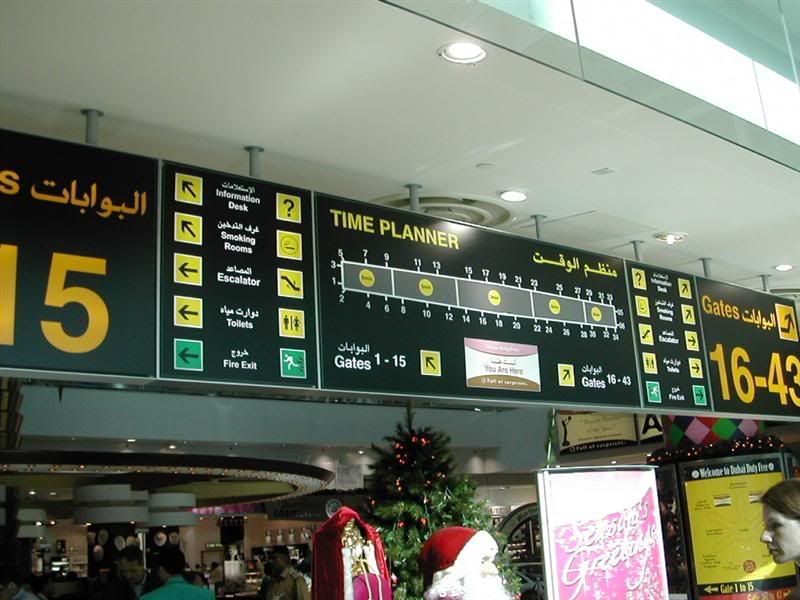 And then, Wow, the place was awesome, it was well lit, it was spacious, clean and inviting. It was amazing the contrast between an airport that can get it so right, and those that can get it so wrong *COUGH LHR* I took a few shots of the Duty Free area which are below.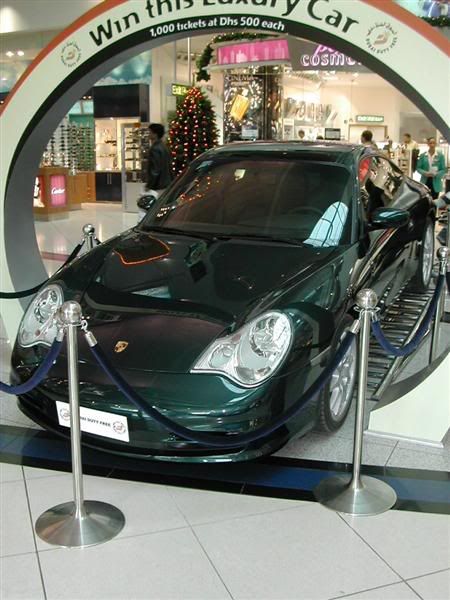 Very Sexy!!
We did a bit of shopping and headed over to Gate 5, right next to the gate we arrived into a couple of nights before!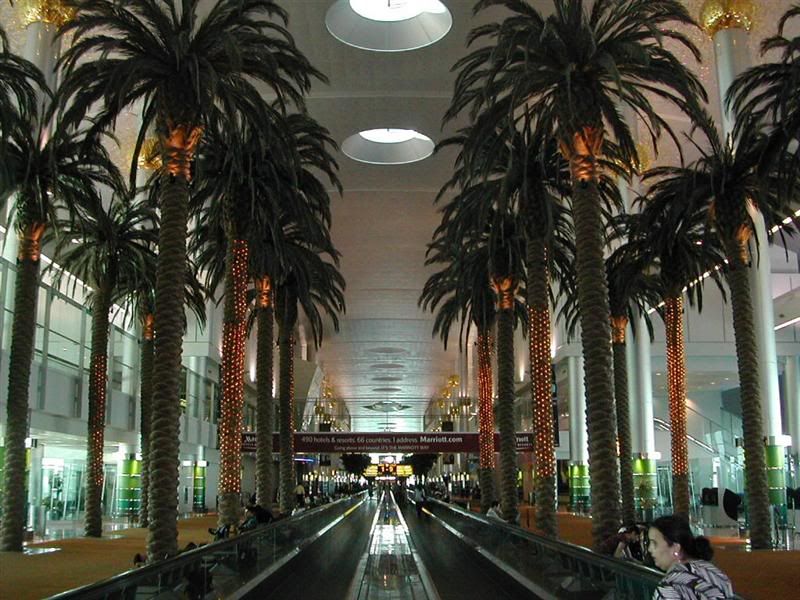 Making our way to Gate 5.
We got to the gate and Heartbreak!!! It was a 777-200
I couldn't believe it, I was so annoyed, but oh well, wasn't going to cause an international problem over it! Haha However next to us at Gate 6 was a 773 that I took a picture of, got a bit of a reflection on it unfortunately.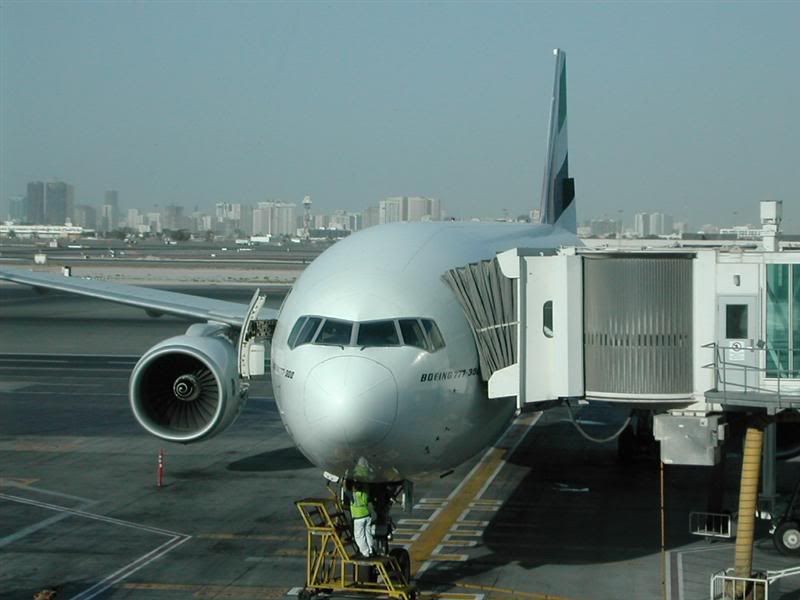 The gate itself again was very spacious, nice comfortable seats as you can see in the picture below.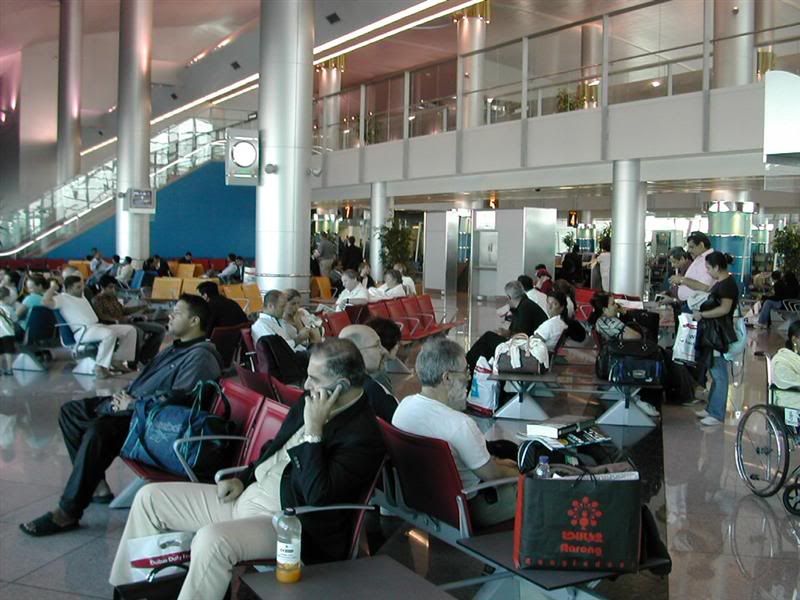 We weren't sitting to long when we started to board. I had heard a lot about Emirates 777's, with their 3-4-3 configuration, so I wasn't really to sure what to expect. All the other 777's I'd been on had a 2-5-2 config apart from a CO flight back 2001.
We walked down the jetty and I took a snap of the back of our aircraft.
We were greeted by again two absolutely stunning crew, Good on you Emirates!! Made our way down through the Business class section, which looked ok..... Ok Ok I admit it looked dam good haha
I sat down at 34A, looked up and saw my PTV; Holy Shit the thing was huge!! Really was incredible, I was like a kid with a new toy
I took a picture of the map however it didn't come to clear the red routing line, it will be clearer in a later picture however.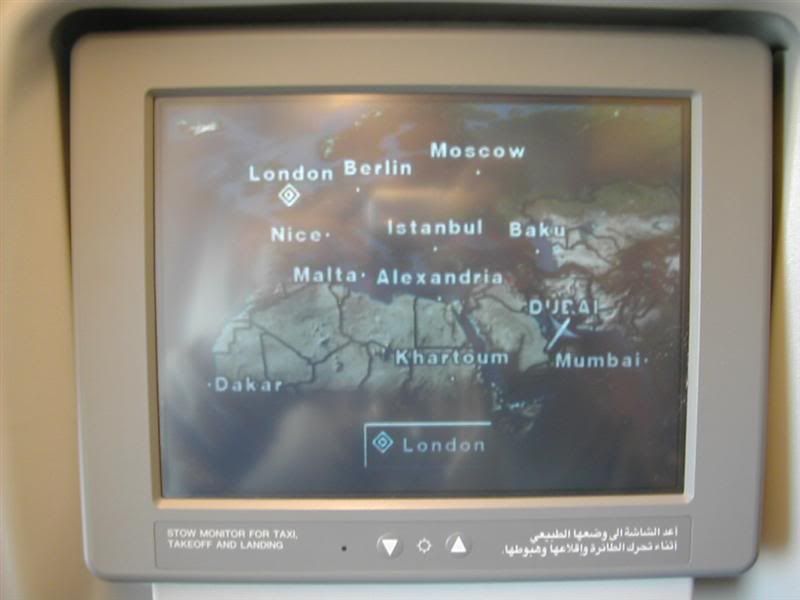 I looked out of my window and couldn't believe it! A SQ 772 in Star Alliance colours. I quickly got me camera out and took a snap, unfortunately for me my window was filthy from the outside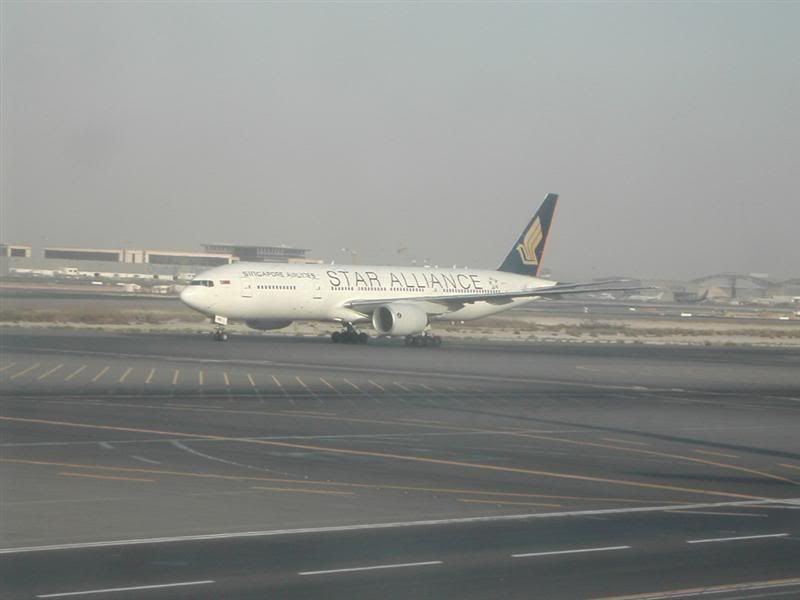 We pushed back at 1625, 5 mins early, great and taxied over to runway 30R.
The Capt. came on over the PA and told us our flight time was going to be 7hrs and 4 mins and initial altitude of 34,000 and then up to 38,000 when we got a bit lighter. We moved onto 30R and started our take off roll which seemed to go on for a lot longer than the A332 did the other night, but we still got up after about a 30 second roll. I tried to look for the Palm Island however it was really hazy and I couldn't see a dam thing, oh well, Goodbye Dubai!
Now, where do I begin, the IFE on this flight, one word to describe it, Spectacular! I guess they called it ICE, Information, Communication, Entertainment.
Information had all the flight options i.e. the air map, forward facing camera which didn't work all flight! It also had a lot of information about Emirates and Dubai.
Communication had the options for SMS messaging, E-mail, and Seat to Seat phones calls! That was interesting, I tried playing around with that for a bit, calling my sisters seat, her phone rang but we couldn't hear each other, weird.
Entertainment had all the movies, television programmes, music, radio, music videos and games!
Altogether there were 989 channels of IFE entertainment, not including the 40 or so games they had available! The controller was pretty easy to use, But hey who needed that, The Screens were all touch screens!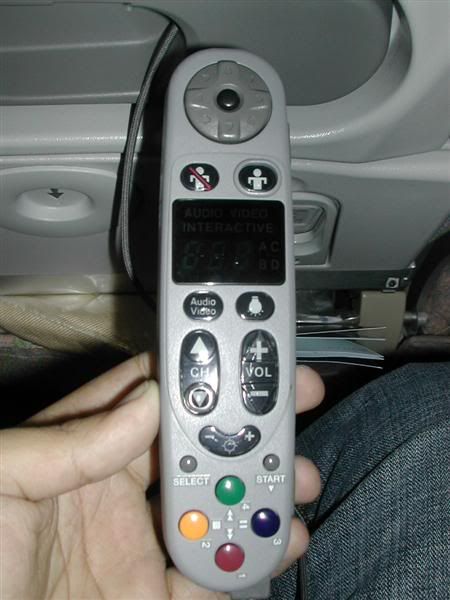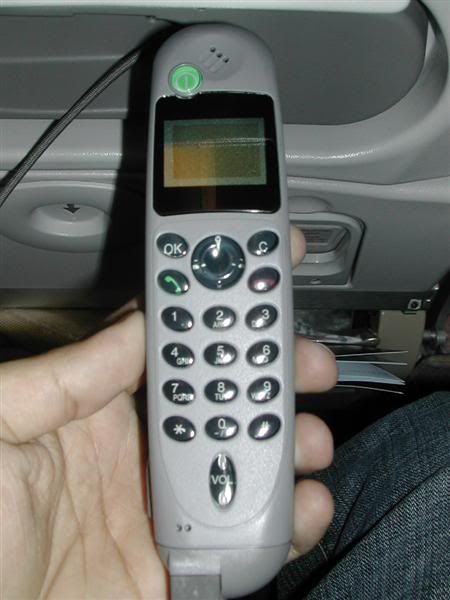 The phone on the other side.
As I mentioned earlier the screens were huge, I put my hand up against it so you can see roughly how big it is.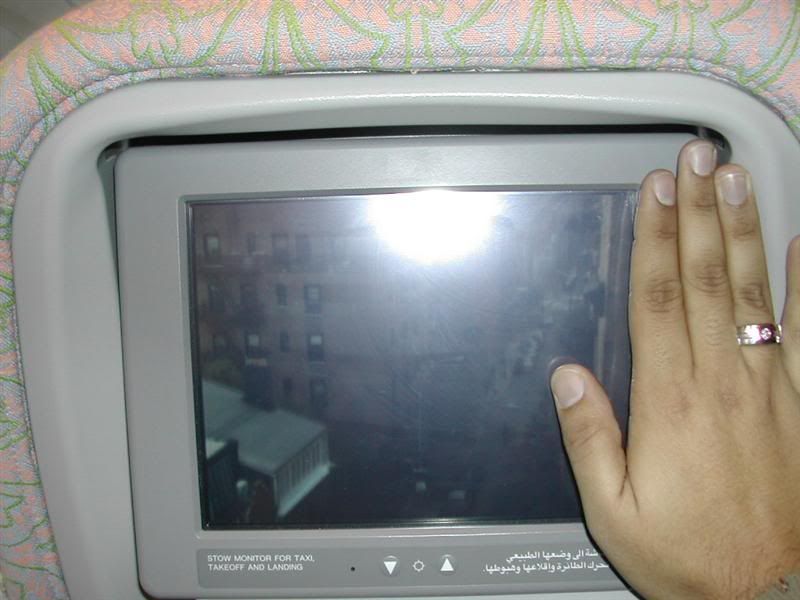 I watched a hell of a lot of programmes, got through about 4 Friends episodes, 4 Simpson's episodes, 4 Scrubs episodes, and Two and a Half men about 4 episodes of that also watched a few music videos, ok ok just one, Amerie 1 Thing over and over again
Below are a few pictures of the on screen options, they come on when you touch the screens and disappear after about 15 seconds.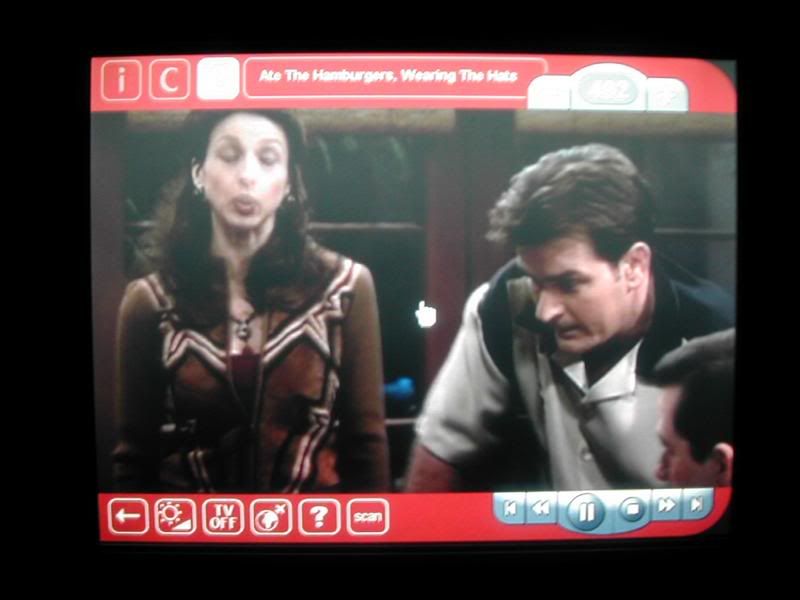 Bottom of the screen you can see the pictures to rewind, fast forward and pause the programme!!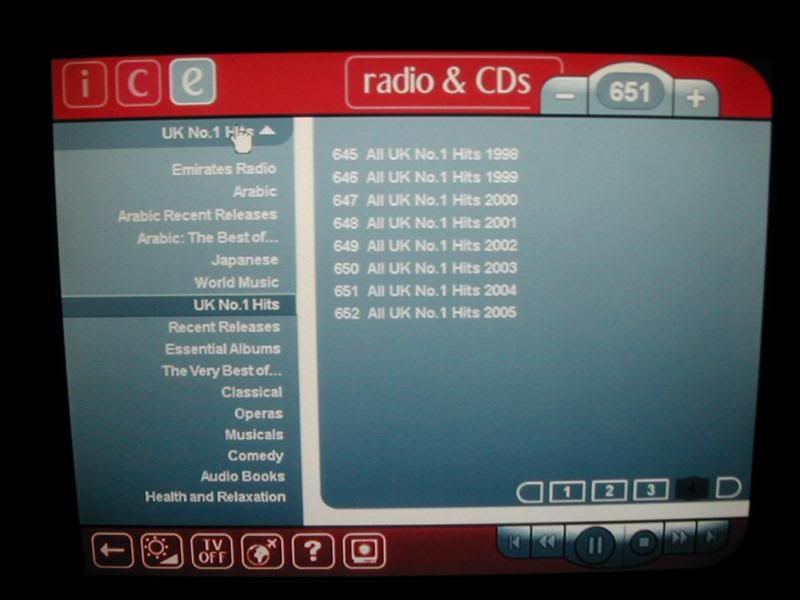 All the different music options which within had more options and more options within that!! Hours of music!! Just crazy!!
Not only that, there were loads of regional films, Disney films, just the mind boggles at the thought of how sophisticated it all was.
Dinner came around during all of this, and again, it was superb, I took the chicken again, I was so hungry I forgot to take a picture sorry guys! But again 10/10 for the food, it was delicious!
I did however manage to get a picture of a nice sunset.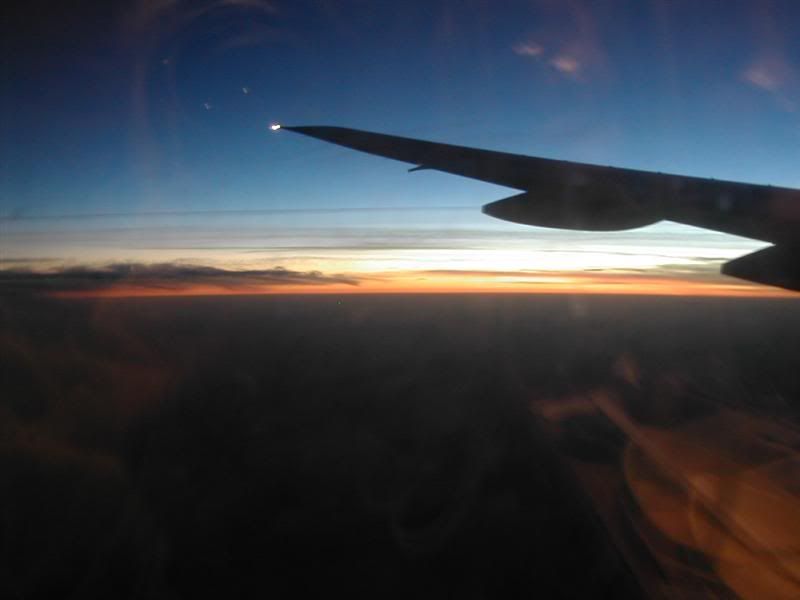 Leg room on the flight was pretty impressive, slightly more than on the A332, so it was very comfortable. The seat itself was also real comfortable. Good seat recline, and a comfortable head rest which was firm enough to hold a resting head, but not to firm that it was uncomfortable.
Again on the flight we took a notable detour around Iraqi airspace as you can see below.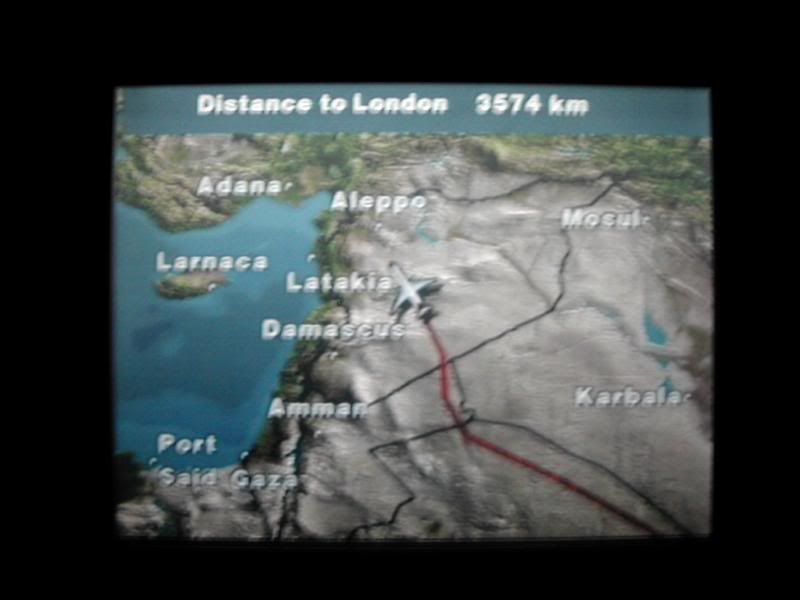 Also a bit clearer view of our route, not that it's totally accurate but nice to look at.
The rest of the flight was pretty uneventful. An hour and a half before landing the crew came around with a beverage service, yes I had another vodka lemonade haha also was a bit greedy and got a coffee to. Wasn't as such a meal or even snack, but we got a biscuit, or something like a Nutri Grain bar.
We started our descent down from FL380 pretty late, just off the the English cost near Norwich, about -28mins from landing. Couldn't see anything out the window but you could feel the descent being steep and hear the noise of the spoilers being deployed for a long period of time.
We were in a hold for a bit, it seemed to be South East of London, was to easterly to be the OCK hold, anyone know what one it may have been?? After a couple of circuits we took a few more turns and set up for our approach which turned out to be 27R got a magnificent view of south London and Hounslow which was lit up quite nicely. We touched down at 1950, 25 mins ahead of schedule so good going again Emirates!! We were however made to wait about 15 mins as another aircraft was occupying our gate. Soon enough we pulled onto gate 20 next to a SQ 744 on gate 18.
Now, here's something that does annoy me, nothing to with EK itself, but to do with every Boeing 777 flight crew member I have ever met. Even since I was a kid, my parents have kept a log of all the commercial flights I have taken, and get it signed by the Capt. I've carried this on and have a list of about 100 flights now. 99% of the time I always get to go into the cockpit and speak with the crew, and take a look around, sit in the left seat and have a picture taken. NEVER on a 777, and it's becoming increasingly frustrating as it's the one cockpit I have never stepped foot inside of that I want to!! I went up and asked a crew member if I could get the Capt to sign my book, no problem as is usually the case. The Capt was in the toilet so I waited for him to come out. He came out, looked at me, looked at my book, took the book, signed the book, said thanks and said bye. What the hell?! As I said, it's happened on UA, CO, BA and now EK, only 777 pilots!! Very sad really as I've seen pictures of the flightdeck on a.net and it just looks awesome. One day maybe??
I walked up the jetty and all 5C of heat made their presence felt, shit it was cold! Haha As I walked through the arrivals part of T3, I noticed that they'd done it up, it looked really good, I was getting bored of taking photos by this stage but I took one just to show what a part of it looks like new.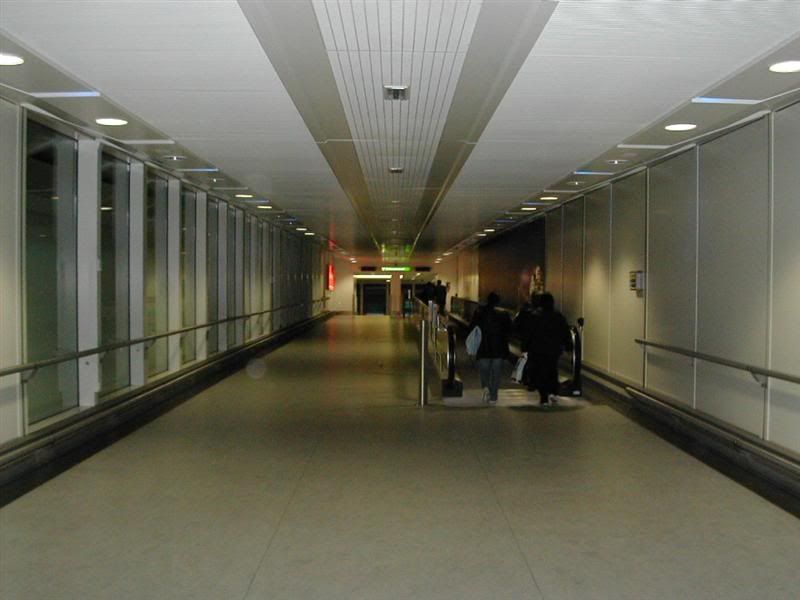 Overall, another very very impressive flight out of 10, again 10 for service 10 for the IFE and 10 for the food!!
Thanks to those of you who read this and left messages! Really appreciate it! My next trip is on a BA 757 on Dec 8th, just a day trip to Rome; I'll make sure I write a report on that to!
Thanks again!!
Moheet