I should of posted this earlier but I've been buisy and my computer hasn't been in good shape. if some things dont sound right or ive made some gramatical or spelling errors... thats too bad, live with it! I wrote it fairly quickly
Hell yeah!! Today is a day for new and long awaited experiences for me, I thought to myself on Monday morning the 21st of November. Today I'd start out with a DC9-50 and end it with an A330-300!
Flight 1: NW 746 (MSP-DTW)
Aircraft: DC9-50 (N764NC)
Seat: 19A
Gate: F16
Departure time: scheduled 4:58pm. Actual 5:20pm.... somethin like that
we arrived at the airport about 2 hrs before the flight. I lead the way to the e-ticket chekin where my mom started to get out the passports and was about to check in when I stepped in to take over. This is because she is not very good with computers and such. The last time she checked in she screwed it up and we had to start over. Anyway I went throughout the steps very quickly and we were ready to head to the gate. We said good by to my dad and my sister as we walked into the secuity line. Which was fairly empty. No wait at all. We got through just fine and proceeded into the nice shopping/dining area that MSP provides for it travelers. We had a quick browse, but I was eager to get to the gate. F16 is a fairly good walk. Not to long though. The gate area was empty at the time as we still had about an hour to wait.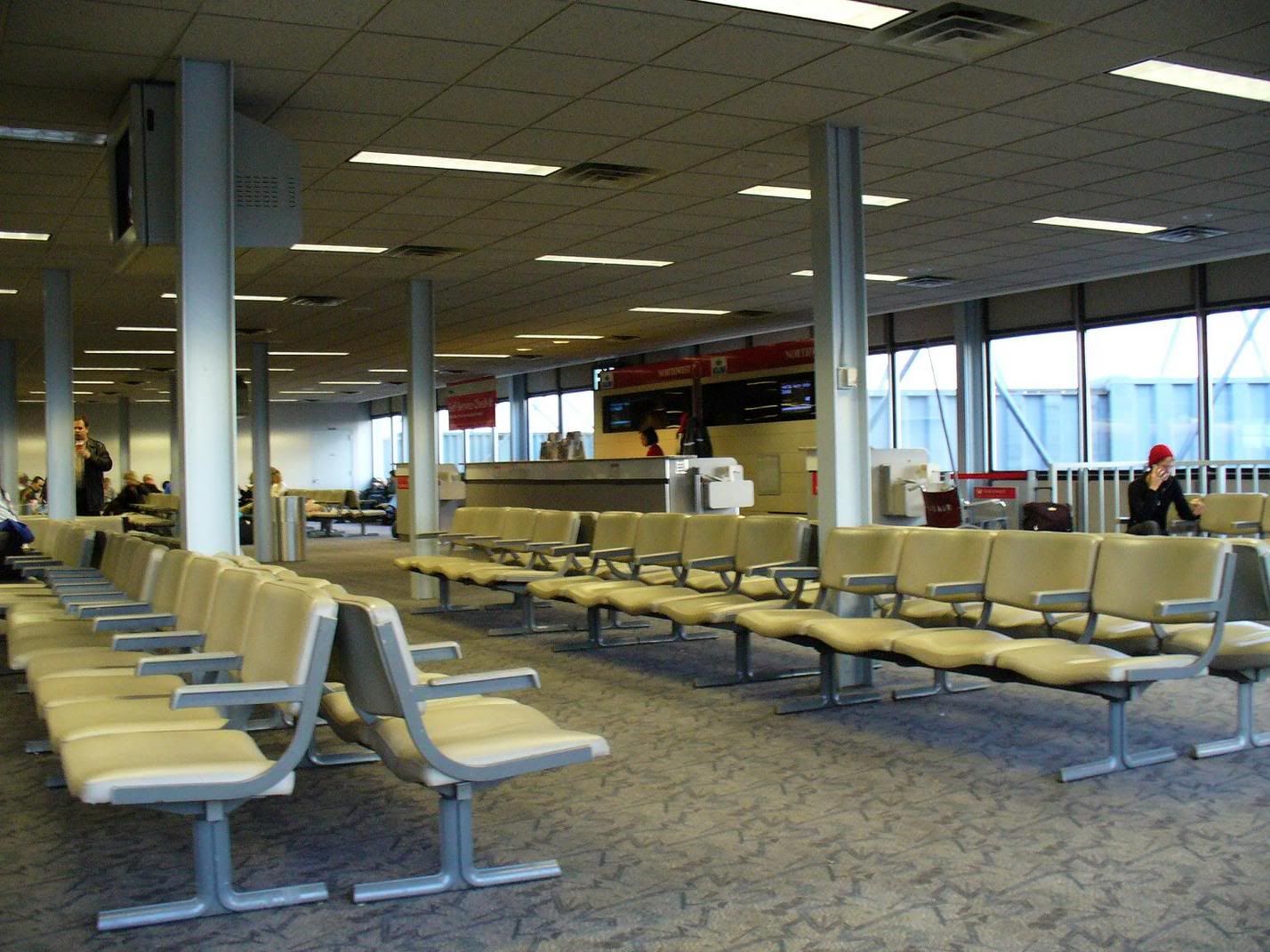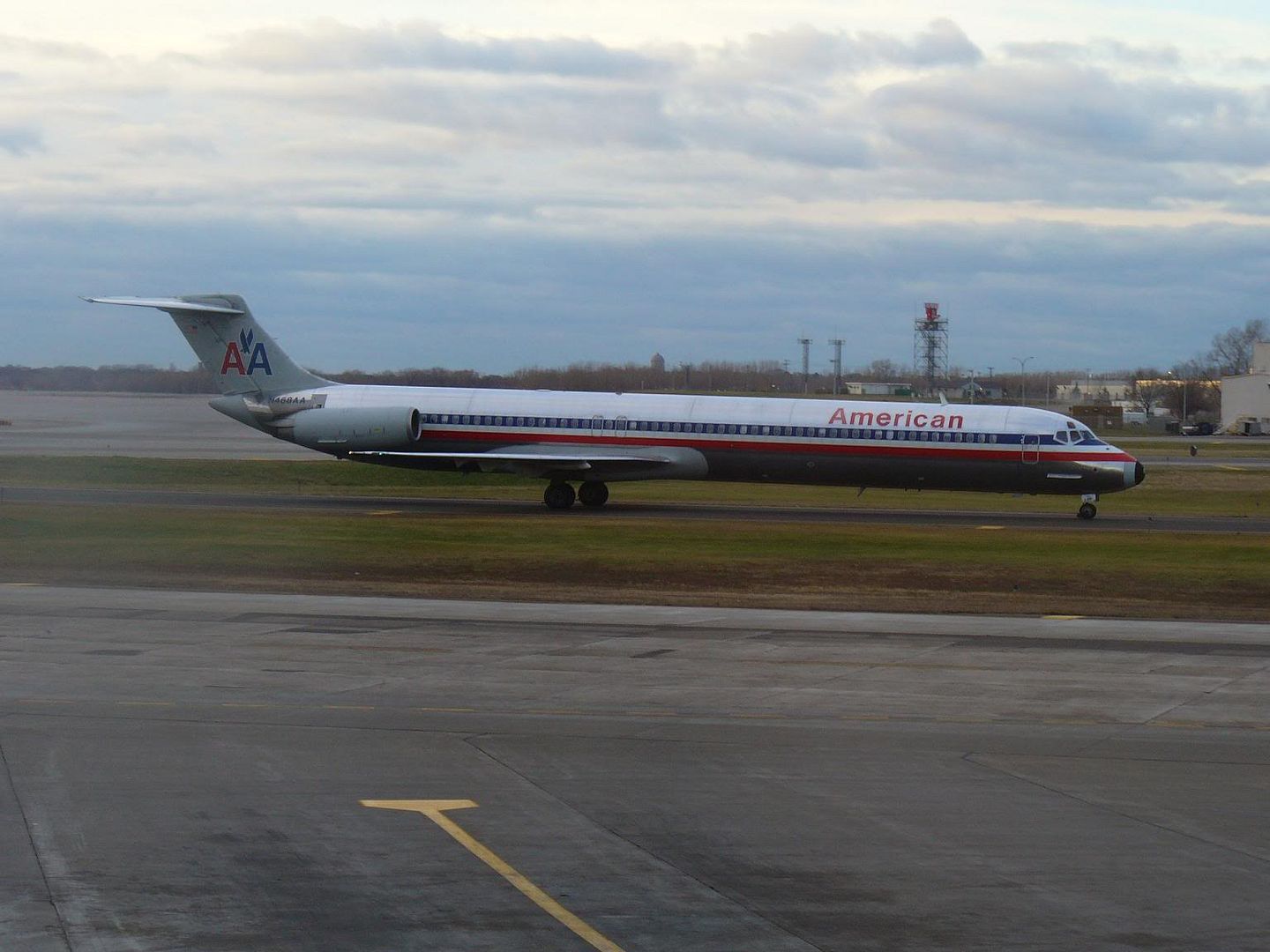 an AA MD-80 passed... cool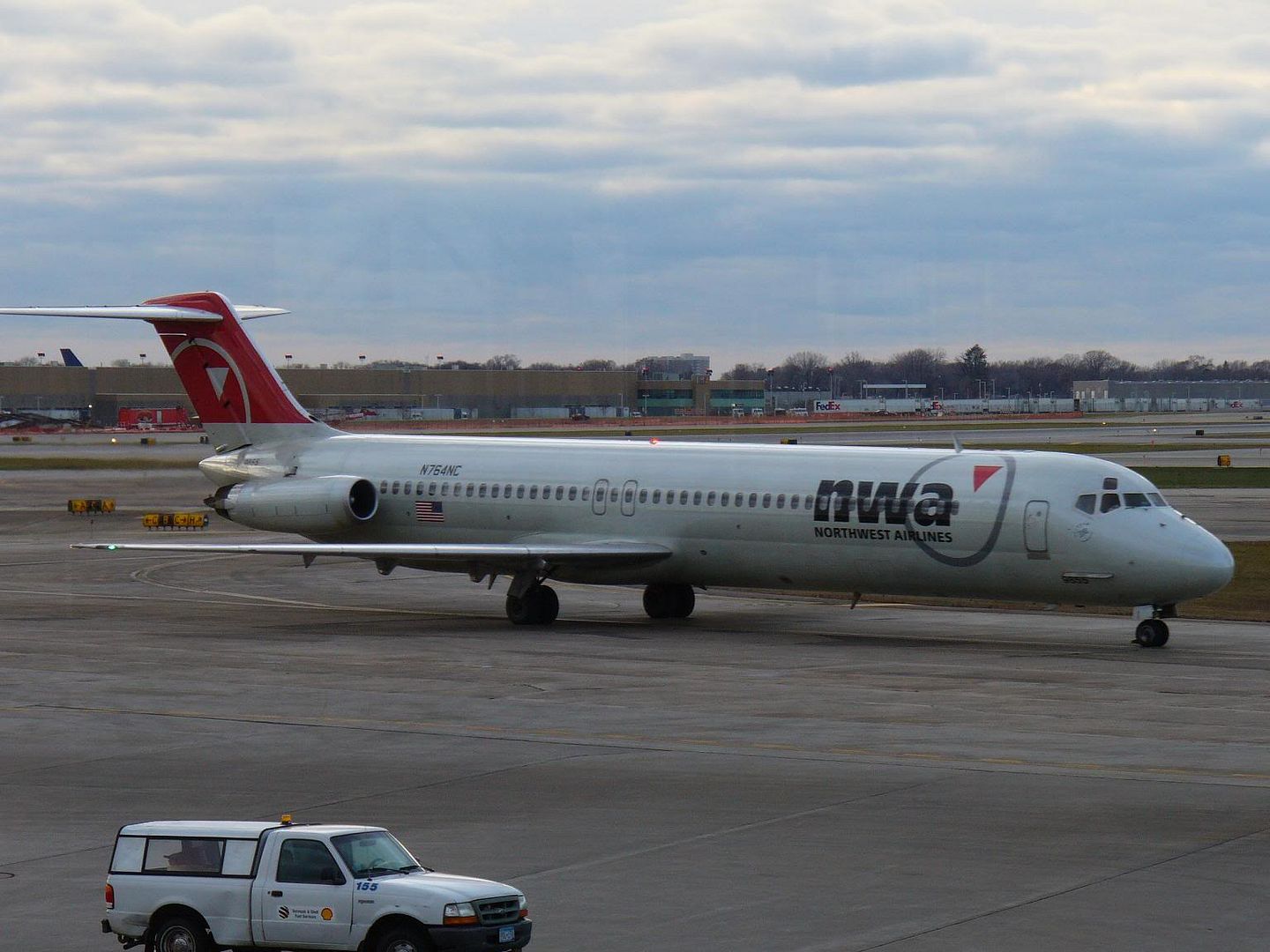 we talked with a few travelers and shared stories of where we were going to and where we were from. Not before long our plane arrived..... a few minutes late from ORD.
After the ORD pax had dissembarked I could see all the luggage being loaded onto the aircraft. Someone had been hunting, I saw a rifle and some antlers make there way up the convairbelt.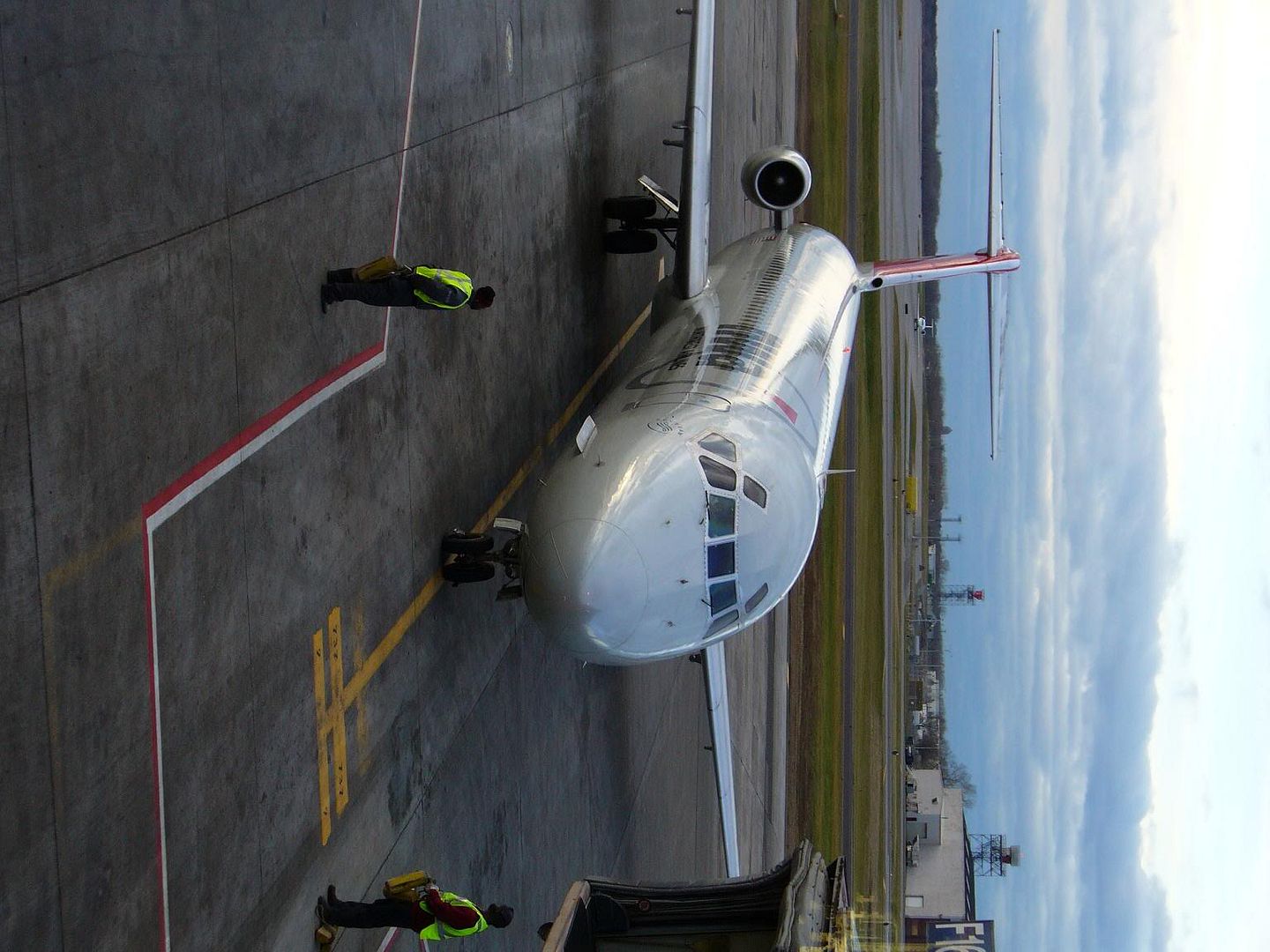 we boarded... found our seats sat down, yeah, typical stuff. The interior of the DC-9 is very nice. It looks new and the seats are comfy with plenty of leg room.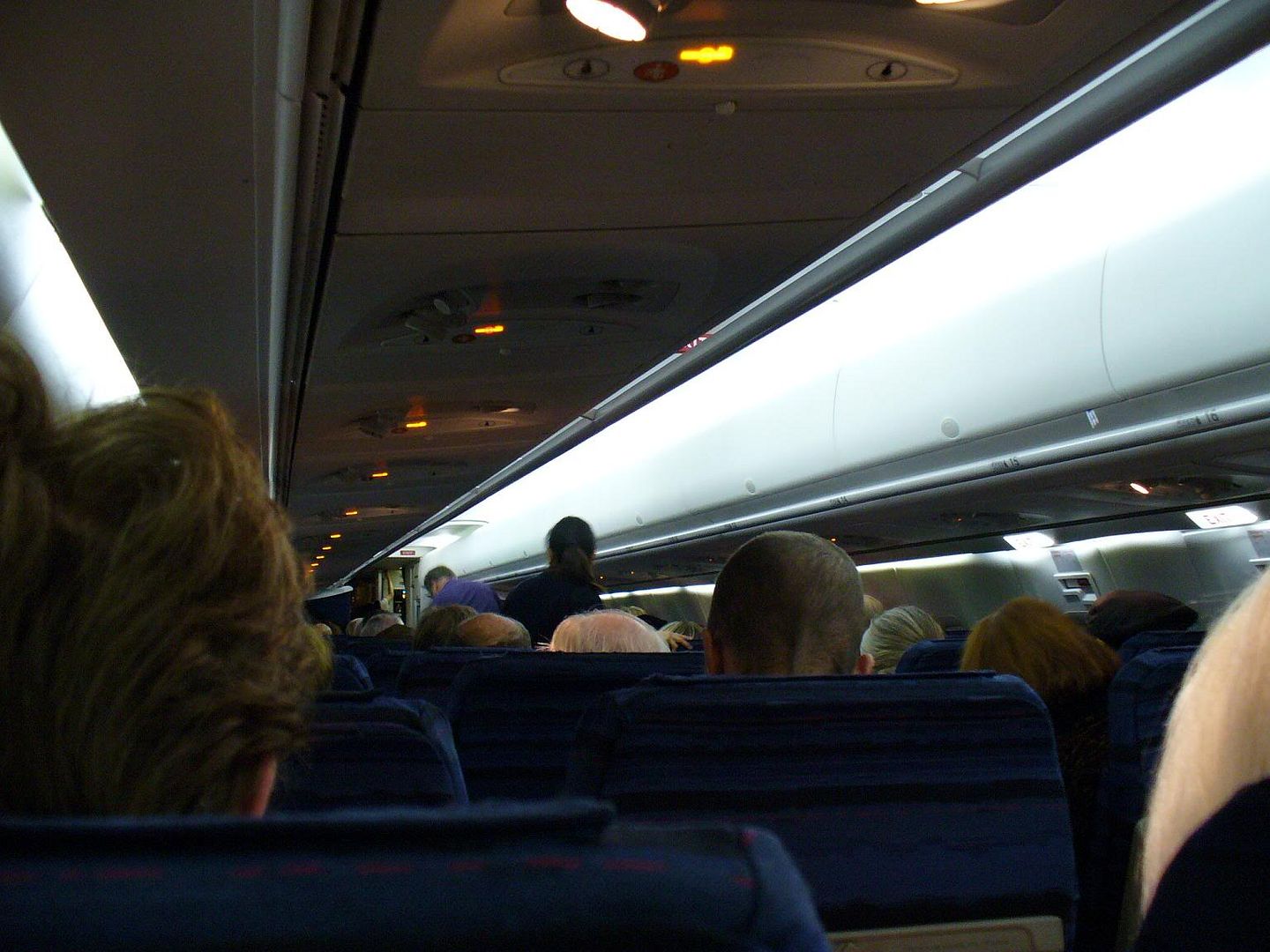 I don't think NW should be in any hurry to replace the DC-9s, they are very nice from my POV.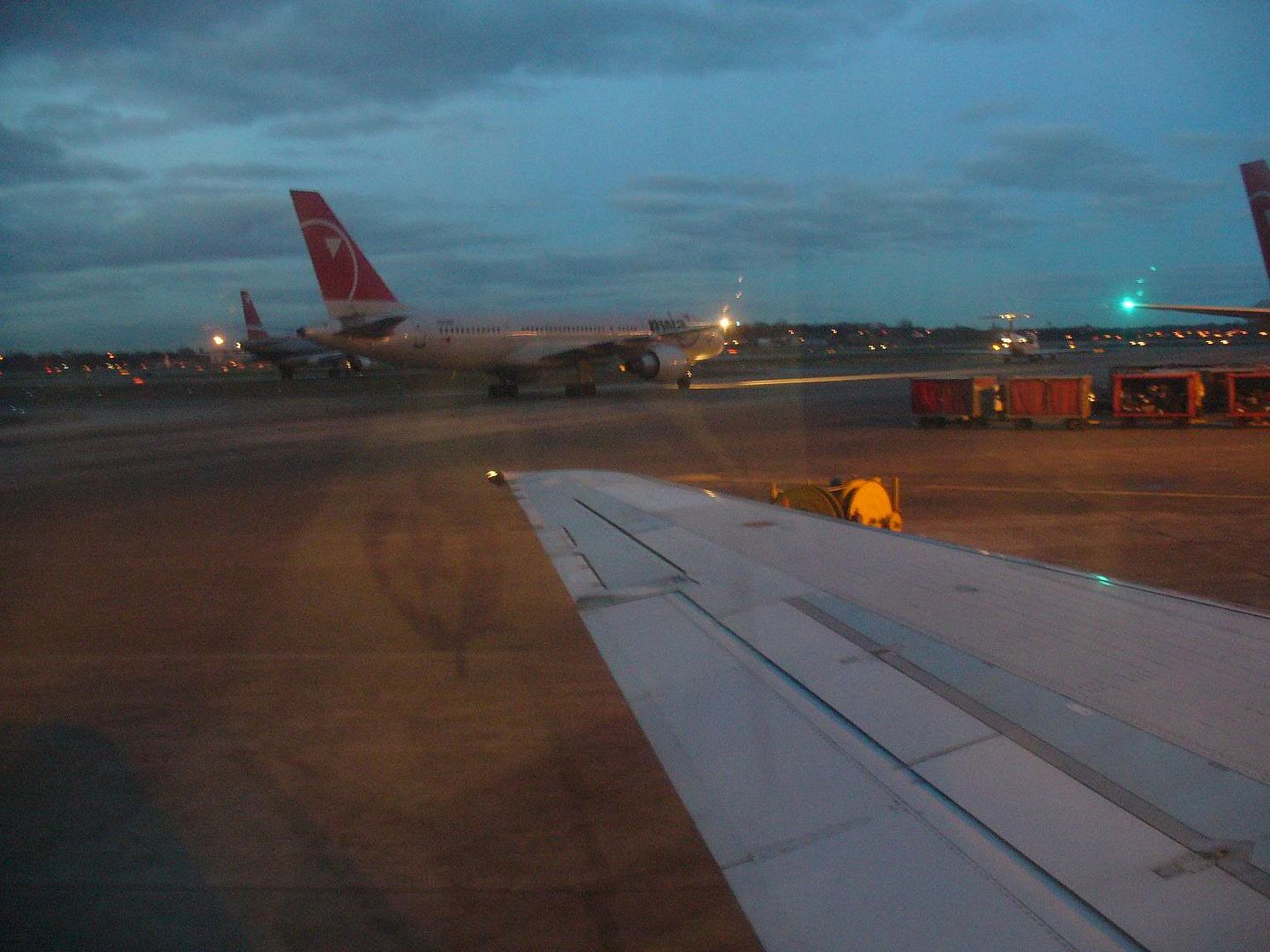 I was hopeing that we would do a power back. But sadly we didn't. We taxied around to 30R where we pulled off to the side, and I could see other aircraft going a head of us. I was thinking WTF? a few moments later the pilot came on and told us that he was waiting for some weight and balance info to come through on the computer. so I take it that when they opened the flight plan the center was either a little slow to respond or there was trouble with the DC-9s "updated" computers..... I'm no airline pilot... yet.
After about 15 minutes of waiting we started to move. I was really expecting to be deafened by the engines on take off, but I must have been too far forward to get the full effect of the sound. They weren't quiet though.... Average I'd say. The take off also wasn't too powerful. What really made the aircraft noisy was the wind sound in cruise. I have to say that I was hard to talk to my mom without having to raise my voice. I also have a way of telling how loud an aircraft is buy how high the volume must be set on my headphones/CD player to hear my music nicely.... It was almost all the way up.
On today's flight there were 5 flight attendants working, wait that's not right a DC9-50 is only supposed to have 3. For a while I thought to myself... why 5? Then it hit me, 2 of the F/As were Asian, that explained it. They were the outsourced Asian F/As in training. I told my mom and she thought that was interesting too. I couldn't complain about the service provided on this flight as there was always a F/A close to you. I had a Pepsi, and was given the whole can YAY!! The F/As were constantly going up and down checking on everyone as well as carrying coffee and water. There was even an old F/A... Like 70ish. She was nice too. Soon we started our decent. It was cloudy.. The pilot came on and said it was raining in DTW with a brisk wind as well. as we passed through the clouds it was bumpy and I could see the rain in the glow of the wing lights. Whenever this aircraft went through some turb the seats would move around... like I could see my armrest moving away from the wall... This might scare most people but I thought... heh... Its and old plane whateva! The flaps and gear made loud noises when they where going down, and this scared my mom a bit. The landing in DTW was fairly smooth considering the rain and wind. The sound of the reverse thrust was quite loud... nice! I waited for everyone to get off and the I made a quick stop at the cockpit. WOW, it was quite the opposite to the new look of the cabin. It looked as if it hadn't been updated since 1976! The captain said it didn't have any GPS either! It was really something to be up there, it looked as if it should be in a museum.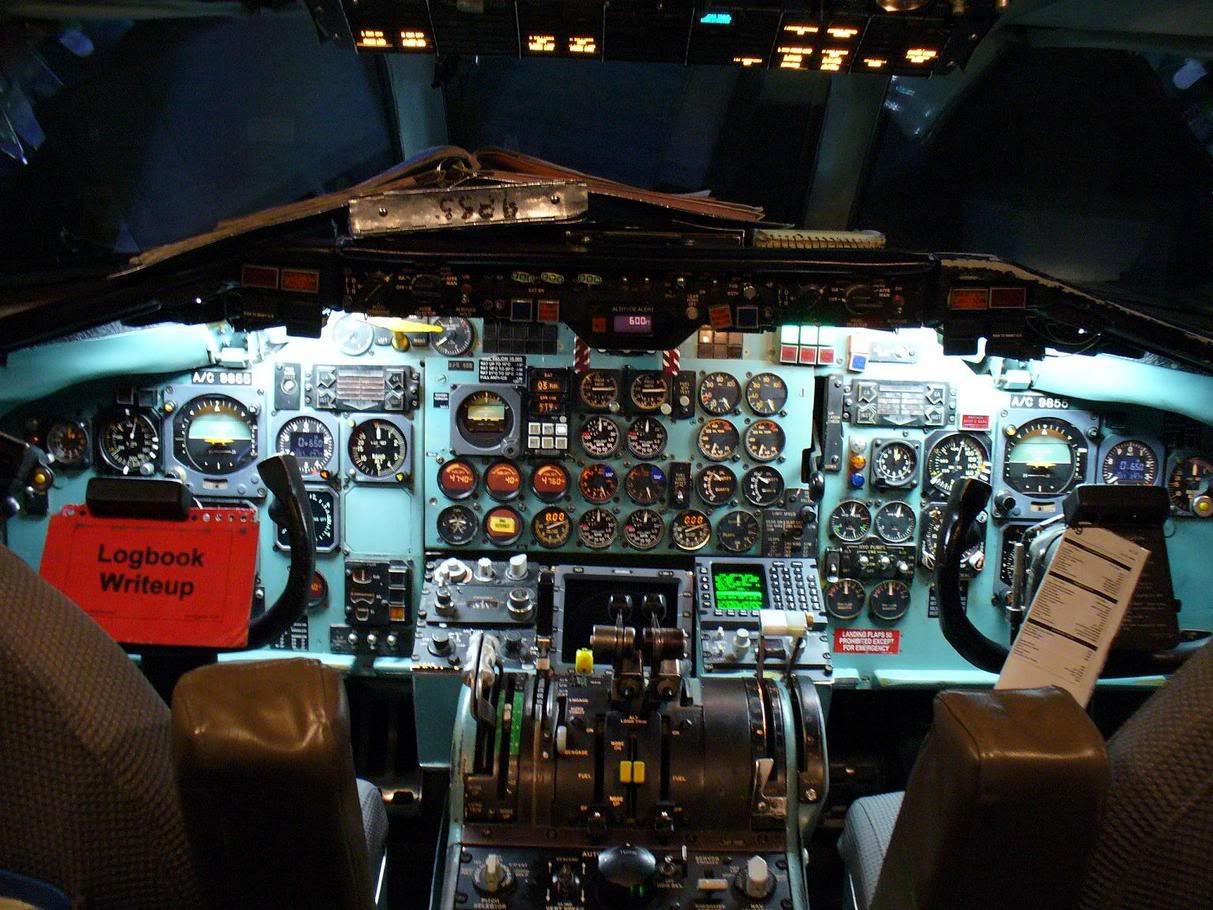 We arrived at gate A15 right on time (7:50ish).
Flight 1: NW 32 (DTW-LGW)
Aircraft: A330-300 (N811NW)
Seat: 36A
Gate: A36
Departure time: scheduled 9:25pm. Actual 9:40PM. Arrival: 10AM
our next gate was down at A36. That's almost 1/3 mile away. We could have taken the express tram but chose to walk because we had time, and we'll be sitting for the next 7 hrs anyway. The Mc narma terminal is the coolest airport I have been through (compared to many of you I haven't been to many places) with thte aid of moving walkways our 1/3 mile walk wasn't too long. I didn't get any pics of the airport this time but on my next report I'll have some.
As we got near our gate we decided to get something to eat, something light to tie us over until the airline meal we'd be getting in a couple of hours. We found an internet cafe.... at the back there was a window, and outside was our aircraft! I quickly grabbed a table next to the window. WOW... A330s are very sharp indeed. I would of taken some pics but there was small dots on the glass that prevented photography, though they are probably ment to keep the sun out. I took note of the reg 3311... N811NW I told my mom we were riding on a brand new plane, only a few months old! She thought that was too new. hehehe, after riding on a 30 year old DC-9 this would be quite the opposite. My mom and I split a turkey wrap at this cafe. By the time we were done eating it was time to board. What a coincidence! At this time I was so excited. My life would now be complete! Boarding... yea usual, (nice boarding music though... classical... Vivadaldi or what ever)I got onto the plane and note how clean and modern it looked. I turned my head to look in WBC, which looked nice! I made my way through coach and after moving down the first few rows I looked back to see the PTV's I had never been on a plane with PTVs, so this was sweet! I booked our seats to be 36A and B brcause it was behind the wing where I'd have a good view of the flaps and a good view of the ground. At every Y class seat today was a blanket pillow and a headset all nicely wrapped in plastic, so you knew it was clean. I was surprised to find it wrapped! We put our coats in the overhead bins, while leaving our bags to be put under our seats for easy accesses during the flight. In my carry on today was tissues, gum, cd's and player, Sony headphones, camera, batteries passport and tickets, and some cold medicine for a small cold that I had. It was a slight inconvenience but hardly a noticelble cold. Now we wached people bring their whole closets with them on board the aircraft today, struggling to fit everything into the bins. These peole are just plain stupid. Why cant they check some of this stuff? Anyway. Soon everyone was sat down and the aircraft doors had been closed. It was getting a bit warm in the cabin. Not long now I thought to myself. But no... We waited and waited, and just sat at the gate for what was a good 20 min now. The the pilot came on saying we had some ground power issues. I have no idea what it really could of been. Not to long after that we pushed back and the engines were started. Cool air moved into the cabin, and it felt great. One thing my mom and I noticed was that the seats felt like they sat a too upright and wouldn't be comfy till they were reclined. Also the leg room seemed a bit tight as well, but my mom and I aren't very tall so it wasn't a problem. If you want more leg room on the NW A330 sit in the front part of Y. I think its 2 extra inches up there. But the wing blocks most of the viewing if you have a window seat. As we taxied for takeoff the safety video was played on all the PTVs. It was a very normal video. Once that was over airshow came on all the PTVs so we could all see where we were going and how high and fast and the other stuff it tells you. The takeoff was not powerful as I expected, it was about a 50 second run from 0-V2/wheels up. Here's a photo I took shortly after takeoff.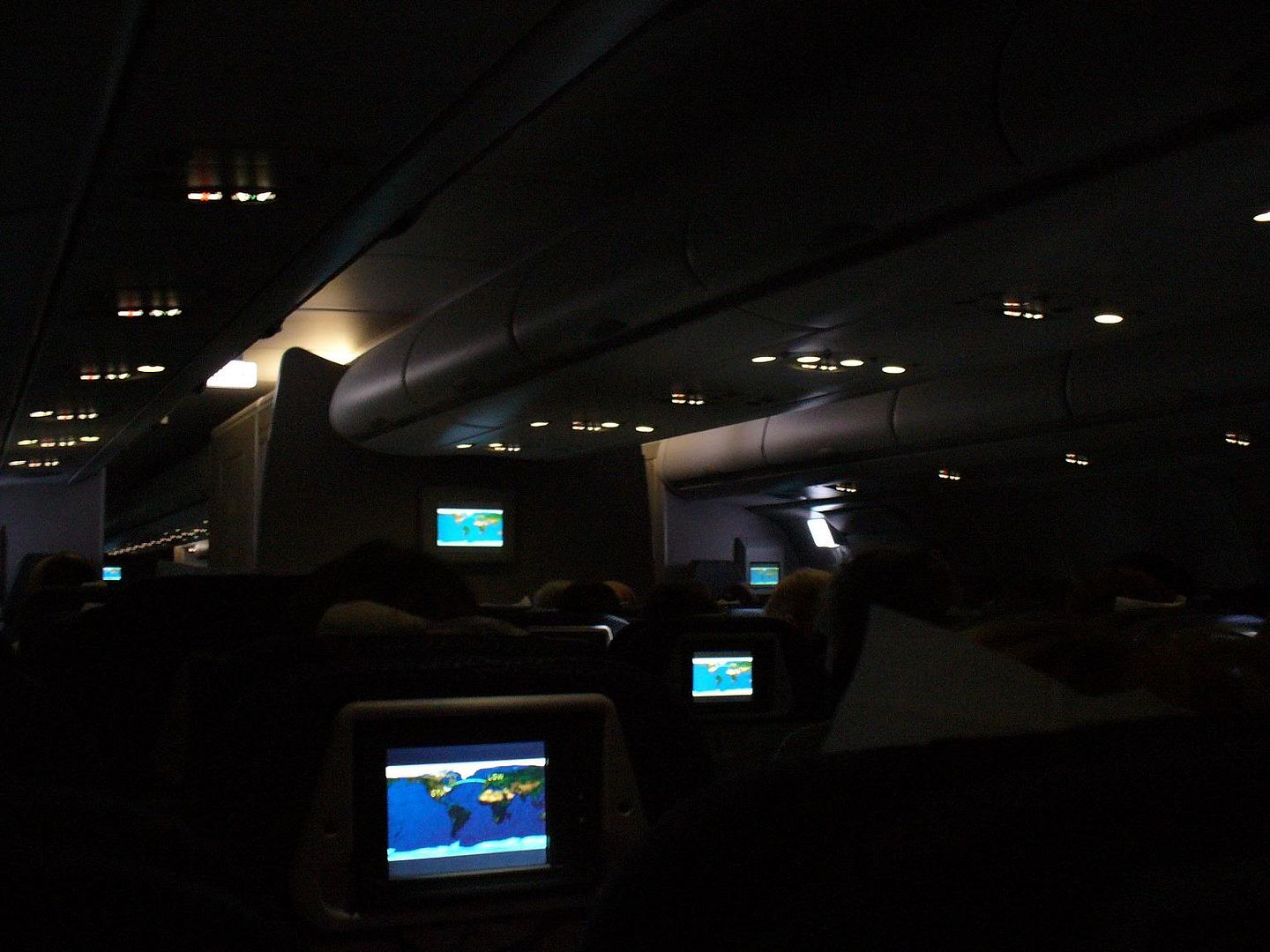 around 10,000' a skyteam promo vid came on and then the exercises that no one dose were played. I noted that this video must be about 15 years old, the peoples' clothes and hair told me that. My mom thought it was funny too. As we leveled off the AVOD system started up. Today we had a selection of over 40 movies 2 currents that consisted of short programs. 2 nickeloden which each had about 10 cartoons each (kids will love this). 6 games, email that cost $2 to send. The choice of music on here was insane. Half of the music I brought with me was already in the AVOD system. The best part about all this was that you coud make your own "jukebox". All you do is select songs from throughout the database. They had music here for everyone! They had a few albums on there as well.... backstreets' new one Dave Matthews band, Rob Thomas, and the great Coldplay X&Y.... which I listened to a lot. The map features on here were also unbelievable. You had the opion of just waching airshow play over and over or you could navigate on your own. Soon the first drink service came around. I had apple juice, and was onec again given the whole can. After messing around with the AVOD system I decided to wach a movie. I chose Charlie and the coco factory. My mom also chose a movie, she picked the wedding crashers. My mom was wondering if the movie was going to be edited (cutting out swears and nudity) I said that it probably was. But to my supprise it wasn't. My mom turned to me and said, "no its not edited I just heard them swear" hmmm, then a few moments later she stated laughing and pointed to the screen... WELL DONE!!! I LOVE YOU NW!!! hehehehe...There was the party scene with tits and nudity everywhere! Yes there were some small kids on this flight, and yes I'm sure someone near them wached this movie, and I'm sure they saw stuff there parents didn't want them too. LOL. An Arab lady was sitting a few rows behind us and most likely didn't enjoy seeing it as its against there religion... Something like that.... That's what my mom said anyway. Dinner was eventually served. Chicken or pasta, how original. We both chose the chicken. I forgot to take a pic cuz I was waching the movie and I wanted to eat. But it basically had potato chunks mixed veg and a lump of chicken in the wrapped container. It was very hot too. Somewhere I read that NW A330s have bread warmers so I was expecting to be served warm bread, nope, it was cold. This meal also contained a salad crackers and cheese and a chocolate cake. All of it was good. I have no complaints. After the meal the lights were turned off. About half of the people slept and the other half was waching something on the PTV. I got up and walked around/used the lav twice.
I tried to take some pics of the cabin but it was too dark. I wasn't going to use a flash either. As I was returning to my seat I noticed that everyone had there PTV off and was sleeping. But that couldn't be. I soon realized that the AVOD system crashed. It took about 15 min to get it all up and running again. During that time the screen would flicker and odd computer text would show up. At least they fixed it.... ive heard of times where it hasn't come back at all. Soon I could see light. We were now about 2 hrs from arrival. I had to get a few pics of this!!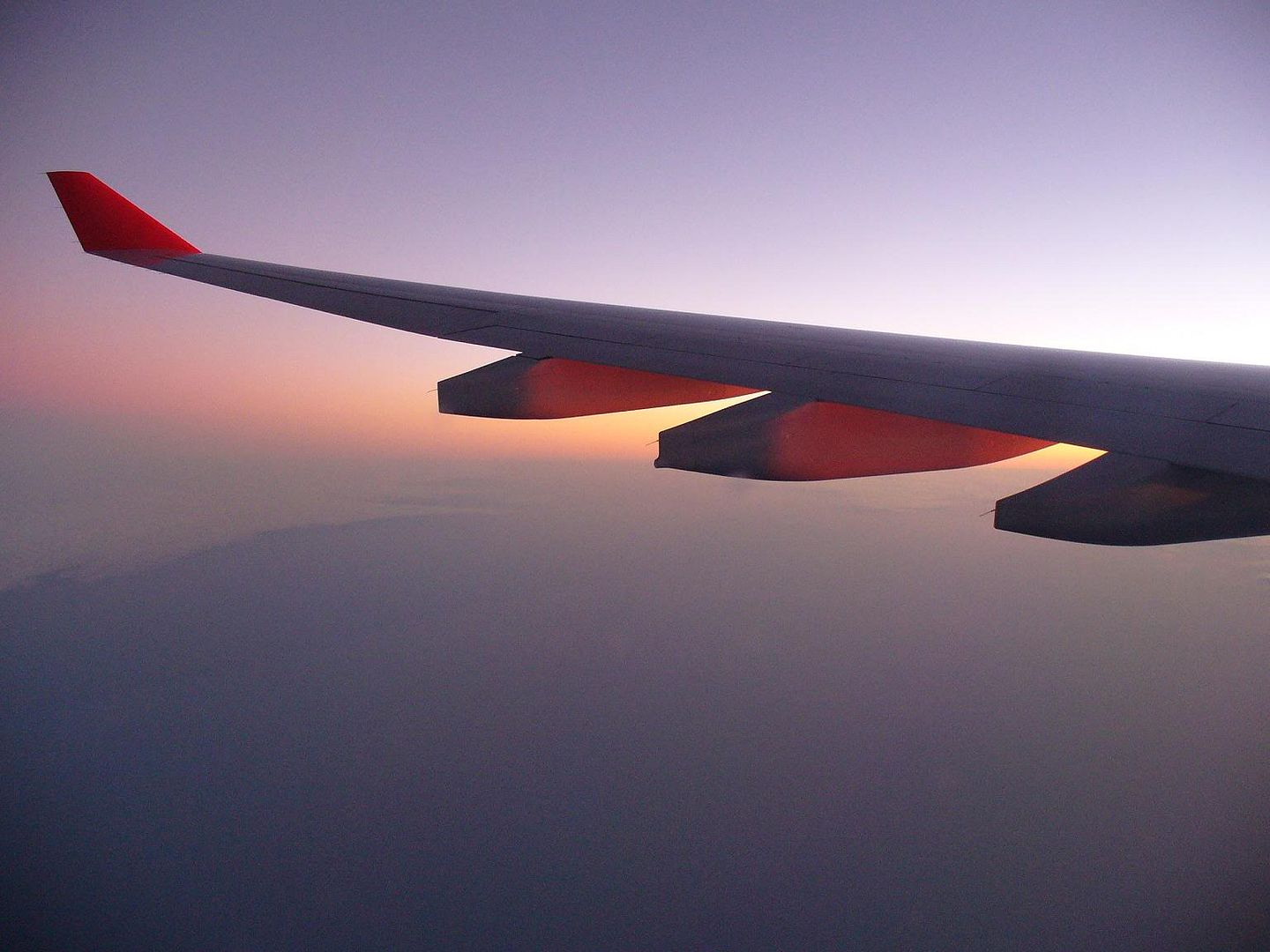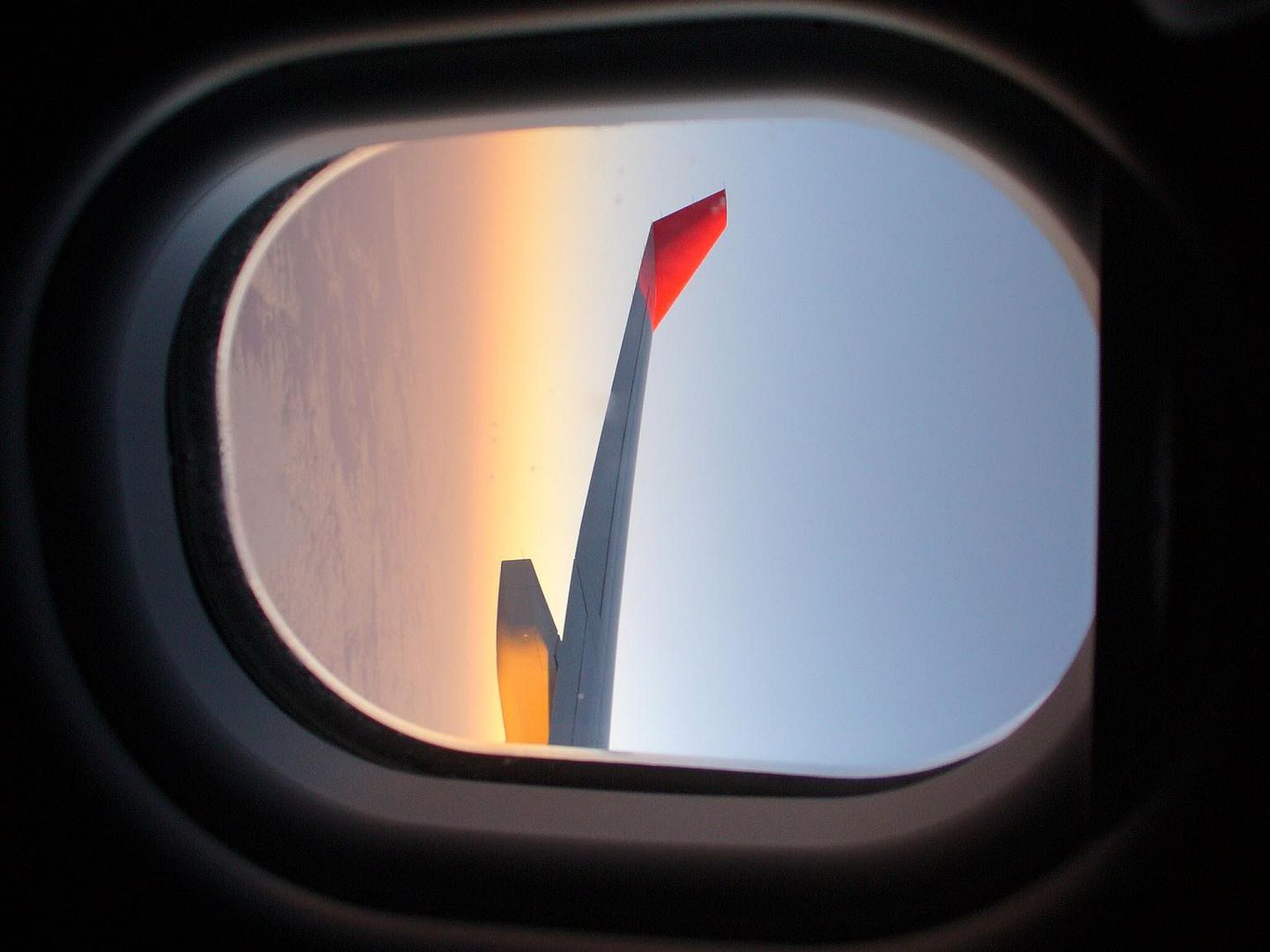 not too long after that breakfast was served. Nothing that special. It was a egg sausage and cheese breakfast muffin sandwich. Served with a mixed fruit cup, of which the fruit was very hard(not NW's fault) and a yogurt that looked good but I couldn't eat it because my mom didn't want her sandwich so I ate it... and I was full. This time I remembered to take a pic.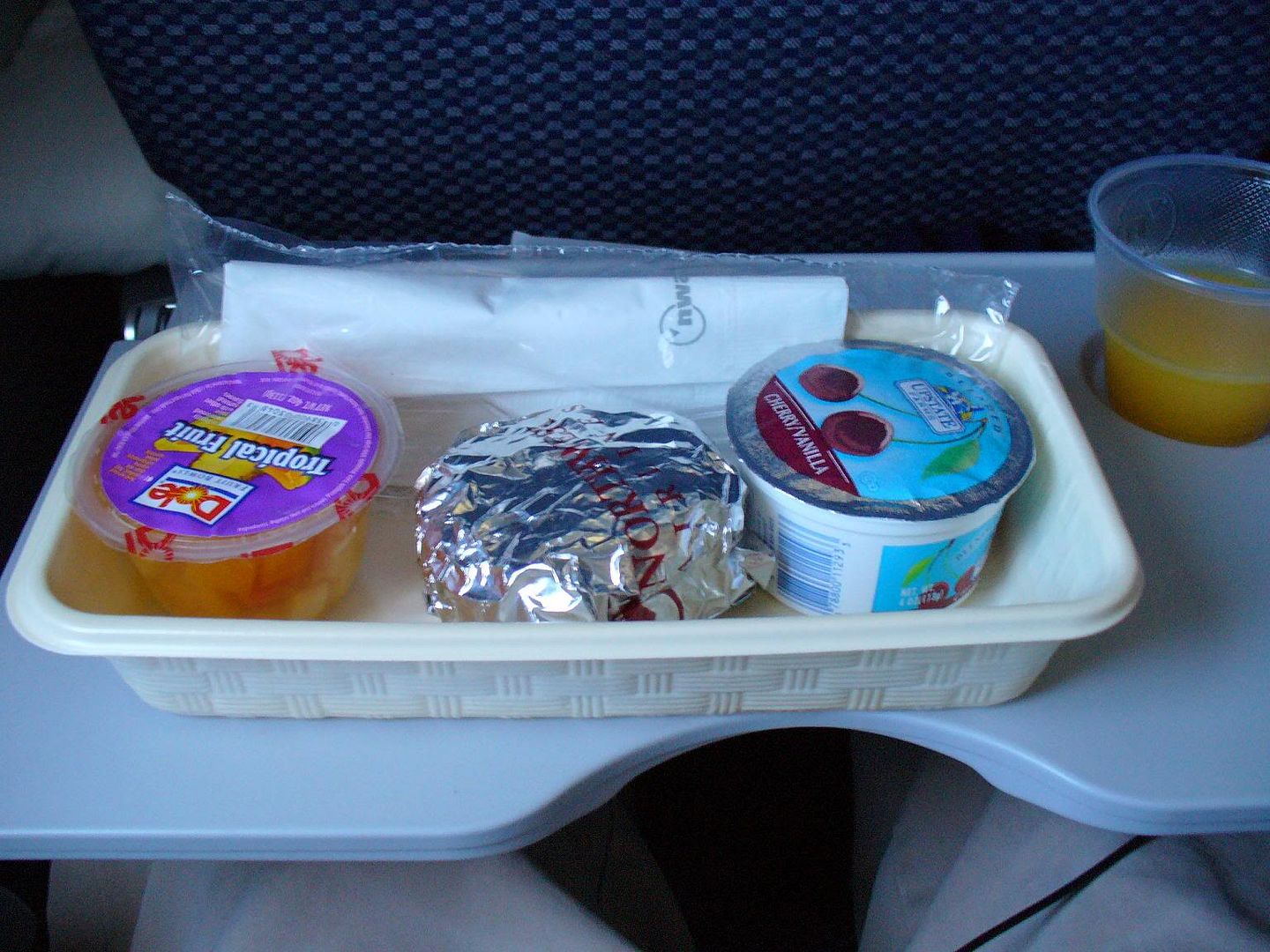 at this time it was really light out. I could also see some areas of western Scotland. Looks foggy down there!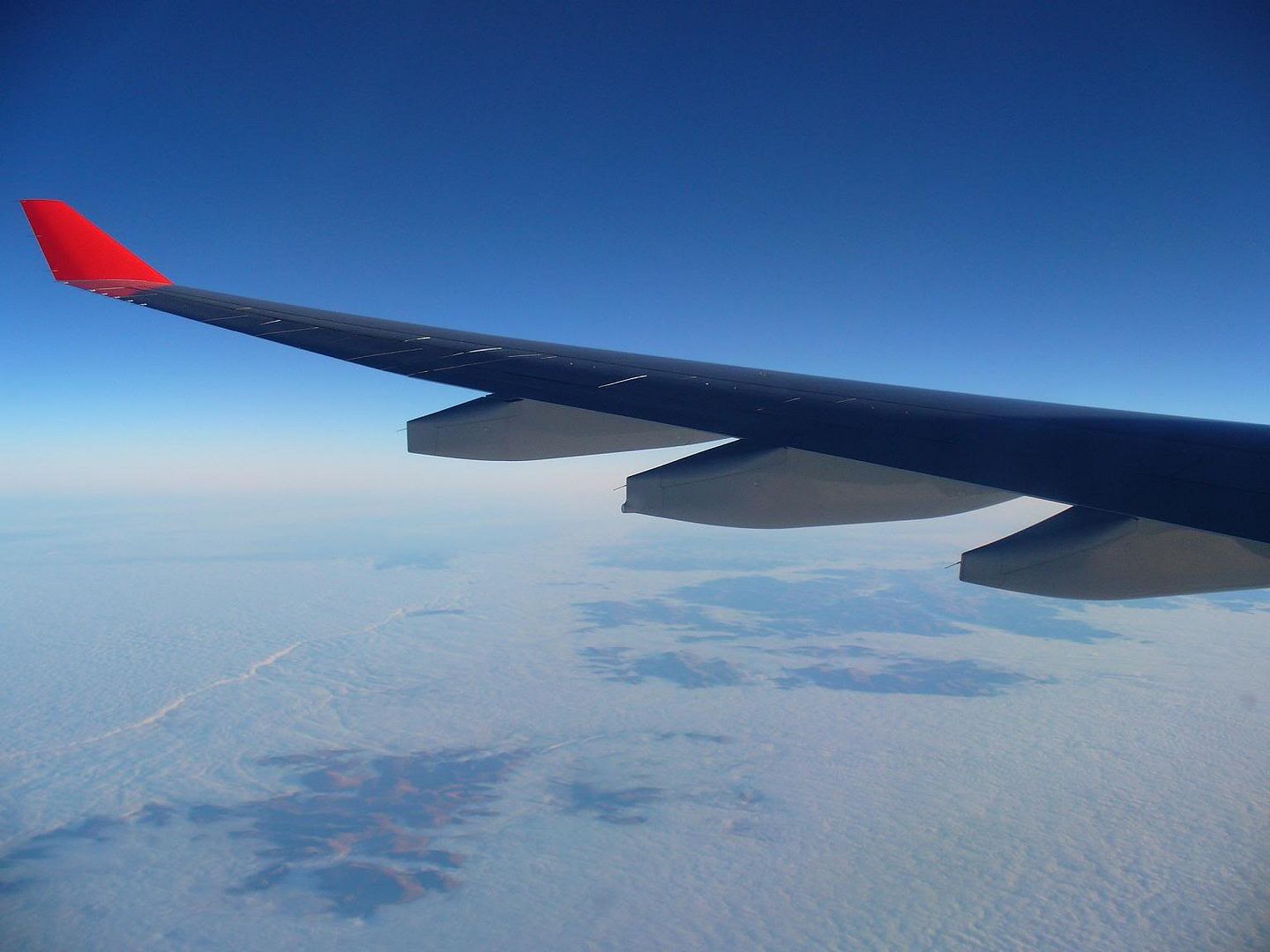 we started our decent about 150nm out from FL410. It was slow and easy on the ears as well. Most of England was covered by clouds and fog... Typical. But I could see where we were flying over on the PTV map. A notice was made that the IFE would be ending soon. At around 10,000 feet it went off. I wish they'd keep it on until we landed. My mom was half way through a movie too(which she finished on the flight back home).
I saw a BA 744 below us... Most likely heading into LHR.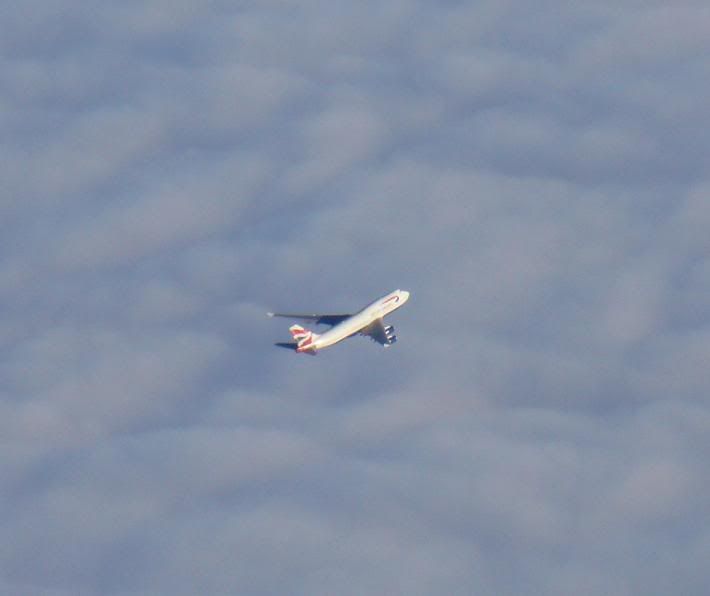 spoilers up... if you look close enough you can see the south coast of England.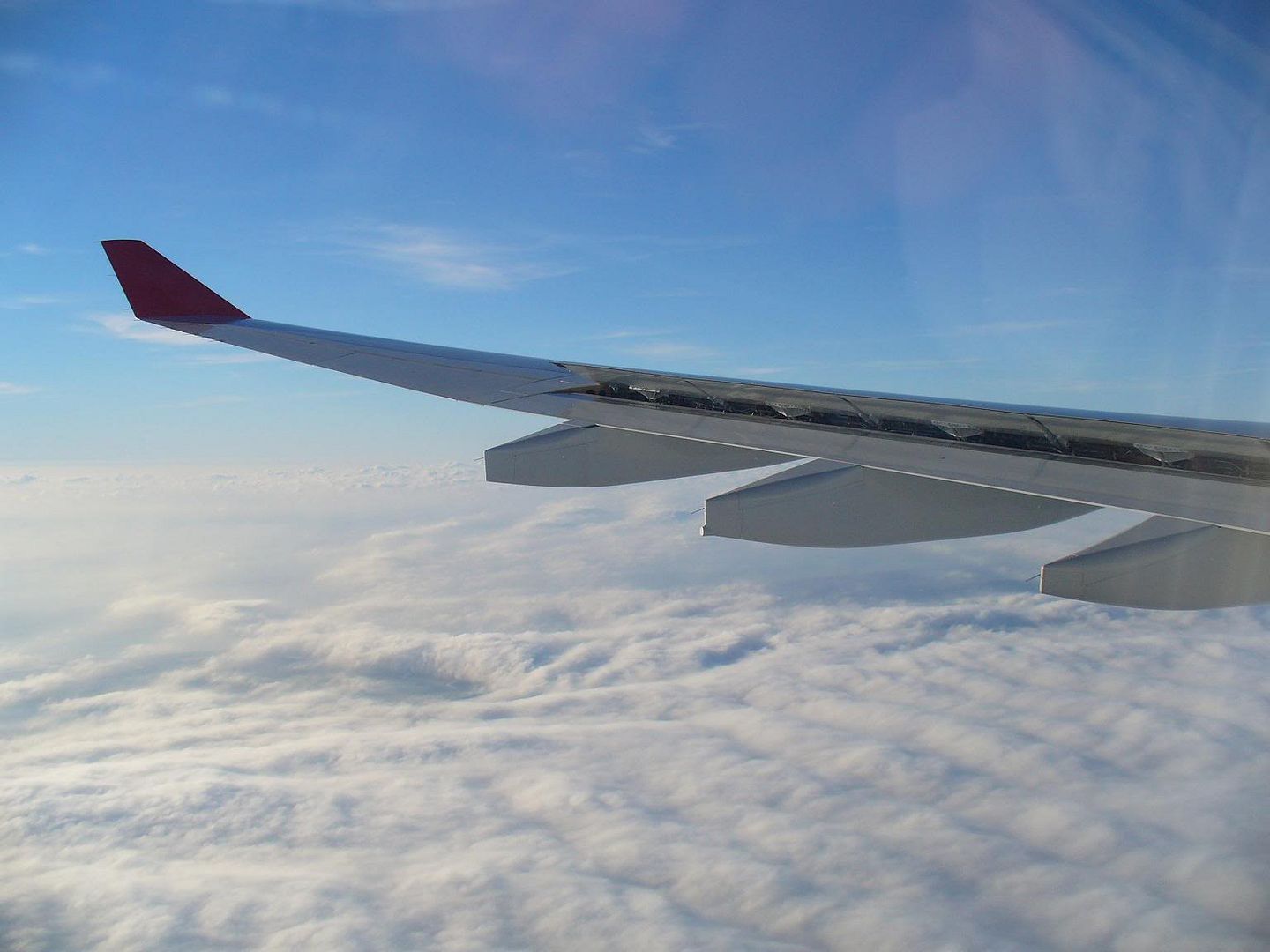 the sad news... I had a video of the landing. It was really cool to... but I accidentally deleted it.
We passed through the fog, where at one point it was so thick I couldn't see the wing! I kept my eyes looking down, then I saw green, and then sheep. Then like that the airport and taxiways. Still coming in and out of the fog till we were right on the ground. The rear wheels first hit the runway very soflty and then the whole truck just seemed to slam down with the deployment of the spoilers. Not to mention how hard we were braking for some reason. I think it was the hardest braking I've ever felt in an aircraft.
pics form LGW as we taxied to our gate.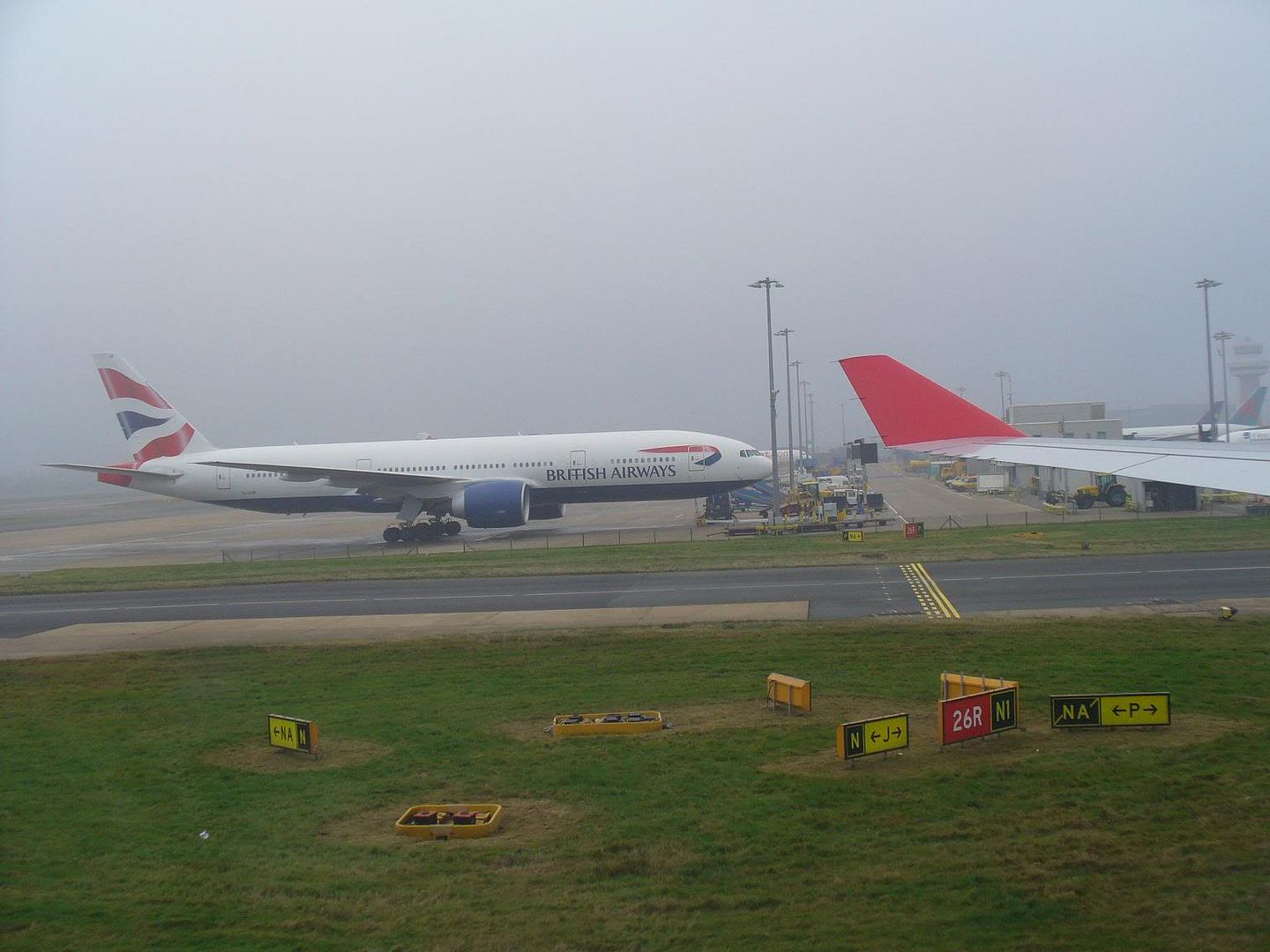 the beautiful new bridge!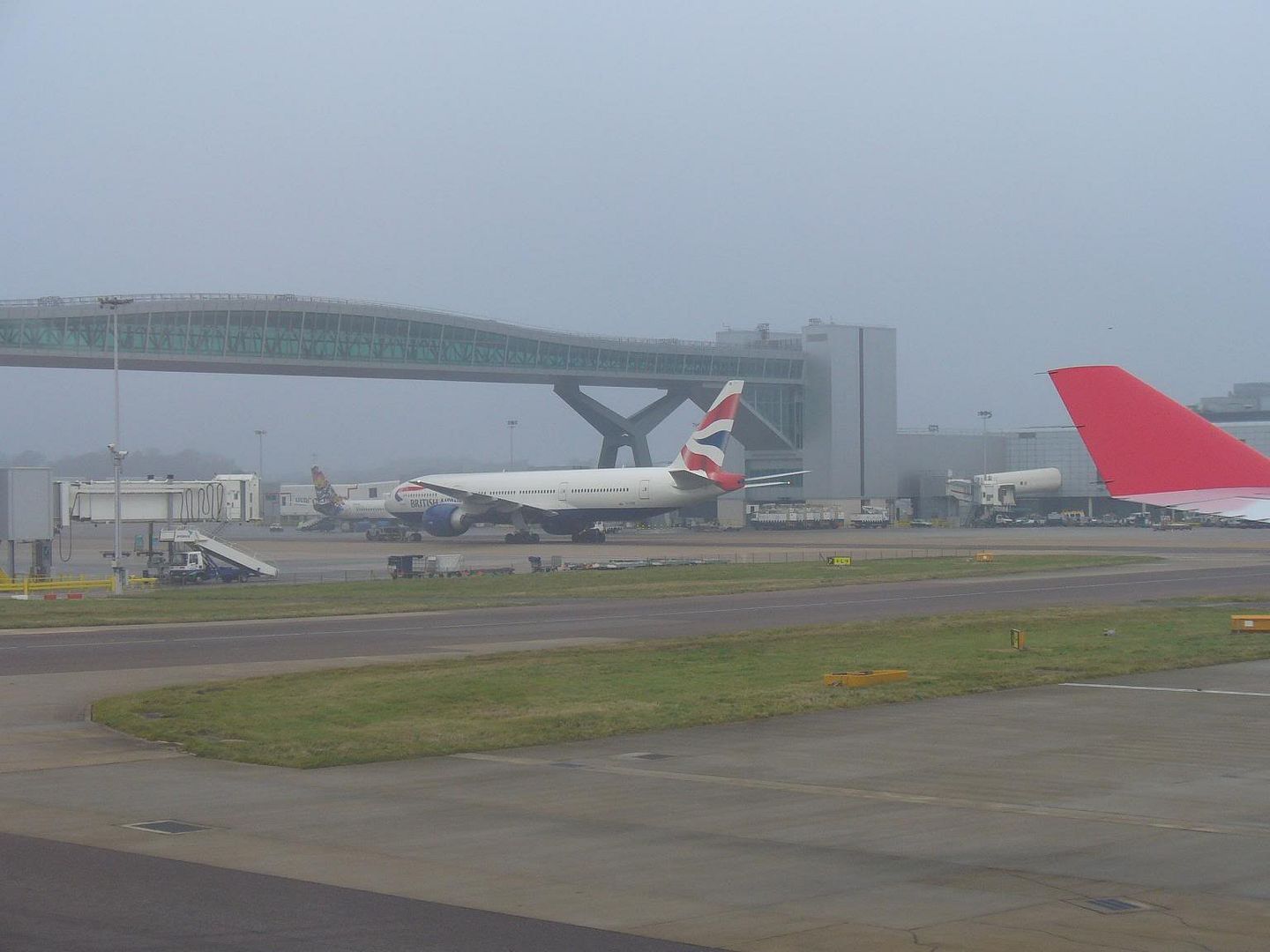 that's an odd place for an aircraft stand.... At first I didn't know what it was doing there. I guess new airlines get poor treatment/the shaft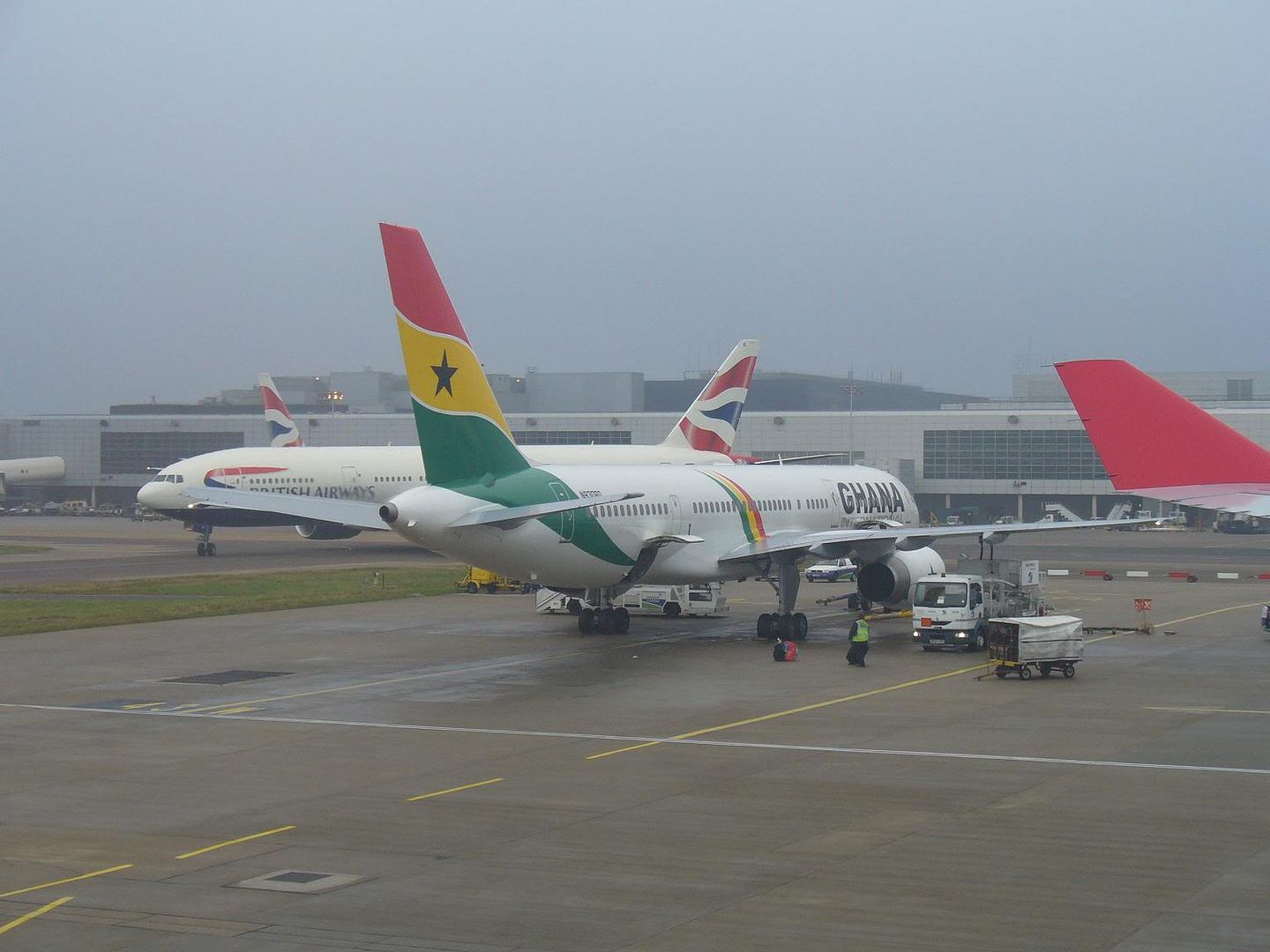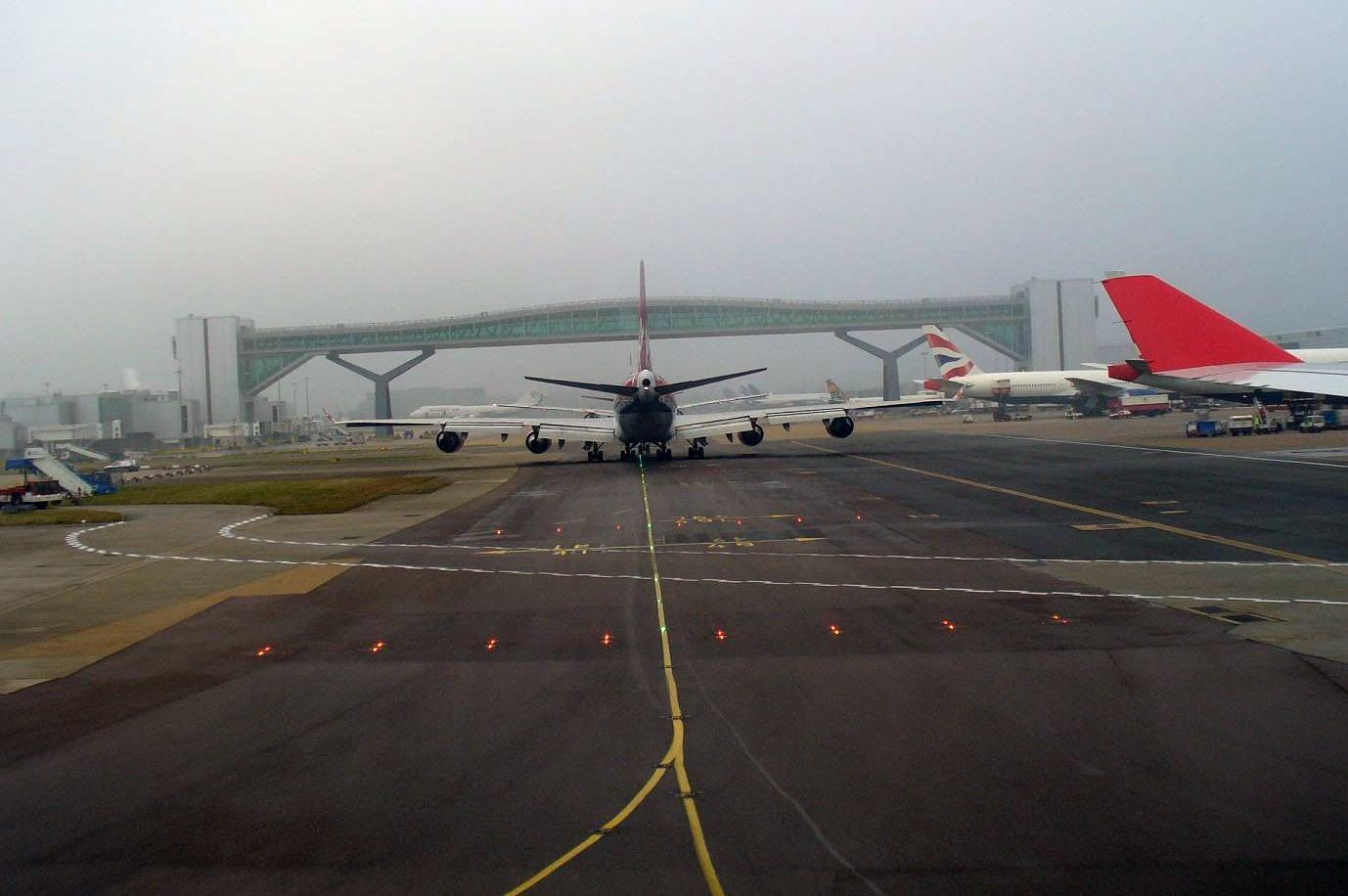 we pulled up to the gate on time... around 10ish. as soon as we stopped.... it was now time for that ever so famous mad dash to stand up and grab your bags event! Even though the line wont move for about 10-15 minutes everyone still has to get up. A few people like me are smart...we Just sit there and wait. I was tempted to visit the cockpit but I decided ill get it on the way back. Not to mention that my mom and I were tired. I snapped a few pics while walking to customs... Which if you've ever arrived at the satellite area at LGW you will know its a long walk. This area is under construction too like most of LGW/LHR. Hopefully soon it will have more of those moving walkways(they have some), or better yet a train of some sort. Because after a long flight your gonna be kinda tired.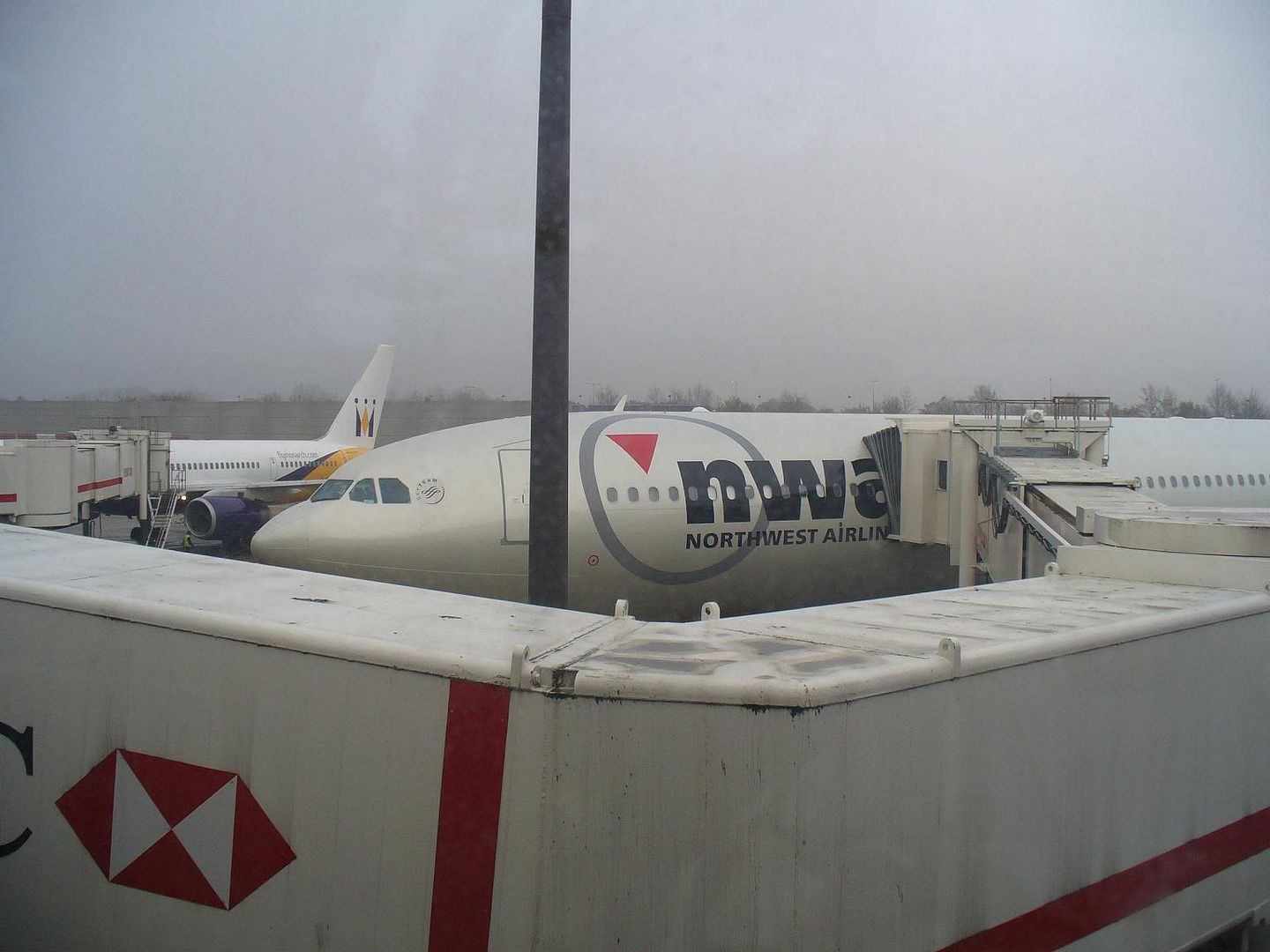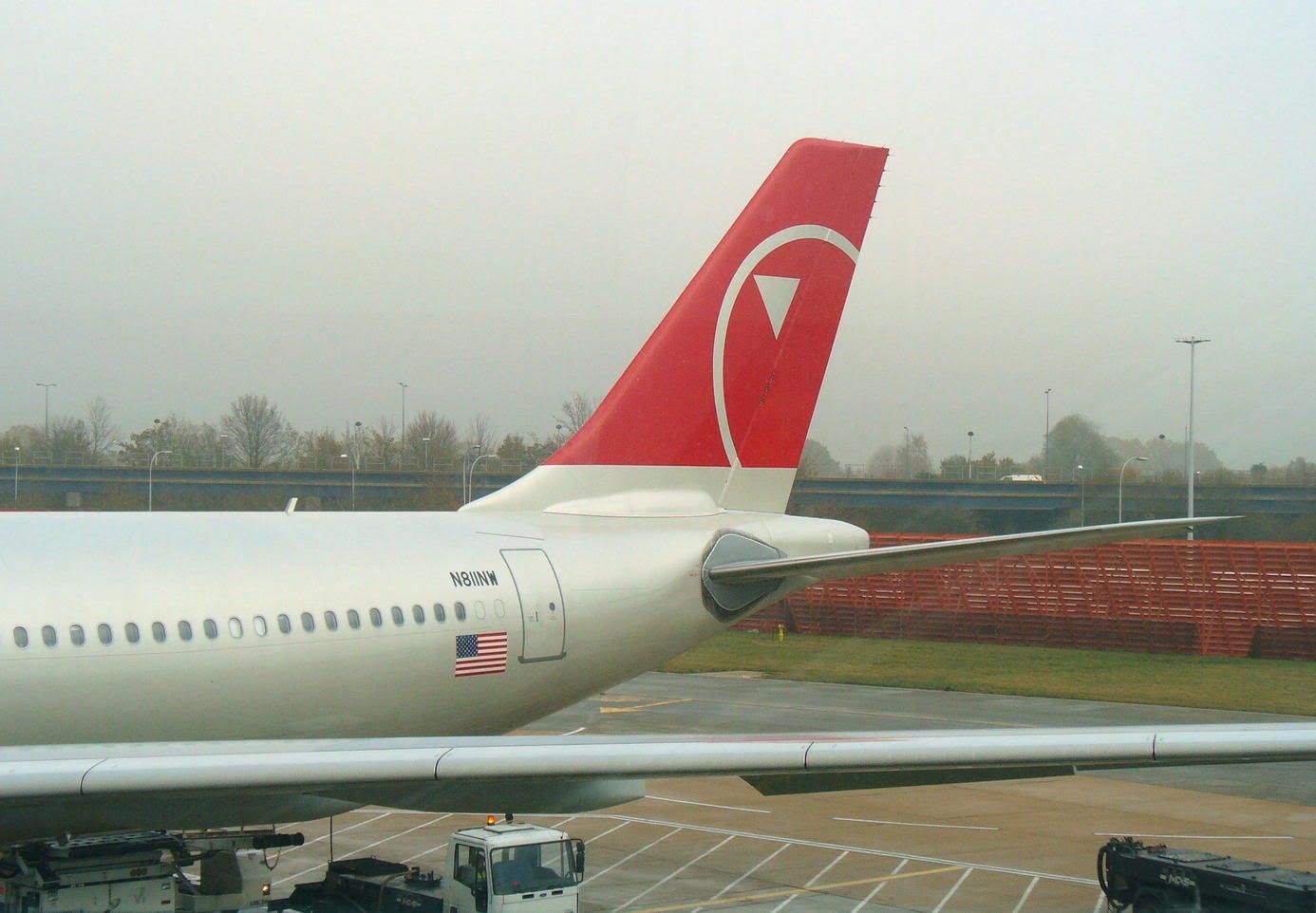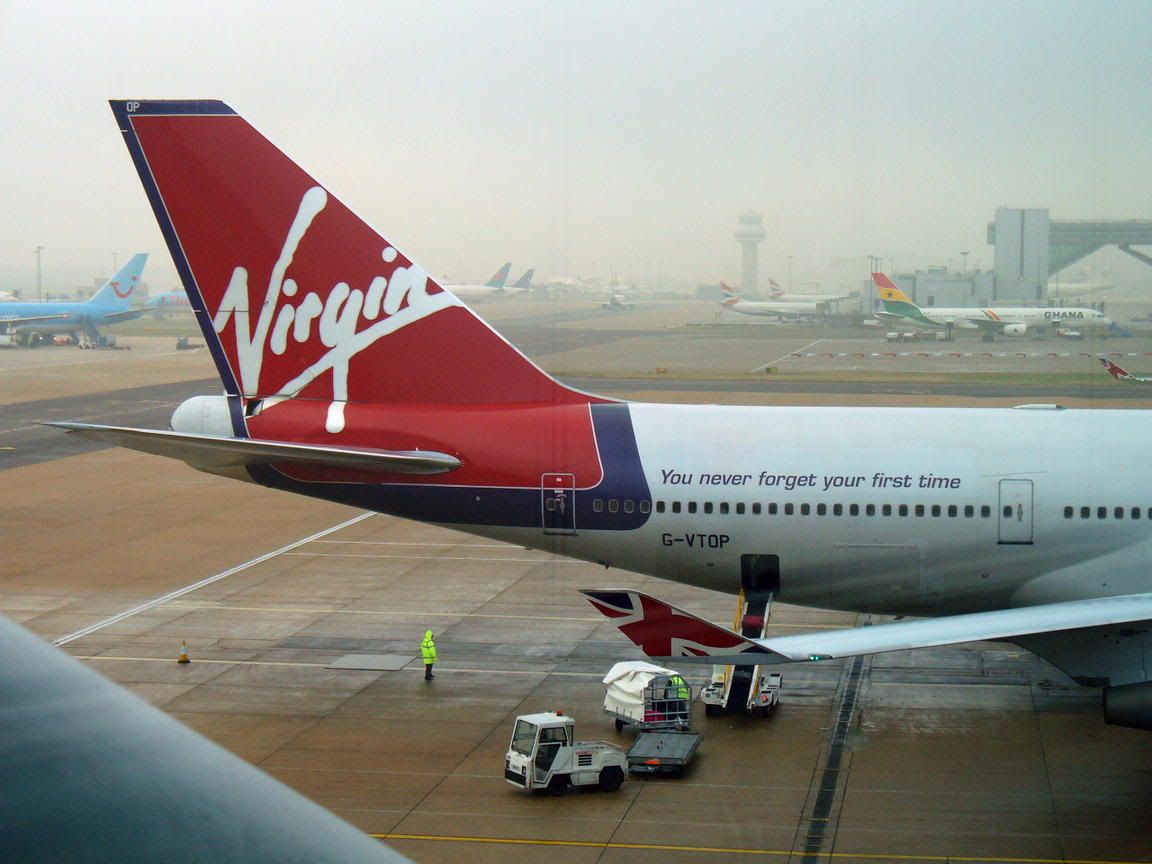 the line at the customs area was long but it was moving which is good. They ask you the typical stuff and are always friendly... Unlike the American customs agents. We didn't have to wait long for our bags, they were right there as we got to the spinny thing. Now we had to go find my uncle who is picking us up. Well we look around and theirs no sign of him. My mom called him and said we were at the north terminal. She comes back and told me what she said... oh hell, she calls back tells him were at the south terminal. About an hr later we find him. That was the worst part of the trip. My family cant do anything right.
any questions or things I missed... let me know
-Jason