I have lived for half a year in Copenhagen as a student. My semester there was definitely the best time of my studies. So the flight was a sad business to me; it meant the end of my stay in the wonderful Danish capital. I even postponed my flight several times and I didn't use some tickets I had already booked, which meant I let out some opportunities to fly!
I have travelled on a regular basis between my home near Berlin and my temporary home in Copenhagen. During the first few months I used U2 when I wanted to visit Germany but then I discovered DM. There is nothing wrong with EZY, though flying from SXF when you can fly from THF is boring and often inconvenient. Therefore I decided to try Sterling. My first flight ever from THF, although I am living near Berlin for nearly all my live, was in a Sterling 735 to CPH in January. And indeed, the airport is something special as you can see on my pictures.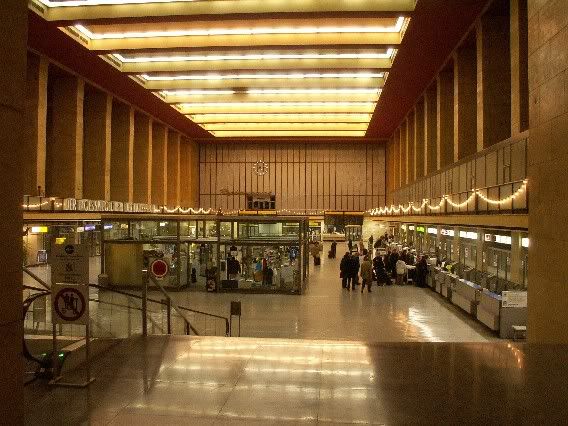 Hopefully the Senate of Berlin will never close it.
Route: CPH-THF
Date: January 19th
Scheduled depature time: 5pm
Scheduled arrival time: 5:50pm
Aircraft: OY-MRI - Boeing 737-7L9
Flight number: DM 0397
I arrived at Kastrup Lufthavn about one and a half hours before scheduled departure and was therefore one of the first to check-in. Rushing to the airport is a habit you get from flying with carriers like EZY without pre-assigned seating.
The friendly gate agent gave me a seat on the right site of the plane in the back I had asked her for. On the right site because I guessed the view would be more spectacular there during the usual approach from the East. In the back, because 737's are so noisy behind the engines and I like the loud roar when the engines spool up and the plane starts to move.
I spent my time with strolling through the well-known airport before I recognised my flight had already a gate assigned an hour before scheduled departure.
OY-MRI was already waiting at gate B6, which I found odd such a long time prior to departure. The cabin was also remarkably cold. Therefore I think they didn't use OY-MRI for some time before the flight to THF that day. Before boarding was finally announced I tried to get a shot of "my" aircraft.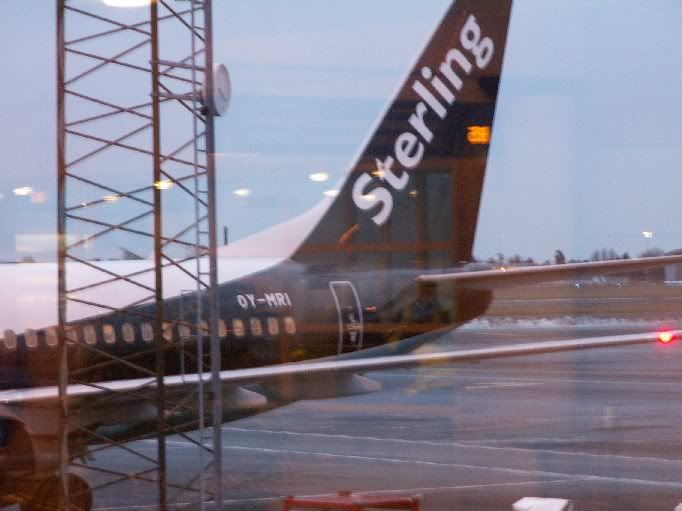 Boarding began about have an hour before departure time. I got 6 seats for myself.
The plane was about half full. Sterling's load factors, in contrast o EZY's, don't seem to be outstanding on the route, although they seem to attract some business travellers that you can't see on U2 between SXF and CPH. I think Sterling should advertise more in the Berlin area. Nearly nobody seems to know them here in Germany.
A nice detail was the knitted picture of Christianshavn in the back of the plane (compare with the original!).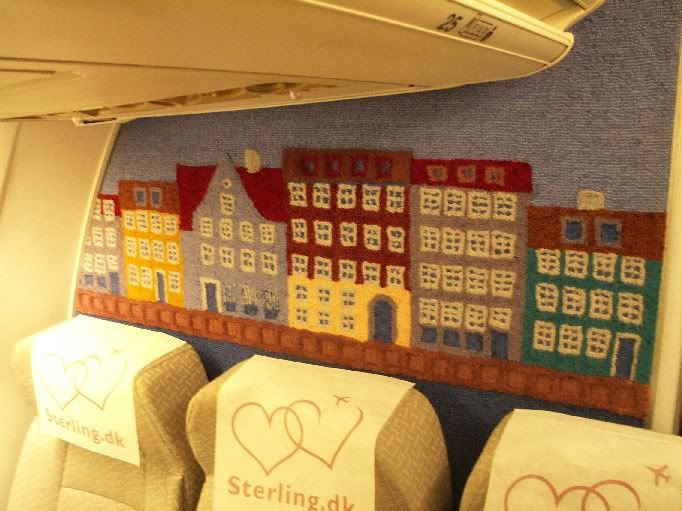 Push back was delayed due to some late passengers. So I had a lot of idle time to watch the apron. Note the deboarding through the stairs in the tail of the SAS MD-82.
More than ten minutes after scheduled departure OY-MRI was finally pushed back. After a long taxiway we arrived at runway 04L, which meant we would pass the Øresund shortly after take-off. Now I will continue in a telegram-style; I made some notes on my air sickness back.
17:16 – lining up for take-off on rwy 04L
17:17 – take-off after 25sec. take-off role
17:20 – crossing the Øresundbridge
17:21 – overflying Sweden
17:22 – seatbelt sign off – fetching pen from overhead storage in order to write on air sickness bag
17:24 – some mild turbulence – jumping back to seat
17:26 – start of in-flight service, I buy nothing
17:28 – pilot reduces thrust
Now I watch the last sunrays which tint the horizon in a greyish orange.
17:36 – further reducing of thrust; reaching cruise altitude or already starting to descent?
After that I fall asleep. I had only a few hours of sleep during the previous night, which I spent in Studenterhuset and a nightclub called La Bar or something like that. However, I had to party with some friends, because it was my last night in Copenhagen.
17:46 – the captain announces landing expected in about 15 min.
17:47 – seatbelt signs on
17:50 – cabin lights off
17:55 – passing the first outskirts of Berlin
17:57 – flaps 1; further extending about half a minute later
17:59 – cabin crew take seats after the ding-ding signal
17:59 – further extending of flaps
18:00 – full flaps
18:02 – touch down and brake action with lots of reverse thrust (judging by the noise)
18:08 – OY-MRI comes to stand after reaching its parking position under the huge canopy of THF.
As you've seen, the short hop was nothing special, although I've to say the landing in THF was more then just standard. Landing aircrafts fly nearly through the living rooms of some residential houses, that makes it a little more entertaining to land there. Concerning Sterling - the service was good, but also nothing special. I appreciated seat assignment after many flights with EZY, on which the boarding often turns into a rush to the aircraft. I have to say the seat pitch onboard this 737-7, was the smallest I've ever experienced (at least I felt so). It was okay for a one hour ride - especially with a whole row for me alone, but I wouldn't want to fly onboard this aircraft to the Canary Islands from Scandinavia. All in all Sterling is a good alternative to EasyJet between CPH and BER. They offer two flights a day during weekdays, they fly to THF which is nearly all the time closer to your destination within Berlin and their prices are also competitive. For aviation buffs it's definitely the first choice because of Tempelhof.
Please, feel free to comment, criticise or ask some questions.
pelican