On Thursday the 16th of Feb 2006, I was browsing the Internet and came up with a plan for a trip to Asia, seeing as I had never been before. On the SQ website, I found a good Fare (£560 rtn) incl taxes, for departure
the next day
flying only on SQ, so I though, "yeah why not" 
Anyway, a few clicks later my flights were confirmed. A few more clicks later, on the National Express site and a hotel booking engine, and I was all set for the trip  
Here Goes.......
Leg 1:-
Date: Friday 17th Feb 2006
Departure Apt: LHR
Arrival Apt: SIN
Aircraft: Boeing 747-400 (9V-SPG)
Flight No: SQ 317
Call sign: Singapore 929
The trip started in the wee small hours at the "National Express" station in Leeds. I boarded the 00:10 express service to LHR, which only had 6 people on it at this point in the journey. The coach would call at Wakefield, Sheffield, Leicester, EMA, Coventry and on to LHR.
I somehow managed to catch some sleep on the coach, not easy considering the bumps we faced en route. Arrival at the LHR bus station was around 05:40, and as per usual it was cold, wet and windy outside.
A quick walk through the underground tunnel system followed and I quickly arrived into Terminal 3 Zone E. As the SQ check-in doesn't open until 07:00, I sat and waited. I had many thoughts going through my head, wondering what the trip would be like, as I had never been any further east than CPH from the UK, so this trip would be quite a difference!!
Check-in opened at 07:10 and I was number 2 in the line, so was served straight away. I had already chosen my seats during booking, so I knew where I would be sitting, even before I got my boarding passes. My baggage was tagged right through to BKK, and I received a boarding pass for my connecting flight in SIN also.
After passing through security, I took some pictures in the T3 departure area......
The Lounge, busy as usual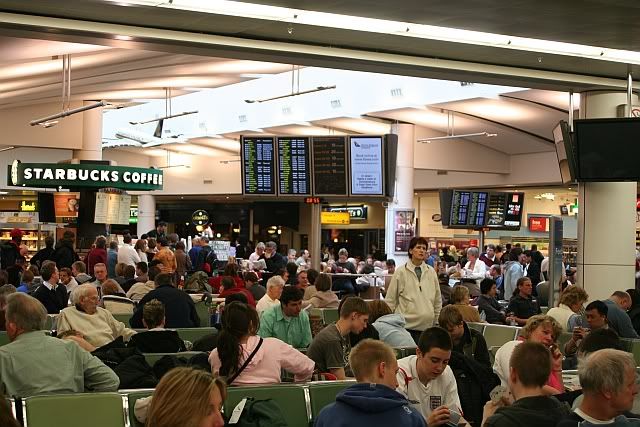 A model A380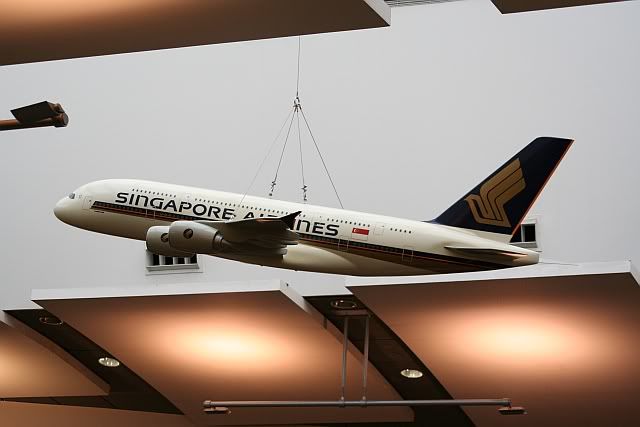 Eventually, Gate 323 was shown as our stand for departure, so I went to see what was there and found this:
Just then the AI bird pushed back. More people started coming round to the gate, and sure enough, at 10:00 our bird, 9V-SPG - arrived 
Before I could take any more pics, some guy wearing a BAA security uniform told me to put my camera away, as it was against the airport bylaws to take pictures of aircraft at LHR. So I put my piece away  
When he had gone, the gate opened for boarding, I found 4 captains and the cabin crew in the holding area, waiting to board the aircraft. One of the captains saw me (I was first into the gate room) and remarked how "early" I was for the flight, lol.
I found out that 2 of the cockpit crew were from Singapore and the other 2 were from Australia, then it was time for them to leave. The Captain with 4 stripes (an Australian) shook my hand and wished me a pleasant trip. Note 2 captains had 4 stripes, and 2 had 3 stripes.
Boarding commenced at 10:30, and eventually my row was called, I was seated in seat 42A, being a window. During boarding, flight information was given - cruise alt 37000ft, flight time 11hr, 50 Min's. The cabin crew offered us all a hot towel each, a nice touch. We pushed back on time, and taxied to 27R for departure, while I took pictures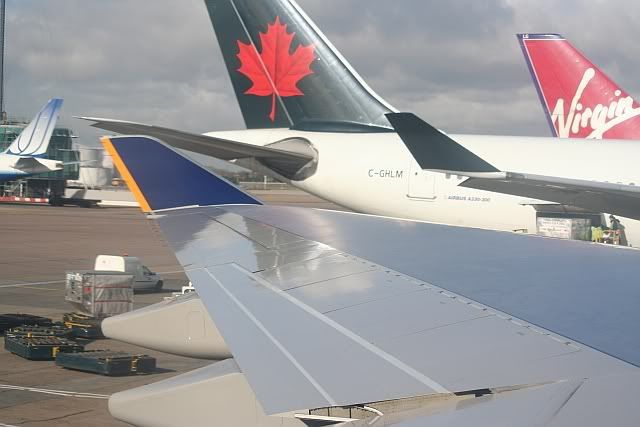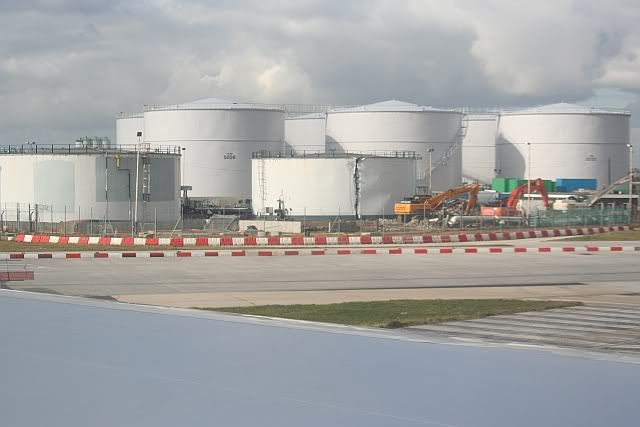 One of the aircraft to take off before us: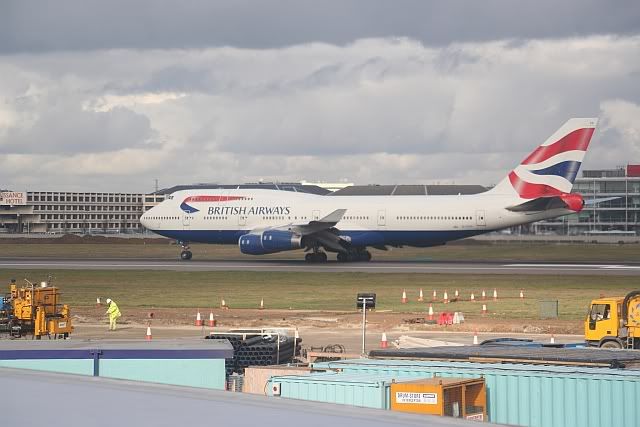 Continuing: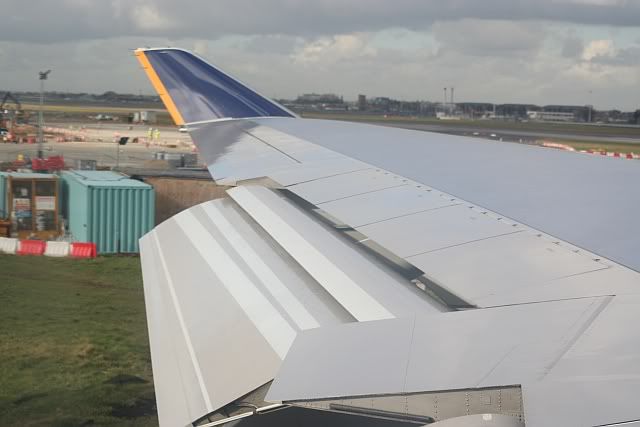 We eventually turned onto the runway after a 10 min wait, and I took one last shot:
During our climb, I took this:
In Flight Service
Our climb was uneventful, and took us over Hemel, Norwich and out to the North Sea, then over AMS and beyond.
First offering from the delightful SQ crew was a menu, headsets, and some socks. As well as these extras, I had a blanket and pillow at my disposal should I need them. At Noon UK time, tea and coffee, orange juice were offered, my choice being OJ.
During this service, the smell of lunch floated through the aircraft  
 . We were also advised that the aircraft was fitted with "Connexion by Boeing" wireless Internet.
Additions: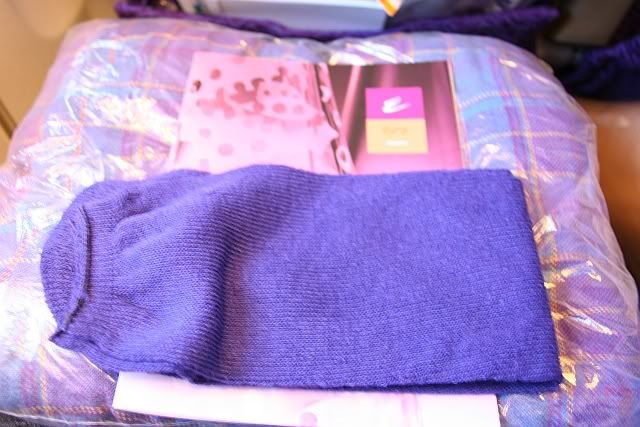 Snack: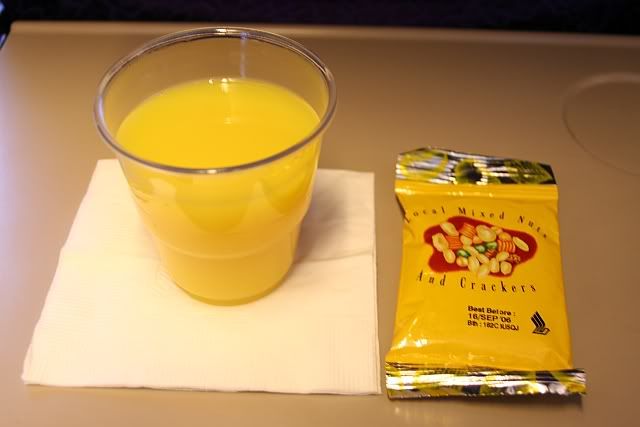 Pretty soon, it was time for Lunch, and as I hadn't eaten much today, I was looking forward to it. A quick glance at the airshow, showed our ETA into SIN as 07:04 on the 18th.
Our current position put us on a course between Amsterdam and Berlin, heading East. Lunch arrived as we flew over the Czech Republic.
My choice was Chicken with Lemon and Rosemary, Snap Peas, Carrots, Potatoes, Cheese and Crackers, Ice Cream, Bread and Butter, Tea.
The meal was served with plastic cutlery, regulation on flights to/from the UK now.
Lunch: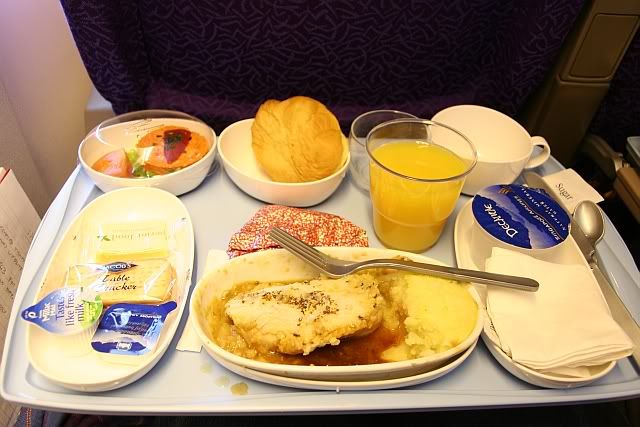 View during Lunch:
For the first few hours, i used the AVOD system (Wisemen 3000) to watch various on demand programs, listen to music etc. The next few hours afterwards are all a blur, as i went to sleep, this being an overnight flight. I woke up in time for breakfast, which was served over Phuket, the city lights being clearly visible in the dark below.
Breakfast consisted of Cereal with Milk, Fruit Dish, Fried Egg Noodles with roast pork, Prawns and mushrooms, Bread and Butter, Marmalade, Tea.
Breakfast: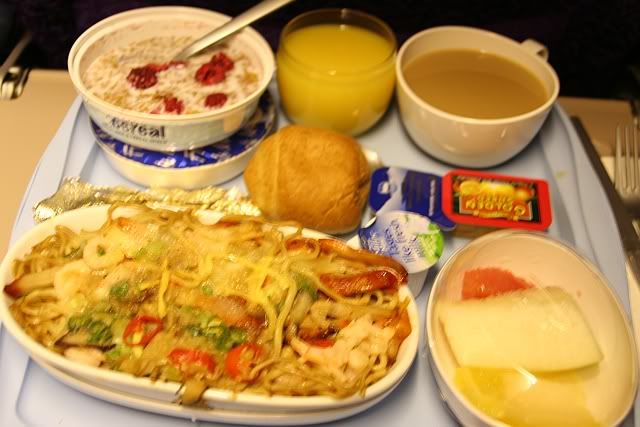 The View Outside: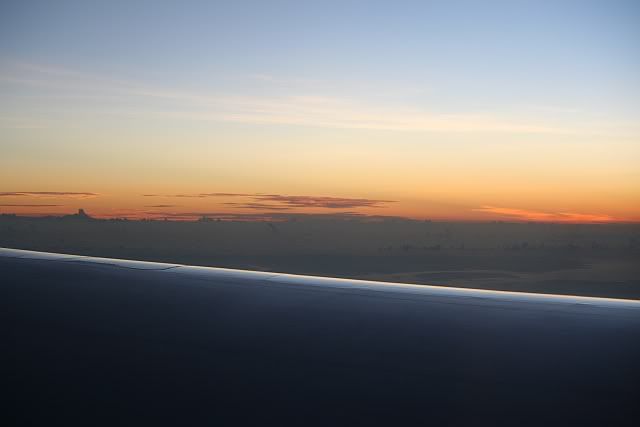 It was soon time to Land in SIN, so once all the formalities were complete, and the cabin tidied up, I waited at the ready with my camera, to catch some pics of our approach 
Approach and Landing Shots: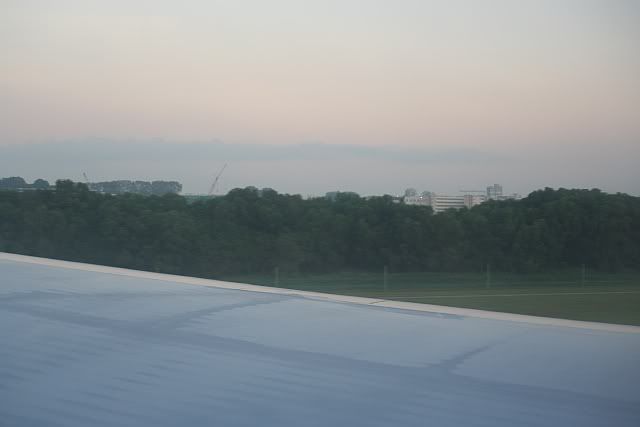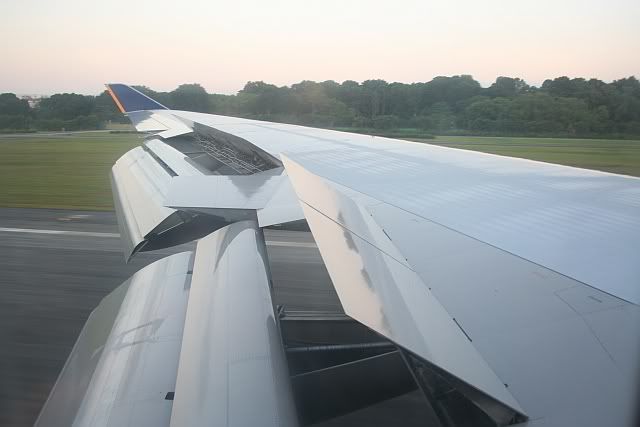 We landed at 07:20 local, where the outside temp was 26C!! At 07:35 I disembarked from the plane, now parked at gate F40, and i thanked the crew for my pleasant experience  
Views of Changi: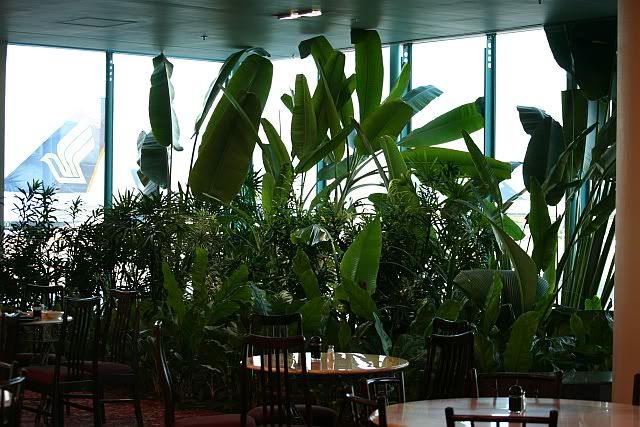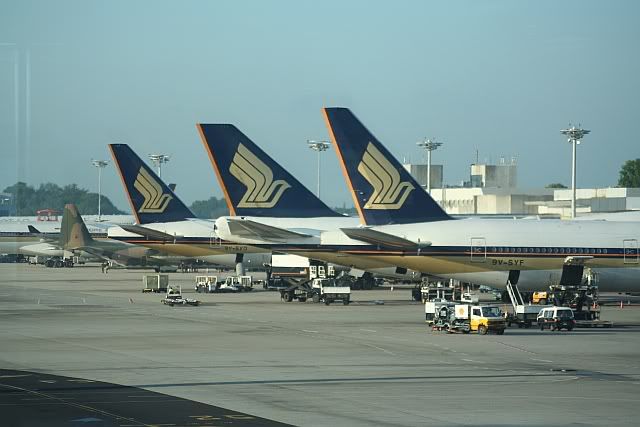 I scuttled off to the "Ambassador" transit hotel for a well deserved shower, it cost me S$8.40 (£2.76), very good value.
The Shower room: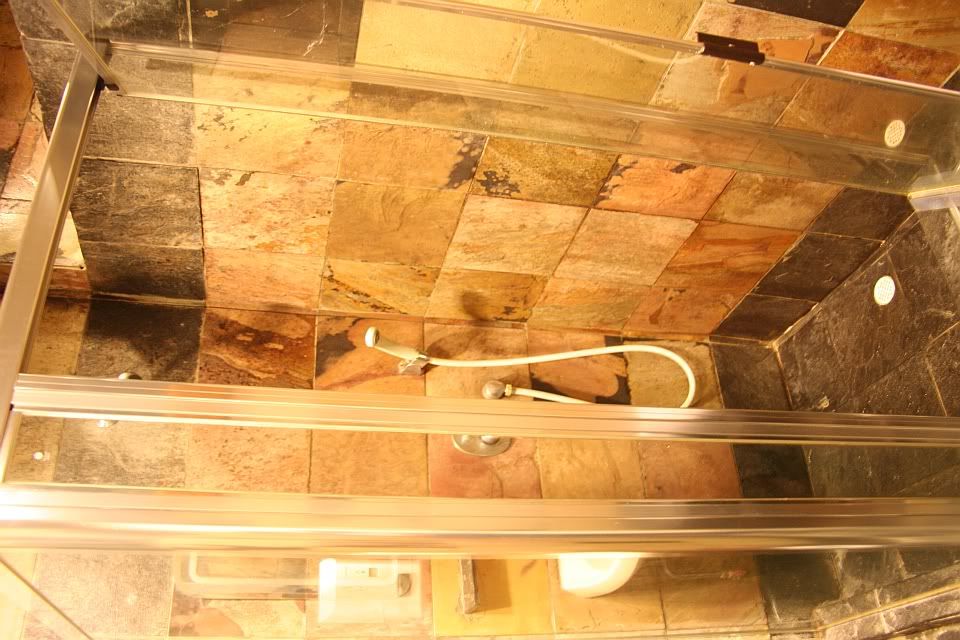 Me:
Later on, I wandered around Changi, and took a few more pictures:
Even bigger than the LHR one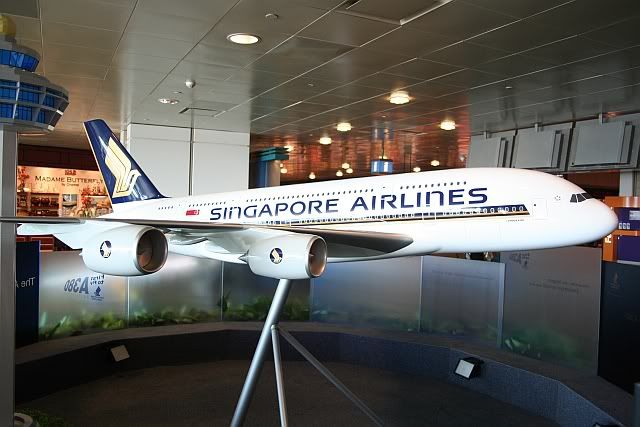 The Terminal: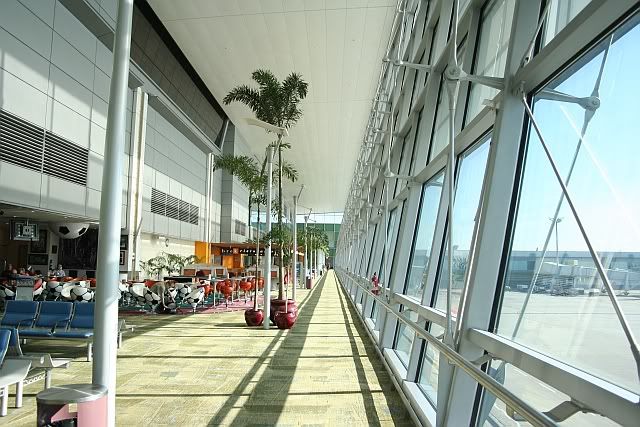 The even have a fish pond: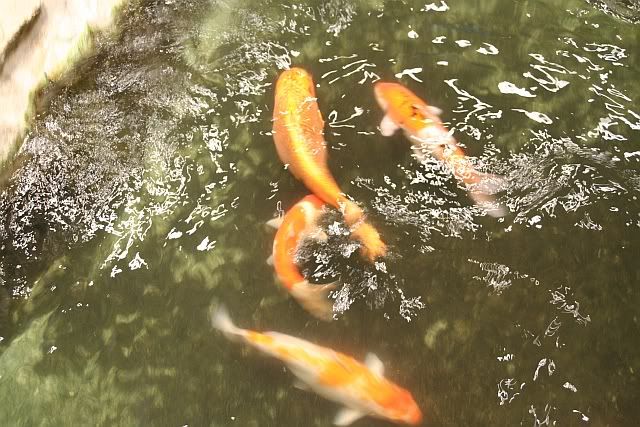 Thats all for part 1  
Part 2 can be found below.
[Edited 2006-02-22 20:18:35]