Having been AOG (Airliners.net member On Ground) for three months, it was time for a flight again. I had found a 19EUR ticket on Germanwings for STR-VIE, and for the return flight I decided to take Sky Europe from Bratislava, 60.17EUR, a bit more expensive but still quite alright I think. Christoph/ContactAir decided to join me on this trip, though he had to pay a bit more for his Germanwings flight.. We had done the same tour two years ago:
https://www.airliners.net/discussions/trip_reports/read.main/43984
Sky Europe with Emb-120 back then. I expected the B737-500 this time. Little did we know that we would get the all-new B737-700 which was just a few days old. But let me start at the beginning.
STR-VIE
4U 2752
03 May 2006
STD 06:45 ontime
STA 08:00 ontime
A319-100
D-AKNK
View Large
View Medium


Photo © Peter Unmuth-VAP
This aircraft is ex USAir N718UW and was taken over by Germanwings in September 2005.
View Large
View Medium


Photo © Ward Callens
Unwilling to pay for parking my car, I took my bike to the airport where I arrived at 05:15, 90 minutes before departure. Straight to Germanwings in Terminal 2, eight counters open, no queues at all early in the morning - but the morning queues at Germanwings can be ridiculously long because five flights leave at more or less the same time, and everybody who comes last-minute can end up in a long queue. Anyway, I was early, got sequence number 009, Christoph (who arrived a few minutes later) got number 12. By the way the flight was full in the end, we didn't see a single free seat on board.
Nothing special to write about Germanwings, so I think I only post the photos, as there was simply nothing more to report.
Our gate: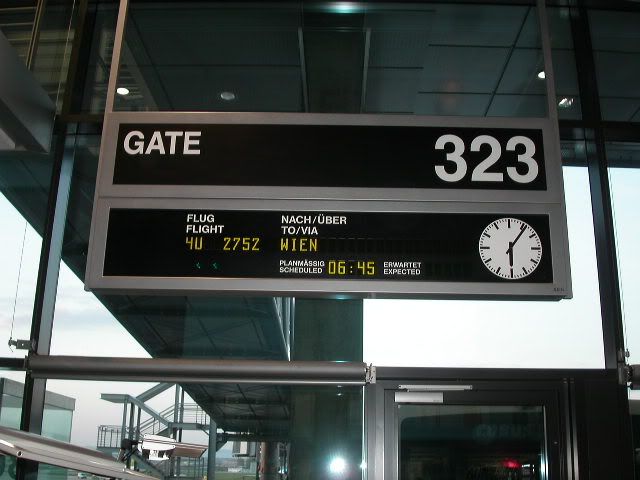 Boarding through the rear door, we took seats 21E and 21F: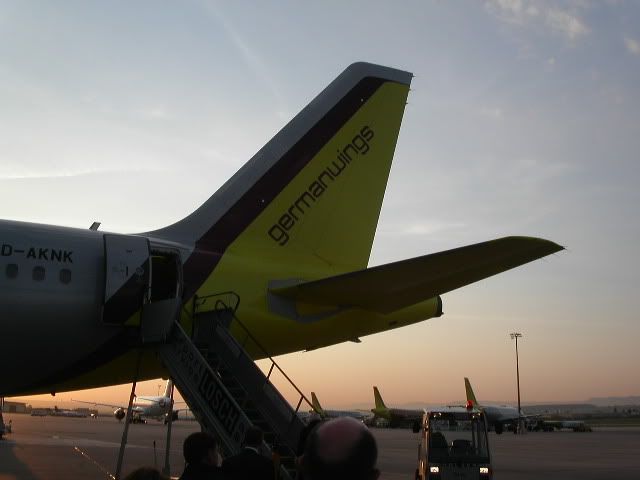 We were both still a bit sleepy and didn't talk much at all. But the older man on 22F stood up and told me something like "Hope you don't talk too much during the flight, I want a quiet flight". WTF?! I told him that it's free seating anyway, and he could still change his seat. Come on, this is exactly why I hate flying low-cost: You get to fly with the ordinary people
By the way, in the end it was him who chatted throughout the flight.
Push-back on time: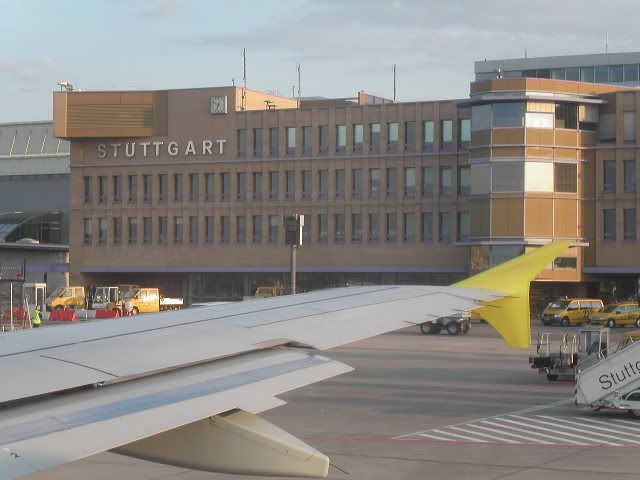 On our way to runway 25: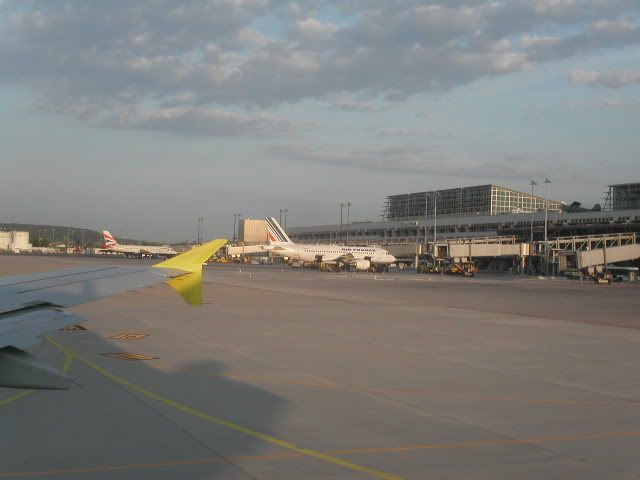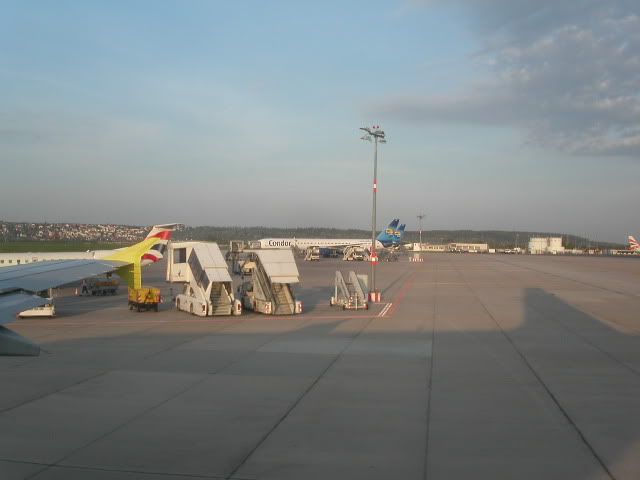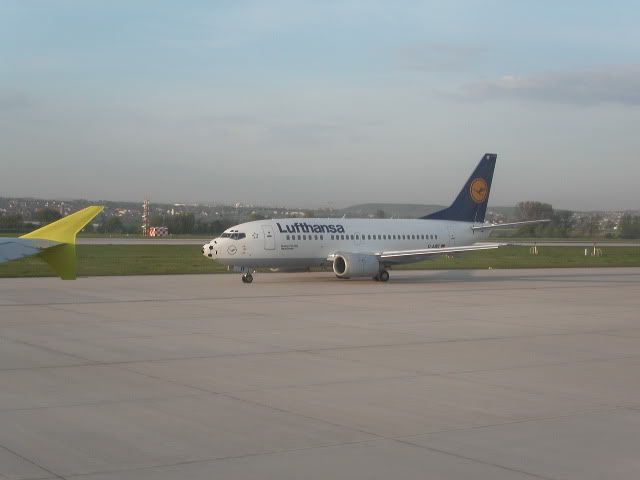 Take-off: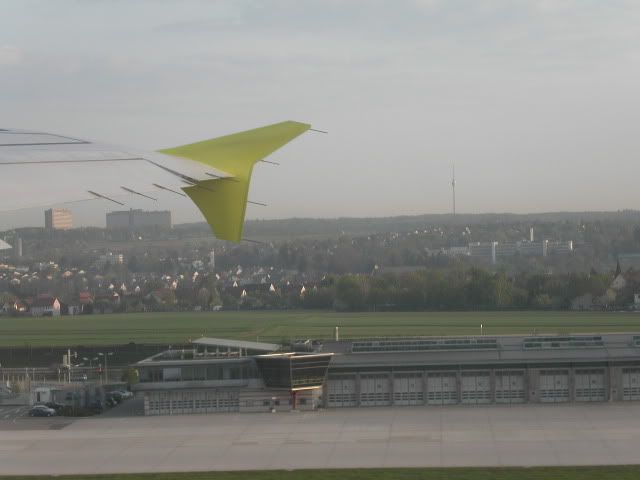 The Lufthansa Technik and DaimlerChrysler hangars: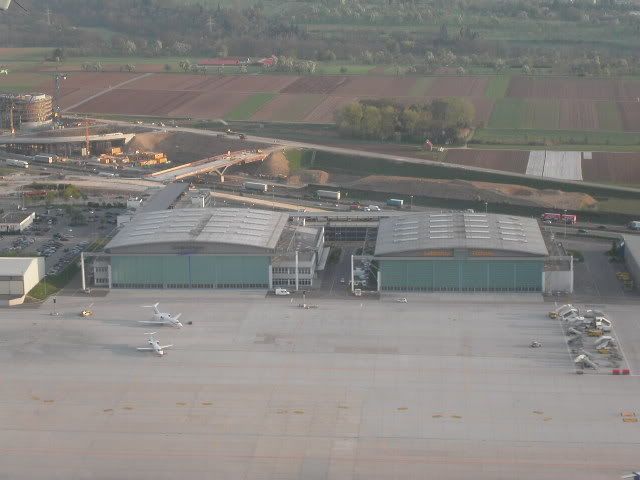 The construction site for the Fildermesse (Stuttgart's new fair area):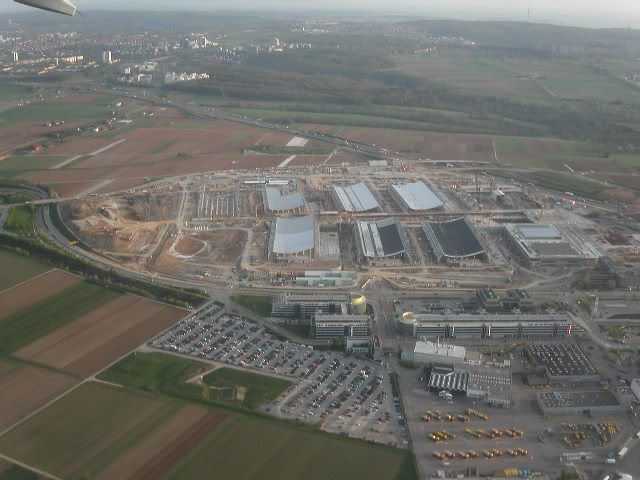 Echterdingen: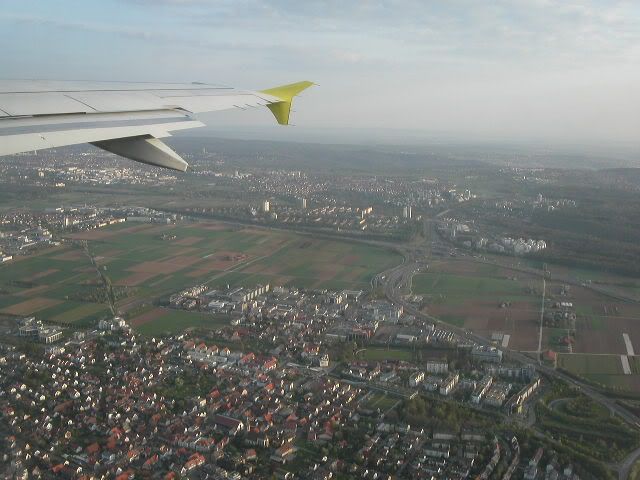 "Hald Dei Gosch, I schaff beim Bosch!"
Cabin service began, Christoph had a muffin and a coffee for together 4 EUR.
The cabin was of course still USAir, grey fabric seats, very comfortable. The seats had plugs for inflight entertainment installed, but of course there was no inflight entertainment on Germanwings. I think these aircraft also have flatscreens installed, however they weren't activated on this flight either.
Flying over AGB: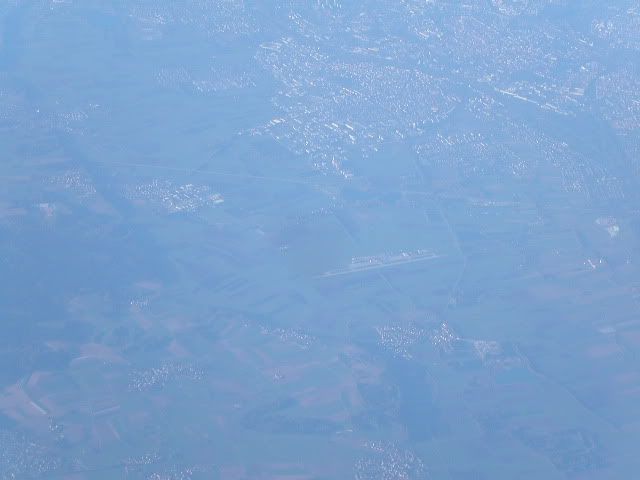 The Alps: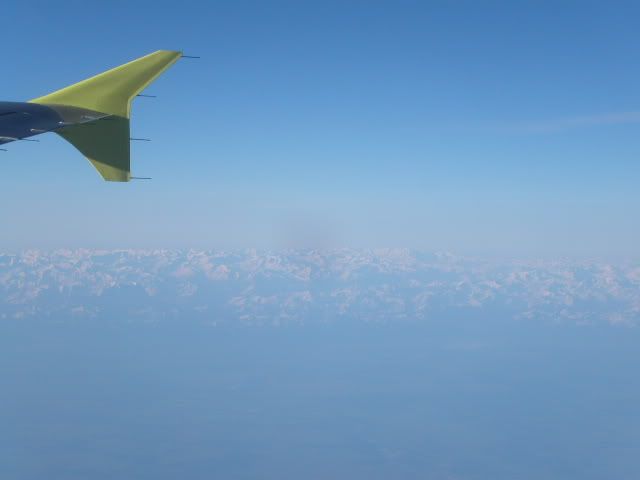 MUC: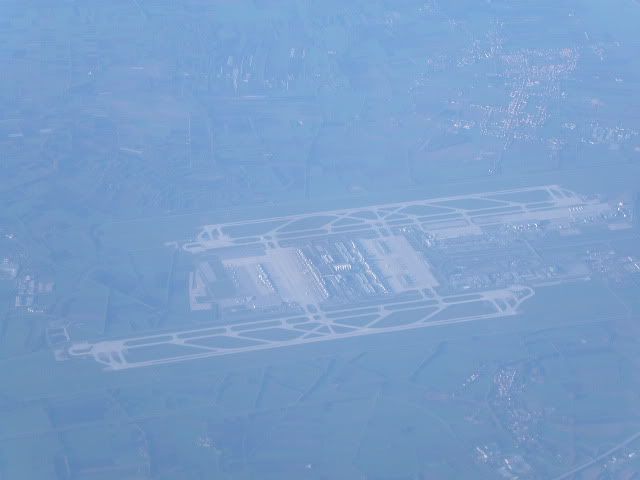 Approacing VIE. Looks like this used to be an airport a long time ago? Who knows more? Please let me know.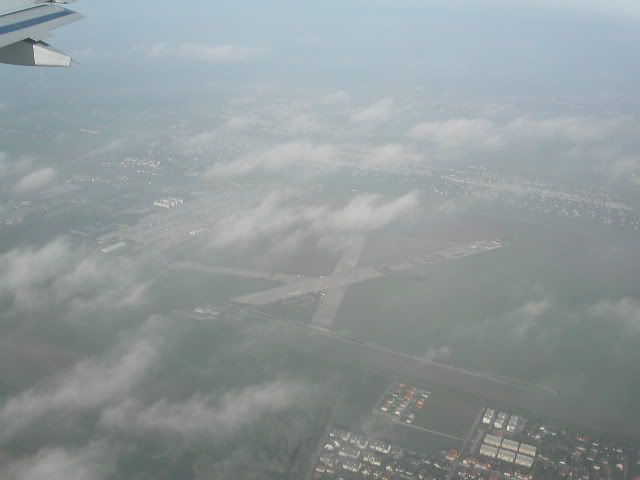 Touch-down: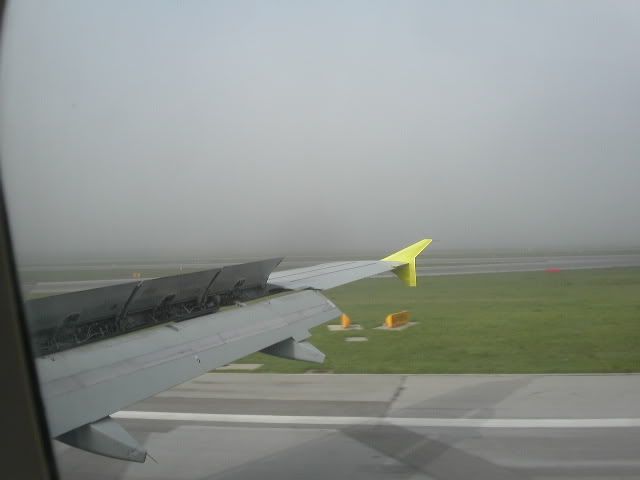 Parking next to Air Berlin: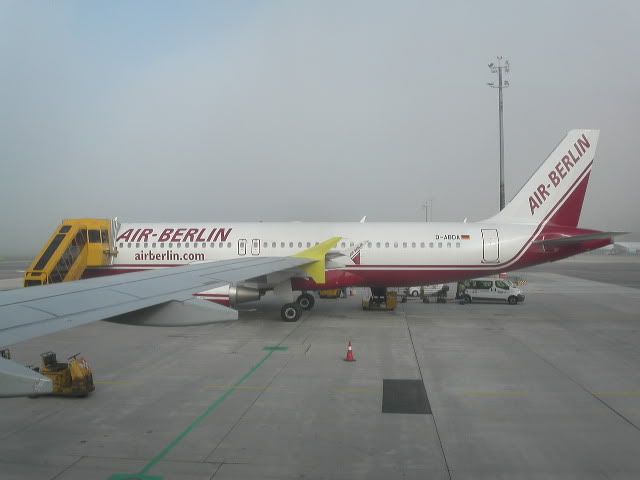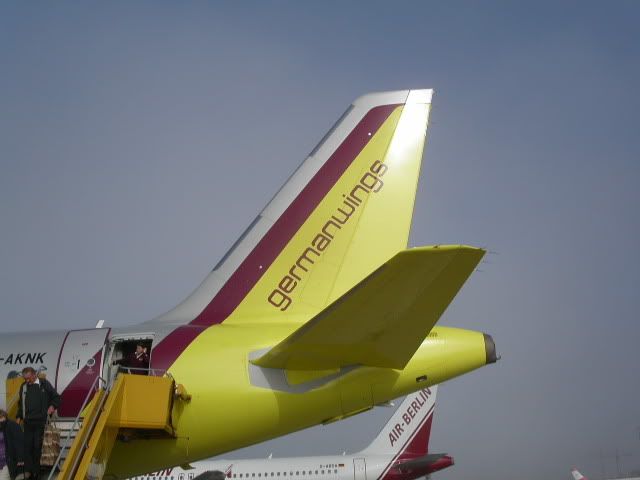 After exploring the airport a bit, we took the bus to Bratislava city, which takes about one hour and costs 9EUR. Bratislava is a great city, I liked it a lot. Now I won't bore you with my Braislava impressions, but here's something I simply have to share with you. The Slovaks seem to like their language very much, they even make every name sound as Slovak as possible. Here's the funniest example I found, a movie ad for, I cannot believe it, Bridget Jonesová: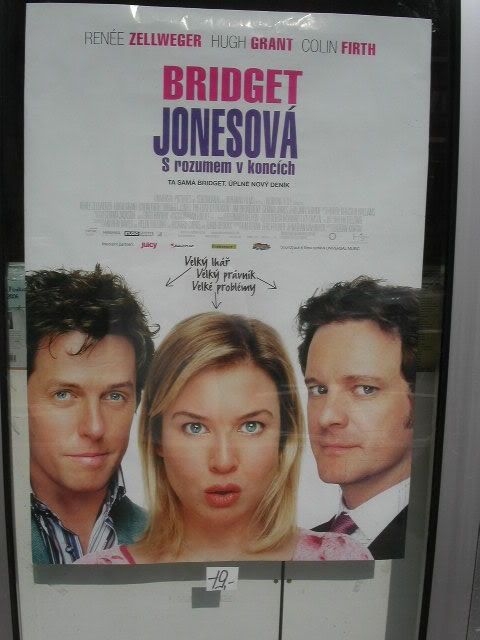 Later we took the bus to BTS airport, 20 minutes, 22 Kronen, about 0.45 EUR.
<BTS-STR
03 May 2006
STD: 19:00 ATD: 18:55
STA: 20:30 ATA: 20:05
B737-700
OM-NGB
This aircraft is so new, there are not even photos in the database yet. Does anybody know the delivery date of this aircraft? Must have been just a few days old, I have never been on such a new aircraft, it all looked so factory-fresh, definitely less than a few days in service. But more to write about that later.
Bratislava airport: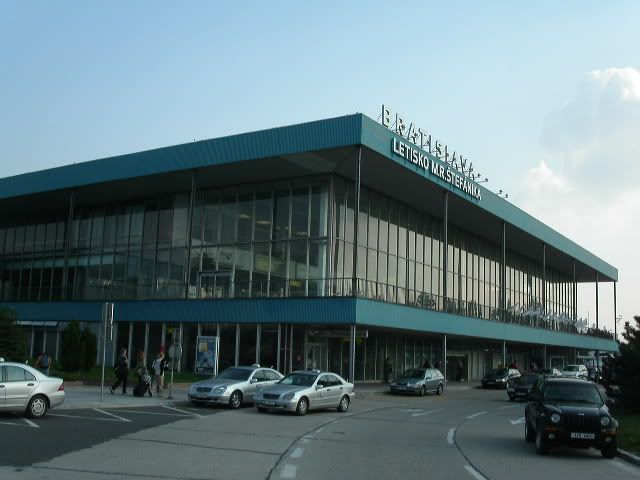 Inside the terminal building, there are about ten counters, e.g. for CSA, Slovak Airlines, Ryanair, and of course Sky Europe who had four counters opened, again no queues at all. We got our boarding passes immediately, 12D and 12E, exit row, but no window seats. We asked for a seat change and the very polite agent offered us 7A and 7B instead. Well in the end there were only 40 passengers on board so there were more than enough seats anyway. Plus, we still expected a B737-500 to operate our flight, who would have expected a B737-700?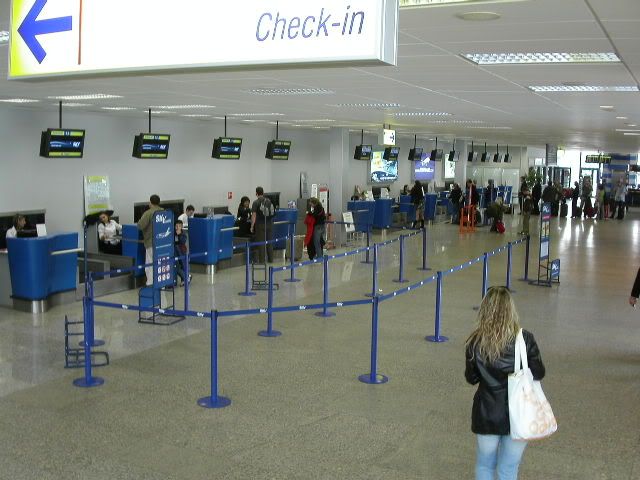 We went outside and relaxed in the warm sun, there is a small park next to the terminal, where you can sit down on benches and watch the traffic. And traffic was much more than when I last visited BTS two years ago. This time there were four Sky Europe B737s, two Air Slovakia B757s, a Slovak Airlines F100, CSA ATR42, Ryanair B737-800, a Polish Government Yak40, Slovak Government Tu154, Atlant Soyuz IL76, some parked Let-410s,... to make it short, waiting for our flight back home was not getting boring.
Later we went through security which is on the top floor of the terminal. The whole terminal is so clean and looks very modern. Behind security, we saw a Sky Europe B737-700 landing, which would become "our" aircraft for the flight back to STR: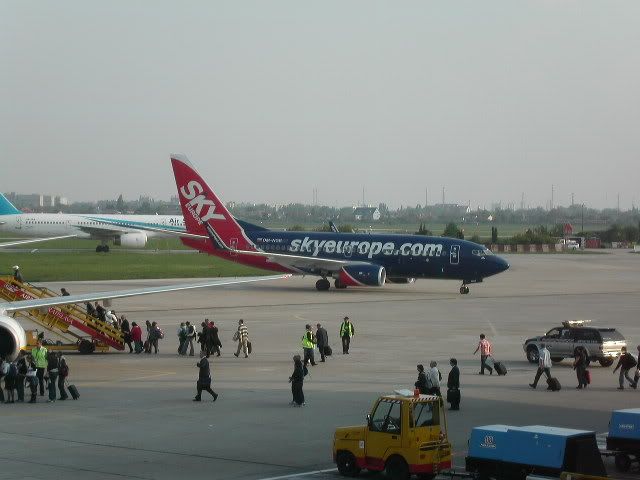 Our gate, only 40 passengers on this flight: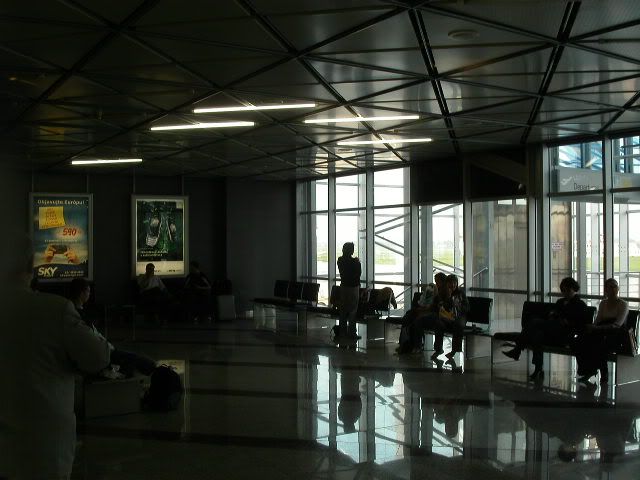 Boarding started quite early at 18:30, and we were bussed to our aircraft. And you already know it, but we were quite surprised: it was OM-NGB, the all-new B737-700.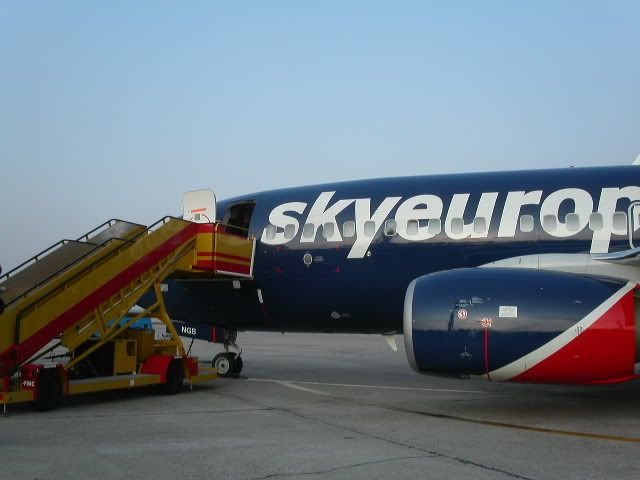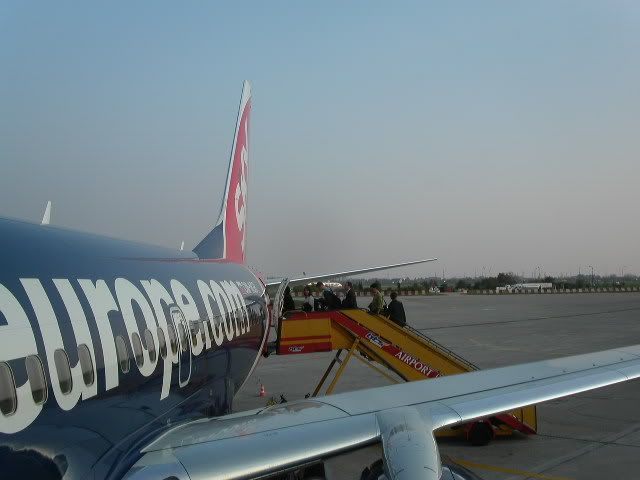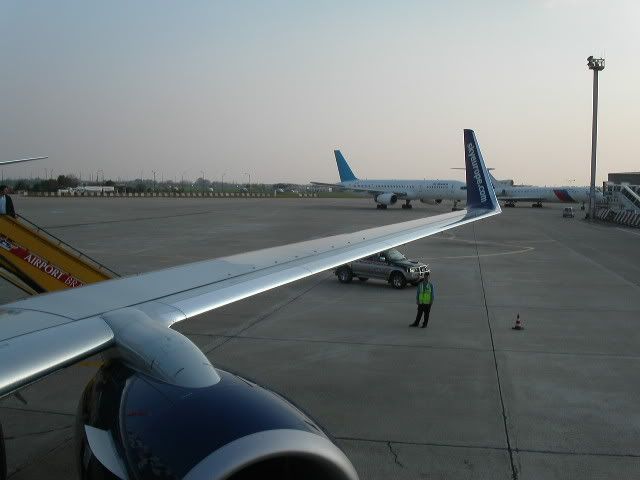 The cabin was spotless and still smelled so new! The cabin crew consisted of three women, they made the safety demo in Slovak and English langauge, then they played a tape in German language. I noticed that the purserette showed the other two flight attendants how to start the tape, I guess it was also one of the first flights on a B737-700 for them.
Engines were started and we rolled towards runway 04: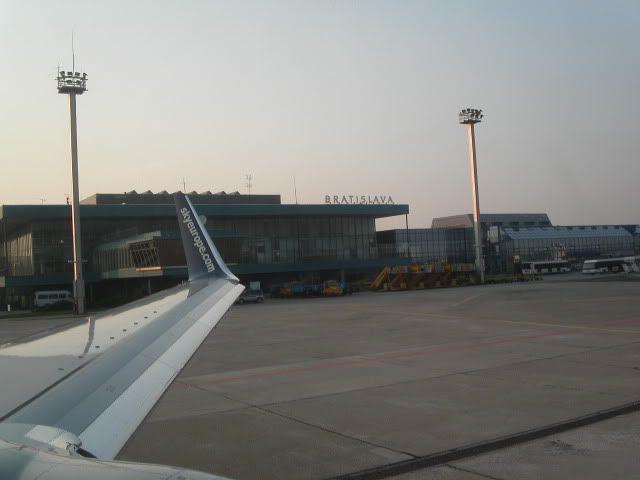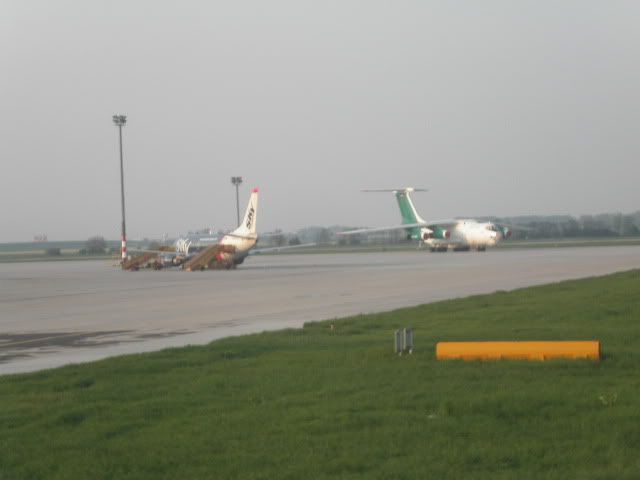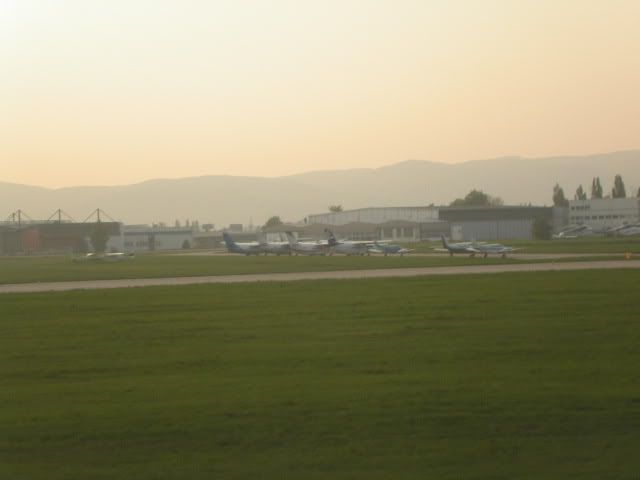 Take-off: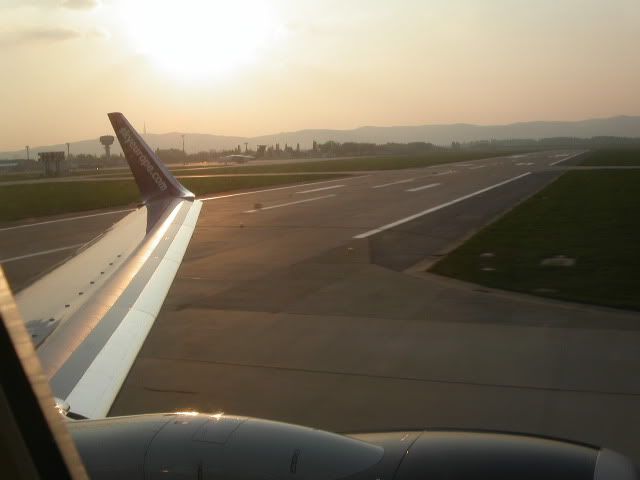 Airborne: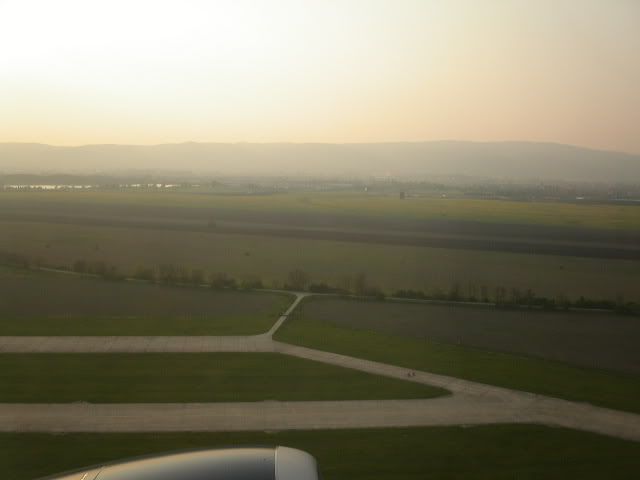 Shiny new engine: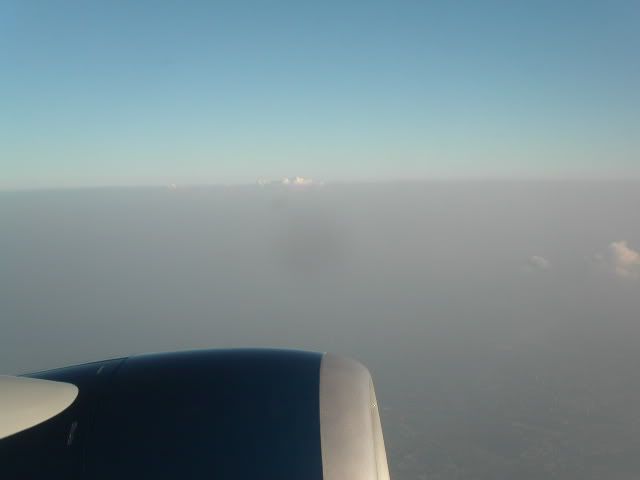 As soon as the fasten-seat-belt-signs were switched of, I stood up and took some cabin pics: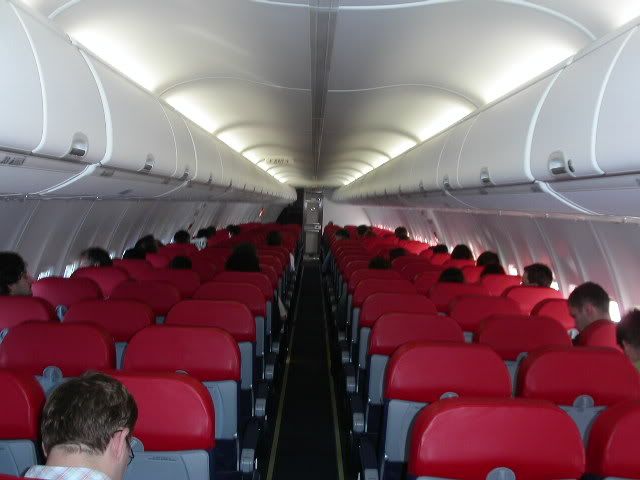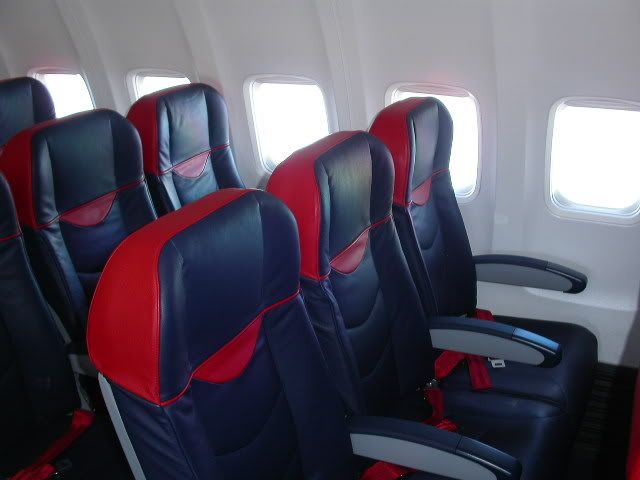 When I was back on my seat, we were just flying over Vienna airport: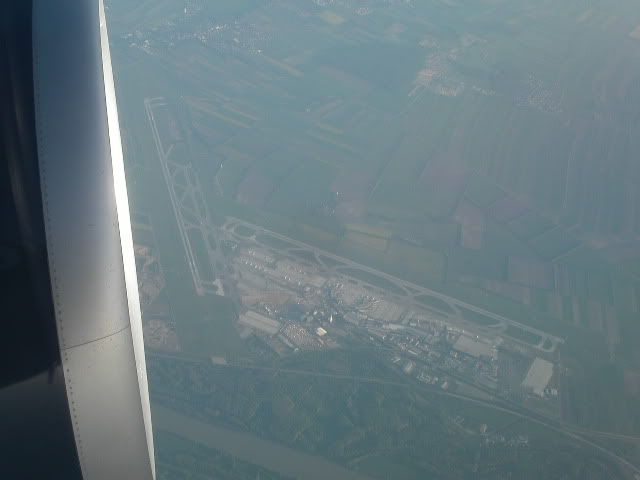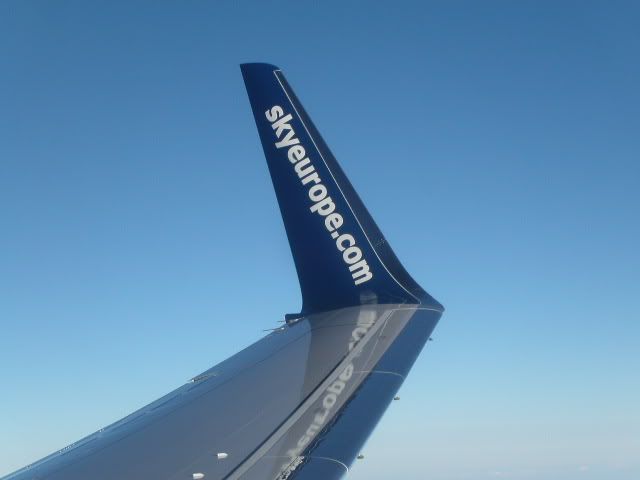 Cabin service began, here's a photo of the price list, the photo is a bit blurry, sorry. Hope you can read it anyway: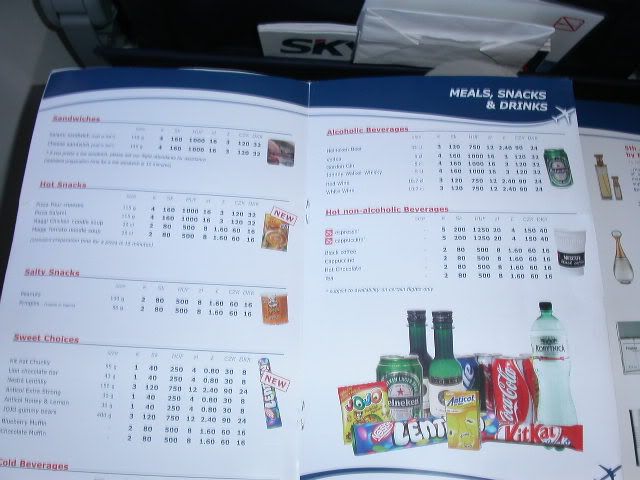 Christoph had a cheese sandwich, a Lion and an orange juice for I'm not sure, I think four Euros.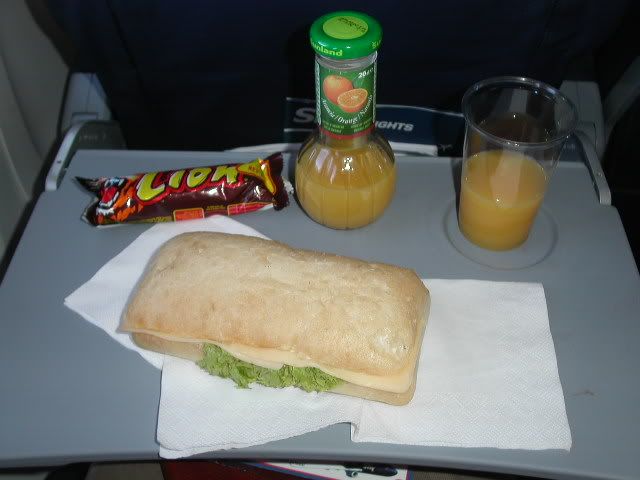 I was hungry as well, but decided to save my money and spend it a bit more sensible. So I bought two scratch cards: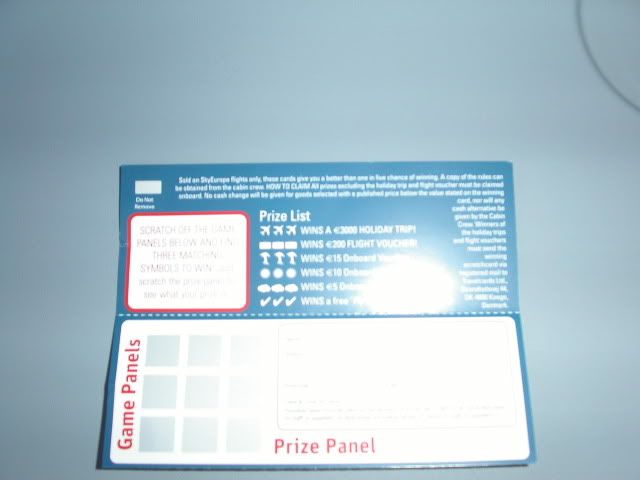 You scratch all nine fields, and if you have three times the same symbol, you win. Unfortunately I wasn't lucky: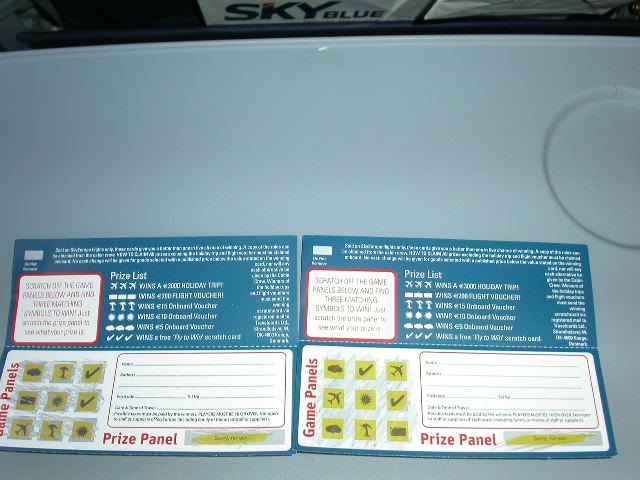 Flying over the Alps: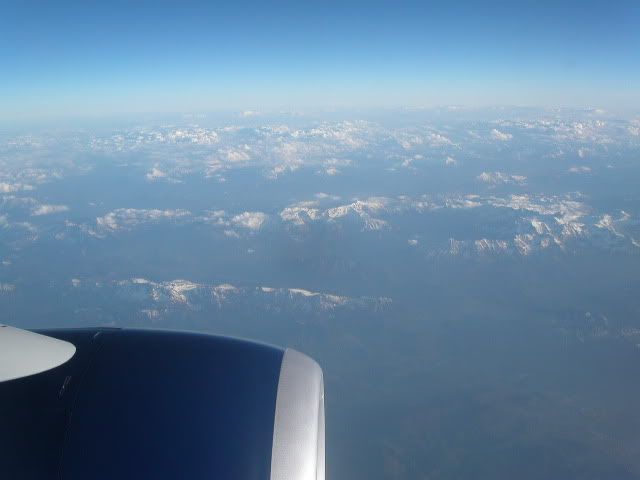 An unidentified airport somewhere between VIE and MUC. Who knows this airport?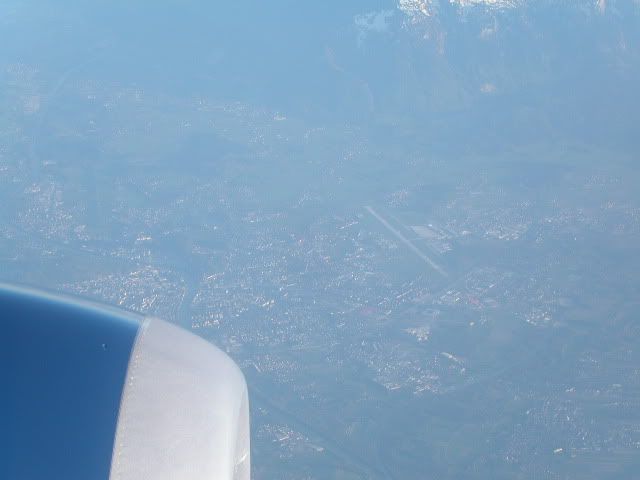 The (international) airport of Augsburg: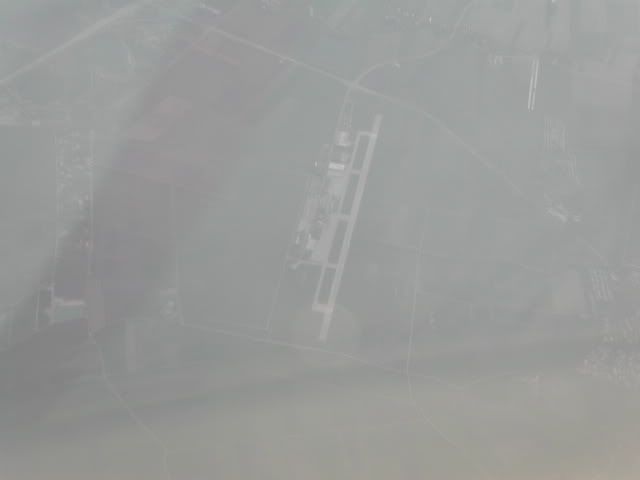 The river Danube, notice the flooded fields next to the river: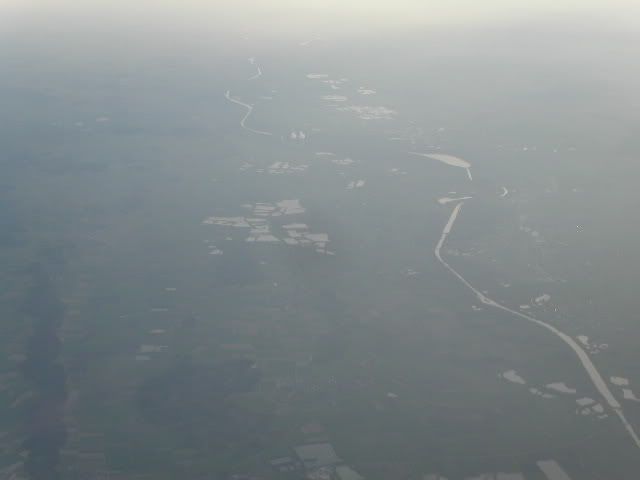 We started our approach. Here we are flying over the city of Geislingen! I used to study there, by the way: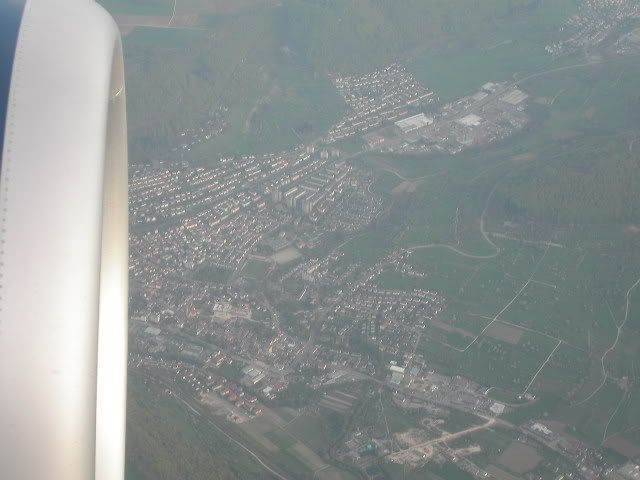 Sherwood err.. Schönbuch Forest: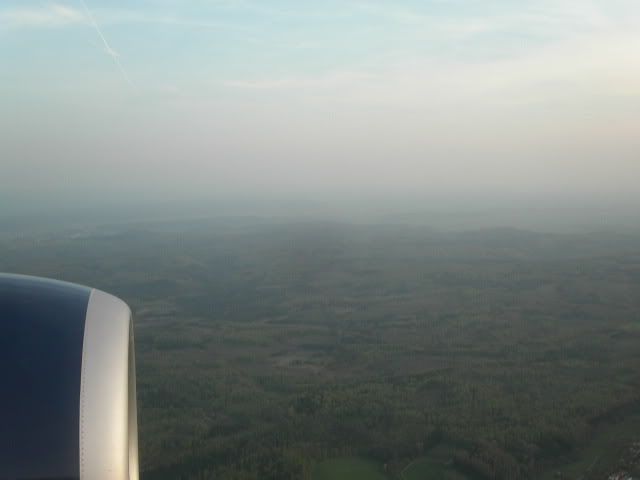 Böblingen: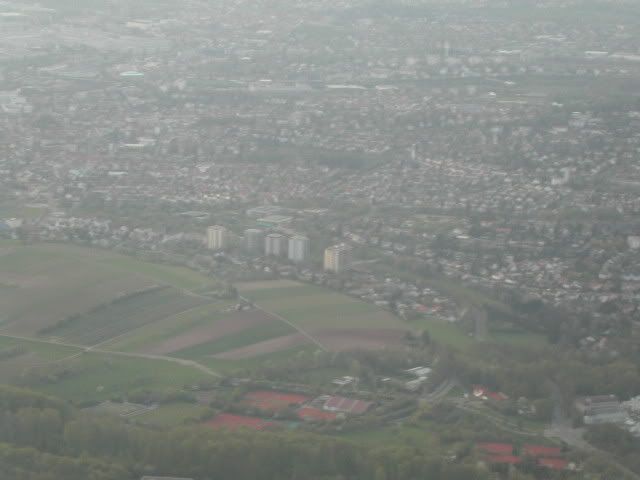 Schönaich: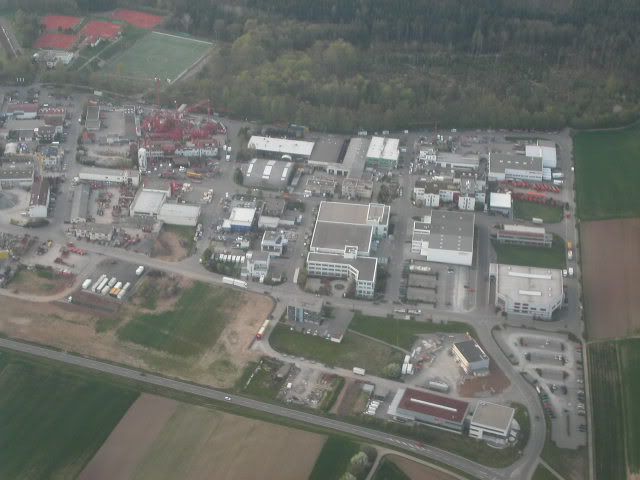 Echterdingen: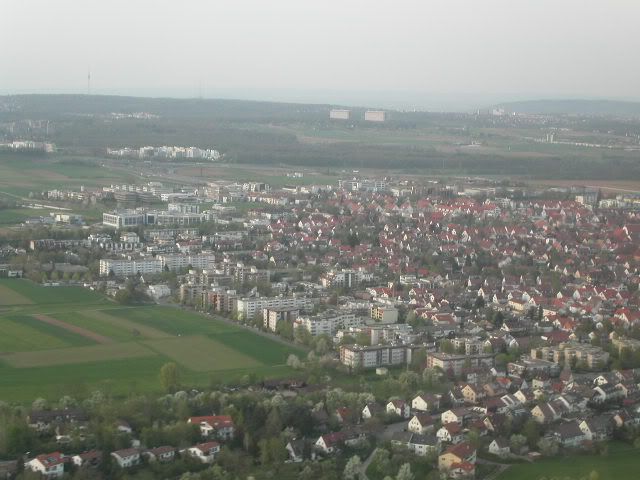 The Fildermesse again: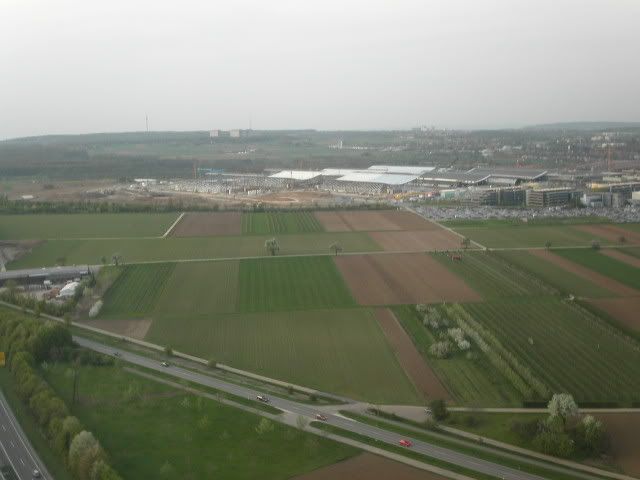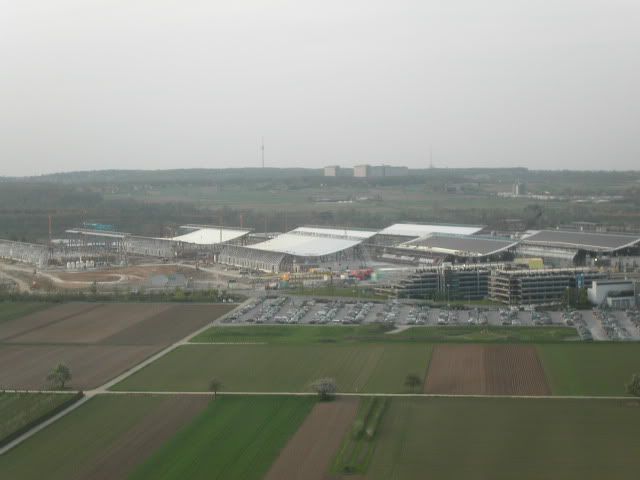 Terminal 1: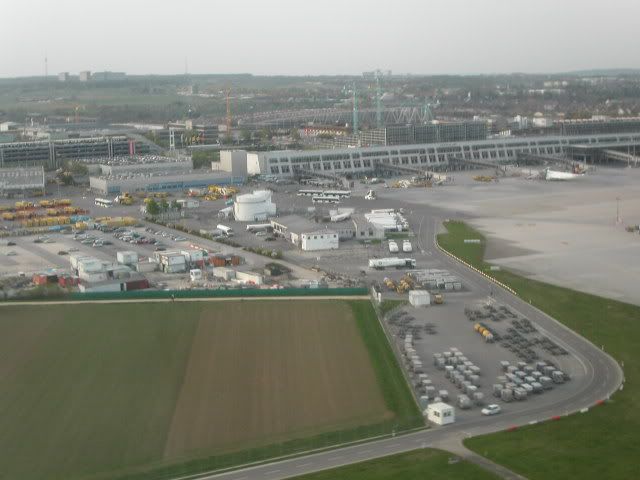 A Condor B757-300: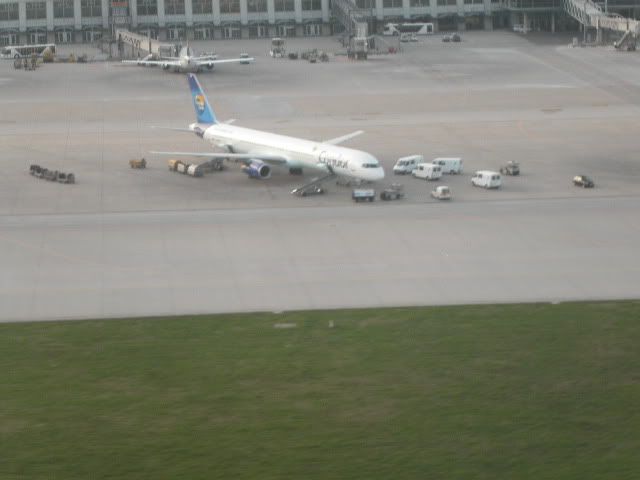 SAS Dash 8 and Germanwings Berlin BaerBus: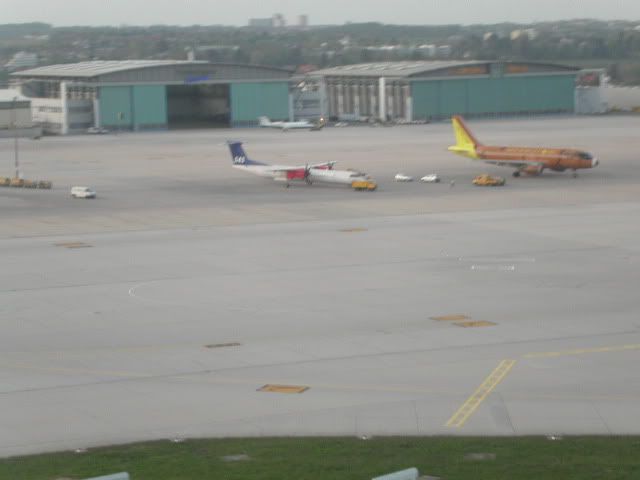 Touch-down: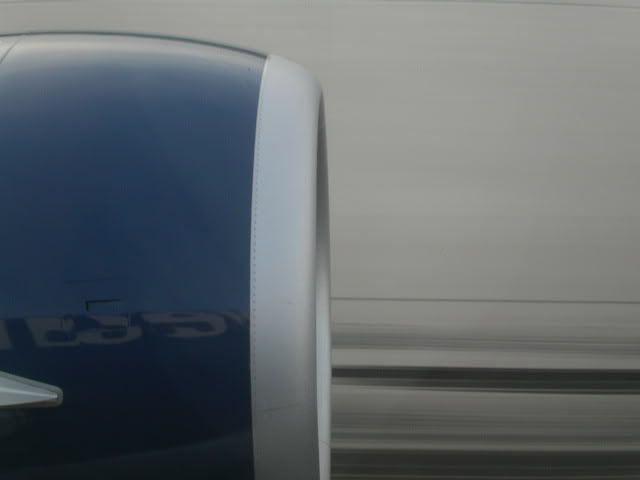 Reverse *brumm* *brumm*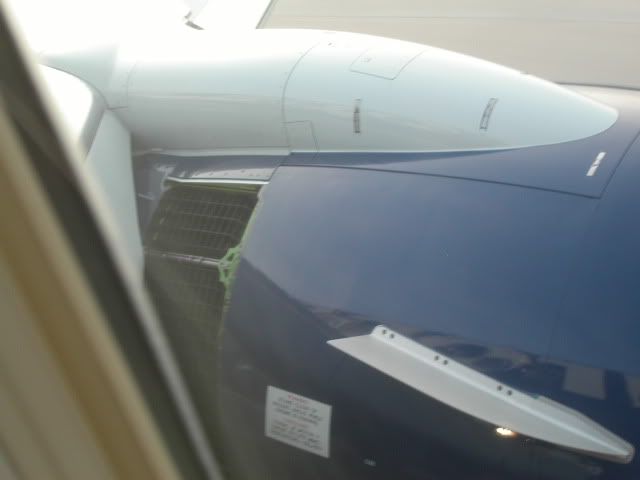 We taxied towards terminal 1, where we got a jetway - very untypical for a lowcost airline: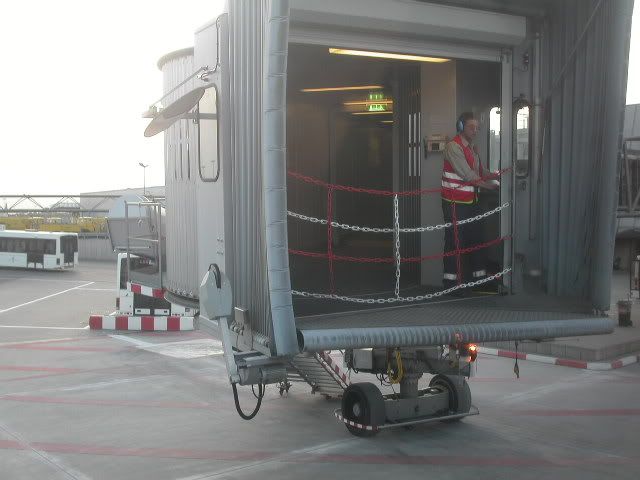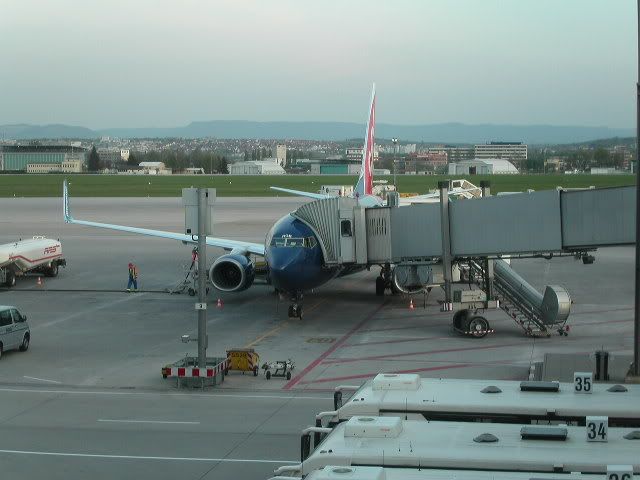 De-boarding and also immigration were both quick with only 40 passengers on board, so I was soon riding my bike back home. I enjoyed this trip very much, and I guess you already noticed that I was quite impressed by Sky Europe, not only because of their new aircraft. Much has changed since my last flight with them on Emb-120, but they are still a professional little airline which I can only recommend. Hope you liked my report (which became a bit longer than I had planned, sorry), and I'm looking forward to reading your feedback! Regards, Alex.