After living in Dallas for the last three years, my parents recently pulled up stakes and moved to Key West, Florida. My dad works from home, and they decided that "home" might as well be a more exciting place than Dallas. They moved in May, and having never been to Key West before I was excited to get down there and check it out. The tickets weren't cheap – almost $600 – but since I didn't have to pay for accommodations while I was there, I figured it was worth the splurge. It would also give me a chance to visit a new airport (EYW) and transit through Miami, which is one of the more interesting airports in the US.
*********************************************************
Thursday, July 29, 2006
Chicago O'Hare International Airport
I showed up at O'Hare around 1:00 – I had been at a work conference in Fond du Lac, Wisconsin, all week and drove straight to the airport from there. It was a nice sunny afternoon in Chicago, but when I got inside the terminal my flight had inexplicably been delayed 45 minutes. That made me pretty antsy – I was on the last flight of the night to Key West, and my connection – which was already tight – was now almost impossible.
The ORD ramp on this nice summer afternoon: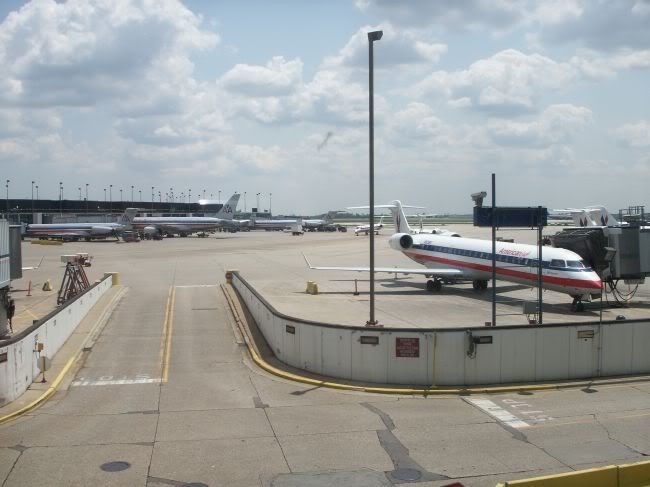 I showed up at the gate at the "boarding time" printed on my boarding pass and found a flight to New York LaGuardia was still sitting at the gate. It didn't leave until almost 2:45pm, at which point our 757 taxied over from Terminal 5 and pulled into the gate: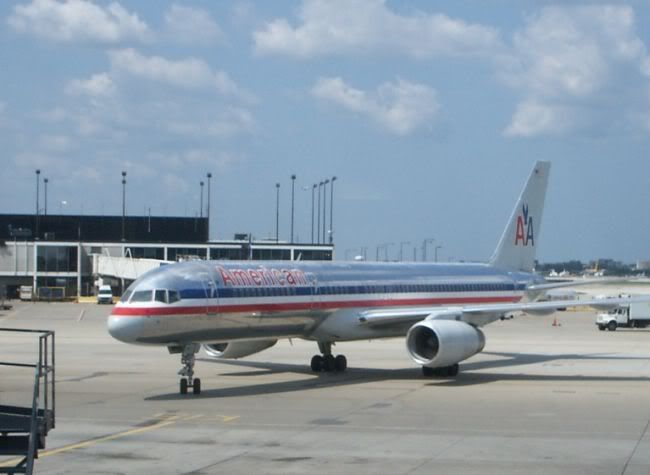 **********************************************************
American Airlines Flight 1556
Chicago O'Hare (ORD) – Miami International (MIA)
Departs ORD 2:25pm (actual 3:20pm), arrives MIA 6:42pm (actual 7:15pm)
Boeing 757-200, seat 5F
Flying time: 2 hours, 40 minutes
I had managed to secure a first-class upgrade for this flight; it was my first time flying in F on one of American's 757s. The cabin was still fitted with the old-style leather seats that used to be standard across the entire AA fleet. I'm a much bigger fan of these seats than the new-style seats on the MD80, which I don't think give enough back support. Legroom was more than generous and the center console had plenty of space for two peoples' drinks.
At the gate, preparing to push back: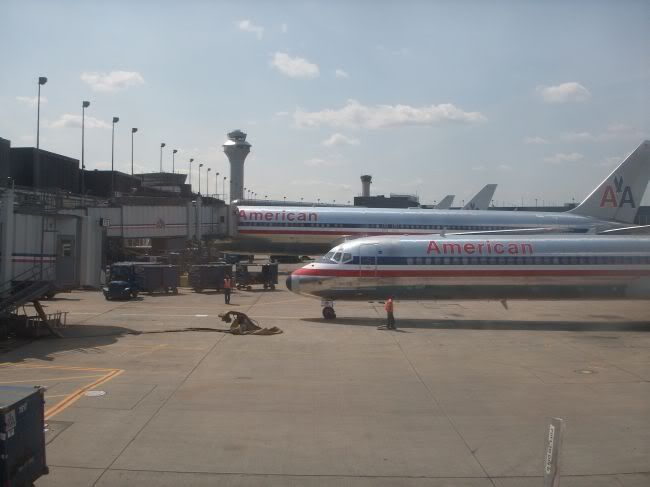 We pushed back and the engines were started while the safety video played in English and then (not shocking on a flight to Miami) in Spanish. As we taxied out we passed Iberia's Madrid-bound A340, which was parked at the end of Concourse K. I was surprised to see it there – the IB flight almost always uses Concourse L, where Gate L6 is fitted out with Iberia logos and furnishings. Another late AA flight must have sent the A340 to a different gate: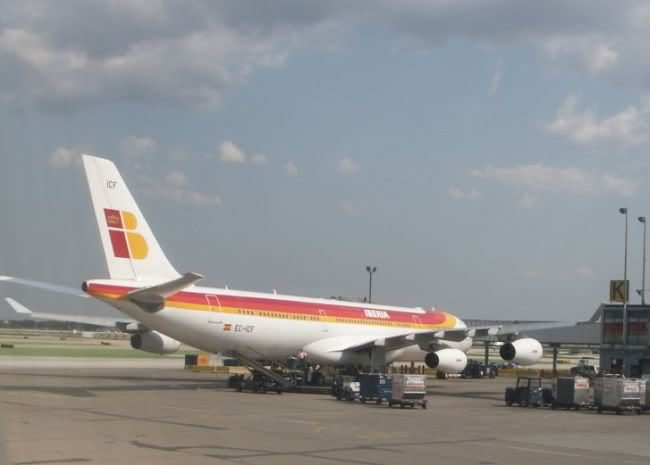 Overseas heavies parked at Terminal 5: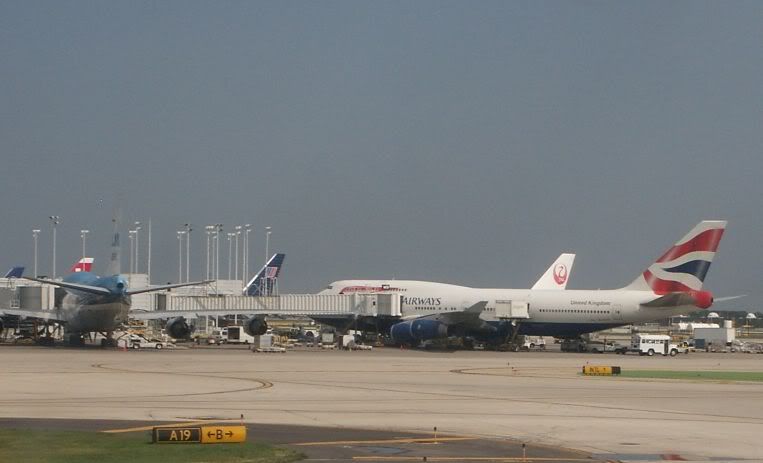 One of the first-class cabin attendants offered us water or orange juice as we left the gate; I took an OJ. It was a beautiful summer afternoon in Chicago, so I had a nice view of some of the ORD ramp activity as we taxied – here's Terminal 2:
United birds at the always-busy Terminal 1: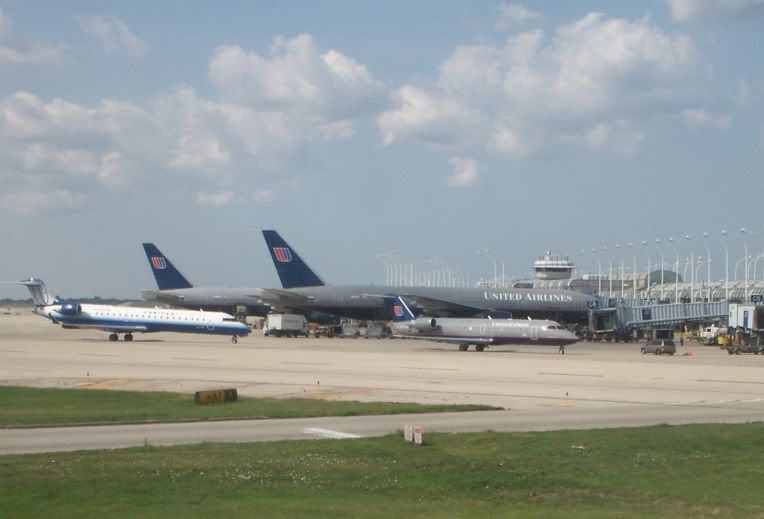 ORD was running takeoffs today from 32L, 9L and 4L; landings were on 9R and 4R. Being in a larger 757, I figured we'd head for 32L (which seems to be the only runway my flights ever use at ORD anymore), but we taxied north, up to runway 9L. Turning onto the runway: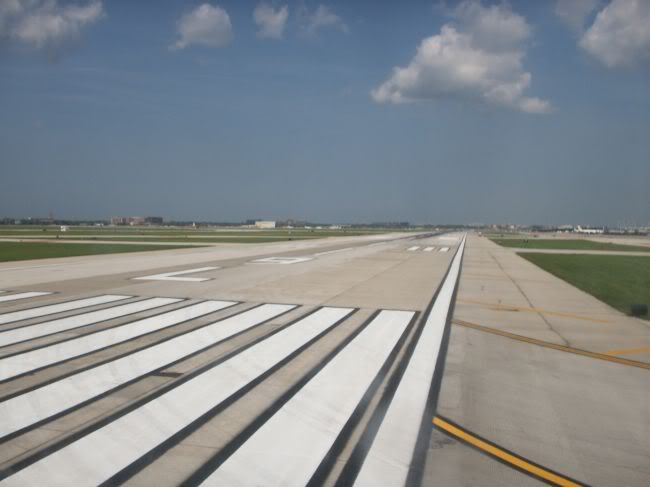 Over Interstate 294, the Tri-State Tollway:
As we headed up to cruising altitude the two first-class flight attendants came through the aisles with hot towels (made of heavy paper rather than actual towels) and took drink orders. Since I was officially now on vacation, I ordered a beer. A ramekin of warm mixed nuts followed a little bit later.
Over the cornfields of central Illinois: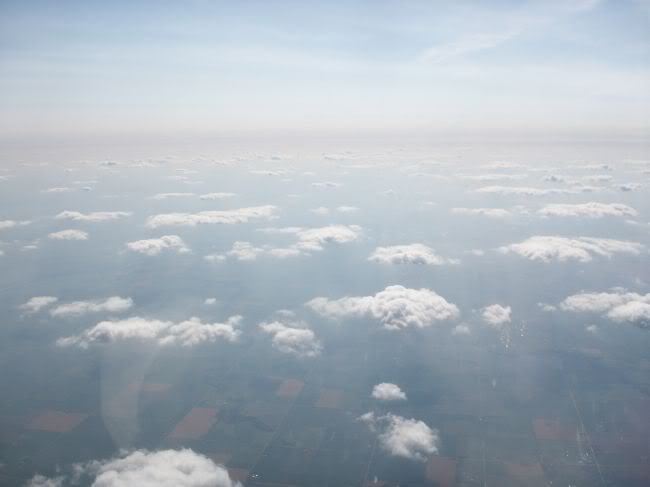 The pilot came overhead to welcome us on board and announced our route – south over Indiana, passing over Evansville, then across Kentucky to Nashville, Tennessee; from there across the breadth of Georgia and down the Florida coast to MIA. I saw both Evansville and Nashville from my window as we flew, but there was plenty of summer haze above the countryside and none of my pictures came out well.
The flight was listed as a "snack" flight (the infamous snack boxes were on sale in the main cabin), so I hadn't been expecting a hot meal, but we were offered a choice of a chicken-salad sandwich or turkey wrap. I picked the turkey wrap, which came on a sun-dried tomato tortilla accompanied by fruit, crackers, cheese spread and shortbread cookies. All in all, it was pretty tasty: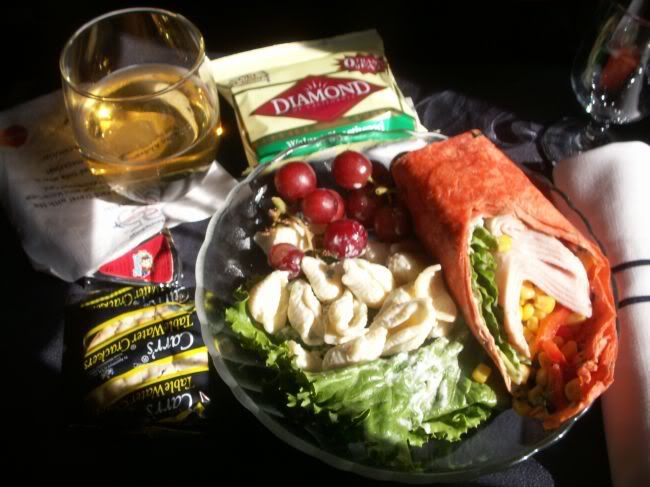 American's 757s have television screens mounted overhead in the aisles – the ORD-MIA flight is about two and a half hours long, but rather than a movie only CBS Eye on American programs were shown. Up in first-class we were each given a pair of earbud headphones (I don't find them that comfortable, but I had forgotten my own pair, so I made do), and I stuck with the audio programming rather than the stuff on TV. I usually listen to either 33 1/3 or channel 5 ("The Buzz") when I'm on American, and I almost always come away with a list of songs I want to download as a result.
On the way back from the bathroom I stopped to chat with one of the forward flight attendants, who (by AA standards) were very friendly. I mentioned that we were scheduled to arrive within minutes of my connection to Key West, and they said I shouldn't worry too much – "when it's the last flight of the night, Eagle is usually pretty good about holding the plane for late passengers."
Somewhere over northern Florida: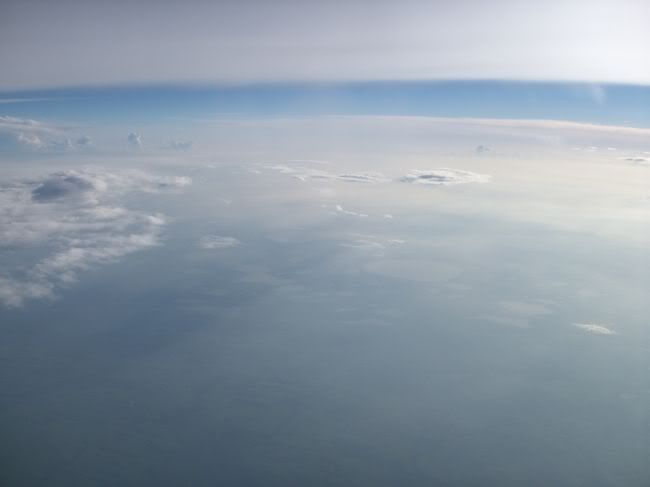 As we neared Miami and began our descent, the lead FA read a list of connecting gates; we'd be arriving on Concourse D and (fortunately) my connection to EYW was scheduled to leave just two gates away. We were out over the ocean, flying parallel to Palm Beach: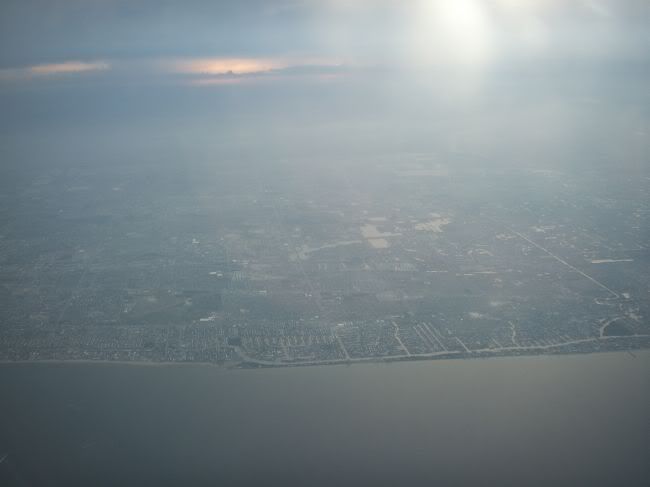 A distant view of FLL: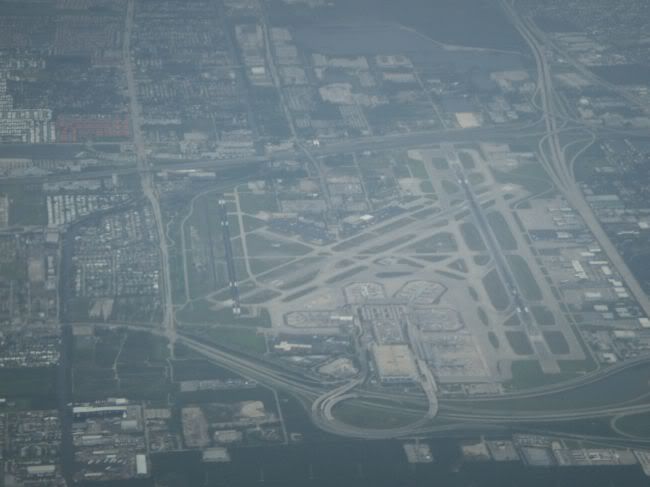 Turning onto the downwind leg over Hollywood: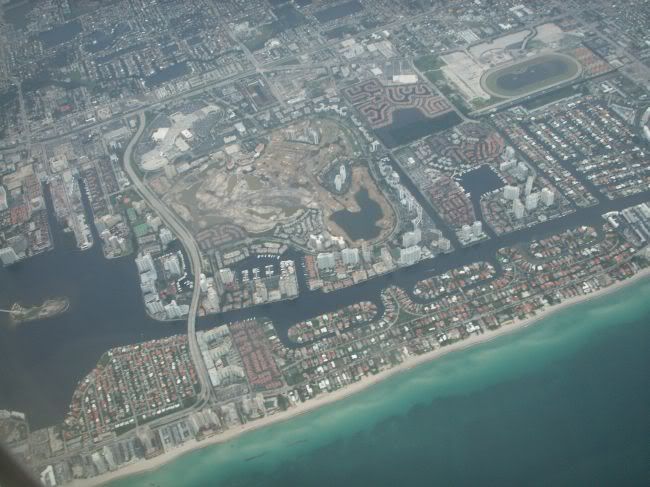 Opa-Locka Airport: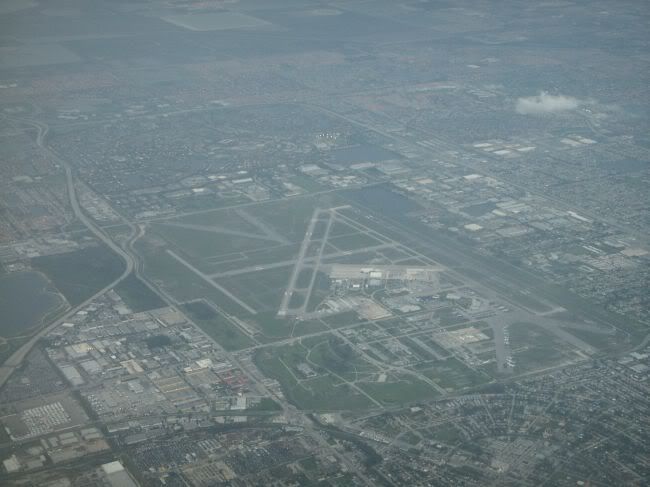 The remnants of the original Miami Municipal Airport – you can see traces of the runways beneath the various buildings: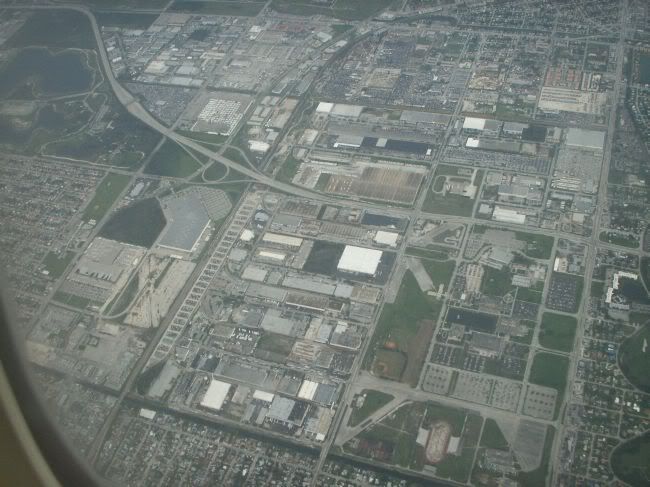 Our downwind leg was over Hialeah and the near reaches of the Everglades, then the 757 made a sweeping turn over the swamp to line up with runway 12: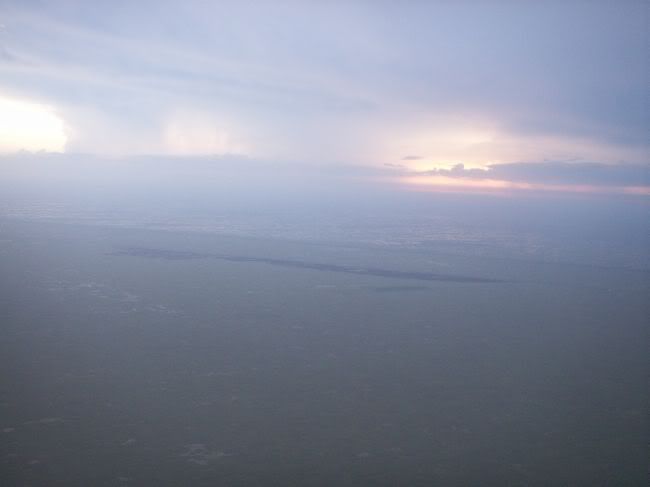 On short final to MIA we passed over lots and lots of lookalike stucco-and-tile-roof houses, then some lavish mansions lining golf courses, and finally low over the tops of warehouses, before touching down firmly on runway 12 and rolling out. As we slowed down I could see the huge new MIA control tower and the older 1980s tower being dismantled alongside it.
It was getting dark, and I had to disable the flash on my camera to keep taking pictures (nobody likes a flash going off inside an aircraft cabin.) As a result the pictures I took on arrival didn't come out as nicely as I'd hoped. Our 757 taxied past Concourse F, where Air France's 747-400 was pushing back for Paris and a Varig 767 was resting between flights: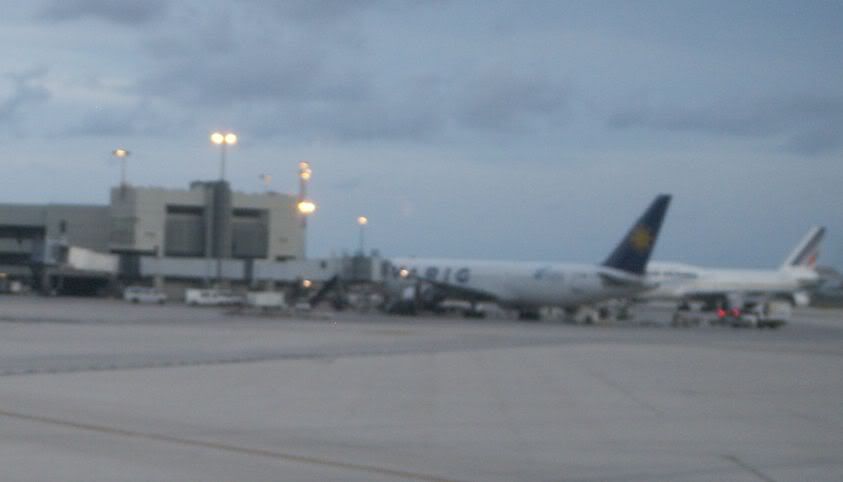 The now largely abandoned Concourse E satellite, which handled many of American's international flights until last year when those flights shifted to Concourse A: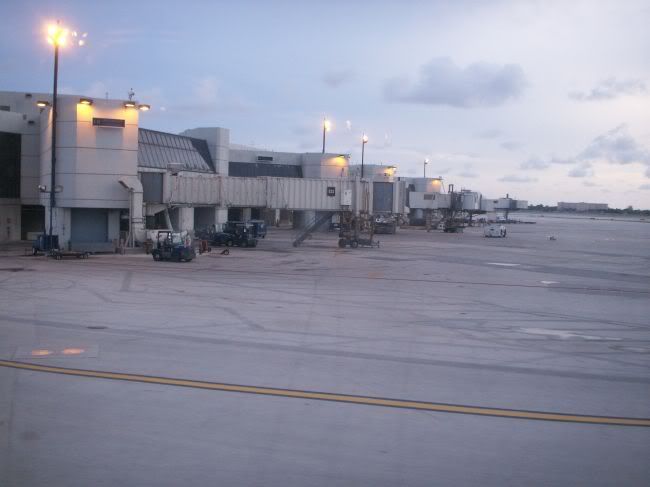 A whole herd of American birds parked on Concourse D: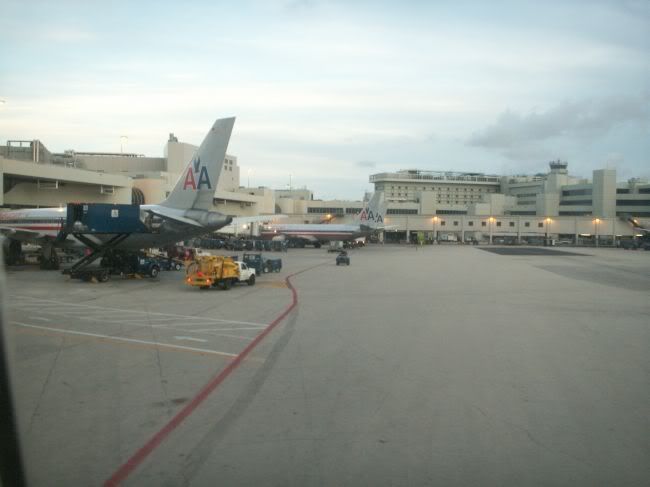 American's nightly 777 to London Heathrow parked on Concourse E: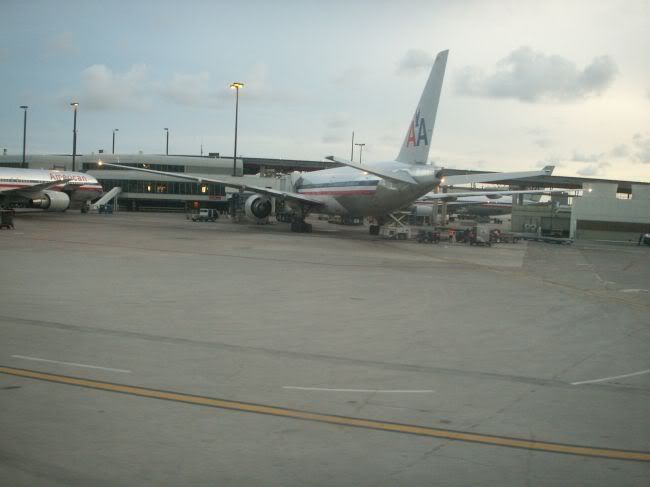 **********************************************************
Miami International Airport
Layover
Originally I had been scheduled to have about an hour and a half between flights in Miami. After all the delays, that was cut to about five minutes. Since I had been seated in F I was one of the first passengers off the plane, so I sprinted from our arrival gate down the escalator to the huge ground-level American Eagle holdroom. Unfortunately, by the time I got there, boarding had closed for my flight to Key West – the last flight of the night, meaning I was going to have to rebook and get set up with overnight accommodations in Miami (we had been delayed by American's scheduling problems, so I knew I was entitled to an overnight voucher.)
There was a huge crowd milling around in front of the American Airlines service desk back upstairs on the main concourse, so I decided to leave security and see if the folks at the first-class ticket counter would be able to help. The lines at the ticket counters were much less frightening – it was now past 8pm, and except for a few late departures to South America, most of American's MIA operation was winding down.
After about five minutes in line at the first-class desk I was able to talk a very helpful agent who booked me overnight at the Holiday Inn in Coral Gables and put me on the first flight to Key West the following morning. I'd never had a hotel voucher before, though, and in my haste to get out of the airport I didn't realize that she hadn't included a meal voucher.
I caught the shuttle to the Holiday Inn from the upper level, and the trip down LeJeune Road only took about fifteen minutes. The hotel itself was unremarkable… it could have used a remodel, but for a free place to spend the night I really couldn't complain. Because I hadn't received a meal voucher, I had to walk down the street to a nearby Burger King, which helped me get acclimated to South Florida's intense humidity (I was still wearing the same formal clothes I had worn to work.)
**********************************************************
Friday, June 30, 2006
Miami International Airport
I caught an early-morning shuttle bus to MIA and arrived with plenty of time to spare. I stopped at a kiosk to check in for my flight to EYW, then set off to explore the airport. I had passed through Miami last summer en route to Caracas, but my layover was too short to give me much time to look around.
MIA is unique among American airports; it handles a huge selection of Latin/Central American and Caribbean traffic, and for just about every airline from that area – from heavy hitters like LAN and Avianca to smaller operations like Aviacsa, Surinam Airways and Aerohonduras – a Miami route is essential. The terminal is a hodgepodge of various additions and expansions, although the core of the building dates back to 1959. The terminal is now in the midst of its biggest expansion ever, with the huge North Terminal (for American) and the smaller-but-still-impressive South Terminal (originally for United's South American operations and now for Star Alliance) rising on each side of the building. The construction has been extremely slow and fraught with corruption-related delays, to the point that American's North Terminal is now more than five years behind schedule.
It's been a long time since anyone called it "Wilcox Field," but the Miami terminal still pays homage to its roots: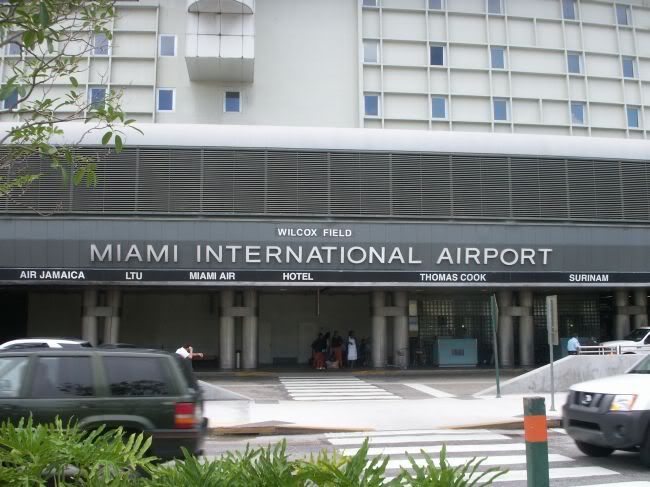 The chaotic departure roadway, with almost every Latin/Central American/Caribbean airline represented, plus a host of European operators: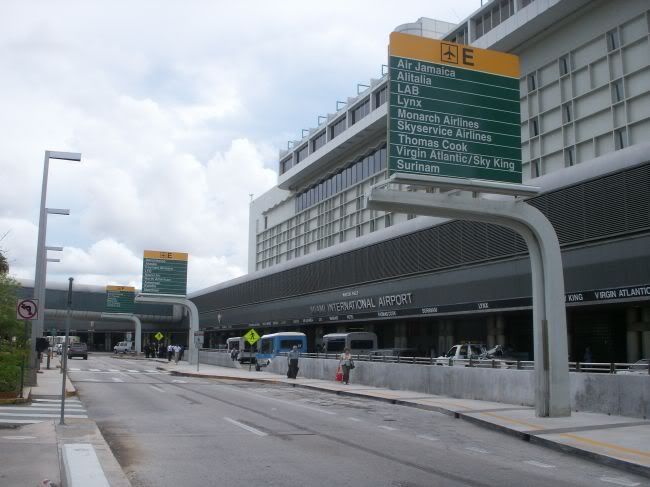 The northern section of the terminal is used by American and its codeshare partners:
A poorly-focused shot of Concourse A, with two LAN 767s and a TAM A330, newly arrived from South America: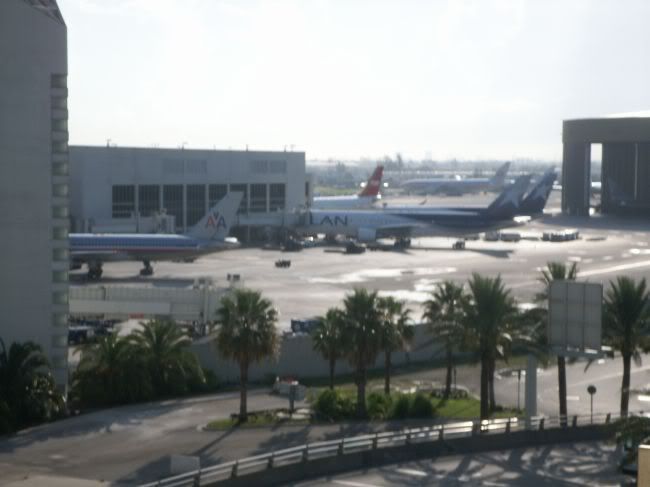 Once inside, the terminal is a jam-packed maze of check-in lines, gift shops, low ceilings and air conditioning that's either working wayyy too well or not at all. You're more likely to hear Spanish or Portuguese being spoken than English, and the departure boards list flights to places like Manaus and Cartagena and Port of Spain. Still, it has a certain charm about it: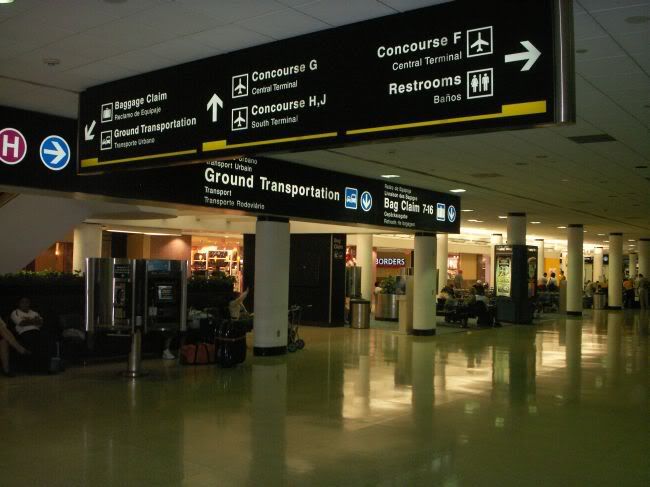 My flight would be leaving from Concourse D, but the security line for D was stretching all the way back to the terminal doors, so I walked over to Concourse E instead (American has a connecting walkway between the two concourses.) I hadn't been inside Concourse E before – it was rebuilt in the early 1980s and served Pan Am's Miami hub for several years – but it had a lot of big, surprisingly clean windows looking out over the apron.
A Ted A320 was parked at Concourse F across the tarmac. Until just a few years ago, MIA was United's launchpad for its South American route system (it took over Pan Am's operations in 1991), but all of those flights have been either discontinued or moved up the coast to Washington Dulles. Today MIA is an all-Ted station, and Concourse F is probably the least used of Miami's concourses: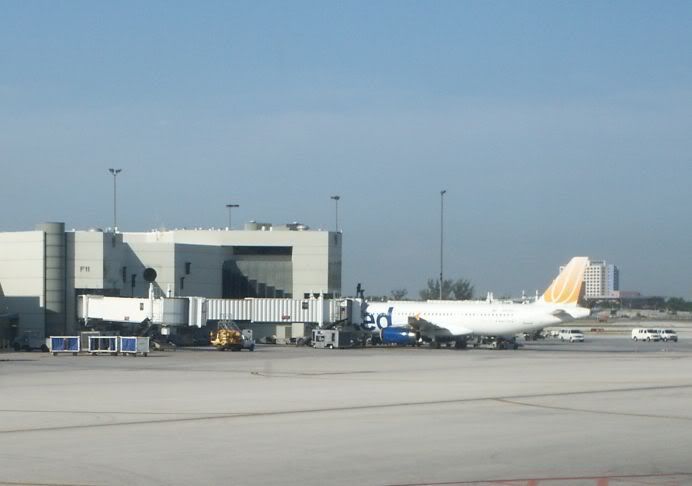 A few minutes later Aerolineas Argentinas' A340 from Buenos Aires pulled into Concourse F as well: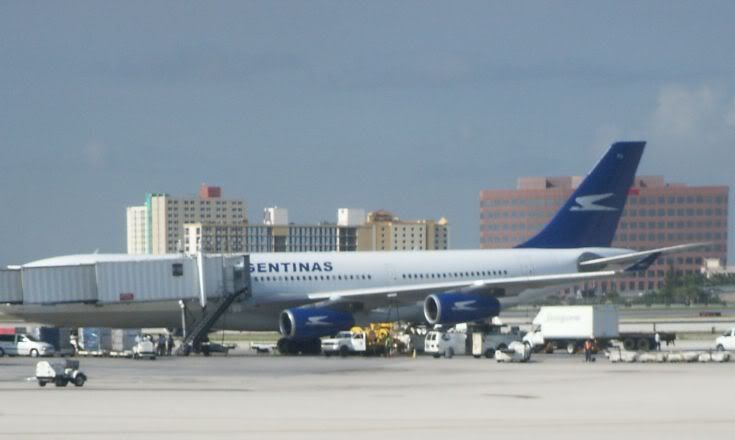 I walked around Concourse E, trying to make sense of American's Miami hub operation. Rather than assign domestic flights to one concourse, South American flights to another, and Caribbean flights to another, AA mixes them up – a flight to Philadelphia could be leaving from one gate, with flights to Santo Domingo and Sao Paulo leaving on either side. I'm sure there's a reason for this (and almost all of Miami's gates can switch between domestic and international ops) but it seemed confusing.
American's fleet of A300s is based at New York JFK and Miami – living in Chicago, I almost never get a chance to see them. This one, parked at Concourse E, was going to San Juan: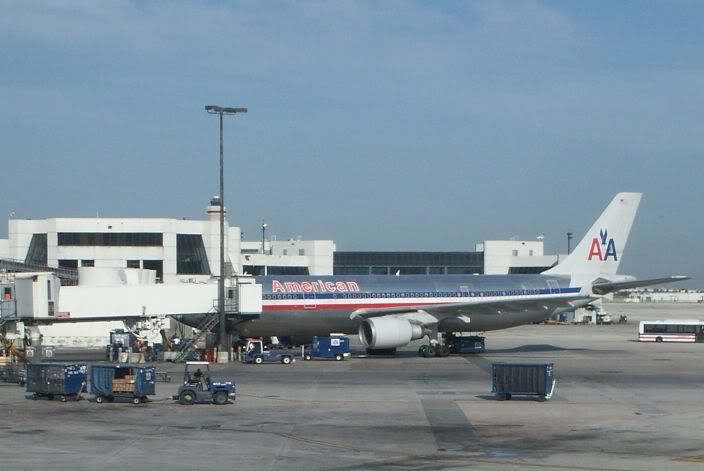 A few years ago American relocated all of Chicago's 737s to Miami, and sent all of its Miami-based MD80s to ORD and DFW. This 737 was pushing back for Panama City: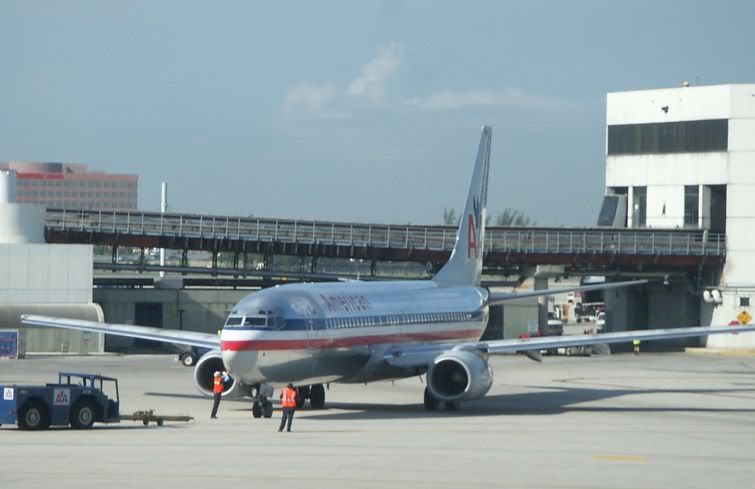 Looking down American's Concourse D. The older portion is in the foreground and dates back to the early 1980s. In the distance is the newer portion, which will eventually form part of the North Terminal, assuming it's ever finished: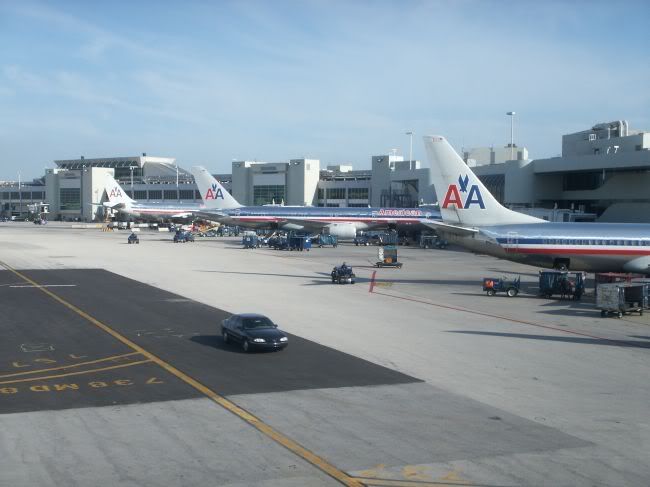 I made my way through the "temporary connector" between Concourses D and E – ultimately, American will pull out of Concourse E entirely, and the connector will be demolished – and into Concourse D. Although it's only about 20 years old, the building really looks bad, with lots of water spots on the ceilings and stains on the carpet. The North Terminal project is rising around it, but I'm not sure if the plans call for the old portion of Concourse D to be demolished or remain in service.
*********************************************************
American Eagle Flight 4931
Miami International (MIA) – Key West (EYW)
Departs MIA 10:00am, arrives EYW 10:45am
ATR-72, seat 15D
Flying time: 35 minutes
American Eagle's flights all leave from a single holdroom on the ground level of Concourse D, with buses taking passengers out to remote stands where the aircraft park. It was very busy – there were a lot of reaccommodated passengers from the night before who had been moved onto morning flights. Flights were leaving for Nassau, Freeport, Fort Myers, Jacksonville and Key West, as well as several other cities.
Although it's very common in Europe, in the United States airlines almost never use buses to take passengers to aircraft, so it was really interesting to get a ramp-level view of American's Miami operations. We passed an A300 up close: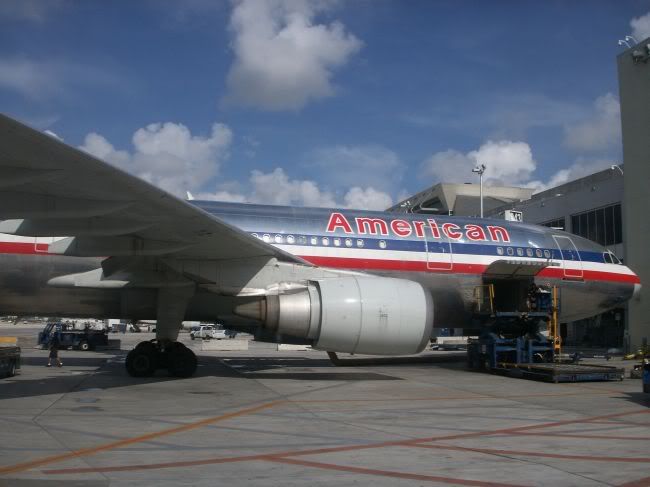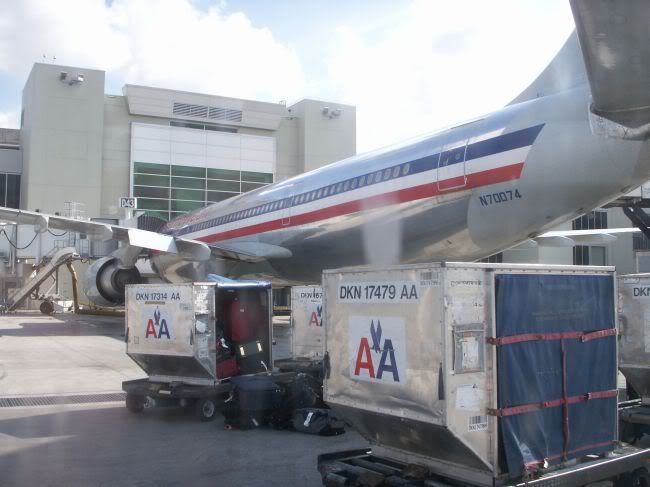 An American 757 parked at the new extension of Concourse D: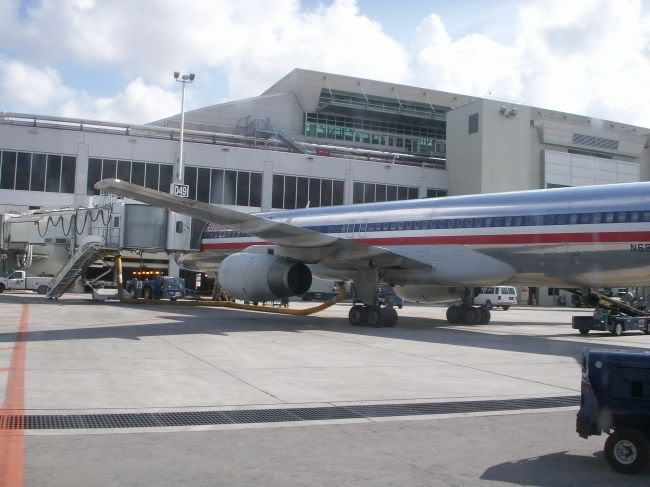 Another view of the Concourse D extension:
Pulling onto the Eagle ramp with a lineup of Embraer jungle jets: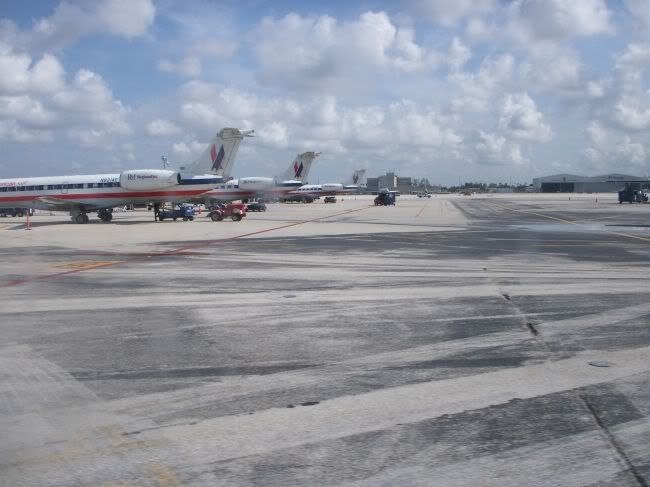 Finally we arrived at our ATR (N425MJ), which was still unloading bags from its previous flight (things move at a much slower pace in Miami.) We had to sit on the bus for about twenty minutes waiting for them to finish: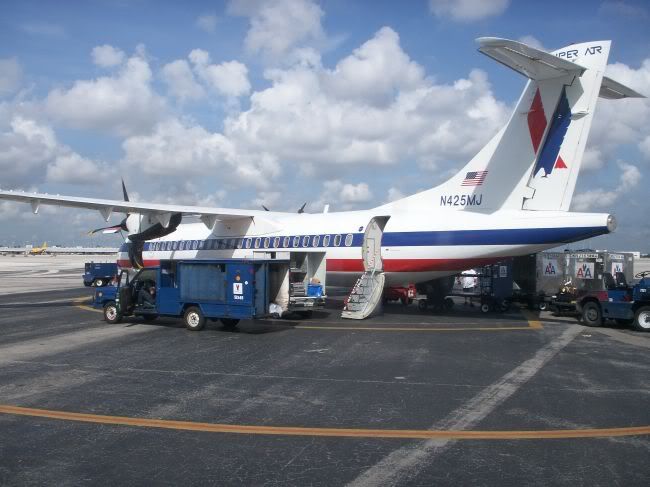 When we were finally allowed to board, I left my bag outside the aircraft (just like on its regional jets, American Eagle offers "Valet check-in" on ATR flights) and stepped inside. The interior of the ATR is pretty cramped – although not as cramped, in my opinion, as the Embraer regional jets – with two-by-two seating and smaller-than-normal overhead bins.
I had been assigned seat 3A, toward the front of the cabin, but as we prepared to push back the flight attendant asked for three volunteers to move to the rear of the plane for weight and balance purposes. I volunteered; I had forgotten that the ATR loads from the rear, and it meant I'd get off the plane faster when we landed in Key West. The windows of the ATR were pretty dirty as well – I wasn't sure if that was because they hadn't been cleaned, or because the planes operate in very salty, humid air:
The two engines were started up and we moved off our stand. I had flown the ATR-72 once before, on a trip from Chicago to Toledo back in 1997; I remembered the plane vibrating pretty hard, but this time the taxi seemed much smoother. The two flight attendants ran through the safety briefing (interestingly, the ATR has no supplemental oxygen system; we were told to "ask a flight attendant" if we needed extra oxygen.) We threaded our way through the rows of American Eagle RJs and ATRs and headed for the northern runway complex: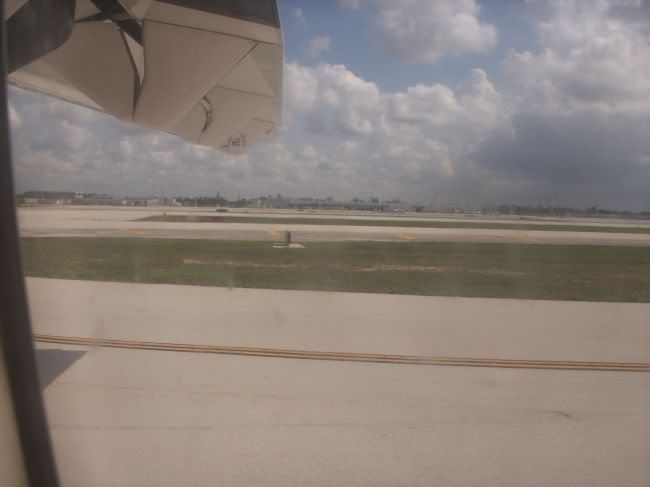 We were number one for takeoff, and only about five minutes after leaving our stand we were turning onto runway 8R: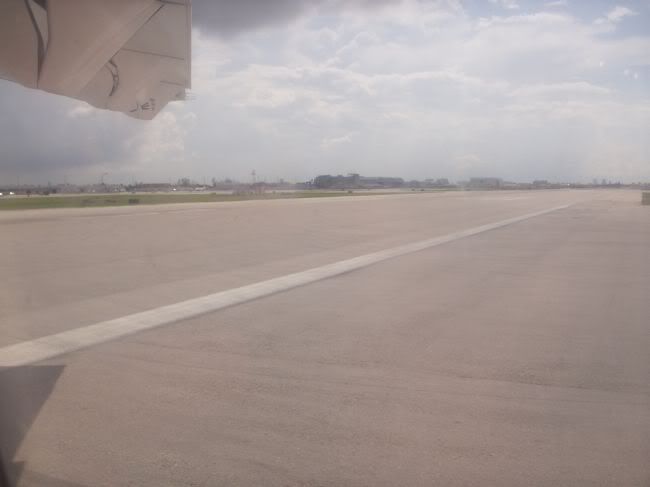 Takeoff was smooth and almost immediately after rotating we began turning, to clear the runway heading for whomever was following behind us. In the process I got a great view of the Miami terminal building – this shot shows the North Terminal construction, with American's still-unfinished new gates and overhead tram system:
Another view of the terminal, showing (from left to right) Concourses G, F and E. There's no mistaking the Air Jamaica A320 parked on Concourse F!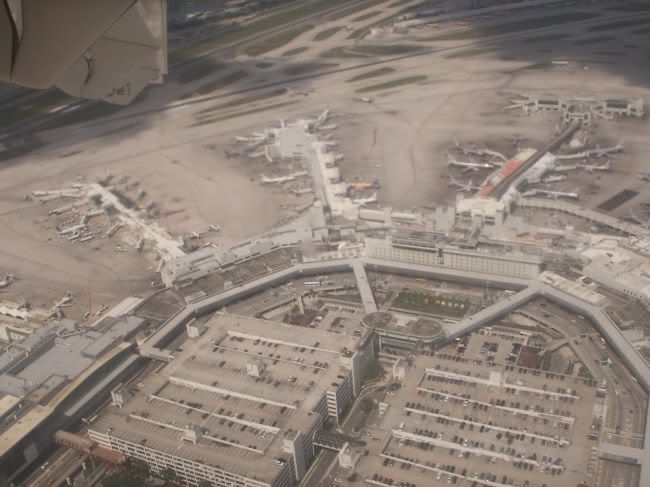 Passing over the thresholds of runway 27 and 30:
Climbing out over downtown Coral Gables – the Holiday Inn where I had spent the night is down there somewhere:
We headed southeast, over the affluent Miami suburbs of Coral Gables, Coconut Grove and Kendall, then turned south over Biscayne Bay to follow the coastline:
Our cruising altitude for the short flight to Key West was only 8,000 feet, so the ground stayed in tight focus for most of the flight. We followed the shore for a few minutes, then turned back inland – I was surprised how far south the Miami metropolitan area extends: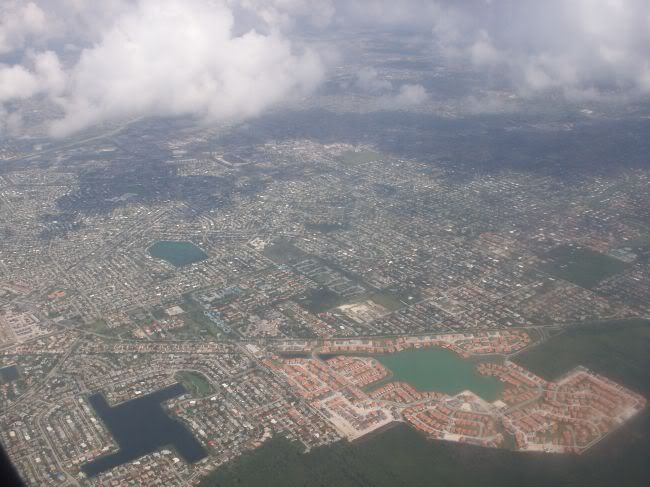 Because of the short duration of the flight, there was no beverage service, so I don't really have any comments about the inflight service. In fact, both flight attendants stayed in their jumpseats the entire flight, except when checking seatbelts before landing. Our route eventually went out over the southern reaches of the Everglades and civilization pretty much disappeared: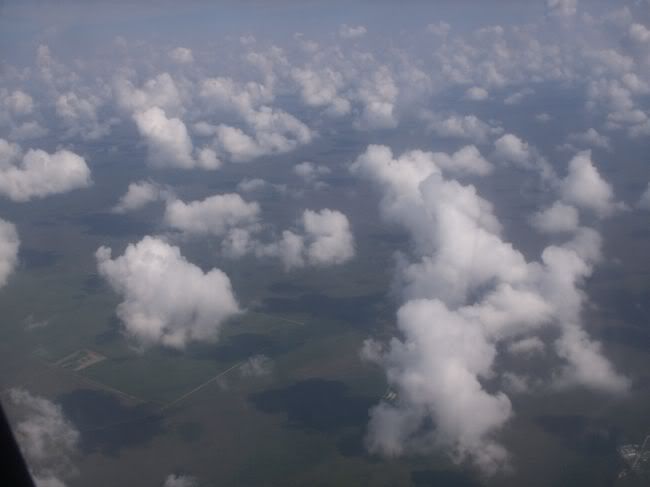 Over the edge of the Everglades, where the swamps give way to Florida Bay: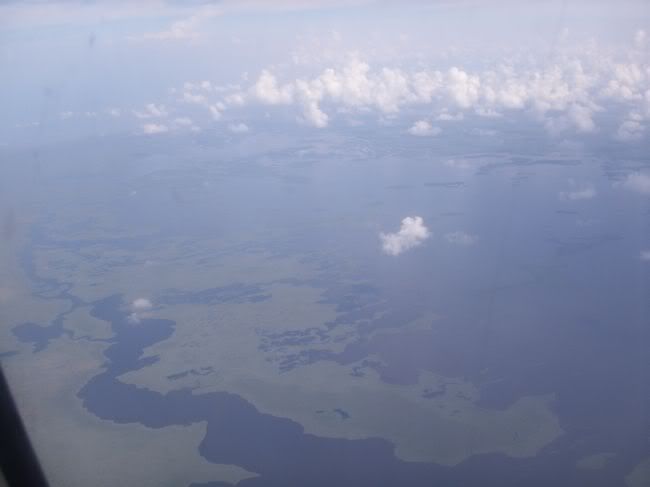 A few minutes later the captain said we'd begun our descent into Key West – only about ten minutes after we took off. The water outside looked great – nice and blue, although there was still no sign of land: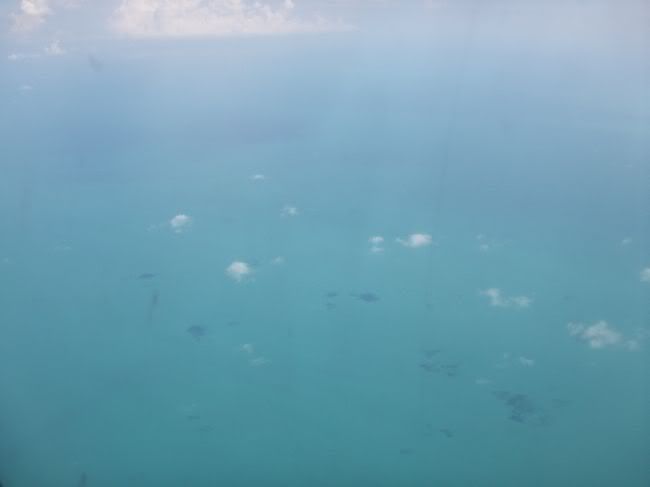 The first sign of land – a series of sandbars to the north and east of Key West: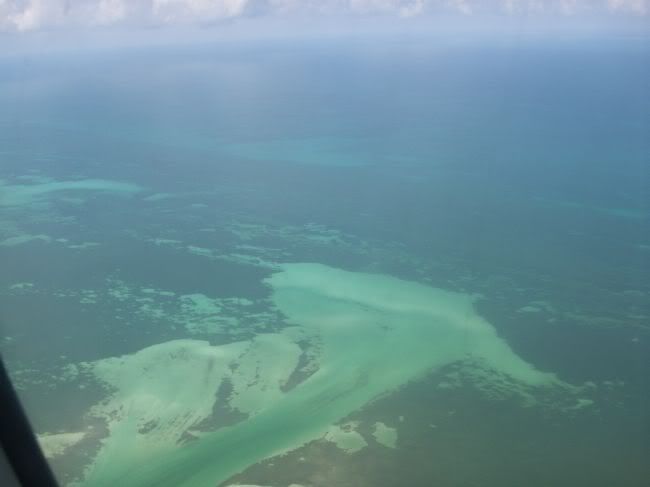 Parasailers!
Turning final over Sunset Key, a private island located off the shore of downtown Key West (my parents may be moving there in a few months; cars aren't allowed and residents have to take a water shuttle to get to and from town):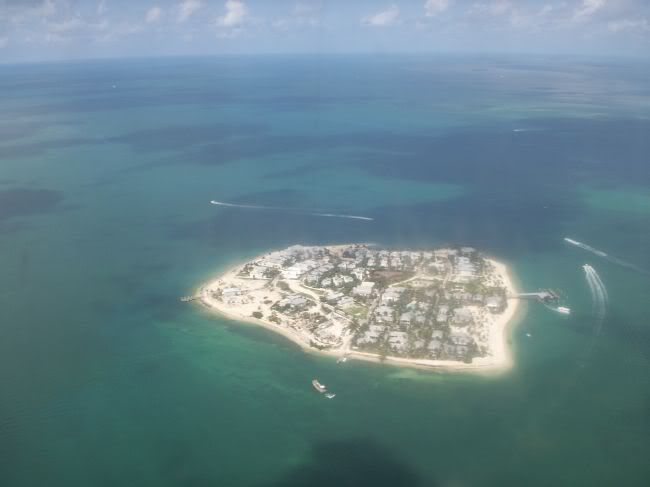 Suddenly downtown Key West appeared right below the aircraft, with two large cruise ships docked at the main pier and lots and lots of sailboats in the harbor. The landing gear thumped down (the ATR rides low to the ground, so the wheels are pretty much right underneath your seat) and we winged lower and lower over lots of tin-roofed houses and palm trees. Just before we landing we skimmed a big mangrove swamp, then landed sharply on EYW's short runway. I shot a video of the entire landing, but until I can figure out a way to convert MOV files to WMV format I can't display it.
The ATR slowed down and we turned off the runway right in front of the terminal building, where a Continental Connection Beech 1900 was idling between flights: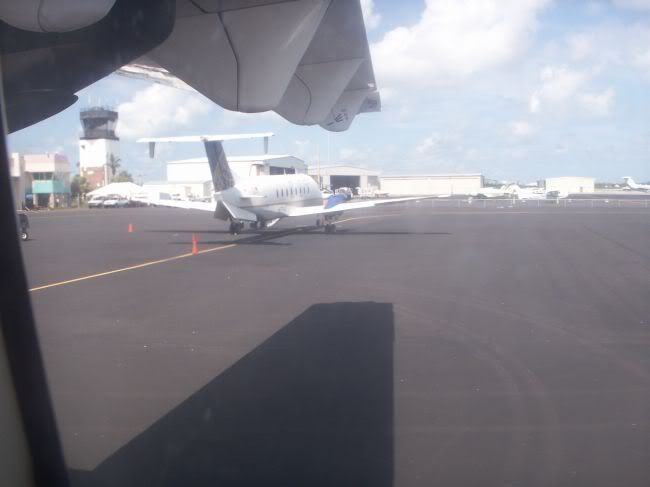 A Delta ERJ parked in front of the terminal building, preparing for a flight to Orlando: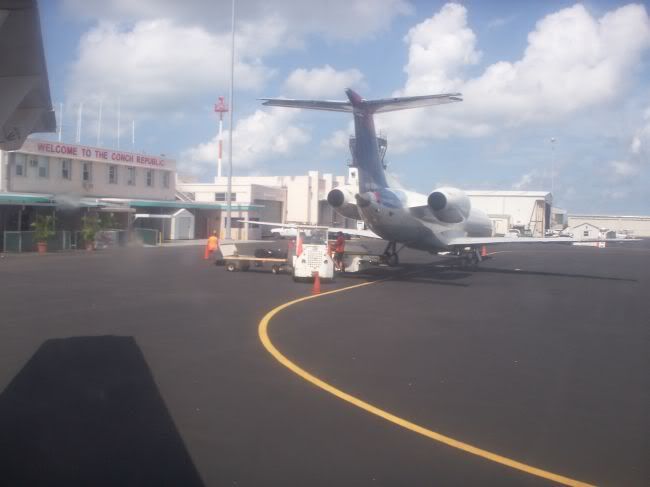 Slowing to a stop in front of EYW's tiny terminal building: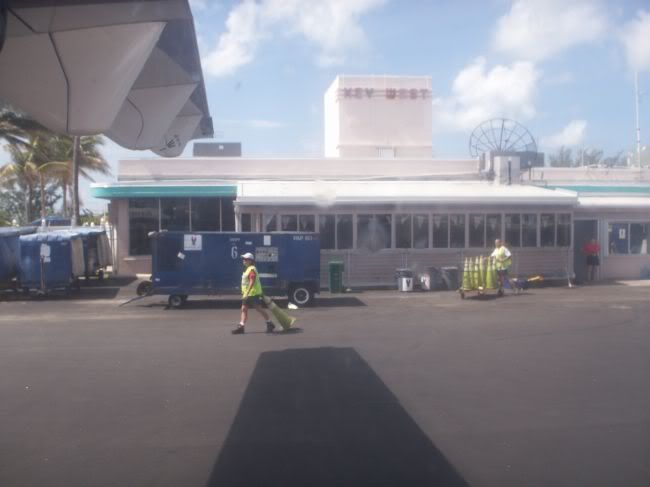 Deplaning at Key West is done the old fashioned way – down a flight of stairs from the aircraft door. The heat and humidity really hits you as you step out the door… you're definitely in the tropics! Passengers walk into the terminal building, which welcomes you the "Conch Republic":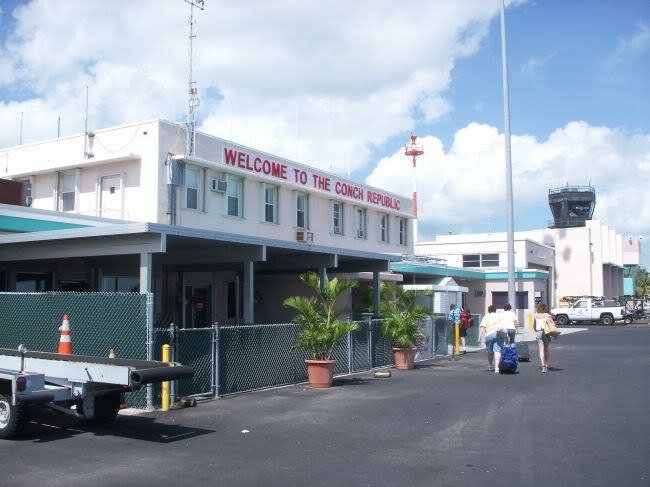 **********************************************************
That's the first half of the report. I had a great time in Key West and even took a ride in a 1941-vintage biplane. I'll include pictures from that trip, as well as the return EYW-MIA-ORD flight, when I post the second half. Stay tuned until then!