My African adventure, like ANCFlyer's Alaskan adventure also started out long before all this Israeli-Hezbollah conflict, the Mumbai bombs, the Indonesian tsunami and whatever else is going on right now that's killing people…like someone else said, if the aliens are watching us..then damn we are putting on a real show for them!
Anyway..my African adventure started on the 28th of June 2006, when we flew a QF 734 (VH-something – can't remember the rego now..) from ADL to PER.
ADL – PER 28 June 2006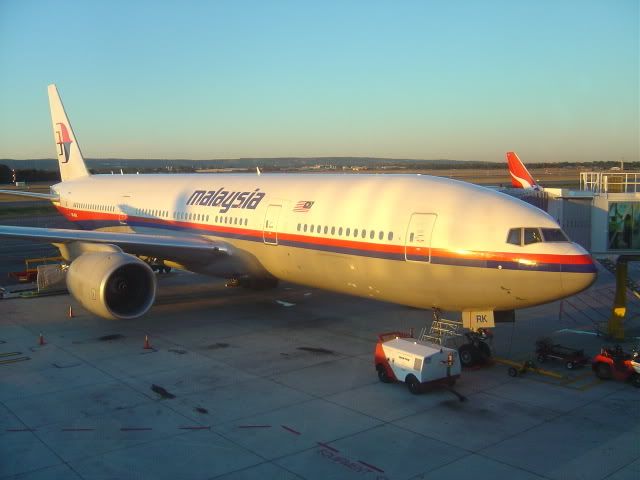 The daily ADL – KUL flight – the triple seven standing next to our B734 at ADL.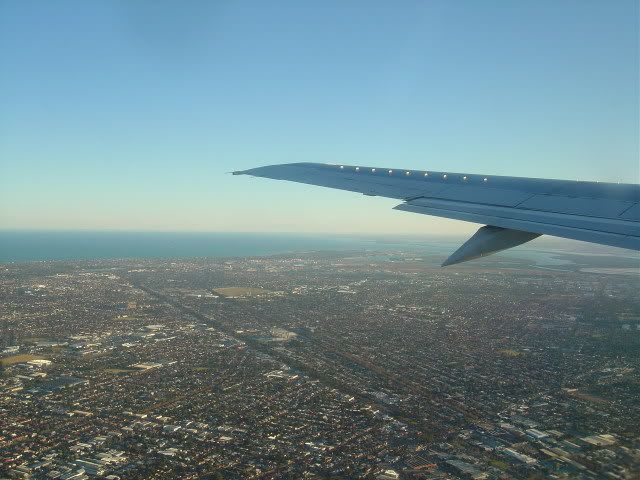 Take-off from ADL
Saw the movie '16 Blocks' on board this QF flight.
PER – JNB 28 June 2006
Landed in PER at 10:55 local time, took SA 281 to JNB at 11:50. The aircraft was an A342, ZS-SLB.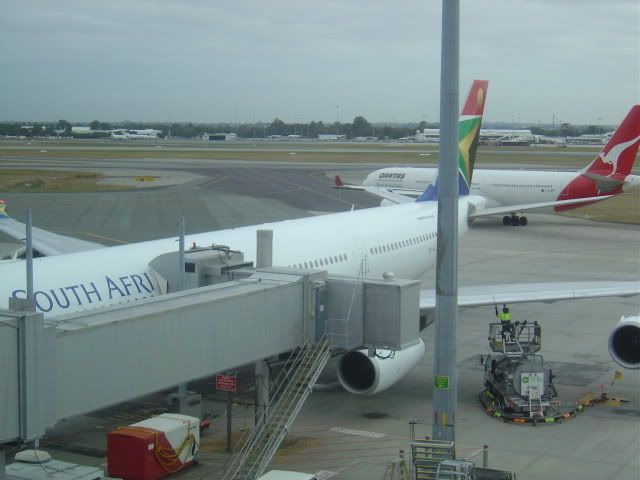 Here's a pic of ZS-SLB parked at PER, with a QF A330 (VH-VBB) taxing out to go to SIN.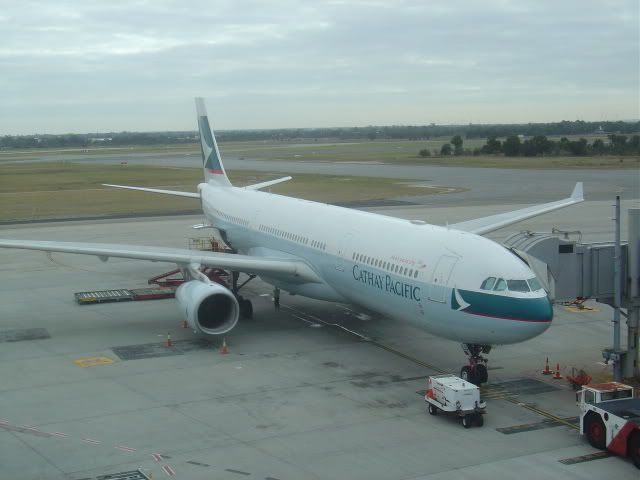 A Cathay Pacific A330 also at PER.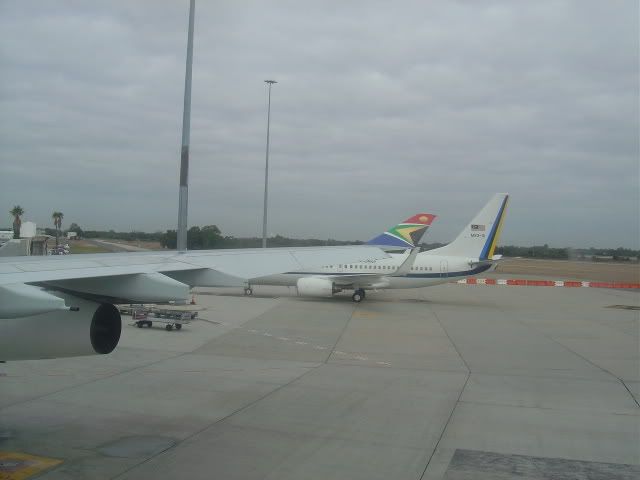 View from my seat before pushback. A Malaysian government BBJ was parked right next to our aircraft. Incidentally that BBJ was still parked there when we came back to PER 22 days later.. with its engines and cockpit still covered. Anyone know whats the deal with this BBJ? Has it been confiscated by John Howard or what? Maybe QFF
will know.
Take off was at 12:08, 18 minutes late because of 3 passengers not showing up, (their luggage had to be taken off the aircraft).
The flight was the most boring long-haul I have ever flown, there was no entertainment on board because of some 'problem with the A 340 entertainment system in economy class'. Well..thats what the lady told us anyway. The flight was terribly boring for some, but I had my iPod which lasted for 6 hours. The remaining 7 hours were spent sleeping and going to the bathroom and fidgeting to get some life out of that iPod battery (damn, and it says the battery is supposed to last 16 hours….I think I will start another topic about that
)
Also took a few pictures, this one was taken at FL390 somewhere over the Indian ocean, we still had another 5 hours to go before JNB.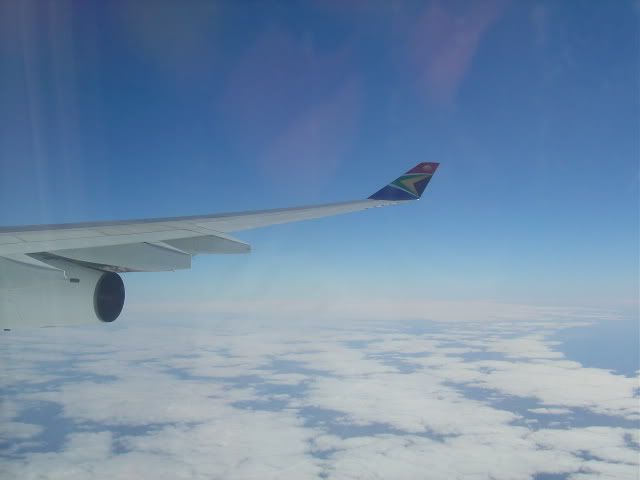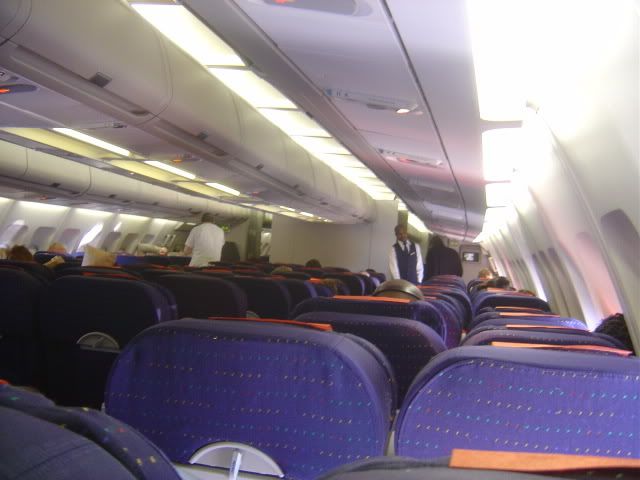 Another one of the cabin.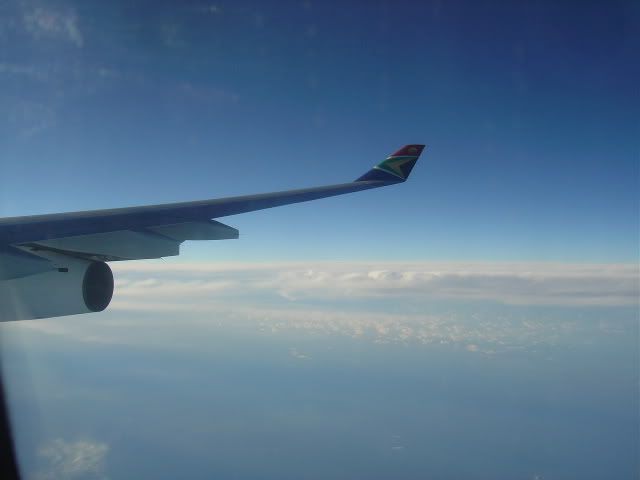 Before landing at JNB.
Reached JNB at 17:55 local time, 10 minutes early, but it didn't help because we parked at one end of the airport, and the bus ride back to the terminal lasted 20 minutes..the driver must have thought he was driving a formula 1 car because we swayed around feeling the g-forces at the back...finally made it in one piece to the terminal…whew.
Cleared immigration, collected our luggage and came out by 18:45, almost an hour after touchdown.
Stayed one night in JNB before taking South African Airlink to Bulawayo, Zimbabwe (BUQ) at 14:10 the next day.
A few pictures of JNB international airport, taken from the café in the international departures terminal before our flight to BUQ.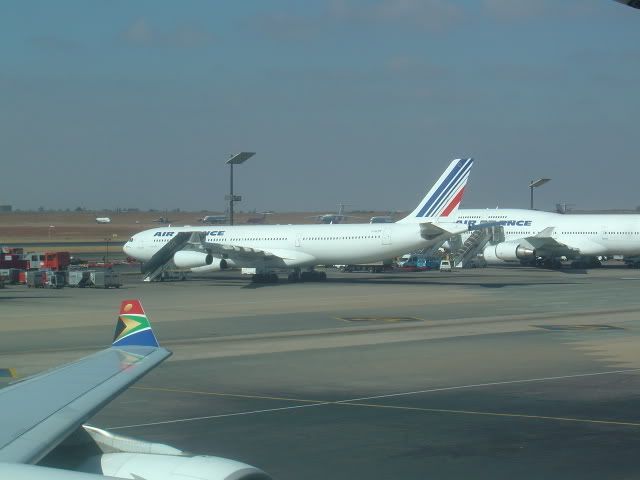 AF's A340 and 744. The 744 just arrived about 20 min ago when I took this picture.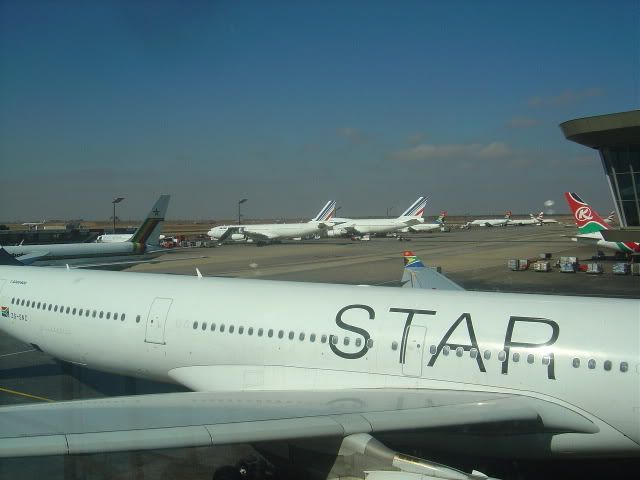 SAA's Star Alliance logo jet, the A346 ZS-SNC parked right next to us. Air Zimbabwe (still flying!!) B767 Z-WPE taxiing for takeoff to Harare (HRE).
Z-WPE taxing past ZS-SNC. Amazing to see Air Zimbabwe still has fuel to fly this old bird.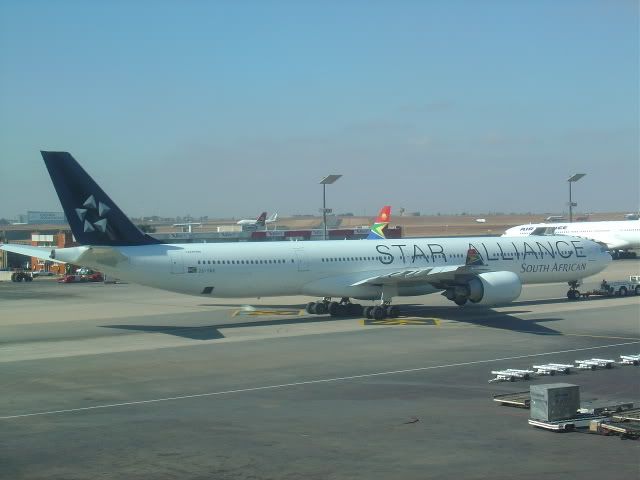 ZS-SNC being taken to the SAA hangar…this one had arrived from IAD some 2 hours ago.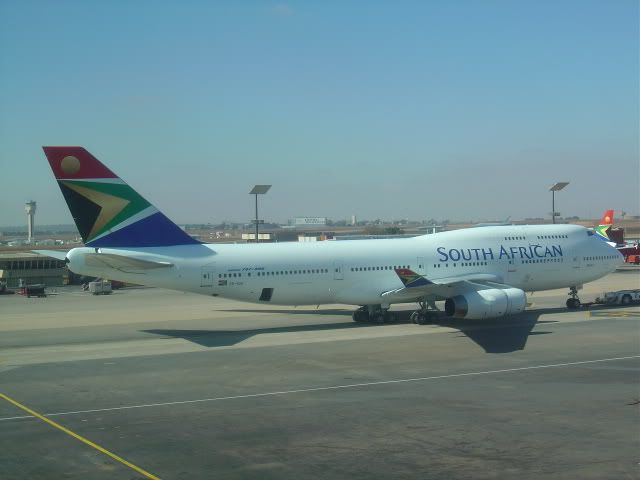 ZS-SAK (Ibhayi) also being towed to the SAA hangar…this one arrived from LHR about 1 ½ hours ago.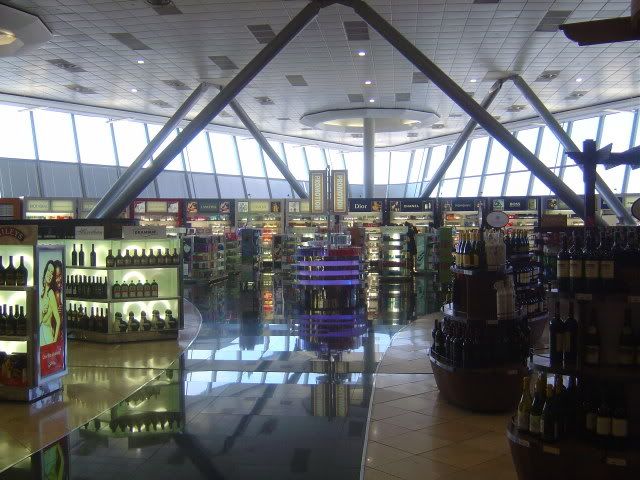 The duty-free shopping place at JNB.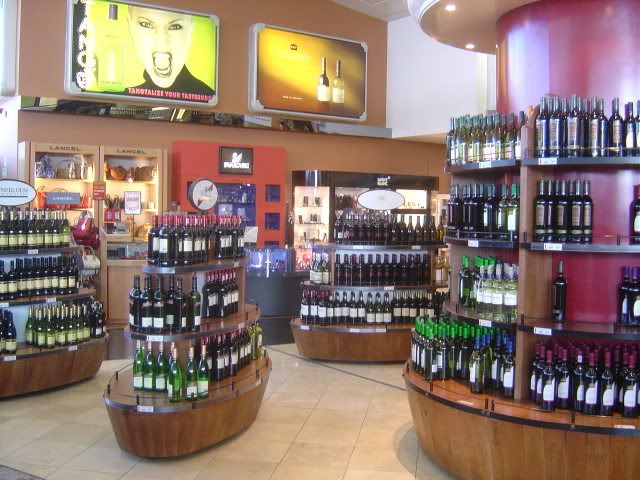 SA wine for sale at JNB.
JNB – BUQ 29 June 2006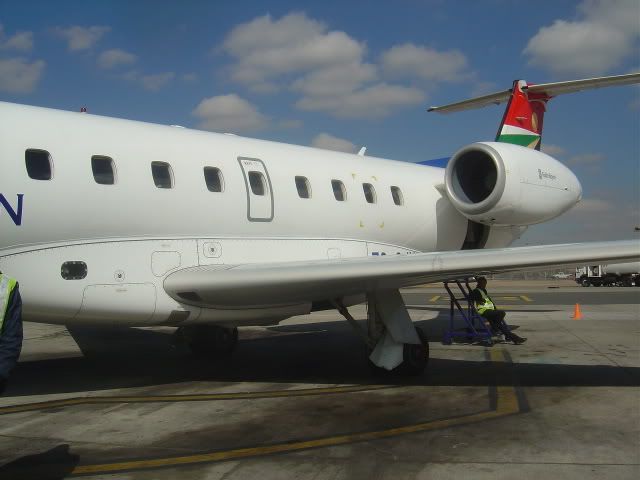 Our ERJ 135 ZS-OVV that would take us to BUQ from JNB. Photo taken just before boarding.
The flight departed on schedule at 14:10. A few more pictures taken from inside the ERJ.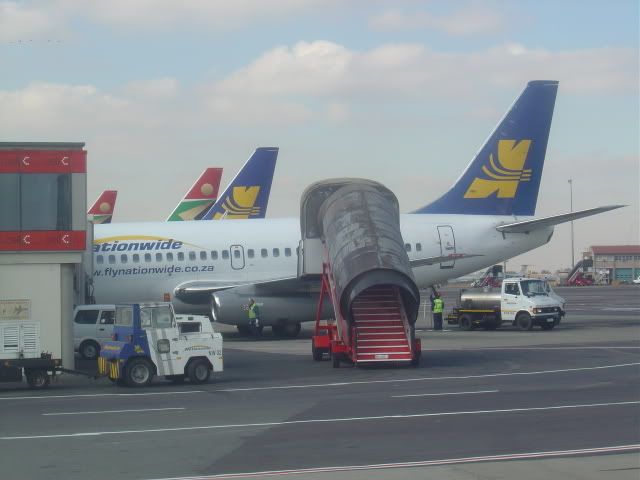 Nationwide's classic 732s and a couple of SAA's B738s parked at the domestic gates.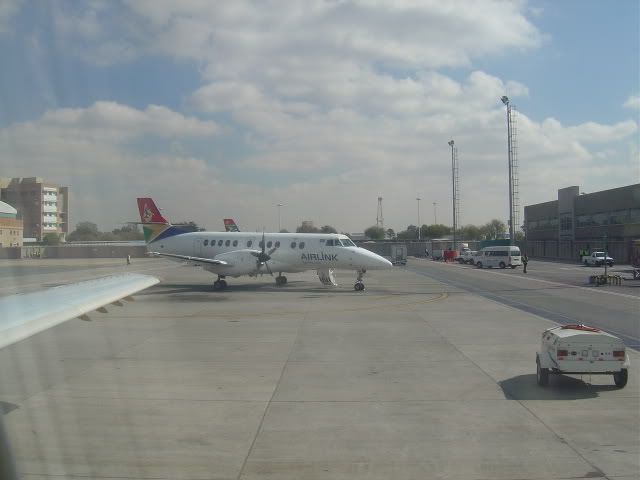 SA Airlink's other aircraft types (Jetstream and another ERJ 135).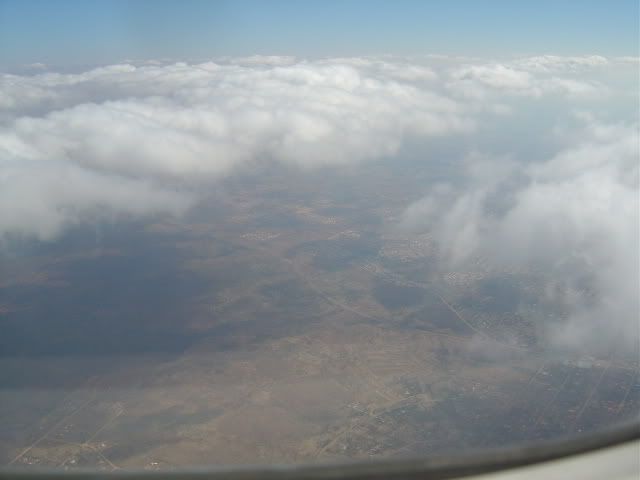 Just before landing in BUQ.
The flight lasted 55 minutes and landed in BUQ at 15:05. The airport in BUQ is amazing..unlike ANY other airport I have ever seen!
It is basically an old aircraft hangar that has been converted into an airport. I couldn't even sneak a picture because photographs of all government buildings in Zimbabwe are prohibited…and I didn't want to get into any trouble with Robert Mugabe's thugs.
It seems the main terminal building is undergoing renovations and hence this arrangement. I wonder why Mugabe is spending all that money for renovations considering the SAA ERJ 135 is the biggest aircraft that BUQ gets in from another country (apart from Air Zimbabwe's own 767s).
Anyway..the hangar was divided into one arrivals section and one departures section with one African man (who looked a lot like Robert Mugabe) performing the task of customs, immigration and the issuing of visas. The luggage was brought by a single tractor trailer and just dumped on the tarmac. There were no luggage trolleys or anything..but there were plenty of President Robert Mugabe's framed photographs around. (Incidentally it is an offence to take a picture of those portraits of the great President and it clearly says that one will be fined US$500 if one violates this rule. This notice appears below ALL Mugabe's pictures).
We came out of the 'airport' at around 16:45, the delay happening due to the fact we were traveling with firearms (my dad was buffalo hunting). Anyway..the hunting camp was another 3 hours drive (300 kms..they have good roads in Zimbabwe!) from the airport, and we finally arrived there at around 20:30..totally exhausted…I just went to bed.
Spent 8 days hunting buffalo in Zimbabwe..without any luck, my dad did not get his buffalo..says he will go back next year.
Drove to Victoria falls on the 8th of July from our hunting camp in Hwange. Took a flight in a Bell 206 Jetranger in Livingstone, Zambia over the falls.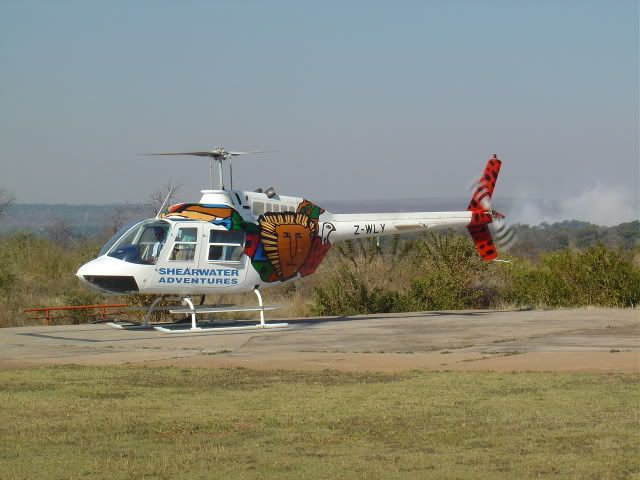 Our chopper, Z-WLY before taking us on a magical flight over Victoria Falls. The flight lasted 20 minutes..and it was the most amazing experience I have ever had!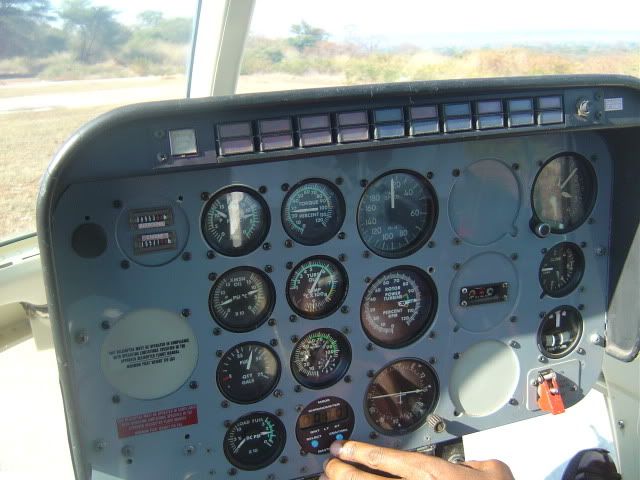 Adjusting the instruments before take-off.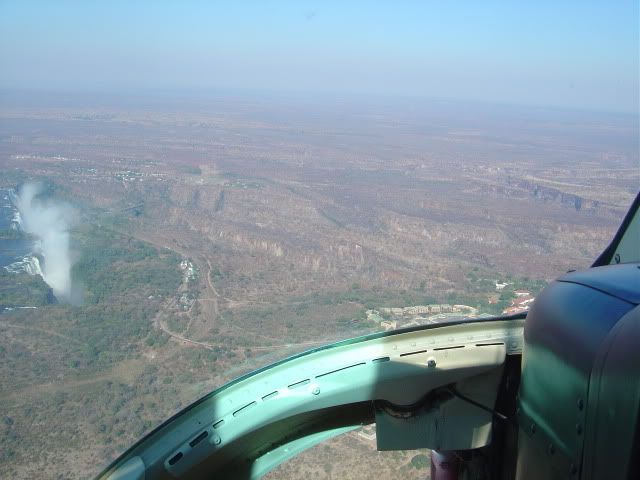 Approaching the Victoria falls from the Zimbabwe side. The falls lies 2/3 in Zimbabwe and 1/3 in Zambia.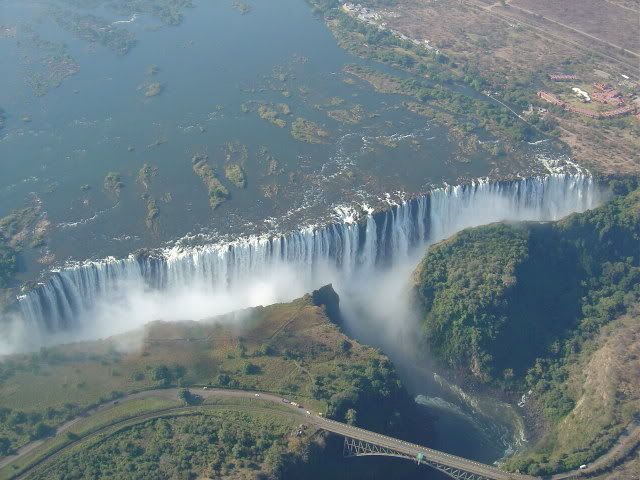 Victoria falls seen from the air.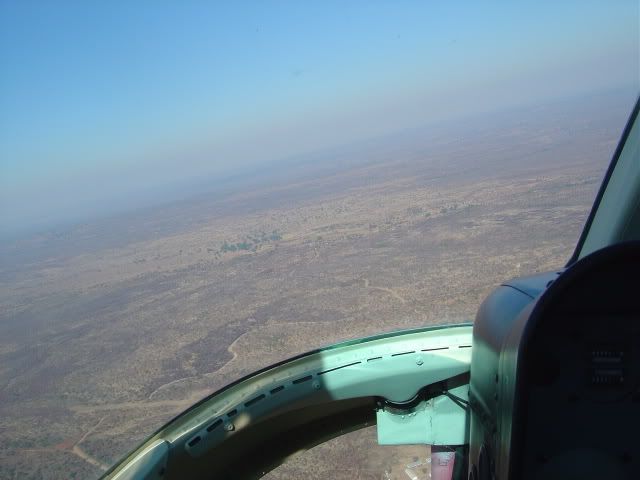 Flying over vast stretches of game reserves in Zambia.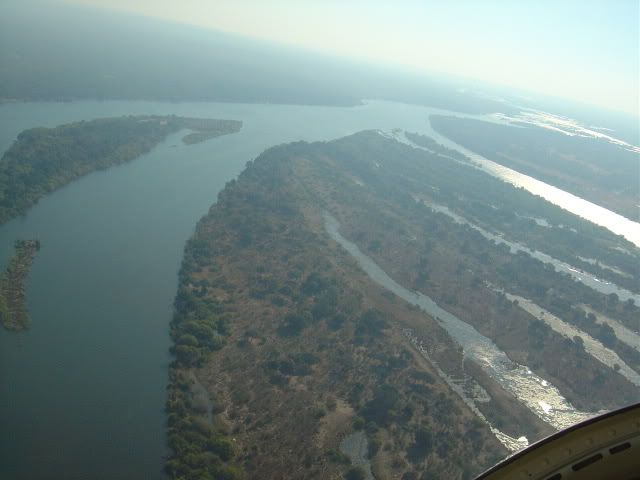 Flying over the mighty Zambezi river.
BUQ – JNB 9 July 2006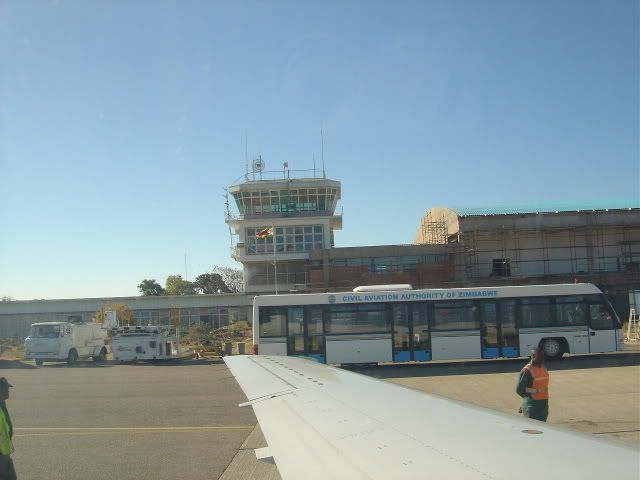 Left BUQ on the 9th of July back to JNB on board another SA Airlink ERJ 135, ZS-OTM. I managed to sneak a quick picture of the ATC tower in BUQ..along with the partly renovated terminal building. Sorry about the poor quality..but I had to take this picture real quick from inside the aircraft…my mom was very worried that I might be arrested for this!
Took off at 15:40, 5 minutes ahead of schedule!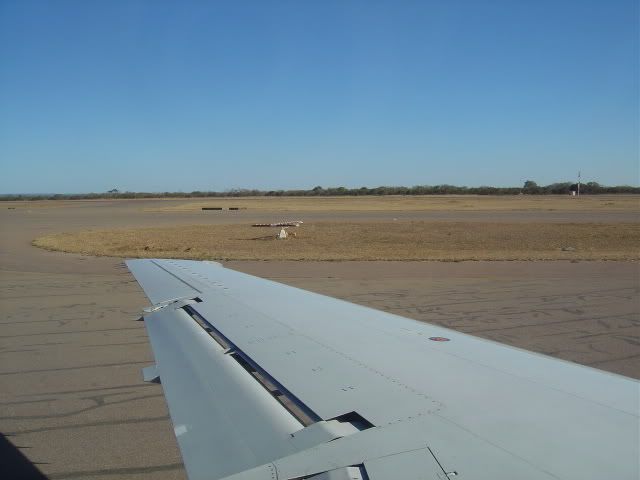 Empty BUQ taxiways.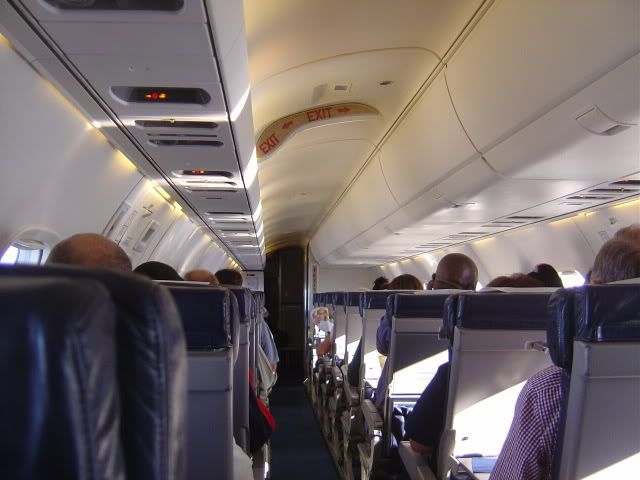 Just after lunch on ZS-OTM flying at FL370.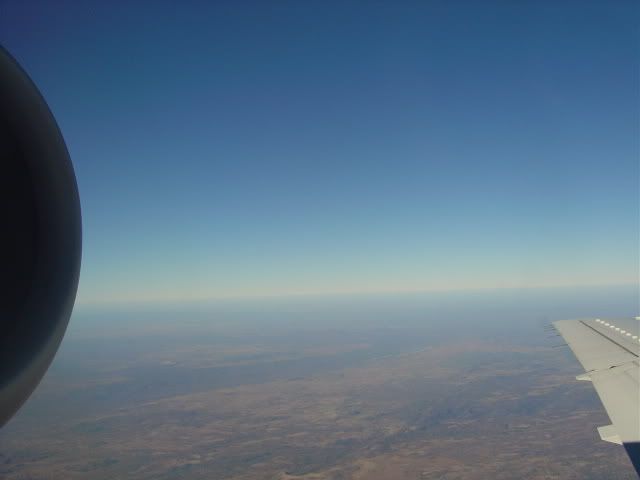 Flying over the Zimbabwe-South Africa border.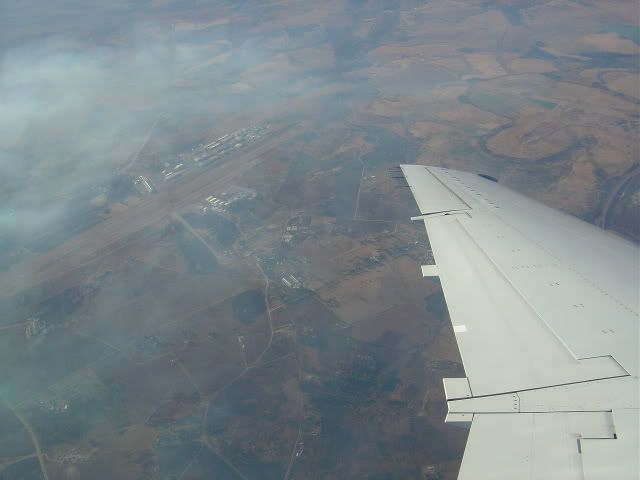 Flying over Lanseria Airport in Johnannesburg approaching JNB.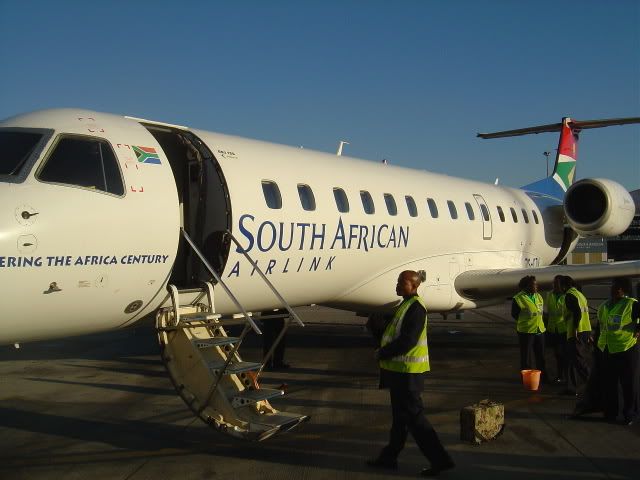 Back in JNB! Photo of ZS-OTM taken just after we disembarked.
Arrived in JNB at 16:30 after a short flight. Passed through customs and immigration and made our way to the domestic terminal to fly to Durban (DUR) later on in the day.
JNB – DUR 9 July 2006
Left JNB on board a SAA A319 (didn't get the rego..sorry!) at 19:05.
Inside our A319 on the way to DUR.
This was the first time I had flown on the 319 and I was surprised to see that that aircraft was amazingly quiet and was also pretty big! It was an awesome flight, which lasted 1 hour, and we landed in DUR at 20:10. Collected our baggage and reached home by 21:00 and just went to sleep.
DUR- JNB 14th July 2006
Left DUR at 12:40 in the afternoon on board SAA B734 ZS-SJC.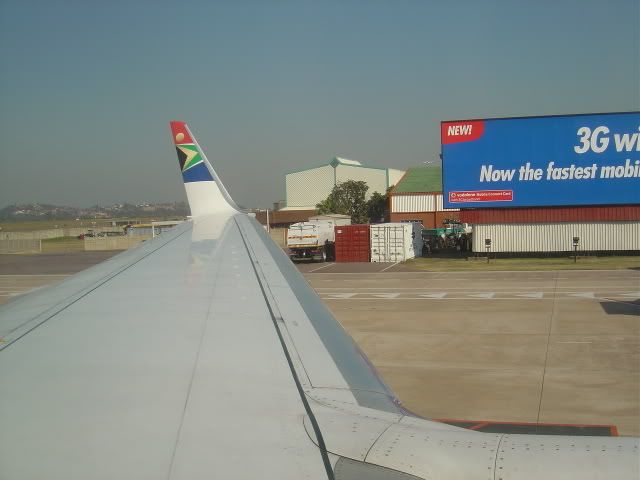 The colorful wingtip of ZS-SJC taken from my seat in DUR.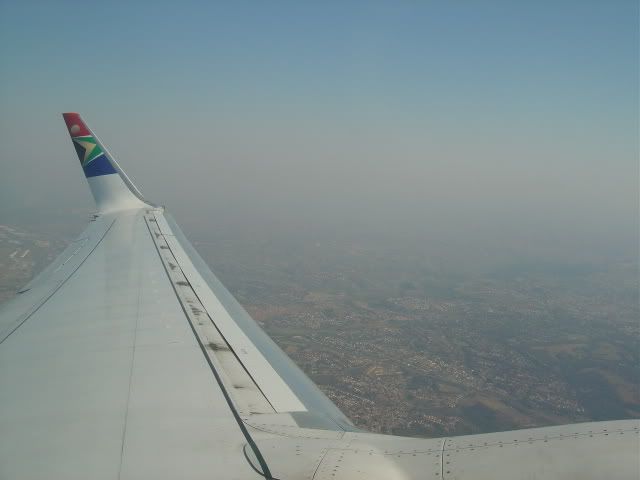 Taking off over DUR, then turning right to JNB.
Arrived in JNB at 13:50, made our way straight to the international terminal to catch our flight back to PER.
JNB – PER – 14th July 2006
Left JNB on board SAA A342 ZS-SLE at 17:20. I did not take any pictures here because it was already getting dark, and I didn't have my camera with me..it was in my bag in the overhead bin.
The good news here was that the entertainment system was working, so we were shown 2 episodes of Futurama, one episode of the Simpsons and the new Superman Movie (which I had already seen). So..I just went to sleep on those uncomfortably narrow Airbus seats…and surprisingly I did sleep like crazy. In fact I missed dinner and tea, and woke up 40 minutes before we landed in PER.
We landed in PER at 07:45 and taxied in right next to the Malaysia BBJ still standing there with its cockpit and engines covered up.
Disembarked at 8:00, cleared customs and immigration and made our way to the domestic airport at 9:30.
PER –ADL – 15th July 2006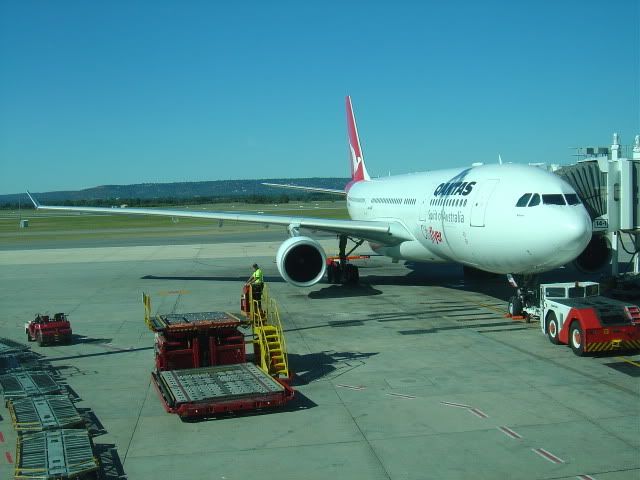 A QF A330 just before it left for BNE.
Left PER at 13:10 on board the QF B734 VH-VJT.
This flight was a total disaster. Take off was at 13:55, because there was some problem with the cargo door. That was finally fixed and we were on our way – or so we thought. 10 minutes into the climb, the pilot reported that the landing gears were not retracting and that we had to land. No emergency landing was announced though, and we landed 15 minutes later – the time now 14:25.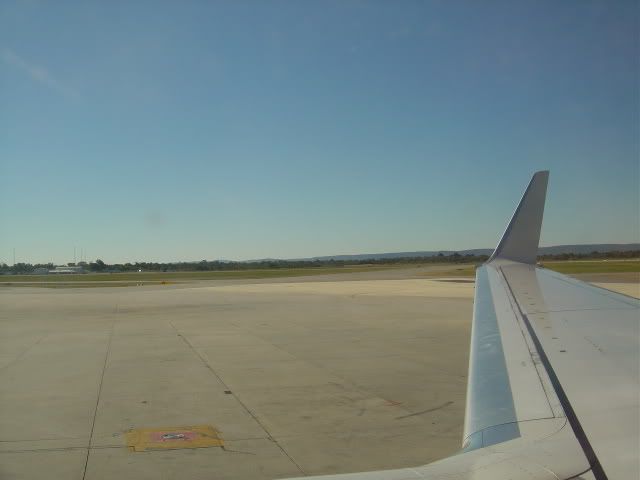 Sitting in our aircraft while the landing gears were sorted out.
We were asked to remain on board the aircraft. Finally left at 14:45 bound for ADL. The flight was uneventful, and we finally got back home to ADL at 19:00 local time, a full 1h and 10 minutes behind schedule. I was thankful just to get home having survived Africa and the scary flight from PER to ADL on board VJT!!!
There ends an eventful trip back home. I slept for 3 days straight before I wrote this…so please excuse any spelling mistakes as I am still a bit groggy!
Hope you enjoyed my first trip report on a-net!
Rgds,
Springbok747