Greetings,
As this is my first trip report, I have put as much effort as I could to make it as 'presentable' as possible. However, I am not a professional photographer, nor am I an expert at recording videos, so the quality of the media presented within this report comes no where near the professionalism of the infamous a.net photographers. Nevertheless the pictures as well as the videos can at least give you a 'feel' of my wonderful trip.
As I am an aviation freak like most of us here, I have included many random pictures of pretty much anything I felt like taking pictures of. In addition, I have included random videos like a safety video, and even an announcement calling for one passenger to make his/her self known to the cabin crew, amongst others. Finally, the departure and landing videos weren't so clear (mainly just lights flashing and engine noise etc), because the ones I took, occurred at night, and since I was sitting in aisle seats, I either had to film them through the IFE camera (A346), or shoot for the window by the seat next to mine (777). Nevertheless, they are all presented here!
Finally, I welcome all comments, good or bad, and in fact I would greatly appreciate them, as I can learn more this way. I hope you like it as much as I did though
....
And now .. The trip report:
I just graduated from Embry-Riddle Aeronautical University with an MBA in Aviation degree, and so this was a one-way trip back home to Abu Dhabi. While I am of Jordanian origins, I was born and raised in the UAE, and so, I came back here to look for work.
Normally one would use a little more common sense than I did, and perhaps fly the cheaper non-stop EK flight to Dubai, but there wasn't much of a difference in the price I was offered ($100 more), and not only would I experience the infamous Cathay (CX) service, but also the A340-600. Besides, I have flown EK's JFK flight many times, and so, why not opt for something different? Sure enough, the price was certainly not cheap, but it was well worth the experience.
My trip originated from Orlando, and I flew Delta to JFK in order to connect to my CX flight. My journey started on August 20th, 2006, but I decided to spend the night before at the Hyatt that's located inside MCO because my flight the next day left at 7AM, I had an extra suitcase (a 3rd one) with me, and I wanted to give as much time as possible for security, in case it was required.
August 19th, 2006:
I checked into the Hyatt hotel at 9:30am, in order to get enough sleep and rest before the long journey that awaited me.
A picture of my lovely room (all pictures are clickable thumbnails):
View from my room; A picture of the landside main hall at MCO (my favorite US airport):
While I was there, I thought id spot some planes:
The first VS 744 daily arrival into MCO (notice the BA 777 tail):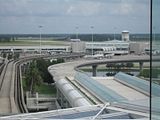 A Delta 757 (ex-Song obviously):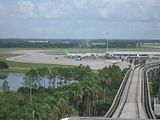 Fierce rivals meet! Delta and Southwest: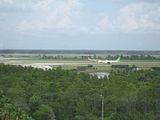 The "Southwest-Effect" ?
The daily Virgin invasion (a third 744 was yet to arrive, but I didn't catch it):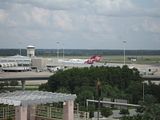 To me, the VS's and the one BA are the ultimate highlight of MCO.
By that time, it was 24 hours prior to my CX departure time and hence, I was able to check-in online, and so I went down to the lobby, and used the concierge computer to check-in for both my SA)">DL and CX flights.
SA)">DL online check-in printout: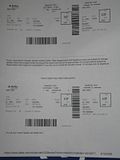 CX online check-in printout: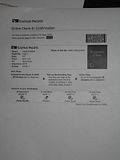 The CX online check-in system, grants you access to a dedicated check-in counter, where you can skip the long line, drop your baggage, and collect your boarding pass(es). It did help, as there was already a line piling up for check-in well before the counters opened at JFK, so I was able to skip that line.
Anyways, after I had checked in online, it was time to retire for the rest of the day. While it was way too early for me to sleep, a couple of Tylenol PM's helped me sleep from 5pm till 11pm. I couldn't sleep any longer than that, as I normally can't sleep the night before flying, whether it is excitement or otherwise.
August 20th, 2006:
I had checked out of the hotel at around 3:45am and by the time I reached the Delta check-in counters it was about 3:55am. The counters usually open at 4am.
I was aware that Delta has a baggage handling agreement with Cathay (as most carriers do), but I assumed that since I had an extra suitcase with me, that I would not be able to check my luggage all the way through to Dubai since I may have needed to pay both airlines for the extra suitcase separately. But I was wrong
Anyways, I waited in a short line until the Delta ground staff opened the counters at about 4:05am. When it was my turn, I informed the Delta agent that I was flying to JFK and I had an extra suitcase. She asked me if JFK was my final destination, and I said no, I have onward connections to HKG and DXB on a separate CX ticket. Nevertheless, she checked my luggage all the way through to Dubai, and I paid for the extra suitcase at MCO. All I had to do was present the receipt to CX at JFK. WONDERFUL Delta agent! Considering that at the time I only knew one of my Cathay flight numbers (831), she managed to check my luggage all the way through to Dubai (I only knew the time my HKG-DXB flight departed, everything else was on my laptop).
My official boarding pass to JFK: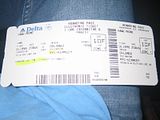 After check-in I had my last cigarette before I proceeded through security (which was a breeze) and to Gate 78.
Flight Information:
SA)">DL 1890
Routing: MCO - JFK
Scheduled Departure Time: 7:00am
Actual Departure Time: 7:10am
Scheduled Arrival Time: 9:30am
Actual Arrival Time: 9:30am (approx)
Equipment: B757
Registration: N614DL
Some pictures while I waited for my flight:
The 757 that took me to JFK:
The empty terminal building at that time:
Gate information:
Boarding began at around 6:30am and I boarded when they called my zone number. The flight was your typical Orlando seasonal flight, about 90-100% load. The doors closed at around 6:55am, pushback was around 7:00am, and departure at 7:10. I slept throughout the whole flight.
Nevertheless, I managed to squeeze in some pictures:
View from my window: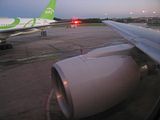 My emergency exit 'view' :
And some pictures while on final approach, and while we taxied to the gate at JFK:
Final approach and touchdown at JFK: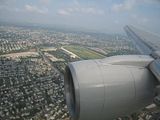 Some spotting while we taxied to the gate:
EK really is everywhere! (EK 203/204 morning rotation, LY, and North American):
SA's A340-300 (or 200 .. not sure) morning flight:
An SV 744! I rarely see this one at JFK, although I've been here many times..lucky day indeed! :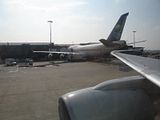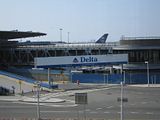 By then I had deplaned and had about 6 hours till my connecting flight departure time. I had intentionally planned for this long transit time in consideration for any required security screening and to re-check my luggage. But since I didn't need to handle my luggage again, I had some time to waste until the CX check-in counters opened at 11:45am.
JFK's AirTrain that took me to Terminal 7: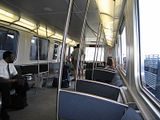 Terminal 7: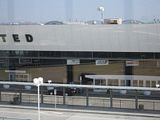 Terminal 7, mainly the BA terminal, handles a number of other airlines including Iberia, Cathay, United, ANA, and Icelandair (and some others too). Since airlines at JFK are not handled according to their respective alliances in terms of the terminals they operate out of, I think that CX would be better off using Terminal 4, just like Singapore. I also found it strange that while Terminal 7 also handles United, ANA is handled by BA and not United. I wonder why … lower cost? Or maybe even United is also handled by BA as well? I didn't pay much attention. All in all, I always thought that a little airline alliance consolidation could be done at the terminals.
ANA Check-in counter (full flight to Tokyo today, it seems):
As I wasted some time, by running back and forth between smoking outside and sitting down at one of the tables in the arrivals hall downstairs, it was eventually time to go back upstairs and wait for Cathay's counters to open up.
It was about 11:40 when I got there, and there already was a line forming for check-in. I stood in line and by 11:45 the BA staff who handles CX's check-in opened up the counters. I 'waved' my online check-in paper to the agent by counter 7 (dedicated counter), and was told to come through. Check-in was quick, but the agents were very dry! .. they did their job, and I did get both boarding passes, but they didn't really care much I suppose. Although there were two representatives with CX uniforms 'managing' the process, the BA staff didn't seem too impressive. While Swissport's services at JFK isn't so much better, I think I prefer them more than BA (once again, I am not exactly sure how things operate at JFK, apart from BA being at T7 and Swissport outsourced by EK at T4).
Nevertheless, I was all done and checked in by 11:50am and then I proceeded to security. Once again, it wasn't anything major, and so I had even more time to spare!
My Boarding Pass JFK-HKG:
I have read other trip reports about this particular flight having a short turnaround time at JFK, and it was all quite evident to me. The 'allocated' time block for this rotation was for CX 830 to arrive from HKG at 2:00pm and for CX 831 to depart JFK at 3:45pm. 1 hr and 45 minutes to turn an Airbus A340-600 around just seems way too odd, especially for such a long flight. The flight actually arrived at 1:40pm, still leaving too little time for proper turnaround. Even EK's short morning rotation (EK 203/204) is 3 hours long (if not more) and for a significantly smaller aircraft (A345).
Since I had time to kill, I thought I would wait around until the aircraft arrived and snap some shots of it (and monitor its strange turnaround time that really baffled me). Luckily from where I was sitting, the runway facing me was the one in use (sorry, do not know what it was).
Some spotting while I waited:
A BA 744 Arriving from LHR (UA soon to SFO as well):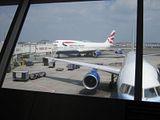 ANA 777-300ER Departing to Tokyo: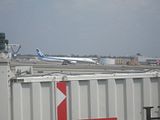 BA Ground staff about to prepare the 744 for its return trip back to LHR: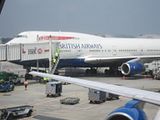 An Aer Lingus A330 arriving from Ireland:
I waited and waited .. and as the FIDS said that the flight was to arrive at 1:30pm, it didn't .. so I stopped spotting anything else, and left my camera on and ready for it …
And FINALLY .. here he comes! CX 830 Arrives from HKG at 1:40pm. Some shots of the A346 arriving, taxiing, and parked at the gate: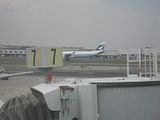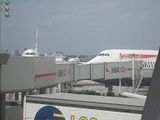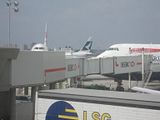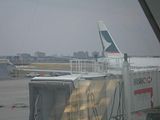 By that time I had proceeded to Gate 4 (our departure gate), and found the Wonderful Cathay crew arriving one by one. Perhaps up to a total ranging from 12-15 (I lost count somewhere). Each and every one of the CX ladies were BEAUTIFUL, and if any weren't so good looking per se, then their elegance more than made up for it. Furthermore, their uniform was extremely stylish and ranged from your old-fashioned retro look to your ultra-modern/elegant look. I then came to realize from their Discovery magazine that in celebration of Cathay's 60'th anniversary, the cabin crew are to 'present' nine different uniforms from the past six decades on their flights, up until 30 September 2006. I think CX should 'market' their product through their 'Cathay Girls' like the SQ's Singapore Girl concept. I really found it to be their 'best kept secret' in a way.
Some shots of the crew (sorry, not so clear):
By 2:15pm the crew had all met by the gate, by 2:20pm the flight crew were let in, and finally by 2:40pm the cabin crew boarded the plane. Still, it was way too short of a time to prepare this aircraft. It seemed like they 'treated' this rotation like as if it had made an intermediate stop and was to continue to a final destination, i.e. Nothing more than a quick sweep and brush, some fuel, and its back up flying again. Unfortunately, that was the case.
Flight Information:
CX 831
Routing: JFK - HKG
Scheduled Departure Time: 3:45pm
Actual Departure Time: 3:50pm (pushback)
Scheduled Arrival Time: 8:05pm
Actual Arrival Time: 7:45pm (approx)
Equipment: Airbus A340-600
Registration: B-HQB
Gate information:
(Please excuse the blurry pictures, I opted not to use flash as much as possible throughout my journey so as not to attract any attention while taking pictures)
A pre-boarding announcement was made at around 3:05pm, where they also allowed passengers who needed assistance to board (disabled and pax w/ children etc). Formal boarding commenced at around 3:15pm according to row number.
Since I was sitting in the very last row (I wanted to experience the length of this bird, and have more privacy snapping pictures), I was part of the first group to enplane. As I boarded through door 2L, I was greeted by the once again, BEAUTIFUL cabin crew and was asked to proceed to my seat.
As I passed through the second portion of the business class cabin and to my economy seat, I noticed (just like in previous reports) that the crew was extremely rushed. An immense amount of activity was going on while the passengers were boarding. The crew were practically running back and forth between constantly arranging (and re-arranging) things in the galleys, serving business class passengers their pre-departure drinks, and constantly coming out of the galleys every so often to welcome everyone with a WARM: "welcome on board sir/madam" (and NEVER without a smile).
In comparison to EK's boarding, usually everything is prepared by the time passengers enplane, and all they really do is welcome everyone. However, on this flight, the crew were just extremely rushed, sometimes they even seemed like they did not know where many things were. But nevertheless, everything seemed to sort out in the end.
Furthermore, the interior of the aircraft was, just as I had expected, not too clean, and most definitely had a 'used and abused' feel to it. After my HKG-DXB flight, I then came to realize that this flight was certainly not as clean as per Cathay's standards, and more importantly, the aircraft interior was completely worn out. Signs of wear and tear were extremely evident. My seat pocket in front of me was loose (and tore up in a way) hence, taking up some space, the footrest kept falling off its lock position constantly, and some parts of the seat covers on the seat in front of me (by the tray table) kept falling off. I was beginning to think that perhaps (and this is just an inaccurate assumption) that as the A346 was not as 'efficient' as airlines like it to be, Cathay may be utilizing it, to its maximum to keep it's operations profitable (maybe?).
As I got situated, and placed my carry-ons in the overhead bins, I hopped to the galley and found a gorgeous 'emily' who was extremely busy preparing for departure. As soon as she saw me she left everything behind and approached me, and I had mentioned that this is my first time flying Cathay Pacific and I was wondering if this flight was an overnight flight. I really did not know, as I have never flown in that direction before. So she said that it will be a daytime flight up until arrival into HKG (a day later). I was just baffled!
How interesting it was to fly for 15 hours and 24 minutes in daytime and arrive at night a day later
Some pictures during the boarding/pre-departure process: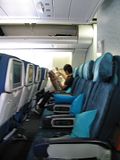 The menu's were then handed out to as much passengers as they could before departure, and the rest were handed out after take-off (they really were just too busy in the galley):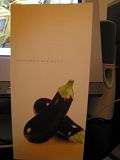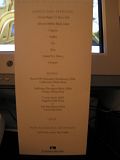 Menu Description:
Economy Class Menu
New York - Hong Kong
Lunch
Shrimp Salad with Cocktail Sauce
Sweet and Sour Pork with Pineapple Steamed Rice
or
Braised Beef with Vegetable and Mashed Potatoes
or
Cavatappi with Cacciatore Sauce
Baked Marble Cheesecake
Tea and Coffee
Refreshment
Fresh Fruit Salad
Fruit Yoghurt
Omelette with Parsley and Turkey Bacon
or
Shredded Pork and Mushroom Congee
Blueberry Muffin
Tea and Coffee
Snack
Snacks are available through the flight
Wine and Beverage Selection:
Spirits and Aperitifs
Chivas Regal 12 years old
Johnnie Walker Black Label
Cognac
Vodka
Gin
Rum
Sweet/Dry Sherry
Campari
Wines
Round Hill Vineyards Chardonnay 2004 Californian White Wine
Valdivieso Sauvignon Blanc 2004 Chilean White Wine
7 Lunas Syrah 2005 Argentina Red Wine
Paul Mas Merlot 2004 French Red Wine
Beer
Non-Alcoholic Beverages
Soft Drinks, Juices, Tea/Coffee
Amenity Kits and Headsets were then handed out (normally, they are supposed to be in the seat-pocket in front of you by the time you are at your seat):
*DING*;The fasten seatbelt sign went on: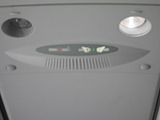 Safety Video:
Push back was at around 3:50pm, and since it was apparently a busy time at JFK, we were in a rather long line for take-off hence, by 4:25pm we were up in the air. As I inaccurately counted, it took approximately 45 seconds to get off the ground and roll.
Shortly after take-off the captain signaled a sign for the cabin crew to get up and start the in-flight-service.
They handed out moist towelettes (apparently they were also supposed to be included in your meal tray, but I guess there wasn't enough time at catering maybe?):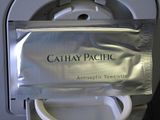 The Lavatory (excuse my legs n feet):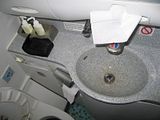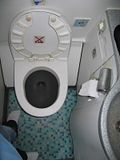 By the time I got out of the lavatory and back to my seat, the drink service had already passed me and was half-way through the cabin. However, as soon as she saw me sit in my seat, she rolled the trolley back towards me and asked for my drink, as she placed a napkin and a pack of peanuts on my tray table. I was extremely impressed since normally EK would never acknowledge your presence at all, if not give you a "sorry sir I am busy right now, after I'm done I'll come back to you". Even the lady sitting next to me was impressed with this gesture.
Beverage Service (b4 she came to me):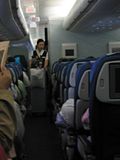 My tomato juice: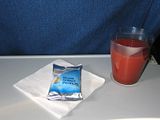 A short while afterwards, they collected the empty cups, and after quite a long time, the meal service began. I chose the Braised Beef with Vegetable and Mashed potatoes. Since I like ALL airline food, I loved this, but I also found it to be even tastier than EK's business class food.
Meal Service and My meal pictures: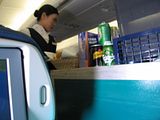 By the time the meal service was completed, and trays collected, we were already about 3 hours into the flight. I am not sure if this is the normal timing for their lunch service, or if they were still in attempts to sort things out in the galley. It did take too long compared to a much quicker service on the HKG-DXB flight (and on EK).
Shortly afterwards, I wanted a bloody mary. Since I am used to EK's service, their version of a bloody mary is just pure tomato juice and vodka, so I assumed this was the case here since this is economy.
So I pressed the attendant call button, and within less than five seconds someone was by my seat asking for my request (IMPRESSIVE!). Up until then, I was beginning to think that attendant call buttons are a thing of the past!
I asked for a tomato juice and vodka, or a bloody mary if they have one. He proceeded to ask me "would you like tomato juice with vodka? or do you want a bloody mary?" .. I said "well a bloody mary please"
Minutes later .. my REAL bloody mary arrived, and it was really good too:
Shortly afterwards the cabin lights were dimmed and everyone prepared for rest, including myself. However, before I retired for a few hours, I snuck into the galley for two quick shots.
One was of the snack basket that was available throughout the flight and consisted of cookies, chocolates, and such, and one was of the galley:
I then tried to sleep, and managed to get some sleep however, I constantly sleep and wake up in quick rotations when im flying, but I managed to get the best of it.
One thing to note is, all throughout the flight and up until the refreshment service was served a few hours before arrival, the cabin crew continued to pass around with juices and water and with sandwiches...non-stop! They really never stopped! Furthermore, the moment anyone pressed the attendant call button, they were responded to within seconds!
At one point when I was in the galley area stretching out, someone had pressed the call button, and within moments of hearing the sound, three cabin crew rushed out to see where it was coming from, while one decided to take the request and proceed. Totally amazing.
Hours into the flight (I lost count) I was offered the best snack ever, and I suppose, something quite common amongst Asian carriers, yet totally impressive to me: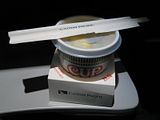 Hmm! I wonder who copied who (hint: ICE):
While I did not make use of the IFE, I played around with StudioCX, and found it to be quite impressive. While not an AVOD system, and not as good as EK's ICE system, it was nevertheless impressive and did contain a variety of selections. However, nothing beats the games that MH offers (from my experience).
After waking up for the last time it was already time for the refreshment service as we were close to arrival into HKG. I chose the Omelette with Turkey Bacon. It was quite good, and even more so, the Muffin was HOT! which I really loved!
Some pics: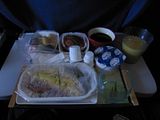 I found it strange that while we arrived into HKG during the evening, the refreshment service was really a breakfast. But as it was somewhat around breakfast time in NY, it did somewhat 'energize' me all the way through till my connecting flight. So I guess it was useful in way.
Shortly after the service, the cabin crew began to prepare for arrival. As I was waiting in line to use the lavatory, 'emily' (whom I had mentioned to that it was my first CX flight, approximately 15 hours ago) came up to me and asked me "Excuse me sir? What did you think of our service on your first Cathay Pacific flight" ... and I replied by saying "amazing" ... how very nice of her to remember.
So perhaps since I gave a positive feedback, I was asked to fill out a comment form, and did so, and handed it back to her. Later on, I had asked for a picture of her and she said "Let's wait until my colleague gets back, she is very beautiful" lol ...
And eventually .. I snapped a picture of them: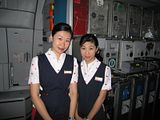 Shortly afterwards, we began our descent into HKG, as it suddenly started to darken outside. The headsets were collected in a bag that looked like it was Burberry .. I asked 'emily' if this was really Bureberry, and she laughed and said "no it's not, if it was I would have taken it" lol
I was also given a writing pad set as a souvenir and as a "thank you for flying CX" gesture .. very nice: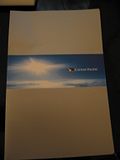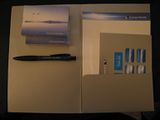 Descent began at around 7:15pm (HKG time), the fasten seatbelt sign went on at 7:25pm, landing gear was out and ready by 7:40pm, and touchdown was at 7:45pm (all are rough estimates).
Landing video and announcement (not too clear, but nevertheless, here it is):
All in all, I wasn't not impressed with Cathay's A346 aircraft at all, as it was evident that they over-utilize it. Considering that they only have three aircraft that they use for JFK, LHR, and SYD (I think, this is as per what I have seen on a.net), it is evident that these aircraft and constantly flying, with very little time on the ground.
In addition, while the lavatories were constantly cleaned by the cabin crew on a frequent basis, the aircraft wasn't too clean from the start, and really showed signs of over-usage.
However, the Class-A in-flight service on this flight was extremely impressive, and did not come close to ANY airline I have flown in the past. So overall, I was VERY impressed, and even more so, really looking forward to my next flight (HKG-DXB).
August 21st, 2006:
Upon arrival into HKG, I deplaned and headed straight towards finding somewhere to take a quick shower. Considering that they have banned liquids and gels on carry-ons in the USA, I had no deodorant, or toothpaste etc .. i.e. I NEEDED shower. I found the Traveler's Lounge and took a shower there, had a quick bite to eat, and charged my digi-cam battery.
I did not get to experience HKG as I really should have, mainly because I did not know much of where to go. The airport however seemed MASSIVE .. and seemed like it was a huge enclosure, and within that enclosure, all lounges, shops etc, were of a cubicle-like structure contained within this 'large hall'. So overall it gave out a very spaced-out ambience which I really liked. However, the pics I have taken of the Terminal area following, do not come close to describing the feel of it.
Some pics of HKG, and spotting:
Terminal Pics and transfer desks (once again EK IS everywhere!):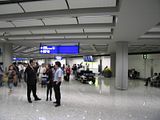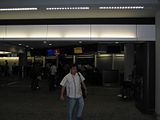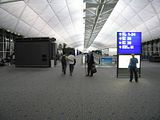 A CX A343 getting ready to go to AMS (i think):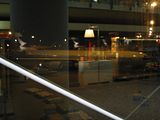 An Orient Thai 743!!!! I thought i'd only see this on a.net! BRILLIANT! :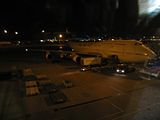 LH A343 getting ready to head to FRA: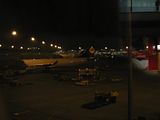 CX A330 to Brisbane and AF 772 to CDG, both on final call: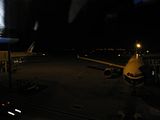 Due to my lack of proper research prior to arriving at HKG, i was a bit overwhelmed with the airport. At one point i just stood right in the middle of the terminal not knowing where to go (directions were pretty clear, but i just didn't know where to go to spot and experience etc). There were many things around, but i just did not know where to start. Furthermore, a lot of shops were closed as well, in addition, the terminal looked empty. Although i was not sure if the terminal was really empty, or its huge size just made it look that way. I even completely forgot that there is a people mover that can take you accross the terminal .. so i wasnt able to get into it, or spot it. Sorry!
By that time, it was 11:00pm, so i thought i would head out to my gate, as my departure time was 11:55pm. I stopped by a smoker's lounge on the way for a last cigarette.
Flight Information:
CX 745
Routing: HKG - DXB
Scheduled Departure Time: 11:55pm
Actual Departure Time: 12:00am+1 (pushback)
Scheduled Arrival Time: 3:55+1
Actual Arrival Time: 3:30+1 (approx)
Equipment: B777-200
Registration: B-HNL
My boarding pass HKG-DXB (issued at JFK):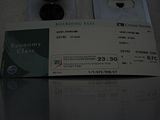 Gate Information: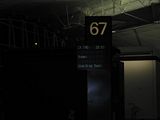 As i arrived at Gate 67, it was aproximately 11:17pm and apparently, i was right on time. The moment i arrived, a bunch of passengers suddenly appeared in the empty-looking terminal, got up and rushed towards the gate trying to form one line for boarding. I was expecting boarding to commence according to row numbers, or even let passengers requiring assitance to board first, but that was not the case.
That was probably the only thing i did not like about CX. It could have been an isolated case, as it happens many times with airlines. I just thought that since this was CX's home base, everything would be in order. Furthermore, the ground staff handling the boarding process had a rather 'commanding' tone of voice when address everyone. Don't get me wrong, there were rude per se, but they were rather bossy.
The flight was 100% full in both C and Y (no F) and apparently so, everyone (besides myself) was flilipino. I felt like the odd one out
After we piled up in line in fron of the gate like cattle, a one-time boarding annoucement was made at 11:30pm. After which, we were let inside the aircraft.
It was my first time on a B777-200! I have been on a B777-200ER many times (BA, MH, EK) but for a plain ole' 777-200, it was another first for me
Once again, i was greeted by another BEAUTIFUL set of crew on board. "welcome on board sir, please proceed this way" and once again, with a truly WARM smile.
My first impression was that this aircraft was EXTREMELY clean .. absolutely SPOTLESS! .. while it IS an old aircraft i suppose, it shows no signs of wear or tear .. it was just fresh!
Furthermore, the cabin crew were all calm and collective, and were all out there welcoming everyone. Everytime i passed by one id get a charming "welcome on board sir" with a smile (sooo good!). Unlike the A346, there was no loud action going on in the galley, and everything seemed all set and in place.
I proceeded to my seat (67C), the row on the plane. Now this seat was very comfortable, there was no third seat and hence, i had more space. The IFE screens were smaller on this aircraft, there were no personal telephones on each seat (only wall-mounted phones available), and no footrests. However, i really do not like footrests in economy, as they tend to take up some space, and in fact i personally believe that they are just a 'marketing' scheme. They are just so uncomfortable to me, as id rather enjoy some extra leg space.
Furthermore, while the IFE screens were smaller, they were still good, and i dont really use the telephone in-flight so that didnt bother me. All in all, this aircraft had a MUCH better ambience to it and was far more clean and comfortable than their A346.
As passengers continued to board, i started 'snooping' around my seat area to see whats available. I found an amenity kit and a headset already placed in the seatpocket in front of me.
Now, i have read past trip reports on Cathay Pacific, and almost every one of them mentions a 'personal' copy of Discovery, their inflight magazine. I was not sure what exactly they meant by that since every airline has a 'personal' copy of their inflight magazines for everyone. On the A346, there was one available and it was your regular used-and-abused, bent, and tore up, copy that one would normally find, and until this flight, i thought nothing of it. I then realized what CX's version of a 'personal' magazine really was. It was actually sealed in a plastic bag ready just for you. I thought that was a great touch! .. while a simple thing, it is one far beyond an industry's standard!
Passengers enplaning: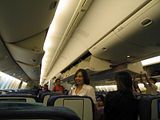 Shortly afterwards the menus were handed out, and to everyone this time. It was a very nice menu indeed. It was a 60th anniversary version: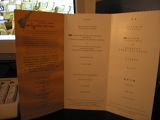 On the front cover:
60th Anniversary (1946-2006)
Best Chinese Food in the Air
Superior Chinese Cuisine
Description inside:
The best chinese restaurants have moved to 30,000 feet
The best way to enjoy good Chinese cuisine is with friends. So we are especially pleased to offer our passengers the best of Hong Kong cuisine.
To celebrate our 60th Anniversary, Cathay Pacific is serving popular and signature dishes from some of Hong Kong's finest Chinese restaurants throughout 2006. We will be offering a variety of dishes and highlighting the restaurants that created them - and to tempt the palates of our frequent travellers, we will be changing our menus frequently.
So sit back, choose your favorite dishes, raise your chopsticks and enjoy. The best Chinese restaurants on the ground are now in the air - only on Cathay Pacific
Featured Restaurants in 2006
Celestial Court Chinese Restaurant, Sheraton Hong Kong Hotel & Towers
Jade Garden Chinese Restaurant
Lei Garden Restaurant
One Harbour Grand, Grand Hyatt Hong Kong
Peking Garden Restaurant
T'ang Court, Langham Hotel Hong Kong
Yung Kee Restaurant
Hong Kong - Dubai
Supper
Mesculin Salad with Shrimps, with Seasame Soy Dressing
Pan-fried Fillet of Chicken with Onion Sauce, Steamed Rice, and Chinese Long Cabbage with Dried Bean Curd Slices (Grand Hyatt Hotel)
or
Fried Fish Fillet with Pesto and Tomato Sauce, Boiled Potato Wedges, and Green Beans and Roasted Pumpkin with Herbs
Chestnut Cream Cake
Tea and Coffee
Continental Breakfast
Seasonal Fruit Cocktail
Fruit Yoghurt
Selected Pastries
Spirits and Apertifs
Chivas Regal 12 Years Old
Johnnie Walker Black Label
Cognac
Vodka
Gin
Rum
Sweet/Dry/Sherry
Campari
Wines
Domaine La Colombette Chardonnay 2005
Michel Servin VDP Du Jardin De La France Chardonnay 2004 French White Wine
Paul Mas Merlot 2004 French White Wine
Beer
Non-Alcoholic Beverages
Soft drinks, Juices, Tea/Coffee
An announcement calling for one passenger to make himself known to the cabin crew (it just sounded so nice i thought i'd include it):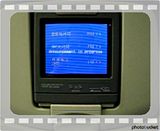 *DING* Fasten seatbelt sign went on: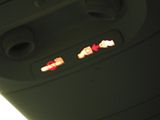 Departure preparations (and my 'personal' copy of Discovery):