This is only my second trip report ever so I'm not a pro at these...
Equipment: Gulfstream IV-SP
Tail Number: 999GP
Route: SMO-LAS-SMO
Date: 9/4/06
Cruising Altitude: 21000
Total Flight Time: 1 hr. 24 minutes (42 each way)
I was sitting at my apartment last Monday with a few people watching the Miami-Florida State game when I got a call from the airport. There was a
G-IV leaving from Santa Monica going to Vegas and then coming right back and I was welcome to go.
I've been hitching rides on private jets for the past year but had yet to ride a Gulfstream so I jumped at the chance. I literally had to jump up and go because the pilots and my friend, who was already there and riding with me, told me that I needed to be there in 5 minutes or they would have to leave without me.
I grabbed my camera bag and sped off to SMO. Made it in about 4.5 minutes and as I screached to a halt in the parking lot they threw open the gate and I ran down the ramp and got on the plane just as the door closed.
Within 2 minutes were were taxiing down to the end of runway 21 at SMO.
The take off was very powerful (it better be, the runway is only 4987 ft. and there are very strict noise restrictions on departure) We headed out over the Pacific and remained pretty low. The power was pulled way back for the first 5 minutes or so but we then made a turn to the east pushed the throttles forward and began to climb to our cruise altitude of 21000 feet. Visibility was pretty nice that afternoon as you can see.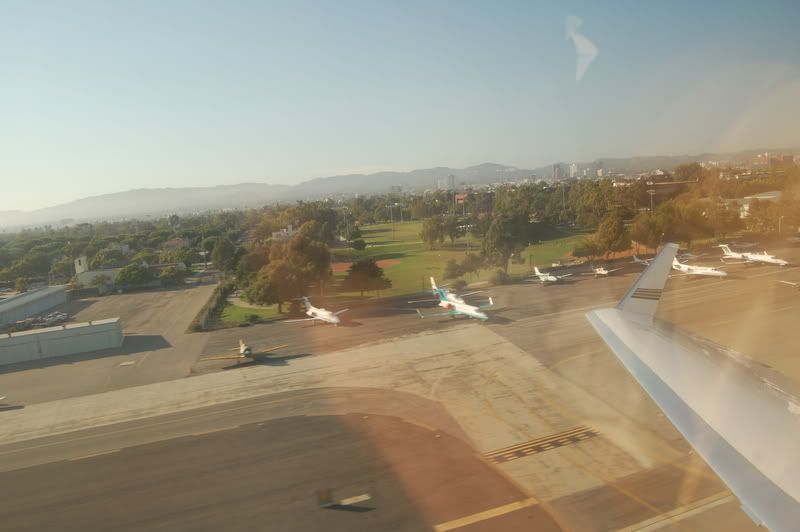 I bounced around the cabin a bit; had a drink, read a magazine, etc.
Then the pilots asked if I would like to sit jumpseat for landing in Vegas. Well I declin- No just kidding- of course I said YES! We landed on runway 19R and used the whole thing up. I learned the G-IV will really float if you let it.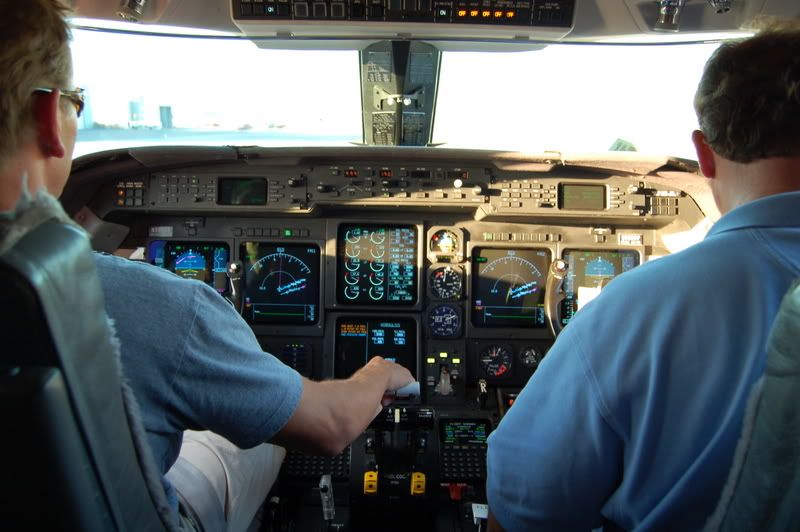 We taxied into Quayle, picked up the bag we were getting and were back on our way. While we waited to takeoff the pilots let us know that we were going to do a high performance takeoff with maybe some zero g time. It was unreal. The plane accelarated like a bat out of hell and after we lifted off stayed extremely low and then all at once they pulled that yoke back and we were headed straight up. Here is a shot right after lift off and then as we start our steep ascent.
As they pushed the plane over my arms raised over my head and my butt came out of the seat while my camera bag started to float away from me. It was so cool.
I spent the rest of the flight walking around talking to the pilots and just enjoying the experience. We landed back at SMO at around 7:40 p.m. and used every last inch of that runway, coming to a stop on the numbers. It was such a short stop that a few glases from the galley came crashing to the ground and they yelled back "what did you break?" in jest. I yelled back "nothing, I swear. I'm still in my seat!" Well we parked on the "G-IV spot" at Supermarine and I was home 10 minutes later watching the end of the football game.
Not a bad way to spend a Monday evening.
[Edited 2006-09-12 08:38:35]