So here's my first trip report with photos and videos. Firstly, not many photos and secondly I apologise for some of the not great quality of my videos (taken with my digital camera). I editted a nice video on Windows Movie Maker, but couldn't upload it, so I'll just upload all the separate videos at the end of this report.
As Aer Lingus have dropped their Dublin-Toulouse-Dublin servic for the winter, I had two options cheap and direct flight options:
1. Ryanair from Carcassonne just 45 minutes from where I live.
2. Aer Lingus from Bordeaux, about 2 hours from here by car.
And as a loyal Aer Lingus customer, I decided to drive to BOD. Got the flights for about €29 each way plus tax coming to a total of around €100.
My morning didn't work out as I had planned. I ended up working until 3am on a project and while I had wanted to leave Toulouse around 10.30am to give myself ample time, due to work, didn't leave until a bit after noon.
Anyway, got to BOD in ample time, giving me time to get some lunch and buy some goodies as gifts in the Duty Free shop at BOD.
BOD, while a much quiter airport than my local TLS, is much bigger and seems more modern inside. It's actually quite nice. And all this despite the fact that Toulouse Airport won Best European Airport in 2006 for the category of 5 to 10 million pax per annum airports.
Aer Lingus. BORDEAUX-DUBLIN
November 23rd 2006.
Flight: EI 505
From: Bordeaux Mérignac (BOD)
To: Dublin (DUB)
Date: November 32rd 2006
Schedulued Departure: 15:55
Off-stand: 15:40
Actual Departure time: 15:45
Scheduled Arrival: 16:45
Actual Arrival time: 16:20
Equipment: Airbus A320 EI-DEA "Fiedelime"
Class: Economy (Y)
Seat: 06F
Boarding time was 15:10... I hate when they do that as the flight's scheduled arrival time at BOD was 15:15. Anyway, I saw the beautiful green bird approach the finger at about 15:05.
The load seemed light, as I counted only 35 people in the boarding area + 1 EI crew member in uniform who was obviously non-reving back to DUB.
Here are a couple of photos I took from the cafeteria shortly after our green bird came on stand after arrival from DUB for a very quick turn-around today: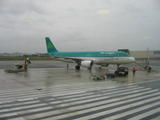 Boarding commenced around 15:20.
We had 4 female f/a's today including one foreign f/a (I have recently noticed a lot of foreign f/a's on EI, I suppose a sign of the times and great economy of modern Ireland). A very pleasant cabin crew, as usual on Aer Lingus, greeted us all with a big friendly smile. All announements were made in English and French (no recordings today). As usual on EI, our pilot welcomed us on board, then gave us an update mid-flight. I noticed no mention was made on either flight of the One World Alliance, finally showing clear signs of EI's departure from the group in 2007.
As the loads were low, I had a whole row to myself on both flights.
Photo from window just as push-back commenced: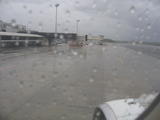 As I had eaten at the airport, I just ordered a coffee and a copy of the Irish Independent.
Our flying time was 1 hour 35 minutes.
Both the climb out of BOD and approach into DUB were very bumpy, but apart from that the flight passed quickly and pleasantly.
Before I noticed the time pass, we started our initial desecnt into DUB which was quite short and we flew level for a good while over the choppy waters of the Irish Sea. this was followed by a rather steep descent, then a very nice but very bumby approach into Dublin.
We landed 20 minutes ahead of schedule. DUB was quiet enough. Had to wait a while for luggage though, even after the long walk from Area A where we parked.
Here is my first video of certain parts of the flight. Apologies for poor quality or any sudden shots of the seat in front of me but I'm still a bit shy about being seen taking videos in flight!
Aer Lingus. DUBLIN - BORDEAUX
November 28th 2006.
Flight: EI 504
From: Dublin (DUB)
To: Bordeaux Mérignac (BOD)
Date: November 38th 2006
Schedulued Departure: 12:30
Off-stand: 12:30
Actual Departure time: 12:42
Scheduled Arrival: 15:15
Actual Arrival time: 15:12
Equipment: Airbus A320 EI-DEJ "St. Kilian"
Class: Economy (Y)
Seat: 03F
Photo of my aircraft today courtesy of a.net photos:
View Large
View Medium


Photo © Torben Guse
Got to DUB with quite a bit of time, had used the new online check in facility the nigt before and secured myself a seat in row 3 (I like sitting as near the front as possible). WIth so much time to spare, I headed for the Gold Circle (Aer Lingus FF programme) lounge, and did some work there.
Headed down to Area A, gate A14 for our 12:05 boarding. Boarding commenced around 15:10. Loads were slightly better today, but still only about 50% at the very most.
Walked out to our Aer Lingus A320. As usual welcomed aboard. Service was much the same as previous flight.
No French speaking f/a's today, so had the recorded French announcements.
Our flying time was 1 hour 40 minutes. Boarding was quickly completed, and for the first time in a long way we just taxied straight out to the runway and took off without having to await the usual lines of planes waiting to depart and arriving aircraft. We were airborne on schedule, and landed at BOD about 5 minutes early.
As I had had a large Irish breakfast at DUB airport hotel, and cheese and crackers at the EI lounge, I forced down a chicken & stuffing sandwich and a Coke.
Photo taken from seat as all 4 f/a's had a rest and chat after finishing food and sky-shopping service:
Photo taken in-flight from window as we reached the French coast, somewhere around Brittany I think:
Flight passed uneventfully, except for some very strange and very loud noise from the galley when the f/a's were clearing up, no idea what it was, everyone went quiet and was looking up front, but despite the hassle and confused looks, the f/a's kept smiling and laughing which reassured everyone.
Arrival at BOD was fairly smoothe. 15 minutes after arrival I had gone through passport control, collected baggage and was already outside the terminal.
All in all, Aer Lingus offers a perfectly satisfactory service on its European flights. Yes we have to pay for food (their Full Irish breakfasts at €8 are great), but their fares are excellent (often cheaper than FR on comepeting routes into DUB anyway). Cabin crews are always very friendly, and in my experience (I fly EI more or less at least once a month), they manage to keep their schedules despite the very high utilisation of their fleet.
Thanks Aer Lingus for yet another very pleasant flight.
Here is my video of the return trip:
So if I had to rate Aer Lingus for both these flights I would rate it as follows (more or less in line with all my experience with EI):
Graded out of 10, 1 being poorest and 10 best:
Price: 9/10
Ground staff at BOD: 10/10
Ground staff at DUB: 9/10
Flight attendents service: 10/10 (as usualy with EI, very friendly and
efficient)
Punctuality: 10/10
Food service: 10/10 for quality even if it has to be paid for
Cleanliness of cabin: 10/10
Communication from f/a's and cockpit: 10/10
F/A's appearance: 10/10 (must say there were a few very pretty
ones on both flights).
Comfort: 9/10 (now I'm short, so some of you taller ones
may find the leg-room a bit tight)
Would I fly EI again: OF COURSE!
Hope you enjoyed!
[Edited 2006-12-01 13:26:32]