This is a continuation of
My Transpacific Adventure, Part One
which described my UA flights on IAD-SFO-NGO
After four wonderful days in Nagoya, Osaka, and Kyoto Japan we were ready to escape the super-technological, conformist, (yet extremely interesting) culture of Japan to that of a more laid-back Thailand, of which we have only read. On the 24th of June we made our way though the ancient capital of Kyoto on bicycle. Here is my last dinner in Japan: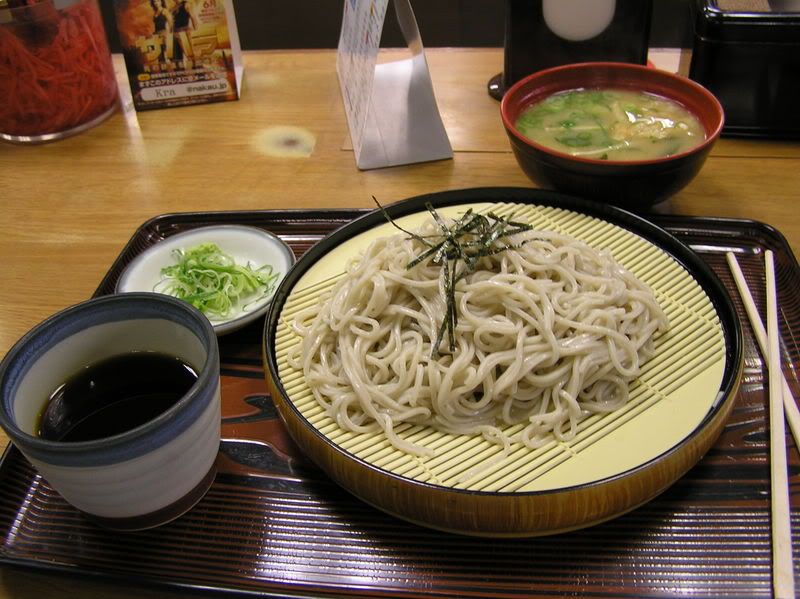 Eventually we made our way to Kyoto's grand train station which is a HUGE shopping mall/park/train station all together. The thing was so huge, I couldn't believe it! Most of what I saw in Japan so far in terms of buildings, cities, and malls were much larger than we are used to in America!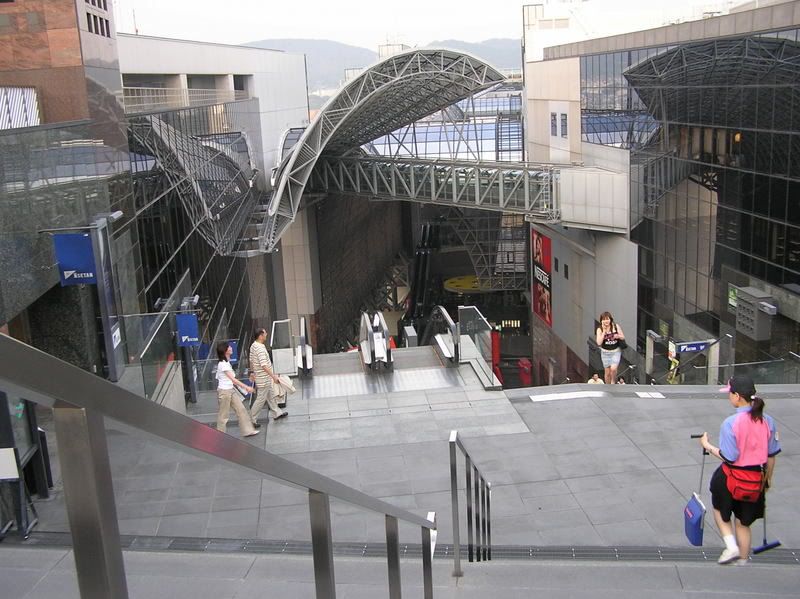 After a beautiful yet smoggy sunset over Kyoto...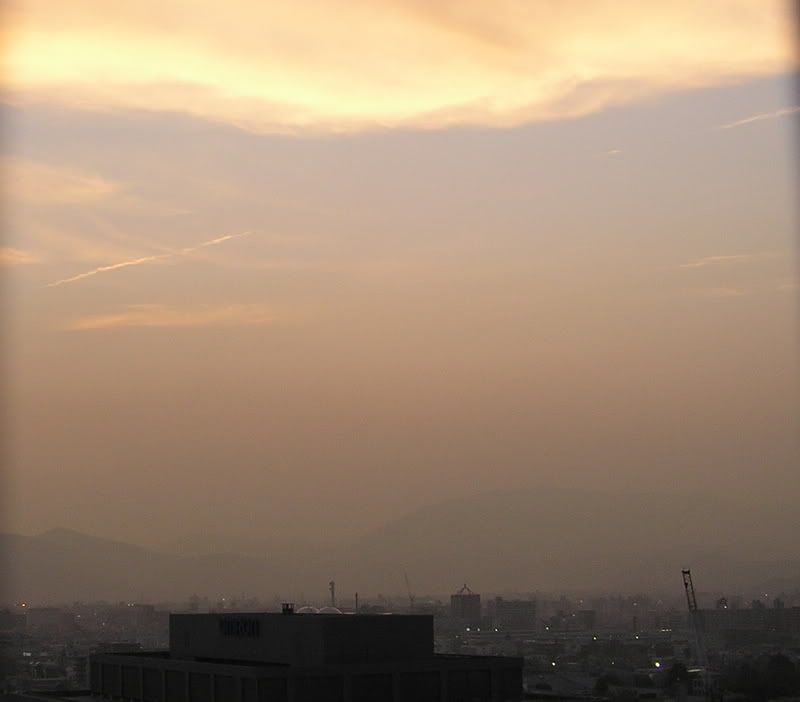 we headed out to Osaka Kansai (KIX) to catch our 01:25 flight to Phuket. We arrived at KIX at around 9:30, with four hours to spare! So we took showers and surfed the internet on KiX's free wireless system while we waited for TG's counters to open. After being charged for a fuel surcharge, we were checked in and given seats since there were only about eighty people booked on this "MIdnight 'Plane to Phuket", a massive A300-600.
TG673
Osaka Kansai - Phuket
Dep: 0125
Arr: 0555
2967 miles
HS-TAM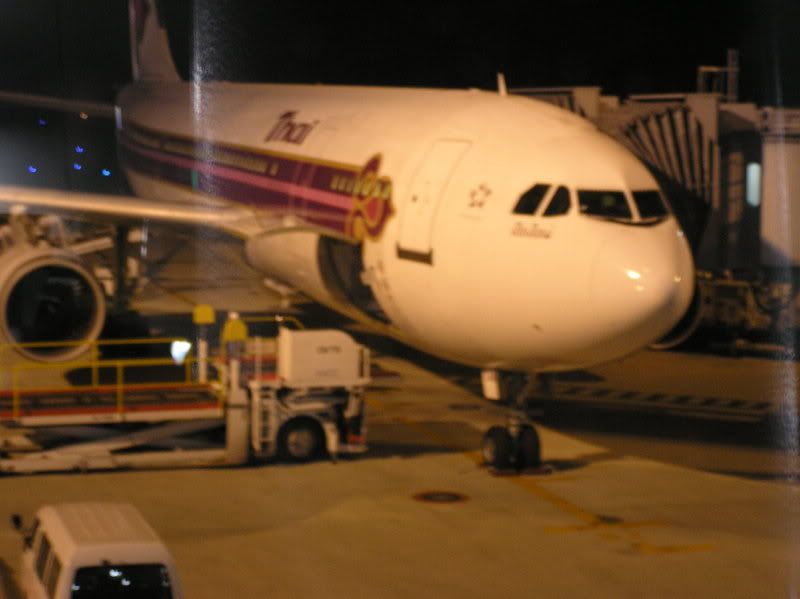 Boarding for the flight began at about 1:00 am and was completed very soon thereafter. I was very thrilled to experience an Asian carrier's service for the very first time, as I was used to UA service levels. We claimed our seats in the rear of the first economy cabin just behind the wing. Since the flight was so lightly loaded, we were able to spread out a bit and I claimed a row of two next to a window.
The cabin after takeoff...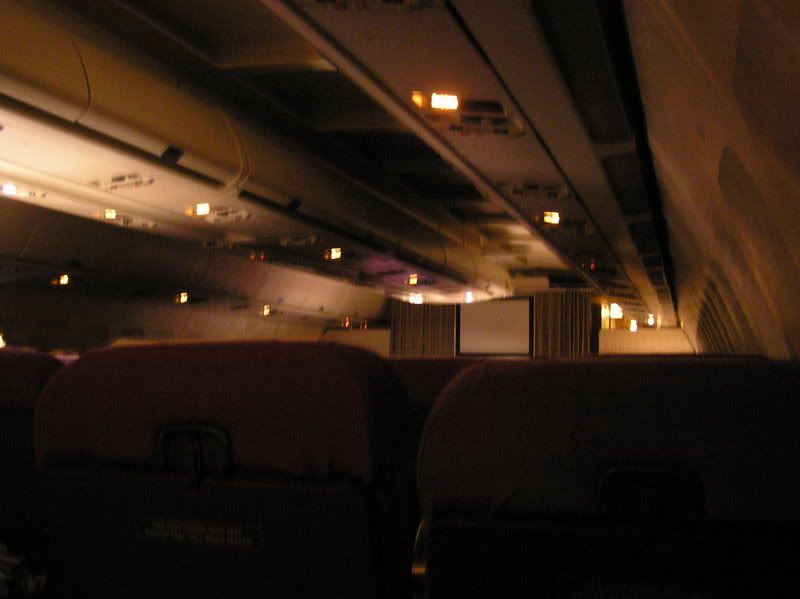 Soon after takeoff from Osaka's unique island airport, the flight attendants came around passing out various sandwitches and Japanese rice balls as a light midnight snack. The cabin lights were off for the entire night portion, until the breakfast service. I tried to force a small nap, but my efforts were futile and I ended up just nodding off a few times to sleep. After about four hours, the flight attendants came through with a full breakfast service. What really surprised me was the speed at which they distributed the choices of omlette with potatoes or baked fish. I'm not really much of a fish person, so I took an omlette and opted for some tea in the cute little glass with the Thai logo on it. The breakfast came with various fruit, a very scarce item in Japan and must have been the most expensive part of this breakfast. Breakfast was on a large tray that took up the entire tray table and included a choice of breakfast breads. The extremely gracious crew took very good care of us and came countless times with tea, coffee, and bread extras.
The cabin was not particularly beautiful, but there was no trash to be seen and the sidewalls had strange shaded murals of flowers, very 70's! However, the gracious flight crew more than made up for the antiquated interrior.
Soon we were descending into Phuket, still in darkness as the 6.00 hour was approaching. In darkness we pulled into the gate and deboarded; all the women were given orchids on their way out. Customs was a breeze and as a German citizen, we did not have to pay any fee for arrival, although the Americans in our group did. I found an amusing sign right before entry into the immigration control- "no hippies allowed in Thailand." So then what if you are a hippie? Do you tell the nice customs people that, and they ship you out? It was quite funny and we all had a few forced early morning laughs over it. Soon enough we were outside the terminal in the fresh humid morning air being surrounded by a sea of taxi drivers making offers. We bargained a little in the limited Thai skills of one of our group members and found a taxi for Eight Dollars A Day! Could this be a reality for us in the next week?
During our lovely week in Phuket at the JW Marriot resort south of the Airport, we relaxed and had a fantastic time. The resort was without exception the best I've ever experienced.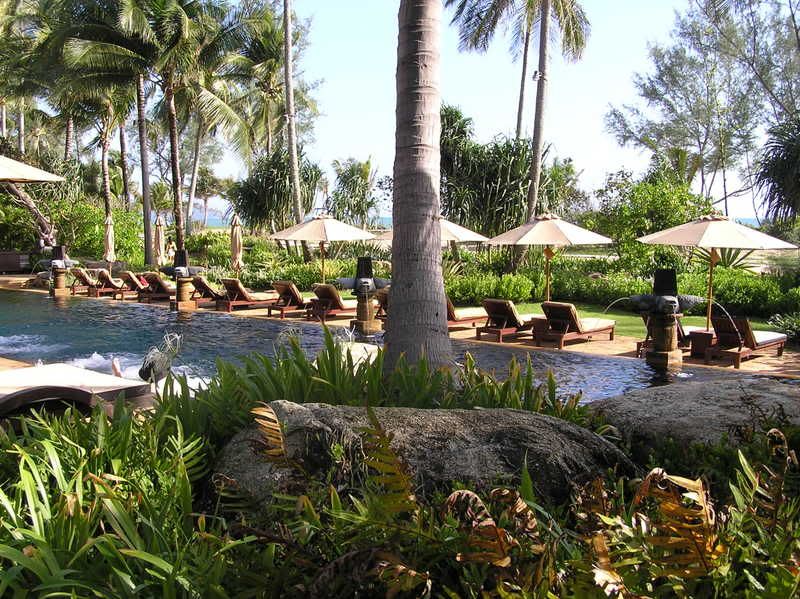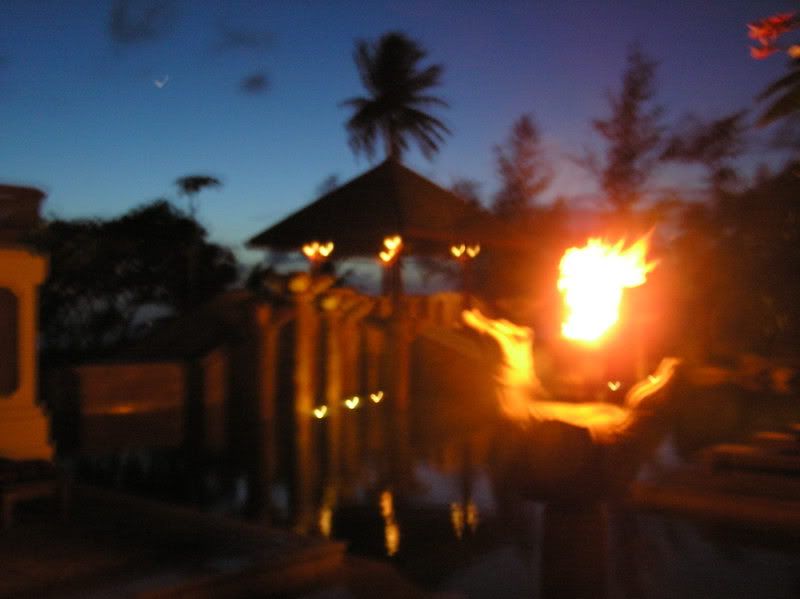 We also hired a taxi-van for the entire day for fifteen dollars! On one day we toured Patong Beach and the shops around there where everything was "cheap, cheap, same, same!" and all the sales peoples were "my friend!" It felt awkward being so, well, worshipped, almost just because we're Western tourists. The market was astonishing with so many different kinds of unique produce and (yuck!) dried fish...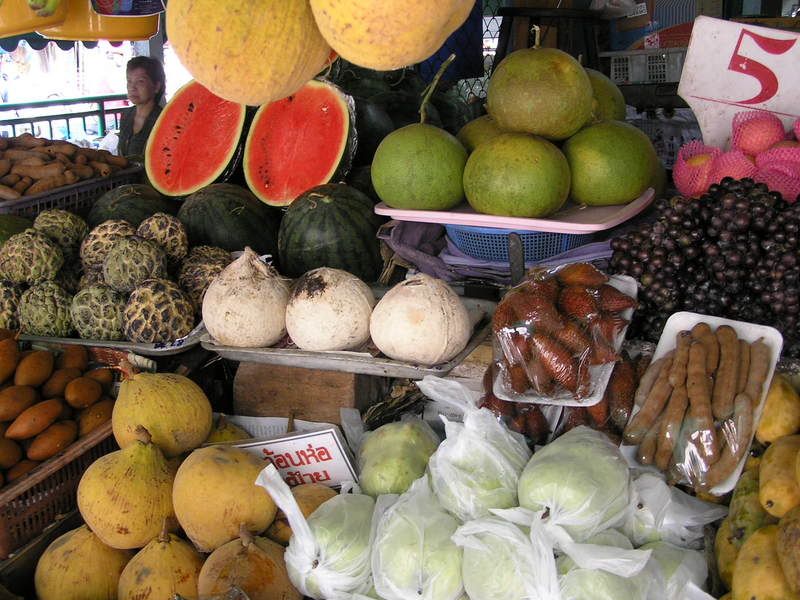 I simply loved the beach and watching the sun set over the Andaman Sea and looking over the light blue ocean in the direction of India!
After a week there, it was time to tour Bangkok, so we were to head out on TG222, the 10.10 747-300 to Bangkok. We took another (!cheap!) taxi out to HKT airport and checked in with Thai there. Up to now, Thai was very friendly to us, considering we were NRSAs, but the agents at HKT were very abrupt and short with us. Maybe it was because of the overbookings that day, which caused us to actually catch the 11.20 flight instead. Anyway, the show definately went on!
TG204
Phuket - Bangkok
Dep: 11.20
Arr: 12.45
430 miles
There is really very little to report about this flight other than it was my first shorthaul flight within Asia and the level of service was simply outstanding! On a block-to-block flight time of 1.25 there was a boxed green curry wrap lunch served with a full beverage service and plenty of time to spare. This simply does not occur anymore in the US or Europe much, for that matter. The only good picture I got in this flight was of the map, since we were in the middle block of four on this A300, a 100% full flight.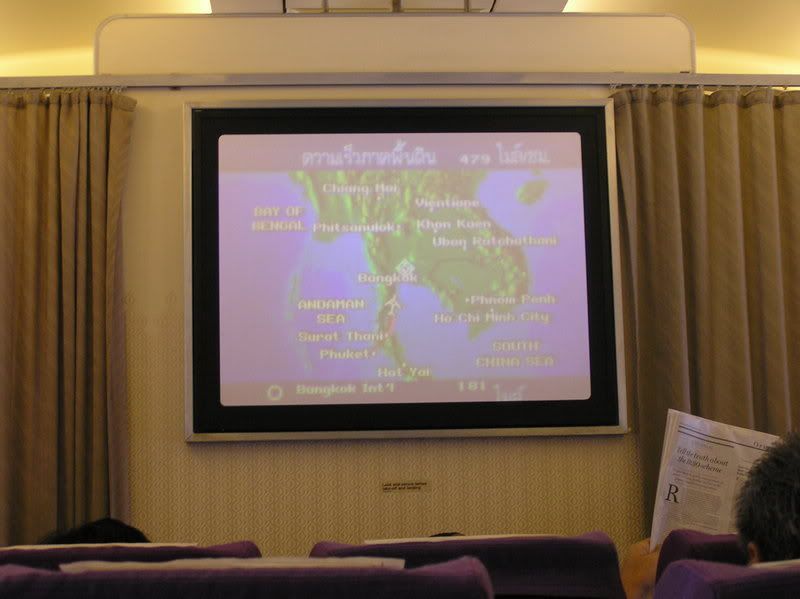 Arriving in Bangkok in the early afternoon, we had the rest of the day to explore from our "hotel" near to Siam Square. Bangkok was so surreal to my eyes since it is a laborynth of streets, elevated subways, and elevated, twisting walkways in the midst of high-rise malls and hotels. It was really amazing! More to follow!