This is the continuation of Part 1 of my Trip Report.
The Part 1 Trip Report can be found here.
Istanbul Winter 2006 With MH (Photos) Part 1
(by
9MMAR
Dec 19 2006 in Trip Reports)
For those who haven't read the first part, I would suggest to read it through as this trip report is a direct continuation from where I left off in the earlier report.
Here we go...
* * * * *
Shopping
Istanbul is definitely the place where one can shop till one drop.
During my stay, I managed to go shopping at various places and felt its various moods.
Istiklal Avenue is a must go for shoppers. The avenue is Istanbul's answer to Paris' Champs de Elyssee.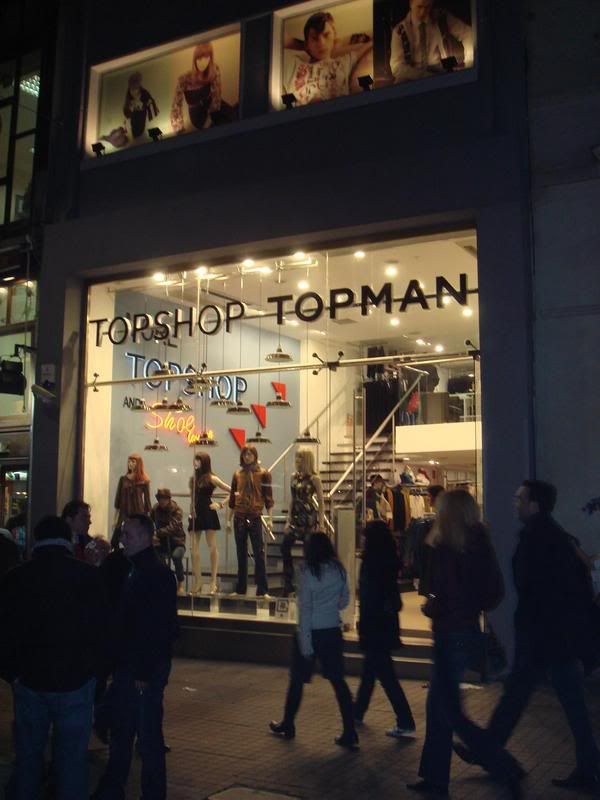 There's always a huge crowd at the avenue be it day or night time.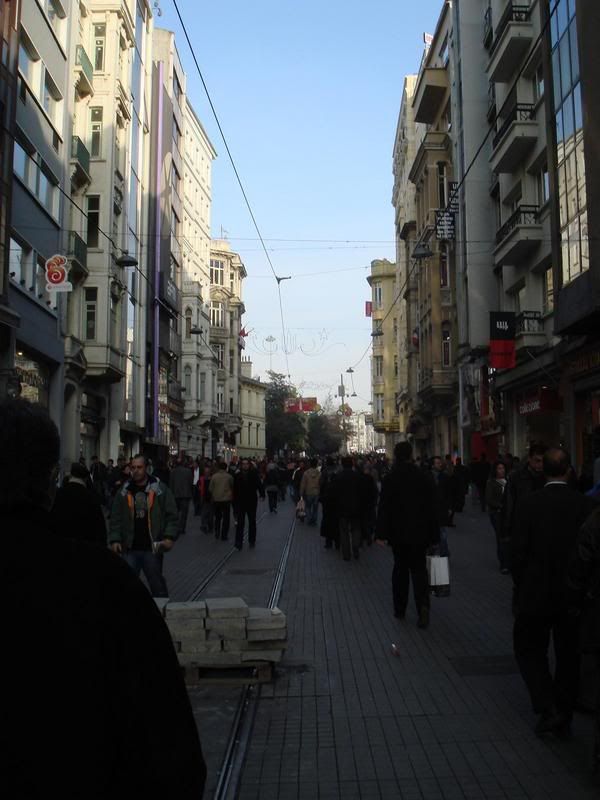 A lot of items can be found here. Most of them sell apparels. We can also found a lot of reataurants, bars and cinemas along the avenue.
For a more unique shopping experience and for more specilized item, I went to the old bazaar at Sultanahmet.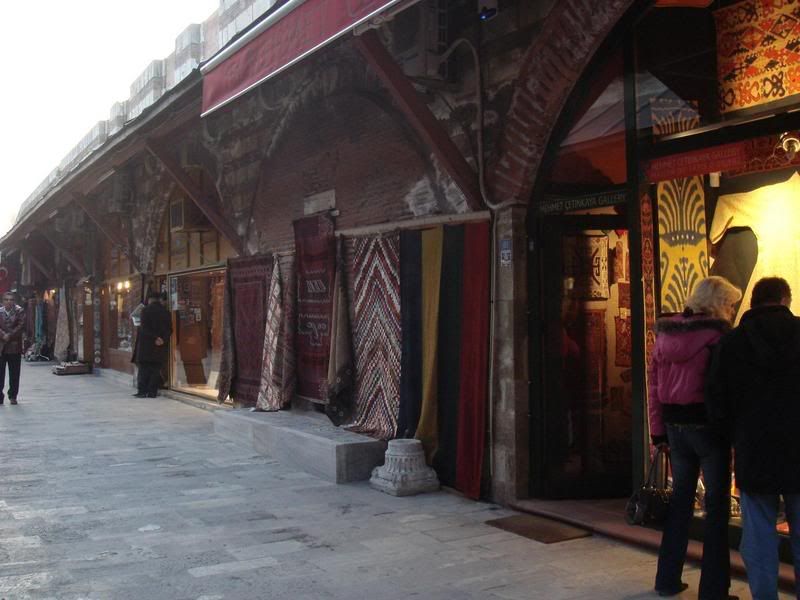 Here, we can get great souvenirs like the Turkish carpets, porcelains, the bluish jewellery stones and also silverwares.
Make sure to bargain and compare prices of a same item whenever you are shopping in a bazaar. The seller usually marked up their goods more than 100% from the minimum selling price that he/she is willing to give you eventually.
For a more modern and exclusive shopping experience, I went to a grand new mall in Levent, the business district of Istanbul. The mall is called Kanyon. I think it got its name from its architecture which depicted the grand canyon.
Kanyon's exterior,
and even more stunning interior.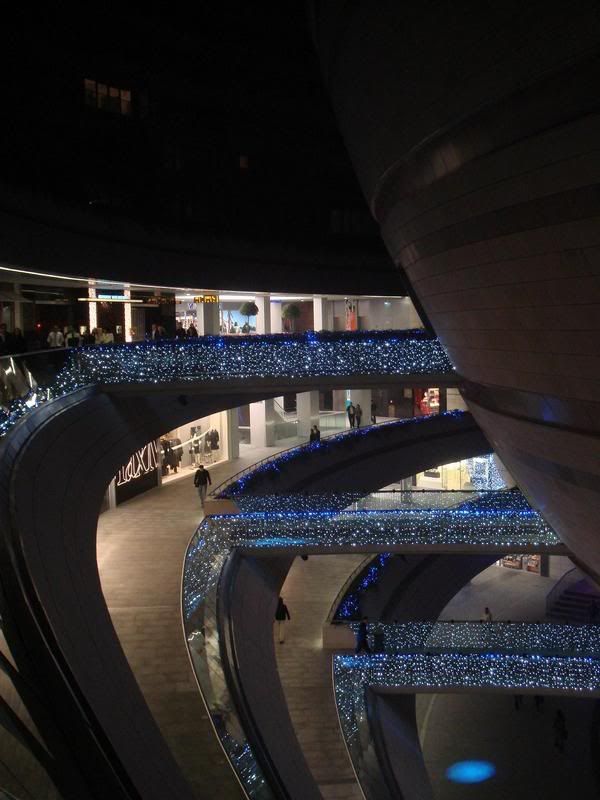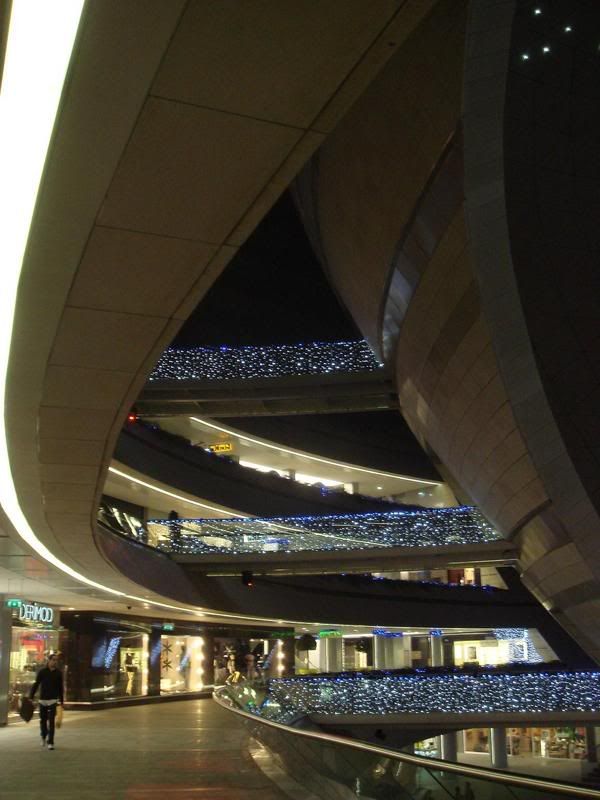 Kanyon housed world's renowned brand like Zegna, Bally and GAB. There is also a modern cinema right in the middle of the building. Upscale expensive restaurants were also can be found here, it was located on the top floor of the mall.
Then, the bustling and dizzying (in a good way) shopping in the Grand Bazaar, a
COMPULSORY
for every visitor to Istanbul.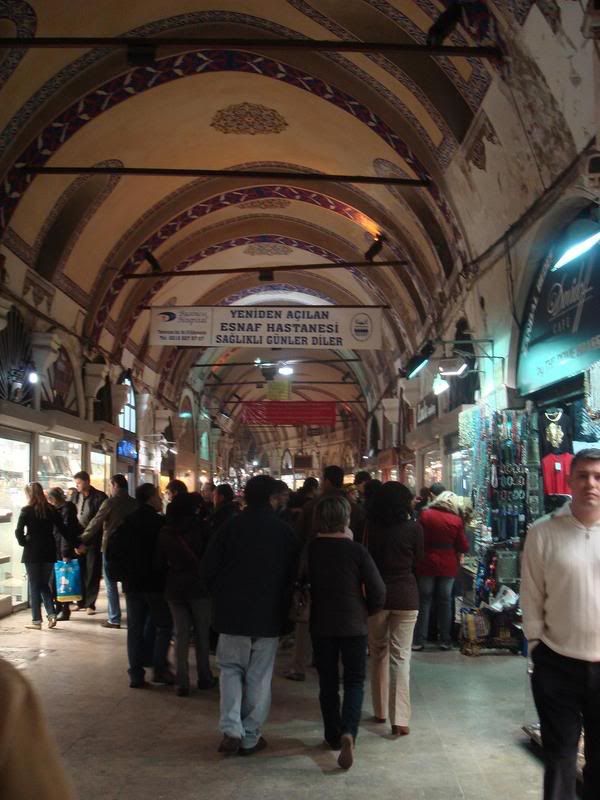 Must See Venues
There is a few places where a visitor must visit and see as they are the pride and soul of Istanbul.
Taksim Square is a very busy area. The square is equivalent to Arch de Triumph of Istanbul. A huge crowd can be seen here around the clock. It located near Istiklal Avenue.
In Besiktas, there is a grand old building, located by the sea and is called the Dolmabahce Palace. The palace was built to replace the old Topkapi Palace in Sultanahmet as the official resident of the Ottoman's Sultans. Founder of the modern Turkey, Mustapha Kemal Ataturk died in the palace. It is now a museum.
The palace is so huge. There is a beautiful clock tower at the main entrance of the palace.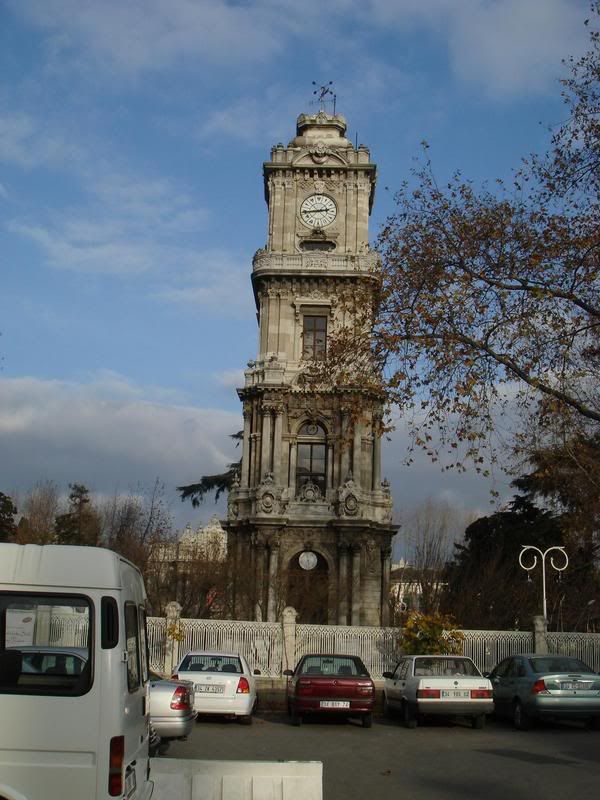 Then there is Istanbul's icon, the Blue Mosque. It is one of the few functional (non museum) tourist attraction building in Istanbul.
Visitors are allowed to see what's inside except during praying time.
The Blue Mosque's outstanding interior.
And finally, the jewel in the crown of Istanbul, Hagia Sofia or Ayasofia as it was referred by the local. I personally advise everyone to visit this "former church turned mosque turned museum" at least once in a lifetime as what one will discover inside is
incredibly amazing
.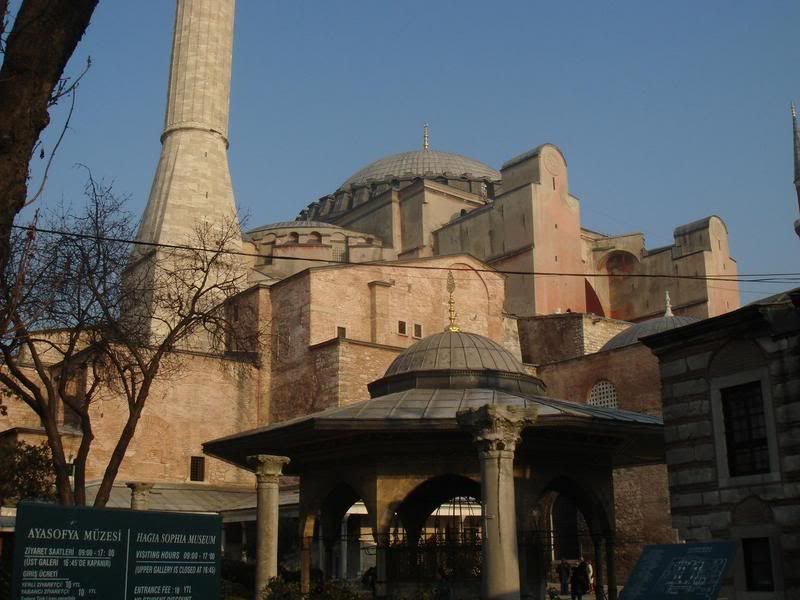 The history contained in Hagia Sofia is beyond man's imagination. I think it should have been gazetted as one of the wonders of the world.
Hagia Sofia's interior.
For me, a visit to Hagia Sofia is the highlight of my whole trip to Istanbul. Hagia Sofia is absolutely incredible.
A visit to Hagia Sofia will be worthier if one hired a tour guide who will tell you more about the museum. The guide will charge YTL 20 per person and the session will lasted for more than 2 hours. Choose older tour guides as they are more experience and spontaneous while conducting their guide session.
Visitors are required to pay an entrance fee to enter Dolmabahce Palace and Hagia Sofia.
ACCOMMODATION
I stayed in five hotels during my vacation. Don't ask me why, I like to switch hotels while on vacation.
I stayed at Ceylan InterContinental in Taksim,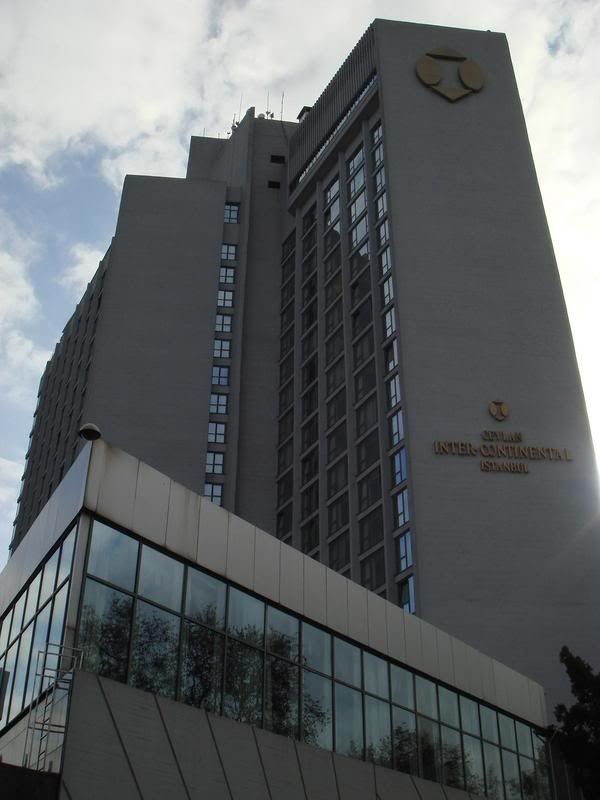 My room at Ceylan InterContinental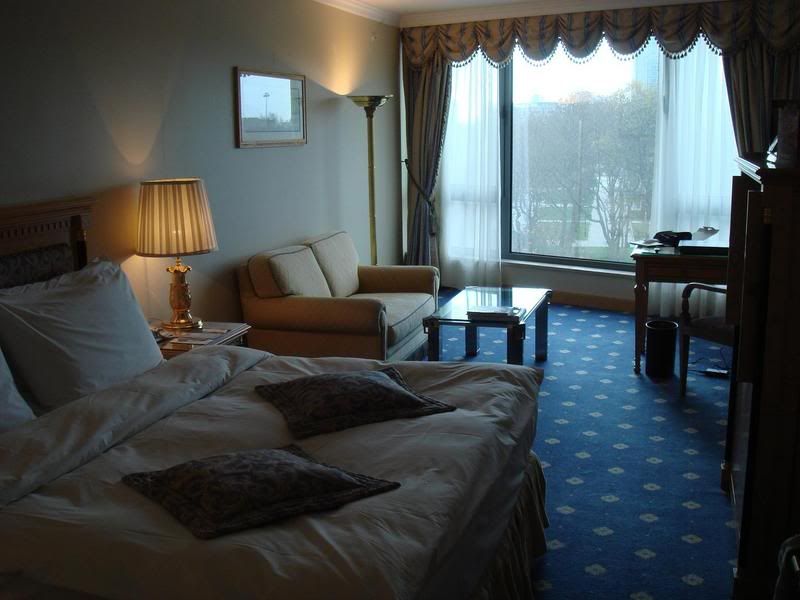 SQ crew stayed at this hotel. I saw a group of SQ's FAs and pilots during breakfast at the hotel. MH's staff stayed at Polat Renaissance, a hotel near IST.
Then at Hilton Park in Macka,
The view from my room in Hilton Park, overlooking the Bhosporus.
Then in Point Hotel in Taksim,
The view from my room at Point.
Then in Conrad near Besiktas, also with a stunning view over the Bhosporus.
With its beautiful top floor restaurant called the Summit, where I had a breakfast with a fellow A.Netter, TurkishWings whom stayed nearby the hotel. Thank you TurkishWings for your travel tips. I am so happy to meet you.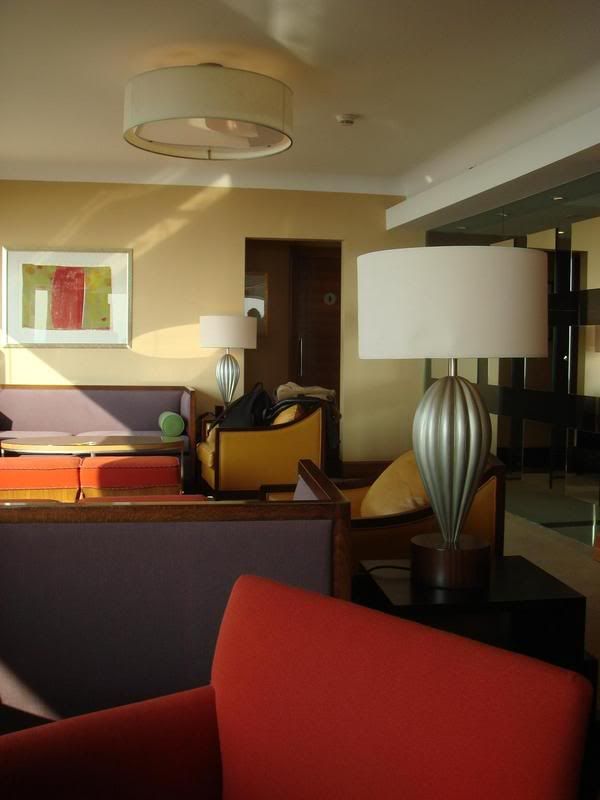 And on the last night at the serene and posh Hilton in Taksim.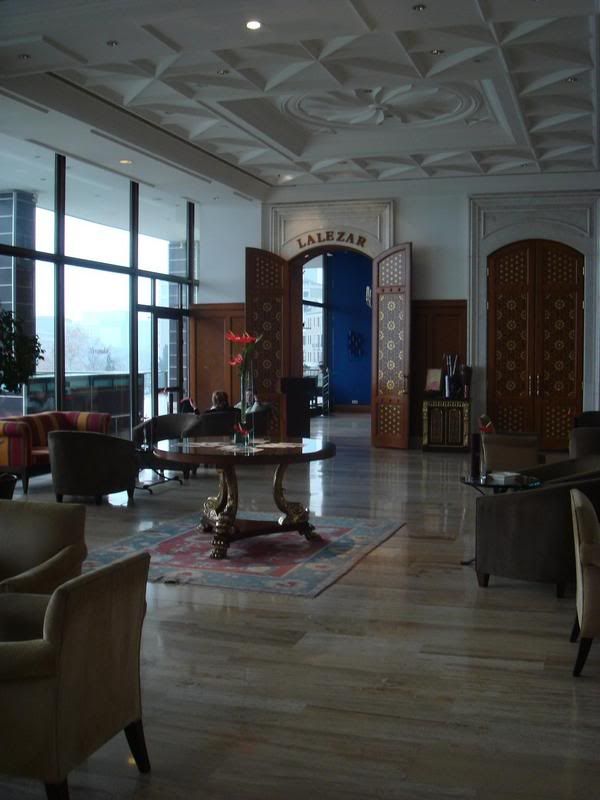 My room at Hilton. I even had my own expresso machine inside the room. Coffee anyone?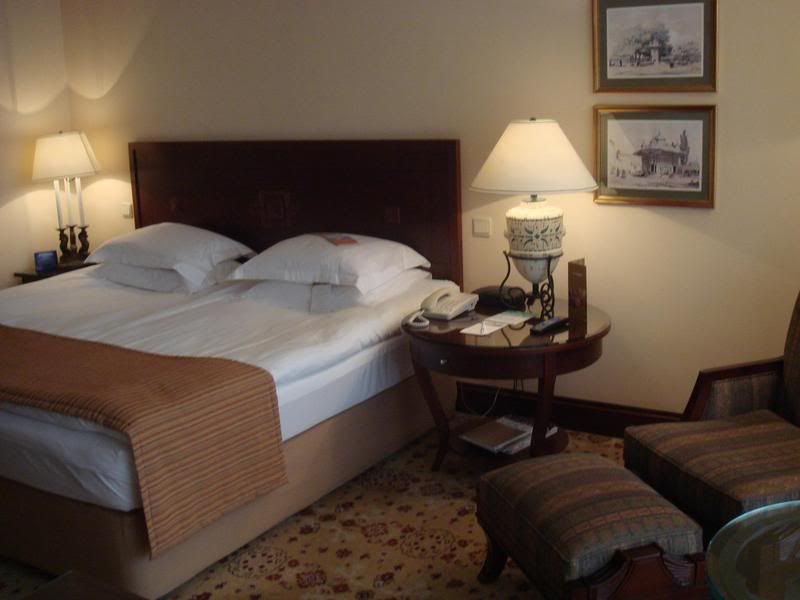 In all, I would rate the hotels as follows:


The best location: Point Hotel - very near to Taksim Square and Istiklal Avenue.

The best room: Hilton - very lavish and large room with a balcony.

The best bed: Conrad - extremely comfortable. One would fall asleep instantly.

The best bathroom: Conrad - huge and have safety features to its design.

The best view: Conrad - being on the 9th floor, I got a magnificent view over the Bhosporus.

The best value for money: Point Hotel - offered a reasonable rate, a lot of freebies, cd player and free internet and free usage of business center.

The best service: Hilton - very friendly and professional. Staff speak English well.

The best gym: Ceylan InterContinental - excellent large gym with a lot of workout machines.

The best buffet breakfast: Ceylan InterContinental - offered a huge selection of foods in a very beautifully decorated restaurant.

The best health center: Hilton - offered great hamam (Turkish bath), sauna, steam room and indoor pools. The hamam is a must try.

I like almost all of them as each has its own appeal to me. But if I were to choose one establishment, then Point Hotel would be the place. An establishment with a great product.
Arrange a meeting with a fellow local A.Netter in the place where you are visiting. The excitement is different and it will made your day, as proved by my meeting with TurkishWings at Istanbul.
Hamam, or Turkish bath is a must try. A truly relaxing experience.
PRE FLIGHT
After spending seven wonderful nights in Istanbul, it was time to return home. I checked out at Hilton at 12:00 hours and got myself a taxi to IST. The journey tooks slightly more time due to the traffic congestion. I arrived at IST at around 13:30.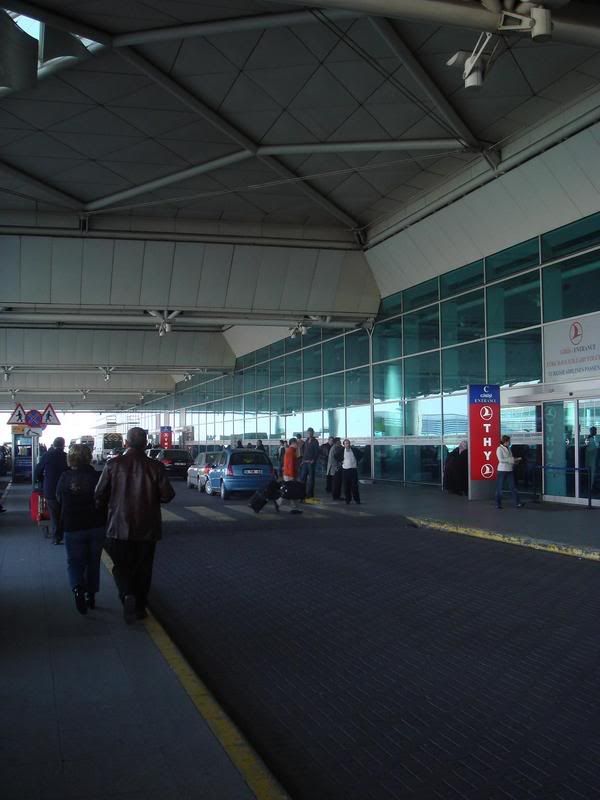 On my left, I saw the walkway to IST's transit hotel.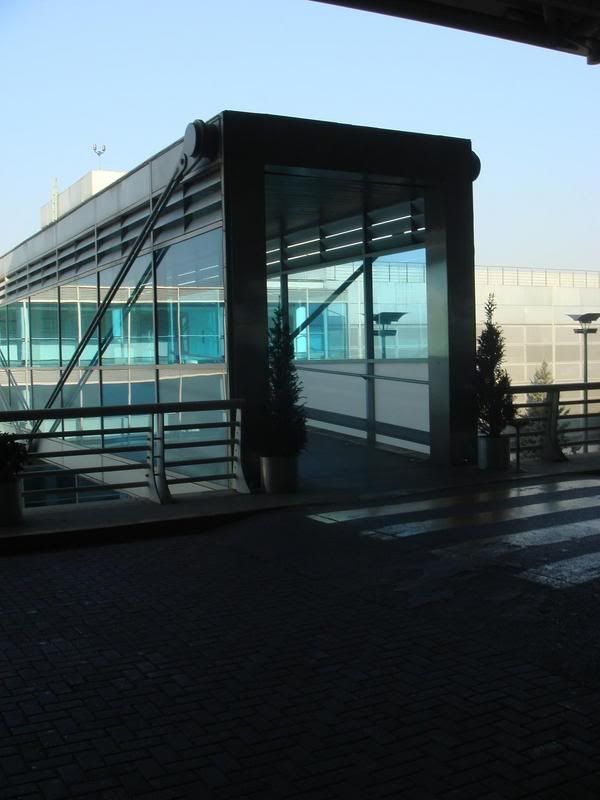 I proceed to the security screening hall immediately,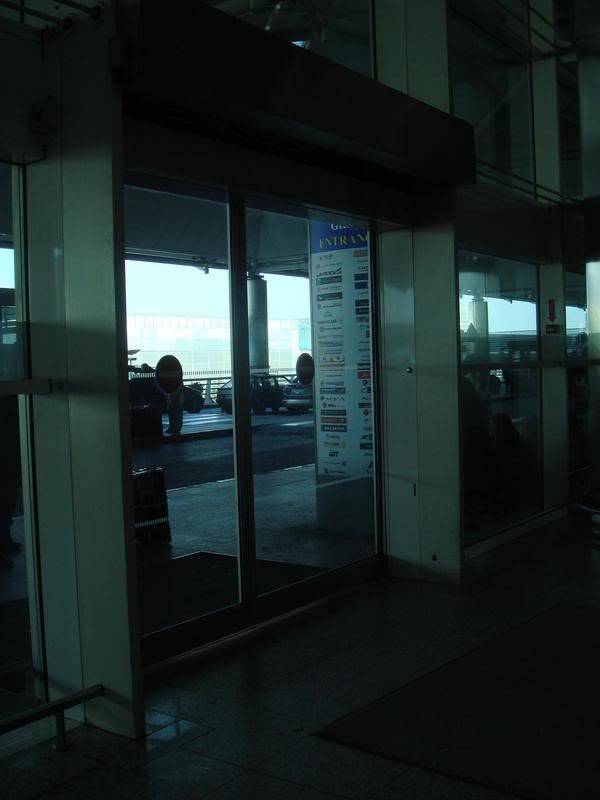 and saw huge queues there as everybody are subject to the screening.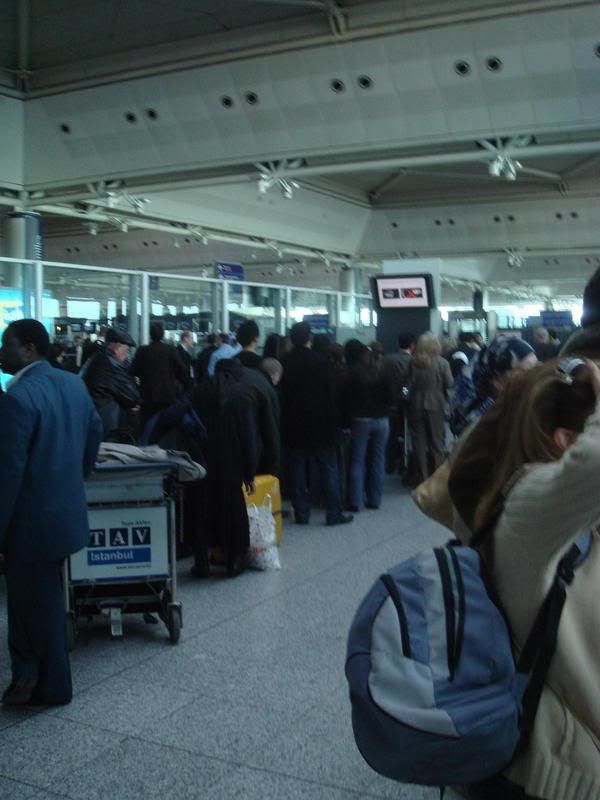 About half an hour later, I completed the screening and headed to MH's check in counters which happened to be just nearby at island C. Lucky me.
The counters were not crowded and within seconds, I was checked in by the friendly Turkish officer.
Then I walked around a bit, to feel the environment inside IST's departure hall. There was a huge crowd that day I must say.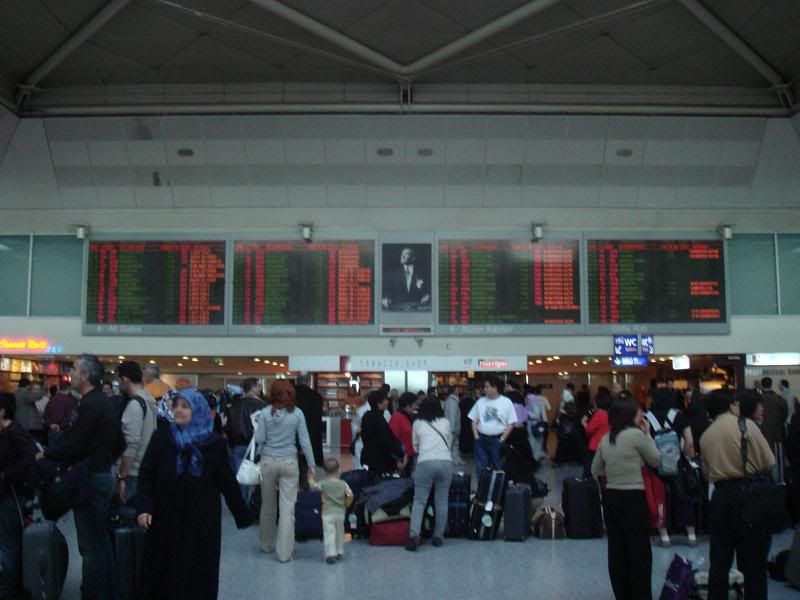 I proceeded to the immigration clearance,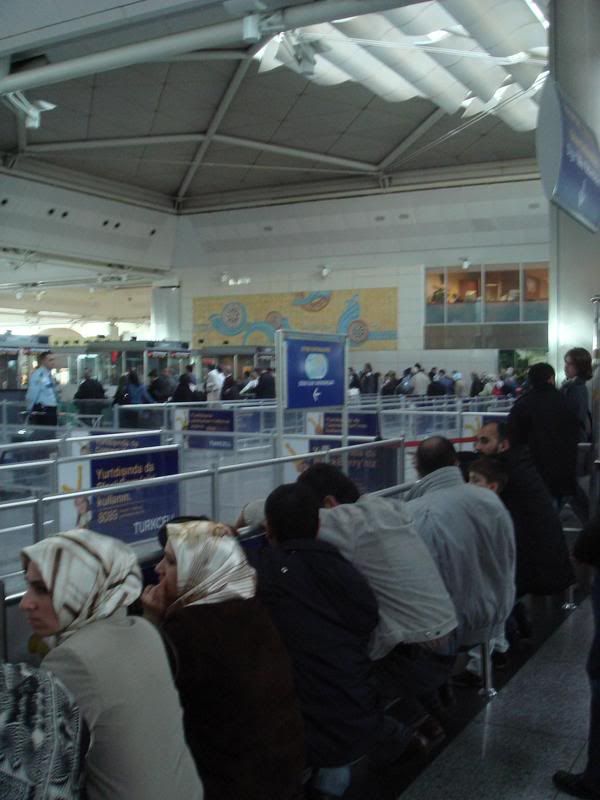 and within 15 minutes, I was already inside the terminal. Immigration clearance was a breeze and very quick.
My flight was scheduled at 15:45 hours. To kill the time, I have some snacks at a food outlet.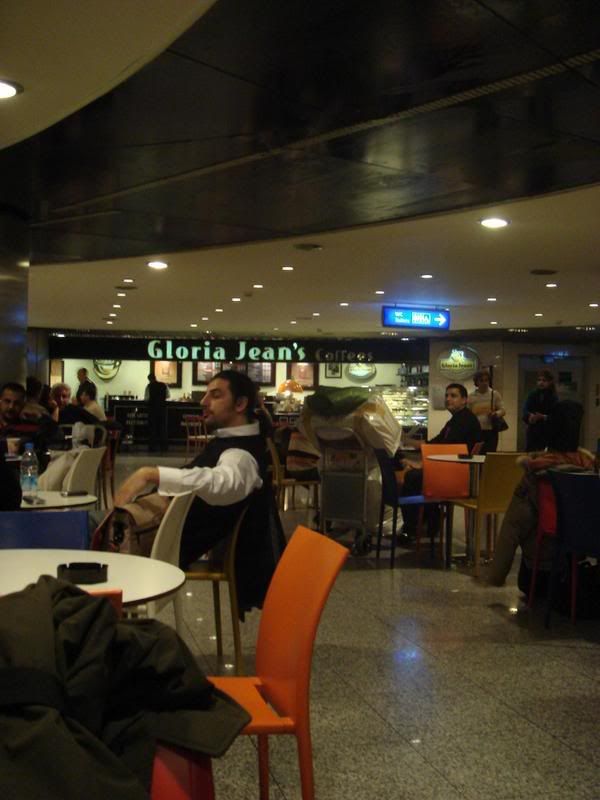 There was quite a nice selection of local and western foods there. The environment there is laid back and not crowded. I sat there until my flight information appear in the departure screen.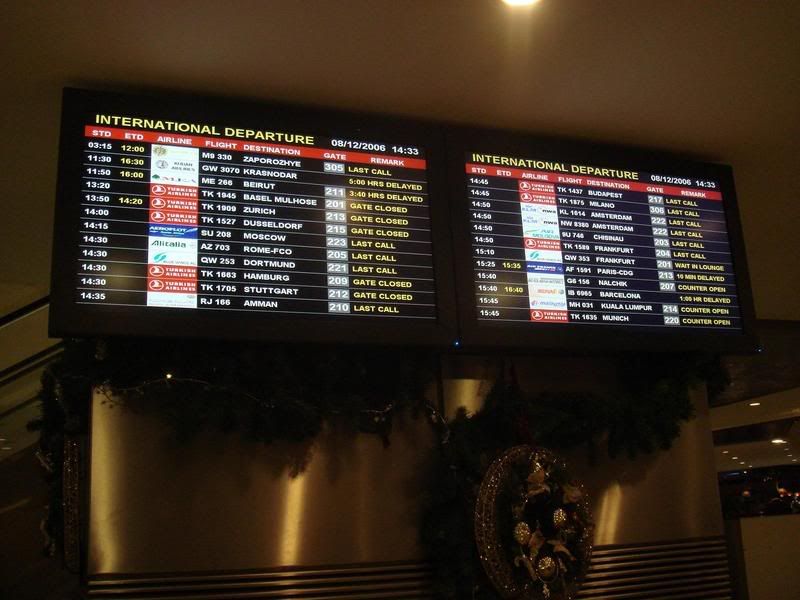 At around 15.20, I headed to Gate 214, where my flight was assigned. IST terminal looks nice.
There was also a huge crowd at the walkway to the gate.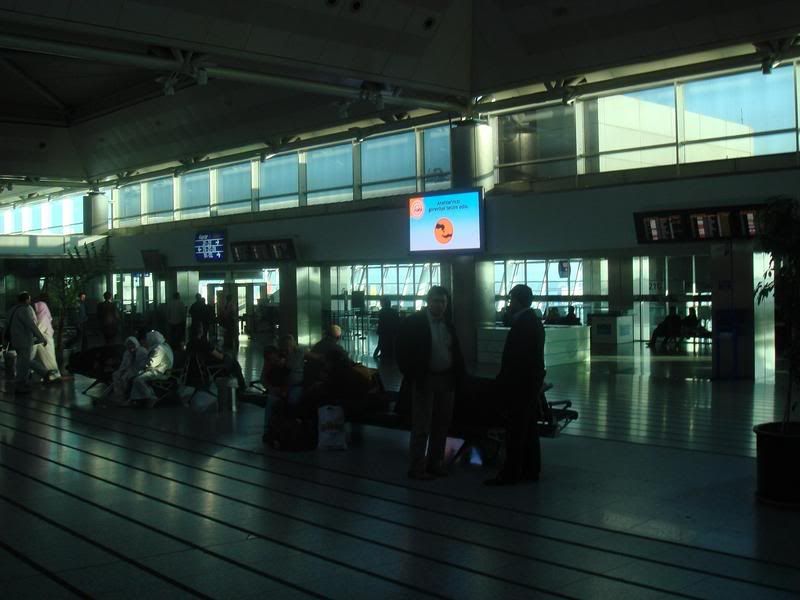 Upon reaching Gate 214, I saw a very familiar tail logo, MH's Wau Kucing from afar.
I rushed towards my gate,
but still managed to snap a close up photo of the aircraft which will bring me home before security screening. It was an Airbus 330-200.
I turned back and bid goodbye to Istanbul. I wish I could return here someday. I totally fall in love with Istanbul.
INBOUND FLIGHT

Date: 8 December 2006
Flight Number: MH 31
Carrier: Malaysia Airlines
Aircraft: Airbus 330-200
Route: Istanbul (IST) to Kuala Lumpur (KUL)
Departure Time: 15:45 hours Turkish time (GMT +2)
Arrival Time: 07:30 hours Malaysian time (GMT +8) on the following day
Seat Number: 22D (Aisle Seat)
Journey: 9 hours 30 minutes
Distance: 5,206 miles
Class of Travel: Y
Fare Category: T (Award Ticket)
The flight departed on time. It was a heavy climb and I think in Y, the load was 100%. Full to boot!
A view from my seat.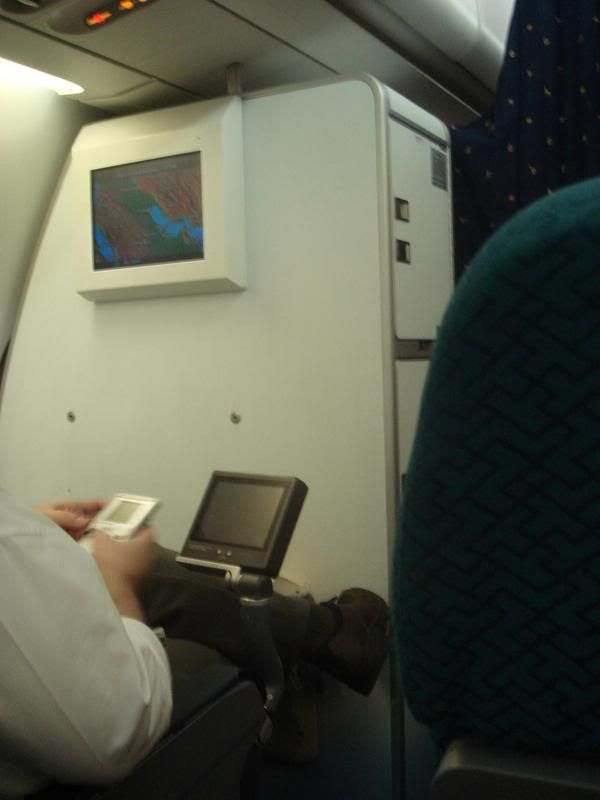 A quick look behind. Yes, full to boot.
Dinner was served after an hour and a half later. I had a rice based meal but I forgot to snap a photo of it. Maybe I was kind of hungry at that time.
Again, MH's Y cabin layout in that flight was 2-4-2 and my seat was the left most of the -4- seats in the middle. A blanket was placed on each seat. The section was served by two FAs, a man and a woman. The seat pitch was not as generous as in MH's 772s or 744s. The full load meant little space to stretch out.
By then, it was already dark outside. All seats in Y class were equipped with personal PTV and the IFE worked well. I watched three movies throughout the entire journey, "The Ant Bully", "The Illusionist" and "The Invinsible". I love all three of it. I managed to get a nap despite the uncomfortable seat pitch.
The FAs offered snacks to the passengers throughout the journey. Juice, plain water, carbonated drinks and beers were offered several times. The FAs also conducted several run of inflight duty free shopping sales.
Oh, hot and cold napkins were also distributed before take off and landing.
About two hours before arrival, breakfast was served. I choosed the fried rice. This time around, I managed to snap a photo of it.
It was filling and satisfying. Then I felt that the plane has started descending. The flight landed at KUL at around 07:30 hours Malaysian time.
MH's FAs were friendly and attentive as usual. Both of them took good care of me. I bid goodbye to them and disembarked the plane. In all, MH's Y product is great.
Last look at my flight after disembaking.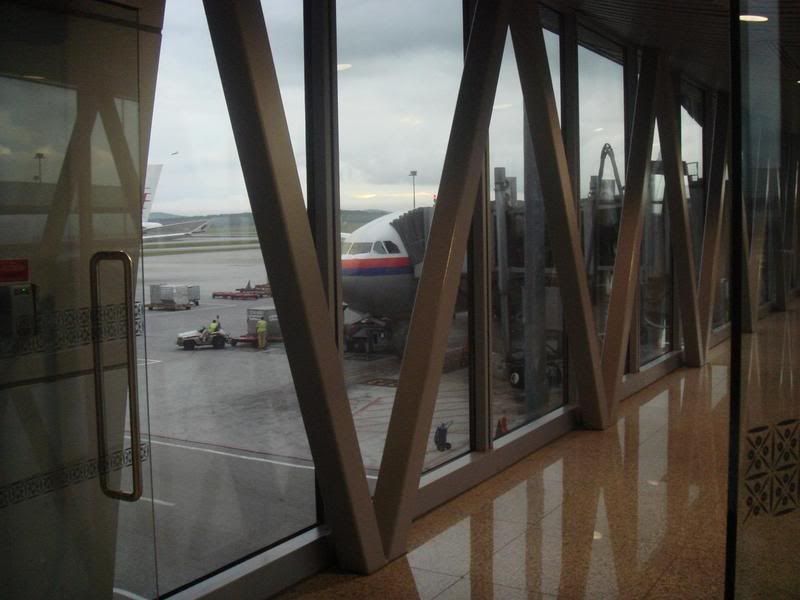 And then I was greeted at home soil with the glittering view of KUL's Satellite terminal.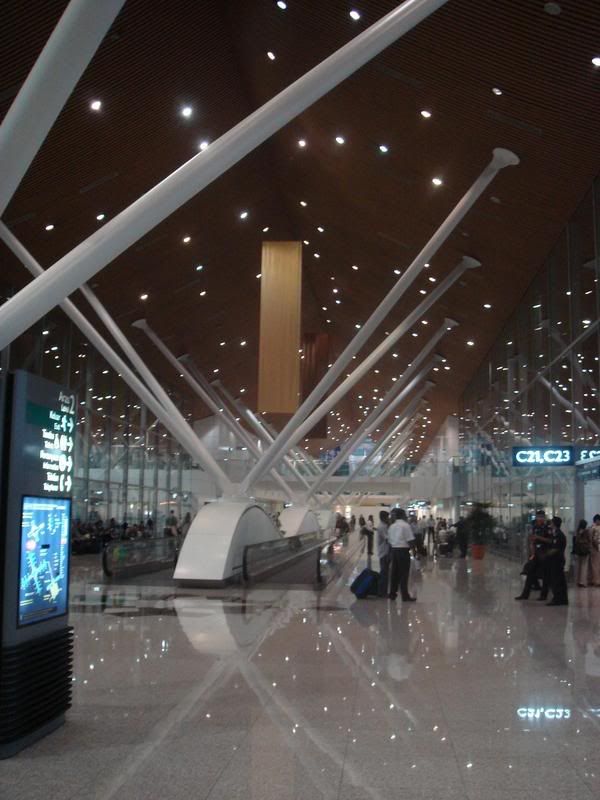 I proceeded to the center part of the Satellite terminal.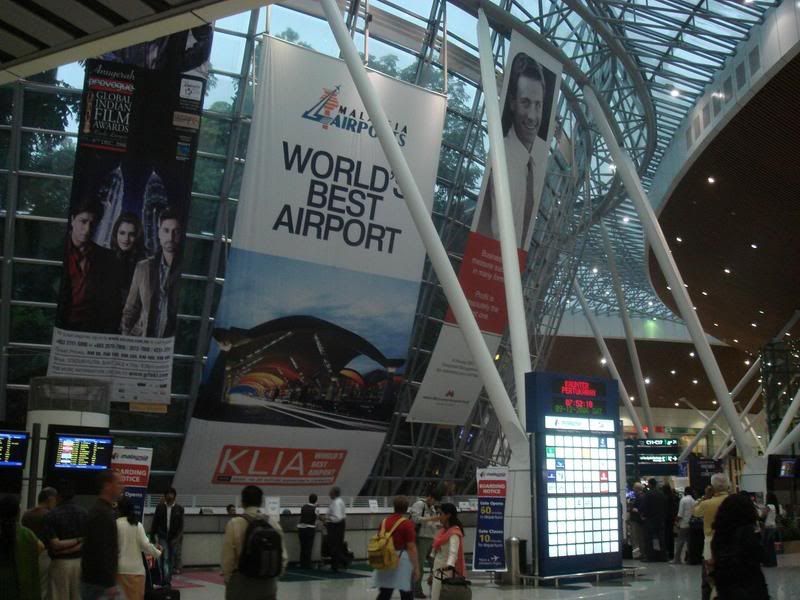 Yes, world's best. That's my home airport.
Then I headed to the aerotrain station.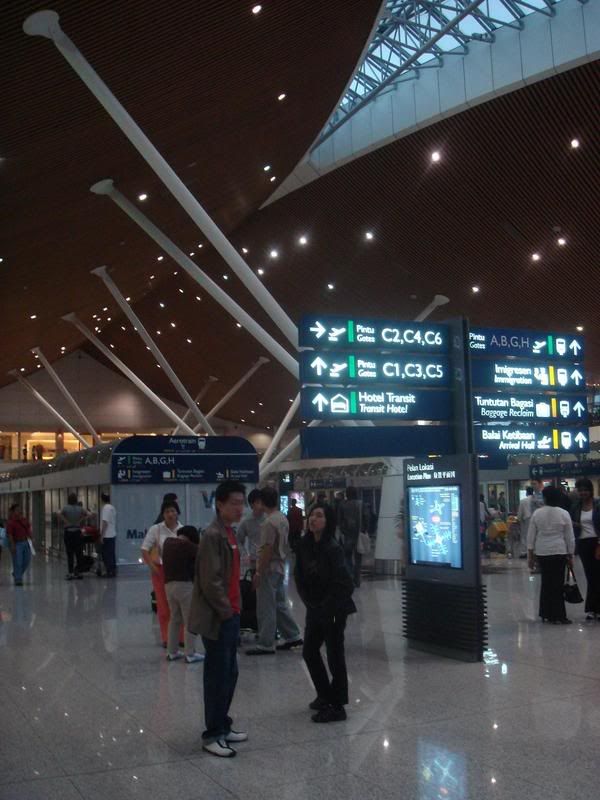 I took a ride on the train to the main terminal building.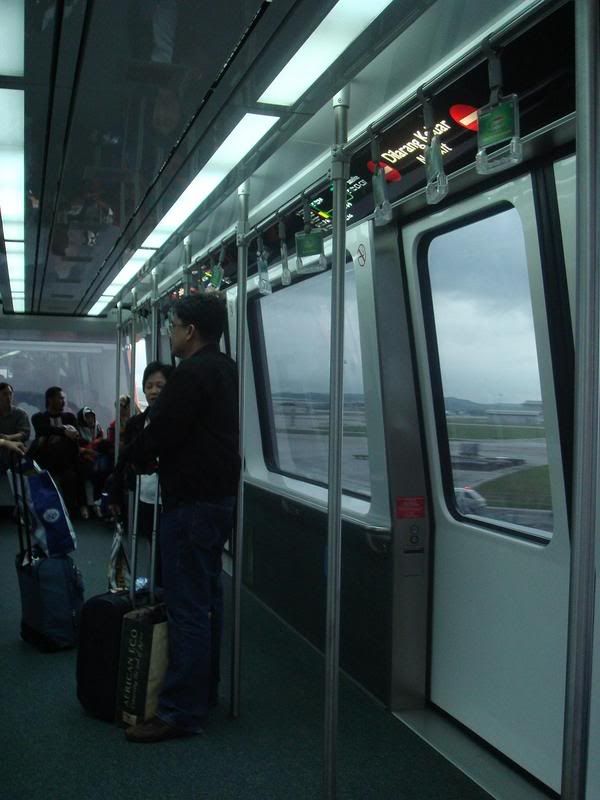 After a short walk, I cleared immigration which was done electronically here in Malaysia. This machine only can be used by Malaysian passport holders as our passport has a built in microchip inside it.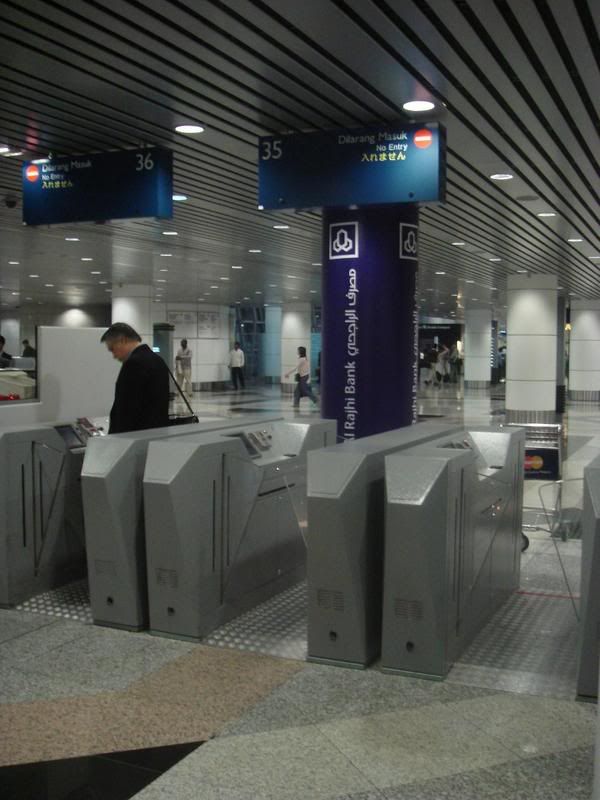 Immigration clearance by the machine took only 10 seconds.
Then I headed to the baggage claim area,
retrieved my baggage and went straight to the ERL station at the ground level of KUL to catch a train to KL Sentral in downtown Kuala Lumpur.
I paid MYR 35 for a one way journey to KL Sentral.
Here is the train's cabin interior.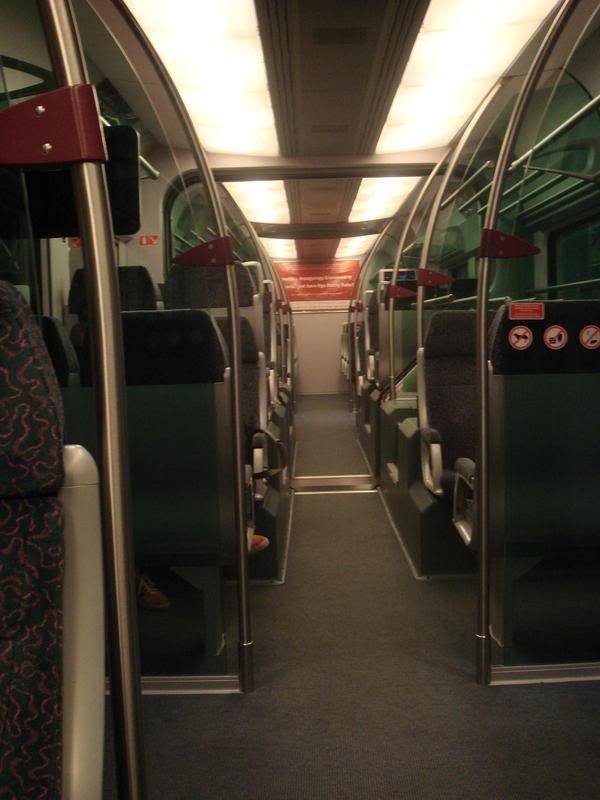 By 10:00 hours, I am already home in downtown Kuala Lumpur, right under my favourite tree at KLCC Park.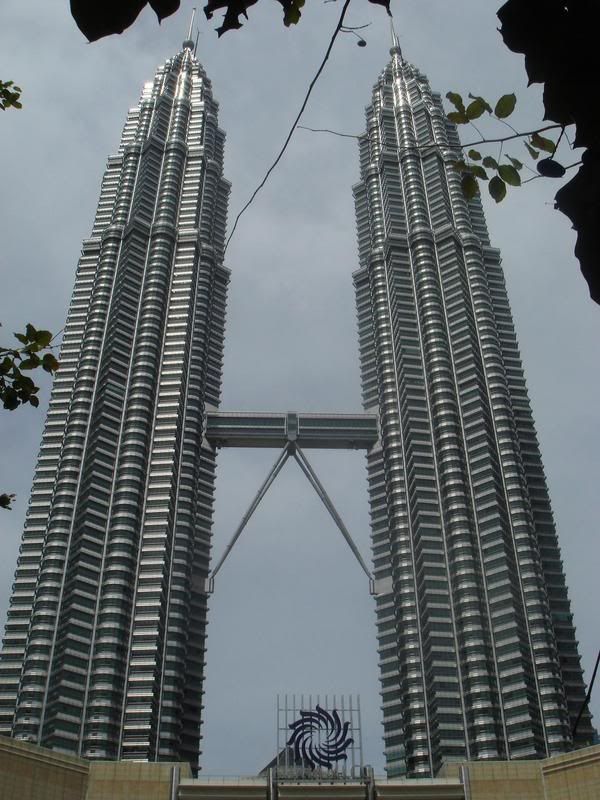 Treating myself on a holiday is a true contrast of my chores. No business, no phone calls, no people coming asking for things, no disturbance. I was totally relaxed during the 8 wonderful days in Istanbul. While on holiday, the most important decisions of the day were "What I am going to have for lunch/dinner?" and "Where am I going today?" which I am glad I handled superbly. Those events would never be that important when I am back at work.
I will return to Istanbul one day.
9MMAR