Hello all, this is my first trip report on the site. Being Bahamian I decided to head down to The Bahamas for the Christmas season to visit family along with my Dad,brother and Dad's girlfriend. The 2 carriers I used were AA and surprise surprise, UP
AA 262- LAX-FLL
Depart 9:25 pm & arrive 5:15 am
Boeing 757-200
Seat 17A (emergency exit)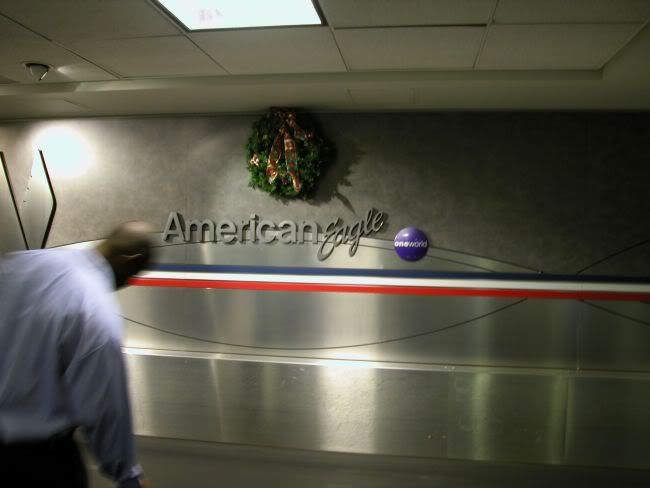 I get to the airport about 2 hours prior to my flight. The AA check-in is pretty crowded. It seemed as if it took forever for AA to serve us. That was effected by people trying to bring everything they own with them on their flights to their destinations. We waited a good 30 minutes, after that we went through security where they took my lotion and sunblock
fast-forward
We are walking to our gate, which IIRC was gate 40. To my luck some men are fixing a light on the wall leading to the rest of the gates. So we can't go around, we have to get to the gate with about 200 other people by going through a set of stairs on the nearest jet bridge. This really held us up, because people from the other side of the terminal had to walk through this single jet bridge.
We wait for the plane to come in. To my luck it was delayed! AA offered to put us on the non-stop SJU flight and give us a $300 voucher. Unfortunately I wasn't heading to Puerto Rico and AE doesn't have a SJU-NAS flight. I guess AA was assuming many of the FLL pax would be connecting to SJU.
So we start boarding its a Boeing 757-223 equipped with winglets. Sadly, I didn't bring a flash with me so I couldn't get many night shot. Not much to see anyways, an AA 752 with an
antique interior
! The F seats looked about 20 years old. The flight was filled primarily with people going on cruise ships departing from FLL. So I get to my seat, 17A which is a window seat. I look around outside and see some AA Mad Dogs and 752s, AM MD-80s, JM A320 and some DL equipment ranging from 767's-CRJ's. The plane went out full.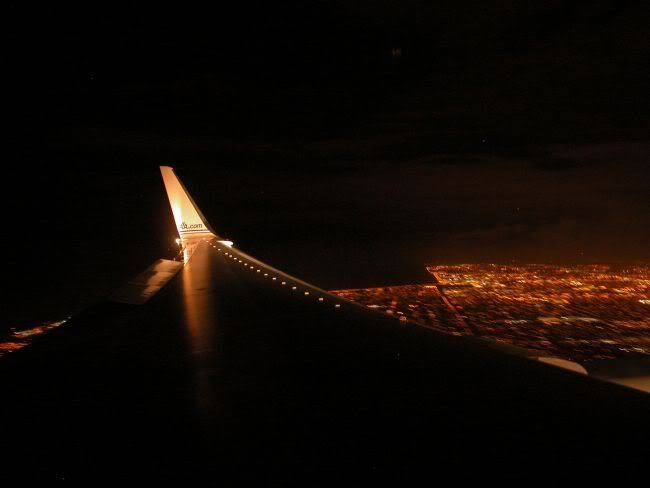 So after sleeping for 4 or so hours, we arrive in FLL from the west. The flight was good because it had a ton of legroom making it easy for me to sleep (I'm 6'1). After a nice nap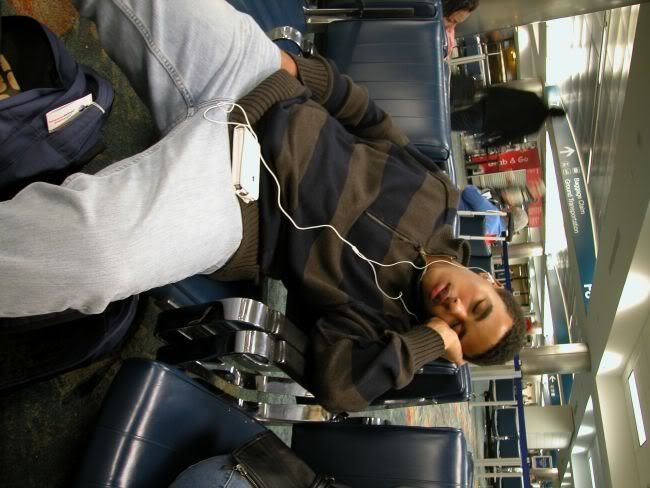 I walk around to take some pics of what was around me, not much because it was still early.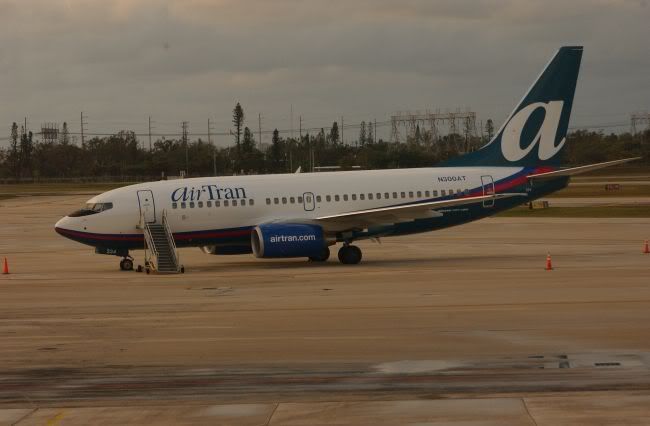 The plane used for the flight to Nassau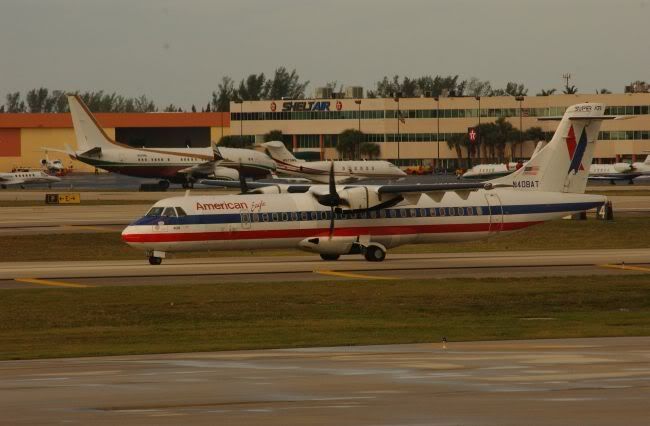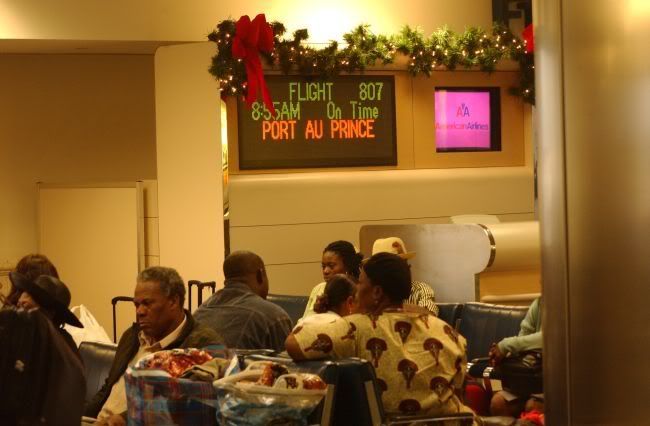 The AA flight from FLL-PAP, which I heard was
very profitable
AA 5004
Depart 9:10 am & arrive 10:25 am
ATR-72
N408AT
This flight was an American Eagle ATR-72, today this was a -500 variant. AE runs 8 daily flights on the MIA-NAS route, AA also serves NAS from DFW and previously TPA and MCO. AA also serves FPO,MHH and GGT in the Bahamas. Even though this was a -500 variant the plane was already showing signs of wear and tear, probably from the high frequency, short haul routes they do.
Below is a shot of the interior of N408AT
This was the legroom I had, luckily this flight wasn't as long as the 2.5 hour SJU-SLU/POS flights they are also used on.
This is me disembarking the flight at NAS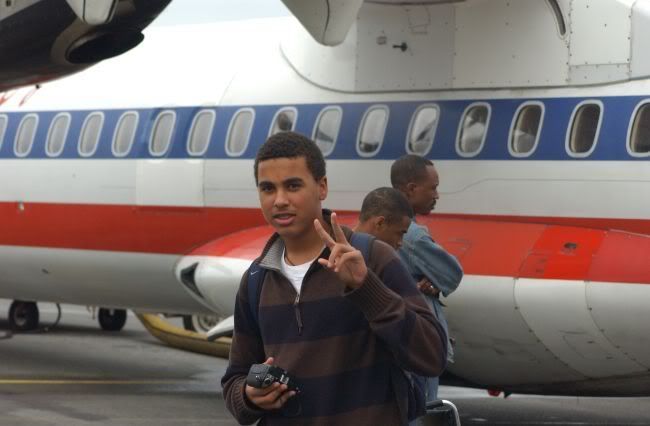 One of the UP 732's lugging aroung this particular one is C6-BGK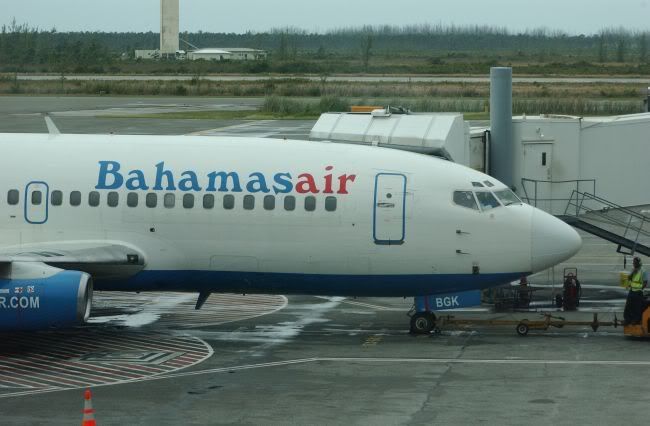 The former colonial ruler is still represented with flights from BA, VS and First Choice.
JM serves NAS with a mix of Airbus A320 and A321. Air Jamaica Express previously served the NAS-MBJ route with DASH-8s.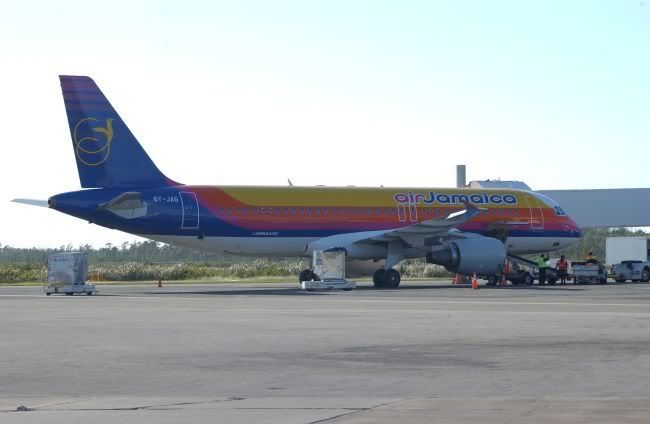 Long Island
After staying in NAS for the night I headed to Long Island for the next week. Long Island is far more rural than NAS, it is 70 miles long with a population of 3,600. Some cool things about Long Island are that it has The Bahama's oldest church and a world top 10 beach. Anothing thing that separates it from the rest of the islands is that the population is mainly descendants of the white European settlers. Anyways I was staying in Salt Pond, my family's ancestral home; So I flew Bahamasair to Deadman's Cay (LGI). It is a very small airport with limited service. The carriers areL Bahamasair x2 NAS flights using DASH-8s, Pineapple Air and Southern Air Charter serve NAS as well with King Air 350s and Piper Aztecs respectively.
Check in at NAS.
Our flight to LGI and another one off to FPO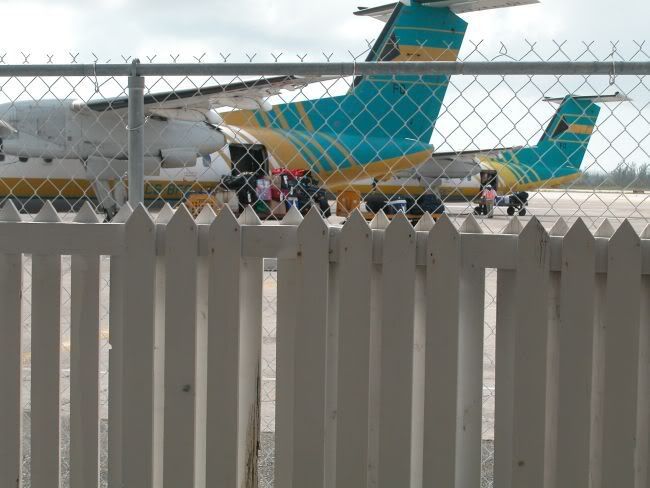 UP 382- NAS-LGI
Depart 12:30 pm & Arrive 1:45 pm
DASH-8 Series 300 (311)
C6-BFO
The flight was a little over 1 hour on a already worn Bahamasair DASH-8. We had a short take-off, and before I knew it we were already heading to the Exumas' for a flight to Long Island. No drinks or snacks were served on the flight, not even water. Instead Bahamasair had a friendly local staff that tried their best to please the passengers. After flying for a while, I took a nap. Taking a nap was kind of hard because this DASH-8 didnt have NVS.
Anyways after napping for about 50 minutes, my uncle woke me up to tell me we where nearing landing. I woke up and we had circle the airport to see which way the wind was blowing
. Then we landed, a pretty cool landing showcasing the STOL performance of the DASH-8.
After landing, being curious I asked the staff If I could jump in the cockpit. The staff was more than happy to let me. I even got a few pictures, even though they are not the best I still figured they were worth posting.
Me in the cockpit of
C6-BFO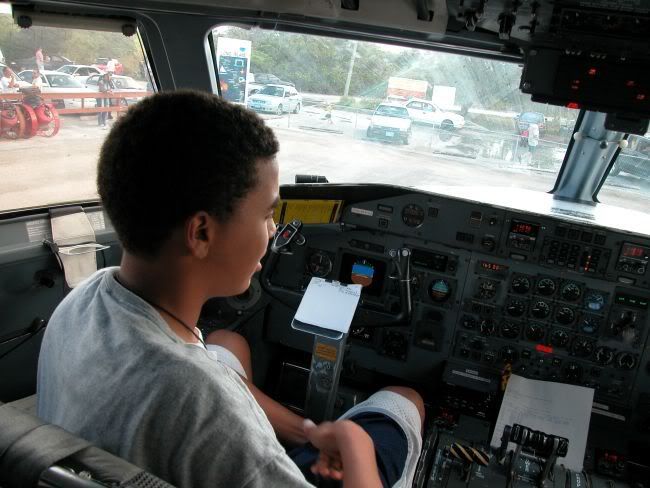 After a couple days or so, my family became aware of my passion for aviation. So they took me to see several of the wrecks (mainly G.A) on the island. The reasons given for the crash vary from
"Running out of fuel"
to
"Crashing to burn drugs or to evade authorities"
. The planes I saw were mainly Piper Aztecs and similar Cessnas.