Arrived at GVA airport for my afternoon flight to GVA (KL1928) today. At checkin I enquire about an upgrade to which I am told that I should expect one at the gate. Agent is friendly and recognises platinum status and benefits.
Arriving at the gate later on, I flash my boarding pass and platinum card. Sure enough the upgrade was waiting for me there, having been printed out before by the GA. Preboarding done for elites/europe select then the rest.
On board our 733 (PH-BDD) the economy section is totally full but europe select counts 10 people for 15 seats. Seat assignments for ES were a bit weird with a family split up and middle seats occupied on one side and a whole row empty.
The purser quickly takes action and moves people around in order to free up the middle seat everywhere (except for the family traveling with a young girl).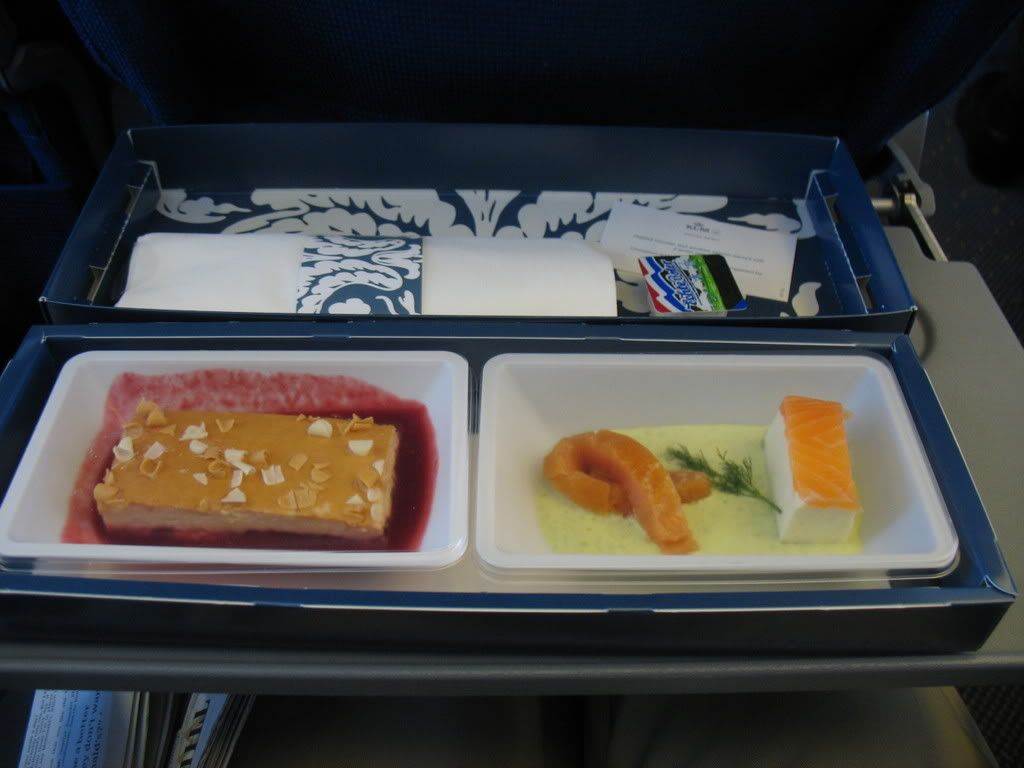 Once in the air seatbelt sign quickly turns off as we pass the transition altitude and service begins very quickly afterwards. Boxes are handed out with the (unique) offering being a halibut mousse and smoked salmon served with a green pea puree. Have to say the new boxes and quality are a big improvement on what was served before. Bread is handed out seperately and the french purser comes around twice offering it.
She then comes around and proposes coffee in some nice new mugs. Drink service is proposed five times on our short 1hr20 minute flight. Twice she offers newspapers to the passengers which was a nice touch also.
There where I think she did very well was contact with passengers. She spent time speaking to everyone throughout the flight, looked after the young girl well.
Whilst we were on approach to the Kaagbaan she comes to a passenger with a barf bag and hands it over to him. In it she had placed a bottle of champagne as the passenger had told her he was spending a few days in Amsterdam by himself. The way she offered it to him and the fact that she thought of it was particularly nice and certainly not something I was used seeing from KLM. Proves that there are still people who care about the airline. Sure it is probably bending the rules a bit but everyone in the cabin appreciated her service and I'm sure that passenger won't hesitate to fly with KLM in C again.
[Edited 2007-01-05 15:14:42]