Feedback always appreciated.
Trip Report: 019
Flight Category: Y-IMR (See Report End)
Date: 06-Jan-07
Dep.Arr.Time: 1150/1445/03:55hrs (Arrived early by 00:43hrs)
Flight:
USA 3000 U5 116
, 1630 miles
Routing: PUJ-BDL
Aircraft: 320
Seat: Economy, 11F
I > Background:
It was time for a close group of friends to meet up for the annual NY eve trip. We decided on Dominican Republic (a big mistake as its WAY too touristy for me and I am not an all-inclusive person; even Las Galleras - off the beaten path was touristy - though, few package tourists as of now) this time around and since I had to be in NYC for work, decided to try USA 3000 on their PUJ-BDL routing ... followed by a drive to NYC. Complete trip route was CCS-MIA-PUJ-BDL//EWR-CCS.
II > Pre-Flight:
a) Before Airport:
Booking for the entire trip was made using USA 3000s website at
www.usa3000.com.
The website is primitive (but worked well) and you have no ability to view/edit/modify or chose your seats ... let alone change them. I dont think being a small airline is an excuse for a crappish site as several small airlines I have flown have excellent front-end IT products.
b) At Airport:
PUJ airport is nice and open. It is a small airport and I think depending on the airline, check-in could be good or bad. Check-in was haphazard on many accounts. We reached the airport 90minutes prior to departure and were the last to check-in since we were the only passengers who were not part of an Apple Vacation. This would create more problems later on. The counter was unmarked and the lady manning it (hmm, does a lady "man" a counter or "woman" a counter ... hmm) had a lot of difficulties. First, she could not find the country code for Liechtenstein in the US Visit software, then she inputted my name incorrectly which would lead to an additional delay at BDL. Interestingly, we were told to write down our emergency contact info on a sheet of paper affixed to the check-in desk and all non-U.S. citizens had to write basic info on another page ... it seemed, I was the only "alien" on board.
Check-in completed, my friend and I proceeded to immigrations and then security screening. As I was emerging from the screening, the U5 staff yelled, "Hurry Hurry ... you are holding up the plane and causing a delay." My boarding pass indicated a boarding time of 1120 and the time was now 1109! Anyways, we were frantically rushed through the small terminal, then underwent a very lax security screening at the gate, and finally walked to the apron. The entire staff were frowning upon us and during my run to the aircraft, one ground personnel yelled for taking a picture!
Anyways, after embarking on the aircraft, we were greeted to a round of applause by the passengers ... weird. Later I found out that U5 has apparently extremely few non Apple vacation passengers and they dont like to wait for their regular air only customers. Apparently, people have missed their flight due to early pushback. Is this even legal? I intend to write to their management as the flight push-backed around 20 minutes prior to departure. I mean, 20 minutes = one last drink + shopping that I had forgotten!
The cabin of the A-320 was clean and the crew greeted us with a warm smile. Given high-season, I was surprised to find Y class load at around 45%.
Airport - External:
(Punta Cana Airport)
Check-In:
(Notice how the counter is unmarked)
Airport - Internal:
(All flights show DEPARTED)
(Post security area)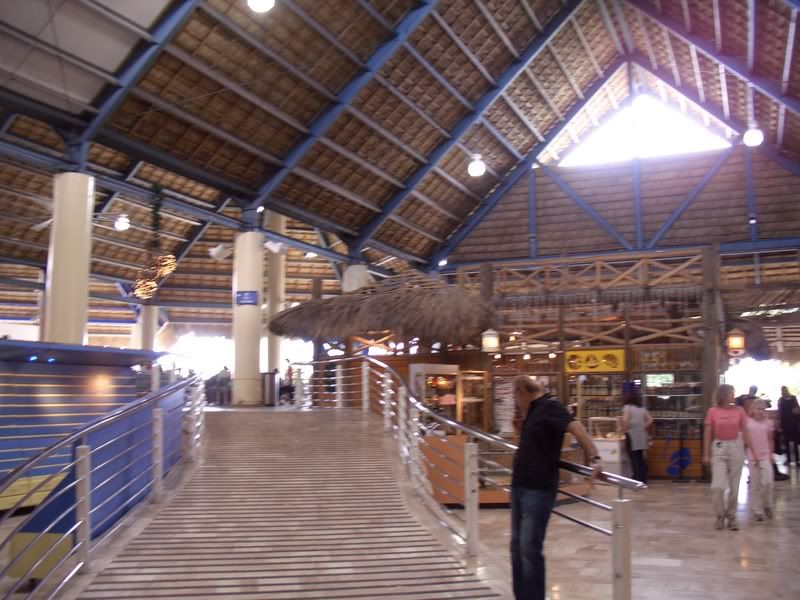 Scenes of the tarmac:
(Interesting collection of liveries ... my U5 320 is further down)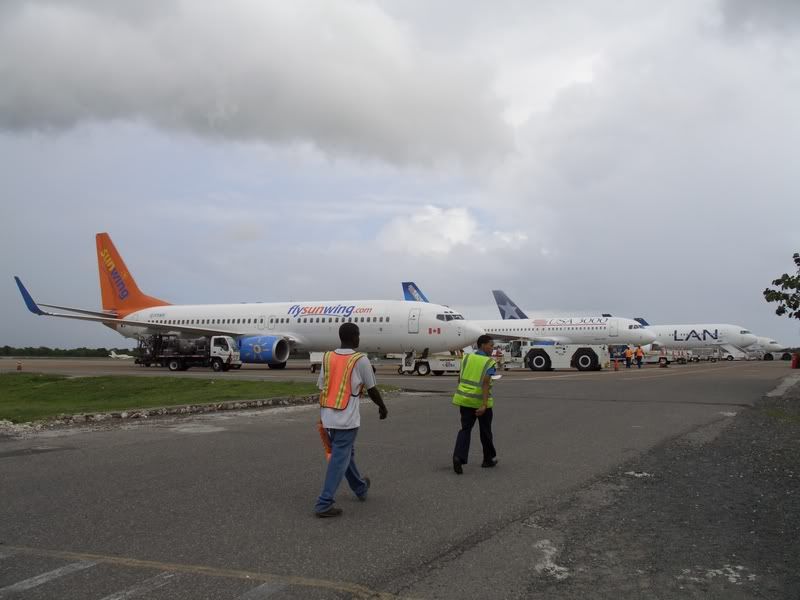 (German crowd ... Condor and LTU)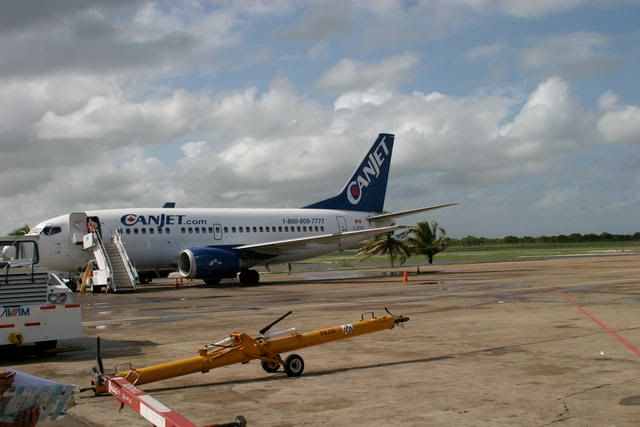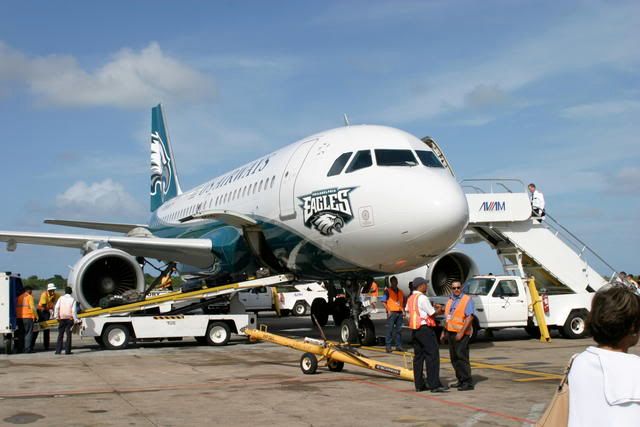 (Tower)
Lounge
NONE
Boarding:
NONE
III> In-Flight:
a) Service Schedule + Impressions:
Post-take off, there was a juice service, followed by a sandwich, then a round of water, and finally a round of coffee.
b) Aircraft + Seats:
USA 3000s Airbus A-320 aircraft had clean interiors with super clean Y-cabin bathrooms; however, the seat material felt cheap and was NOT comfortable. Our exit row did not recline, but was compensated for by decent legroom. Non-exit row had a standard 31-32 pitch.
Aircraft:
(Any guesses on the hybrid (?) livery)
Views from Aircraft:
Seat Leg-Room:
Seat Recline + Angle View:
(Drum Roll ... taken by a friend ... guess who is making his A.Net visual debut  
)
Cabin: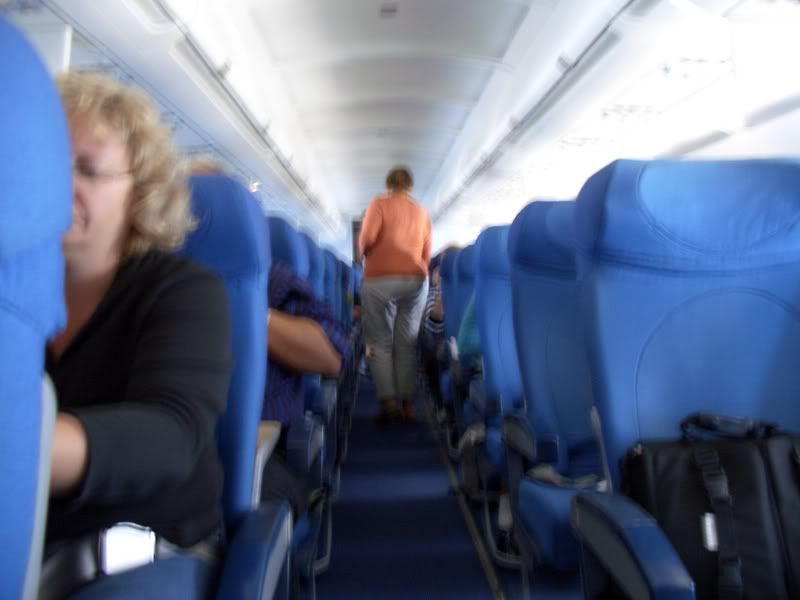 c) Meal + Beverage:
I must say that U5s overall service schedule was notches about the main domestic U.S. carriers. It wasnt that the sandwich (options being Turkey or Ham) was particularly tasteful; it was more that the crew went up and down the aisle with 4 distinct service items. Juice run, sandwich run, water+beverage run, and finally a coffee run. It showed how active they were compared to some pure lazy FAs who do not even bother to serve any drinks on hour long domestic flights (hmmm ... mostly thinking US here.) The sandwich was pretty stale and I didnt quite understand the salad it came with. The coffee was excellent though for an U.S. carrier. Beverage choice was limited; alcoholic drinks could be purchased for USD 5,00.
(Good coffee)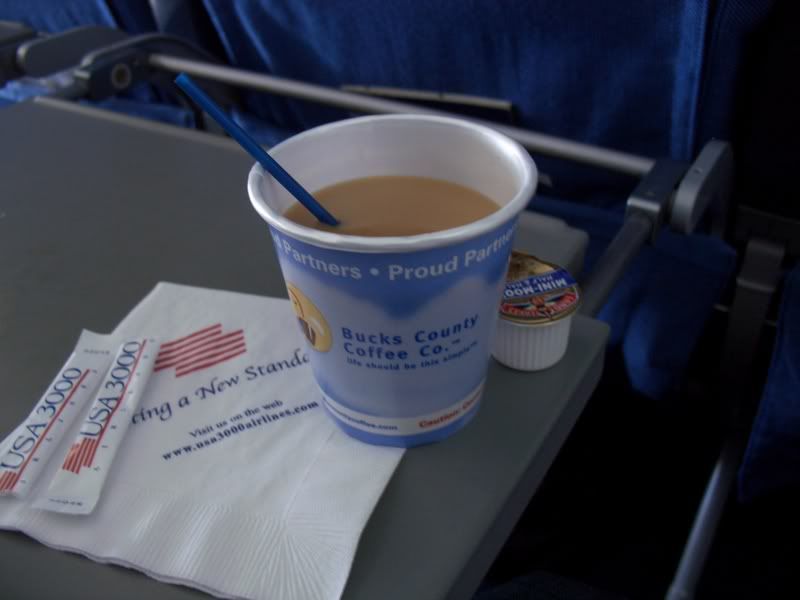 d) Inflight Entertainment:
U5 showed one movie "THE ILLUSIONIST" and this was followed by a TV run of "SIENFIELD". Headphones were available for purchase for USD 3,00; however, I noticed that not a single passenger purchased a headset!
(In-flight magazines, Boarding Passes, etc. ¡V featured here with the first juice service)
e) Crew:
Absolutely fantastic! While I have had particular individuals at UAL and Delta stand out of late, I have never encountered an entire flight crew to be so cheery. Perhaps they were over-nighting at the beach, but they were always friendly, courteous, responsive, and responded to my request with a smile. For example, I was the ONLY non-American passenger on the flight and needed the green I-94 form for immigration; they didnt have it onboard ... this resulted in all 3 members of the crew coming and apologizing and the captain radioing BDL for the form.
IV> Post-Flight:
Oh My God! Bradleys "international" "terminal" is a complete joke. You basically have 2 immigration guys who are not familiar with foreign passports ... I can only imagine what the Americans were thinking as I was being finger printed and pictured, then one carousel, and then a waiting area more akin to bus terminals in Africa! We had a rental car and there was no way to call the rental car company or the hotel. Thankfully, the weather was 80F; I would not have been a happy trooper lugging my luggage to another terminal to pick a courtesy van. Perhaps things will change with NWs link to AMS? I CANNOT see immigration being able to handle a "proper" international flight.
(They call this an airport?! Hartford/BDL International)
V> Impressions + Scores:
Despite the ground crew snafu at PUJ, I was pleasantly surprised with U5. Their crew was definitely one of the best I have encountered on North American flights, and their service standard was significantly better than many mainstream American carriers. While a limited route network and lack of FFP benefits means that I will probably not be flying them soon, it is a perfectly good airline suited for the niche markets it serves. Better service than many of its bigger counterparts in the U.S., I'd recommend U5 over most U.S. carriers in a heartbeat.
Reservation: 6.0
Check-In: 3.0
Lounge: n/a
Boarding: 3.0
Seat: 5.5
Aircraft Overall Ambience: 7.0
IFE: 5.5
Crew Service: 8.5
Food: 5.0
Beverages: 5.0
Amenity Kits + Others Freebies: 5.0
Disembarkation: 8.0
On-Time Record: 10.0
OVERALL IMPRESSION: 5.96
(Scores are based on comparison with other airlines in THAT class of service ¡V No comparison of Y vs. F for example)
VI> Other Trip Reports:
1/
Avianca: BOG-LIM: 07/06/06: 7.09pts: Y-IMR
2/
Air Tran: EWR-MDW: 08/02/06: 6.73pts: Y-DMR
3/
West Jet: YYC-YVR: 09/05/06: 7.14pts: Y-DMR
4/
Air Canada: YYZ-YVR: 09/02/06: 5.92pts: Y-DLR
5/
Air Canada: ALB-YYZ: 09/01/06: 5.88pts: Y-ISR
6/
Singapore Airlines: EWR-SIN: 09/20/06: 7.81pts: J-ILR
7/
Adam Air: SIN-CGK: 09/22/06: 6.04: Y-ISR
8/
Valuair: CGK-SIN: 09/22/06: 5.04: Y-ISR
9/
Spice Jet: CCU-DEL: 09/25/06: 6.67: Y-DMR
10/
Indian: DEL-CCU: 09/26/06: 7.25: Y-DMR
11/
Air Sahara: CCU-BOM: 09/28/06: 4.42: Y-DMR
12/
Air Deccan: IXZ-CCU: 10/07/06: 5.75: Y-DMR
13/
Alliance: CCU-IXA: 10/08/06: 7.54: Y-DSR
14/
Kingfisher: IXA-GAU: 10/08/06: 8.21: Y-DSR
15/
Indigo: GAU-CCU: 10/08/06: 6.54: Y-DSR
16/
Singapore Airlines: CCU-SIN: 10/11/06: 5.88: J-IMR
17/
Air Canada: ICN-YYZ: 10/12/06: 7.13: J-ILR
18/
Delta AirLines: SEA-JFK: 11/24/06: 7.17: F-DLR
(Note on Codes: Y ¡V Economy, J ¡V Business, F ¡V First :: I/D ¡V International/Domestic :: SR/MR/LR ¡V Short/Medium/Long Haul :: I have designed these codes so people don¡¦t believe my scores are comparing apples and oranges)
VII> Other Pictures:
(Prized picture of an IL-62 parked @ Santo Domingo airport. My road trip friends were annoyed as I interrupted a long drive to take several shots)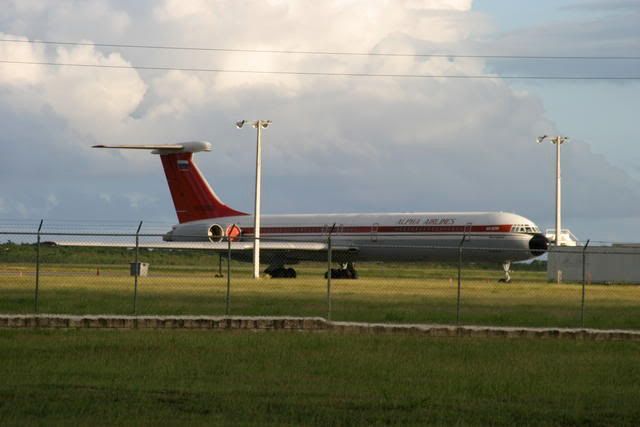 (Crowded Punta Cana)
(More serene Las Galleras)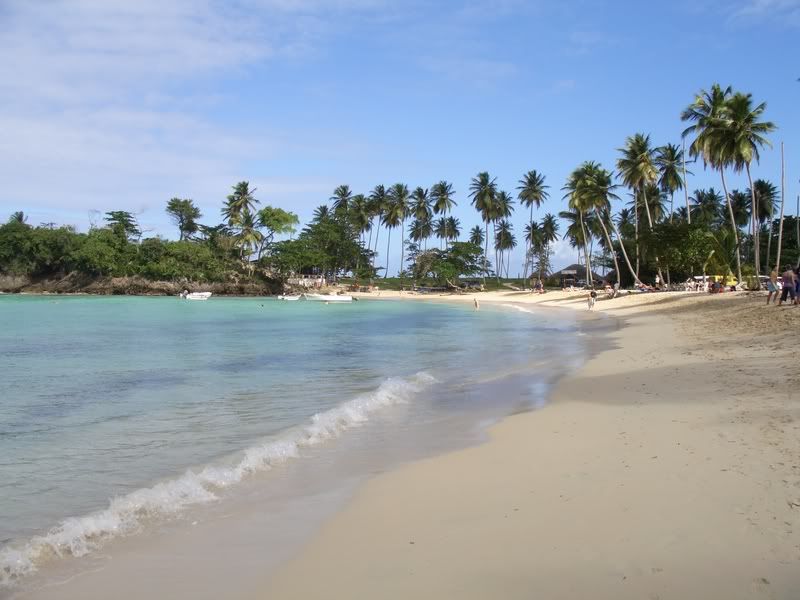 [Edited 2007-01-10 06:21:28]