Report
Before I start details might be left out because I¡¦m writing this 5 days later and 8 segments later and doing this from memory.
Background information
It was back in August when I started to plan this trip. After buying three 129all in LAX-JFK UA MR tickets it was finally time for me to do a cheap CMB ticket. So before my fall semester I started to search for who was able to ticket my CMB ticket. I tried talking to my local TA and they were unable to ticket a CMB ticket for me. Then I resulted into FT. When I was planning the trip the TG F fare was available. My routing was going to be CMB-SIN-BKK-NRT-LAX-SFO-NRT-BKK-HKG-TPE-SIN-CMB. I was ready to ticket my ticket. But I went to bed and the next morning when I woke up, I got an e-mail saying that TG has pulled the fare. So I resulted into the OZ F fare. My final routing was CMB-SIN-HKG-ICN-JFK-SFO-LAX vv. When I was trying to ticket my credit card got rejected. After a couple of calls to the credit card companies it was set. Then I called UA for an award ticket to CMB. I was going to be in BKK during the end of the year anyways. So I was able to get BKK-SIN-CMB vv using 40k miles in SQ F. The problem was that SIN-CMB was in Raffles. This segment was finally in F when I was in BKK 3 days before the start of my trip. I had to go to the UA BKK office to get my ticket endorsed.
I should tell you that the purpose of this trip was to get NH Platinum. I want the Super Flyers Card so I can pay a yearly fee and maintain *G without flying. Because my 1K will expire Feb 2008.
Well I randomly get a call from OZ to my cell phone around October. I was about to head out to school early, but it was from the revenue department. They started to ask why I bought this ticket and why did I ticket this ticket in the east coast when I lived in the west coast. The outcome of the call was that I must start the ticket in CMB if I threw away segments it will incur a HIP (highest intermediate point) check. I was okay. Then 12 hours after the call that¡¦s when the OZ F fare ex CMB got the SOTO restriction.
I won¡¦t bore you to death with other details. But I left the US on December 18th SNA-SFO-KIX. Then from KIX-SIN-BKK on Dec 30th on SQ Y (I have the menus for these segments, but they are in BKK right now)
The night before my departure I pack up. I wasn¡¦t going to check in any bags on my whole trip so my rollerbag and one duffle bag was going to get me through the whole itinerary. ¡§RING RING¡¨ I was half asleep and I managed to get out of bed at 7.30am in the morning to take a shower. The night before I was playing Wii until 1am. It was going to be my first time leaving from the new BKK airport. So I wanted to get there early and leave some cushion in case anything happens. After I get out of the shower I say my good byes to my Mom and Dad. They wished me good luck on the trip. Before leaving my Dad told me to use the hotel limousine to get to the airport. To my luck the hotel limousine was already transferring passengers. So I had to result into using a Taxi. Well there was a Taxi right away so no problem. I started talking to the taxi cab guy. (I have no problems with striking up conversations with people). He was saying the new airport was far.
I get to the airport at 8.30am. At least my taxi cab driver didn¡¦t go over 120km/h. I had a taxi cab driver who went 150km/h before I was scared. I told the cab driver to stop by door #6. I walked in and went directly to the SQ checkin row. I forget which row it was either F or H or G? I¡¦m too lazy to look it up. There was someone already checkin at the F counter. So I walk over to the Raffles desk and give my paper ticket and passport. She had no problems checkin me in. I asked about what aircraft was going to operate this sector. I checked SQ homepage and it was showing a 744 the night before. To confirm she told me it was a Megatop! Yay. A swap from a 773 to a 744. Skysuite for 2 hour hop to Singapore! After checkin and asking to get a couple priority tags to laminate for fun, I went around the airport to see what they had. I went down one flight of stairs to the food section. Since I didn¡¦t have breakfast yet I was hungry. I didn¡¦t purposely overeat because I knew I was going to be fed well on SQ. 
I choose to eat BBQ pork over rice. Aka Char siew. Then after that I walked back up to the and bought the 500baht departure tax. I went through to the immigration. Of course being me I have to be unlucky and choose the slowest agent who was doing the passport check. Oh well it took an extra 2 minutes. Since I was on the very right side of immigration the walk to the TG F lounge was far. I had to walk through the whole airport duty free area. This airport seriously needs to get rid of some of these stores there is no place to walk. The aisles are too small and also the airport is too hot. The a/c needs to be fixed!
After I finally found the sign to the TG F lounge before I could get to the escalators there was a guy checking the boarding pass to see if he could let me through. Then I walk down the lounge area. I got to the TG C side and the lady told me to walk down this long passage way. Finally when I got to the end I found the entrance to the TG F lounge!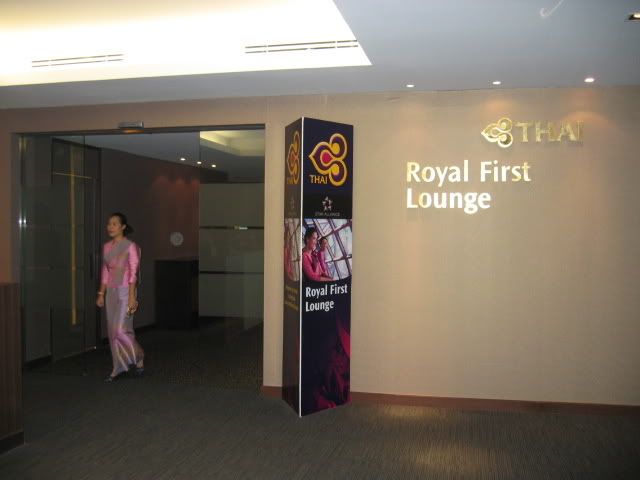 They immediately let me in the TG F side. As soon as I entered I enquired about using the internet. I needed to check on the situation with meeting people. To my surprise I had two PM¡¦s from SQT. I was planning to meet Savage25 after my arrival into SIN before I cleared immigration. As soon as I sat down the lady asked me what I wanted to drink. I got some OJ. After checking the PM I went to see what kind of foods they had on offer. I got to the food area and there were 3 people waiting to serve. I just told them what I wanted and it was served to my computer desk. Let me inform you that there was about 30 people working there. They were waiting to serve us. The lounge never had more than 10 people there. Including 5 people from my SQ segment.
After checking e-mail¡¦s, grades, FT, a-net, news, some instant messages. I got tired of the internet. Let me say that I didn¡¦t use internet for almost 6 days. I used it for about 5 minutes to send a PM the night before, but that was it. Then it was time for me to walk around the lounge to explore. I went to check out the shower room. There was a sleeping room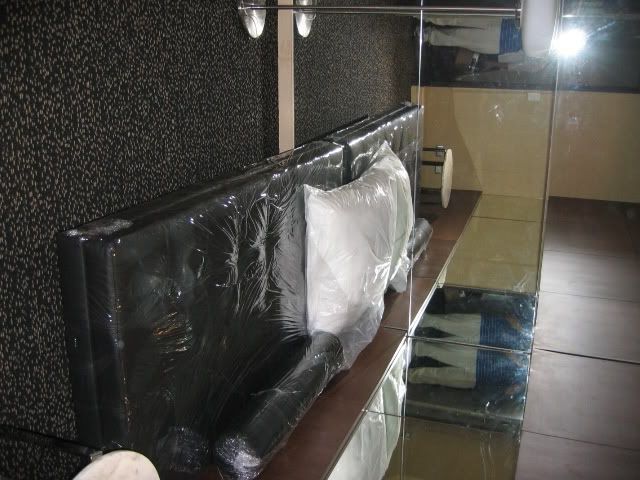 The sleeping room is still under construction.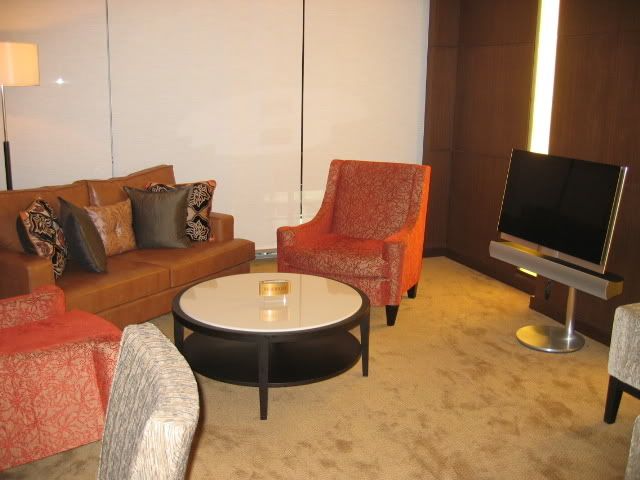 I got sick of being in the lounge and left to the gate early. I went to the gate at 10.30am when. That¡¦s when the aircraft was arriving. The incoming flight was about 15 minutes late.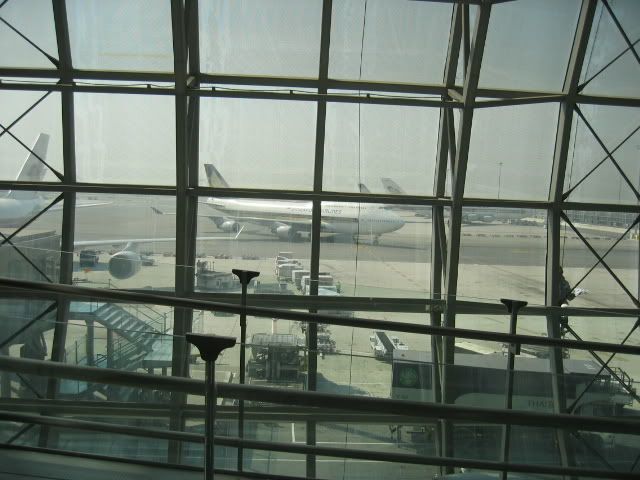 I took a snap of this photo while I was waiting for the aircraft to get serviced for the return portion of the flight.
SQ 63 BKK-SIN 9V-SPA
Departure gate D3
Arrival gate E28
The aircraft was late inbound so boarding was delayed by 15 minutes. SQ leaves tons of cushion for the BKK-SIN flight so even though the flight was delayed 15 minutes we still arrived in SIN early. Once boarding commenced the left door was for all Y passengers and the right door was for F, C, *G, and PPS members only. There was 2 people guarding this. I was the first passenger to board. As soon as I walked through the first door I was greeted. They tired to pronounce my name, but it was hard. So I said don¡¦t worry about it and they just called me sir throughout the flight instead. The passenger load today was 5/12. Out of the 5 passengers 2 were PPS and the other three were traveling on Miles 
. Which includes me of course! I snapped these two photos of the skysuite as soon as I sat down. Let me inform you that it has been over 15 years since I flew SQ F.
As soon as I sat down the leading stewardess came to my seat and asked me what I wanted to drink. I asked for OJ. I don¡¦t drink so too bad I can¡¦t try Krug or DOM. Then while taxing to the runway I snapped these two photos of the airport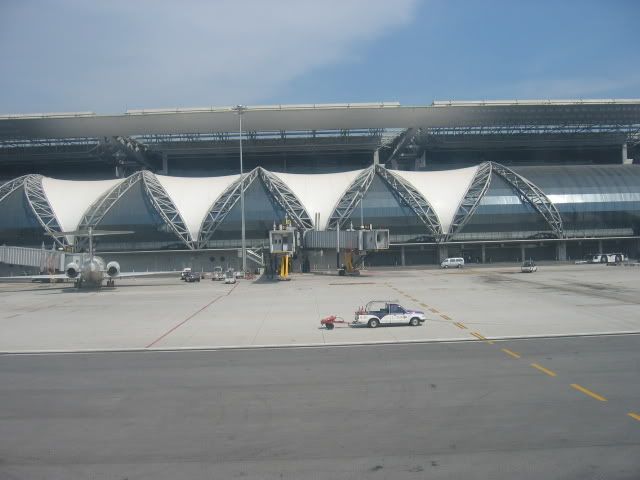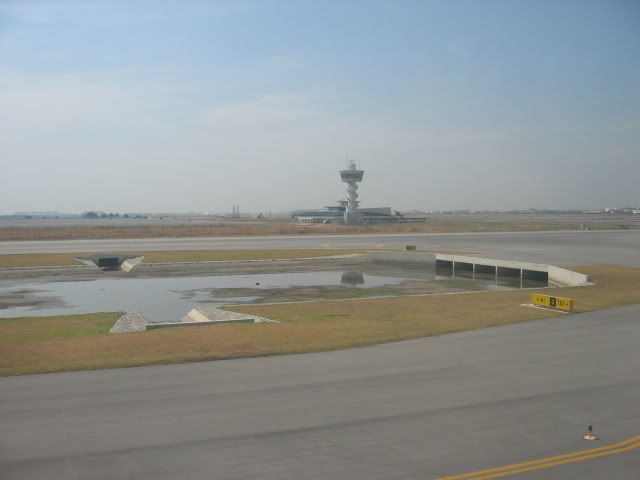 Once we lifted off for a 1 hour and 55 minute hop to SIN, the crew quickly sprung into action. Within 30 minutes of departure we were being served our lunch. Of course with a menu first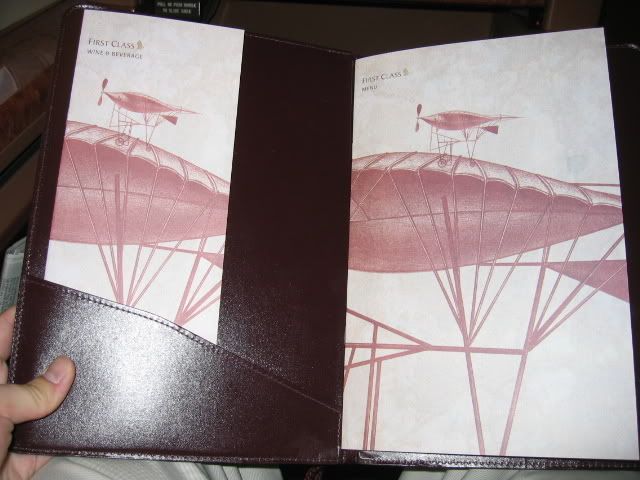 Lunch from Bangkok to Singapore
Appetisers
Thai style assorted seafood salad
Main Courses
Seared salmon fillet with sauteed pancetta-capsicums and saffron potatoes
Phad Thai
Thai style fried rice noodles with prawns, sliced pork and beancurd served with raw beansprout and peanut
Braised beef in Chinese wine-spices with vegetables and steamed rice
Fresh Fruit
Oven fresh rolls
with a choice of extra virgin olive oil or butter
Garlic Bread
Hot Beverages
Freshly brewed coffee
Espresso or cappuccino
Selection of tea
SQ63C BKK-SIN (L3) 20-1.1 01FC
First with the layout of my table.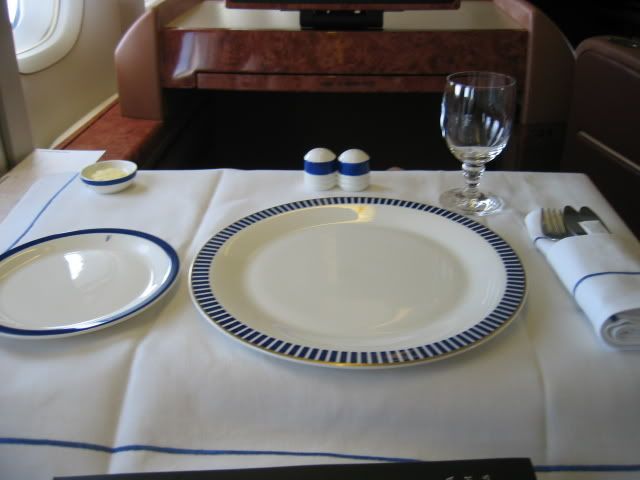 Picture of my appetizer
This is the salmon main dish.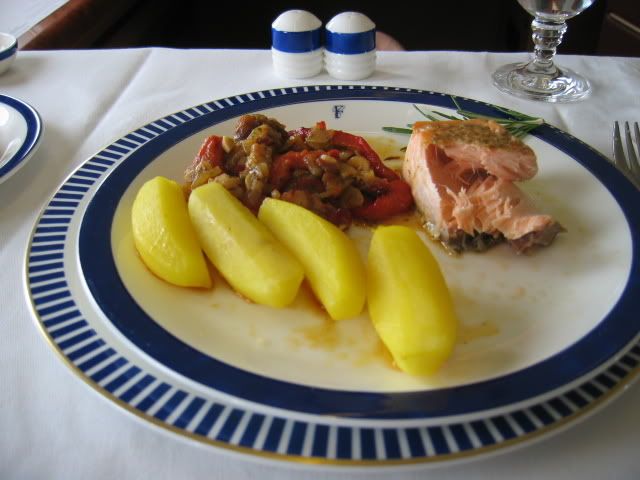 After lunch was over, being the tradition of flying SQ I always ask for 2 sets of playing cards. That was quickly delivered to my seat. After that I took a quick 10 minute power nap putting the skysuite into the bed position. Then after the nap I woke up and I wanted to look around the aircraft a bit. I ended up striking a conversation with the flight attendants. We had a good talk and then the IFS asked if I wanted to see the crew rest I was like sure!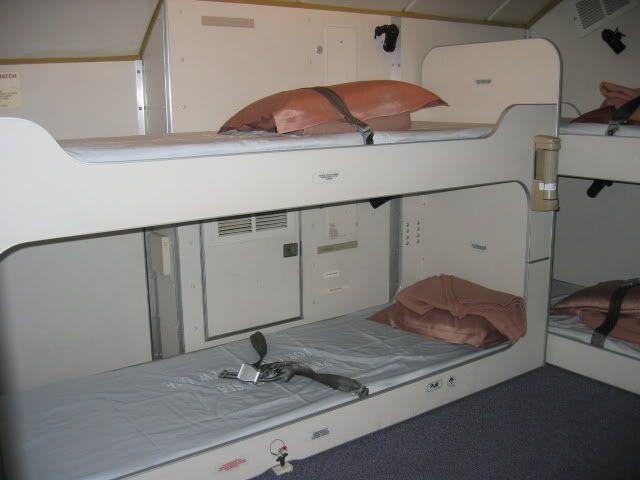 After taking the picture of the crew rest I walked around the cabin. Economy load factor was at most 30% Raffles had 2 passengers. Then after that it was time for landing. During landing I striked a conversation with my fellow F passengers. I found out they were on a trip to Bali on BD miles 
. They were holding Raffles tickets onwards to Bali. I told them that I would be able to guest one of them into the F side and possibly one more when I meet up with my friend.
Upon arrival of course the farthest gate E28!!!! I used the escalators to walk to the SKL. I know that using the tram was quicker. As soon as we got to the SKL I said to my fellow F passengers I¡¦ll see you in 10-15 minutes. I quickly head into the telephone booth and call Savage25. He just finished checkin and was on his way to the SKL. Three minutes later he arrives at the SKL and I go grab my fellow F passengers and we all sit down in the F side. We all talk about our travel plans and things. Mind you that it was almost 3pm. I had to leave at 3.20pm because someone was picking me up. So after 20 minutes of some interesting conversations I say my farewells to all three.
This is a photo of my SQ F ticket w/ my passport 
After departing the SKL I cleared immigration of course again I choose the slowest lane. I went out and was suppose to meet my friend¡¦s dad who was picking me up, but he was no where to be found, so I took a taxi instead. I arrived at my friends place twenty minutes later. I just talked relaxed and chilled for 2 hours before I headed to Shenton Way to go see my friend. Once I got to Shenton Way via the 107 bus which took 45 minutes, due to traffic, I waited for my friend to finish work. Then around 7.30pm is when my friend finished work. After that we started to walk towards Esplanade. We walked through Esplanade to Marina Point. While we were walking we were deciding what to eat. Finally we ended up at the top of Marina Point and again I had Char Siew with rice. After that we got to the taxi queue. To my luck when we were the second one to grab a taxi rain falls. Then no taxi comes as they are all on call. So we had no choice to call a taxi. Taxi came 10 minutes later. We got to my friends apt at 9.20. As soon as I got there used the bathroom and then we headed straight out to the airport.
I got to SIN and was dropped off promptly at the F checkin area. The porter came by to assist, but I said I had no bags and he quickly went to help other passengers. I went straight to clear immigration and straight to SKL F. As soon as I entered the SKL I went directly to the computer terminals. As soon as I checked SQT there was a page for me. Passenger fumitani traveling on SQ468 please come to the customer service desk. I walk towards the customer service desk and volla there was DeltaFlyingProf and to my surprise the Famous CGK. As soon as we met we said hello and took pictures as you see in the previous page posted by CGK. Then he saw my boarding pass saying UA*S he asked me for my boarding pass and my *G card. He was surprised I didn¡¦t have my 1K card yet. Well I¡¦m in the US right now typing this out and still don¡¦t have my 1K card yet ƒ¼. It was 10:05ish by the time I met CGK and DeltaFlyingProf. So I had time to talk for about 15 minutes. They were on their way to NRT on NH F or SQ F I didn¡¦t catch this well. I asked how far gate E8 is. Oh yes you guessed it right I had the furthest gate again. So at 10:25 I left the SKL said my farewells to both and wished to meet them in the near future. I pretty much walked as fast as I can to the gate. As departure time was 10:45 and I had 10 minutes to get there. I arrived at E8 about 6 minutes later. I snapped a quick photo before going through to the waiting area.
SQ468 SIN-CMB 9V-SQA (no AVOD  
)
Departure Gate E8
Arrival Gate G7
After getting into the waiting area about 1 minute later boarding was commenced for *G, F, C, PPS passengers. I was the first one to board. While walking down the jetway someone noticed my FT baggage tag. It was SanDiego1K. She was on her way to CMB to start a EK F ticket. So while boarding was happening I talked to her for a while and then left her and her husband to enjoy the flight. Again when I arrived at the door I was quickly greeted by a Leading stewardess named Mary. I was escorted to my seat 1A. The flight today was 4 passengers in F. Raffles was 10 passengers and economy was at most 30% full most passengers had 3 seats to themselves.
So while I was seated they came over the flight attendants came over to talk to me. I was told them I¡¦ll be with them all night. They were surprised and later on the flight asked what I was doing. I got to have some interesting conversations with them. It was nice to have nice crews so far.
Take off was using runway 2C. After take off the flight time to CMB was 3 hours and 5 minutes. Once in cruising altitude the meal service began again. I asked for an OJ again. Okay this time I asked for a DOM as I just wanted to taste it. I pratically had the following portion. I wasted a whole bottle to just take a sip  
.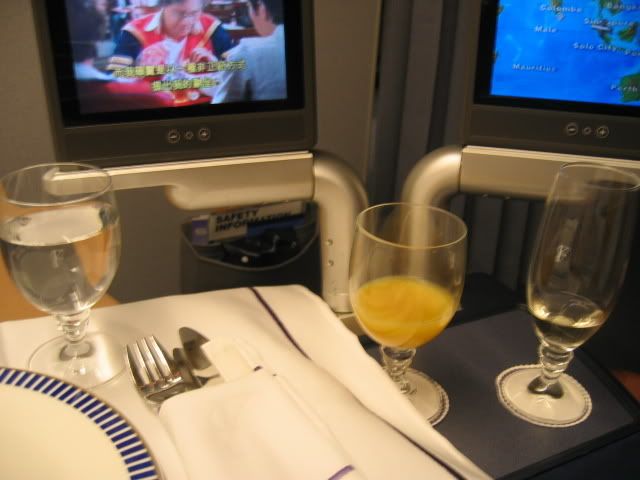 The following is the menu
supper from Singapore to Colombo
appetisers
Tuna "tataki" with avocado cilantro tartare and yuzu dressing
Main courses
Tagine of baby chicken with saffron
couscous, date chutney, preserved lemon
Egg noodles in pork broth garnished with parwn and pork "shui gow" dumplings and vegetables
Lamb "korma" braised in mild Indian spices with cauliflower and green peas in masala, steamed rice
fresh fruit
A selection of fresh fruit
from the bakery
Oven fresh rolls
with a choice of extra virgin olive oil or butter
Garlic Bread
hot beverages
Freshly brewed coffee
Selection of tea
SQ468C SIN-CMB (S2) 127-1.1 01-02 FC
The menu was quickly delivered and I was quickly informed that I had Lobster Theamador on BTC ordered. First came out the appetizer. It was delicious, but sorry I forgot to take a photo of it. Then came out my BTC. After eating my BTC I was still hungry so I ordered the noodles from the menu. I was quickly delivered this.
After dinner I pretty much standed up and striked a conversation with the flight stewardess. We talked for about 1.5 hours until we were on final approach into CMB. We touched down in CMB 5 minutes ahead of schedule.
Once the gate was connected and the door opened again I was the first passenger to disembark. I said to the crew see you in one hour  
. I walked out straight to the transfer desk. I checked in for my return flight back to SIN. Let me tell you at this point I was getting extremely tired. I got a lounge invitation to the F lounge. I walked over to the tea booth. My friend asked me to buy Orange Peko Tea leaves. It was 6 dollars for a box. I thought it was expensive, but it¡¦s alright. I paid that in US dollars. Then after I bought the box of tea leaves I went to the F lounge. Of course I made the mistake of going to the C lounge to be directed over to the F lounge. The lounge was right next to gate 6. As soon as I entered the first thing I saw was that the lounge was had maybe 10 or so people. I went to the food section and it was FILTHY! I forgot to take picture because I was so tired. I went to use the computer terminal for 5 minutes and then grabbed myself some books and a water bottle. Relaxed for about 30 minutes and then boarding announcement was made. I walked over to Gate 7. As soon as I passed security and they did a passport check I was immediately on my way back on the flight.
SQ469 CMB-SIN 9V-SQA
Departure Gate G7
Arrival Gate F22
As soon as I got back onboard I was told welcome back. Some of the flight attendants from C was surprised to see me back onboard, but all the three F crews knew I was coming back. This time around the flight load was 8/12. Seat 1A again for me. This flight I don¡¦t remember much as soon as take off I reclined and just slept the whole flight. Flight time was 3 hours and 20 minutes. About 1 hour before arrival I woke up had orange juice and went to see my fellow crew members. They looked exhausted and was falling in and out of sleep. I felt bad for them. Although I was sleep deprived myself. We landed at 7.25am. Don¡¦t worry I have the menu with me.
supper from colombo to singapore
soup
chicken consomme Celestine
main courses
Saffron flavoured coconut prawns
with raw banana and mango poriyal,
spiced okra with waterchestnut and coriander pilaf
Warm tandoori lamb with roasted vegetables and cheddar cheese panini
Indian sytle chicken shahi korma with spiced spinach, cabbage, peas and cumin rice
fresh fruit
A selection of fresh fruit
from the bakery
Oven fresh rolls
with a choice of extra virgin olive oil or butter
Garlic bread
hot beverages
Feshly brewed coffee
selection of tea
SQ469C CMB-SIN (S2) 128-1.1 01-02 FC
As soon as I left the gate I went directly to a telephone. My friend was suppose to meet me at SIN airport. I called and she was still at home. So I had my time. I went to the SKL F to get my boarding pass changed to a SQ stock F BP. Then right after I went to shower. When I finished my shower I exited immigration. Again I choose the slowest lane. Right after clearing immigration I bought a 3 pack of Heineken. I went up to departures level to get a print out of my e-ticket. One of my miles from last year didn¡¦t post and I needed an e-ticket receipt. After having that done I went back to the arrivals level and waiting 2 minutes and my friend appeared. We went directly up to the Staff Catering. The place was hard to get to, but we managed to find it. I had wonton noodle soup. During food I gave my friend the toys I got onboard with the beer and tea leaves. I walked her over to the MRT. As soon as we said our good byes and said I¡¦ll see you in a week, I headed up to the SKL F reception (why I went here ask Savage25, I won¡¦t post it publicly). Now I went through immigration again to the SKL F lounge. Now I had plenty of time. It was 9.30am and I still had over an hour before boarding was going to commence. Of course being me I was board. I went to the Customer service desk and started talking with the people who worked there. We had a good chat. At 10:30 I started to walk to my gate. You guessed it again. The second furthest gate. F59! It took me about 10 minutes to walk over to the gate I got there around 10:40am. I already knew my aircraft registration because I asked at the SKL F lounge. Here is a picture I took of 9V-SWD
SQ862 SIN-HKG 9V-SWD
Departure Gate F59
Arrival Gate 20
As soon as I walked onto the aircraft it still had the new smell to it. I was greeted by name. And escorted to my seat 1A. When I sat down I started to play with the new KrisWorld all I can say is that the screen is insanely big. The new F seat itself I find it pretty uncomfortable to sit. I find that the skysuite is much more comfy in a relaxing position. More of that later. So pretake off drink was OJ again. The flight attendants on this flight were extremely robotic. I found my other two segments were better. The captain came on the intercom after all doors were closed. He said that the flight time to HKG was going to be 3 hours and 20 minutes and FYI the aircraft is just 3 week old  
. The new headphones and everything was clean. Take off was on again 2C (which is the only runway we used the whole time for the 2 takeoffs and 2 landings I had at Changi. We were the second for take off right after the MegaArk.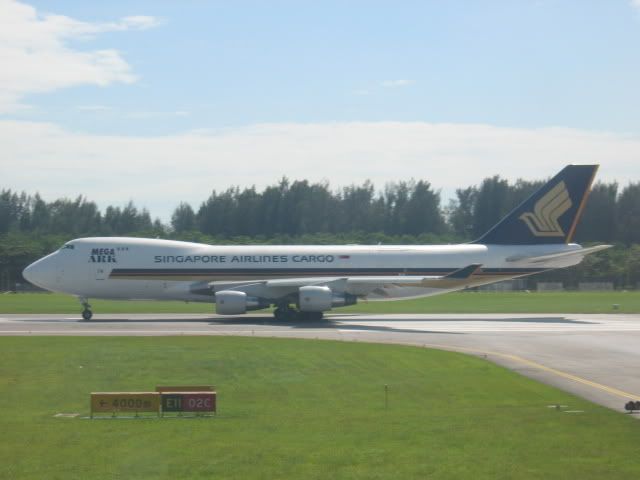 After takeoff the food service started about 20 minutes later. The menu was distributed and 5 minutes later I was taken my order.
Lunch From Singapore to Hong Kong
Appetisers
Malossol caviar with smoked salmon and cucumber salad
Tian of lobster with avocade, jellyfish and bonito flakes
Aged balsomico and basil oil
Soup
Cream of tomato soup with basil cream and crouton
Salad
Butter lettuce heart with baby cress and cherry tomato
Singapore dressing infused in shallot oil with sambal, lime and honey
Balsamic and extyra virgin olive oil dressing
Entrees
Seard cod fillet in saffron ginger cream with roasted vegetables and mashed potatoes
Soya Sauce chicken, black mushrooms and leafy greens with gragrant rice
Grilled Australian Kobe beef in red wine jus with roasted vegetables and potatoes
Salad of raosted fingerling potatoes, Kenyan beans, Swiss brown mushroom, semi-dried tomato with lamb-lettuce, walnut oil dressing
Dessert
White chocolate panna cotta with raspberry soup and sesame tuile
Lime jello with lychee sorbet
Cheese
Selection of Kapiti-aged cheddar, Tasmanian heritage double brie, rambol walnut and chaumes cheeses served with garnishes
Fruits
Fresh fruits in season
SQ862QC SIN-HKG (LF1) 238-1.1 01FC
Of course I got the caviar dish, but being hungry I got both of the appetizers. May I say that all dishes I had so far was delicious. Sorry I forgot to take a picture of the caviar dish. But the other one is as follows.
After the appetizer I was presented with a salad. The salad was good, but I only finished half of it as it was too much for me.
Again since I wanted more Lobster I BTC Lobster Theamador again. But this time I made sure to take a photo of it. Of course having Lobster two times within 12 hours still made me smile and happy.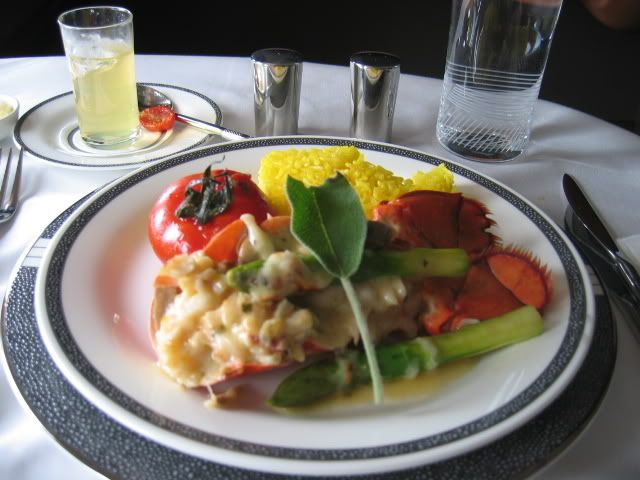 After consuming my Lobster I asked the crew quickly for my dessert. I was getting extremely tired. So quickly about 1 minute later came out my dessert.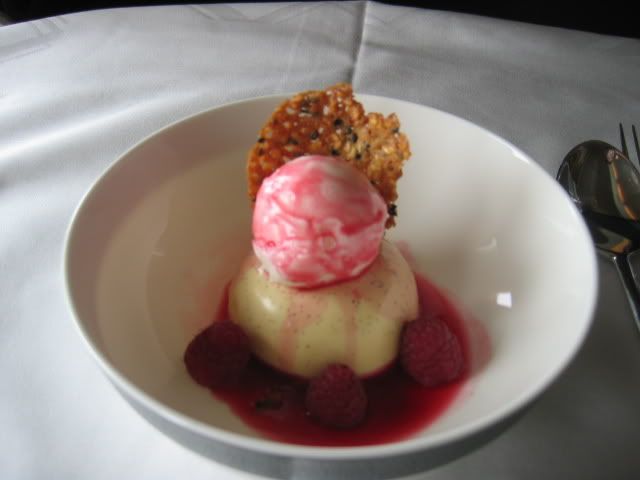 It was good as soon as I ate the dessert I stood up, put the seat into sleeping position, and I snoozed off for 1 hour. Wow that Bed was huge and comfy to sleep on!. More about the seat, I tried various seating postions, but I never found something comfy to sit. The bed position is good, but other than that please give me a skysuite to relax and watch a movie on.
After waking up from my nap as I requested before the IFS showed me to the cabin crew rest area. Wow is it big compared to the Megatop. They even have KrisWorld the size of Y. The bed¡¦s here are not bunkbeds but all individuals beds. The flight load on this one was Full in F 80% in Raffles and 100% full in Y. Oh I should say that my CMB-SIN flight was 8/12 as I said. Full in raffles and full in Y. They were overbooked so they op-uped 30 people! They had problems with meals, but I guessed they figured that out. Since CMB has no catering for SQ.
I got to talk to the IFS for about 20 minutes before he head to prepare the cabin for landing. He was nice and he was jealous of my travels as he had to do the turnaround back to SIN.
After my arrivals in HKG. After 15 years of not going to HKG it was finally time to see HKG again. We arrived at gate 20. walk to immigration was quick. Waited 5 minutes and I was through. As I had no checkin bags I walked straight to the no duty line. I was of course the lucky one who had to put my bags through the x-ray machine. And out I go. I was in HKG woohoo. Since I had the octopus card with me I just had to purchase a roundtrip on HKIA express.
So after getting to Hong Kong Central station I walked over to the Island line and rode another train to Tin Hau station. I got off and walked out exit A1 and I saw my hotel right in front of me L¡¦Hotel in Causewaybay. Picture of my hotel room.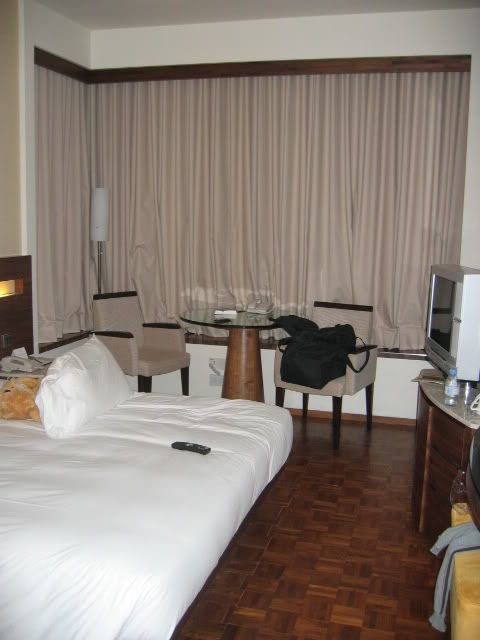 I checked in and unpacked my stuff. I used the bathroom and to my luck the bathroom broke. The water wouldn¡¦t stop leaking. I had to call the maintenance people to come fix it. Great this wasted about 30 minutes. I was ready to go out and explore Hong Kong. So after that ordeal. I went back to Tin Hau station and went back to Hong Kong Central station as I was going to go to The Peak. I got off Central and followed the J exit. As soon as I walked out I walked towards the Peak Tram. As I got there the fare was 22 Hong Kong Dollars I was calculating wow that is expensive, but I guess it was alright since I had money in the octopus card anyways. The wait time to go to the top was about 20 minutes. As soon as I got to the top I went to the observation desk. When I got to the top of the observation desk my camera battery DIED! I was sad I couldn¡¦t take good photos. I explored the area and finally when I went to the supermarket on top my friend called me and said she¡¦ll meet me at 8pm at the hotel. It was 6.30pm when she called me. So I used the bus down. It was 8 Hong Kong Dollars to Central Station. I got to the bottom about 20 minutes later. Since I was still early I went shopping around Central station. I wish I had more time I quickly walked around for 30 minutes and headed back to the hotel. I then got on the Island line again to Tin Hau station. I got to the hotel around 7.45. Went up to the room to charge my digital camera battery.
I went down to the lobby around 8pm and my friend arrived 10 minutes later. We walked about 10 minutes to go have steamboat. Then we ate and talked for about 2 hours. Then I was going to meet another friend. She actually knew this person also, but she was tired so she went home. Then I took the MTR to Causewaybay Station. Met up with my friend had Milk Pudding and went to a bar for a drink. I took the last train back to Tin Hau station. I got back to the room took a shower and quickly retired. Before I retired I had set my alarm clock to 9am and also had the hotel call me for a wake up call at 9am.
Ring Ring again. After a good nights sleep I showered again and prepared for my long journey to JFK. I quickly checked out of the L¡¦Hotel the rate was 791HKD and I was charged on my credit card 104.80USD. I headed to the Tin Hau station and then to Central station. Once I arrived at Central station I went directly to the in town checkin. Once I inserted my train ticket to HKIA I proceeded to checkin counter #15. There was nobody waiting. She asked me right away where I was going. I said JFK. She saw that I had two carry on bags she was like you only can have one. I said I was a F passenger, but she insisited that I checked in one bag I did so. As I didn¡¦t need everything anyways. She checked my visa got my address and printed out my boarding pass for both sectors and tagged my bags with the Yellow F tags and she also left my pink SQ F tags on also.
I go down one level to the HKIA express train and the train was boarding already. I quickly got a seat and on my way to HK airport. I got to the airport at 10:30am for a 1:30pm departure as I was going to do some lounge hopping. When I checked in she gave me a lounge invitation to the Dragon Air lounge. I was entitled to use 4 lounges!
As soon as I got to the airport I walked around the checkin desks. I was hungry so I grabbed a congee first. Then I walked over to the SQ desk to ask about what time I had to checkin for SQ 1 coming up next week. Then I went over to United to present my boarding pass and ticket and mileage card for mileage record. Then I cleared immigration and went straight to the SQ lounge. As soon as I got to the SQ lounge I was let into the F side. I was there to check e-mail's and stuff. I had 2 charsiew paos. Then I left to go see the TG lounge. I took the underground to the 60's gate area. This is a picture of the entrance to the TG F lounge.
As soon as I sat down the lady showed me a menu that I could order from. Of course being hungry I choose more charsiew paos. I had two more as pictured with a cup of orange juice.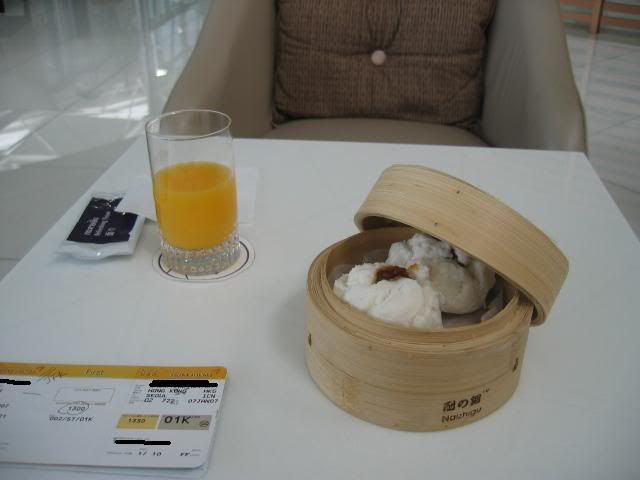 Then I stood up to use the bathroom, my conclusion is that they need a separate F side bathroom as it is only separated with a rope. I also took a photo of the bar that was there.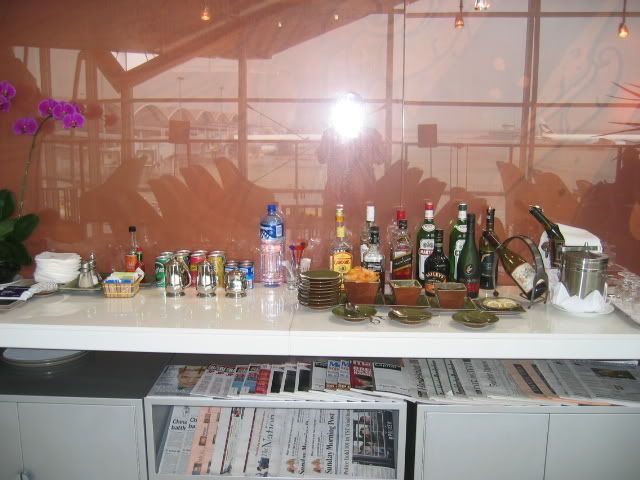 I sat in the lounge for about 15 minutes and then left. On the way to the IFL I saw that there was a JAL sakura lounge. Since I was a JAL JGC member I tried my luck to get into the lounge. I asked if I could use the lounge even though I was not traveling with them and even showed my JGC card. They would not let me in oh well next time I'll get to use it or one day should I say? Then I went down to the IFL. I had them check up on my reservations and change my seat numbers for my future reservations.
When I asked about using the F side, they thought I was holding a C boarding pass blah. Since I had the paper ticket right behind they checked that my booking code was F so they let me into the F side. Thank you I said. As soon as I walked into the F side people were packing up ready to get on their flight on the UA to HKG. So I was there alone for quite a while. I took pictures of the ice-cream on offer.
Then after the picture of the ice-cream I went to take a look at what they had for drinks. Intrestingly they had a whole juice selction.
I got a watermelon juice and then I sat right next to the window. While I was sitting there about 10 minutes later my OZ flight arrived
I also took a picture of the lounge
Finally I was ready to head out to the final lounge I was going to visit the Dragon Air Lounge. I had roughly 30 more minutes before boarding commenced. So I went to the bathroom to check out the shower facilities and here we got two pictures of it.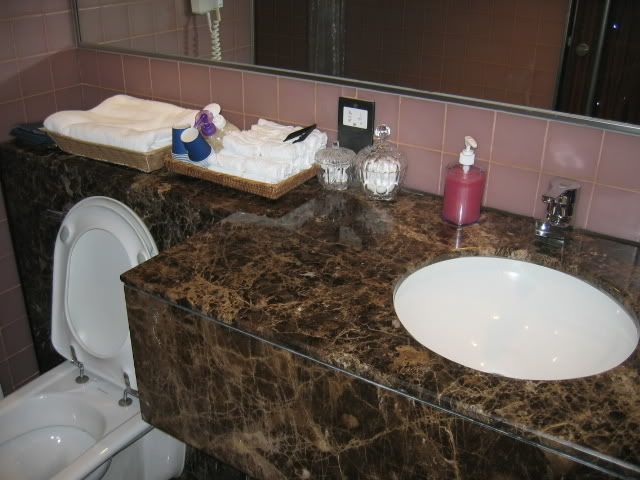 While walking towards gate 16 I snapped a photo of the long Hong Kong interior.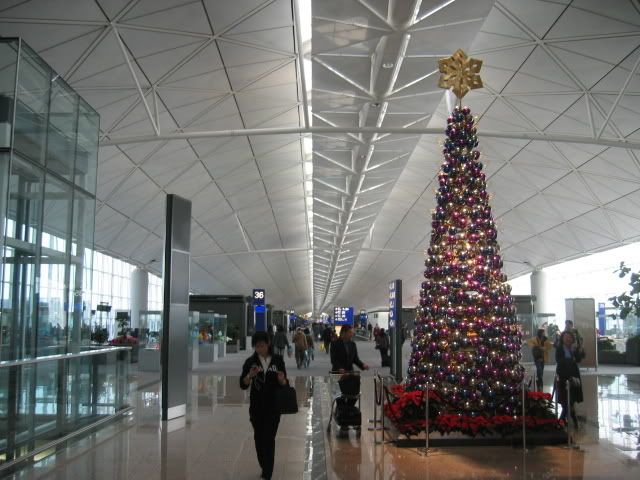 I walked all the way back towards the SKL lounge and then turn left towards gate 16. While I was walking I noticed that the incoming SQ flight was 9V-SQA! It was the same aircraft I went to CMB with. So walking towards the Dragon Air lounge I snapped a photo of the entrance.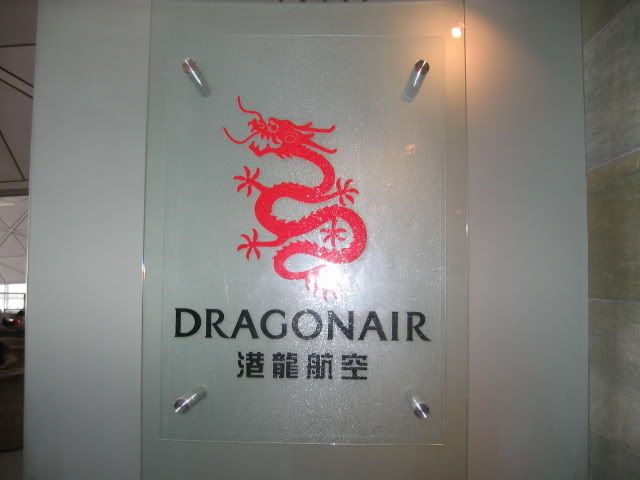 Then I went in the lounge I can seriously say that I was in the lounge for less than 2 minutes. It was dirty crowded and noisy. So I took a photo of the bar
I walked straight back towards the SKL again. I went into the SKL lounge and was let in again. The SKL lounge is closer to my departure gate anyways so I was more happy in there. Even though the lounge was 30% full it was a much better environment. I stayed there for another 20 minutes before I saw that on the screen it said that boarding has started. I walked to Gate 15 where my flight was going to depart.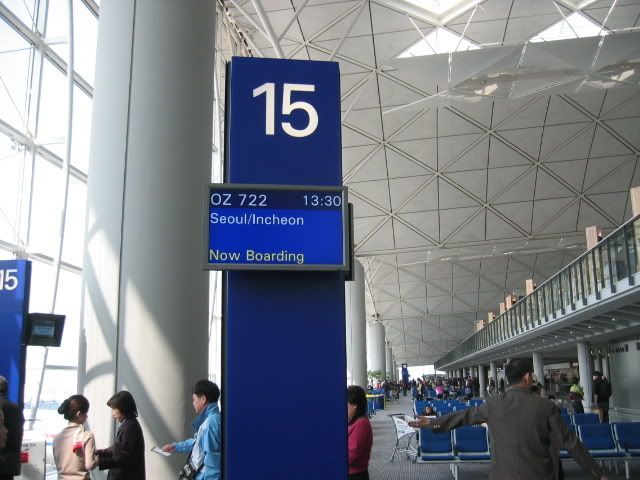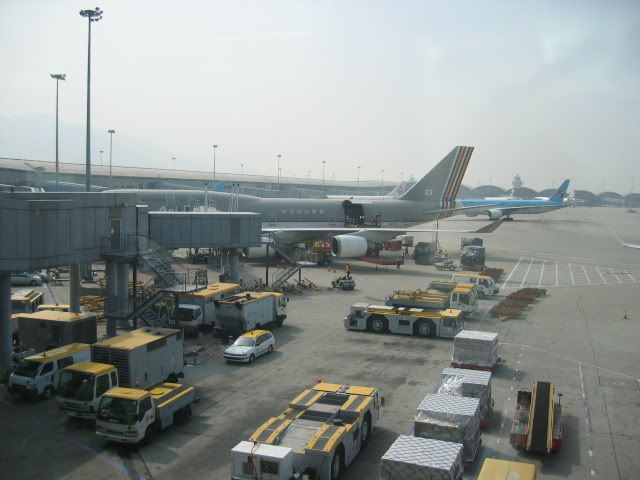 As soon as I got to the gate I handed over my F boarding pass and passport and I was allowed to use the F/C boarding side. I walked on board and there was a person guarding the Premium walkway. As soon as I got to the airplane they said Ang Young Ha Seyo. I told them right away I don't speak Korean :p. So after that they were always speaking to me in English. I snapped a photo right away when I got on board.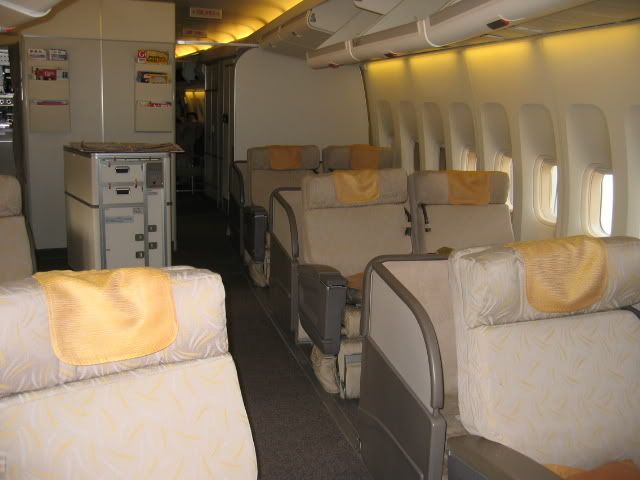 There was only 2 passengers in F. Y was full. I didn't bother going to the upperdeck so I don't know the C load. While I sat I got a cup of apple juice for a change. Then while taxing I saw a NH aircraft and quickly snapped a photo of it.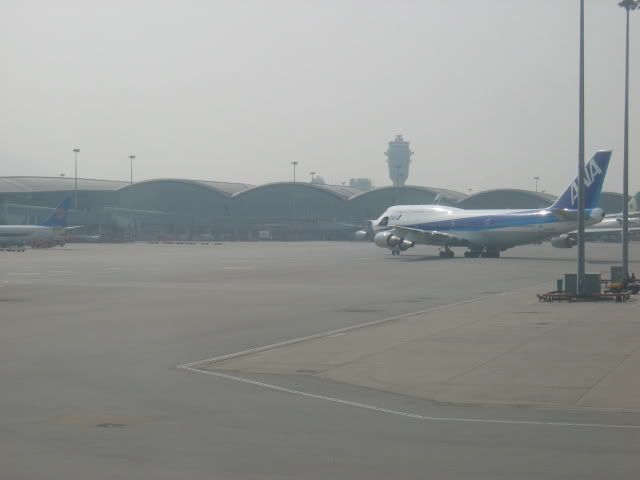 OZ 722 HKG-ICN HL7415
Departure Gate 15
Arrival Gate 7
Once onboard I was presented with the F menu for today before the doors closed. I took a quick look at the menu and I didn't really decide what I wanted to eat. Anyways then came on the Purser saying that the flight time to ICN was going to be a quick 2 hours and 55 minutes. When we got to the active runway, I didn't catch which runway we took of from, we had a SAA 346 and CX aircraft in front of us. We were third to take off. Our routing took us directly over Taipei and then straight up to Korea. When we got to the cruising altitiude the captain came on the intercom and did his welcome and gave information about the routing. His English was pretty good I have to admit for a Korean.
Here is the transcript of the menu.
First the ICN-HKG, both menus are on the same menu
Brunch
Seoul – Hong Kong
Hors d' Oeuvre
Perch & Salmon Terrine, Mixed Vegetables Roll, Parma Ham Slice with Melon Ball
Pumpkin Soup
Or
Beef Consomme
Main Courses
Grilled Marked Beef Tenderloin Steak
Served with Red Wine Sauce
Or
Lobster Thermidor
To complement your meal choice
Potato, Cauliflower, Broccoli, Pimento,
Carrot, Zucchini, Vegetable-Fried Rice and
*Steamed Sprouted Brown Rice
or
"Mixing and Harmonizing"
A Famous Korean Cuisine 'Bi-Bim-Bab'
Steamed Rice Mixed with Various Kinds of Vegetables,
Accompanied by Hot Pepper Paste, Sesame Oil,
Assorted Side Dishes and Soup
Selection of Cheese
Fresh Fruit
Dessert
Apple Tart with Raspberry & Vanilla Sauce
Coffee & Tea
Lunch
Hong Kong- Seoul
Selection of Canape
Hors d'Oeuvre
Grilled Prawn, Vegetable Skewer and Blackforest
Ham Melon Roll
Creamy Pea and Mint Soup
Or
Beef Consomme
Seasonal Mixed Salad
Served with Mustard Mayonnaise Dressing or Coriander Dressing
Main Courses
Beef Tenderloin Steak
Served with Chanterelles Mushroom Cream Sauce
Or
Grilled Lobster Tail
Served with Lobster Sauce
To complement your meal choice
Steamed Rice, Chateau Rosemary Potato,
Carrot, Yellow Squash, Sugar Pea,
And Stri Fired Mixed Vegetables
Or
'Mixing and Harmonizing'
A Famous Korean Royal Cuisine 'Bi-Bim-Bab'
Steamed Rice Mixed with Various Kinds of Vegetables,
Accompanied by Hot Pepper Paste, Sesame Oil,
Assorted Side Dishes and Soup
Selection of Cheese
Fresh Fruit
Dessert
Cheese Cake
Coffee & Tea
Assorted Petits Fours
So first comes out the Canape, but I forgot to take a picture of it. It consisted of Parma Ham rolled in Melon and also a smoke salmon on top of bread. It was good I wanted seconds, but I decided against it.
Then the table was laid out. Here is how it looks like. I got a glass of water along with a cup of Orange Juice. Oh if you want to know SQ uses Evian water and OZ uses Volvic water. Am I getting into too much detail now ? Here is the laid out of the table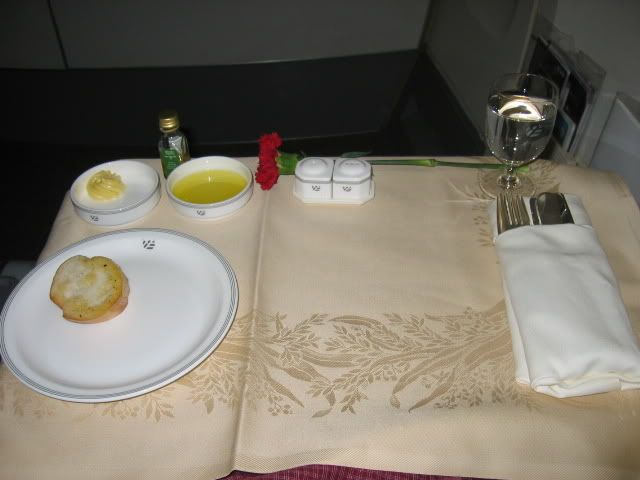 Then came out the Prawn and Ham. I quickly ate that. Maybe I should tell you that there were 4 people serving 2 people! So service was excellent. Too bad I couldn't speak Korean or the service would have been more personal.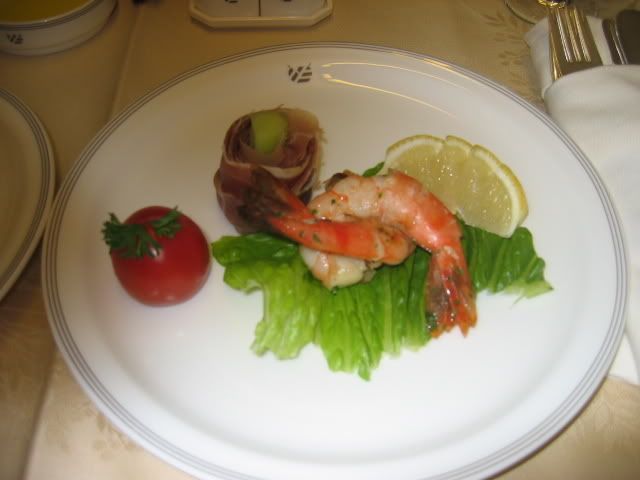 Then the Pea soup came out. This is gross I just had the coutons and I gave it back.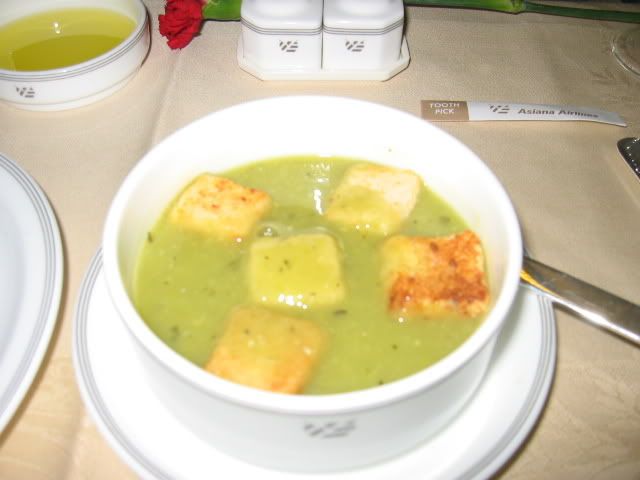 Then the salad came out. It was good their Coriander Dressing I finished everything.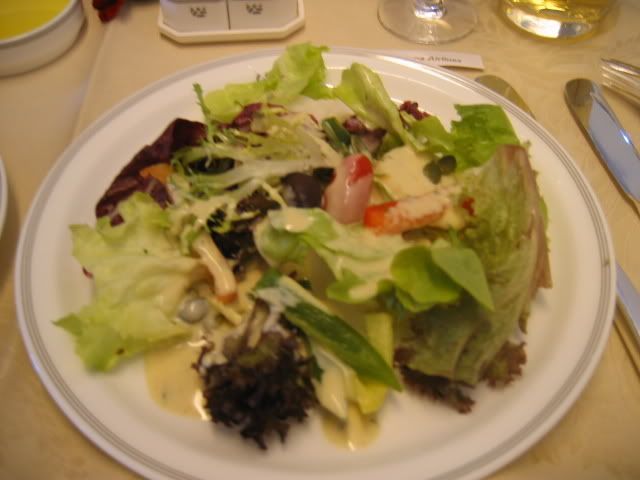 Then came out the main dish. Of course you could pick from the menu right I got the lobster again. Okay I need to seriously quit eating lobsters now I'm going to get high cholesterol. I had 3 lobsters with 48 hours. I ate the lobster had the vegetables and left the rice alone. As I was already getting pretty full.
Then came out the cheese and fruits. Wow I ate all fruits and cheese and I was stuffed packed!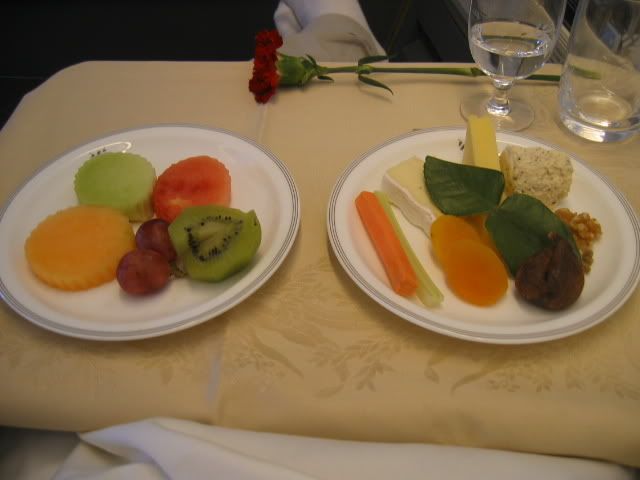 Then they said there was still dessert I was like fine more food wooooo. The cheesecake came out and I ordered Oolong Tea with it. The cheesecake was delicious and I ate every bit of it. After I finished the food I had a food coma. Way too much food.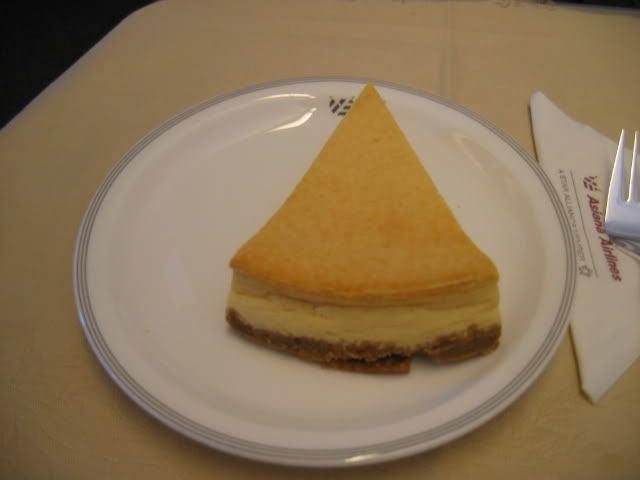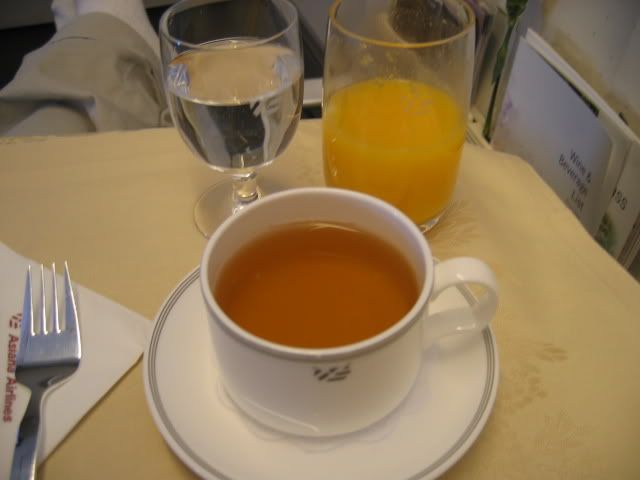 After the meal service I reclined the seat and watched a movie. I forget the title of the movie, but it was not good. But very soon it was already time for landing. The food service took almost 2 hours to complete. We arrived in Incheon and then I was the first passenger to deplane. During the 2 hour transit I was actually going to clear immigration and come back in. But I thought it was risky so I didn't do it. I walked straight to the transit counter. I found my passport and couldn't locate my ticket. So I was the only idiot walking back towards the plane. I walk straight back on to the nose of the 744 and the crew was like what's wrong. I said I forgot my ticket and quickly located it. They wished me happy travels to JFK.
I must say some people in this world are weird. There was a Chinese family in front of me. I guess the family just had her born in the US and brought back to China. She held a US passport and couldn't understand 1 word of English. The father and mother held a Chinese passport. I was annoyed at that. It took extra long to clear security because of these people. I also wished I spoke Chinese to help out oh well. So I came up to the departures level. At gate 8 they were boarding a flight to KIX. That is my home! I wish I was heading there. So I walk towards more civilized area. I find a transit counter and ask where the OZ or SQ lounge is. She told me that the OZ lounge is located close to gate 15. So I walk there and I find that the OZ lounge is there. I find an information counter. I asked where the SQ lounge was. She asked where I was heading I said JFK in F. She told me I could use the OZ lounge. I said I know, but I want to go to the SQ lounge as I had plenty of time. So the SQ lounge was more of a walk to the other side of the airport. Finally I arrived in front of the SQ lounge.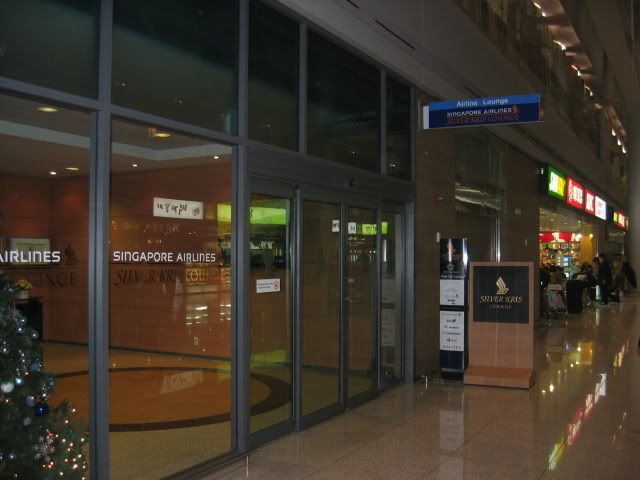 I walked in and was greeted. I gave the lounge guard my F boarding pass. I she asked me where my Gold card was. I was like I'm traveling F. I guess that many airlines don't think that a yellow boarding pass is a F boarding pass. Once I told her that she looked closely to find that it said F! Then she took down the details of the boarding pass so I guess SQ can collect money from OZ. After that the lady pushed the elevator button for me and I was quickly upstairs. I walked towards the F side
The lady quickly took a glance of my Boarding pass and allowed me into the F side. No problems. Once in the lounge I went over to see what they had on offer for food. I snapped this photo.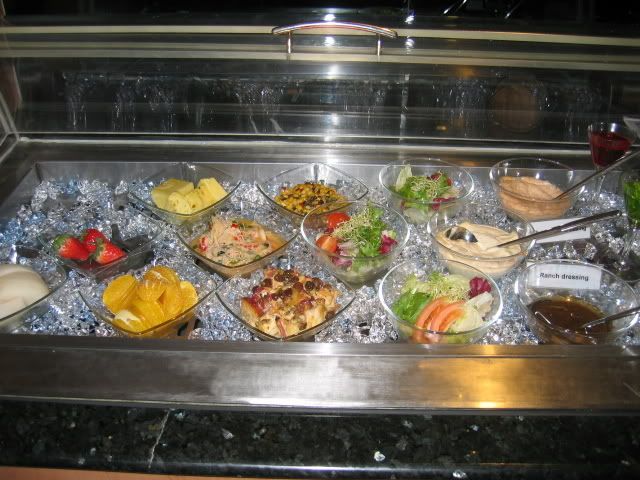 I grabbed the remaining Smoked Salmon and had a treetop apple juice and sat in front of the computer checking FT and SQT. There was F menu's for every SQ flight out of ICN, but I felt bad for taking it so I didn't. Then I wanted to charge my Digital camera battery which I did so it wouldn't die on me. I went to the reception person and got an adapter for it. After that I was in the lounge for about 20 minutes or so. There was a family of 2 that was there also. I then started walking around the lounge. I went to take pictures of the entrance to the bathroom and then I went into the bathroom to take a photo of the shower room itself.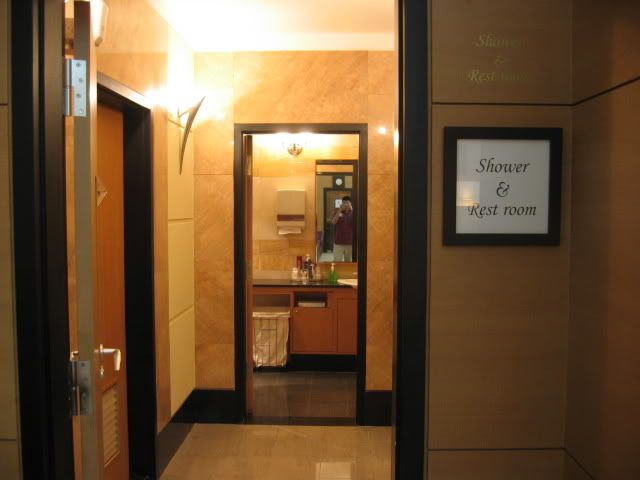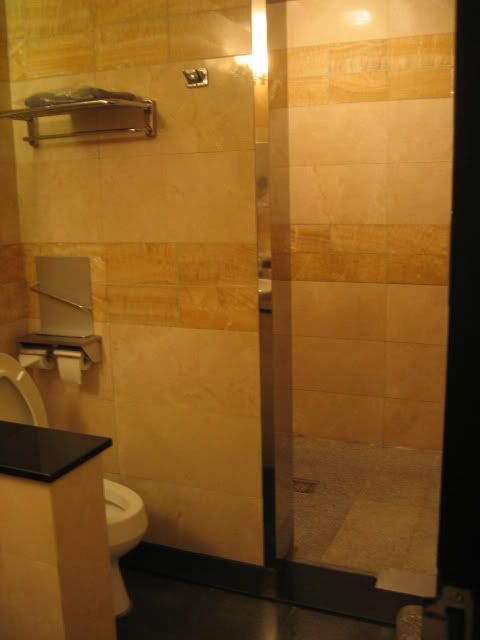 Soon after that I only had about 1 hour before boarding. I left the SQ lounge and the people thanked me there for using the lounge and wished me a good flight to JFK. I then walked over to Gate 12 where my flight was going to departure from. I was going to find some random person on my flight to enjoy the lounge with me. But I walked through the waiting area. Everyone looked scary so I said forget it and I just went to the Lounge.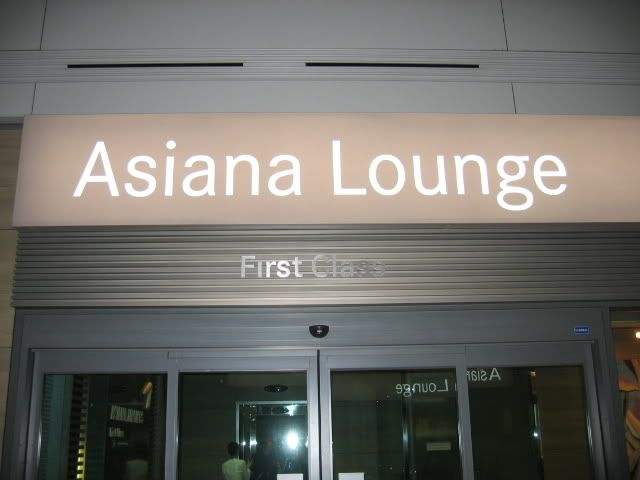 I got to use the elevator up again. Once on the upside there is a small sign saying First Class. I walked down and the reception lady quickly got off her seat to come check my boarding pass. She said that she will personally come to me when boarding will commence. Once in the lounge I went to the food section again.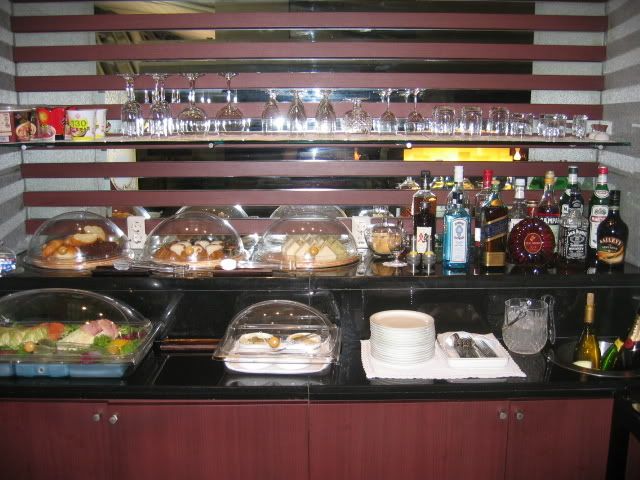 Since I wanted some food for some reason I got more Smoked Salmon. But I only took 2 slices as I knew I was almost full as is. I also took a photo of the Haagen Dazs ice-cream fridge.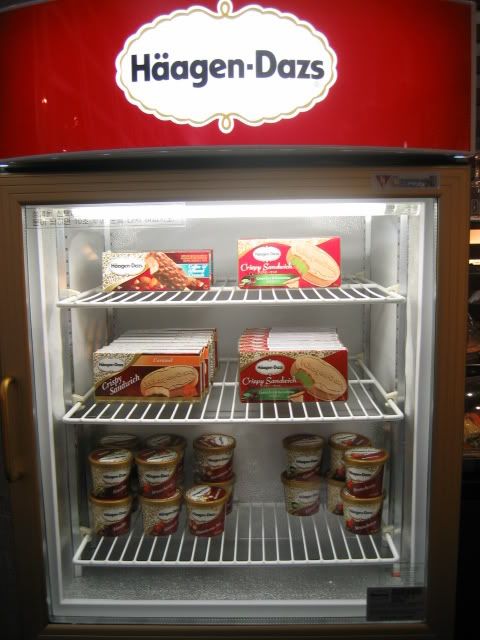 Then I had about 30 minutes before boarding. There was a move by Arnold towards the end. I think it was Rambo? I'm bad at movie titles so please excuse me in this factor. So I watched the movie along with me fellow F passengers on my flight to JFK. There was 8 people in the lounge so I figured the cabin was almost going to be full? The computer said 12/12 was going to be showing up. I was like oh noes. When time for boarding came the lounge attendant came and said the flight was ready for boarding. I walked over to the gate and the gate agents saw my F boarding pass. The escorted me to the front of the queue. I had no wait! I went down the escalator and the lady opened the rope for me to go to the front also! This is service. And then after the liquid check for US bound flights I was personally escorted through the gateway to the airplane. I was escorted from the door to my seat 1K.
OZ 222 ICN-JFK HL7428
Departure Gate 15
Arrival Gate Sorry I forgot the gate number but I think it was 22 or 24
So once onboard there was a passenger sitting next to me. That was not good. Since flight time was going to be 12 hours and 35 minutes. Luckily there was only 8 passengers total so the person sitting next to me moved to row 2C. There was 3 couples and the person sitting next to me and me were the only individuals traveling alone. Once again 8/12 for flight load in F, C was full and Y was full. Once I got seated I got apple juice. Then the flight attendants came around with pajamas. I still have the SQ F and OZ F pajamas right here in my apt in Irvine. I should wash them and use them when my semester for school starts. So we left the gate about 15 minutes late. There was too many aircrafts scheduled to leave around the same time.
Once we pushed back we rolled really slowly! I guess all the Jet-A fuel we had for a 12.5 hour flight to JFK. Take off roll was the longest I had on all my flights. Once we were airborne the menu's were distributed. About 5-10 minutes later the orders were taken. Before the order was taken the purser came around to every individual F passenger to Thank you for using OZ and if they had any problems please let her know. Here is the menu for ICN-JFK
Dinner
Seoul – New York
Selection of Canape
Salmon Rose with Caper
Snownori Fish maki
Cream cheese with Celery Slice
Hors d' Oeuvre
Sliced Gravalax, Parma Ham Cornet
Mixed Beans & Pimentos
Mushroom with Italian Dressing
In Crown Shape Melon Ball
Crab Bisque Soup
Or
Bouillabaisse
Tossed Salad
Yoghurt Dressing and Paprika Dressing
Main Course
Poached Lobster
Served with American Sauce
Or
Beef Tenderloin Steak
Served with Black Mushroom Sauce
Or
Grill Marked Salmon
Served with Bearnaise Sauce
To complement your meal choice
Jade Rice, Potato, Broccoli, Turnip, Carrot, Bokchoi,
Cauliflower, Grill Marked Stir Fried Vegetables
Selection of Cheese
Fresh Fruit
Dessert
Chocolate Brownie Cake
Coffee & Tea
Assorted Petit Fours
So the service starts again with the Canape
Then we have the table layout of course apple juice with the meal service
Then comes out the appetizer
Following with the Soup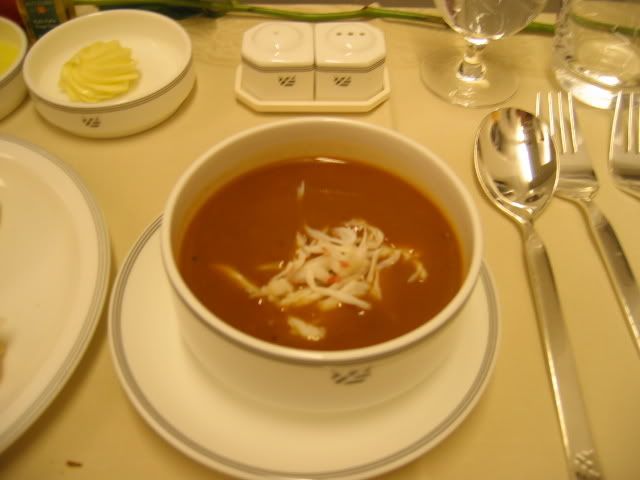 Then we have the Salad. I did not like the dressing so I didn't ea