My Fiancée and I decided to fly to Europe for winter, to visit family and friends. So I booked us a roundtrip flight on AA to LHR and BA to AMS. We used EVIP's to upgrade on the AA portioned flights.
LAX-JFK
December 15, 2006
AA 242
B767-223ER
N?????
T4 Gate 42B
Departure 14:30
Arrival 22:45
Seat 8A and 8B
My Fiancée and I arrived at LAX 2 hours before departure; we found our selves in a long queue at the business class check in. After a good 30 minute wait we got to the counter and checked our bags all the way through to AMS. The lady at the check in counter was not friendly at all, no smile and she was very strict, one of our bags was 1.5 Lbs over, she made me remove something to lessen the weight.
With less than 30 minutes to boarding we made our way through the very busy security, and once through we walked to Gate 42B where boarding had just started.
We took our place at 8A and 8B respectively, after a few minutes the steward came by and offered water and juice. Huh, water and juice, what happened to the champagne from a couple of months ago? So we decided to have orange juice.
They also handed a small amenity kit consisting of a toothbrush and some lotion. This was new.
Leg room on the B767-200ER is pretty good.
Departure from Gate 43B was on time and we took off from runway 24L. It took roughly 20 minutes to taxi down to runway 24L, and the following are some pictures on our way to 24L
5 QF 747-400's
After takeoff the crew jumped right into action, handing out menu's and took our drink orders. I ordered a Gin and Tonic while my Fiancée ordered sparkling wine. Warmed nuts was also given and hot towels where distributed.
Me sipping my gin and tonic.
My gin and tonic was refilled twice before dinner as well as my finacee's sparkling wine.
The following was the menu:
TO START

warm mixed nuts

APPETIZER

Mojito Shrimp served with Somen Noodles garnished with Parsley

SALAD

A combination Salad featuring fresh seasonal Greens and Chili-cucumber, offered with your choice of Parmesan Peppercorn Dressing or Castello Monte Vibiano Olive Oil and Balsamic Vinegar.

BREAD BASKET

Assorted Gourmet Breads

ENTREES

BEEF TORTA ROMA

Tenderloin of Beef Served with Spinach Gnocchi and enhanced by a Mushroom Beef Sauce.

EGGPLANT RAVIOLI

Ravioli Pasta filled with a rich Eggplant Puree, topped with Bechamel Sauce and light Marinara Sauce.

DESSERT

Ice Cream Sundae
Vanilla Ice Cream with a choice of Hot Fudge, Butterscotch or seasonal Fruit Toppings, Whipped Cream and Pecans

Or

Fruit and Cheese

TO FINISH

Ghirardelli Chocolates

Light Refreshments

Freshly Baked on board, OtisSpunkmeyer Cookies

PRE-ARRIVAL BEVERAGE

Chilled Sparkling Water with Fruit Garnish


DRINK MENU

Sparkling Wine -- Domaine Ste.-Michelle Columbia Valley Brut
White Wine -- Buena Vista Carneros Reserve Chardonnay
Beringer California Pinot Grigio
Red Wines -- Clos Du Bois
Sonoma County Cabernet Sauvignon
Haywood Sonoma County
"Los Chamizal Vineyard" Zinfandel
Assorted Spirits was also available, am not going to list which ones.
Starters. The prawns where good, and the bread basket came back twice.
Beef Torta Roma with Crown and Coke. Note: Real Silver ware and Glass. Beef was ok could have been better.
Ice Cream for Dessert served with Baileys and Coffee. Delicious.
After dinner service, the crew kept refilling our glasses, nice. The crew also offered freshly baked cookies which we delightfully accepted. Yum.
The flight arrived into JFK late due to the long taxi to RWY 24L plus we where placed on a holding pattern for 15 minutes in the NYC area. Arrival was 15 minutes pass scheduled arrival and we landed on RWY 31R. The aircraft taxied to Terminal 9 where we had to wait another 5 minutes because none of the ground crew was visible, they where all gone. It's funny because it looked like a ghost terminal. There was absolutely no aircrafts, ground vehicles or anything. Finally the aircraft docked at gate 46 at 23:30 and deplaning was quick, my fiancée and I had to run to terminal 8 to catch our following flight to LHR. We thought that the plane had left us, but to our nice surprise it was still there.
JFK-LHR
December 15, 2006
AA 116
B777-223ER
N781AN / 7AM
T8 Gate 10
Departure 23:45
Arrival +1 11:40
Seat 12A and 12B
We boarded the aircraft quickly and thought that we where the last ones to board but to our surprise we would be sitting at the gate for another hour waiting for connecting passengers from DFW, SAN, MIA and SFO. We asked the Steward and he told us that this is regular for Flight 116 to be delayed each night for 1 to 2 hours.
While waiting for the other connecting passengers we where served champagne and orange juice. The menu cards where also distributed as well as a hot towel while waiting.
Legroom on the B777-200ER, far better than on the 762.
The amenity kit that AA provides for its J-Class passengers.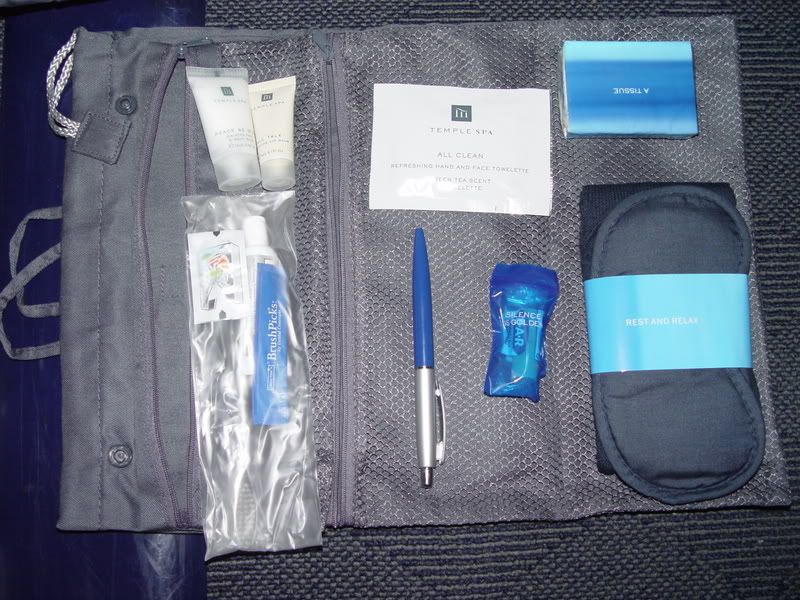 At 00:42 the doors where closed and we where pushed back and cleared for take off on RWY 31L
After takeoff the crew began to take drink and dinner orders. My Fiancée and I took champagne, but we didn't take the hot nuts. We where still very full from the previous flights meal.
The following was the menu:
TO START

warm mixed nuts

APPETIZER

Mojito Shrimp served with Pineapple and spiced Coconut

SALAD

Fresh seasonal Greens and an assortment of fresh vegetables offered with creamy Caesar Dressing or Castello Monte Vibiano Olive Oil and Balsamic Vinegar.

BREAD BASKET

Assorted Gourmet Breads

ENTREES

Cowboy Steak
Cowboy Beef Fillet featured with Red Chili Onions and accompanied by Corn Bean Ragout

Lamb Medallions
Lamb Medallions enhanced by an Ale Tomato Sauce, offered with Mushroom Risotto, Butternut Squash and Haricots Verts

Chicken Madeira
Herb Chicken accented by a Madeira Demi-Glance, served with Potato Cheddar Gratin, Eggplant Confit and sautéed mixed Vegetables

Boursin Lasagna
Lasagna layered with Black Pepper Alfredo Sauce, creamy Fines Herbes Boursin Cheese and seasoned Spinach and featured with a browned Bread Crumb and Parsley Topping

Vegetable Plate
Seasonal Vegetables that include Grilled Yellow Squash, Sun-dried Tomatoes and Artichoke Bottoms with Chive Whipped Potatoes.

DESSERT

Caciotta and Cheddar Cheese presented with seasonal Grapes and dried Apricots

OR

Dulce de Leche Ice Cream topped with a Turtle Brownie and Raspberry Sauce.

DRINK MENU

Champagne -- Pommery Brut Champagne
White Wines -- Warburn Sotheastern Australia -- Premium Reserve Pinot Grigio
Wairau River Marlborough New Zealand Sauvignon Blanc
Red Wines -- Chateau Batailley
Penfolds Koonunga Hill Australian Shiraz
Sherry -- Emilio Lustau Sherry
Dessert Wine -- Graham's Vintage Port
Assorted Spirits was also available, am not going to list which ones.
For starters we received the following. Bread was offered but I declined since I was still full. The prawns weren't as good as previous flight.
For Entrée I chose the Lamb while my Fiancée chose the Lasagna which tasted very good. The Lamb was good but I wish they let you choose the way it's cooked. I.e. Medium rare, well done etc. like they do on Continental.
The flight attendant kept our glasses full all the time and never had to wait for them to fill it up. For Dessert I chose the Cheese plate instead of the very delicious Dulce de Leche Ice cream which my Fiancée took. I asked for Courvoisier and the flight attendant returned promptly with a glass. It was even warmed for me!
After Dinner the lights where turned off and I reclined my seat. The seats overall is nothing to write home about, and it doesn't compare to the likes of SQ, CX, MH, EK, EY etc etc, but for a short 6 hour flight it would do. I can't wait for AA to upgrade these seats, though I know there upcoming product wouldn't be lie flat.
The IFE on AA is also very appalling. With roughly 12 channels and no AVOD it needs to be changed. There was nothing on the program that looked appealing so I took a good 3 hour nap. My fiancée and I woke up just in time for Breakfast.
Continental Breakfast

Fresh seasonal Fruit
From our breakfast cart: Yogurt and Cereal

Breakfast Bread Basket

An assortment of warm breads
The breakfast was pretty good and the croissant was nice and warm.
After Breakfast we started our decent to LHR. The 777 landed on RWY 27R at 12:05. The captain made some time from our 1 hour delay. Our aircraft docked at gate 319 or gate 19 at T3, where most of UA and AA's 777's are. We quickly de boarded the aircraft and started our long journey to T4.
The lines to transfer from T3 to T1-T3 was so long, more on that later, but the line for T4 was non existent. We got to the shuttle to T4 in roughly 20 minutes, and after some driving around, which offers beautiful apron views of LHR, we got to T4 where we immediately walked towards gate 3 for our next leg to Amsterdam.
LHR-AMS
December 16, 2006
BA 438
A319-131
G-EUPO
T4 Gate 3
Departure 13:45
Arrival 16:00
Seat 3A and 3B
We arrived at the gate at around 13:00, 15 minutes before boarding, and after catching our breaths boarding started. When it was our turn the lady asked us where we got our boarding cards, I told her back in LAX, she started typing stuff in the computer, and her face showed bad emotions, we thought that there was a problem, however, to our delight she gave us a free upgrade.
Thanks BA. She told us that we got an upgrade and gave us our new seats 3A and 3B. Wow this is my first op-up on BA, though of course its nothing really I can write home about since it's only a 1:15 minute flight.
Our aircraft push backed on time and after 15 minutes of taxiing and holding we took off on runway 27L.
After the seat belt sign was removed by the captain the stewardess sprung to action. They closed the curtains behind us and started giving out hot towels and drink orders.
My Fiancée and I both ordered Champagne and we where also given some kind of chicken salad to eat. The food was good. My fiancée was surprised that they served food on an hour flight in Europe, while in the US, nobody serves food on these kinds of short sectors.
The Champagne was refilled three times, which I was very pleased about. Not to long later, we started our decent to AMS and we landed 8 minutes ahead of time on runway 18L. The captain quickly taxied and docked the aircraft at D16.
Finally I was back home in Holland, but our bags unfortunately wasn't loaded on the BA flight. So actually thanks BA but no thanks. Thank you very much for ruining my vacation, and not having any gifts for our friends and family. My Fiancée and I had to buy all new stuff, because we didn't have anything for 2 weeks. My bag arrived January 5, 2007, when I was already home for 5 days! My Fiancée has gotten only 1 of her 2 bags on January 4, 2007, and till now her bag is still missing.
BA: Reason for misplaced bags, T4 luggage belts broken, then it was the Fog, then the bags where brought to LIN then shipped by FX back to us in LAX.
THE RETURN TRIP
AMS-LHR
January 1, 2007
BA 423
A319-131
G-EUPA
Gate D16
Departure 07:30
Arrival 07:50
Seat 15F
My Fiancée and I arrived for check-in at AMS at around 04:30. I was so pissed off to find out that BA doesn't have a business class check-in at that time (I have a little status, Oneworld Ruby), or maybe at all. So I had to stand at the long line, but to my surprise it only took 10 minutes. Meanwhile my Fiancée was checking in for her Transavia flight to MAD. I was heading home while she continued on her journey to meet with some relatives in MAD.
After checking in we said good by to my cousins and we headed toward D and B gates. We had our tax free stuff stamped and at the D and B fork we said our good bye's and I headed to Gate 16.
Boarding started at 07:10, in no particular order. That was kind of surprising to me, I would have thought they would call Club Europe first then the Oneworld rankings then general boarding, but they didn't. Oh well.
Alas no Op-Up today
so I took my seat at 15F and we pushed back not to long after. We took off on runway 24.
The crew sprung into action right after the captain took out the seat belt sign. I received a cup of orange juice with a ham and cheese sandwich. The sandwich was pretty good, and its far better than getting nothing, like they do here in the US.
Not to long after they collected the trash we started our descent into LHR. We landed on RWY 27L, and after a 5 minute taxi we where docked at a remote site at T4. From there on the nightmare started. The aircraft arrived 15 minutes before schedule, but we had to wait 15 minutes for the ground crew to get the air stairs as well as buses to the plane. Once on the bus it took another 10 minutes to get to T4, from there on I quickly ran and got on the bus to T3. T3 was a mess. Oh boy, the line was just too long. It seemed like it never ended. It took a good 45 minutes just to enter T3, and once there I only had 20 minutes left before my next flight departed. So I had to run to Gate 19.
LHR-MIA
January 1, 2007
AA 57
B777-223ER
N784AN / 7AR
Gate 319
Departure 09:45
Arrival 14:30
Seat 12A
I quickly boarded the aircraft and took my seat at 12A.
A lot of you might ask, why in the world would you go via MIA to get to LAX? Well I routed this so I can get ahead in re-qualification for 2008.
A company 777 (N774AN) being prepped for JFK
While waiting for the other passengers, we where served Champagne and Juice. I took champagne. We pushed back on time and at 09:50 we where on our way for departure on RWY 27R.
The following are some pics on our way to RWY 27R.
A BI 763 -- V8-RBH
A VS A346 -- "Sleeping Beauty" -- G-VNAP
A CY A332 -- 5B-DBT while on hold at 27R
After Take off, hot towels where passed out and drinks as well as some warm mixed nuts where served. I took a Crown with coke. It was funny since the steward had to ask for my ID if I was 21 or older. It seems funny, but it looked unprofessional to me. I'll leave that to you guys to discuss. Drinks where served constantly and my Crown and Coke was refilled generously.
Menu's where also passed out and the following was our menu for the 9+ hour journey.
TO START

warm mixed nuts

APPETIZER

Smoked Sesame Salmon-wrapped Cucumber

SALAD

Fresh seasonal Greens and an assortment of fresh vegetables offered with Parmesan Peppercorn Ranch Dressing or Castello Monte Vibiano Olive Oil and Balsamic Vinegar.

BREAD BASKET

Assorted Gourmet Breads

ENTREES

Parsley Cheese-Crusted Salmon
Parsley Cheese-Crusted Salmon featured with Riesling Sauce, served with Onion, Bell Pepper and Risotoo Timbale

Grilled Fillet of Beef
Grilled Fillet of Beef complemented by a Plum Demi-Glace, served with Zucchini, Potato Cabbage Flan and Wild Mushroom Ragout

Grilled Chicken Wrapped with Bacon
Breast of Chicken, Avocado and Hearts of Palm wrapped with Bacon, accompanied by sautéed Green Beans and roasted Corn Rice

Saffron-Chili Sauce Pasta
Delicate Saffron and Chili Sauce served over Penne Pasta topped with Garlic Roasted Squash

Vegetable Plate
Seasonal Vegetables that include Zucchini, Potato Cabbage Flan and Wild Mushroom Ragout

DESSERT

Stilton, Bel Paese and Apple with selected Crackers

OR

Ben & Jerry's Mint Chocolate Chunk Ice Cream

DRINK MENU

Champagne -- Pommery Brut Champagne
White Wines -- Warburn Sotheastern Australia -- Premium Reserve Pinot Grigio
Wairau River Marlborough New Zealand Sauvignon Blanc
Red Wines -- Chateau Batailley
Penfolds Koonunga Hill Australian Shiraz
Sherry -- Emilio Lustau Sherry
Dessert Wine -- Graham's Vintage Port
Assorted Spirits was also available, am not going to list which ones.
The appetizer as well as the salad was served first. The smoked salmon as well as the salad was pretty good.
The bread was offered twice during the meal service.
I chose the Beef again, and was disappointed again. Why can you not choose the way its cooked? Errrrrr
I chose Ice Cream for dessert and I wasn't disappointed at all.
After dinner service, the crew quickly tried to dim the lights and let the passengers go to sleep, but that seems to be very difficult since this is a day time flight. At roughly noon London time its pretty hard to sleep, however, of course you have the IFE to keep you busy. Well that is if there is anything interesting to watch. Well there wasn't. There was nothing interesting to watch at all for the 9+ hour flight. How disappointing. AA's IFE is really starting to piss me off, it's a joke. Its time to at least upgrade the premium cabin's IFE with AVOD as well as more than 12 channels. Oh well, I resorted to reading the newspaper that was passed out when we where at the gate, and doing some Sodoku puzzles.
After a while of reading I did fall asleep for at least 3 hours, waking up to a snack that they where about to serve.
Mid Flight Snack

An assortment of fine Cheeses offered with select crackers

Or

Assorted snack items
I chose the Cheese plate with some red wine.
After finishing the meal, I was really bored. I started a conversation with my seat mate and after an hour that got exhausted as well. At this point I was really getting antsy. I was starting to day dream about the Admirals lounge in MIA. Oh well not to long later the afternoon meal started.
Afternoon Meal

ENTREES

UNO'S Pizza
An individual Chicago-style Deep Dish Vegetable Pizza, accompanied by a Green Salad with Plum Tomatoes and Green Onions

Turkey Sandwich
Sliced Turkey Breast served warm on a Kalamata Olive Ciabatta Roll topped with Swiss Cheese and roasted Eggplant coated in Tomato Sauce, accompanied by Baby Greens with Roma Tomatoes, English Cucumbers and Feta Cheese enhanced by an Olive Oil Vinaigrette dressing

DESSERT

Assorted Cookies garnished with fresh Berries
Choosing the Afternoon meal was a no-brainer. The Pizza looked er, while the Turkey looked exceptional. Here it is served with SKYY Vodka and OJ.
Still bored so I took this shot
We started our descent into MIA around 14:00 local time and landed on RWY 12, 20 minutes ahead of schedule. We docked at gate E11, 15 minutes ahead of schedule. However, again we had to wait, because this time the operator for the air bridge wasn't there yet, so by the time we got out of the aircraft it was 14:30. The lines at the immigration were a breeze. I was actually surprised since when I flew through MIA back in May from BZE it was like a zoo. I headed straight to the baggage claim area and started praying to the airport gods hoping for my 2 pieces of luggage to be there, and to my surprise they where. Thank goodness. I was afraid that the LHR T4 to T3 baggage connection was again fouled up.
I immediately got through customs and headed up to the check-in area. This is where I totally screwed up. More on that later. Since I had a 4 hour connection at MIA I was hoping to catch the 16:00 flight to LAX, so I dragged my bags to the check-in area in hopes to get them checked in to LAX on that flight, but to my surprise the lines where terribly long. I waited and waited and waited, and finally I got served. The lady told me that I only had 20 minutes left before departure and that it was too late. The stand by list was long too. So I finally decided to scrap the idea of catching the earlier flight and I slowly started walking to the Admirals Club located in the D pier. Once there I had 2 hours left till my next flight departed. My first order of business was to put my name in for the upgrade list for the MIA-LAX flight. I was psyching myself up that I will be lucky to finally fly on AA's new Business Cabin. So the AAngel put me on the list and I finally hit the showers.
The AAdmirals Club at the D-Pier is really nice; this is my second time visiting it. The furnishings are all new and the bathrooms are pretty big. After the shower I hit the bar and drank some Soda. Not to long after I decided to hit the gate at least 20 minutes prior to boarding. I got myself to D40 only to find out that I was number 5 on the upgrade list. Boy was I pissed at myself, for wasting all that time at the check-in counter. I spoke to the gentleman at the gate and he told me that the flight will be full and it would probably be unlikely for an upgrade. Boy was I disappointed. Now I was going to really kick myself if I board the aircraft and find that it's the new seats.
MIA-LAX
January 1, 2007
AA 823
B767-323ER
N?????
Gate D40
Departure 18:10
Arrival 20:55
Seat 21A
Boarding finally started and to my disappointment my upgrade did not clear. The 4 people above me on the upgrade list did get upgraded. I sure did learn a lesson here.
Consolation price though was that it was the old cabin, so I wasn't that much disappointed but I still had my overwing exit seat, which has a bit more space than other Y seats. The doors where closed on time and push back commenced not long after. We taxied towards RWY 8L and R and took off on RWY 8R.
The 5+ hour flight to LAX was uneventful; I just had an OJ and quickly slept all the way to LAX.
The captain really made time, since we had a tail wind we landed at LAX RWY 25R, 30 minutes ahead of schedule! Wow, I was impressed on the time; I was thinking Ill be in bed at a reasonable time and be able to wake up the following morning for work. But, this did not materialize. We where on hold near taxiway C11 and T for a good 20 minutes because of slot restriction. There was another aircraft at our gate. So we waited until that aircraft left. After docking at Gate 47B I headed out, got my bags and headed home.
Well this is the end of my first ever trip report here on A.Net. I hope you enjoyed it. Thanks for reading.
Drew