Background
I booked this flight less than a week ago when my boss asked me to visit one of our clients just outside Sydney. Having received his approval I called our travel desk to make the arrangements. Although I am a
one
world member, I would've preferred to fly SQ, as I just recently joined the KrisFlyer program and our company usually flies us on SQ. Unfortunately this flight was booked a bit too late and the only seats available were on Qantas and Gulf Air.
Pre-Flight
As this was going to be only a one day trip to Sydney, I wondered whether or not I should take any luggage with me and instead I should try to fit a shirt, a pair of pants, and toiletries on my laptop bag. Well, turns out my laptop bag is not that big, so I chose the smallest roll-a-board bag I have, and tried to fill it up by taking an extra pair of shoes and a book, should there be any time for reading.
7am came quickly on this Sunday morning and I went down to the lobby of my apartment to wait for a cab with my colleague, as most of my company's employees tend to live in the same building. The cab was about 5 minutes late, but we made it to SIN in an astonishing 12 minutes for just SGD17! That was a first for me.
Check-In
We went over to the QF counter but could only find the counters for Economy, BA World Traveller +, and
one
world elite members. We found that there was a lounge-like check-in area for Qantas premium passengers, which was really nice. Me and my colleague were taken care of immediately, and managed to get seats next to each other. Here is a pic of the lounge. Mind you: it has to be the crappiest pic I have ever taken. You can barely make out anything, but we were in a bit of a rush since we wanted to go over to Terminal 2 to use the SQ lounge.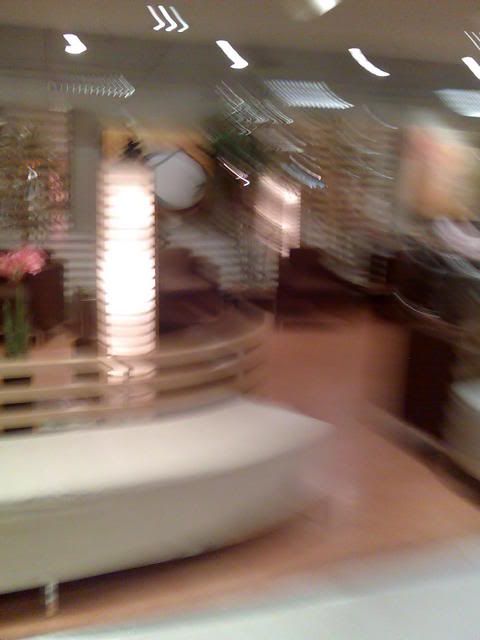 Qantas Premier Check-In lounge
Lounge
We quickly went upstairs to check out the QF/BA lounge, which is located next to the SATS Premier lounge, which I visited on my last trip to BKK, which can be found here
Thai Trip I: SIN-BKK-SIN LX Business/Economy PIX!
(by
Coal
Dec 29 2006 in Trip Reports)
The lounge itself was quite large and also very empty at this time of the morning. I couldn't figure out whether or not I liked the décor. It was modern, yet it had this retro '70s look. In a way it reminded me a bit of the pictures that I've seen of LH's First Class Terminal in FRA.
Seeing as the food selection was quite poor here, my colleague suggested we check out the SQ SilverKris lounge in Terminal 2, since he is a KrisFlyer PPS member. So we walked to the SkyTrain station and were on our way to Terminal 2.
SkyTrain to Terminal 2
We got into the SilverKris lounge thanks to my colleague's PPS membership (despite travelling on a non-Star Alliance flight and me being but a simple KrisFlyer member with only about 10,000 miles on account). The lunge was quite large, and was nearly at full occupancy, or so it seemed. The food choices were much better here. There were scrambled eggs and bread rolls and there was also a selection of noodles with chicken. Being one to try anything at least once, I decided to go with the noodles at this early hour. Quite tasty! This was washed down with two cappuccinos and a glass of orange juice.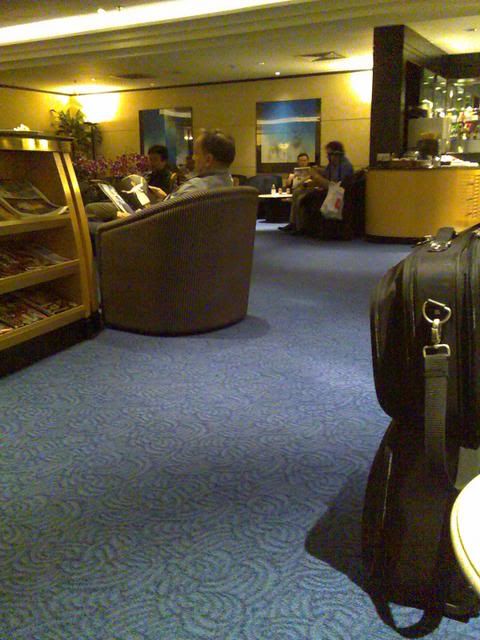 SilverKris lounge at SIN Terminal 2



Breakfast at the SilverKris lounge
It was already 8:15, so we decided it was time to head back to Terminal 1 for our 9:05 flight. We left the SilverKris lounge and took the SkyTrain back to T1. After a quick pit-stop to get rid of some liquid excrement (to quote [url=]Singapore_Air[/url]), we got to gate C13, were our Boeing 747-438 was waiting to take us to Sydney.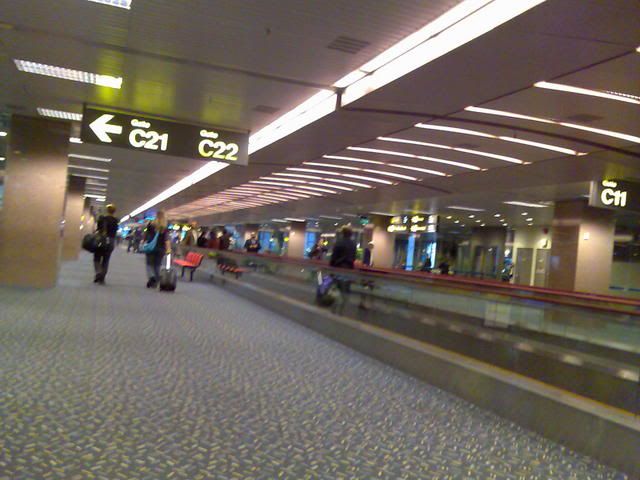 Gate C area
Flight:
QF 32
Sector:
SIN-SYD
Date:
January 14th, 2007
Dep Schd (Act):
09:05 (09:30)
Arr Schd (Act):
19:30 (19:50)
Aircraft:
Boeing 747-438
Registration:
?
Class:
Business (J)
Seat:
24K
Our departure time of 9:05am came by and no announcement had been made to board or to explain why we were delayed. But the wait was over at 9:10am, when the gate agents called boarding for people needing assistance, First and Business class passengers, and
one
world elite members. As me and my colleagues made our way past the gate, we overheard one lady muttering something along the lines of: "you didn't even pay for that ticket," possibly referring to us and the other businessmen boarding at this time. Well, she may be right, but there is a reason why companies fly their employees in business class!
Boarding was done through two jetbridges, however all the passengers were using jetbridge A, usually reserved for First and Business class passengers. As we got on the plane, we were greeted by the F/As and showed to our seats for today, 24J and 24K. We stowed our laptops and roll-a-boards on the over head bins, and sat down. We were quickly greeted by our lovely F/A, who offered us a choice of champagne, orange juice, and water, along with copies of the WSJ Asia and the Morning Herald.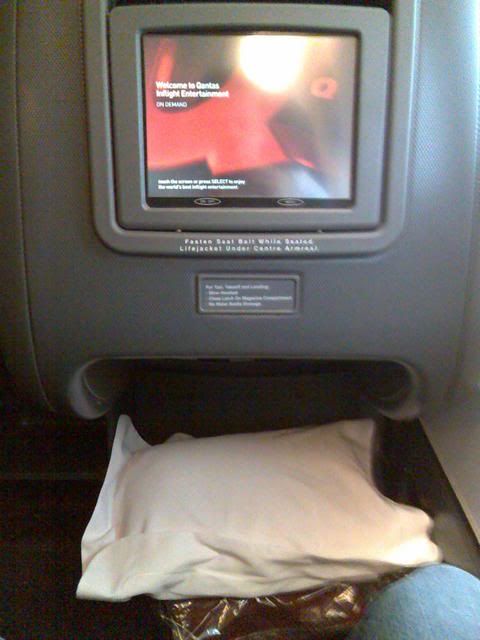 Seat 24K
Pushback was done at 9:30am, but little did we know that we would be taxiing for the next 30mins. Strange to see out the window that SQ flights were getting priority over our QF flight
. It was exactly at 10:05am that our trusty steed rolled down the runway and shot up into the Singapore sky, making a near immediate right turn to the South and headed down under.
The routing today took us over Eastern Sumatra, and I could only think about the poor souls of Adam Air's flight that went down two weeks ago. Hopefully they will be able to find their remains them soon. The flight continued to make its way south at 39,000 feet above the millions of islands located in this part of the world. We would then continue south into Australia just west of Darwin, down into the Outback, southwest of Alice Springs, over Broken Hill (which reminded me of the humble beginnings of my company), and straight into Sydney.
The flight was quite good and I was left with a happy impression of my first time flying on The Spirit of Australia. The seat was quite comfy even though I did not fully recline it, as I was watching the movies and working on board. The service was top notch, and our lovely and pretty F/A catered to all our needs. The service began with a pack of mixed nuts and a can of Victoria Bitter. I asked a colleague from Melbourne what beer I should order when in Aussie, and he suggested VB. Can't say he was wrong! Definitely a good beer. I was also surprised that they had Foster's on board. I thought they didn't even sell that stuff in Australia!
Appetizer
Smoked Salmon with Tartar Sauce
Fresh greens
Bread roll and butter
Main
Seared Snapper with Mashed Potatoes
Dessert
Assorted Seasonal Cheeses
Upside Down Pineapple Cake
Fresh Fruit
The main was washed down with a Sauvignon Blanc and the delicious Pineapple Cake with a coffee.
During the meal I decided to explore the IFE. The system was AVOD and the selection was ok, if not a bit limited. There was a selection of premier movies, recent hits, classics, international film, and Australian film. I started watching Borat, which I had already seen with a Chinese colleague. I wanted to see it again in order to enjoy it without the need of explaining everything to my seat mate. However just around the time Borat attends the social event with Alabama's "crème de la crème" (is there such a thing in Alabama!?), I decided to switch to another movie. It just didn't feel right being so far away from home and being reminded of all the things that are wrong with the US. So to lighten the mood, I decided to watch "Trust the Man." I guess in the end it made me a bit aware of the fact that I hadn't been in a relationship in a long, long time, but hey, there are upsides to that! Following the movie I decided to do some work on my laptop while listening to RHCP's Stadium Arcadium. Quite good, actually, especially song 2. Following this, our lovely F/A came over offering us coffee and Toblerone bars! Very nice treat! She also asked us if we would like to have a focaccia sandwich before landing. Me and my colleague asked for the Salmon focaccia, which came with cream cheese and grilled zucchini. At this time I decided to check out another movie and decided on beer fest. Being a fan of Broken Lizard (the guys that brought you Super Troopers and Club Dread), I thought it was only fair to watch the third iteration of Chandrakessar's work. I only managed to watch about 15 mins, and must say I wasn't entirely amused. In any case, the captain had already come on the PA at this time announcing our descent into Sydney.
Our descent into Sydney seemed quite steep and quite fast and we flew a straight approach into the airport. Being my first time in Sydney, I was not familiar with the airport and did not know on which rwy we had landed. After leaving the rwy we made our way to Terminal 1 and docked at gate 32. We got off the plane fairly quick, cleared immigration and customs, and were on our way to our airport hotel for the night.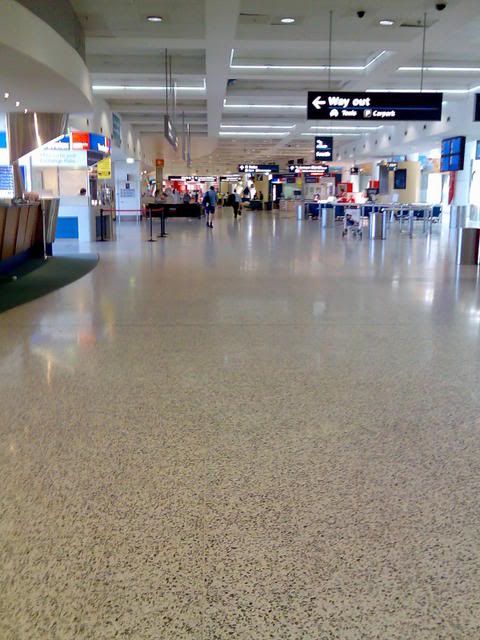 SYD International arrivals area
Waiting for the hotel shuttle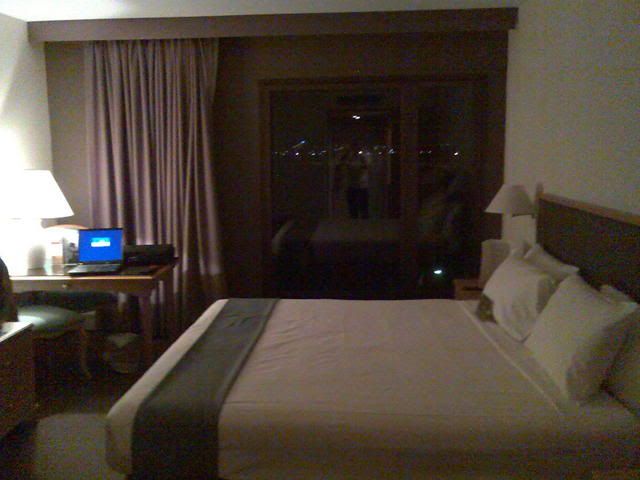 My hotel room with a great view of the rwy used for arrivals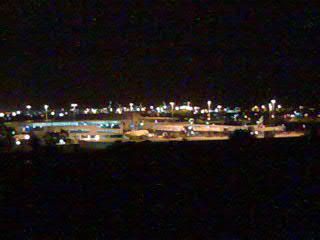 International terminal



International terminal
I managed to take some better pics with my cameraphone in the morning:
Dawn over SYD



Dawn over Int'l terminal at SYD
Our stay in Australia was very short. We visited a client south of Sydney early in the morning, and we got a chance to see a bit of the Australian sea and beaches. Ahhh, so inviting!
The beach in Wollongong
After a morning of meetings it was time to head back to Sydney airport for our flight back to Singapore. After filling up the car and dropping it off at the rental car return, we made our way to the departures level of Terminal 1. My original flight was QF 5, which was to leave at 5:00pm and arrive in Singapore at 9:40pm. I had also been waitlisted on QF 31 should I not make the 5' o'clock flight. A quick call to our travel desk and I had a confirmed seat on QF 31, thus having a bit more time to go to the Qantas Club lounge for a shower.
Our ride for our short stay in Sydney for the ridiculously low amount of AUD44!
Check-In
Check-in was done in the D area. There was a dedicated row of counters for First, Business, and Qantas Club members, although it wasn't nearly as nice as the Premier counters in Singapore. I went first while my other two colleagues waited in line. The lady at the check-in counter suggested I take QF 5 as that flight had more seats available and me and my two colleagues could seat together. After about 5 mins of arguing among ourselves we decided we all wanted a bite and a shower at the lounge, so we stuck to QF 31. Check-in done, we proceeded to clear customs, where we stood in line behind a group of about 5 girls in their early twenties who were overly excited about the glamour of going to Paris. Too bad they would be seated in row 54 and not row 13
.
Lounge
After immigration and a bit of a shopping spree at the duty free by one of my colleagues, we got to the Qantas Club lounge and the three of us headed straight for the shower. It was definitely refreshing and I welcomed the change of clothes from business casual to jeans and a tshirt (although I did once work for a company in which business casual
was
jeans and a tshirt).
Towel and the essentials for a refreshing shower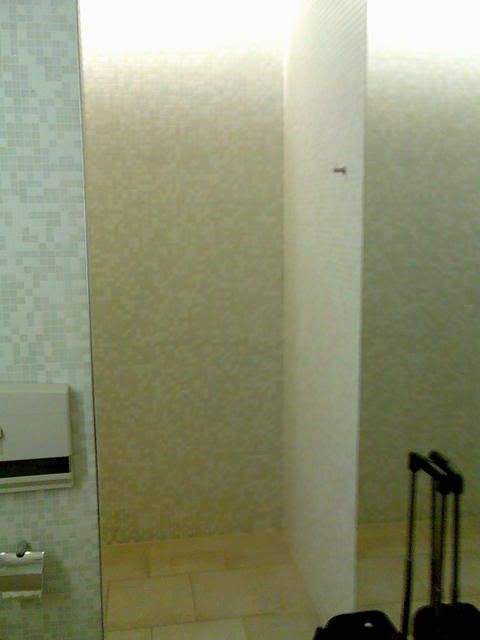 Washroom



Washroom
The shower was great! The warm water and the high pressure sprinkler really refreshed me. After this I joined my colleagues in the lounge area for a quick nibble to keep our stomachs happy before dinner on the plane.
Qantas Club lounge



Qantas club lounge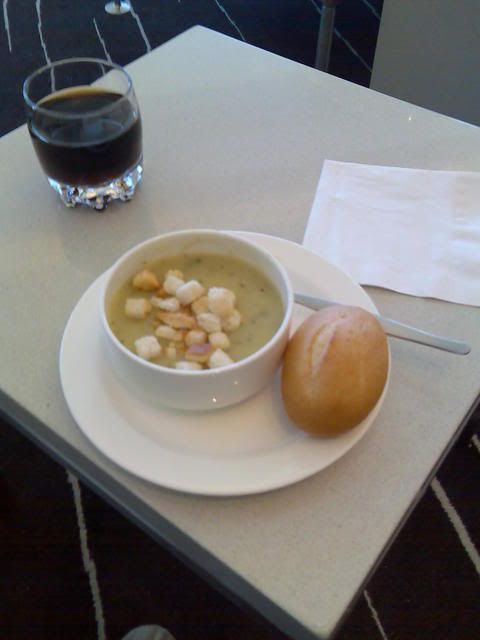 Zucchini Potato soup
The selection of food, although small, was very nice and tasty. There was the delicious zucchini potato soup, an assortment of bread rolls, tuna sandwiches, humus, a selection of cheeses, Asian veggies, and drinks galore. I had a bowl of soup, a bit of the Asian vegetables, and a couple of bread rolls with humus and Camembert cheese.
Qantas Club lounge
5:20pm came around and we made our way to gate 32, where our flight had already been called for boarding. Luckily there was a dedicated line for premium passengers and we managed to cut through the long line of passengers seated in the back.
Flight:
QF 31
Sector:
SYD-SIN
Date:
January 15th, 2007
Dep Schd (Act):
17:50 (17:50)
Arr Schd (Act):
22:30 (22:30)
Aircraft:
Boeing 747-438
Registration:
VH-QJS
Class:
Business (J)
Seat:
16A
We had an on-time departure and after a quick taxi we were lined up on the rwy (again, apologies for not knowing which rwy it was, as I am still not familiar with Sydney airport). Seconds after 6:00pm we were shooting up in the Sydney afternoon sky on our way to the City-state of Singapore.
Seat 13B



Seat 13A
I originally had been assigned seat 13B. However, there was a passenger in a cast on seat 16A, which was the window emergency seat. The female F/A on the upper deck came to my seat and asked if I could possibly switch with the guy in 16A, as he and his crutches would clearly be an inconvenience in case of an emergency. The guy in 16A didn't really fancy moving, and I cannot help but sympathize with him, as being in a cast and being put further away from the emergency exit doesn't help
his
cause. In any case, I was happy I had both the window seat and the extra space for my trips to the restroom throughout the flight.
Row 16 on the upper deck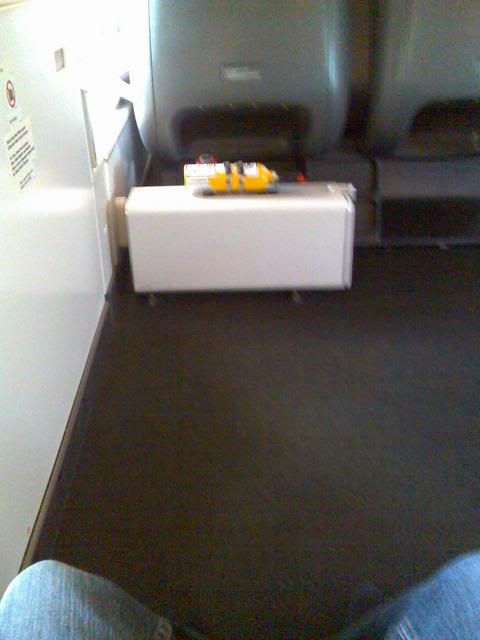 Massive legroom on seat 16A



The business class cabin on the upper deck
This was only my second time seated on the upper deck of the 747, and it felt a bit different than the first time. The first time was on board an AF 744 which was configured with Tempo seats on the upper deck. Somehow the seats seemed higher this time around and on take off the climb didn't feel so steep. Maybe it had to do with the big difference between AF Tempo and QF Business seats?
Shortly after takeoff the seatbelt signs were off and I whipped out my laptop to catch up on some work and to write a few long, personal emails I intented to send as soon as I got home. I also got a chance to write up the first part of this trip report. I find it always helps to break up the writing of the trip report in order not to get tired writing about one leg and lazy about the other.
A few minutes later after the seatbelt signs were off, the female F/A on the upper deck handed out our menus, which included the choices for the SYD-SIN and SIN-LHR sectors (QF 31 continues on to LHR). We were also offered a drink, and although I thought about going healthy and just ordering a bottle of Evian, I decided I quite liked VB (Victoria Bitter) on the outbound leg of my trip and decided to have it again.
About an hour into the flight the F/A came around offering landing cards for those getting off in Singapore (and for those needing them) and taking orders for dinner. The food on today's flight was as following (note that I only list what I ate, not the entire menu):
Appetizer
Crab and carrot cakes
Fresh greens
Bread roll and butter
Main
Poached Snapper in coconut milk with Garam Masala
Dessert
Seasonal fresh fruit (blueberries, cherries, mango, melon, and watermelon)
The main was washed down again with a Sauvignon Blanc and coffee followed the plate of fresh fruit.
I must say that the food on Qantas has to be the best I've had on board to this date! They really excelled on this area on both flights.
After the coffee rounds the cabin lights were dimmed and most people on the upper deck went to sleep, save for this lady seated in 13J who did not recline her seat at all during the entire flight and did not make use of the IFE. Seriously, why pay for business class then? She just stared in front of her seat for the whole flight.
At this time I decided to check out the movie library again and see if there was anything worth seeing. I decided to finish "Beerfest," which unsurprisingly was disappointing. After that I decided to try and sleep for a bit since I would have to do some work upon arrival in Singapore. I tuned the CD library again to RHCP's Stadium Arcadium and put the seat on the fully reclined position. I must say that this was not very comfortable, as there was a hump around the lumbar area. I found the Z position to be much better for sleeping. I must say that in this regard the (now old) Club World seat on BA is much better in the fully reclined position.
After sleeping for about an hour and a half, I went back to the galley for another bottle of water. When I came back to my seat I saw that we still had about another 3 hours of flight to go, so I could watch another movie in its entirety. I first started watching "World Trade Center," but didn't find it that interesting. I then tried to watch "Fast Food Nation," but could only watch for about 10mins before getting bored again. So I decided to tune to "The Interpreter" and quite enjoyed that movie. Plus Nicole Kidman is so beautiful! About halfway through the movie the F/As came around offering another round of drinks and sandwiches. I had a cup of coffee, half of which ended up on my lap due to turbulence. I also had the grilled pastrami and eggplant baguette. Again, Qantas excelling in the quality of their food! Quite a tasty sandwich, and the dressing was similar to that found on Quiznos' Black Angus Steak.
My other trip reports:
Joyrides On B6: FLL-LGB-OAK-FLL + A Few Pics
(by
Coal
Aug 13 2006 in Trip Reports)
Sunshine State To City-State: MIA-SIN AA/BA In J
(by
Coal
Nov 11 2006 in Trip Reports)
Thai Trip I: SIN-BKK-SIN LX Business/Economy PIX!
(by
Coal
Dec 29 2006 in Trip Reports)
Thai Trip II: BKK-CNX-BKK TG Royal Silk Class PIX!
(by
Coal
Dec 30 2006 in Trip Reports)
Next trip reports:
SIN-MEL SQ C
MEL-SYD DJ Y
SYD-SIN SQ C
Cheers,
Coal