Feedback always appreciated.
Trip Report: 021
Flight Category: Y-IMR (See Report End)
Date: 20-Feb-07
Dep.Arr.Time: 0130/0615/03:45hrs
Flight:
JET BLUE B6 892
, 1555 miles
Routing: CUN-JFK
Aircraft: 320
Seat: Economy, 8A
I > Background:
Um, my friend in NYC was having a "crisis", and I decided to play the role of the good friend and visit him for some "moral" support. Since I was in Cancun, I decided to buy a last minute Jet Blue ticket to JFK. This flight was bought prior to the New York snowstorm and the flight looked super empty; thus, I got a super cheap ticket and made the whole "playing a good friend" role so much easier.
II > Pre-Flight:
a) Before Airport:
Booking for the entire trip was made using Jet Blue's excellent website at
www.jetblue.com.
The website is fast and booking is done in a jiffy. You also have the ability to view/edit/modify your reservation as well as check-in online. The best is that you can chose/modify your seat through an excellent interface which tells you what the best seats are and even the seat pitch! Definitely, one of the best airline booking experiences online.
b) At Airport:
CUN Airport is efficient and at around midnight was pretty empty. In Terminal 2, there were only 3 flights – AR to EZE via MEX; Novair's 13hr delayed flight to ARN; and our flight to JFK. Check-in was smooth and of course I got the mandatory "wow, Liechtenstein passport" look. Within 10 minutes, I had got my boarding pass and was on my way to JFK. Since I had some time to kill, I ate an over-priced tortilla and walked around the airport. I was surprised that the airport which claims to have more international passengers than MEX was actually pretty small. I wonder how CUN looks during peak times. Security was quick and soon I made it to the gate area where the Novair flight seemed to be delayed even more. After having another Tecate light at the gate café, I waited for the boarding call.
Boarding was announced and I was the last to board. Prior to boarding, all hand luggage's were checked and to my surprise I was told that the tequila I had bought in Guadalajara (for my friend) and which I had carried through all domestic flights was not allowed onboard due to American liquid laws. Now, I had asked the counter as well as the security check point whether liquids were OK and was advised both times that they were. Since I was not about to let go of the excellent bottle of ANTIGUO tequila, I fought myself to ensuring the bottles were packaged properly and put in as "gate check". I was reassured that I could claim them upon disembarkation at JFK.
Anyways, after finally boarding, I was greeted by the all male crew and soon we were off. The cabin of the 320 was very clean (definitely significantly cleaner than the average American carrier) and the plane looked good with its leather seats and all. As the website had indicated, load was extremely light at around 20%. I was not about to complain mind you …
Airport - External:
(Cancun Airport, Terminal 2)
Check-In:
Airport - Internal:
(Empty check-in counters)
(Departure Board)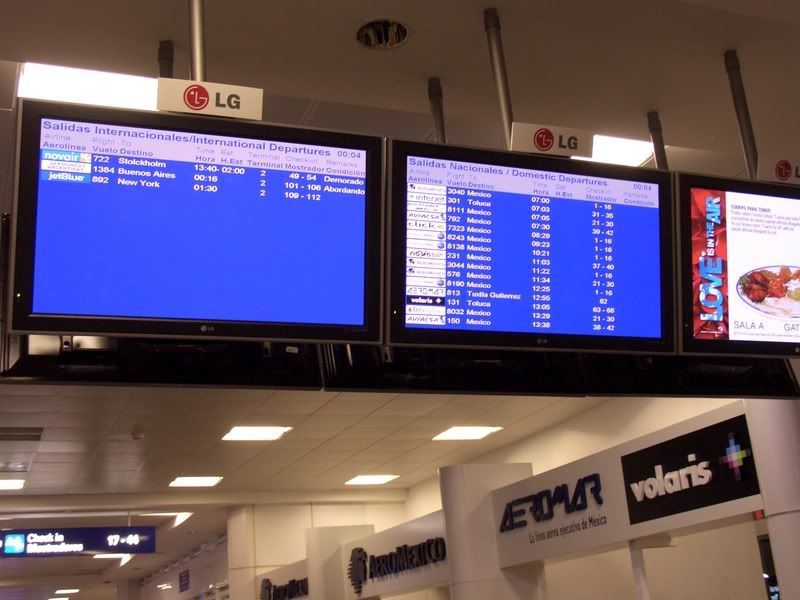 (Post security area)
Scenes of the tarmac:
NONE
Lounge
NONE
Boarding: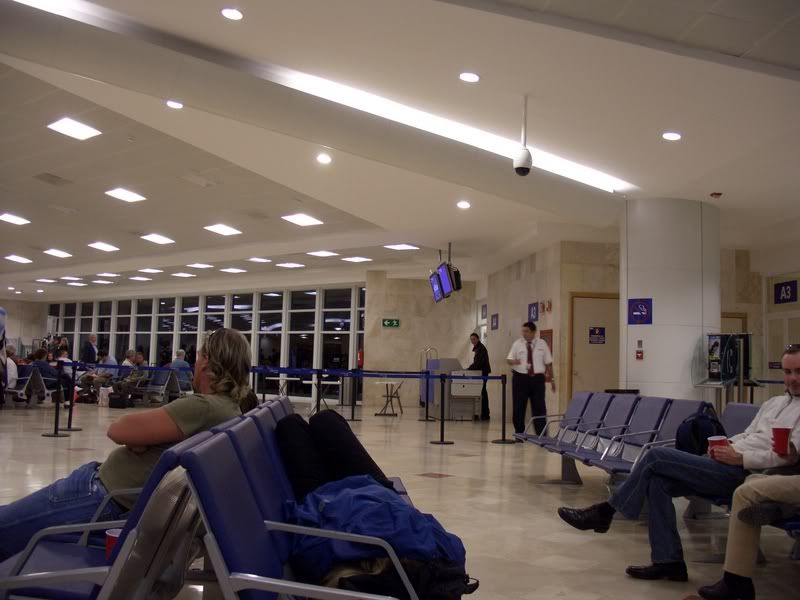 III> In-Flight:
a) Service Schedule + Impressions:
Immediately post take off, the crew brought some snacks and offered complimentary beverages. Lights were then dimmed for the rest of the red-eye flight.
b) Aircraft + Seats:
For an American airline, the A-320 was very well maintained and clean. Unlike most carriers in the U.S., the seat pockets did not have dirt, chewing gum, and other mysterious remains. Lavatories were also clean and remained so during the flight. The interior of the A-320 looked pleasant and inviting with the leather seats and the aircraft looked good from the back with all the rows of TVs. The Airbus A-320 had the new Jet Blue layout which had the first 10 rows of seats having a very comfortable 36 inch legroom. The leather seats were comfortable with the recline being industry average. With the flight being this empty, I had the row to myself and was able to stretch out and sleep.
Aircraft:
(A.Net Picture Courtesy: Carlos Aleman)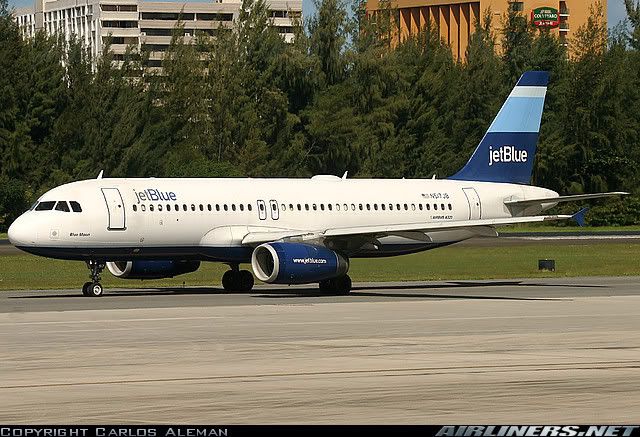 Views from Aircraft:
(Mysterious aircraft at CUN – any guesses?)
Seat Leg-Room:
(Really comfortable 36")
Seat Recline + Angle View: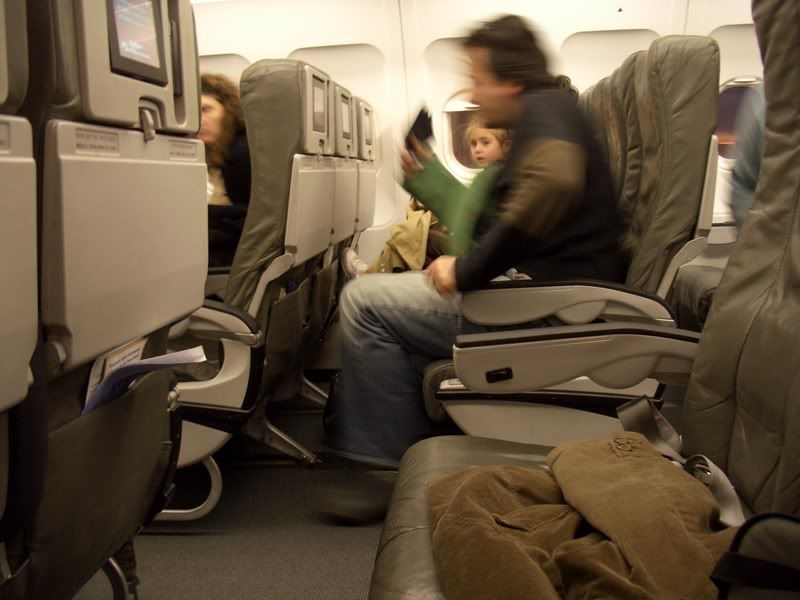 Cabin:
(A.Net Picture Courtesy: Anthony Russo)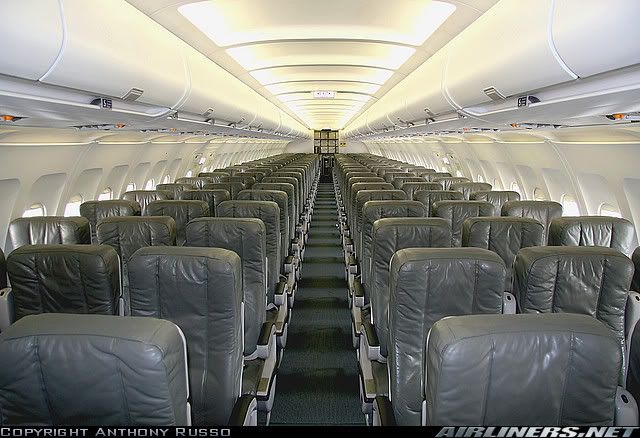 (A.Net Picture Courtesy: Sam Chui)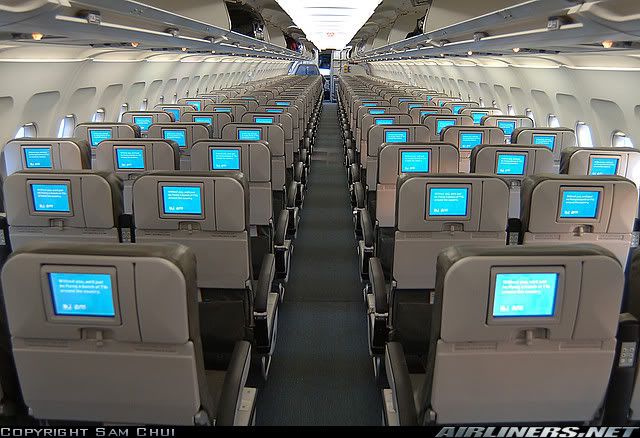 c) Meal + Beverage:
Just snacks and drinks post take off. I did not really get anything as all I wanted to do was sleep.
d) Inflight Entertainment:
This is when the trip report starts getting negative for B6. First off, does B6 not have an inflight magazine? The lack of an inflight magazine gave the aura of a cheap LCC than an airline with a "soul". Moreover, their much advertised 36 channel direct TV system failed throughout the entirety of the flight. I was stuck between choosing a moving map or B6 advertisements. Not good for an international flight.
(Moving Map, seatback)
(IFE did not work)
(In-flight magazines, Boarding Passes, etc. – featured here is the boarding pass and tags)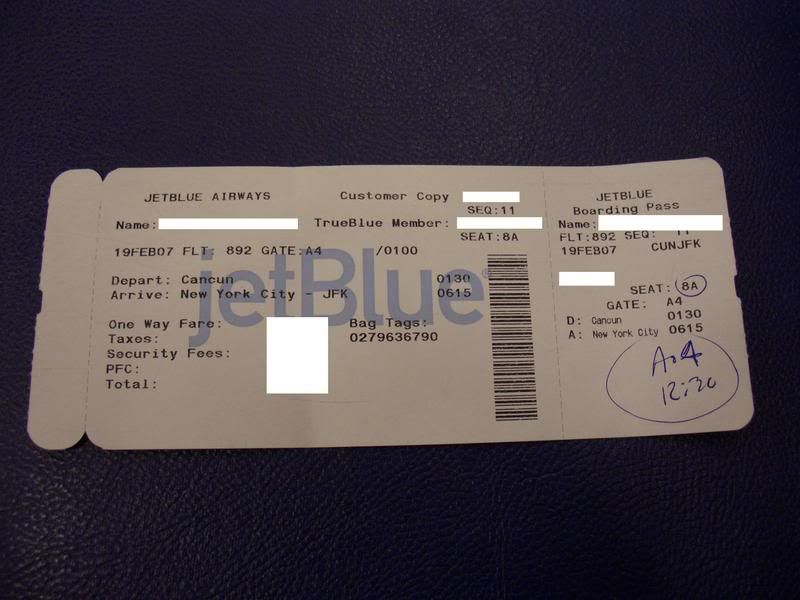 e) Crew:
I don't know if they were having an off-day or something, but B6 crew were absolutely not what I had expected from my first experience. I can understand them being tired on a return red-eye, but they seemed genuinely uninterested in their jobs. Service was VERY sloppy. The lead attendant making announcements in English could barely speak (I was convinced he was drunk) and kept on being unable to make clear intelligible announcements. He stuttered at the most basic things and skipped information that needed to be relayed during the security check. The Spanish version of the announcements was no better. Finally, there was no smiles during the entire flight and my request for a IFE system request was met with a blank stare.
IV> Post-Flight:
First off, my "gate checked" bag was not available at the gate. Worse, the gate agent was not convinced whether it would come in the carousel (due to it being an international flight) or if it would come at the gate. How reassuring. I was praying that my bottles had not broken and damaged other goods and was cursing the B6 staff at CUN for lying to me. Thankfully, immigration was quick and pleasant … but that only meant waiting an excruciating 47 minutes for the bags to arrive!
V> Impressions + Scores:
I don't know if it was a one-off flight or if B6 was still shaken and recovering from their disastrous performance over NY winter snow storm, but their product definitely looked unrefined and tired. While I was impressed upto the time I boarded the flight, and appreciated the good seat, I was superbly disappointed by their ground performance and the crew. Moreover, having an IFE product that did not work and no inflight magazine only made matters worse. I am willing to give B6 another chance; however, I don't think they are this great little airline as people make them out to be. Within the U.S., I much rather fly Midwest or even USA 3000 if given a chance amongst smaller airlines.
Reservation: 10.0
Check-In: 8.0
Lounge: n/a
Boarding: 3.0
Seat: 7.5
Aircraft Overall Ambience: 8.0
IFE: 4.0
Crew Service: 4.0
Food: 5.0
Beverages: 5.0
Amenity Kits + Others Freebies: 5.0
Disembarkation: 8.0
On-Time Record: 10.0
OVERALL IMPRESSION: 5.96
(Pre-flight average of all-reviews: 6.44)
(Scores are based on comparison with other airlines in THAT class of service – No comparison of Y vs. F for example)
VI> Other Trip Reports:
1/
Avianca: BOG-LIM: 07/06/06: 7.09pts: Y-IMR
2/
Air Tran: EWR-MDW: 08/02/06: 6.73pts: Y-DMR
3/
West Jet: YYC-YVR: 09/05/06: 7.14pts: Y-DMR
4/
Air Canada: YYZ-YVR: 09/02/06: 5.92pts: Y-DLR
5/
Air Canada: ALB-YYZ: 09/01/06: 5.88pts: Y-ISR
6/
Singapore Airlines: EWR-SIN: 09/20/06: 7.81pts: J-ILR
7/
Adam Air: SIN-CGK: 09/22/06: 6.04: Y-ISR
8/
Valuair: CGK-SIN: 09/22/06: 5.04: Y-ISR
9/
Spice Jet: CCU-DEL: 09/25/06: 6.67: Y-DMR
10/
Indian: DEL-CCU: 09/26/06: 7.25: Y-DMR
11/
Air Sahara: CCU-BOM: 09/28/06: 4.42: Y-DMR
12/
Air Deccan: IXZ-CCU: 10/07/06: 5.75: Y-DMR
13/
Alliance: CCU-IXA: 10/08/06: 7.54: Y-DSR
14/
Kingfisher: IXA-GAU: 10/08/06: 8.21: Y-DSR
15/
Indigo: GAU-CCU: 10/08/06: 6.54: Y-DSR
16/
Singapore Airlines: CCU-SIN: 10/11/06: 5.88: J-IMR
17/
Air Canada: ICN-YYZ: 10/12/06: 7.13: J-ILR
18/
Delta AirLines: SEA-JFK: 11/24/06: 7.17: F-DLR
19/
USA 3000: PUJ-BDL: 01/06/07: 5.96: Y-IMR
20/
Viva Aerobus: CUN-JFK: 02/20/07: 4.58: Y-DSR
(Note on Codes: Y – Economy, J – Business, F – First :: I/D – International/Domestic :: SR/MR/LR – Short/Medium/Long Haul :: I have designed these codes so people don't believe my scores are comparing apples and oranges)
VII> Other Pictures:
NONE
[Edited 2007-02-24 07:53:08]