Intro.
(Inn-through).
It's been a while since the last time I wrote a trip report. For those who have read them, can witness the level of bitterness and sour humor I put on them. If you are easily bothered by crude language and images then leave this page right now. If you want to forget that our leader Fidel Castro is real sick, then keep reading…
Rather of making of this report a highly-entertaining piece of writing, I have decided to go further and actually give back something to this amazing on-line community. Spanish lessons. All the headers in this report are written in Spanish with a clever pronunciation aid for all my "gringo" friends. Hope you like'em.
Though I have been making a decent income lately I still have an indecent digital camera which went kaput right before I made this trip. I apologize for the lack of my own pictures. In compensation I have decided to steal others and paste them in my report in order to make of it a nice and pictorially interesting example of bandwidth waste. For those copyright fans I do acknowledge the authors.
Make sure to check these other reports and master crafts of writing:
Also check this hilarious tale made with airliners.net very own pictures:
Without further delay... flight attendants please prepare for gate departure and crosscheck!
Mas introduccion.
(Mass In-throughout-duct-see-on).
I am frequently envied by people. Not because of my Tom Cruise looks. Not because I make lots of money and certainly not because of my flying abilities which make me believe I am in fact, directly related to Charles Lindbergh and Amelia Earthart…
Nope, none of that. I am envied because I share with the gods the power of omnipresence. I, like many other crewmembers live in two places: Cancun and Monterrey, Mexico.
Oh the faces!. You should SEE the faces (the lifting eyebrow is always there). You should HEAR what they tell me. I get numerous "What two exciting places to live!", "What a thrill the commute should be!" and "What a boring job I have sitting behind this desk!"… Well my dear a.netters, after four years of this madness, here's a little secret I want to share with you all; pass it on: It's not that exciting, it's not really a thrill and sometimes I wish I could have their 9 to 5 job!.
Anyway, commuting was exciting for the first months I got my flying job. Now it is really a hassle and if it were not because of the de-li-cious-ly yummy
pollo con arroz
my mommy cooks me every time I am in Cancun I think I would not do it anymore.
This month, coincidentally with my time off in base, I had some friends from Cancun visiting me in Monterrey. After four exhilarating days of hard-partying and close to 20 liters (around 6 gallons) of booze it was time for all of us to go back to our hometown Cancun; them to rejoin their normal weekday activities, me to spend three days with my parents before having to fly back to Monterrey and work my flight schedule again. The commute madness again about to begin, but heck, at least I was going to have some good pollo con arroz!
As I am lucky to fly for an airline which is affiliated to the union that groups the pilots of Aeromar, AeroMexico, Click Mexicana, Mexicana and AeroLitoral, I have the benefit of jumpseating on any of the mentioned airlines. With such a vast route network at my disposal I hardly have any problem going wherever I need to, however, most of times in order to actually get to my destination I need to connect in Mexico City and bear with its lengthy taxi routes, remote parking, weather delays and bad grilled-cheese sandwiches. Quiet often, my Monterrey to Cancun commute (via Mexico City) takes up to 7 hours from gate to gate. On the plus side, it doesn't cost me a penny, or more properly, a centavo. Well, the cheese sandwich does but you get my point, right?
After their little break from routine, my friends booked their return MTY-CUN with VivaAerobus. Originally, the day we would all depart Monterrey we were going to split at the airport, them to fly VivaAerobus, I to free-ride AeroMexico. But the idea of me stopping in Mexico City to connect was something which would demand lots of attention, planning and energy. At that point, myself, with quiet a few million neurons dead due to the cheap alcohol would perhaps get lost in the connection. The idea of flying VivaAerobus non-stop along with my friends was very very attractive and finally convinced me and my wallet.
So about 36 hours before the departure I booked my lift to Cancun on my friend's flight with the newest low-cost in Mexico. We would travel together, share a taxi ride at both ends, I would get a chance to try VivaAerobus, be part of the low cost phenomenon and have an excuse to lose several hours writing this trip report which, I am absofuckingly sure no one is reading this far. It was a win-win-win-win-win situation.
Compra en internet.
(Cum-proud end in-their-net).
http://www.vivaaerobus.com.mx
brings me mixed emotions. It is one easy website for sure, but it is so basic that it actually looks amateurish. I have noticed since more than two months ago some quirks and bugs about the content and design of the page but only a few of them have been fixed. That sort of worries me since the internet is their premium sales channel. Not paying it close attention or making it more appealing could bring negative results. The better use of the colors and the more frequent use of the eagle mascot in the most recent updates are very welcomed though.
I selected the one-way option and just a few clicks away I had my fare quote and schedule. The itinerary couldn't fit my needs better as it was a night departure allowing me and my friends to spend the whole day doing some last minute shopping.
I got a fare of 499.00 pesos plus airport tax, security fee ($74.85), plus a credit card service charge ($25.00) which totalized $833.80 (about eighty-something bucks). I didn't get the 1 peso, nor the $99 or 199 pesos fares but still compared to what other carriers charge I believe I was lucky and continued to purchase the ticket. Out again was my day-to-day thinner credit card; typed the numbers which I now know by heart and after FOUR attempts I finally had "on hand" my electronic ticket.
What I disliked about the on-line experience was that the interface didn't allow saving a profile, access it and having it automatically fill out information on the reservations. Perhaps they really want to keep it simple and thus Viva refrains from doing strictly what it is necessary to put people on metal tubes and blast them somewhere through the air.
La Terminal de Viva.
(La Term-in-all The-"B"-bah)
The day of our flight we arrived about an hour and a half before the departure time (20:10). We took a cab to the airport which dropped us in the new Terminal C, nothing more than a huge warehouse-style building (or hangar). Terminal C is exclusive of Viva and doesn't really match the architectonic style of the main terminal A (don't ask me about Terminal B, I am clueless of where it is or even if it exists). Here, I need to point out that there is really no actual architectonic style on terminal A, unless "the 80's meets bad design" is considered a theme.
On the way to the airport I had some Starbucks. Having such a fast metabolism I was very much ready to go to the Johansen as soon as I entered the building (yes, I call it Johansen because I have friends with the last name of Johnson and it is not politically correct to them; I know I am being unfair with those named Johansen but since I don't know anyone with that last name I believe I have a point).
Anyways, due to my little emergency, I didn't really get a first impression of the building when I entered it. It was after releasing all that "Venti-Hot-White-Mocha-2%-no cream-for-Ray" when I realized I was in Viva territory. Everything had their logo on. The ticket counters only read VivaAerobus, so the information screens, so everybody's shirts. The warehouse or "terminal" is clean, fresh (actually it was freaking cold), simple and had like 37 gazillions of Watts in light. Its not very big and took me five minutes to visit all the public, off-security areas.
What it feels to walk in such an elegant environment? Well, if you have visited Costco then you get a good idea of Terminal C.
There is definitely teamwork between Viva and the airport management as it is outstanding the level of functionality the building provides. It is small yet spacious, efficient and fits perfectly the needs of the airline and none else's.
This seems to be quiet a nice moment to paste a picture I stole from user
Abrelosojos
originally posted in his report
Viva Aerobus VIV 171: 15/FEB/07: CJS-MTY: Y Cabin
; to whom I acknowledge his contribution, effort and copyrights. Yada yada yada…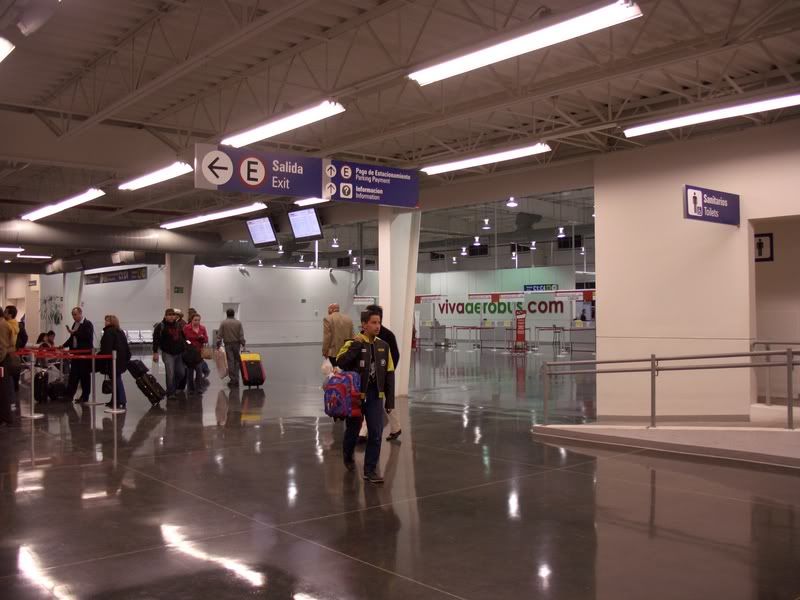 Documentacion
(Though-cum-ant-ass-see-on).
With my two carry-on luggage my friends and I headed directly to the only counter which had our flight number and destination written on it very much like it used to be in the good ole days. I liked that a lot because it makes the check-in process faster as each flight has its dedicated desk and staff. We were greeted by a girl agent not older than 25 who asked for our IDs and confirmed if our destination was indeed Cancun.
The whole check in took about five minutes, tops, including the time one of my friends spent paying the extra baggage fee of 50 pesos (about five bucks) as only one bag is allowed for check-in (I was having one of my worst brain farting events as I did not think of passing one of his bags as mine so he would not have to pay the charge). I apologized to him later about it.
My two friends were booked under one same confirmation number so I let them check-in first; I did not pay a whole lot of attention to their process but I did notice that after tagging the bags they were asked to take them down to a belt.
-"For security inspection?"- I naively asked, to which the agent responded courteously,
-"No, to get the bags closer to someone who will load them into the plane"-
That answer made me laugh quiet loud (which was good because I think I also farted for such an unexpected response). No one noticed it though.
After the initial awe and laughter I realized she wasn't kidding and helped my mates carry their baggage almost all the way to the bag cart. Then it was my turn to be checked-in. I was again greeted by the young lady, showed her my ID, asked me if I had bags to check and printed my sales receipt… I mean, boarding pass.
This "boarding pass" was nothing else than a receipt-style paper with a bar code, destination, flight number and boarding group. Me and my friends were assigned group C or the third batch to board.
Sala de espera
(S-Allah the spair-ah)
Just as I cleared the security checkpoint I saw a VivaAerobus aircraft arriving and parking in what it was going to be our gate. A thought of relief came into my mind knowing that my flight wasn't going to soil the good on-time performance achieved on the last weeks and proudly published on Viva's website (last week's performance reached 100%).
I spent the following five minutes buying a sandwich from the small café inside at the boarding gate. I wasn't done paying my sandwich when I heard that preboarding started. That's what I call a quick turnaround!
I was glad to feel the new approach that Viva and other airlines give to their users. I have heard Volaris' announces and they refer to the passengers simply as "customers" eliminating the over used "ladies and gentlemen" which I am sure everyone is really bored of. The startups are not sticking to the traditional methods of doing business; their way (at least Ryan's and thus Viva's) is proven and responds to the needs of their market. The model they are following is so well-thought that its essence falls all the way down to simple things such as boarding announces and how they address to their customers. Good for them!
The agents at the gate were young, friendly, active, informal, relaxed, efficient and two of them were quiet frankly handsome. They reminded me of the staff at Starbucks (the ones doing the cashier, the others generally working the kitchen or sweeping outside are not that cute). The boarding speeches were concise and clear, both in Spanish and something I later identified as Belizean English "olpassengerson VivaAerobusflait onefooorty are welcomenow".
They aligned us passengers in four rows according to our boarding zone.
When they were done with the first two boarding zones it was our turn. They took our boarding "receipt", smiled and with no further indication pointed at the gate door.
The night was calm and brisk. Our 737-300 was waiting for us, fuel truck still connected and stairs both at the front and rear entrance. We were not instructed which door to use, but keeping in mind that we were among the last to board we elected to use the rear stairs in order to get a nice -though rear- set of three seats together.
El avion
("L" ab-"E"-on).
XA-UGL was the registration of our ride to Cancun. Quiet a convenient combination of letters as I later found, the plane was down right UGLy. For you all who are into tech details this 737 was a dash 3B7, serial number 22958/1137 whose previous operator was USAirways and was delivered to USAir back in 1985, previous registrations N358AU and N385US. And for those sick porn lovers out there, here is a picture of this white, old lady:
View Large
View Medium


Photo © Løgan Sánchez Ontiveros
There was a female flight attendant greeting us in the rear. (I mean, greeting us passenger on the aft section of the plane, that is). She was very young and definitely didn't look like she was very experienced. We had open seating and to our comfort this flight wasn't packed, just about 70% full so we had no trouble finding a whole row of six for our own. We quickly stored our belongings in the overhead bins, sat, got comfortable and started looking at other people to criticize them. (We all do it, don't you?).
One word comes to mind if I try to describe my overall impression of the aircraft interior.
CAMION
. In Mexico the "camiones" were (and still are sometimes) the main ground and for-the-masses mode of transportation between small towns. The name "camion" bring to the Mexican a thought for the rattled, old, slow and uncomfortable.
So, back to my story; this "camion" I boarded, was immaculate on the outside but rather untidy on the interior. No surprise as the turnaround times are reduced to the minimum 25 minutes AND the flight attendants are the ones who do a light cleaning of the aircraft as soon as the last passenger disembarks. Pretty standard practice in the low costs in Europe I know, but if the cleanliness I saw on board is a reflection of Viva's flight attendants' personal hygiene then… well… then Eeeeew!
Very, very tight seat pitch. The seats did not recline a bit and were all in navy blue leather. The rug on the aircraft had traces of chewing gum on them (unfortunately none of them had any flavor left).
Concerning the aircraft, quoting a controversial trip reporter (whose name I will not disclose for fear of Singapore_Air getting mad at me), all I can say: "I was unimpressed". Go Singapore Girl!
I noticed that one of the windows around our seating are had no shade and that another one was completely broken. Not that I missed them at 8 pm though, I just realized the planes were being flown a little bit too much with little time for not-so-important decorative maintenance or that perhaps Viva is slowly uninstalling them to save weight
What it is truth is that I never felt unsafe onboard Viva. Ever. I know what it takes to establish an airline. We might still have a long way to go when it comes to service standards, top-notch technology and airport infrastructure, but, the aviation authorities in Mexico are improving a lot and are performing their inspection duties better than ever. I really don't care much for a worn-out seat, broken shade or shitted toilet. Well; for the latter I do.
El vuelo
Elle Vu-"L"-oh
As I have quiet a few pilot friends working with VivaAerobus I asked our young, inexperienced and ugly flight attendant if she could kindly inform me of the name of our flight deck crew. She was clueless about their names, and after some unsuccessful attempts of describing me their appearance she decided to go ask her purser.
Everybody was quiet festive onboard. Perhaps the idea of flying to Cancun for a little break was exciting for my fellow travel partners. Perhaps knowing that for most of them it didn't cost an arm and a leg was even better.
I got a little distracted storing my ipod when I glanced the purser flight attendant walking towards me. He stood right next to me with a serious attitude. For the look of his face I had no idea what on earth I had done wrong. I had my seat belt on, the ipod was off and I had not stolen the safety card… yet. Then the situation softened as he smiled and gayer than a tea party for three he said: "I have passed your hellos to the flight deck crew, Mr ZZZ and Mr. YYY. They both know you and will be delighted to have you on the flight deck any time".
I thanked my flamboyant, gaudy and ostentatious flight attendant and replied him that perhaps a little further into the cruise stage of the flight I'd go and pay them a visit.
The initial announces were very professional and were given both in Spanish and English. Subsequent speeches were given by the other crewmembers, though, au contraire to the Purser's, were also in Spanish and in other language some people would believe was English.
The doors were closed actually about five minutes before departure. Immediately our push back started and the CFM engines started to roar.
Though the guys at VivaAerobus do their simulator training in Miami I am absolutely convinced that their taxiing abilities are learnt in the Southwest Airlines Accelerated Taxiing Seminar. I mean, that taxiing was actually a take off run slightly slower than V1. In about three seconds (well, actually about four) we reached the end of the taxiway (impressive that the flight attendants managed to complete the whole security-lecture-meets-charades-game). Kuddos for them!
Then the lights went off (perhaps not to notice how everything inside shakes during takeoff); soon after, our 22-year old Boeing started guzzling JET-A, making noise, running fast and scaring the hell out of the rabbits who live near the threshold of runway 11. Poor rabbits.
We defeated gravity. We did not resemble anything close to the most humble and small of the hummingbirds, yet, we were faster than the mighty eagles…
We climbed to 27,000 feet or FL270, a rather low altitude for a B737-300 on a +2 hours flight. The reason for this, I thought would be the aircraft not being certified or equipped to fly in the more restrictive RVSM airspace (Reduced Vertical Separation Minimum). The certification to fly in RVSM airspace is lengthy and expensive. This particular aircraft (I don't know about the rest of the fleet) seemed not to be ready for it and I knew it since the welcome speech which announced the altitude of flight.
About 15 minutes after take off our flight attendants were ready to commence the in-flight service. Two flight attendants, one on each en of the plane worked their way to the middle while the other in the front galley assisted bringing missing items to the cart. The prices were very reasonable and the selection was plenty. Here's a picture of the menu, again taken from
Abrelosojos
' trip report on this very same fantabulous site: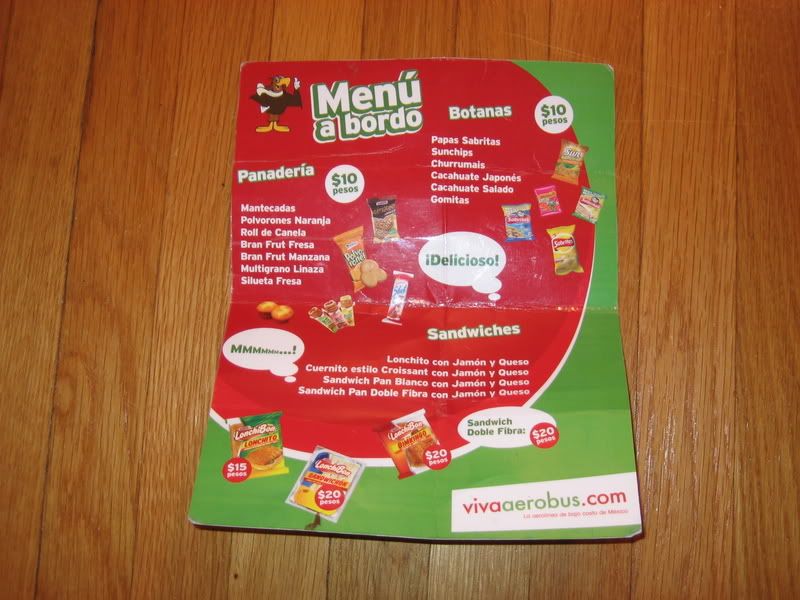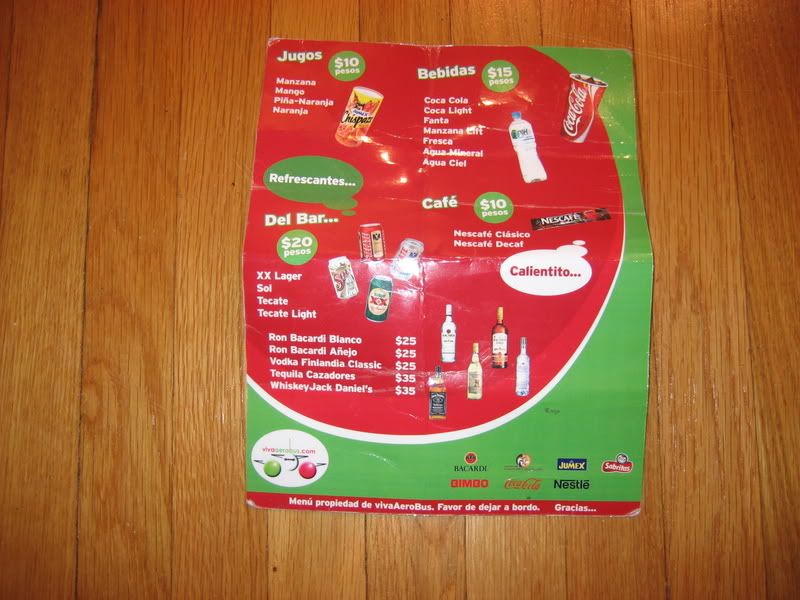 Me and my friends ate the sandwich we bought at the airport but did buy some rum and Coke from VivaAerobus. I never ever drink while I fly (much less if I AM flying the aircraft) but this time I wasn't working, I wasn't jumpseating, I wasn't wearing an uniform and more important I was on vacation. Spent 50 pesos (about 5 bucks) in two little bottles of Bacardi, poured one on my cup with Coke and enjoyed watching Chicago, the musical, on my friend's computer. …And all that Jazz! Gosh, Renee Zellweger is hot!
What gladly surprised me was that the crew did a very good sale on this flight. I have no idea if they work with a commission scheme but if so, they surely are pocketing some good side money. About a 70% of everyone onboard bought something and I have to clarify that there ARE actually choices down at MTY's terminal C. I would understand a starving crowd buying everything and eating the chewing gum off the carpet if there wasn't choices available at the airport. But there were two mini-markets (airport-type) and one full-size coffee shop with a decent variety; all of them with reasonable prices.
The flight attendants did an efficient job working the sales. They were attentive but not to the extreme. Every single thing is for sale onboard, even water. Darn, I believe even the emergency exits had a slot to insert coins to use them!
About one hour into the flight I had the need to go to the toilet. That was not a very nice experience as I found it in a very poor condition. It looked old, plastic and walls yellowish, not conveniently supplied (only toilet paper); no paper tissues nor paper towels were onboard. I did my business rather quickly thanking God for not being a girl and having to sit for whatever issue we need to deal in the restroom. Noticed the broken slide-lock of the door and the generous usage of high-speed-tape (that metallic tape so widely used in aviation) on the seats and their armrests while I walked back to my seat.
Au contraire to others in this site I did not collect feminine towels and did not perform absorbency tests at home. I am a bad trip reporter, bad trip reporter!
Though I doubt the flight attendants would deny a refill (re-purchase that is) of any drink or meal, specially if they work under commission, I was told by one my friends who had flown them before, that once they finish with the in-flight service, it wasn't possible to buy anything else. That seemed to be truth. Just as they finished selling Cokes and chips the flight attendants disappeared in their galleys, showing briefly (and only one of them) to collect trash.
One thing I liked though is that Viva's airplanes are supplied with the service (trash) carts specifically designed to collect garbage (the ones with the hole on top of it, making it very comfortable for the crew the pick up of trash and cleaning of the cabin. As a matter of fact, most of the passengers themselves dropped their waste as the cart quickly passed along the aisle. Most of the airlines I have flown with deposit the garbage in plastic bags or back inside the service cart which to me, seems to be both unattractive and unhygienic.
The following minutes went rather fast. There were no announces made by the flight deck crew at all. The lights were dimmed and everyone started reading, chatting or sleeping. I continued watching the movie with my friend but soon I caught some very much needed sleep. My snooze was only perturbed by the occasional passenger walking to the restroom or the light chop we encountered for some 10 minutes.
After having flown over most of the Gulf of Mexico, I could clearly distinguish the lights of the Yucatan Peninsula and the Port of Progreso in the State of Yucatan. On the MTY-CUN flight, that is pretty much the moment when the pilots stop looking at the centerfold of the FHM magazine, store it, and begin getting the flight deck ready for the arrival. Usually one of the very first things we do is getting the ATIS (Automatic or Automated Terminal Information System or Service) which broadcasts local weather and airport conditions. Then comes installing the arrival and approach into the navigation systems, briefing it and performing some checklists. Even though I was seated in 23D it was fun to kind of know what was going on up front.
Despite being politely invited by the crew to visit the flight deck I didn't go during the flight. Besides not being very much acquainted with the two pilots, I really didn't want to interfere with their procedures or policies (visits to the flight deck during flight are now restricted practically all over the world). I, myself, have had to deny the visits of people to my flight deck as I like to stick to procedures (besides, quiet often we carry not-uniformed staff who might… just might report us with the company). Anyway, I wasn't going to act differently just for the fact I was using someone else's carrier. I acknowledge their courtesy for inviting me to the flight deck at my own discretion, to me, it was an attentive gesture. For them I believe I was courteous enough to let them know I was sitting back there, able to assist them in whatever circumstance, as I always do. When I am jump-seating or dead-heading, I like to think I am a Resource, they are the Management Crew.
Descent started and before I noticed the flaps and landing gear came down. The hydraulic pumps and actuators on Boeings have a very characteristic sound (or noise, depending on whose listening to it). A couple of passengers, clearly not very frequent users of air transportation, did look agitated with the usual brrrrrrrrrrrrrs and whiiiiiiiiiiiiiiiiiiiiirrrlllls.
We shot an ILS to runway 12. The touchdown was nice and firm and no thrust reversers were needed to slow down the airplane and bring it to the high-speed taxiway. Again, we taxied very fast and not more than 2 minutes after touch down we were arriving to the gate. Cancun's airport is improving a lot. It is currently finishing Terminal 3, which is on the southeast side of the complex. I like arriving to Cancun at night perhaps because its layout and design really make look pretty all the blue taxiway lights and signage. Oh that sounded soooooo gay!
Again, both the front and aft left-side doors were used. Despite I was closer to the back door I decided to wait a bit in my seat and walk to the front to say hi to the pilots and congratulate the whole crew for their new jobs (and how well they all were at it). My message was truly from the heart. After the huge slow down that commercial aviation had after 9/11, most of them waited quiet some time before having again a real airline job. They were not the exception, the Captain and one of the flight attendants worked for Allegro Airlines before. The copilot came from the corporate aviation while the two younger flight attendants were enjoying their first aviation jobs. Congrats again to all of them!
After gathering all my belongings and the good-bye ceremony I left the plane and were headed to the luggage claim area. As I said before I did not check any baggage but my friends did. The ground handler contracted by VivaAerobus in Cancun was definitely the weakest link in the whole VivaAerobus experience as it took them about 15 minutes to deliver the bags to the conveyor belts. If we keep in mind that the average turn around time is of about 20 minutes that is a LOT of time!
Nonsense is an utterance or written text in what appears to be a human language or other symbolic system, that does not in fact carry any identifiable meaning. I am writing this nonsense here because I am sure nobody is reading it.
En resumen…
"N' rest-sum-men…
I believe that VivaAerobus has a great product and a unique concept. For the average a.netter or reader from Europe the uniqueness of their business is by no means, new; nevertheless in Mexico it is handling the market in a way none ever had done it before. They are enjoying a very successful start, with many people complimenting the benefits of cheap, affordable and safe transportation. It is definitely not the product the business traveler want. It may seem tacky, cheesy and cheap but for the people who travel in the grounds of vacation, visiting family and friends, VivaAerobus is setting a difference and making distances disappear.
Myself and relatives, though we enjoy the benefits of the large airline and the great benefits we have, have had to use VivaAerobus in three different occasions. Many of my friends who also work in the industry, have had friends and family flown with Viva. To us, like it is to others, it is efficient, affordable and fun!
Feedback is always appreciated.
I hope you have just as much fun reading it as I had it writing it!
RM