Hi everybody,
this is my first trip report. Any feedback or commentary is welcome. I also apologize for the poor quality of some photos. I've also included videos of some takeoffs and landings.
This trip report is about my family's winter break holiday to Maspalomas, Gran Canaria. We started thinking about a holiday abroad on the winter break quite late, in December actually, when most of the flights and holiday packages were sold already for this popular and thus very busy travelling week. That left us with only a few options, at first we had to choose between Malaga, Malta and Turkey, but they're all still a bit cold in February so they weren't ideal. However, looking for other options in the Internet revealed me the possibility of flying to Las Palmas on Finnair, but we would have to change plane in Oulu (which is a small airport in Northern Finland), because the winter break week is two weeks later there. So this routing HEL-OUL-LPA-OUL-HEL was one of the more funny itineraries that is possible to be flown. My family was quite sceptical about it at first, but after I assured them there's nothing wrong with it, and it's not more expensive than flying directly from Helsinki (well, there weren't even any seats left), we decided to book it. I was just happy about it because of more flying, and new aircraft types for me!
We arrived at the airport well on time, something that is quite rare when travelling with my always-late family.
But I was just happy about it. We did check-in at the domestic departure hall (DH 1). I think the check-in agent was wuite ready to direct us to international departure halls when I told here we were going to Canaries, but then she realized our itinerary quite quickly when she took a look at our tickets. We, and our baggage, were checked all the way to LPA, and after checking in it was time to go through security. There was no queue so it wasn't a big deal.
There was quite a few Finnish "celebrities" on the same flight with us to Oulu. There were at least Esa Saarinen (philosophist), Jari Isometsä (skiier), Lenni-Kalle Taipale (musician) and Mikko "Peltsi" Peltola (radio host) on board. Possibly Martti Korhonen (party leader of one of the two socialist parties) too but I'm not too sure about that.
Date: 16th February 2007
Airline: Finnair
Route: Helsinki (HEL, EFHK) - Oulu (OUL, EFOU)
Flight number: AY365
Aircraft type: Airbus A320-214
Registration: OH-LXK
Scheduled departure: 12:40
Actual pushback time: 12:38
Takeoff: 12:47
Scheduled Arrival: 13:40
Actual Landing: 13:42
Seat: FREE, I took 17F
View Large
View Medium


Photo © Balazs Pinter
Airbus A320-214 OH-LXK getting ready for our flight to Oulu at gate 23.
I wanted us to be early at the gate ready to board the plane because of AY's policy of unallocated seats on domestic flights. Of course I wanted as good seat as possible so we were almost the first ones to board the plane. Meanwhile my mother had already gotten into trouble as she was trying to shop tax-free items, which was not allowed as we were flying first to Oulu before continuing to Las Palmas, so I had to go there explain it to her as she refused to understand it explained by the clerks. My family, they're such a pain in the a** when travelling.
Monitor at gate 23 telling passengers on our flight to go to gate.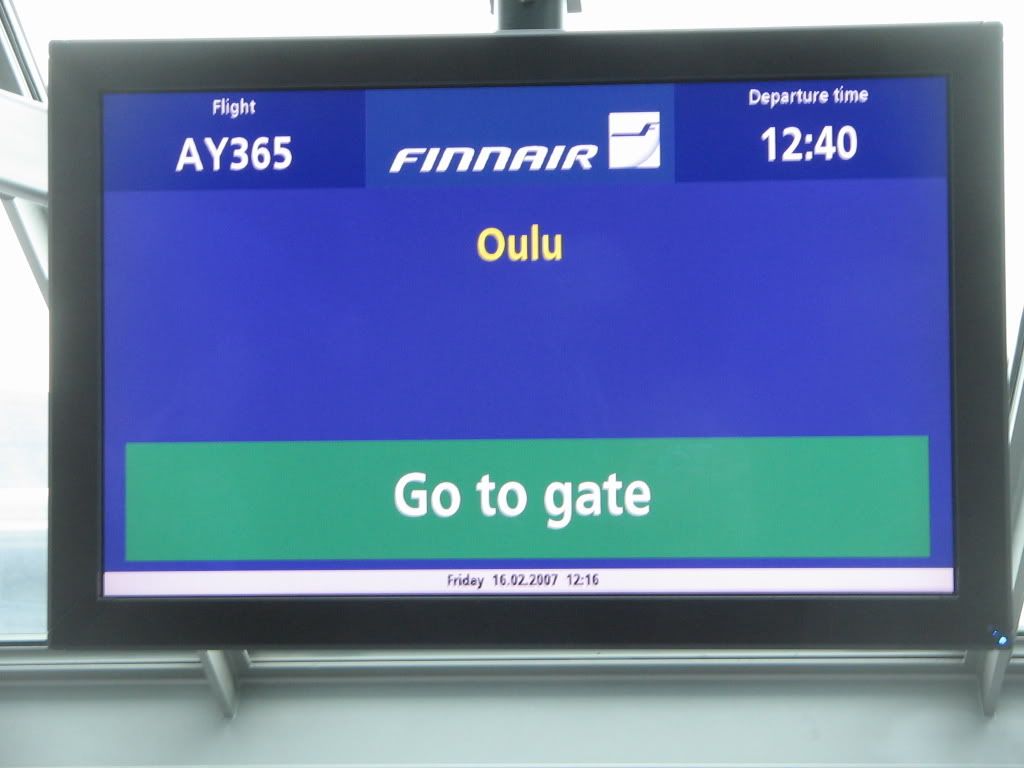 Boarding was completed at 12:30, relatively quickly, and we pushed back at 12:38, two minutes ahead of schedule.
BAck of the A320 cabin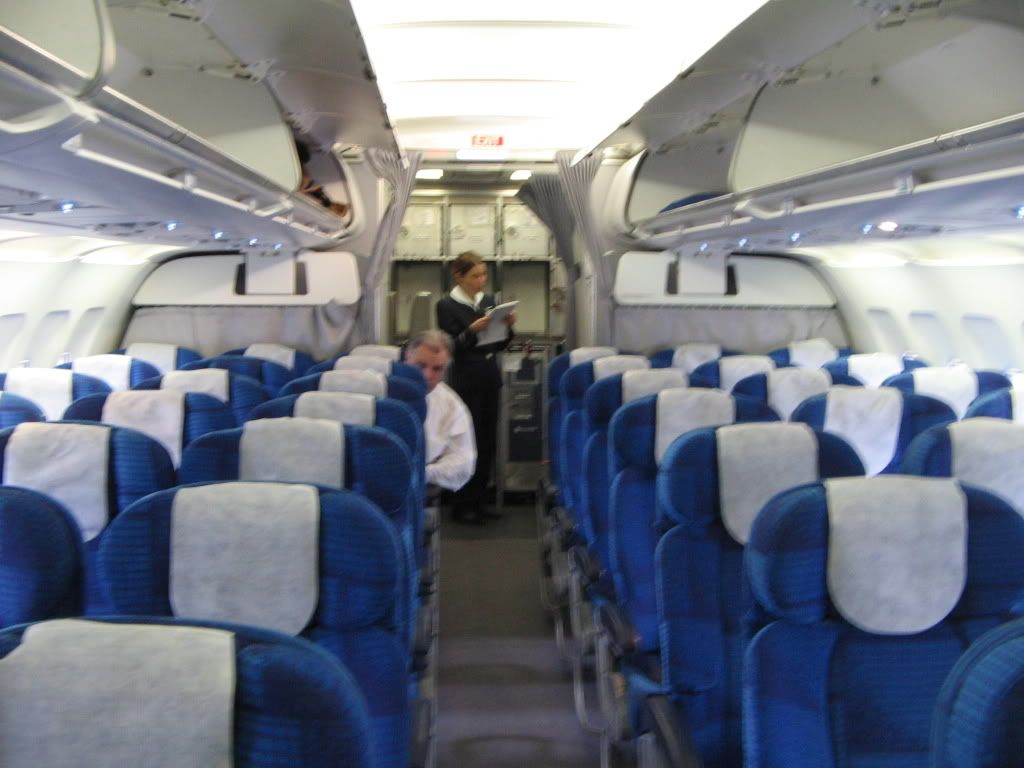 Blue1 Avro waiting for her next flight to Oslo, and behind it Finnair Airbus A320 taxiing for takeoff to Paris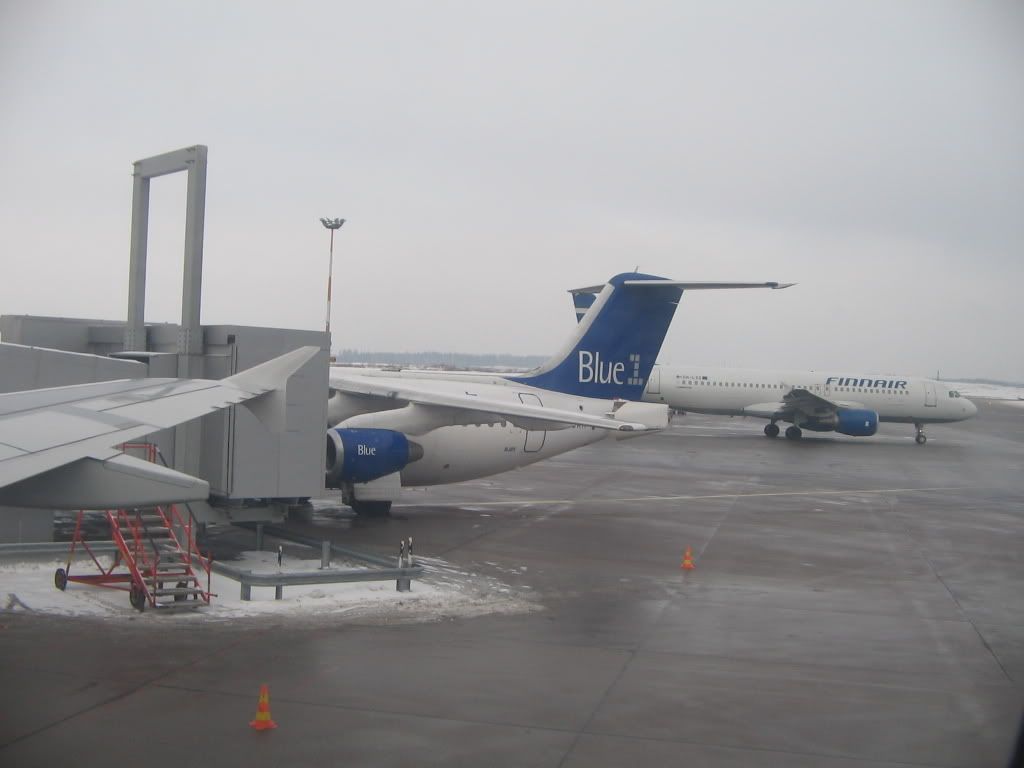 Finnair has in my opinion a generous legroom in A32S aircraft, and the legroom's more than adequate for me.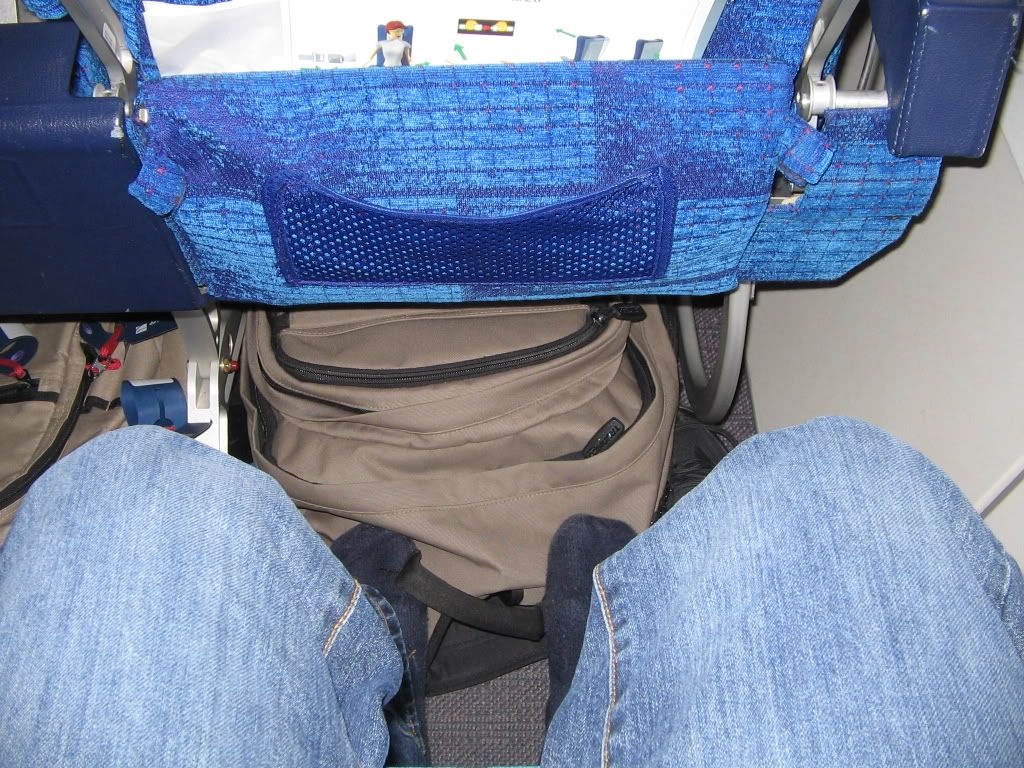 We taxied for takeoff from runway 22R, which is the newest runway in HEL and most frequently used for takeoffs. We took off at 12:47, seven minutes behind schedule.
Video of takeoff from HEL to OUL.
Solid cloud layer prevented views to the ground.
As we climbed to our cruise altitude of FL370 (which I think is quite high for such a short flight), the cabin crew started serving us drinks. I was a bit disappointed that we didn't get a sandwich (for some reason I was expecting that), but it was OK. We were served a cup of coffee/tea, with 2 Fazermint chocolates. Soft drinks were also served free of charge, but to my huge disappointment AY seems to serve Pepsi on domestic flights instead of Coke, so I refused any other drinks than tea. Call me crazy, but it's important for me.
Oulu airport in the distance while turning on final for runway 12. The sea is frozen.
When arriving to Oulu, we first turned on final for runway 12. However, quite quickly it was evident from the nose camera that we were too high for landing. Then we turned right and circled for landing on runway 30. I don't know if it was planned or not, but it surely was interesting.
Video of landing on Oulu's runway 30. You can see the small terminal on the background at touchdown.
We landed at 13:42, two minutes behind schedule and taxied to the apron where we exited the aircraft by stairs. Oulu has no airbridges.
Local baggage handler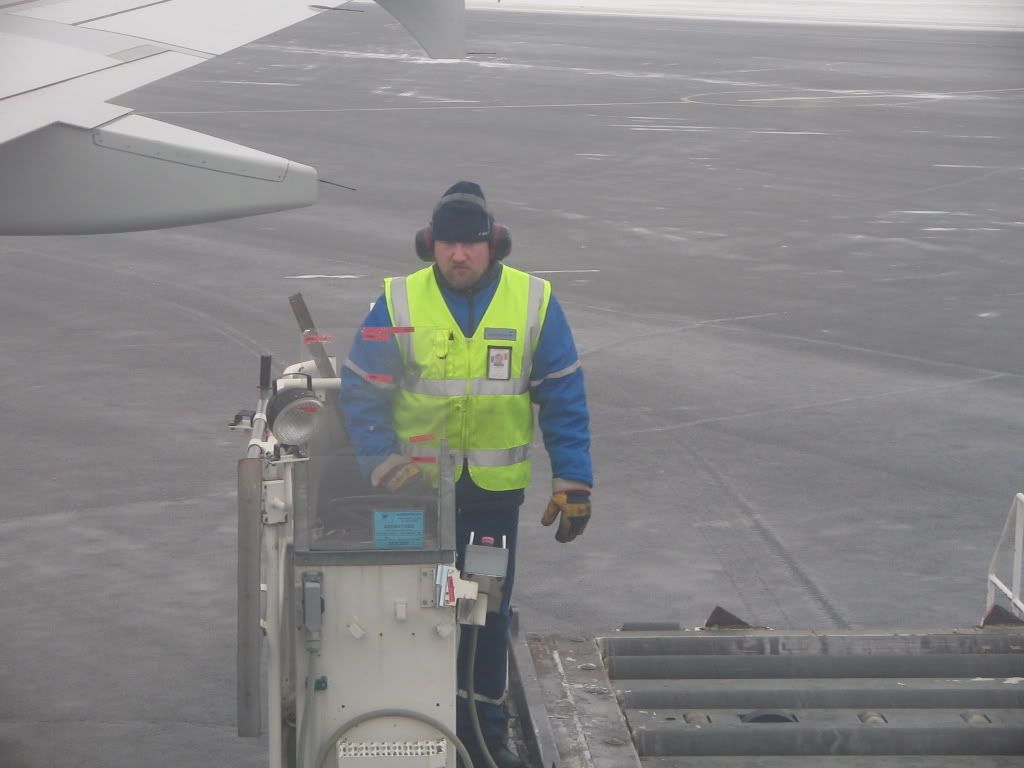 Nose of our aircraft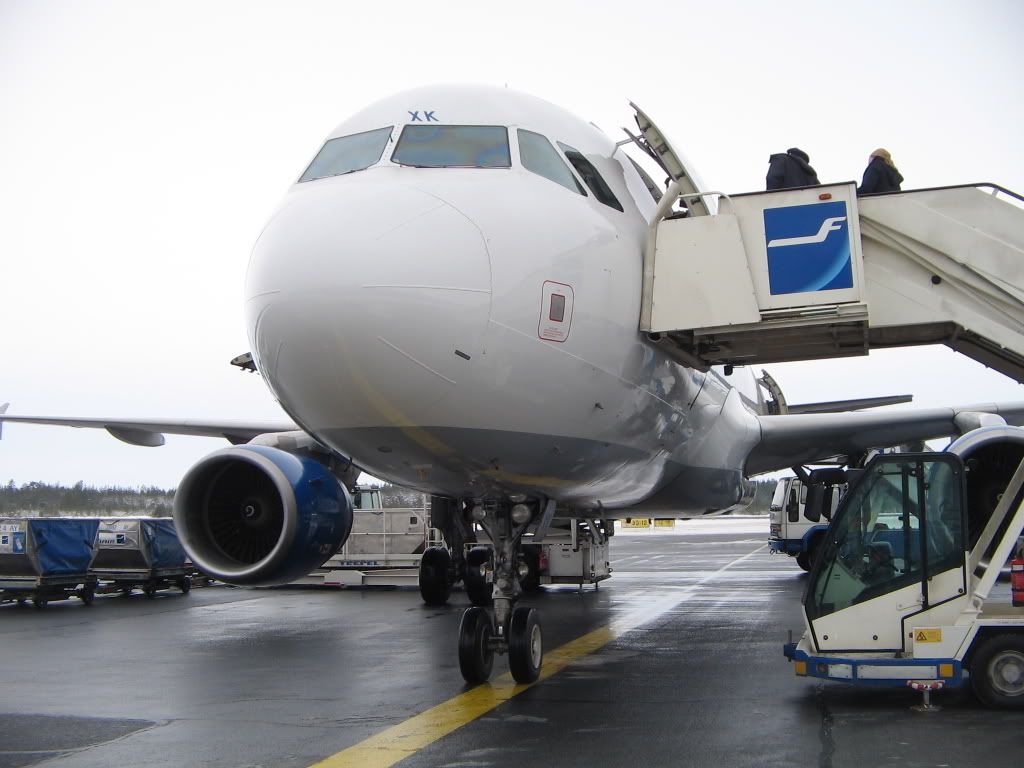 OH-LXK at Oulu after our flight from Helsinki
For those who didn't continue on the flight to LPA, the baggage arrived the carousel practically immediately after our arrival. However, we didn't have to take any so we just proceeded out of the baggage claim area to the terminal. Oulu airport is a small one, not exactly a transit airport but it was OK. There was one restaurant on the "for all" side and one cafeteria on the "only for passengers" side. We had 1h and 30min to our next flight, so we went through security to the cafeteria. It was full of people waiting for the Las Palmas flight. I ate a sandwich there and it was nice to sit there and relax and make plans for the holiday.
Security queue at OUL airport.
Date: 16th February 2007
Airline: Finnair
Route: Oulu (OUL, EFOU) - Las Palmas (Gran Canaria) (LPA, GCLP)
Flight number: AY2503
Aircraft type: Boeing 757-2Q8
Registration: OH-LBX
Scheduled departure time: 15:10
Actual taxiing time: 15:47
Actual takeoff time: 15:50
Scheduled arrival: 19:55
Actual landing time: 20:35
Seat: 36F
View Large
View Medium


Photo © Markus Hahn - dc10fans
While waiting in the cafeteria an announcement was made that our flight would be delayed by 30 minutes due to aircraft's late arrival at Oulu. Finnair's 757-200s are some globetrotters, and workhorses, the plane had flown from Panama City via Bermuda to Helsinki before continuing empty to Oulu after a brief maintenance check in HEL. I remember that the flight from Panama City and Bermuda was an hour late arrving at HEL, so it caused the plane's late arrival to Oulu.
People boarding to our 757 from the front door...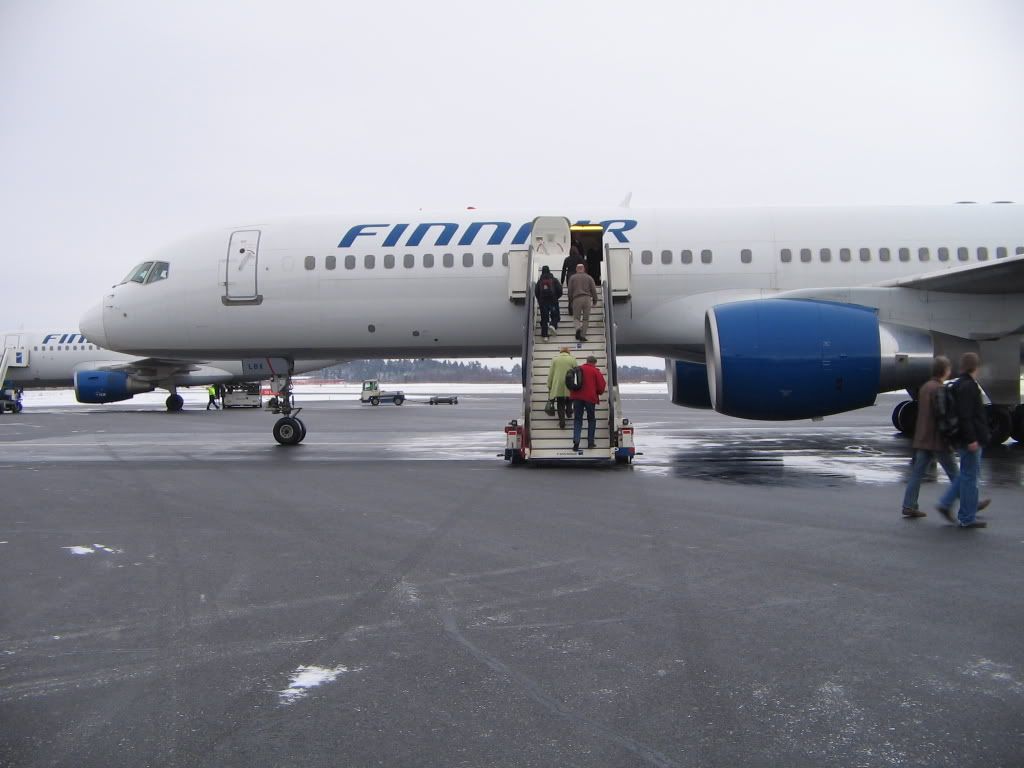 ...but we took the rear door!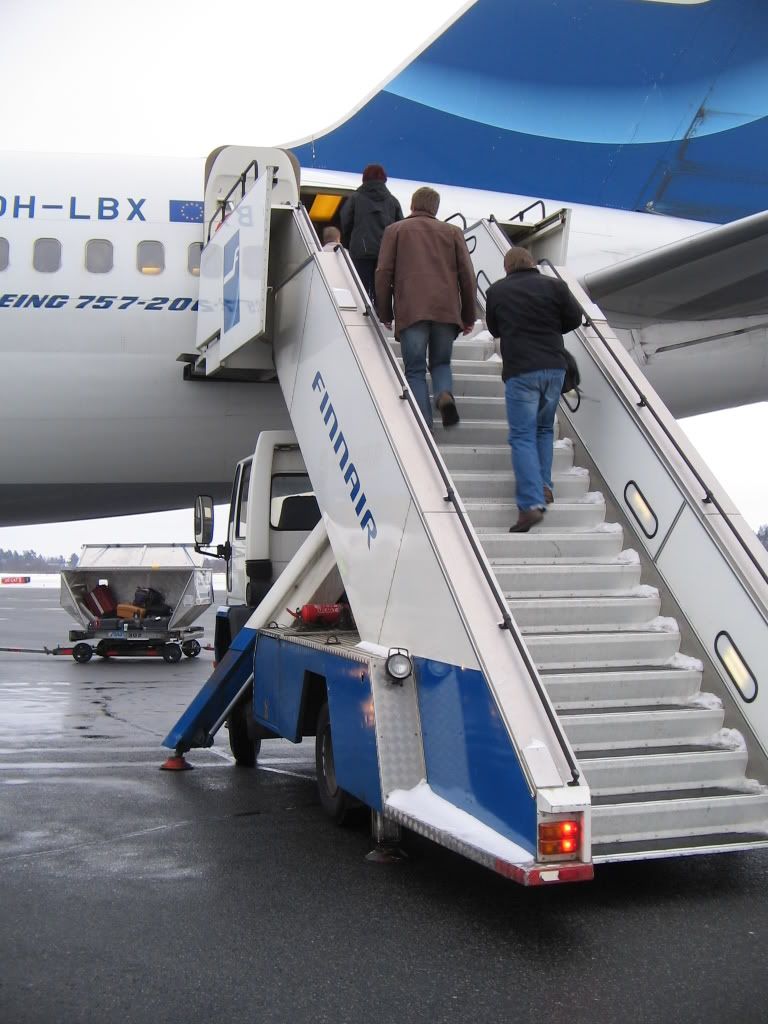 Boarding was completed quite quickly again, with passengers boarding from both front and rear doors. Then it was time to see for myself whether AY's 757's seats are as awful and cramped as they are told to be.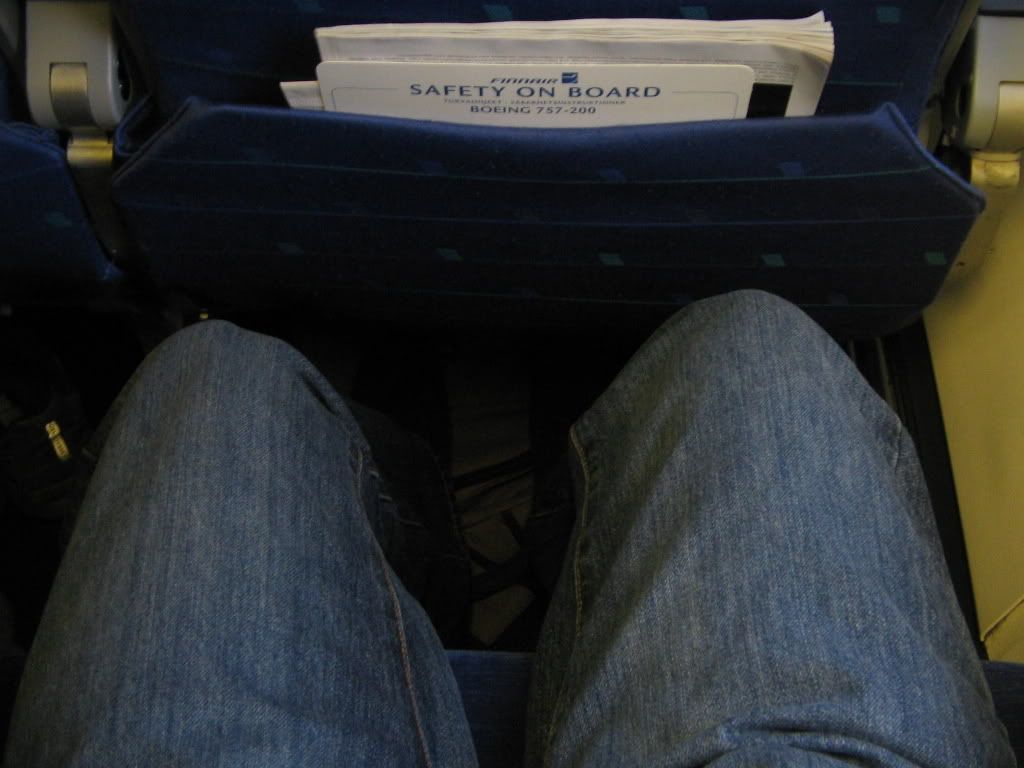 Okay, that's not a lot of legroom. It was adequate for me, but I'm quite small guy, about 170cm, so I don't need that much legroom anyway. I can well imagine that taller people don't like 757 rides as much as I did. When I think afterwards about sitting there, yes there was a bit cramped feeling, (especially when boarding E70 with a lot of legroom when returning) but I didn't really mind about it while on board. 757's uncomfortable to fly? Myth busted (for me)!
Airbus A319 OH-LVF arrived from HEL before our departure to LPA.
When waiting for our departure at Oulu an interesting thing about this flight revealed to me... I was just looking at a monitor ahead of me when I noticed something... Wait, was that Mika Tommola as an FA walking down the aisle?
Well yes it was! (Mika Tommola is a news reporter for local TV channel MTV3, he does usually the final stories (kevennyksiä).) It was definitely a strange situation to look him giving safety instructions to passengers.
So now I know that besides being a news reporter, he's also a flight attendant with Finnair!
We eventually took off at 15:50, 40 minutes behind schedule. Only few pics from the takeoff.
Takeoff rom runway 30. You can see Oulu's small terminal in this pic.
Solid cloud layer prevented again ground views.
We climbed to our initial cruise altitude, FL330. There was a possibility to buy headphones for 3 or 5 euros, but I decided not to buy them. Two in-flight movies were shown during flight, which were Cars and Prime. The meal service was started quite slowly, which wasn't very nice, but eventually we got our meals. Finnair's policy on charter flights is that food is free, drinks you have to pay for.
I bought this Coke and Fanta from Mika Tommola, and it cost me 2 euros.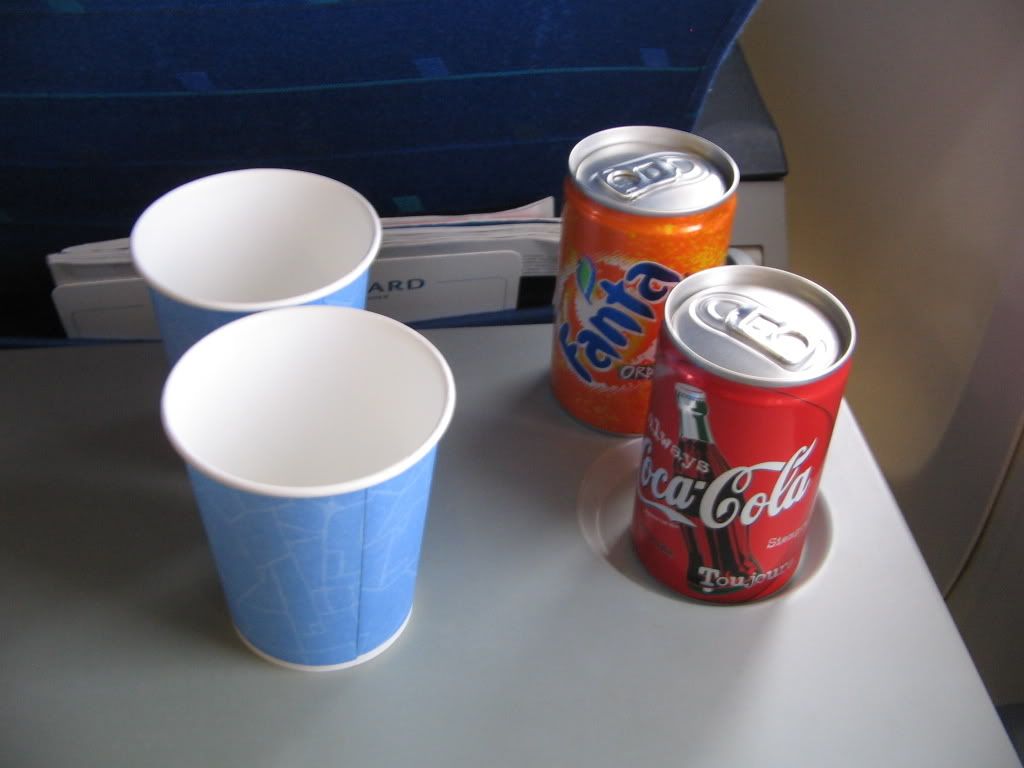 Today's meal was Beef in rosemary sauce, with rice and vegetables, served with cabbage salad, bread, chocolate cake and water. This cost me nothing. Coffee and tea were also served free of charge. Meal was actually quite tasty!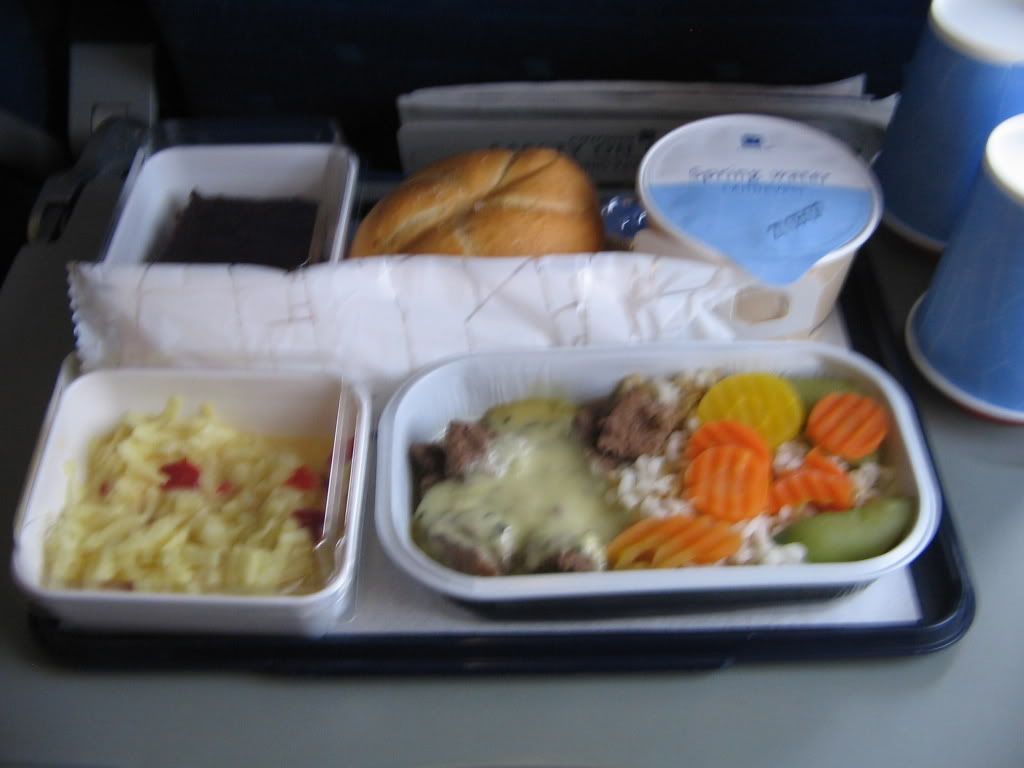 For the first 3 hours, all the way until over Belgium we had constant turbulence. However, the captain didn't switch on the seat belt sign at all. Clouds, fog and icing of the window made ground photography and viewing difficult, here id an example of Western Denmark.
Sunset was over Portugal
The rest of the flight was uneventful. Unfortunately no photographs of the rest of the flight. Eventually our cruise altitude was FL370. The crew performed in-flight sales after meal. We had quite strong headwinds (and long approach to Las Palmas) so we couldn't catch any of the delay. Approach to Las Palmas was interesting, I could see Tenerife in the distance and the we flew almost directly over the LPA airport after turning to final for runway 03L. We had probably the severest turbulence on approach that I have experienced, so that made it more interesting too. Landing was at 20:35, 40 minutes behind schedule.
Arrival was at gate 5 I think, and baggage came after about 10 minutes of waiting to the carousel. Then it was time to take our private transportation (which turned out to be a regular taxi) to our hotel in Maspalomas, and enjoy the holiday!
Yes, that's me turning on the holiday spirit.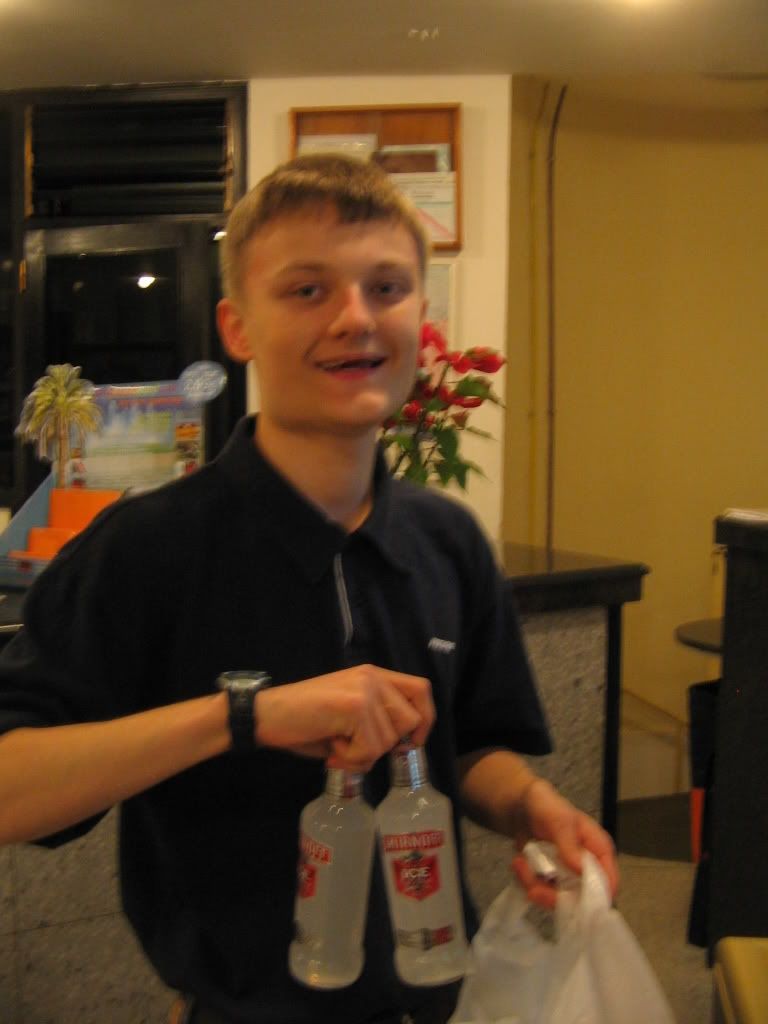 But then, after a week of...
...sand dunes and beaches...
...nice scenery...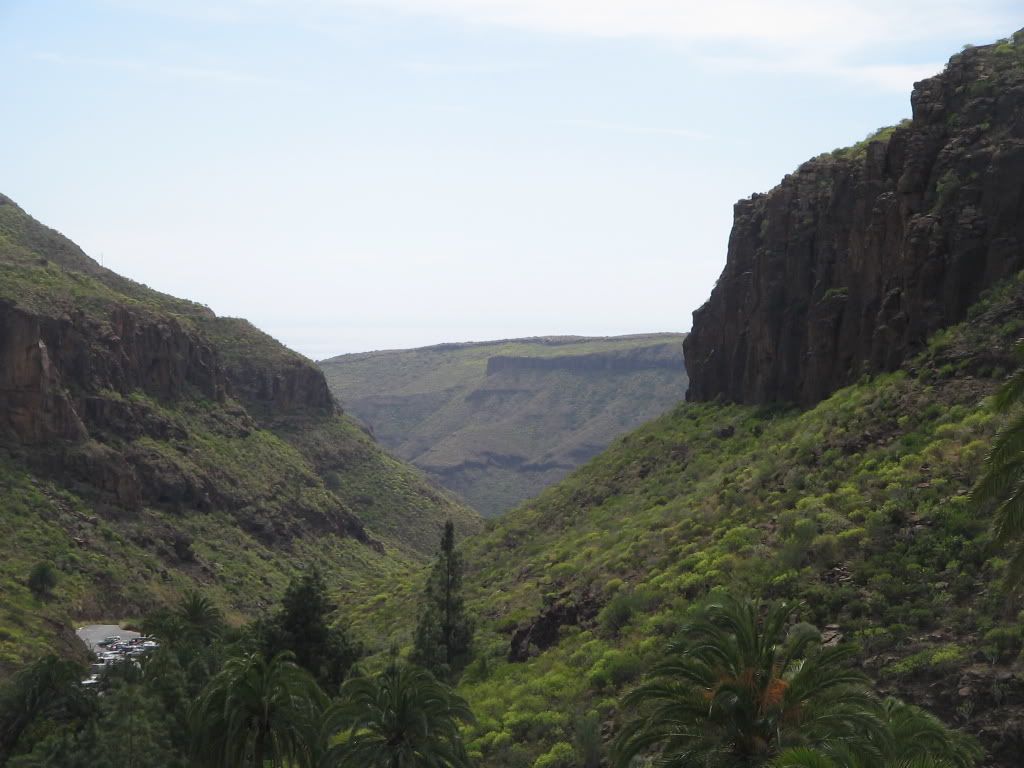 ...awesome landscape...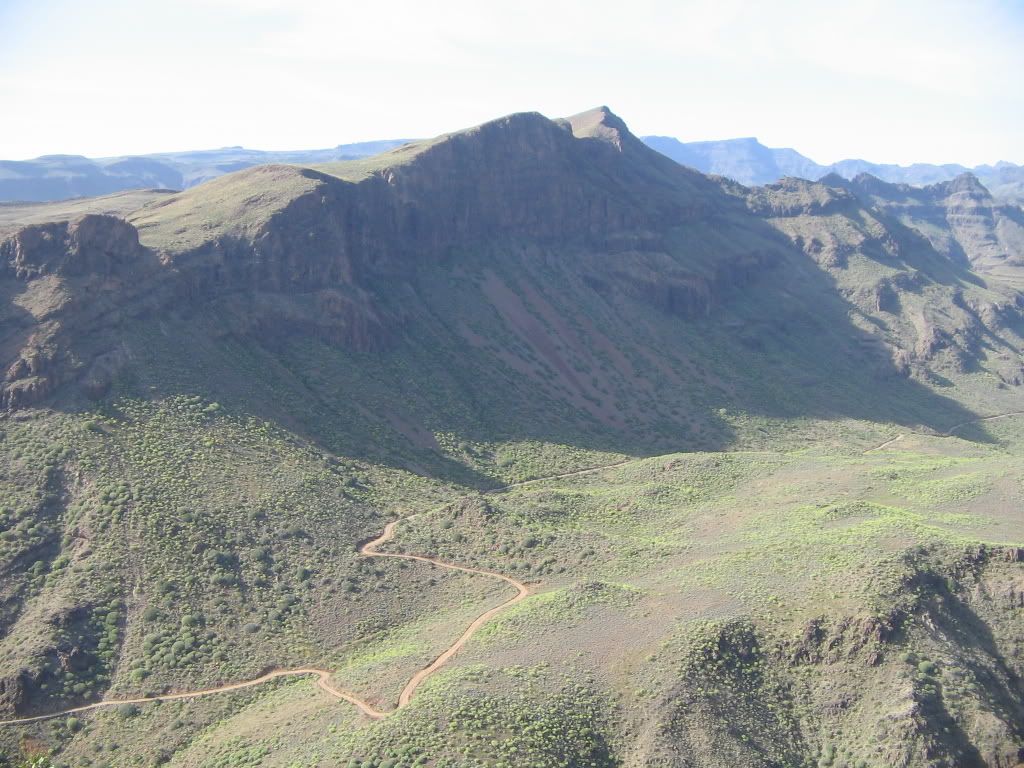 ...and sunsets by the sea...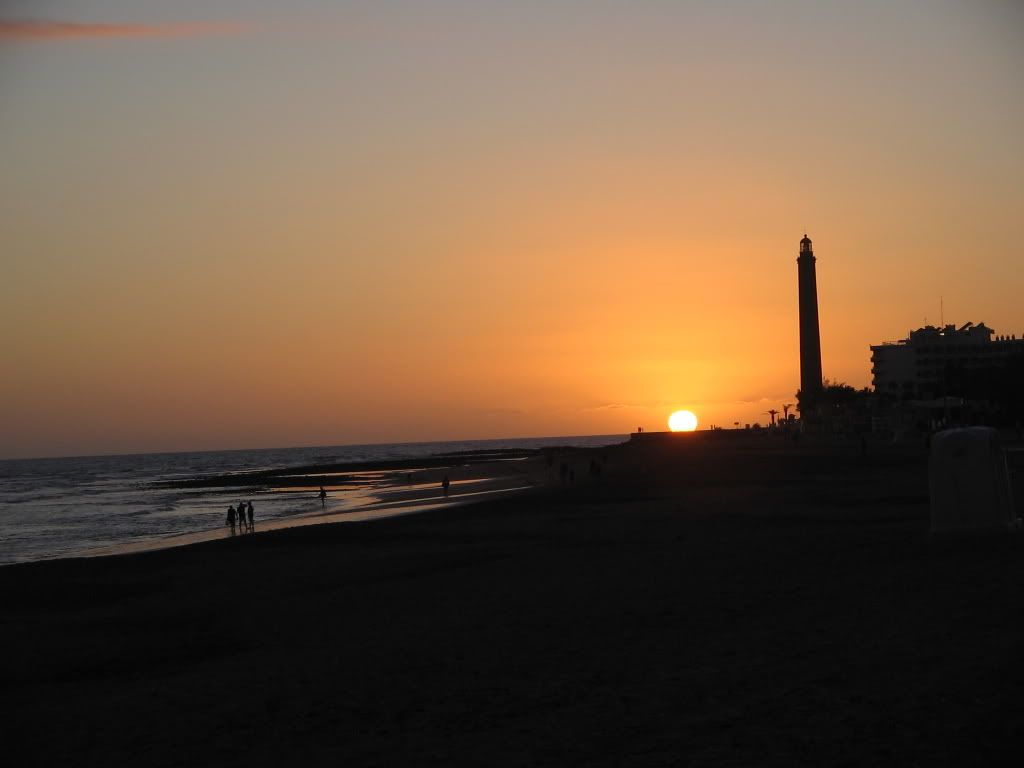 ...it was time to head back to Helsinki.
Date: 23th February 2007(-24th February 2007)
Airline: Finnair
Route: Las Palmas (Gran Canaria) (LPA, GCLP) - Oulu (OUL, EFOU)
Flight number: AY2504
Aircraft type: Boeing 757-2Q8 (winglets)
Registration: OH-LBR
Scheduled departure time: 20:55
Actual pushback time: 20:54
Actual takeoff time: 21:03
Scheduled arrival time: 05:25
Actual landing time: 05:06
Seat: 28A
View Large
View Medium


Photo © Normando Carvalho Jr.
We had to check out from our hotel at noon, and our flight left at 20:55, so there was a lot of time to waste. My family wanted to go to Las Palmas, but naturally I wanted to planespot at the airport.
Well, it was easy to decide that they'll go to Las Palmas for a few hours and I'll stay at the airport. There was still a baggage problem, we had to get them somewhere. I suggested that we would go to the Iberia check-in to see if they could already check us in to the Finnair flight. After the friendly agent had gone away to check if she can do that she agreed and we could check us in to Oulu. She couldn't check us all the way to Helsinki though, only our baggage, but that wasn't a problem. After that I could planspot at the airport. Unfortunately the camera was with my little brother in Las Palmas, so I could only take two pictures after they arrived from Las Palmas back to the airport.
Condor A320 pushing back, will be flying to Berlin. My little brother took this picture, so the nose is behind a light post.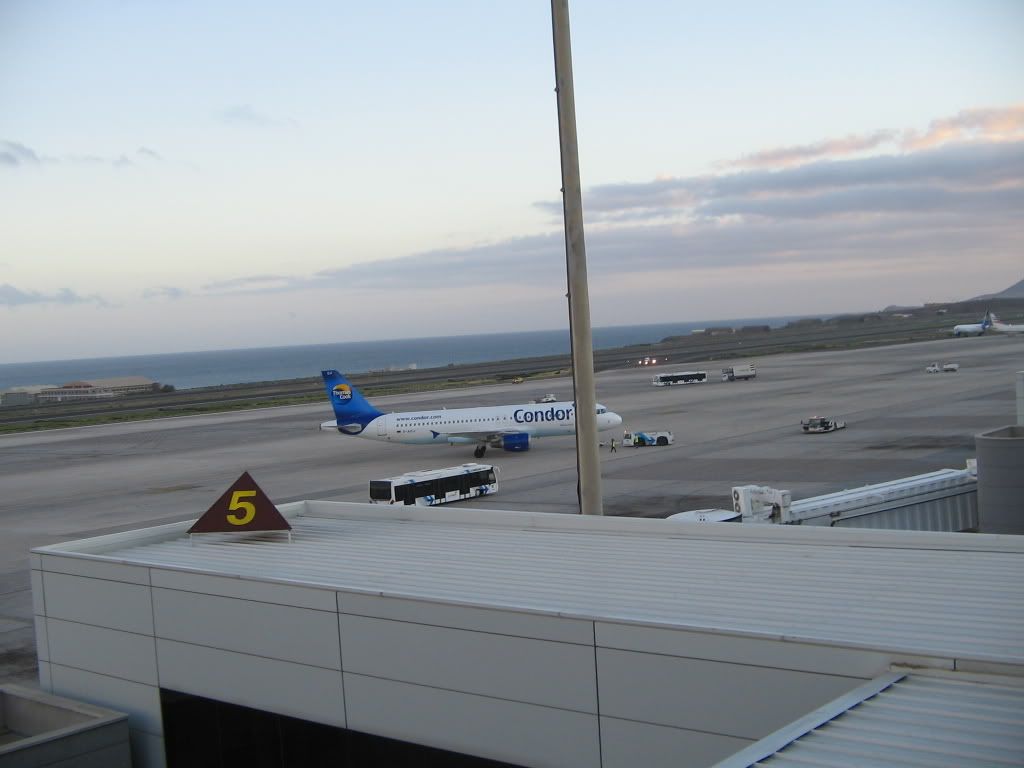 These were interesting ones, A Boeing 737-400 EC-JSS of Futura with "Doblecero.com" titles and AirClass Airways Boeing 737-300 EC-JXD. Based on my observations during the day they were operated for/by Binter Canarias.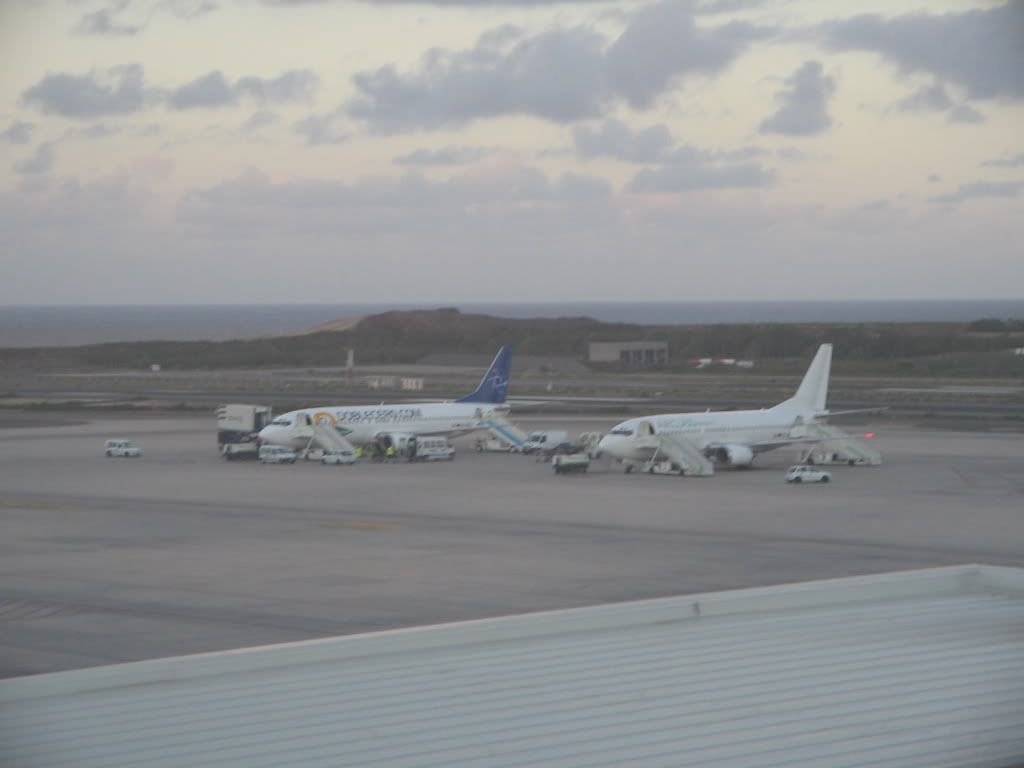 What a nice surprise it was to see a winglet-equipped B757 arrive at the gate for our flight! OH-LBR at gate A20 (5 or 6)
Boarding was started early, 30 minutes before departure time and it was again difficult to get my mother out of the shops in time.
I bought a ham sandwich and water for the flight because I was quite hungry already, I had had lunch at the airport Sbarro earlier in the afternoon, food was OK but not very tasty.
Air Europa B737-800 and Spanair MD-80 next to our B752. Both were departing to Madrid.
Spanair pushed back first! It was actually on the day at the airport when I finally realised that JK's logo symbolizes sea and Spanish mountains! And the sound of the MadDogs on takeoff, loudest of the day! The sound of raw power...
We pushed back at 20:54, practically right on schedule. After taxiing to runway 03L, takeoff was performed at 21:03, eight minutes behind schedule.
Takeoff video from Las Palmas. There's not much to see as it was dark, but here it is anyways.
After climbing to FL350, the crew started serving us our meals and drinks. Food, water, coffee and tea were complimentary again, other drinks were charged. Meal was hamburger steak in cream sauce with mashed potatoes and carrots. Cabbage salad was offered again with water, rye bread and some cake.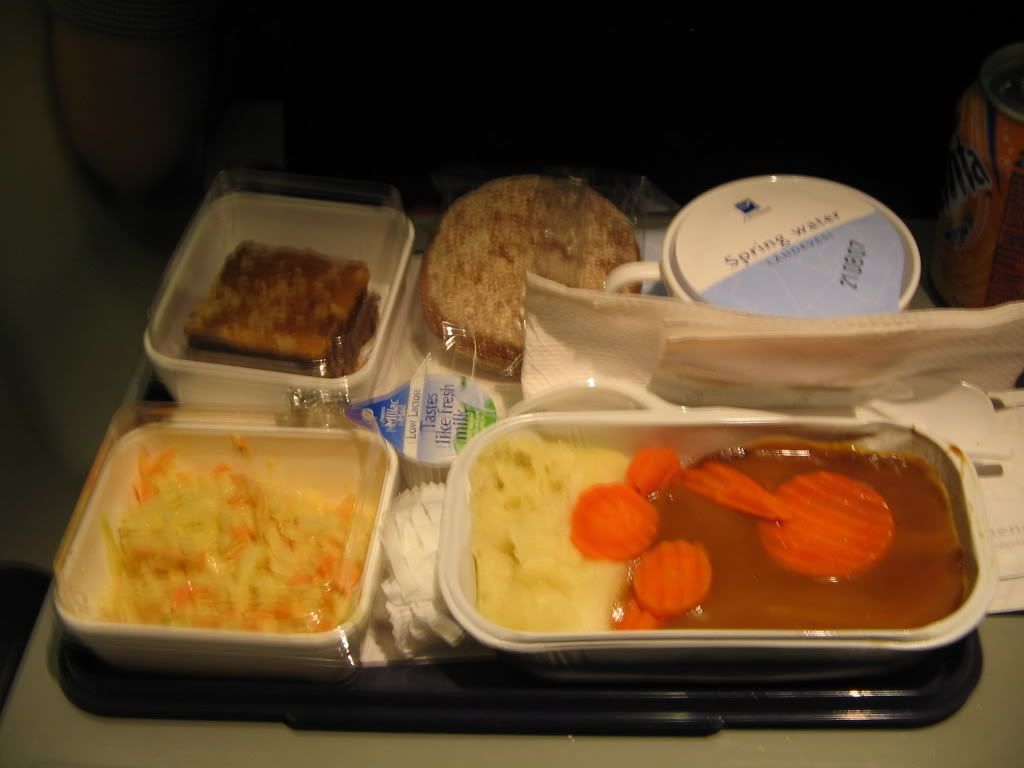 This cost me again 2 euros. The cans were nice Spanish design though (fatter than in Finland).
In-flight movies on this flight were Ice Age 2 and Cheaper by the Dozen 2. After meal in-flight sales were again offered, but soon after that the cabin lights were dimmed for the benefit of those who wanted to catch some sleep. Our cruise altitude was FL350. I could recognize Brussels airport along the way, however it was quite cloudy most of the time again. To spend some time I went to chat with some FA's in the galley before we started our descent to Oulu. No pictures from the approach because it was dark and pictures would've been totally useless. We landed this time on runway 12, at 05:06, some 20 minutes ahead of schedule.
OH-LBR at Oulu airport, if you have complaints about the pic, go ahead and try yourself to take a decent photo of an aircraft in -20C in a t-shirt after a sleepless night!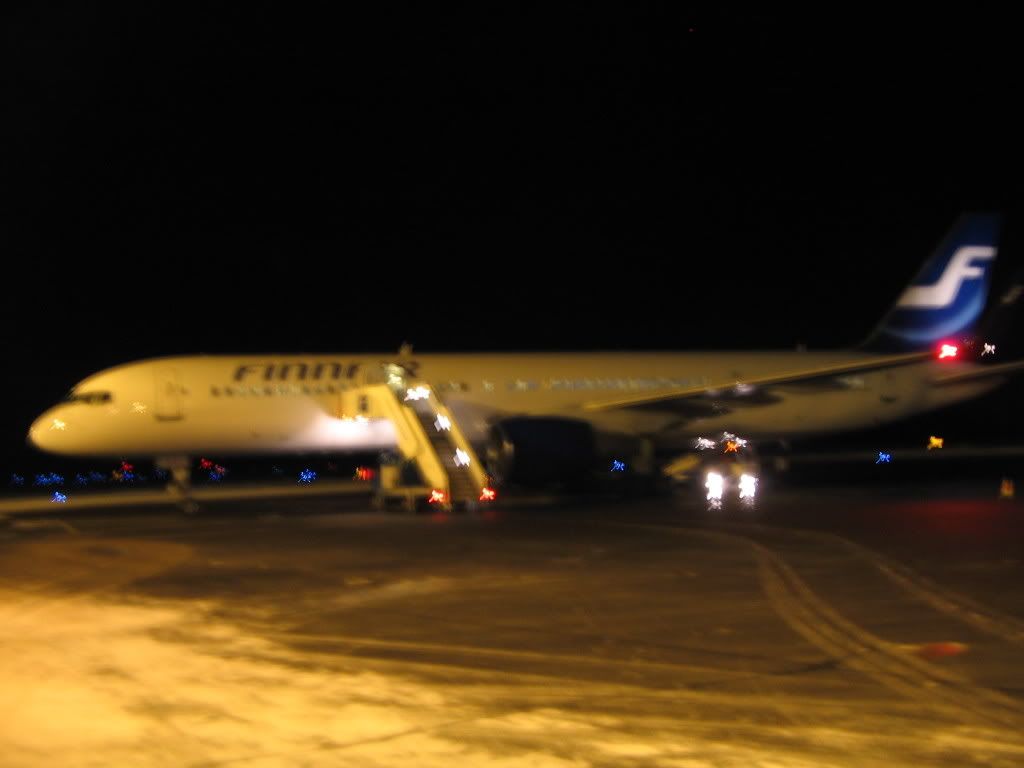 Then we had a loooong wait ahead at the Oulu airport, 5 hours, but hey, that's what it takes to get to fly on an Embraer!
My family wasn't too happy though to see two planes departing to Helsinki after 6am, with our flight departing at 11am, but they did know it was coming. So then we spent 4 hours in the Oulu airport's restaurant, ate a bit and watched TV, so time went actually quite nicely. We were relatively tired already though, at least I didn't sleep at all in flight (I almost never do). We checked ourselves in for the Helsinki flight at about 10am, and checked still one backpack in. After that we went through security again to wait for our flight.
Date: 24th February 2007
Airline: Finnair
Route: Oulu (OUL, EFOU) - Helsinki (HEL, EFHK)
Flight number: AY354
Aircraft type: Embraer 170
Registration: OH-LEF
Scheduled departure time: 11:00
Actual departure time: 11:14
Actual takeoff time: 11:17
Scheduled arrival time: 11:55
Actual landing time: 12:03
Actual arrival at stand: 12:08
Seat: FREE, I took 14F
View Large
View Medium


Photo © Alexander Gill
The aircraft was about 10-15 minutes late arriving to Oulu from Helsinki, so we started boarding a bit late. It was again a race who gets to board first because of the unallocated seating, and we managed to secure us good seats again. This was my first ride in an Embraer 170!
We are boarding OH-LEF, I'm the one with a t-shirt on again.
View of the left wing and Oulu terminal
Legroom was very generous in this Embraer 170, at least after a couple of 6+ hours flights in a B757-200.
We finally got going about 15 minutes behind schedule, and took off from runway 30 towards Helsinki.
After takeoff we turned left first, and then right on the course to Helsinki. Snow-covered Finnish countryside.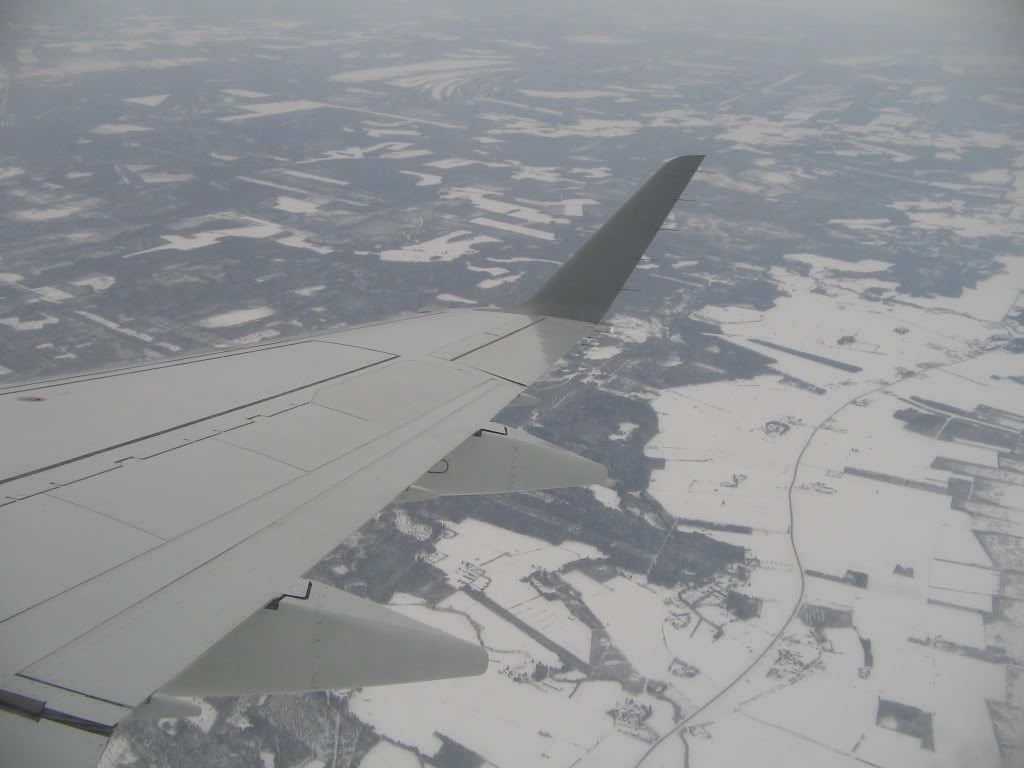 The service on this leg was similar to the HEL-OUL leg, only change was that the Fazermints were replaced by traditional Fazer chocolates, and that I accidentally took coffee instead of tea. Well, I drank it anyway.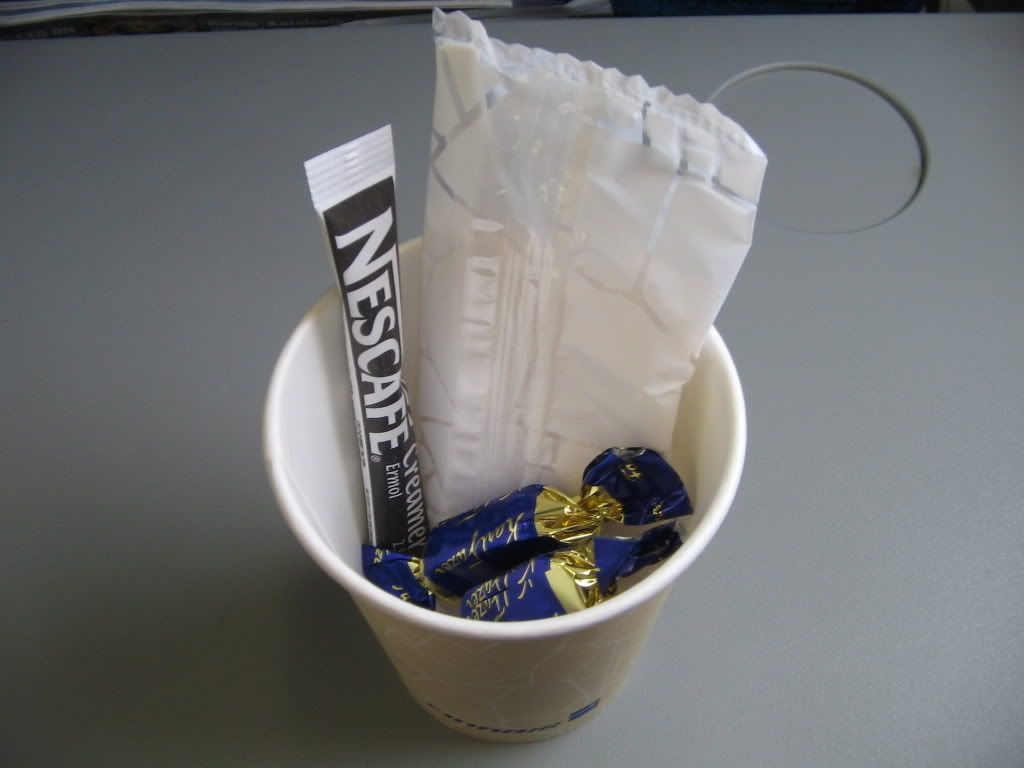 The flight was very uneventful, and we landed in HEL on runway 15 at 12:03, eight minutes behind schedule.
After landing we taxied to stand 125 and had to take a bus to the terminal.
Endangered species of aviation: ATR-72 of Aero Airlines and MD-11 of Finnair.
When we arrived at the baggage claim, we noticed that all our baggage checked in already in Las Palmas were left unattended by the baggage claim belts. They had probably come already on an earlier flight from Oulu that day. It didn't however help us at all because we still had to wait for the one backpack which we checked in at OUL, so it was a 15-minute wait for it. After that we headed back home to get some rest.
So all in all, nice flights and as good service from Finnair as always. Embraer is a comfortable aircraft to fly, especially the windows were somehow larger than usually and legroom was good. B757-200s in charter configuration are a bit cramped, but I felt OK flying them. And I recommend Oulu as a transit airport to anyone who really wants to avoid crowded hubs.
I hope you enjoyed this report!