About a year ago I signed up for one of the spring break trips to Europe at my school. Since I have taken Spanish since 2001 I thought it would be useful to head to Spain to practice and see some history. When I signed up for the trip I hoped we would be flying Star Alliance so I could rack up some EQMs but sadly that didn't happen. Nevertheless I was looking forward to heading back to Europe for an amazing trip.
Wed. March 28, 2007
Air France 065
Depart LAX 3:35p
Arrive CDG 11:05a +1
Boeing 777-200ER
Tempo
I arrived at terminal 2 around 1pm to allow enough time for the 40 of us traveling in the group to get checked in and through security. Waiting at check-in took about 15 minutes. My bag was checked through all the way to MAD and I was given connecting boarding passes as well as a travel packet detailing transfers at CDG. It is nice of AF to give this out but it still takes a lot of time and patience to get around CDG.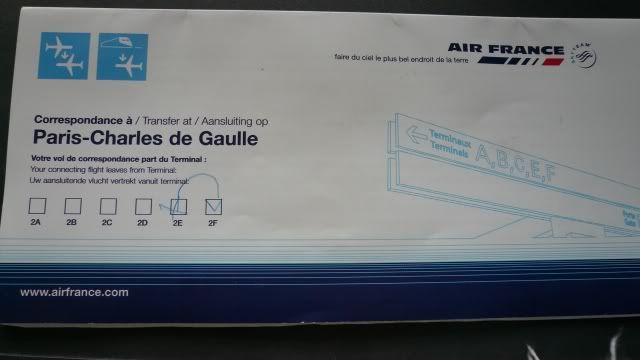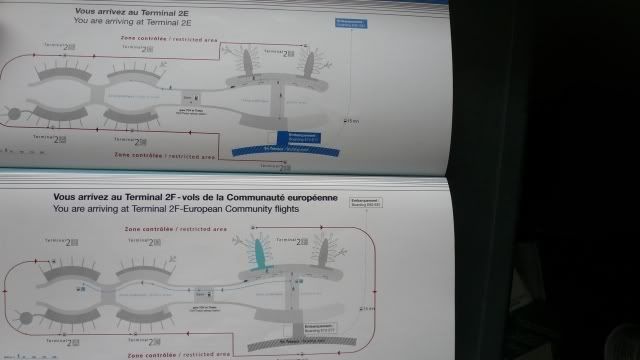 I arrived at the gate around 2pm to take one of the few empty seats around. Terminal 2 really could use to be updated, but then again it is LAX. I walked around a bit and took some photos of the aircraft before boarding.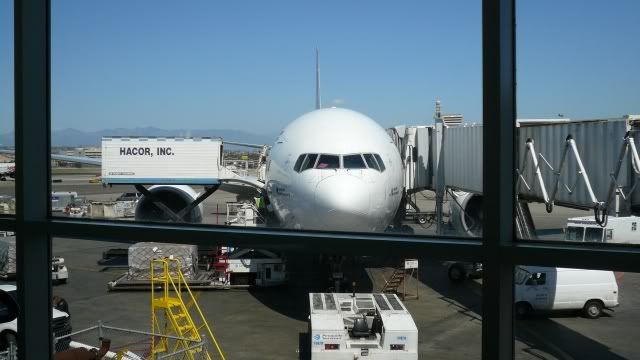 My first 777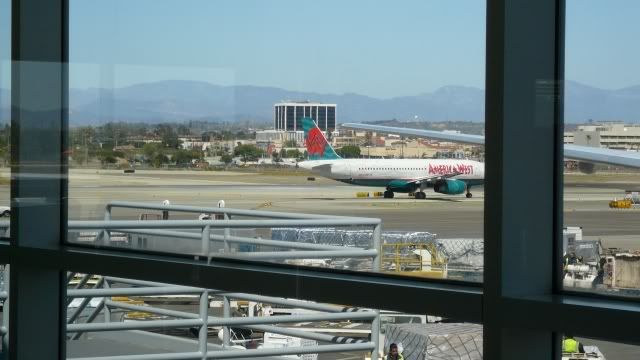 Looking out over the city.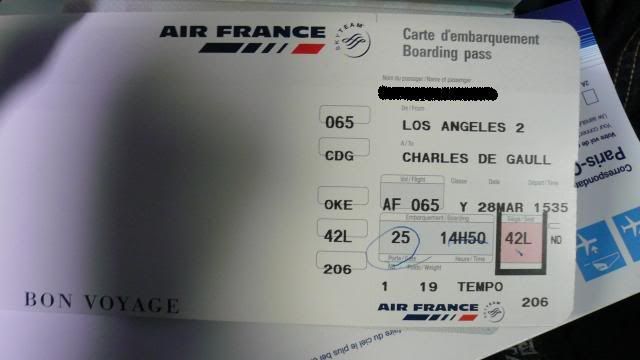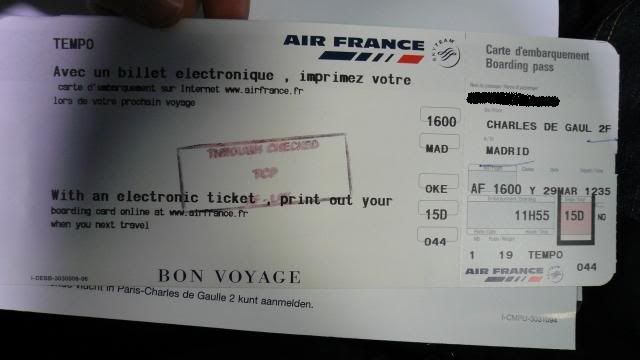 Boarding began slightly late around 3pm with everyone standing around crowding the gate area. It was very unorganised and was very difficult to figure out what was happening. Eventually I made my way through the masses just standing around and walked down the jetway. AF provides a nice selection of newspapers and magazines to all passengers and I picked up some reading material. I walked almost to the very back of the plane to my wonderfully spacious window seat. Pitch was lacking, especially not having flown anything tighter than UA Y+ for years I felt a little tight. We were pushed back and the safety video was played, almost identical to this one:
We took off very quickly on runway 24L slightly late at 3:55pm. One thing I noticed about the 777 is that the takeoff felt much more powerful than on the 744. Maybe it was those massive GE90s. We made a left turn over the bay towards Europe.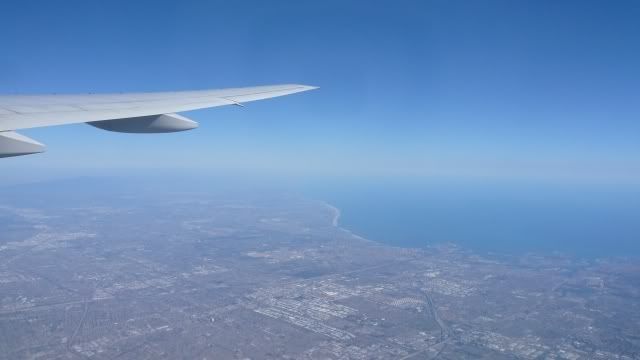 Last view of home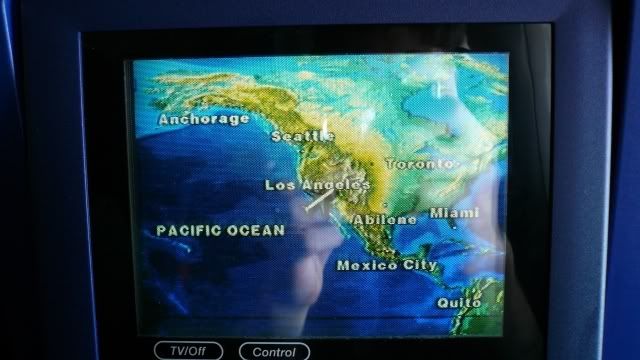 Long flight ahead....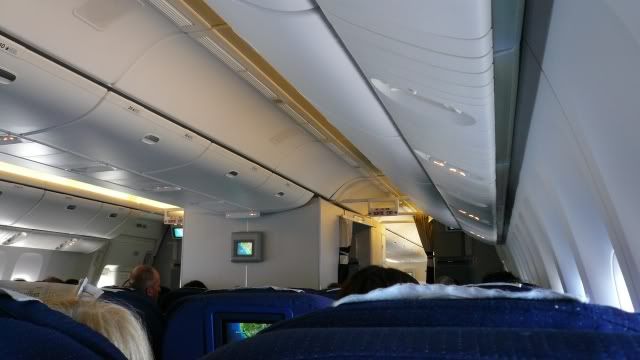 Rear Tempo cabin
After takeoff the curtains were closed to the premium cabins, something I wish US carriers did. Sure they have those mesh curtains but it's not the same thing. A few minutes later we were handed menus and little amenity kits with headphones, a face wipe, and an eye shade. Getting a printed menu in Y is a nice touch.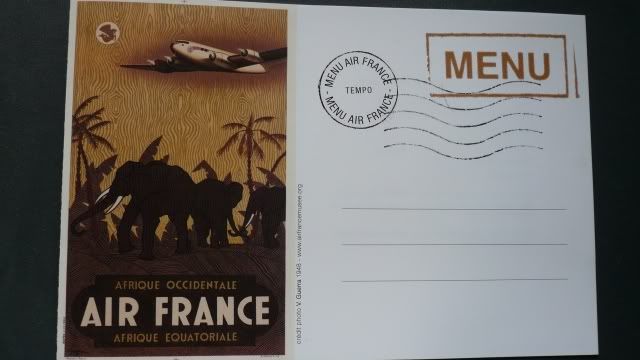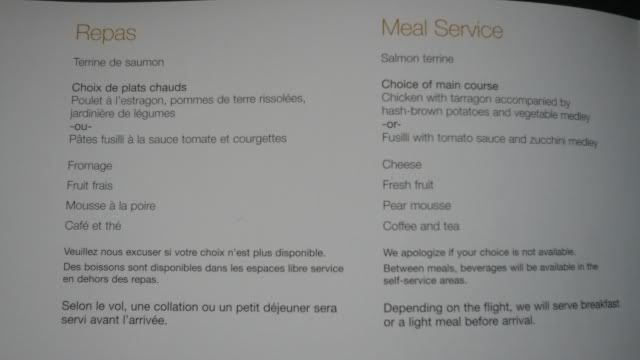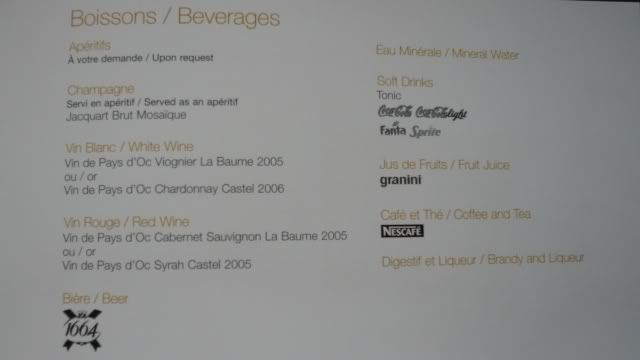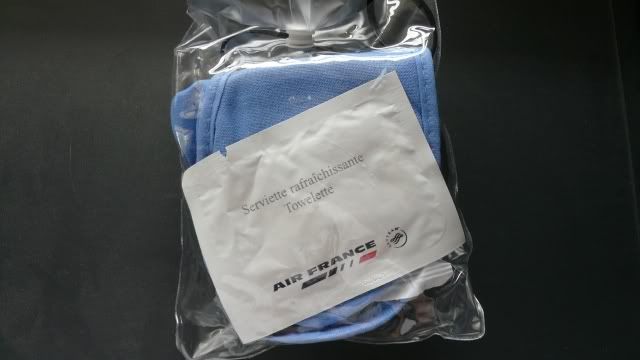 About an hour after takeoff the meal service began: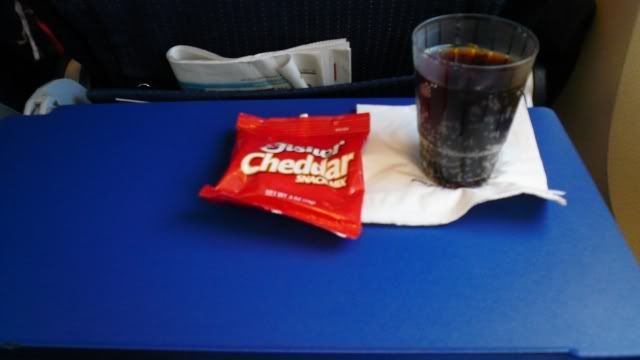 To start I had a cup of soda and some cheese snack mix.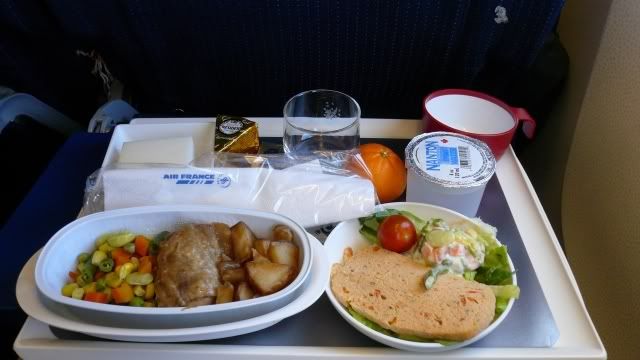 The meal was very tasty, French rolls were given out as well.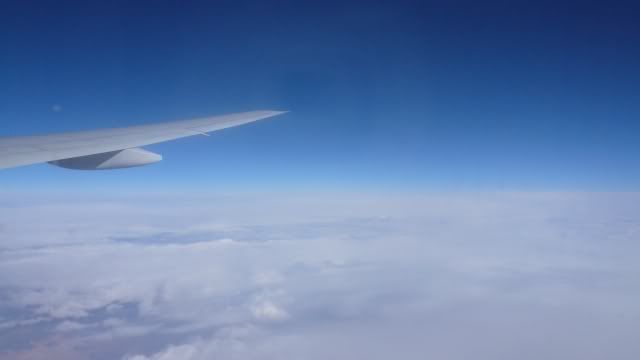 Near Utah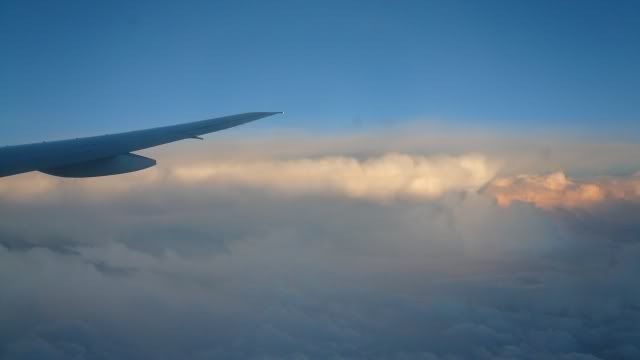 About an hour away from Canada. Just after the photo they asked for window shades to be closed.
We were flying over a storm system so at times there was some decent turbulence. I have a hard time falling asleep in an economy seat and I decided just to stay up the whole time. It was only dark out for maybe two hours anyway. I watched a few movies on the IFE system to pass the time. It's not on demand but they have a decent selection of movies, tv shows, games, and documentaries which restart every few minutes. I watched Casino Royale, a nature documentary, and watched the airshow most of the time. During the night drinks were available in the galleys for anyone who wanted them.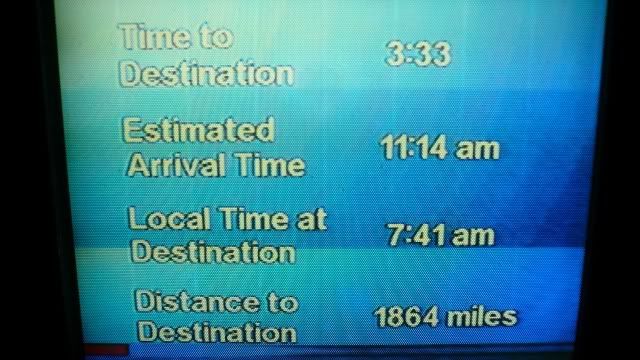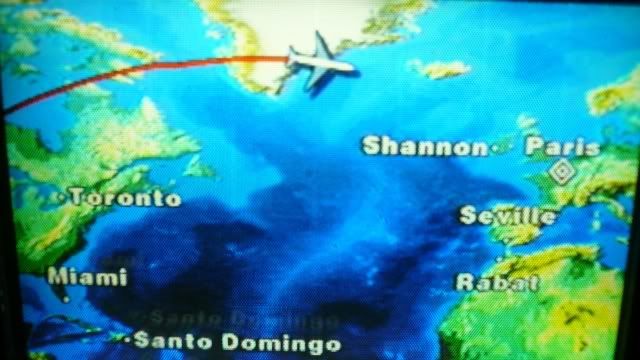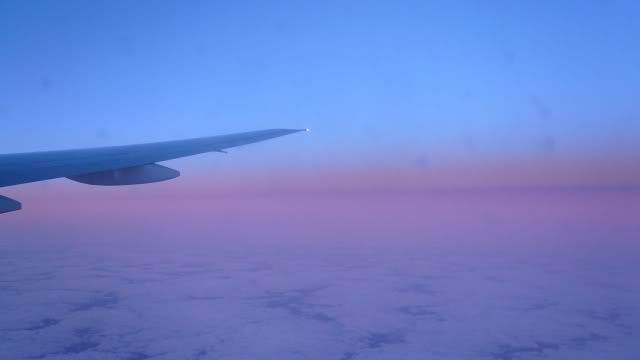 First light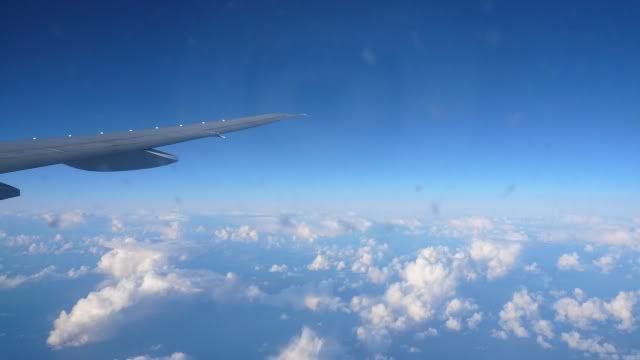 Approaching the UK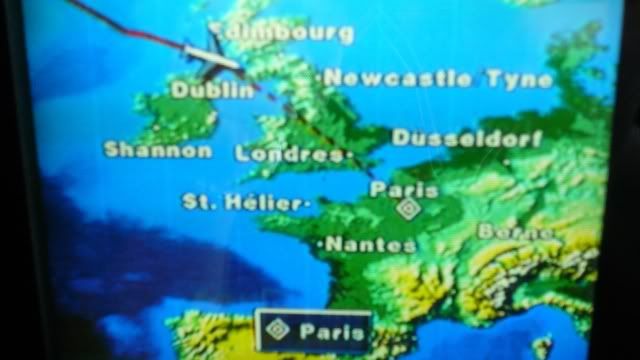 '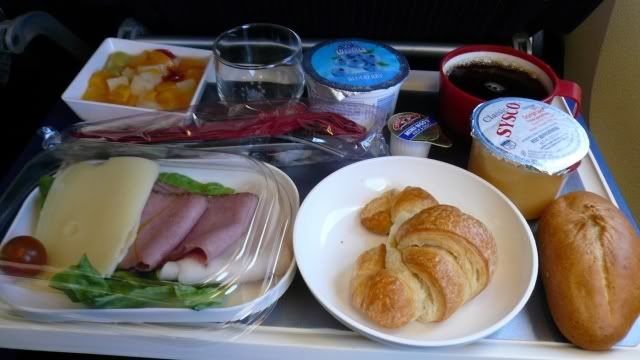 A decent breakfast was served.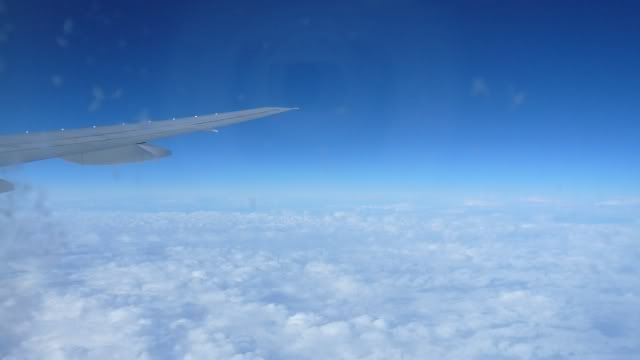 Just before descent near France.
The cabin was secured and we began to descend into the clouds. It was a foggy morning at CDG so I couldn't see much until we were almost on the ground. We touched down slightly late around 11:15am. After a fairly long taxi we arrived at our remote parking stand. We had to take a bus to arrive at terminal 2E and clear immigration. The bus ride felt like a 15 minute tour of the entire airport which can be frustrating if you are in a hurry. We were connecting onto AF1600 to MAD departing at 12:35pm so I wasn't confident we would make it. After formally entering France we had to leave the secure area and cross over to terminal 2F. There should be a way to cross over without leaving the secure zone for the sake of time.
By the time we reached terminal 2F our original flight had already departed. We were about 15 minutes late so I don't blame them even though we had 40 people. They do have a schedule to follow after all. Because of the mis connect we were all given a free baguette sandwich and a soft drink. We were given boarding passes on the flight leaving at 4:35pm so our group could stay together.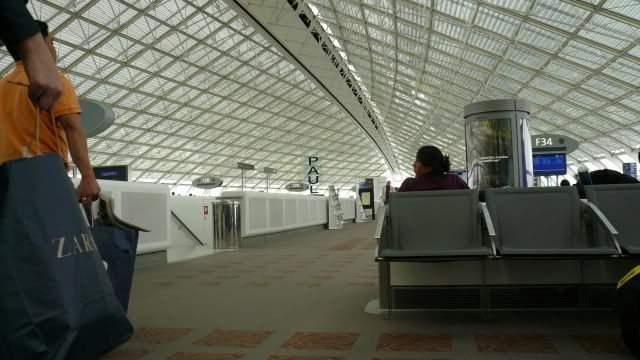 Terminal 2F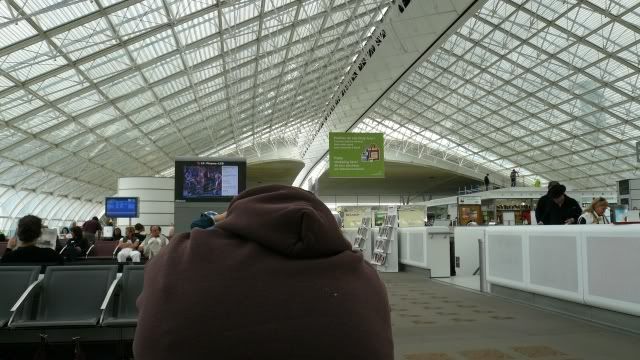 Terminal 2F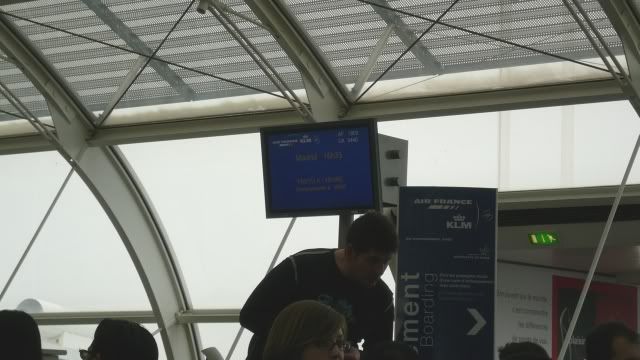 Sorry for the darkness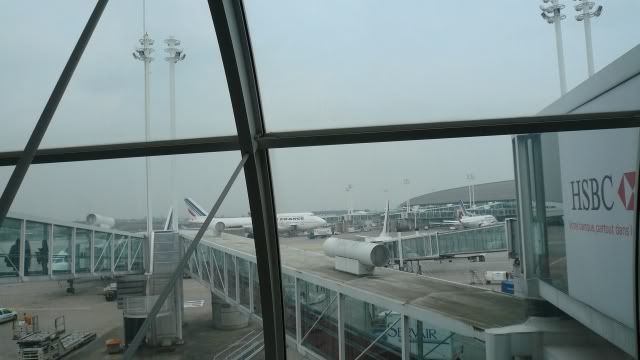 Looking out over the tarmac
Thu. March 29, 2007
Air France 1900
Depart CDG 4:35p
Arrive MAD 6:35p
Boeing 737-500
Tempo
This was a fairly uneventful flight. I was very excited to fly on an AF 737 as they will soon be history. I think they only have a couple 735s left. We pushed back slightly late and had a long taxi to the runway. We took off around 5:15pm and turned towards Spain. Service consisted of a cup of soda, a bag of snack mix, and a package of cookies. We touched down in MAD on time.
Overall I was impressed with Air France's Tempo product. They have nice touches like menus, amenity kits, glassware, and metal silverware in economy which is rare these days. Even though I don't speak French there was no problem navigating CDG or speaking to the cabin crew. CDG needs some serious work in terms of connections though. Having to take multiple buses and walk across the airport can really take a lot of time. I would book a three hour connection just to be safe. Hopefully when they finish rebuilding terminal 2E things will improve. Please leave any comments and thanks for reading!