This is my first TR, so hopefully you enjoy reading it.
Last week I was searching our system to check the price for Non-Rev on LO from AMS to WAW and back as I wanted to check the E-170 and E175.
At a nice rate I could hop on the morning flight to WAW and spend a couple of hours in the city before returning to the airport to fly back to AMS.
So here we go with my first Trip report.
Early in the morning at 04.00 I woke up to get to AMS by car. During working days it can take up to 2 hours to drive the 95 km from home to work, but this morning I managed within 50 minutes as it was very quiet on the road. Arriving at the airport at 05.30, I was just shocked that it was already very very busy with check-in at the HV counters.
After check-in, I queued for security, and this was a total disaster, as there were enormous lines waiting. Fortunately there was one row at the far right ( next to the LO counter ) which was not that busy. And after 10 minutes I passed security without any troubles as I only had my camera with me. After passport control I went to the gate D24 where a nice and shiny Embraer 175 was waiting after a good night sleep at AMS.
Flight:LO 270
Routing:AMS-WAW
Reg:SP-LIE
Type: Embraer E-175
Seat: 7D
Load factor: business 0% / Eco 50%
1st flight on the E-175 and 1st on this machine
Boarding was a breeze with the light load on today¡¦s¡¦ flight. I was very surprised by the spacious and nice cabin on this machine, especially compared to the LH CRJ-900 which has around the same amount of seats.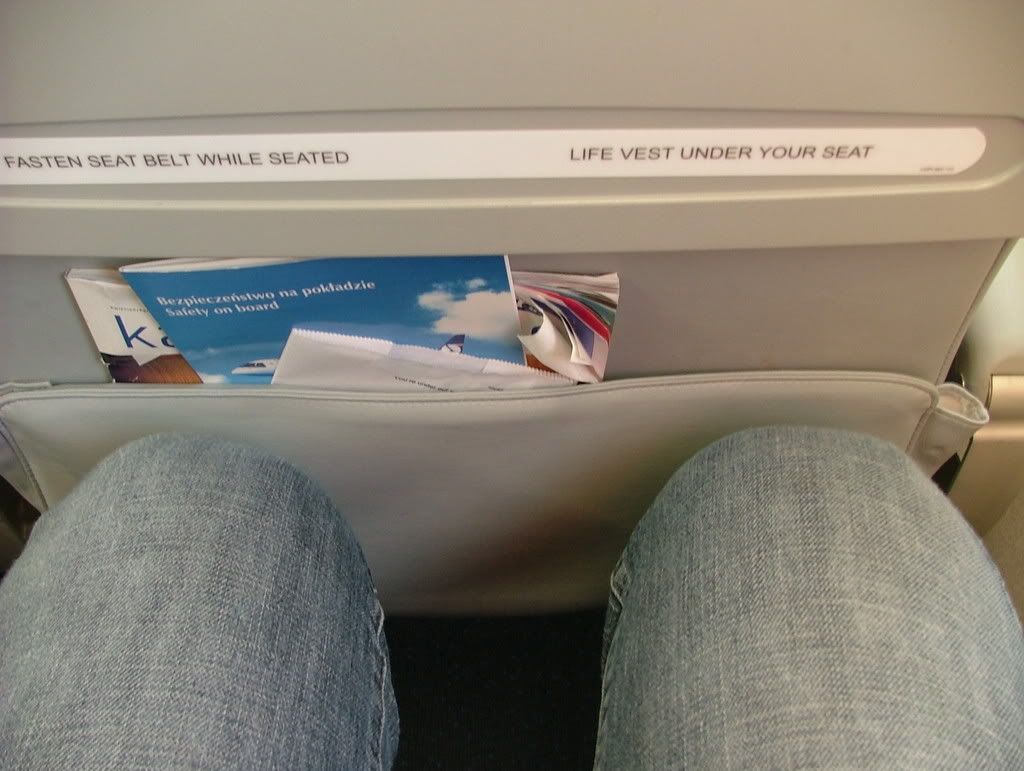 The seats were very comfortable and legroom was plenty, even for me with my 1,91 m / 6ft 2. Just 2 minutes late we were pushed back from the gate and a long taxi-time ahead as we got rwy 36L for departure.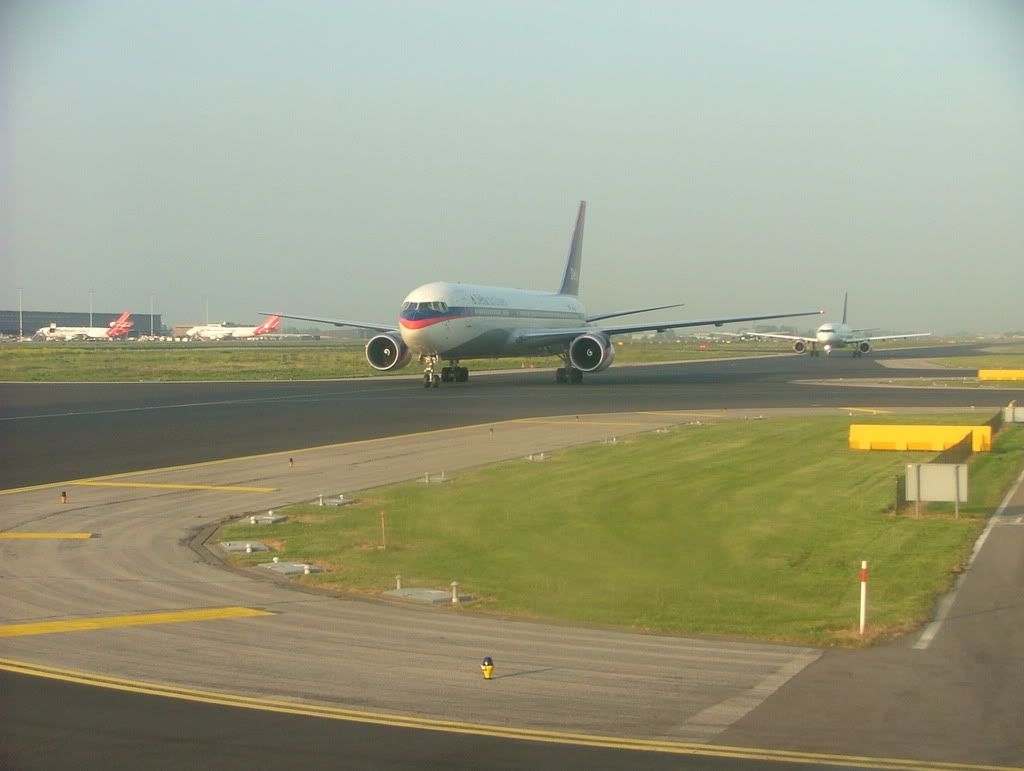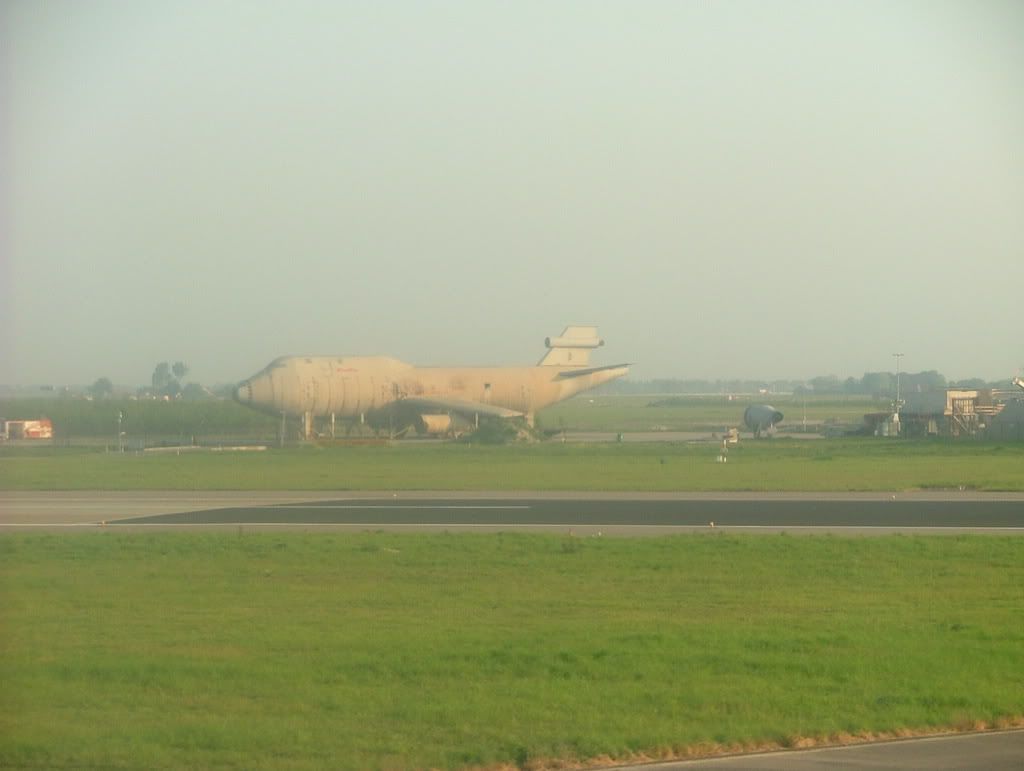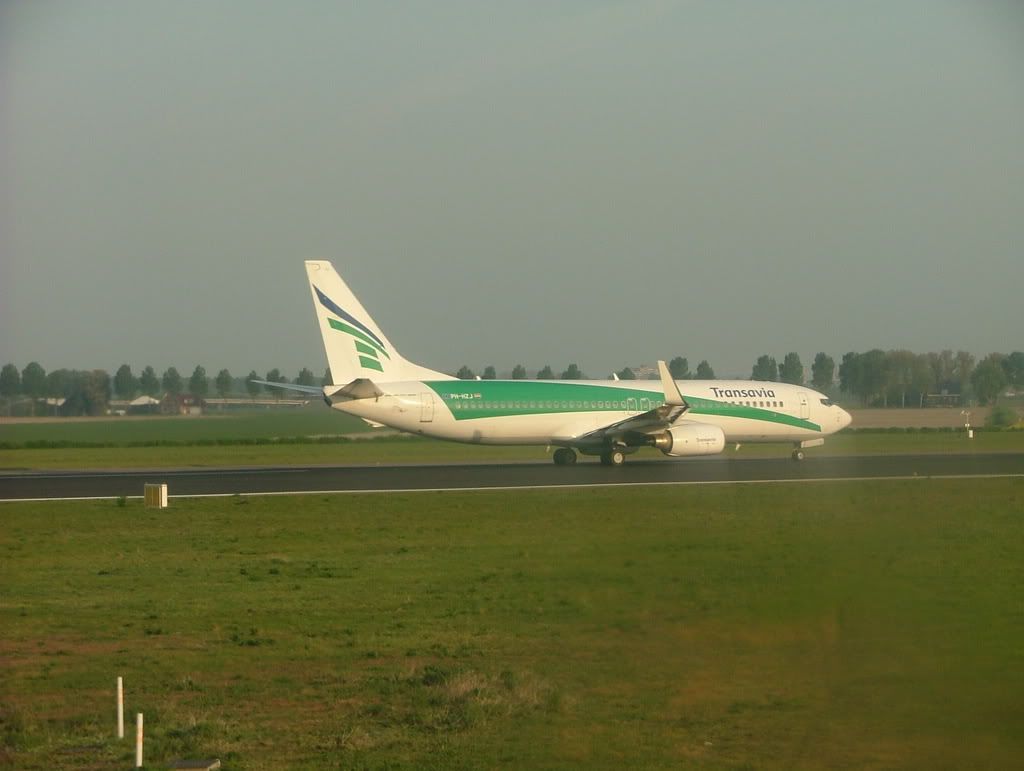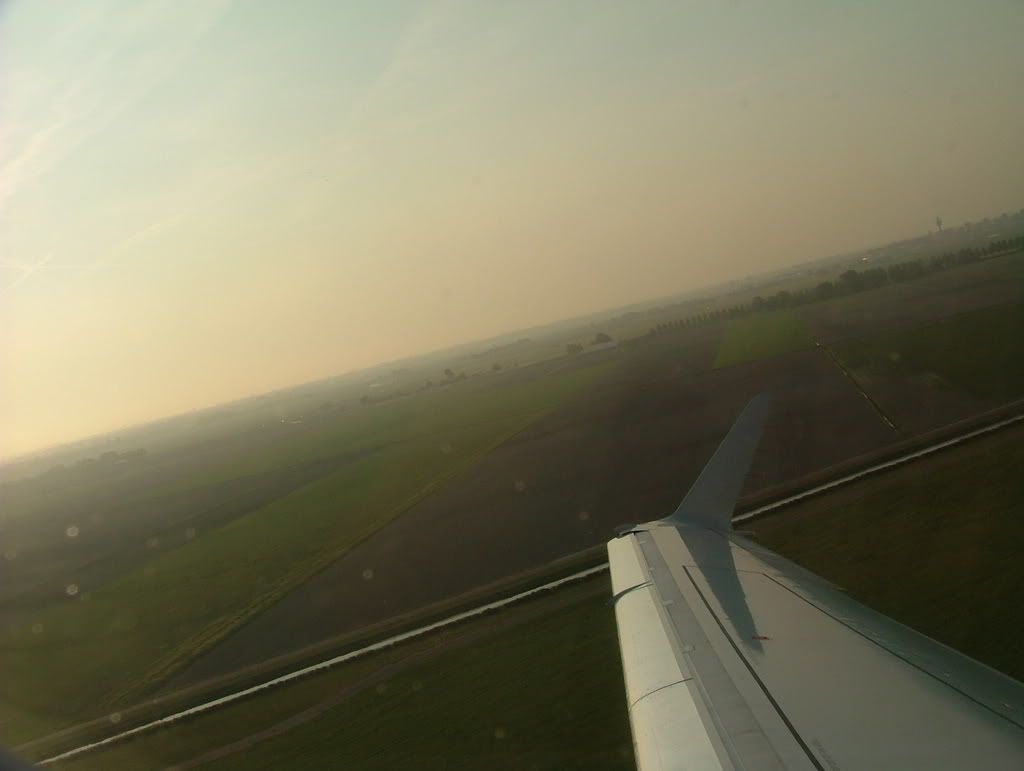 After 15 minutes of taxiing we were 2nd in line behind a HV 737-800 and we got the clearance for take off. A nice powerful take-off followed in the sunny morning and an immediate right turn followed to over fly the city of Purmerend and then further eastbound in the direction on HAJ.
After 20 minutes service started by our 3 female flight-attendants and we received a nice box with a decent breakfast containing : fruits (delmonte), a bread roll, 2 slices of bread, 2 crackers, some marmalade, butter, meat, coffee and a glass of orange juice. I was actually surprised to see such a diverse and complete breakfast on a 1.45hr flight.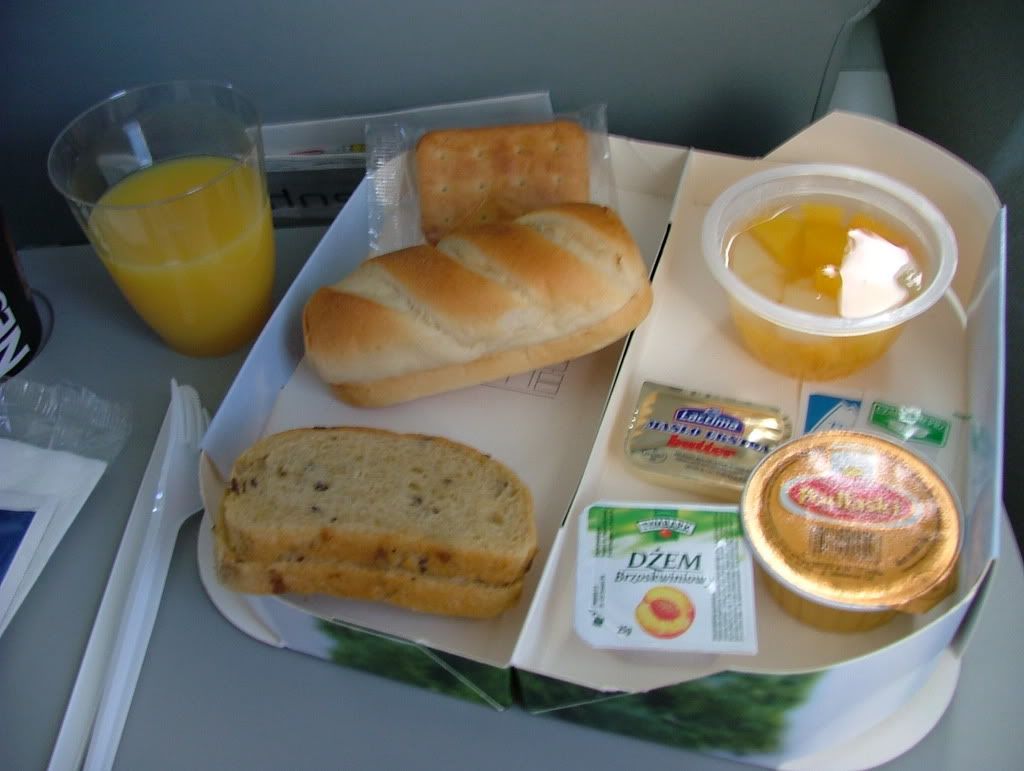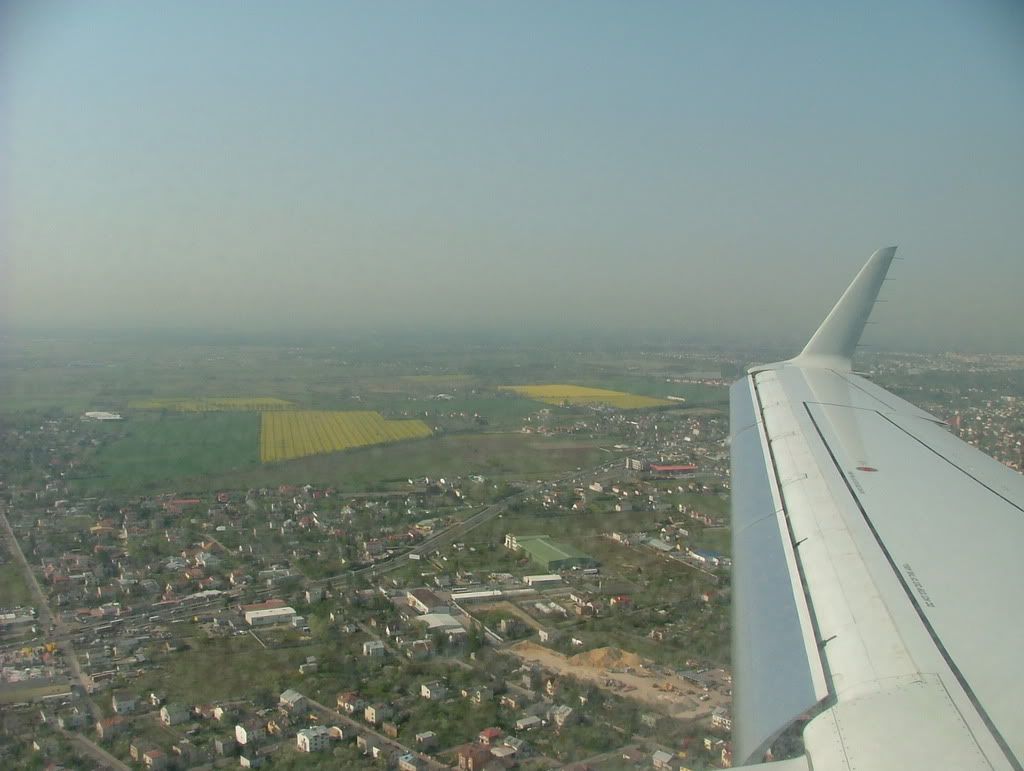 Our route was AMS-HAJ-south of TXL-WAW. We approached from the south-east and touched down very smoothly on rwy 33. A short taxi to a remote stand almost next to the polish Government TU-154 and we were off the plane to be driven to the arrivals-terminal by a Cobus 2400. Passport-control was quickly done by a nice female customs-agent and I entered Poland.
My first action was to go to a LO-service desk to check the availability status for the last LO flight back to AMS on the day, which looked quite ok with only 2 seats overbooked. So normally this should not be a problem. I went outside and got to the bus stop of line 175 to the city-centre.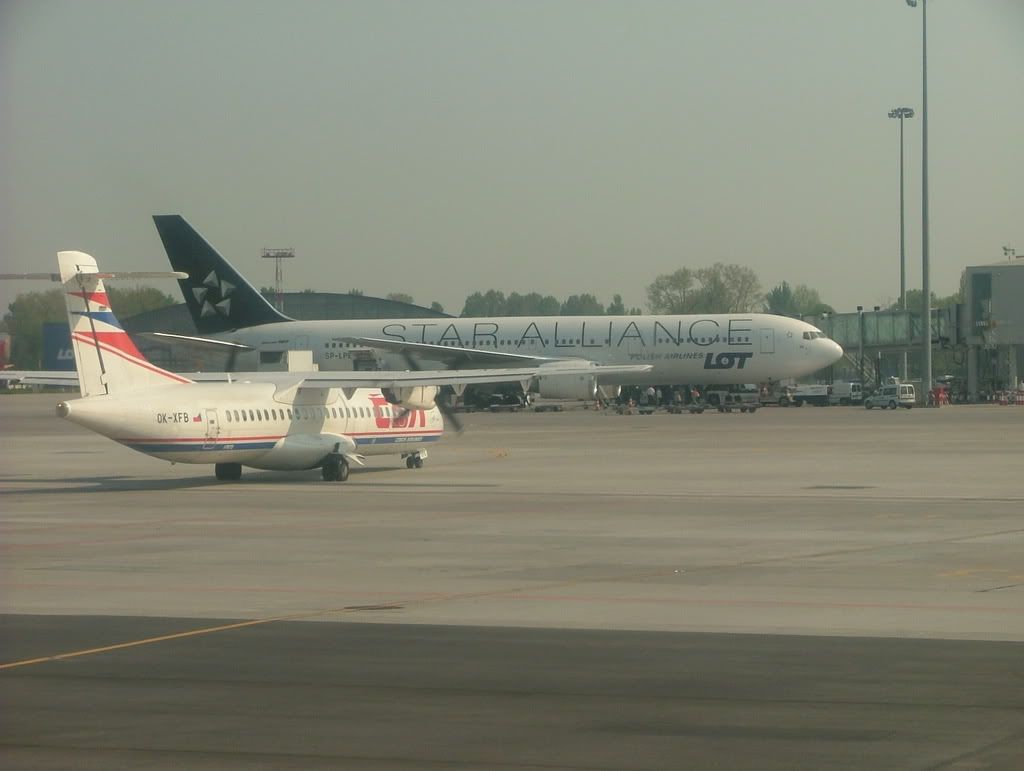 I exited the bus at the central-station bus stop and spend a couple of hours in the very beautiful city of Warsaw. I really liked the city and made a lot of pictures of the nice architecture.
Here are some pictures of down-town Warsaw.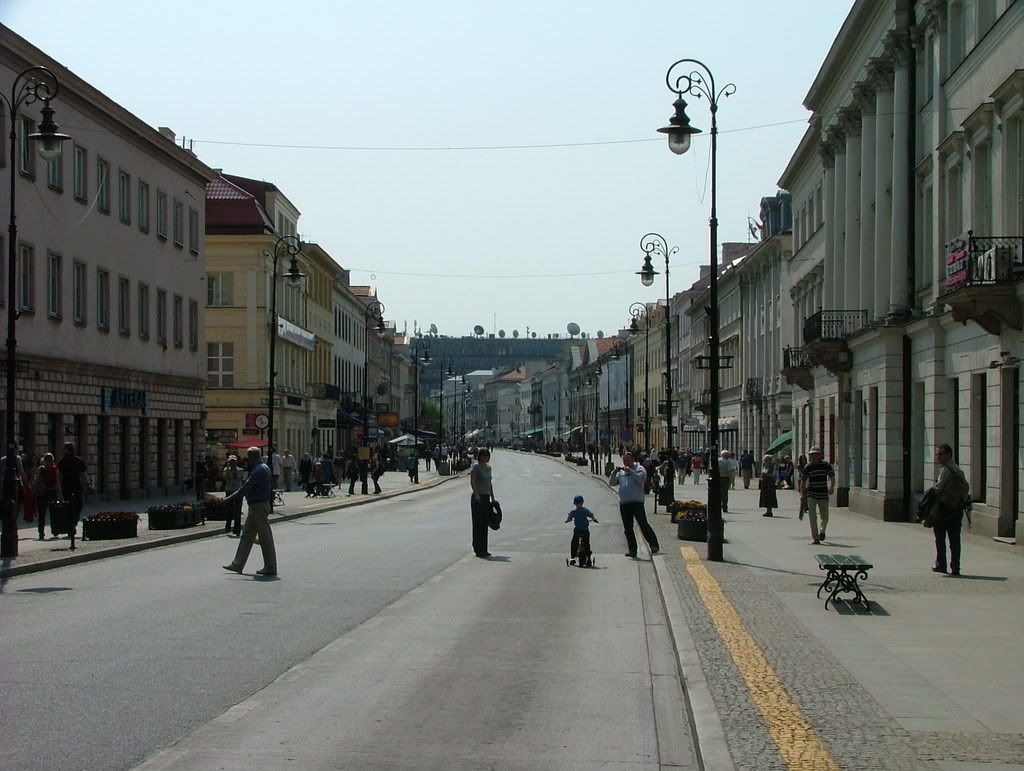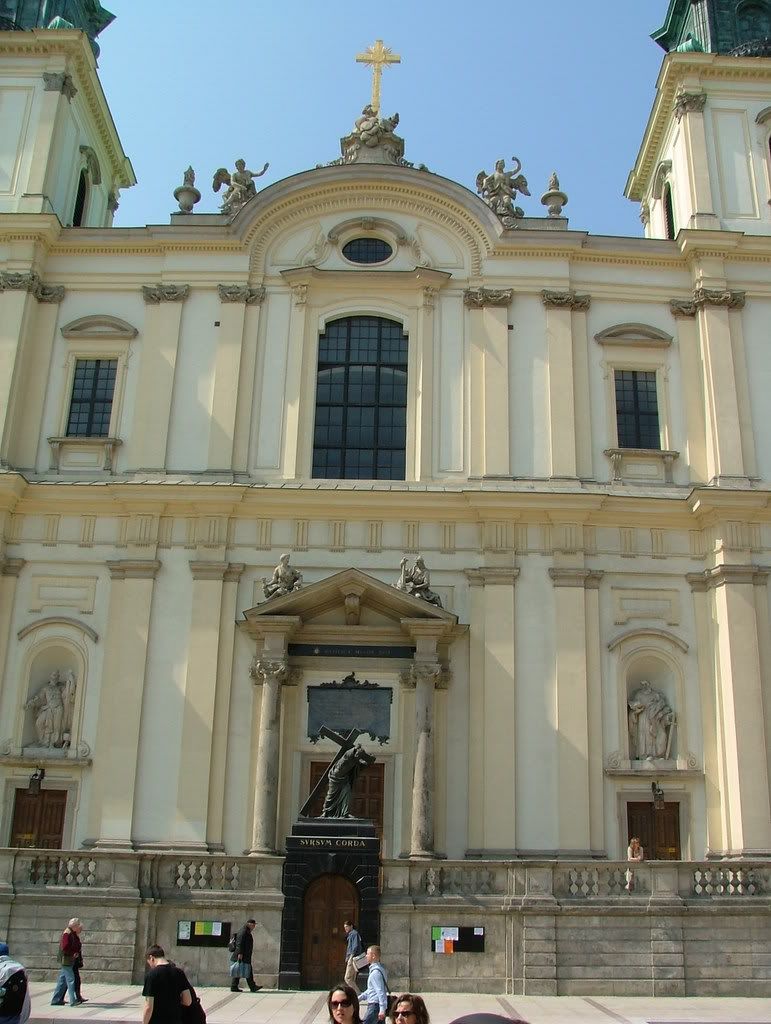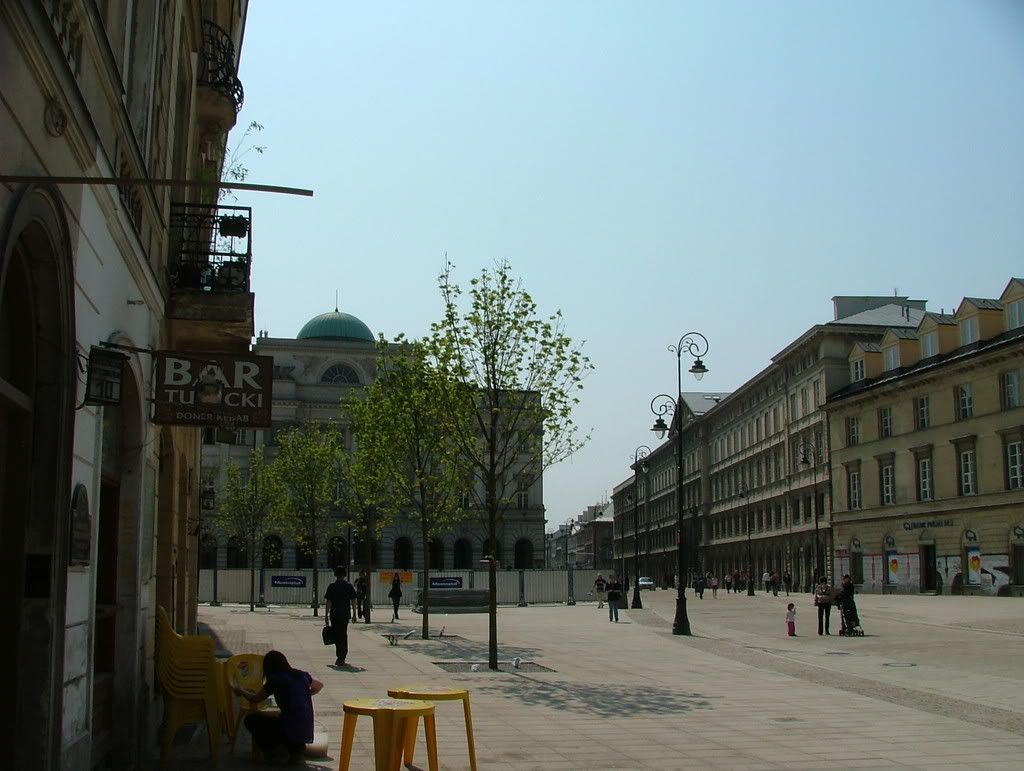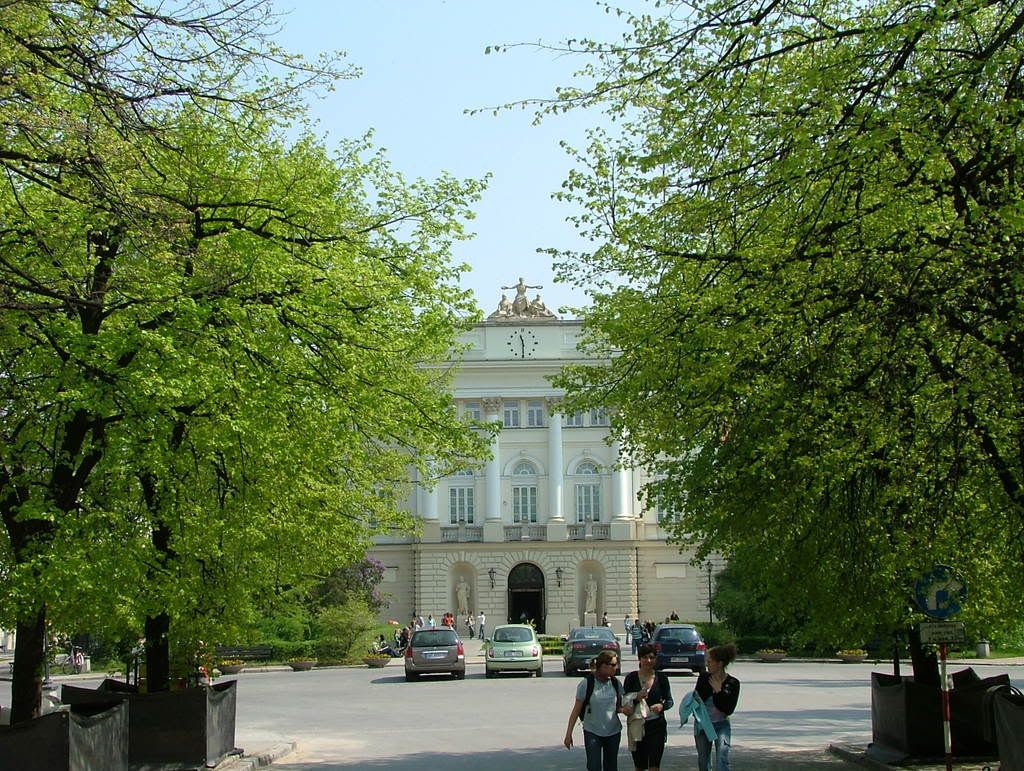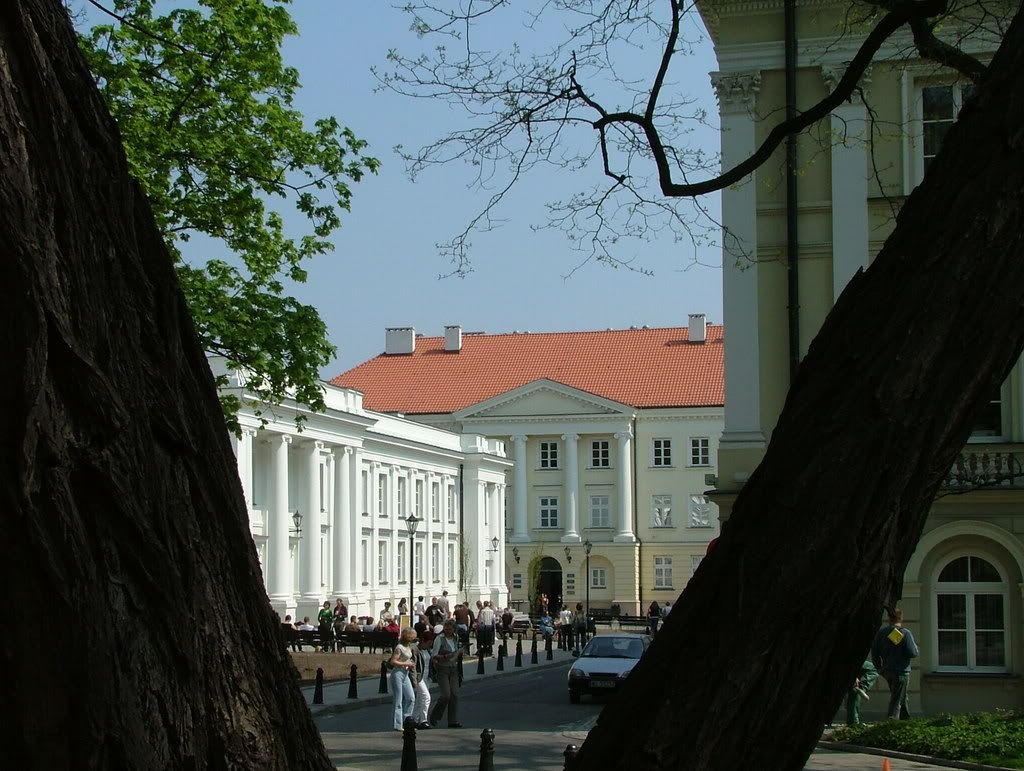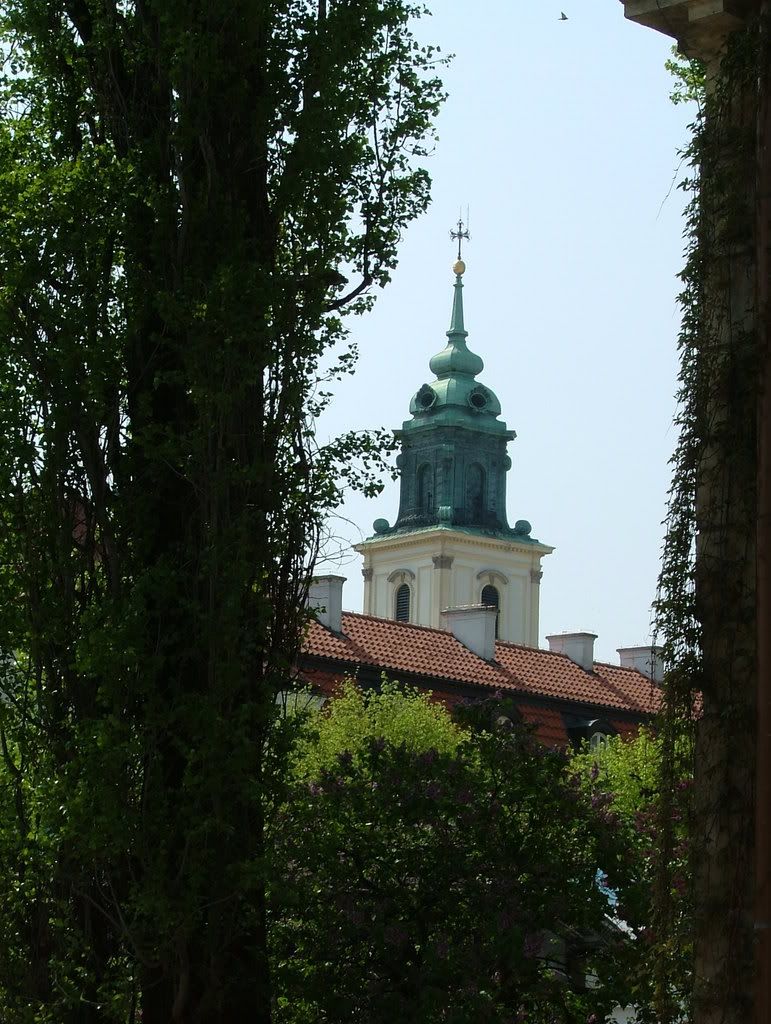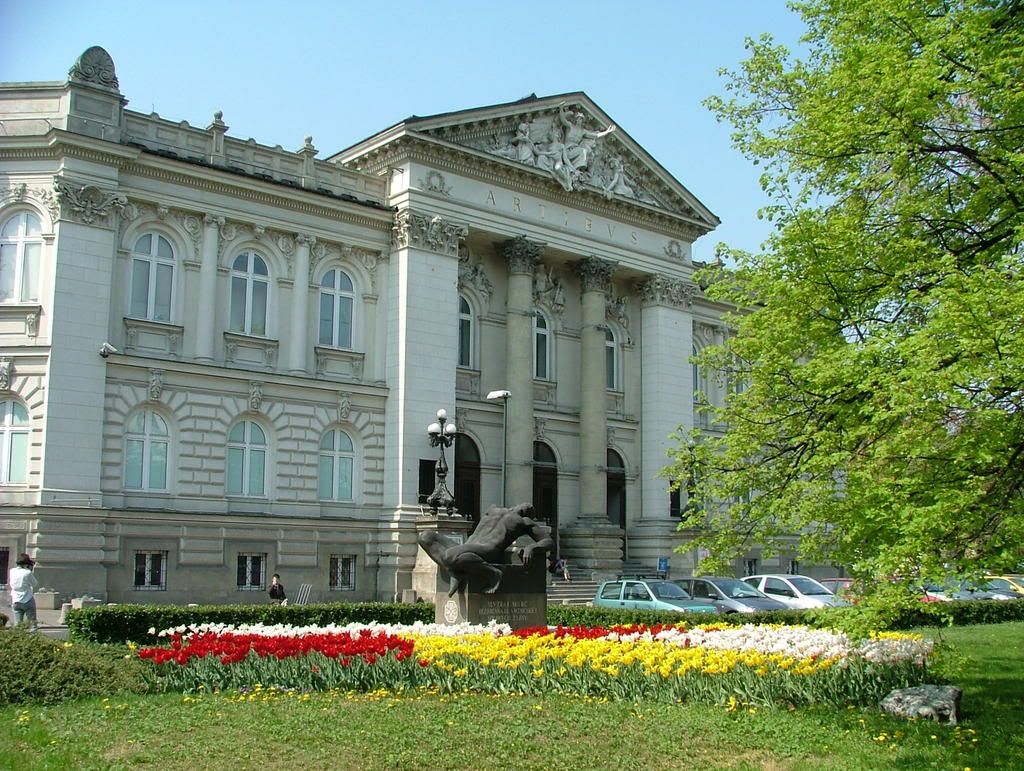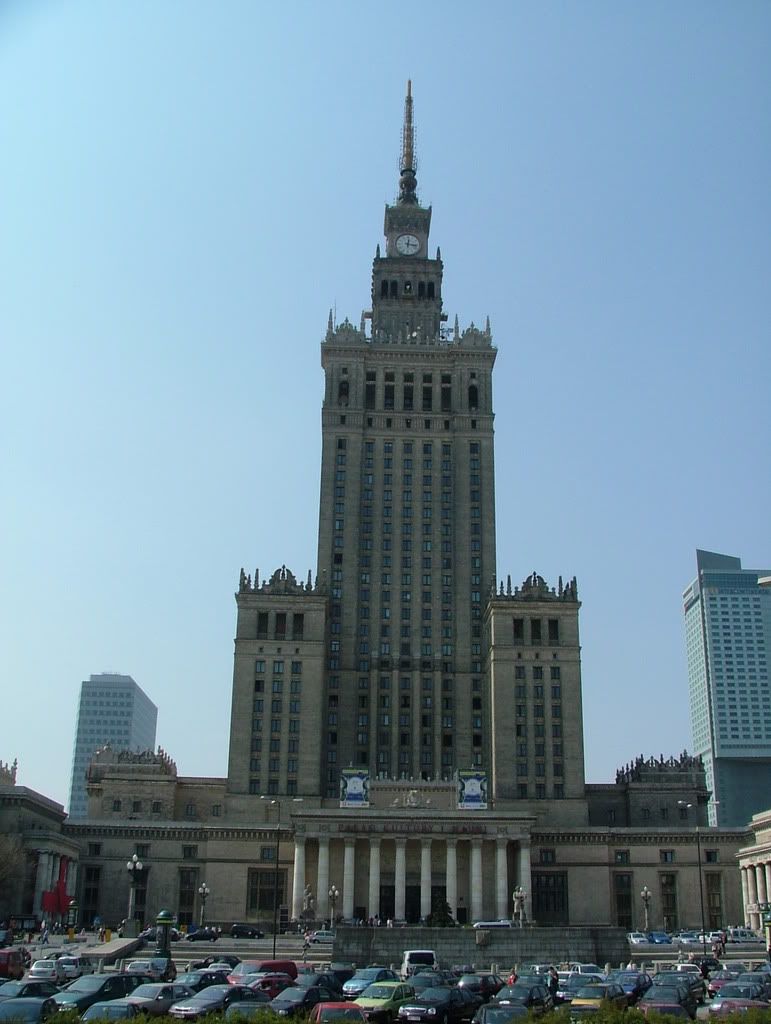 After a typical polish lunch at PIZZA HUT I had to go back to the airport to check the flight and get back to AMS. Back on bus 175 and within 30 minutes I was at the terminal ready for check in. Did a quick smoke ( bad habit ) outside and checked in at the LO counter, still feeling comfortable with the flight being overbooked only by 2 persons.
To get to the panoramic terrace you had to go outside again and through security-check. The price was only PLN 4,00 / Eur 1,10 and went up the stairs to check some airport activity.
Some nice birds passed by. Also a LH 733 still wearing the football-nose was at a finger gate awaiting her flight back to FRA. I think D-ABXN is one of the last still wearing the football-nose. What I did not know then, was that it was not the last time of the day seeing D-ABXN, but I'll get back to that shortly.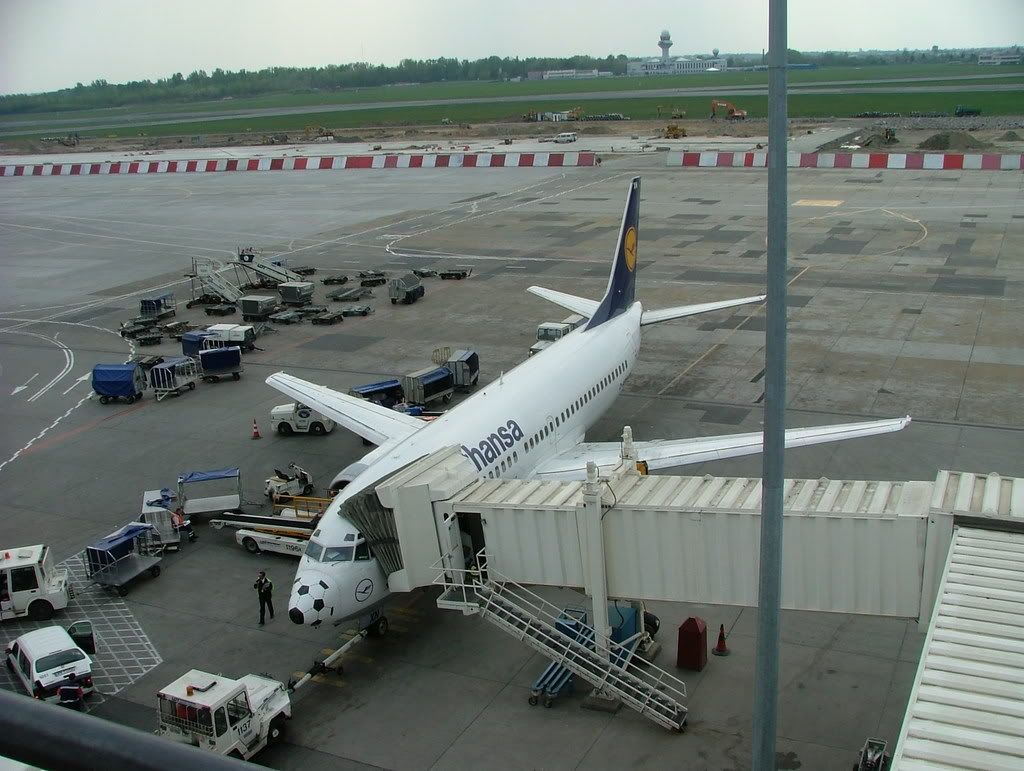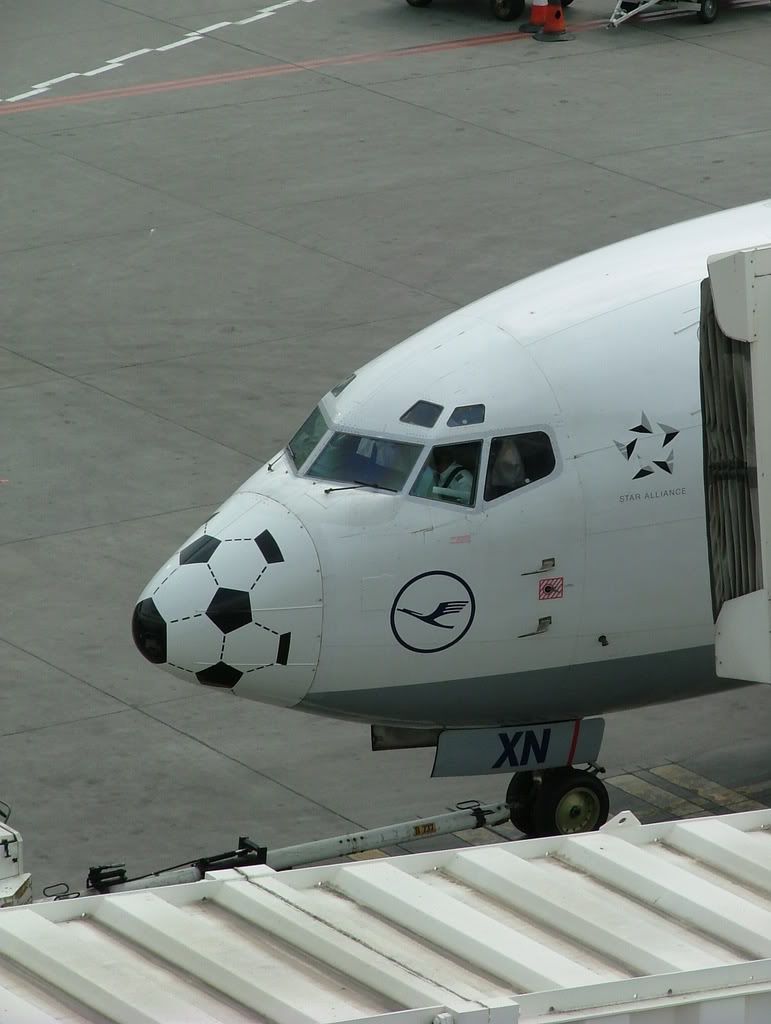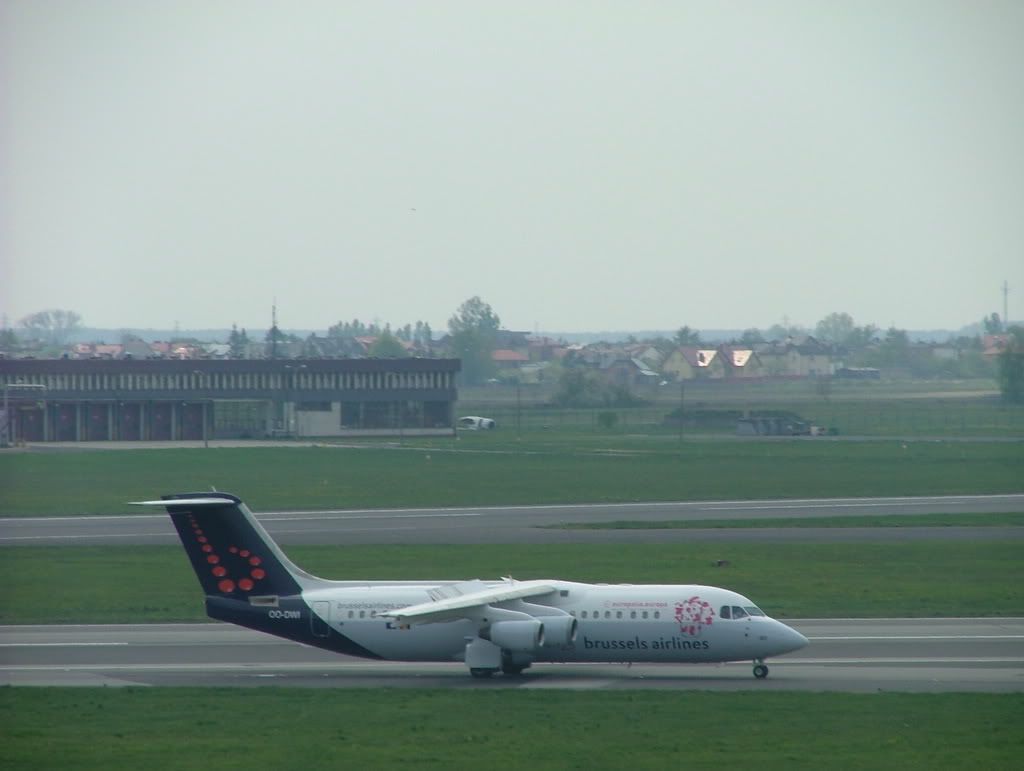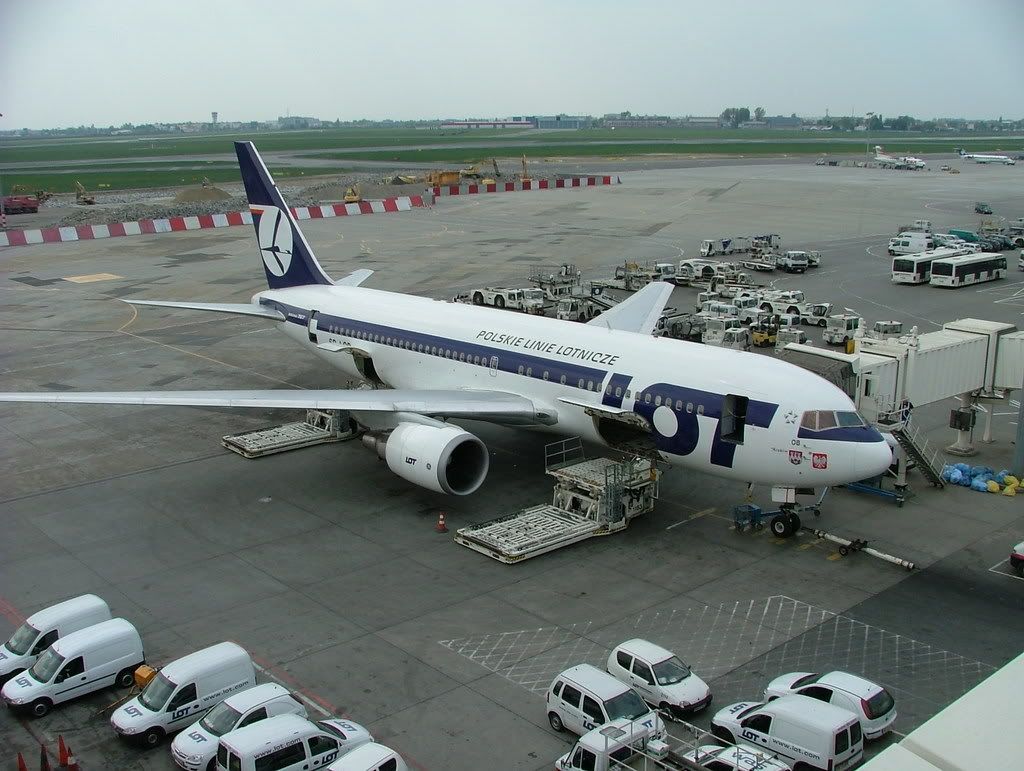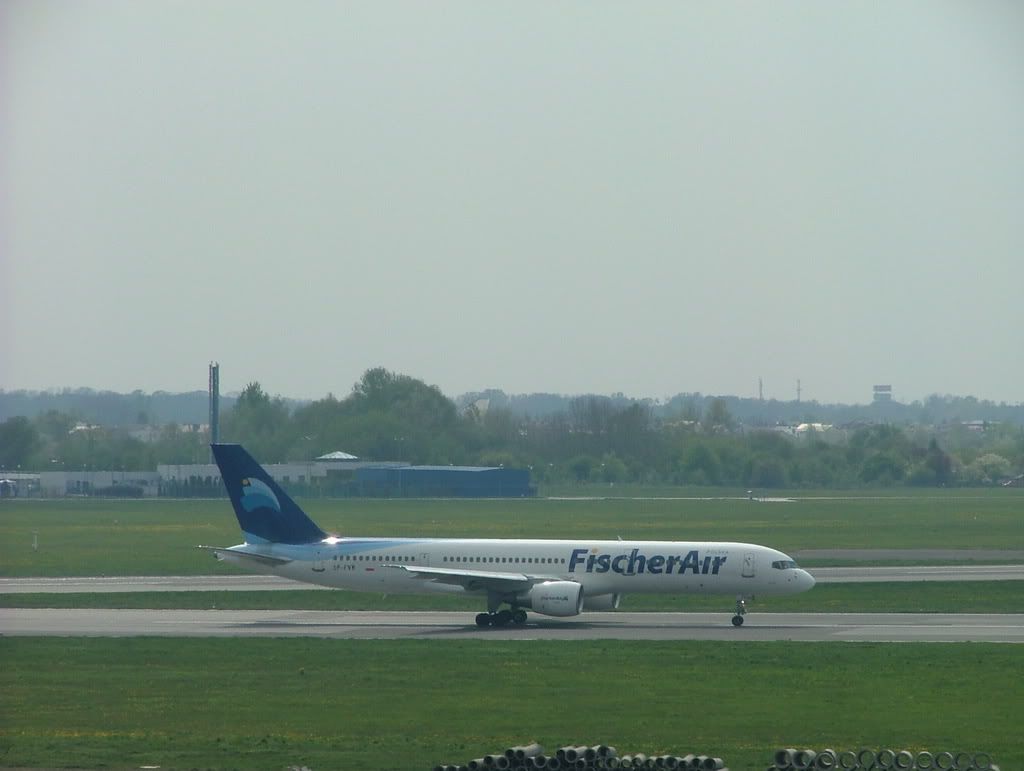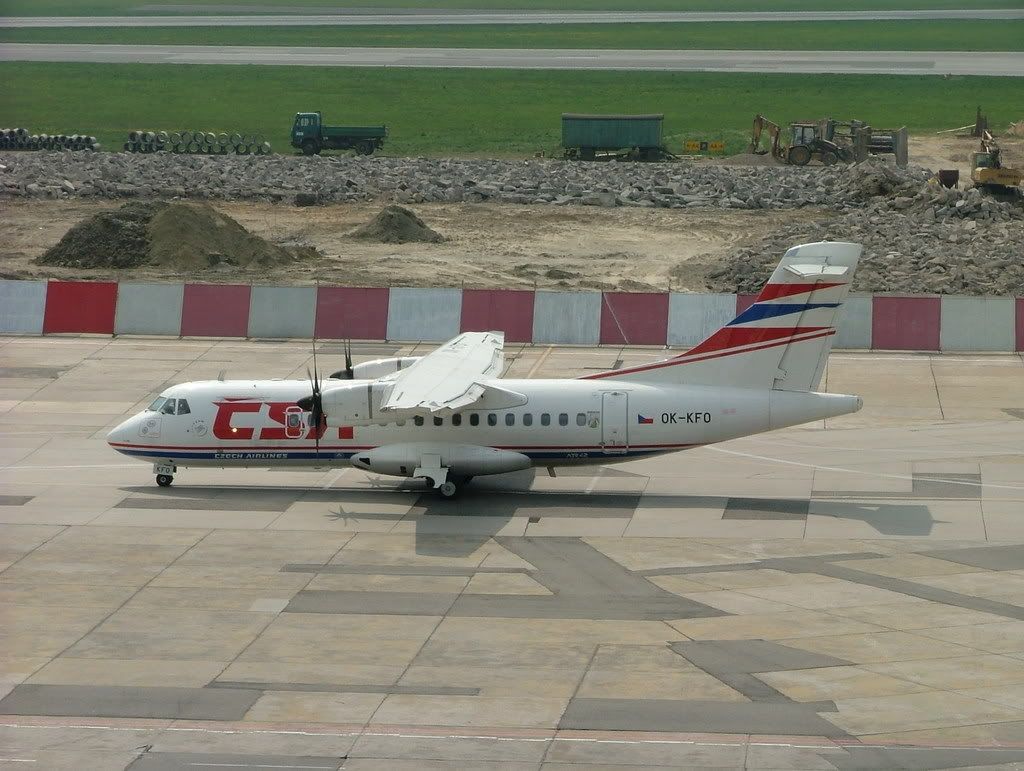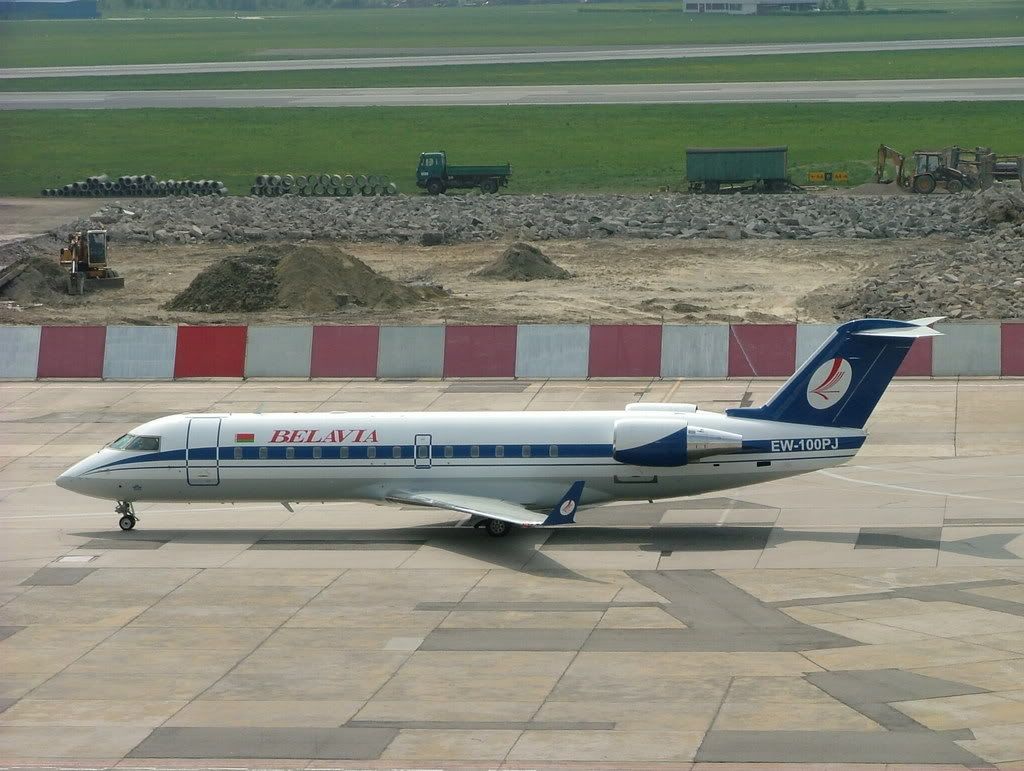 What I found strange was that on the yellow lines there were no a/c types mentioned as you can see on this close up picture :
After about 45 minutes I decided to go back inside and get to gate 002 to check if I could get a seat on LO267 to AMS. At the gate there were 3 very friendly agents checking for me, but there were 4 persons on stand-by for this flight. This could get tricky for me, as I am not an LO-employee who have priority over airline staff of other airlines.
In the end it turned out that 3 out of 4 stand-by passengers got a seat, except for......me
The gate agent helped me back through customs and security and I was back in the departure terminal. What to do now...so I went to the ticket counter and got my ticket rebooked on a LO flight to FRA and then connecting on the late LH flight to AMS. A couple of hours later than planned but still flying home on the same day.
Flight: LO 379
Routing: WAW-FRA
Reg: SP-LKF
Type: Boeing 737-500
Seat: 7C
Load factor: business 50% / Eco 100%
6th flight on the 735 and 1st on this machine
Gate 008 this time, and I was welcomed by the very same agent who helped me through back to the terminal 45 minutes earlier. She instantly smiled and said a sarcastic "you again" and got busy on her system, and provided me with an aisle seat on this segment. No complaints from my side, as I was happy to fly again in the home-direction. After a short wait the Boeing was ready for boarding, and we got served by another Cobus 2400 to the remote-stand were she was waiting for us. Boarding went smooth again, and got seated next to some USAF-employees. This time I was less impressed by the machine as she was a bit dirty and worn. The blue-fabric seats were worn, but comfortable. Legroom was less than on the E-175 but still acceptable.
After a short taxi to rwy 29 we were first in line for take off and thundered down the runway and got airborne about halfway the runway. As I was very tired by now I decided to take a nap and missed about 80% of the flight. I woke up and noticed we were already on approach into FRA. We were assigned rwy 25L and levelled out for the runway. On the last moment it seemed that we got a wind shear and the Boeing was blown aside a bit. Landing was rough on the left main-gear first, then the nose down and finally the right main-gear touched the German soil safely. It was not the best landing but hey, we landed  
We had a finger-gate on the A-concourse and left the plane. At the door the captain was standing in front of the cockpit door to say goodbye to all his passengers. A nice touch I think. A quick walk to the LH-transfer desk and I instantly received a window seat on the LH4688 to AMS. I had to walk quickly to gate A12 ( thank goodness not A42 ) were a nice and shiny A 321 was awaiting me. I had a look outside and saw a LH 733 being pushed back by a huge Fraport tractor and yes it was D-ABXN again showing her football nose again to me. She was departing for her last flight of the day.
Boarding started shortly after my arrival and I was the first on board via door 2L.
Flight: LH 4688
Routing: FRA-AMS
Reg: D-AIRT
Type: Airbus A321
Seat: 7F
Load factor: business 20% / Eco 50%
3rd flight on the 321 and 1st on this machine
The loads were light on this flight to AMS, but that only meant that I had 3 seats for myself.
Boarding was quick and we pushed back after the A300 from gate A14 left the concourse.
Legroom on the 321 is somewhat poor, but no problem for a 45 minute hop to AMS.
A quick taxi followed to rwy 25R and we smoothly increased speed and took off for Amsterdam. As it was dark outside by now I read a Dutch newspaper offered by Lufthansa at the gate. As it is only 45 minutes in the air to Amsterdam I finished reading and eating my cheese-sandwich just before finals for rwy 6. A very smooth landing followed and then Goosebumps followed directly¡K..People were applauding for the cockpit crew, and I really hate this when passengers do this¡K. But anyway we taxied to finger gate B11 next to a company CRJ-900 ( D-ACKB ) night stopping for an early morning departure back to MUC.
By then I was really tired do I decided to go to the car and buy a can of Red-Bull at the fuel station before driving home again. At midnight I was back home and realised I had a great time spending in WAW.
I really liked the city, and will certainly go there again once.
My comments:

LO

Service: 10/10
Equipment: AMS-WAW 10/10 - WAW-FRA 5/10
Food: 9/10

LH

Service: 8/10
Equipment: 9/10
Food: 6/10
I would certainly fly LO again, as they are really a good airline. They only need to upgrade their 737 interiors as they were worn and old-fashioned.
LH is performing well as always, but no exceptional by any means. Flying them again, is no problem, and will occur regularly.
So far for my very first Trip Report and I hope you have enjoyed reading it!
[Edited 2007-05-01 20:56:12]
[Edited 2007-05-01 21:22:55]