Before I start my first trip report on A.Net , I would like to give you a general idea on how this report would look like : This report will cover my trip from Toronto to Cairo via Milan on Alitalia , another trip from Cairo to Hurghada on Egyptair , a third one from Hurghada to Cairo on Egyptair as well and finally from Cairo to Toronto again on Alitalia .
Because this report is long with more than 150 pix , I had to write it in 4 parts . This trip will take me to a lot of (1st times ) :
First time with AZ , my first B767 flight , first domestic Egyptair flight , first time in Milan Airport , first time in Hurghada international Airport as well as my first time on Egyptair's new A330 and old B735 , as I have only flown on their B777 and A340 .
YYZ-MXP-CAI on ALITALIA :
when I originally booked the trip , I had a choice between Air France , Alitalia and Etihad Airways . The later has been excluded for many reasons : It is almost impossible to book online , the transit times are horrible , it was a one stop service between YYZ and AUH in BRU , and finally the fares are not at all competitive . AF and AZ offered the best fares , so I booked with AF ( It was almost 3 months before my travel date of April/2007 ) .
I mainly chose AF because the lay over at CDG was only 4 hours , and I have also flown them before and really liked them plus they have a superior service compared to AZ , they also have PTV's and newer A/C's .
You may ask yourself what happened then that made me switch to AZ . Here is what happened :
Only 3 days after I booked the flight and received my tickets , AF started to make schedule changes between CDG and CAI which increased my lay over at CDG to 6 hours , 3 days later another change lay over now is 8 hours , and in another 4 days another change to 11 hours lay over . Literally , everytime I log on to the AF website , I find that they keep playing with the schedule , I called them and cancelled my booking ( although the ticket was non refundable but because it was a schedule change , they refunded me all my money without a penalty ) . 4 days later I got the refund .
Although I heard horror stories about Alitalia( service wise ) , but I didn't have any other choice than booking with them because of the short transit time in Milan . Alitalia flies a daily B767 between YYZ and MXP and 2 daily A321 between Milan and Cairo , hence the short lay over both ways ( only 3 hours ) .
I also had another concern : The Airline is in a difficult economic situation and loosing hundreds of Millions of Euros every year and could go bankrupt at any moment .
Two things reassured me , the travel agent told me they have been in this situation for years and never went belly up , the other thing is that 3 of my friends have flown them recently on 3 separate occasions and told me the service is basic so not to expect much but at least they will get you safely to your destination.
I finally took the risk and booked with AZ ,they had the same fare as AF . Out of curiosity , I checked their business class fares and I was shocked : A YYZ-CAI business class ticket would cost only 3.5 times the Economy class fare , while with AF it is 7.5 times the Economy fare , very affordable if you ask me .
The journey started with my friend and neighbour picking me up and giving me a ride to YYZ Airport's Terminal one .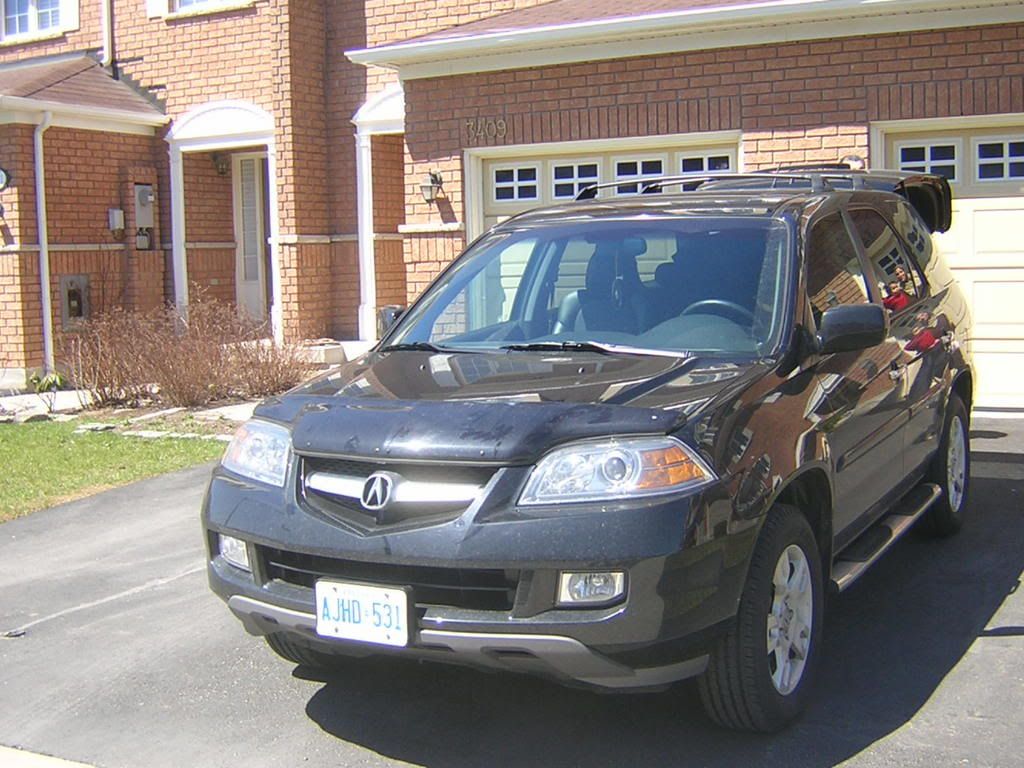 YYZ terminal one
It was the 1st time to see the sun in Toronto for quite a while . For more than 3 weeks , the weather was cloudy,cold and depressing .
No body was in line so check in was a breeze( I love those E.Tickets ) .Alitalia uses the new Pier F that just opened at YYZ 2 months ago . It is a very long walk to the gates area , a walk that was made very easy by the people's mover .
A view of the Apron from the people's mover
Security clearance was professional and quick . 20 minutes after arriving the Airport , we were at the gates .
Gates area at YYZ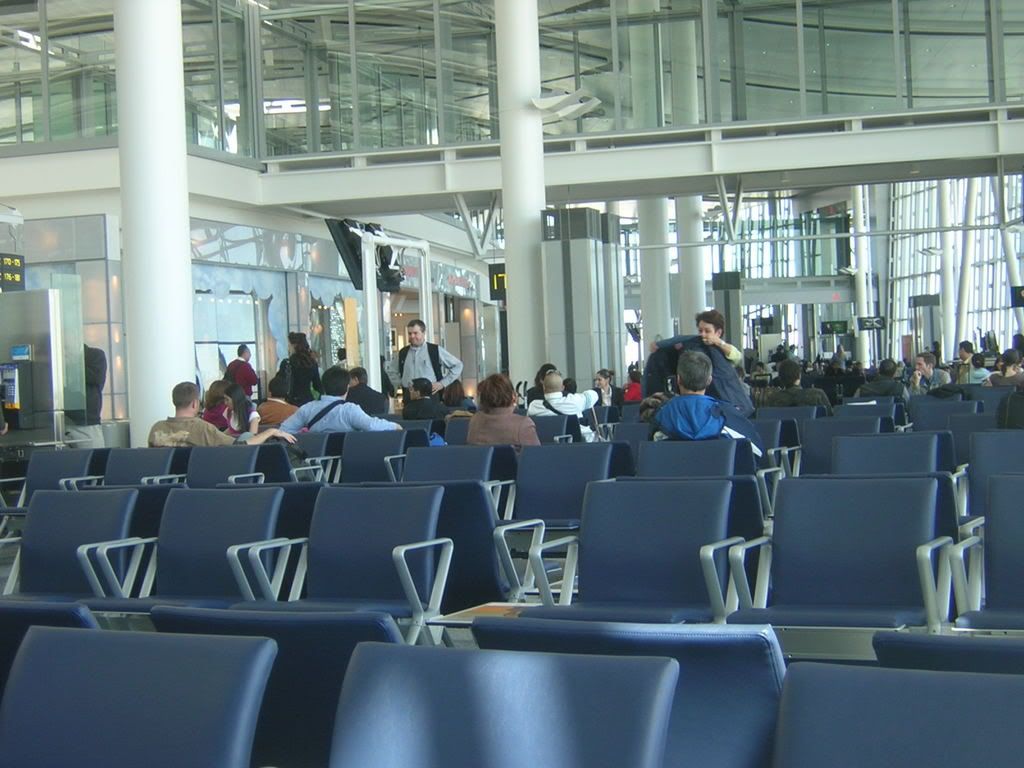 Our bird waiting to carry us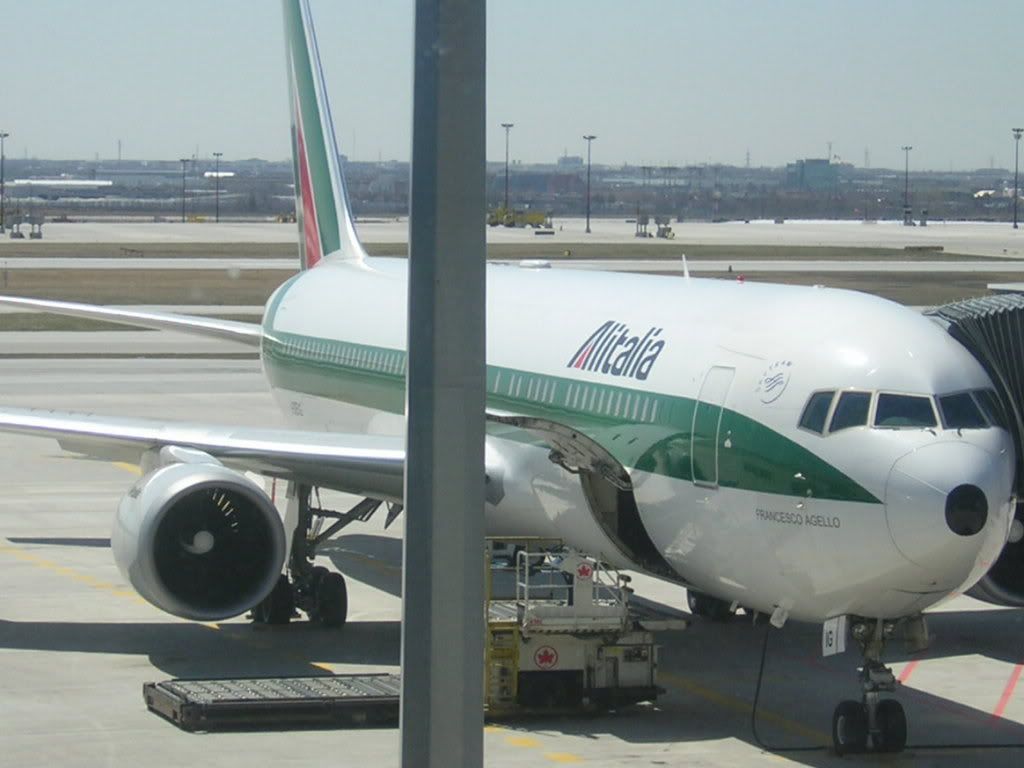 Up close and personal with our beast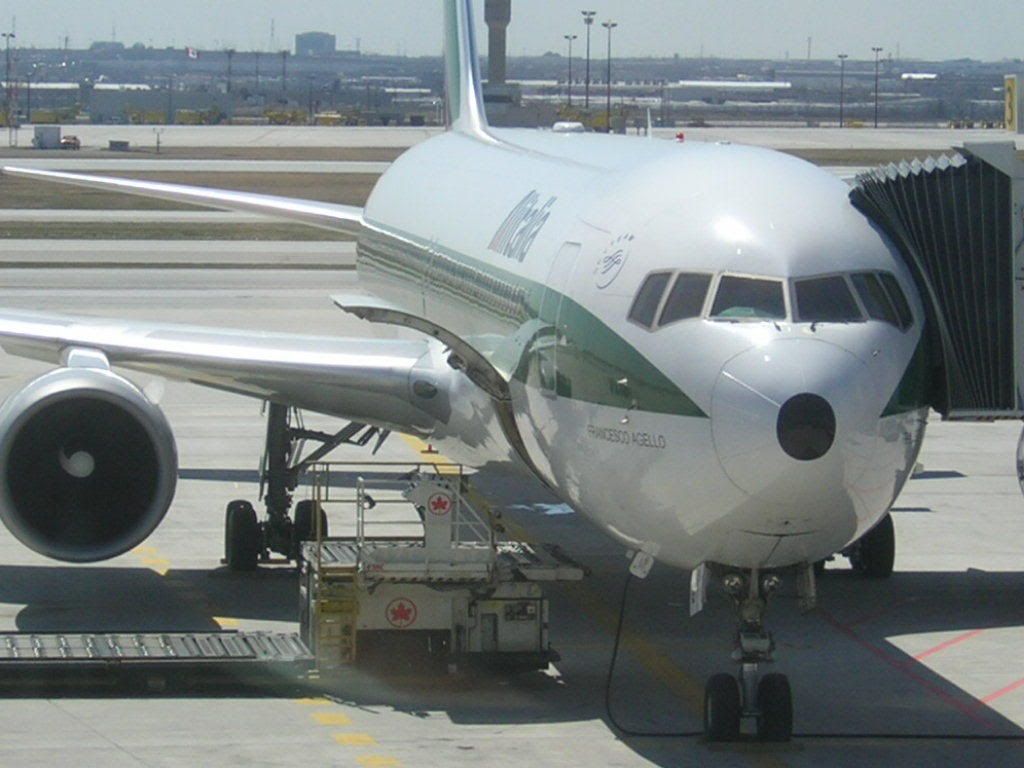 Alitalia crew
Alitalia crew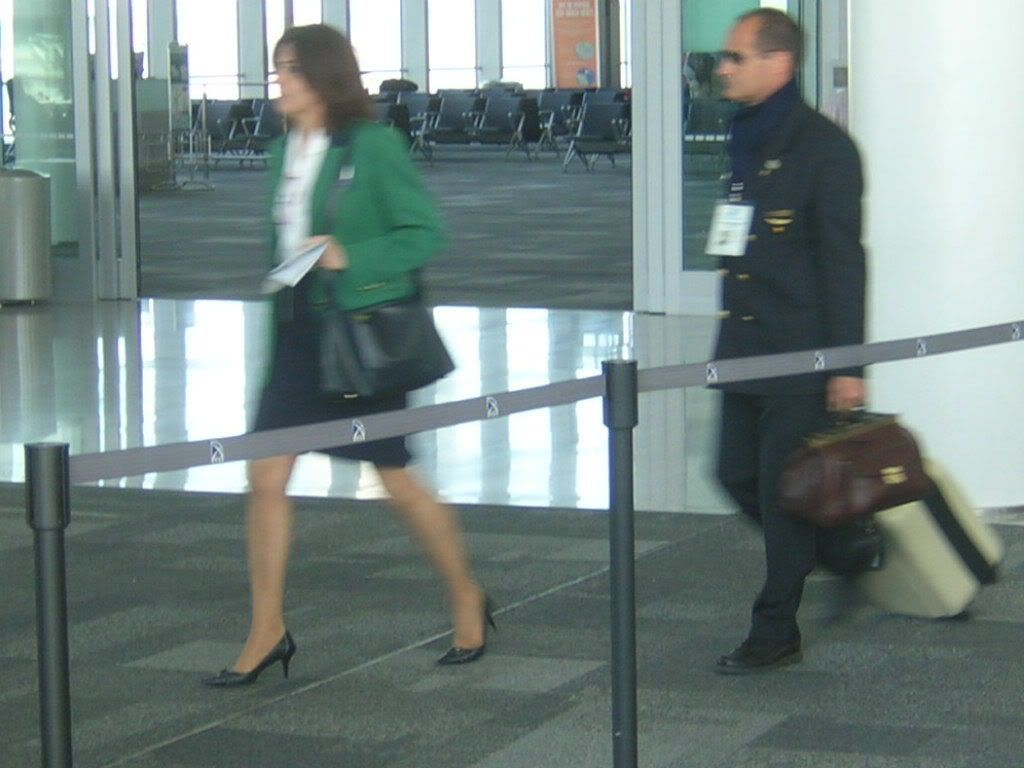 This second male F/A was not smiling during the whole flight and showed some attitude towards passengers while collecting the garbage after food services .
Sky service B757
Finally , it was time to board our plane , they started boarding old and incapacitated people then families with babies and young children .
Carrier : Alitalia ( AZ )
Flight number : 653
Equipment : B767
Route : Toronto (YYZ) - Milan (MXP)
Load factor : 16/20 in J 189/194 in Y
Departure : 16:55
Actual : 17:05
Flight duration 8:20
Arrival : 10:20
( on time )
We were greeted by smiley and beautiful female F/A's as well as 2 males ( one is smiley the other had an attitude )
AZ's affordable Business class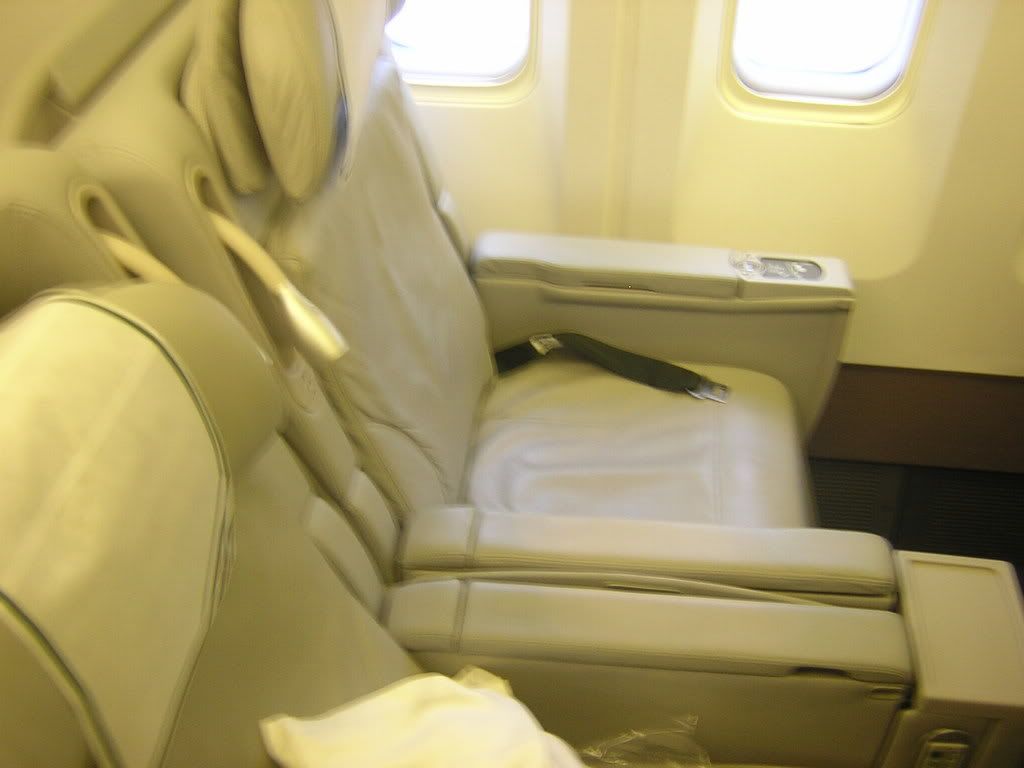 AZ Business class , no PTV's in J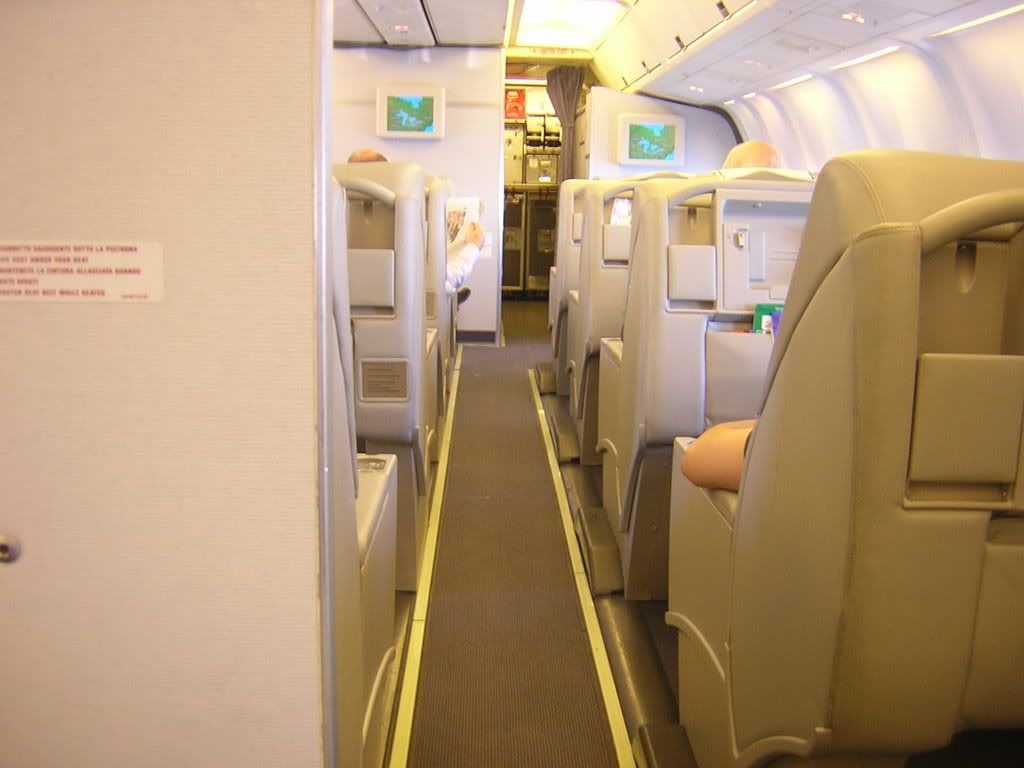 AZ Y class
The B767 is clearly showing its age . The A/C was very dirty , Arm rest ash trays were not cleaned , seats are very hard , the air conditioning was not efficient and uncontrollable which made the cabin very hot ( I was sweating for the whole flight ) .
My overhead bin was broken.
45 minutes into the flight , drinks were offered , I had a coke and mineral water .
Half an hour later , dinner was served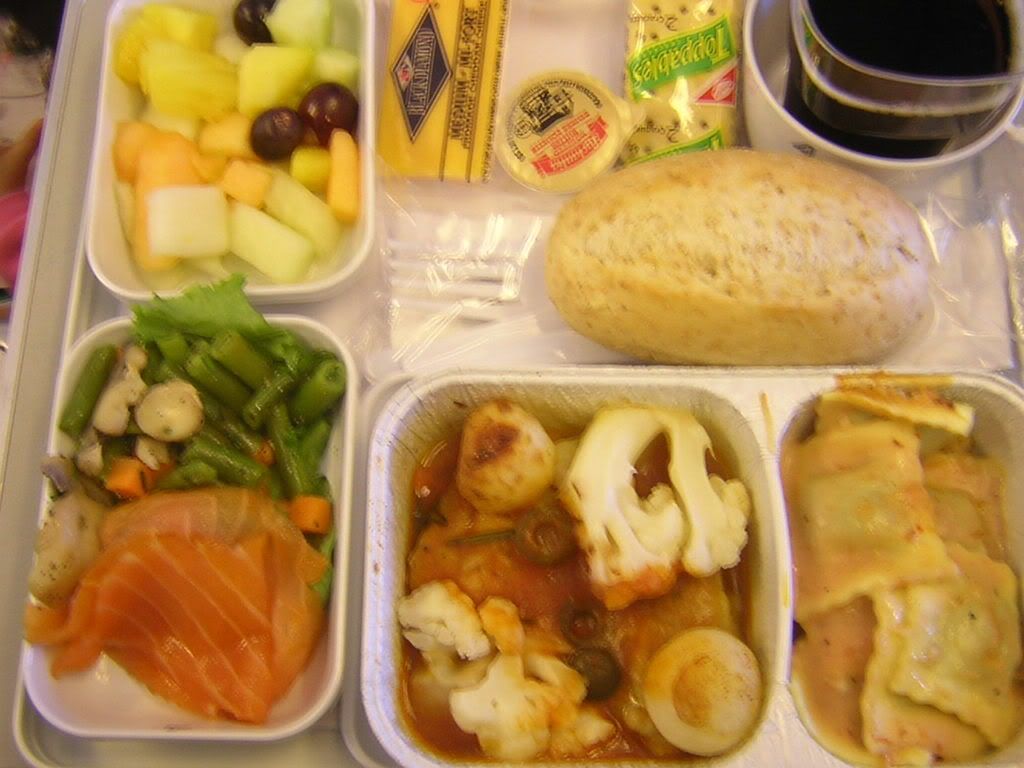 It consisted of :
Bread , butter , crackers and a small bloc of cheddar cheese
Appetizer : Saumon fume with beans,mushrooms and carrots salad , which was delicious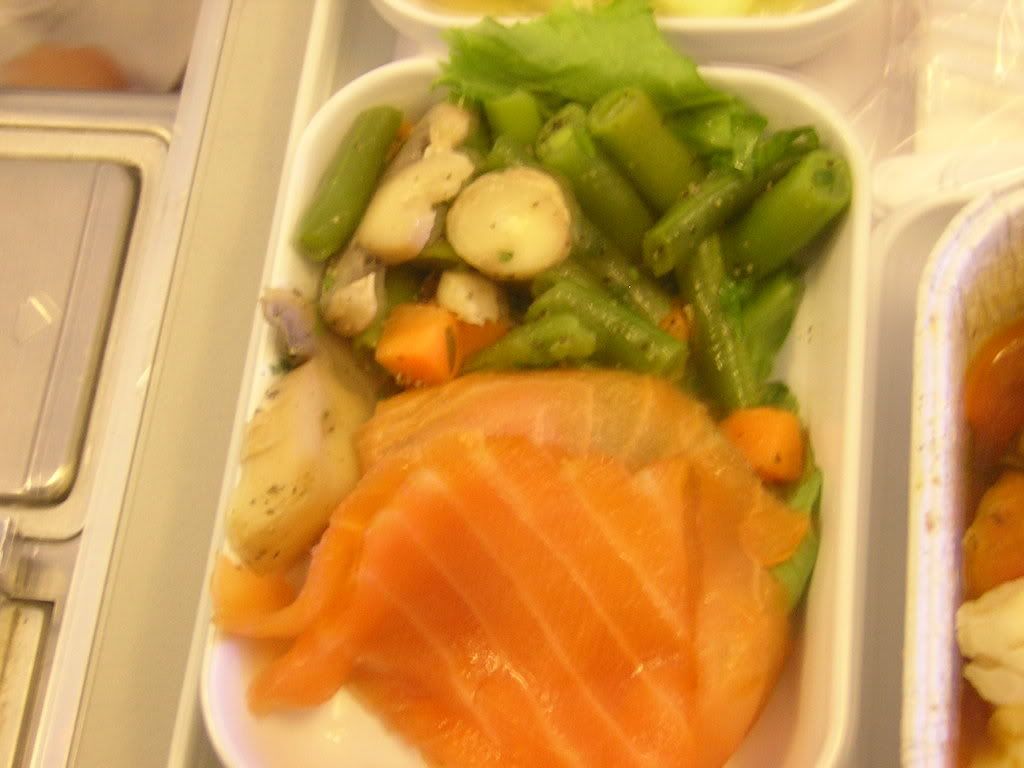 Main dish : Chicken , croquette potatoes and cauliflower in a tomato base , spinach stuffed ravioli topped with a cheese based sauce , excellent quality and very filling .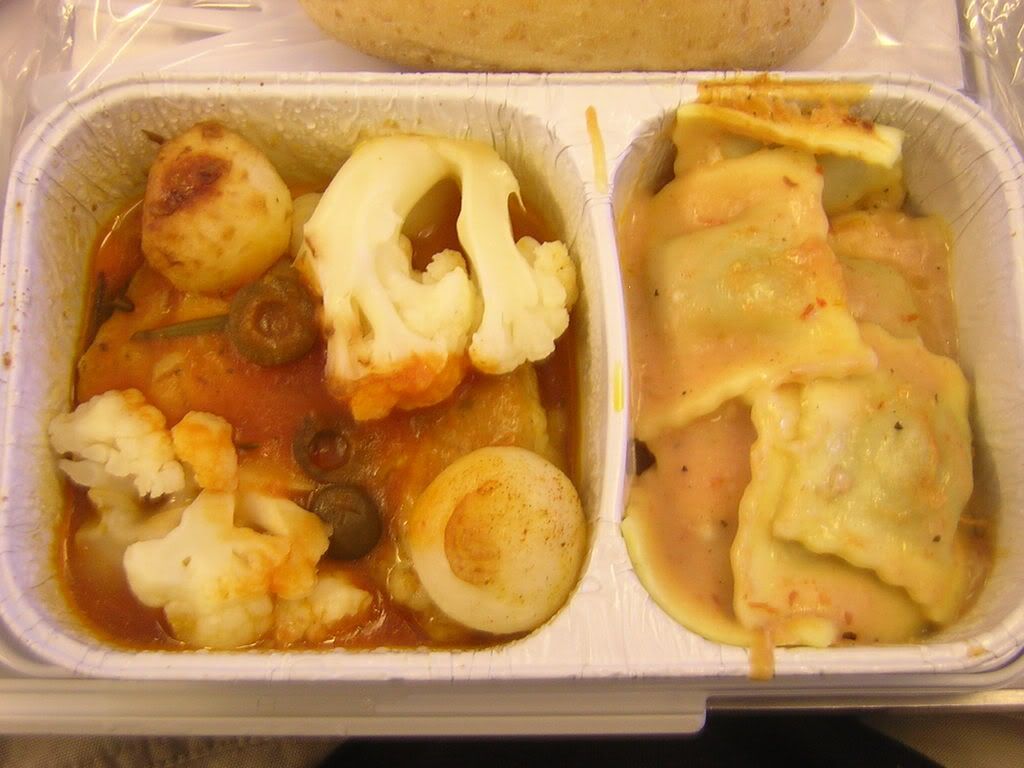 Dessert : Fruit salad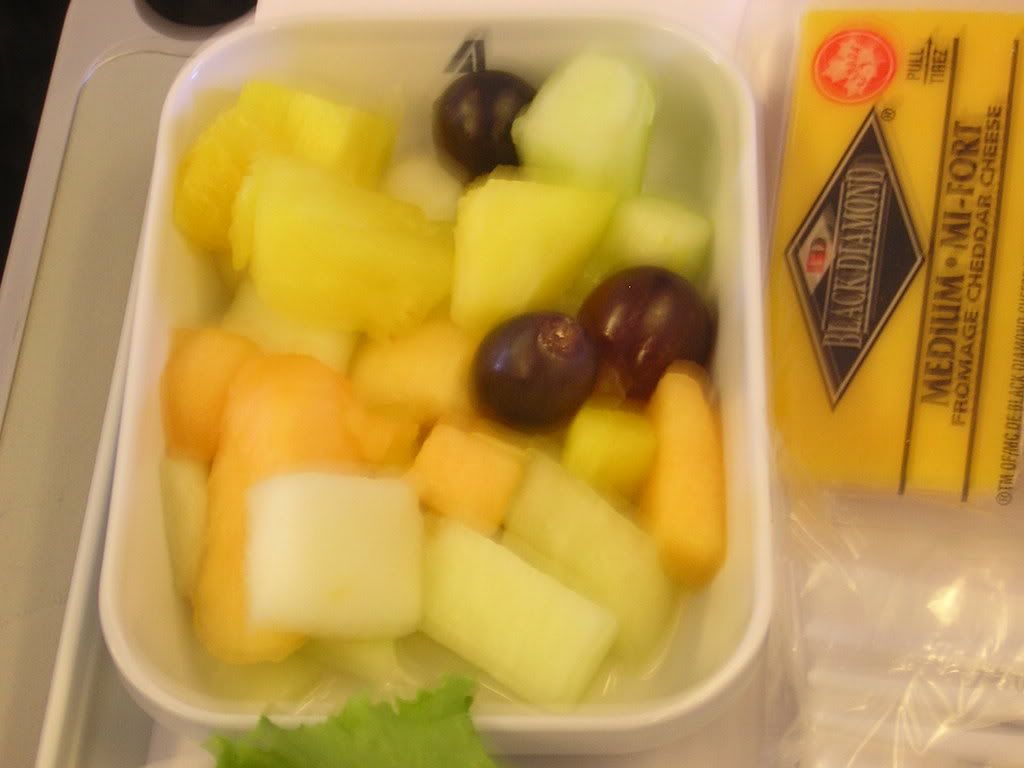 Garbage was collected , and as mentioned previously , this male F/A had an attitude while collecting the trash .
There are only 4 washrooms in the plane for Y class which resulted in long line-ups .
the flight was almost full , mainly Italian Canadians seniors going back to visit family and friends along with a lot of connecting passengers to India , the Middle East and Eastern Europe .
They dimmed the lights to allow passengers to sleep which was almost impossible in this tropical climate .
Water and soft drinks were available at the back all the time for those whose calls were not answered by the F/A's
. While I was in the back to fill up on my water , I witnessed the F/A's showing their dissatisfaction of the repetitive calls from passengers .
There was no map showing the flight progress , they only played the map for 20 minutes after take off and then switched to some movies ( freedom writers ) as well as another Italian movie .
An hour and a half before landing , a disappointing breakfast was served , consisted of stale croissant , hot cheese and ham sandwich and coffee or tea .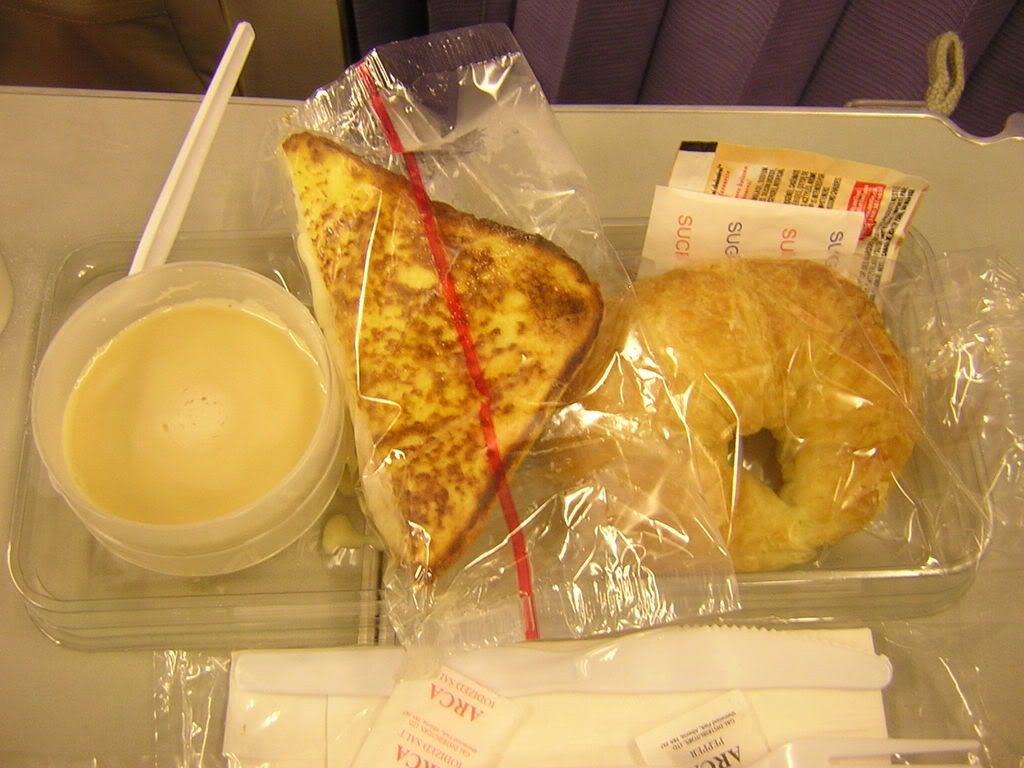 The map was switched on again 20 minutes before arrival and we landed on time into foggy Milan , a lot of passengers clapped upon touch down , a thing I was led to believe that it is non existent in Europe anymore .
Soon after de-boarding , we headed to the security clearance which had a huge line up but was moving fast . A lady was doing the security check-up and was confiscating a lot of liquids including baby milk that people got on the airplane .
Then we headed to our gate to catch our plane for the second leg of this flight that will take us from Milan to Cairo .
Milan Airport is a basic airport , some areas of the airport are so run down that I feel I am in an underground parking lot in down town Toronto ( especially the area before the security check up ) .
The gates area is very small and definitely not enough seats for everybody , for example gates B1,B2 don't have a waiting area , they share the seats with gate B3 .
The airport was busy , there were 2 long-haul flights next to our gate , a B767 to Caracas and a B777 to New York ( which was delayed 2 hours to the dissatisfaction of the passengers ) .
Although the A/C was at the gate before we even arrived in Milan , but The flight was delayed for 1 hour because of a technical problem ( so we were told by the captain after boarding the plane , no body gave us a reason at the gate for the delay ) .
Milan (MXP) - Cairo (CAI)
Carrier : Alitalia (AZ)
Flight number : 882
Equipment : A321
Route : MXP-CAI
Load factor : 95%
Departure : 10:20
Actual : 11:20
Flight duration : 3:50
Arrival : 14:10
Actual : 14:50
Our A321 waiting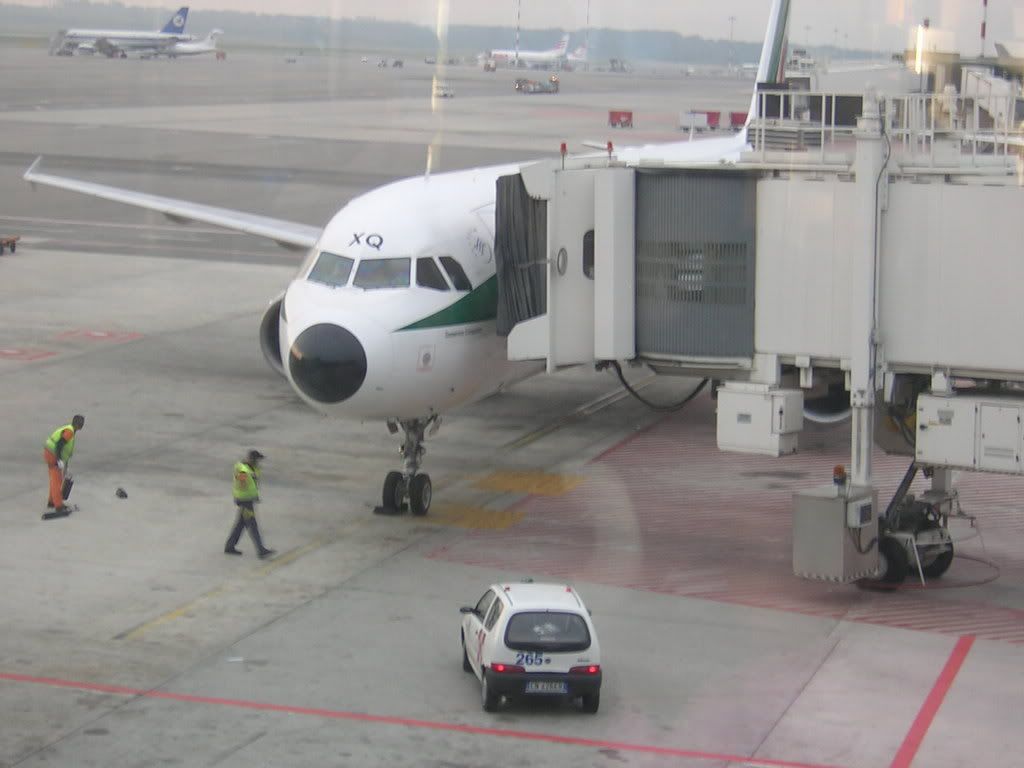 Air Malta A 319 , El Al B767 and MEA A321
We were second in line after Air Europa B735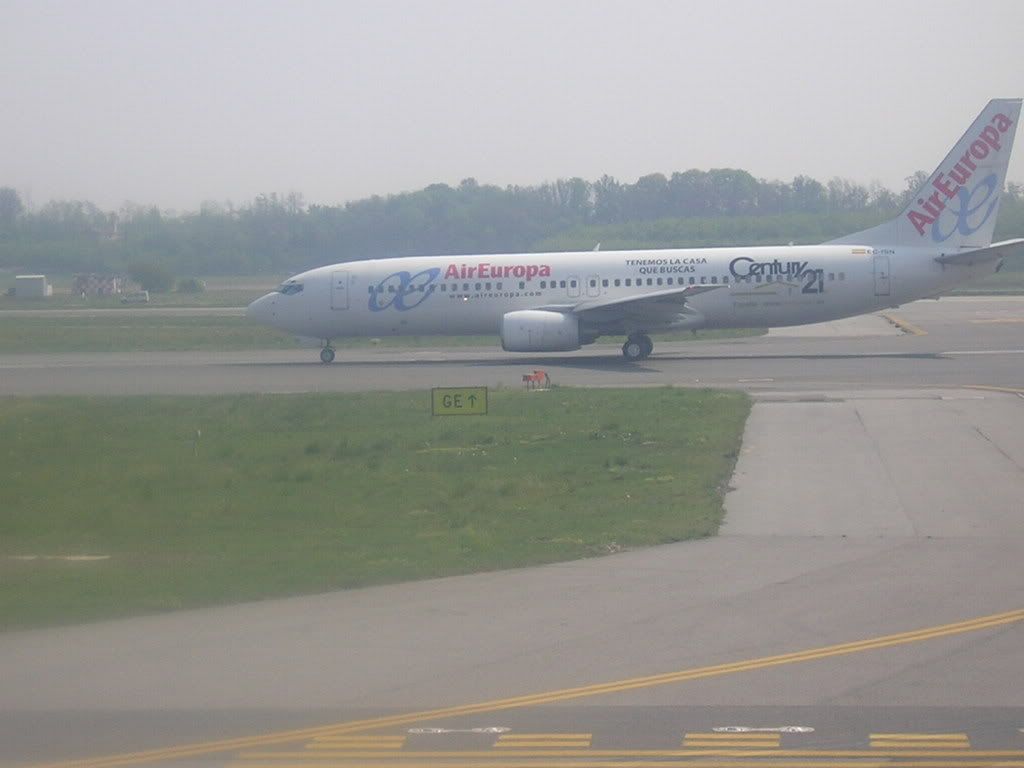 Lining up to the runway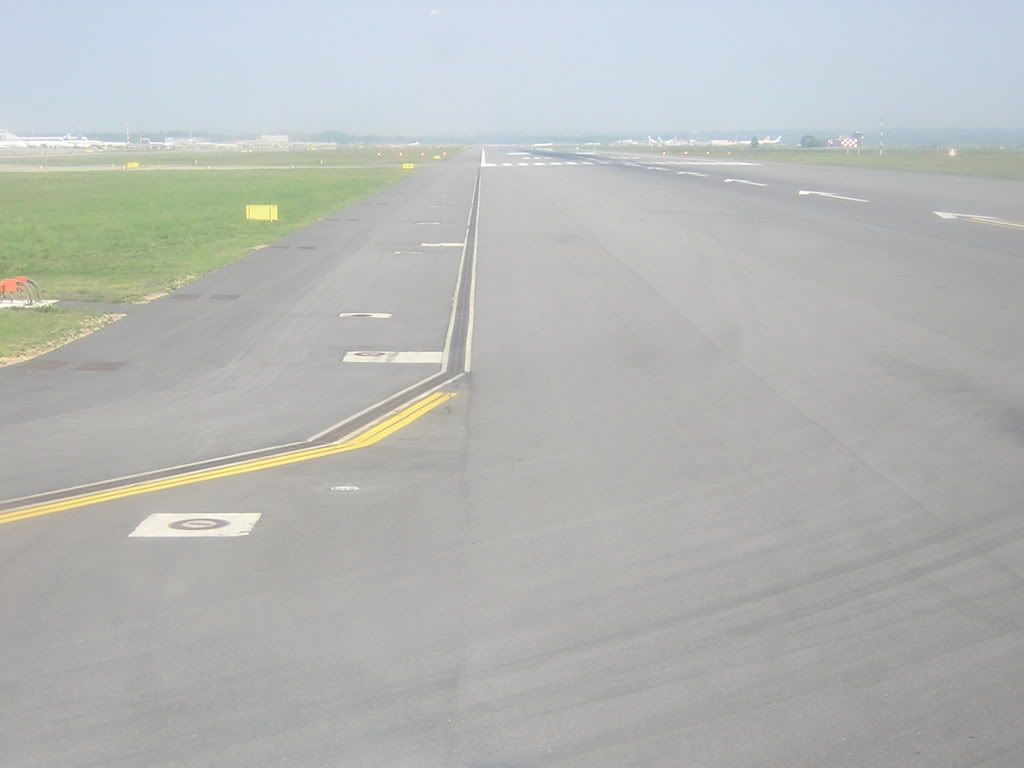 rotate
take off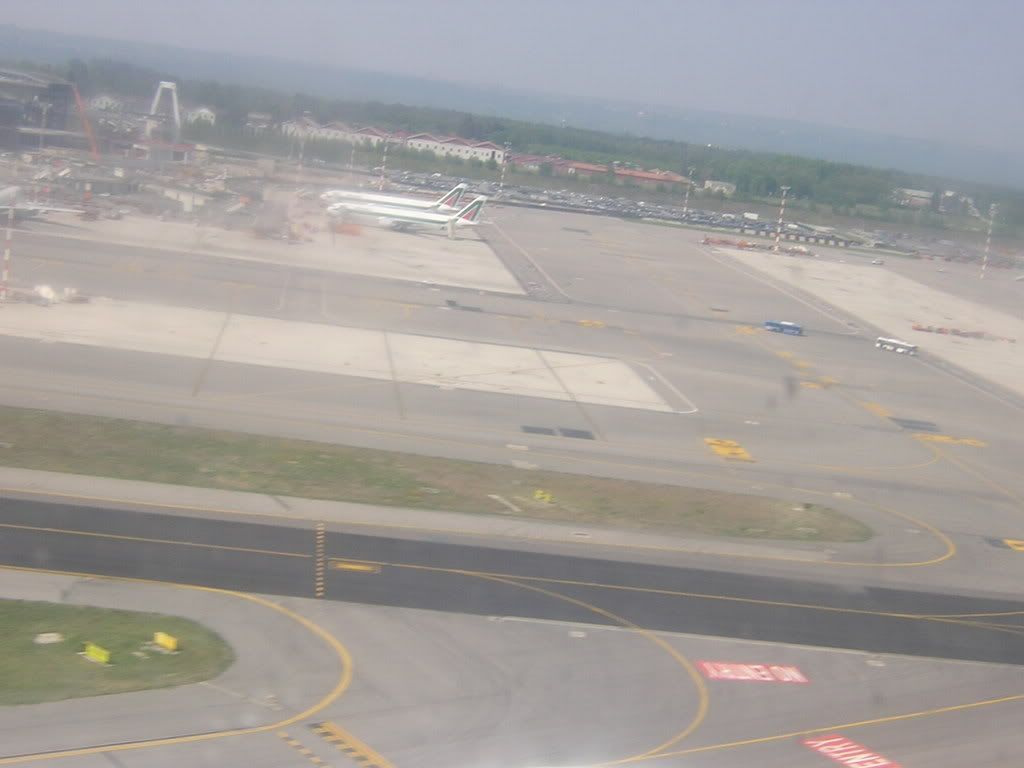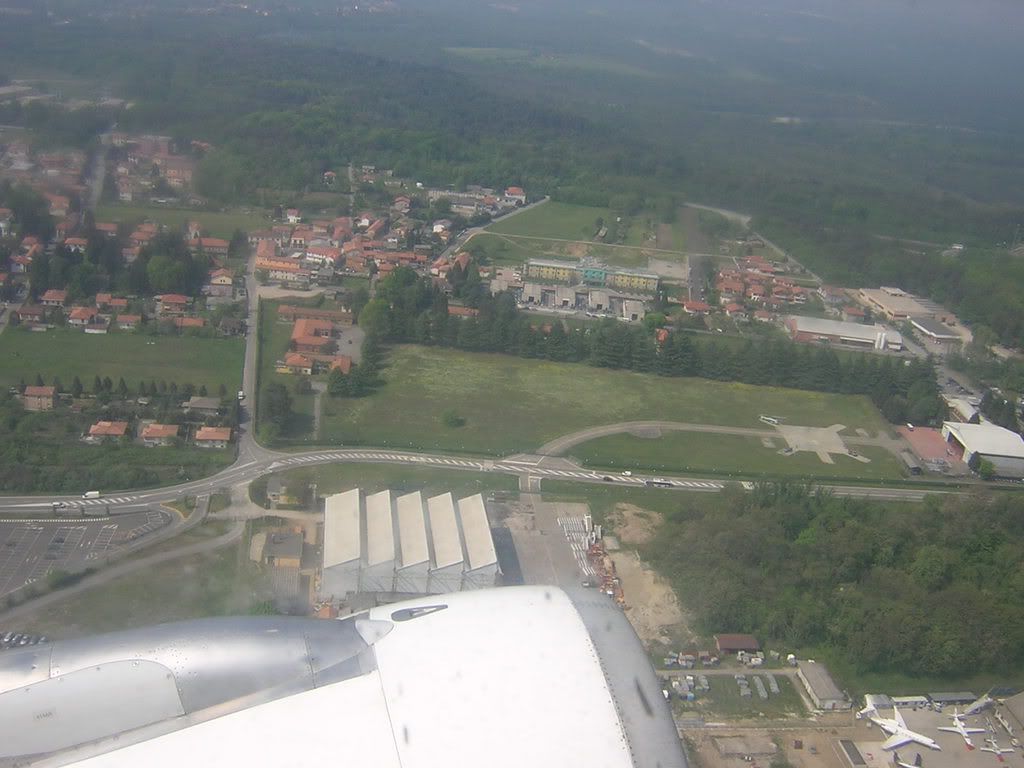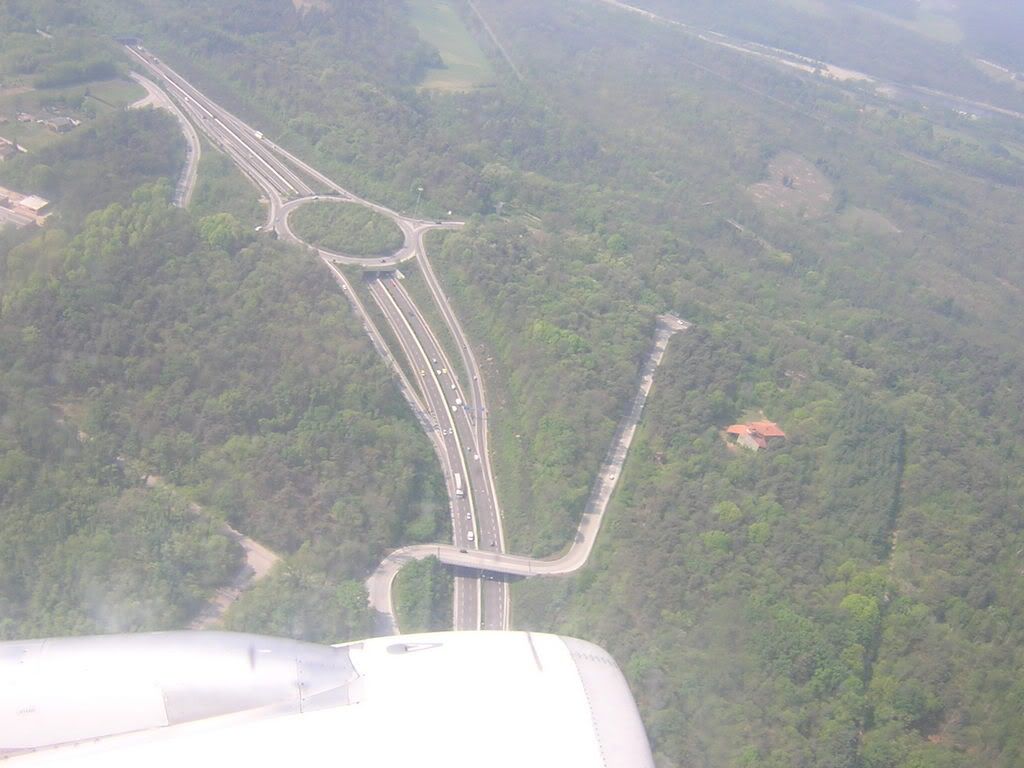 The A321 looked new and was spotless , the seats were much softer , better seat pitch , much cleaner plane than the B767 . The air conditioning was much more efficient as well .
The airplane as a whole was in a much better condition and more comfy than the poor old B767 .
Not only that , service was existent and much better than the first leg of my trip , to the extent that you get the feeling that you are travelling on an another Airline . However , one seat back was broken and had a big sign not for use ;D
The cabin of the AZ A321
45 minutes after take off breakfast was served , here is what we got :
strawberry yogurt , foccacia bread with soft cheese , cheese slice , smoked turkey a strawberry cake and a fruit salad
The breakfast was excellent and filling .
No maps were shown during the whole flight , so it was impossible to figure out where we are
.
But I am sure these 2 pictures were somewhere over Italy
The A/C had only 2 toilets for the Y class , so use your imagination on how long the line ups were
.
After a smooth crossing of the Mediterranean sea , Egypt is welcoming us through its northern coastline
A stadium in Cairo
A bridge over the Nile in Cairo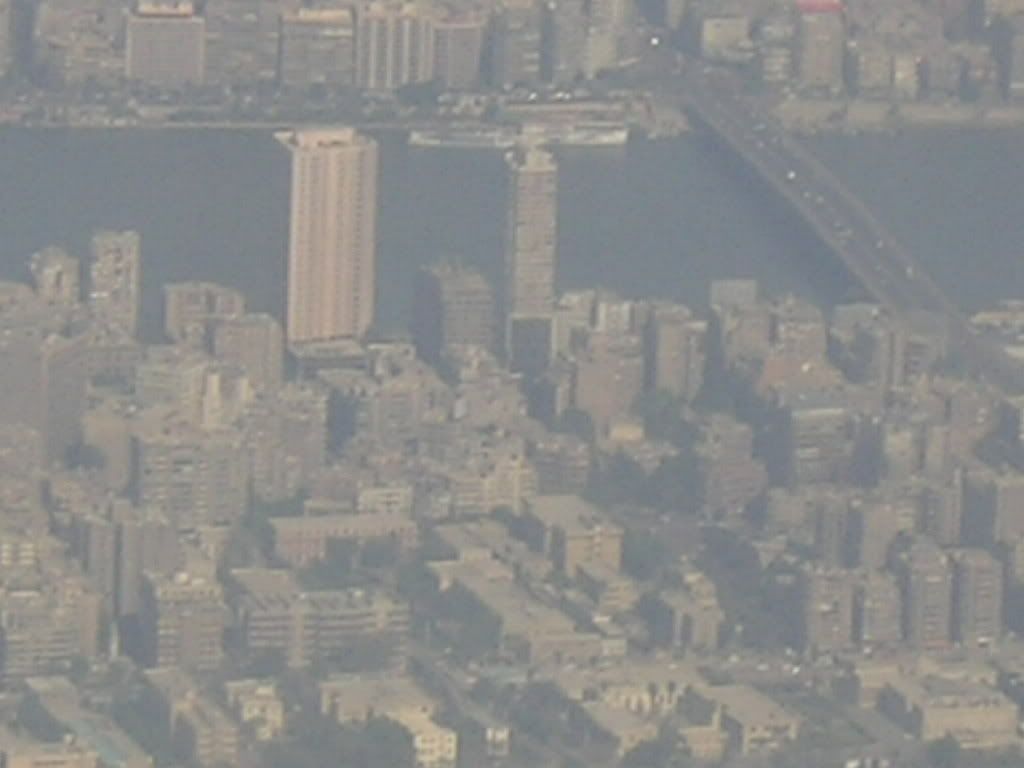 The great river Nile finding its way through good old Cairo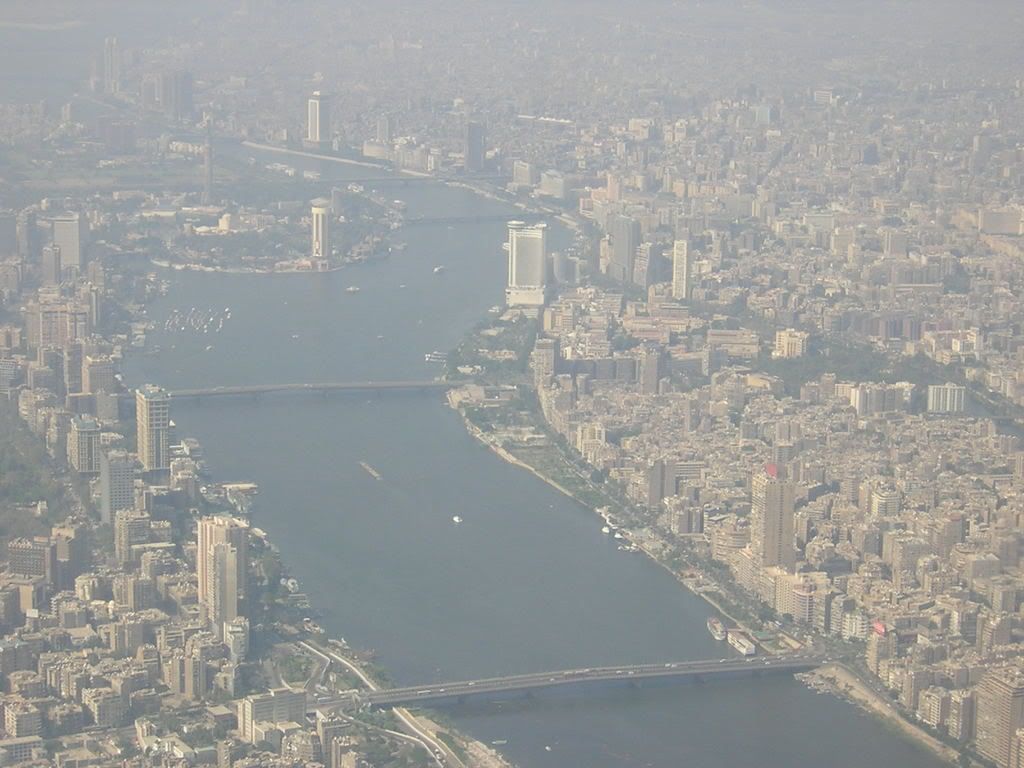 Ain al seera water springs south of Cairo
Al Moqattam mount southeast of Cairo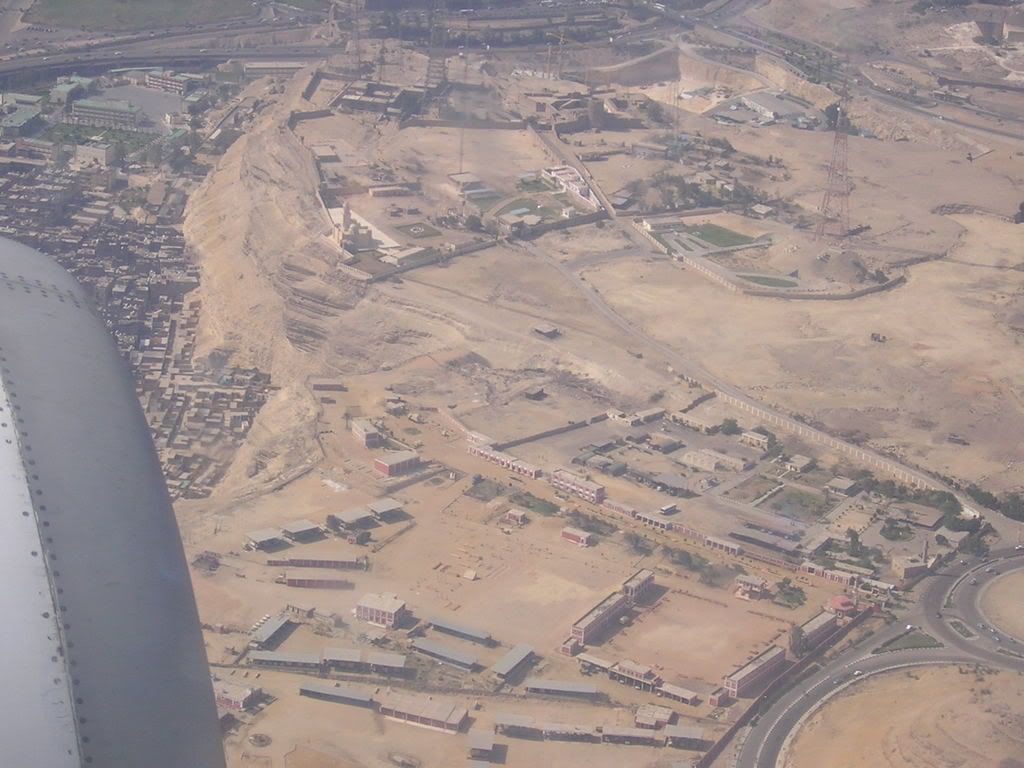 City stars mall ( Cairo's newest luxury shopping centre )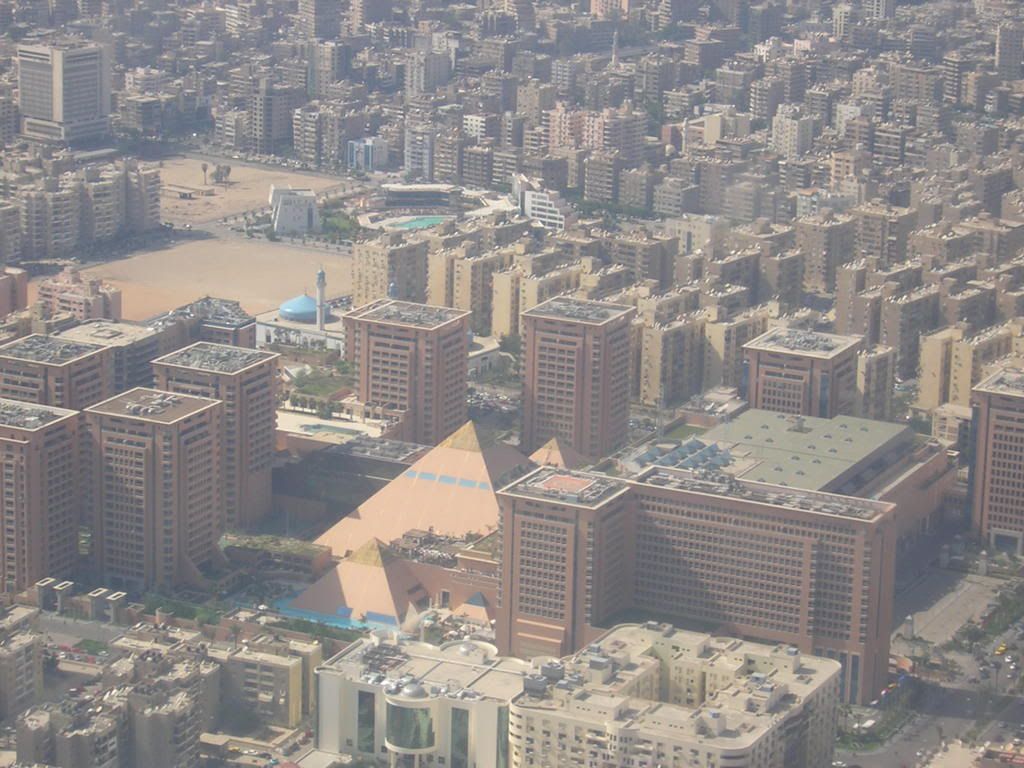 Almaza Airport , the first Airport in Egypt,Africa and the Middle East opened in 1933 , 1 year after Egyptair was created
Finally we landed into congested yet sunny and beautiful Cairo .
Touch down
Thrust reverser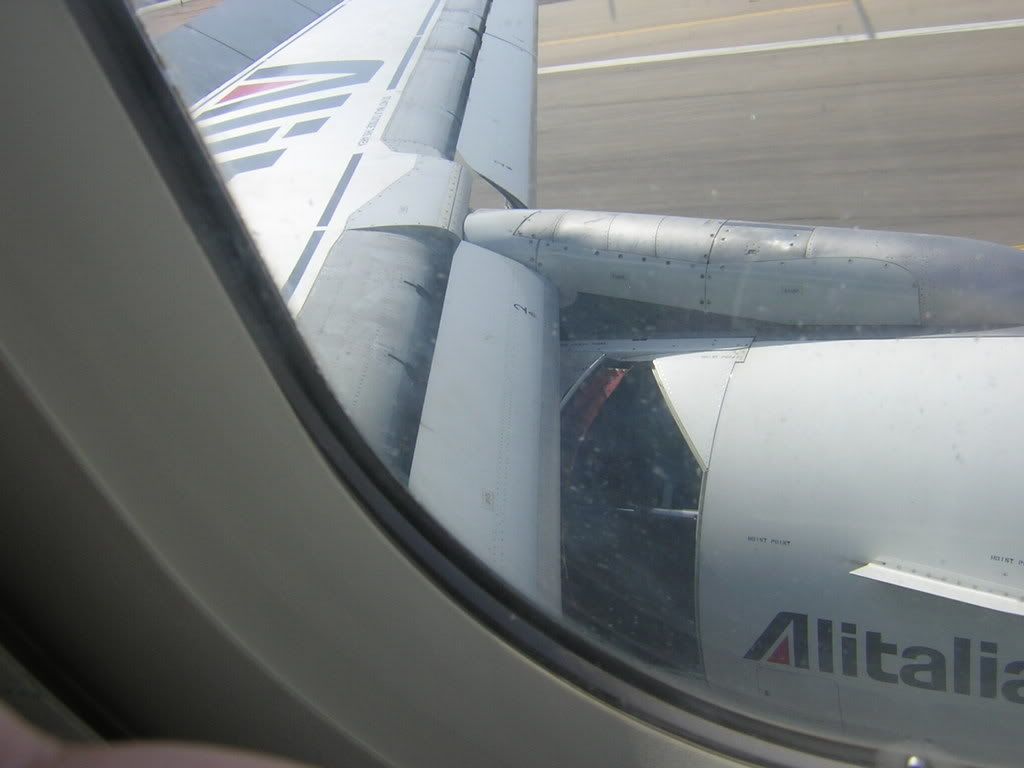 All in all , my experience with Alitalia was ok , or may be I am saying that cause I expected the worst . Service needs a lot of improvement .
Food quality was very good , except for the breakfast between YYZ and MXP . AZ is not Air France or Lufthansa , but it can do the job if you don't have any other choice .
It is about time to replace their B767 .
I hope you enjoyed the first part of the trip report , what happened next ? How did I get to Hurghada ? What happened in Hurghada ? You will find out in parts 2,3 and 4 of this report
.