I don't see many pilot reports in here, and I categorize this part of the forum as reports for people who are interested in learning which airlines to choose, as well as being up to date on which airlines that provides the best service.
But still I find it fascinating to see reports from pilots as well, at least from my point of view as an aviation "geek" that likes to be in the nose section of an aircraft.
Although I have only started my journey in this career, I still feel that I can contribute with showing some photos of my beautiful country.
My local airport is TRF, Torp. It is located east in Norway, on the south coast. We are blessed with beautiful weather, each fitting with very distinctive seasons. Lots of snow in the winter, lots of sun in the summer.
And this day was no different. I was about to go on with my solo cross-country navigation, which should include two airports (one unknown airport that I haven't visited earlier), and should exceed 150 NM. This trip was 270 NM long.
My trip legs was the following: Torp - Notodden - Fagernes - Torp. The VFR map and routing was the following (1:250 000):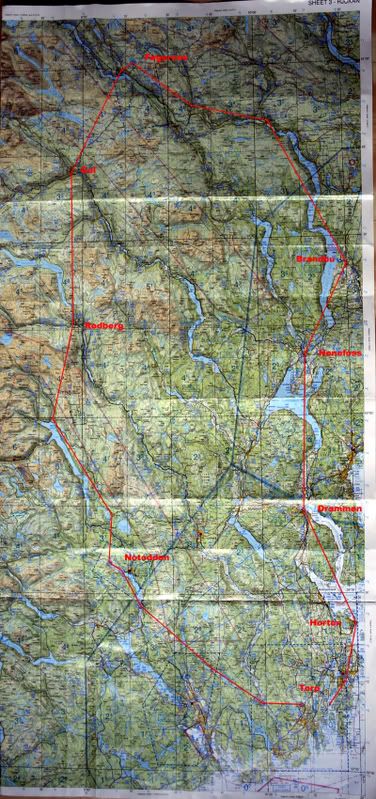 My "Of Block Time" from Torp was 07:00 UTC. "Of Block Time" at Fagernes was 09:30 UTC. Weather forecasted at 12 UTC was as following: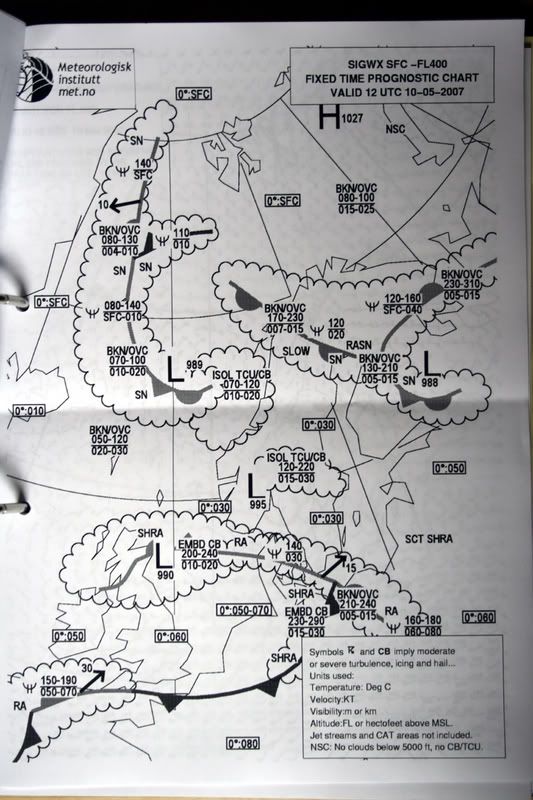 There was some TCU and CB forcasted around Fagernes area after 12 UTC, so I'm well within limits.
My Operational Plan from Torp - Notodden - Fagernes can be seen here, and may I say that I am very proud of my ETO estimations: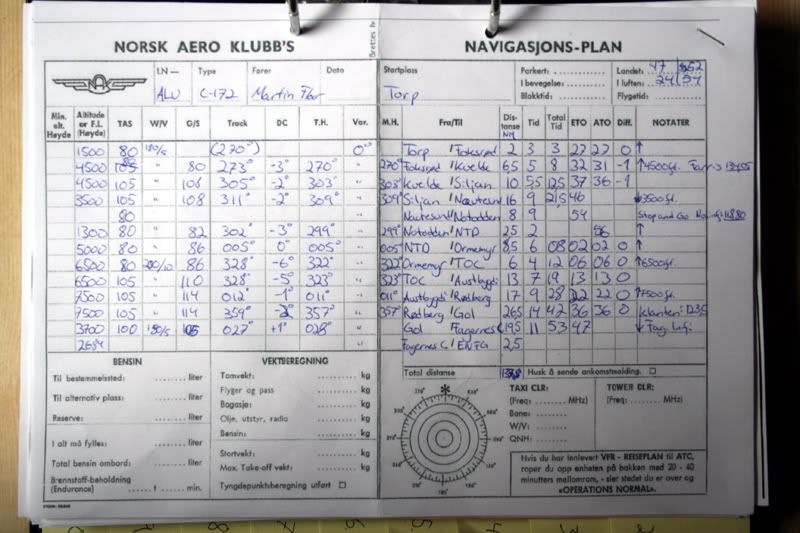 The Reims Cessna 172P has been fueled, walk-around has been done thoroughly as it always should be, and preparation is done to me and my instructors satisfactory.
I'm on my way, and my first stop is Notodden:
After a Stop-and-Go at Notodden, I carry on. And this is the view I found at 6500 feet after climbing out of Notodden:
After cruising at 6500 feet for some time, I got a lovely view of Gaustadtoppen:
A couple of photos overhead Gol (populare area around here for skiing in the winter):
Somewhere in the middle of nowhere (no need to worry, I knew exactly where I was):
Arrival at Fagernes, on long final:
That concluded my first two legs. Fagernes is a beautiful airport, with Coast Air as a regular visitor, as well as the Royal Norwegian Air Force.
My third leg is the following: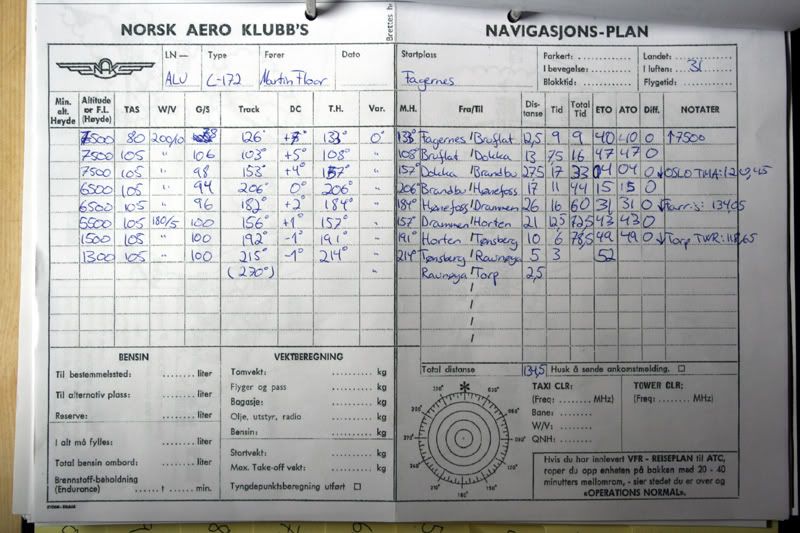 Heading home:
Torp, with Ryanair about to take off:
That concludes my 3 hour and 30 minutes long trip. Hope you enjoy the pictures, and editing advises will be gratefully accepted
[Edited 2007-05-13 16:39:34]