I travel to conferences in San Francisco and Boston once each year. This trip was using QF frequent flyer points so I had to book the flights eons ago. I ended up with business class on QF424 (MEL-SYD), 1st class on QF73 (SYD-SFO), paid economy plus on UA172 (SFO-BOS), 1st class on BA188 (EWR-LHR) and 1st class on QF30 (LHR-HKG-MEL). As it turned out, coming home the "long" way via LHR and HKG only added a couple of hours extra elapsed than flying via SFO or LAX because of poor connections in those ports and the longer flying times inherent in flying in a westerly direction. This is part 1 of my Round The World trip report.
I didn't take any pics of QF424 or facilities at Sydney 1st class lounge, because there isn't much worth recording about short domestic QF flights or the temporary 1st class lounge in Sydney.
However, what is worth reporting is that QF73 (a 744) had un-expected Aussie celebrity passengers in 1A and 1K (I was seated in 2A) on the day of my flight. No less than Kim Beasley in 1A and Kevin Rudd in 1K! I believe both these passengers had been upgraded because I had checked the seating 24 hours earlier and 1A and 1K were vacant and in fact only 4 pax in 1st at that time. The day of the flight saw 10. Also, Kim and Kevin were not travelling together and, in fact Kevin was stunned to see Kim seated across from him. Anyway, Aussie good nature was evident especially with plenty of Krug on offer.........although Kevin was more pre-occupied with reading copious amounts of literature he brought onto the plane, including the Obama book "The Audacity of Hope"!
Now for the flights. Check in at MEL domestic was flawless with boarding passes for both QF424 and QF73 being issued and luggage checked through to SFO as would be expected. I can't remember much about the QF424 flight except that it was a comfortable ride on a 767.
QF73 was notable partly because of the Aussie celebrities but also because the service and food was excellent.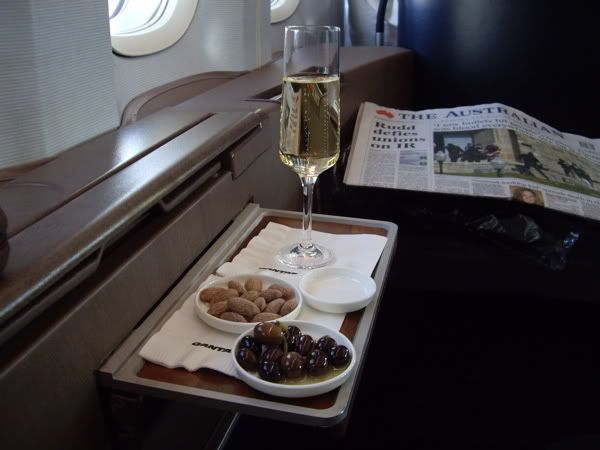 Before takeoff, Krug champagne with olives and almonds.
The usual hand outs of menu, wine list, sleeping suits, etc. followed, but the amenity kit was simply a waste of time given that it contained only a few creams. Essentials like a shaving kit were delivered a-la-carte. How stupid. The new slippers are also a joke, but more about that later.
This is the menu: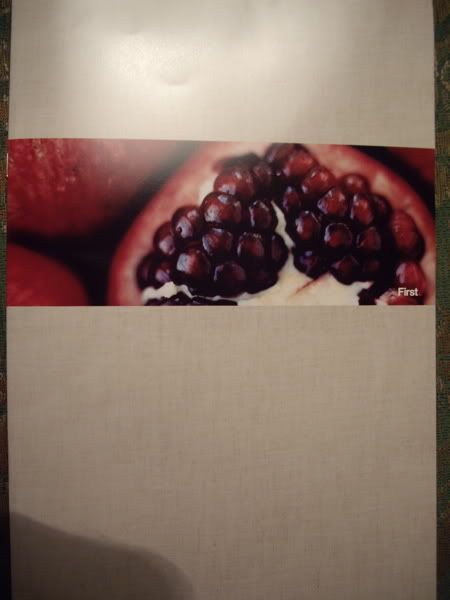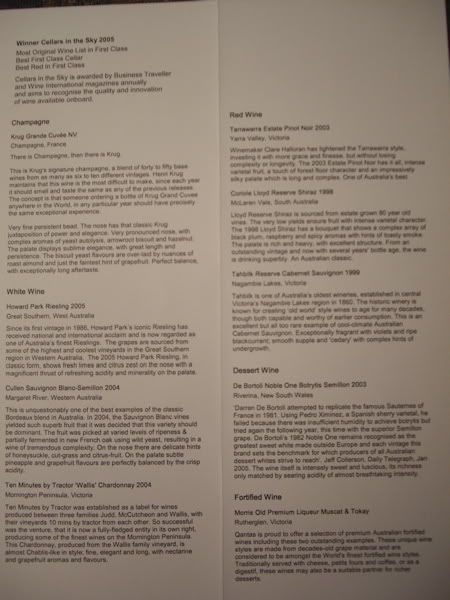 This is the wine list.
After takeoff,
Krug champagne and canapés were served. The canapés were interesting. I can't remember what they were, but they tasted really good.
Here is a pic
of the new slippers featuring a velco base to reduce slipping.
The problem is that when I wore them to the washroom, it felt like they were sticking to something yucky on the floor!
For lunch I chose the Prawn and Celeriac Remoulade: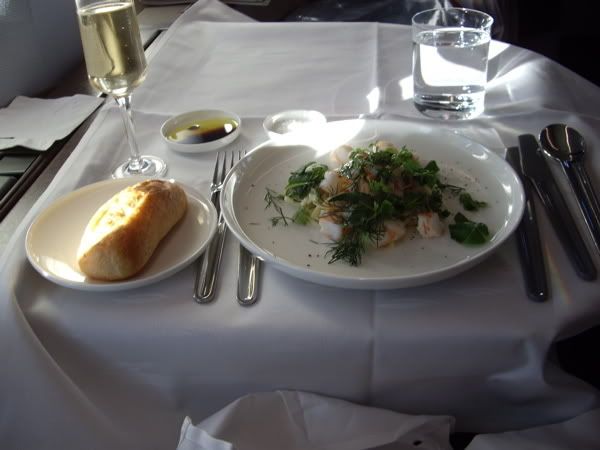 .
Notice the usual bread roll (warm) with olive oil and balsamic.
For main course, I chose the Seared Salmon with Radish, Celery and Lemon Salsa served with Kipfler Potatoes and Chilli Eggplant:
.
I also had a small mixed green salad with Palm Sugar Vinaigrette. Delicious!
By this time it was about 4:30 pm and about three hours had elapsed flying east across the Pacific, so not surprisingly the sun was setting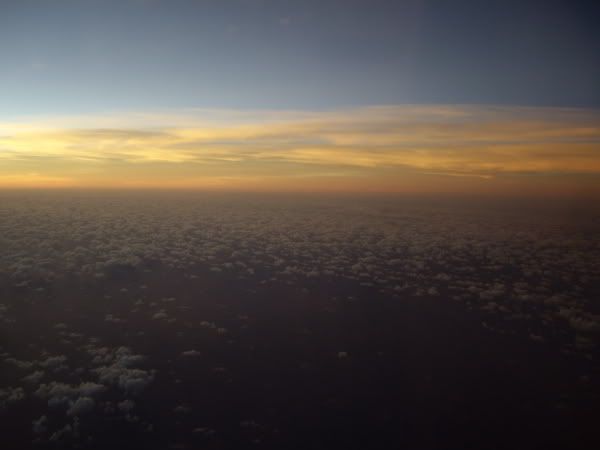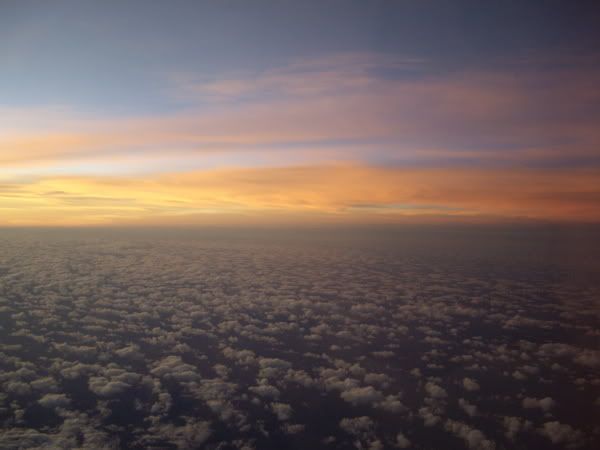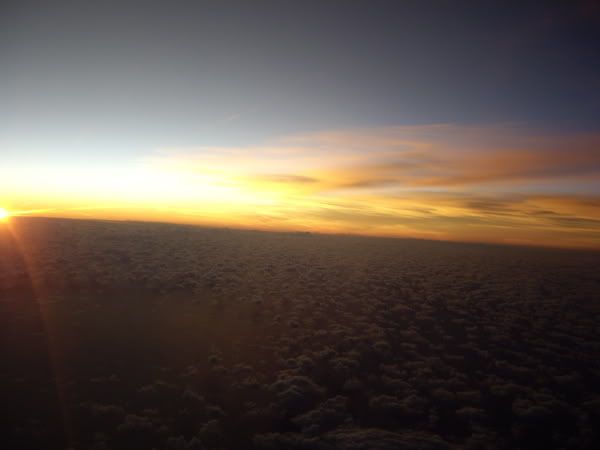 The mood lighting inside the cabin was now noticeable as I sampled the cheese platter accompanied with De Bortoli Noble One, my only departure from Krug on this flight.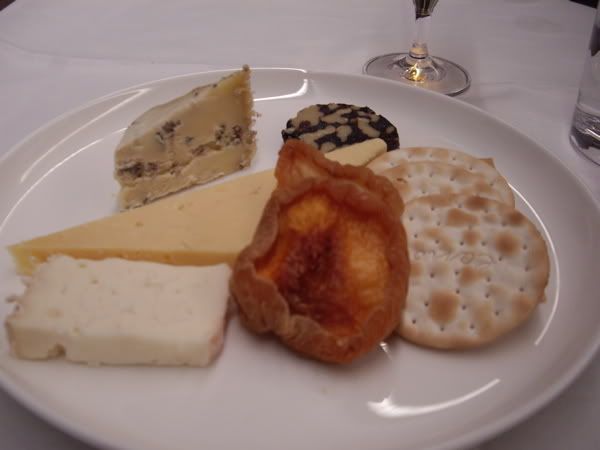 .
A beautiful selection of cheese.
Following the cheese platter, I had the Assiette of desserts: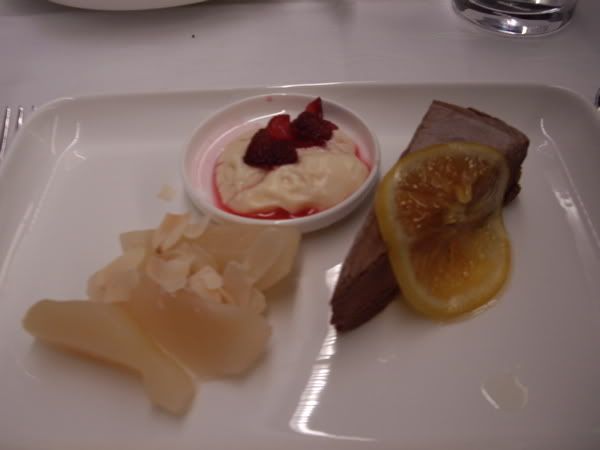 consisting of chocolate cheese cake, stewed pears garnished with almond slithers, and summer berries with custard.
Then it was time to turn on the VOD system.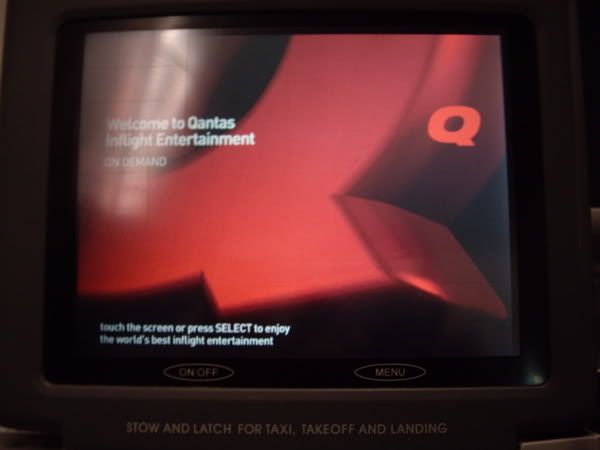 I noticed with some annoyance that my Bose noise cancelling headphones no longer fit into the VOD audio socket, but anyway QF supply their own completely adequate noise cancelling headphones. It didn't matter much as I couldn't keep my eyes open to watch anything and within a short time fell asleep and didn't wake up until about three hours out of SFO – not bad considering the flight is over 12 hours.
For breakfast, I had my favourites: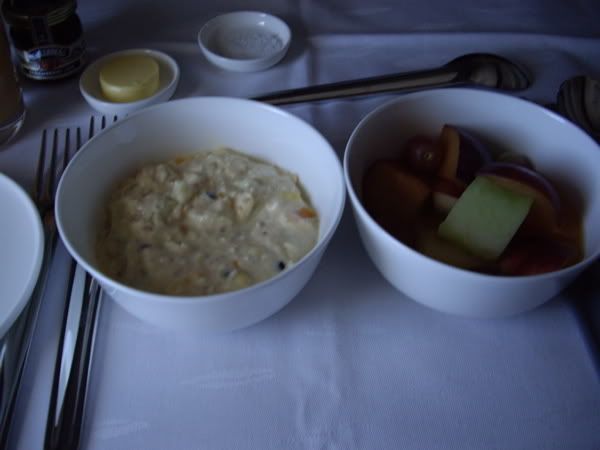 bircher muesli and mixed fresh fruit with pear juice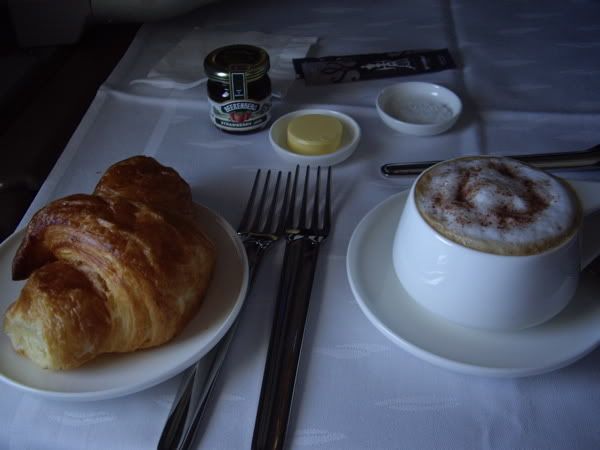 followed by croissant and cappuccino. I had eaten so much food earlier I just couldn't face the full-on breakfast of eggs, etc.
Soon we were approaching the USA coast with SFO in the distance: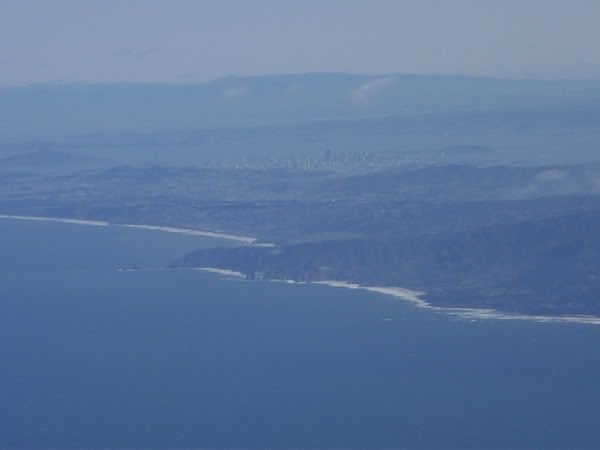 The passenger in 1K was still reading profusely: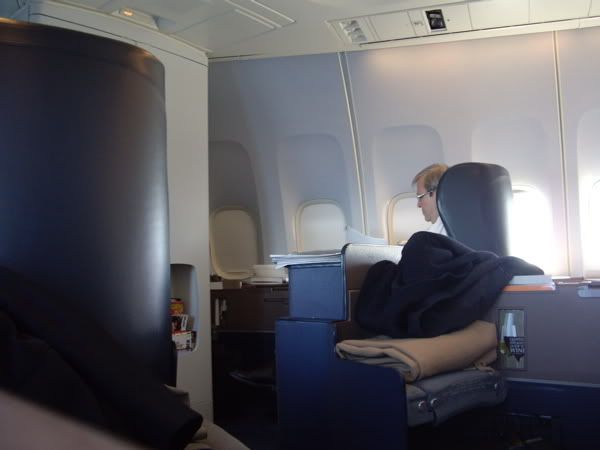 Anyone would think he was swatting for exams!
About to cross the CA coastline:
.
Approaching the Bay from the west: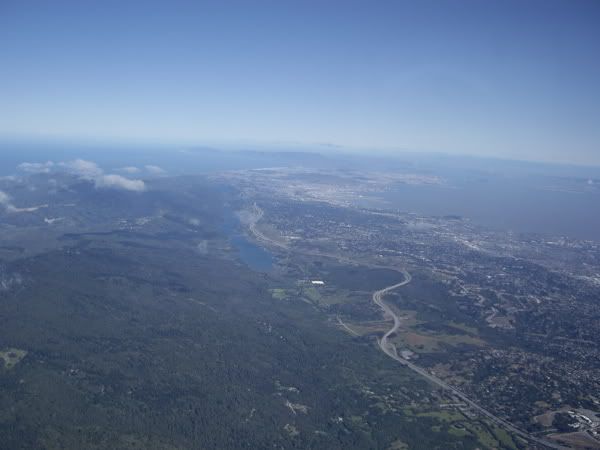 Note the San Andreas fault.
Over "Silicon Valley" just before turning left for approach to SFO: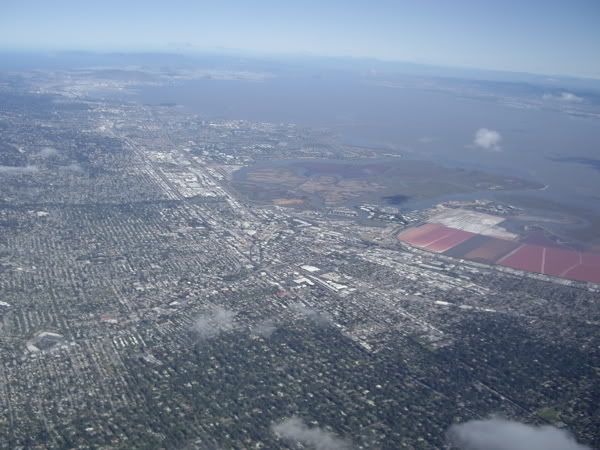 On final approach descent: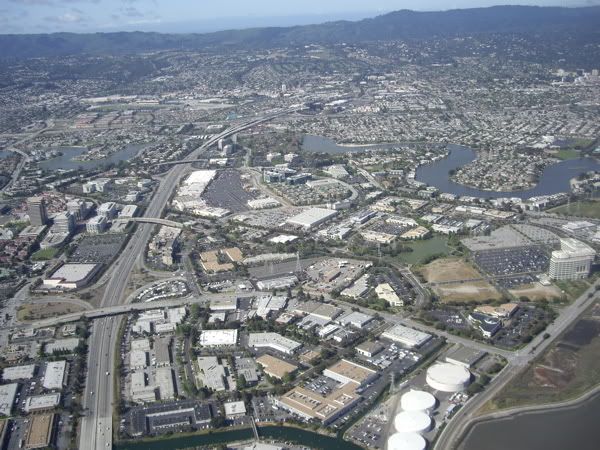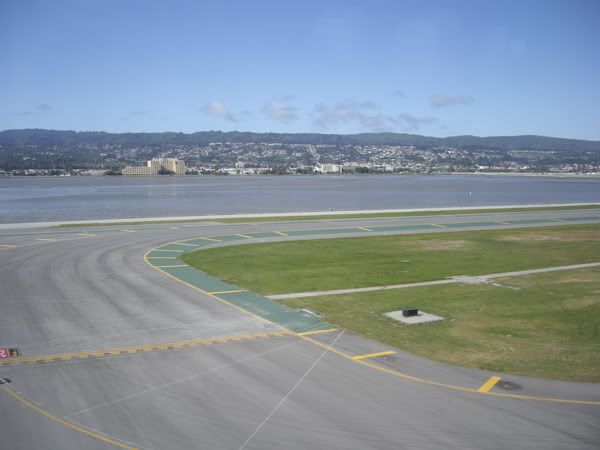 Taxing to SFO terminal: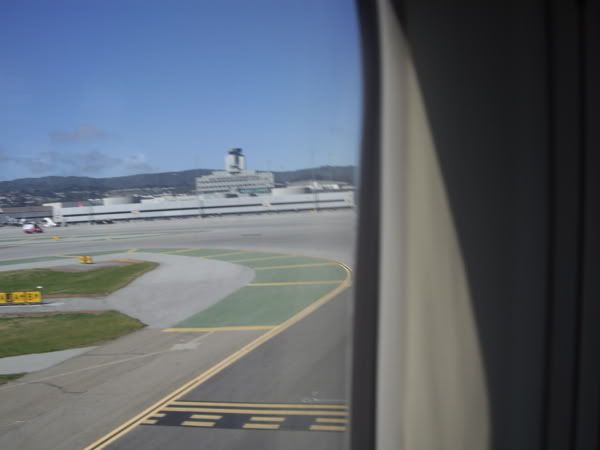 Processing through immigration at SFO was swift. Certainly SFO is preferable to LAX as first port of call.
Overall, a very pleasant experience. Well done Qantas.
Part 2 and part 3 reports will follow soon.
[Edited 2007-05-21 15:06:39]
[Edited 2007-05-21 15:08:39]