This is the second instalment of my RTW flight. Part 1 is here
RTW Part 1: SYD-SFO QF 1st Class (31 Pics)
(by
Crdaus
May 21 2007 in Trip Reports).
After several days attending a conference in San Francisco, it was time to fly to Boston for another conference. Before leaving San Francisco though, I must give a plug for a great place to eat lunch. It is called "Café Mocca" and it is in Maiden Lane just off the west side of Union Square.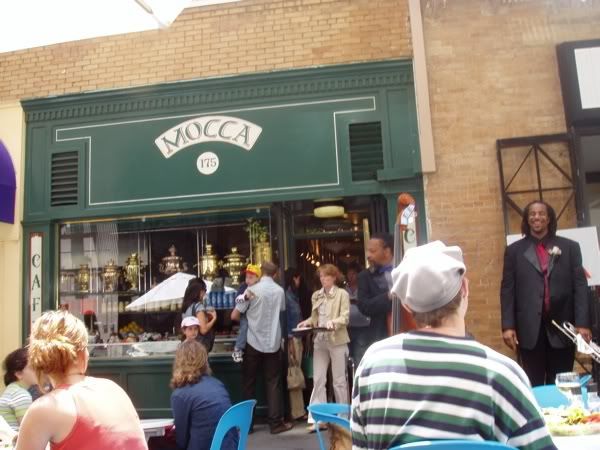 Here is a picture taken from the outside tables of the café showing the Westin St Francis in the background through Union Square: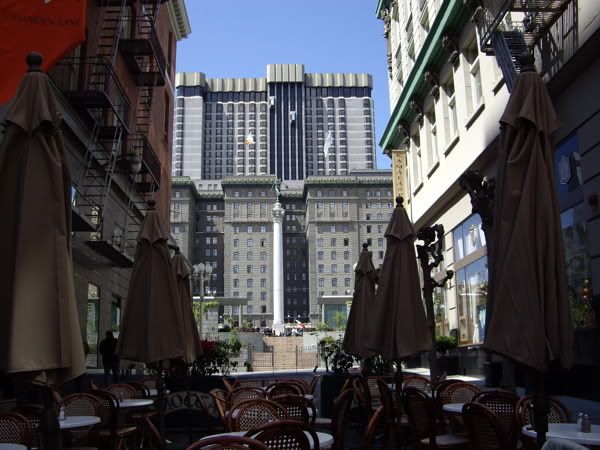 And of my favourite food from Café Mocca;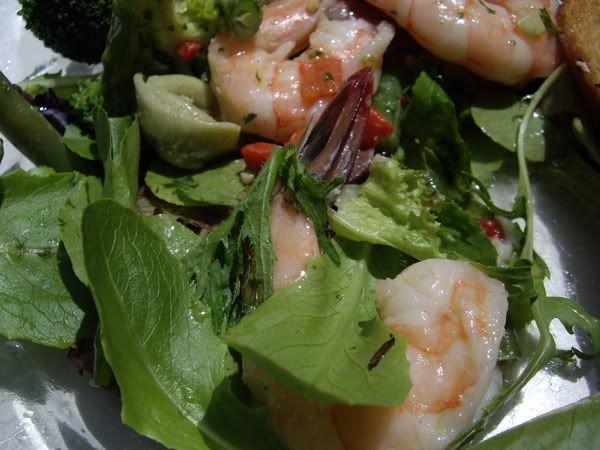 Shrimp and tortellini salad, and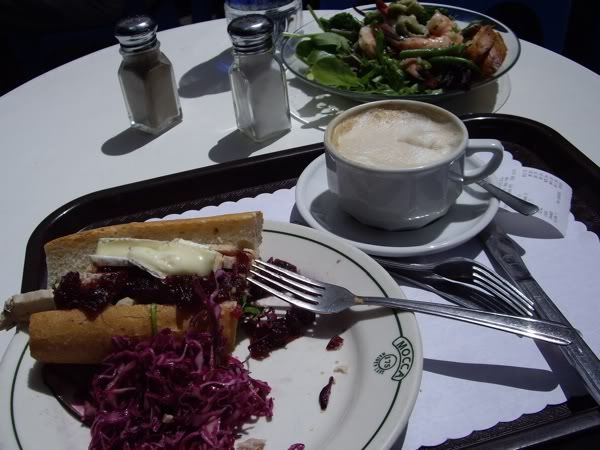 Warm turkey sandwich with brie.
Café Mocca is owned by an Italian family and they are here year-after-year serving the same great food with the same efficient service. I know whenever I visit San Francisco they will be there and so will my favourite dishes.
Other highlights of my visit to San Francisco included seeing Kathleen Turner in "Who's Afraid of Virginia Woolf" and dinner at an old favourite restaurant in Berkeley, "Chez Panisse".
Now for the flight to Boston.
Since I was travelling on a Oneworld frequent flyer ticket which I booked in sectors, i.e. MEL-SYD-SFO, and EWR-LHR-HKG-MEL I had to buy a domestic ticket to go from SFO to BOS. Knowing how terrible and expensive 1st class travel is in the US, especially AA, I decided to buy a UA economy ticket and ensure that I had extra leg room by enrolling in UA economy-plus and allocating my seat, all done using the UA internet booking engine. Well all that worked OK and I got a window seat in row 10. However, things went downhill from this point.
Arriving at the airport early I was confronted by a confusing array of check-in options and chaotic queues. There were airline staff everywhere barking instructions at pax – anything rather than actually doing something manual. Eventually I began to understand what to do and got my boarding pass and waited at a check-in counter until someone came along to tag my suitcase. Then the first problem: the case was overweight. "How did I get this into the US" asked the agent, assuming I had travelled economy from MEL or had not bought anything in San Francisco! In response, I acted dumb (in any case no one ever understands my accent). It worked, so problem solved.
Before boarding the flight, I decided to have some breakfast in one of the larger airside cafes. Despite their menu stating "freshly squeezed" orange juice for $3.50, I was served juice out of a carton, but it still cost $3.50. Anyway, the Eggs Benedict served with Dungeness crab was OK.
Soon I was boarding the flight paying strict attention to priority of boarding and not daring to take more than one piece of carry-on luggage of the specified dimensions. Needless to say I was the only one following the protocol. Mostly it was a free for all on this full flight as crowds of pax swarmed onto the plane with several carry-ons which were then stuffed into overhead lockers. Consequently, I had to place my carry-on under the seat in front of me, thus robbing me of the extra leg-room. I watched with pity as one late boarding pax with an oversized carry-on and seated in a middle seat appealed to a flight attendant (who actually looked like Debbie Reynolds) to help. She just shrugged. I could see this flight was going to be hideous.
Because this was a flight leaving prior to 10am, the food on offer for purchase was bags of nibbles – no fresh sandwiches. I decided not to eat anything and was grateful for having had breakfast before boarding, and that orange juice from a carton started to look good in retrospect.
I didn't take any pics of the flight because I am trying to forget the whole experience. In summary, I think UA has got a nerve to advertise extra legroom in economy-plus, which it does provide, but then not police the "one carry-on bag per pax in an overhead locker" rule. It turned out that my overhead locker had several carry-ons belonging to a passenger seated across the aisle. It is a pity I wasn't on the aisle seat because I would have blocked his desperate attempts to be the first off the plane. I am also very critical of UA offering bags of crap for purchase rather than proper food especially on a transcontinental flight of 5 hours.
Anyway, with friends waiting to warmly greet me in Boston, I just plugged in my Bose headphones and iPod and ignored everything else. While in Boston, my friends took me to brunch one Sunday at "Atlantica" in some coastal village. On another occasion, it was to "Bricco" in Hanover Street, in Boston's north end – the 'little Italy' of Boston: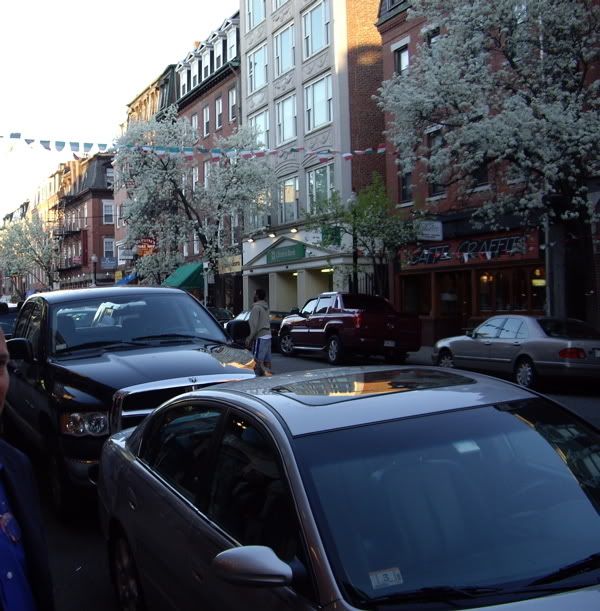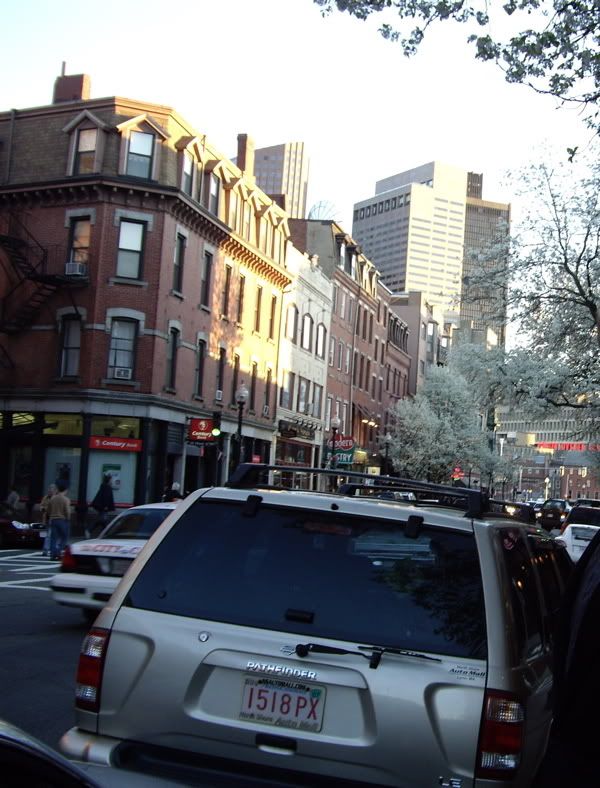 Both restaurants are fabulous.
From Boston to New York, I travelled on Amtrak's Acela Express and it was a most pleasant 3.5 hour journey. The airline/airport people could do well to travel by train occasionally to see how seamless and calm travel should be.
In New York, I always stay at "The Kitano":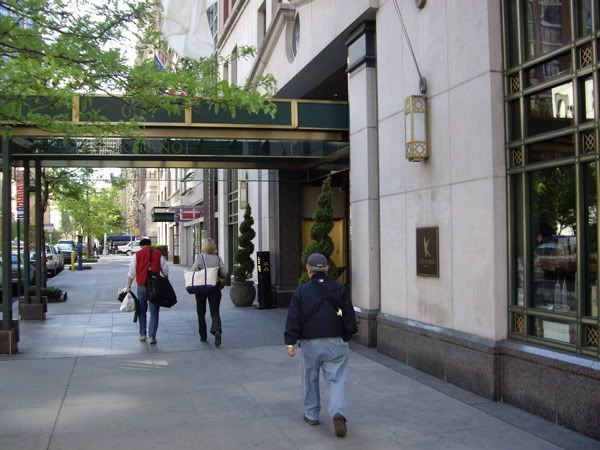 Conveniently located on 38th and Park Avenue, it is an excellent hotel. You can read my review on tripadvisor.
Manhattan was at its best the few days I was there – sunny but not hot. I made the most of the break from work by going to Broadway shows including "Jersey Boys", "The Year of Magical Thinking" and "Spamalot". Vanessa Redgrave's performance in the second of these was electric.
I also had some memorable dinners at "The Four Seasons", "Gotham Bar and Grill", and "Café Gray". I found that Opentable.com is a handy booking engine for restaurants.
I also went to the Metropolitan Museum of Art to see the newly opened Ancient Roman section, and in particular the Etruscan Chariot, the museum's ownership of which is disputed by the Italian Government:
My favourite food place in Manhattan:
The Grand Central marketplace. For quality and value, it easily outstrips "Dean and DeLuca" which has become a tourist trap.
A visit to Manhattan would not be complete without at least one shot of the Empire State Building.
This one shot at night.
Union Square.
Looking across the Hudson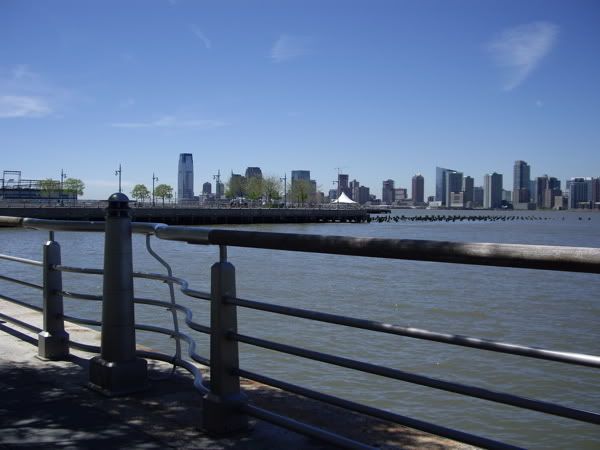 from Greenwich village.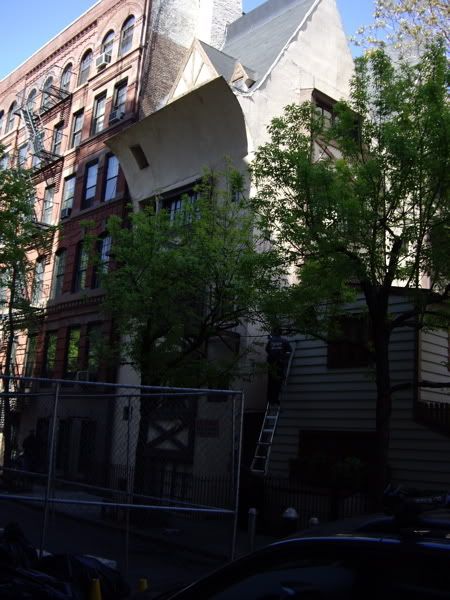 The oldest house in Manhattan.
Soon it was time to depart New York. The people at "The Kitano" had booked me a limousine for the journey to EWR. I wasn't expecting anything quite like this: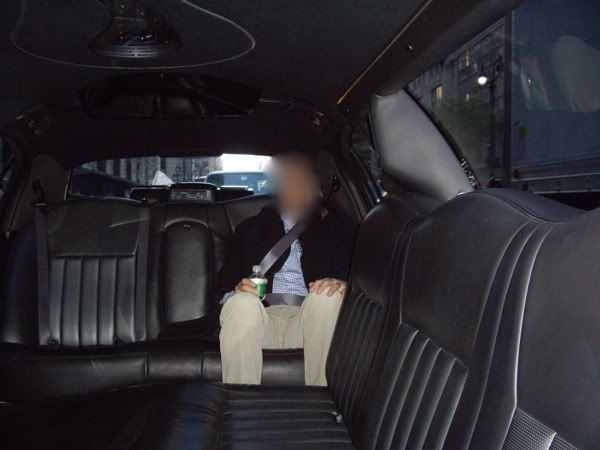 A very stretched limo. How I have cursed these when walking around Manhattan! And during peak hour no less. The car took up two lanes just to turn a corner!
About to enter the Lincoln Tunnel:
The drive to EWR took about 70 minutes and I arrived in plenty of time. BA check-in was smooth. A very pleasant woman greeted me and remarked on the long journey I had chosen to get back to MEL. She issued the boarding pass for LHR-MEL as well as EWR-LHR and explained where the 1st class lounge was. In turn, another lady warmly greeted me to the 1st class lounge and suggested dinner before boarding.
Here is the menu for the pre-boarding meal in the 1st class dining room: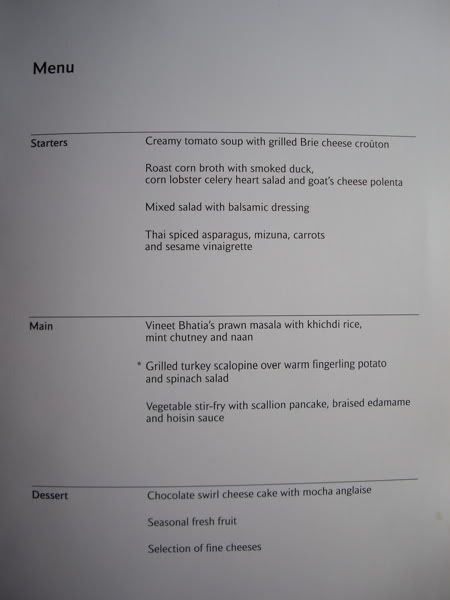 I had the following first course:
Roast corn broth with smoked duck, corn lobster celery heart salad and goat's cheese polenta. Delicious.
For main course, my companion had:
Vineet Bhatia's prawn masala with khichdi rice, mint chutney and naan.
I had:
Grilled turkey scalopine over warm fingerling potato and spinach salad. Yummy.
Of course, had to sample the cheese: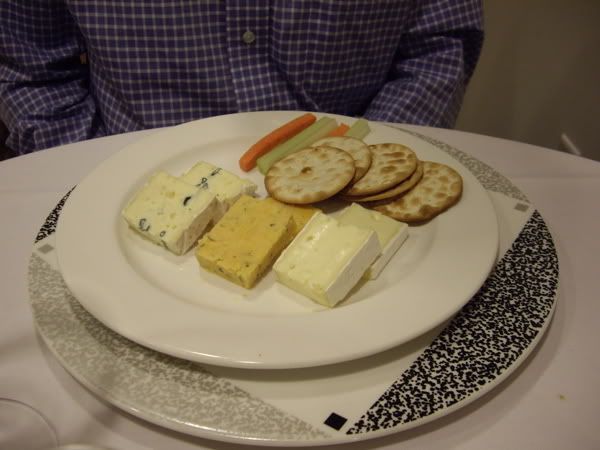 and the dessert: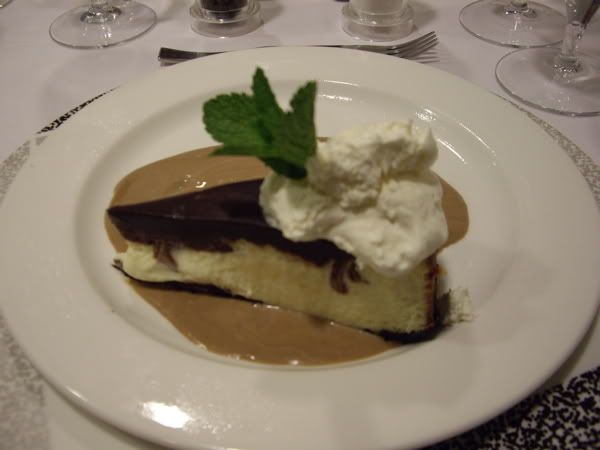 Chocolate swirl cheese cake and mocha anglaise.
All this and we haven't boarded the flight yet!
The EWR 1st class lounge was quite small and crowded with not much refreshment on offer, but this did not matter when you could eat in the Dining Room. In fact, no sooner had I finished the dinner than the boarding call came and I was off to the flight.
BA188, a very modern looking and spacious 777, was scheduled to leave on time at 9:15pm. I was escorted to my seat at 3K and immediately given a handsome toiletry bag and sleeper suit:
Then it was down to champagne (something non-descript) and macadamia nuts before takeoff: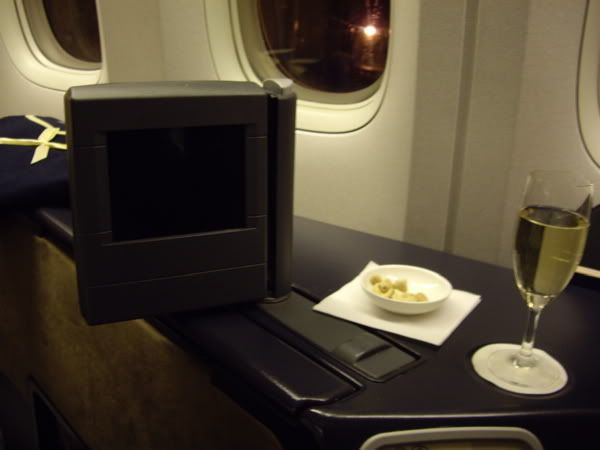 A night time view of Manhattan soon after takeoff from EWR: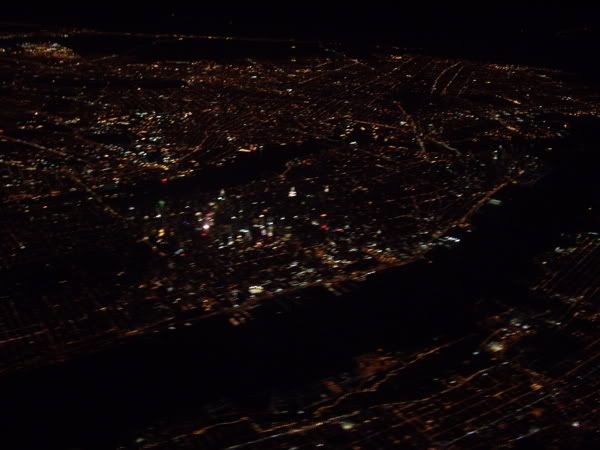 After takeoff, Champagne Perrier Jouet (Belle Epoque 1999) was served with a selection of canapés: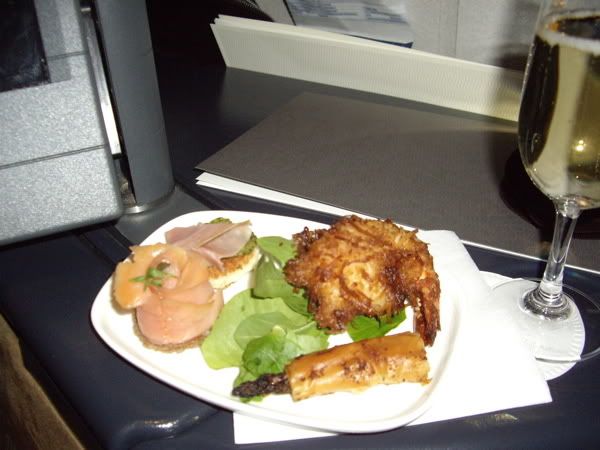 Fried coconut covered shrimp, asparagus spear in filo pastry, and smoked salmon.
As I sipped the champagne and nibbled on the savouries, the ghastly UA flight long forgotten, I contemplated the following menu and wine list: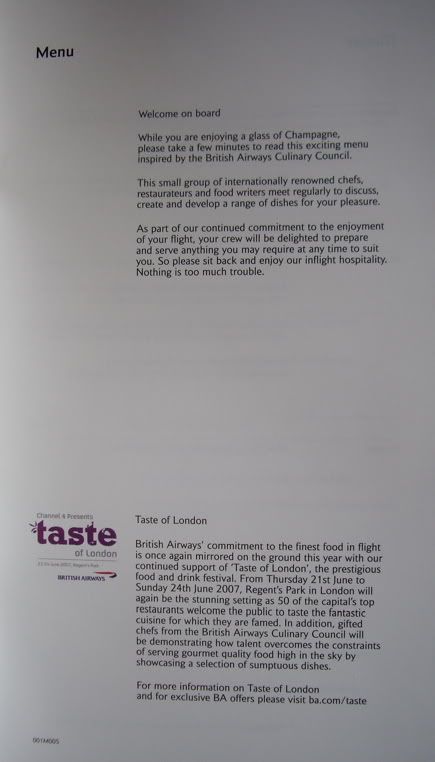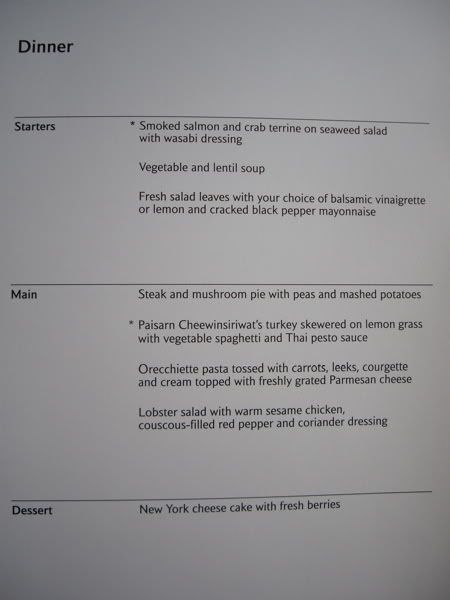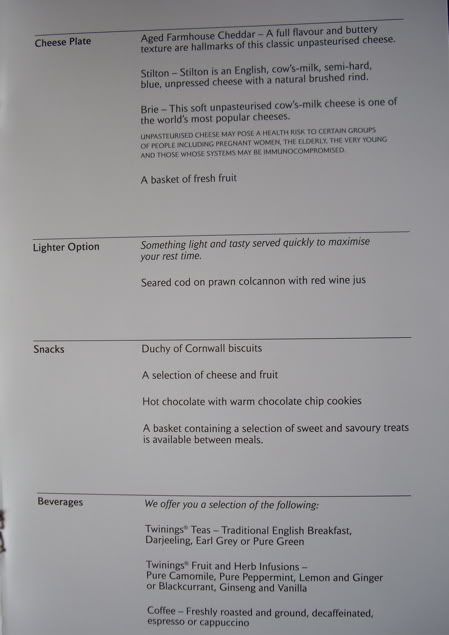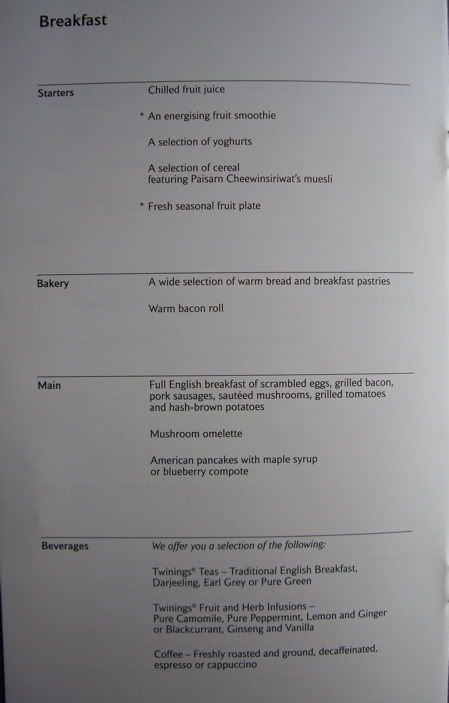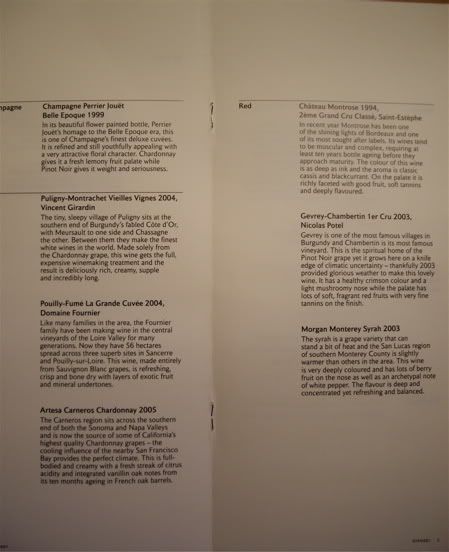 For first course, I opted for the smoked salmon and crab terrine on seaweed salad with wasabi dressing: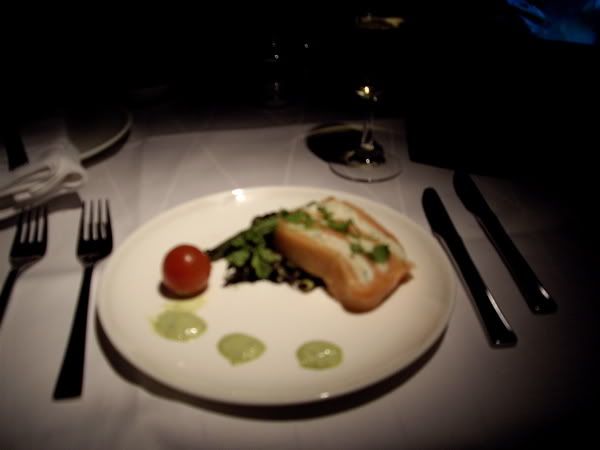 This was an excellent beginning with lots of flavour.
Main course was lobster salad with warm sesame chicken, couscous-filled red pepper and coriander dressing:
Again, a very tasty dish although the chicken was too dry.
Finally, who can resist New York cheese cake with fresh berries?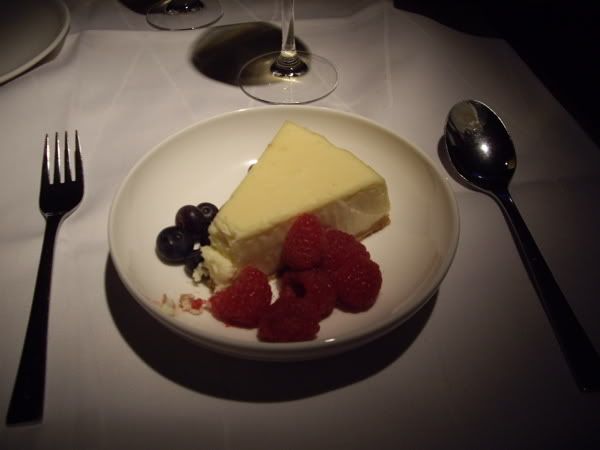 Yum!
On such a short flight of about 6 hours, there isn't much time for sleep and certainly no time for watching movies which is just as well since the screens on this 777 are very small.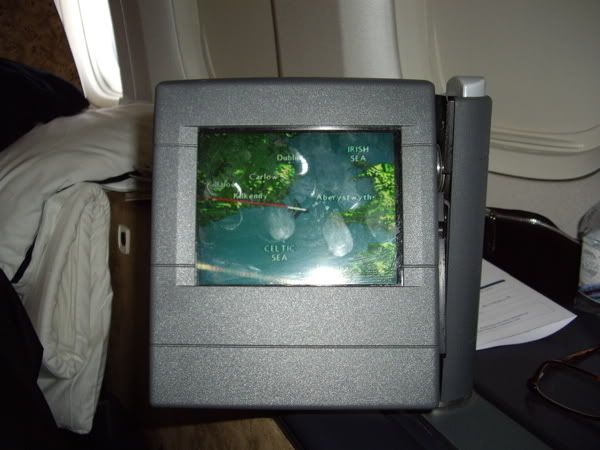 (picture taken about an hour from LHR).
After a few hours sleep, it was time for breakfast. Since I had eaten far too much a few hours earlier with two dinners – one pre-flight at EWR and one on-board – I had a healthy breakfast:
Orange juice and fresh fruit.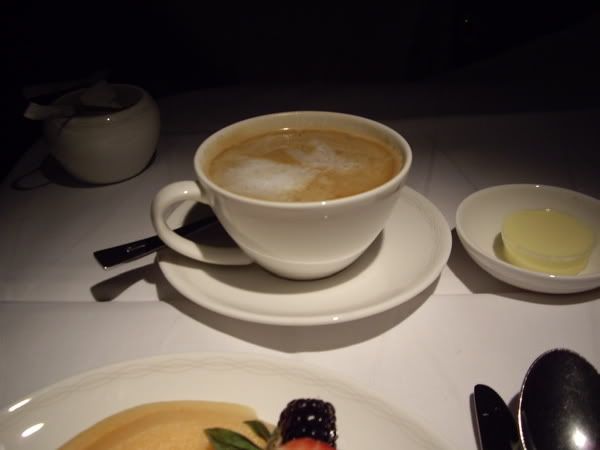 and cappuccino of course.
Finally, a couple of shots as we came into land at LHR.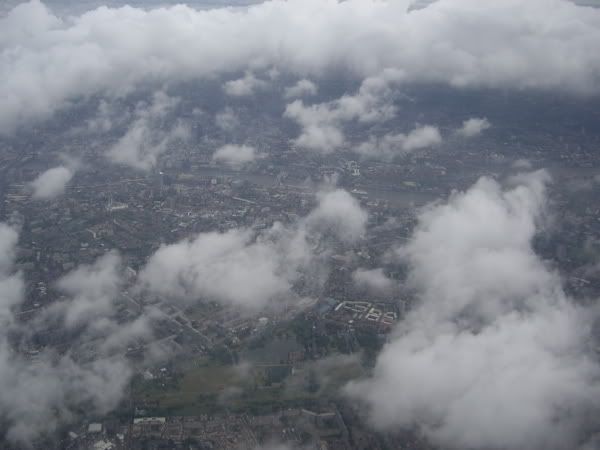 .
The service throughout this flight was beyond excellent. The BA crew were amazing – very attentive and friendly, always professional. Together with the BA ground staff at EWR, I was balled over. I have flown with BA in the past on long sectors, LHR-MIA during the catering strike being the last time, and I have never experienced such magnificent service. It has completely altered my opinion of the airline, so much so that I am contemplating changing my forthcoming travel plans in July to incorporate more BA sectors. I especially like their 777. It is such a comfortable and spacious aircraft (at least in 1st class) and leaves the QF 744's well behind. QF needs their A380's urgently.
On landing at LHR, I had a couple of hours to kill before boarding QF30 for MEL via HKG. I spent this in the Concorde lounge in Terminal 4. But more about that in my next instalment: RTW Part 3.
Thanks for reading.