This is my first trip report/post ever…please be nice!
Preface
To be quite frank, I never thought there were people like me—let alone a whole website devoted to this group. All of my friends think I am so strange for talking about commercial aviation and planes. So, I was pleasantly surprised to discover a large community of enthusiasts with their amazing photos and write-ups.
Contrary to a majority of trip reporters here, there are only three times in my life my broke-ass has turned left at the end of the gangway. One of those times, on a school trip to Chicago, went something like this:
Male FA: Sir, would you like to go to First Class?
Me: (Puzzled look, sarcastic tone) Why…?
Male FA: (laughs) That's the first time anyone has responded that way. Ever.
(by the way, in case you were wondering, I left my cattle class classmates scratching their heads wondering who I would threaten to sleep with to go to the front of the plane)
Report
Malaysia Airlines MH091, May 10th, 2007
Newark Liberty International (EWR) to Stockholm Arlanda International (ARN)
Gate 55
Seat 12G, Class Y (Economy)
Departure (Scheduled/Actual): 22.00/22.54
Arrival (Scheduled/Actual): 11.40/13.08
Travel and style guru Tyler Brûlé noted in his fun Financial Times column that airports reflect a general indication of the city that they are supposed to service. Moving the argument further, I would like to apply the same sort of analysis to commercial aviation. More often than not, a country's flag carrier gives a good, albeit somewhat stereotypical, indication of the society or culture that it is intended to represent. I have found antipodean carriers like Air New Zealand and QANTAS to be informal yet professional. Asian carriers, such as Japan Airlines, All Nippon Airways and Cathay Pacific are modern and polite. Despite taking the award-winning Malaysia Airlines (MAS) on a trans-Atlantic journey to Stockholm and back, I felt that it did an excellent job of reflecting and representing the country and its culture, as I hope to indicate throughout the course of the trip report.
About a month before the trip, in planning for another trip for August to Malaysia, I saw an advertisement for a $199.00 (USD) fare round-trip to Stockholm from New York (Newark). Although the fare did not include taxes and other related fees, it was a bargain not to be missed, and I jumped without hesitation at the opportunity to visit Sweden.
On the day of the flight, I arrived around 7:45 pm to Newark Liberty International Airport's Terminal B in order to make the 10:00 flight. Terminal B was slightly chaotic, there were long lines for TAP Air Portugal bound for Lisbon blocking the line for MAS, and I noticed that some people bound for Stockholm (think stereotypes: tall, blonde people speaking Swedish) got on the wrong queue. Once the said ticketing and security were sorted out, I made an assumption that in the 1980's, given the glaringly devoid nature of Terminal B, very little shopping, eating or entertainment was found at airports.
According to the beautifully designed bilingual ticket with a tropical-floral motif, a passenger needed to arrive well in advance to avoid being left behind. Unfortunately, the staff did not have the same sense of urgency. The scheduled 9:15 pm boarding time passed without concern or announcement on the part of the ground staff (many of whom were chatting to each other or going to the gate and turning around). At around 10:20 pm boarding started without any mention of why it was delayed. Walking past the obligatory torturous walk through an unattainable business class zone (I don't believe MAS flies a three-class configuration to Newark and Arlanda), I sat down at my seat, which was located at 12G, the middle row of a 2-5-2 configuration. Fortunately enough, the flight was about 65% full, so many passengers in the row decided to spread out. A lot of the passengers were Scandinavian and Malaysian or Indonesian, with a handful of Americans (judging from the color of the passports they carried). The welcoming remarks and service announcements were made in Bahasa Melayu (Malay) and English.
MAS excels in the little details that economy-class trash—such as myself—relish in. Upon takeoff, a wonderfully scented pseudo-cloth towel was distributed. I found the chair to be quite comfortable with a 34" pitch and a wonderful down pillow to match. The airline manages to represent its cultures through the sarong kebaya design and the seat upholstery. The bilingual IFE system, Select 3000i, was incredible; it had several hundred different choices of contemporary and classic movies, television shows, albums and games. Another element of Malay culture was the fact that the flightpath map had a feature on the map that points to Mecca, which was interesting to say the least. It also had a generous amount of choices in Malay, Chinese, Tamil, Hindi and Arabic. In the event you were interested, I managed to watch (ashamedly) "Epic Movie" before I caught a couple hours sleep.
In my opinion, Malaysian food is incredible. In my opinion, MAS food is not—possibly I had an off-day? I think one of the weak points in MAS economy was its inflight catering—it doesn't properly reflect the culinary paradise that is Malaysia. I had some sort of curry chicken dish with rice and bok choy (a sort of Chinese leafy vegetable). I managed to touch about a fourth, despite being famished, the rice and chicken were unpalatably dry. The other choices, a fish dish and a beef dish, did not look much more appetizing than my own dish. Luckily, the attentive cabin attendants were available for generous helpings of drinks (mainly Pepsi-based products) to quench my thirst. The beautiful and genuine smiles and polite service was at no extra cost.
I fared no better during the post-nap breakfast service; it was an incredibly chewy bagel with a perfectly round egg-omelet patty with another round piece of cheese that only a Stepford wife could create.
After the breakfast service was done, the plane was already at the easternmost border between Sweden and Norway. Announcements were made in Malay and English that the plane was about to touch down, and a pre-recorded German message went out to the Swedish passengers. As the plane had departed late, we arrived late. Much to my surprise at the end of the deplaning process, I saw that the plane I traveled on was the MAS "Freedom of Space" 772, a fact that I was unable to see given the darkness of night in Newark (read: no pictures, with apologies).
Malaysia Airlines MH090, May 17th, 2007
Stockholm Arlanda International (ARN) to Newark Liberty International (EWR)
Gate F62
Seat 33F, Class Y (Economy)
Departure (Scheduled/Actual): 16.35/16.53
Arrival (Scheduled/Actual): 19.00/20.21
After an amazing time in Scandinavia (inquire if you'd like to hear more about what I did), I was ready to go home. In general, the flight was about the same as before, with the same great service and beautifully scented hand towel to boot. Again, the food was interesting—the refreshment service of a sandwich on a baguette with mystery meats doused in mayonnaise was served in the first hour after takeoff and a bag of salted peanuts. Afterwards I, along with several hundred passengers, enjoyed the Select 3000i system's choices. I saw Letters From Iwo Jima, The Pursuit of Happyness and Hula Girls (a Japanese film). By the end of The Pursuit of Happyness (about three hours after takeoff), the inflight "Temptations" duty-free service commenced. I purchased a hand lotion kit and a set of beautiful MAS playing cards based on the hibiscus livery currently adorning a Malaysian Airlines 744. Thenceforth, after taking down my credit card information, the attentive cabin service addressed me by my name until the very last goodbye during the deplaning.
After the duty-free cart had passed, the drink runs, consisting of orange and pineapple juice, water and beer came through the cabin in anticipation of the dinner service. Another scented hand towel was distributed and collected. The dinner choices were beef, chicken and vegetarian curry. I chose the vegetarian curry, which was Indian style. Although significantly more appetizing (although less visually appealing) than what I had coming to Stockholm, I ate the whole thing as it had been several hours since the last bag of salted peanuts was passed out with the refreshment service.
After the dinner service, somewhere over Quebéc, the captain made the announcement that Newark was not ready for our plane. We then proceeded to circle over upstate New York for a good hour, through turbulent skies. Several passengers got sick during the whole ordeal, but the flight attendants were there to pick their sick bags up. Some visibly and audibly drunk passengers clapped during the first few dips, but quickly ceased after one of their comrades lost his dinner.
After the captain apologized, we were able to get a landing slot at Terminal B in Newark. The attendants helped everyone deplane and were all smiles as they bid us goodbye. Overall, the advanced entertainment system, the great subtle service and the use of my name to address me were highlights of the trip. Before each video is played, there is a series of tourism clips, including one of Prime Minister Badawi of Malaysia. In this particular video, he states how this year is a celebratory year for Malaysians. By extension—in my humble opinion—Malaysia Airlines is something for Malaysians to celebrate...it's an impressive carrier with great service and crew.
I must say that I am looking forward to taking the carrier to Malaysia and Hong Kong later on this year.
Photos
MH091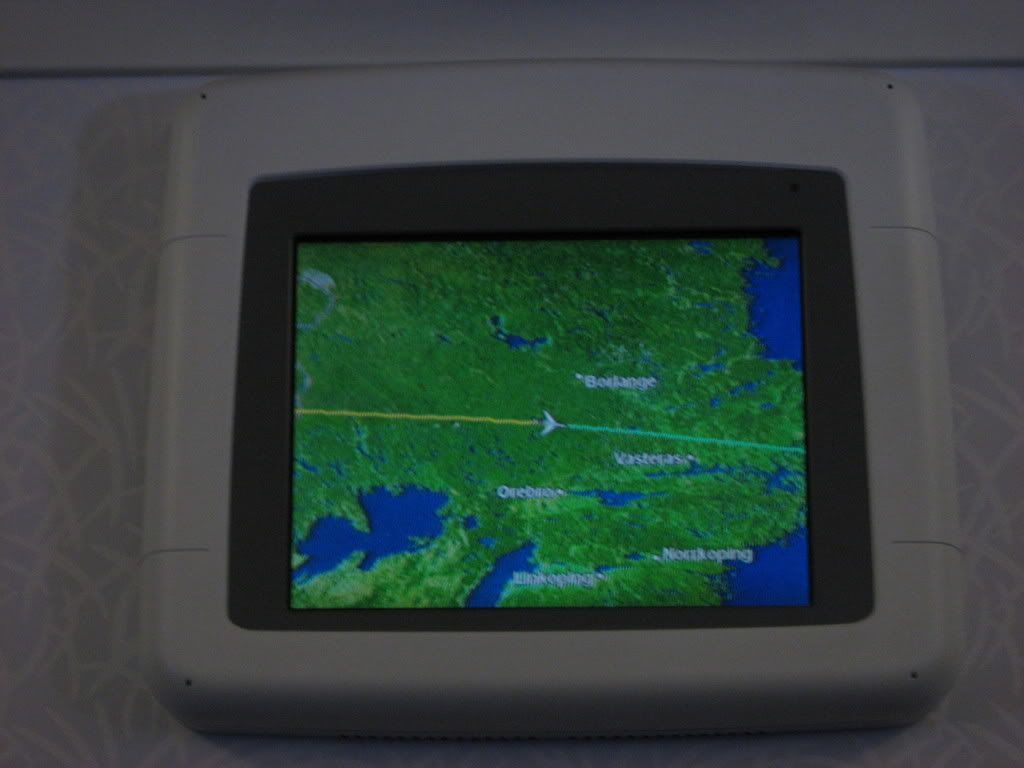 Onboard "Freedom of Space;" approaching Stockholm Arlanda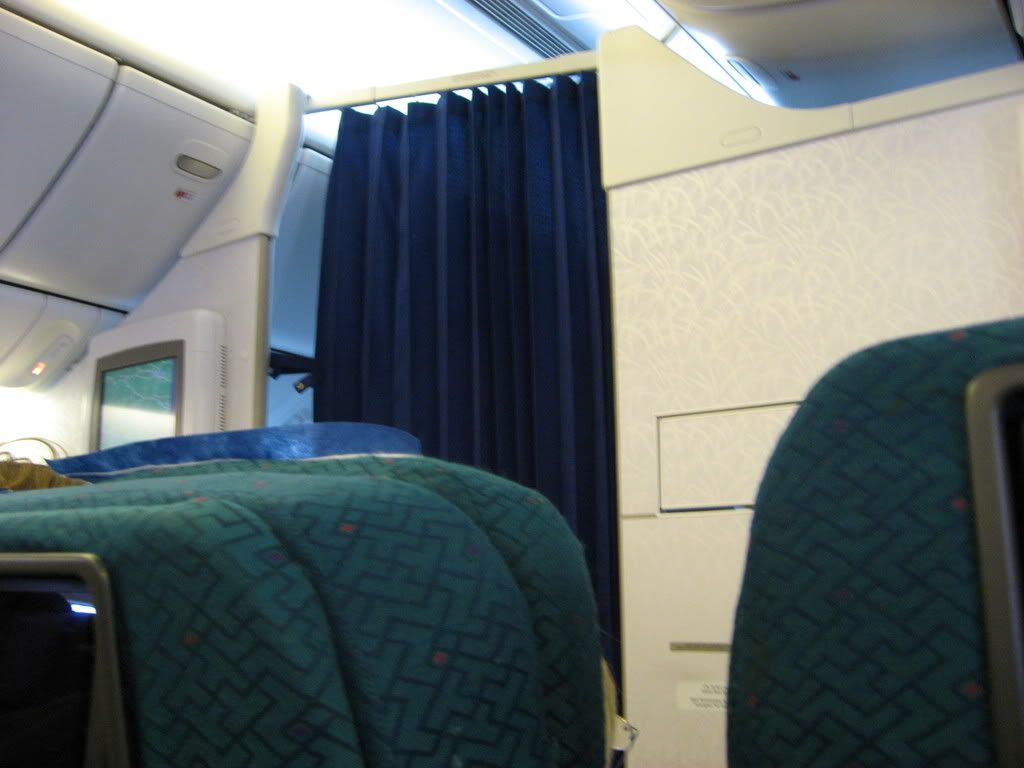 Curtain between Business and Economy; interesting seat upholstry patterns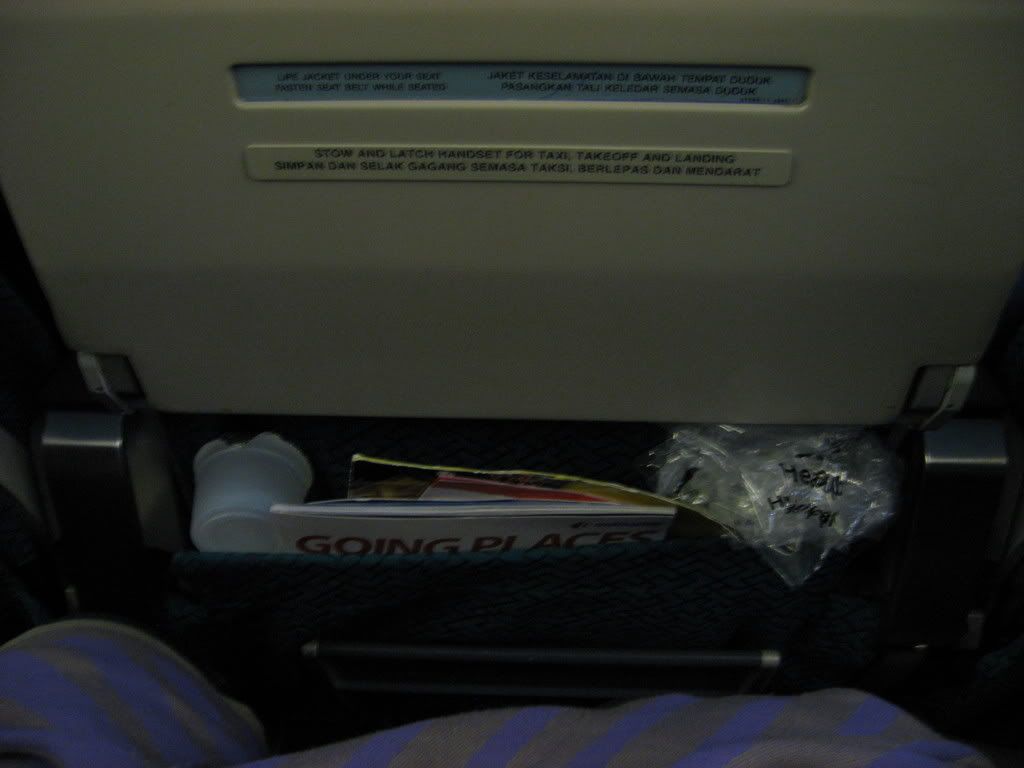 Contents of seat pocket: mineral water that came with breakfast service, plastic wrap from blanket, "Going Places," Guide to "Visit Malaysia Year 2007" (yellow brochure), sick bag in various languages, inflight duty-free "Temptations."
Examples of bilingualism in Bahasa and English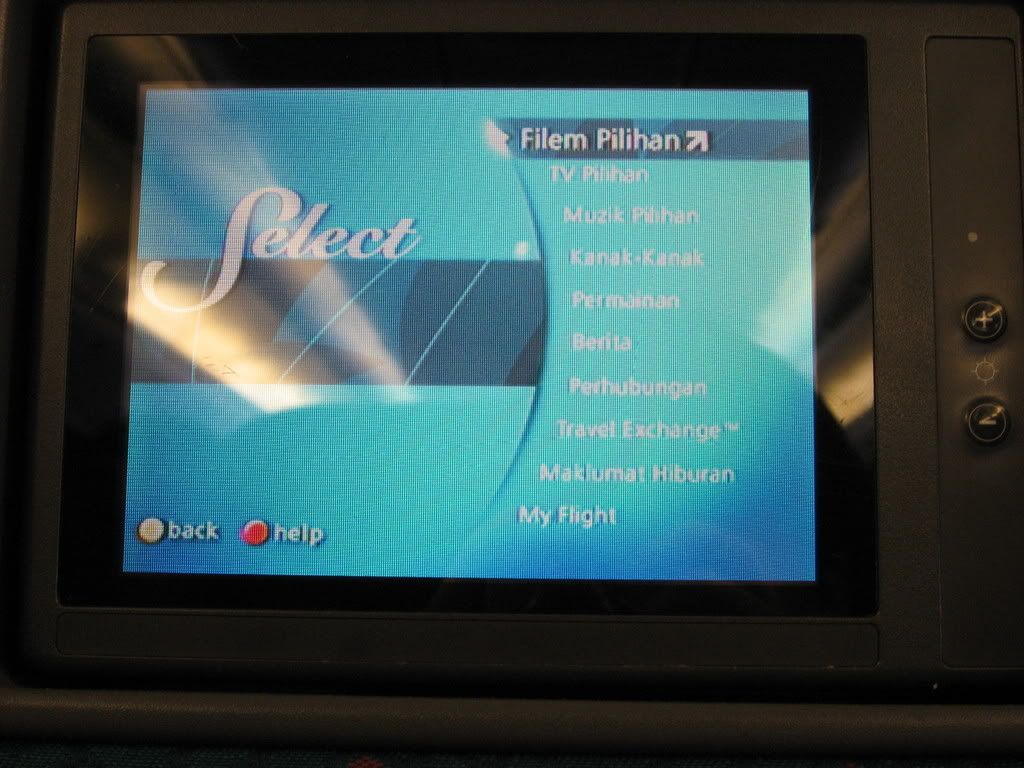 Outstanding "Select" IFE system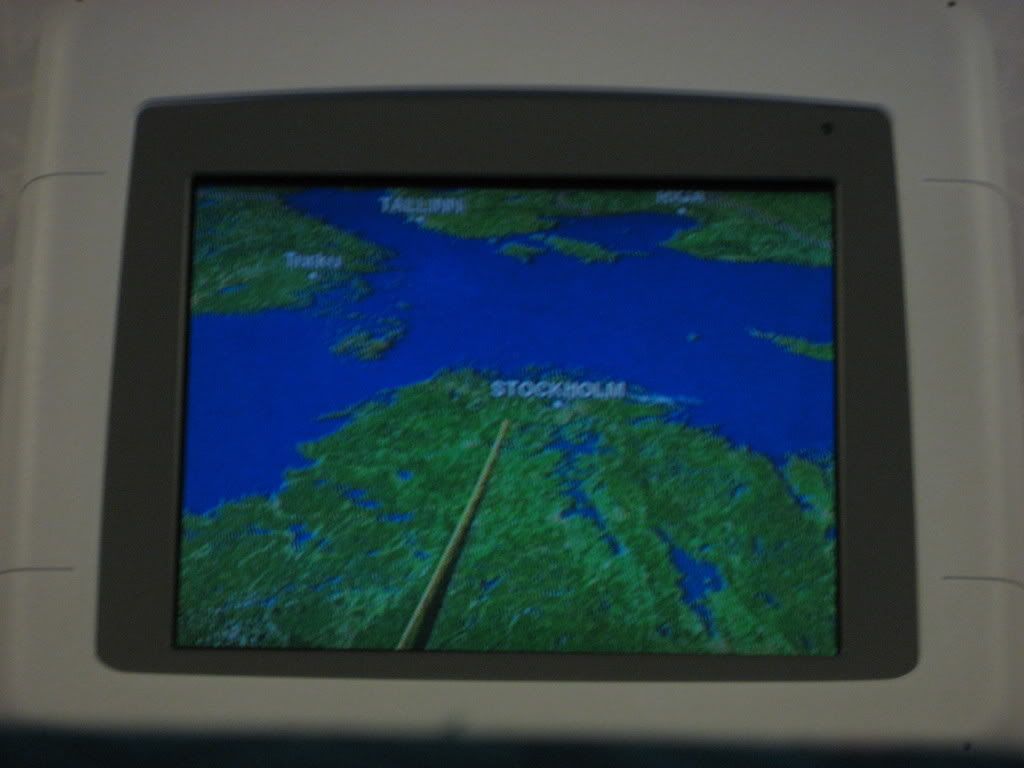 Final approach; new map system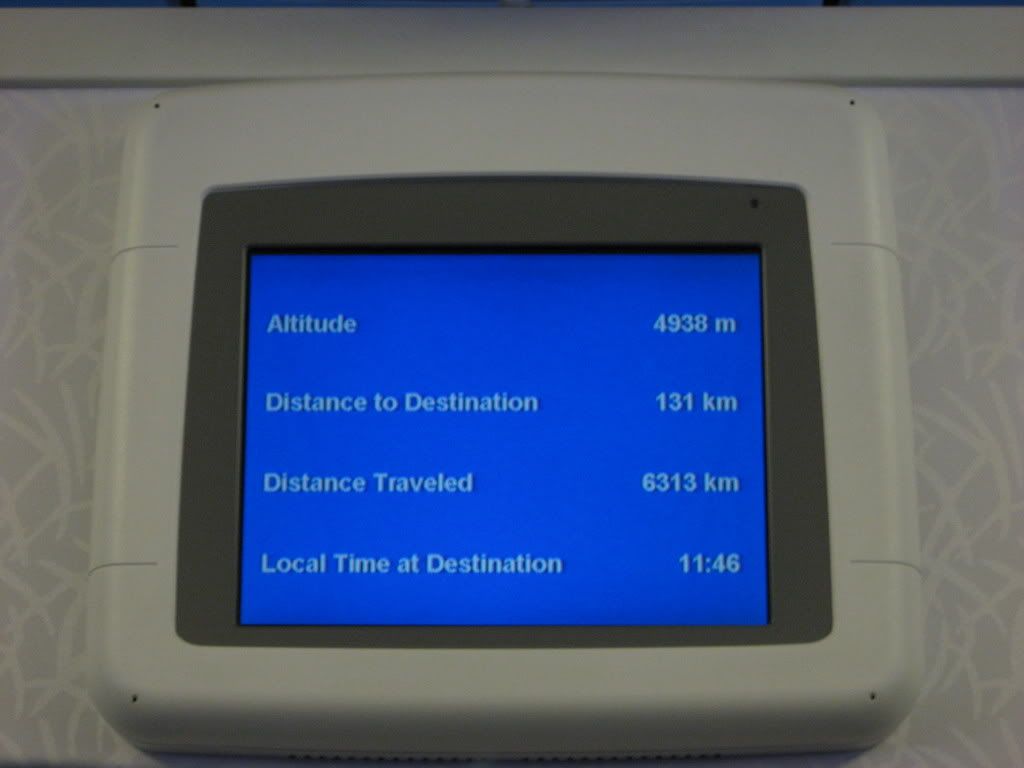 Getting closer to ARN
Informative TROEX "Traveller's Exchange" system
MH090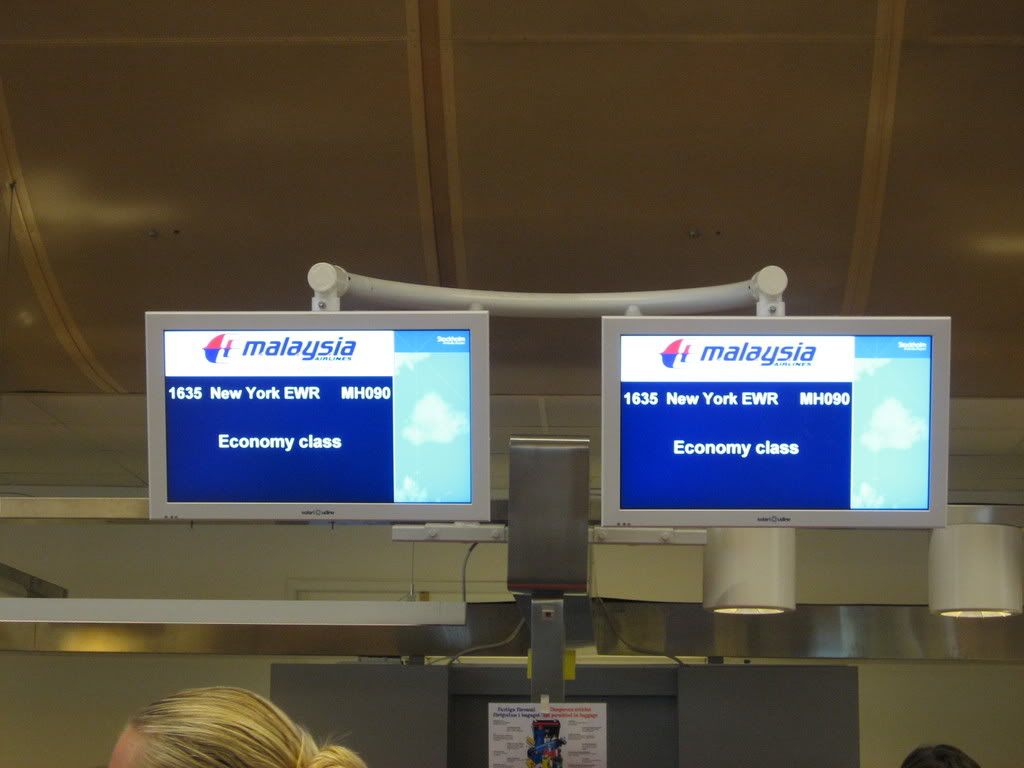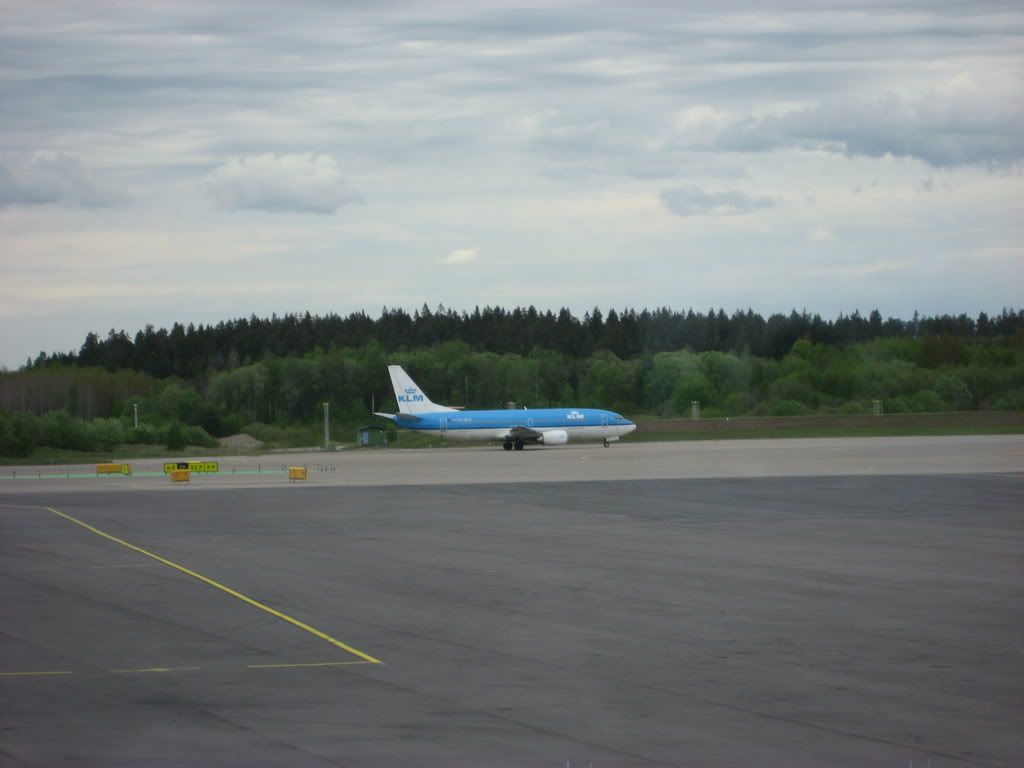 KLM to Amsterdam
SAS to...?
SAS in a row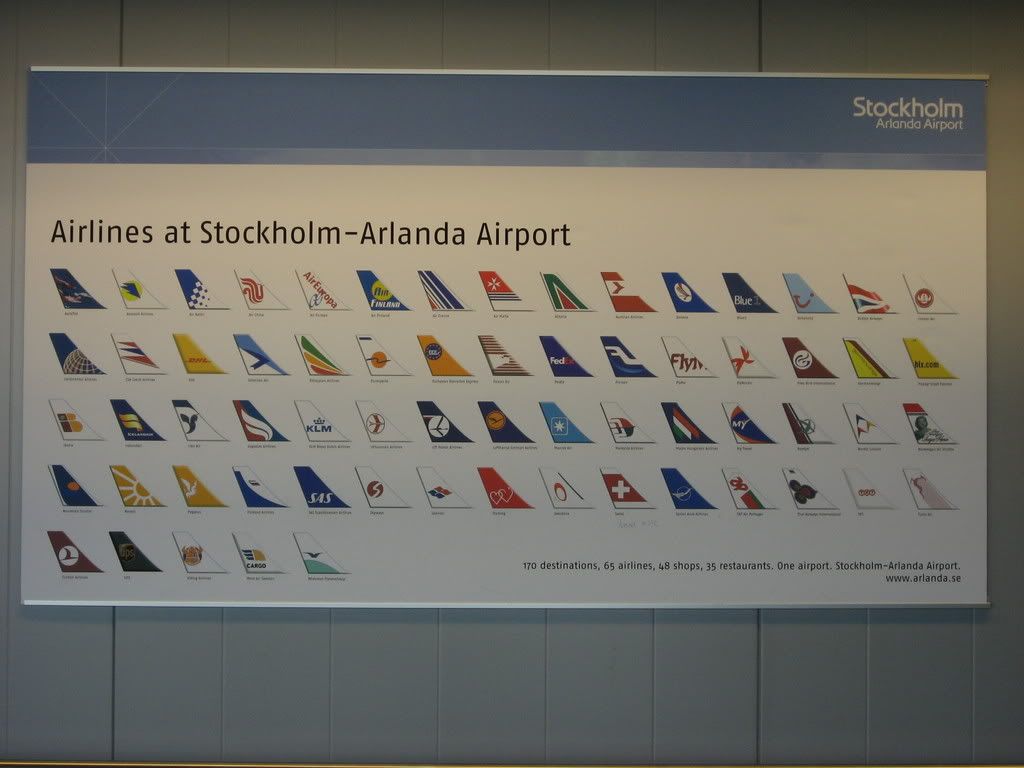 Listing of airlines that use Arlanda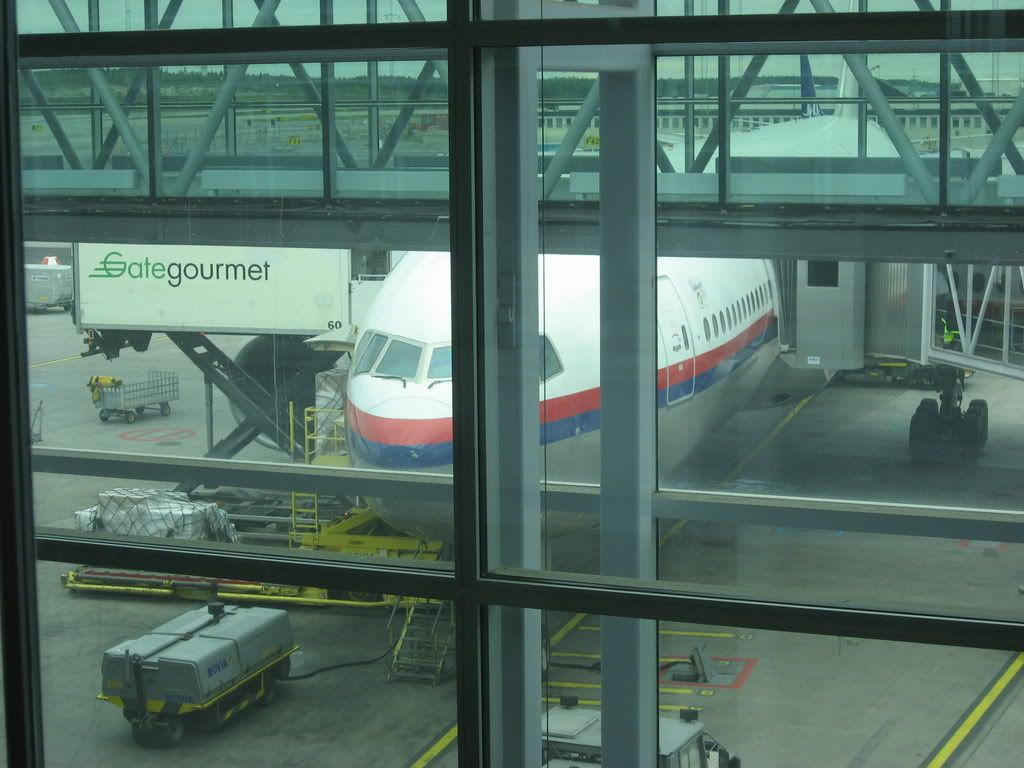 Plane at gate, note Swedish design and efficiency of a beautiful airport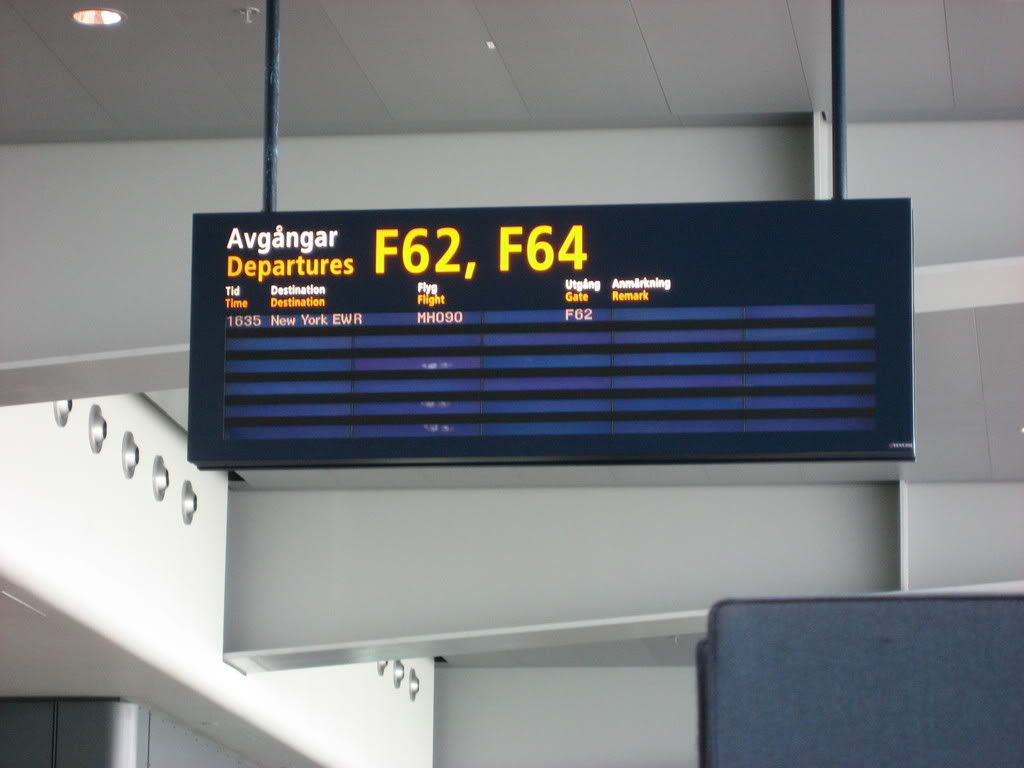 Announcement
Crew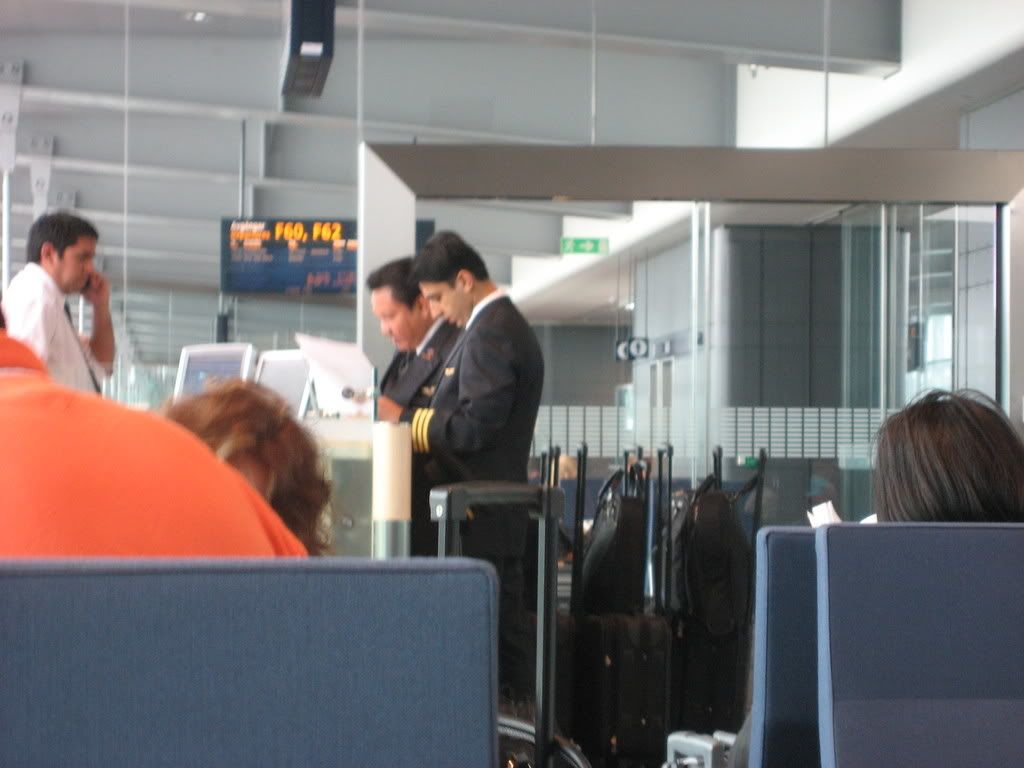 Captains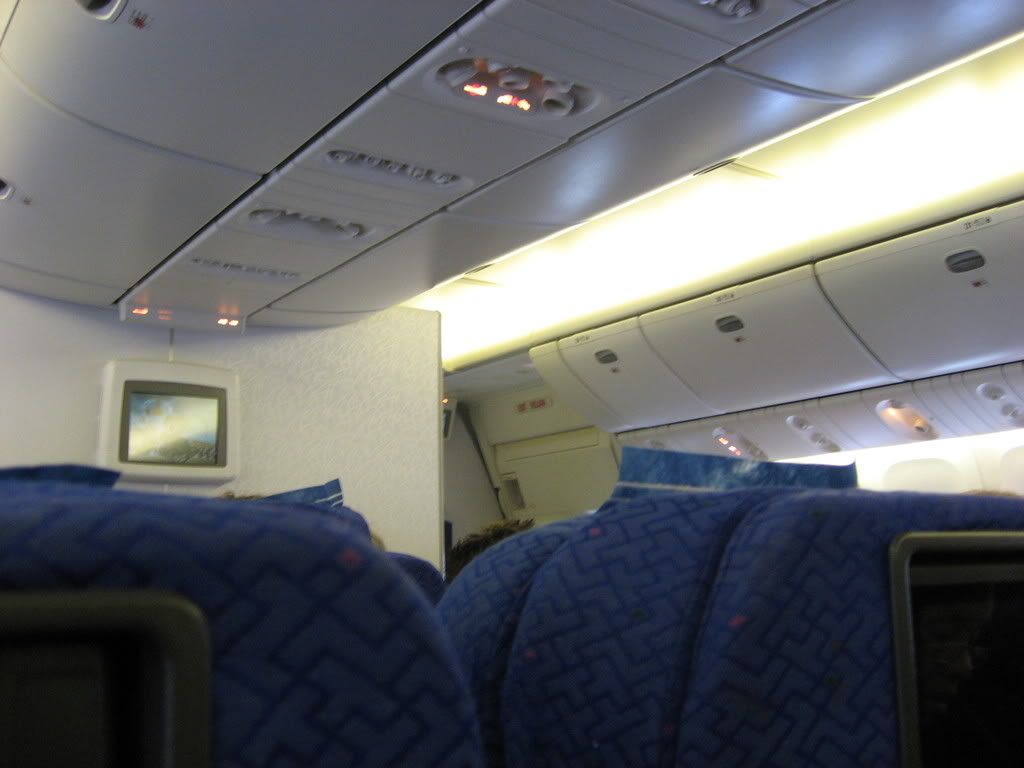 Economy cabin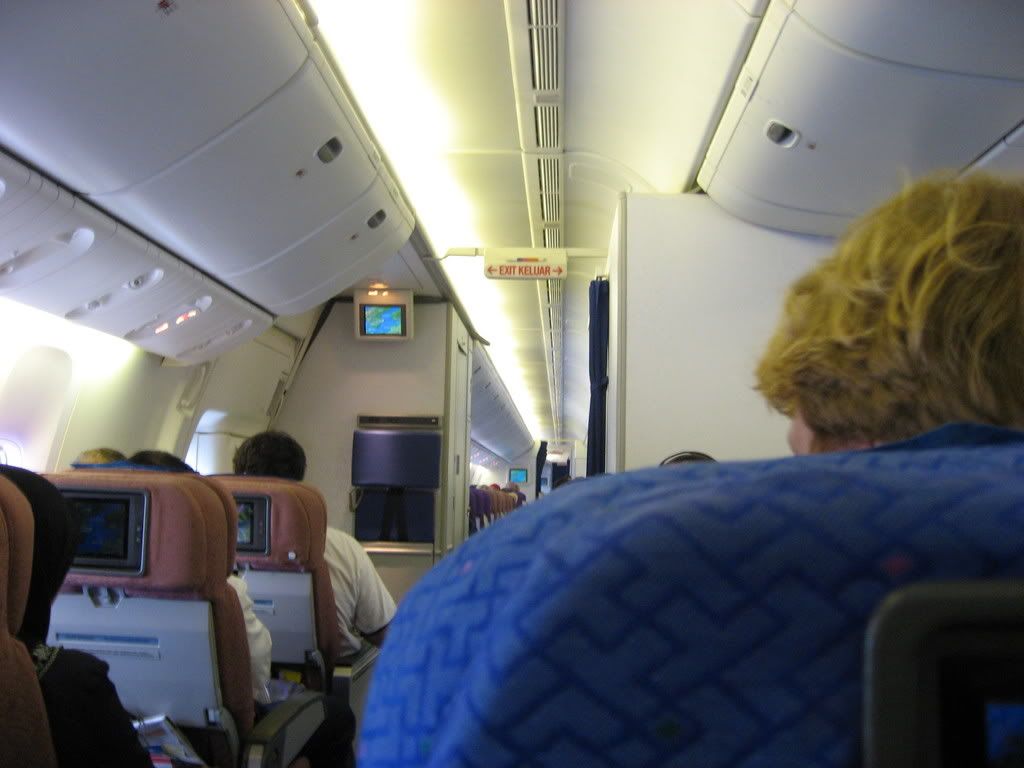 Another view of the economy cabin
Tanjong Rhu screenshot during boarding
Penang screenshot during boarding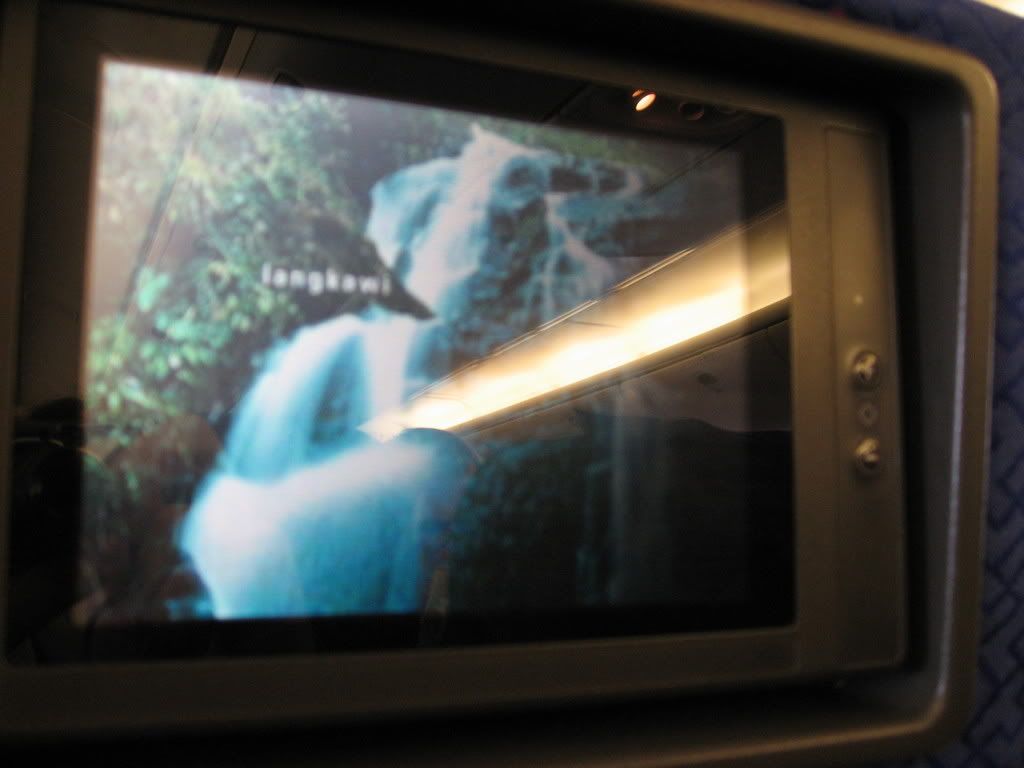 Langkawi screenshot during boarding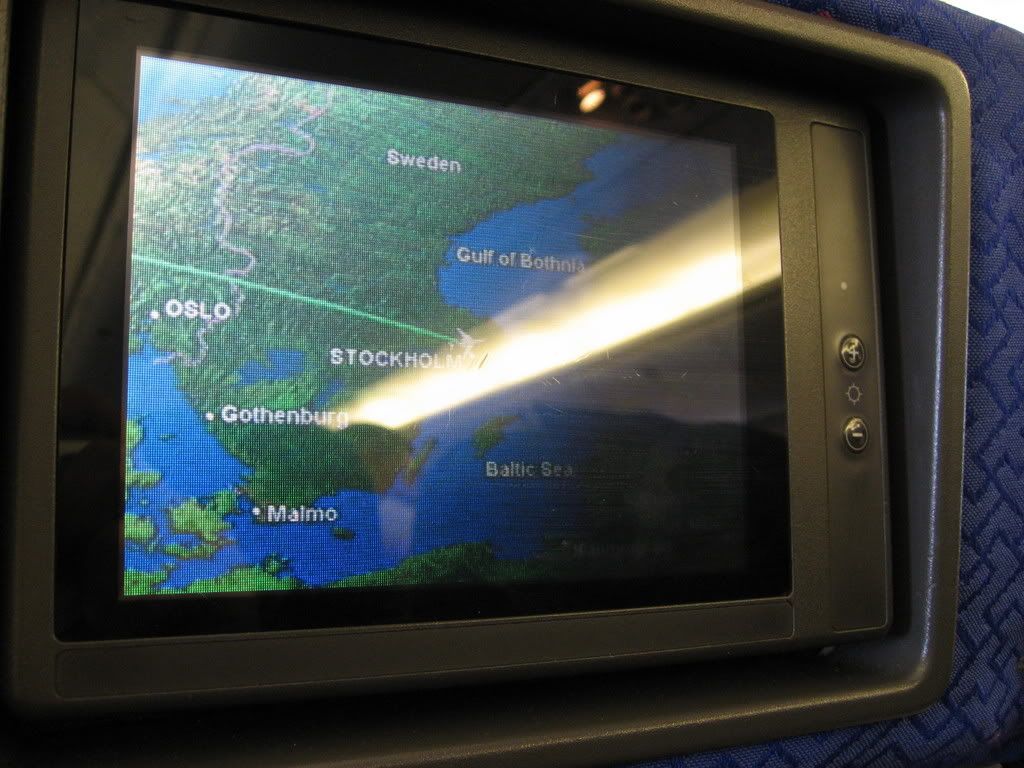 Flight path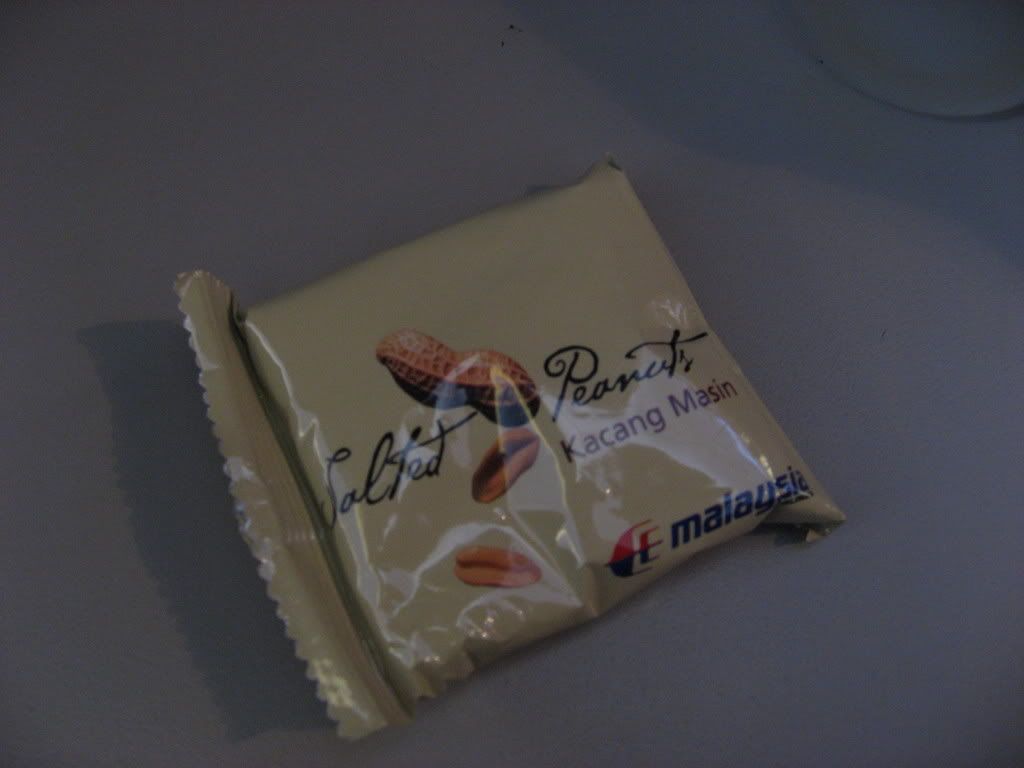 Salted peanuts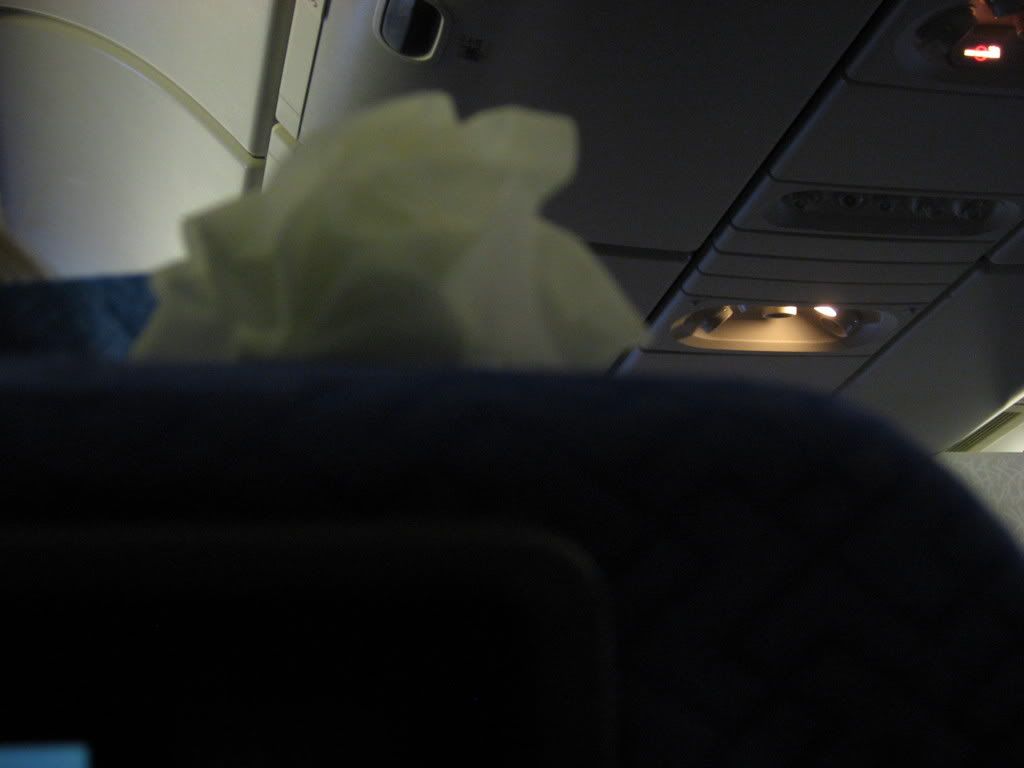 Scented hand towel
Vegetarian curry dinner service
I hope you found this interesting...more Scandinavian adventures to come. Comments/questions/concerns greatly appreciated.