Hi All, this is the first installment of my recent trip to Europe courtesy of Emirates Business Class:
Emirates Airline EK419
4th May 2007
Sydney-Bangkok Suvarnabhumi
Boeing 777-31HER A6-EBM
Seat 10AB
ETD 1845 ATD 1855
ETA 0100 ATA 0115
Gate 57
We had checked in on line to on the morning of departure to ensure our connecting flight would also be checked in. This must be done within 36 hours of the connection. We had tried to book the non-stop to Dubai however it was booked out.
Arriving at the Emirates Check-in counters we stood in a short queue and were handed our lounge invitations as we waited. Check-in was quick so it was through immigration and security with no hassles for once! The lounge is downstairs in the western pier and faces the Runway 07 threshold. Nicely appointed I took advantage of the free wireless and a few drinks. After the inbound flight from Auckland arrived the lounge filled up, however due to its late arrival it was not long until we were called to board.
At Gate 57 there was a separate lane for First and Business that led to the aerobridge to door left one. We were greeted at the door by the purser and directed down the first aisle into the second business class cabin. The meant passing door two where the Economy passengers were boarding relentlessly, so we had to barge through to our seats.
The aircraft was configured in the older style business seats, standard for Sydney flights apparently. The large 777 overhead bins and ample legroom meant that we could stow our bags and get comfortable without blocking the aisle.
Prior to pushback champagne, orange or apple juices were offered, of course we started the trip with champagne. We pushed back late and taxied to Runway 16R via Golf and Alpha to A1. Engine start was loud however the rumble of the Rolls Royce Trents is always appreciated by my ears! The safety demonstration was screened with some lovely footage of A330s as well as 777s but was largely ignored. The flight attendants came around offering newspapers in this time which was a distraction to anyone trying to pay attention. After the safety presentation played fully in English it repeated in Arabic. Once both had finished the nose camera view was shown on the overhead monitors, handy as our personal screens had to be stowed for takeoff.
The takeoff was very powerful and it was hard not to watch the nose camera. A few of our fellow passengers commented that the aircraft 'weaved', everyone's a backseat driver! We climbed out over Botany Bay towards Dunes and then via the Richmond departure, climbing to FL320. After Richmond we tracked overhead Tindal, Brunei and Ho Chi Minh City before descent into Suvarnabhumi.
Once the seat belt sign was switched off I checked out ICE (Information, Communication, and Entertainment) and watched an episode of Family Guy to kick things off. After that I selected 'Little Miss Sunshine', which was heavily edited but still a great movie.
After about twenty minutes the flight attendants appeared and distributed eyeshades and socks. There were no amenity kits; however shavers, toothbrushes and moisturiser were available in the toilet. Not long after there was a bar service from carts, something I hadn't seen in a premium class for a while! I chose a Bloody Mary and settled back to watch the movie. Not long after a few ripples resulted in the seat belt sign being turned on and the crew retreated to their seats. The seat belt sign also had an automated announcement, first "please, fasten your seatbelts" in English, then the Arabic equivalent that was louder and harsher and would cause a few disrupted nights during the trip. After about ten minutes the crew resumed service.
The choices for appetiser were Australian rock lobster medallions or a crispy confit chicken tart. I chose the lobster which was served with asparagus and plum tomato salad in a Marie Rose sauce. Also on the tray was a salad and dressing. For main course the choices were an Australian prime beef tenderloin, a steamed red snapper fillet, stir-fried chicken or poached chicken breast. I chose the beef, which was served in a jus of oven roasted shallots and garlic, fresh garden vegetables and roast new potatoes. Unfortunately due to the seat belt sign being on the meals were overcooked, badly! I washed the meal down with a lovely pinot noir, 'The Ned' from Marlborough in New Zealand.
To avoid the turbulence we climbed to FL325 then FL330.
After the movie finished the meal service continued so I selected the Best of Pink Floyd. I found it an interesting album to have on an aircraft, especially as I listened to the plane crash during 'On The Run' whilst looking out the window! During this time desert was presented from an aisle trolley, which had a choice of warm apple pie or chocolate gateau. I chose the gateau which was topped with glazed raspberries. To accompany it before a rest I had a chamomile tea and was then offered a chocolate from a box which had been rustled through by my fellow passengers. The meal service finished about three and a half hours in to the flight.
Of course everyone in Business Class then needed to use the toilets, and with only two for 42 passengers quite a wait ensued for most.
For a change of pace I swapped ICE to an episode of 'Kath and Kim' then 'Friends'. After the lights were dimmed stars in the ceiling appeared in every zone except ours. Soon I dosed off, waking again for a cup of coffee just prior to top of descent. Most of the descent was made with the spoilers fully extended. Creating a rumble throughout the aircraft.
After manoeuvring to the north we landed on runway 19R at 0103 in very smooth 777 style. After a brief hold due taxying aircraft we taxied to Gate D6, where we arrived at 0115. The purser's announcement stated that we could leave our hand luggage on board for the short transit, which we did.
We wandered through the new airport in search of the Emirates Lounge, which we found on Level 3. The abundance of pieces of paper sticky taped to walls as makeshift signs gave the appearance that the airport is not quite finished.
Disappointingly the lounge windows faced landside. The food was lovely and I indulged in some Massaman Curry with rice and a few curry puffs along with a soft drink. The numbers in the lounge increased as passengers for the other Dubai flight filtered in.
Emirates Airline EK419
5th May 2007
Bangkok-Dubai
Boeing 777-31HER A6-EBM
Seat 10AB
ETD 0230 ATD 0245
ETA 0535 ATA 0555
The flight reboarded at Gate D6, which is close to the lounge but required us to pass through security. The gate lounge was chaotic and there was no priority boarding through the glass doors to the aerobridge. As we entered the aerobridge we were surprised to see about one hundred bags lined up on the right. All the passengers were staring at them as they went past and a few were handling them. As we were trying to establish what was happening a ground staff member yelled that any passengers who had travelled from Sydney would have to find their bag in the pile before reboarding! We were not impressed as we searched for ours. Once we reclaimed our carry ons we were directed down the first aerobridge to door left one where the new purser had her back turned. Eventually we attracted her attention and asked her about the hand luggage. She stated that the previous crew had made an error and her crew had taken them off the aircraft. When we asked her who had been ensuring they were not tampered with in the aerobridge she did not respond. No apology, no nothing. Not impressed we headed for our seats and checked the contents of our bags.
Again we were offered champagne or juices.
Rather late we pushed back and taxied for departure from runway 19L which we could watch on the nose camera. We climbed to FL320 and headed west towards the Bay of Bengal, India and the Middle East.
Primed for Pink Floyd I listened to 'Dark side of the moon' and plugged my laptop into the inseat power to write some notes on the flights.
The flight attendants distributed eyeshades, socks and, this time, amenity kits. I also asked for ear plugs which I received as if they were secret. There was an offer of a drink from the bar and my breakfast order was taken. Then the blinds were closed by the cabin crew.
This time the stars came out, however they flickered on and off in the middle of the night then fizzled out again.
Breakfast was served two hours out of Dubai. The choices were a Swiss cheese omelette, a grilled chicken breast or stir fried noodles with prawns. I opted for the omelette which came with provincale mushrooms, rosti potatoes, mixed peppers and broccoli florets. Pastries were offered from a basket by the crew.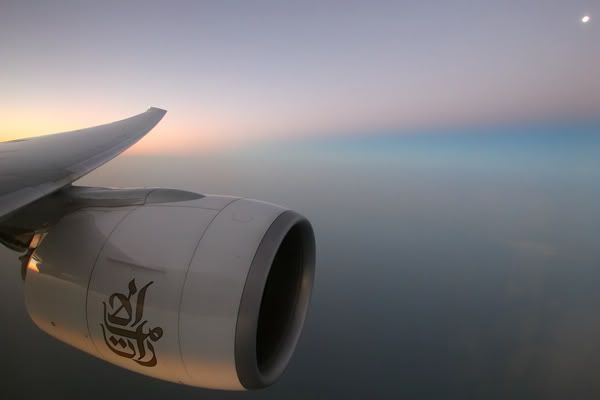 After another fully spoiler assisted descent we landed on Runway 30R quite firmly and then had a very, very long taxi to stand T7, which is located somewhere near Kuwait! We had to be bussed to Terminal. The bus had about ten seats so we stood as we weaved, jolted and bumped around Dubai Airport. It took about fifteen minutes to the first stop, which was ours at the transit area. The time was now 0620 and there were people everywhere. We eventually found that transit security had a First and Business lane so we headed through, this time with no LAGs check.
The screens had no gate information for our next flight so we followed the map on our Lounge invitation issued in Sydney. We went to the Gate 11 Business Class lounge, which has one level and was absolutely full with people standing around in the foyer. We were advised to go to the Gate 22 lounge as our next flight was due to depart from Gate 36.
The Gate 22 lounge was also overcrowded, with people hovering waiting for others to leave to get a seat. There was a long queue for the toilets, which were filthy with used toilet paper in the open topped bins.
I requested a seat change as we were not together and was advised that the 10J and 11J passengers already checked in. The wireless in the lounge was free but a very poor connection so I gave up. Constant announcements for missing passengers and boarding flights became to annoying so we went for a walk to sample the famous shopping. The terminal was absolutely chaotic so we retreated to Gate 36, one of the many holding pens for the remote stands.
Emirates Airline EK049
5th May 2007
Dubai-Munich
Airbus A340-313X A6-ERQ
Seat 10K/11K
ETD 0835 ATD 0835
ETA 1300 ATA 1303
Gate 36
There was no priority boarding as it was just a cattle call down the ramps to the busses. Again the bus had about 10 seats so it was an uncomfortable ride. Fortunately T20 was a bit closer.
On arrival at the A340 Business and First Class passengers were directed up the stairs to door left one, and as with the 777 we had to pass passengers boarding at left two to get to our seats.
The first thing we noticed was the very narrow seats fitted to the A340. I'm not a big guy and I filled the whole seat. The passenger in 11J saw we were together and swapped with us. I had really wanted 10K for some photos but such is life. The thing that irritated me is that the passenger in 10J who had allegedly checked in never turned up!
Although the cabin was clean the windows were almost opaque and the nose camera had a massive dead moth smeared against it.
Waiting for pushback we again were offered champagne, orange or apple juice. This time we had orange juice.
The cabin crew were very young and kept dropping things and didn't cope well with questions. We were now in the back row of Business and the passengers sitting behind us with a baby wanted to move so they could all sit together. During this the safety demonstration was running and then we pushed back. The family was still standing up and were then moved as we started to taxi. I was concerned that any sharp braking would lead to the baby being bumped into a bulkhead of seat.
We taxied out to Runway 30R and departed without delay. It was a standard lethargic A340 take off as we climbed slowly over the water and turned towards the north.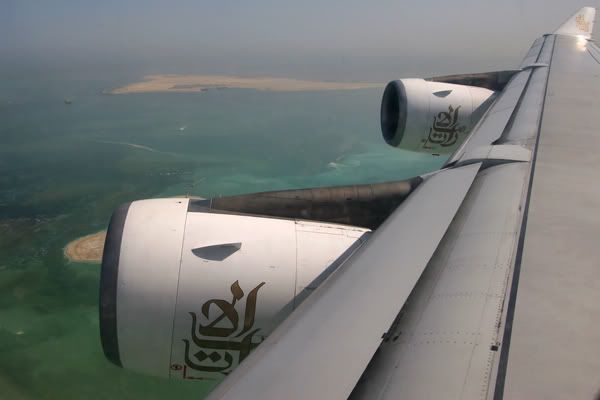 The flight attendants distributed eyeshades and socks and then served a continental breakfast with Coffee and Juice. The tray tables rested on top of my thighs even with the seat fully upright.
The A343 is not fitted with ICE so in the seat pocket was an order form for movies. They were delivered on a tape and inserted into a player in the armrest like Qantas first class 5 years ago. We both selected Night at the Museum which was amusing. The screens are in the seatback ahead so when the passenger reclined his seat the screen lowered to knee level. It was quite uncomfortable to watch.
Later in the flight a light meal was served after a bar service. The choices for appetiser were a selection of traditional Arabic mezze or seared Atlantic scallops. I had a Bloody Mary from the bar and chose the scallops, which were served on a seet onion gratin. Quite pleasant. For main course the choices were a rock lobster and lentil stew, roast chicken with mint and feta, tricolore ravioli or a poached hammour fillet. I chose the roast chicken, which came with a coriander and pine nut coulis on a bed of aubergine and onion pilau with sauteed spinach and black-eyed peas. It sounds nice but was very bland. There was no offer of wine by the flight attendant serving our aisle.
After overtaking a Condor A320 we commenced descent.
The German Captain gave his PA in English then repeated it in German, a nice touch. There were some large cumulus clouds in the area which were avoided most of the way down. We landed on Runway 08R very smoothly and taxied to our gate, which I think was 112.
Munich airport struck me as simply amazing, mainly glass, bright and clean. Passport control had only simply questions with no forms to be filled in and our baggage arrived within 20 minutes. It was then just a short walk to the Kempinski Airport Hotel where I had reserved an airport view room.
- A6-ERQ heading back to Dubai.
Anyway, that's my ramblings. Sorry if some of the links aren't working!
[Edited 2007-05-31 05:41:10]
[Edited 2007-05-31 05:46:01]