Background to the trip
Nowadays, I am having one interview after another. But in between those, I decided to take a long weekend somewhere. My initial plan was to go to Beirut and party but given the current circumstances, I opted not to go there. Finally, I decided to visit my sister who lives in a small town called "Tire" located in the 3rd largest city of "Izmir". This was, I was able to fly the newest Turkish low-cost airline called "IzAir". After a quick search on the internet, I found a return ticket for about 78 Euros. I was about to pay for it when I suddenly realised they had a "Spring Sale" which was valid on all IzAir/Pegasus flights until June 15. They offered a 20% discount and the final cost of my ticket went down to about 65 Euros.
The Airline
IzAir (www.izair.com.tr) was formed in 2006 with the effort and investments of a group of businessmen from Izmir who thought the third largest Turkish city deserved its own airline. They leased 3 ex-Independence Air Airbus 319s and started operations in April 2006.But due to some financial problems, Pegasus (www.flypgs.com) became partner with IzAir and today all IzAir flights have a Pegasus flight number too. And the tickets are actually purchased through Pegasus website. The colors of the airline represent different things. The orange represents the "sun" of Izmir which apparently shines 300 days a year. (it didn't when I was there). The blue represents the blue skies of Izmir. And the tiny greenish color represents the "olive trees" that the town is somewhat famous for.
The Flight
My outbound flight was last Saturday afternoon at 17:10 and the inbound was on Monday at 18:25. Nearly two days would be enough to spend quality time with my sister and nieces. And I would be back just in time to prepare for my competency interview on Wednesday (which went quite well btw). Before I start the actual TR, I have to warn you that the pictures are crap. My camera is quite good during the day but the weather that weekend didn't cooperate at all. The dirty windows didn't help either.. I wasn't planning to write a TR but as this is a new airline and as Stylo77 will fly this airline next month, I am gonna go ahead and tell you a bit about the flight and the overall experience.
26 May 2007
IST - ADB
Airline: Izair
Aircraft: Airbus 319
Registration: TC-IZM
Name of the aircraft: Alsancak
STD: 17:10
ATD: 17:20
STA:18:05
ATA:18:07
Flight Duration: 45 mimutes
Seat: 11F (exit seat)
Weather: Cloudy in IST- very cloudy en-route - rainy at ADB
Load Factor: About 95%
The previous night, I had stayed at my cousin. I arrived home at midday and packed my stuff in about 20 minutes. As I would only be staying for 2 nights, I only had my backpack and a plastic bag with the goodies I goıt for my nieces. I left home at about 14:30 tı catch the Havas Bus (the airport shuttle) at 15:00 hrs. I arrived at the airport at around 15:40. The check-in took less than a minute as I already chose my seat online. I had to pay an extra 10 YTL (about 6 Euros) for this. I then headed straight to the departures to have coffee and a few smokes. I grabbed a few photos of the domestic terminal in IST.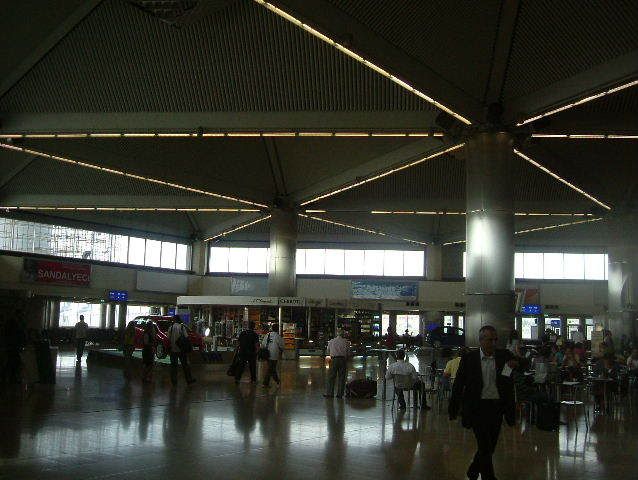 I walked around a bit and took a few more pictures of a gate and a bad ramp shot as seen from the domestic departures.
I then spent some 30 minutes at "The North Shield's Pub" to have a quick bite as I felt hungry. I then headed to our gate 406. This meant that we would take a bus to our aircraft. I quite like this as this was I get to take a lot of pictures of our plane
Boarding started at about 16:40 as scheduled.
After a quick bus ride, we arrived at our aircraft. Our plane today as TC-IZM named "Alsancak" (which literally means "red flag" and is also the name of a town in central Izmir)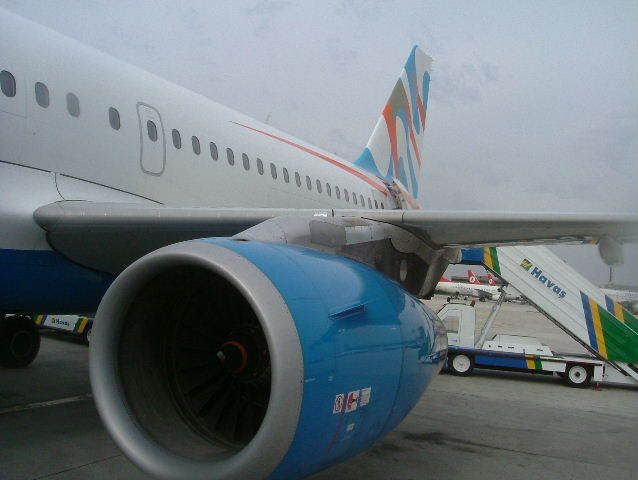 This TK 320 was parked right next to us.
The plane looked quite new. The seats were dark blue leather. I can not comment on the seat pitch because I was seated at the exit so my personal seat pitch was great. There are no drop-down screens so the safety demo was manual.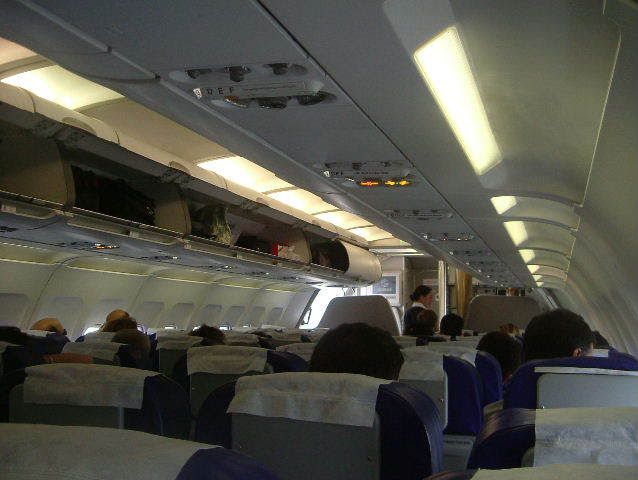 The next few pictures are taxi and take off pictures:
This A 340-300 of TK (TC-JII) is now named after my hometown "Mersin"
So she deserves to be in my report...
Surprisingly, there was no queue for take off. This hadn't happened to me in IST in years. We headed towards runway 36R and we started our take off roll right after we positioned ourselves on the runway.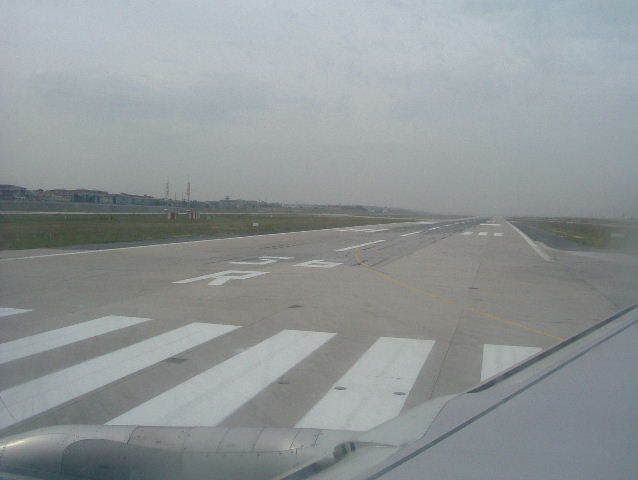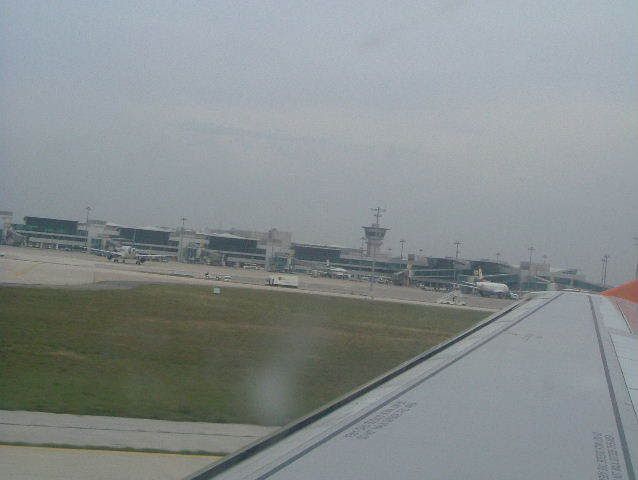 After a longer-than-I-expected take off roll, we were up in the air right across "Turkish Technic". The climb out was smooth despite the weather.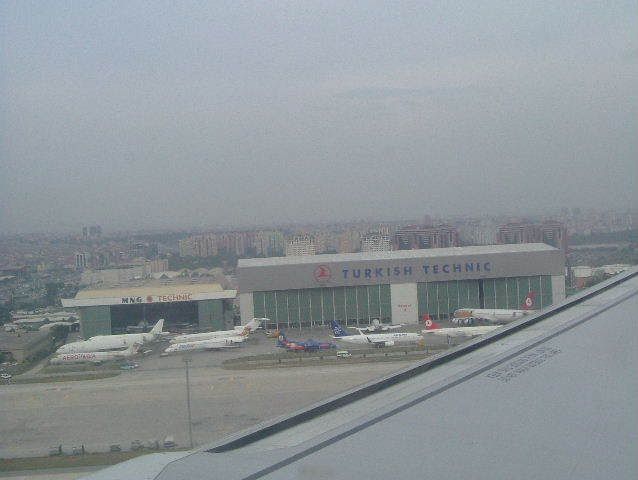 This take off was slightly strange for me as we flew straight for almost 2 minutes before turning left. Normally, the aircraft turns either left or right no more than 45 seconds after take off. Maybe some IST experts can enlighten me on the subject..
Who can tell me what's wrong in this photo?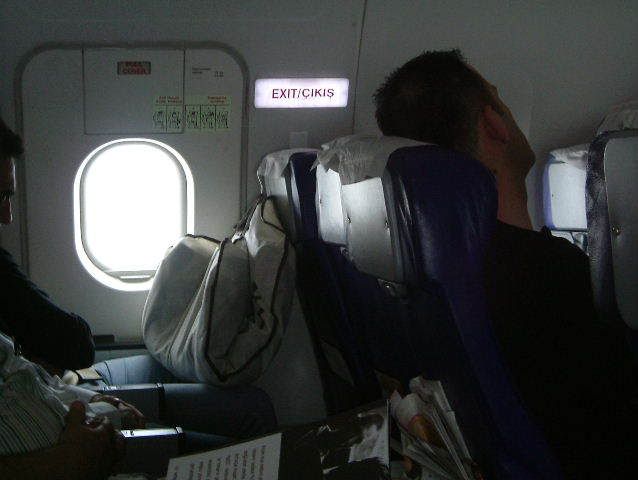 We were over the clouds in about 5 minutes and the service commenced. Everything was on purchase. As I wasn't hungry or thirsty, I didn't buy anything. They didn't have aircraft models, only hats. The menu was very moderately priced.
The weather soon became worse.. I could spot some dodgy clouds around such as:
The captain came over the PA and greeted everyone once again (He had said hello before departure). He gave us a brief information about our flights and he also noted that due to some "heavy clouds" around us, we would have to re-route thus the flying time would be increased slightly. Not more than a minute after he made his announcement, the plane started shaking violently. The plane was making big right and left turns and changing altitude to find smoother air but it was impossible. The turbulence went on until we landed...
In between these turbulence, I decided to go to the bathroom so I could also take a pic of the quiet cabin..
Just as I took these pictures, the seat-belt sign was switched off so I returned to my seat. I took the following "unspectacular" pictures of the clouds that were surrounding us..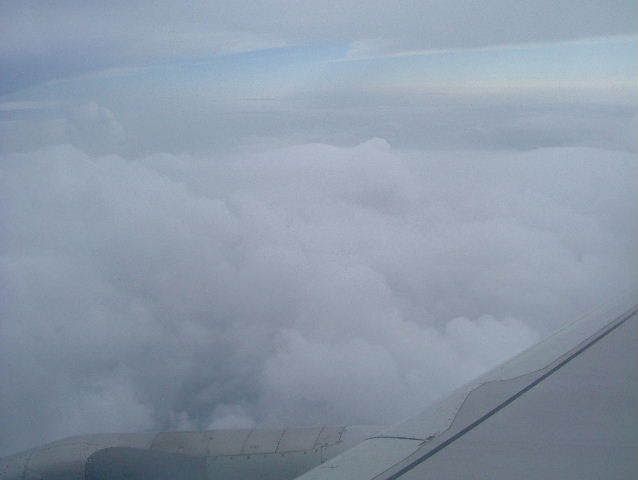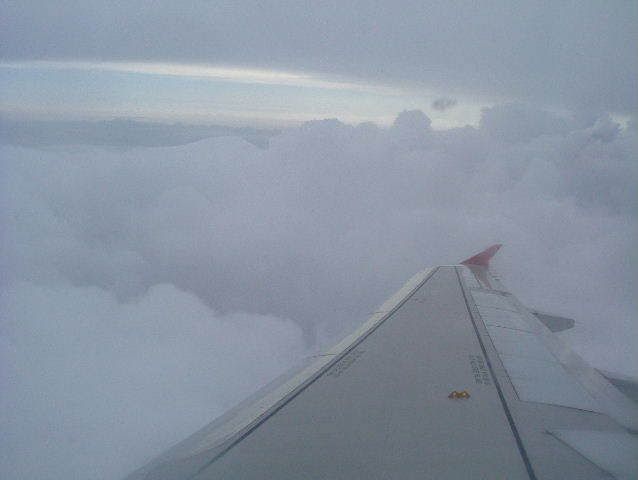 We were finally under those clouds about 3 minutes before landing.. The landing was smoother than the flight itself...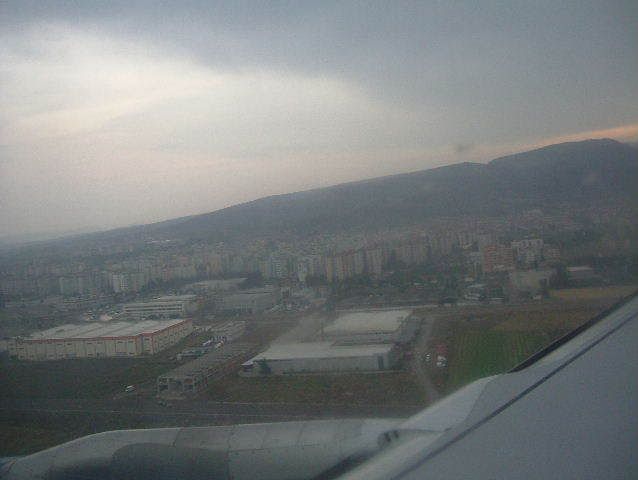 The new international terminal of ADB.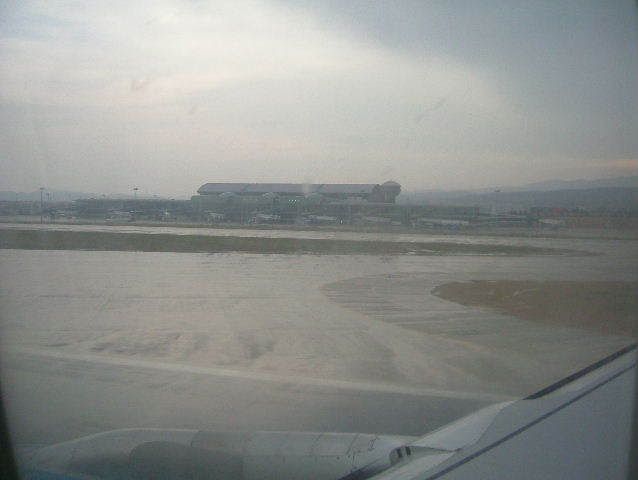 It was pissing rain
We were parked at a jet-bridge only a few minutes after landing.
As I didn't have any bags, I directly left the airport and caught a taxi to catch the bus to "Tire". Here is a picture of the airport I took from the bus..
The Return
28 May 2007
Airline: IzAir
Aircraft: Airbus 319
Registration: TC-IZR
Name of the Aircraft: Karsiyaka
STD: 18:25
ATA:18:31
STA:19:35
ATA:19:13
Flight Duration: 45 minutes
Seat: 11A (exit seat)
Load Factor: About 85%
Weather: rainy in ADB - cloudy enroute but clearing- sunny IST
After 2 days of fun with my family, it was time to go back. Again, it was raining in the sunny city of Izmir
I took the bust at 15:30 from Tire to Izmir which passes by the airport. I arrived at the airport an hour later. The new building is really nice and spacious. It's very modern too. After passing through security, I checked-in again in under a minute. I still had about 1h30m to kill so I went to the "Cockpit Cafe" to have a coffee and read my book.
Here are a few shots of the airport and the departure list of the evening.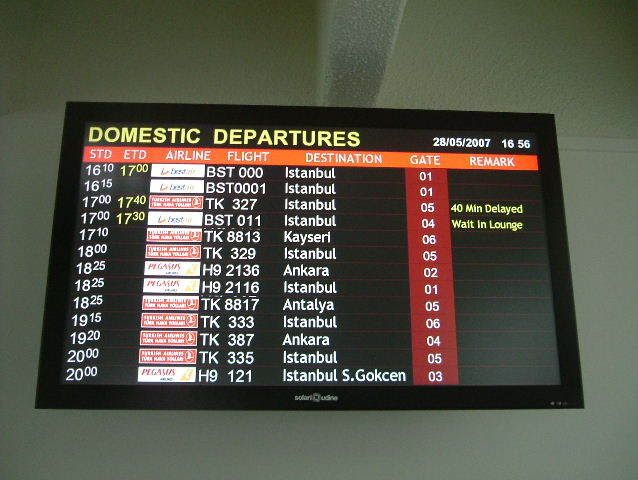 There was not much movement at the airport but I still took a few photos of the ramp.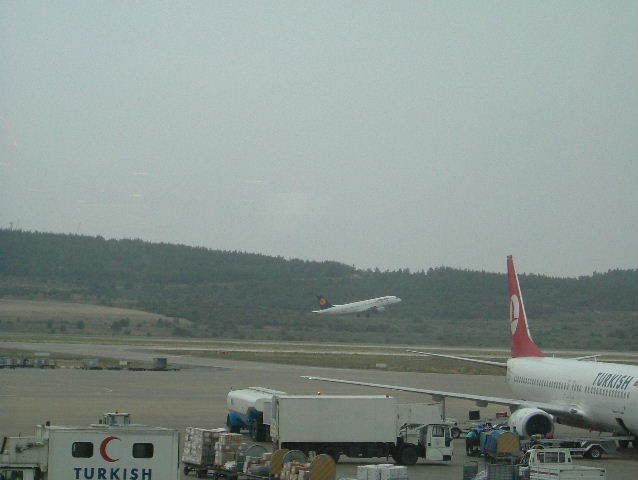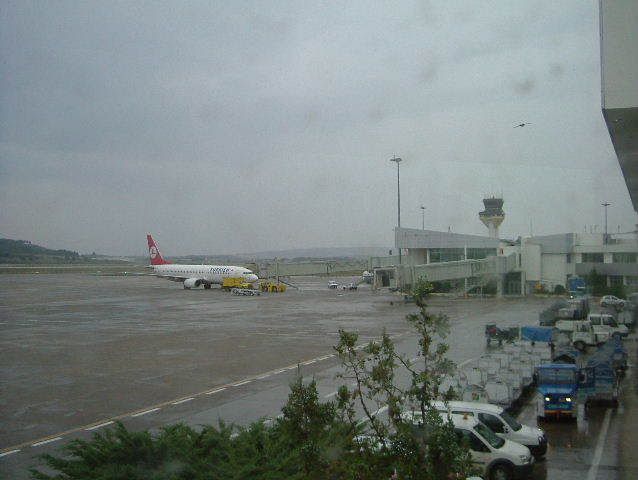 After an hour or so, I decided it was time to go to the gate "1". Luckily there was a smoking room right across the gate so I smoked a cigarette before departing. Boarding commenced on time. I waited fro everyone to board then I also headed for the gate about 5 minutes before the scheduled departure
Here is a picture of our baby bus:
A few pictures before take off: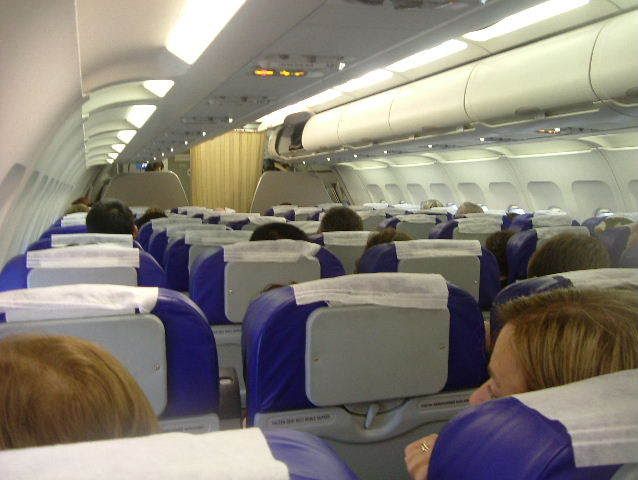 There are very few pictures of this flight as I was busy chatting to my Czech seatmate who was an exchange student in IST. I took a few pictures during landing only. He was of course curious about the pictures and I told him all about A.net. I wrote down the website and told him that I would write a TR about it. Hello Aleh if you are reading this TR
Pictures of approach in sunny IST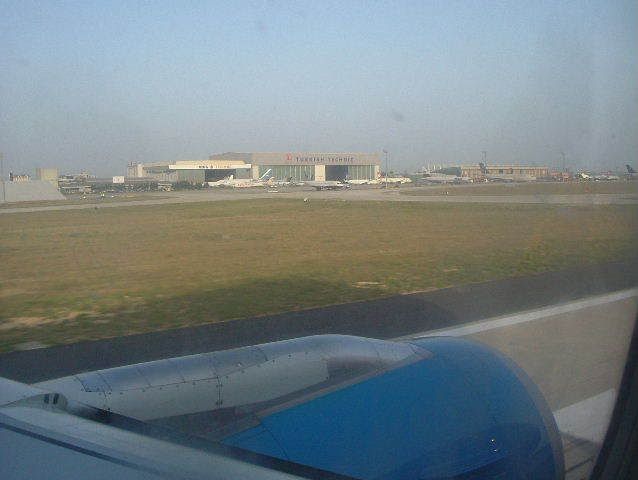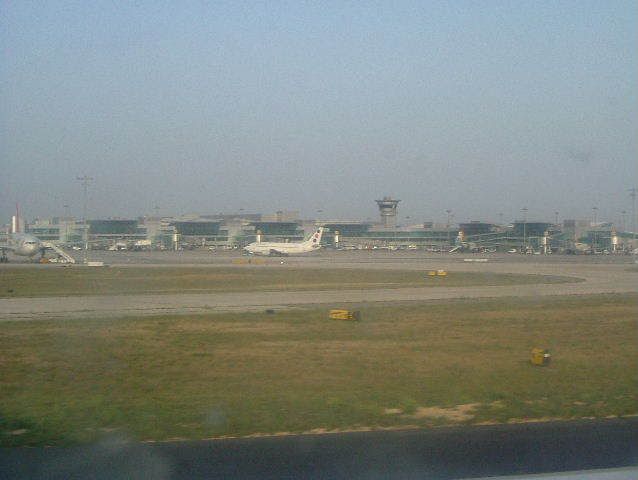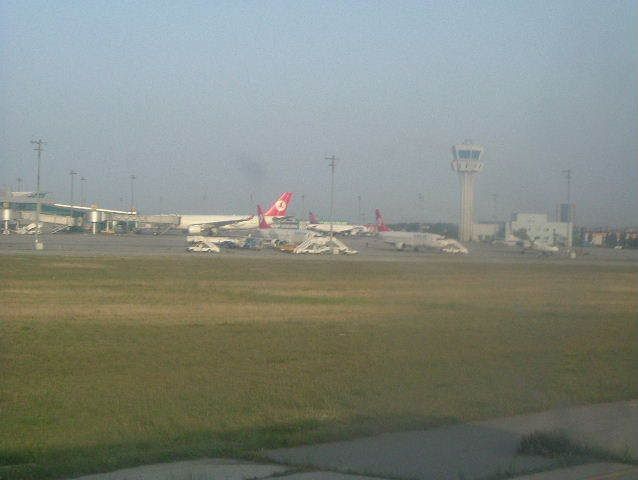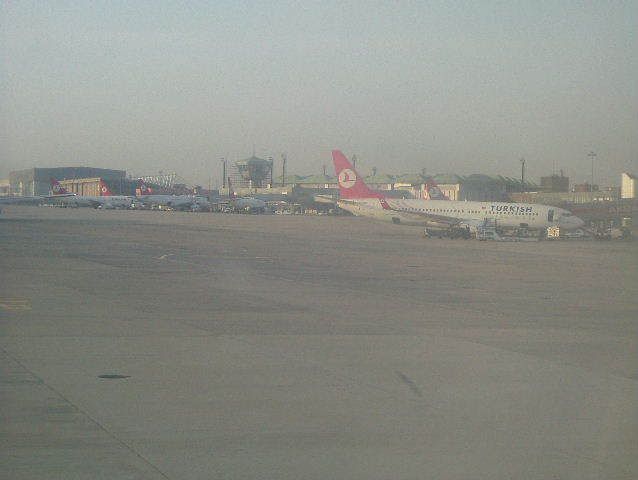 We were parked next to this lady:
De-boarding: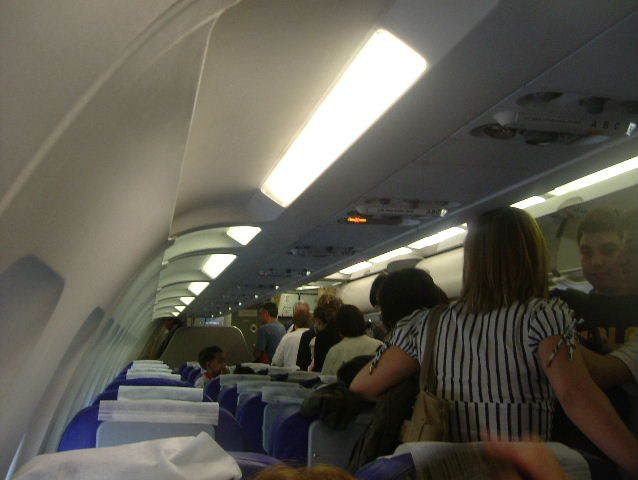 We kept on chatting until we left the terminal and even took the Havas bus together to Taksim. Then a short taxi ride to my apartment. I was happy to be home...
Conclusion
Overall, both flights were fine. IzAir exceeded my expectations mostly because of its punctuality. The captains and the crew were very nice. The captain was even standing at the door in IST saying goodbye to people. The menu was not overpriced and the aircraft were new and comfortable. I definately would fly IzAir again and could strongly recommend this airline to anyone. Long live IzAir
I know that this is not your most glamorous TR, but any comments or questions are welcome as usual...