Foreword
On a beautifully clear day in 1628—so the story begins—the Vasa set sail on its maiden voyage. The pride of the Swedish fleet of the time, the Vasa was unmatched in its sheer size and number of cannons; it was launched with much fanfare and high expectations. However, b arely making a thousand meters away from excited onlookers on Stockholm's docks, the Vasa keeled to her port side and took on excessive amounts of water and sunk to the bottom of Stockholm's harbor. Flash forwarding to the present day—if Scandinavian Airlines System is a measure to go by, transportation in Scandinavia has improved by leaps and bounds since the times of the Vasa. Efficiency, value-for-money and Nordic charm and design are stereotypes I would bestow on the modern airline, judging from a roundtrip shuttle flight between Stockholm-Arlanda Airport and Copenhagen Airport, Kastrup.
(Note: the flights were taken pre-strike—I am unsure of how things might have changed or if they changed at all)
Report
Scandinavia Airlines System (SAS) SK1419, May 14th, 2007
Stockholm Arlanda (ARN) to Copenhagen Airport, Kastrup (CPH), Gate 7
Seat 31D, Class M (Economy), MD-80
Departure (Scheduled/Actual): 10.25/10.31
Arrival (Scheduled/Actual): 11.35
I had planned on seeing people off to the United States on an earlier Continental flight, so I left much earlier than my own journey to Copenhagen required. Nevertheless, I had no qualms about leaving Stockholm earlier than planned; the drive to the airport in the cool and moist Stockholm morning was unforgettable. The pine trees and flat farmlands were bathed in a misty fog blanket.
Upon reaching Arlanda, and entering the check-in area for SAS, there were long queues for everything—self-check-in, check-in, ticketing and security. Confused by the situation and (apologetically) not understanding a word of Swedish beyond "IKEA" and "lingonberry," I immediately preceded to the cheery SAS representative, who kindly went out of her way to direct me to the correct line. Although the lines were long, the check-in staff was pretty efficient and polite; I waited about two minutes on the line. Everything was sorted out after five minutes.
I must mention security, as both my person and my bag were flagged for further screening. In comparison to the United States, where the TSA personnel are absolutely mortified with touching a passenger's genitalia region, instead opting to tap your nether region with a wand or a baton, I find (although this has only happened to me three times) that European security workers are not at all afraid to go all the way. Unfortunately (or fortunately), I did not have any other encounters with security since then, unless I count the TSA agent who inspected my back on arrival back in Newark. Asking me to step aside for an inspection, joke was on him, because I put dirty underwear at the top, and thus ended his brief (pun intended) search for contraband.
Almost everyone I spoke to prior to my Scandinavian holiday immediately associated the region with its expensive costs, almost in a knee-jerk reflex fashion. Stockholm's airport is no exception, everything is quite expensive. However, the spotting is free. After I saw off people in the non-Schengen departure zone on their flight to Newark on Continental (CO), I walked around a bit and managed to take some photos as the ground staff began their set-up.
Boarding was quick and efficient—passengers only stood up when their boarding zone was called and lined up in a proper manner. One curious habit of Nordic businessmen I noticed during boarding was the fact that they swiped their EuroBonus cards instead of presenting a ticket (Swedes, Danes, Norwegians in the audience—can anyone explain how this works?).
Onboard the surprisingly spacious MD-80 were two different classes—Economy Extra and Economy. Frankly, the main differences were the fact that Economy Extra passengers received a complimentary meal (albeit small) and their faux-cloth head rest cover was a different color.
After the pleasant greetings and the live (and bilingual Swedish and English) safety demonstration, the "CloudShop" opened up at the same time we rather fittingly went above the clouds. Feeling a bit peckish, I looked for the most Nordic of menu choices—the "Renklämma-meny" or Venison menu, a few strips of venison wrapped in polarbread and a mayonnaise-like condiment (Swedes, Danes, Norwegians in the audience—what exactly is polarbread?), with a choice of drink for SK35 (about five dollars). The sandwich was a bit dry (the personnel at the mayonnaise dispensing unit had not been very generous), but the meat and the bread were very tasty. Fortunately I had some Kalles to spread on.
Once the light snack was collected, we began to descend, and harbor of Copenhagen began to emerge on the horizon. The landing was smooth and the deplaining process was quick and efficient.
While Copenhagen once inspired Hans Christian Andersen and remains rooted in its proud heritage, it is a city that is in the here-and-now. One can see the cutting-edge windpower facilities dotting the harbor, the mega-tankers docking in the port facilities nearby. The airport is modern and wholly functional in comparison to other European airport facilities. Even the details of the city, such as generous bicycle facilities and cutting-edge cuisine at Noma (which I highly, highly recommend), exude certain homage to the past and visions for the future.
Return trip to follow in due course.
Photos
A long security line at Arlanda and an advert for the new Stockholm-Beijing route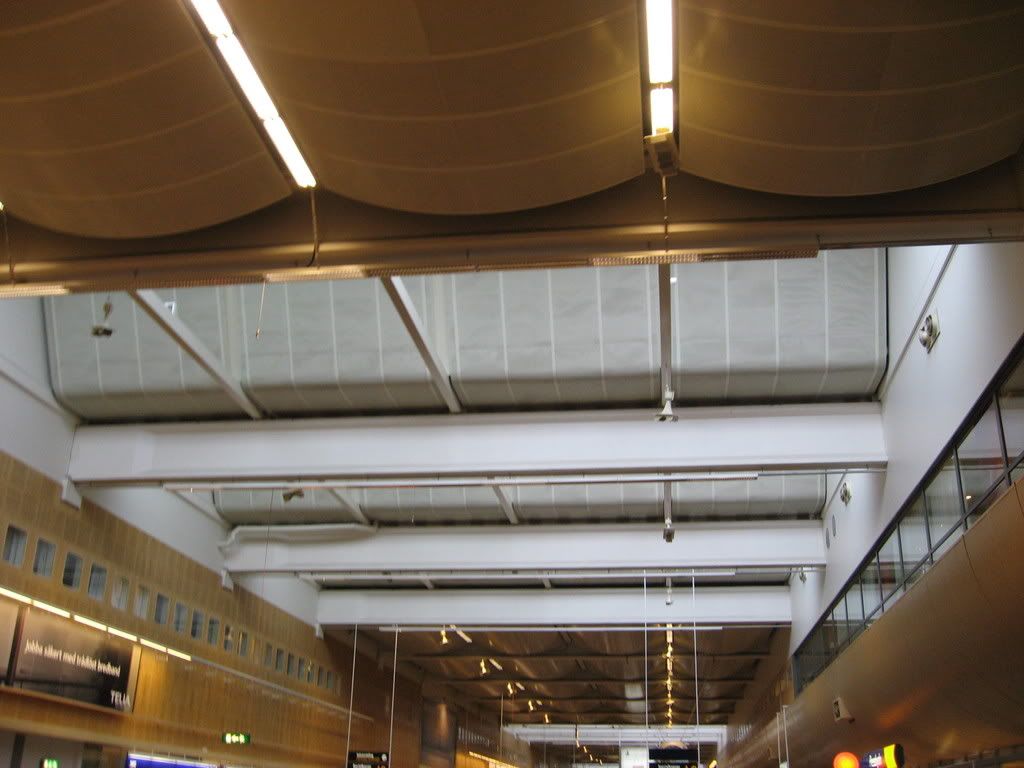 Swedish design 1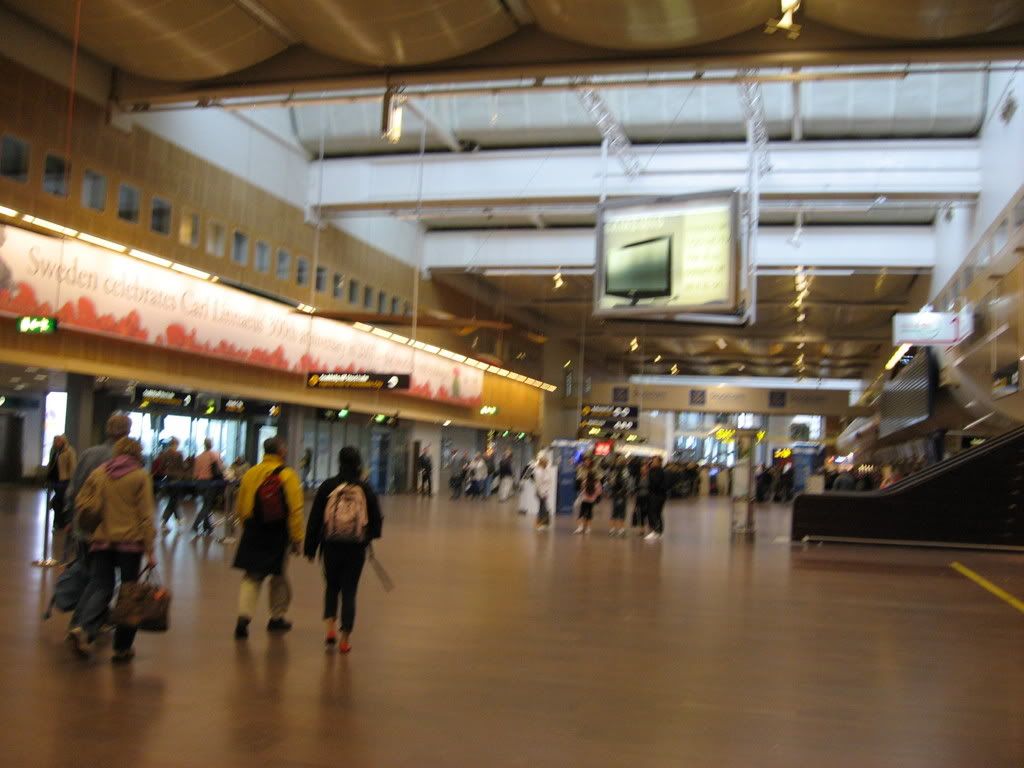 Other non-SK check-in area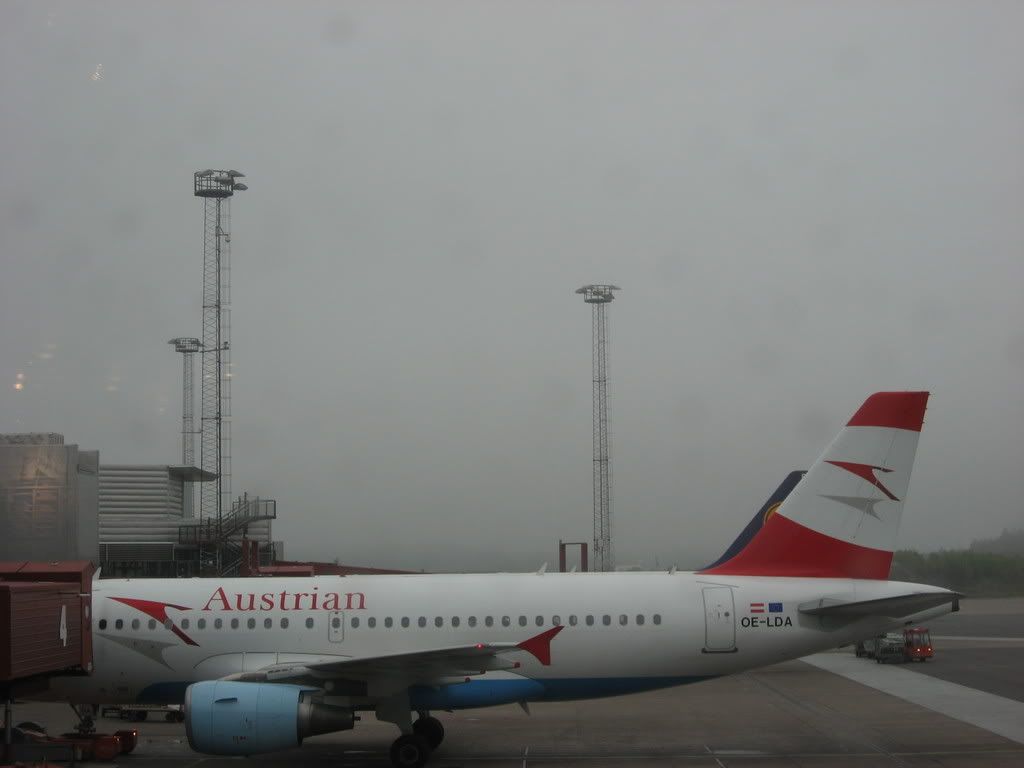 Austrian Airlines to Vienna?
MyTravel with fog-enveloped background
Air China Cargo and a Lufthansa plane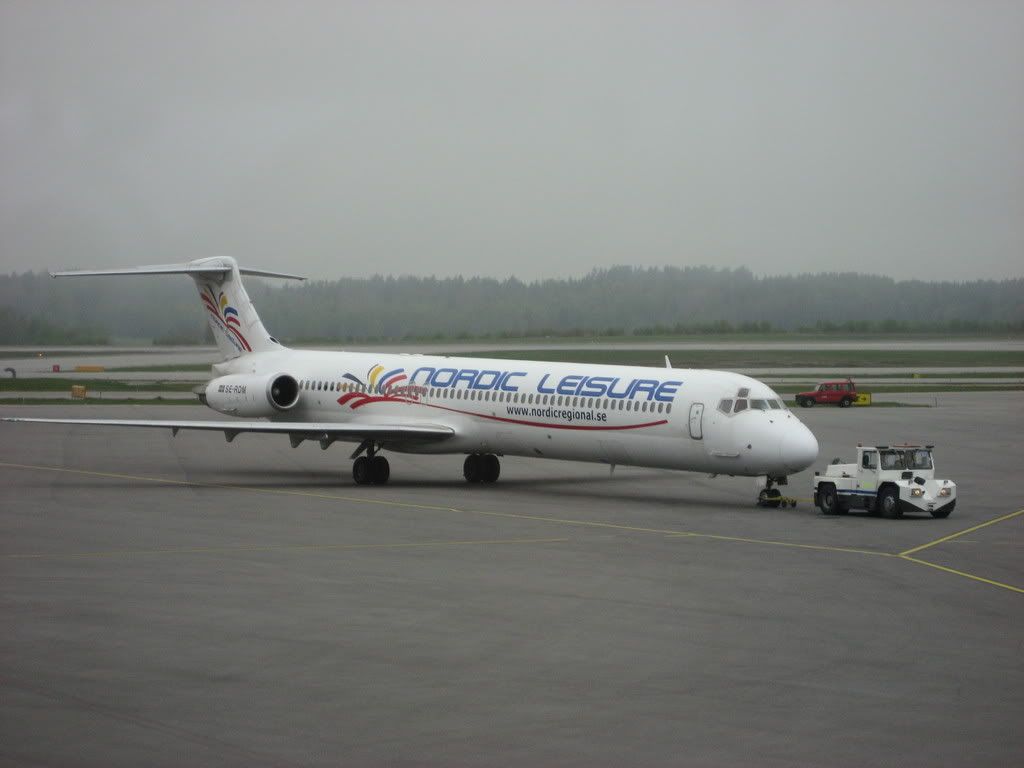 Nordic Leisure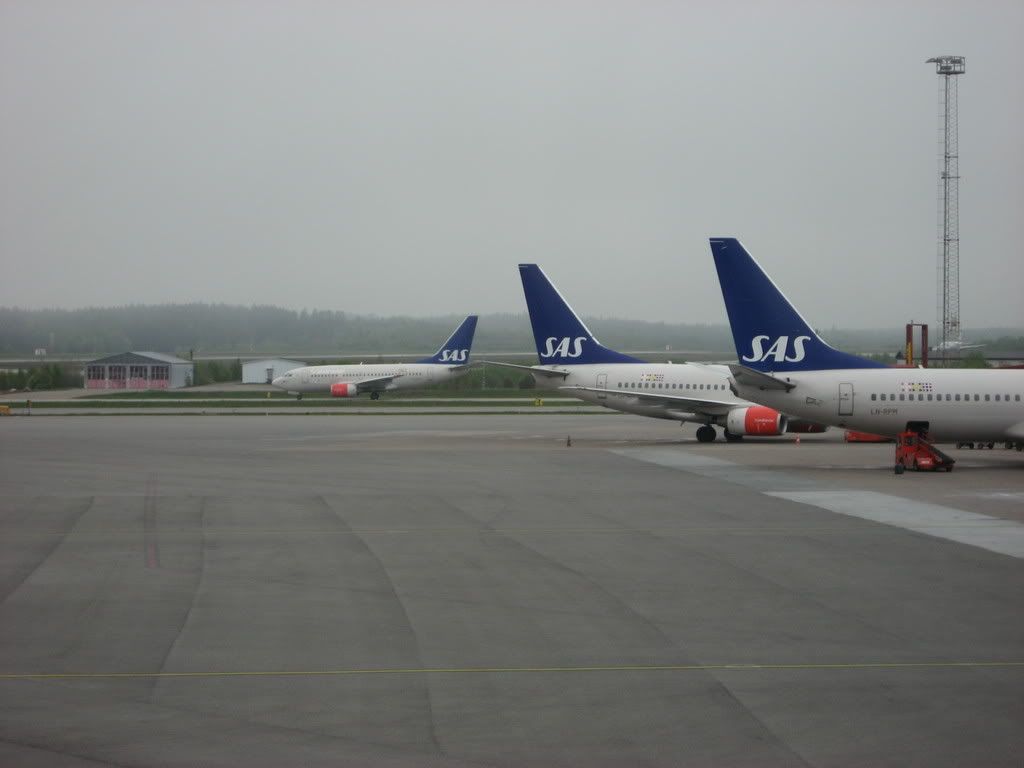 SAS planes
Waiting area
Information on flight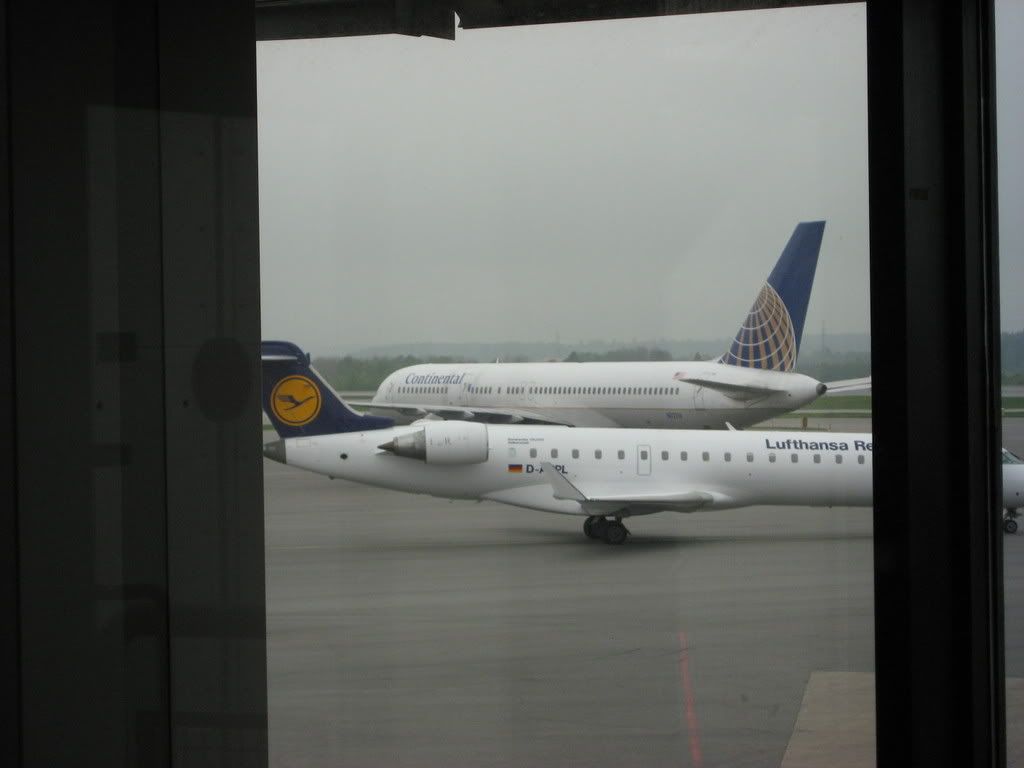 Lufthansa and Continental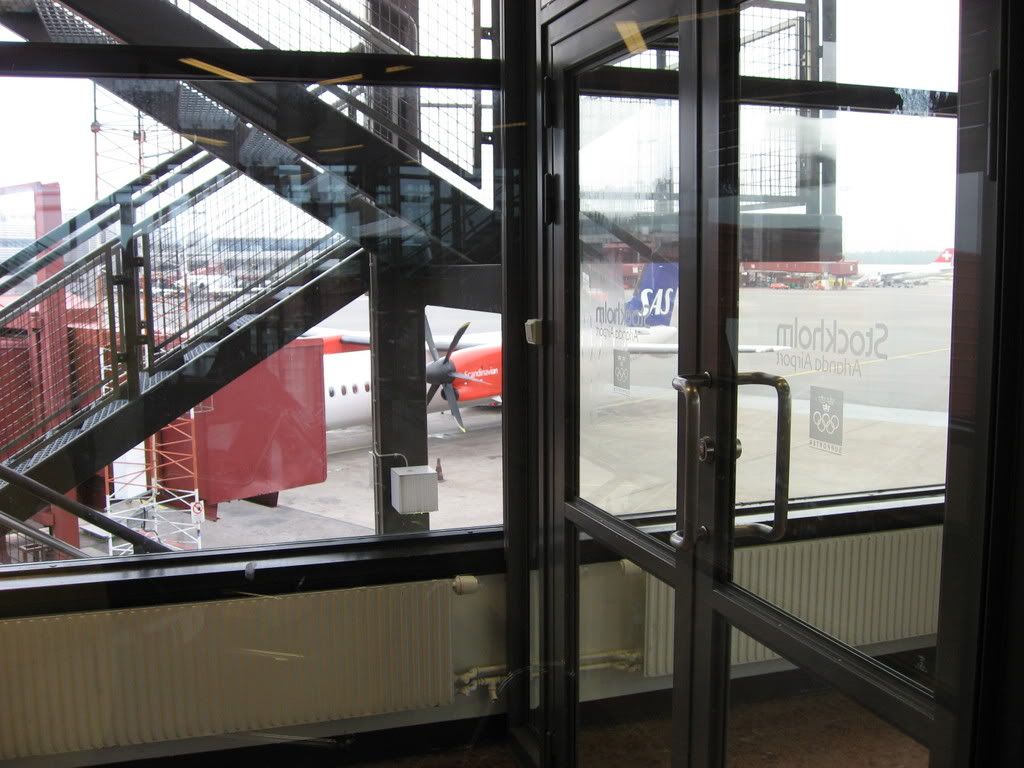 Swedish design 2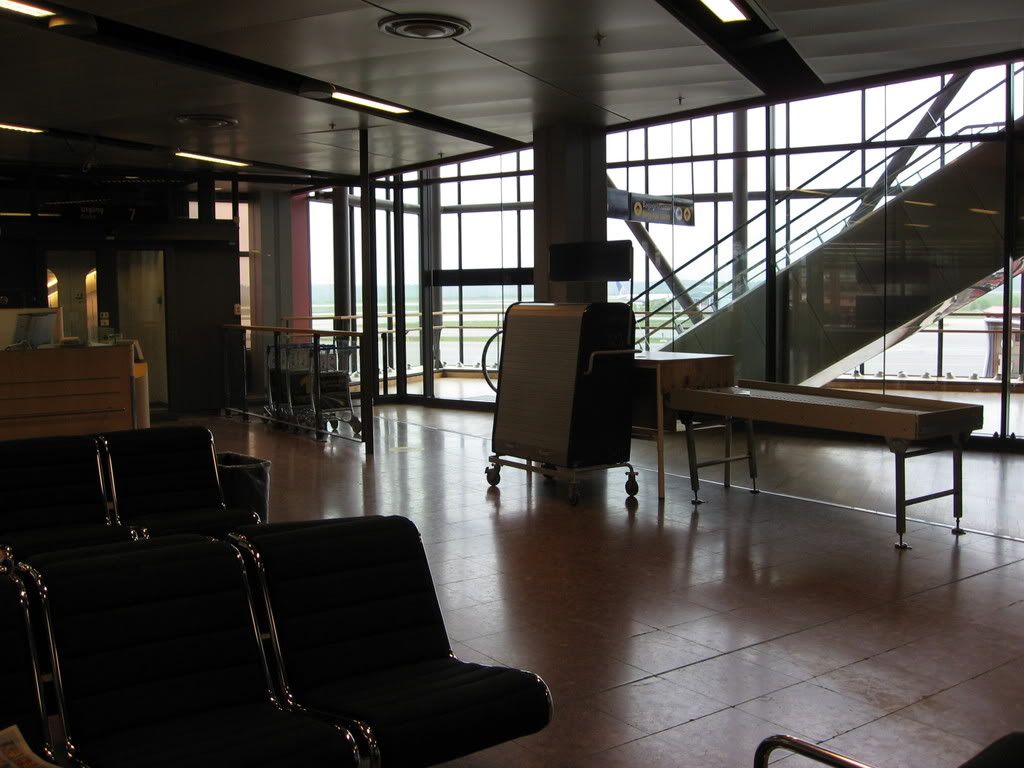 Swedish design 3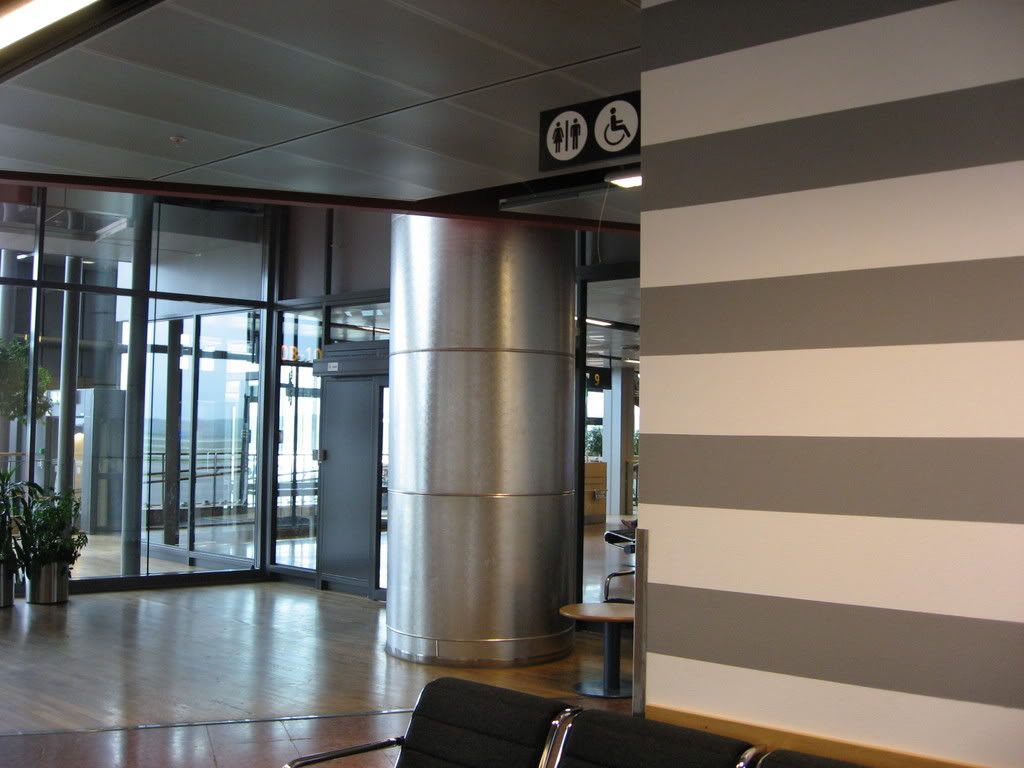 Swedish design 4
Not Swedish design (I'm guessing) but incredibly useful and helpful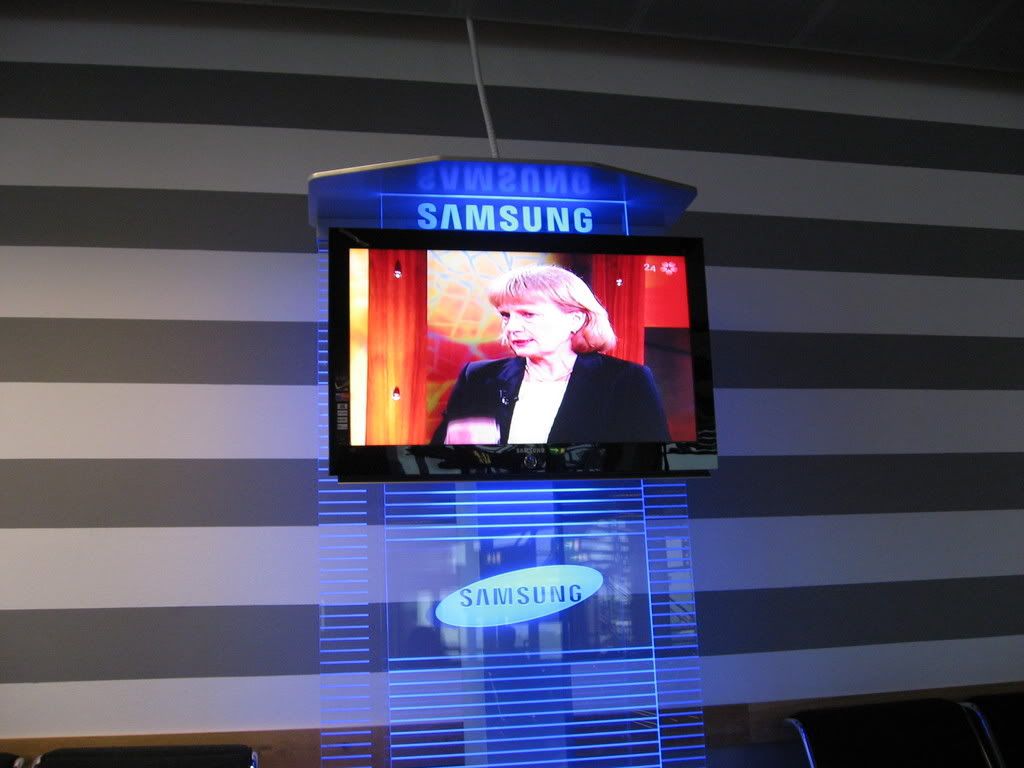 Korean design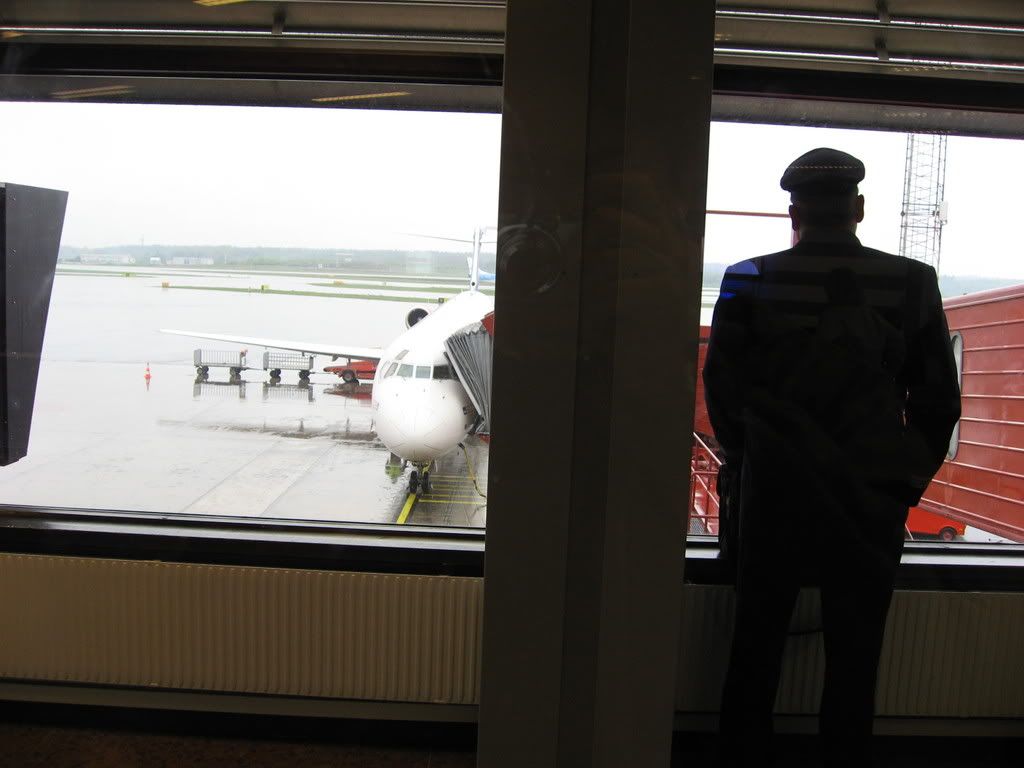 Pensative captain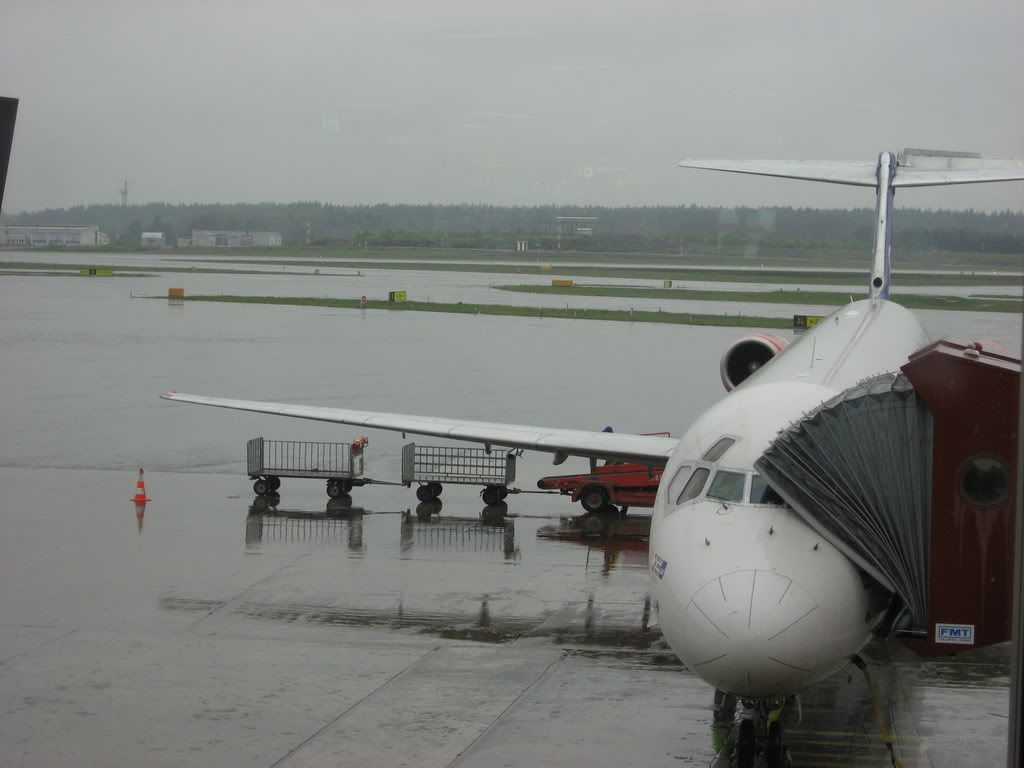 SK MD-80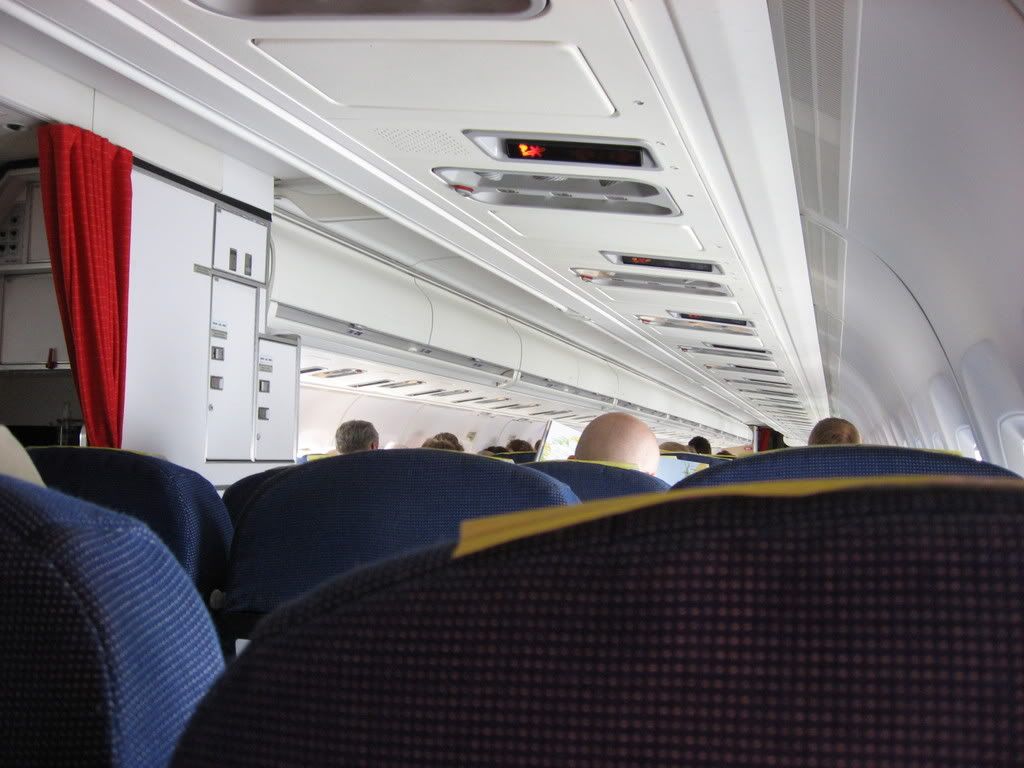 Back of the plane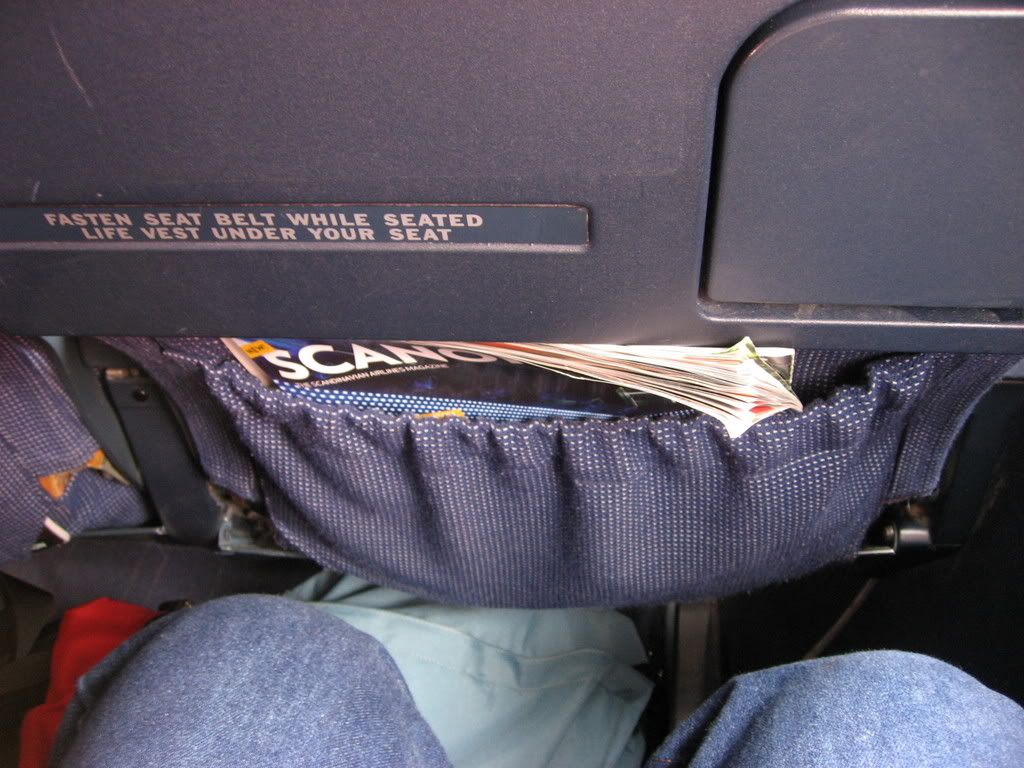 Legroom and seat pocket. Contents of seat pocket: a copy of "Scanorama," a Swedish Cloudshop menu, dutyfree (very very limited choices), a couple of sick bags and a safety card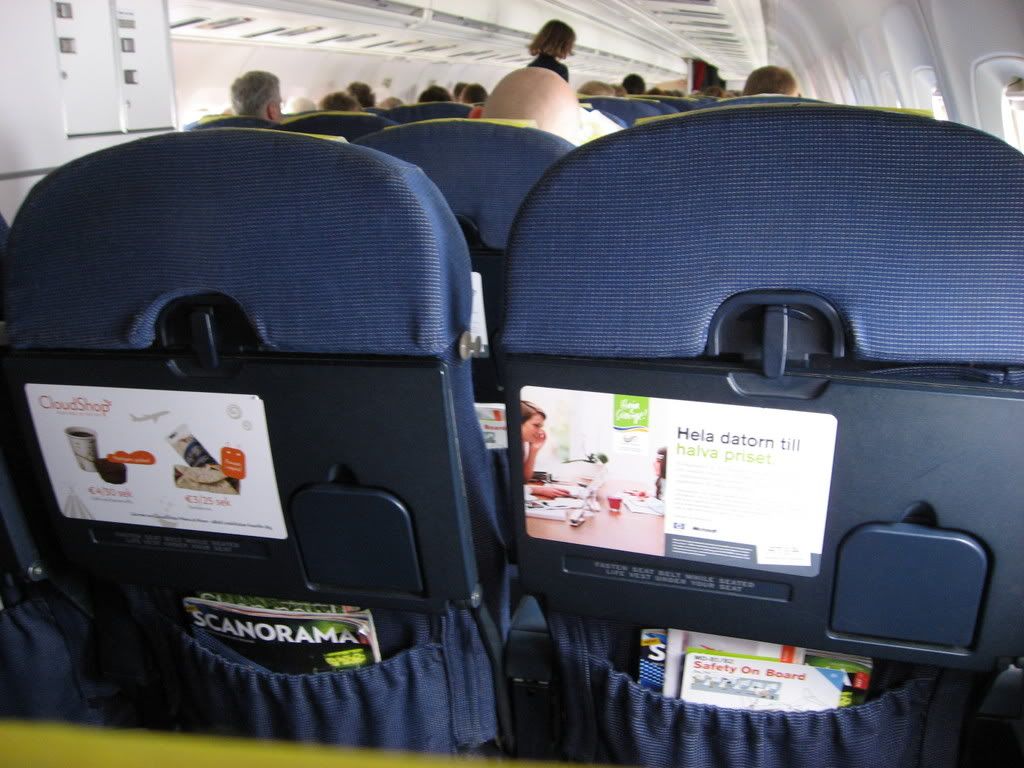 Adverts on tray-tables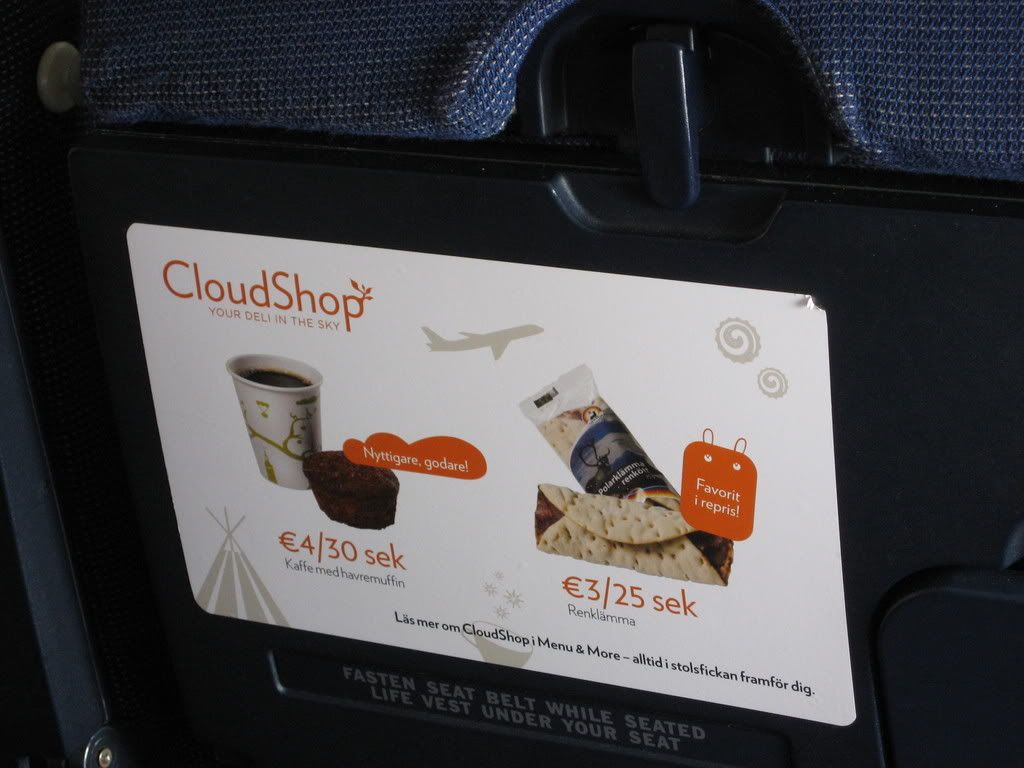 Cloudshop advert
Cloudshop menu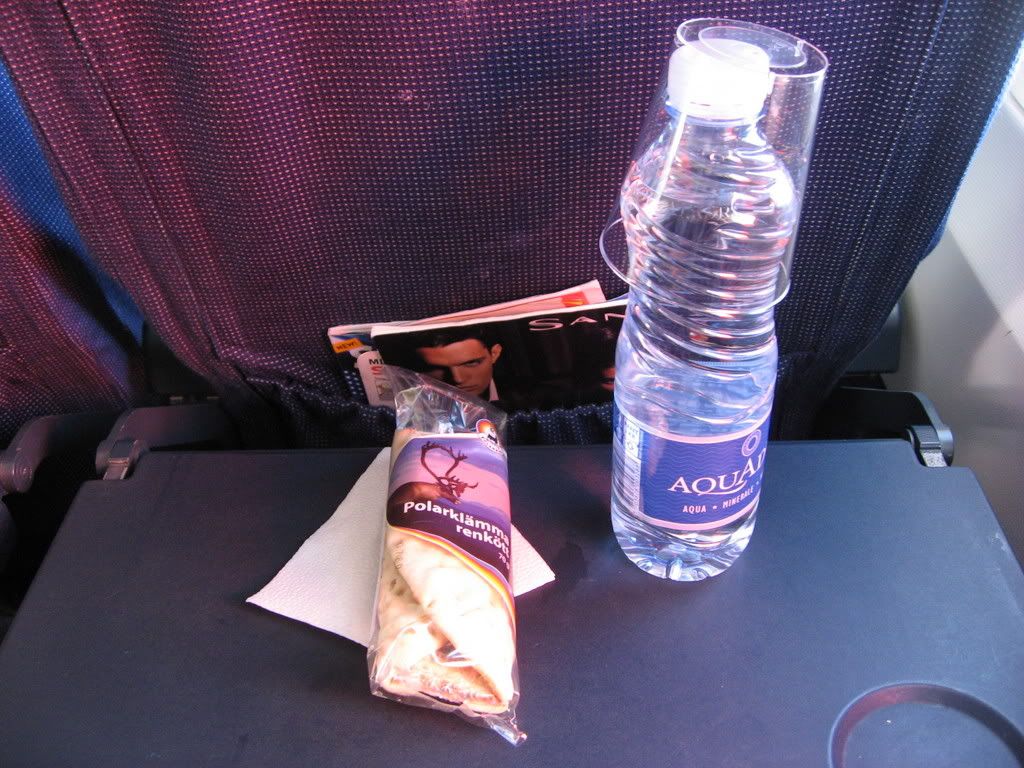 Renklämma-meny!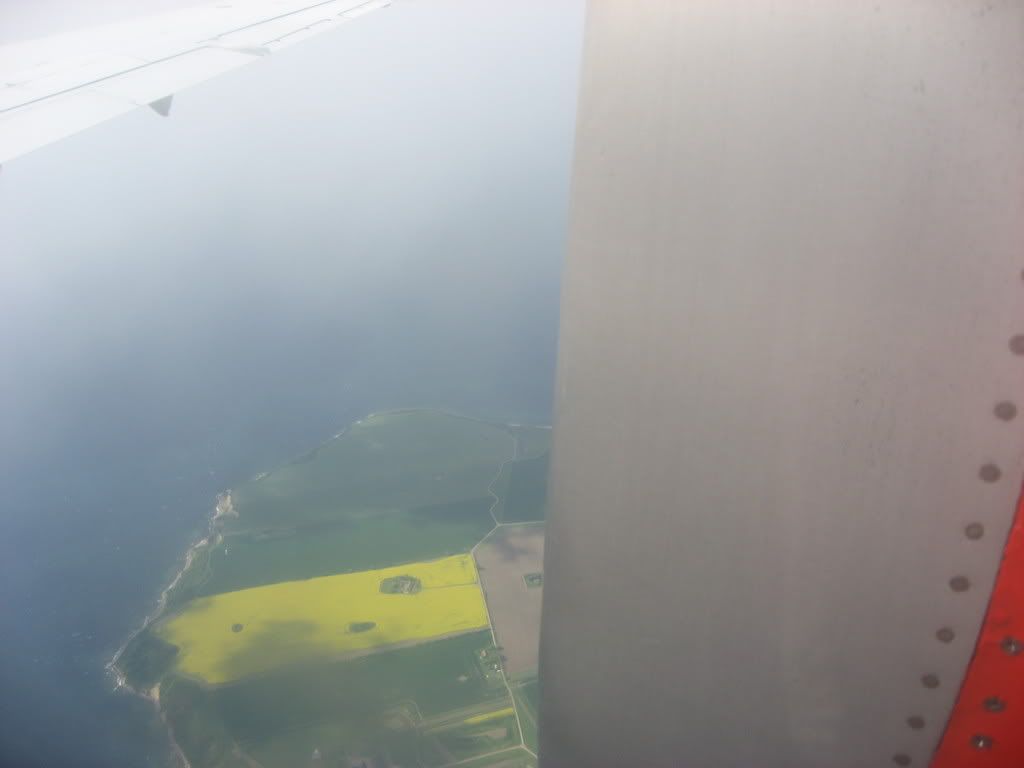 Swedish countryside 1
Swedish countryside 2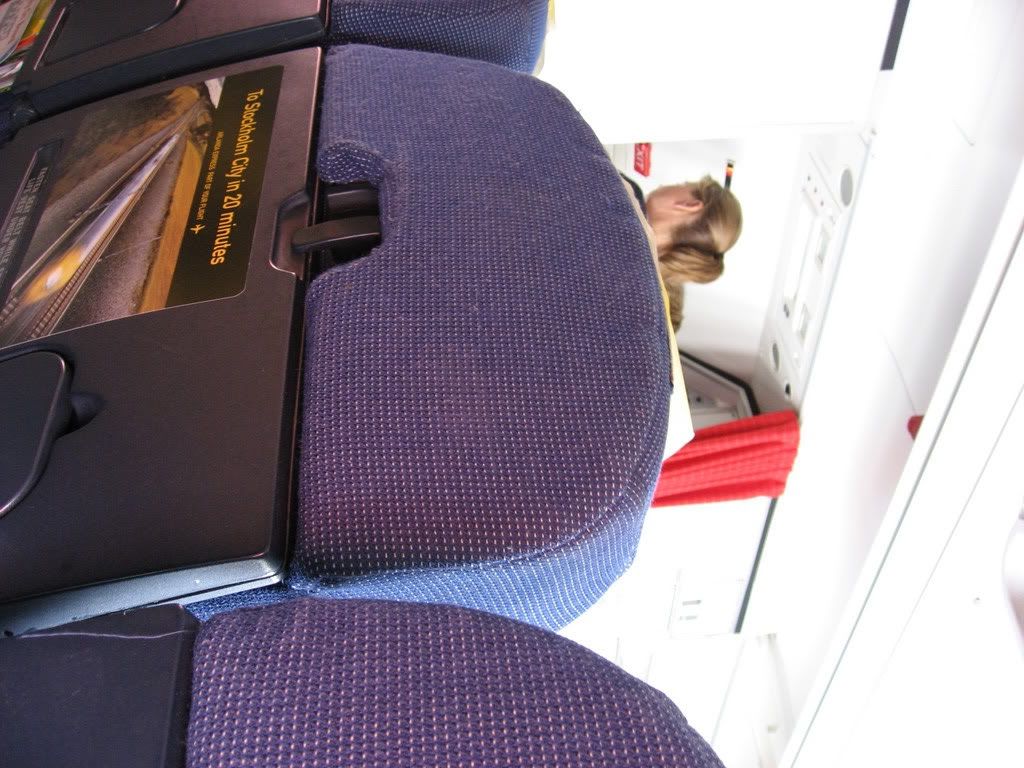 Galley area prior to landing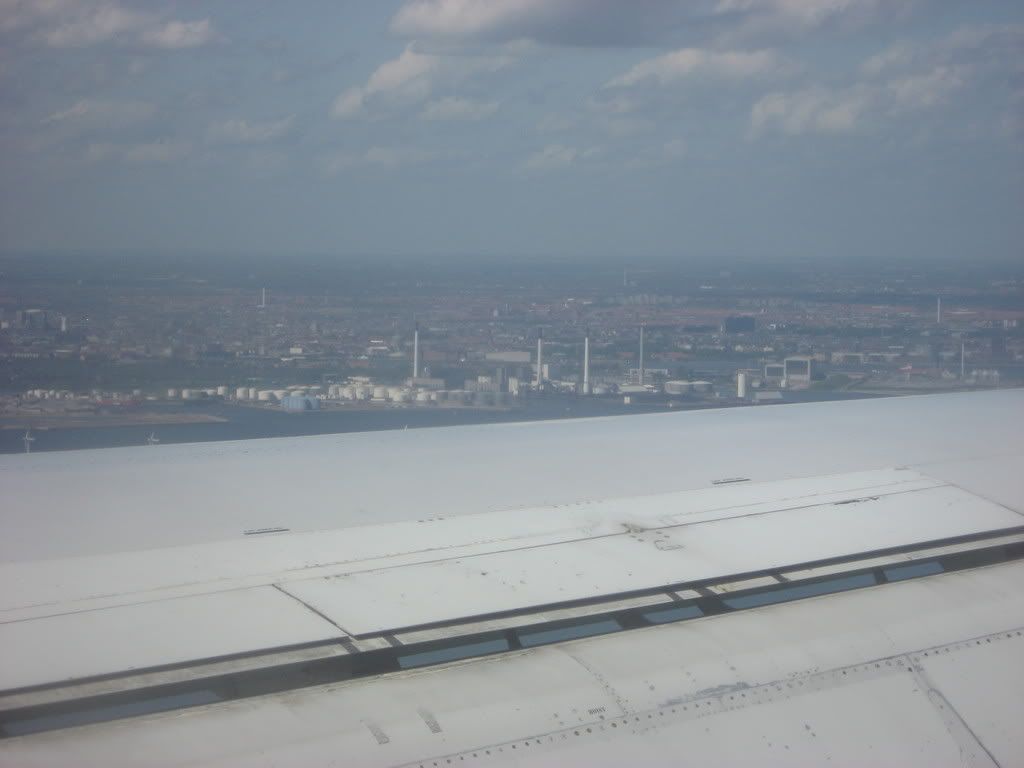 Copenhagen and environs (note the wind turbines)
I hope you found this interesting...more Scandinavian adventures to come. Comments/questions/concerns greatly appreciated.