RTW-Part 3: LHR-HKG-MEL on QF 1st Class.
This is my final instalment of my Round The World on Oneworld airlines trip reports. You can read part 1 here:
RTW Part 1: SYD-SFO QF 1st Class (31 Pics)
(by
Crdaus
May 21 2007 in Trip Reports) and part 2 here:
RTW Part 2: EWR-LHR BA 1st Class (many Pics)
(by
Crdaus
May 28 2007 in Trip Reports)
Something I forgot to mention in my previous report is that on landing at LHR, the 777 did not park at a gate and pax were transported to terminal 4 via bus. This was not a very good ending to what had otherwise been a superb BA service. I assume that Terminal 5 will have enough gates when it becomes operational. The flight arrived at around 9am.
As is the usual practice, transit pax pass through a security check after diss-embarking from a connecting flight. This is a check where, among the usual things, they now apply the new security rules about carry-on liquids. I had none but wanted to buy some so after passing security, which mercifully was very quick, I made a quick tour of the Duty Free shops in LHR T4 to buy some toiletries. There seemed to be utter confusion at the shops as to what pax could take onto the plane. One shop said that the goods had to remain un-opened in a sealed clear plastic bag and must not exceed 100mls each etc. – the new security rule. This did not suit me because I wanted to use them in the lounge so I walked across to the QF30 check-in gate and asked whether there would be any further security checking to which they said no, so I returned to the duty free and made purchases. Subsequently, I boarded the plane with the liquids. However, I understand that in some airports there will be a final screening before boarding in which case the "liquids rule" will be enforced. This is an important issue for the airlines and airports to clarify especially given the inadequate provision of toiletries in the lounges and on-board, even for 1st class pax.
With a bit over two hours between BA188 from EWR, and departing on QF30 for MEL via HKG, I made the most of the BA Concorde lounge for 1st class passengers in T4 at LHR. Unfortunately there were a couple of pax loudly snoring in the lounge chairs and the room was too crowded elsewhere to move. In any case, I decided to check my emails but was disappointed to have to pay for internet wifi access. I understand that this is now provided gratis at the new QF 1st lounges in SYD and MEL!
As I was not at all hungry, I didn't eat anything although memory told me that the food in the Concorde lounge would be very good. I decided to wait until lunch on the flight. There was plenty of time to take a shower at the Molton Brown spa which is outside the Concorde lounge and downstairs, presumably to conveniently cater for business pax and non premium 1st class pax. Anyway, there was no waiting. However, the shower rooms are really showing their age. The shower unit itself is one of those self contained moulded, or should I say mouldy, units that you can plonk into a room and attach plumbing. I have been spoiled by the bathrooms at CX's "The Wing" in HKG I have to say. At least I was able to get re-freshed before the pending 21 hours flight to MEL.
Back in the lounge time passed quickly and soon we were being paged for boarding QF30, so I made my way to the boarding gate which was un-crowded. I proceeded down a long passage to the airbridge to the aircraft. At the door I was greeted with a very welcoming smile by two crew who addressed me by name and directed me to the left which is the entry to the 1st class cabin. No sooner was I ensconced in seat 2A that a very nice lady offered me Krug champagne. This is definitely a cut above what BA offer while on the ground – BA serves something much cheaper like Piper Heidseck non vintage.
Along with Krug came olives and almonds and a copy of the Australia Financial Review with a memorable headline.
I fleetingly hoped that it would be the only shambles QF would be mired in! Seriously though, this was the day after the bid to takeover QF had failed. I was delighted at the news and judging by the high spirits of the crew – so were they. Also being handed out at this time were the menu, amenity kits, and pyjamas. All the crew were being very attentive and charming. In particular, one of the senior stewards (I think he referred to himself as a trainee flight director) couldn't do enough.
In no time at all we began the long taxi to takeoff. Scheduled departure was 12:20 pm, but I think it was about 30 minutes later.
We had about four flights ahead of us.
After takeoff, and within minutes of the seat belt sign extinguishing, more Krug champagne was offered, this time with canapés.
Now with my seat semi reclined and my feet raised to rest on the foot stool and while sipping the perfectly chilled Krug and nibbling the canapés, I contemplated the menu and winelist for lunch.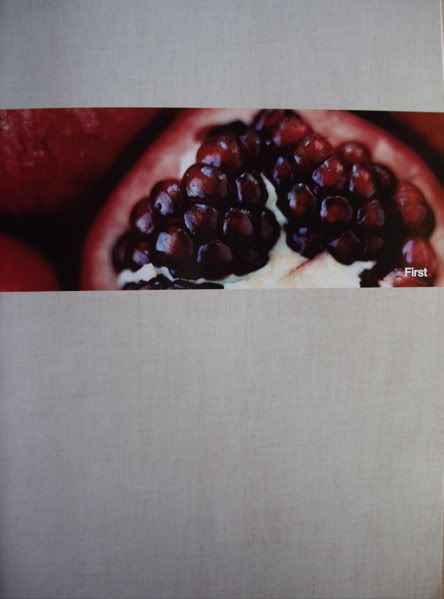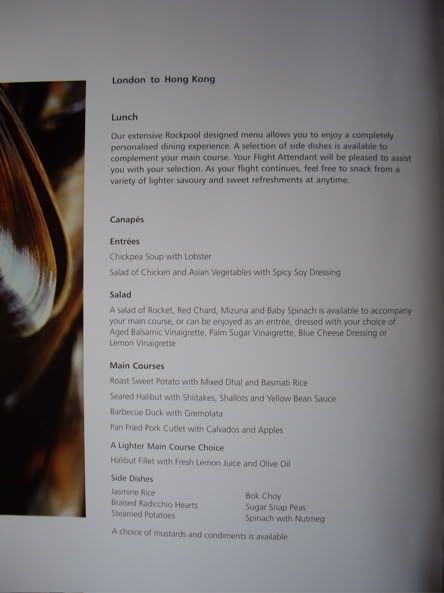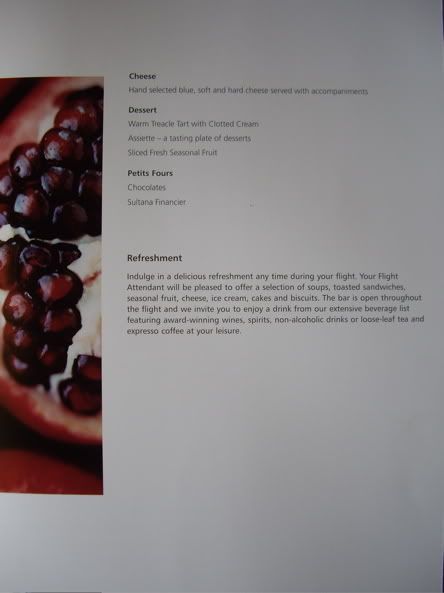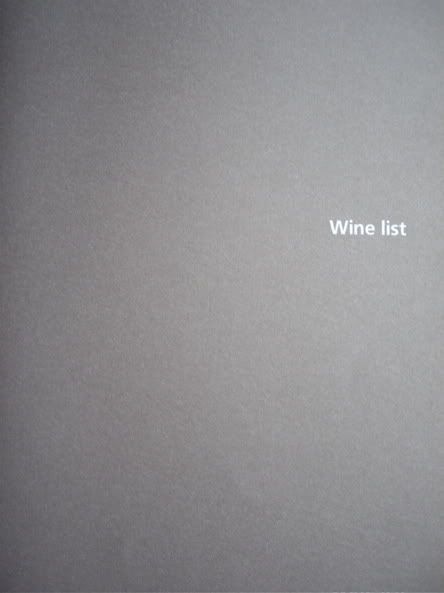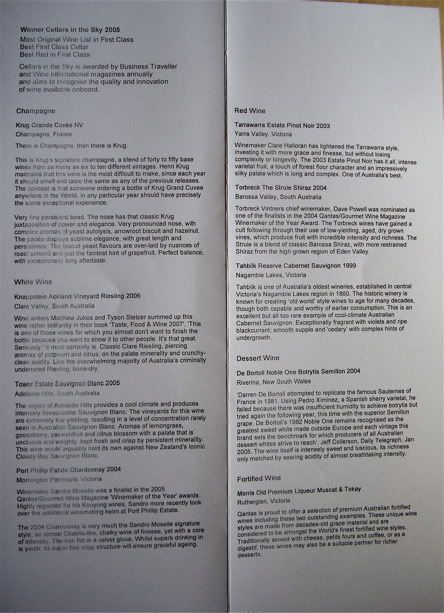 .
Before commencing eating, as always I find it prudent to change into the pyjamas so that if I spill anything (something I invariably do especially after a couple of glasses of bubbly) it won't be on my clothes. I note that some 1st class pax change into their pyjamas before takeoff and even before the door has closed.
For first course, I decided on Chickpea soup with lobster
This was very tasty with real pieces of luscious lobster meat
As usual, a choice of wholemeal or sour dough rolls (warmed) were offered together with butter or olive oil and balsamic (my choice).
For main course, I chose the Barbecue Duck with Gremolata accompanied by spinach with nutmeg and jasmine rice.
I also had a salad of mixed greens with palm sugar vinaigrette.
The duck was cooked to perfection and full of flavour. The nutmeg laced spinach and rice balanced the richness of the dish. I have never been disappointed with duck whenever it is served by QF. It must be one of those meats that works well with re-heating in flight.
I don't recall drinking any wine with the meal other than Krug champagne of course.
Around about this time, the captain did the rounds of the 1st cabin and I chatted with him about the good news regarding the failed QF takeover. He carefully avoided being drawn into expressing a view but seemed clearly relieved that the uncertainty was now over. He also asked how the crew were looking after me and happily I was able to report that their service was faultless.
It was now more than two hours into the flight and we were well over the Baltic. I have probably flown this route during the day 2 or 3 times in the last two years and the weather has always been clear. Riga was quite visible. I will be seeing a few Baltic ports from a different angle – by cruise ship – in just a month from now, but only after flying all the way back from MEL again. The whole idea seems amazing.
I have included a brief video showing the flight map, an interior shot of the cabin, and the view of Riga.
Obviously the alcohol was beginning to have an effect and it was time for dessert.
I couldn't resist the assiette of desserts.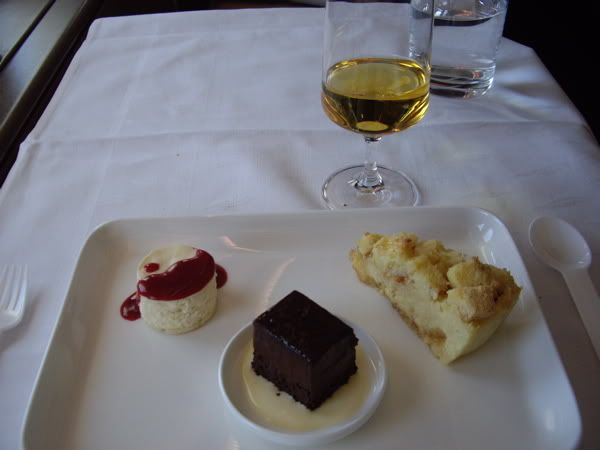 I think this consisted of a small rice pudding, chocolate mud cake, and pear flan. To drink, and my only departure from Krug on this flight, DeBortoli Noble One – a botrytis Semillon that is like drinking chilled thin honey. The perfect finish!
Oh, and of course tea – served in a plunger. No, despite the label on the sugar packer, that is not ground coffee!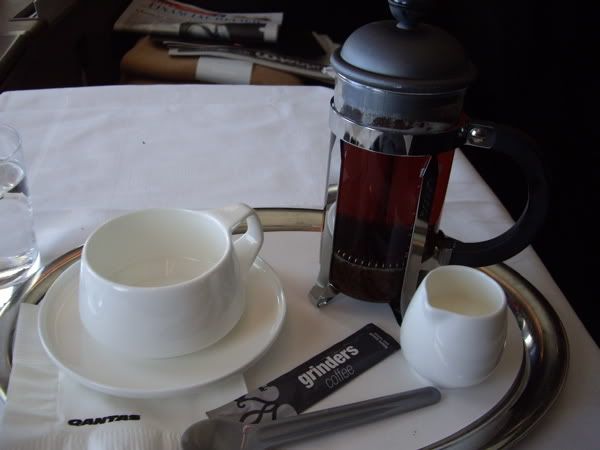 .
By this time I was ready to watch a movie, but I became drowsy so fully reclined the seat and drifted off to sleep. I am not sure whether the bed was made up or not probably because the crew seem to set up the beds without any fuss and generally you are not aware.
After several hours of very restful sleep, I was aware of some stirring in the cabin and realised that it was breakfast time. We were probably about two hours out of HKG.
The breakfast menu: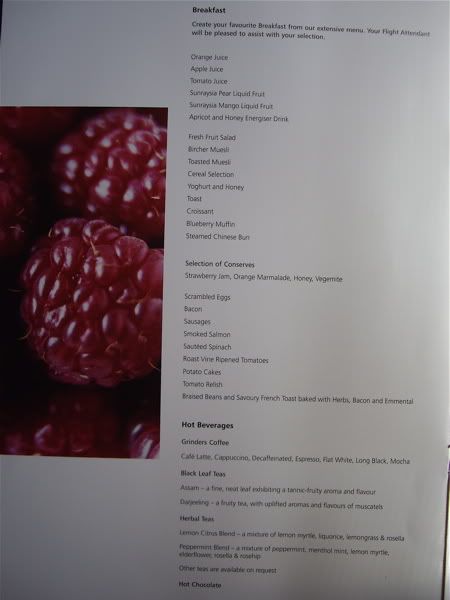 I started with my usual: Sunraysia Pear Liquid Fruit and Bircher Muesli:
I followed this with scrambled egg on toast with smoked salmon and roast vine ripened tomato.
I think I must have also had a cappuccino.
After breakfast the pace of activities picks up as pax refresh themselves, change back into their clothes and the crew ready the cabin for landing.
Soon the plane was landing at HKG. How uneventful this is compared to landing at Kai Tak with all the required ducking and weaving and where you felt like the plane would surely collect the laundry from the roofs of Kowloon tenements. You know, you can still make out the runway of Kai Tak when flying over the city. It hasn't yet been completely covered by new buildings.
Inside the terminal building I made straight for the CX 1st lounge "The Wings" ignoring the directions for pax to go to the QF lounge. Just as well as I am an emerald Oneworld pax otherwise the QF 1st boarding pass would not have gained me entry. Despite having only a brief stop before continuing onto MEL on QF30, it is always worth a visit to this lounge, if for no other reason than to sample the delicious dim sum they serve in the dining room: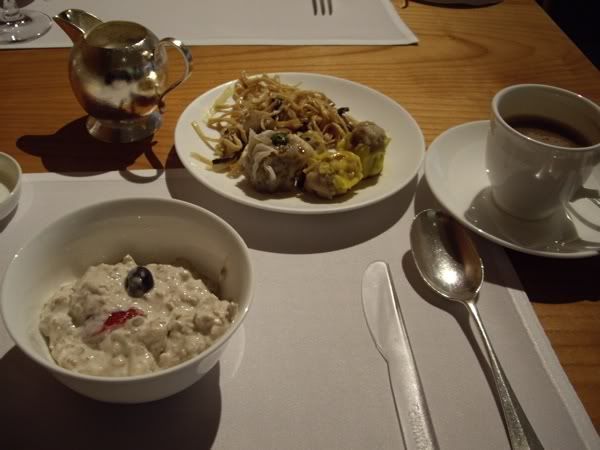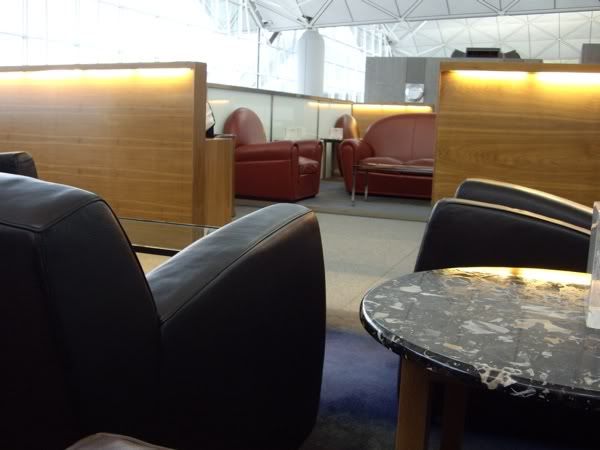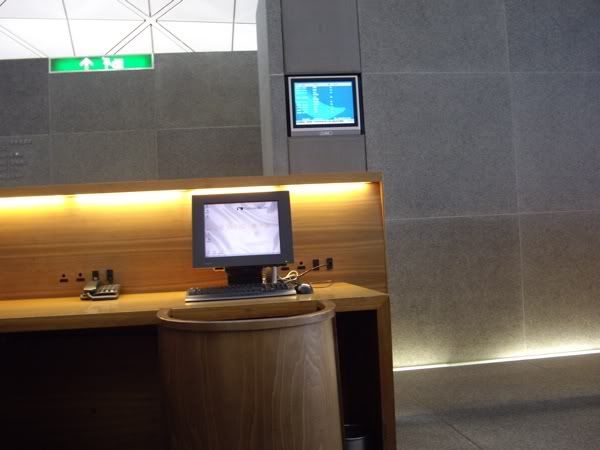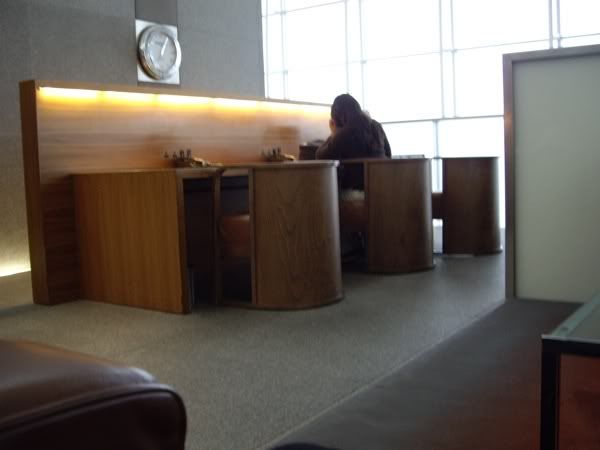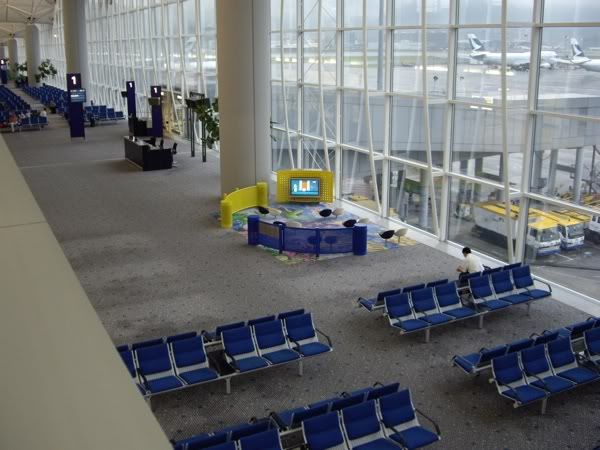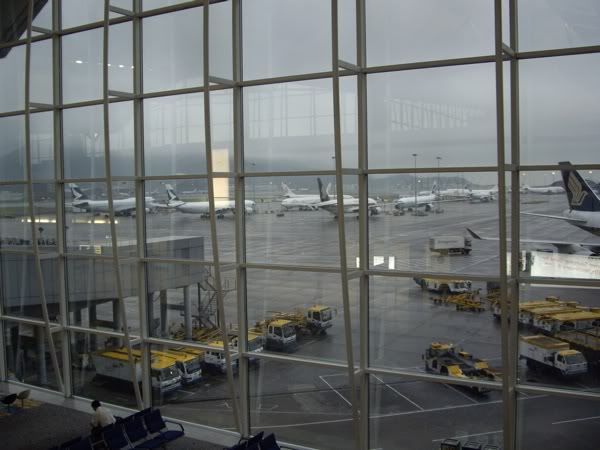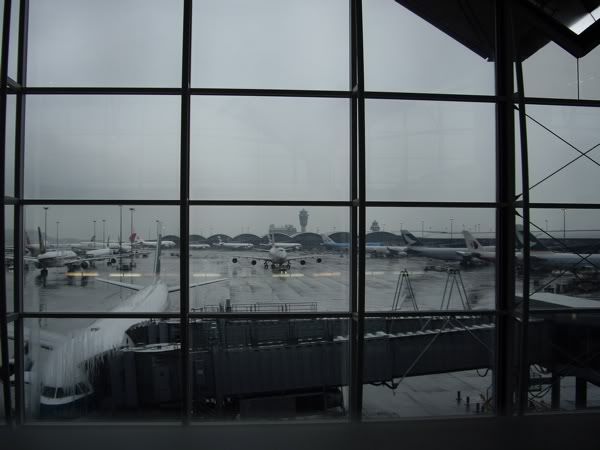 .
However, with only a little more than 60 minutes before boarding not much time to do anything else including duty free shopping so back to the plane for the trip to MEL.
A fresh new crew was waiting to greet me into a spotless cabin. QF crew really make you feel special. It is a great feeling for aussies I think to get such a warm welcome from fellow nationals.
The usual routine followed with Krug champagne and almonds before takeoff, more menus, etc.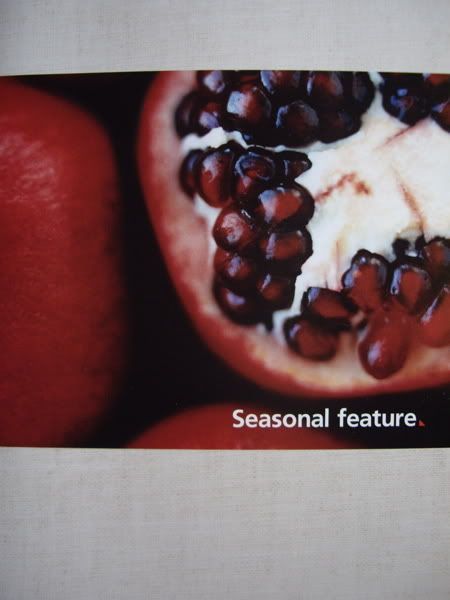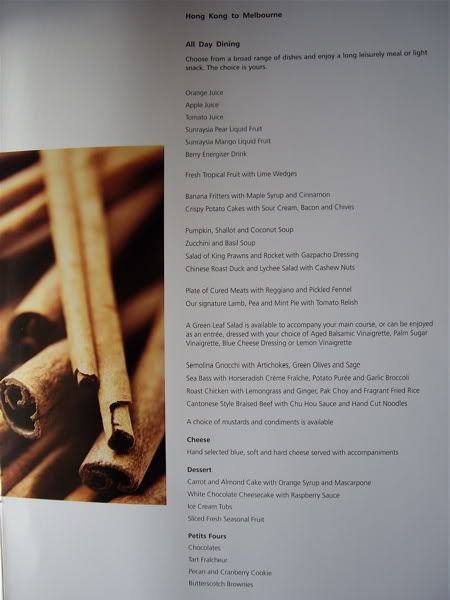 After takeoff, I declined any canapés or further alcohol. I also declined any full meal at this time (afterall I had just gorged myself on dim sum in the CX lounge). I just had a fresh fruit platter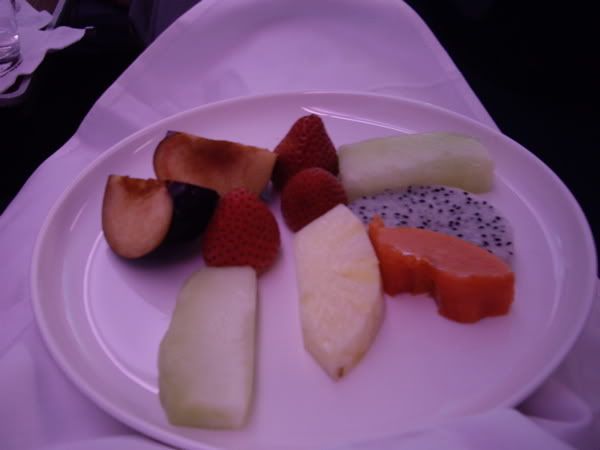 I then changed into pyjamas again, reclined my seat (still 2A), and settled in to watch some movies. I think I ended up watching "Happy Feet" and "Hollywoodland".
The flight to MEL from HKG is about 9 hours, so a couple of hours out of MEL, I selected some food from the "All Day Dining" menu.
First up was zucchini and basil soup.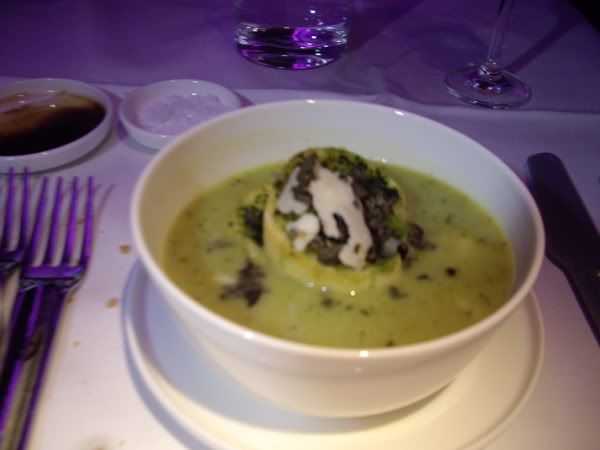 followed by Sea Bass with Horseradish Crème Fraiche, Potato Puree and Garlic Broccoli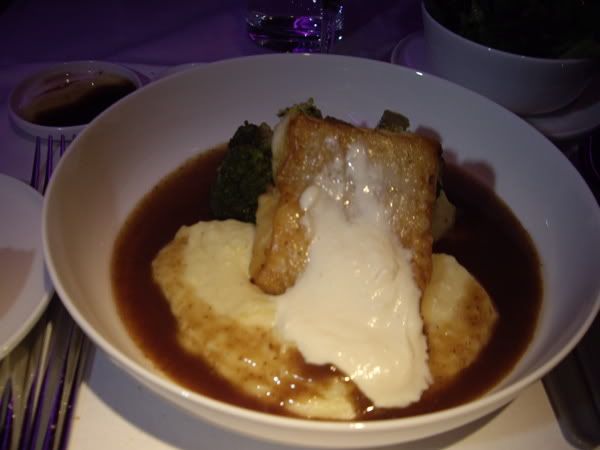 This was a very full flavoured dish and quite filling.
In retrospect, the whole dining experience on QF seems simple and understated compared with what is offered by other airlines such as SQ and CX, but I found it to be just right. The food is of a very high standard: fresh quality ingredients, properly prepared and full of flavour – but then that is Neil Perry's trademark isn't it?
QF30 landed in MEL on time at 8pm - a very civilised time to arrive. Baggage arrived with the expected priority. Immigration and Customs processing was swift and, apart from having to wrestle with domestic commuters fighting for taxis from only one operational taxi stand (tut, tut Melbourne Airport Corporation – get you act into gear), I was in my home by 9:30 pm and ready for a normal night's sleep.
The thing that amazes me about this journey is that for the first time ever I did not have any jet lag whatsoever, despite having flown through countless time zones (remember I started this journey from EWR), and eating and drinking a lot (but a lot of water as well). The difference with this trip was that I did not take any sleeping pills and slept when I felt tired rather than trying to synchronise with the destination timezones.
I hope you have enjoyed reading my trip reports for this RTW journey. As mentioned in Part 2, I am extremely impressed with BA and have decided to fly with them when I return to Europe in a couple of weeks for my cruise of the Baltic. I will be flying 1st class with them from SYD-BKK(744), SIN-LHR(777), LHR-SYD(744), along with some sidetrips to TXL and from BCN in J class. I hope I can report on the success of this itinerary in a couple of months.