For those of you who are familiar with my past trip reports you are aware of the interesting traveling experiences I have encountered this year. Well let me say that this will certainly be another one for you to read. Being the third trip for us this year I was a little weary that something would happen again.
As school was coming to an end me and my mom decided to visit our relatives in Mississippi since we hadn't been down there for a couple years. I checked flights online and Airtran was the cheapest followed by Northwest, but we did not buy any tickets just then. My uncle who works for NW said we could get down to MEM on standby for only $135 per person roundtrip and that sounded good to our ears. We flew down on standby about 3 years ago, but at that time my uncle had to fly up and then fly down with us for some reason... that has now changed apparently. My nephew who is only 10 months old was to come down to visit the relatives too. I never traveled with an infant before and I wasn't sure I ever really did want to, but I was glad to be going anyways so I didn't really care too much.
The night before we were to leave I rushed to get my clothes packed because I procrastinated greatly. I went to bed at midnight and woke up at 4am. My dad dropped my mom, my nephew, and I off at the airport at about 5:30am. We used the self-check in and found out that one of our bags was almost overweight at exactly 50lbs. After completing the check-in process we headed up stairs to find a very long line for security. The line for Concourse E was longer than I ever saw before, but I was not worried because we had ample time. It sure was fun trying to get the stroller through security and even funnier when the TSA guys couldn't open the stroller. Once at our gate E68 my mom checked with the gate agent to see how the flight was looking as far as seats went. Unfortunately he said it was looking bad because they had a cancelled flight to DTW that morning which backed up all the other flights as well. I didn't really know the extent to the unlikelihood of getting on so I sat back and waited. While waiting I noticed several fire trucks and an ambulance pull up out side and they came up to attend a passenger who was having some difficulties of some sort. After that little incident I walked around and snapped some shots of planes like usual.
FL 717 sporting the new colors at E61
NW A320 I believe going to DTW
NW 752 pushing back for a flight to MSP
FedEx heavy taxiing by heading to the active.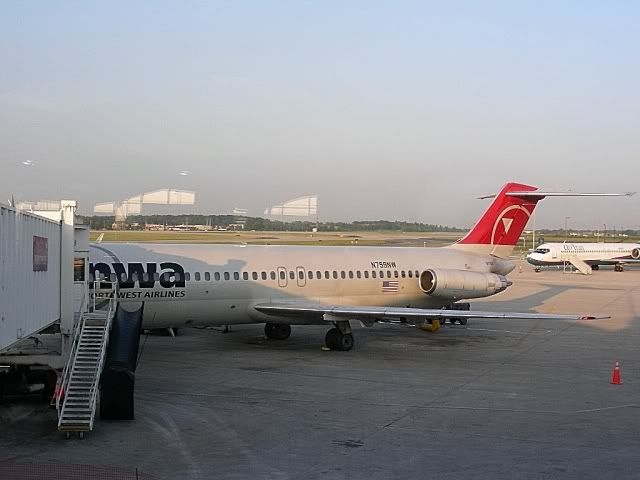 NW flt. 949, the one we were supposed to take to MEM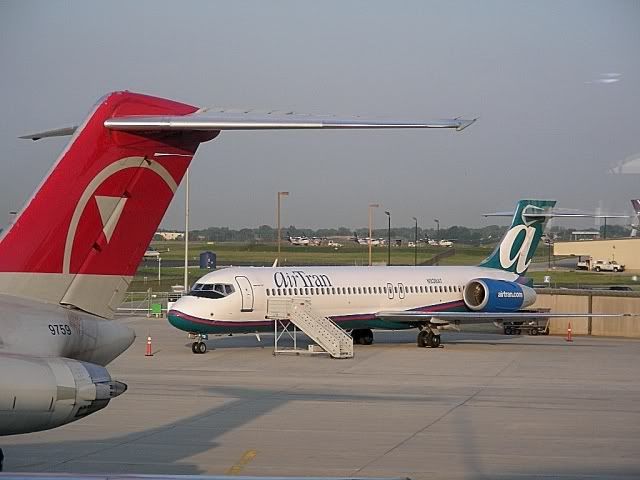 Airtran's two gates were occupied so this 717 waited off to the side.
One of YX's new CRJs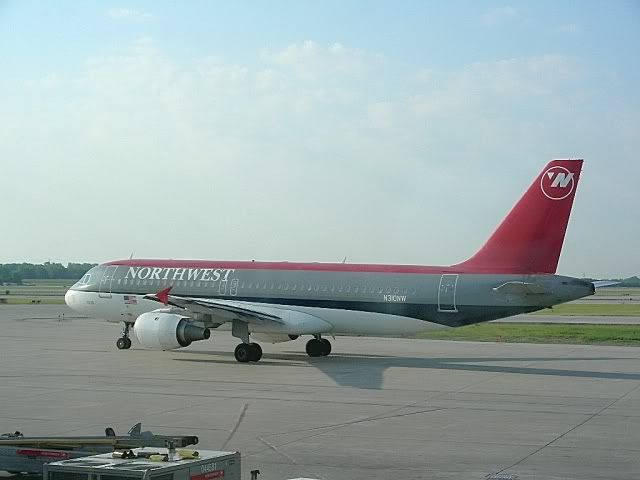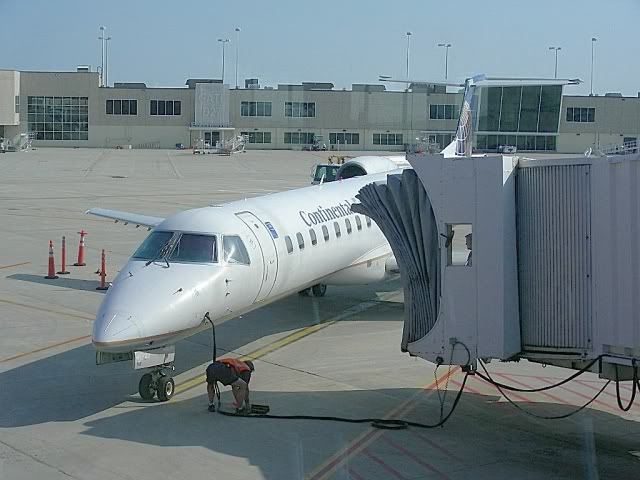 When I came back to our gate boarding was underway and we sat and waited until last minute to see if we could get on. Confirming what I thought was going to happen, the guy said we wouldn't make it. I was pretty pissed especially because our bags were going on that flight and because the odds weren't looking good for getting on a later flight either.
here's the flight leaving without us.
We had the gate agent put us down for the 11am flight to MEM but there were a few other non-revs before us. After grabbing a quick bite and killing some more time I thought of a wonderful idea... check with other airlines to buy a ticket to MEM. First we checked with DL and the price was $635 per person; AA and US matched that same price. I thought our best bet was to check with FL so we did even though lately I would have been a little reluctant to fly with them because of the whole merger deal lol. FL gave us two options: $394 per person one way in business class that left MKE at 11am and arrived in MEM at 5pm or something like $274 per person in coach that didn't get to MEM until 10pm. I didn't really feel like spending the rest of the day at the airport or going home for that matter so my mom and I decided to take the first option that left around 11. The lady who took care of us was very kind and at times I probably freaked her out with all my knowledge on the flights like when I told her the flight options and what aircraft pretty much before she even looked them up. It was funny when she even said she likes to fly Midwest as much as she can. I don't think that's a common thing for an Airtran employee to say these days. As soon as we bought these one way tickets I called my uncle and told him the news and I assumed we would just fly standby NW home because the morning flight is usually easy to get on. One thing we didn't know was that he would have to fly with us home because we did not fly down on NW. My uncle said it would be hard for him to do that so we said we would just by FL tickets home. The sad part is we thought of this a little to late and we would have to buy more one way tickets home. It would have been better to buy roundtrip tickets on FL in the first place since that would have saved us $600! Because this all took place around 8am we still had plenty of time so we walked around the terminal then headed back through security. For the next two hours I tried my best to entertain myself, but that was not a problem since my nephew was the center of attention in the gate area.
The inbound Airtran flight was running a few minutes late but nothing that affected our flight too terribly. As passengers were deplaning a lady mistakenly placed a used headset in a clean headset basket at the gate counter. Then a FL employee snapped and dumped the whole basket immediately in the trash. I know that was the right thing to do but she did not have to make such a scene as she did.
Our 737 arriving to the gate.
June 14, 2007
Airtran 81
737-700
Seat: 3F
Load factor: 100%
Airtran was probably the first airline I ever heard that persistently requested that the passengers remove everything from their carry-ons that they would be using before boarding the plane in order to make the process quicker. That was ironic because the boarding process seemed to take longer than usual. While others were taking their seats we were offered drinks and I got an orange juice. The flight attendants were very kind and humorous. One lady FA in particularly was very funny and nice and said that she "likes the young one's (referring to my nephew) because they don't know what's going on, and the old people because they usually forget what's going on." lol
View from my window while sitting at the gate.
Pushback was a few minutes behind schedule and we taxied to runway 1L for departure. We waited for one aircraft to depart ahead of us than we rolled on and powered up.
Those engines sounded great as we made are way smoothly off the runway and into the air.