This is the return trip of my report to SJD.
Since one of my friends and I had been to Cabo five times before, we were content on spending the week in the pool and on the beach. We stayed at the Playa Grande resort on the Pacific Side of Cabo. I like being on the Pacific side because the beach is practically empty since it is too dangerous to swim. On the other hand, the Sea of Cortes side of Cabo has a lot more to do.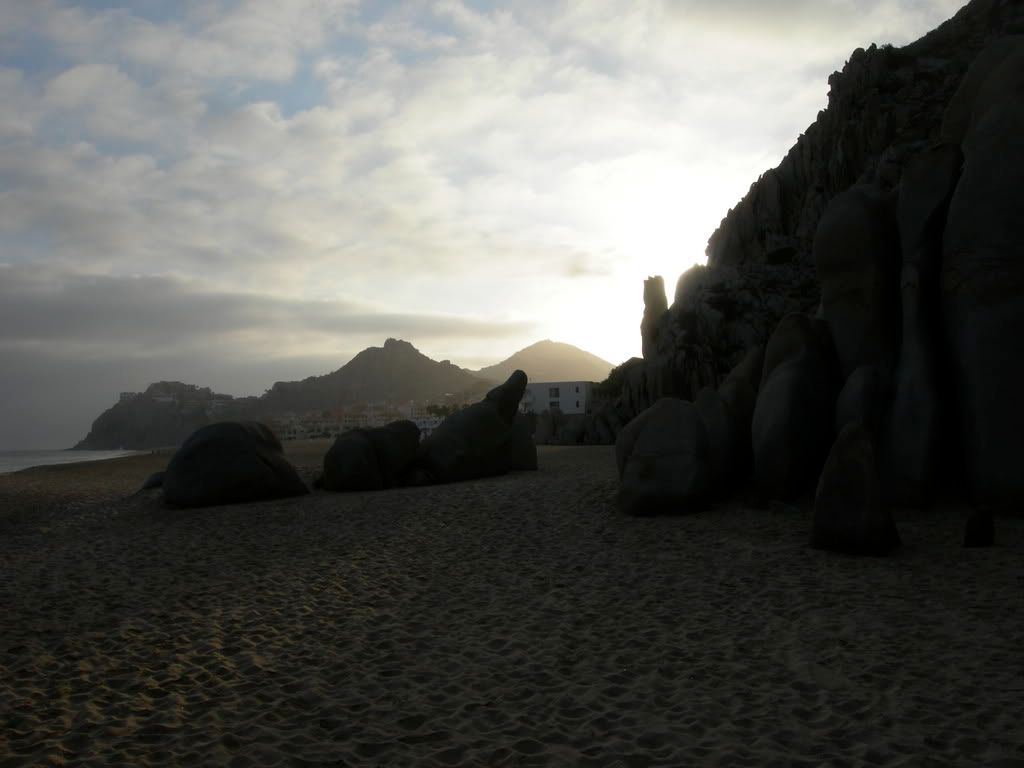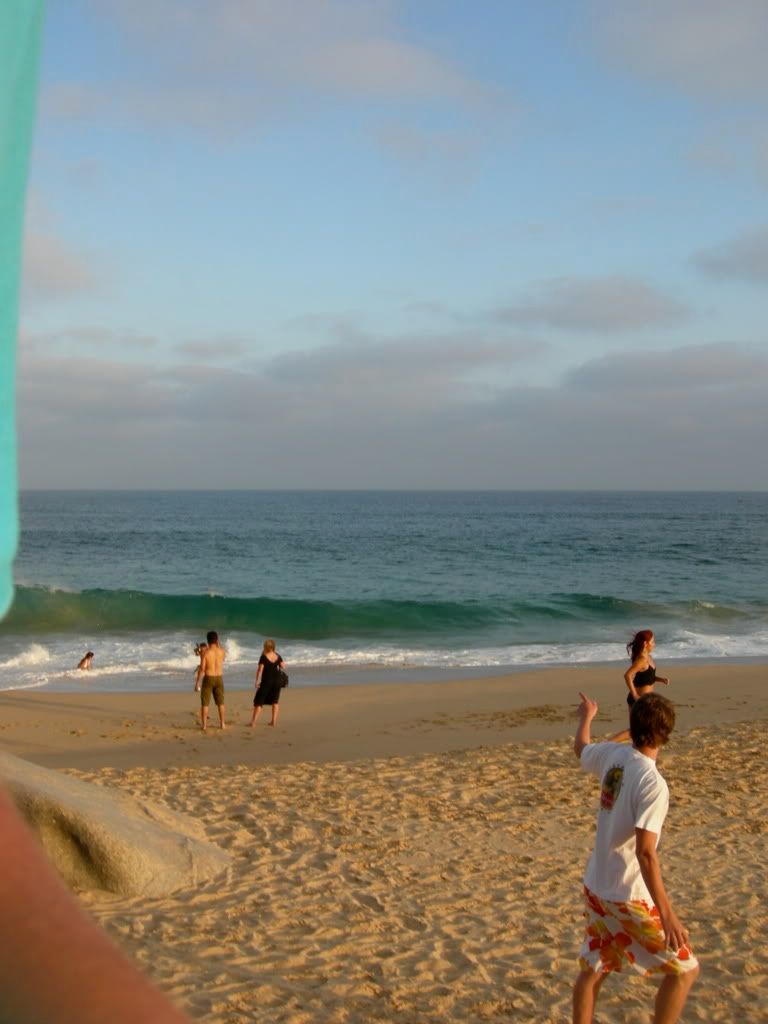 Unlike Spring Break, Cabo was devoid of college students. At night, the town was quiet. We never had to wait for a table, nor deal with throngs of people during the day. It seemed like the crowd was much older and spent time within the resort. We did go clubbing a few nights at El Squid Row, the Zoo, the Giggling Marlin, and Cabo Wabo.
The highlight of the trip was getting to hold baby lions. There was a small stand on the marina where you could have your picture taken with two-month-old lions for $20 to raise for a wildlife reserve further up the Baja Peninsula.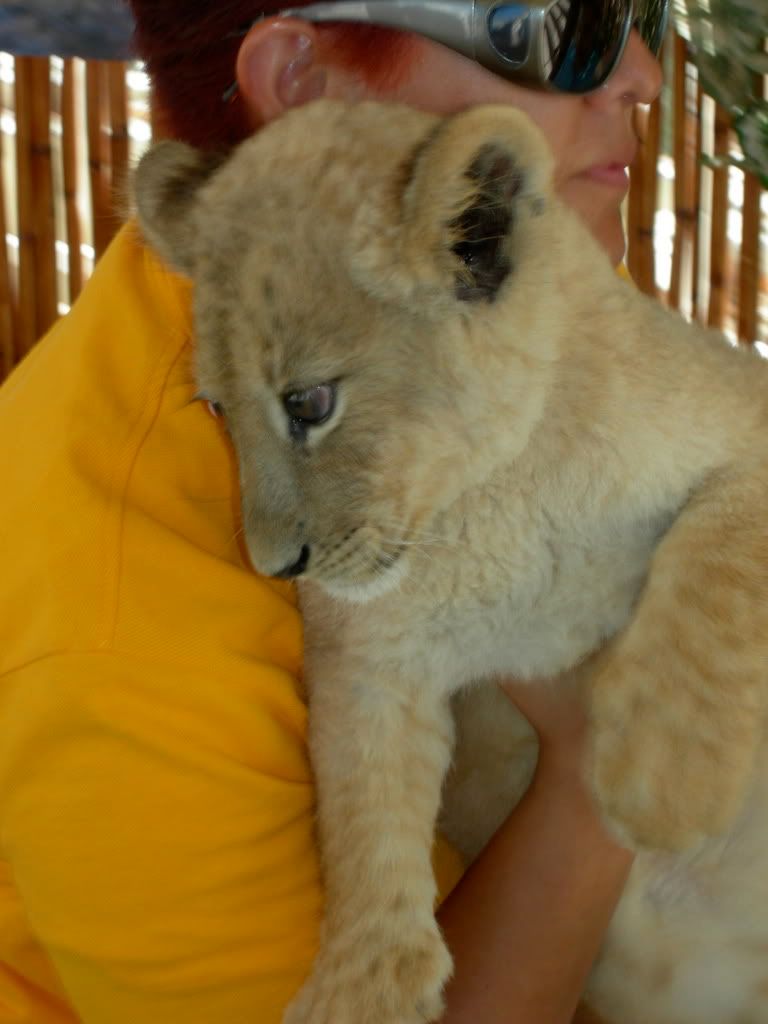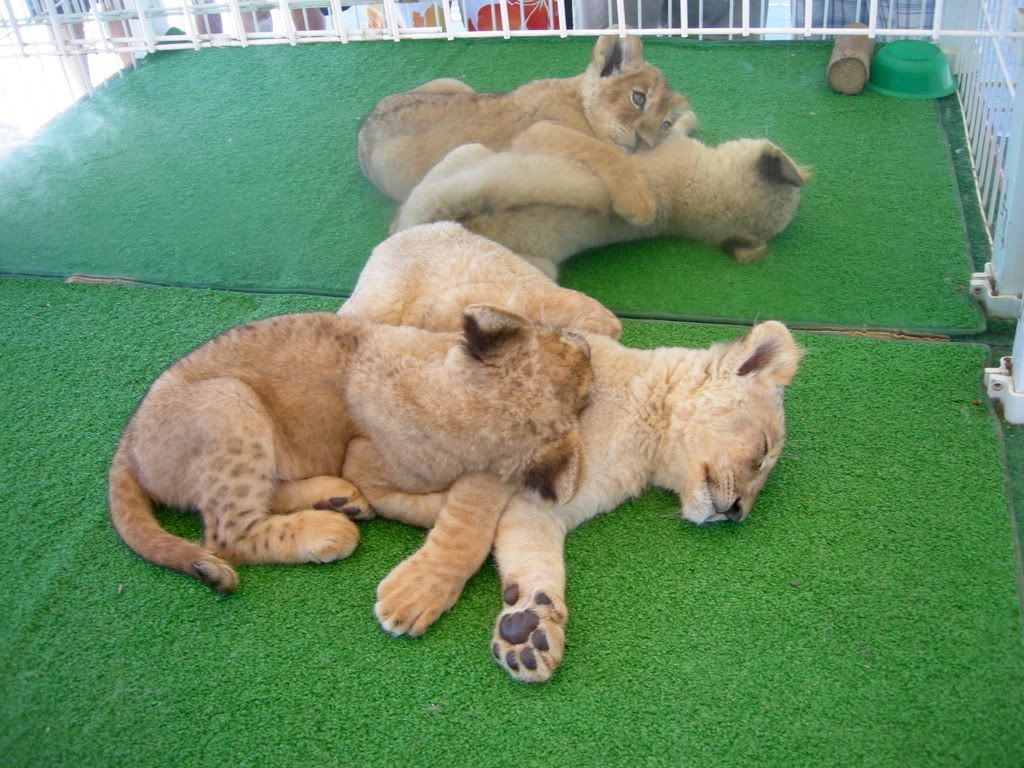 After a week, a shuttle picked us up at 9 am on Sunday morning. We made two stops on the way to the airport, which dragged out the drive so that it took an hour instead of the direct 35 minutes. The check-in line for the Denver flight was only a 10 minute wait, which wasn't bad considering they hand search all of your checked luggage. I noticed the AS counters were completely empty. Usually when we leave Cabo, there is a line out the door for all the afternoon AS flights. Like the outbound SFO-SJD flight, my friends didn't have seats. We hadn't been able to select any when we bought the tickets and since I was the only one in our group who cares about flying, I eventually was able to select a seat online.
Sunday, June 24, 2007
United Airlines –Operated by TED- Flight 1686
SJD-DEN
A320-200
N444UA
Gate: 3
Departure: 1230 pm (1247 pm)
Arrival: 332 pm (340 pm)
Seat: 14B Economy
Load Factor: 100%
Security was a breeze. There was almost no line. My friends commented on how lax the security was. It seemed the screeners could care less about looking at the X-ray monitors. The terminal was pretty empty with people only waiting for the Denver flight as well as a Champion Air flight to Dallas. We went to one of two food places and bought $8 personal dominos pizzas. In line, we started talking with some guys from Texas. They each had a Sol in their hand and sounded like they were having a good time, possibly too good of a time.
My two friends still needed seat assignments, but no one was at the gate. They managed to track someone down who said they should go over to Gate 2, where the Champion Air flight had begun boarding. When the flight finished boarding, they were handed two random seats. One friend managed to snag a bulkhead economy plus seat. Several people were still waiting at the original gate for seat assignments, but they eventually found out they had to go to the Champion Air gate to get their seats. The gate security for the Champion Air flight was enforcing the no liquid rule as they were forcing passengers to leave behind the water bottles they had purchased in the terminal. They also hand searched everyone's luggage. I'd estimate around 100 unfinished bottles were left on the tables before the gate. The boarding for the Champion Air flight was a bit chaotic because they weren't using a loudspeaker, only word of mouth.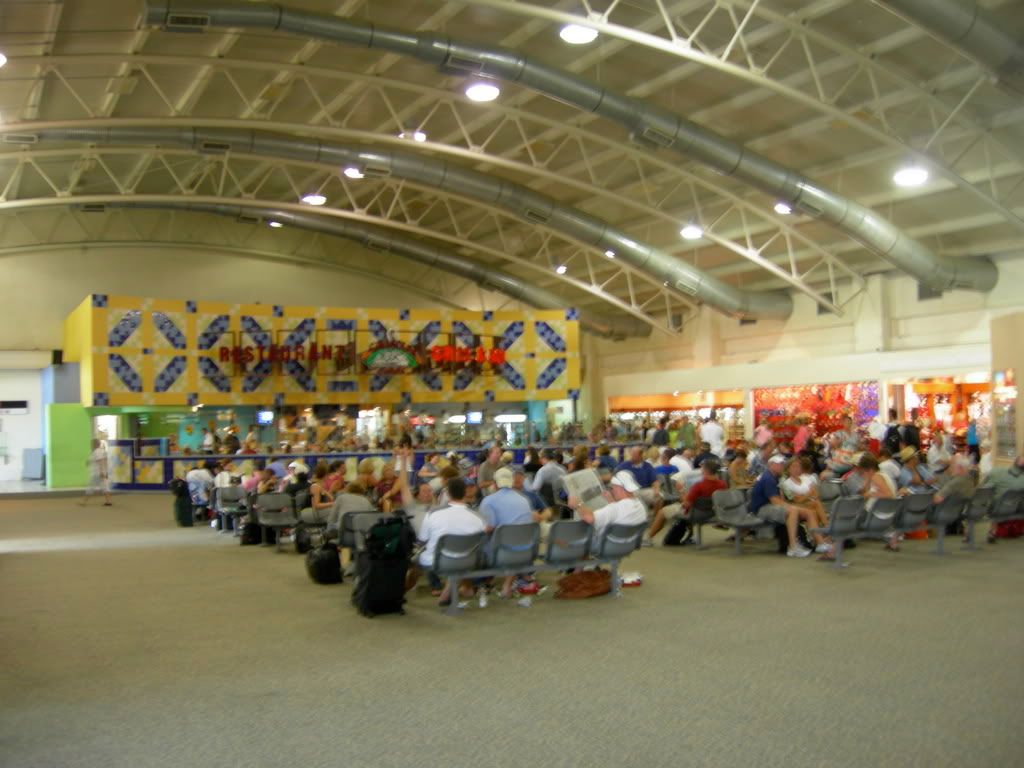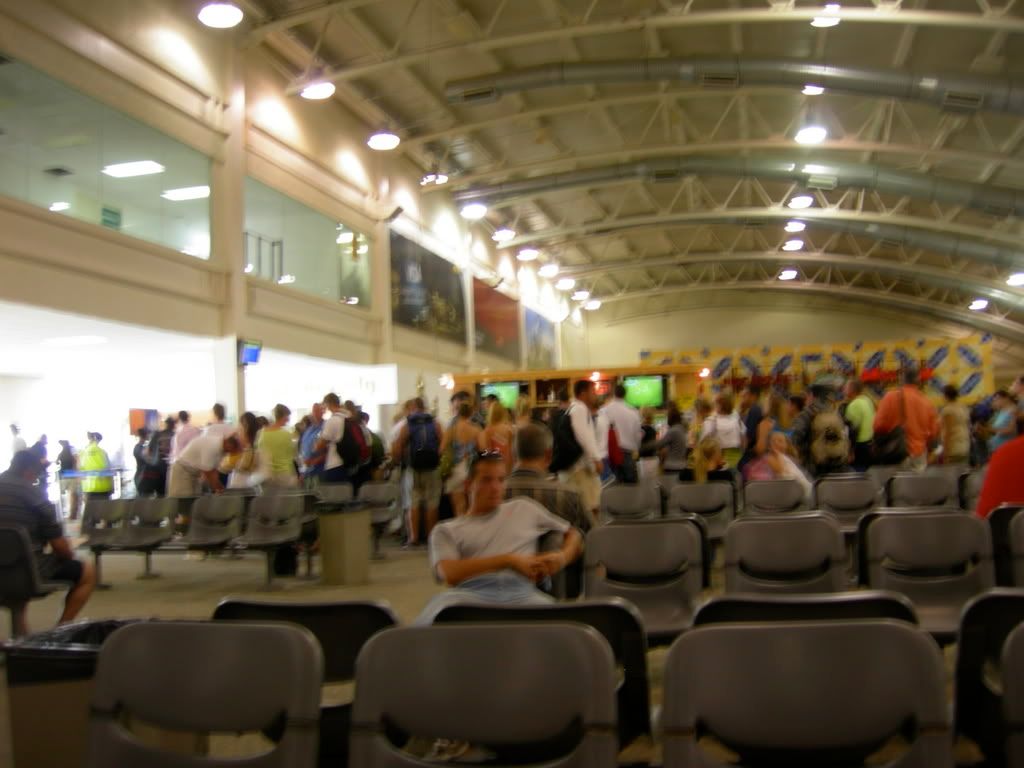 They are expanding the tarmac over my gate 1 (Alaska's Gate)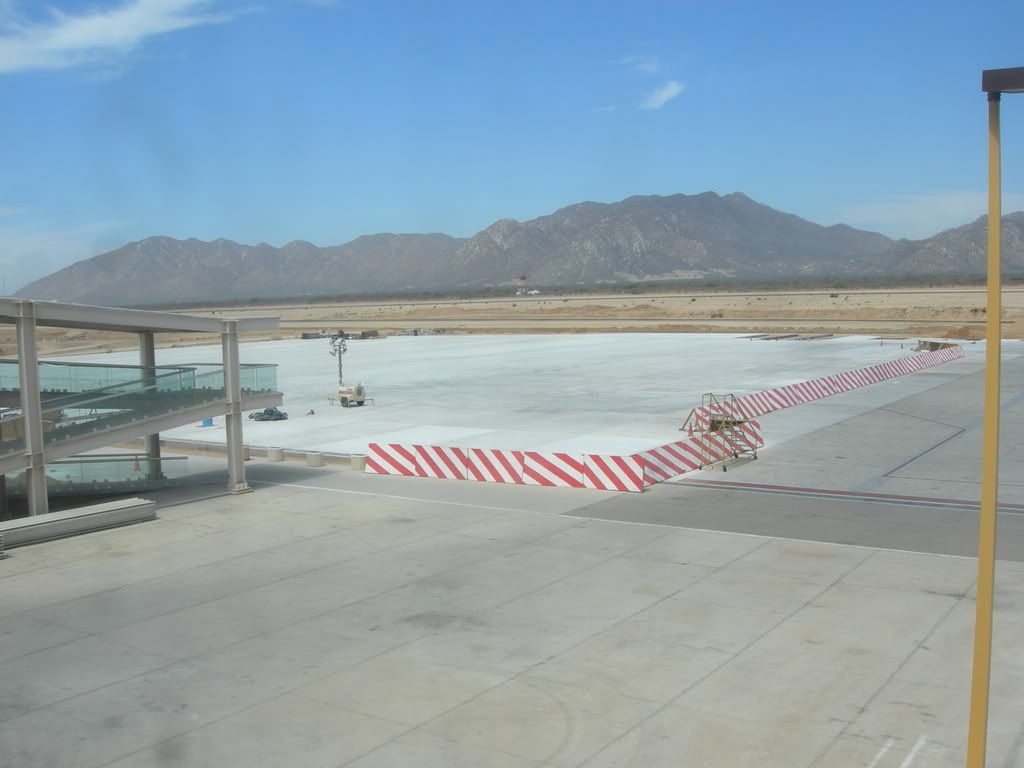 Our plane arrived to gate 3 (which interestingly in the middle of the terminal between gates 1 and 2 because it is brand new this year) at noon. They managed a quick turnaround (10 minutes) and we boarded en masse only a few minutes late.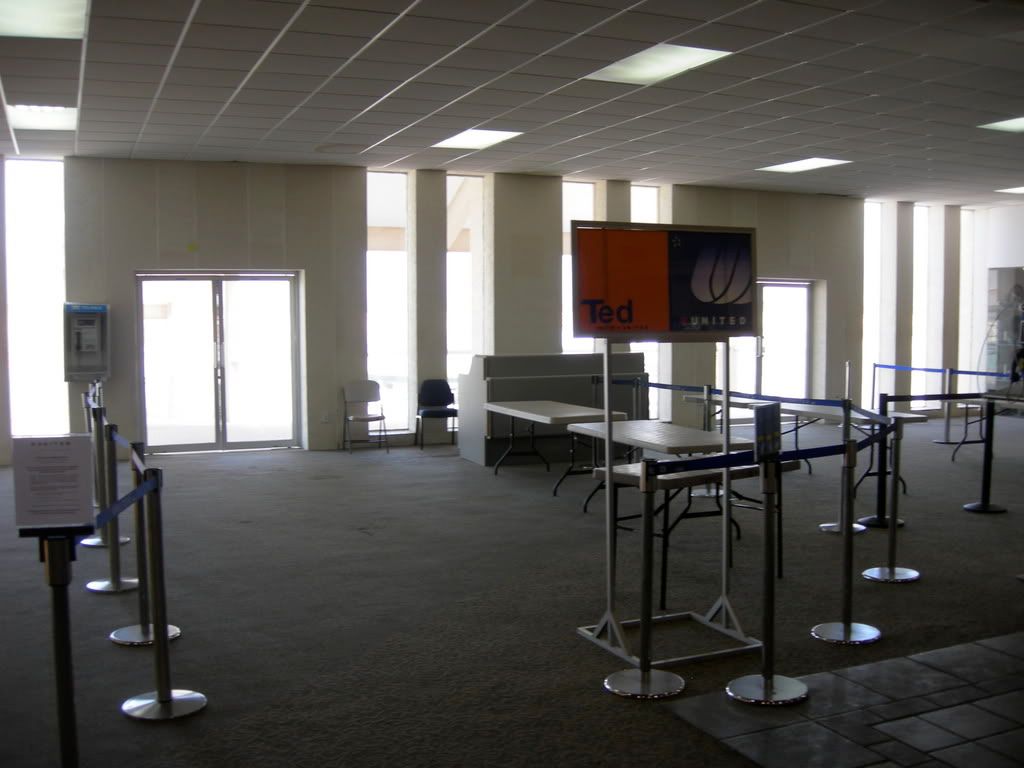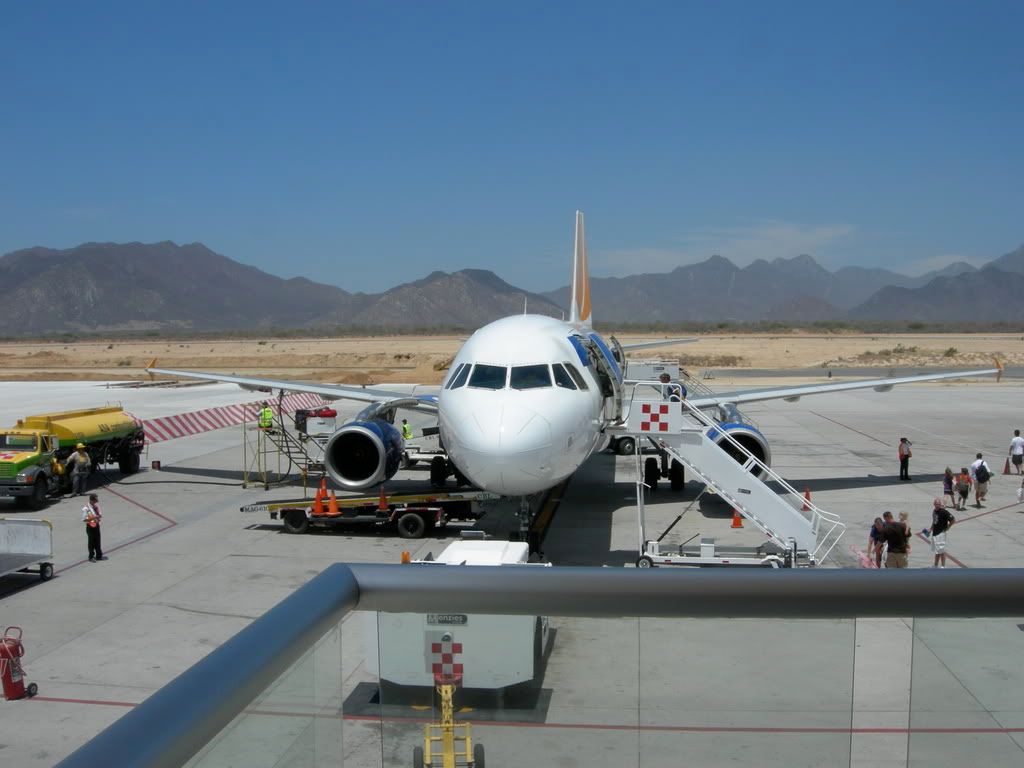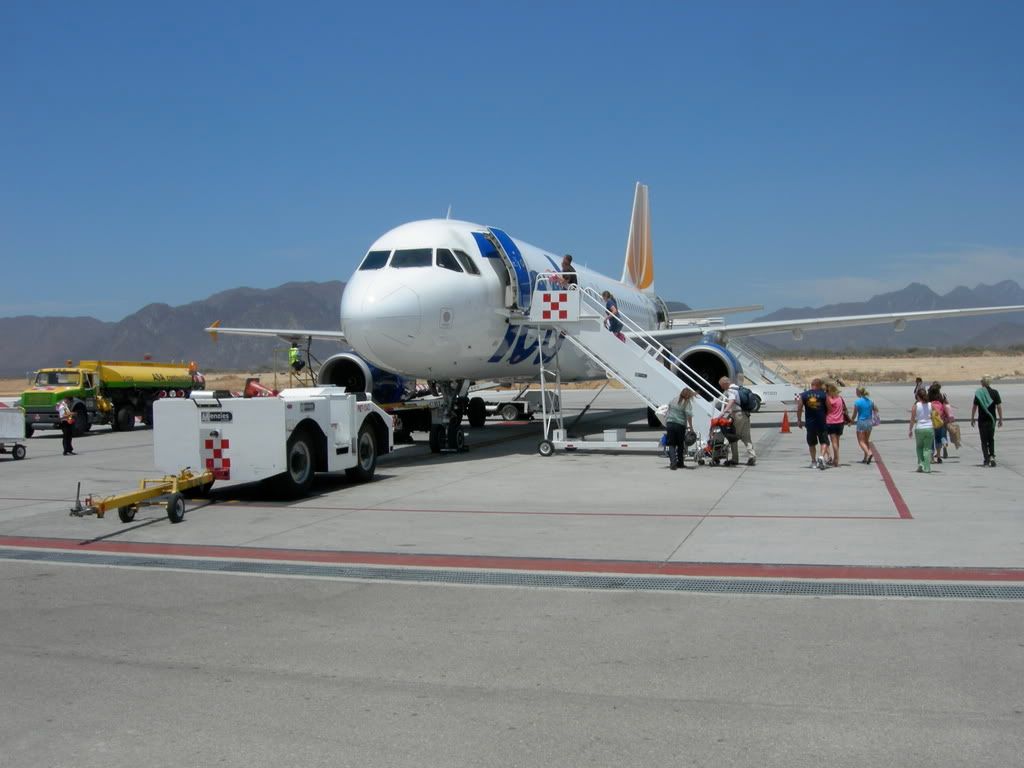 The other terminal had much more action at midday.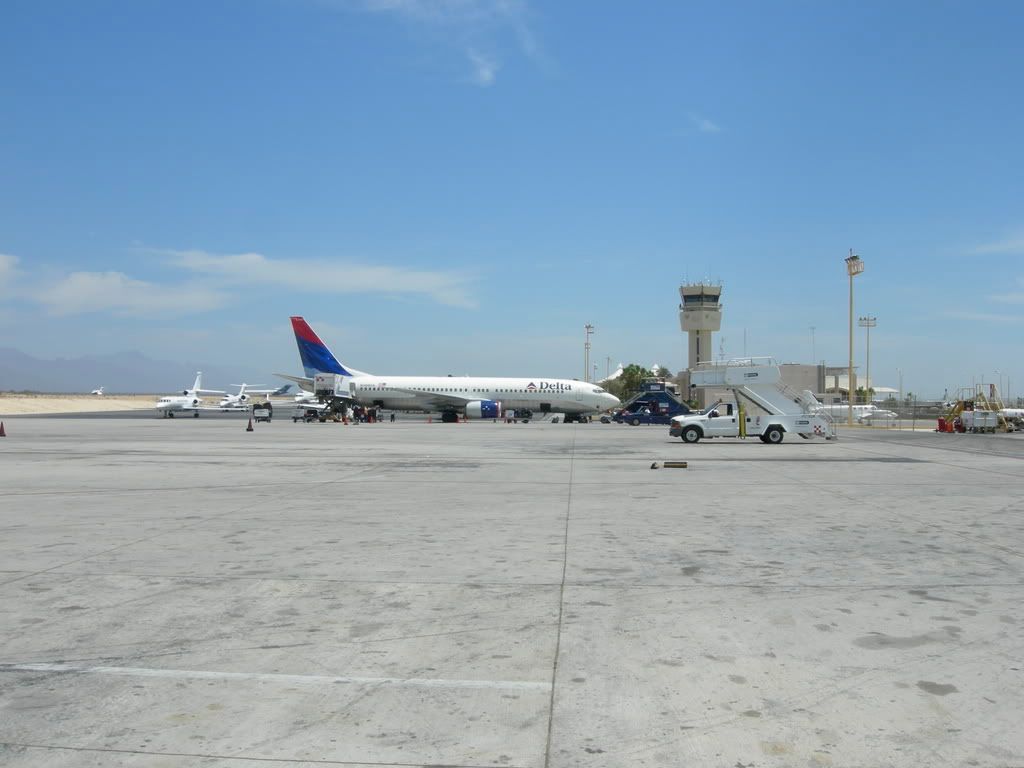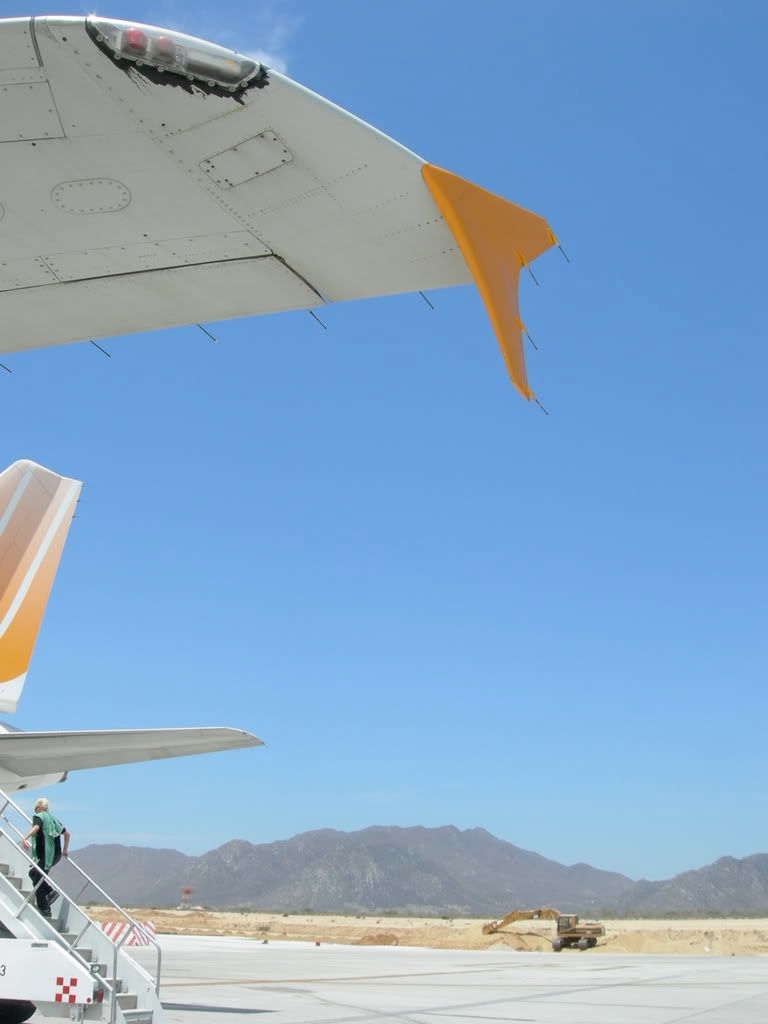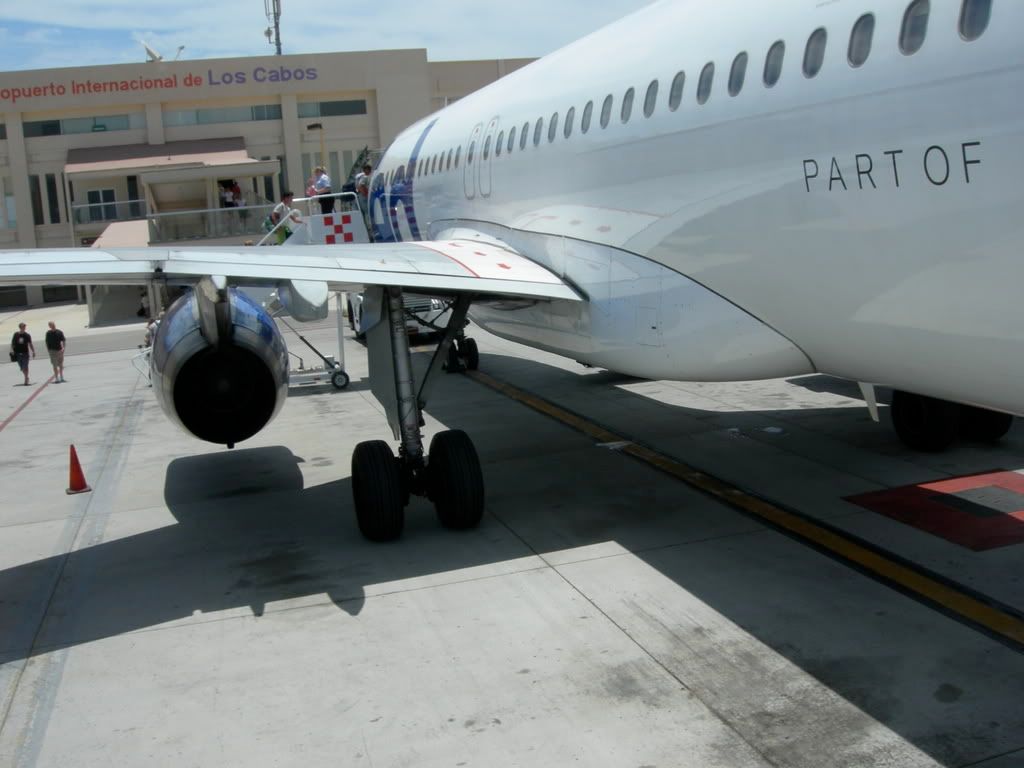 I boarded the rear of the aircraft for seat 19A, but I was asked if I'd trade with someone's daughter to 14B. I gladly switched even though I'd lose my window seat. This is why I don't have any pictures on the SJD-DEN leg. I did, however, sit next to a very attractive young woman.
Our takeoff roll was 35s and we were off heading down toward the end of the peninsula before we turned to fly across the Sea of Cortez.
We were offered an option of one of three snack boxes for $5, but like before, I declined and settled for Ginger Ale and a bag of Pretzels. The movie was "The Astronaut Farmer." I wanted to finish my book, The Lovely Bones and listen to my iPod instead.
As we approached DEN, the captain announced that we would be flying 10 minutes out of our way to avoid t-storms near DEN. It was 95 degrees in DEN, with storms building to the west. The descent was bumpy like it always is flying into DEN and I was glad to be on the ground.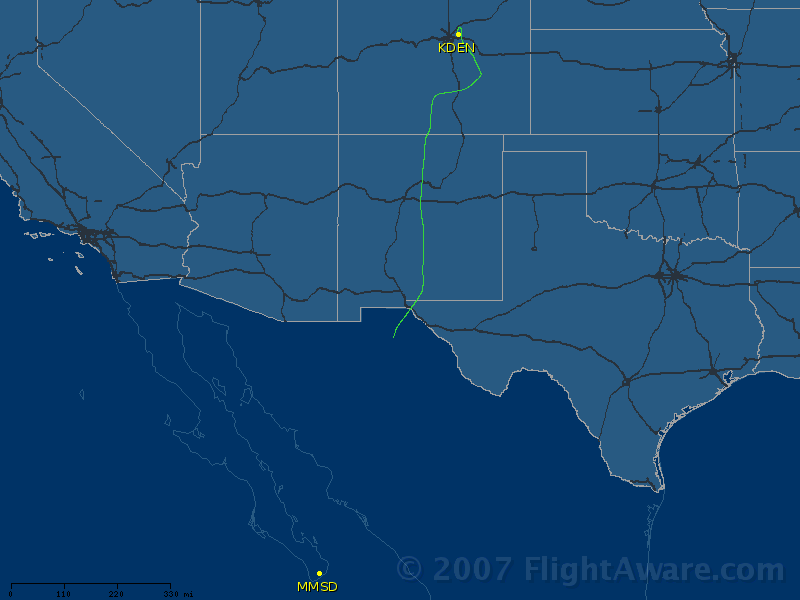 We taxied to A37 and deplaned to head to customs. On the flight, the F/A had announced that we hoped to beat the LH flight from FRA, or else it would take much longer to pass through customs. We ended up arriving a couple of minutes before, so customs was busy, but we were towards the front.
DEN has a very nice customs area. The 10 minute walk from the international arrivals terminal takes you over a taxiway with nice views of F9 operations and the airport. I put that I had only spent $5 on my customs form since I only bought some coffee for my mother and didn't need anything from Cabo. The customs officer was a bit suspicious, but I explained to her I had been there many times before and wanted to save my money for my trip the following week to London (damn the weak $). In the baggage claim area I saw a father and his two daughters texting and calling on their cell phones even though the F/A had explicitly told everyone that they were not to have their cell phones on in customs or they may have them confiscated. I don't think the family ever got in trouble.
Customs took in the neighborhood of 30 minutes. We had a tight connection, so we hustled back through security to terminal B. We made it to gate B28 10 minutes before our flight was scheduled to board. However, there was no plane.
Sunday, June 24, 2007
United Airlines Flight 333
DEN-PDX
737-300 (new colors)
N382UA
Gate: B28
Departure: 525 pm (615 pm)
Arrival: 703 pm -1 hour (733 pm -1 hour)
Seat: 19D Economy
Load Factor: 90-95%
FL 340
I had noticed that the weather outside of DEN to the west looked like it had deteriorated quickly. On one side of terminal B there was blue sky, but on the other side there were numerous thunderclouds. Sure enough our inbound flight was delayed, along with nearly every other inbound aircraft. Some flights, specifically one to SAN, were delayed several hours. Our flight was coming from GEG and reached the gate around 530. In the meantime I went to Quiznos and had my favorite sandwich there, the classic Italian. I hadn't been to Quiznos in over a year. I called my parents to tell them we were running a bit late and we should arrive at 730.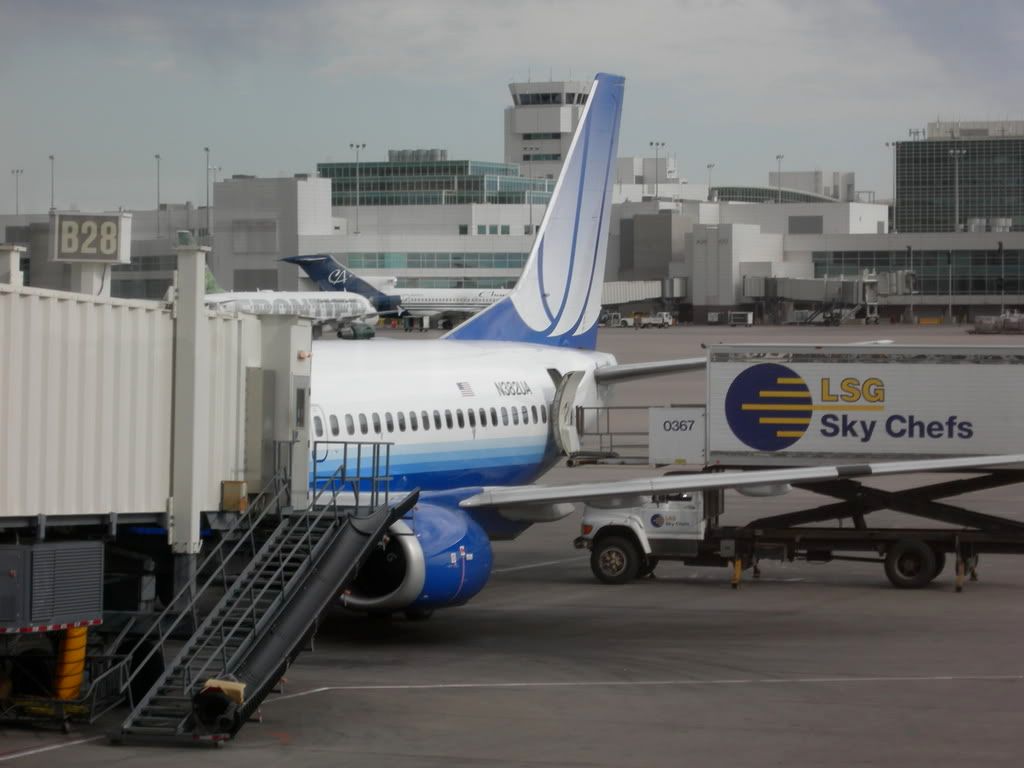 Once again, UA pulled a quick turnaround, although there was trash in many of the seats. We taxied to the runway and departed without waiting. By now the weather had cleared around the immediate vicinity of DEN, but there were still numerous t-storms to the northwest. Channel 9 was working, so I listened in. Our callsign was "triple three."
We started to bounce around quite a bit as we ascended. Passengers looked around nervously and the couple in front of me held hands across the aisle. We didn't have major altitude changes, but the aircraft was unable to remain level. I could feel a lot of rudder pressure as we continued to bounce around. After a few minutes I started to get a bit nervous. I get nervous in older or smaller planes (no good reason why, just do). I heard us request flight path changes and higher altitudes, but ATC kept replying that they couldn't do anything for us because of inbound traffic. We responded that we were heading directly for a t-storm 60 miles ahead and needed something. I wasn't too thrilled to hear ATC was able to do anything for us. We continued through some turbulence up at FL260. I'd say it was at least moderate to heavy turbulence from my experiences and listening to descriptions on Channel 9 through the years. It would have been difficult to stand. Several times the plane would suddenly tip to one side as the pilots tried to guide us around trouble areas. I hadn't been on a flight where we had so much quick, deep turns to avoid weather. Our route took us past Laramie, WY/CO where we finally were allowed to avoid the bad weather. We reached a cruising altitude of 34,000 feet and the plane stabilized. The F/A's began to take drink orders (no drink carts on the UA 737s). We had three F/A's, an attractive young girl, an older man who wasn't a native English speaker, and another woman. I ordered my Ginger Ale and had some pretzels. One of my friends was sitting next to me, and we worked on some crossword puzzles.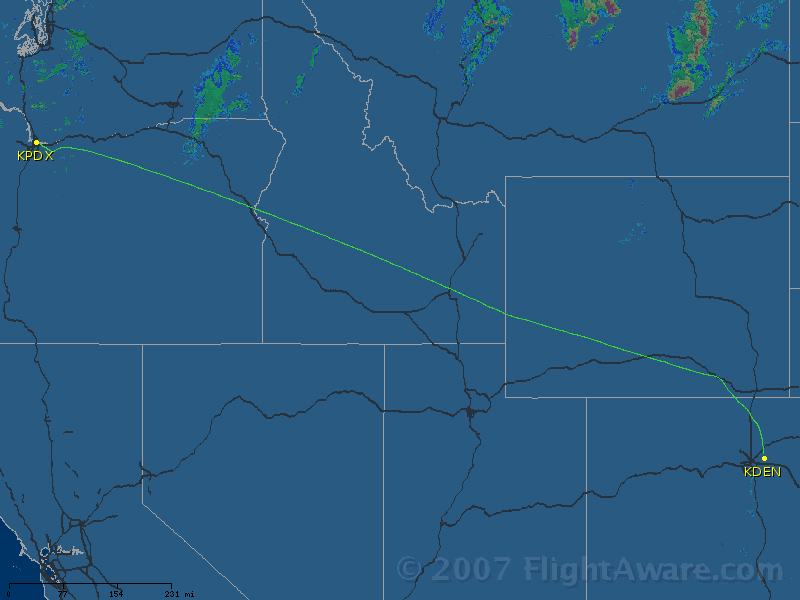 I noticed that on the D aisle seats had moveable armrests. The C ones weren't adjustable. Why is that? I liked being able to put up my armrest, giving me more legroom and width.
Our descent into PDX was turbulent, although to a lesser degree than our departure from DEN. We had nice views of the Columbia River Gorge and landed on 28R. I was relieved when we landed.
We met our parents as we exited the D/E terminal and went to retrieve our luggage. One of my friend's luggage was still and DEN. They told him it'd be here on the next flight.
I had an excellent vacation and no major flight nuisances. I've been flying DL and CO mostly this past year back and forth from school and felt they are a good step ahead of UA, especially DL's revamped product (757s with AVOD). I was struck by the three-class set up on the UA 737s. For such a small plane, does it make sense to have three classes, especially when on nearly all of our flights one of us had ended up in the E+ section? The first class seats looked comfortable on the 737s, but I'm curious how profitable E+ is on UA, especially on shorter flights. I experienced good service on UA on all of my flights, as well as helpful CSRs. However, I will be flying mainly DL and CO in the future since I will have FF status on DL after my upcoming trip to London.
[Edited 2007-06-27 01:37:20]
[Edited 2007-06-27 01:41:34]