Thanks for clicking on the link to read this trip report. While I've been a frequent visitor to a.net over the last few years, I became a member only fairly recently. After asking a couple of ill-informed, dumb and naïve questions on the discussion forums (which quite rightly elicited little response!), I decided to try to make amends by contributing a trip report instead.
I've been interested in civil aviation since I was very little. Both my parents worked in the business. My dad was with BOAC then BA for 25 years before leaving in 1991 for, what was then, a small and obscure airline in the Middle East with whom he is still working. Throughout my childhood, he brought home a steady stream of model planes from his office and at 5 years old, I could tell a Tristar-200 and Tristar-500 apart, but didn't know anything about cars or football (soccer)! How sad is that?!
The report describes a 3-week journey around Australia originating in London. Many British kids head straight 'down under' for a year between leaving school and going to university. Sadly, my folks weren't having any of that gap-year business though! So when the opportunity arose to present some of my PhD work at a geology conference in Cairns, I couldn't pass up the chance to visit a few parts of this vast country. After all, it's a long way from the UK and who knows when I would visit again?
Right, enough waffling. Here's the report. The route was LHR-SIN-SYD on BA (Club World), SYD-CNS and CNS-PER on QF (Business), Perth-Shark Bay-Perth on Skywest (mentioned only briefly), and PER-SIN on QF (Business) connecting to SIN-LHR on BA (Club World). I should also apologise in advance for the poor quality of some of the photos. Maybe it's the British reserve, but I just didn't feel right letting off the camera flash in the lounges and aircraft cabins!
Part 1: LHR-SIN-SYD
Date: 19-07-2007
Flight: BA015
Depart: LHR Scheduled: 2135 Push-back: 2315 Take-Off: 2345
Arrive: SIN Scheduled: 1735 Landing: 1845 On stand: 1900
Aircraft: Type: B 777-236ER Registration: G-YMMN
Seat: 14K (Club World)
I was glad I decided to get to Heathrow early. Not just because the place was in a state of organised chaos as usual but because I like Heathrow. In fact I really like Heathrow. The poor place gets such a bashing, but for me the very chaos and frenetic activity, the mass of people from every corner of the world and of course the varied and unrelenting aircraft movements is exhilarating. For me, Heathrow is a test of how hard-core an aviation nut you are! As Kipling famously never said, 'If you can transit from Terminal 1 to Terminal 4 when Heathrow is fog-bound, French air traffic control is on strike and keep your head when all about you are losing theirs, yours is the Earth and you'll be a man, my son.'
The night before, I had checked-in online and snared one of the two remaining window-seats. I'd also squeezed 3 weeks worth of clothes into a single case weighing just 17 kilos – impressive, eh?! When I reached Terminal 4 at 1830, the place seemed unusually (disappointlingly) well-organised. I approached a BA staff member to find out where the bag-drops were, and he kindly ushered me directly to a free World Traveller check-in counter, short-cutting a pretty formidable queue of people. A boarding card for 14K and a very speedy security check and 15 minutes later I found myself in the BA Terraces Lounge.
First impressions weren't too favourable. The reception staff were terrific and one of them took me on a tour to show where all the facilities were. But it was very crowded and seemed cramped and a little scruffy and worn-out. Maybe it was just the overcast evening light and small-ish windows. After hovering near some people who were preparing to leave, I snagged a free chair and a very nice lady brought me some sandwiches, Worcestershire sauce pretzels (very good!) and a glass of champagne.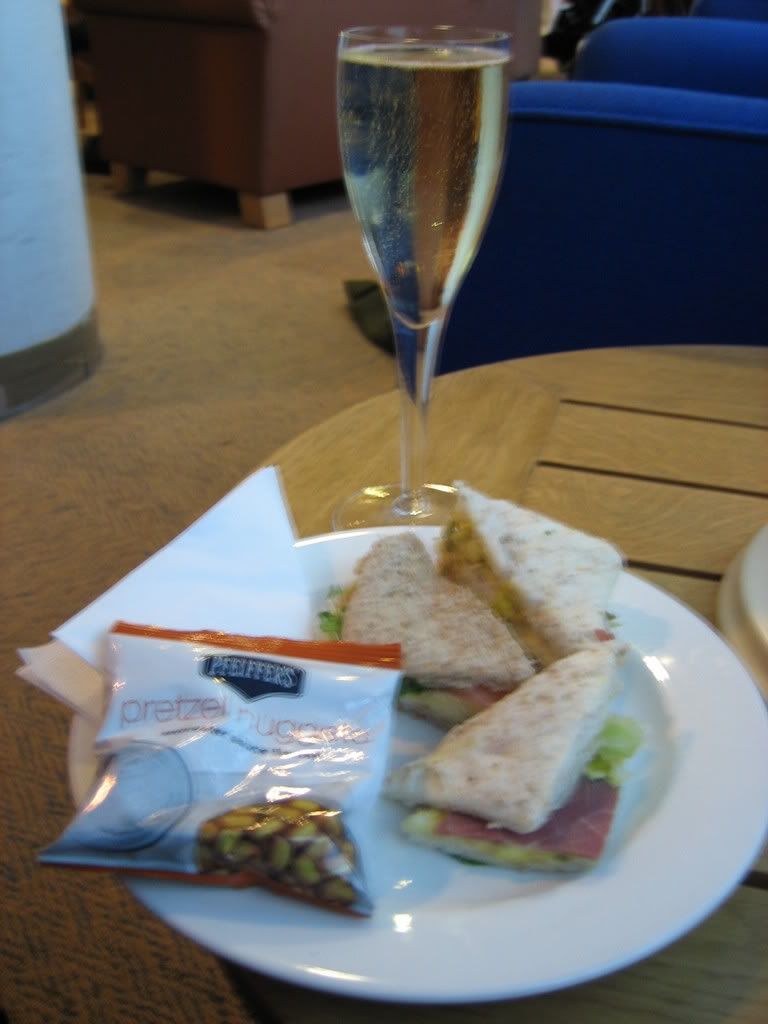 Departure time was delayed, firstly to 2200 and then to 2245. The delay didn't bother me in the least and I spent a very happy time watching the aircraft on T4's eastern cul-de-sac apron and take-offs on 09R. Amongst the arrivals at T4 were a UL 343 and a Fokker 50 of KLM CityHopper while 772s of ANA and JAL, an SQ 744 and a 767 variant of AC roared off into the skies. A TAM 332 and KM 319 were parked up and BA 319s, 320s 763s and 772s buzzed around everywhere. Eventually, I left the Terraces to get an adaptor plug and some Australian currency and then sought out the alternative BA lounge at Gate 1 which, thankfully, was far quieter, peaceful and altogether more chilled out.
View of the eastern apron at T4 from the BA Terraces lounge with TAM 332, Air Malta 319 and lots of Speedbirds!
By the time we were called for boarding and after walking the half-marathon round to the eastern apron gates that I'd been looking at from the Terraces, I was looking forward to dinner and a snooze. The Club World seat in its take-off/landing setting makes for a very comfortable armchair and I was pleased to sink into it. Juice, champagne and water were offered and menus and washbags distributed. The crew seemed nice enough but more efficient than friendly. They were probably just pacing themselves for the long 12-hour flight! I'm unsure of the exact load factor for the flight, but I couldn't see a spare seat in CW and WT+ looked full too. My companion in the next seat was a young Australian lass who after saying 'hi,' quickly folded out the privacy screen between our seats which either suggests that she always ends up sitting next to the nutter on the bus, or I'm getting uglier. Probably the latter.
The captain came on to apologise for the delay but said that thanks to favourable weather, we would be making up time during the cruise and reducing the scheduled ground time in SIN and that passengers with connections in SIN and SYD shouldn't be concerned. After the strangely amusing BA safety video/Disney cartoon, a lengthy hold for 09R and a powerful take-off, we were on our way. A tip for anyone choosing their BA CW 777 seat: 14K has a better view of the wing than the passing world below! For an aviation-nut, this is great (especially for landing, and matters not a jot during the cruise of a night flight anyway) but I was just grateful to get a window seat.
Once the crew had been released, they passed though the cabin taking pre-dinner drink and main course orders. For those who are interested, here's the dinner menu:
Starters
Mark Edwards' Asian crab salad
or
Mixed Mediterranean mezze plate
Fresh seasonal salad served with vinaigrette
Main
Sweet and sour prawns with egg-fried rice
Fillet steak with cracked pepper and truffle butter
Mushroom cappalletti pasta with herb cream sauce
Main course pesto chicken salad served with vinaigrette
Dessert
Raspberry and chocolate mousse
Coastal cheddar and Bleu d'Auvergne cheese with garnishes
A selection of fruit
Chocolates
Naturally, my steak choice had run out by the time the steward reached me, so I chose the pesto chicken salad which was tasty if not very filling. The pre-dinner Kir Royale went down a treat and the food in general was of a very high quality. Mark Edwards (whoever he is) should be congratulated on his crab salad which was very good and the raspberry and chocolate mousse was delicious – as you can see from the photo which I forgot to take before diving in for the first spoon-full! The crew were impressively attentive, passing through repeatedly with extra bread rolls and drinks re-fills and while I was tempted to try some 'coastal' cheddar just out of sheer curiosity, I had eaten far more than I normally would at 1 in the morning and after coffee, decided to call it a night. My cunning plan to save the chocolates for the hotel in Sydney would later be cruelly foiled by Australian customs rules.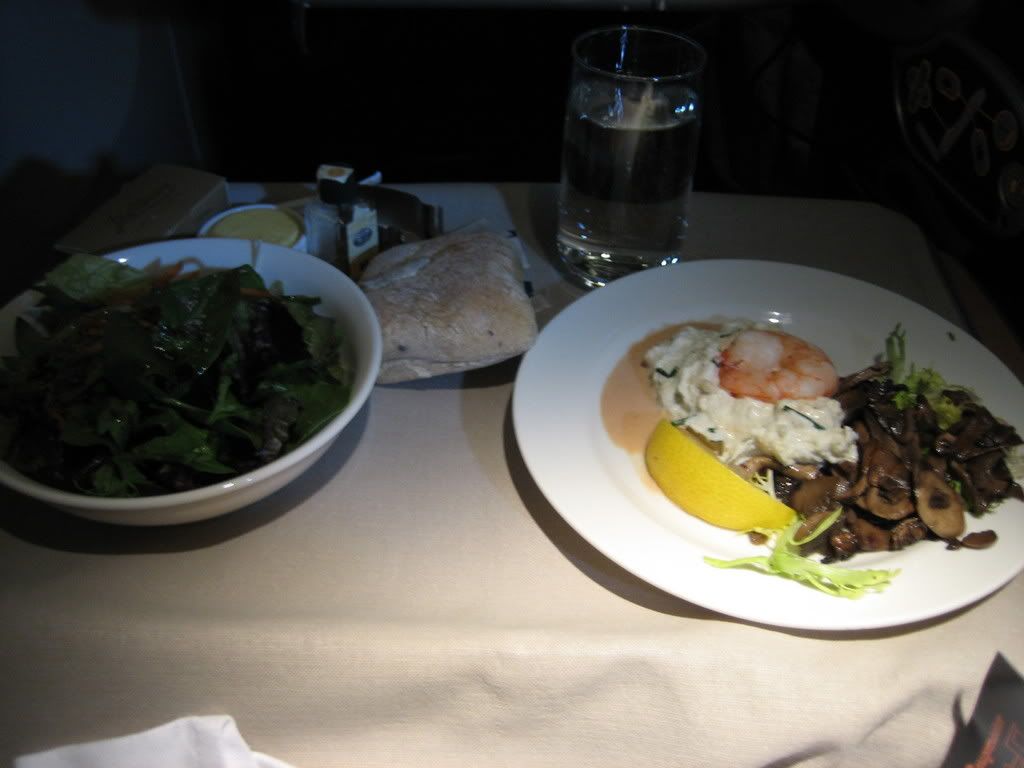 Asian crab salad and seasonal salad to start. And look at that modest glass of water!
Salad overload! This time with pesto chicken for main course. Nice indeed, but that steak sounded so good!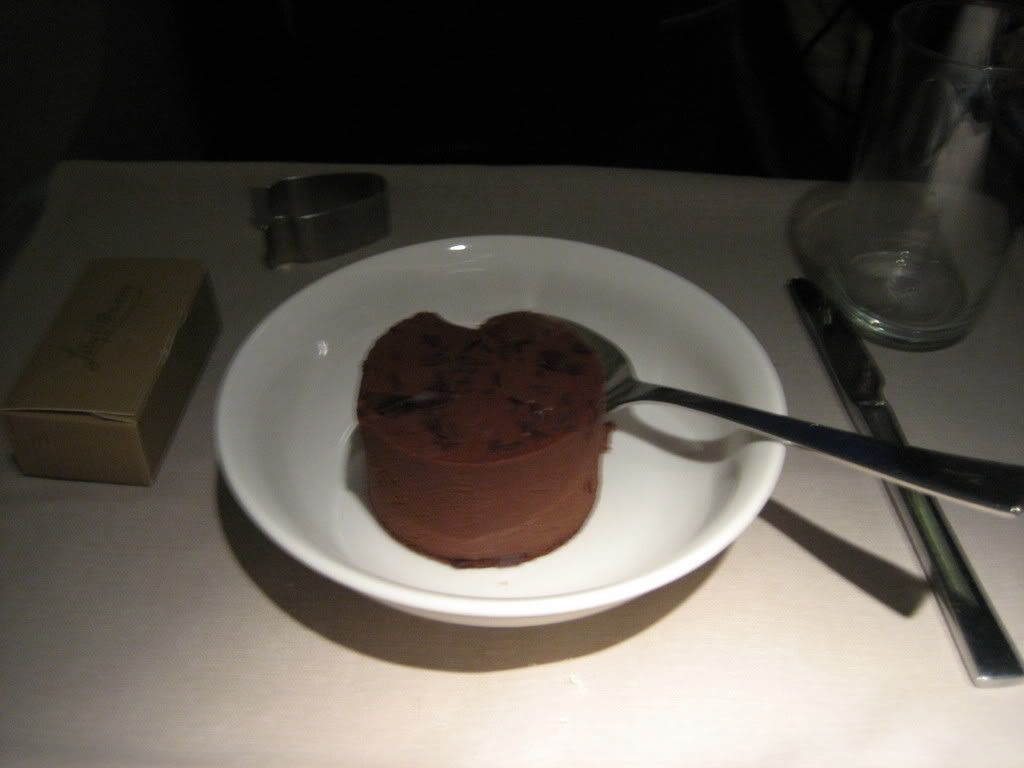 Simple-looking but deceptively delicious raspberry and chocolate mousse.
Now I have flown in the first incarnation of the CW bed on the way back from PHX in 2002 when it was still a pretty novel idea and I was massively impressed by the comfort and the fact that I slept soundly until being prodded by a cabin crew member just half an hour out of LGW. My good memories of it were not let down during this flight either. I know a new CW is being rolled out across BA's fleet (of which, more later) and the seat this time round seemed more cramped than I remembered, but I still slept soundly for 8 hours helped by a thick blanket, a very comfortable head pillow and being able to turn on to my side.
By the start of the breakfast service, I had aroused from my slumber and the crew seemed in an altogether more cheerful spirit. Clearly the RR Trents had succeeded in drowning out my snoring, which although not an environmentally-friendly solution, is probably about what it takes. It was a strange experience waking up to breakfast as dusk fell over Thailand, but I guess that time travel is one of the joys of air travel. Having been unlucky with the steak the night before, I was a little miffed to be told that the English breakfast choice had already run out as well. I don't think I have once had my first choice meal turned down on the aforementioned Middle East carrier on which I have flown up to 8 times a year each year since 1991. Maybe I've just been incredibly lucky and I quite understand that airlines cannot carry on board the full complement of meals for every passenger. However, it might be a good idea that when the dinner orders are taken, for the crew member to put an asterisk on the order form next to the name/seat of a passenger who has not been able to have their first choice. These passengers would then be the first ones to be asked for their preference for the second meal service, virtually ensuring that everyone gets at least one of their first choices. Just an idea – what do you all think?
I didn't really fancy omelette or French toast so turned these down (which, amusingly, the steward seemed to think was because I was sulking!) and stuck to croissants which were warm, fluffy and very good indeed. Not at all like the hardened, over-baked ones often served up on airlines. Curiously they only handed out marmalade with them, so I put a spanner in the works by asking for jam. The steward explained that he would need to see if there were any spare pots in First. This set me thinking: is the humble fruit preserve the new social dividing line between BA passengers? If so, does anyone know what the folks in WT and WT+ get? Apart from the disappointment of the hot meal, the rest of the breakfast service was very enjoyable, with the 'energising fruit smoothie' being particularly noteworthy. Only the fresh fruit appetiser, which emerged from the trolley steaming as if it had come out of a flask of liquid nitrogen, and consequently had had any flavour chilled out of it (why do all airlines do this?) did not come up to scratch. Again, for those interested, here's the breakfast menu:
Starters
Chilled orange juice
An energising fruit smoothie of mango and passion fruit
Fresh fruit appetiser
or
Greek yoghurt and granola
Bakery
A selection of warm breads and breakfast pastries
Main
Classic British breakfast of grilled bacon, pork sausage, scrambled egg, tomato and mushrooms
Cheese omelette with tomato and field mushrooms served with bubble and squeak
French toast stuffed with peaches and crème fraiche
Drinks
Ground coffee, decaffeinated coffee or tea
Selection of herbal teas – peppermint, blackcurrant, apple or camomile and honey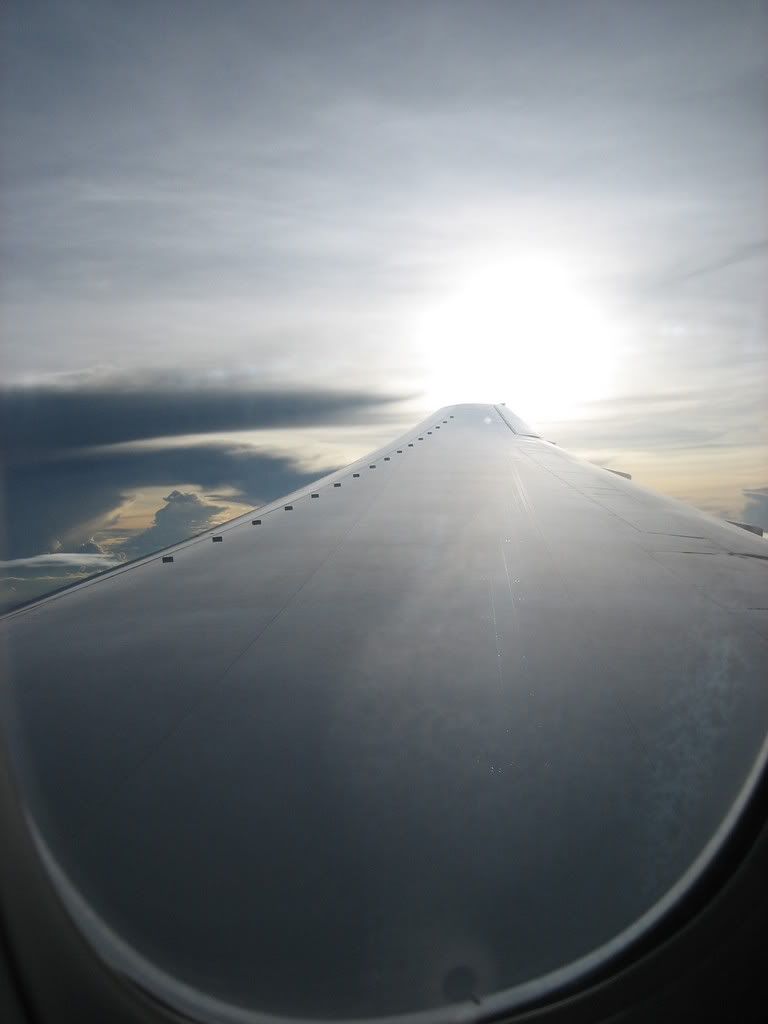 Twilight descent towards Singapore
As the cabin crew came around for top-ups of tea and coffee, the First Officer announced that the fasten seat-belt signs would be switched on in about 20 minutes and anyone with the urge should visit the washrooms. We started the descent soon after with the crew securing the cabin and making sure the seats were in the correct position. After several right-hand turns that afforded interesting views of the islands, bays and channels below, the aircraft touched down at Changi airport at 1845 (local) and was on stand 15 minutes later.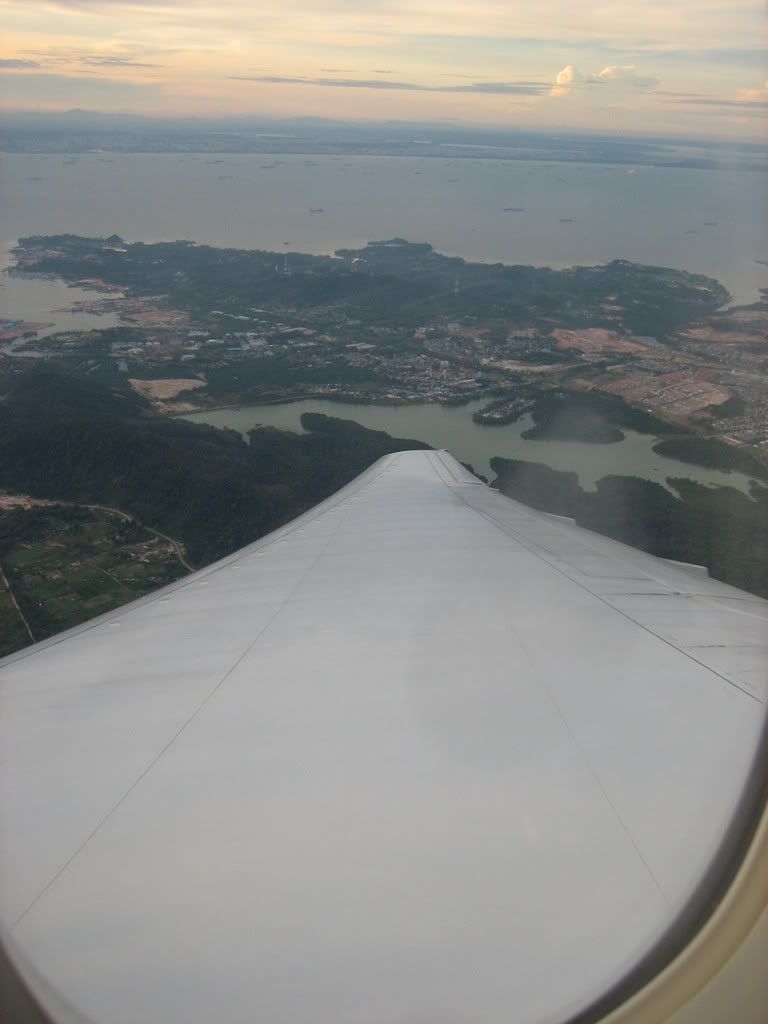 Turning on to final for Changi's runway 02C
On stand at Changi at 1900 local
Despite the captain's promise of a speedy turn-around, I collected my bag and headed into the terminal to seek out the BA/Qantas lounge. Changi is often hailed in aviation circles as a model airport and this evening it seemed to be operating in a typically serene, almost nonchalant manner. But give me Heathrow any day!! Arriving at the lounge, I spurned the tempting offerings of hot food and made straight for the shower rooms. For me, this is one of the key benefits of flying in a premium cabin, especially if your journey involves a stop over or transit - the ability to emerge from a shower and board your next flight feeling like a new person. The shower room facilities were splendid. A smiling lady issued me with white, fluffy towels and escorted me to a spotlessly clean, marble tiled room that, frankly, you could have squeezed the ground floor of my house in to. After immersing in hot water and Molton Brown shower gel for an indecent period, it was time to hot-foot it to the gate to re-join YMMN.
Date: 20-07-2007
Flight: BA015
Depart: SIN Scheduled: 1945 Push-back: 2015 Take-Off: 2035
Arrive: SYD Scheduled: 0515 Landing: 0555 On stand: 0605
Aircraft: Type: B 777-236ER Registration: G-YMMN
Seat: 14K (Club World)
There seemed to be many fresh faces on board the aircraft to replace those who had left at Singapore. This included a new set of crew who would be taking us down to Sydney. By the time we pushed back, Changi appeared to have quietened down and after the safety video/cartoon (which was just as amusing the second time round), we briskly taxied to runway 02C from which we lurched forward without having to hold.
The climb-out was a little bumpy and there was a decent display of lightning over the islands to starboard. At length, the seatbelt signs went out and the crew prepared the dinner service. The stop-over for crew in Singapore must be a particularly good one as this bunch were in really good form. They were all smiles, and engaged in cheerful but not too intrusive banter with the passengers. I was addressed by name throughout which I always appreciate and no request seemed too much trouble.
I perused the menu over a hot towel and another pre-dinner Kir Royale and nervously awaited the stewardess with the order form. Would there be any parmesan veal with roast vegetables left or would I be thwarted for a third time in a row? When she confirmed that yes, they did indeed still have parmesan veal with roast vegetables, I could have hugged her. But that would have been inappropriate and would probably have got me arrested on arrival in Sydney, so I settled for a muffled exclamation of joy instead. Here's the dinner menu:
Starters
Marinated king prawns with ginger mayonnaise
or
Glazed mozerella cheese, sun-dried tomatoes and grilled artichokes with peppered olive oil
Fresh seasonal salad served with vinaigrette
Main
Parmesan veal Schnitzel with roast vegetables and creamed potatoes
Snapper in black bean sauce, udon noodles and seasonal vegetables
Vegetarian moussaka
Caesar salad with char-grilled chicken and garlic croutons
Dessert
Crème caramel
A selection of cheese with crackers
A selection of fruit
Mozerella, sun-dried tomatoes and artichokes to start
The much-anticipated parmesan veal with roast vegetables!
The veal was delicious and a lot better than my rank amateur photo suggests. Not being a great fan of wobbly desserts in general and crème caramel in particular, I passed up on that and settled down for an early night. I'm not a big film enthusiast so left the IFE on moving map and powered up my MP3 player for some BBC Radio 4 comedy. Cruising at 35000 feet just southeast of Denpasar, we suddenly encountered some heavy turbulence. The aircraft jolted and pitched and the cabin crew exchanged quizzical glances over the trolley. This prompted the captain to come on to apologise and inform us that we had crossed the wake of an aircraft a thousand feet below us and that this severity of turbulence was unusual but of no concern.
Although I'd slept for 8 hours on the previous sector, I still managed to nod off for a further 3 or 4 hours and again woke up in time to catch the light breakfast meal as we were passing over Alice Springs:
Starters
Chilled orange juice
An energising fruit smoothie
Fresh seasonal fruit
or
Cereals with chilled milk
Fruit yoghurt
Bakery
Warm bacon roll
Selection of warm breads and breakfast pastries
Drinks
Ground coffee, decaffeinated coffee or tea
Selection of herbal teas – peppermint, blackcurrant, apple or camomile and honey
Again, the smoothie and croissants went down well and made for a very pleasant start to the day. As the aircraft descended, the crew distributed landing cards and came through the cabin twice spraying insecticide. It was at this point that we were told about the super-strict customs rules in Australia so the snacks from the Terraces at T4 and chocolates from the dinner service would be staying on board. Serves me right I suppose, but I did smile. For a country that seems to have the highest concentration of critters that want to kill you in a variety of imaginative but gruesome ways, this sensitivity with double rounds of insecticide spray and getting upset over wicked travellers sneaking in a packet of chocolate-chip biscuits did smack a little of stable doors and bolting horses.
Thanks to the pre-dawn darkness and my wing-view, I only saw a few lights as we made our approach towards SYD over Botany Bay and we touched down smoothly on runway 34L a little before 0600, arriving on stand shortly after, around 50 minutes behind schedule. But hey, on a 24 hour journey over 17 thousand kilometres, what's 50 minutes between friends?
Part 2: SYD-CNS
Date: 26-07-2007
Flight: QF924
Depart: SYD Scheduled: 0925 Push-back: 0930 Take-Off: 0945
Arrive: CNS Scheduled: 1230 Landing: 1225 On stand: 1230
Aircraft: Type: B 767-300 Registration: VH-OGG
Seat: 01A (Business)
After a very enjoyable few days in Sydney which I found to be a charming city, it was time to head 'up North' to Cairns and the geology conference. The night before departure had been at the Stamford Plaza Sydney Airport hotel where of course I had asked for a room with a good airport view. The staff there had done me proud and I'd spent a very enjoyable evening watching a great variety of aircraft and airlines through the floor-to-ceiling room windows.
I had checked-in the day before and printed my boarding card, so on arriving at Terminal 3, headed for the Business Class bag-drop where the Qantas agent eyed me suspiciously. On seeing my boarding card, he almost succeeded in suppressing a look of surprise before graciously accepting my case and inviting me to use the Qantas Club lounge.
There was no queue at the security check. I had pre-packed my carry-on liquids into the familiar clear zip-lock bag the night before and felt quite smug at being so uncharacteristically organised. So I was quite surprised when the security agent took the plastic bag and placed it inside my carry-on bag before pushing them though the x-ray. Apparently domestic flights are less likely to be terrorist targets than international flights (although no one told that to the people on 9/11). Very strange. When I asked the agent about it, he agreed and said that there were vague plans to introduce the liquids rules to domestic flights later in the year, maybe.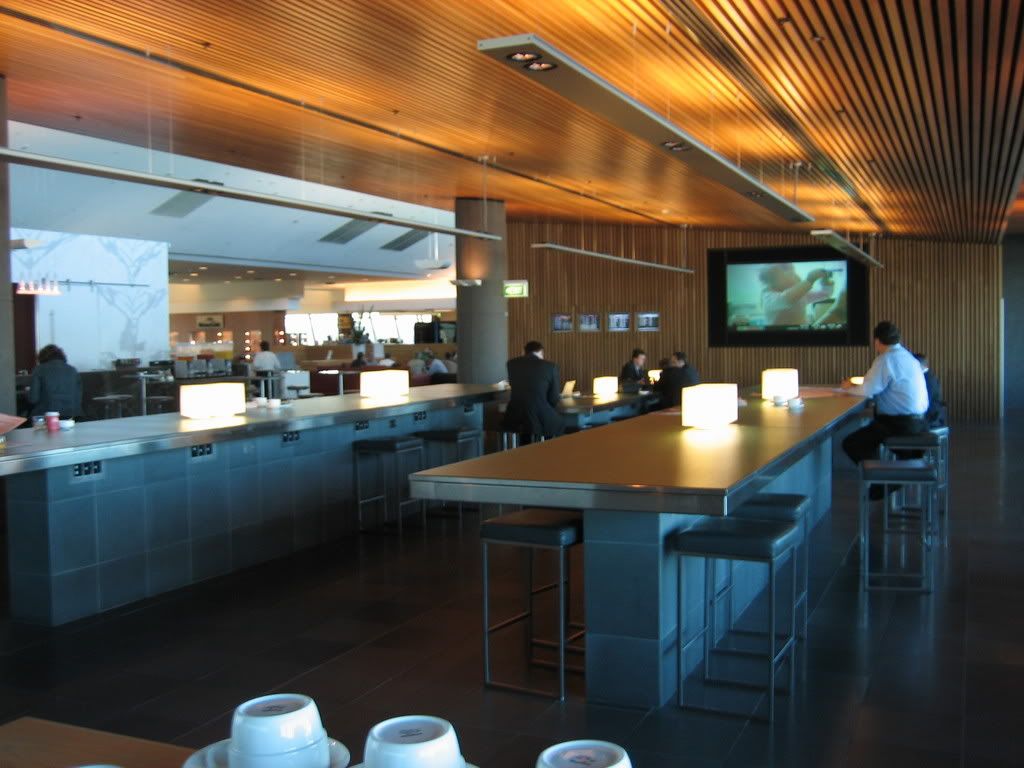 TV area: one tiny part of the vast Qantas Club lounge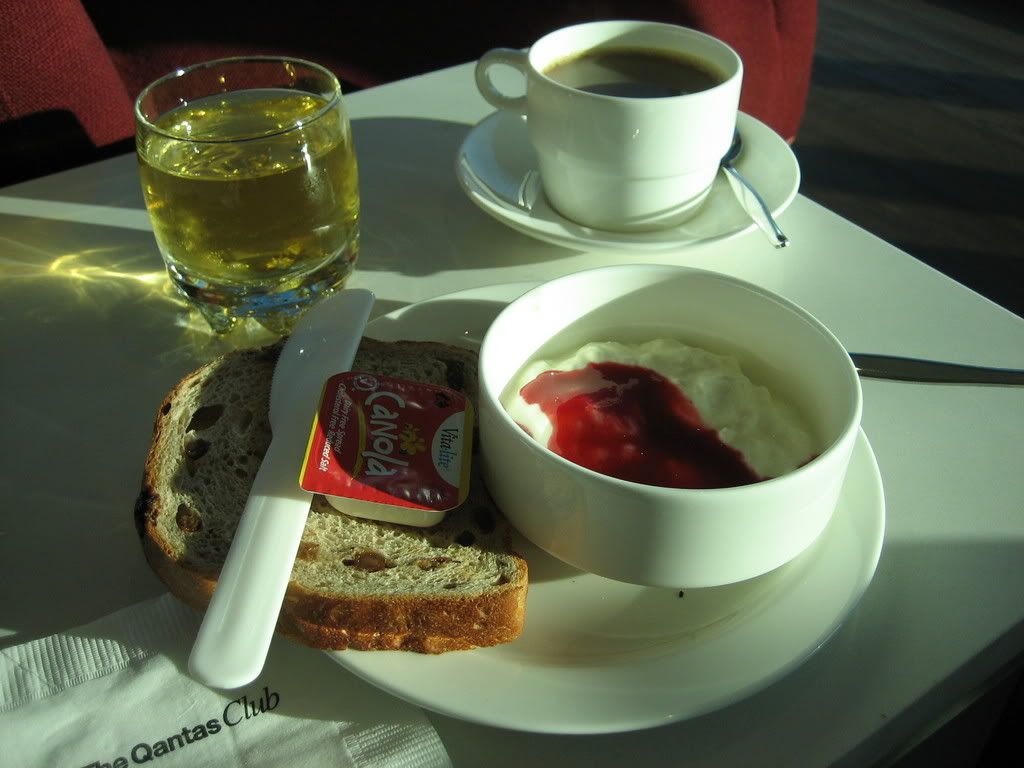 Breakfast: Raisin bread, plain yoghurt with raspberry coulis, apple juice and a cup of excellent coffee.
Boarding for Business Class passengers was called and I walked along to the gate where a very handsome 767-300 'City of Rockhampton' was waiting. At the door, the cabin crew were greeting passengers with a warm and cheery welcome and I was soon settled in to a very comfortable seat 01A. As everyone was getting settled, glasses of pineapple juice and water were offered along with a selection of the morning's newspapers. The aircraft pushed back just a touch behind schedule and there followed a lengthy taxi to runway 34L. Take-off was powerful with a quick rotation – boy it was good to be back on a 767! As we climbed towards cruising altitude, Captain Daniel Taylor welcomed us on board and advised us of a flight-time of 2 hours and 39 (yes, precisely 39) minutes to Cairns. It also struck me as to how comfortable and roomy the seat was for such a short domestic hop. The width was generous and the pitch very decent. In general, I liked the overall appearance of the cabin. It did show some wear in places, but the dark upholstery of the seats and the muted cream/grey tones of the cabin sides made for a smart and understated look.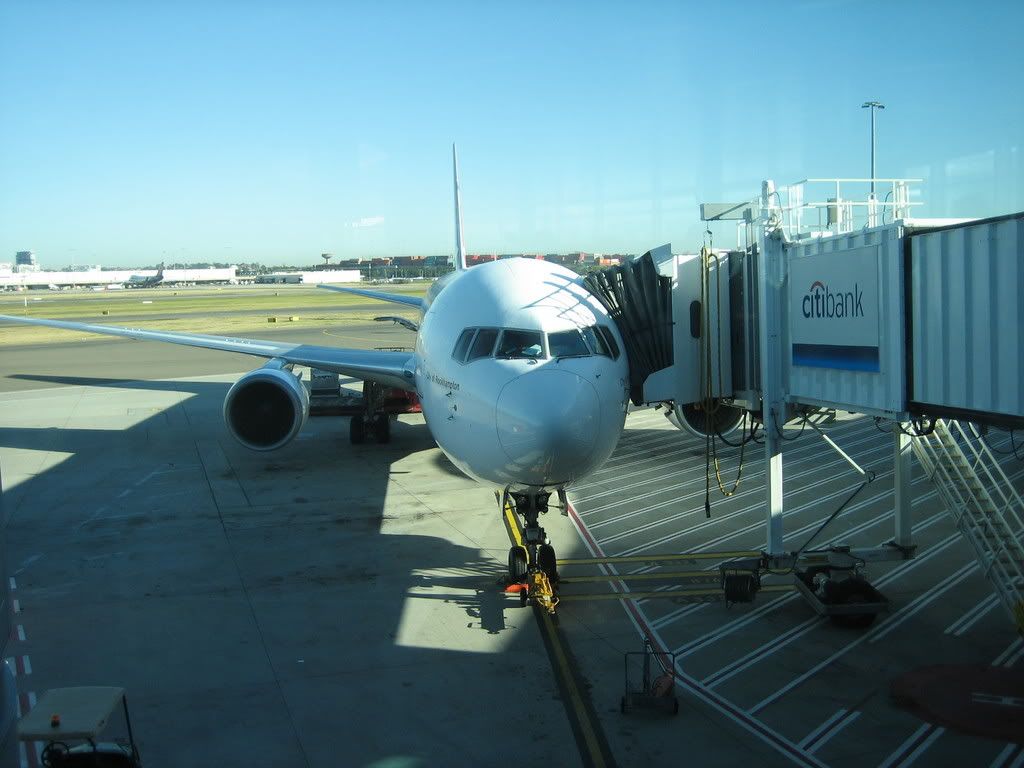 The bird to CNS: QF 767-300 VH-OGG 'City of Rockhapton'
It was a sunny morning and those seated on the right side of the aircraft were treated to some great views of Sydney. The climb out was smooth and soon the meal service began. As it was just gone 10 in the morning, I was expecting some sort of hot breakfast offering, but the smells wafting through the cabin, though very pleasant, didn't hint at bacon and eggs. No menus were distributed, but when the trolley appeared at my seatside, I was offered chicken or pasta. I chose the chicken, before enquiring as to what form precisely, the chicken would take. This, perhaps, was a little hasty especially as it proved to be chicken tikka.
Terrible photo of mid-morning chicken tikka, rice and mixed vegetables with green salad, brown roll and sauvignon blanc
Normally I'm quite happy with a curry, but it just seemed a little early in the day. Still, I decided to roll with it and chose a very fine glass of sauvignon blanc to accompany it! The food was tasty, although the portions pretty modest. The security regulations continued to baffle me when I unwrapped the linen napkin to reveal a set of metal cutlery apart from the knife which was plastic. Now I'm no al-Qaida cadet, but I would have thought that a well-aimed metal fork could do as much damage as a metal knife? No dessert was offered even though the cutlery set contained an additional fork and spoon, which was curious, but I guess these must be assembled as standard batches. Coffee and tea were brought around which rounded off an enjoyable, if slightly eccentric, meal service.
I can't remember coming across cabin crew who were as friendly as this Qantas team – a theme that would continue with all my Qantas flights. Each interaction with a passenger was accompanied by warm smiles and light-hearted chat. Announcements were informal and not at all pompous. The Qantas crew, and also their lounge and check-in colleagues for all my flights were terrific ambassadors for their company and left me with a very favourable impression.
Meanwhile, the gremlins had got to the IFE system which had to be halted several times. The main screens were being used to show some sort of film which seemed to be about gambling (movie reviewer, I ain't) which I think are much better used for the moving-map. The large gentleman sitting next to me in 01B could not get any sound through his headphones so moved seats leaving me with plenty of extra space which was a great result! At about 1145, a big lake or estuary was visible to the left (can any Queenslanders tell me where this is?) and the crew passed through with trays of small ice cream tubs and glasses of water. The aircraft approached CNS from the north with spectacular views of the Great Barrier Reef, jungle-covered mountains and coastal mangroves, and landed on runway 15 at 1225. Barely 4 minutes later we were on stand.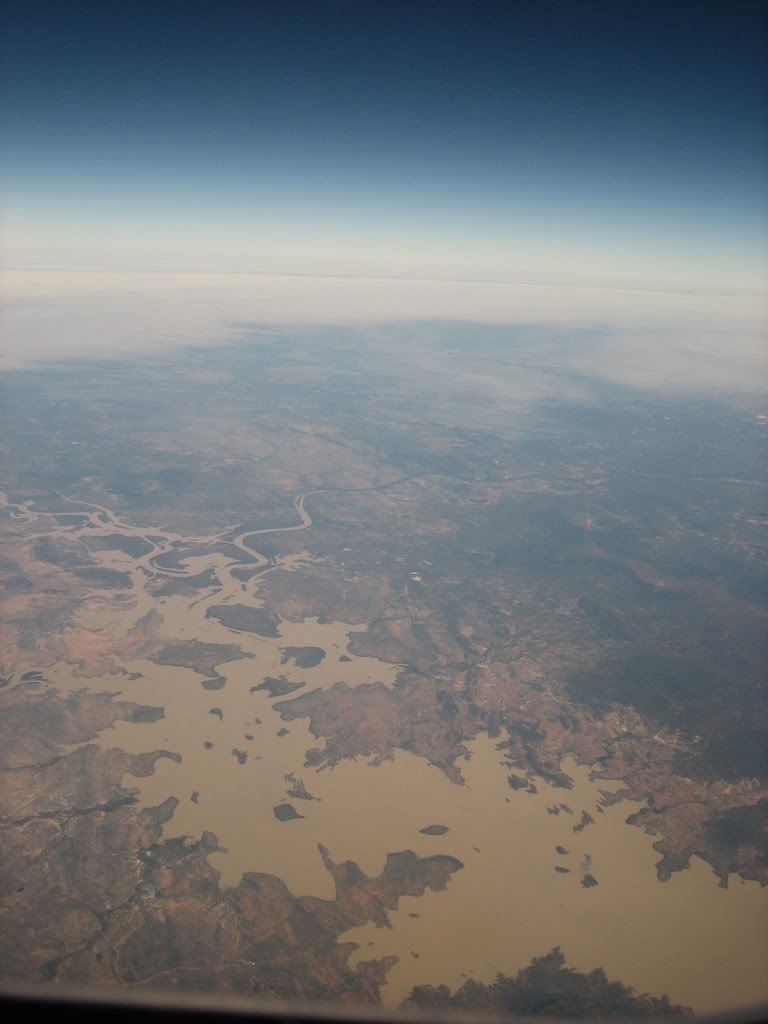 Mystery lake en route to CNS
Seconds from touchdown at CNS
I had chatted with the crew in the galley during the flight and had done the usual 'I'm an aviation-nut' thing and asked if I'd be able to meet Captain Taylor and have a look in his office. The message was relayed back that that would be fine, so once everyone had disembarked, I was ushered up front. Daniel Taylor and his First Officer were very hospitable and generous with their time and I'd like to thank them here. They were switching to another 767 at CNS and taking that back to MEL where their duty day would end. The cabin crew meanwhile were returning to SYD on Rockhampton. It was great to be back on a 767 flightdeck and the pilots humoured me while I cheesily snapped a very bad picture:
The front office of VH-OGG 'City of Rockhampton' (left knee of First Officer for scale!)
Part 3: CNS-PER
Date: 03-08-2007
Flight: QF1031
Depart: CNS Scheduled: 2300 Push-back: 2300 Take-Off: 2310
Arrive: PER Scheduled: 0210 Landing: 0205 On stand: 0210
Aircraft: Type: B 737-800 Registration: VH-VXS
Seat: 02A (Business)
If you're still with me after slogging through my pages of waffle, thank you and I owe you a pint.
I wasn't sorry to leave Cairns. I'm not really in a position to criticise the place as I'm originally from Watford. But arriving from such a splendid city as Sydney, it felt like even riot-scarred Watford following a home game defeat against Luton Town can exude more charm than poor old Cairns. Still, the geology conference was a success and I learned that Cairns is sinking steadily into the mud flats on which it has been built so every cloud, as they say…
Once again, I had checked-in the night before and been assigned seat 02A. I decided to get to the airport early as I knew there was a Qantas Club lounge that I could relax in. As I arrived outside the departures building, it seemed like the place had shut up for the night and a man in a Qantas high-vis jacket sitting outside smoking a fag said 'I hope you're going to Perth.' QF1031 is the last flight of the day.
Inside, there was no queue for check-in/bag-drop so I walked straight up to a desk where I was greeted by a characteristically friendly Qantas agent. She chatted away asking what had brought me to Cairns, whether I was enjoying Australia and what I would be doing 'over in The West' (as if it was a foreign country). With cringe-making self-pity, I explained that I had the prospect of a 4-hour overnight wait in Perth before my Skywest flight and she replied that she would block the seat next to me so I could get more rest. I could have hugged her for this thoughtful act of kindness, but that would have had her reaching for her panic alarm button. Instead, I told her how thoughtful and kind she was and she explained that the Qantas Club had recently moved and was adjacent to Gate 16. Interestingly, she did say that as this was one of Qantas' longest over-night domestic flights, it was very popular for frequent flyers to book seats in Economy and use their points to upgrade to Business at the airport. As such, there was no guarantee that 02B would be free, but she would do her best. Can I nominate her for QF Employee of 2007?
The Qantas Club lounge, while smaller than SYD as would be expected, was still a good size. There was only one chap in there when I arrived and he had made himself comfortable with feet up on a sofa watching TV. I hadn't eaten since breakfast and after the exhilaration of a ride in a deHavilland Single Otter seaplane earlier in the day, had a hunger that was only satisfied after a comprehensive raid of the food bar. The food bar was looking pretty depleted, the staff clearly thinking that they could get away with not re-stocking that night, but as more passengers drifted in, grumbling sounds were overheard and fresh trays of sushi, roast vegetables and pots of olives were carried in. A polite sign asked passengers not to help themselves to the breakfast bread and cereal which had already been laid out in advance of next morning's rush. It also looked increasingly likely that I would have a companion in 02B.
After using the shower rooms and devouring a plate of grub, I sat back with a glass of pretty ropey sparkling wine and a book until boarding was called. I must say that the Qantas Club lounges really impressed me, especially in comparison to the BA Terraces. The chairs are comfortable and thoughtfully arranged and the colours and tones are subtle and smart rather than bright and garish. This one also had plenty of newspapers and magazines, 2 TV screens at either end and an electronic board showing the status of various stocks and shares. This last feature didn't interest me – I was just impressed that they had it.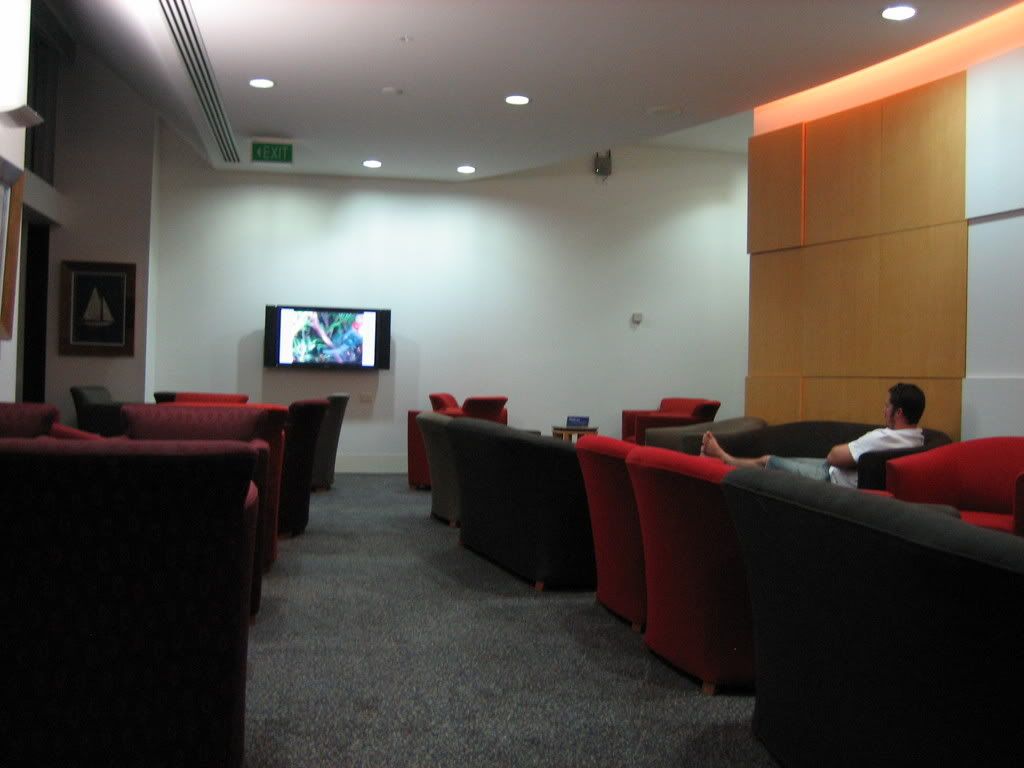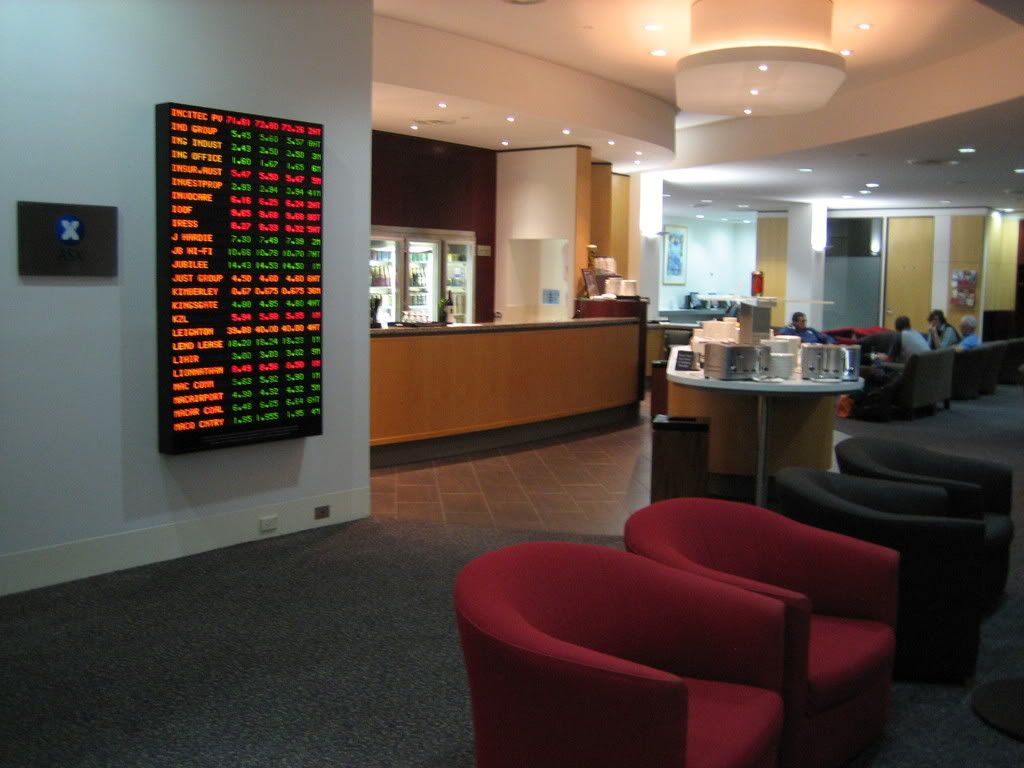 Comfy chairs, TV, bar, good grub and even share prices all available in the Qantas Club, Cairns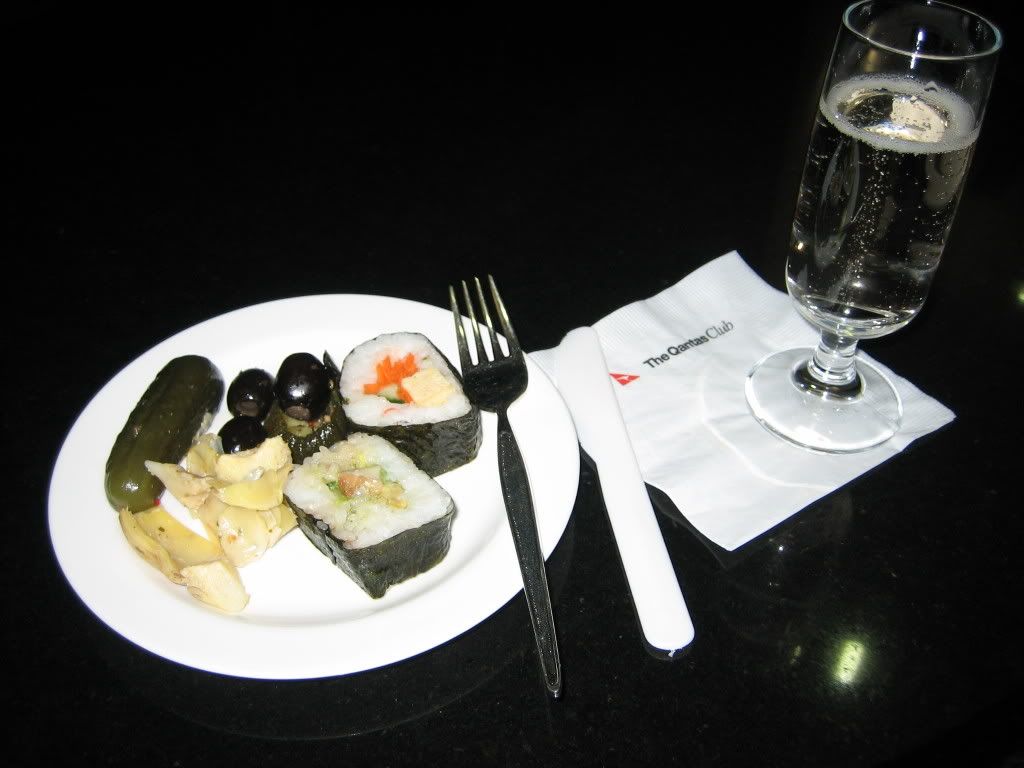 Sushi, olives and roast veg with nondescript sparkling wine: keeping the wolf from the door in the Qantas Club, Cairns
At about 2245, boarding was announced and we trouped out of the lounge. Whereas I could have happily spent the day snoozing in the Business Class seat on the 767 from Sydney, my first thought, as I parked my behind in seat 02A on this 737-800 was 'Wow, this is hard!' And I promise you 5 hours later it felt just as hard. The steward in charge of the cabin crew team, Simon, had clearly also attended the Qantas school of smiles and he served the Business cabin assisted by a colleague who popped up from Economy. More and more passengers filed on board until there was just one seat left in Business – 02B. Finally, the doors closed and I said a silent 'thank you' to the kind lady at check-in who had blocked it off for me. Juice and water was brought around before push-back. We taxied to the turning circle at the end of runway 15 and were airborne within 10 minutes. As we climbed out, Captain Bruno Colberg welcomed us aboard and told us to put our watches back 2 hours for Perth. As the aircraft banked left, I was treated to the finest possible view of Cairns: it was pitch black outside.
The crew were keen to start the meal service as soon as the fasten seat belt signs had been extinguished to allow people to maximise their sleeping times. Again there were no menus, but a choice between hot salmon, mash potato and tomato sauce and salad with proscuitto with cheese and grapes. I went for the salad, which was just the ticket for the time of day (or night). The best part though were the warm bread rolls. Seriously, I've never had such good bread as on that 737 in the middle of the night over the Queensland rainforest.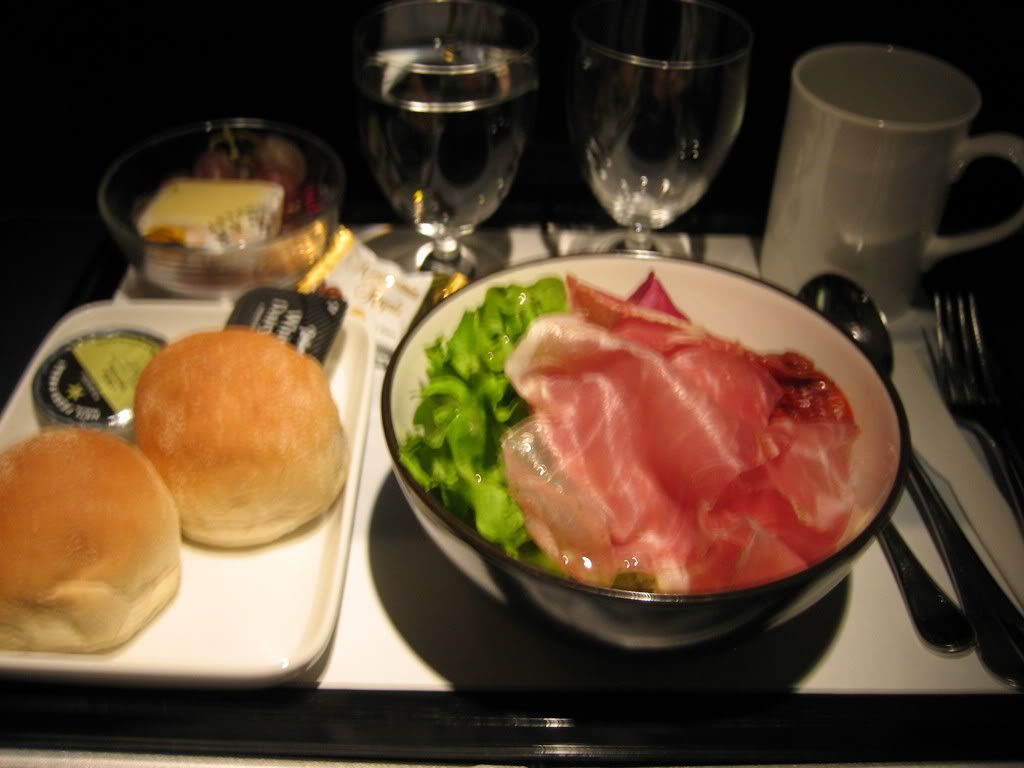 Salad with proscuitto, cheese and 2 of those fantastic bread rolls! Sorry again for the rubbish photo.
After coffee, I decided to try and get some sleep. This is when the difficulties started. Maybe I am just an awkward shape, but I honestly just couldn't get comfortable in that 737 seat. Ok, it was hard and the recline was modest, but there didn't seem to be any way of positioning the pillow to rest your head comfortably. Even the space between the seat and the cabin side was wide enough to cause the pillow to fall down the gap. The pitch seemed much tighter than on the 767 (can anyone in the know confirm whether that's true, or just my imagination?) and once the fella in 01A had reclined, it was difficult enough to get out without someone sitting next to me. The flickering of whatever film was playing on the main cabin screen was also very distracting and it took what seemed like a short eternity to drop off to a light and fitful doze. By the time we were approaching Perth, my delicate backside felt like it had been sitting on a park bench for a day and my neck was aching from the unusual contortions I'd forced it into while trying to get comfortable. All in all, I was actually looking forward to getting off and trying my luck on an airport bench for the rest of the night.
Simon and his helper also seemed to be looking forward to getting off as they quickly handed out glasses of water before landing. We arrived bang on time at the very swanky, modern-looking Qantas domestic terminal and our bags were on the conveyor very quickly. As all the passengers left the terminal, the staff began to switch off the lights and baggage conveyors and I began to wonder if I'd be turned out into the cold 4 degrees Celsius Perth night. I had been dreading this transit, but was so tired that no sooner had I positioned my case a leg's length from a bank of seats, I was asleep. Sadly, the only thing the staff didn't turn off was the automated voice telling the non-existent passengers in the departures area to co-operate with the security staff and this was still going when I woke nearly 3 hours later.
Part 4: PER-MJK; MJK-GDT-PER
I won't describe in great detail the quick hops I made on Skywest, but I did come away feeling very well-disposed to the company. This is going to sound appallingly patronising, and it's not meant that way, but when you're more used to big aircraft and anonymous terminals, this was rather like people playing airlines. And it was hugely endearing because of it. London Underground's Metropolitan line has been described as having 'pretensions to be a mainline railway' and this felt much the same. The people at Skywest have clearly been on big planes to big airports and want to do the same thing. And they do very well at it. The inflight food was of dubious quality but nevertheless, they served hot meals followed up by a couple of drinks runs on the sort of 1 to 1½ hour sectors that Swiss would feel content to chuck one of their pathetic cheese rolls at you. The cabin crew looked the sort of age where a delayed flight and late night would get them in to some serious trouble with their parents when they got home, but like their Qantas colleagues, were unfailingly cheerful and friendly.
The Fokker 50s were a delight with their noisy cabins and laboured, asthmatic climbs to cruising altitude. The airport at Denham, Shark Bay (Monkey Mia, MJK) was an open-sided shack adjacent to a short landing strip. I was only in Shark Bay for a few days and it was utterly beautiful. Do go one day and make sure you see the stromatolites. But make it our secret and don't tell anyone else, ok?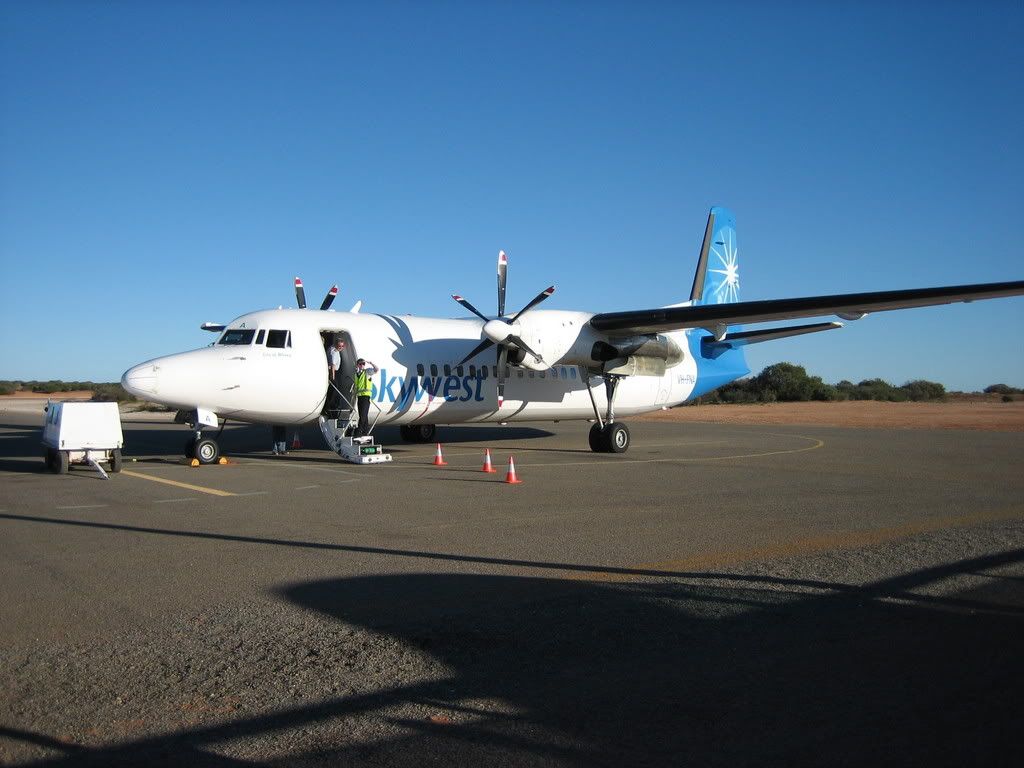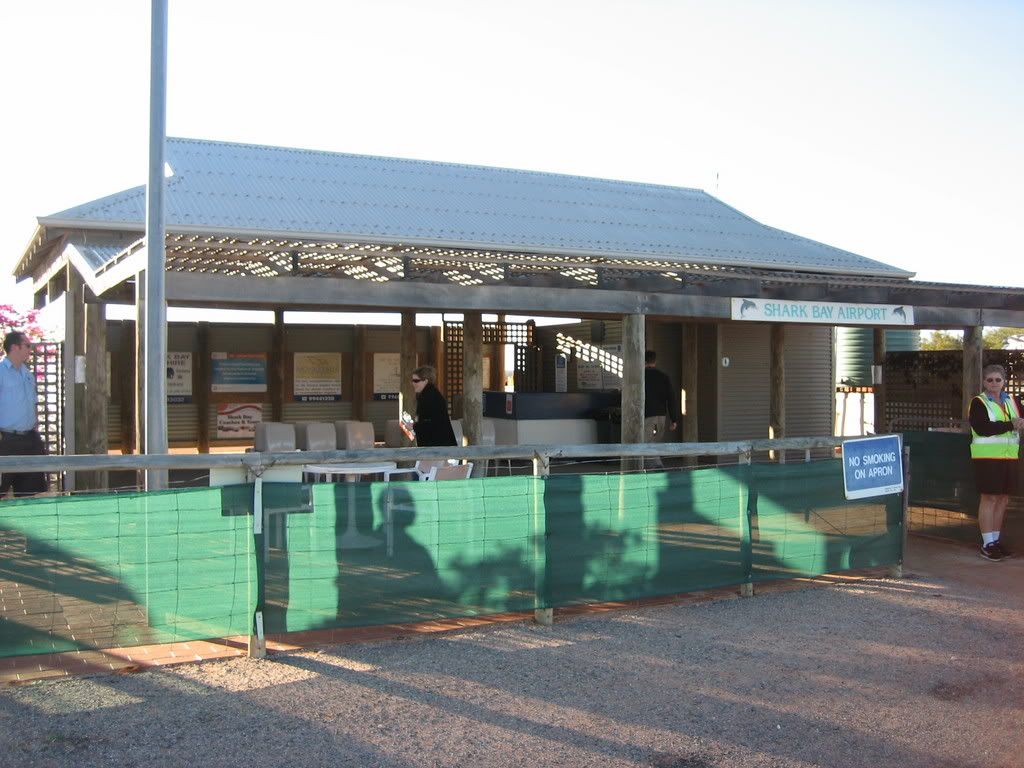 Skywest steward Jake looking for any more passengers at Shark Bay International Airport (!) What a stunning livery on that Fokker-50 too.
Part 5: PER-SIN-LHR
Date: 10-08-2007
Flight: QF077/BA7377
Depart: PER Scheduled: 1125 Push-back: 1125 Take-Off: 1140
Arrive: SIN Scheduled: 1645 Landing: 1635 On stand: 1640
Aircraft: Type: A 330-300 Registration: VH-QPD
Seat: 02K (Business)
After 2 days in Freo, it was time to head home where a lengthy spell in the lab beckoned! Still, the prospect of a first ever ride on an A 330-300 and a first ride on a 744 for over 10 years was something to look forward to!
After such positive experiences of Qantas staff so far, I didn't think they could get any more charming and helpful. But the check-in agent at Perth international terminal practically begged me to let her carry my case and personally load it on to the aircraft for me. Where does Qantas get all these nice people from? Then at the security check, before which I had again pre-packed my carry-on liquids into a clear zip-lock bag, the agent told me that unfortunately, they would have to be placed in a different-sized bag (that's anal government regulation for you) but he still complemented me on being well-prepared. Even the immigration official, arguably the most fierce and dangerous airport species, made small-talk about the foggy weather and asked if I had enjoyed my stay in Australia. I took the time to say that she and her colleague at Sydney were the politest and friendliest immigration officers I had come across anywhere. She seemed quite pleased at this and replied that she simply enjoyed her job and wished me a safe journey home. I would like to see every immigration officer at U.S. airports (and most British ones too) sent for a month's compulsory training and attitude-correction at wherever it is the Australians train their officers. It would make travel a lot more pleasant and might even tempt me back across the pond.
Practically dizzy from all this unexpected good-will, I sauntered into the Qantas Club in high spirits and helped myself to yoghurt, toast and coffee from the breakfast selection and relaxed in the now familiar surroundings (sorry again for the crummy photos). After 3 weeks in Australia, my camera's memory card was groaning and a new one was needed if this part of the trip report was going to have any photos! So shortly before boarding was due to start, I left the lounge for a quick visit to the duty-free area and to take some photos of the apron.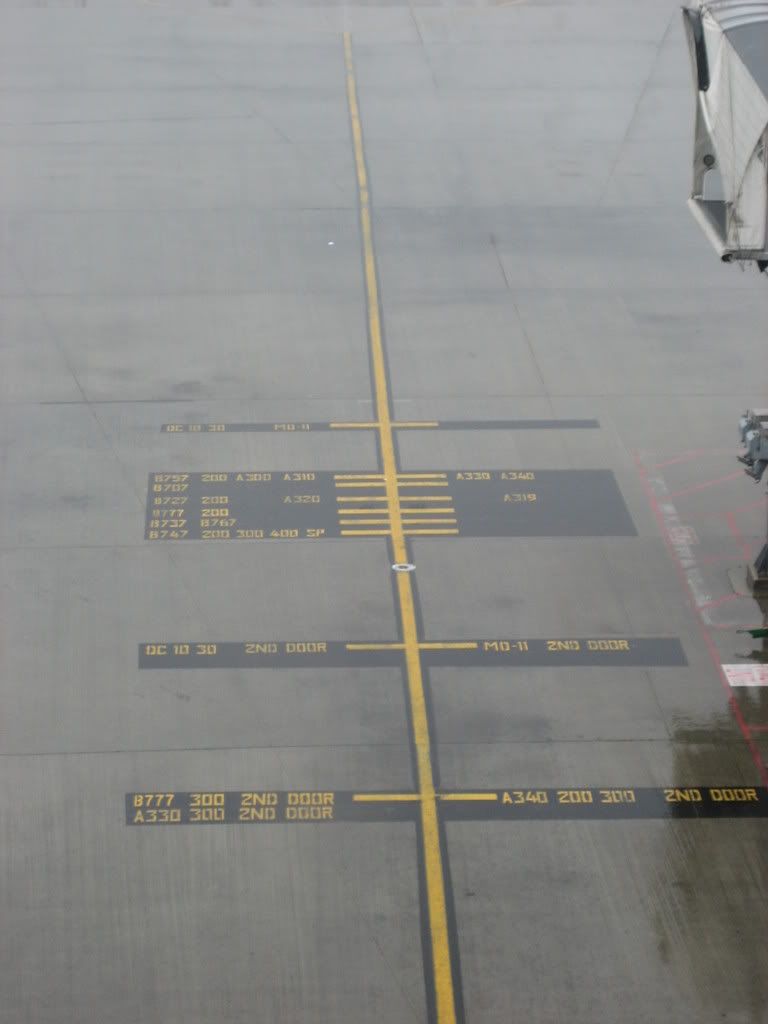 'How far exactly do I pull up to the gate, Captain?'
Qantas Club at Perth International Terminal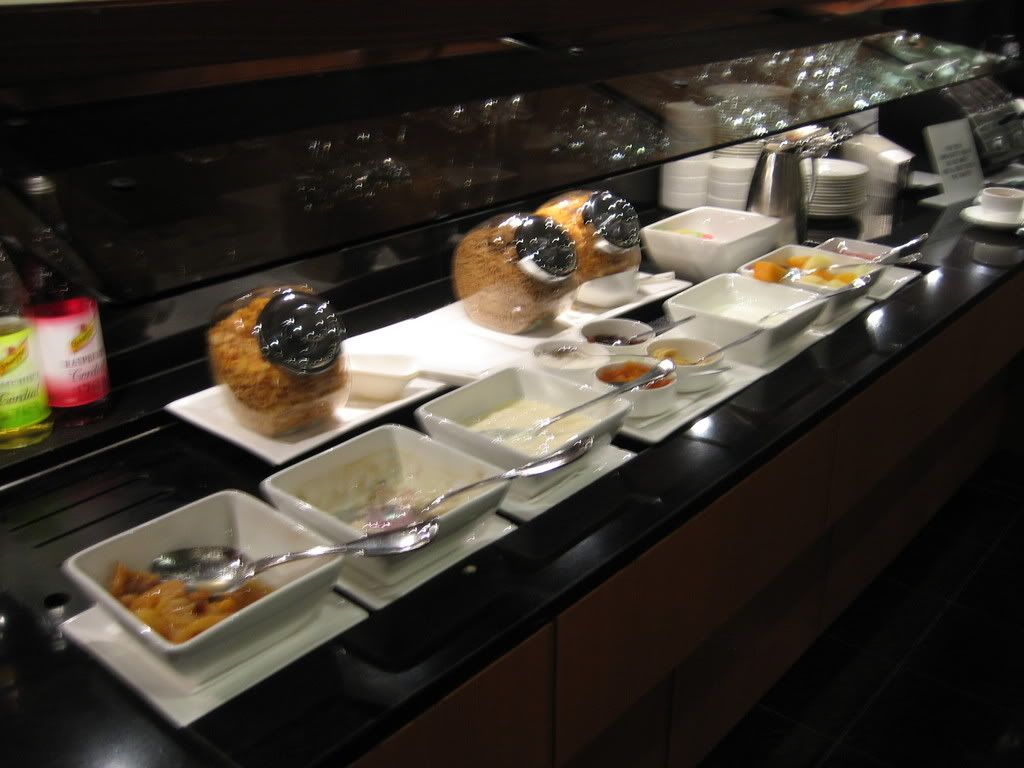 Breakfast selection in the Qantas Club
The A 330-300 'Port Macquarie' had the new style Business Class seats, and while not things of great beauty (despite Qantas constantly bragging about some supposedly hip and trendy designer having come up with them), are certainly very comfortable, which I guess is what really matters. But let's just say you probably wouldn't want one in your front room. Do I need to mention how nice the crew were? Probably not.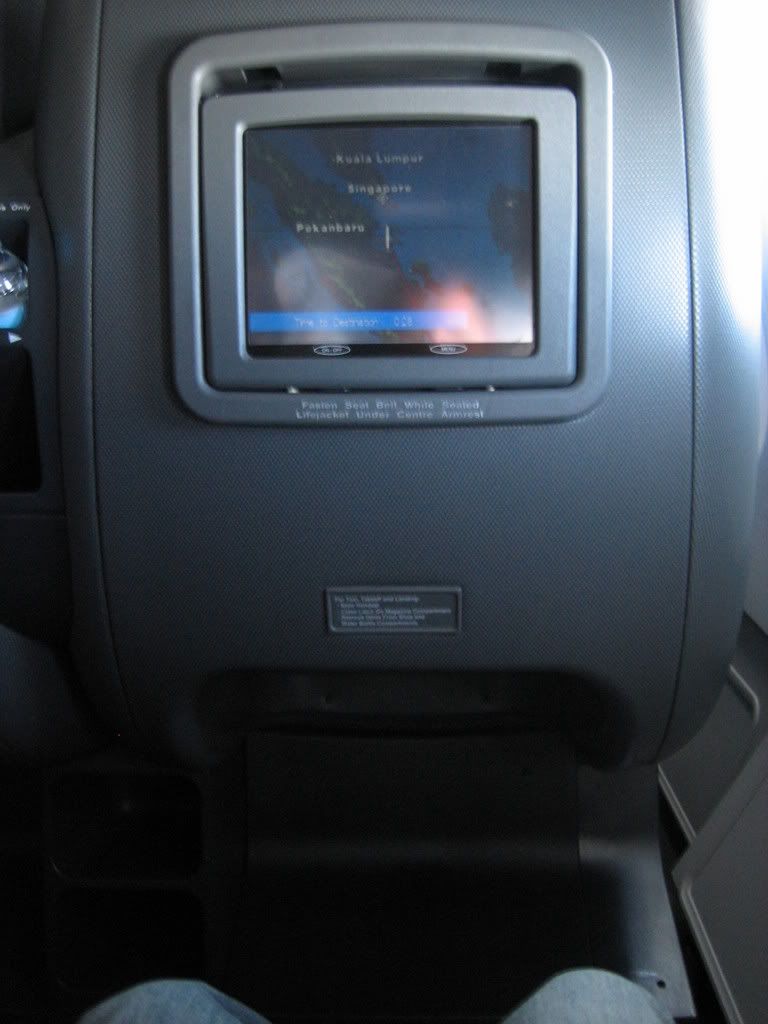 Nice big IFE screen on QF's 333 Business seats
The usual refreshments were distributed before take-off and once airborne, lunch menus and washbags were handed out, which surprised me as this was a day-flight. The menu offerings all looked pretty mouth-watering and it was quite a task coming to a decision:
Entrée
Prawn and celeriac remoulade
Main courses
Seared snapper with beetroot relish, sautéed potatoes and silverbeet
Steamed chicken with Szechuan pepper, chilli, eggplant and noodles
Pan-fried rosemary pork cutlets with roast vegetable puree and Puy lentils
Green leaf salad with herb vinaigrette
Dessert
Seasonal cheese hand-selected by Calendar Cheese Company served with accompaniments
Ginger cake with caramelised pear
Sliced fresh fruit
Chocolates
Vairhona chocolates
Paton's macademia chocolates
An express lunch was also available comprising of a leek soup followed by the prawn and celeriac remoulade and the green leaf salad. Eventually, I settled on the pork cutlets which were fantastic. In fact, the whole meal was great with only the ginger cake being a little on the dry side.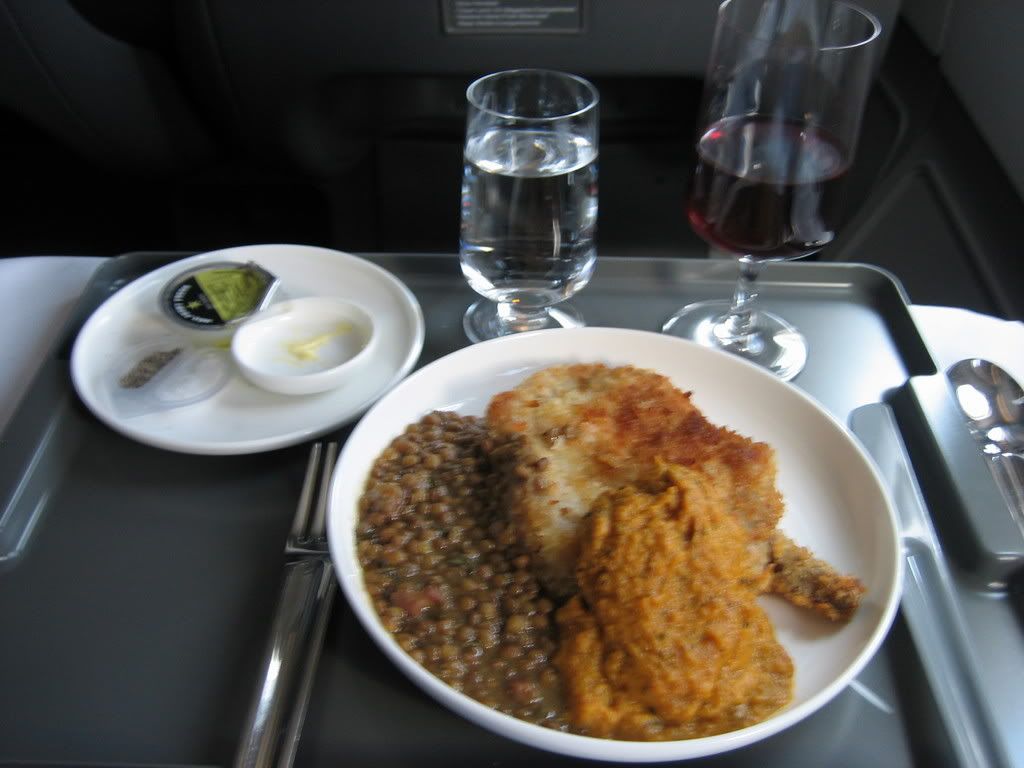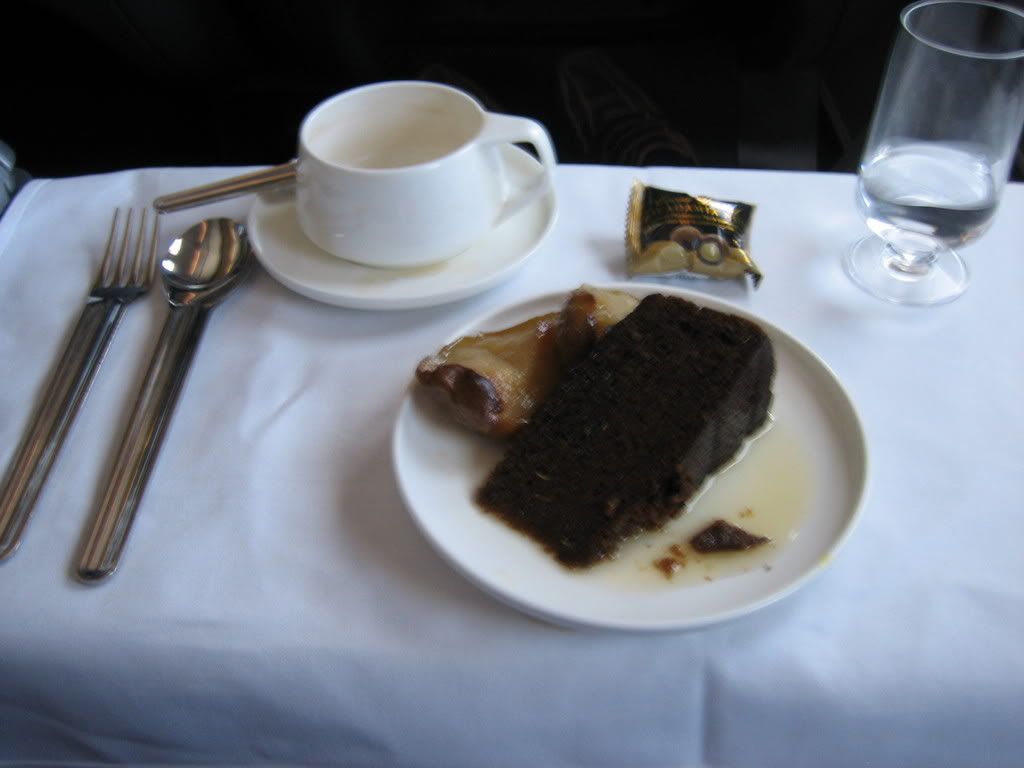 The decision was hard, but it was the pork cutlets for main, then ginger cake with pear for dessert. My photo of the prawn remoulade starter was bad, even by my pisspoor standards, so I've spared you that. You can continue to wonder what a 'remoulade' is and how people in kitchens come up with this pompous language.
Unlike on BA, I enjoyed the IFE on this Qantas aircraft, even if it did throw the occasional tantrum and freeze suddenly. The screen was a good size and a great selection of British comedies was available as well as an excellent travel channel which offered country and city guides to places on the Qantas network and further afield. It's easy to go around your home country with your eyes half closed so it was interesting (and pretty amusing) to see an Aussie's guide to London, the UK and British beer! Once again, the seat next to me was free (I do shower more than once a year, you know) so I spread my things out and enjoyed playing with the controls to see what the seat could do. Having found a comfortable setting, I relaxed and let myself be entertained by Ricky Gervais in 'The Office' which I hadn't seen before.
The flight seemed to pass all too quickly and Port Macquarie touched down at Changi 10 minutes early. Then came the biggest, and most fantastic and fortunate surprise of the whole trip. As we taxied past a row of SQ tail fins, a large, towering blue fin came into view. My heart beat quickened – surely it wasn't…yes it was, an A-380!! I was so excited, and enjoyed chatting to the Qantas flight crew about it when I paid them a visit up front for my first view of an A 330-300 flightdeck. Like their colleagues on the flight to Cairns, they were very generous with their time and the stewardess snapped this picture of me with a cheesy grin, taken at a jaunty angle.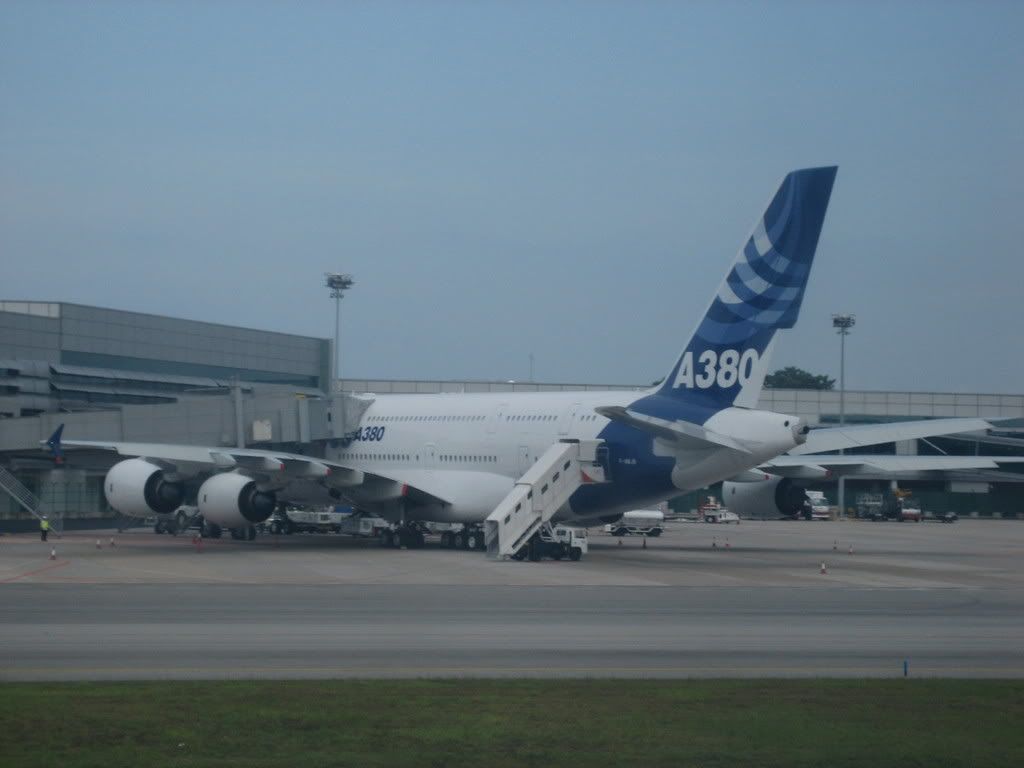 Wow...just, wow.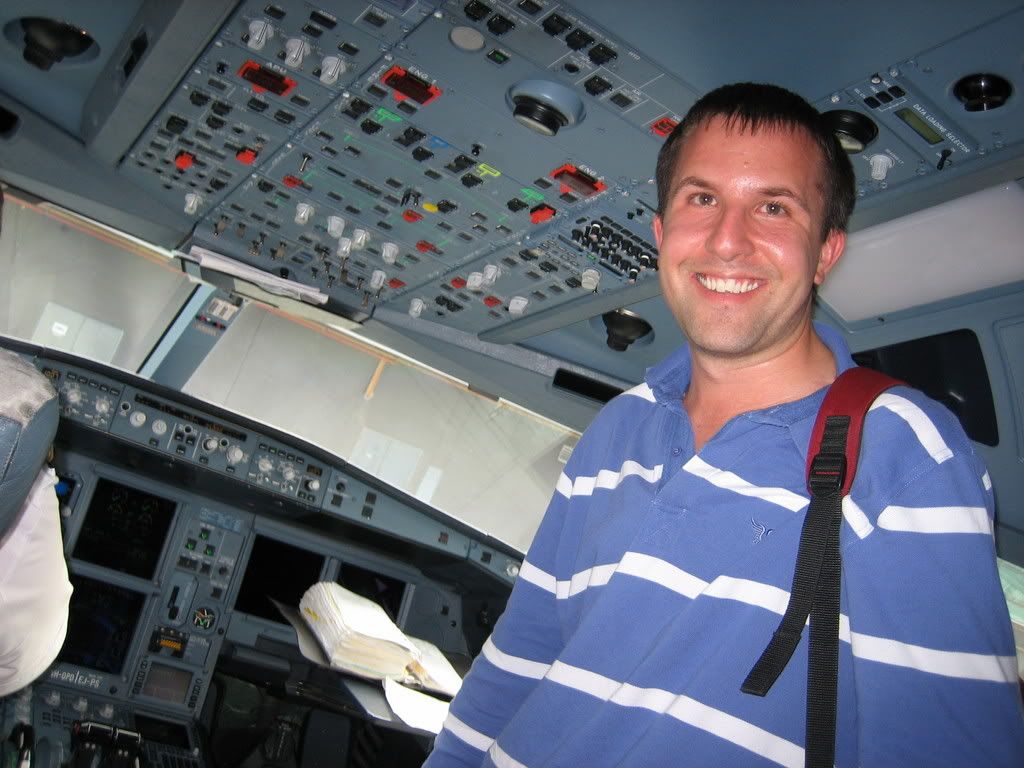 "Now when I say 'cheese', smile and try not to look like a numpty...oh well, never mind."
I had a fair wait until my BA connection to Heathrow and made for the BA/Qantas lounge. I was bursting to tell someone that I'd just seen an A 380, so first of all e-mailed my dad in the Middle East to share the good news. It's an aircraft that he'll be seeing a lot of fairly soon.
The BA/Qantas lounge at SIN is big. Roughly the size of Belgium, I'd say. The charming staff exude the same eastern hospitality and service that SQ is rightly praised for and there are banks of internet terminals, plenty of comfy chairs and a constantly changing array of hot and cold food. I've already waxed lyrical about the showers. After an excited, rambling e-mail to my dad about the A 380, another foray into the shower and a plate of hot pizza and a cup of green tea, I was wondering quite how I was going to pass the next 3 hours until BA012 was called for boarding. Sadly the lounge overlooks a check-in area rather than the apron, but you can't have anything.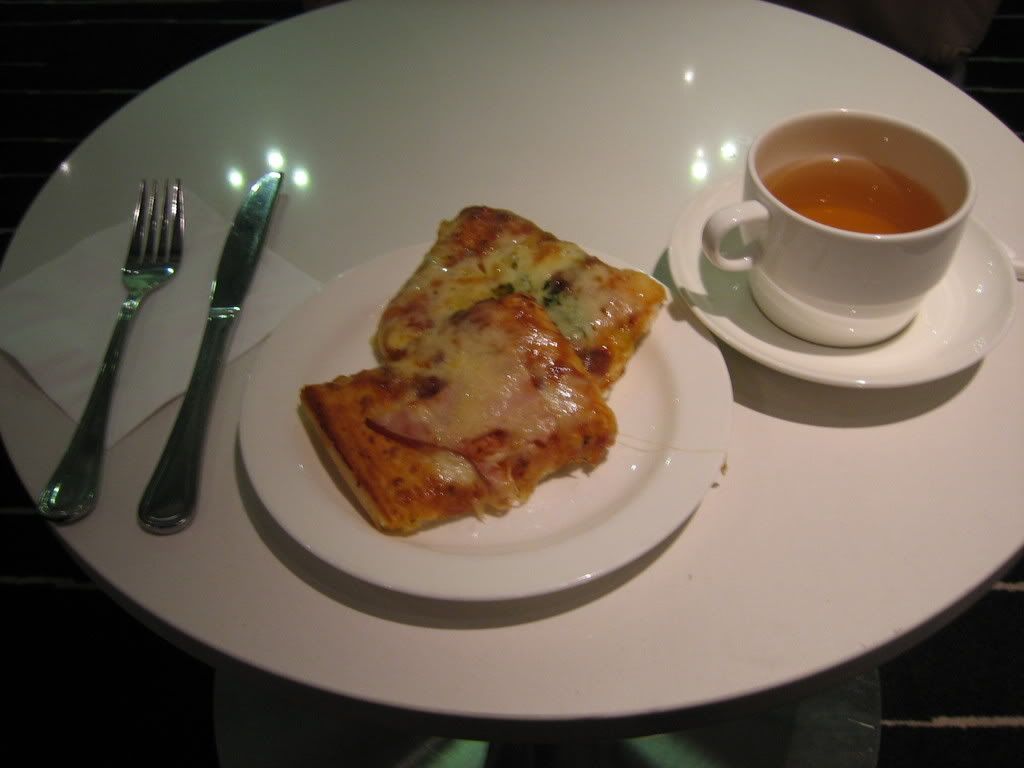 How I would be spending the time was somewhat decided for me when a middle-aged Australian couple sat down at the table next to me. They were returning home after several months living in Singapore due to husband's work. I suspect they are the sort of people that you would not hear from once during the year, but would insist on sending you one of those agonisingly tedious annual letters at Christmas-time telling you how well Lizzy did in her exams, how 'absolutely divine' their holiday in Patagonia was and how much they spent on vet fees having their cocker spaniel's buttock glands treated. Needless to say, I spent the remaining time listening to the fortunes and misadventures of a series of people I'd never heard of and barely concealed my bolt for the door when BA012 was called.
Date: 10-08-2007
Flight: BA012
Depart: SIN Scheduled: 2255 Push-back: 2255 Take-Off: 2315
Arrive: LHR Scheduled: 0515 Landing: 0445 On stand: 0455
Aircraft: Type: B 747-436 Registration: G-CIVC
Seat: 67K (Club World)
You probably think I should have had more than my fair share of good luck with the A 380. But it was going to get even better. Despite the new Club World roll-out far from completed across the fleet, this lovely 744 bird was one of those fitted. It's fair to say I was pretty blown away by the new cabin. Thanks to reading trip reports from other a.net members and looking at SeatGuru, I'd been tipped off about seat 67K on the upper deck and had reserved it early. It certainly is great for a single passenger as being by the emergency exit means that it is difficult to view from the seats beyond and allows you to access the aisle without stepping over a slumbering neighbour.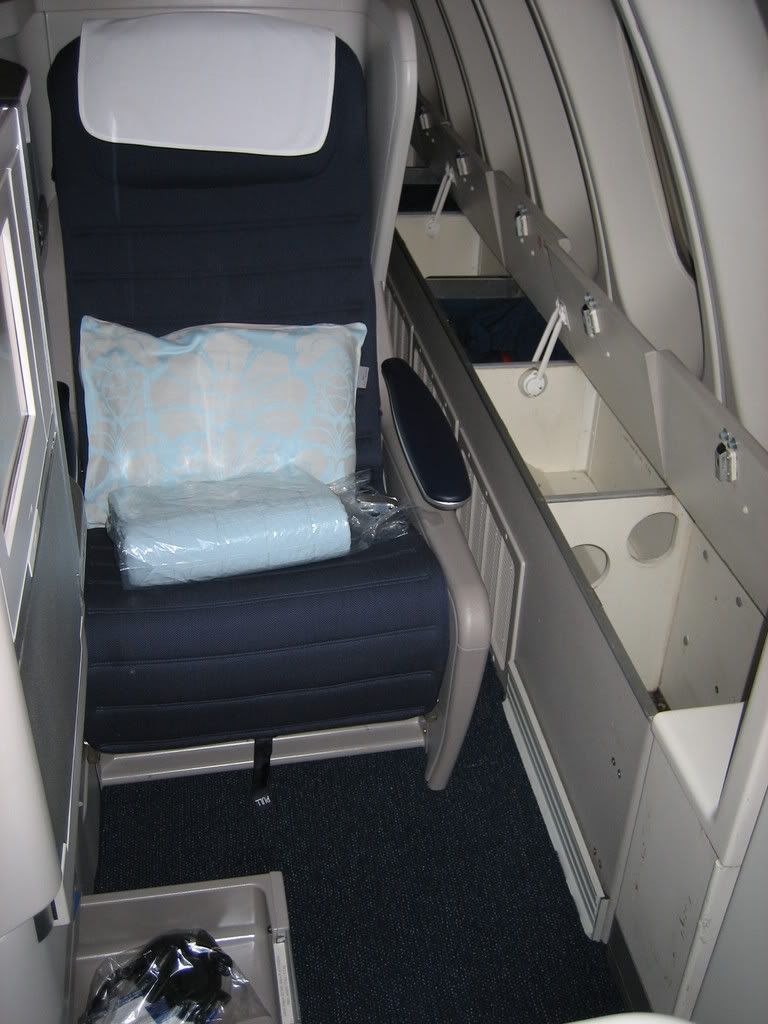 The new CW seat. Blanket, pillow, storage lockers...just look at all that space!
The new seats have been well thought out. Two lockers at the side of the seat were plenty big enough to hold my carry on and more meaning all my stuff was close at hand throughout the flight. The seat seemed wider and altogether more spacious than its predecessor and the translucent plastic privacy screen between the seats is a great improvement. The IFE screen is larger and the seat and light controls more logical and usefully positioned. And wow, was the seat comfortable. I'd have cheerfully traded my bed at home in for one of those. Congratulations, BA, for a well thought-out upgrade to an already great product.
Take-off was from runway 02C, the climb-out seeming to take a lot of effort. Due to weaker than expected headwinds, the Captain announced that the flight time would be just over 12 hours and we would be arriving well ahead of schedule. Flying conditions were also expected to be smooth. Menus were passed around and I acquired my 3rd BA washbag of the trip. After settling down with a pre-dinner Kir Royale, I looked at the options:
Starters
Gravlax with lemon olive oil
or
Panzanella salad with pecorino cheese
Fresh seasonal salad served with vinaigrette
Main
Braised short rib of beef with garlic mashed potatoes and root vegetables
Roast breast of duck with morello cherry sauce, broccoli, carrots and roast potatoes
Cheese ravioli with a roast pepper sauce
Main course salad of herb marinated shrimp with roast aubergines
Dessert
Chocolate pecan tart
A selection of cheese served with crackers
A selection of fruit
I chose the gravlax to start and the duck for main, which seemed a little bland, but may have been because I was starting to feel pretty knackered by this stage. The chocolate pecan tart was very good and all was washed down by a fine glass of claret.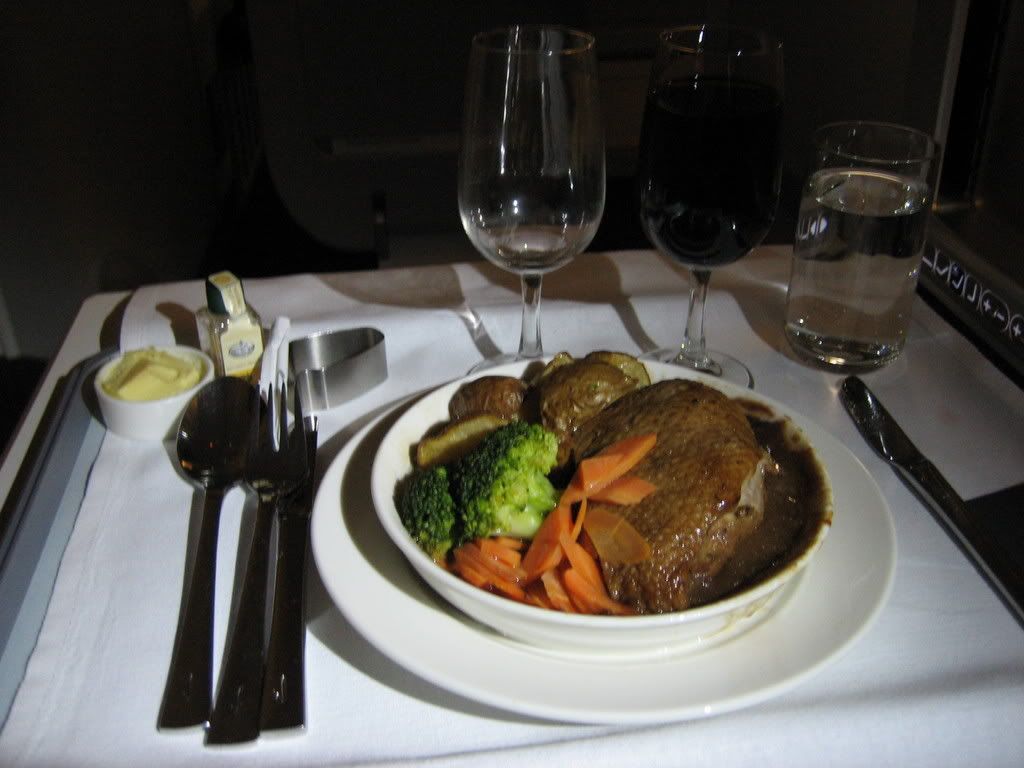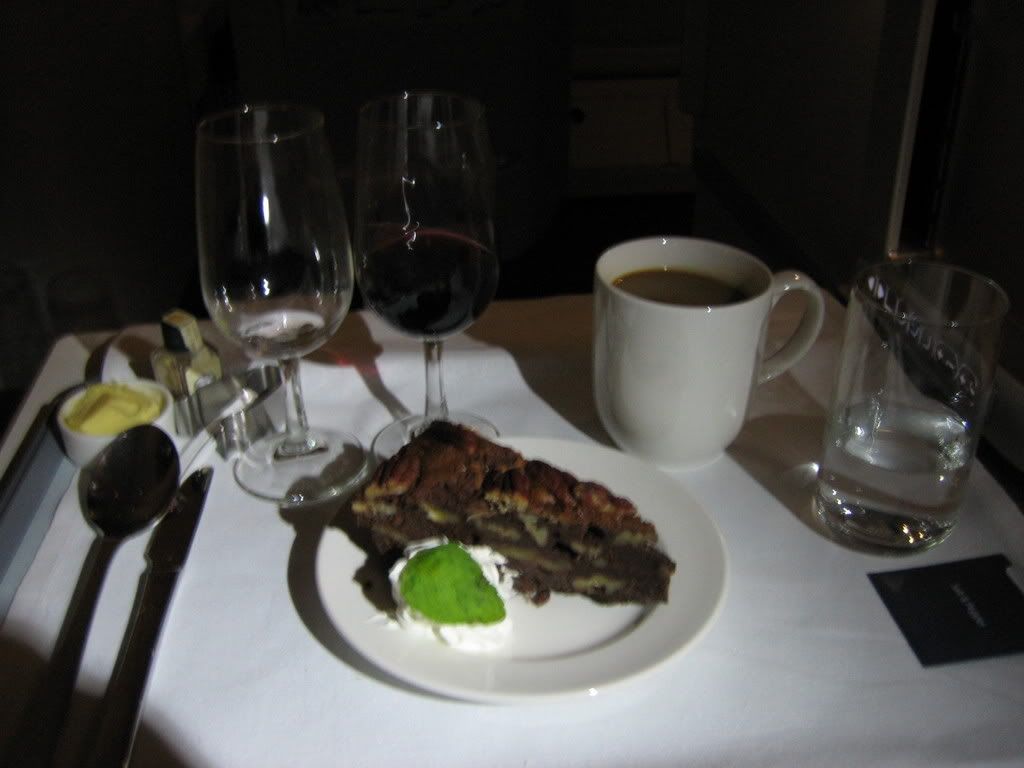 Starter, main and desert of the dinner service ex-SIN.
The cabin crew were as attentive and professional as their colleagues had been on the way out from London, but they couldn't match the warmth and good humour of any of the Qantas crew I'd met. Is that a British thing, or a different style of service consciously instilled in to staff during training?
Needless to say, I slept soundly in that CW bed and only the anticipation of getting home to the start of a new football season and Watford's inevitable assault for the Premiership woke me up a couple of hours out of Heathrow. The breakfast choices were very similar to those offered just before landing at Singapore nearly 3 weeks earlier and despite the heavy dinner I'd just indulged in, couldn't resist the 'classic British breakfast' complete with HP Sauce. Magic!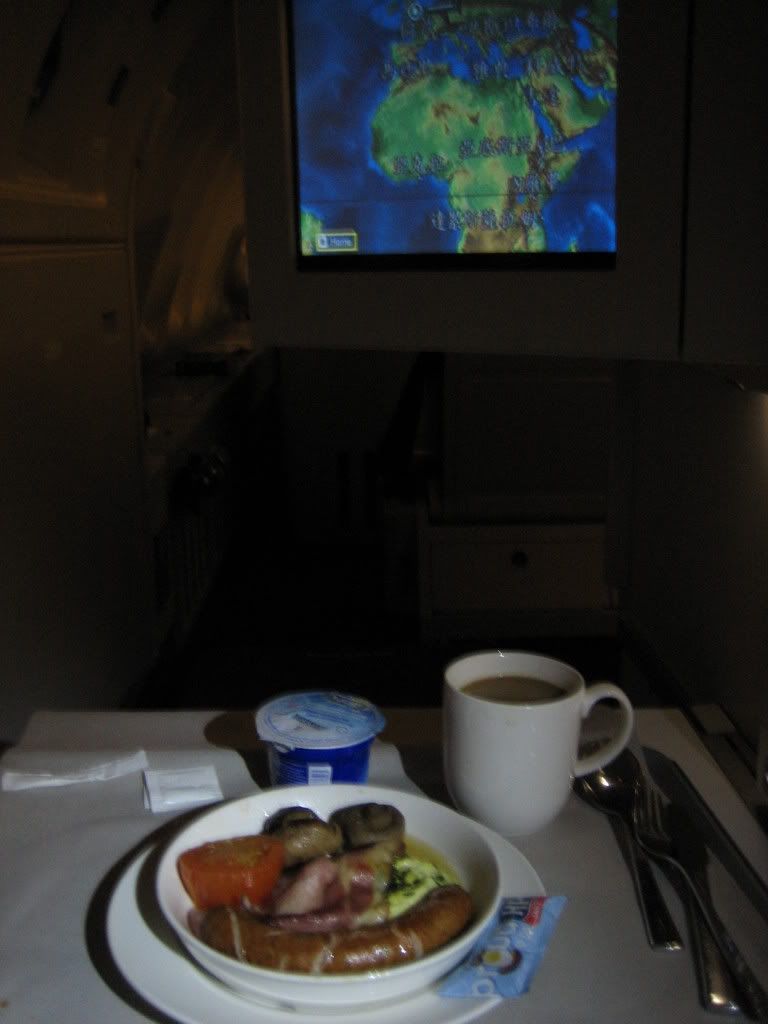 The Captain was true to his word and we landed on 27R a good half an hour early. Heathrow was eerily quiet in the faint light of early morning, but it was pleasing to see a KU 767 parked up at one of the new remote stands between T3 and T5. Once again, I asked if it would be ok to have a peek in the flight deck and the 4 pilots were happy to oblige. The Captain looked a little sheepish and asked me to excuse the mess, as the cockpit was strewn with newspapers, files and what looked like polystyrene food trays which made my bedroom look tidy and ordered!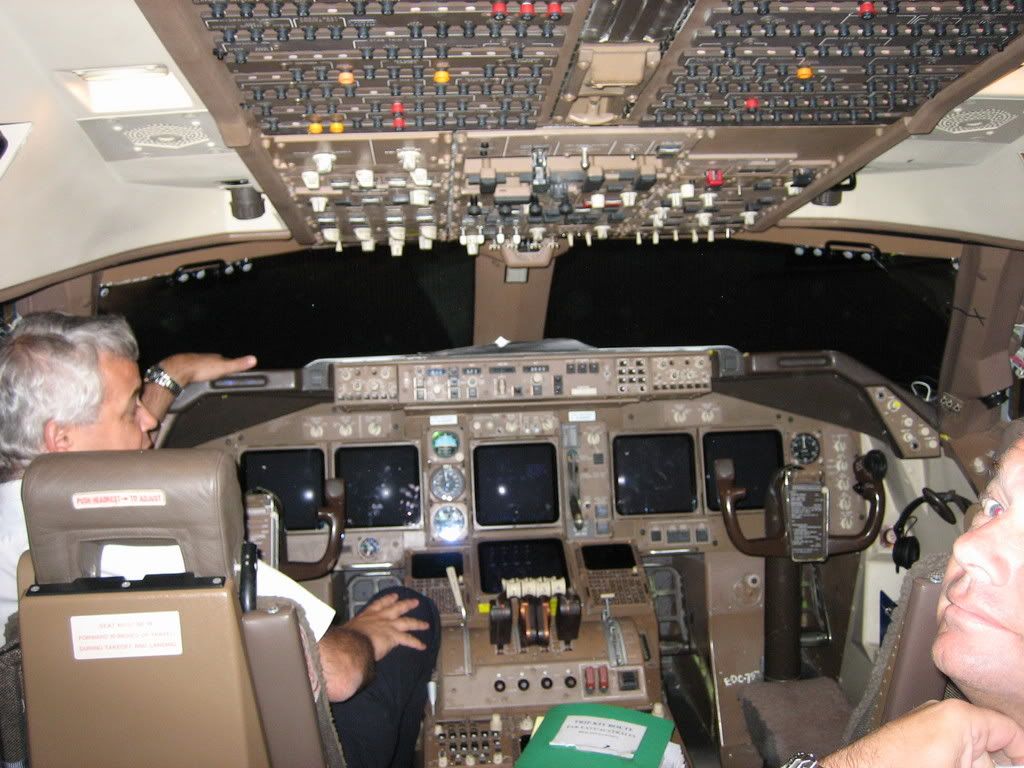 The front office of a 744. Unfortunately the systems were already shut down.
The flight crew were understandably in a hurry to disembark after a long flight so I quickly snapped a photo and left. The Captain said that he had a few days off while the 744 itself had just 4 hours off before heading across the Atlantic.
The ground crew must have been pleased to have something to do because our bags were on the reclaim conveyor as I arrived from an unusually friendly encounter with one of Her Majesty's Immigration Service officials. He must have gone to the training