After two days working in Damascus, Syria it was once again time to return to Abu Dhabi. However, as with many of my trips I had plans to take advantage of being in Damascus and take one of the several more exotic flights I had planned for this year. I had deliberately made sure that my two days of work in Damascus were scheduled for a Wednesday and Thursday so that I could easily be available on the Friday morning to take this rather special weekly flight. Earlier in the year, Iran Air began a rather unusual (and highly political) flight starting in Tehran, Iran and operating via Damascus to Caracas, Venezuela. This is as a result of the special friendship which Hugo Chavez seems to have with his anti-US counterparts in Iran and Syria. Say what you will about it, but for the aviation enthusiast it is an absolute dream – to take a flight on a Boeing 747SP across the Mediterranean and Atlantic on a fourteen hour flight that pushes even this special performance aircraft to its limits.
I received an e-mail a couple of weeks earlier from someone who had seen my plan to take this flight on the airliners.net civil aviation forum in a thread of the same subject. He said he also wanted to take the same trip so we decided to meet in Damascus on the Thursday evening and both take the flight the next morning. Alex would then fly American Airlines to MIA and LHR as he needed to get back to the UK for work but I had made plans to take advantage of my location once again and try for another elusive aircraft type – the Ilyushin IL-62M. The day after we were due to arrive in CCS there was a Cubana flight in the afternoon to Havana and it was scheduled to be operated with an IL-62. This was simply too good to resist so I had made a reservation on this flight as well as another Cubana IL-62 flight to Santo Domingo, Dominican Republic the following morning. I then planned to travel SDQ-JFK with American Airlines so that I could take the direct Etihad Airways flight back to Abu Dhabi from JFK the morning after. My plan now looked like this:
Iran Air
IR744/04MAY
DAM / CCS
74L

Cubana de Aviacion
CU313/05MAY
CCS / HAV
IL6

Cubana de Aviacion
CU200/06MAY
HAV / SDQ
IL6

American Airlines
AA1582 / 06MAY
SDQ / JFK
AB6

Etihad Airways
EY100 / 07MAY
JFK / AUH
345
After a pleasant evening out in Damascus on the Thursday evening with a couple of my very hospitable Syrian colleagues, we arrived back at the hotel at around half past midnight. It would not give us a massive amount of sleep but nothing was going to stop us from getting up the next morning bearing in mind the flight we were hoping to take. The reason I say 'hoping' is that neither of us had a confirmed reservation on the flight. We both work for different airlines and had managed to get ZED tickets for the DAM-CCS sector, which are on a space available basis only. Bearing in mind that this flight is capped at 100 passengers due to payload restrictions there was no question that there would be space available, but being accepted for the flight was going to depend on the underload once the final fuel figures had been decided. From a contact in Iran I had managed to find out that a total of around 65 passengers were booked to CCS which sounded great but if Iran Air wanted to use the extra payload for cargo it was still possible that we would not get on the flight.
After checking out we met outside the hotel the next morning where a car would be collecting us to take us to Damascus International Airport. The journey to the airport took around twenty minutes so we were soon making our way into the terminal with only a limited sense of excitement – it was all going to be a bit tense until such a time as we might be accepted for the flight. It was particularly tense for me as I had made confirmed reservations on the Cubana and American Airlines flights so I stood to waste a lot of money if we did not get on this flight. Still, I felt the risk was worth it.
After quite a long wait to get through security which was something of a bottleneck, we finally entered the check-in area and headed to the check-in desks for our flight. We were wearing our respective airline ID cards at this time since we were travelling on staff tickets. The gentleman from Iran Air must have spotted this as when a new desk opened and we moved across he told us to wait until the end. This meant there was definitely a chance of us not being accepted so we started talking about options for getting back from DAM to AUH and LHR respectively. Something else which did not make the situation look too good was the fact that several other passengers were later told to wait until the end – I believe these were revenue passengers. I assumed that the Iran Air representative was waiting for the Captain to pass a final fuel figure before they could take any more passengers. These flights will always be limited at take-off weight due to the massive fuel load being uplifted ex-DAM. After some time the Iran Air representative finally beckoned all remaining passengers including ourselves to come forward and check-in. We were both relieved and extremely happy to say the least.
We were given our boarding passes for seats together near the rear of the aircraft and then headed towards immigration. The departures area beyond the immigration counters is quite small and the limited amount of gates are closed until not long before the boarding starts. There was a queue outside our gate and departure time came and went while we waited, but this was not surprising as the outbound crew had only passed through a short time earlier and we were accepted pretty late at the check-in. Still, we were in no hurry and were quite content to wait.
After a while boarding commenced and as with many departures at DAM the aircraft was parked on a remote stand. From the gate we could see the aircraft and make out the registration as EP-IAB. I knew it would be either this machine or EP-IAD as these were the only two (of four) in active service at the time. This aircraft was very recently taken out of storage and overhauled so I was quite pleased to be travelling on this particular one. When I was in THR in January the aircraft was in the hangar being prepared for its return to service.
When the agent at the gate saw our boarding passes he asked us to wait for a moment rather than board the coach with the rest of the passengers but it soon became apparent that we would be taking alternative transport to the aircraft. One of the Syrian Arab Airlines staff who I had been training for the past couple of days was the Load Controller assigned to the flight and he knew I was travelling to CCS as I had mentioned it the previous day. He invited us into his jeep and then personally drove us to the aircraft. We passed behind Syrian Arab Airlines B727-200 YK-AGB 'Damascus' just after leaving the gate. I commented to my friend that I had flown on this aircraft AUH-DAM on my previous visit in 2005.
YK-AGB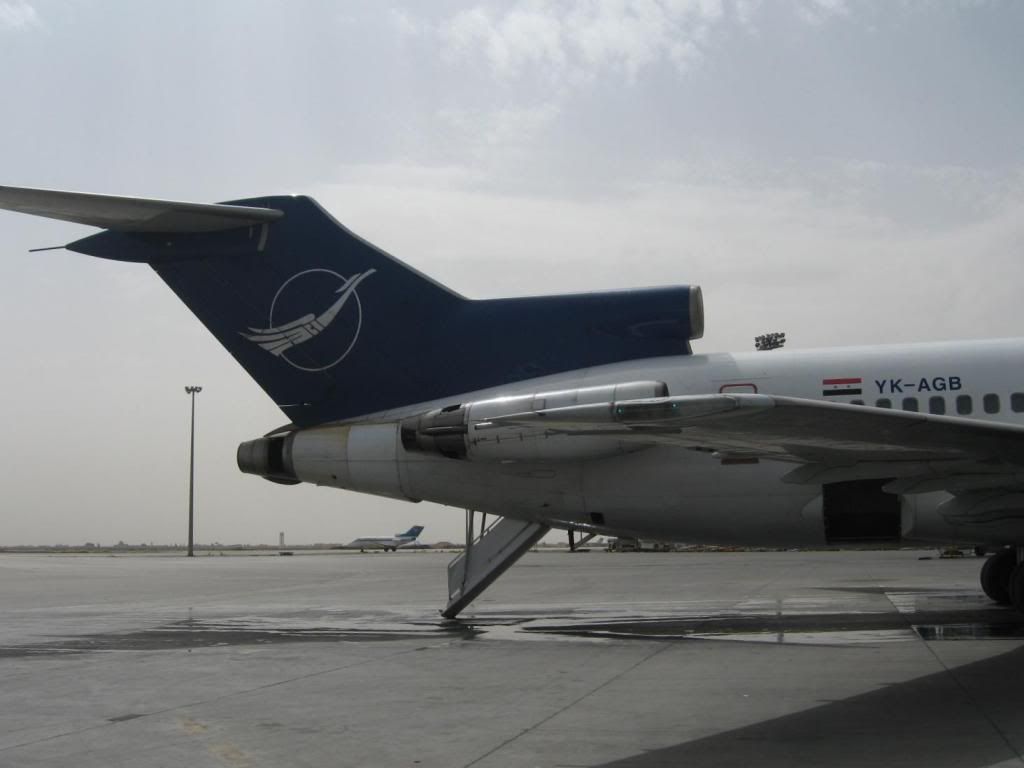 As we crossed the apron I stuck my camera out of the sunroof and managed to get a quick shot of the aircraft that would shortly be taking us all the way across the Mediterranean and Atlantic.
EP-IAB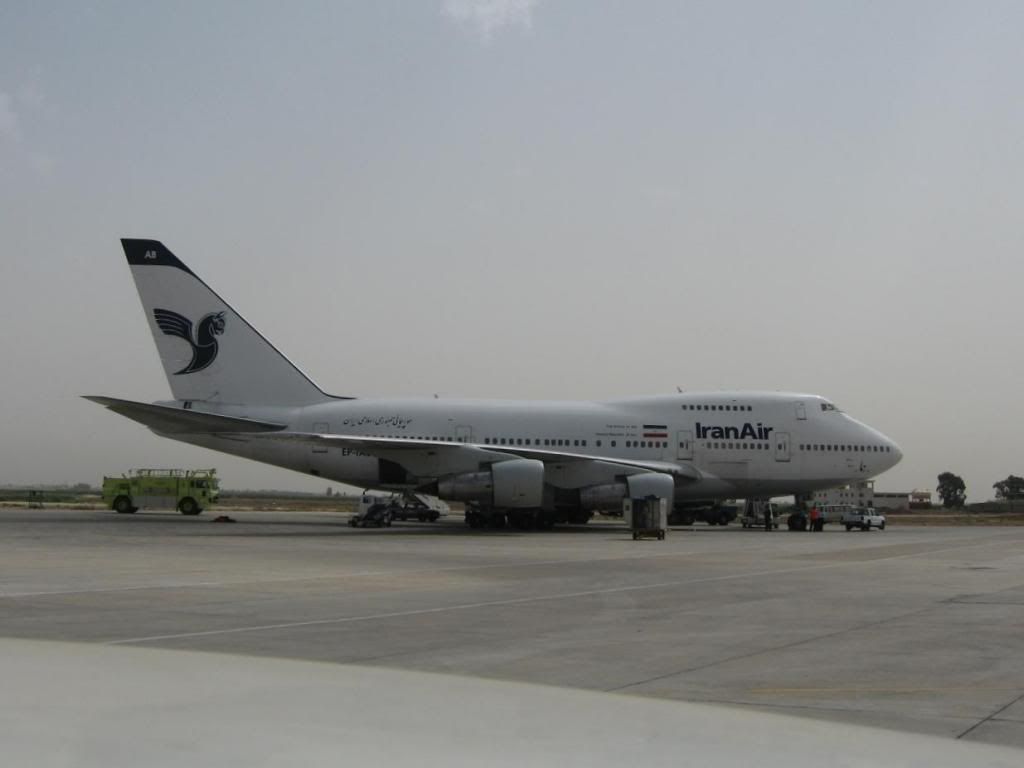 When we arrived at the aircraft we stayed on the apron next to the car for a couple of minutes where we were able to admire the magnificent B747SP before boarding. From my previous visit I knew that photographing on the ramp was usually not a problem so managed to take a few quick shots before and during boarding.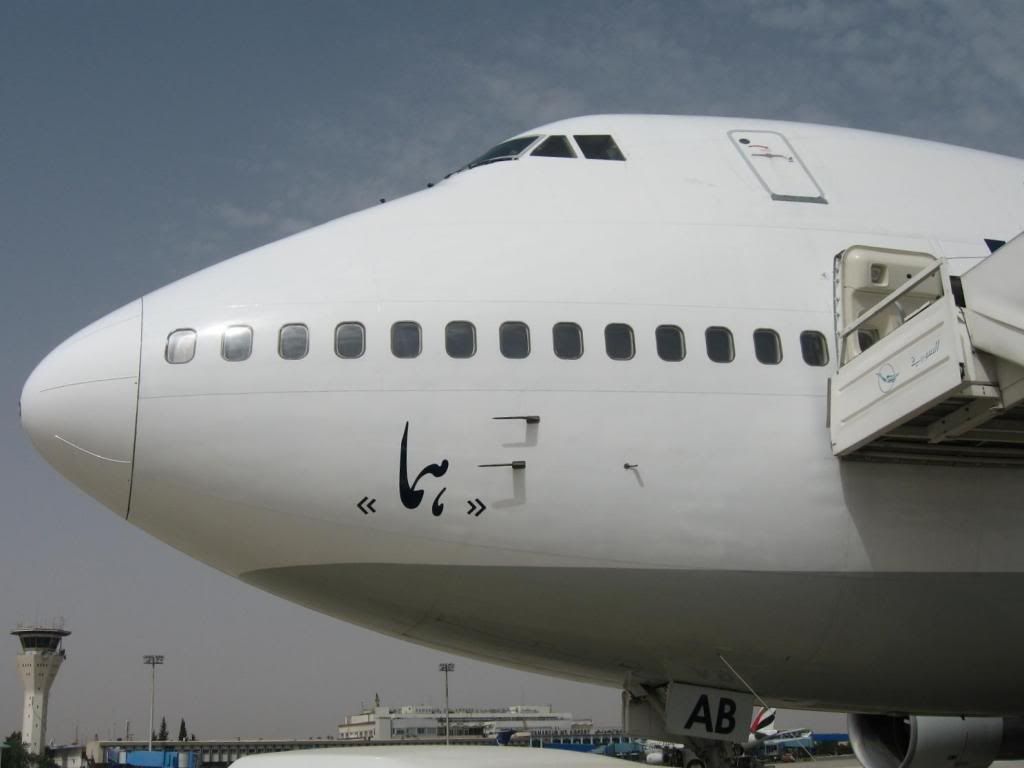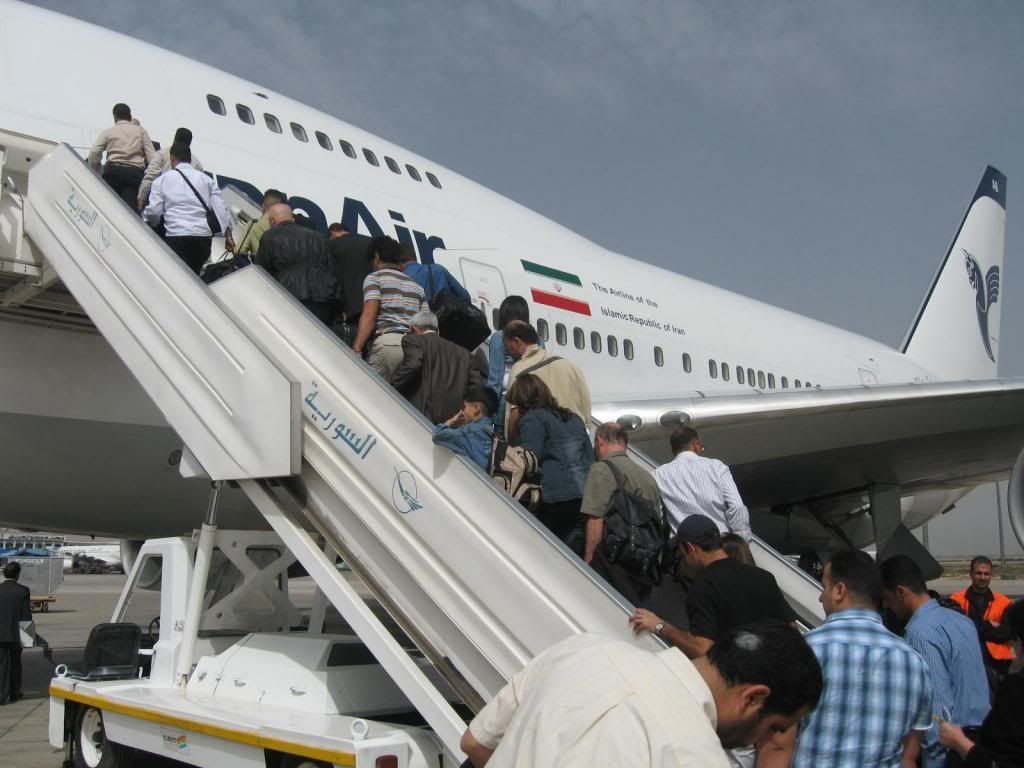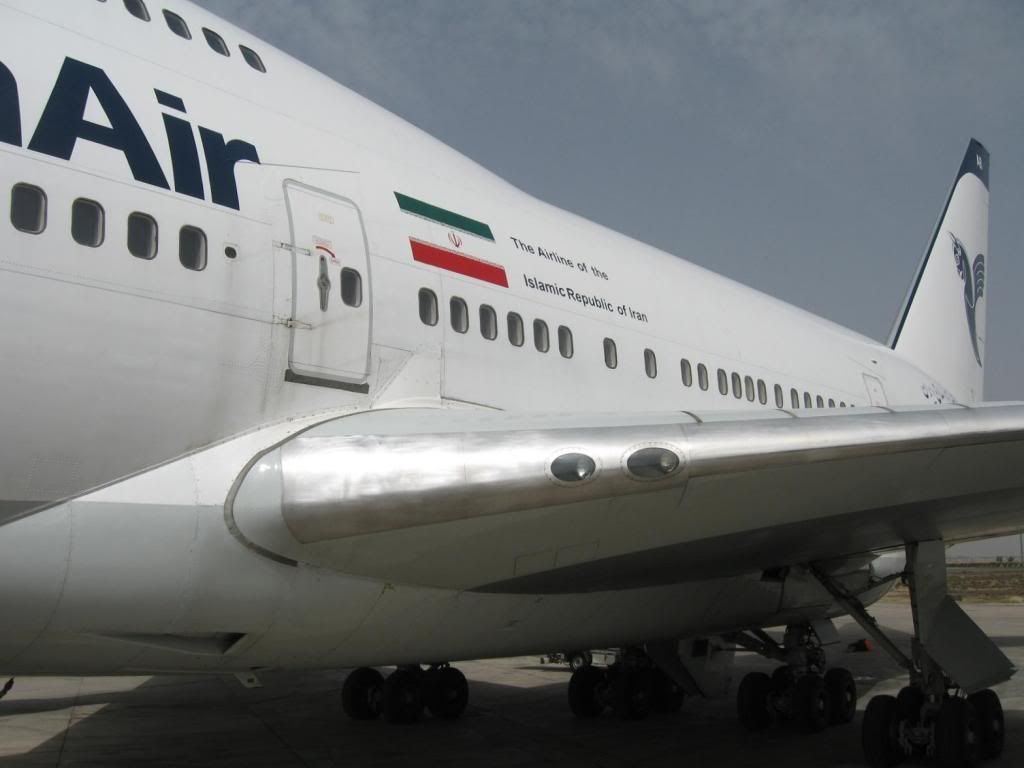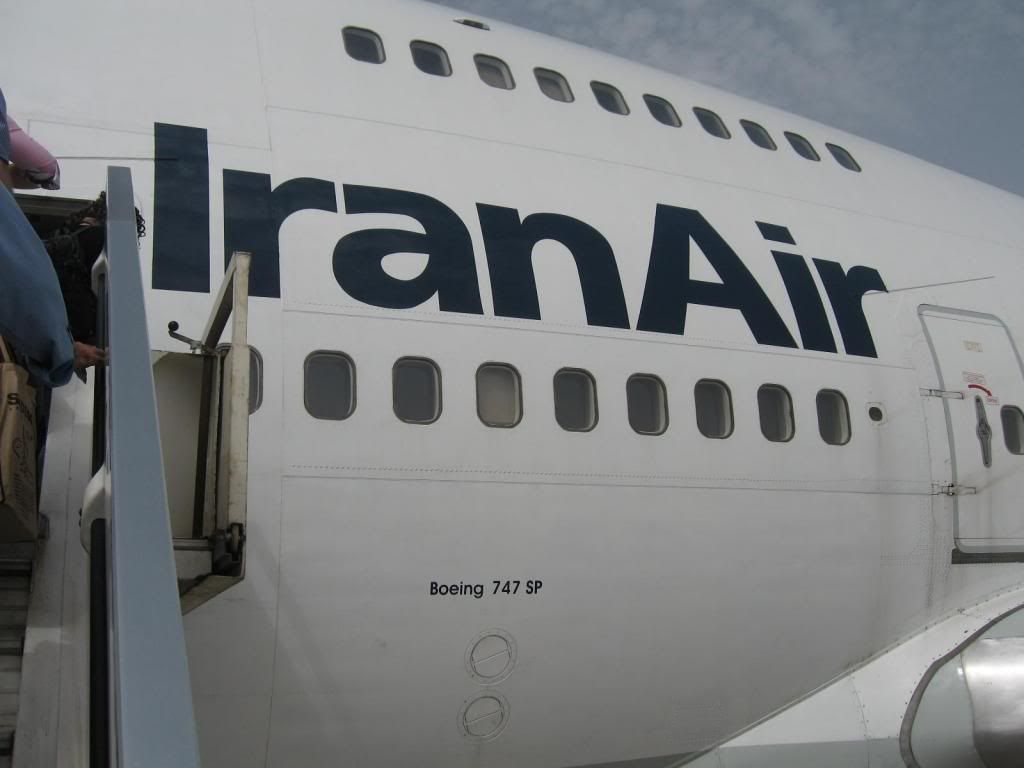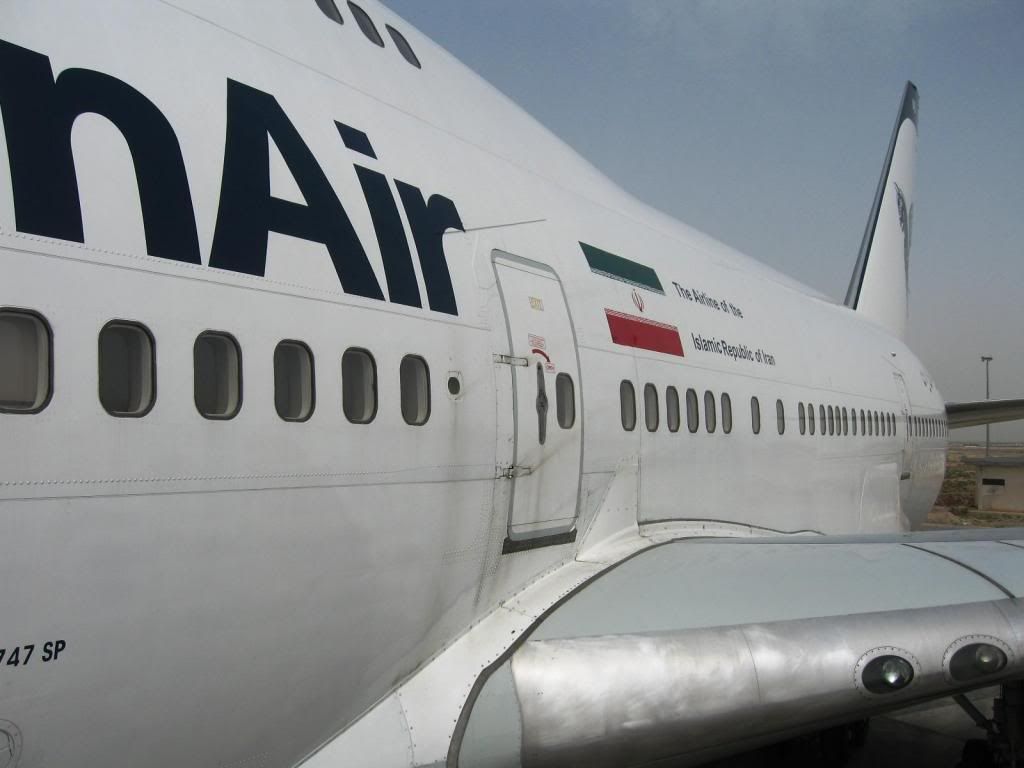 As we reached the top of the stairs I looked back along the leading edge, where fuelling was still underway. The Load Controller told me that the final fuel figure was 140,000kg.
We made our way through the cabin past the L2 and L3 doors to our assigned seats near the rear, but decided instead of taking an A and C seat to both take window seats on adjacent rows so we could each experience the view from the windows. We were several rows behind the wing so the view would be pretty clear.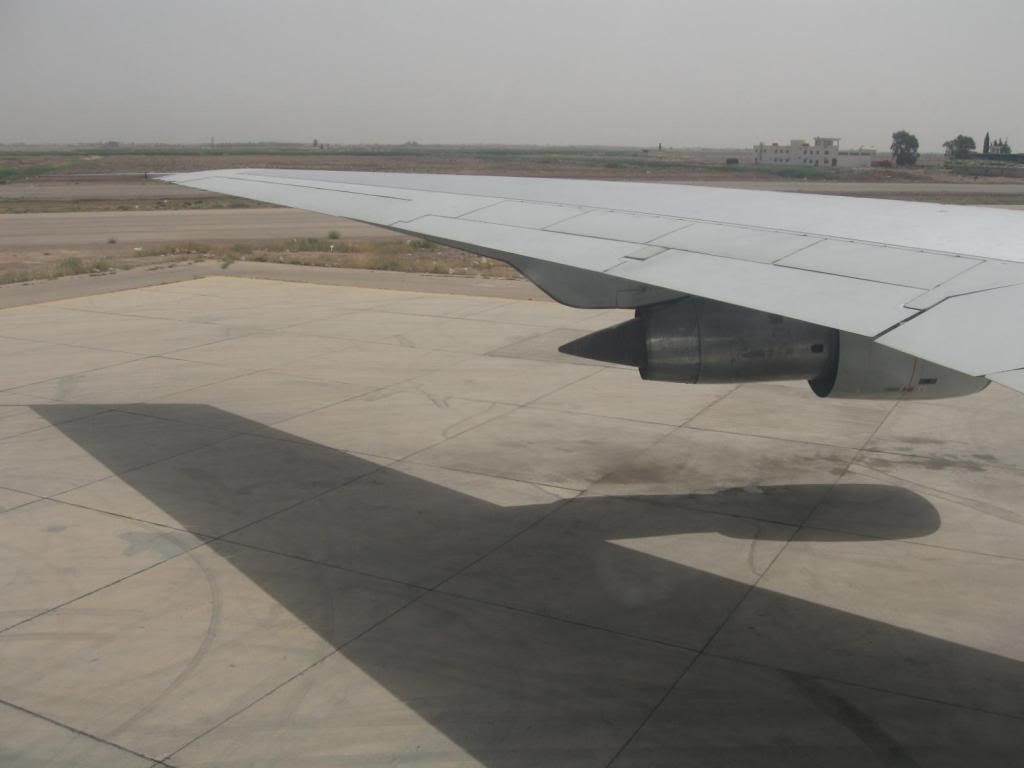 Once fuelling and boarding were complete the door was closed and the crew proceeded to move all passengers into the last section of economy where we were seated in order for the aircraft to be in trim at take-off. As the aircraft was parked on a power-off stand the engines were started on stand. As the aircraft powered away from the stand the take-off flap setting was selected and I noticed that the B747SP flap arrangement is different to other B747s – something I did not previously realise.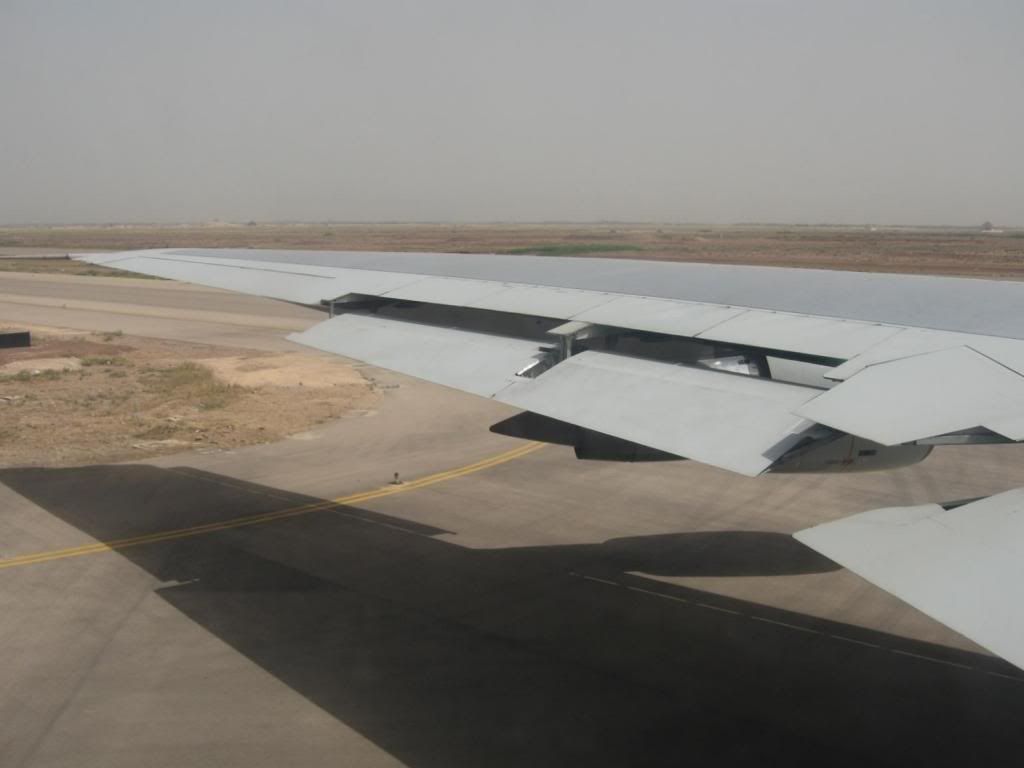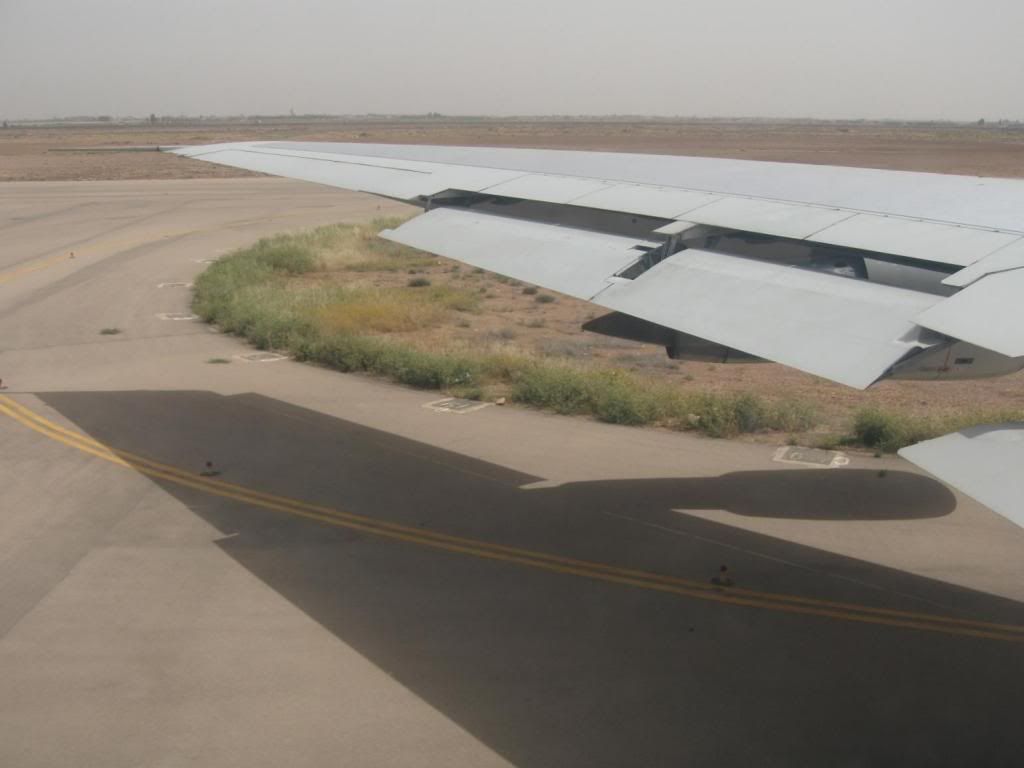 It was only a short distance from the stand to the runway in use for departures and as the aircraft lined up we got a glimpse of two Syrian Arab Airlines Tupolev Tu-134s – YK-AYD and 'YC which looked like they had been languishing there for some time.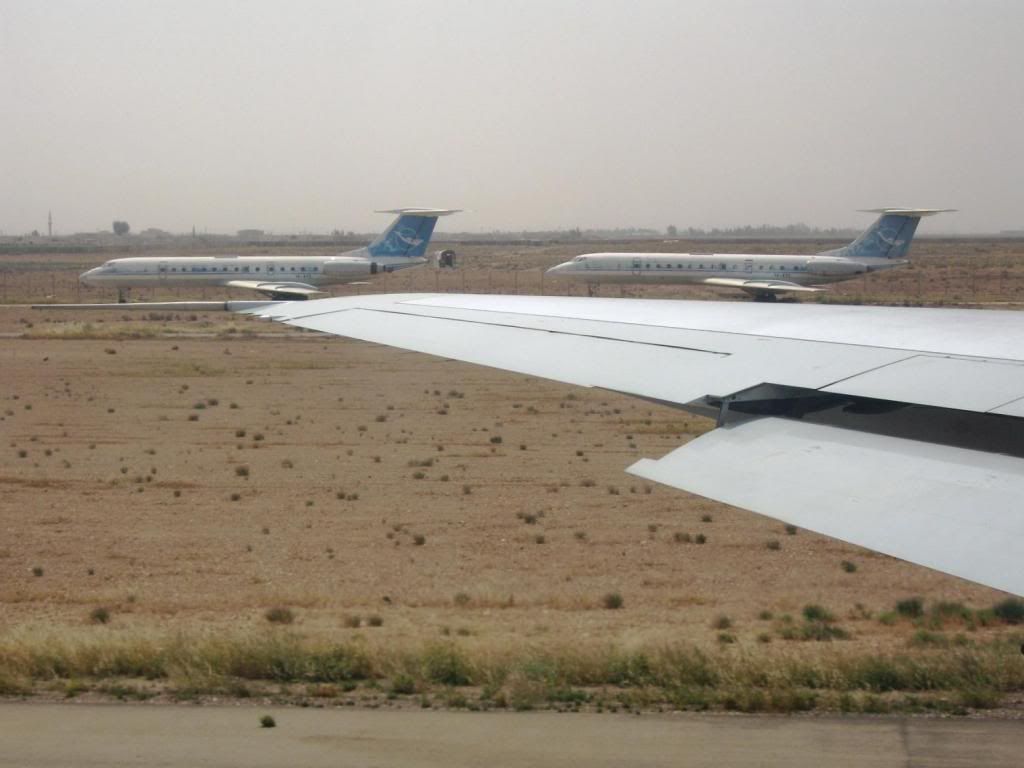 'AB was now fully lined up and take-off thrust was applied. It was nice to know that we were about to experience a B747SP take-off at maximum take-off weight (MTOW).
Take-off from DAM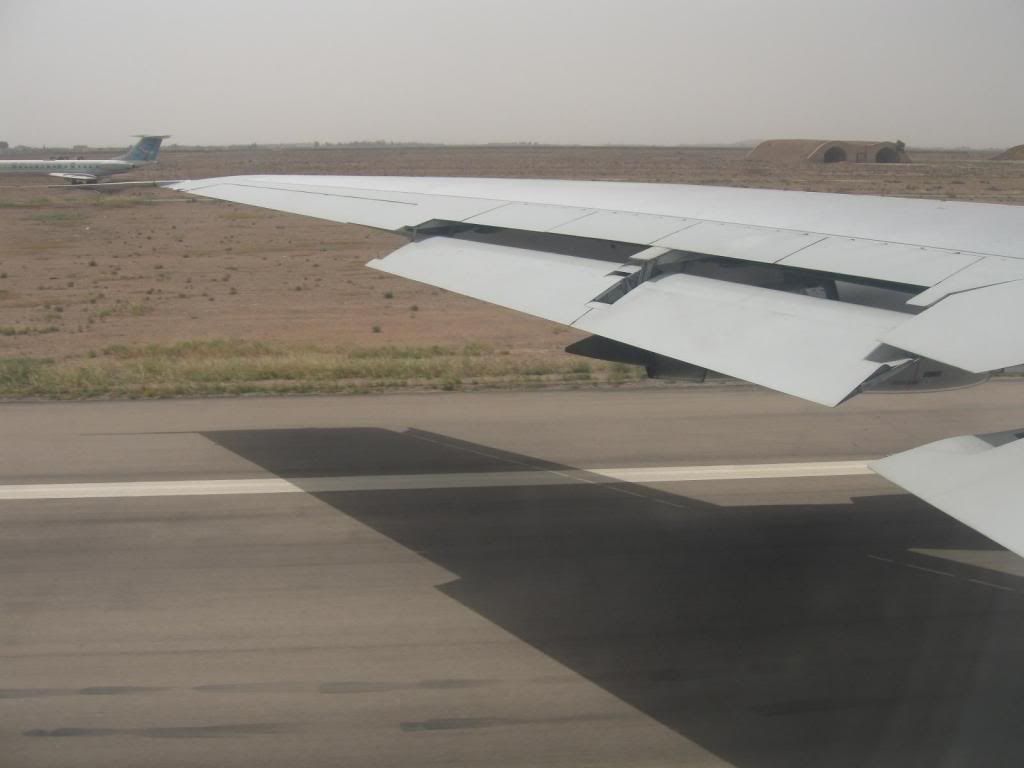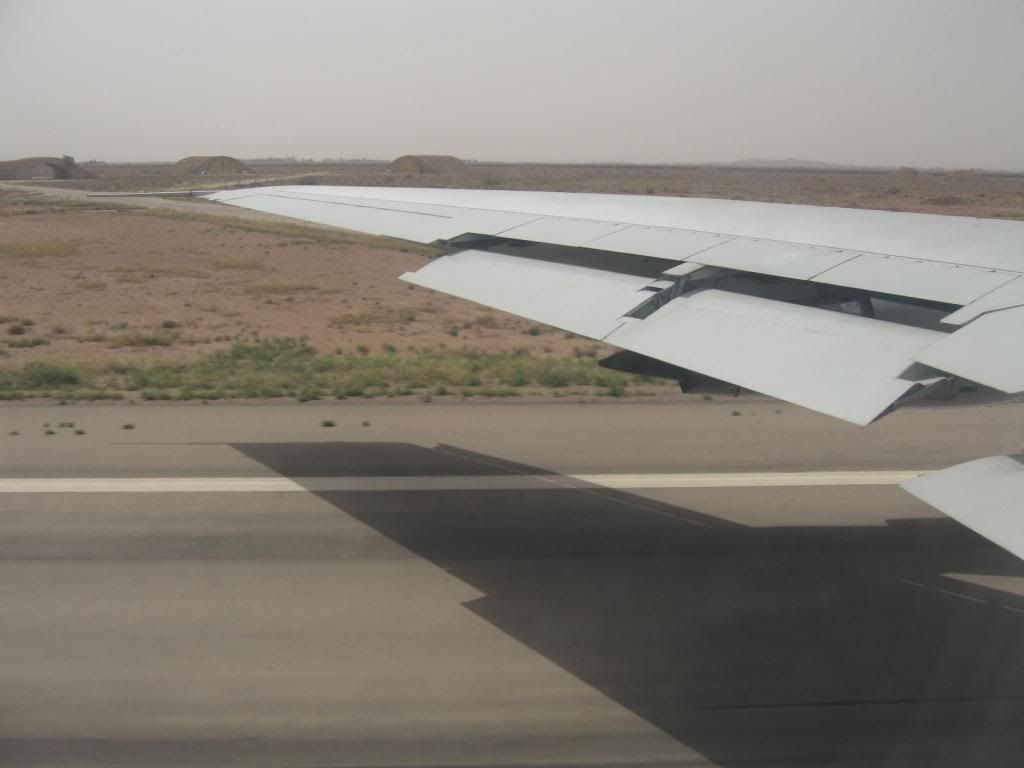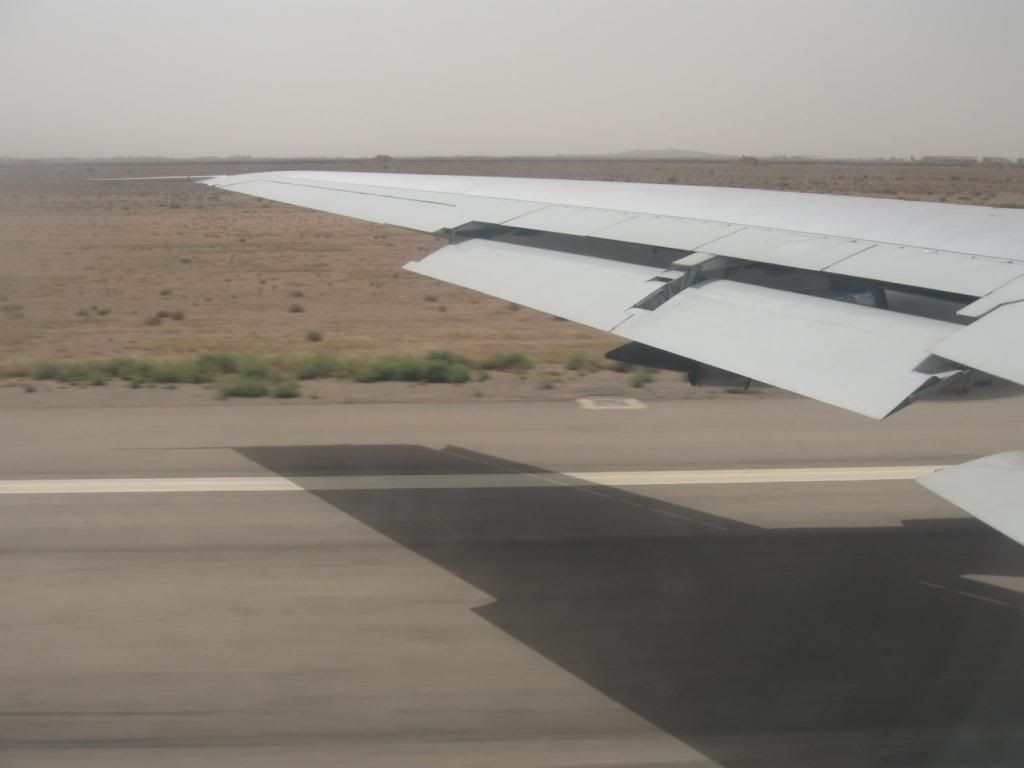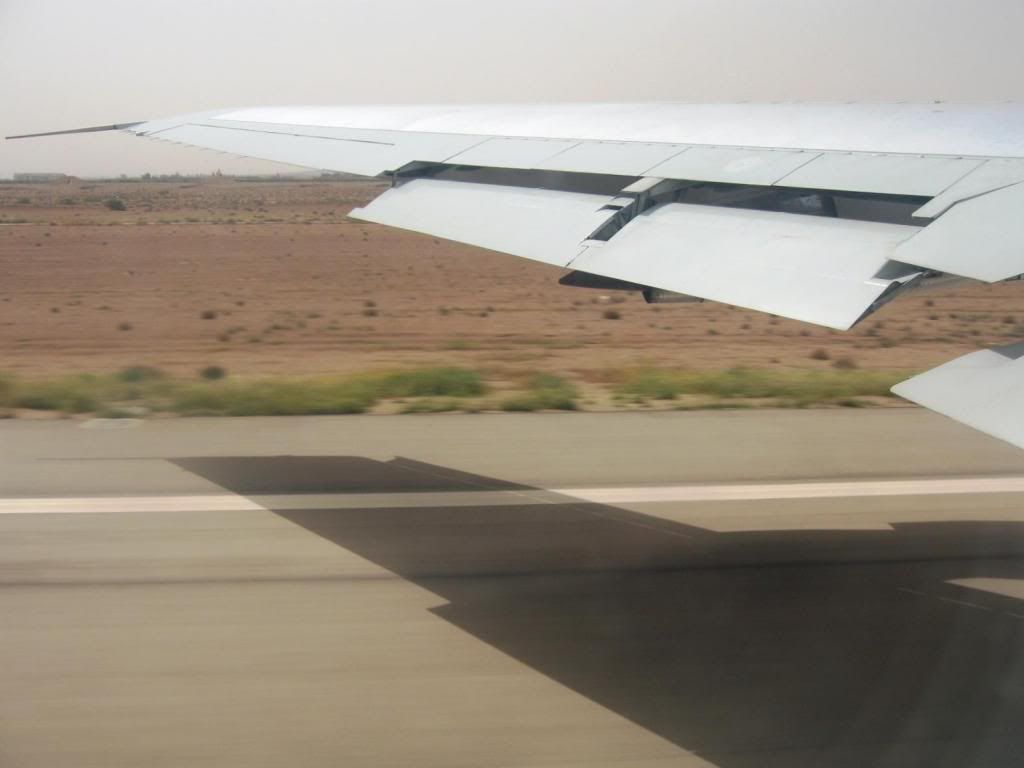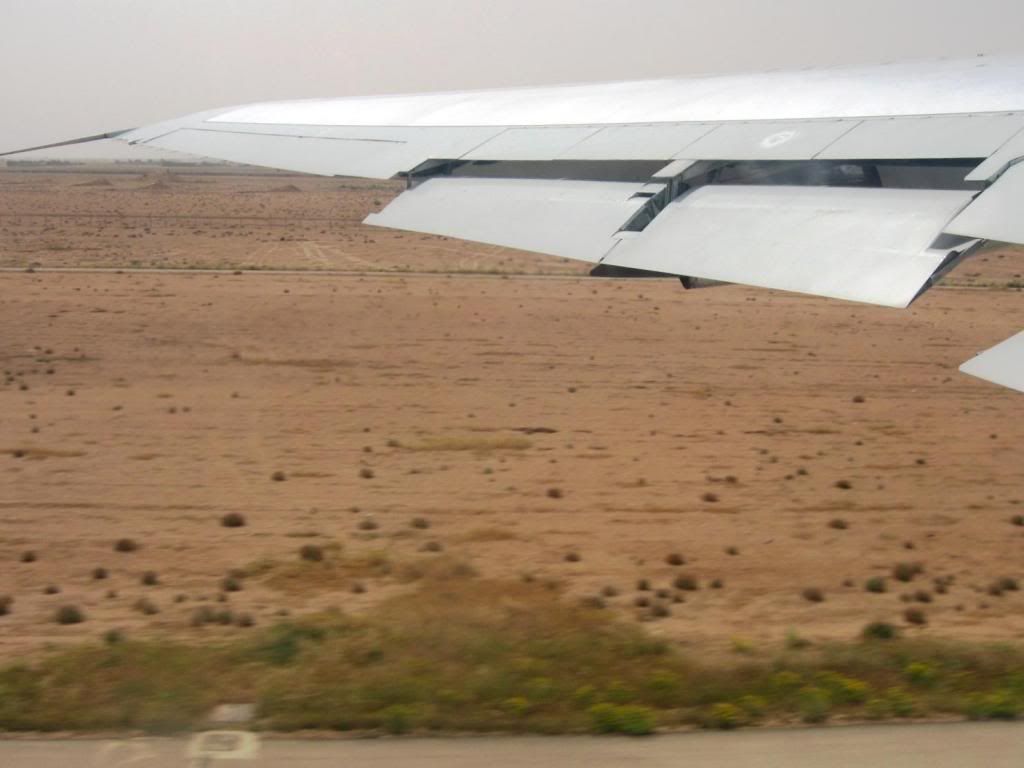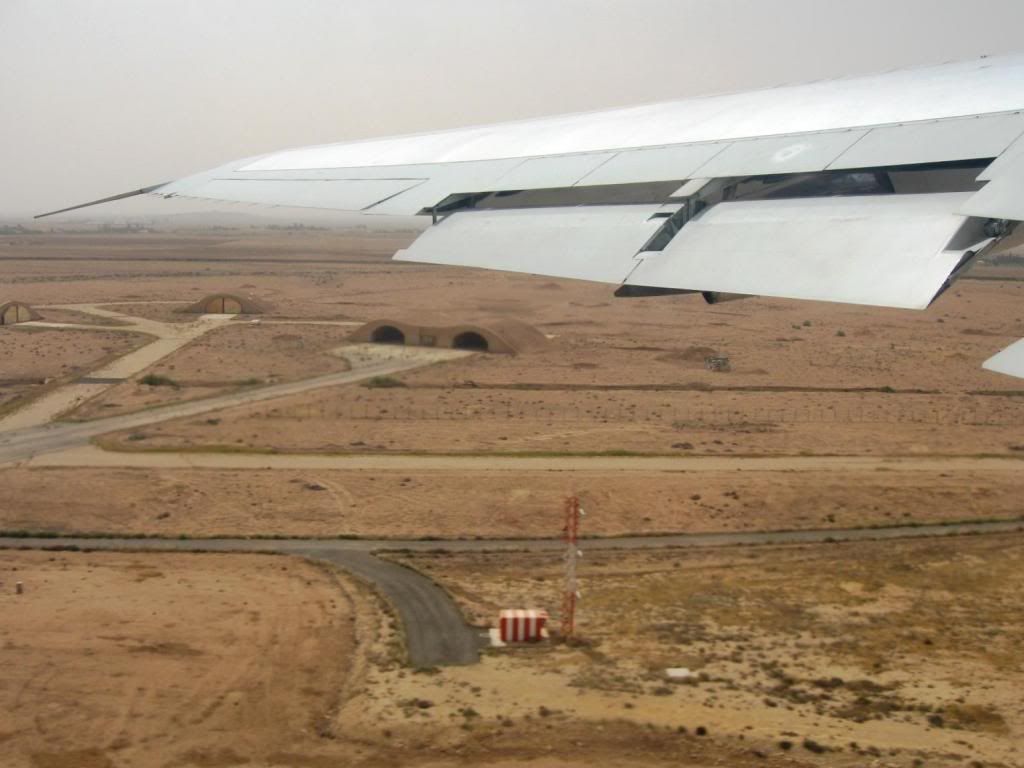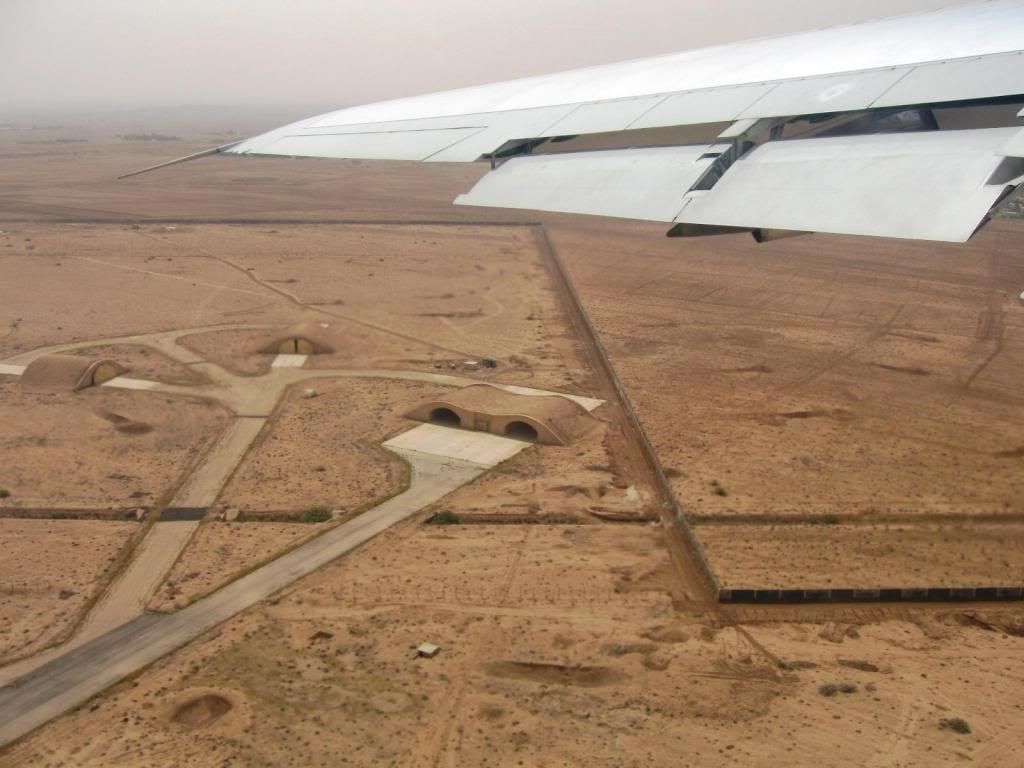 After take-off we banked to the left and then flew west (the opposite direction to that of our destination) and did so for around twenty minutes or so, covering quite a significant part of Syria. Other passengers noticed this too, as I could see them pointing at the moving map on the big screen at the front of the cabin. Finally the aircraft then turned and headed north west over northern Syria before finally leaving Syria's Mediterranean coast.
Climbing out of DAM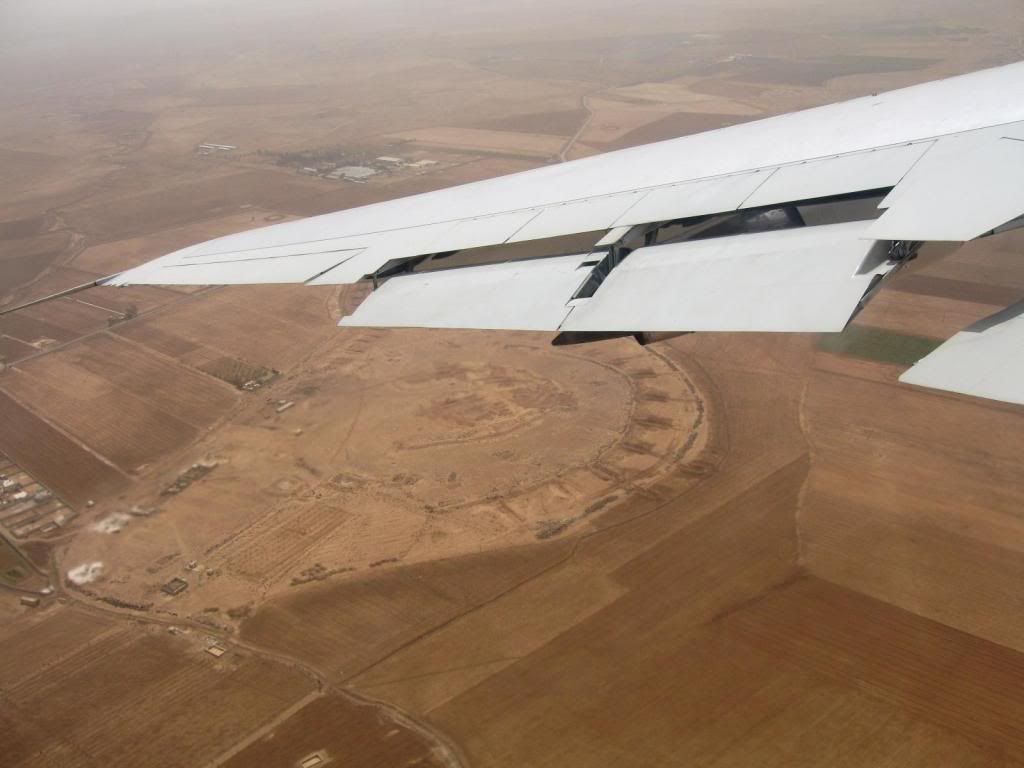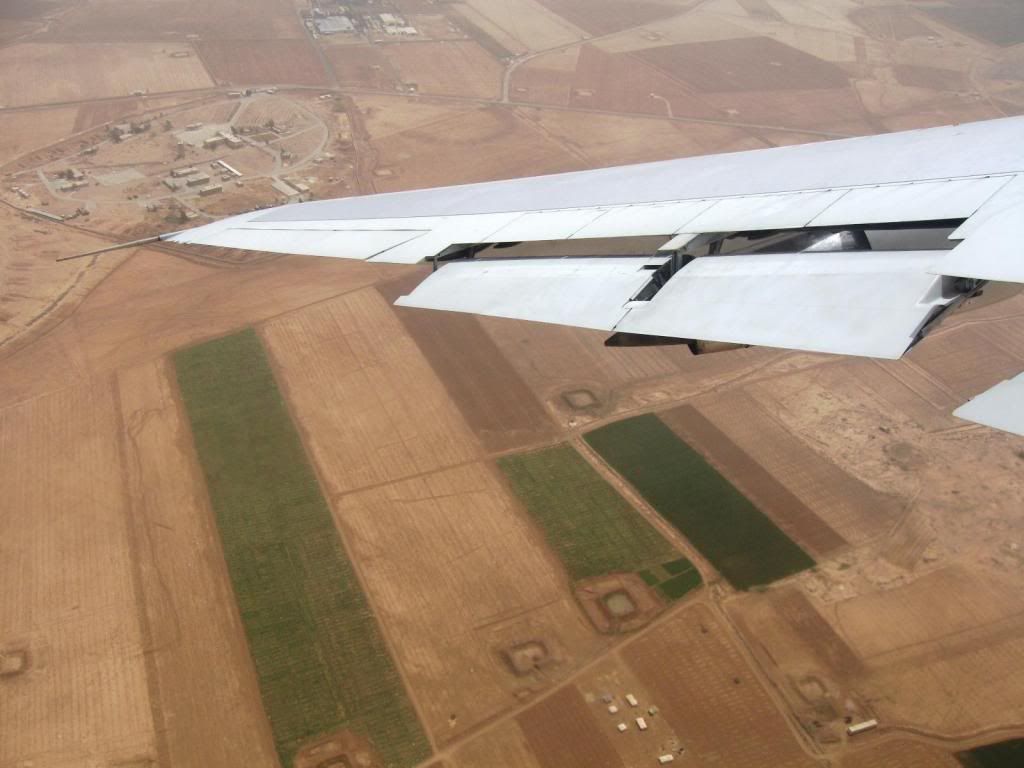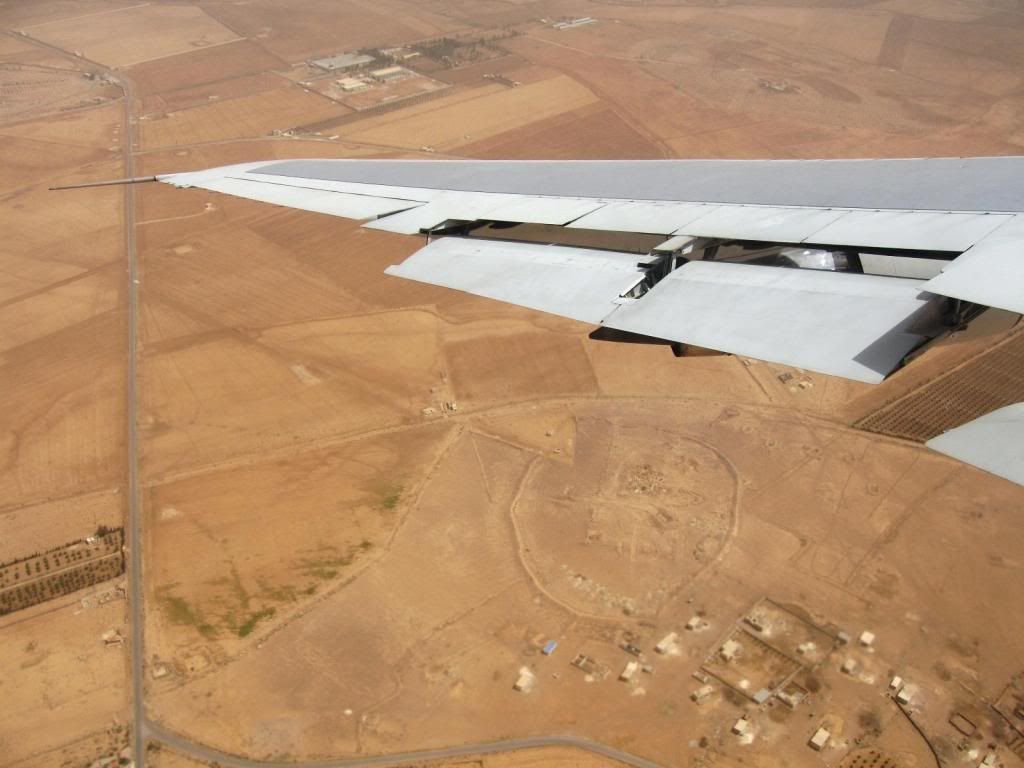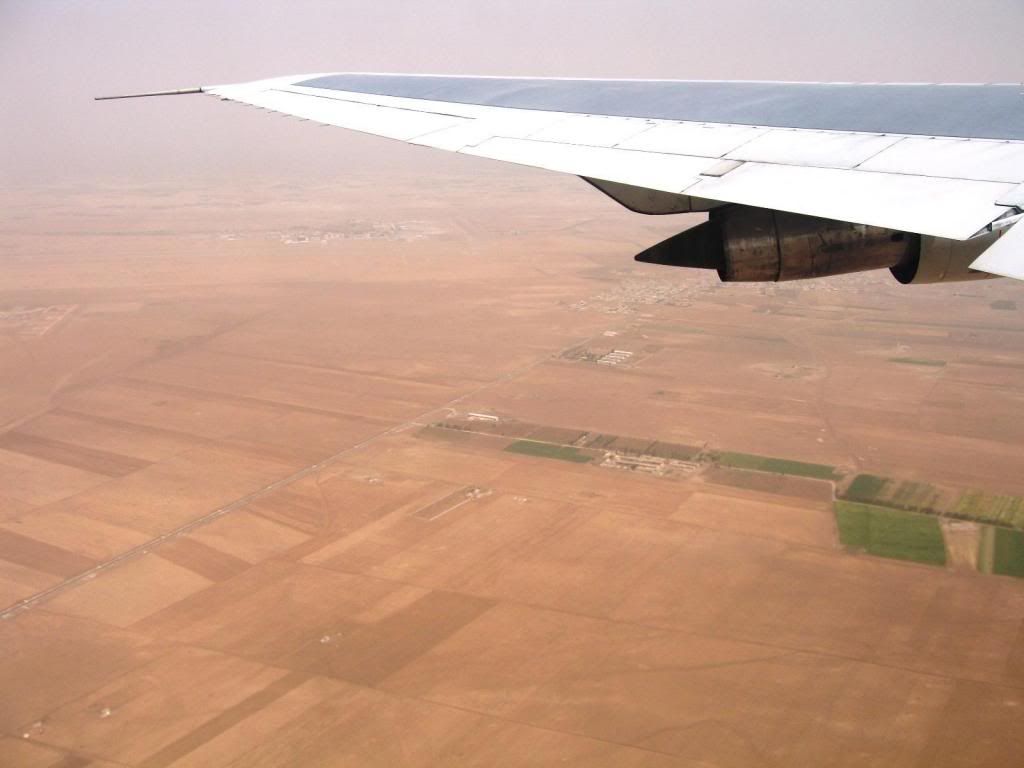 Leaving Syria's Mediterranean coast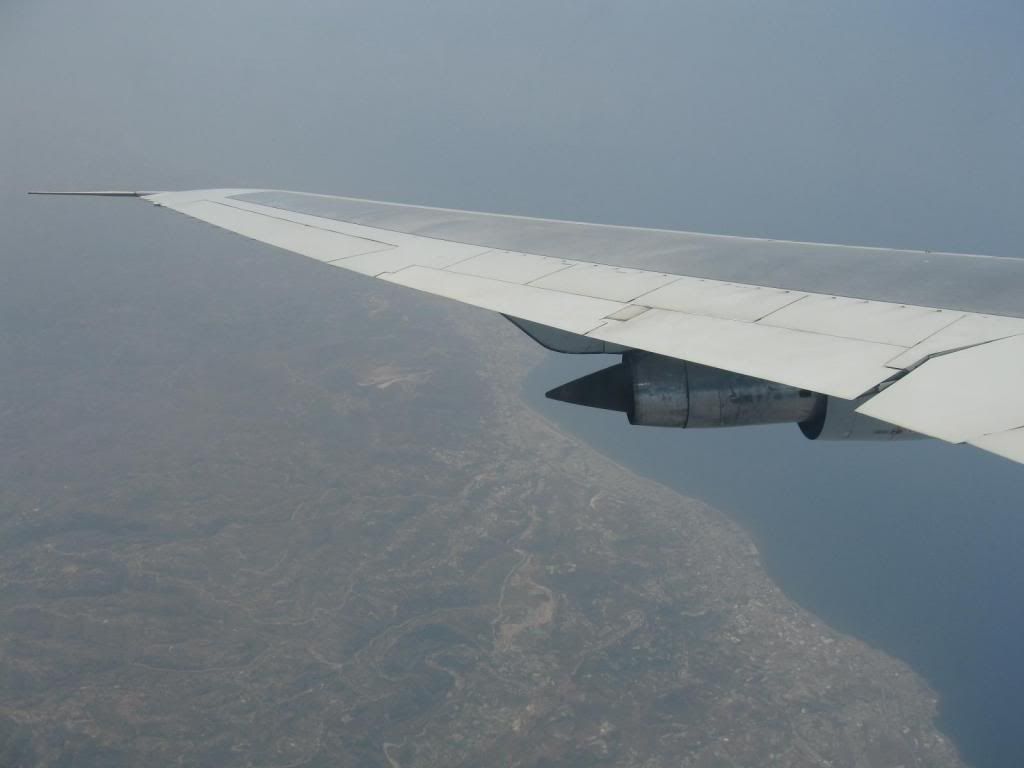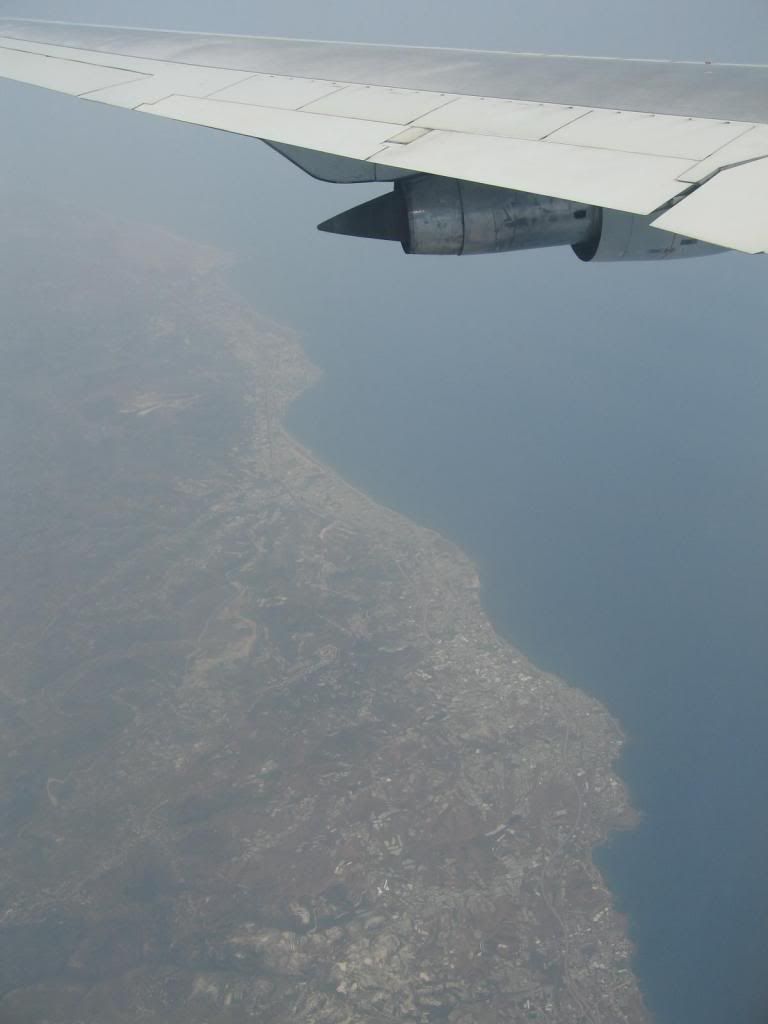 At around this time, the crew advised all the passengers who had been moved for the trim at take-off that they could move back to their allocated seats.
About fifteen to twenty minutes into the Mediterranean we passed over the island of Cyprus and had a clear view of the southern coastline, where resorts such as Larnaca, Limassol and Paphos all lie.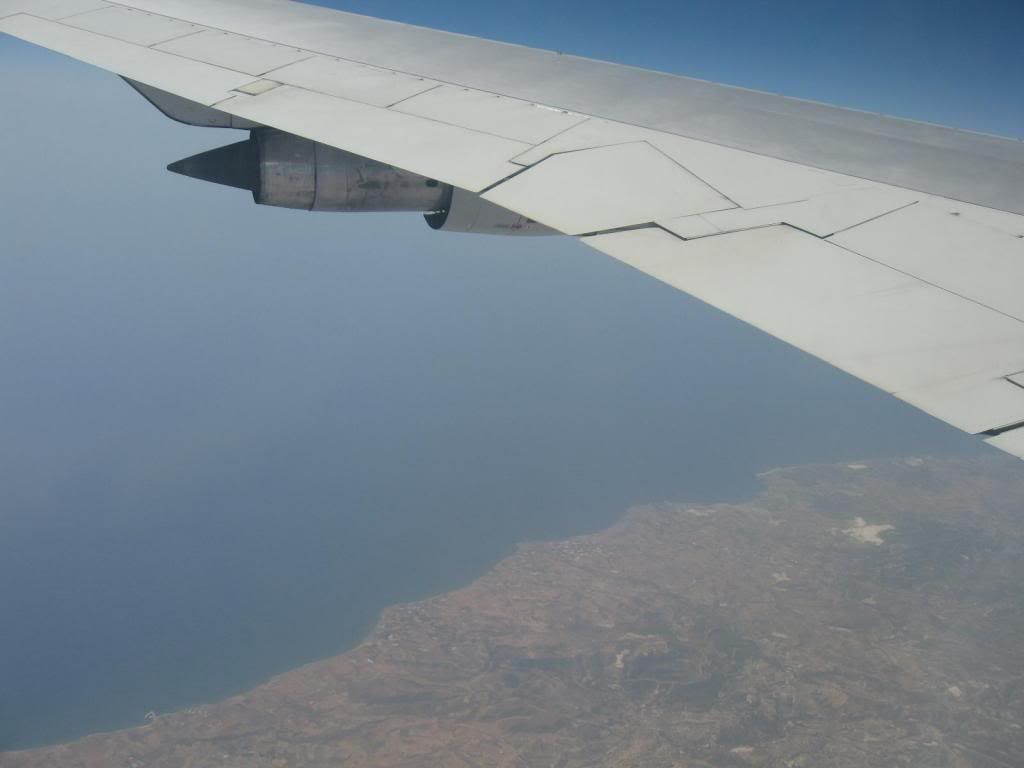 I was particularly pleased to get a nice view of Paphos, as it reminded me of two summer holidays there with my family in 1993 and '94 when I was in my early teens. On those occasions we flew MAN-PFO-MAN with Air 2000 on B757-200 aircraft. That was when Air 2000 was still Air 2000 and wore their original gold/red colourscheme, but I digress....
Paphos, Cyprus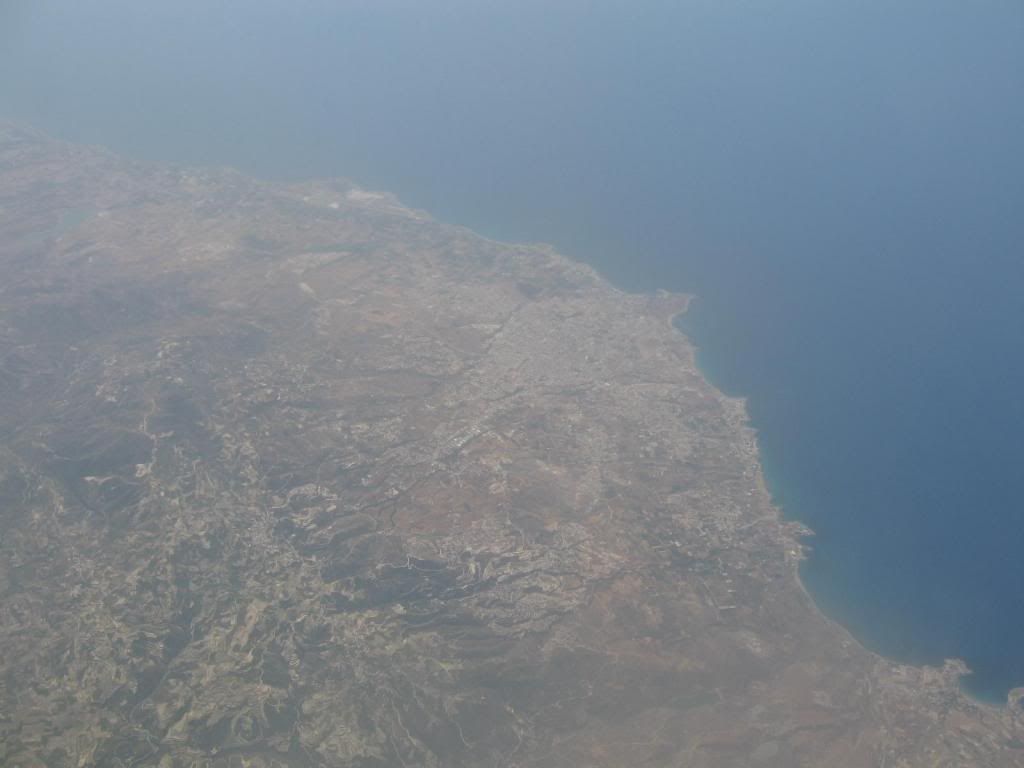 Whilst looking down on the south west coast of Cyprus the crew passed through the cabin and performed the first service of the flight – a hot breakfast. The breakfast hot item consisted of chicken, potato, tomato, spinach and something with egg and potato that I can only liken to a Spanish tortilla. A croissant and preserves were also included as well as fruit in the form of pineapple. I was also given a can of orange juice and later offered tea or coffee. As always, I had a cup of tea. The breakfast was actually quite pleasant and certainly 'filled a gap'.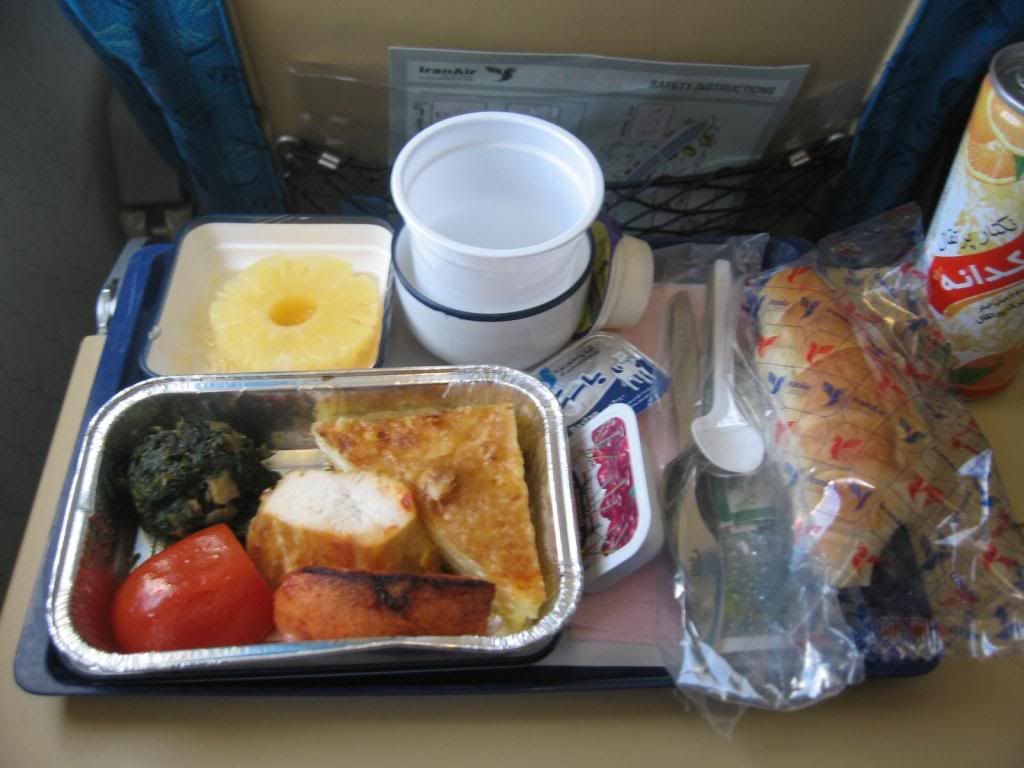 We had both been awake for a few hours by now and were quite tired due to the late night and early start so decided to get some sleep.
I awoke around four hours later and took a look out of the window to find that we were over land. It actually looked quite green so I guessed it could not be anywhere in north Africa and could only imagine that we must be over Italy or Spain.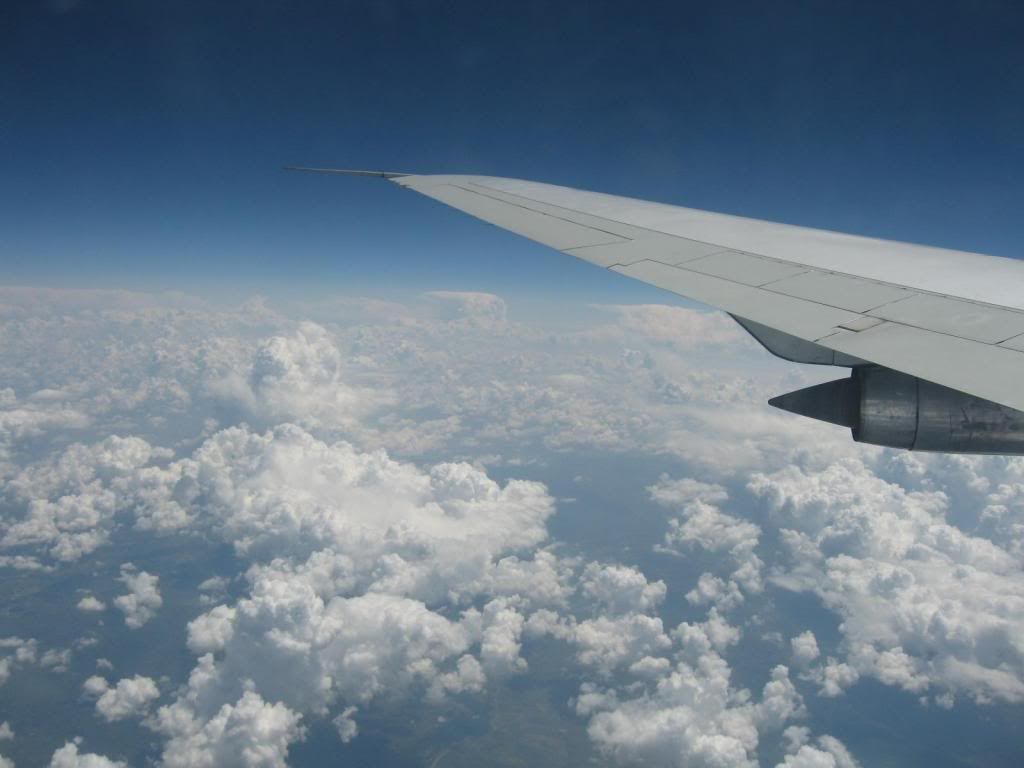 Around half an hour later I decided to take a walk around the cabin to stretch my legs and also to get the one window shot I really wanted to get. There were no passengers seated by the R2 door so from the first window aft of the door I managed to get a nice shot of the leading edge and engines. I have often wondered what the black lines are on the leading edge of the B747-100, -200 and SP models which do not seem to appear on the -300 or -400. I'm sure someone can tell me.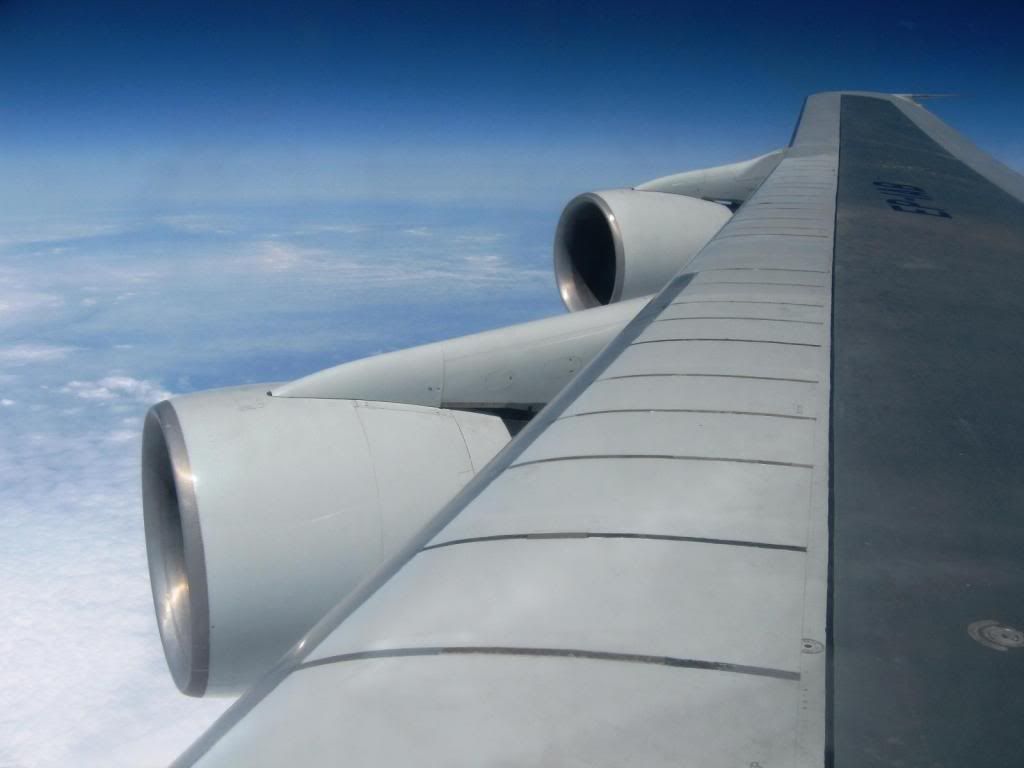 Before I returned to my seat I decided to take a photo and video of the cabin interior which was actually quite clean and tidy – presumably since the aircraft was recently overhauled before returning to service.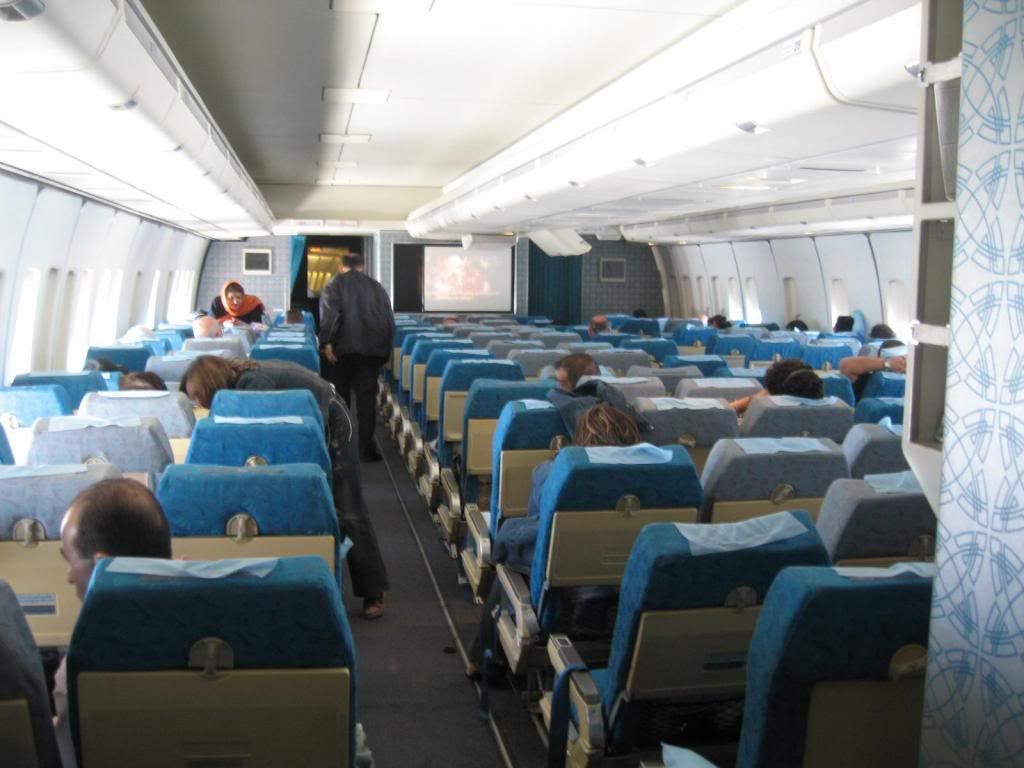 A couple of hours later and eight hours into the flight the crew started the second service which included a hot lunch. There was a choice of a beef or chicken dish and I chose the beef. It was served in rice and it actually looked like there was no beef in it but a quick 'dig' revealed the beef inside. There was also a savoury appetiser – I can not remember what this was but do remember it being very nice. Also included was a salad, a pot of natural yoghurt, bread and a dessert. To drink I asked for a Sprite and was given Zam Zam – an Iranian brand of soda which was more than fine. My friend also got Zam Zam cola rather than Coke. Naturally, alcohol is not served on Iranian carriers.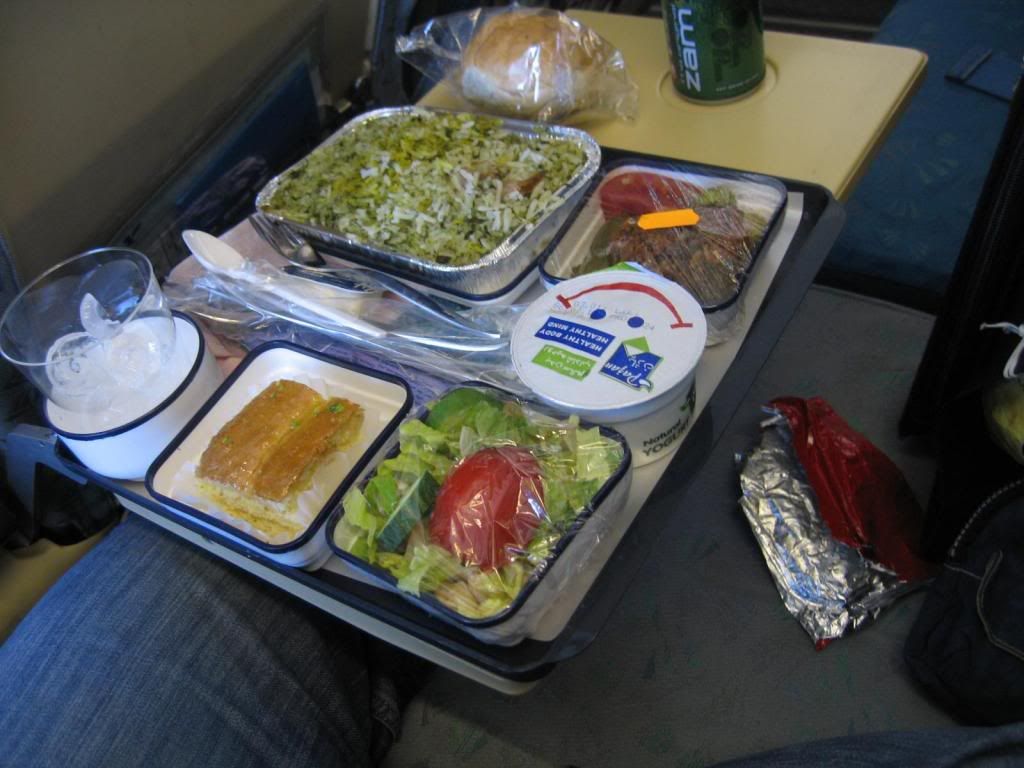 As we had slept pretty well so far, the flight had passed quite quickly but there were of course six hours still to go. For much of the remainder of the flight we chatted on and off, rested some more and I also showed my friend some photos from some of the other interesting flights I have taken.
Around an hour and a quarter before landing we passed over the island of Barbados to the right, where I actually spent ten days in February. It did seem a little strange looking down on Holetown from an Iran Air aircraft. I had to go to the R4 door to get a view of the island.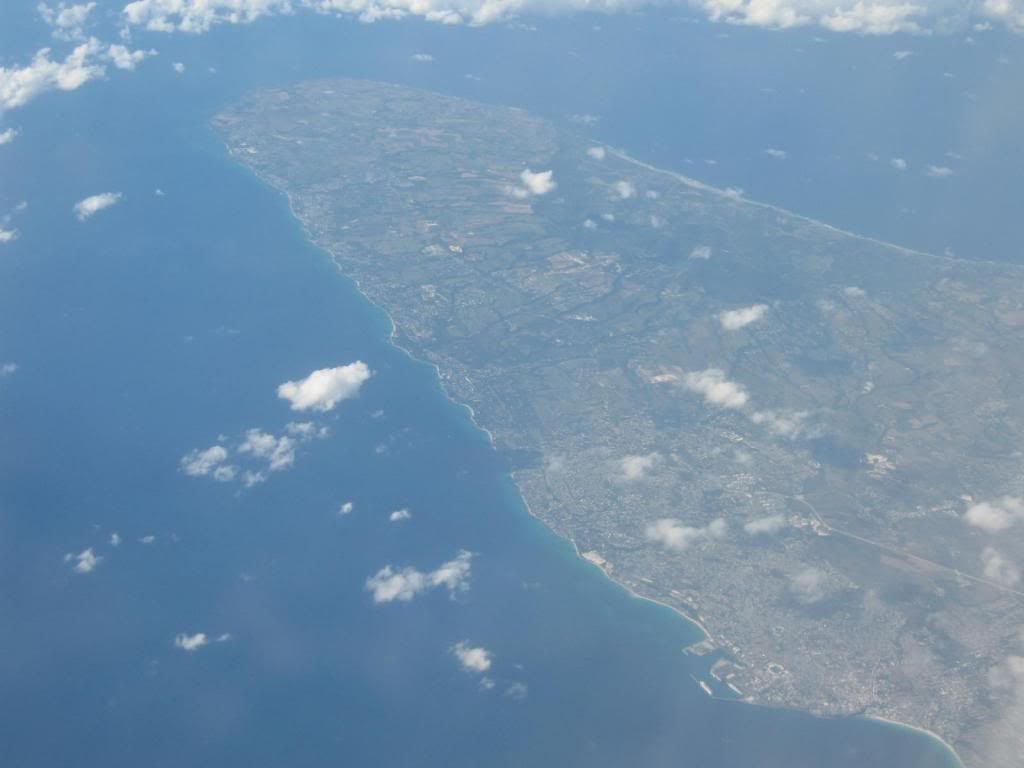 It was around thirty-five minutes before we saw any more land and I assumed that by now we must be in Venezuelan airspace. I later found out that it was actually Margarita Island and an airport was also visible.
Margarita Island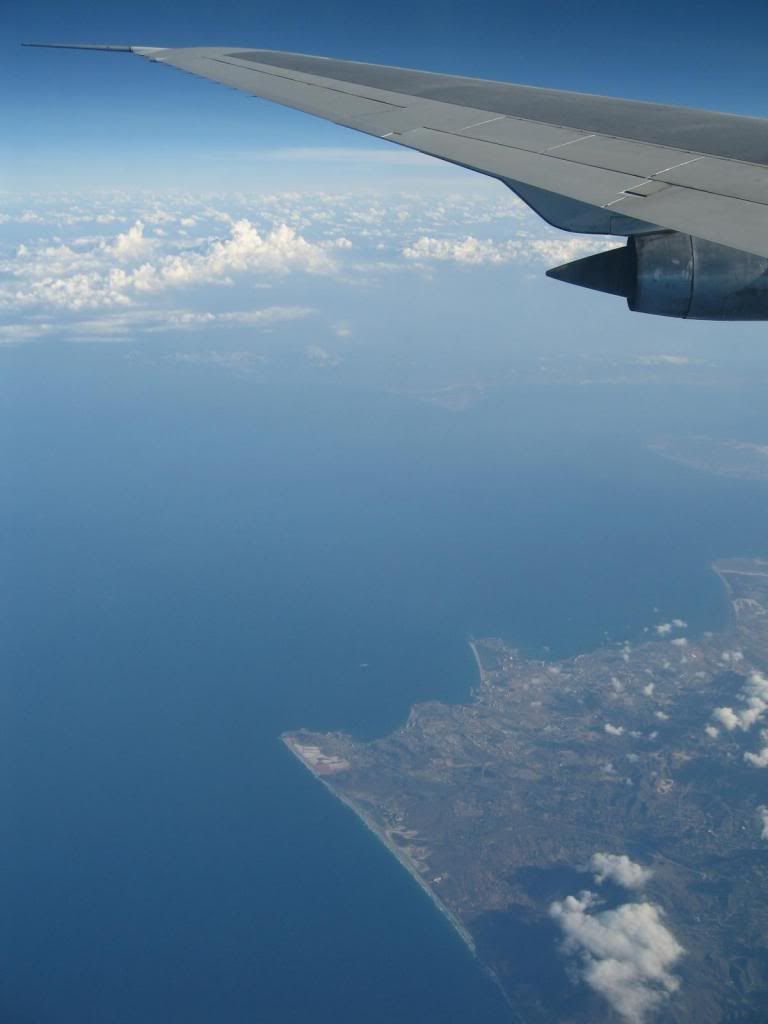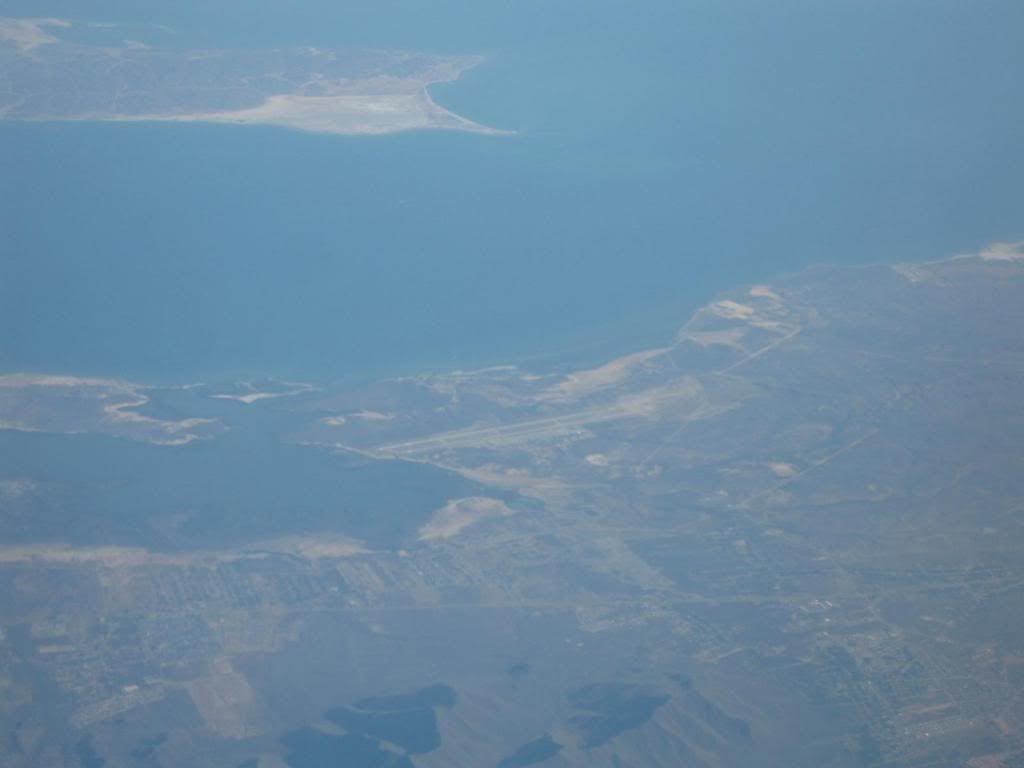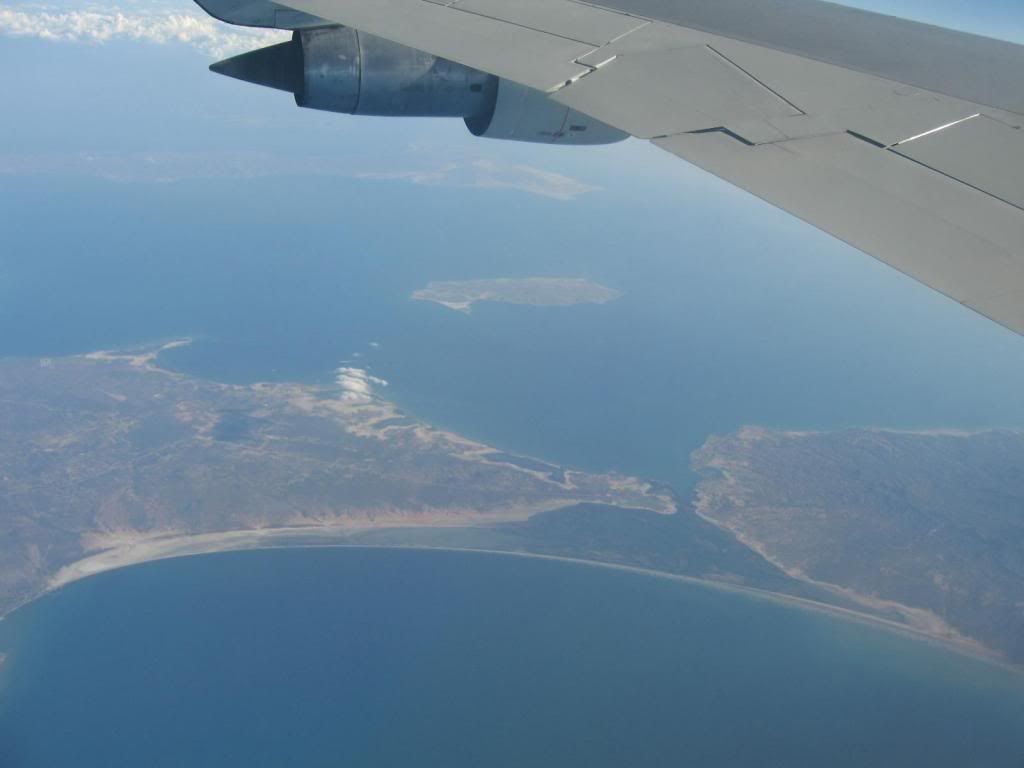 I am sure someone from Venezuela will be able to tell me something about the other much smaller island we passed over a few minutes later.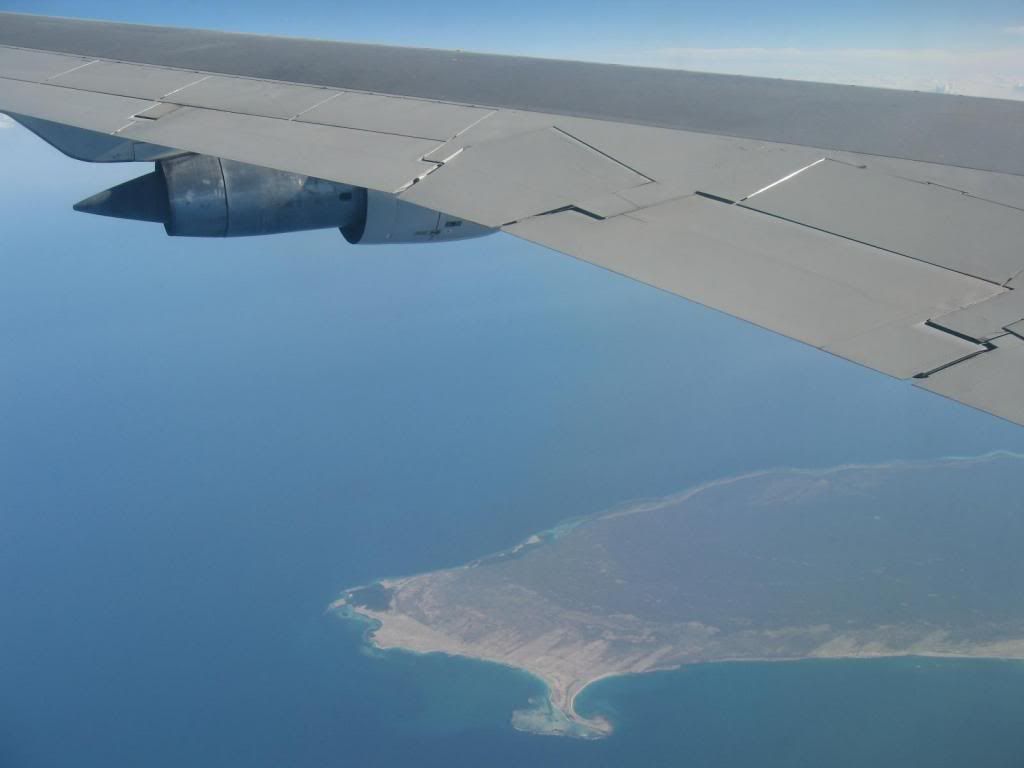 It was not long before we finally started our descent towards Caracas and the area on the coast where the airport is located could just be made out in the distance to the south.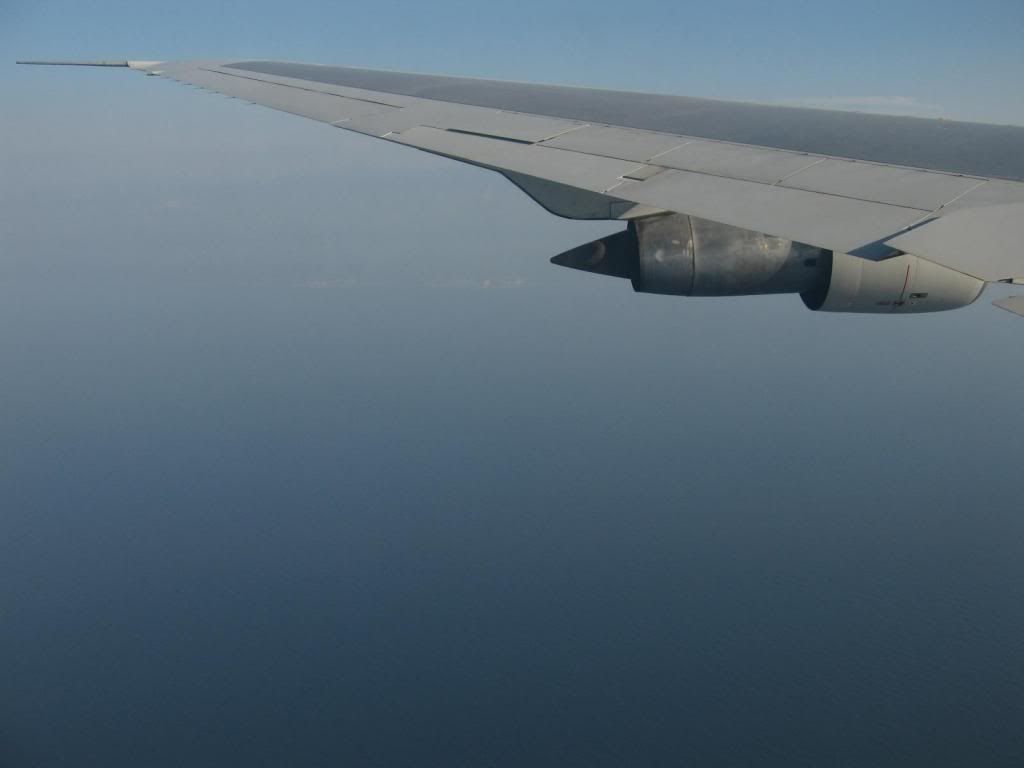 Finally we made the turn to land from the west and the flaps were deployed. The approach was over the sea so there was not much to see from the left during the approach.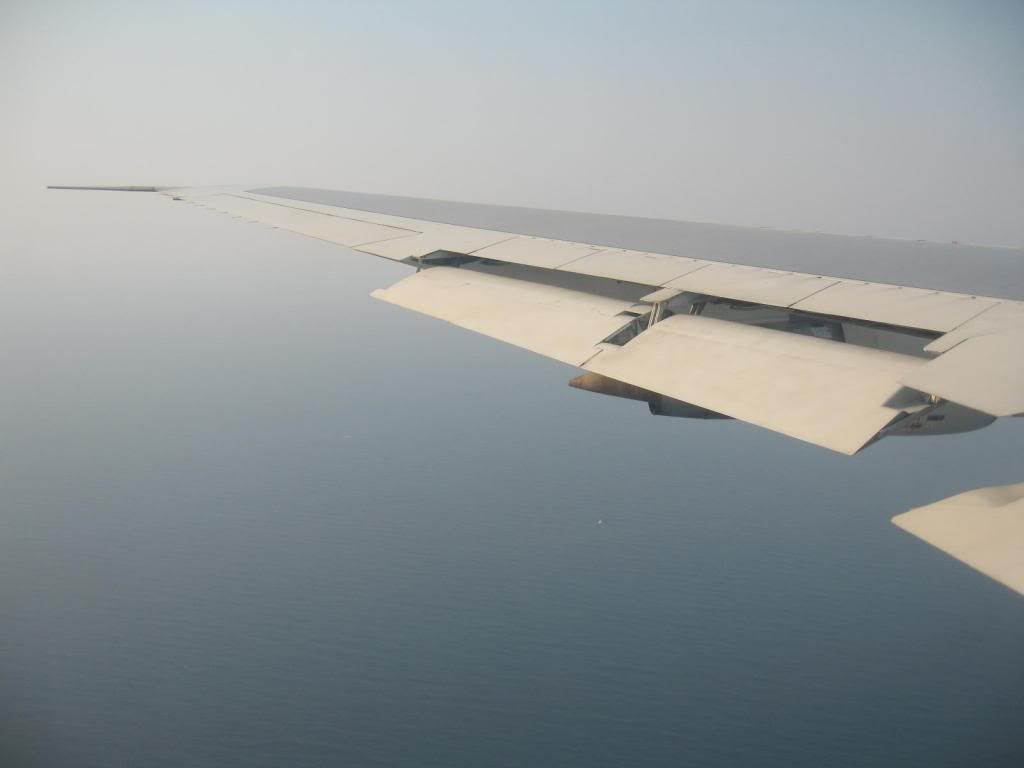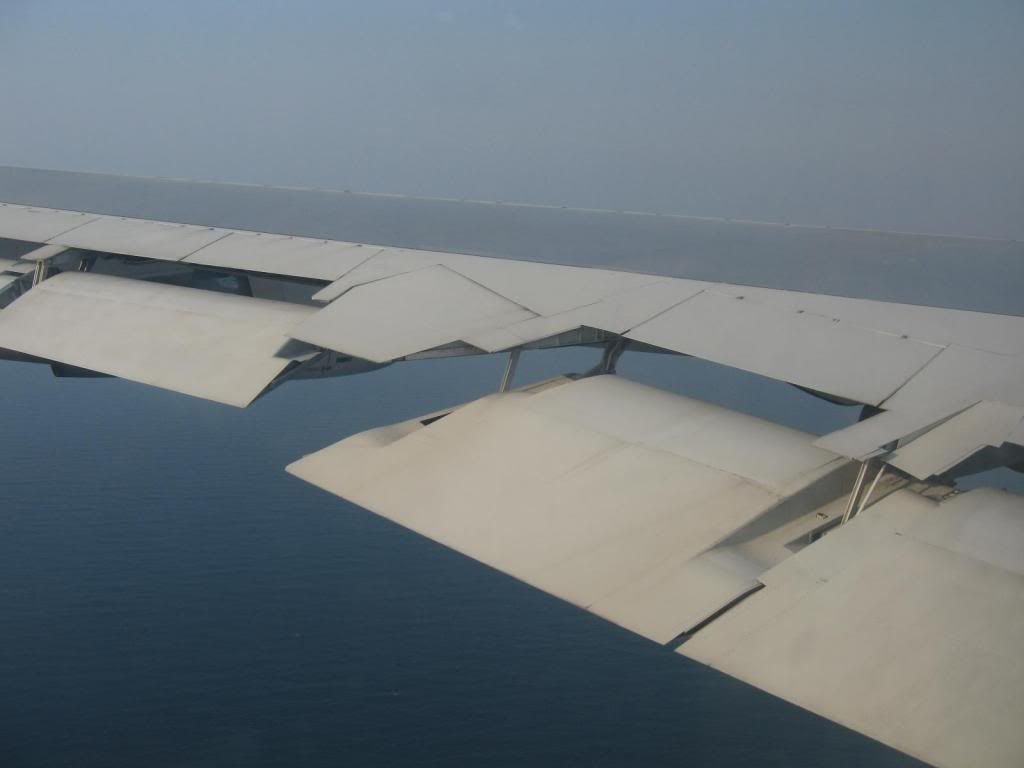 Landing in CCS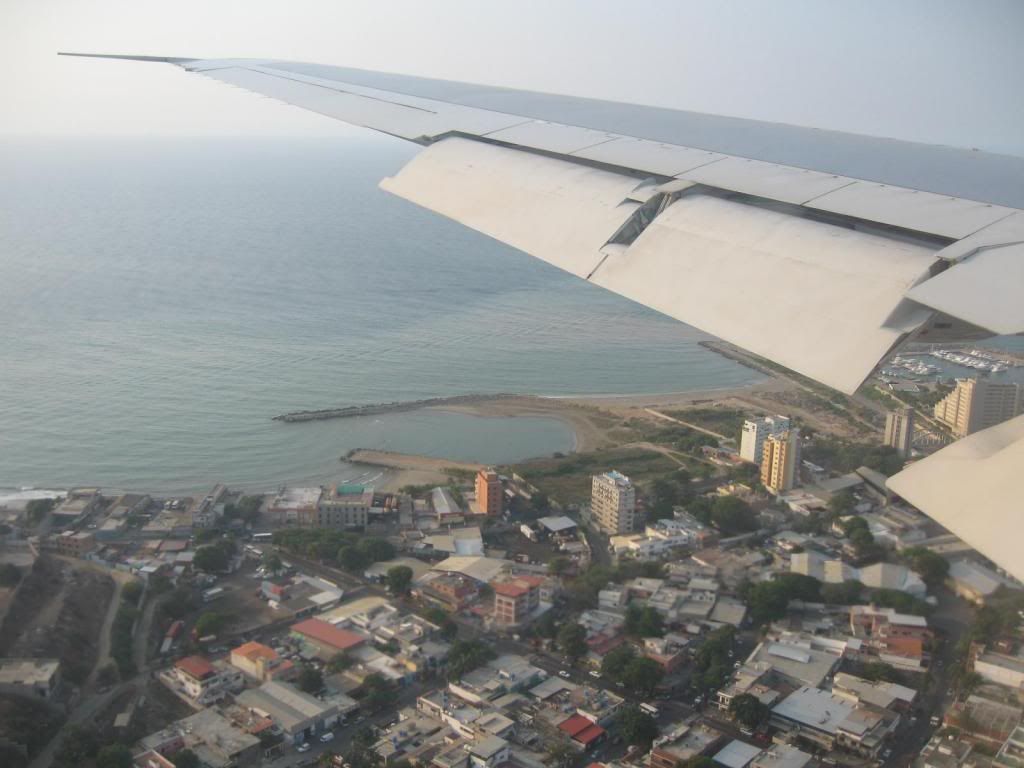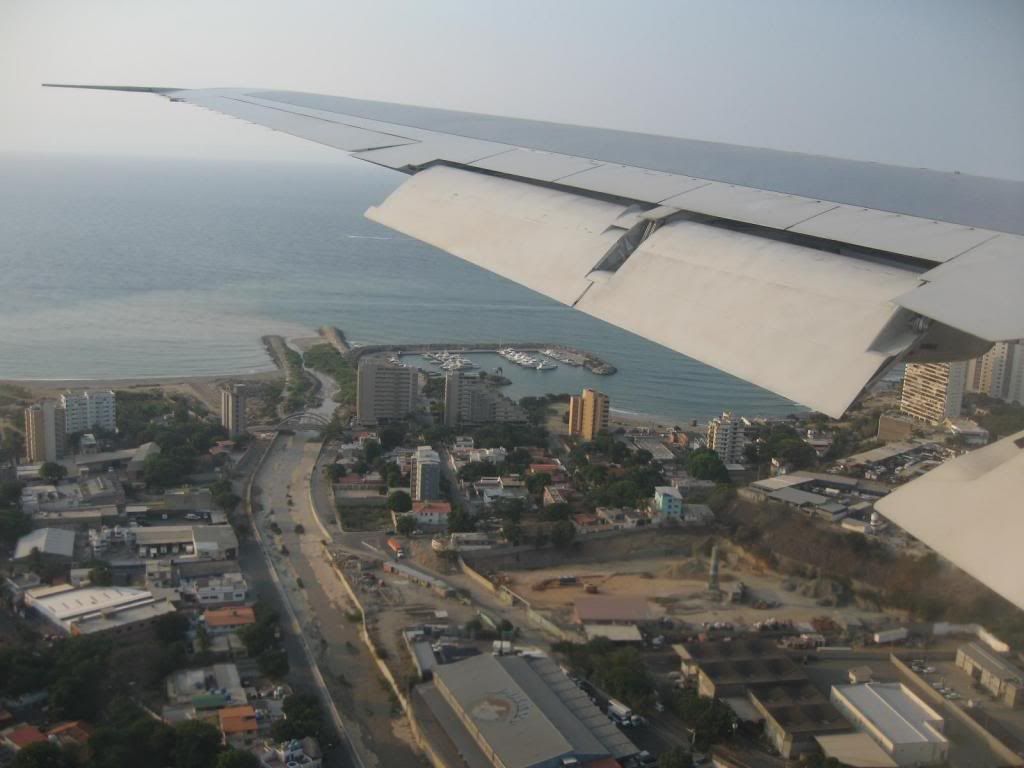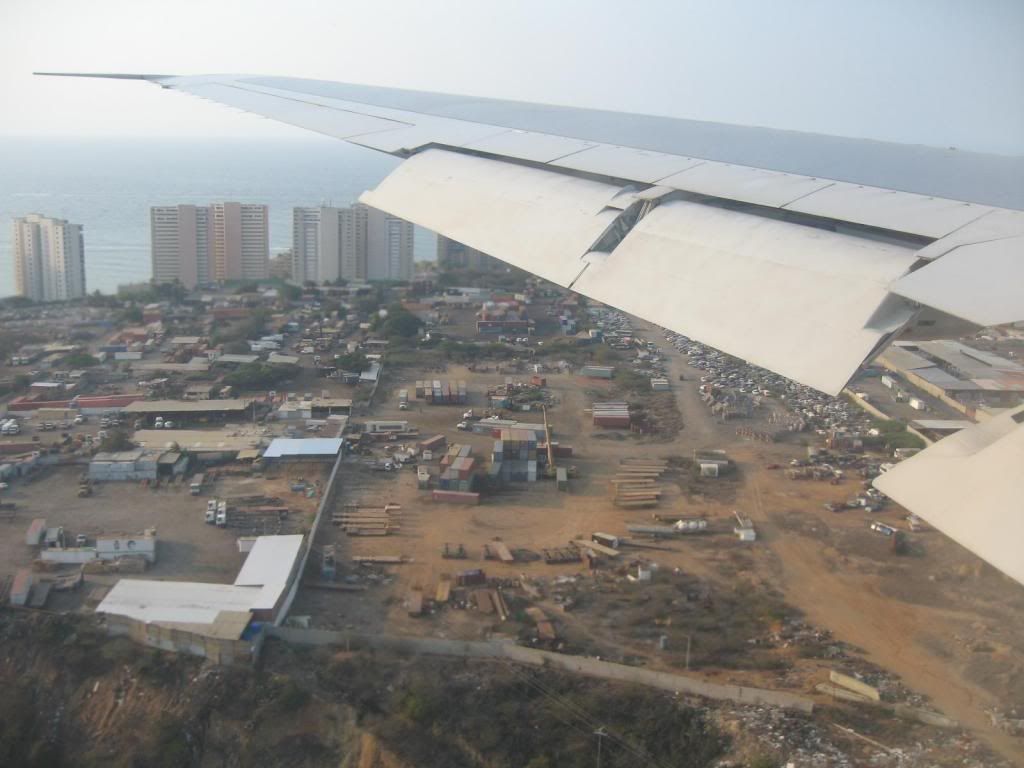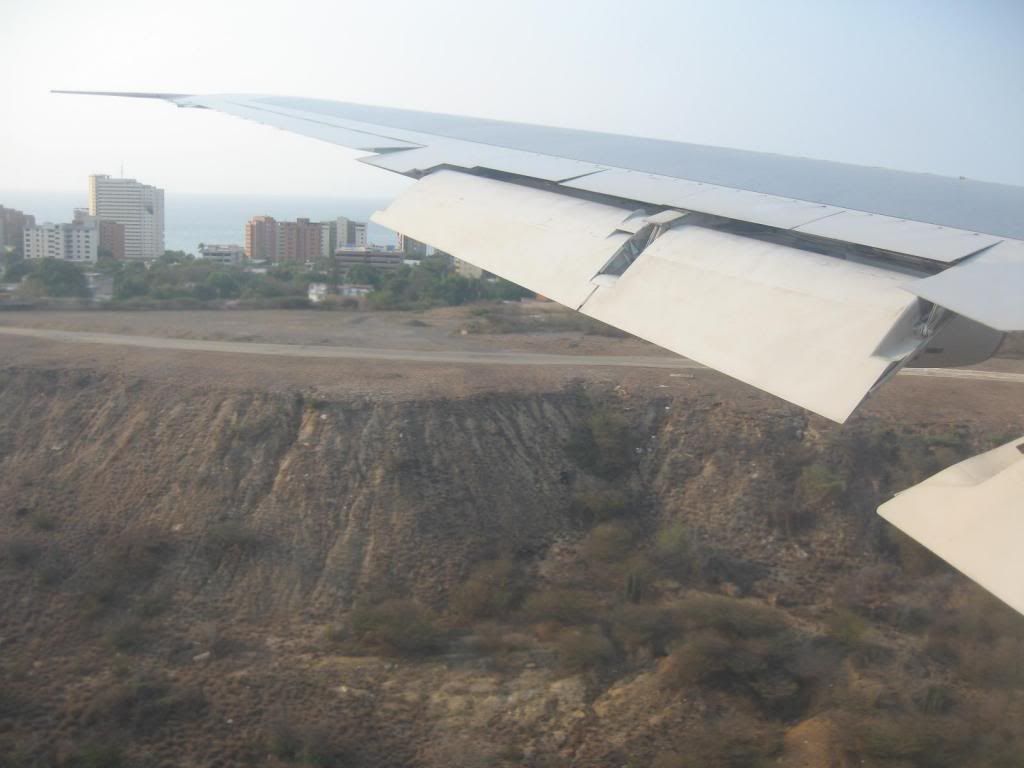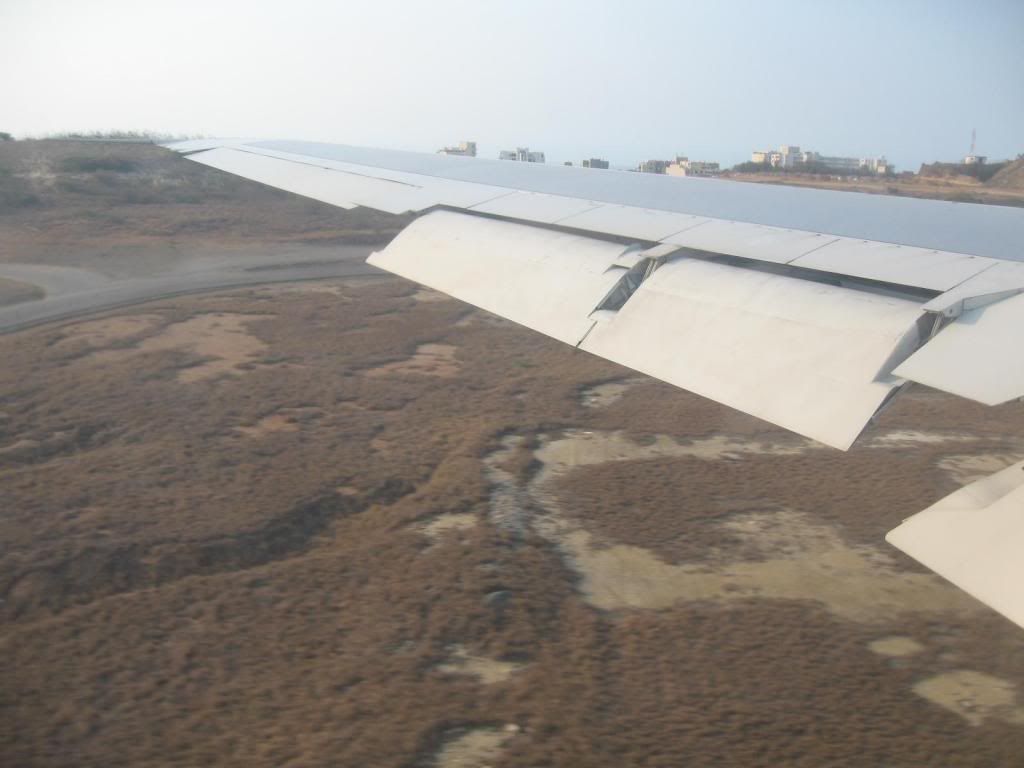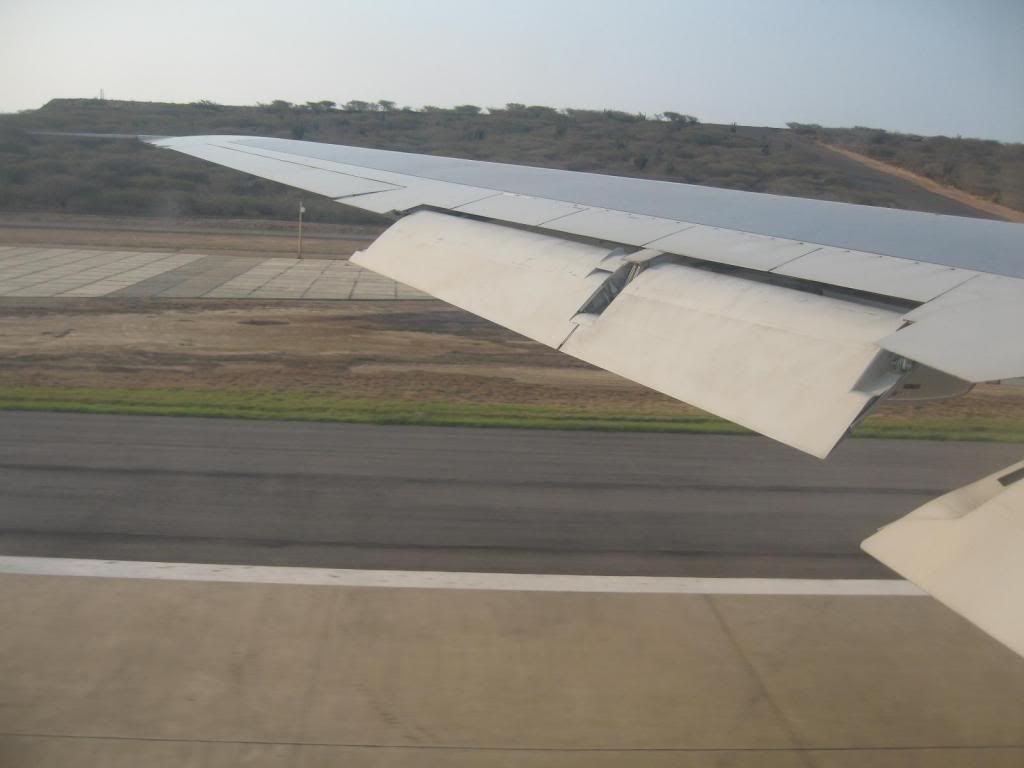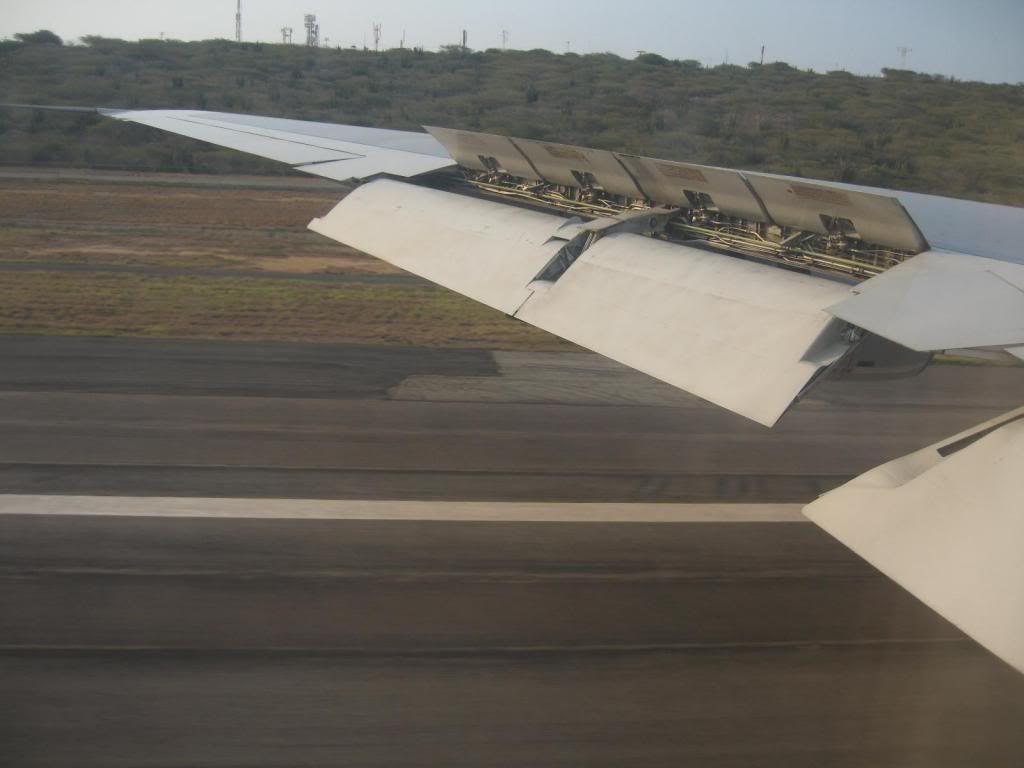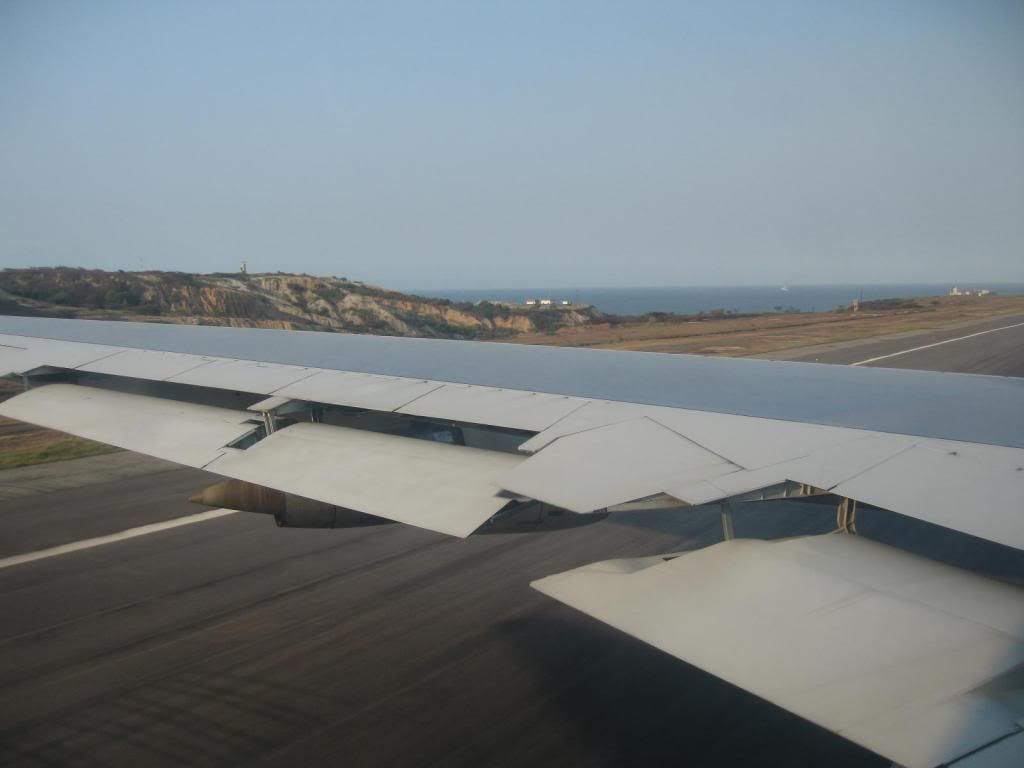 As we taxied in towards the terminal there was a colourful array of airlines and aircraft in evidence and the mountainous backdrop was very scenic.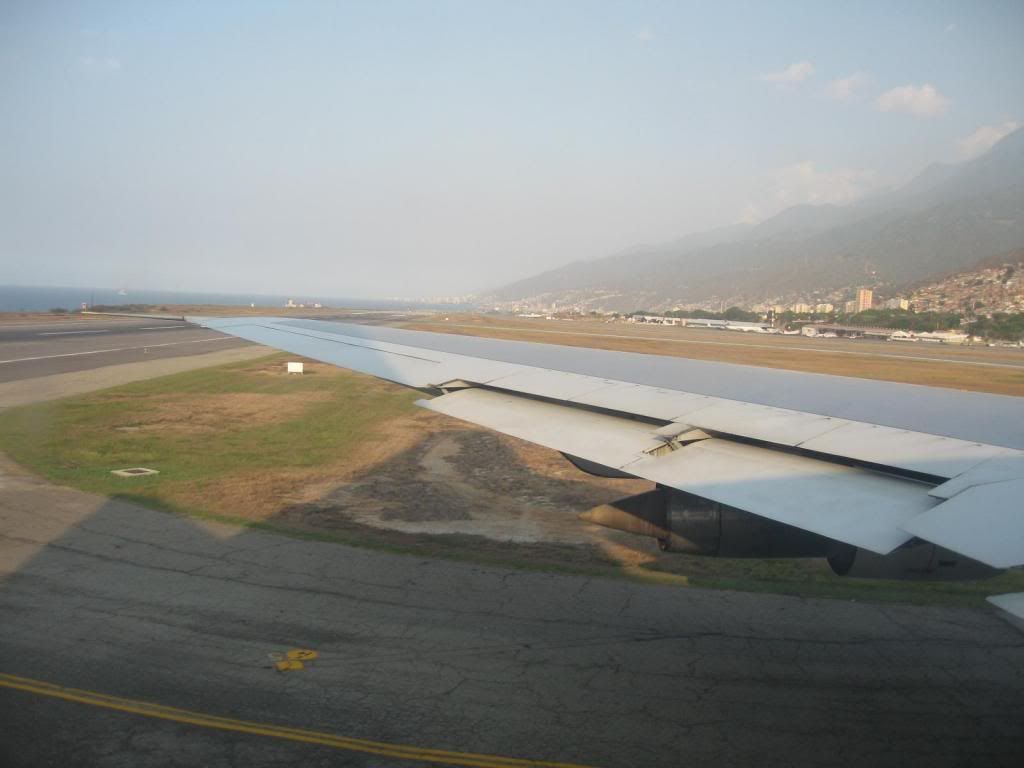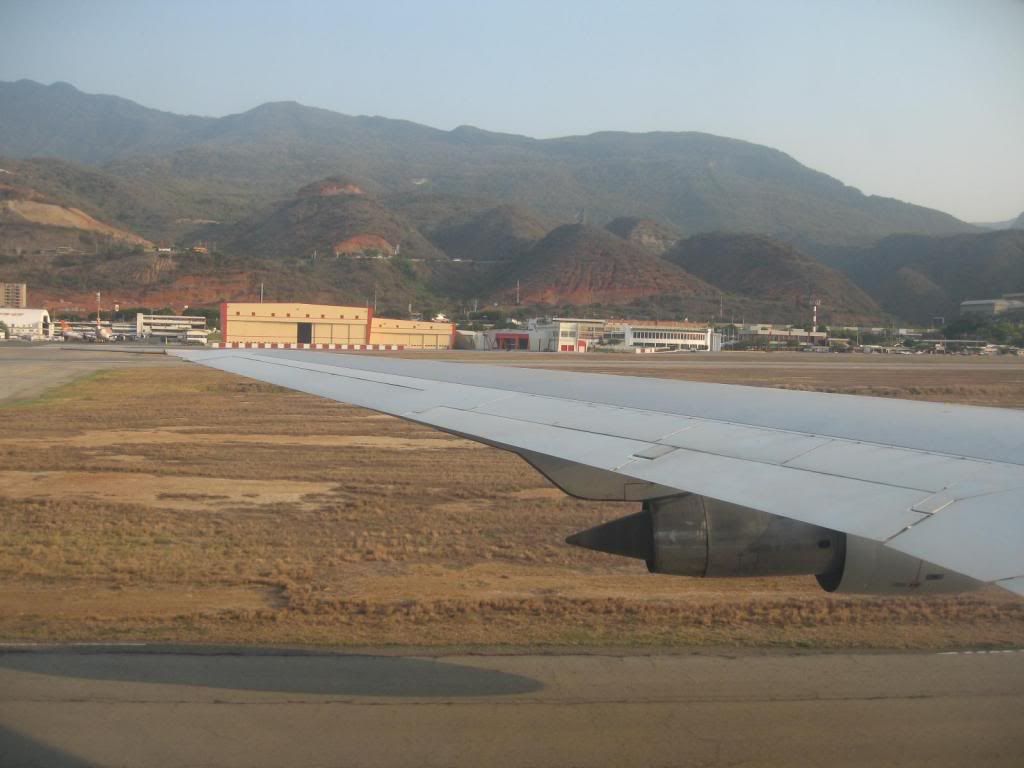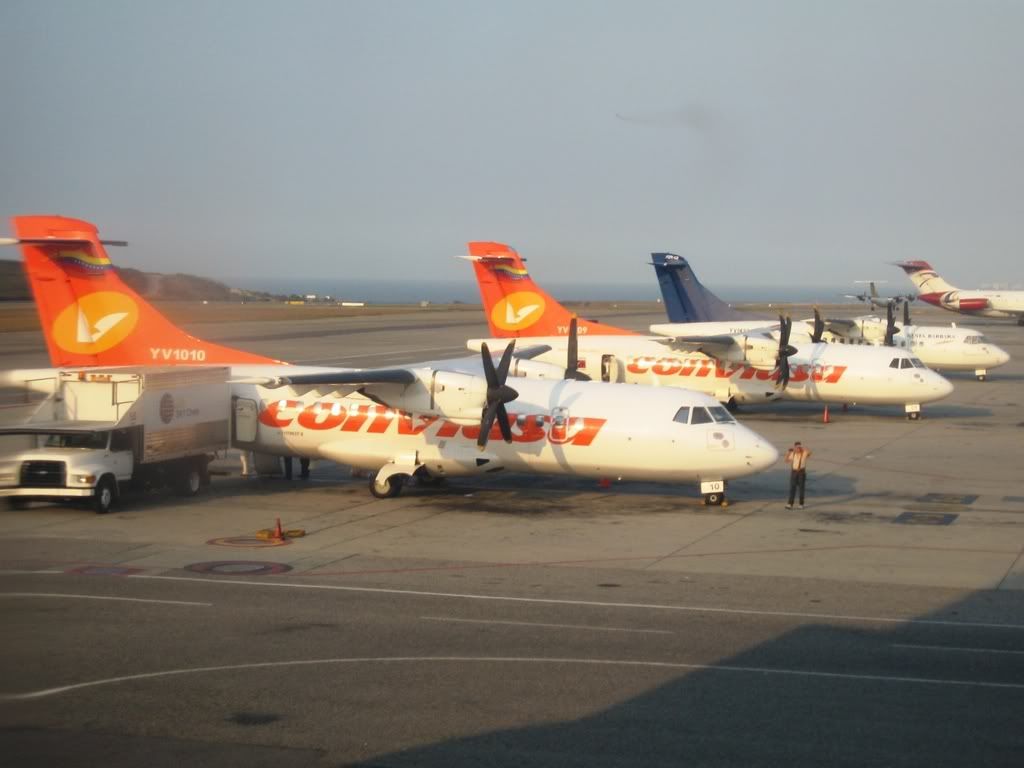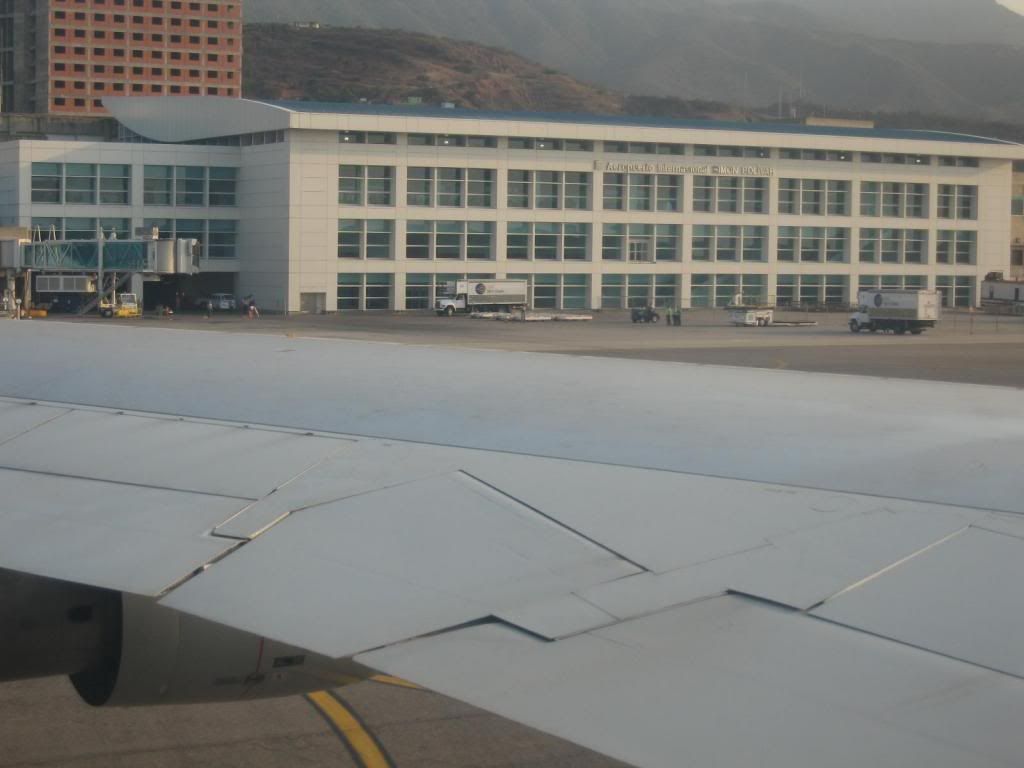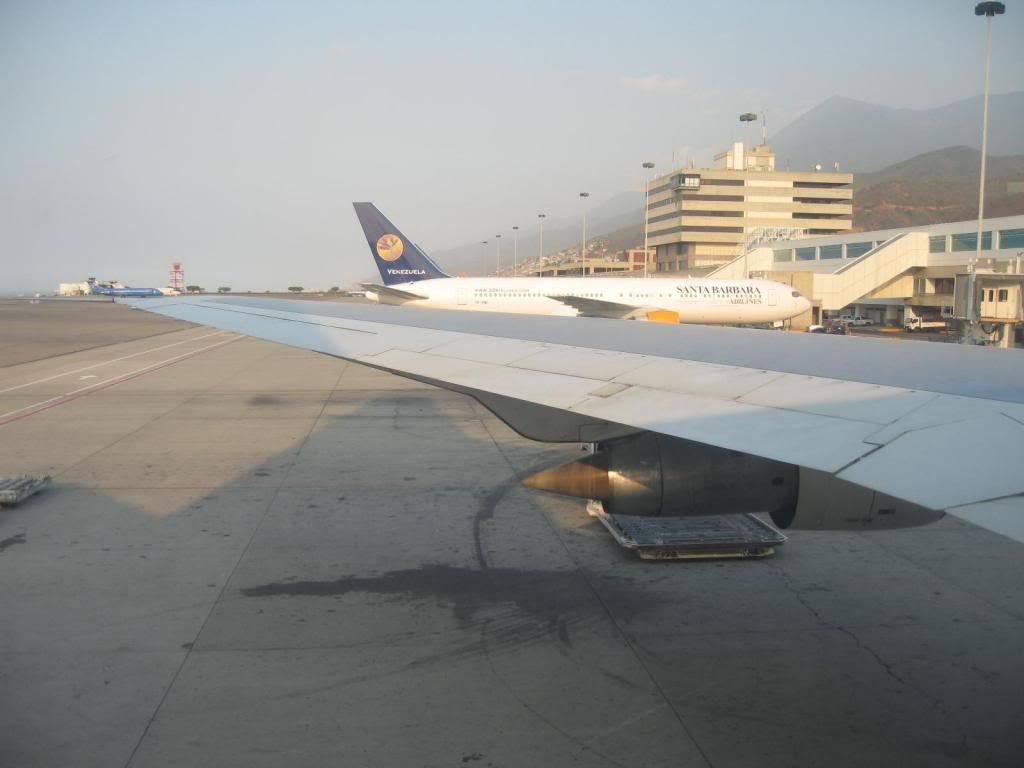 Finally, we were in Caracas and I was in South America for the first time. This was to be a fleeting visit as I had some more 'exotic' flying planned for the next day but it was a nice feeling to have flown directly from Asia to South America over the past thirteen hours and forty-four minutes (airborne to touchdown), but to have had the privilege of doing so on board a classic Boeing 747SP in 2007.
We disembarked via an airbridge and made our way to the immigration area but not before taking a last look out at the magnificent machine that had brought us here.
I can recommend this flight to anyone – it is an amazing experience but how much longer it will exist with the B747SP I do not know. There have been rumours of Conviasa taking over the route with an A340-200 or even Iran Air leasing the A340-200 from Conviasa and operating it on the route but so far nothing has happened. I hope the B747SP remains on this route so that other enthusiasts have the chance to take this trip too.
***
The history of this aircraft is quite simple as it was delivered new to Iran Air in May 1976 and has been part of the fleet since that time. It was withdrawn from use and stored at THR in late 2004 or early 2005 but eventually overhauled and returned to service in February 2007.
***
I hope you enjoyed this report – once again, please leave a message and let me know what you thought. Many thanks.
Look out for my next report on the following day's flight – a Cubana IL-96-300 from CCS to HAV...