This report is the first in a series I am writing about a trip to Europe in July 2007 and records the initial leg of the trip from MEL via SYD to BKK. I was travelling on AMEX "companion fares" which offer a significant discount on normal retail fares. In this case on BA 1st class Melbourne to Europe return for two passengers, the fare was 25% less than the next cheapest Oneworld option, the Oneworld RTW fare. I had spent months obsessing about whether to fly Oneworld (BA, CX, QF), EK, EY or even SQ, and even had 5 or 6 itineraries booked. But in the end the Oneworld loyalty programme, my previous BA experience (https://www.airliners.net/discussions/trip_reports/read.main/101221), and the discounted fare won me over. In combination with some value added extras from AMEX, such as airport transfers and special hotel deals, the whole trip unfolded like a dream and was probably the best I had ever experienced end-to-end, despite my occasional nit picking critique.
On the day of our departure, courtesy of AMEX, a black sedan from Hughes complete with a neatly uniformed chauffeur collected us at home exactly at 12:30 pm on Saturday 30th June as scheduled. After a smooth drive to MEL airport, and due to no direct BA service from MEL anymore, we checked in for the brief QF flight to SYD. We waited in the Qantas Club lounge in MEL until boarding. Seated on the left window seat second row of a 767, the QF flight was smooth. The flight left MEL at 2pm, so no lunch is offered but a surprise was the afternoon snack offering a choice of antipasto and something else which I can't remember. I opted for antipasto including Maggie Beer Pate, olives, cornishons, semi dried tomato, bread rolls, etc. plus a leaf salad. Just the sort of light snack one needs when there is no time to have lunch before leaving home and the early evening promises to be heavy with food and alcohol.
On arrival at SYD domestic terminal, we walked to Gate 2 where the international transfer desk is located and then waited 20 minutes for an overcrowded bus to take us to the international terminal where we arrived to a slow immigration queue. Not a great experience. Consequently we had barely 30 minutes before BA10 was scheduled to depart at 16:40. In fact boarding announcements were already being made. However, determined to get a taste of the new QF First lounge, we soldiered on regardless. It was worth it. Very much as shown on the QF web site, with leafy, but otherwise barren, entry foyer guarded by a uniformed concierge.
SYD QF 1st lounge: entry foyer:
Up the escalator to a greeting desk where our boarding passes were scanned. Welcoming smiles greeted us along with advice that a second boarding announcement would be made in 10 minutes. So we quickly attended to ablutions and I sprinted to the bar to order two glasses of Veuve Cliquot champagne. Mmmm, that hit the spot!
I then walked passed the dining rooms where, unlike this archive photo:
,
In fact lots of people were seated having pre flight meals in full view of the preparation kitchens – a very Neil Perry approach! I was a little surprised at the number of people in the lounge. How many Oneworld 1st class passengers could be departing SYD on a Saturday afternoon?
I collected a couple of snacks – nothing much on offer: grilled Mediterranean vegetable focacias – should have been lobster and/or prawn sandwiches to be consistent with the Veuve! The whole lounge curves in an arc one side of which has vaulted ceilings with a spectacular view of the tarmac.
SYD QF 1st lounge: seating arrangements: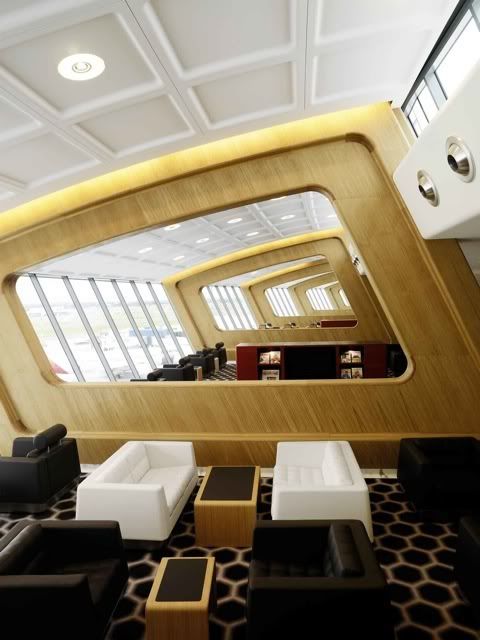 SYD QF 1st lounge: view of tarmac: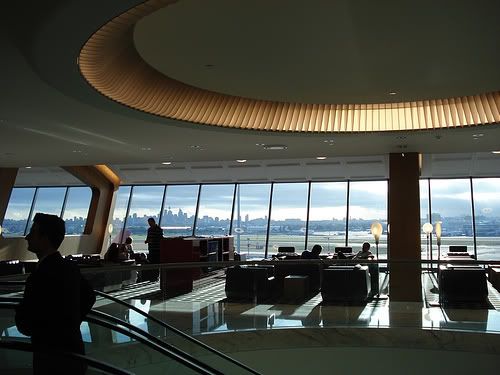 Overall impression though is that the lounge is a triumph of style over substance. There are many QF staff in evidence yet service is slow. You would need to have more than an hour to spare after check-in, immigration, and security formalities to fully appreciate the lounge, let alone the spa treatments! Given that boarding gates close 15 minutes before departure, you would need to check-in more than 2 hours before the flight – hardly something that 1st class passengers would do. Thus, I am not sure what value the new lounge will be considering this. Neither SYD nor MEL are hubs for international transfers in the way LHR, SIN or HKG are for example. Most people using the lounge will be boarding passengers in first class who will rarely have the time for spa treatments and meals prior to departure.
BA10: 747-400; scheduled departure 16:40; scheduled arrival 22:55; flight time 9 hours 15 minutes. Seats 4K and 5K.
As on my recent BA flight
RTW Part 2: EWR-LHR BA 1st Class (many Pics)
(by
Crdaus
May 28 2007 in Trip Reports), the cabin crew service was excellent. From the warm greeting at the door, escort to seats, etc. the flight attendants were magnificent. Those impeccable British manners are most welcome in a world continually degenerating into informality.
My seat: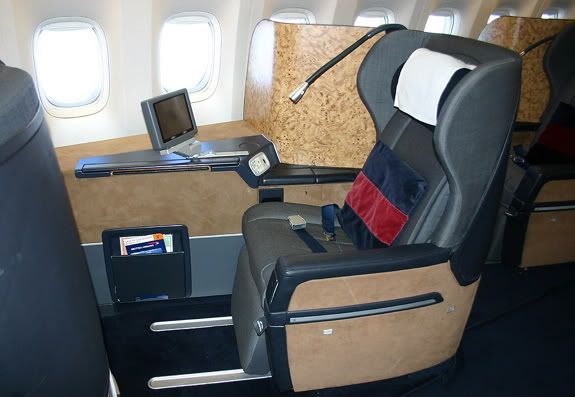 I prefer this seat to the QF 1st seat because this one is more comfortable and private.
No sooner were we seated than our stewardess, formally addressing each of us by name, offered the usual pre-flight champagne and macadamia nuts. A steward handed out sleeper suits and amenity satchels, etc. and, of course, the menu and wine list: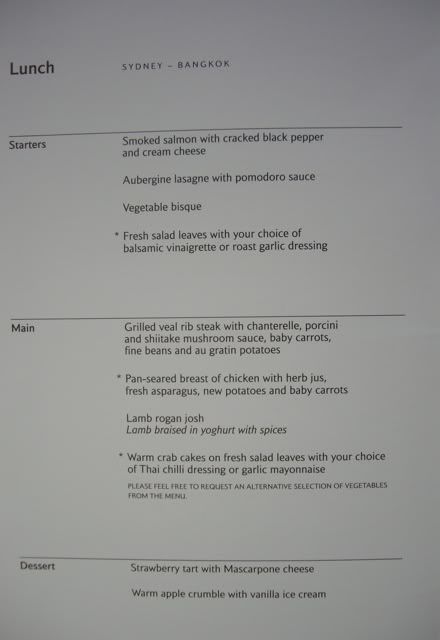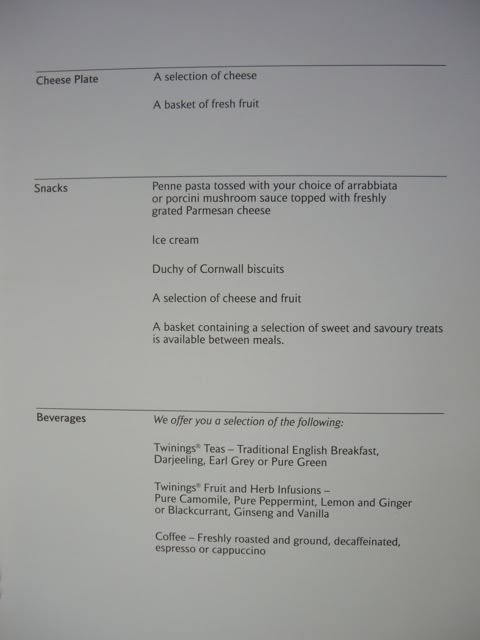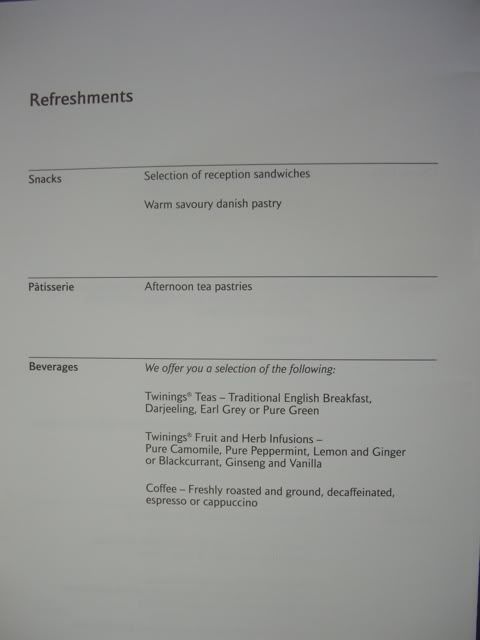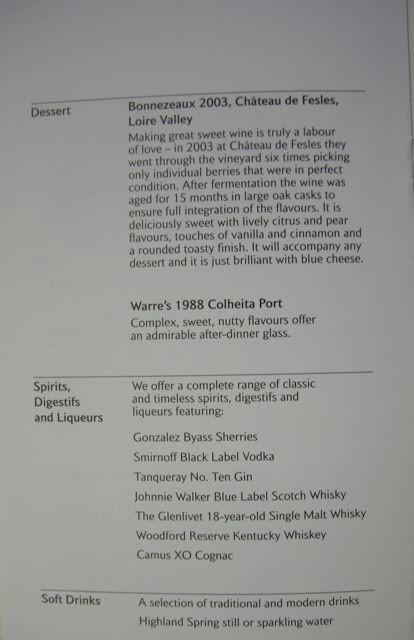 In no time at all, the full 747-400 was taxing for takeoff and within minutes we were climbing into the late afternoon Sydney sky.
As soon as the seat belt sign was extinguished, the flight attendants sprang into action to serve cocktails. I had champagne which was a rather dry and tasteless Perrier Jouet Belle Epoque 1999, but at least it was served with some very tasty horsdoeuvres consisting of scallop, chicken satay, smoked salmon, and prosciutto covered camembert:
At the suggestion of our stewardess, we decided to have dinner facing each other. I have never done this before and I must say this really works well, although I think I was more comfortable in the main seat rather than my travelling companion who sat on the footstool: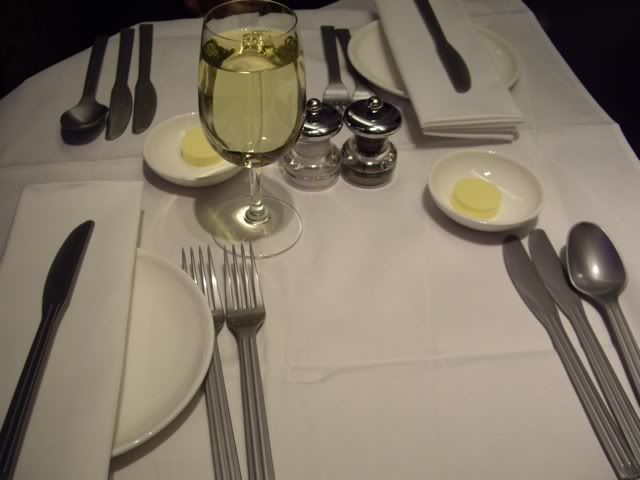 Due to Australian regulations, the cutlery was all plastic, although with its grey colour it almost looks like metal in the picture.
For starters, I chose the smoked salmon with cracked pepper and cream cheese, while my travelling companion chose aubergine lasagne with pomodoro sauce: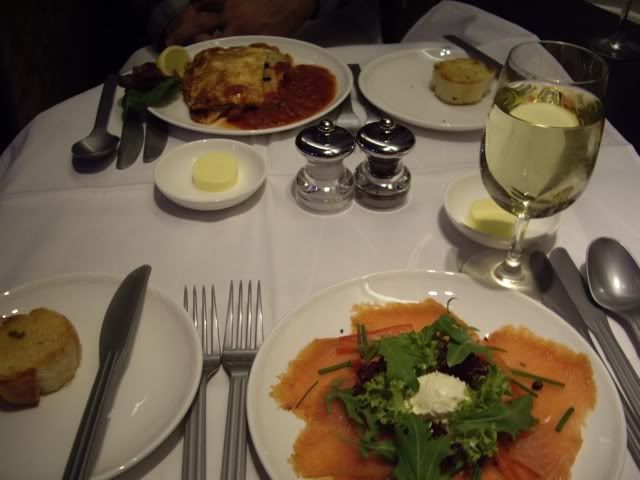 We both had the Chablis Grand Cru as accompaniment. We also chose garlic bread rather than the usual bread rolls.
I thought the 1st courses of vegetable lasagne:
and smoked salmon: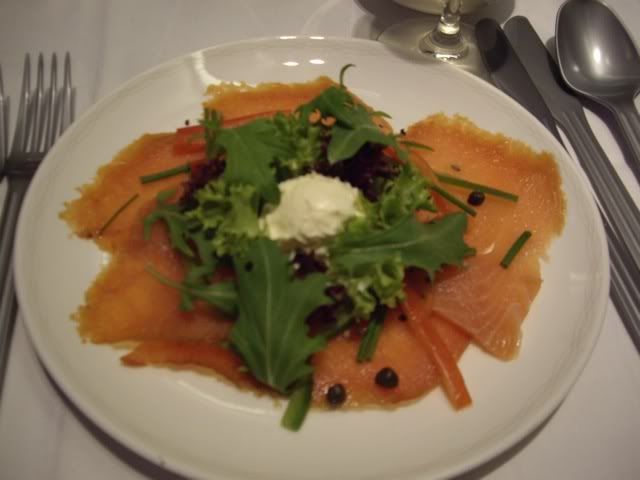 were rather lame offerings for 1st class. However, the delicious Chablis redeemed them.
For Mains, we both chose the warm crab cakes on salad leaves served with Thai chilli dressing:
Another fairly bland course that not even the wine could rescue this time.
Finally, for dessert I had the warm apple crumble with vanilla ice-cream while my companion had a cheese plate:
The cheese was simple but tasty:
The vanilla ice-cream and warm apple crumble: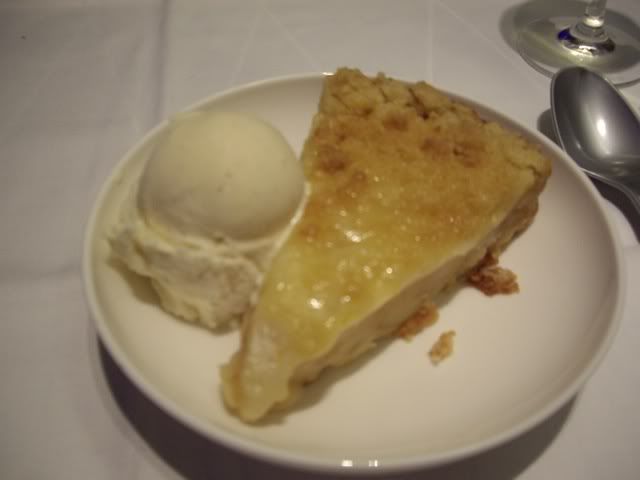 It looked appealing, but the ice-cream was rock hard as can be seen in this picture:
.
A minor quibble though because the whole thing was actually quite delicious.
The flight attendants must have thought we were still hungry because they left the whole biscuit tray:
and chocolate box:
By the end of the meal, it was quite dark outside. I took this picture just before the lights were dimmed:
.
As the AVOD was malfunctioning, I ended up not watching anything and just snoozed for most of the remaining 6 or so hours of the flight. At about an hour before landing in BKK, the flight attendant asked me if I wanted any refreshments. Being somewhat peckish and a little curious, I ordered the selection of reception sandwiches and a cup of tea. The sandwiches turned out to be a delicious mixture: cheese and chutney, tuna and sweet corn, roast beef with semi dried tomatoes and spinach, and chicken in mayonnaise:
The flight overall was not up to the standard of my previous experience. What lets BA down is the obvious lack of backup to all the warm service on-board. The AVOD was malfunctioning and required re-set 90 minutes into the flight. The food was just OK. Menu and wine selections were mean. The cappucino machine was not working. Lots of little annoyances. But I did enjoy the snack of finger sandwiches just prior to landing at BKK and there was no apparent rush by crew to dispense with cabin service prior to landing despite all their pre-landing responsibilities.
The flight arrived on time at 10:50pm but it seemed to take an eternity for the luggage to be delivered. At least my luggage was the first delivered on the carousel! What a surprise. This has never happened to me before in my many years of 1st class travel.
At the BKK airport we were greeted again by a uniformed chauffeur, this time compliments of The Peninsula Hotel, our ultimate destination in BKK: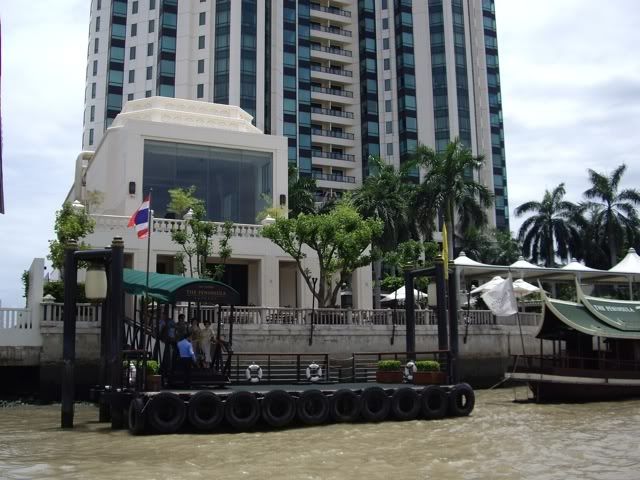 .
In summary, while the BA service was not as impressive as my previous experience with them, and despite the hassle of having to fly via SYD, the discounted fare made me feel satisfied that I had made the right choice of airline, at least so far.