This report is part 2 of my
African adventure,
the return home but first a few pics from my trip:
Parent's neighborhood (Airport East)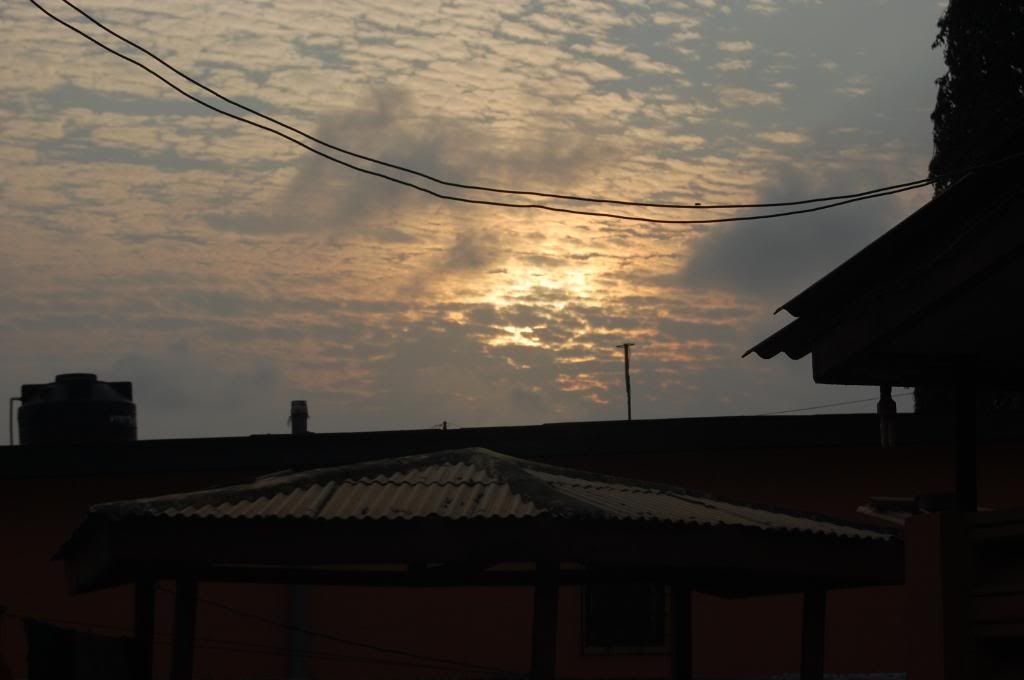 Sunset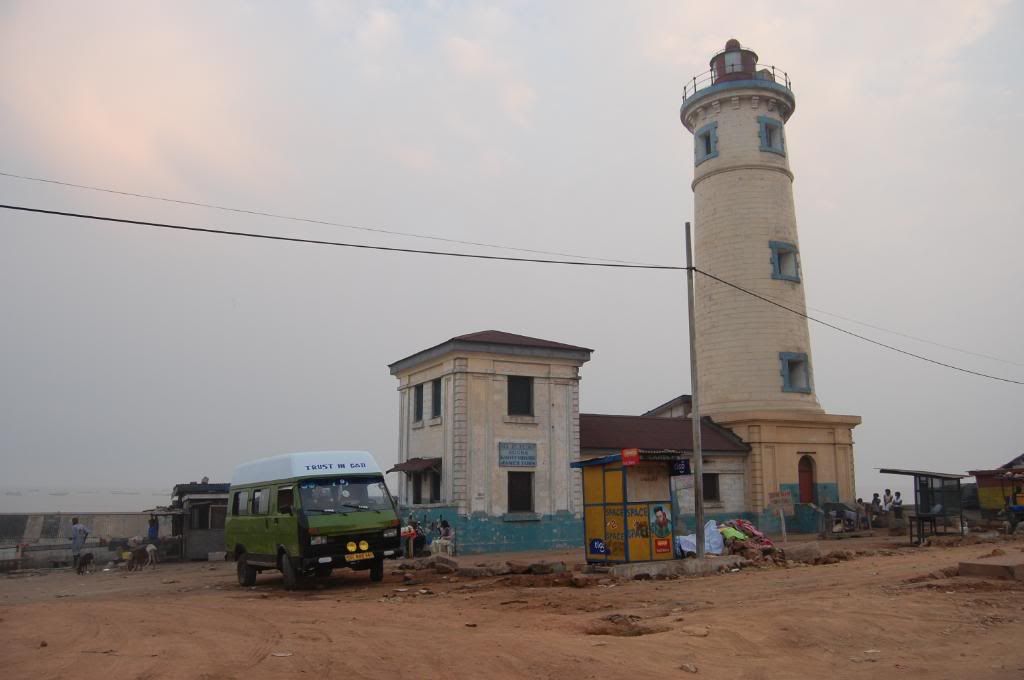 Jamestown lighthouse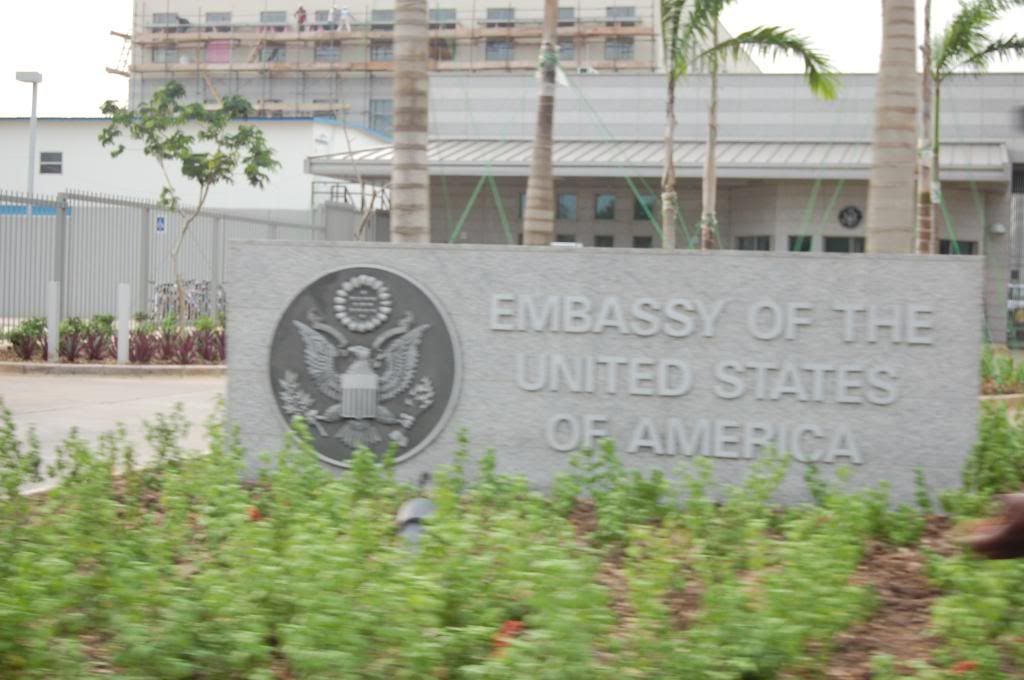 New US embassy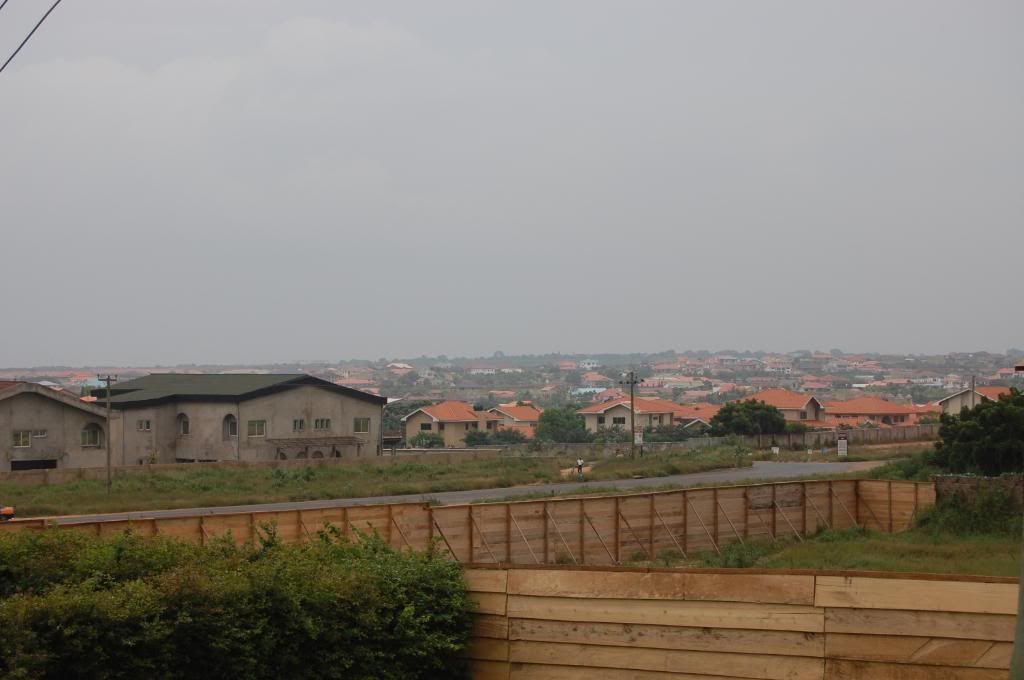 City in the horizon
Parliament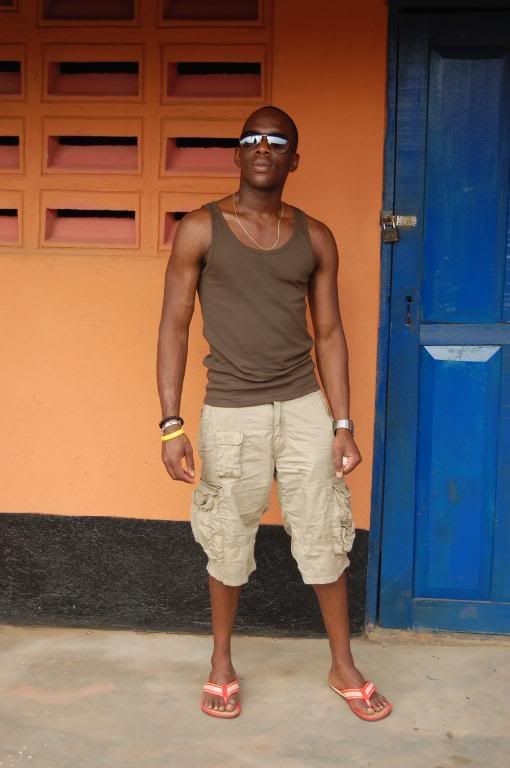 Me, in true vacation mode
b]Route:[/b] Accra Kotoka- Frankfurt Main via Lagos
Airline:
Lufthansa
Flight Number:
LH565
Aircraft:
Airbus A340-300
Registration:
D-AIGA
Seat:
34A (Economy)
Date:
Sunday August 19th, 2007
Just 5 days after my arrival in Ghana, I was already saying my final goodbyes, re-packed (with fewer clothes but more souvenirs), and headed to the airport for the trip back. My dad dropped me of at the airport around 16:30. As with the arrival, the departure formalities at Kotoka was (to sum it up in one word) unpredictable. With the never-ending construction coupled with the random people at the airport, I didn't know what to expect.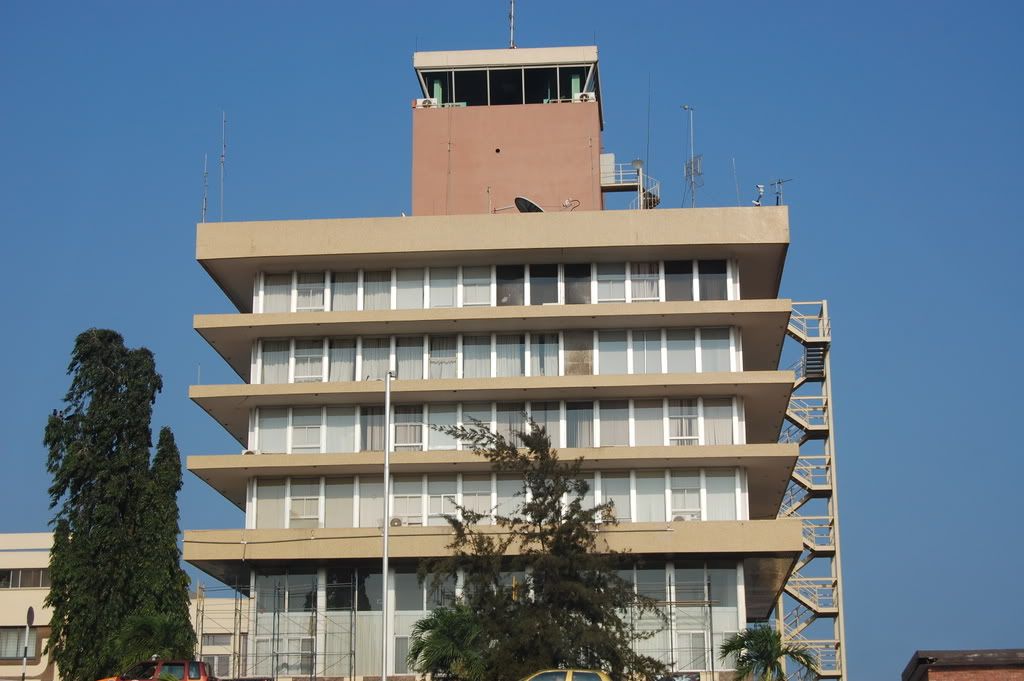 ACC tower building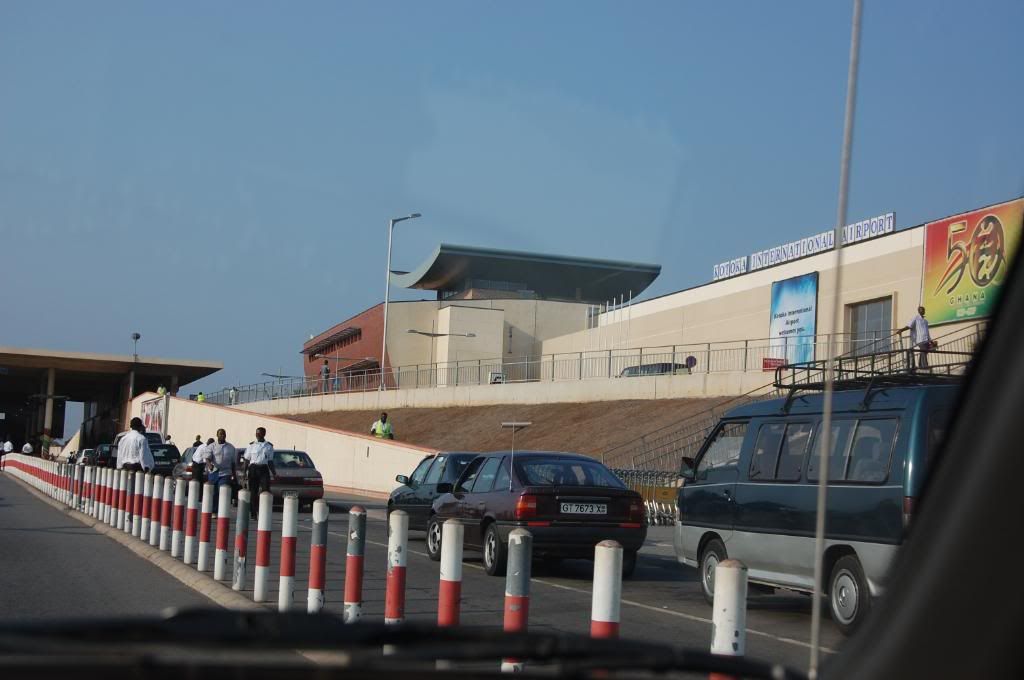 Terminal
As Lufthansa is the first of the major European carriers to leave (departure time of 19:00), the airport was not yet crowded when checking in. There was only an Emirates flight to Dubai and some other shorter intercontinental flights. Before the queue for the check-in, there was a Lufthansa agent who checked passports and tickets (receipt if traveling on an e-ticket). I was greeted with a, "hello amigo" I smiled and responded, "hola muchacho, que tal?" He looked puzzled so I said "Hey, you started it" Nonetheless he checked my passport and receipt and told me to proceed to check in. There was no one in the queue so I walked right up to the agent who checked me in promptly with windows seats for both legs and finished, with a "have a nice flight." I still had some local currency with me and so I went back outside the airport and had a drink at a Chinese restaurant/bar located on the airport premises and filled out my departure immigration form. An hour later I headed back inside and went upstairs to clear immigration and go to the departure gate.
I love the 3rd world feel of the airport, essentially the departure area consisted of 2 wings (they refer to them as gates, but they are really wings). The airport board flights 1 at a time from each wing so departing passengers are forced to wait outside the wing in the duty free shop area until the actual boarding process begins for their respective flight.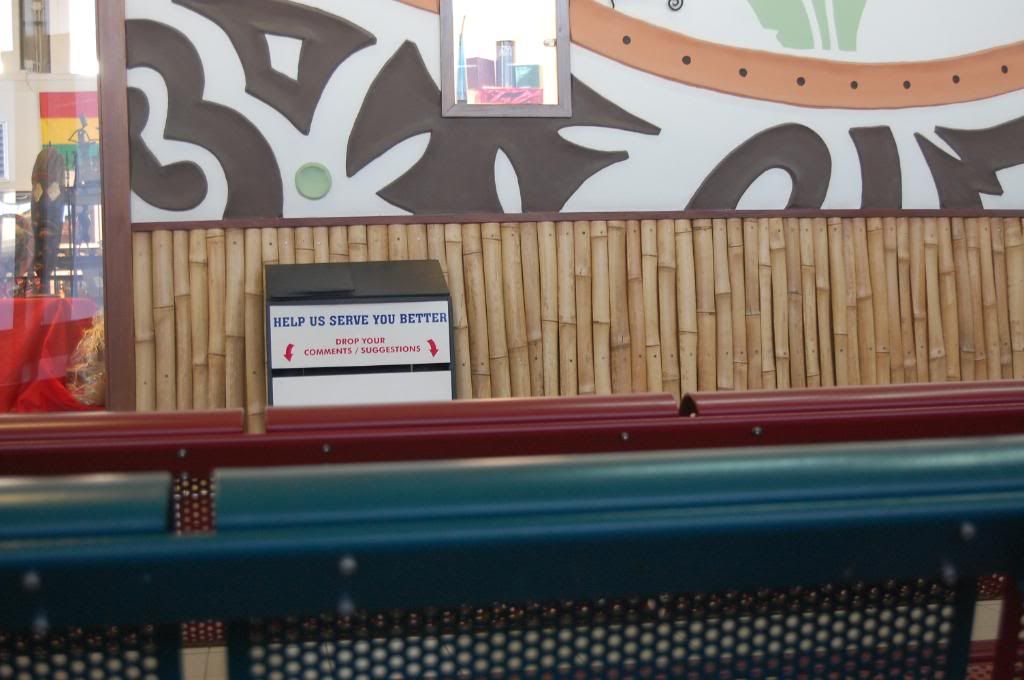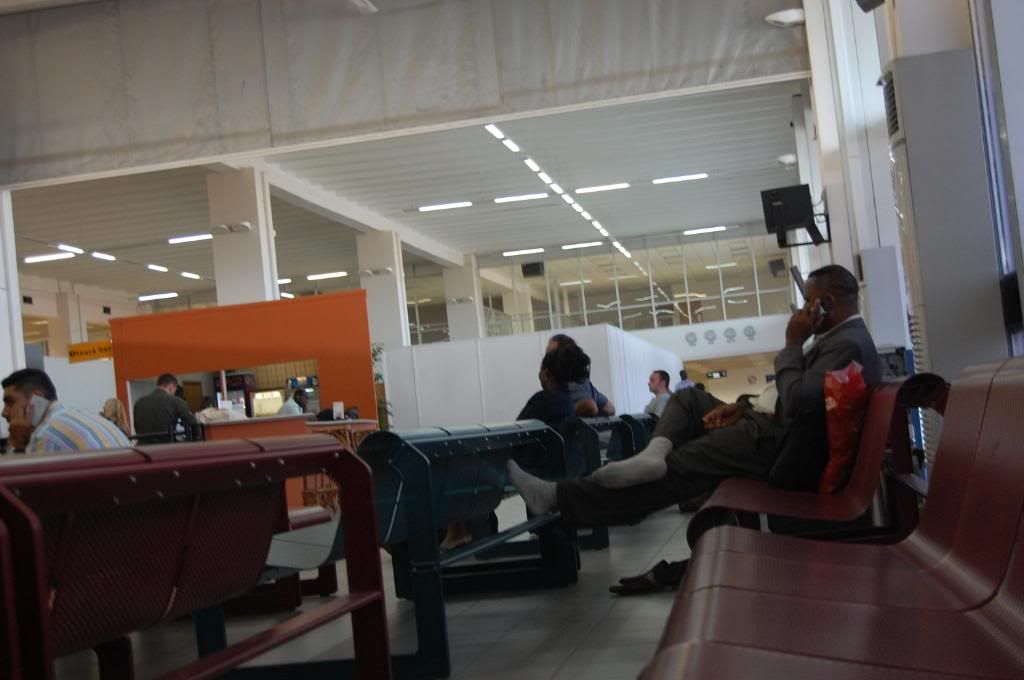 Seating area outside the duty free shop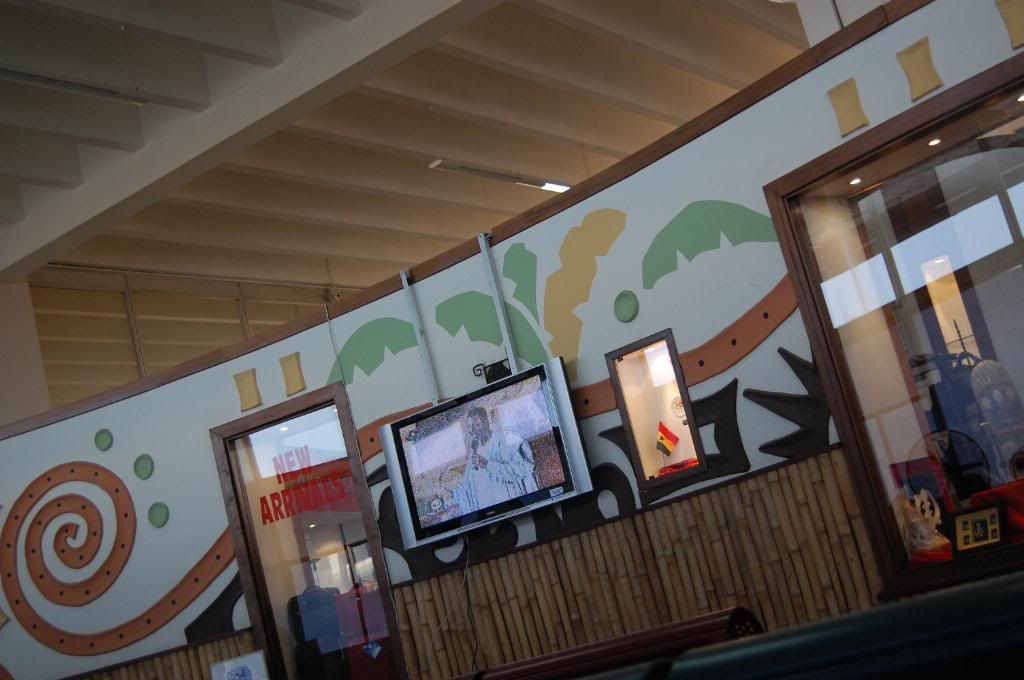 Flat screen TV's, a nice addition to the airport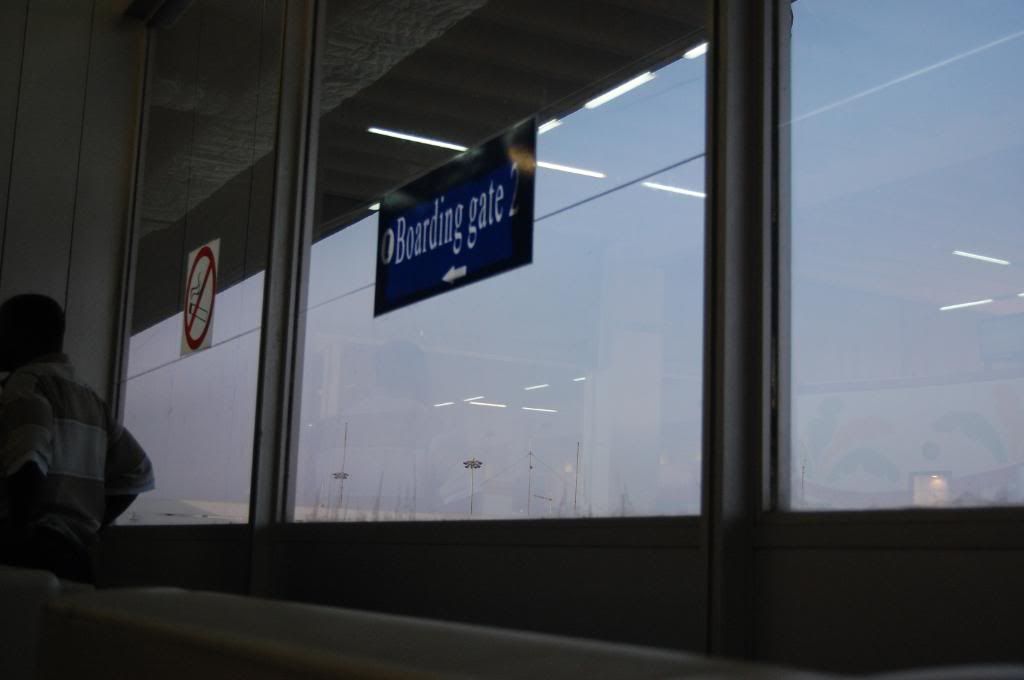 Seating area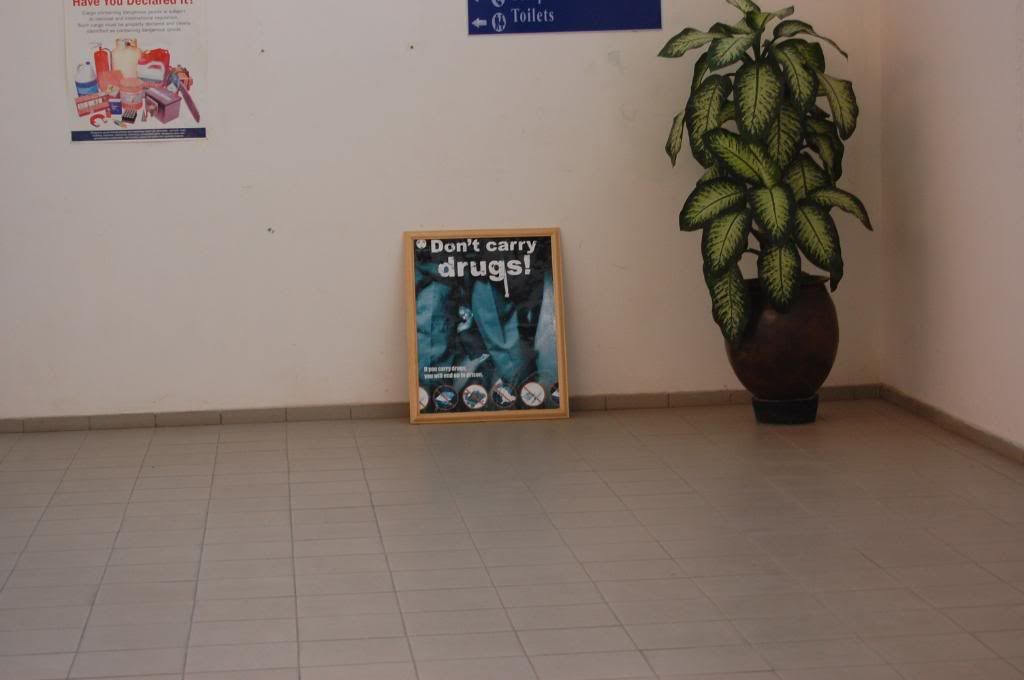 Advert for those would-be traffickers
Another advert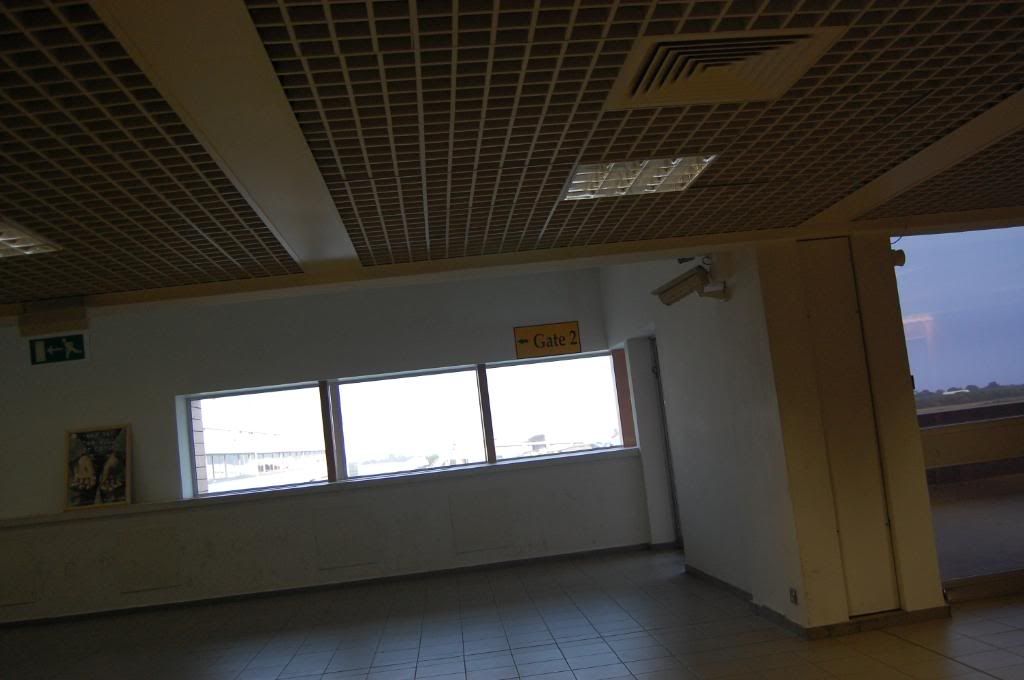 And another one
Drug trafficking is a serious problem at the airport (and main harbor port to the east of the city for that matter). It is a common occurrence to hear news about passengers being caught with cocaine on their person or swallowing drug pellets.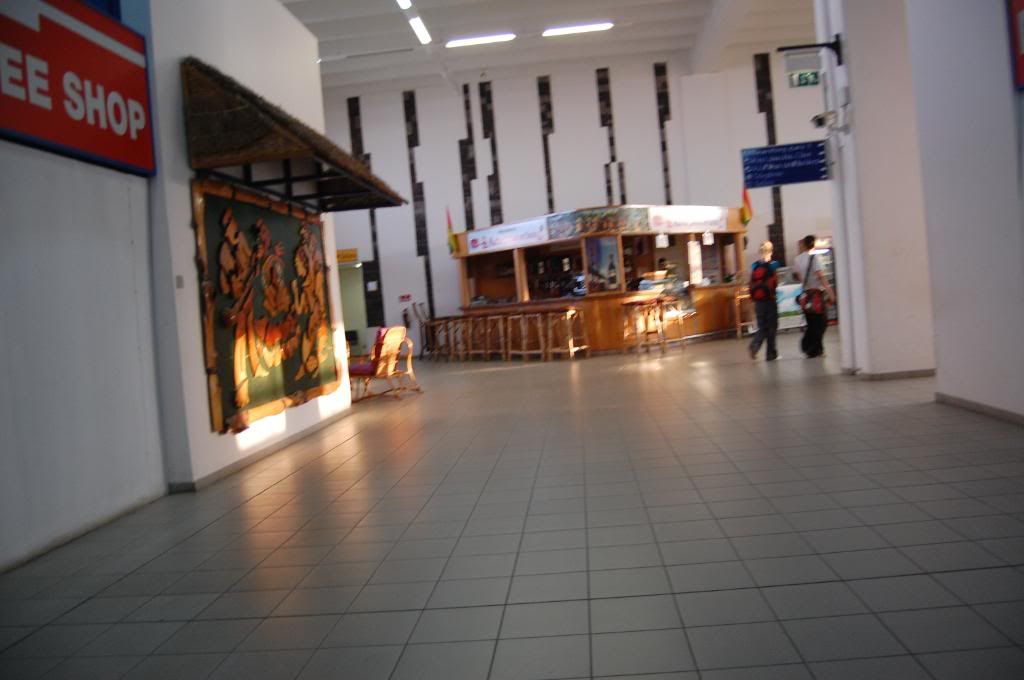 Corridor leading towards Gate 1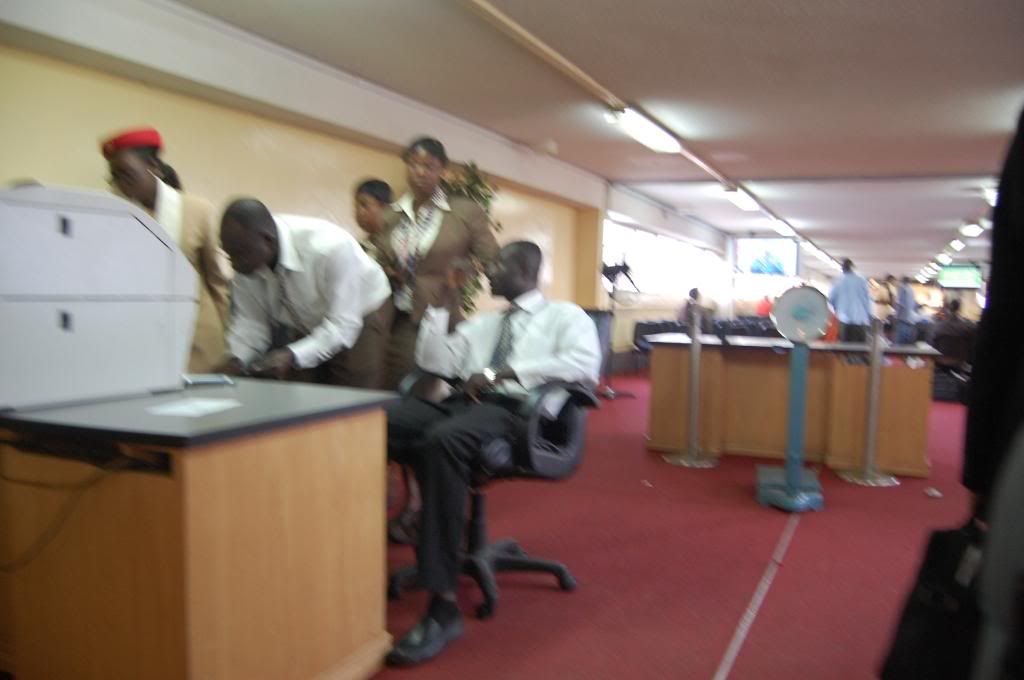 Entry area into Gate 1, Airport staff along with Emirates staff to the left
The departure wings basically protrude into the ramp areas, and the windows were open so I got an up close feel to the action of the ramp.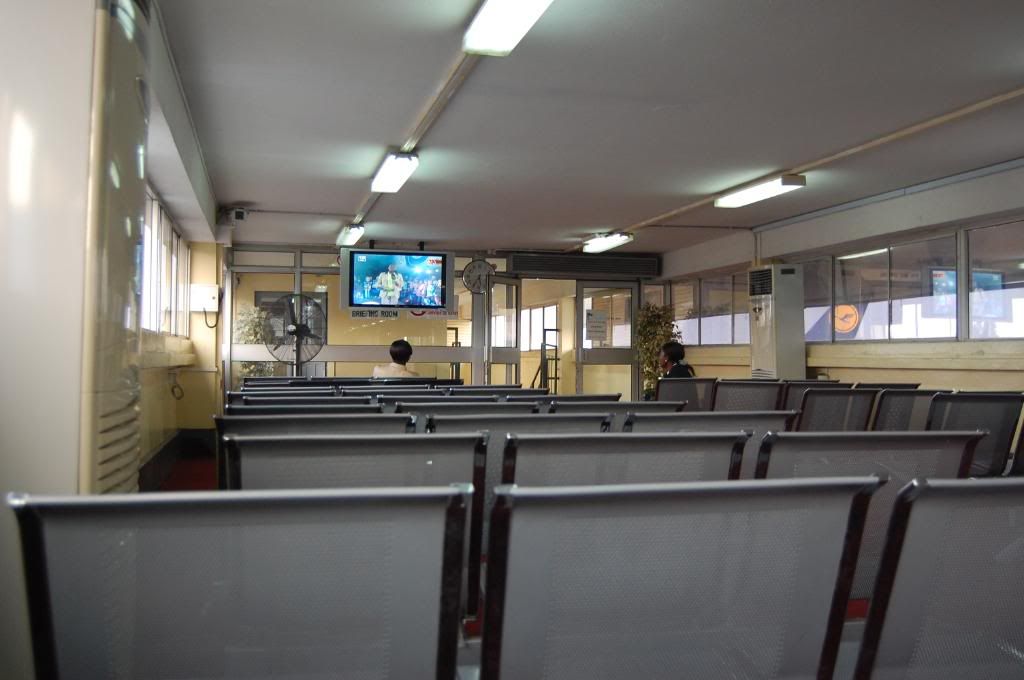 More flat TV's and the area is newly carpeted, I think it benefits the airport staff more as they intensely sit and watch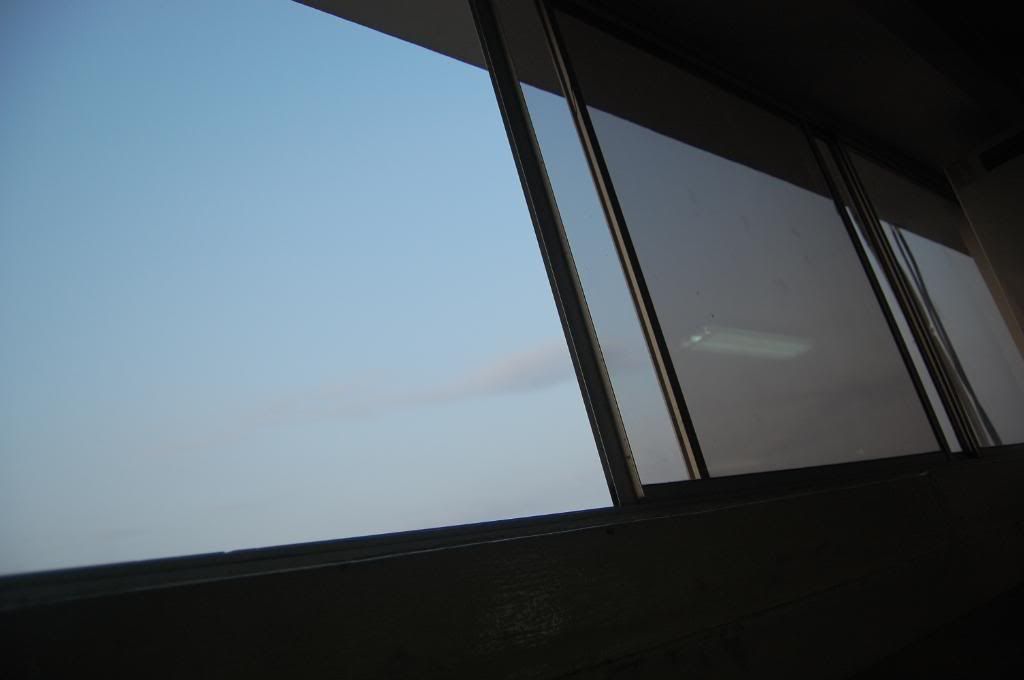 Open windows with views of the ramp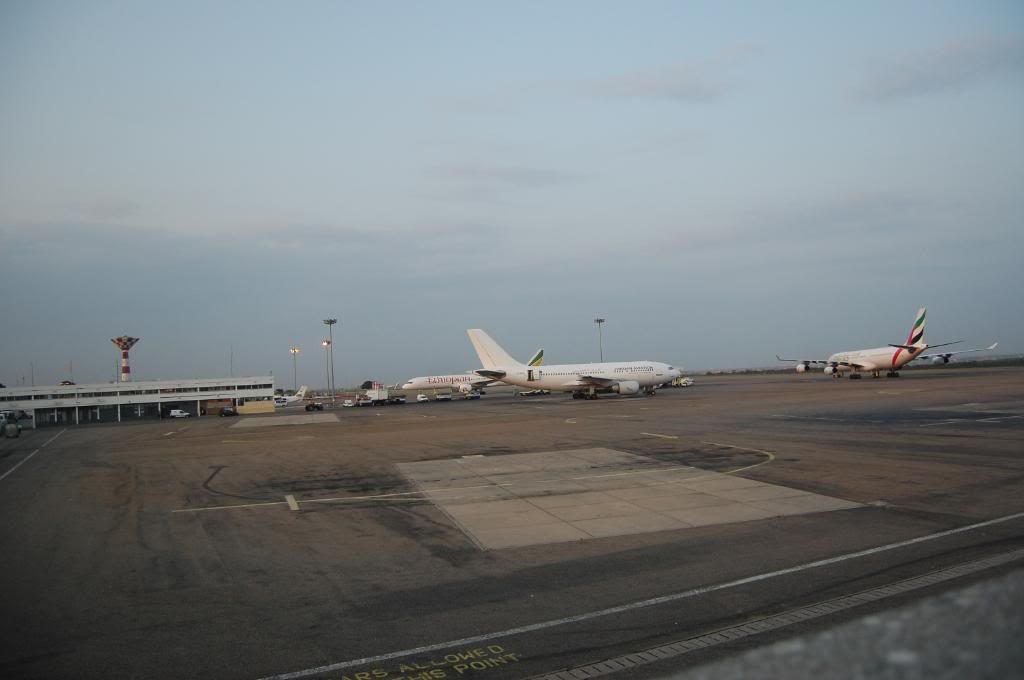 Emirates taxiing out for departure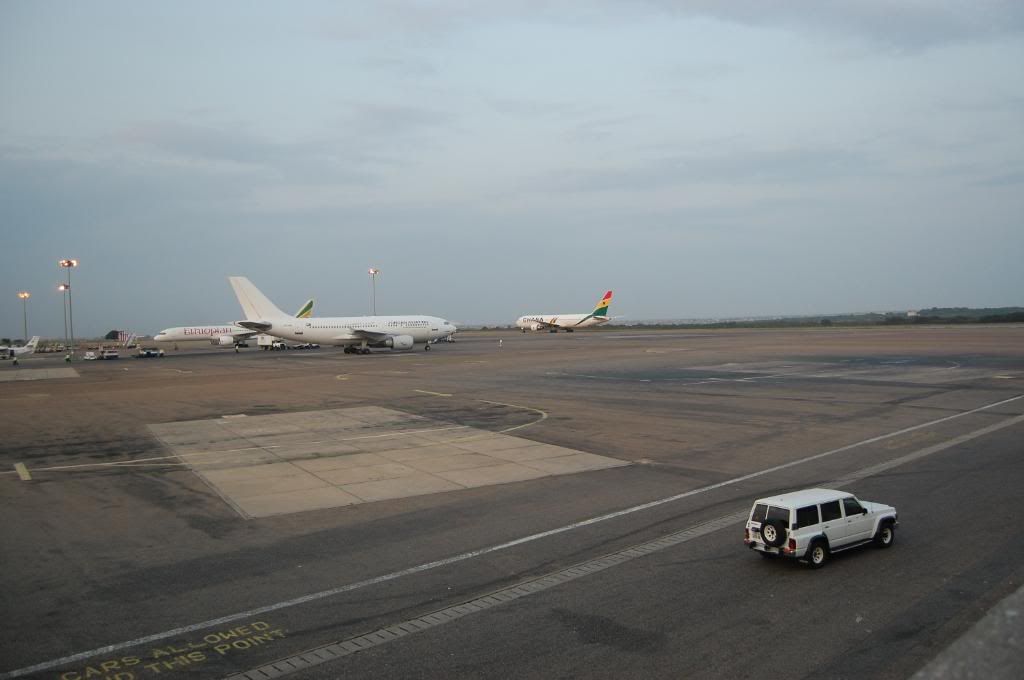 Ethiopian, Jordanian Airlines, and GIA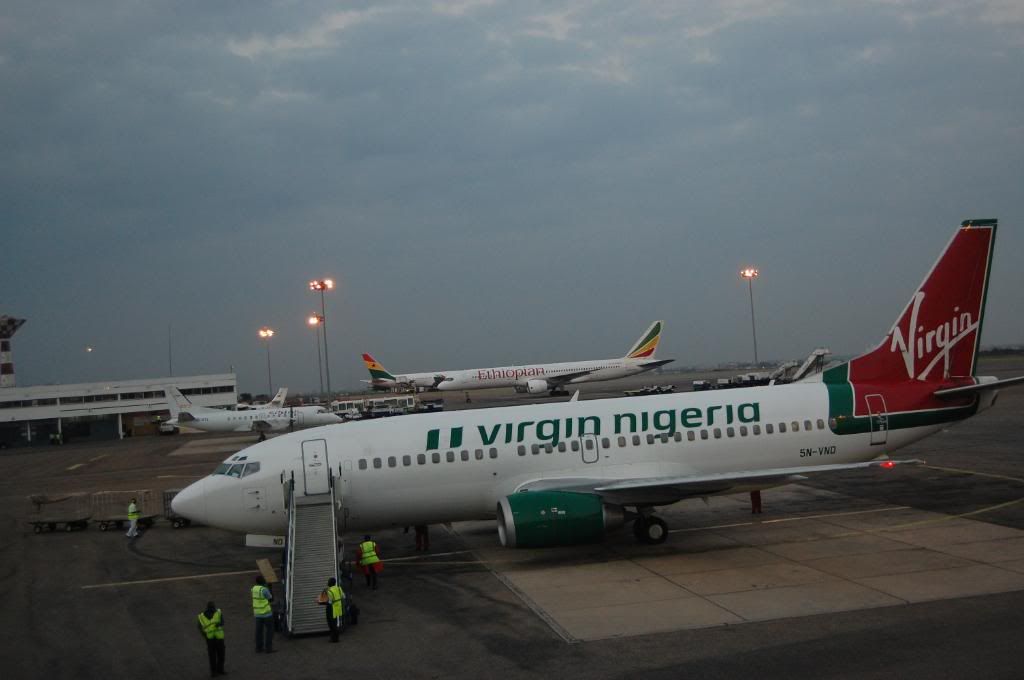 Virgin Nigeria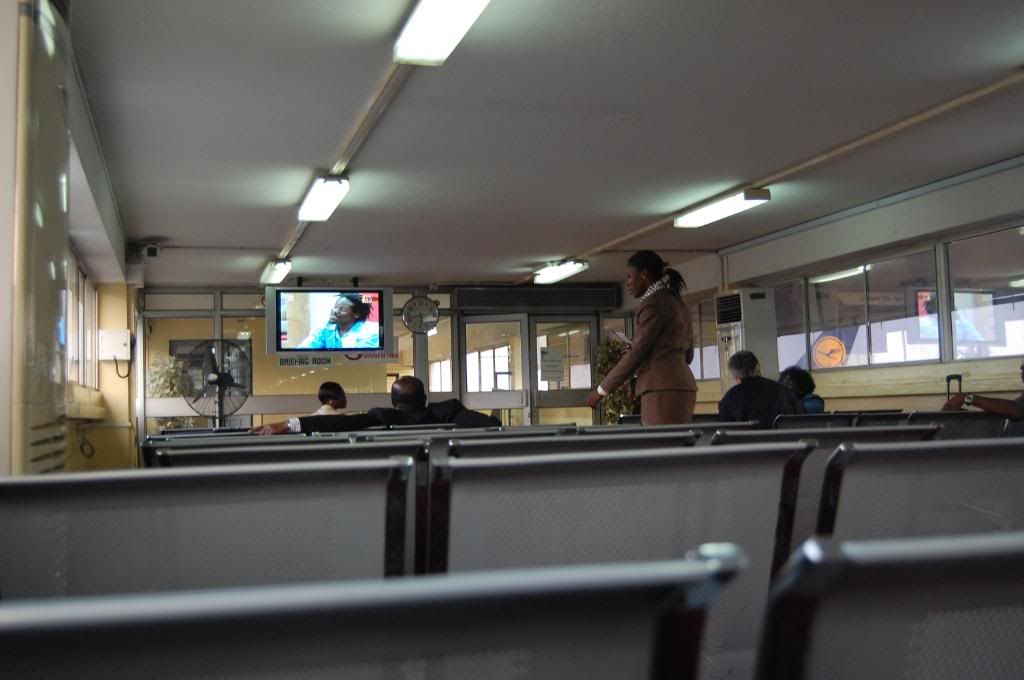 Airport staff in brown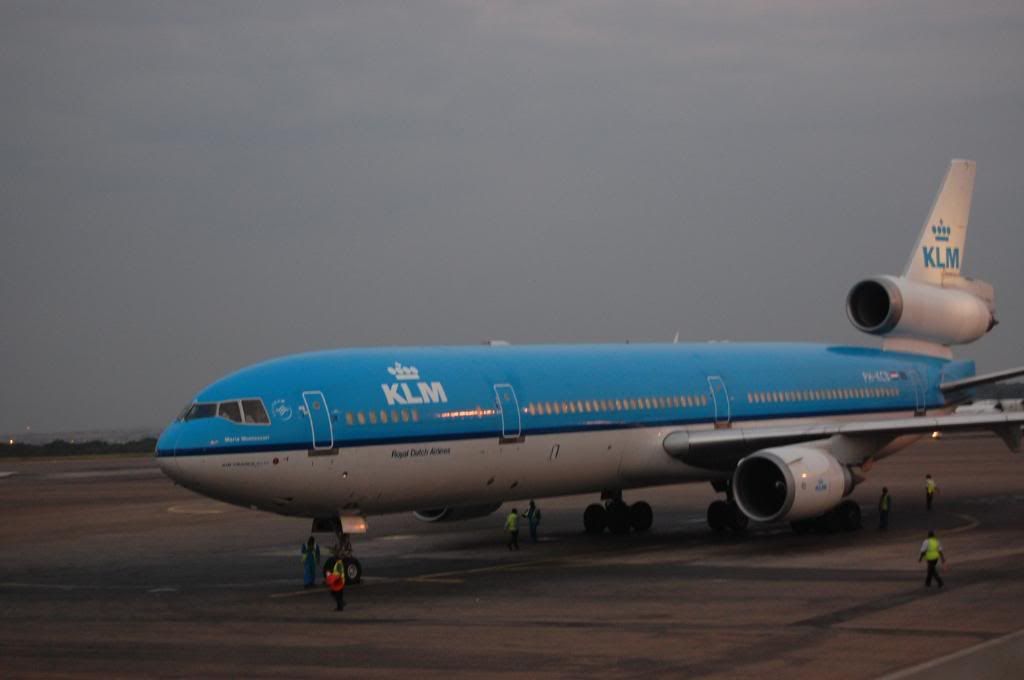 PH-KCB just arrived from AMS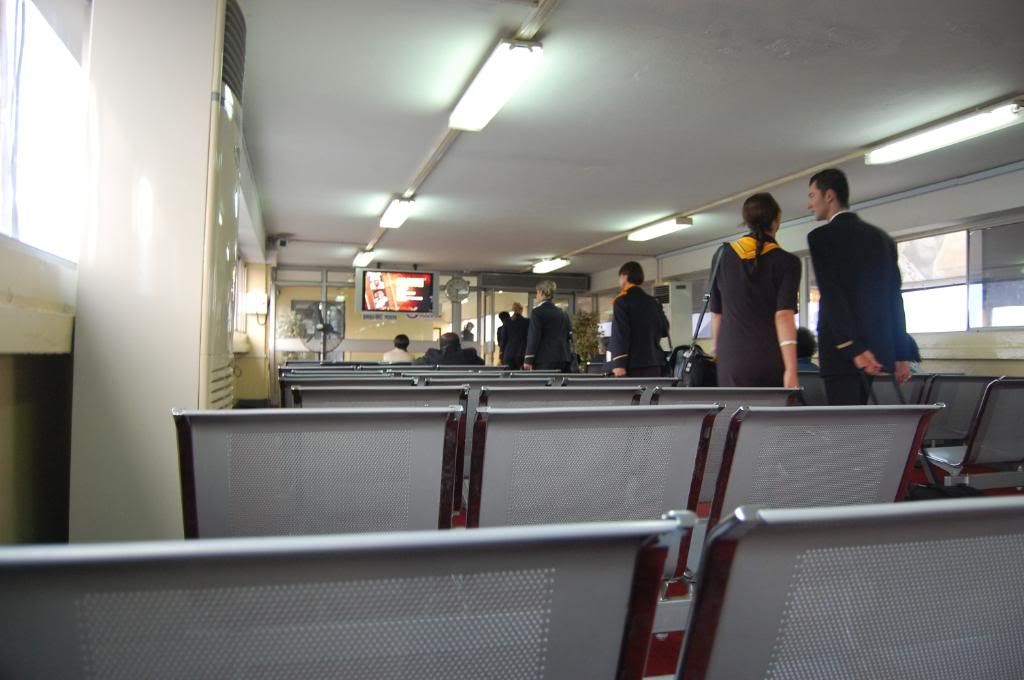 LH flight deck and cabin crew heading for the plane
Boarding began a little before 18:30. From the gate (departure wing) you walk down a flight a step and board a bus for a less than 10 sec hop to the aircraft (again it would've been faster to walk)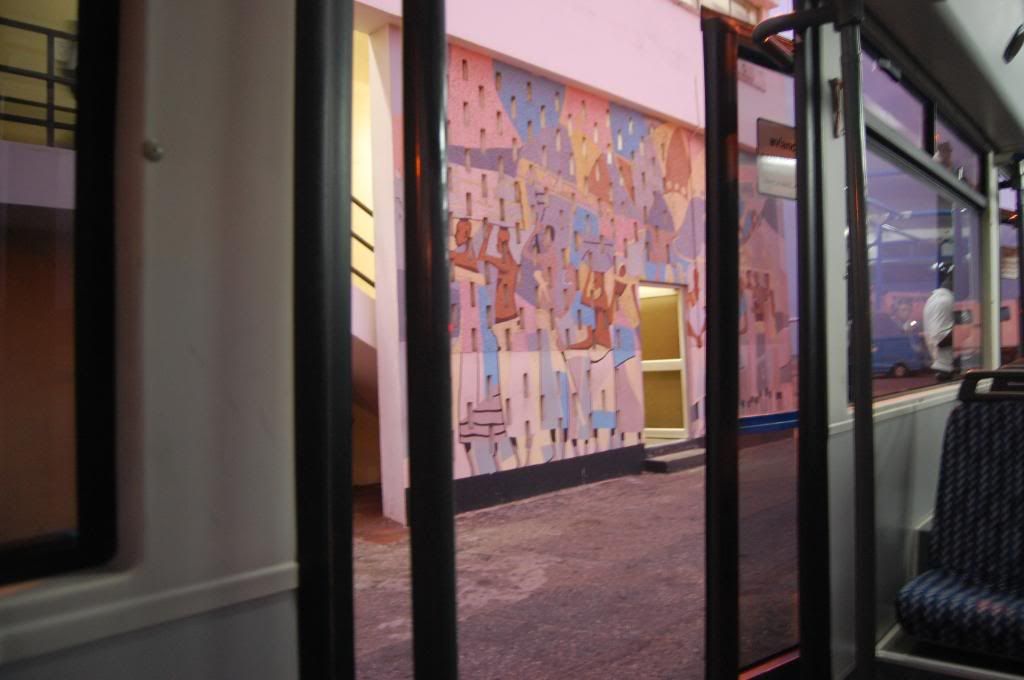 On the bus waiting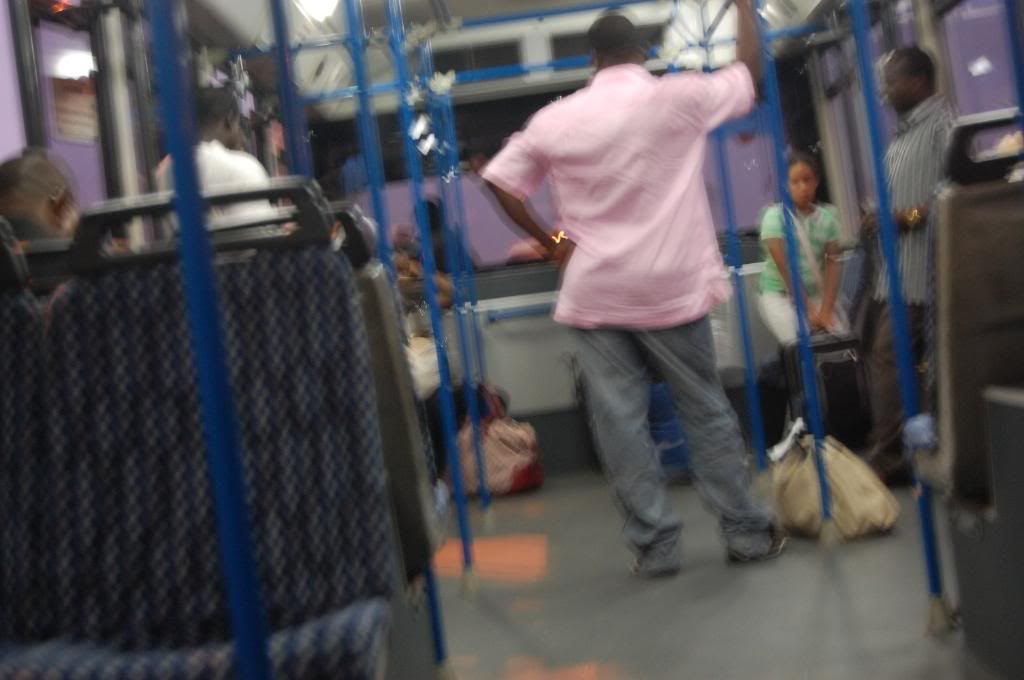 Finally moving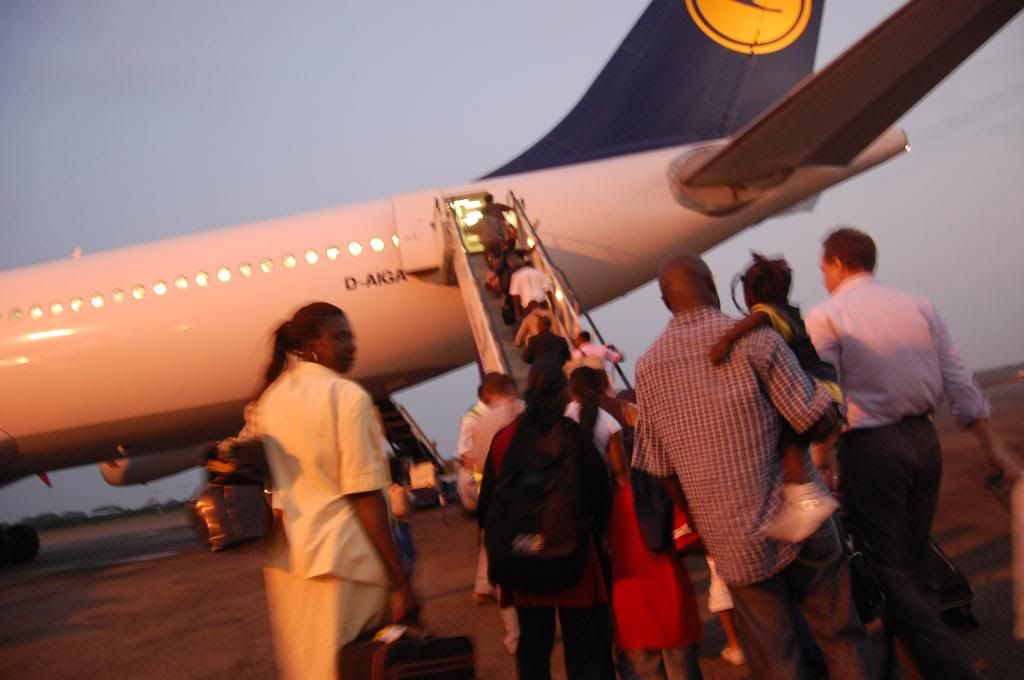 Last one off the bus waiting to board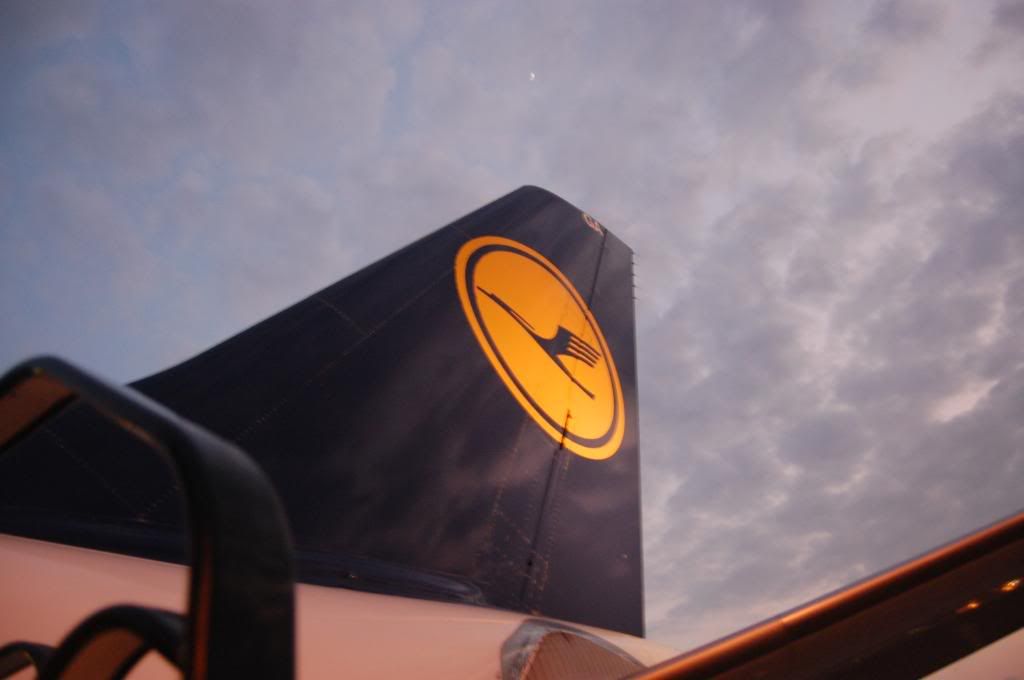 D-AIGA, what can I say, I love tail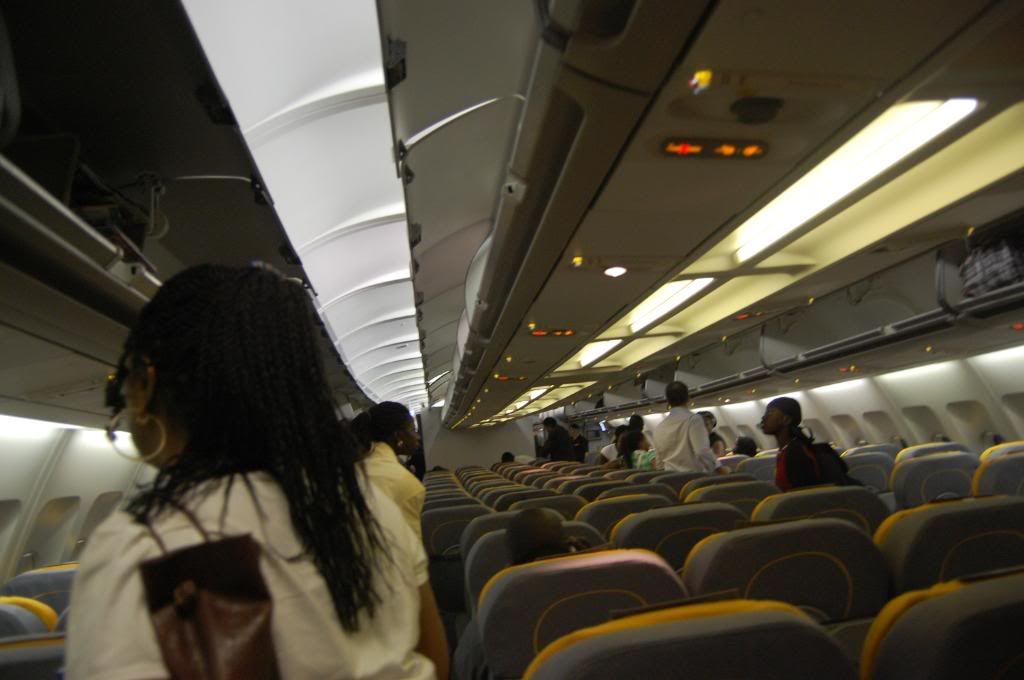 Welcome aboard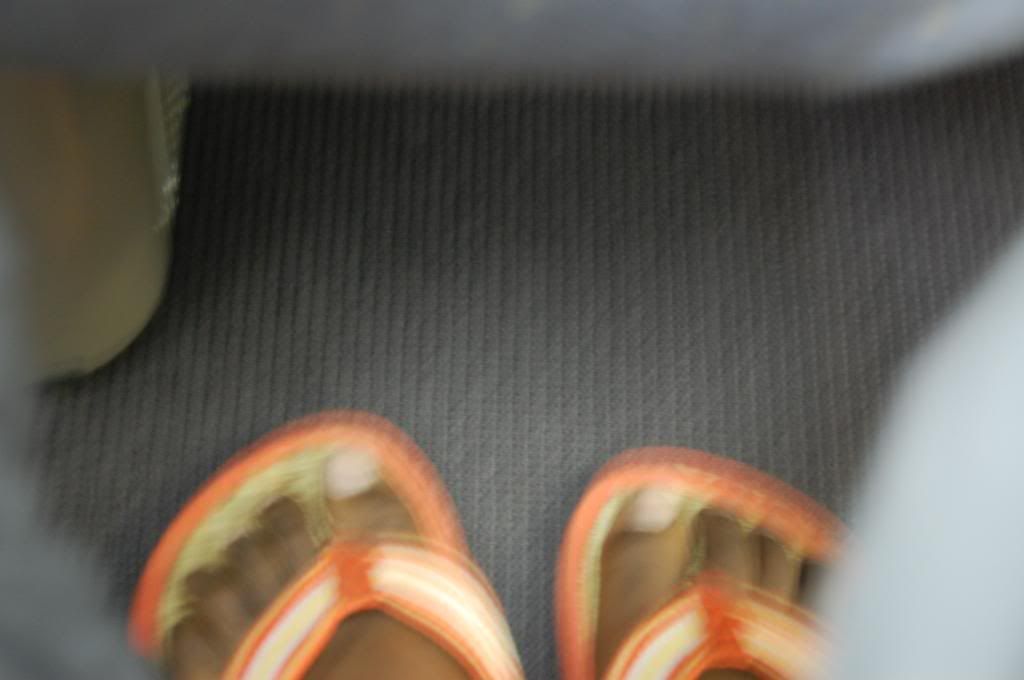 So Spacious  
There were less than 40 passengers who boarded the flight (most of the passengers got on at Lagos) so the process was pretty quick. By the time we were ready to taxi out to Rwy 21, night had fallen in Accra.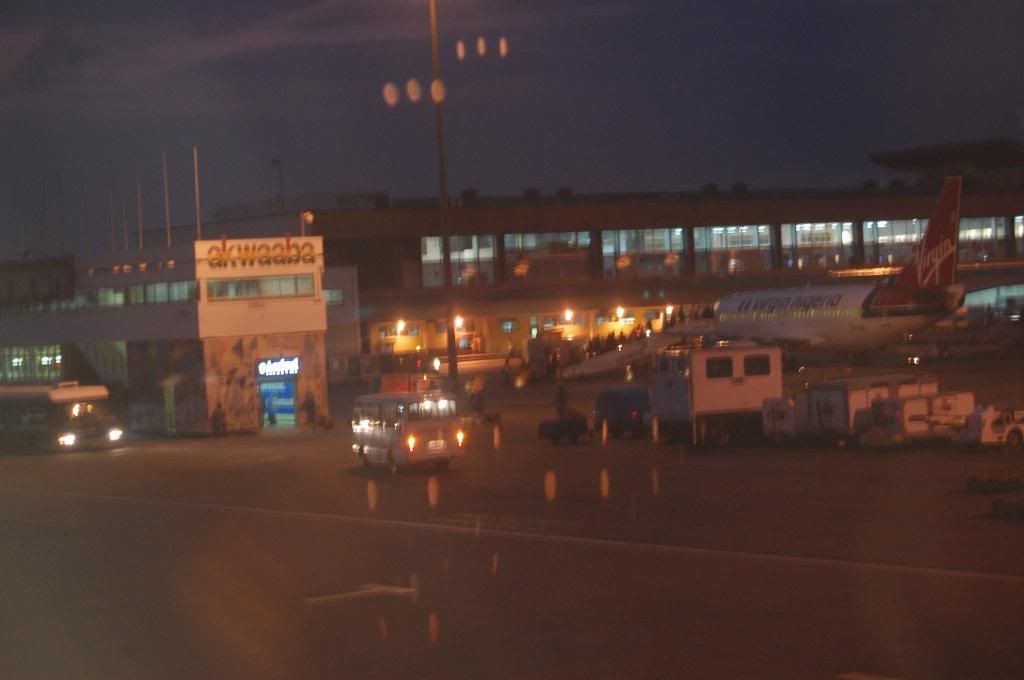 View of the arrival hall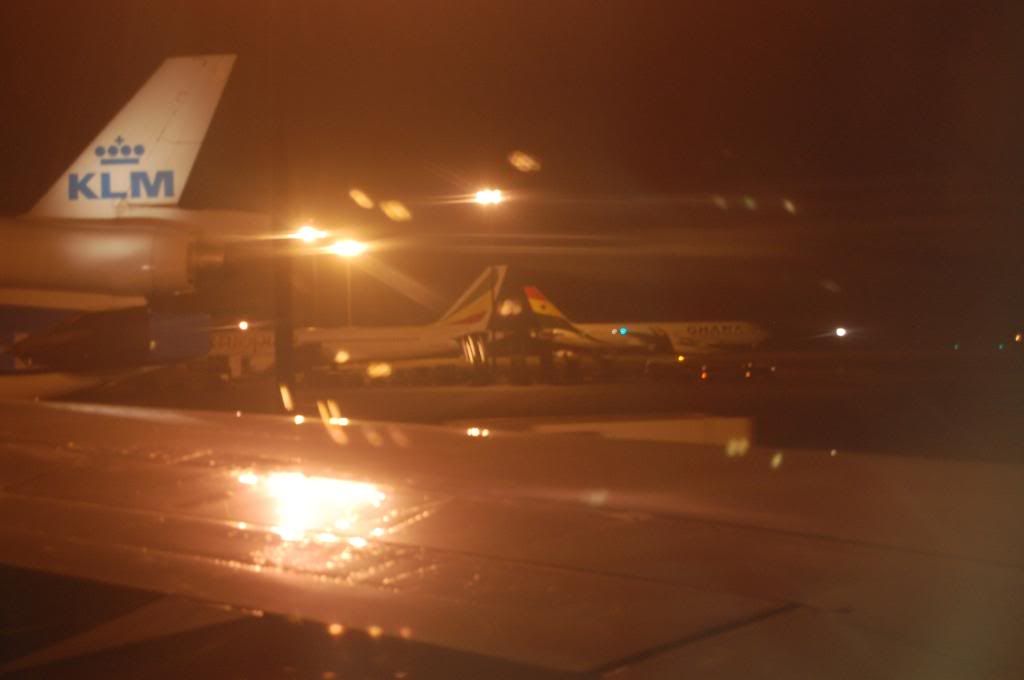 These days at ACC no two tails are ever the same
We taxied out to Rwy 21 and took off heading directly south towards the Atlantic ocean and once we were along the coastline turned left towards the east for the 47 minute hop to Lagos. Limited drink service (non-alcoholic) was offered through the cabin.
We landed in Lagos around 21:00 and stayed for about an hour.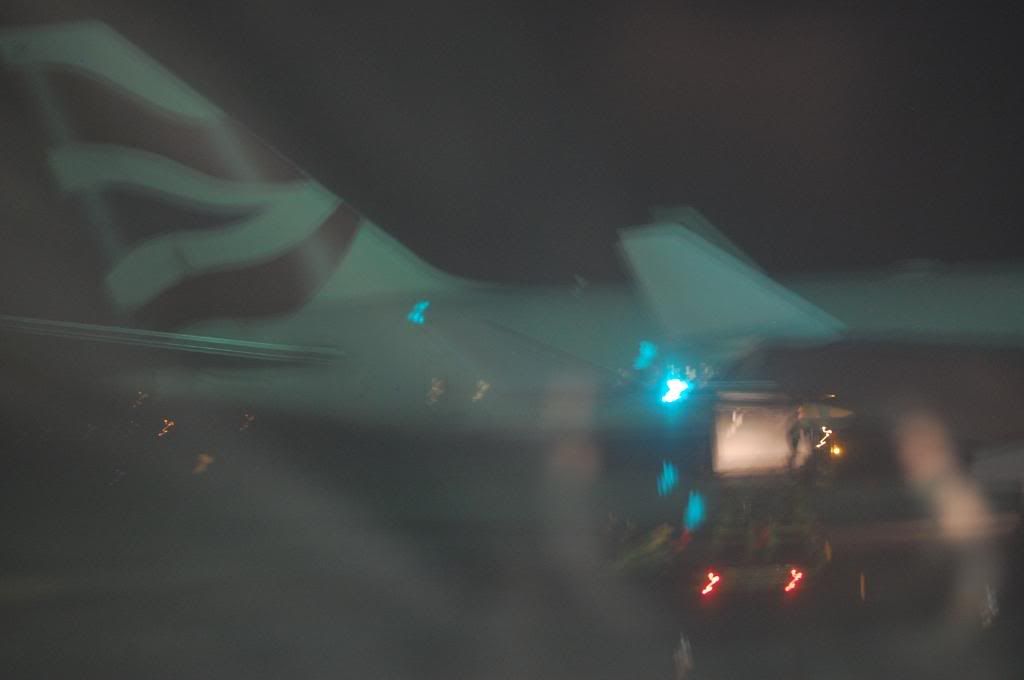 A BA 744 preparing for the flight back to LHR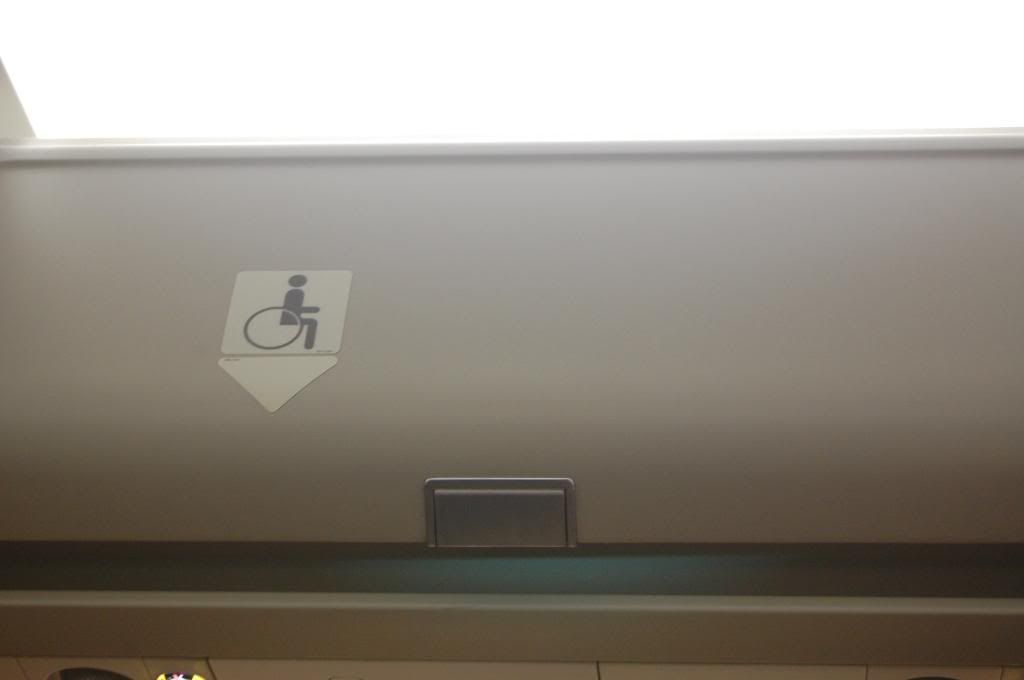 First time I've noticed designated handicap seating on a plane
I didn't have a seatmate for the hop to Accra, but was pretty certain that would change once passengers boarded in Lagos. In no time my seatmate took the aisle seat next to me. I said hello and he replied, "looks like I stuck with you for the next couple of hours" I just nodded and went back to reading my book (more about him later).
After everyone was situated and we were ready for departure, we taxied out to Rwy 19R. Interestingly, the safety video was started late into the taxi, so as we went airborne it played for another few minutes, that was a first!
About an hour into the flight, meal service began with a choice of chicken with pasta or beef and rice. I chose the beef and rice.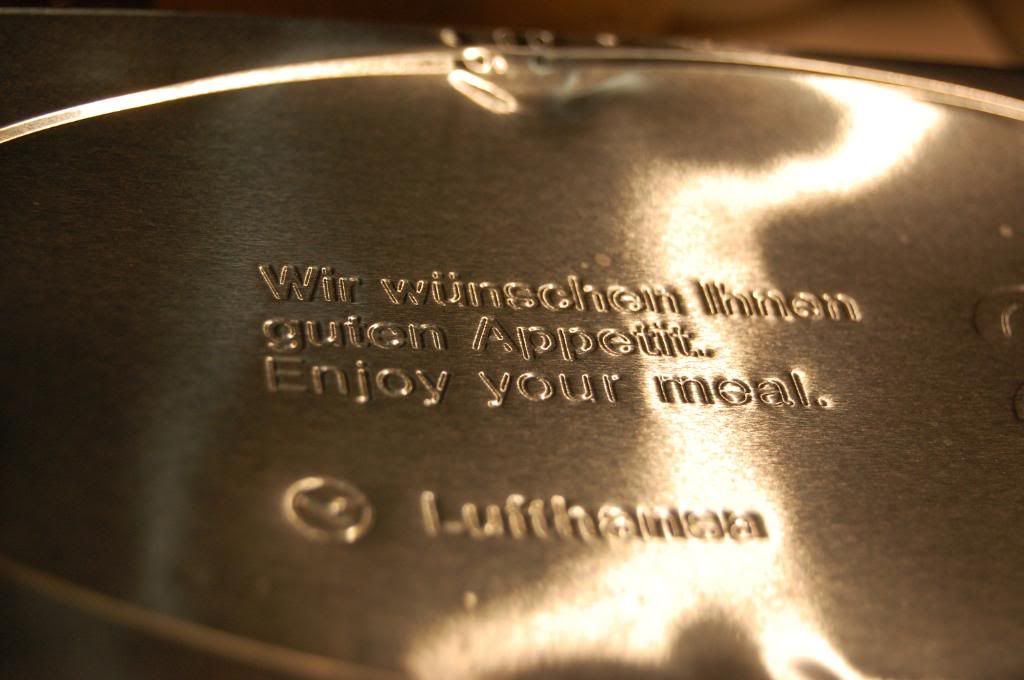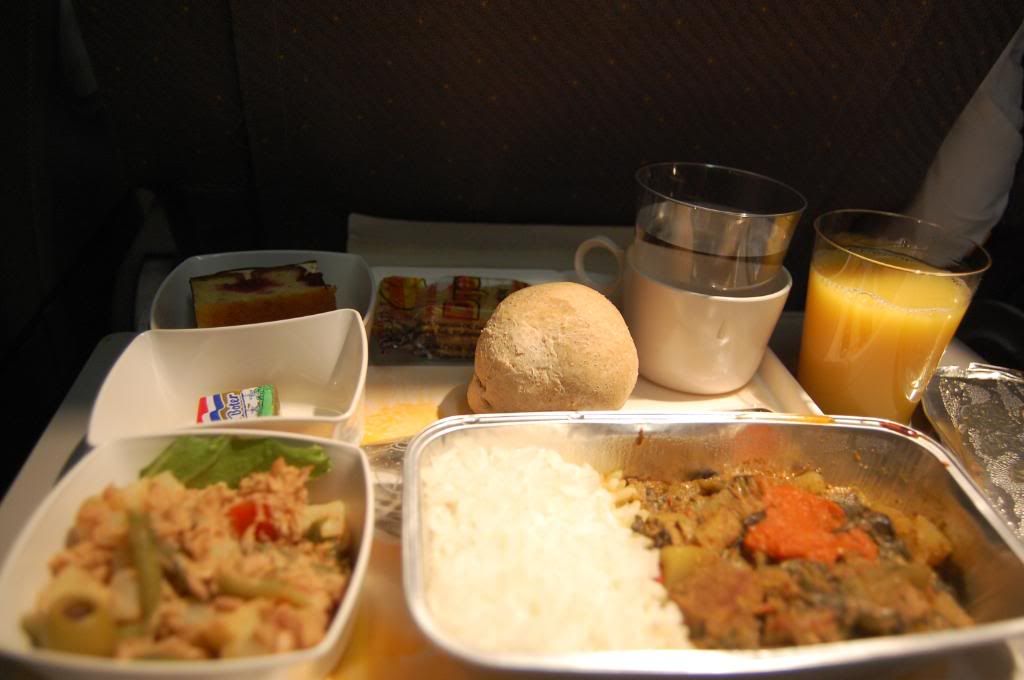 Amazing plane food!
Now I usually don't go for airline food, I even had some cream crackers with me that I had enjoyed during the flight to Lagos but something came over me and I actually decided to taste it and ended up eating the entire meal save the roll, pasta salad, and desert. My hats went off to Lufthansa and First Catering in Accra for this excellent meal. It tasted so good, it was an African style beef combined with spinach with a hint of curry and other spices that provided the perfect amount of heat on the palette. The rice was not undercooked or overcooked, absolute perfection.
A Thing look-a-like encroached my area
Soon after meal service (service was very slow as the trays sat at the seat for 45 minutes after I was finished eating before being collected, and I am a slow eater), the guy in front me decided to recline his seat and stretch his hand back over the seat. I was seriously contemplating holding on to my knife just it case it decided to attack…LOL
Not too long afterwards my seatmate started to snore but this was not just a typical snoring this was the:
I sleep with my mouth open so I release my swamp breath into the air and snore too
. Looks like I was the one who "lucked" out being stuck next to him. I essentially covered my nose and mouth and read for the rest of the flight.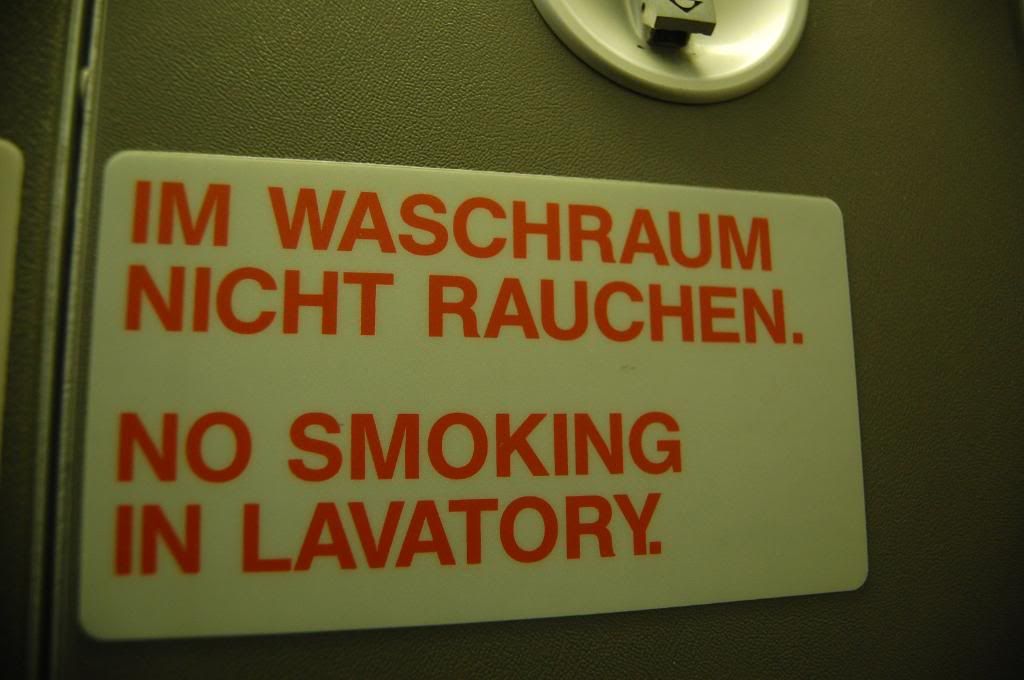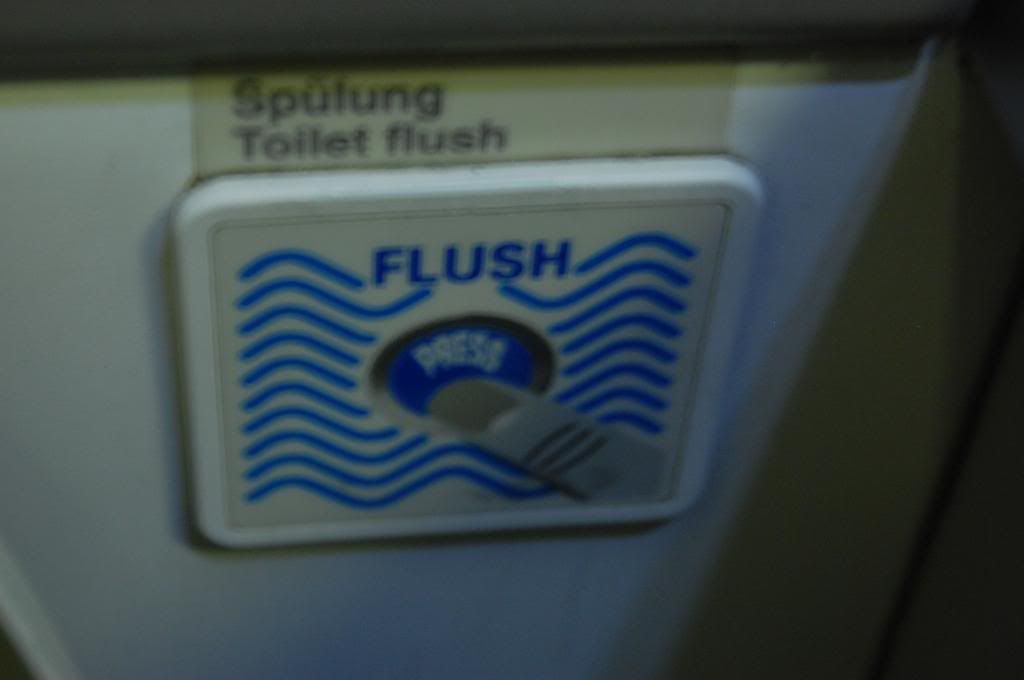 Various lavatory signages
About 90 minutes before landing in Frankfurt breakfast was served:
A spinach croissant, fruit cup and OJ
We landed on 25R and taxied to a gate in concourse A. Getting into the terminal took a while as there was a queue departing the plane on the jet way because immigration checked passports and depending on nationality asked questions , checked visas, and/or requested to see proof of an onward connection. As I neared towards the immigration officials, one of them caught a glimpse of my passport and waved me right through.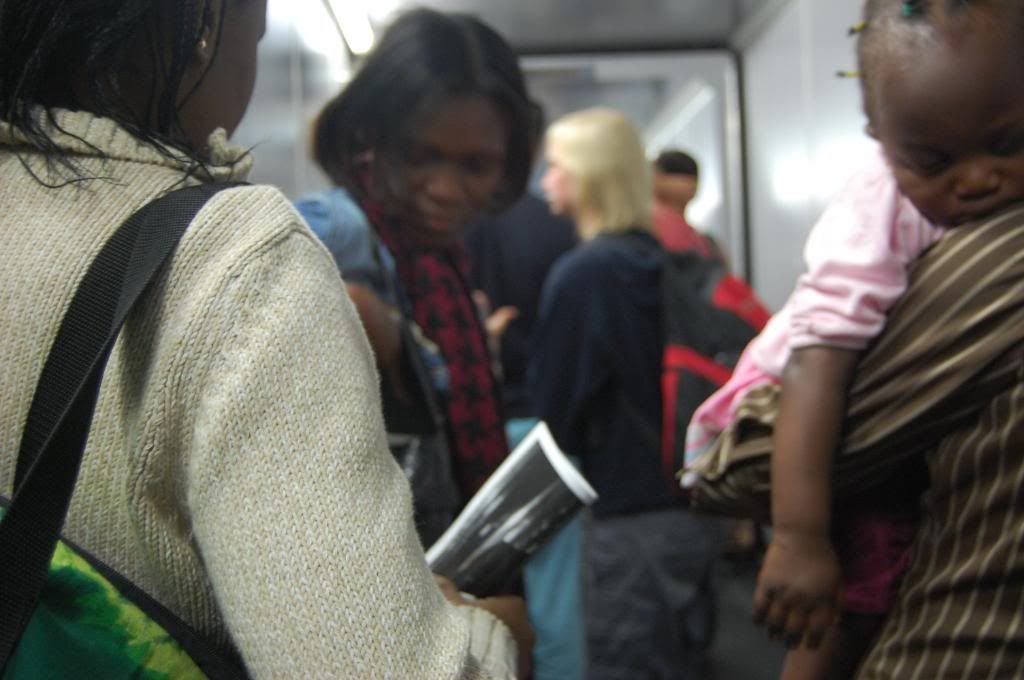 The queue in the jet way
b]Route:[/b] Frankfurt Main- Washington Dulles
Airline:
Lufthansa
Flight Number:
LH416
Aircraft:
Airbus A340-300
Registration:
D-AIFB
Seat:
39A (Assigned) 37A (Actual) (Economy)
Date:
Monday August 20th, 2007
I had about 4 hours to kill so I decided to walk around the concourse a bit before heading over to concourse B where my connecting flight to Washington Dulles departed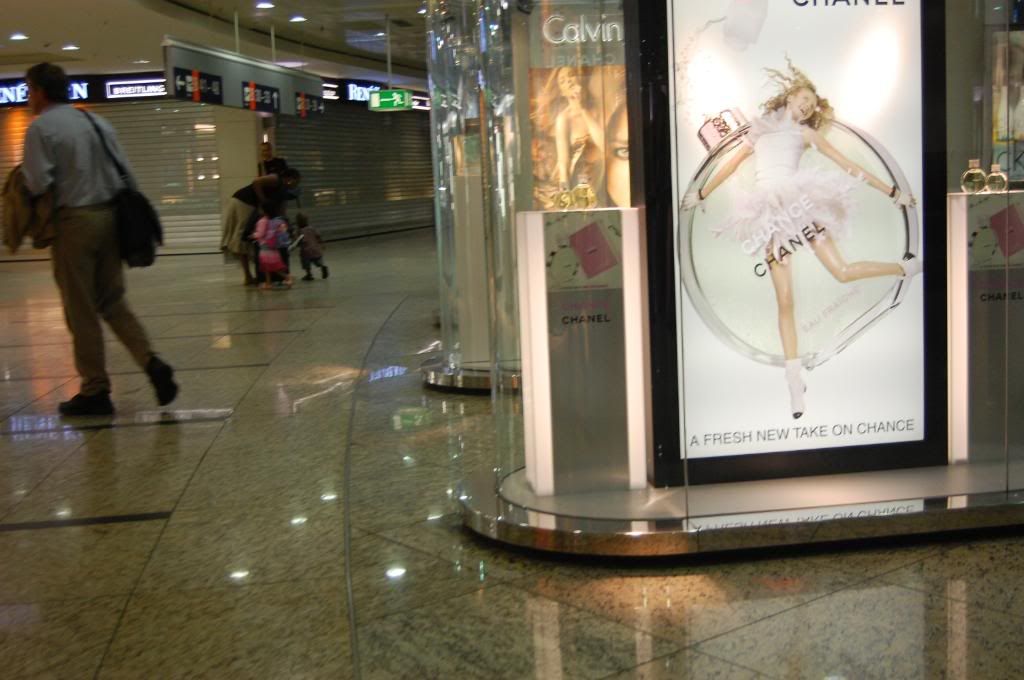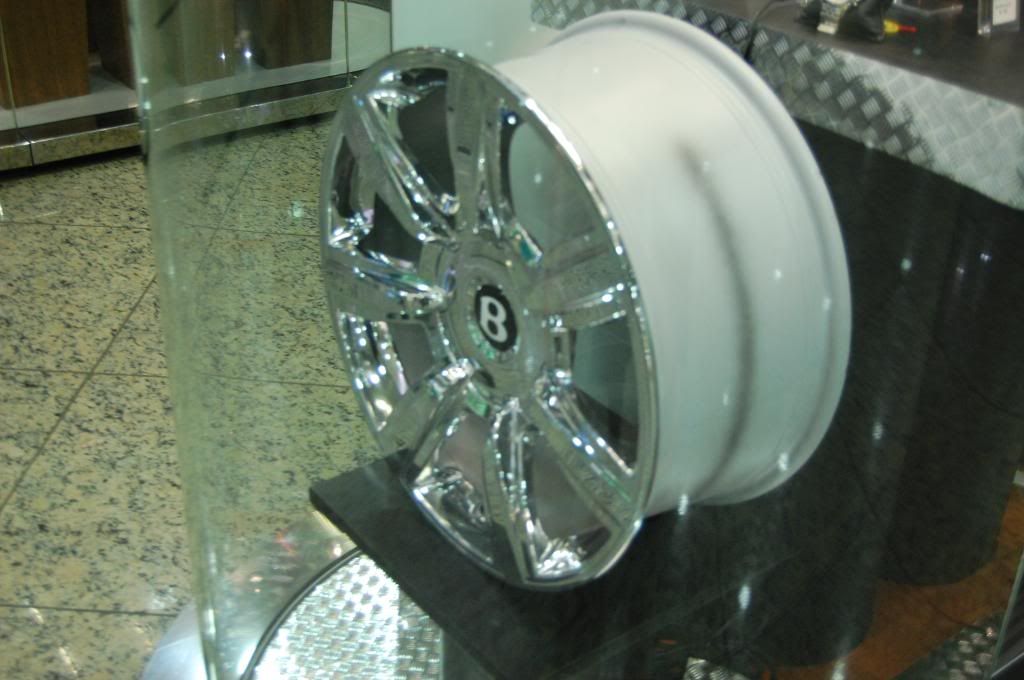 Concourse A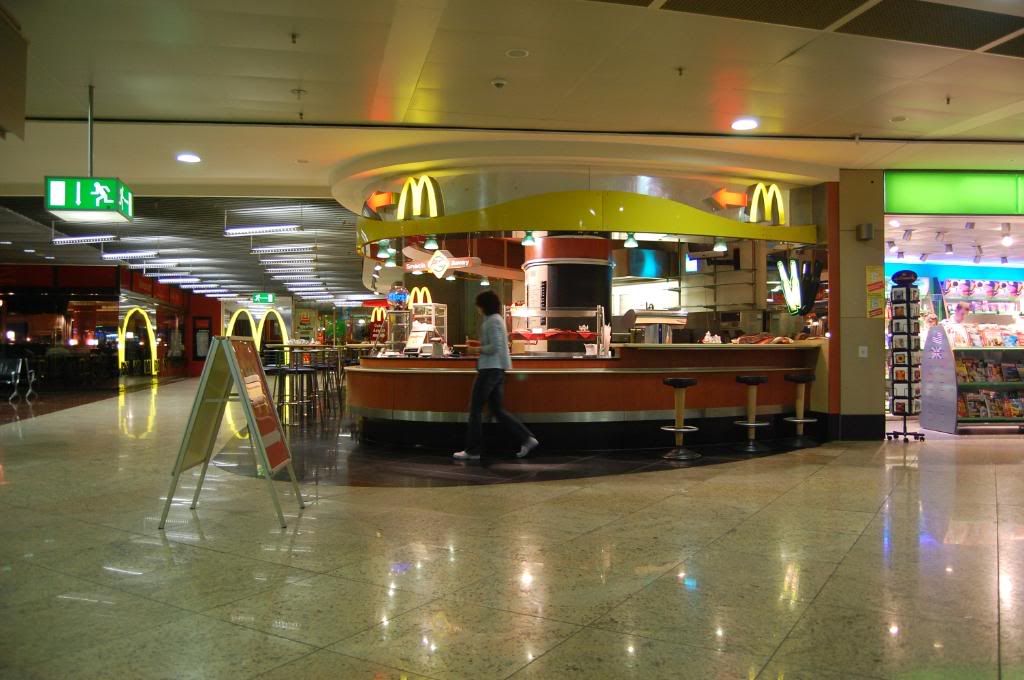 Just say no to fast food
Gotta love Europe and their love for smoking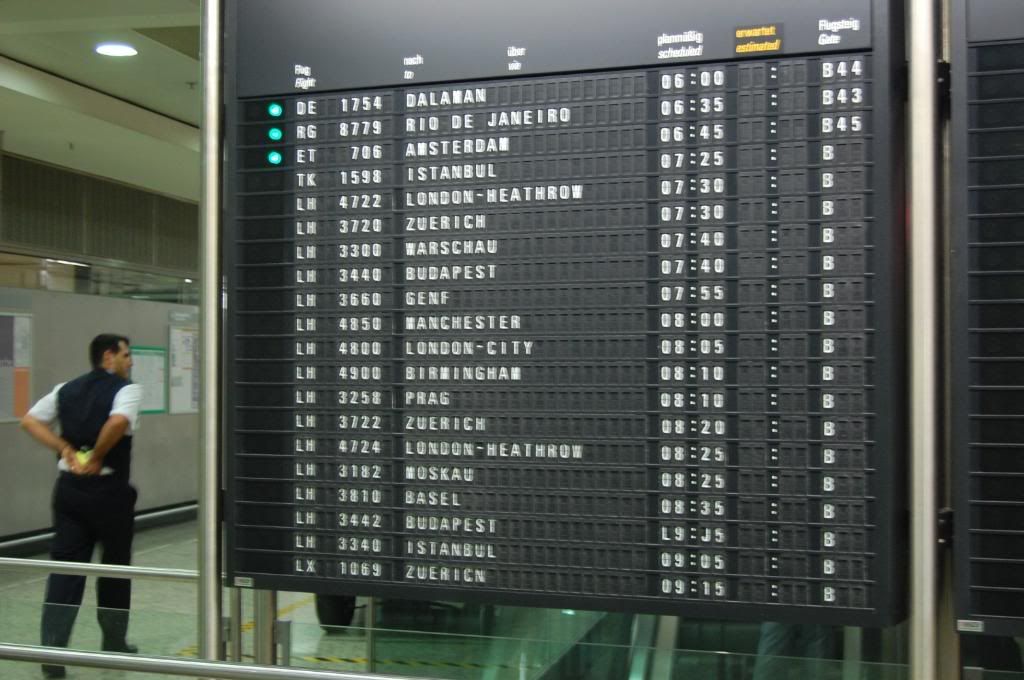 Mechanical information board
I purchased some stuff from the duty free shop (chocolates and liquor) and walked around a little bit before making my way to the train.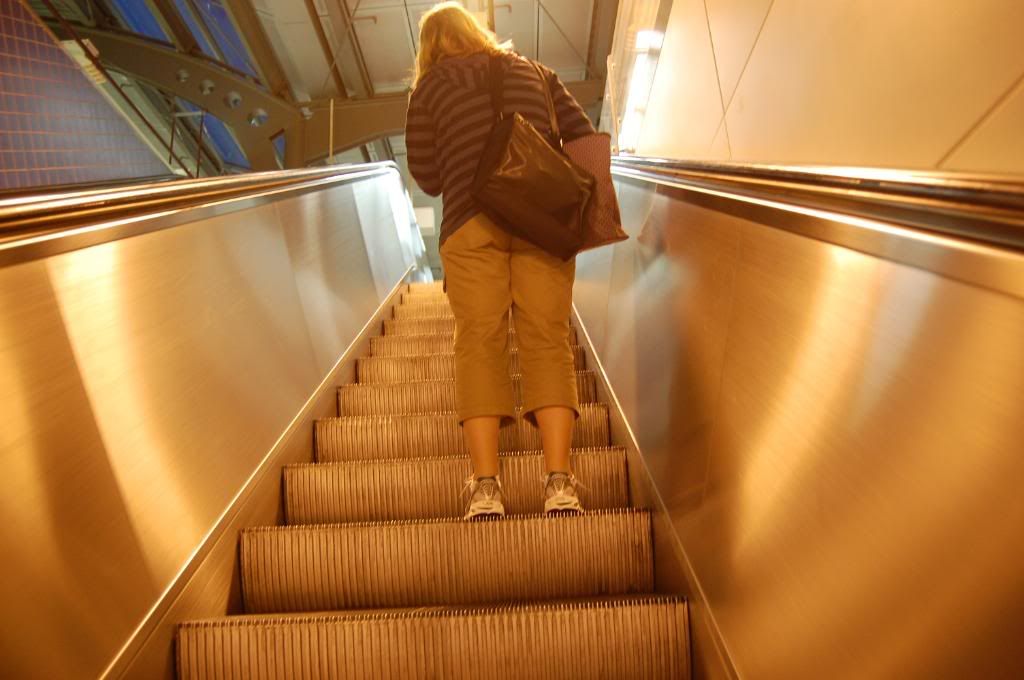 Going up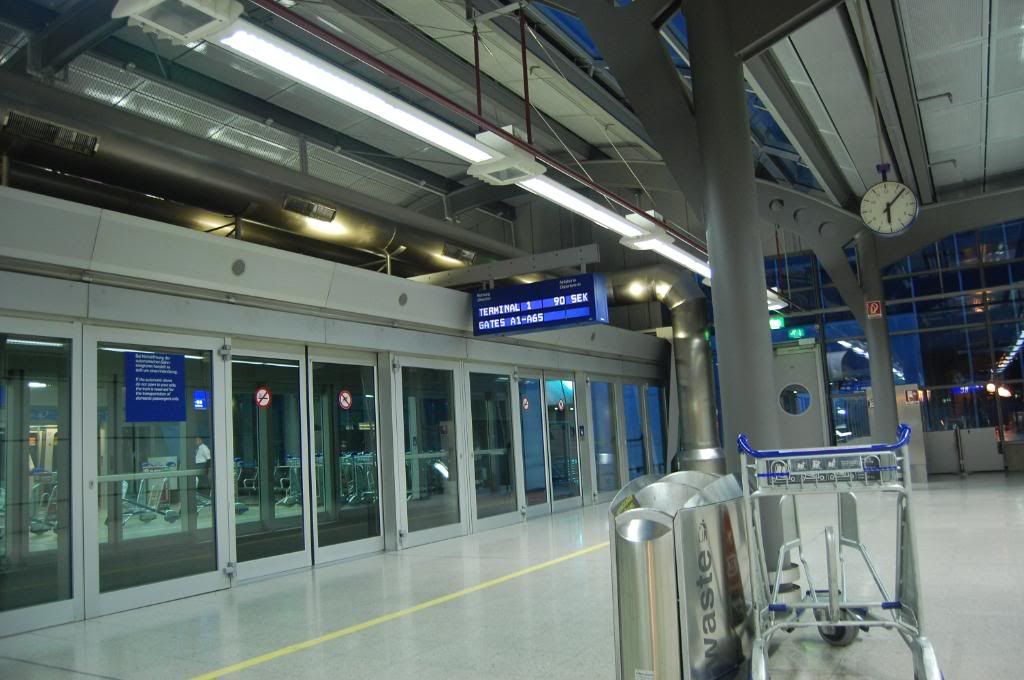 Waiting for the train
When I arrived at concourse B, for whatever reason the stairs/escalator leading down to the concourse had been closed off so the only other option was to use the single elevator that everybody was trying to get on. It took at while, with people coming and going from/to the concourse but at this point the jet lag was starting to kick in so I really didn't care, all I wanted was a cappuccino. After finishing my breakfast at a café I went to the gate where the flight would depart and it was pretty empty and quiet so I pulled out my book and read. About 50 minutes later I was approached by an airport staff member who said that they were clearing the entire area of the concourse where the gates were (doing a sweep of passengers) and that all passengers would have to go back out and go through security. I gathered my belongings and headed back the way I came only to find a long line of people waiting to go through security and re-enter the gate area.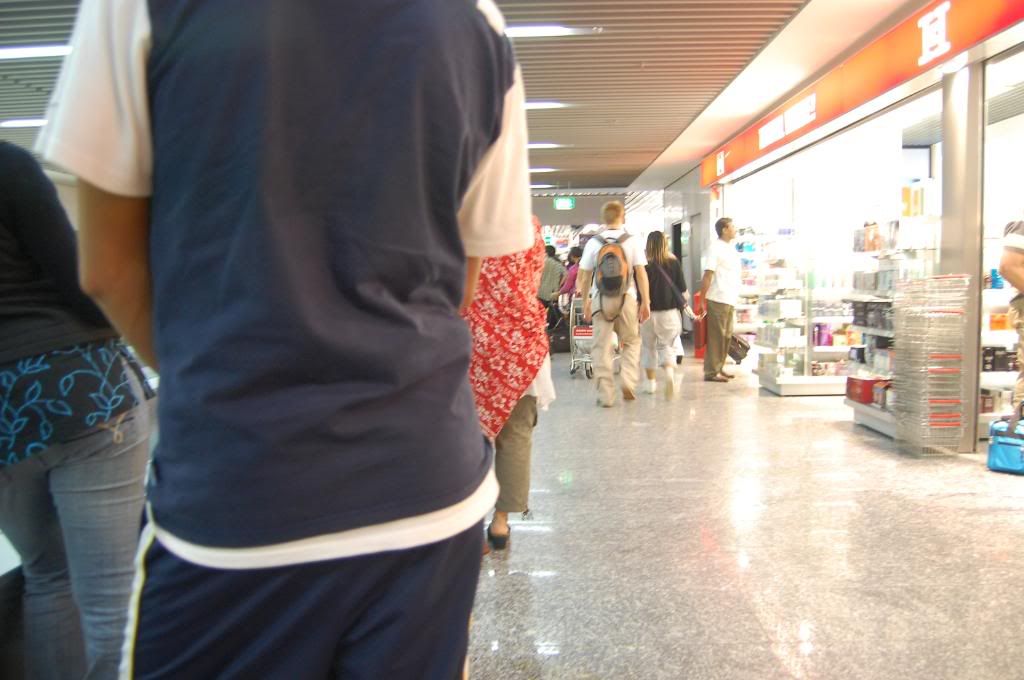 Waiting in a long line to re-enter the gate area through security
Gate A62 area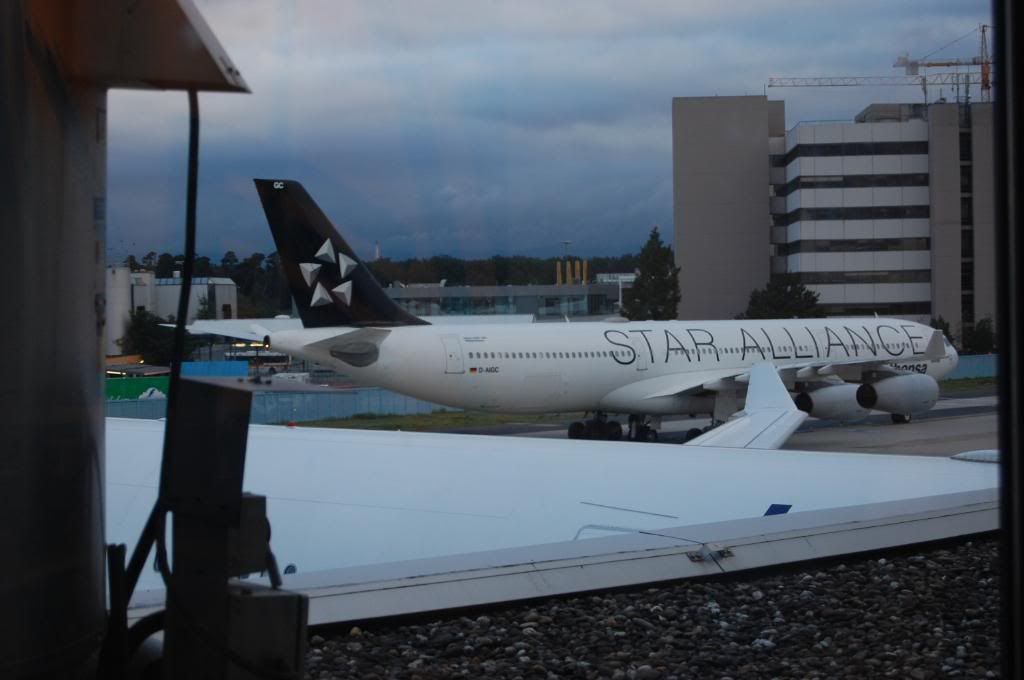 D-AIGC in the Star Alliance livery
Tails galore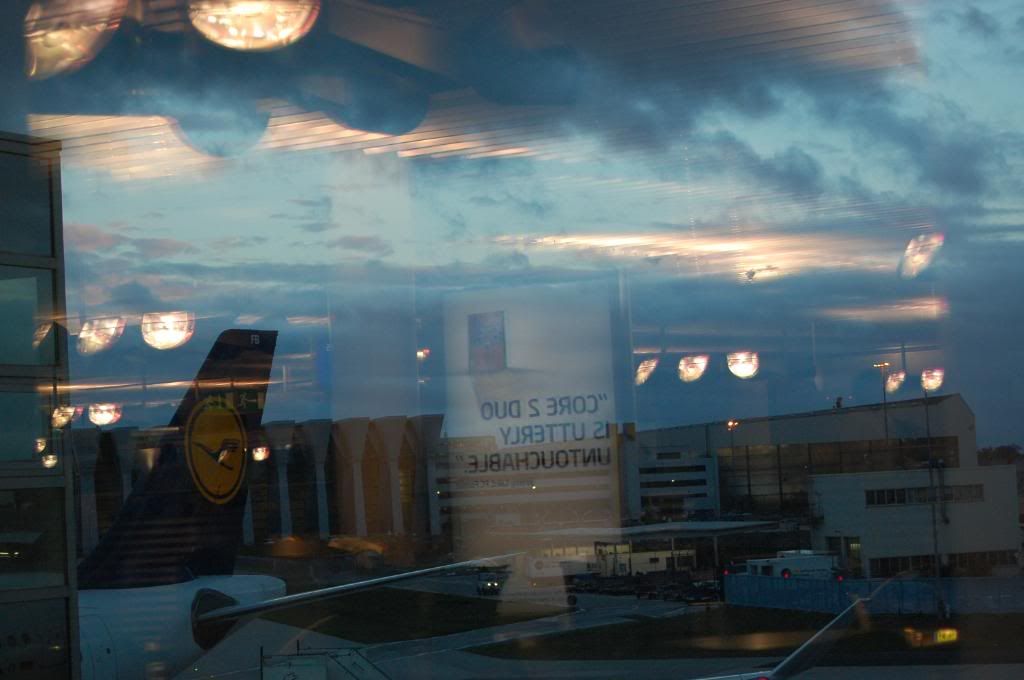 D-AIFB, my ride to IAD
Boarding began at 09:30 for a 09:55 departure. I made my way to my seat 39A (one of the last to board) only to find someone I recognize sitting in 39B. I put my backpack up in the overhead bin and excused myself to get by her and took a seat. Soon afterwards, she asked if I speak English I say yes and she explains that flying made her nervous and wanted to know if I would mind switching seats with her cousin who was sitting in 37A. I told her it was no problem and as I was gathering my stuff I said, 'I think I recognize you…..you went to Parkland, no? (my middle school)' she says oh my gosh yes and then asked what my name was and I told her…..long story short we went to school together and played in the same band. She was traveling from Greece with her family. We chatted a bit throughout the flight. As I settled in my new seat, I took a pic of the outside and this is what I saw: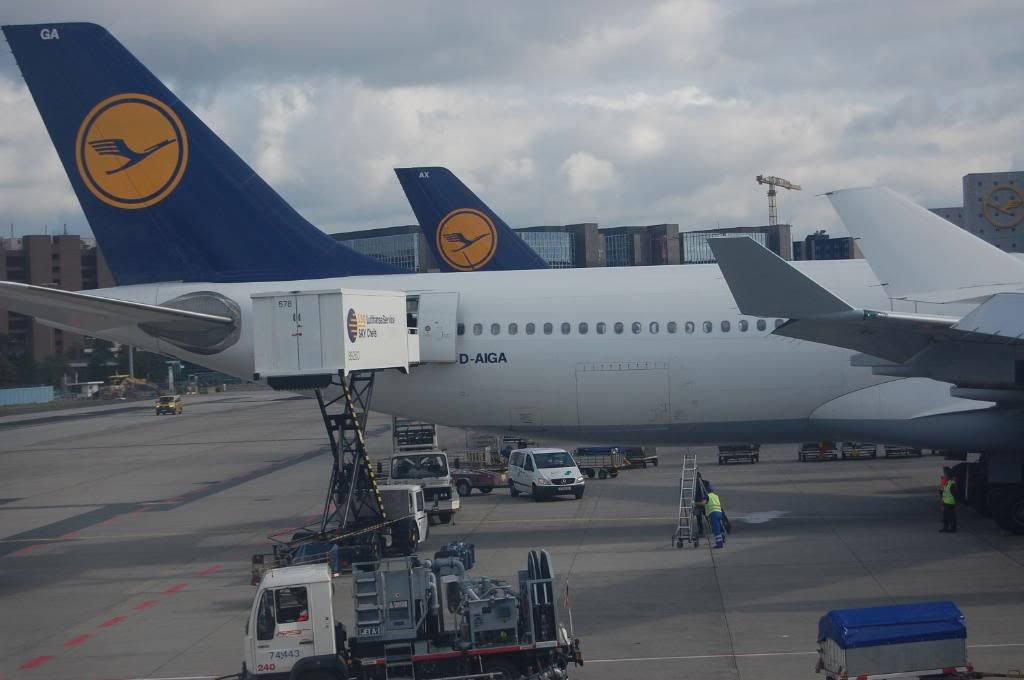 D-AIGA! Guess where it's heading???
We began our pushback around 10:15 (20 minutes late) and taxied behind an AC 777 heading back to Toronto (my second home that I miss a lot ).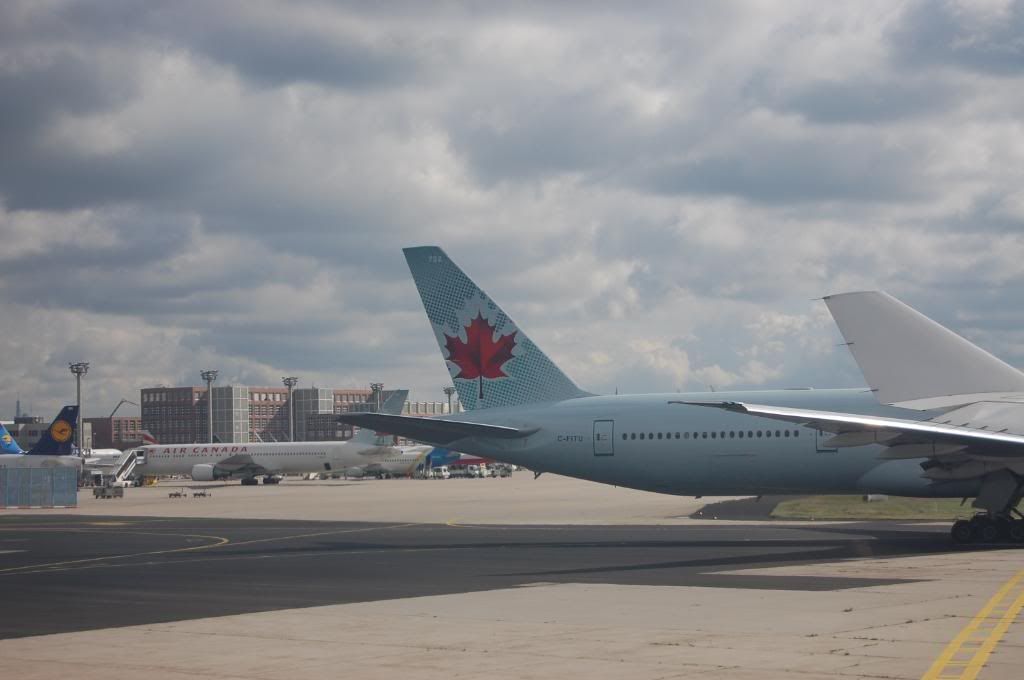 C-FITU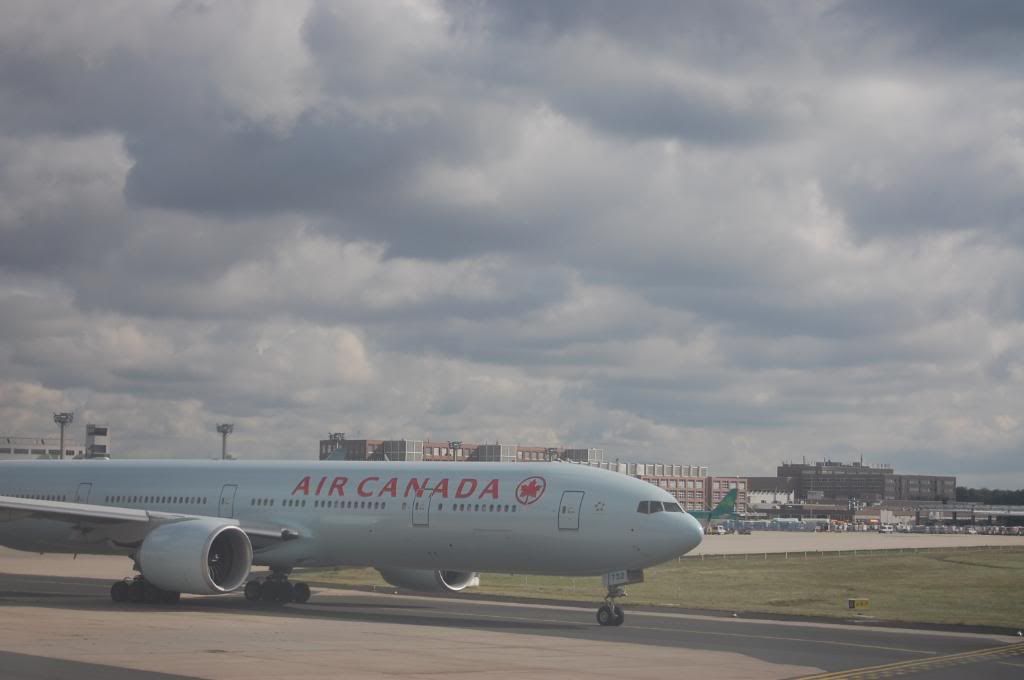 The AC livery has really grown on me, I likes
As we approached 25R the 777 taxied into the holding bay and we entered the runway and took off before them.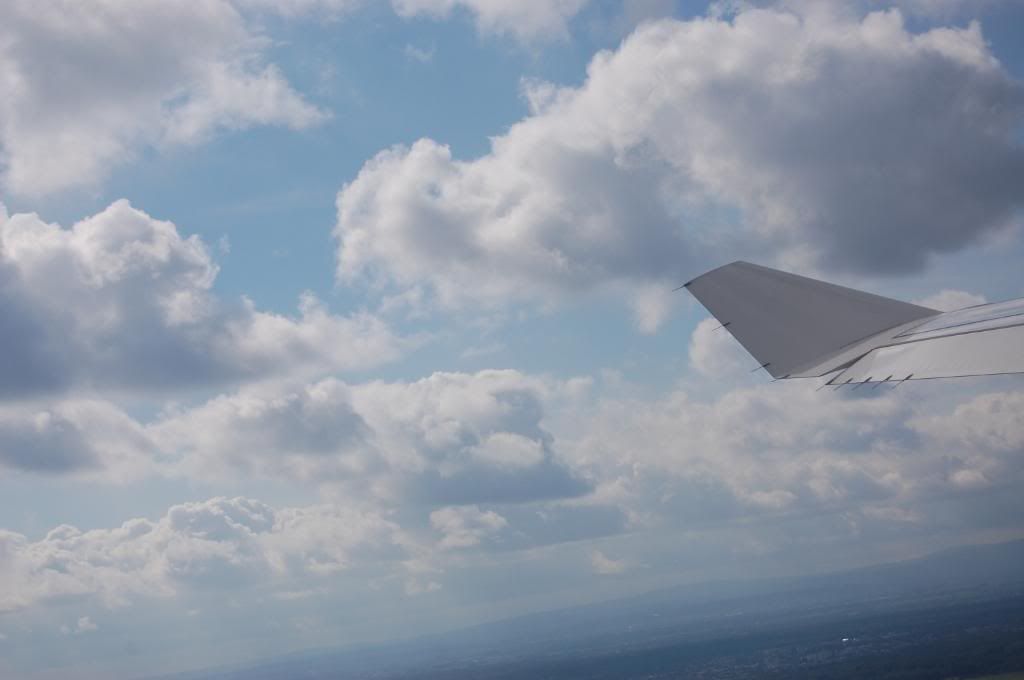 To the sky!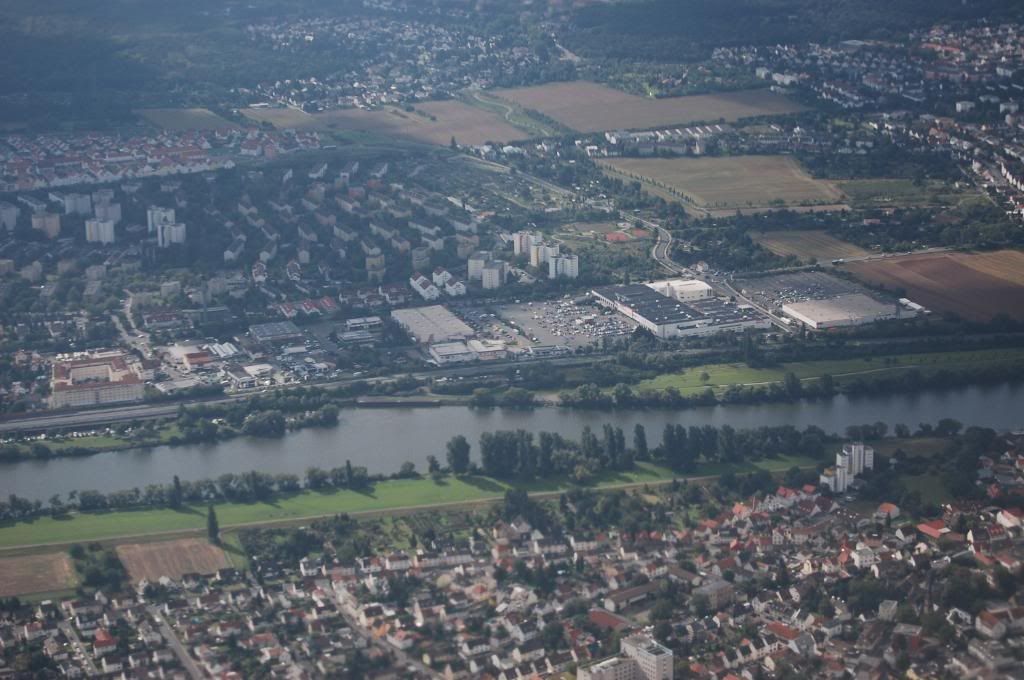 View of FRA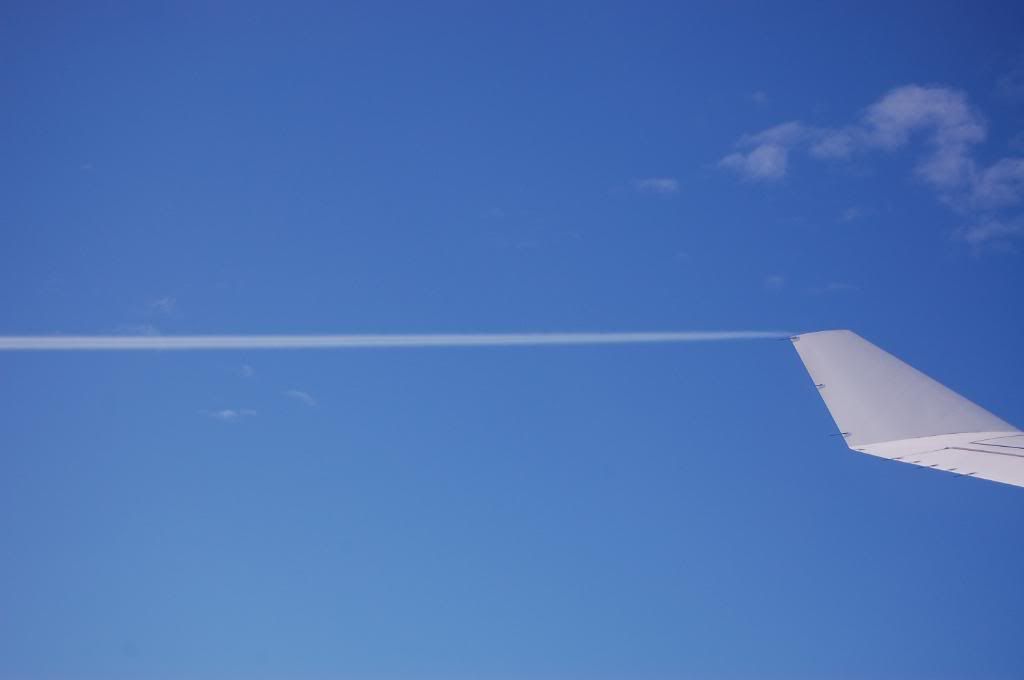 Contrail formation as a result of a wingtip vortex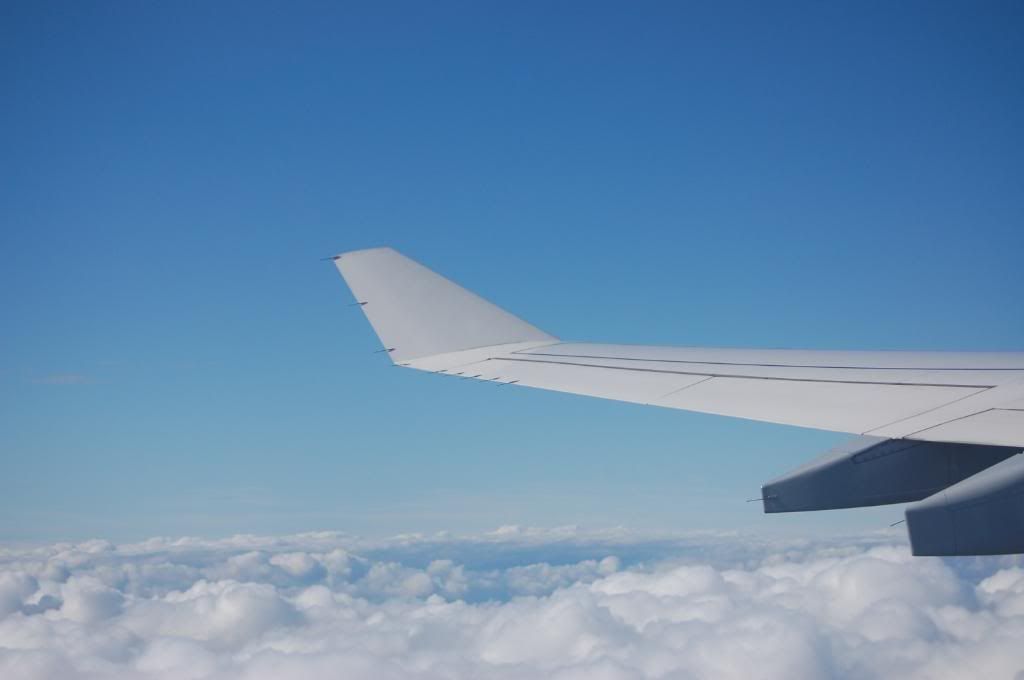 Flying high in the friendly sky
As it was 04:15 EST, I wanted to get as much shuteye as possible so this flight was pretty uneventful and the meal service was the exact same as the FRA-ACC leg. 2 out of 4 is not bad considering the last time I went to Ghana I flew with BA and 3 out of the 4 legs had the same meals.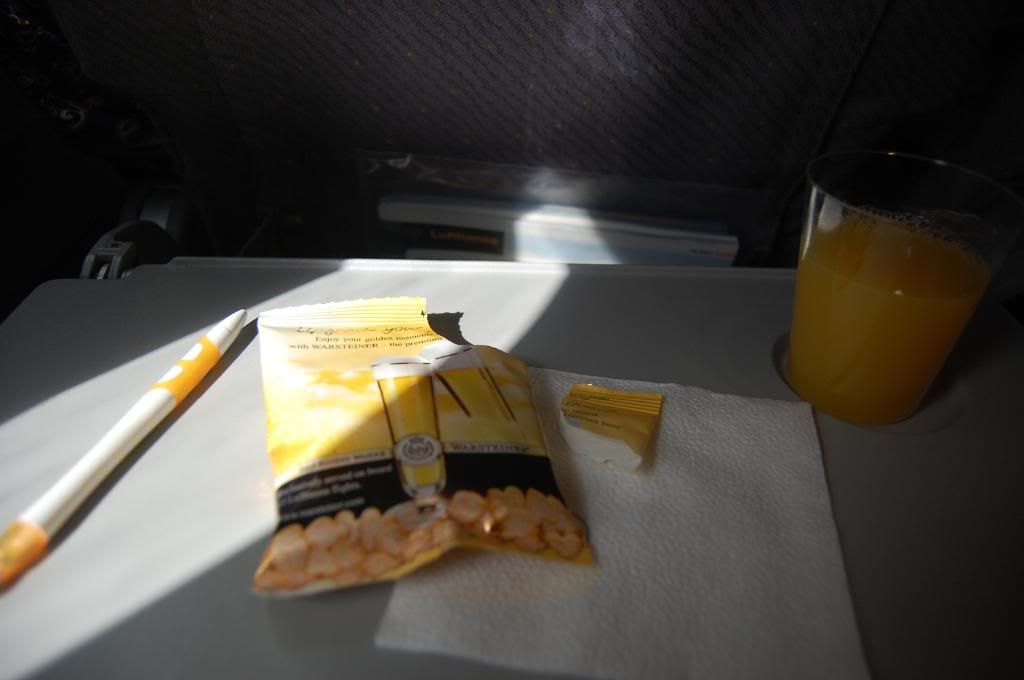 Drink service
Deja vu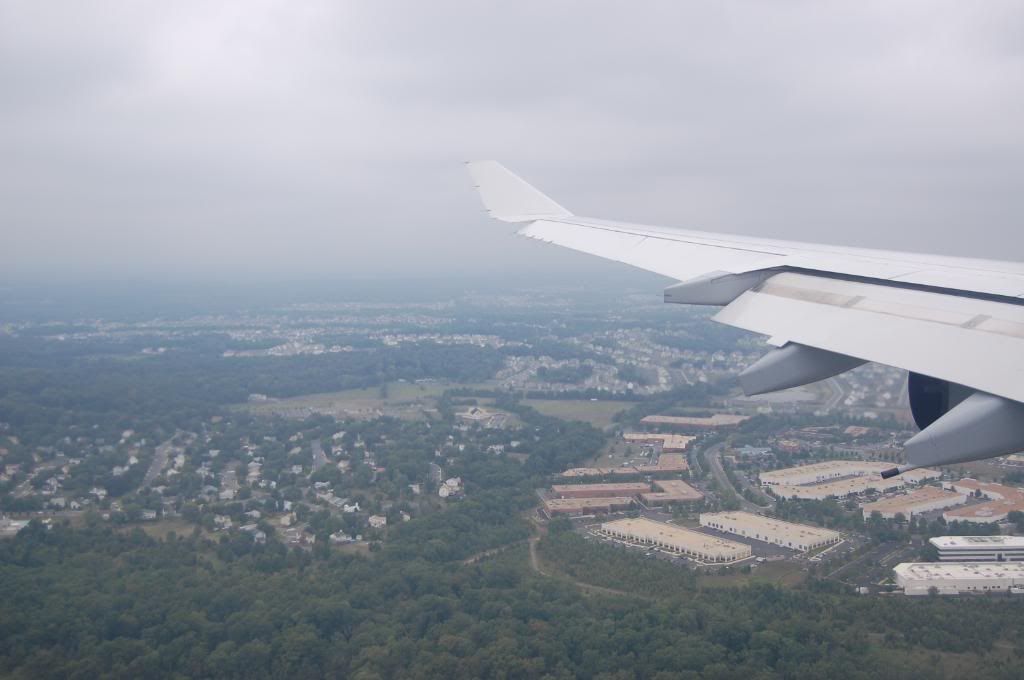 Approaching IAD from the south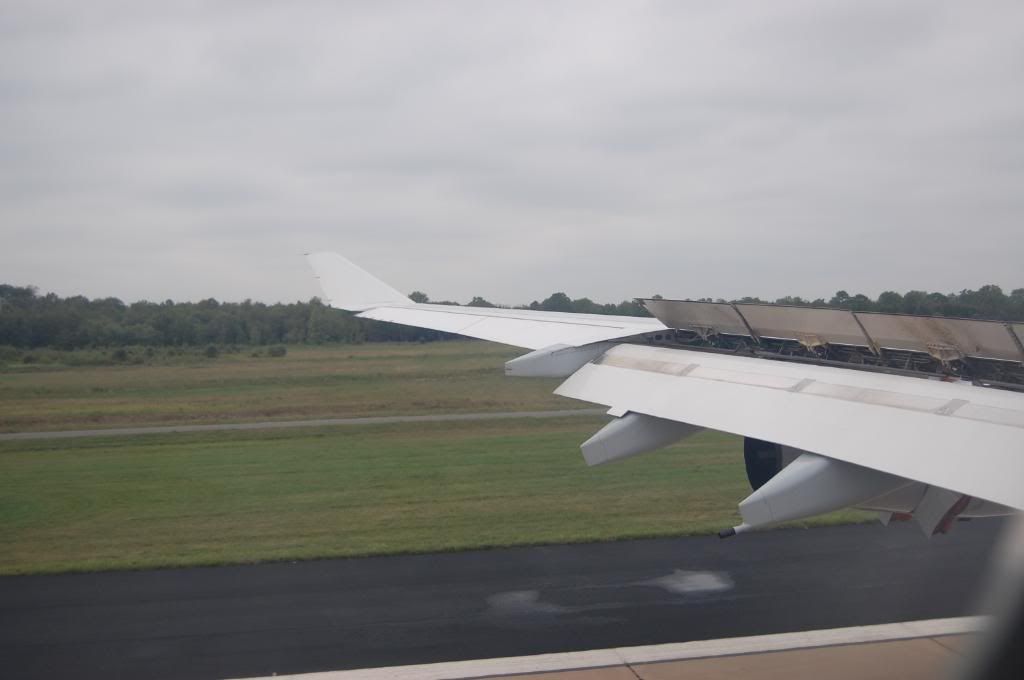 Just over the threshold
We touched downed shortly before 13:00 (15 minutes behind schedule) on 1L and taxied to concourse B.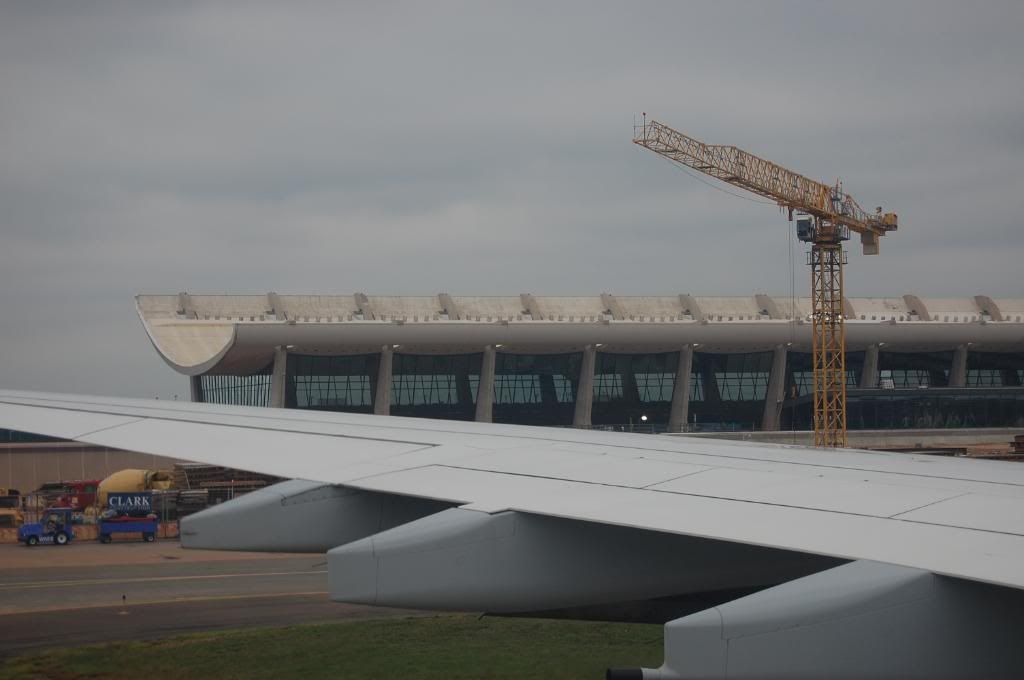 Taxiing to the gate
I was one of the last people off the plane as I decided to wait to get my carry-on a few rows back. Biggest setback ever because I ended up boarding the mobile lounge with the flight crew and that put me at the back of the line at immigration in the main terminal. Even though there was only other flight in immigration(AF28 from CDG) It took an hour and a half just to get through immigration as most of the time there was only 1 agent processing U.S. citizen arrivals…. utterly unbelievable. By the time I reached baggage claim, the few remaining bags had been off-loaded from the carousel and I just picked and went, something I have never done before in all my years of traveling. I am the one usually waiting for my bags, not the other way around.
[Edited 2007-08-31 13:27:16]
[Edited 2007-08-31 13:33:02]
[Edited 2007-08-31 13:41:59]