Recently, the airline industry in the Middle East has seen tremendous growth with a number of new airlines trying to establish themselves in a competitive market. One of the most recent additions to the airline industry is Etihad Airways. The national airline of the United Arab Emirates has made its presence known with extensive marketing techniques. The opportunity arose for me to fly them and with some hesitation, I agreed to it. For the first time in close to five years, I would be flying on an airline not associated with my main frequent flyer accounts, on a long journey. One of the airlines marketing slogans states that flying Etihad will "change the way you see the world." It was with this in mind that I embarked on a journey that proved to be memorable.
Etihad Airways 205
Mumbai – Abu Dhabi
Airbus A330-203 (A6-EYW)
Seat: 2A
Scheduled Departure Time: 23:00
Actual Departure Time: 0:15
Scheduled Arrival Time: 0:20
Actual Arrival Time: 1:30
Check In: The drive to the airport was fast thanks to the low density of traffic on this quiet Saturday evening. I said good bye to my parents and proceeded to get my bags x-rayed. The Etihad counters were pretty empty with a single person in front of me at the Pearl Class check in counter. After waiting for what seemed like an eternity, I was greeted by a friendly girl, who handed me a piece of paper with a few questions on it.
"Sir this is for all New York bound passengers. You can go ahead and fill it in the lounge and hand it to an Etihad agent at the gate." Along with my boarding pass I was also handed a lounge invitation for the common use Clipper Lounge.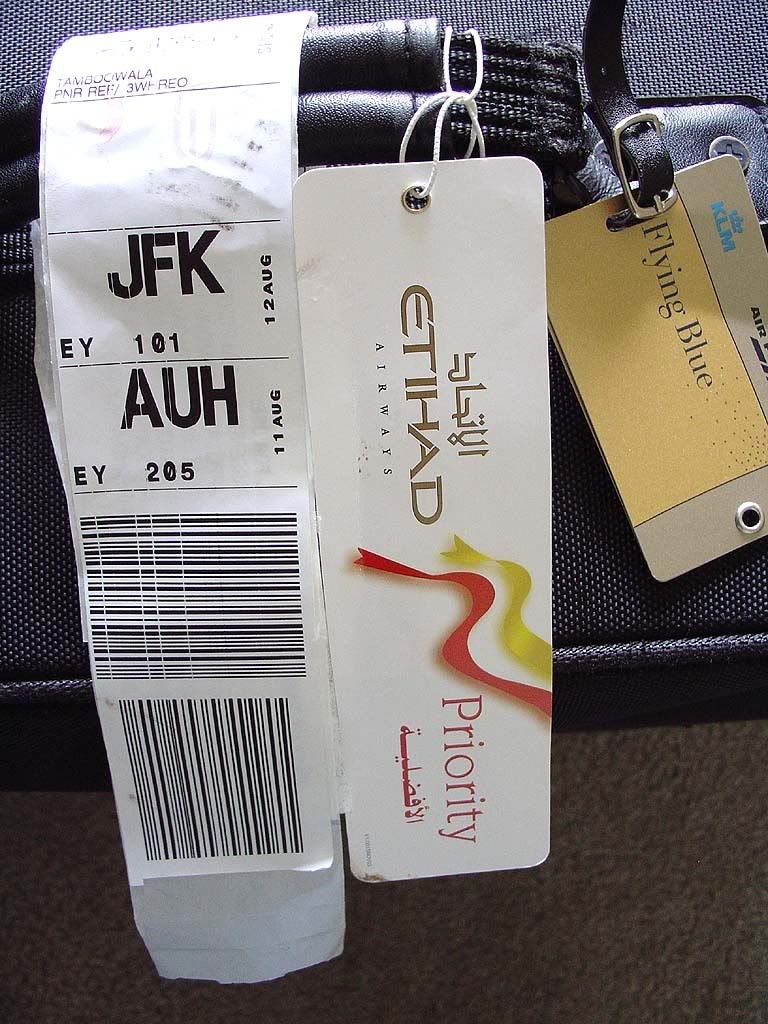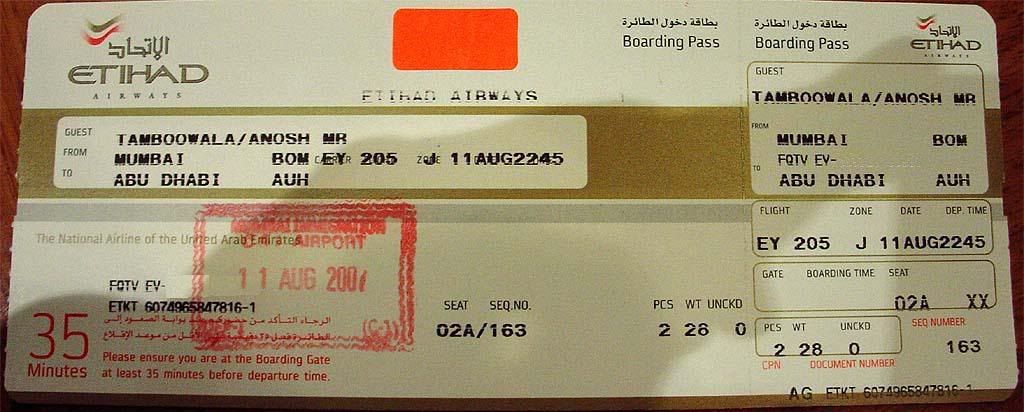 The immigration counters were deserted which meant I was through in no time. I leisurely walked down to a rather deserted Clipper Lounge and sat down next to a glass showcase full of various model airplanes. The decor in this lounge was much better than the "red room" which I had been using on my last few trips. The seats were comfortable and though the lighting was on the dark side it did not detract from the lounge.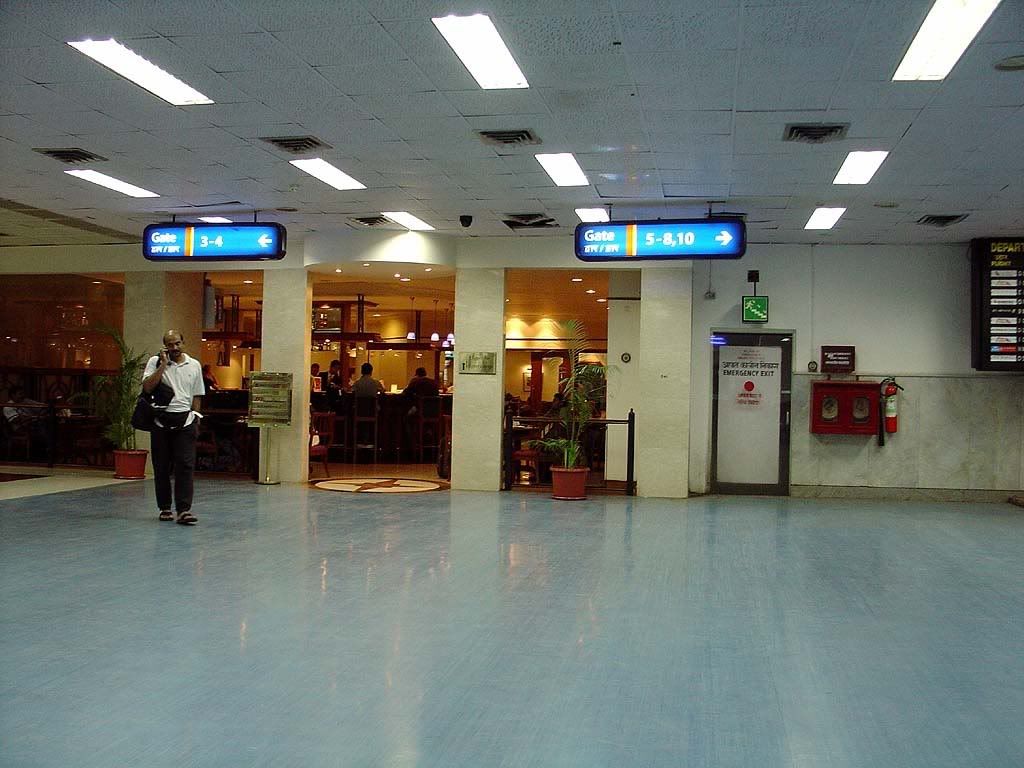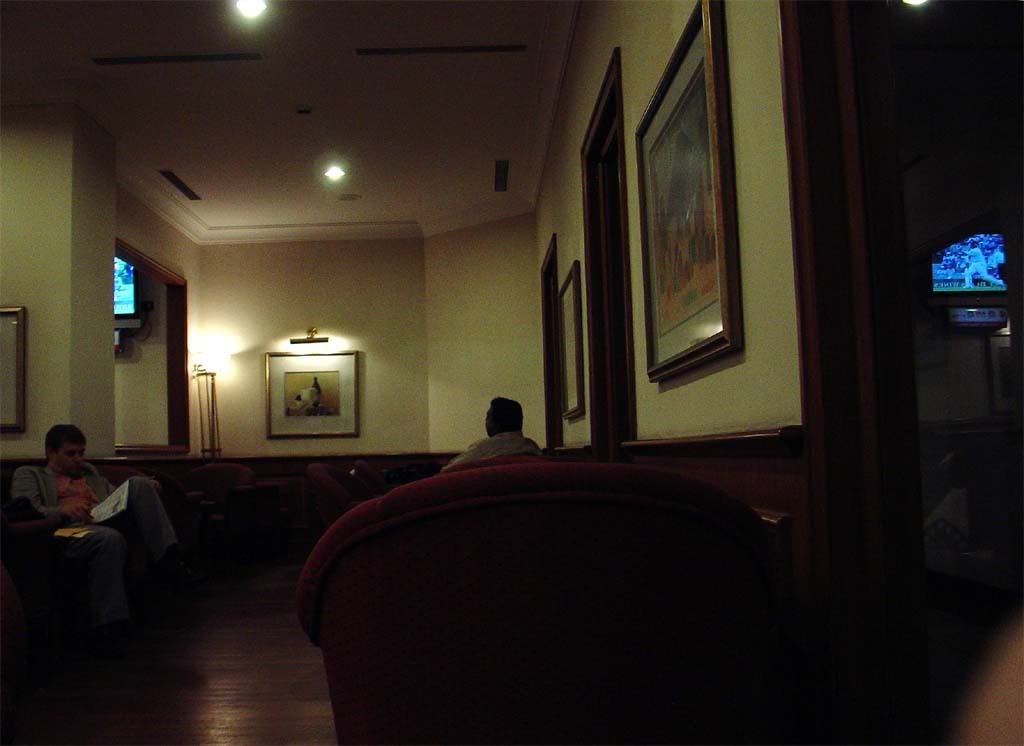 There was a self service area in the corner where I poured myself a glass of orange Fanta from a soda machine. Towards the other side there was a snack table with some vegetable samosas, pasta, Caesar salad, vegetable sandwiches and more. I settled on a vegetable samosa but decided to leave it at that as I did not want to fill up too much before the flight.
Soon enough the lounge started bustling with people and there were hardly any seats left for the large influx of passengers. As it was close to 10pm, I decided to give my seat up and head out to the gate. However, my boarding pass did not have any gate information on it so I had to check the board outside.
As you can see, same problem, no gate information was displayed. Considering the flight was suppose to depart in under an hour, this was inexcusable. Just then two Etihad ground personnel came by so I decided to follow them. This proved to be a wise decision as they led me straight to gate number 7.
Boarding:
Here lay another problem, security was not letting anyone through into the gate area at this point and a large line had formed. I decided to stand on the side rather than join the ever growing queue of people.
Around 10:30pm, close to 30 minutes before our scheduled departure time, the gate opened up and people were allowed through security. I joined the rather long line now and waited my turn. At 10:45pm our crew showed up meaning there was no way we would be leaving at 11pm at this rate. Passports were checked by Etihad staff before we were let into the gate area. I sat down and tried to relax while watching the gate area fill up with passengers.
Shortly after 11pm, boarding was announced for passengers needing special assistance and passengers traveling with children. In typical Indian fashion, the entire gate area stood up while pushing and shoving their way to the single boarding door. The Australian lady next to me and I both started laughing at the circus that was unfolding in front of us. We both let the rush go before we slowly proceeded to the door where I discovered something else irritating, there would be no jetway. We were asked to go down a flight of stairs only to be stopped at the door as the bus was full. We continued chatting for another ten minutes while we waited for the bus to come back.
The two minute bus ride took us to a hard stand gate that was directly across from the terminal. I was greeted at the door by a Indian flight attendant who took my boarding pass and turned to the flight attendant next to me,
"Jess, please escort Mr. Tamboowala to seat 2A."
After the escort, I tried to make myself as comfortable as possible in the old seats on board this version of Etihad's A330's.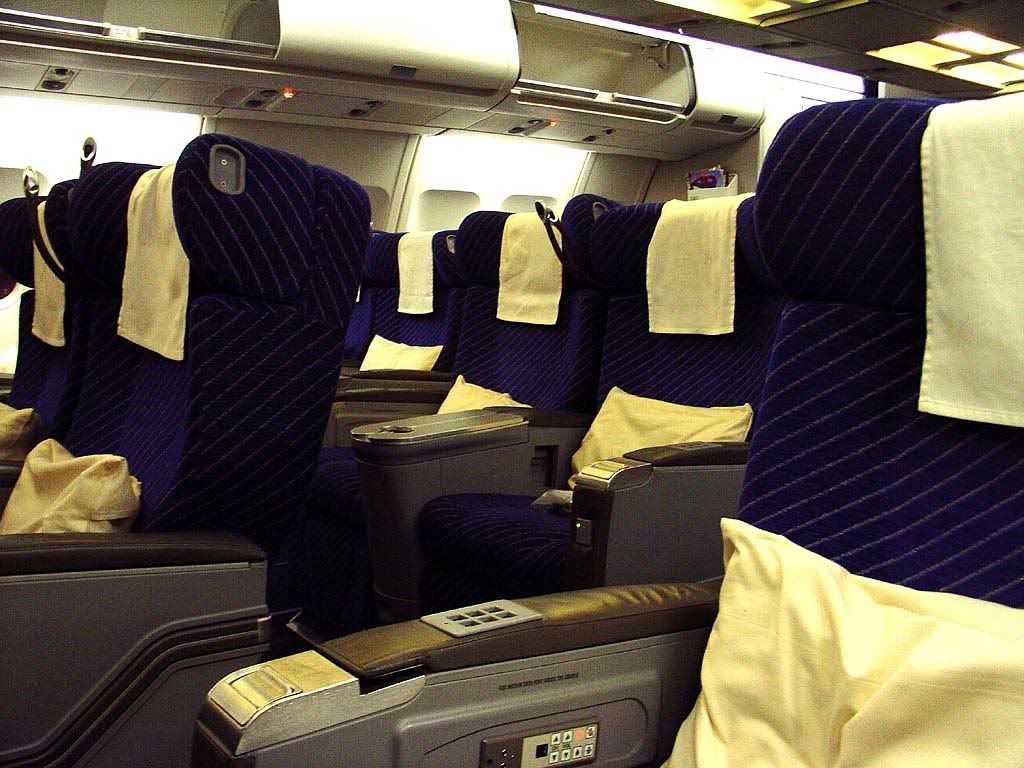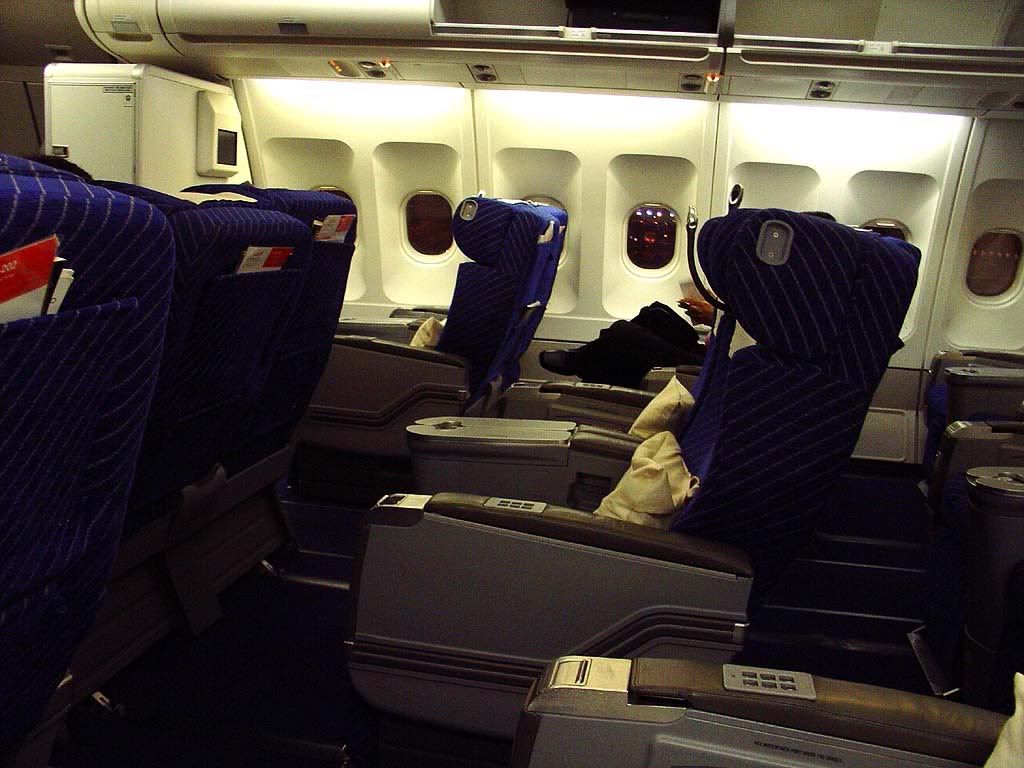 Upon sitting down, an unsmiling Korean flight attendant approached me with a tray of champagne, water, orange and watermelon juice.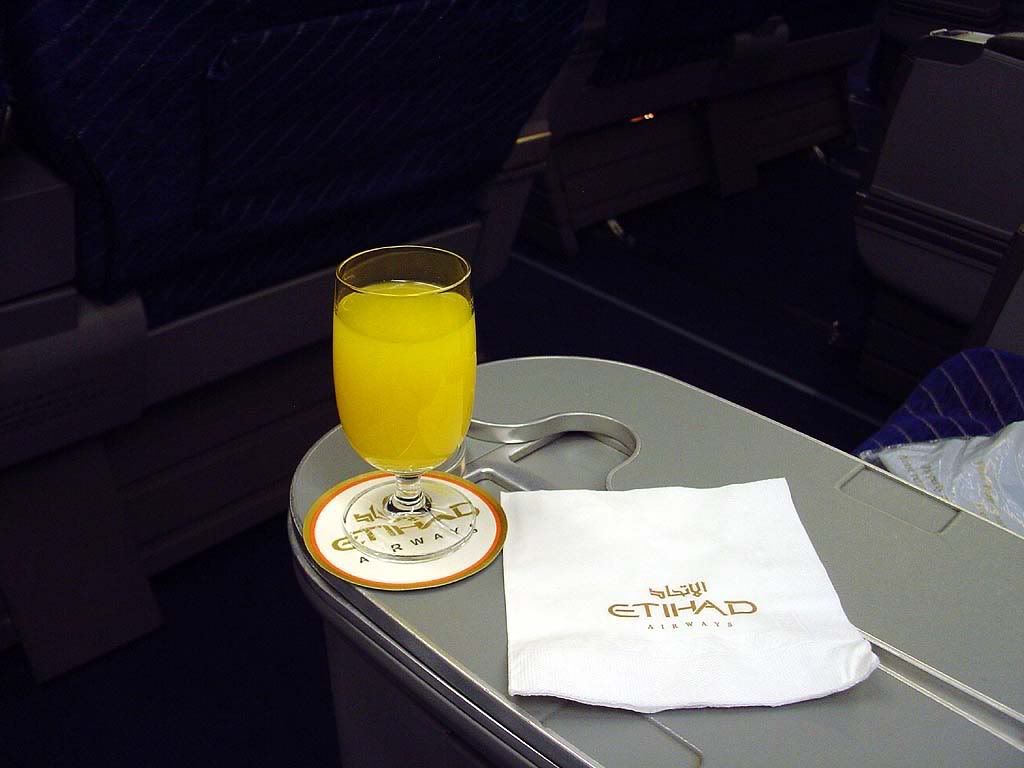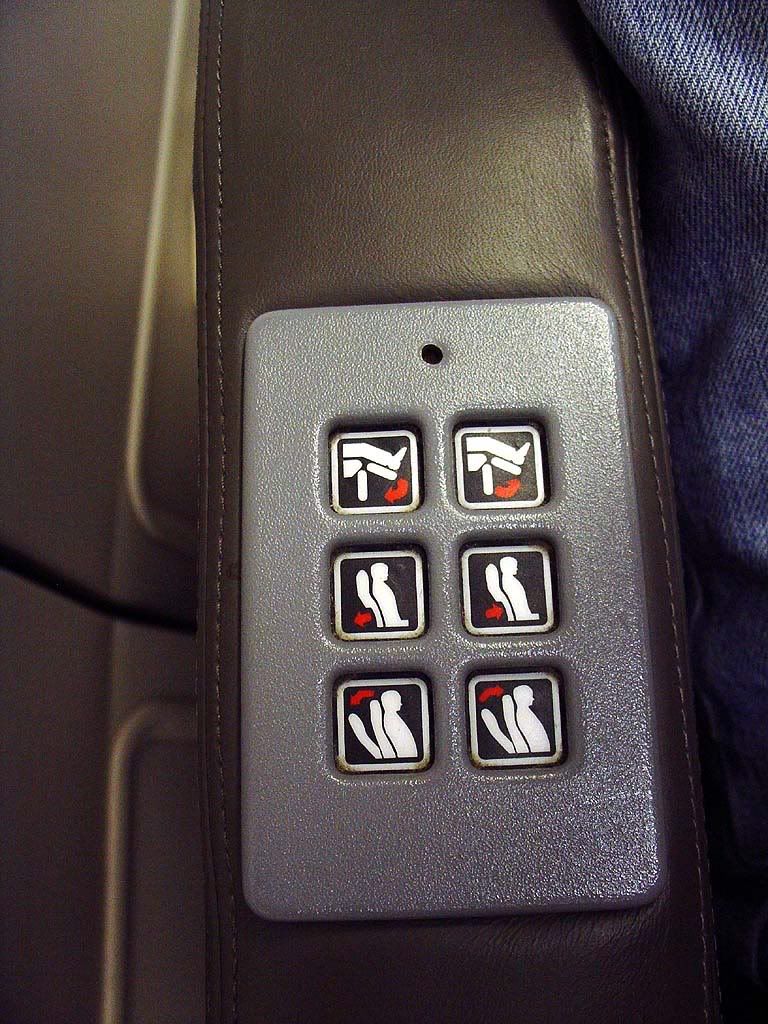 At exactly 11:55pm the door was closed and Captain Stefano welcomed us onboard. He apologized for the late departure but never gave us any information as to why we were delayed in the first place. While we were waiting on the ground, the cabin crew distributed the dinner menus.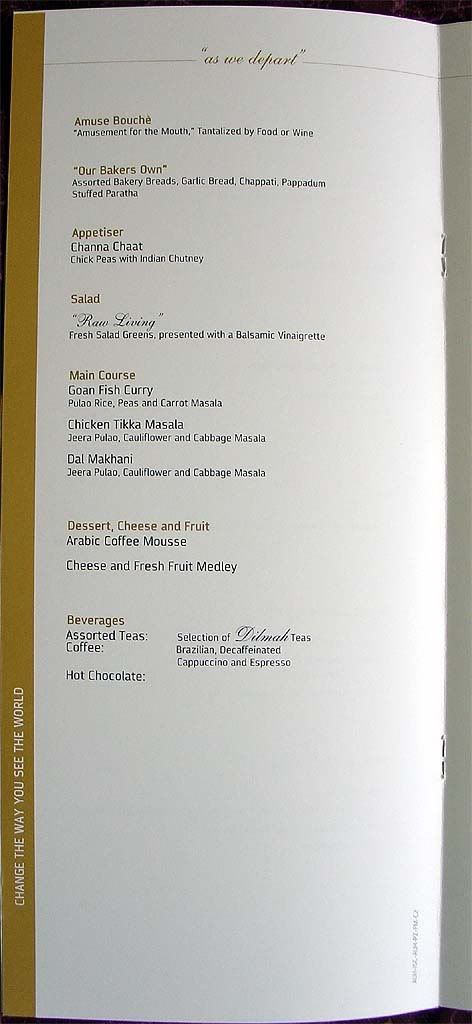 We pushed back after another 20 minutes with a manual safety demonstration which I found rather unusual as this aircraft had an entertainment system. The taxi to the runway was fast and we waited for our turn which commenced after an Indian Airlines A320 landed.
The Flight:
Service began about 20 minutes after take off with hot towels and dinner orders.
"Mr. Tamboowala what would you like to drink as an aperitif?"
"A Diet Coke please."
"Sure, and what do you want to eat?"
"Can I have the chicken please?"
Once the entire cabin's orders were taken, the lead purser came up and distributed DVD library forms.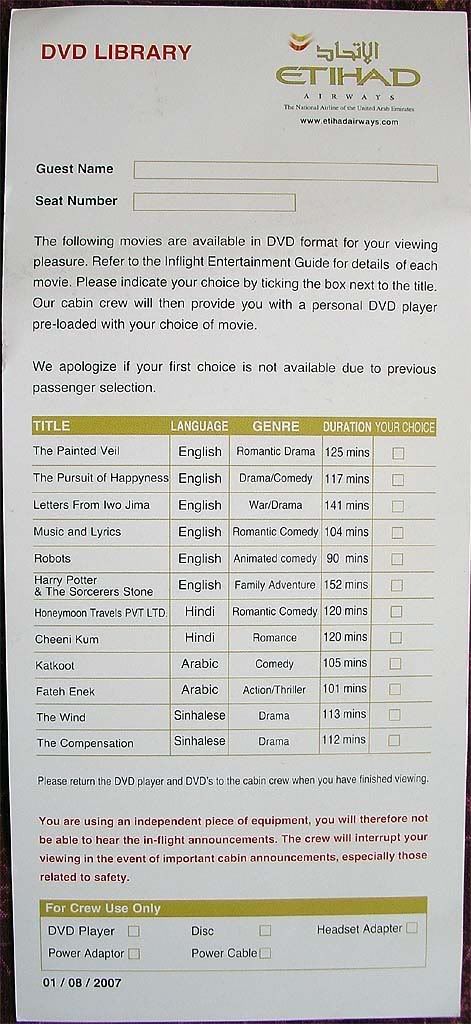 I looked through the options but nothing really excited me. I decided that music would be the best form of entertainment for me while I tucked into my dinner service. However, I did see the Indian lead go around collecting the forms that passengers had filled out. She came back passing out leather pouches, much like the AA Trans-con ones.
A short while later my "amuse bouché" arrived, it appeared to be some form of paprika spiced chicken on toast.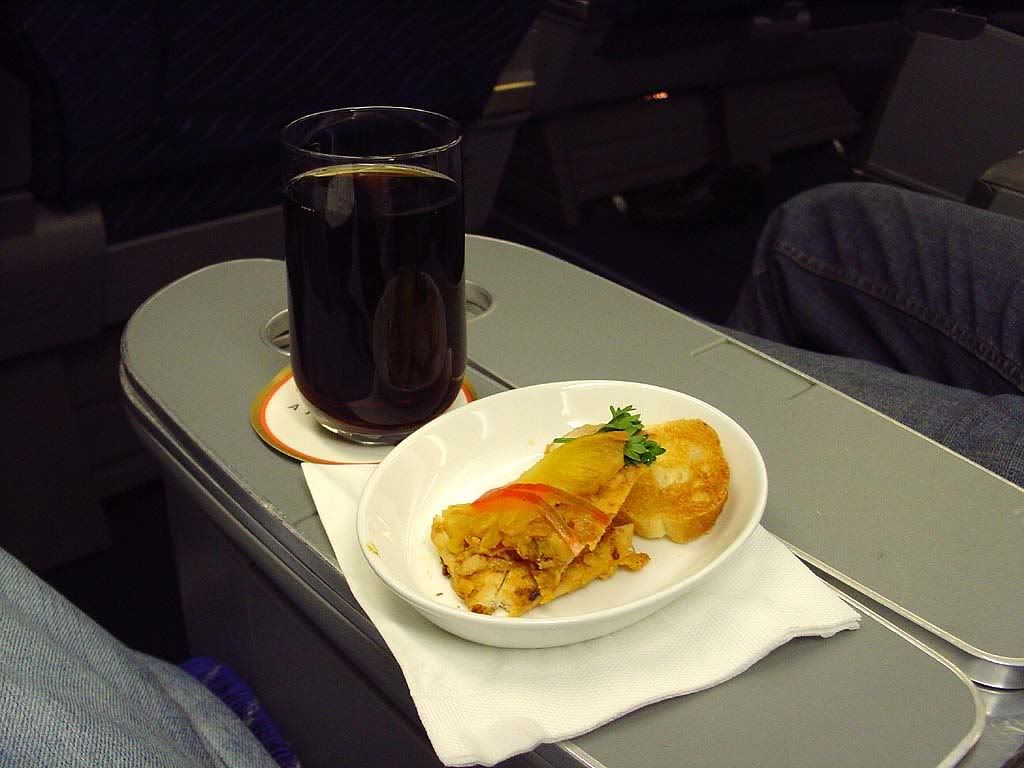 While the chicken was plump and delicious, I had a problem eating it with no toothpick let alone any sort of silverware. The chicken piece was way too big for the slice of bread and with only one napkin; it became a rather messy affair. I saw the flight attendant across the aisle handing out forks yet our flight attendant never gave us the option. In fact when someone asked for a fork she reluctantly got one with a stern "just to let you know this is finger food sir!"
My empty dish was taken away rather abruptly by the same flight attendant who then proceeded to lay down some white linen. My tray was then dropped onto my table a short while later and my glass of water was filled up along with a bread basket being offered.
The channa chat was an interesting choice for an appetizer. While it was not bad, it was not to my taste; a western option would have been a nice gesture. Luckily, the salad was pretty good and the balsamic vinaigrette dressing was excellent. The bread was however; hot, soft and fresh. My half eaten appetizer tray was collected and the main course was delivered a short while later with an equally stern look.
While the chicken and the rice were perfectly fine by airline food standards, the cabbage masala on the other hand was revolting. Throughout the main course I noticed the other aisle being offered the bread basket multiple times yet it failed to appear once in our aisle. My tray was collected by the friendly Indian lead,
"Mr. Tamboowala, I hope you enjoyed your meal?"
The after dinner trolley rolled down the aisle once everyone's dinner trays had been collected and was being manned by the Indian lead.
"Would you like some dessert today?"
"Absolutely."
"How about some cheese?"
"No, thanks, just the dessert for me."
"How about some tea, coffee, or liqueur?"
"Some tea would be nice please."
"No problem."
Everything was laid out on my tray table with an "enjoy." Being a fan of mousse, I found the dessert really excellent.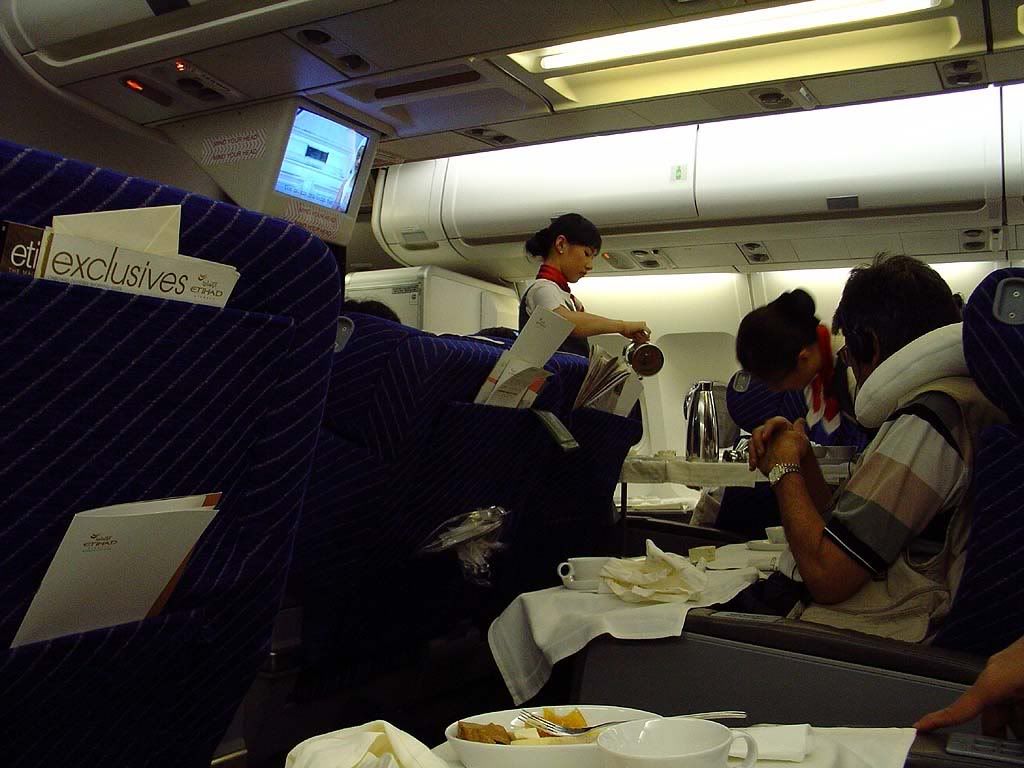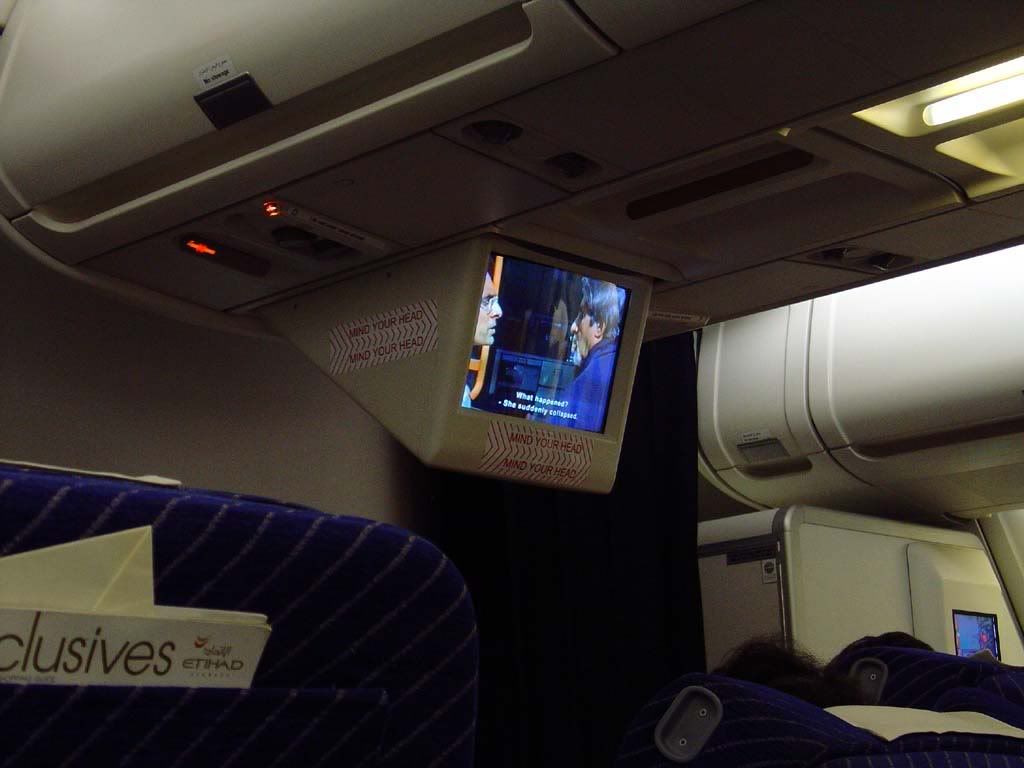 Everything was cleared up shortly thereafter and the cabin lights were dimmed so that the passengers could enjoy the rest of the Hindi movie or sleep. Descent was not too far off when captain Stefano came on the P/A to inform us that all our connecting flights would be held for us.
Arrival & Transit:
After a rather uneventful landing, we taxied towards the terminal where I was ready to leap out of my seat and run towards the JFK flight. However, at the last minute we turned away from the terminal and towards a remote hard stand. "Great" I thought, "this ought to be fun." We were let out through door 1L where the Indian lead was on hand to wish everyone a great day.
"Do you end here sir?"
"Nope, three more flights to go today, JFK is the next one."
"Oh wow, well in that case have a great flight, thank you for flying with us."
With that I walked into the hot sweltering Arabian summer night and down into an air conditioned bus waiting at the end of the stairs. Once the bus had been filled up with all the business class passengers, we proceeded to the terminal. The ride was quick, or so it seemed after my endless rides around CDG a few weeks ago.
Once we were let out at the terminal, I proceeded inside where there was no representative or anyone greeting us. Instead there was a gate agent who was yelling, "Kuwait go through here, everyone else go upstairs."
I proceeded upstairs only to find a huge line in front of the Etihad transfer desks. I quickly asked an agent where I should go for the New York flight. He pointed me in the direction of the transfer counter on the side. There were at least 30 people in front of me in line. At this point it was 1:35, 25 minutes before our scheduled departure time.
I spent 15 minutes in line before an agent with a frown scanned my passport and checked my paperwork to make sure I was legally entitled to enter the United States. After that I proceeded to the counters behind her where an agent greeted me and asked for some more details. My boarding pass was printed with my pre-reserved 9A and I was told to go to the gate immediately for boarding.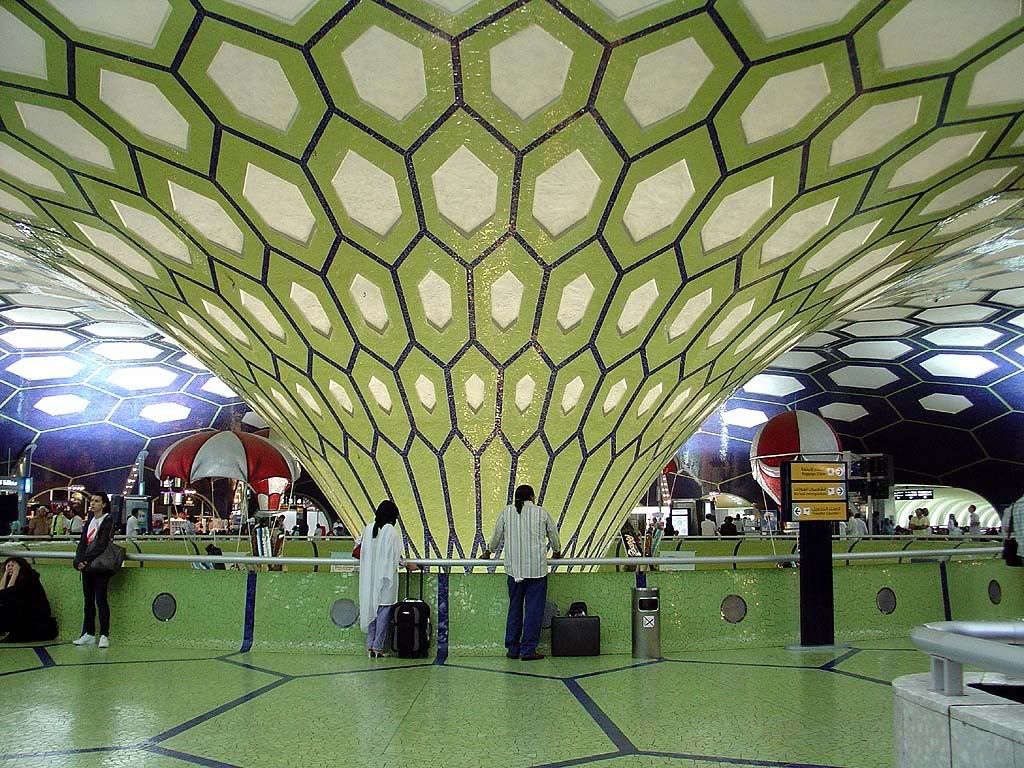 Etihad Airways 101
Abu Dhabi – New York/JFK
Airbus A340-541 (A6-EHD)
Seat: 9A (Moved to another seat)
Scheduled Departure Time: 2:00
Actual Departure Time: 3:15
Scheduled Arrival Time: 8:30
Actual Arrival Time: 8:35
Boarding:
At the front of gate 7, an unsmiling Etihad agent greeted me to check my paper work one more time. My passport and boarding pass was slapped back on the counter top with a wave of a hand. Security was easy and I was down the jetway shortly after. I was greeted at the door by a lead Middle Eastern flight attendant. One look at my boarding pass and she gestured towards another flight attendant, "could you please escort this gentleman to 9A."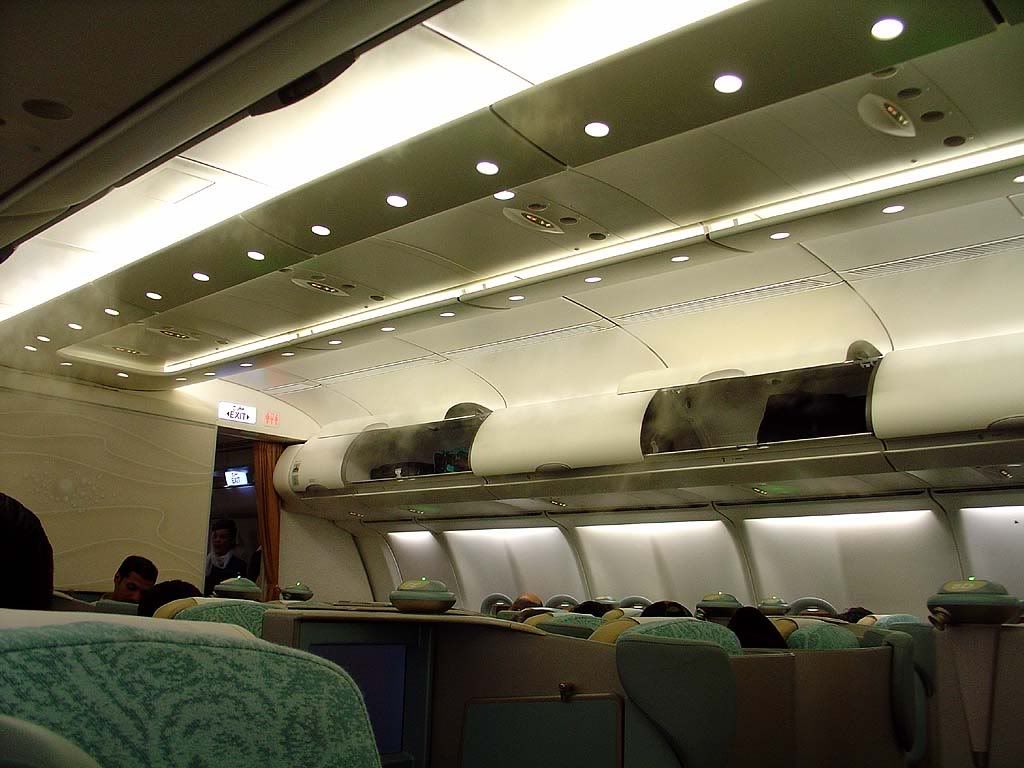 I was shown to my seat by a very good looking British flight attendant. I sat down and tried to settle in for the long flight ahead. My general impression of the seat was that it was comfortable but rather narrow. It could also have done with a slight bit more padding, but on the whole it was very comfortable. The legroom was excellent and the PTV large.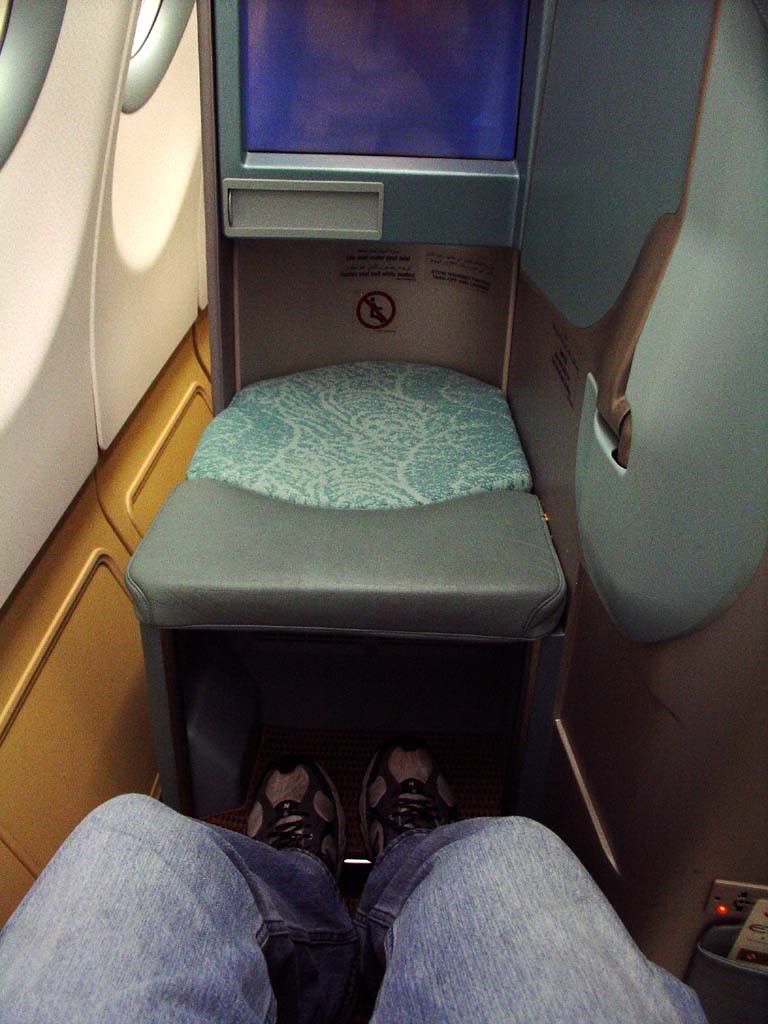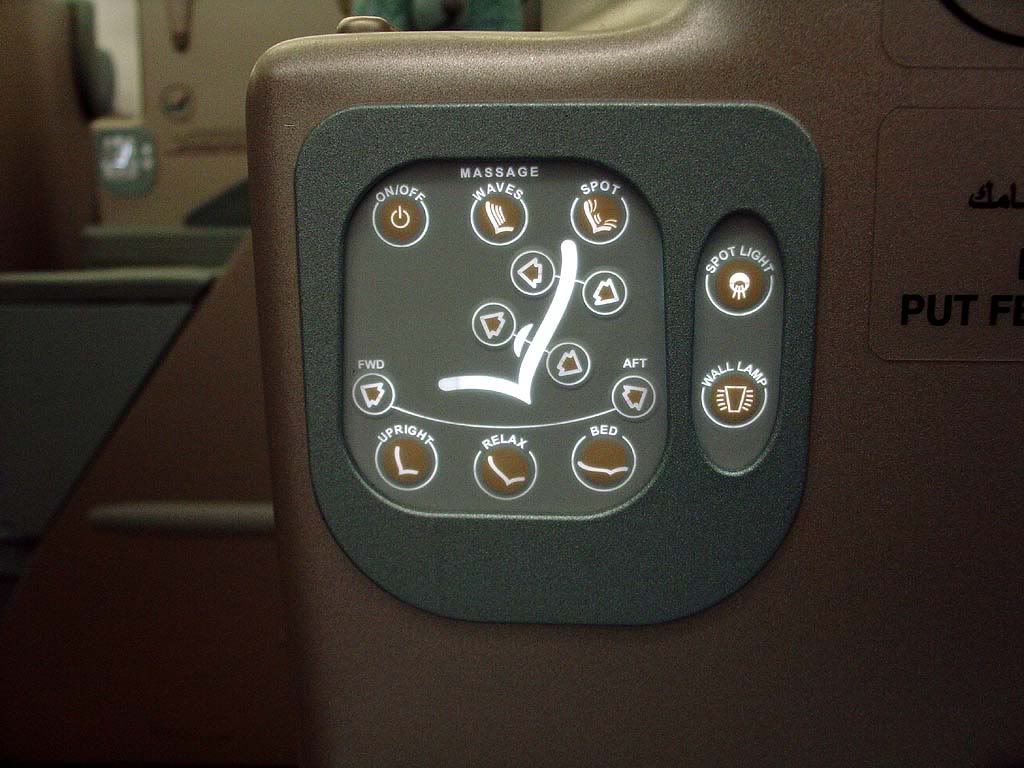 Soon the lead purser came around with a tray of drinks, I settled on the apple mint juice.
Just as I was settling in to read what movies were on offer for today's flight, a ground agent approached me.
"Excuse me Mr. Tamboowala, I am sorry but we are going to have to move you to another seat. Please come with me."
Oh great I thought, 9A was the best seat in the house and the rest of the cabin was pretty full. I reluctantly followed the agent to the galley where she turned towards a gorgeous Australian flight attendant and said "please escort Mr. Tamboowala to seat 1D in the Diamond Zone. Have a good flight sir."
[Edited 2007-09-02 20:53:49]