This is the second in a series of Trip Reports detailing my flight experiences on a trip to Europe from Australia in July, 2007. My first report SYD-BKK is here
New QF 1st Lounge & BA10 SYD-BKK 1st Class
(by
Crdaus
Aug 30 2007 in Trip Reports).
This report covers my experience flying SQ 1st class from BKK-SIN.
As mentioned in my previous report, we were travelling on a special BA 1st class companion fare. Unfortunately, due to my late decision to fly with BA rather than one of the other five airlines for which I was holding confirmed bookings, the required 'A' class seats were not available on all sectors, namely BKK-LHR, so we had to fly to SIN to join BA16 to LHR. But this was not such a hardship because it gave me the opportunity to experience 1st class service on SQ, something I haven't done for many years.
In addition, we had the opportunity to check-out the TG 1st class lounge at BKK before departure.
We arrived at BKK airport by chauffer driven limousine, compliments of The Peninsula where we had been staying, in plenty of time for the flight scheduled at 16:50 on Wednesday 4th July. After check-in we were directed through security to the TG First Class lounge.
The lounge is long and has some natural light from high windows along one wall, but this tends to make it rather warm inside: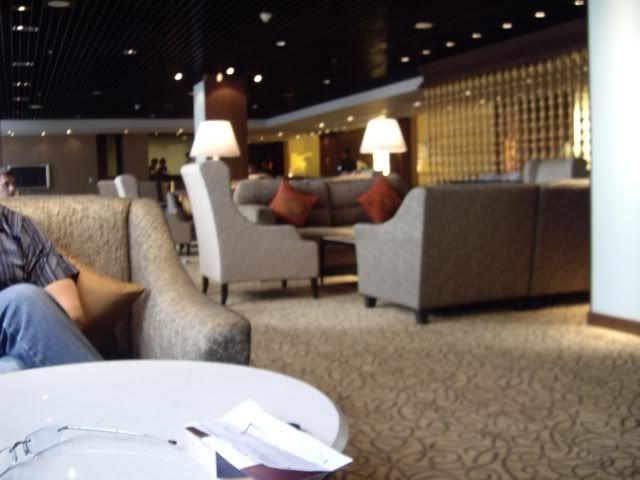 As can be seen from the above pics, the lounge was almost empty the day we were there.
The lounge is organised with a bar at either end and food buffets in between. A number of traditionally dressed Thai girls are in attendance to serve food and drinks. While you can browse the buffets, there is no self service – you simply point out what you want and they bring it to your seat.
We chose a selection of snacks including warm spinach quiche and a savoury puff pastry of some description, and a wrapped finger sandwich of tuna:
Later, we topped up with club sandwiches:
Notice the nicely chilled champagne – vintage Moet, I think it was.
It seemed in no time we were being paged to board. But first a visit to the bathroom: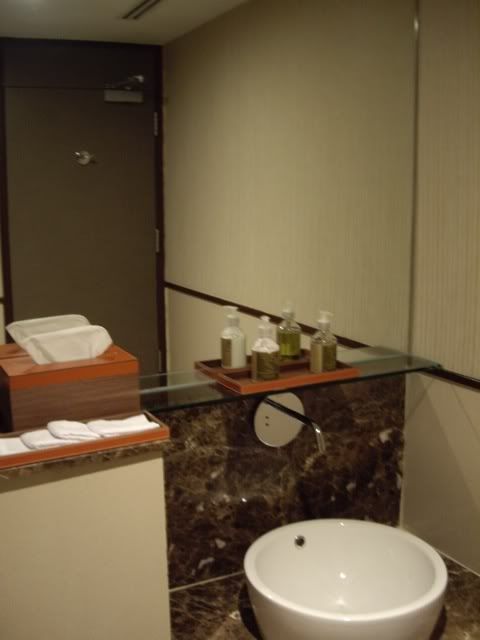 Then down the long corridor of the lounge to the exit:
Our boarding gate was across and downstairs from the exit to the Thai 1st Class lounge, so we didn't have far to walk. You can see our SQ 777 waiting for us:
SQ979, BKK-SIN, a 777-300, scheduled departure 16:50, scheduled arrival 20:15, flight time 2:25, seat 1E and 1F.
Here is the food menu and wine list sneaked, with difficulty, from the leather bound folders they come in: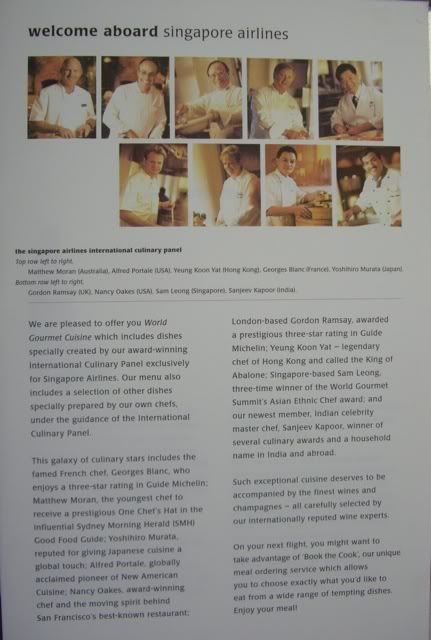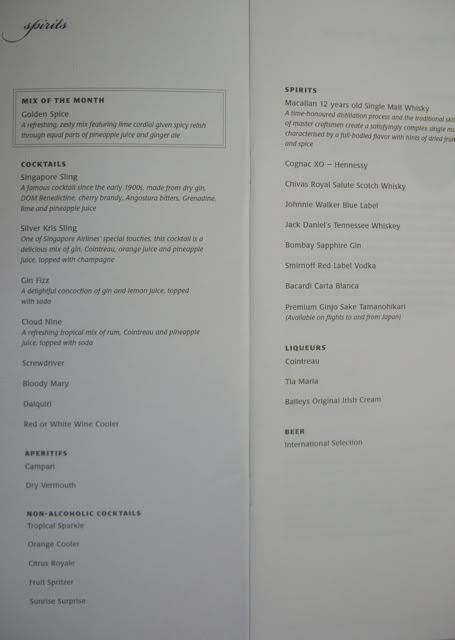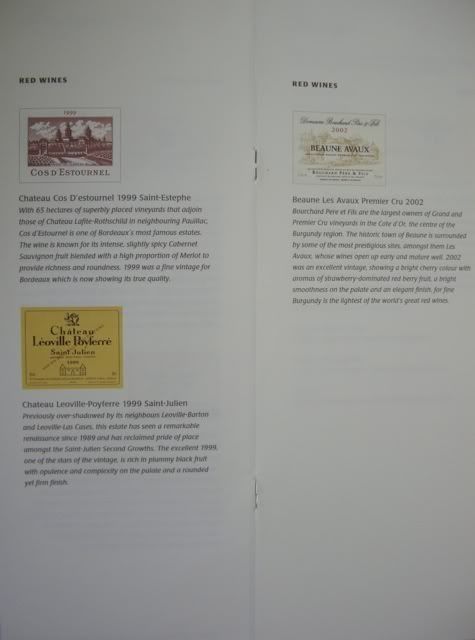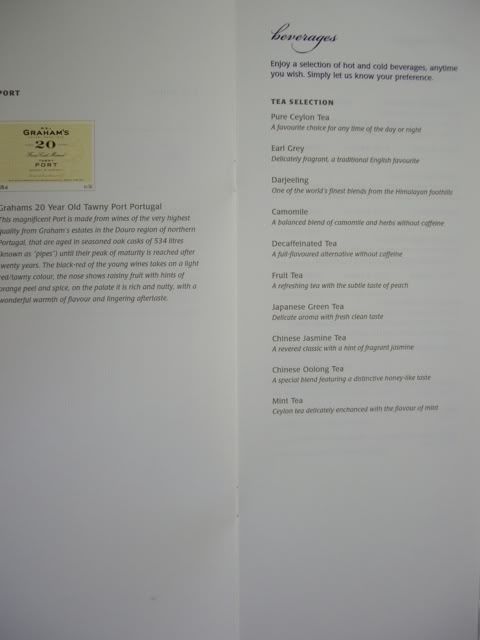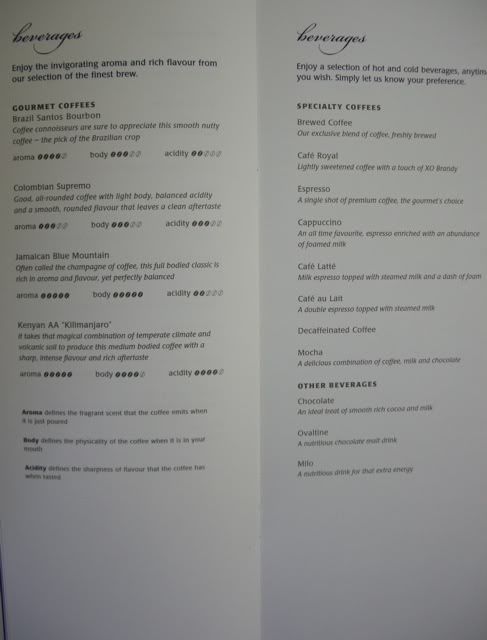 Dom Perignon 1999 and macadamia and cashews on boarding:
View on runway prior to takeoff from 1F: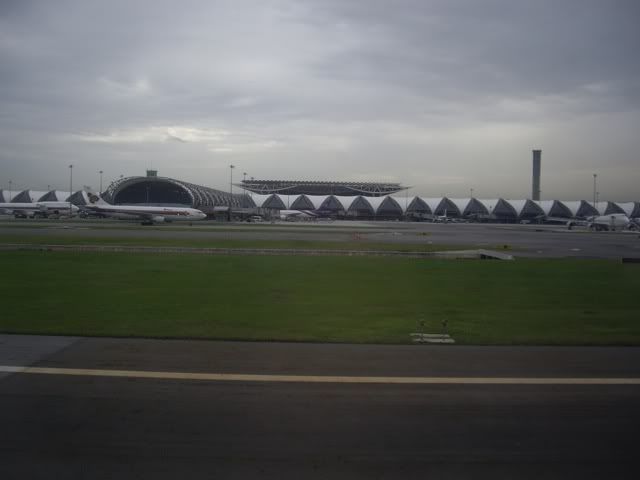 Views of Bangkok from 1F while aircraft is climbing:
Cabin service begins:
As can be seen from the above pic, the cabin was almost empty. In fact there were only 6 out of a possible 18 seats occupied.
For appetiser, a crab meat tian with tomato and waldorf salad was served:
This was very disappointing. There was almost no crabmeat in the dish. In any case, the waldorf salad and fresh tomato slices completely over powered in volume and flavour what little crabmeat there was. The garlic bread was like rubber!
For mains, my companion ordered the Hor mok pla – a thai style minced fish with coconut cream and spices served with seasonal greens and fried rice:
Verdict: apparently tasteless.
I chose the Beef fillet served with maitre d'hotel butter, green beans, crimini mushroom, potato cake and crispy bacon:
This was very tasty indeed and the steak perfectly cooked. I have come to the conclusion that beef works better than fish for in flight meals.
The generous slice of fresh mango was the highlight of the meal:
Conclusion: while I was not expecting much for a relatively brief flight I was a bit disappointed in SQ, even at A$760 per person. No wonder the almost empty cabin. The food could have been better. That crabmeat tian is a mistake. They are insulting passengers by serving it and it is not at the standard of everything else – e.g. the French champagne (Krug was also on offer along with the vintage Dom). I liked the aircraft, but then the 777 is a favourite of mine. The 1st class configuration, while old style, is comfortable enough although I am not sure I would be happy flying this aircraft from Australia which is where it is used for day time flights. After this experience, I was pleased I had stayed with Oneworld for the bulk of my trip bookings. As a fierce competitor of the Oneworld airlines, I think SQ will need to do more to break the loyalty bond of frequent travellers. However, I was pleasantly surprised and very satisfied with the standards of the TG 1st class lounge at BKK and as a result am inclined to try TG flight service soon.