Hong Kong International Airport - Singapore Changi
Singapore Airlines SQ 861
Boeing 777-313ER (9V-SWJ)
Seat 22K Business Class
ETD: 1600H
ETA: 1940H
2 September 2007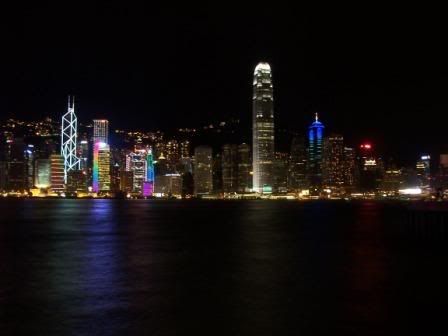 Ah… Hong Kong. It has been 11 yrs since I last stepped foot onto this vibrant city of lights and often described as the heartbeat of the Asian economy. A lot has changed… For a start, it is now a territory of China administered under a one-country-two-ruling-systems arrangement. The dwellers are now less rude and seemed to be humbled as compared to the early years when I visited. Humbled by what? I could only assume that Hong Kong in recent memory has taken a few hard knocks from the Asian Financial Crisis to the epic-center of the SARS pandemic in 2004. One crisis after another but they survived…
I never thought I'd say this but people of the world could learn a thing or two when it comes to being courteous from the people of Hong Kong. Singapore has often been compared to Hong Kong (or the other way round, depending on how you want to look at things). Shop keepers were genuinely welcoming, a bus driver of a giant double decker bus assisting a wheel chair bound passenger to get off, passengers at the subway station lining up at the door to allow passengers from the train to disembark first during rush hour….The surprises just kept on coming and I was generally amazed by how much Hong Kong-ers have changed over the last decade to become what they are today – a civilized and gracious society.
Singapore, learn a thing or two from them, please!
I didn't have time to do much this being only an overnight trip. I woke up very early the next morning and made my way from my hotel along Nathan Road to the Tsim Sha Tsui waterfront promenade which was just within walking distance. This was about the only free time I had to myself during this trip as I leisurely strolled about until it was time to leave for the airport at noon.
Way back then, a trip to the airport would have been a short taxi ride through the narrow and crowded streets. At the end of the journey, as if by magic, a fenced up airfield seem to beckon behind the towering neon signs that was Kai Tak Airport. I still remember the old and mildewy whiff of the terminal building.
Presently, a multi lane highway links Kowloon to the outer islands of this territory which was only accessible by boat 10 years ago. One of these outlying islands (Lantau Island) is where the present airport is situated.
You can choose to take a taxi, train or a bus (my option). The HKD 33.00 journey lasted more than 45 min.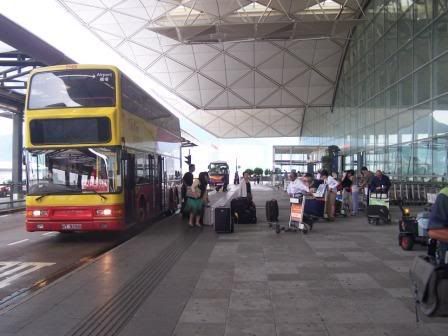 The Cityflyer bus takes you right up to the doorstep of the airport. A very convenient form of transport.
HONG KONG INTERNATIONAL AIRPORT
With work worries and stresses behind me, I now able to properly soak in the experience of the journey (i.e. Cream myself between my legs at the thought of flying Business Class on the 77W). Walking through the doors of Terminal 1, you would first feel a burst of energy from within the building. There were just people everywhere! The entire hollow of the building was separated into different decks that are visible from the entrance and people are spilling out from every level and every corner.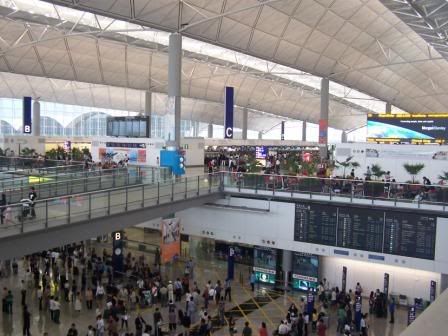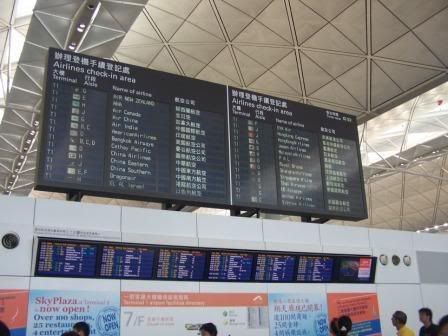 Singapore Airlines utilizes island D. One counter was designated for First Class, two for Business and the rest of the counters for Economy passengers.
Wendy Wu was obviously a ground staff employed by SIA from the looks of the uniform that she was wearing. I asked for a window seat in the forward cabin of the 777-300ER but was informed that ALL window seats were taken. "This flight very popular, always full, people like because new plane…" she offered in very halting Cantonese accented English. I felt like asking her, "Can you please say HONG KONG CHICKEN NOODLES?" Hahahaha…
"Mr Soh, you have seat 22K reserved for you already. Boarding gate not yet ready, ok?"
Wendy then explained how to get to the Silver Kris Lounge but I didn't really know what she was talking about. I replied in Cantonese that it is ok, I will follow the signs. We both had a good laugh after that because she lamented why I didn't speak in Cantonese sooner, which would have saved her some brain cells.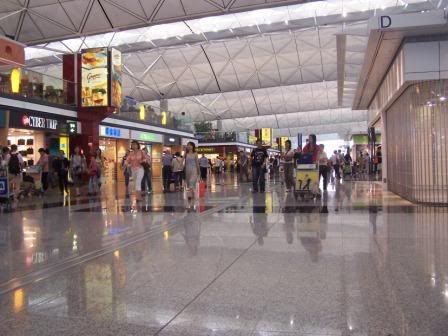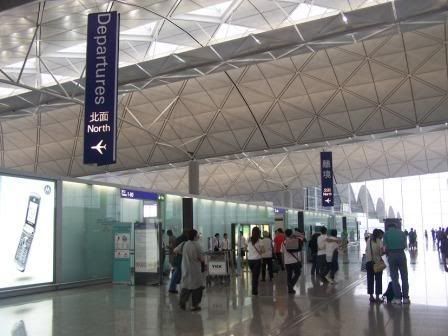 Security was tight with the ruling about liquids and gels in full force.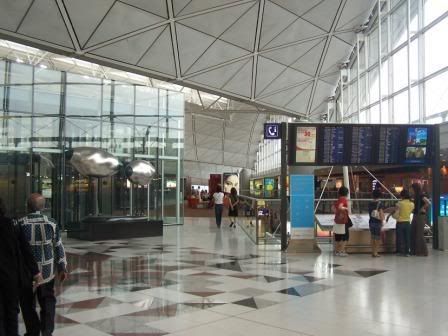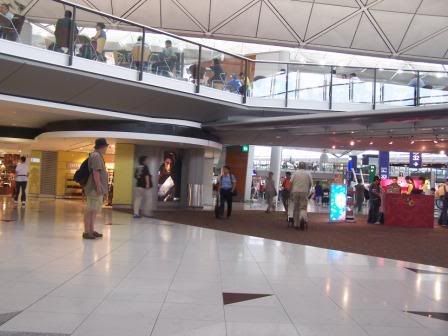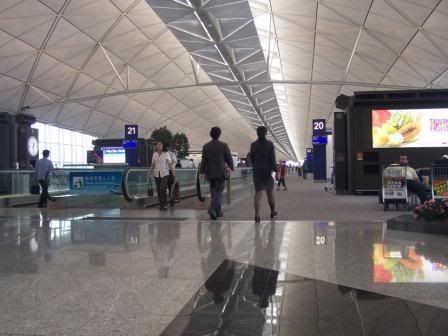 Airside was an amazement in its own right. The spacious expanse that greeted my eyes blew me away. And the windows! Oh man the windows… This airport was an aviation enthusiast's wet dream. The open concept of the boarding gates allowed easy access to the glass windows to gawk at the planes outside. And in Hong Kong, there isn't a dull moment because of the sheer number of planes coming and going.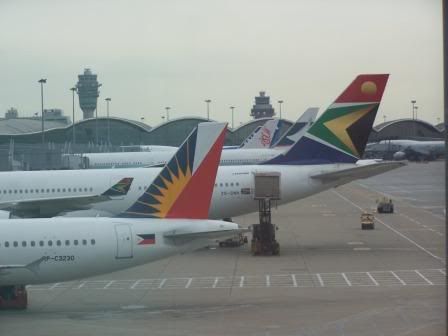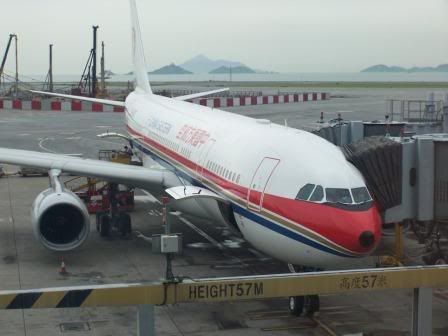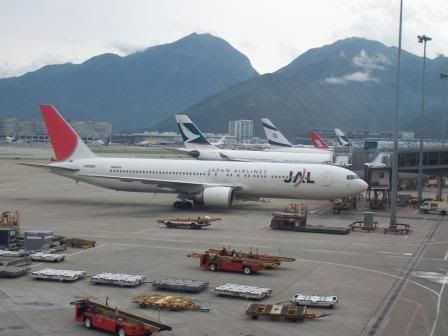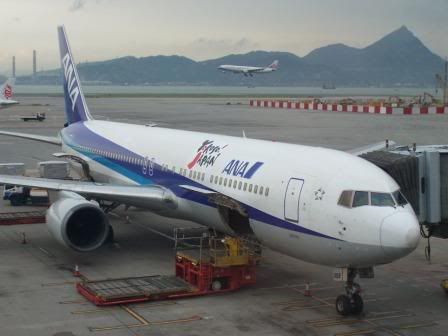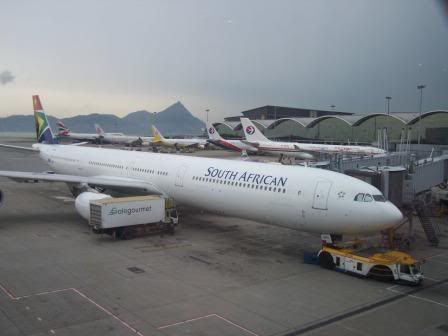 I spent a good one hour plus walking around and taking all the photos I wanted of the airport and the aircraft outside. At times like these, I thank God for the invention of digital cameras.
SILVER KRIS LOUNGE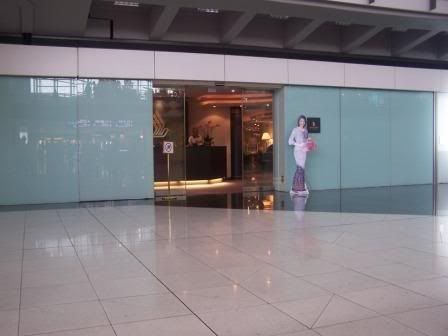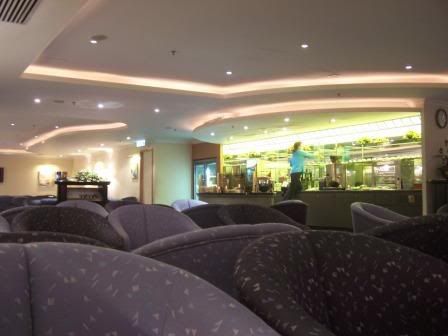 This lounge wasn't excellent at all. It was a small room with rather tacky interior décor. In this day and age of rustic earthy undertones or Zen minimalist inspiration, this SK Lounge was sorely lacking in taste. One BIG negative point was the lack of windows.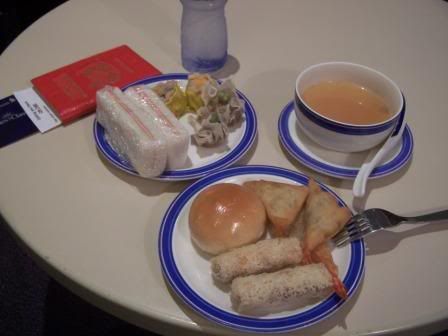 I was hungry by then because I had decided to have lunch at the lounge. Other than finger food, there wasn't really much else on offer. I hate to mention this but… Malaysia Airlines Golden Lounge, anyone? Take me to KLIA anytime.
Gate 18 soon started showing up on the screen and this was the designated gate for today's departing flight back to Singapore.
Gate 18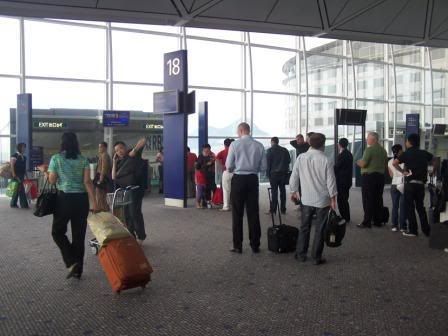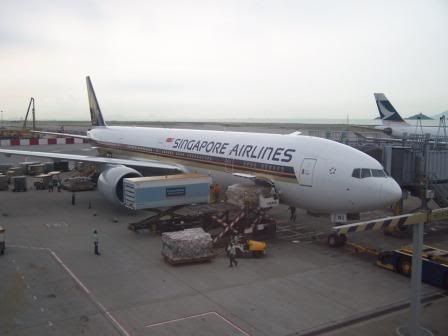 9V-SWJ looking resplendent posing at the gate while being primed and readied to fly again.
There were many on-lookers staring at the aircraft. I am sure many knew this plane was unique, but described it in their own special way. There was a Cathay A340 departing for Anchorage and Toronto next to us at Gate 17 and no one was looking at that plane.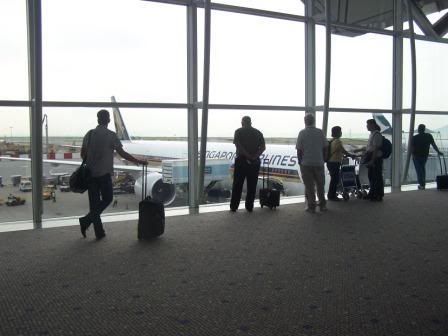 This gate is located almost immediately next to Runway 25R so we have planes zooming past in close proximity for landing. Quite a cool sight!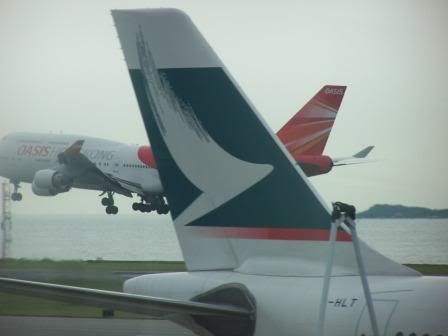 1535H: Boarding call.
There was only one First Class passenger today and he was a wheelchair bound Chinese old man in his 90s, who was still very lucid and spoke with a British accent. The line for Business Class was very long, and the Economy Class line at a separate entrance even longer.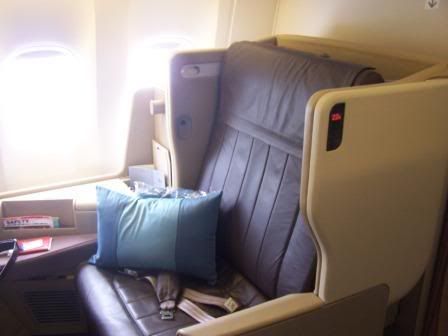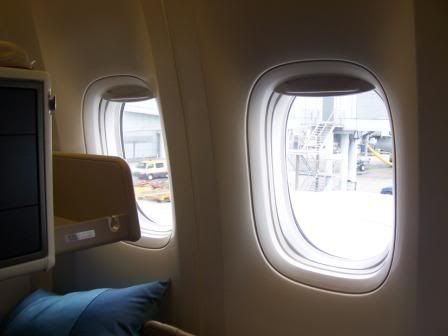 Finally after my last few window seat mishaps with SQ 777s, I finally get rewarded with this…
I settled down into my seat at the end of the aft Business Class cabin at 22K. Gasps of wonder and amazement were heard from the Economy passengers as they filed through the aisle past my seat.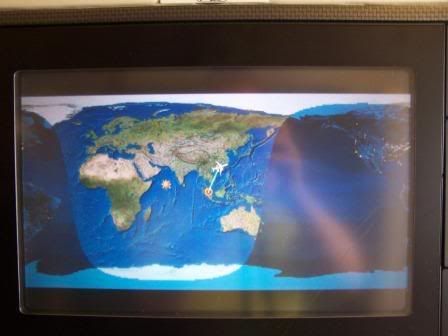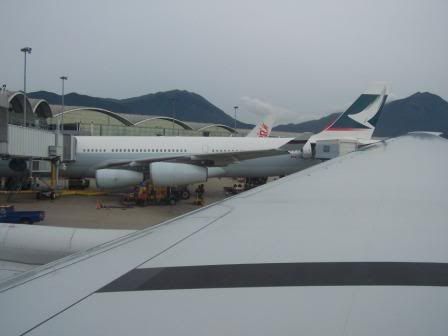 CX A340 heading to ANC and YYC, the plane no one wanted to look at.
FSS How Hwee Cheng came by with OJ and champagne, which was not easy for her because of the Economy passengers walking up the aisle.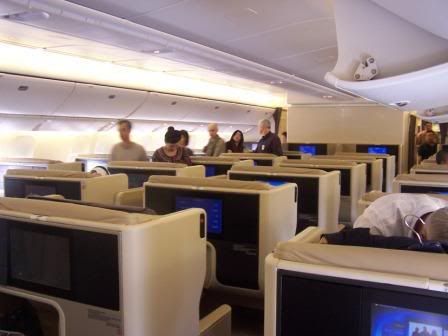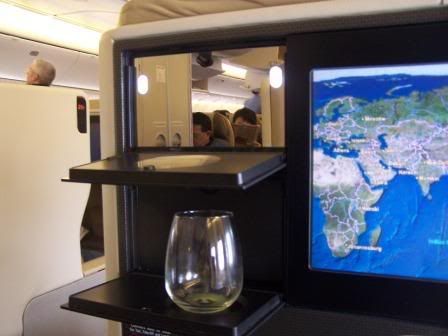 A peek at YCL through the vanity mirror.
1555H: Doors closed and armed.
FSS Melinda Chew comes around with hot towels as LSS Chris welcomes all on board the Boeing 777-300ER. The towels are discreetly taken away and FSS Melinda appears moments later as we are pushing back.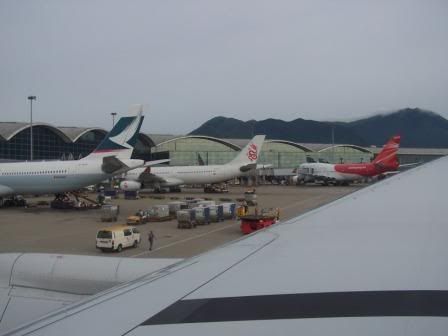 Pushback from Gate 18, and off we taxi.
"Good afternoon Mr. Soh, would you like a drink after take off?"
"Yes, soya milk please, if you have."
"Of course we do. Sweetened?"
"Yes please."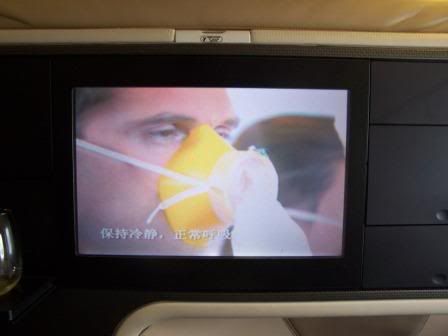 You would look like too if your oxygen mask failed to give you a proper supply of gas!
Safety video plays on but it is useless because no one can hear anything above the roar of starting the engines. The rush from the previous day soon began to take its toll on me and I promptly dozed off for a while. Even I was surprised by how tired I was.
1608H: I violently jerked myself awake with a very loud SNORT and it felt like I had taken a few hours worth of nap. But no… we were still taxiing behind an Air Canada 777-200 towards Runway 25L.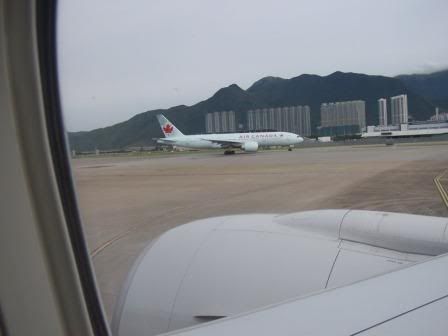 SNORT!.... And this is what greeted me, the pale green Air Canada.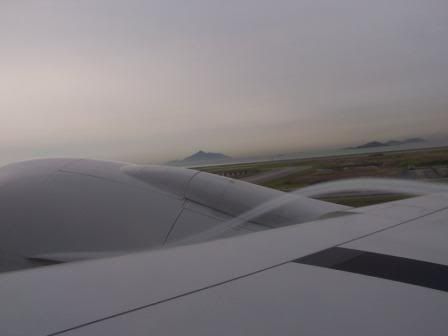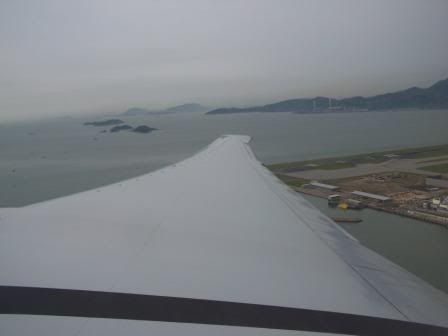 I was now used to the powerful take off to be expected from this beautiful giant. We lifted off into the gloomy skies of Hong Kong towards the direction of Macau, before turning towards a southerly direct track to Singapore by flying over the coast of Vietnam.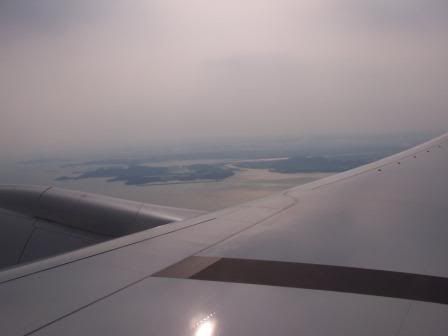 Macau and the airport is faintly visible.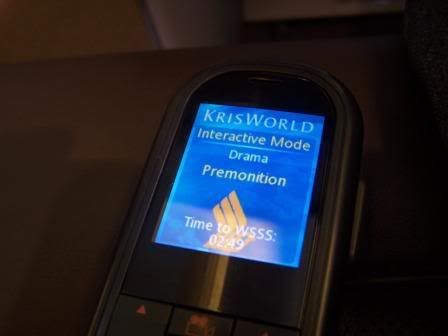 Movie of choice for this flight was Premonition starring Sandra Bullock and Julian McMahon.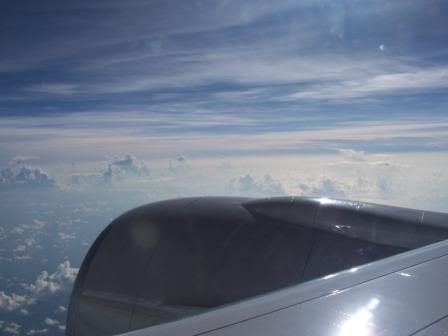 Within the next few minutes, FSS Melinda Chew came by several times to pass me a bag of Givenchy eyeshades / padded socks, and peanuts. She didn't forget my sweetened soya milk though.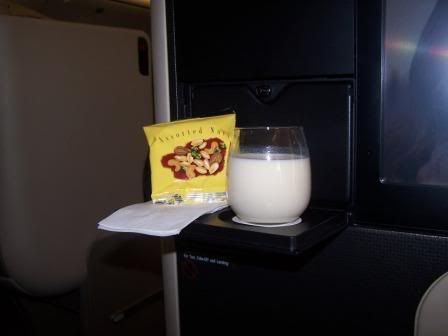 1646H: FSS Ling Jia Yan stares at her pax manifest and asks for my order…
"Mr. Soh, have you made your choice for dinner?"
Hmm… for the main we had the following:
- Braised beef cheeks in red wine with Portobello mushrooms, fingerling potatoes and green sauce. Created by Matthew Moran of Aria Restaurant, Sydney
- Scallop dumpling noodle soup… Egg noodles in rich pork broth garnished with scallop dumplings and vegetables
- Seared roasted Chilean bass in vanilla veloute, roasted vegetables and sautéed pea shoots
- Panfried chicken with creamy herb sauce, selected vegetables and potatoes
"I will have the beef, please"
"Oh no, that is a popular choice today and we have ran out of it. I am so sorry."
"Ok I will take the fish then."
"Certainly, Mr. Soh and more soya milk to go with the meal?"
How could I say no to that beautiful smile? Little more than 5 min later, FSS Ling appeared again. I feared for the worst…
"Don't tell me you ran out of the fish too?"
"So sorry, fish is also finished…"
"I do not want the noodles…"
"Yes I figured you had enough of that in Hong Kong. Hahahaha…"
"That leaves me with the chicken, which is honestly not that good because I have eaten it before…"
"Oh no! Don't be so loud because other passengers have ordered it! Hmm… let me see what I can do about it"
Nevertheless, she disappeared back towards the front galley and came back later to tell me there was one more Chilean bass reserved for me. With a wink and a smile, that was the last I saw of her.
1703H: Dinner service began
A savoury note – Marinated scallops with sweetcorn kernels. The soya sesame dressing was perfect! And the scallops were sweet and nicely chewy. Succulent!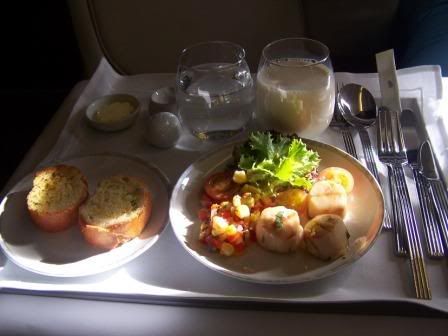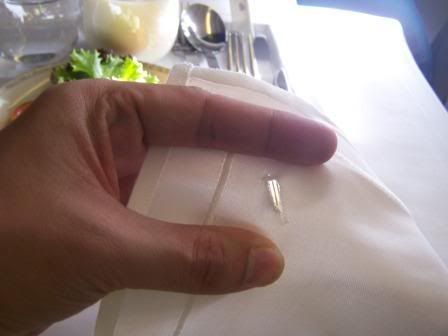 Napkins thoughtfully came with holes like these for easy attachment to your shirt button
The long awaited Chilean bass. Simply exquisite! The fish just melted in my mouth not before releasing flavors that was extraordinarily out of this world.
I am not so sure the garlic bread is a smart choice to be served in planes because of the low humidity, it dries up very quickly and becomes very hard like croutons in no time.
Halfway through the meal, we flew into some funky weather and the seatbelt sign was turned on.
A sweet note – Haagen Dazs parfait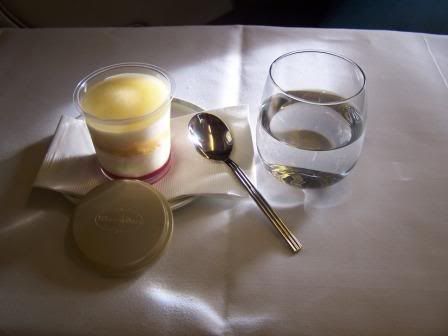 The cheese board – I asked for the other cheeses to be removed, leaving behind only cheddar (my favorite).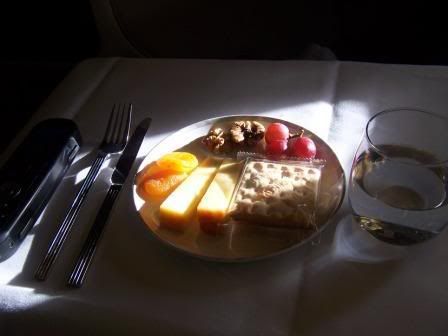 By now, I was so stuffed I could not even finish the last of the cheese plate. FSS Melinda came by and remarked that I look very full. Indeed I was and I ordered tea to finish the meal.
"We have English breakfast, earl grey, chamomile, fruit tea…"
"Does the list go on?"
"Hahahaha… Many kinds of tea, Mr. Soh."
"English breakfast, please"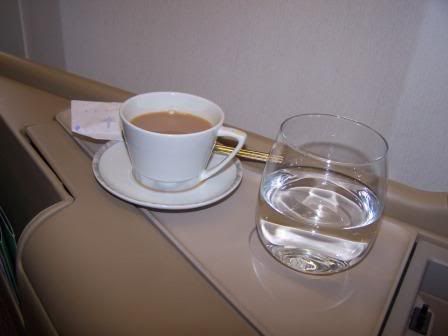 FSS Melinda was beginning to warm up to the passengers and started to get chatty with a few of us, which is good to see them in such a relaxed mode. By now it was 1810H as I sipped my tea, with a little more than an hour to go before I am home.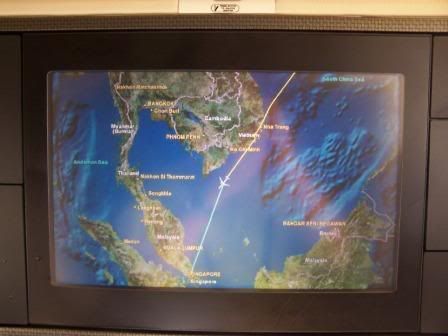 After the last of the meal service was cleared, I got to chatting with FSS Melinda and what else could we talk about but this amazing new aircraft. She then suggested "Eh, since you like this plane so much, lie on the seat, hug a pillow, and I take a photo for you! Shall we?"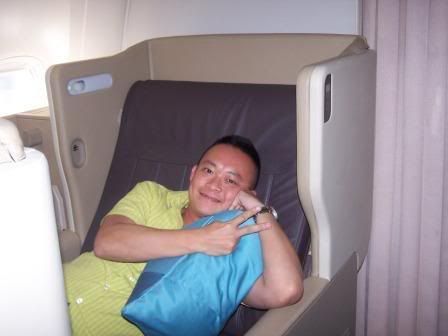 And with that… SNAP! Here I am being a very satisfied customer of this rather wonderfully executed Business Class flight on the new 777-300ER.
1835H: The tailwind must have been very strong because out flight today was only listed as 3hrs as opposed to one that was normally 45 min longer. The flight deck came on to announce that we were nearing Singapore and the cabin crew to prepare for arrival.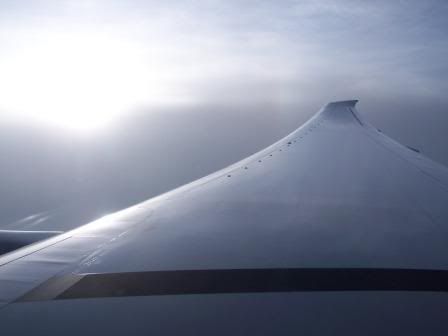 Ahh…. The beautiful sight of the very flexed expansive starboard wing of the 777-300ER with the raked wingtips. Truly an awesome sight.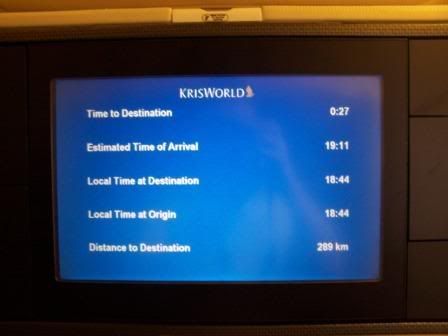 Getting there soon.
As the sky outside darkened, it revealed a cabin that was illuminated by what seemed to be the norm nowadays with new aircraft – MOOD LIGHTING. Suddenly we were wrapped in a purplish-pinkish glow that was supposed to be relaxing. Honestly, it reminded me of those fluorescent colors used at a cheap brothel in Geylang (Singapore's red light district – FACT: Did you know that prostitution is legalized in my country? So much for us being uptight huh?)
I attempted to take some pictures of the cabin but I am not sure if the colors came out right…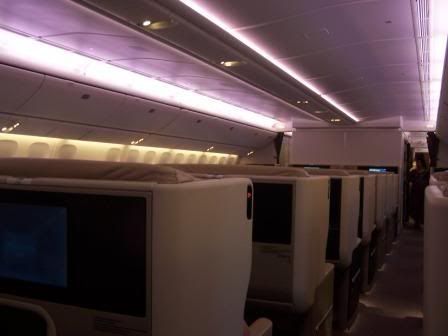 Approach was from the North so there was nothing much outside but a wide expanse of countryside, jungles and plantations in Johor, Malaysia.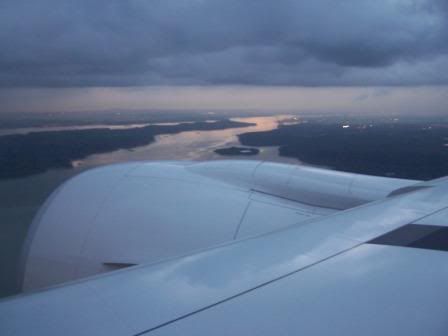 1912H: Runway 20R, touchdown…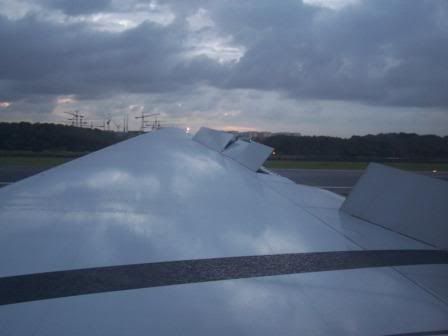 An idle reverse thrust ended this wonderful flight as we quietly slowed down on a very wet runway. As if to welcome me home, the skies opened up and gave me a shower of sorts. Taxi was fast considering we had to cross the entire compound, over the viaduct with the expressway underneath and finally stopped at Gate E4 in Terminal 2… Taxi time was only 8mins. Captain needs to do Number 2 urgently? Go figure…
The cabin lights come on very early way before the aircraft comes to a stop, definitely not SOP on a SQ flight.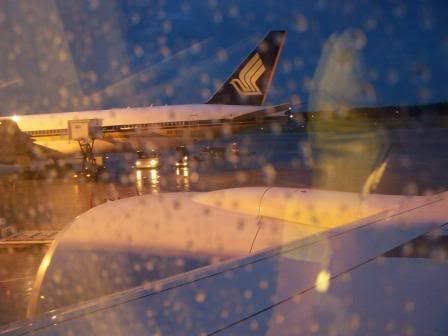 Check-in: 10/10… Wendy is a gem and SIA should be proud to have an employee like her. Jovial and ever ready with a smile despite her struggle with English.
Boarding: 9/10…HKIA's ample space allows for a very organized boarding. You can form lines for different classes of people (First, Business, Economy, Fat, Thin, Hairy, Smooth skinned, Caucasian, Chinese, Indian, Male, Female, Undecided, Animals, those who think they are animals…..etc) and still have room to spare!
In-flight service: 10/10… Full marks from me this time. This is the way a Business Class service should be. The 3 ladies were unrushed, relaxed, collected and most importantly, GRACEFUL! It was almost like I was watching a BATEY-created SIA ad unfold before my very eyes. However, the mood lighting kinda killed that impression for me and the whole scene took a sleazy turn. Maybe Singaporeans can relate to that pinkish hue…
Catering: 8/10… The Chilean bass was MUCH better than my outbound crap. I felt like I was eating a fish flavored block of butter. Simply exquisite!
Arrival: 9/10… I used the automated passport scanner that allowed me to bypass the queue. Quite a few first timers were evident as they seemed very unsure what to do so that held up the line for quite a bit. But otherwise, it is a convenient method to clear passport control.
Overall: 92%...
This return flight scored very well. I was very pleased with how everything from check in, the airport experience, impeccable service… went from the start to finish. All elements of this journey gelled together very well like male-female joints. If only all flights I took could be like what I experienced on this one, it would be an idealistic notion I would not even dare entertain!
Other pictures of the trip…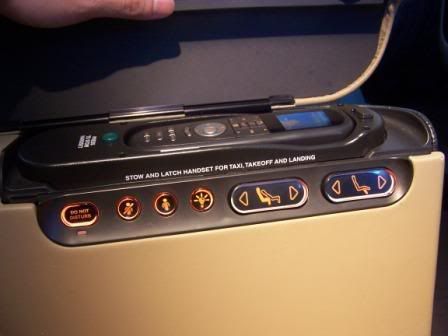 IFE control set latched into the armrest, with the seat controls. The cradle position really isn't cradle, actually. The seat cushion moves parallel to the floor towards the front console while the back rest enters a recline. The foot rest is raised separately. Once everything is fully deployed, I lay at an angle to be flat with my feet stretched into a depression at the side of the front console with my legs perched on the foot stool that extends all along the entire length of one side.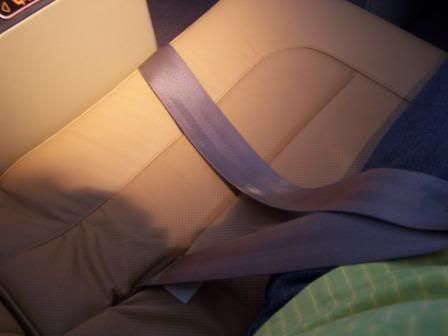 Seat belt does not begin from the edge of the seat due to the width. Taken on the outbound flight on SQ 862.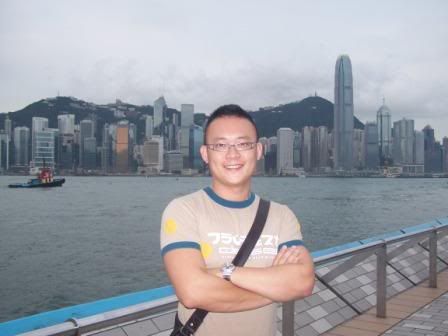 Along the waterfront in Kowloon. Avenue of the stars…