This TR will be the return report for
Canada To Nigeria Part 1 (Some Pics Included).
(by
Impacto
Aug 7 2007 in Trip Reports) and
Canada To Nigeria Part 2 (Virgin Nigeria To Abuja)
(by
Impacto
Aug 9 2007 in Trip Reports). I should have posted this particular TR earlier, but I was too busy sorting out myself for the beginning of another semester, with all the registrations, assignments and projects to hand in, I've hardly had time to even check my mail on a regular basis, let alone browse airliners.net. I'm glad that its all over. My initial plan was to spend the rest of my summer holiday in Nigeria, but then I had this surprise trip to Dubai and Saudi Arabia, in which I got to fly Emirates 777 and Saudi Arabian MD-90, unfortunately there is no trip report for these flights but I can share some pictures of these fascinating places with you.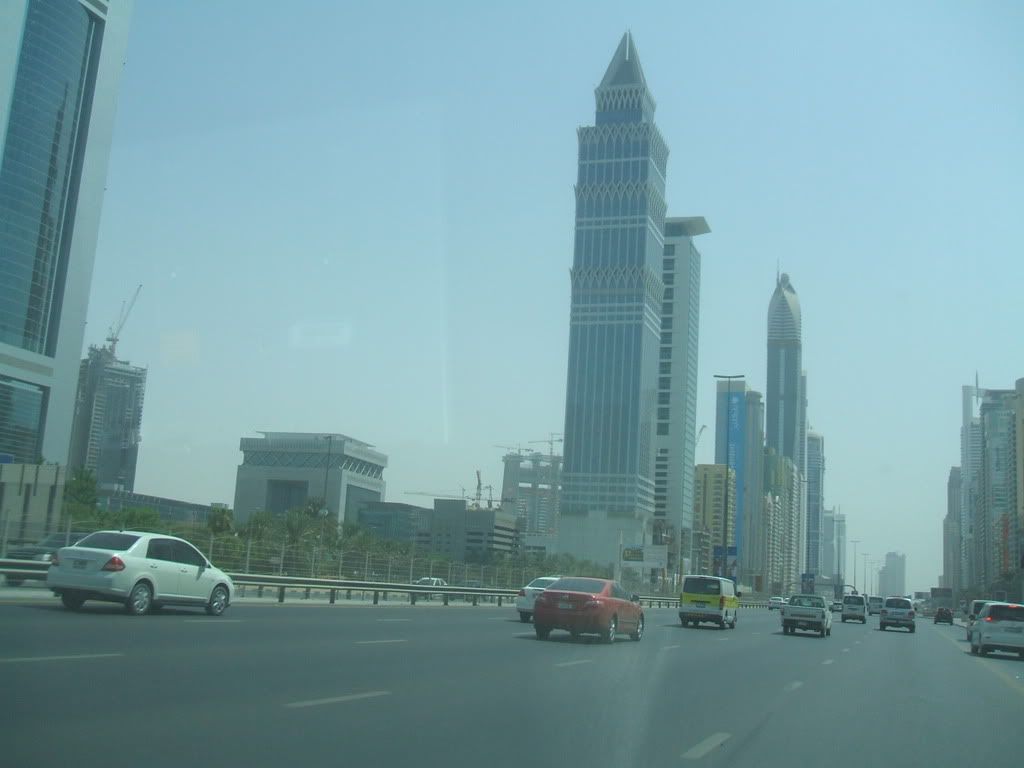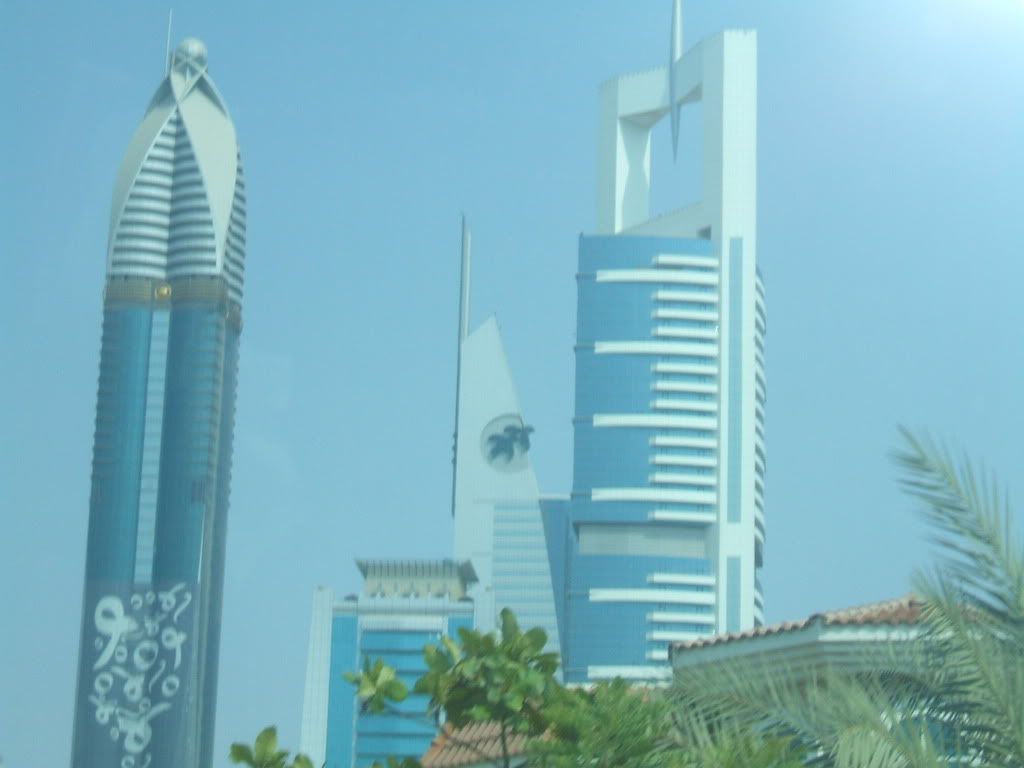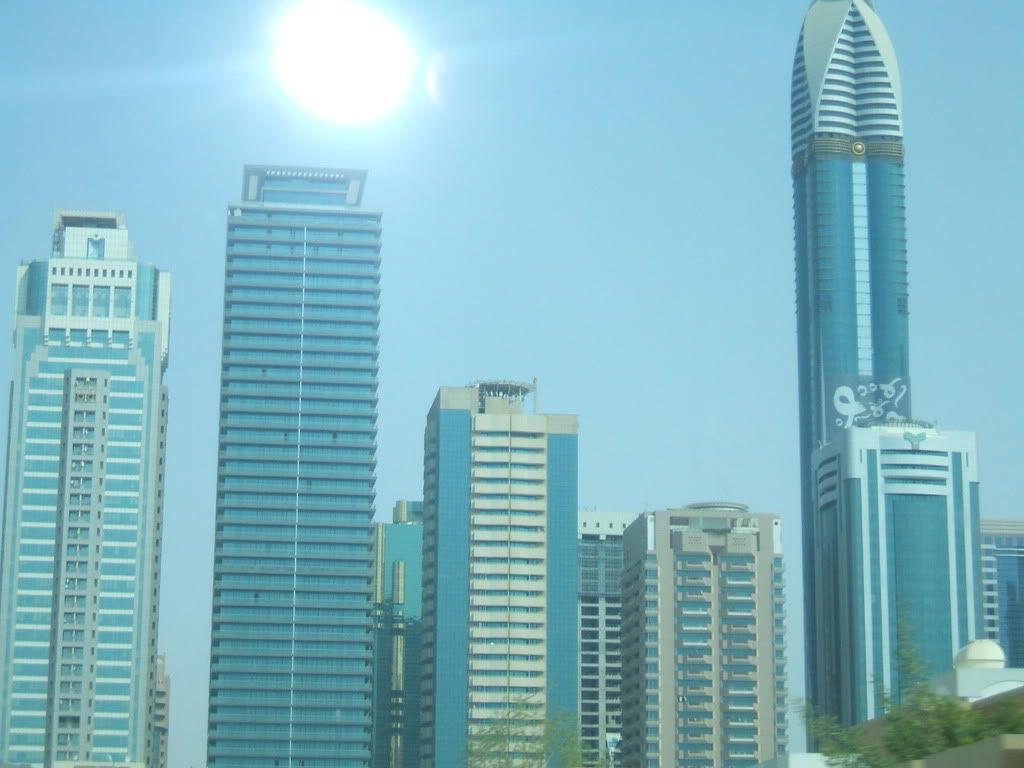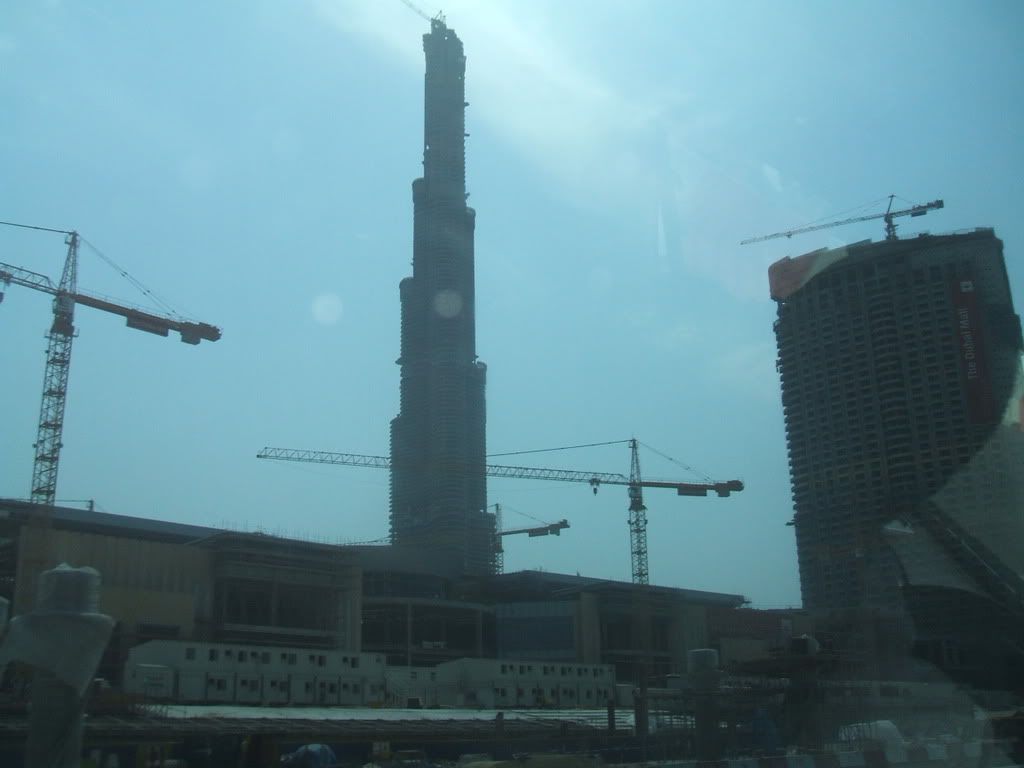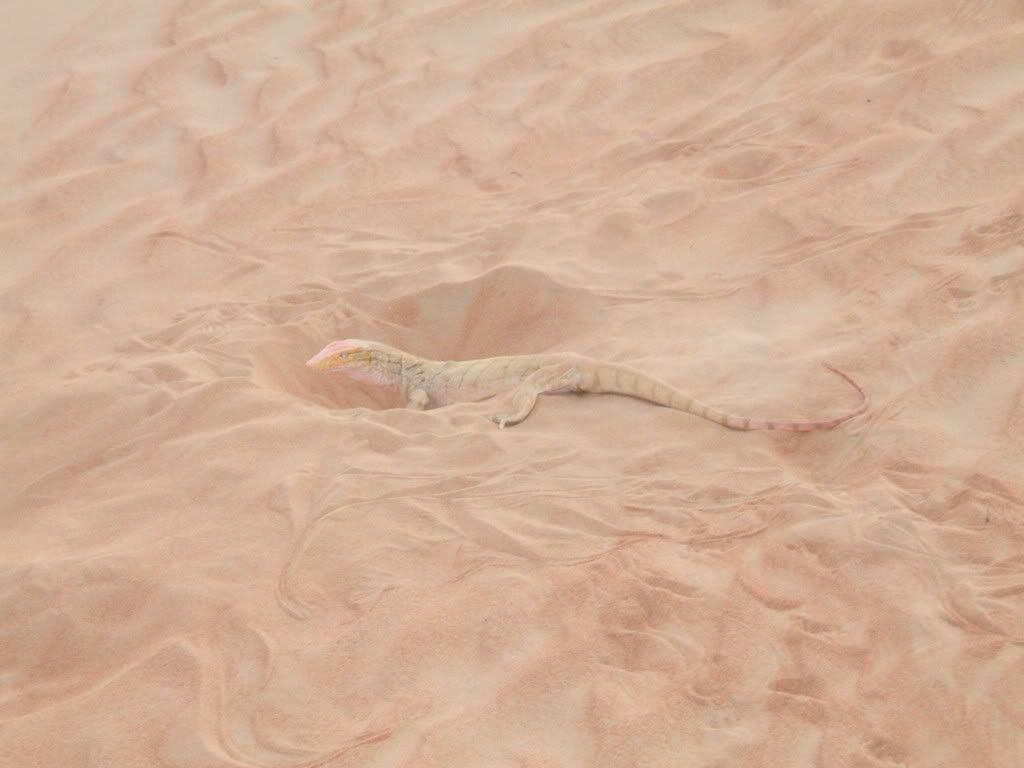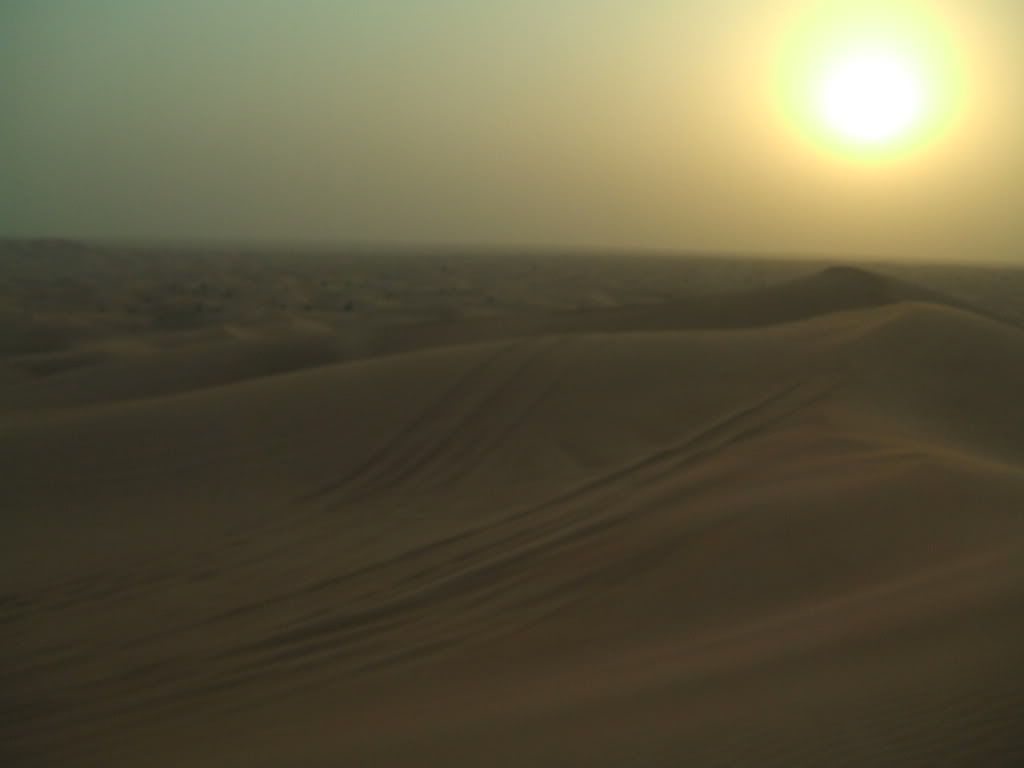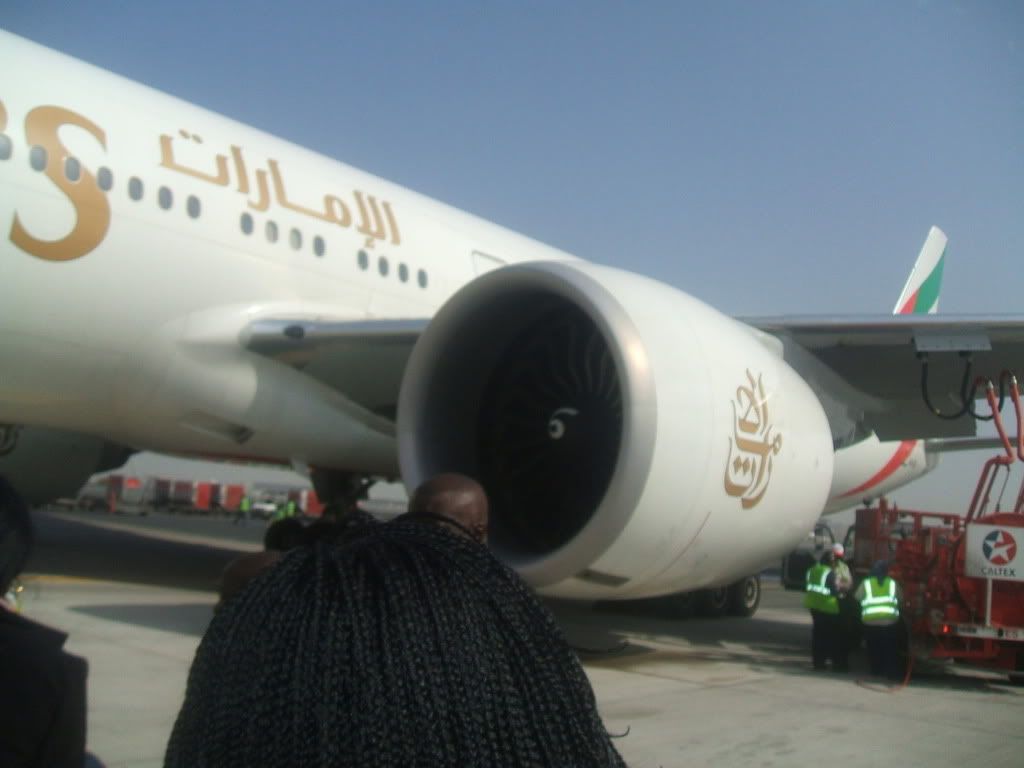 Boarding the flight back to LOS.
After spending more than a month in Middle East, I headed back to Lagos, then to Abuja to make preparations of getting back to Canada. This time though, I will be traveling back alone as my sister decided to stay a bit longer. I did not book a return ticket from Canada with AF because I specifically wanted to fly LH, business class (For the first time) and the A340-600. But un-be-knownst to me at that time was that the FRA -YYZ flight will be a code share with AC (An airline I've had unlucky experiences with and try to avoid them as much as I can). And in as much as I try to avoid them, they just seem to be following me wherever I go and by the time I realized the flight was going to be a code share flight, It was too late, as that was the day of the trip, same day my ticket was handed to me.
Even though I wasn't in Nigeria for so long, I was happy to witness first hand, the country's current aviation reforms, and compared to 8 years back (the last time I was there) the improvements have been major with new airlines created and new airports built. To some of us, Nigeria may not be the ideal vacation spot, but to me, the country symbolises to me what it truly means to be African. To visit Africa (West Africa to be precise) and not to come to Nigeria, you can barely say you've tasted or experience the true African life style.
ABUJA TO LAGOS
AIRLINE
: Chanchangi Airlines
FLIGHT NO
: NCH 197
CLASS
: Economy (Y class)
DATE
: September 3rd, 2007
AIRCRAFT
: Boeing 727-2M7/Adv
REGISTRATION
: 5N-BCF
DEPARTURE TIME
: 15:00
ARRIVAL TIME
: 15:48
ACTUAL DEPARTURE TIME
:16:35
ACTUAL ARRIVAL TIME
: 17:30
I must first of all, sincerely apologize for the lack of photos for this flight. A friend borrowed the camera and for some reasons, didn't return it on time for this trip. Had to buy a new camera in Lagos (Even though it wasn't as good as the one I originally had).
Anyways, for this trip, I opted to use the domestic wing (Where all other airlines except VK and W3 operate domestic flights). What I like about flying through the domestic wing is, you never know which airline or classic aircraft you will be flying with, even when you arrive at the airport. Only if you book in advance or know the schedule for the specific airline you want to fly. Most people still prefer to go to the airport and buy the tickets as the prices are always constant whether you booked it a month or 15 mins prior to the flight.
Arrived at the airport around 1:00pm, with a number of flight choices to Lagos. They included AERO at 14:30hrs, Bellview at 14:50hrs and Chanchangi at 15:00hrs. AERO is the preferred choice for most businessmen and foreign travelers because of their excellent service. I wanted to fly Chanchangi, not because of their service, but just in order to fly the 727 (One of my favorite aircraft), and also for the fact that their ticket price is 500 naira cheaper than AERO and Bellview (Approximately $4 cheaper) but then again, there was a chance that the flight might be operated by a 737-200. I took the gamble of buying the the 15:00 flight. I noticed the the process in which the seats are chosen are old fashioned. There is a sheet of paper with the cabin layout of the aircraft, the cashier then ticks the seat selected for each passenger. From the length of the cabin layout, I could tell it will be a 727. As soon as I checked in my bag, I made my way through to security and onward to the departure waiting area. IRS to Maiduguri, Bellview and AERO to Lagos were already boarding at the tarmac, but still no sign of our 727.
Our aircraft didn't land from Lagos till around 3:48pm, 48 mins after our schedule departure. You could sense the frustration amongst other passengers for this flight. The boarding announcement wasn't even made when some people started making their way towards the plane on the Tarmac. I decided to wait to be one of the last few people to board. Before boarding the aircraft, you are required to identify your checked in bags. The boarding process was quite fast and everyone was onboard in about 15 mins. As I walked towards my assigned seat, I saw it was occupied by someone. I told one of the flight attendants about it and she told me it was a free seating flight. You can seat anywhere except for the business class seats. I got an aisle seat towards the rear of the plane where I could enjoy those noisy 727 engines. Prior to take off, the cabin crew apologised for the delay and blamed it on heavy traffic when departing from Lagos. The interior of the 727 was in decent condition and looked well maintained. During taxi, the captain came on to the speaker and once again apologized for the delay. Flight time to Lagos will be 50 mins at a cruising altitude of 28000 ft.
After a fairly short taxi, we were zooming to our destination without any serious turbulence. A really smooth flight. About 20 mins into the flight, refreshments were served. There were two choices, either some type of Beef roll or a type of pastry with coconut and cream filling and your choice of drinks. I choose the latter, which tasted ok, only that it was stale and cold. Seated on my left side (at the center) was a lady who kept leaning on my shoulders unconsciously and as soon as she regains conciousness and realize she is sleeping on my shoulder, she jerks up and quickly apologizes! She did that like 4 times. Very Hilarious!
We began our descend about 38 mins into the flight. We had to circle the airport for about 10 mins due to traffic. Sure enough, as we landed, there were about 5 planes lined up for take off at the runway. This is partly due to the on going repairs at the domestic section runway, meaning that only one runway is in use for International and Domestic flights. As we Taxied to the domestic terminal, I noticed that the Buraq DC-10, parked at the ramp close to the terminal was gone. It had been there for about 2 years. It had been moved to any corner of the airport, probably the far end of the runway with other rotting planes such as the infamous hydro 747. Other traffic on ground at the International terminal included MEA A330, AF A330, two VK 767s, 4 VK 737s, Arik 737-700 and Dash 8-300. After what seems to be taxiing forever, we were at Terminal 2 domestic. The other new terminal which had been under construction was complete, all that was left was for it to be opened. When exiting the aircraft, I was fortunate to exit through the 727s rear door underneath the tail. After de-boarding, passengers board a bus that will take them to the Terminal building. Took about 35 mins for me to get my bag and I was on my way to the arrival hall to meet my uncle who had come to pick me up.
RATINGS OUT OF 5 FOR CHANCHANGI 197
1.
AIRCRAFT CONDITION: 3/5. Looks clean despite age.

2. CABIN CREW ATTITUDE: 3/5. Polite, but not necessarily friendly.

3. SEATS: 3/5. Just OK.

4. FOOD: 3/5. OK, but could be better.

5. IFE: NIL

VERDICT

Not a bad flight, but need to improve basic and simple services such as food service and on time schedule.
LAGOS TO FRANKFURT
AIRLINE
: Lufthansa
FLIGHT NO
: 565
CLASS
: Business (J Class)
DATE
: September 4th, 2007
AIRCRAFT
:Airbus A340-313X
REGISTRATION
: D-AIGV
DEPARTURE TIME
: 22:10
ARRIVAL TIME
: 5:25am
ACTUAL DEPARTURE TIME
: 22:20
ACTUAL ARRIVAL TIME
: 5:31am
After spending the night and a full day in Lagos, it was time to move on. Left for the airport very early just to avoid the notorious Lagos traffic. But alas, no how you can avoid it. Check-in for Lufthansa closes at 9:00 pm and I barely made at 8:50. This is despite leaving the house at 6:00pm. Arrived at the check-in desk just as they were about to close. My bag was checked-in straight to Toronto. The airport was full to capacity as must International flights depart at night. The line through security to the gate was so long, with many people jam packed at the door, fighting to get in, just like a flock of sheep being rounded up. It was a disgrace. After waiting in line, trying to be as civilised as I can for about 20mins, I realized that if I don't join the struggle, I'll probable miss my flight. I forced my way through bodies of people and crying children and managed to make my way into the departure and gate area after passing security.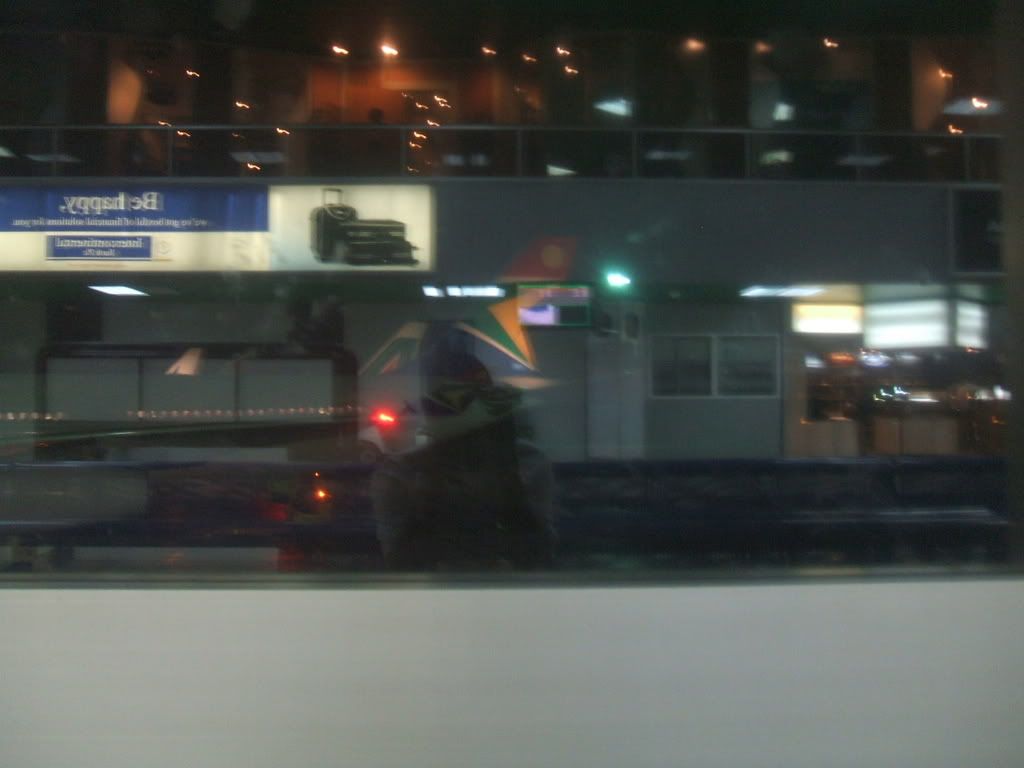 Very poor picture. South African A340-200 to Johannesburg, Alitalia 767-300 to Milan, and barely visible is Kenya Airways 767-300 and KLM 777-200 to Nairobi and Amsterdam respectively.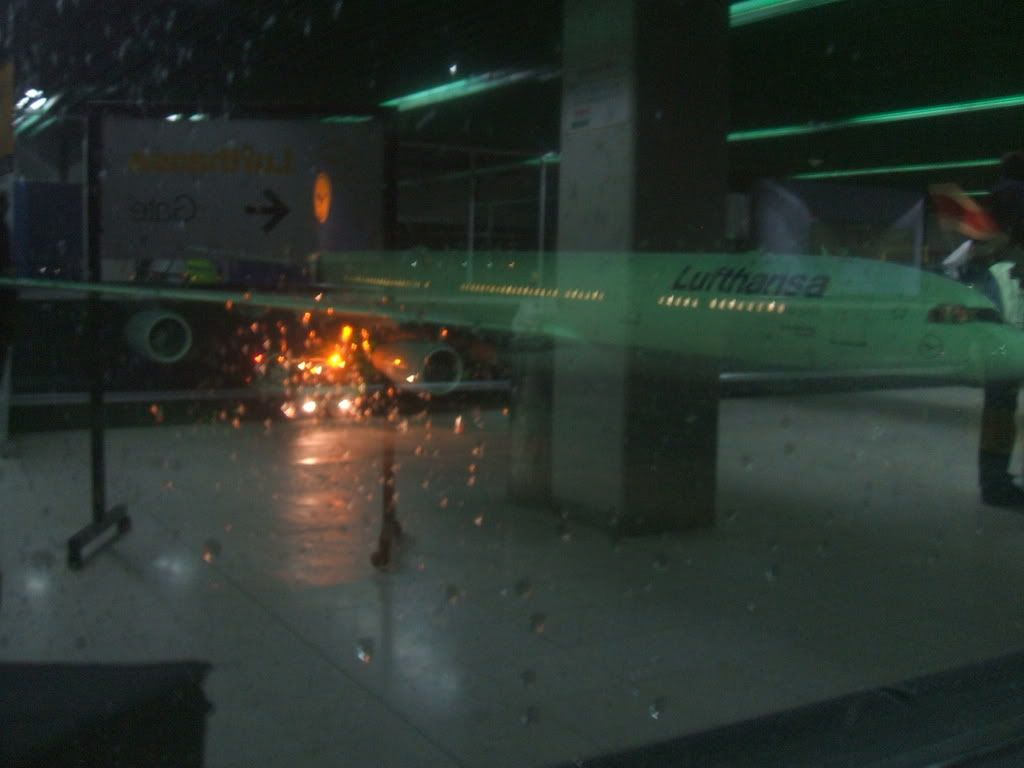 LH 565 arrived from ACC and will be departing for FRA. Also BA 074's tail is visible.
When I arrived at the gate, most people had boarded the plane. And once again, I was one of the last people to board. Before boarding, passengers are asked what their final destination is, which automatically means that most passengers on board have a flight connection and majority of them are traveling to London. As I found my seat, I started sorting out how to use Y class products
as this was my first time of ever flying Y-class. Shortly before push back, complimentary drinks were served. Push back was at 22:30. We slowly made our way to runway 19R. Right behind us is KLM 777. Seated on my right was an old English lady heading back to England for a seminar at Oxford. She told me she had lived in Port Harcourt since 1959. That must be really courageous to live there despite all the recent crises happening in that corner. Take off was at 22:45. We made a quick 180 degree turn heading up north. Some turbulence was encountered earlier on in the flight as it was cloudy.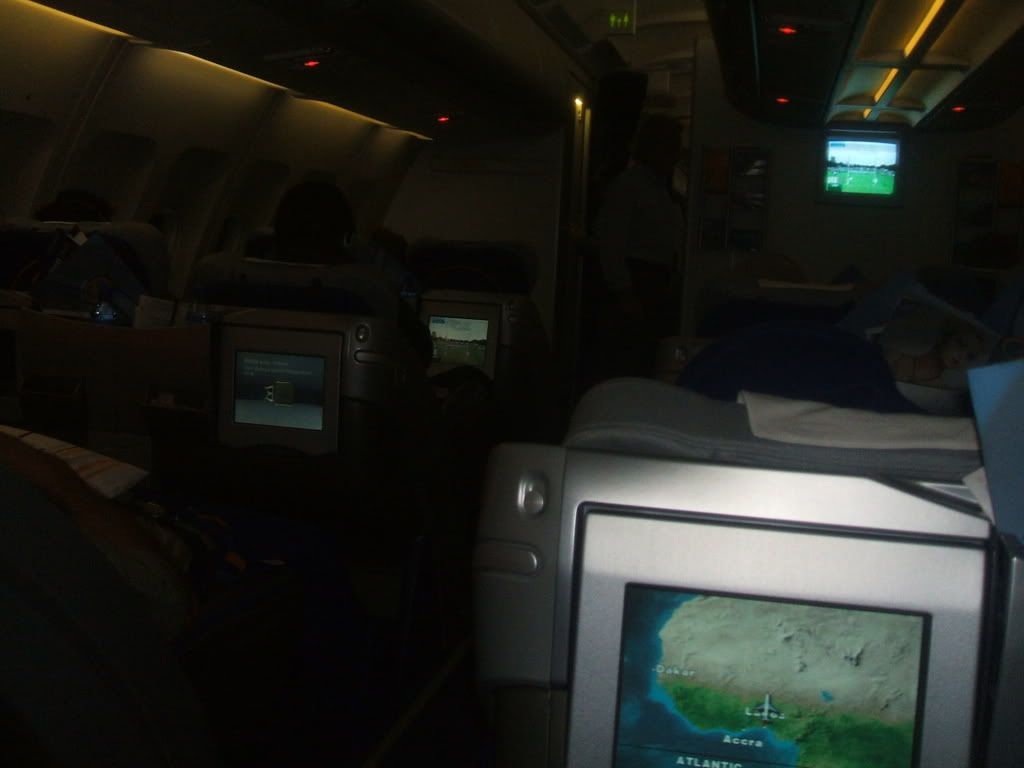 Shortly after take-off.
Once we were air-borne, I started fiddling with my PTV. My favorite show on any flight is the sky map. I spent most of the time though chatting with the lady seated next to me. Movies available were "Mr Beans Holidays", Shrek 3 , some Indian movie and a horror movie. Those were the once I remember, and were available in demand.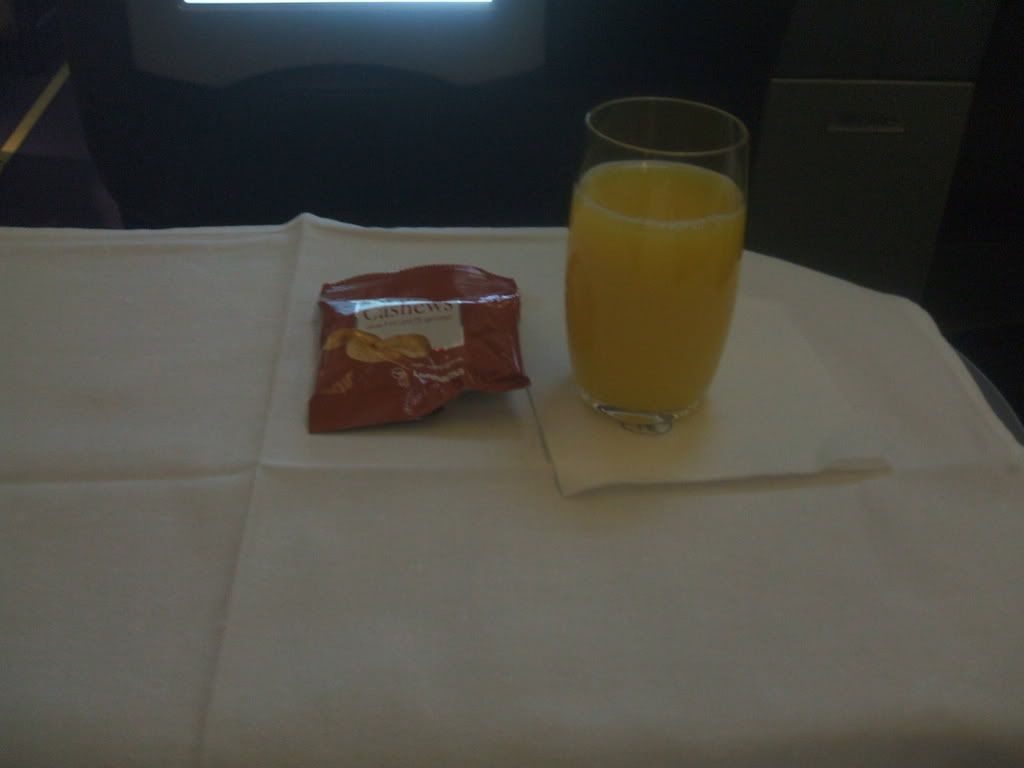 30 mins into the flight, a light snack of cashew nuts were served.
The seats were extremely comfortable and the leg room was enormous. The seats also have massagers installed in them, but makes a little too much noise when used as the cabin is very quite. The A340 itself is very quiet, or maybe its because the business class section is meant to be quiet???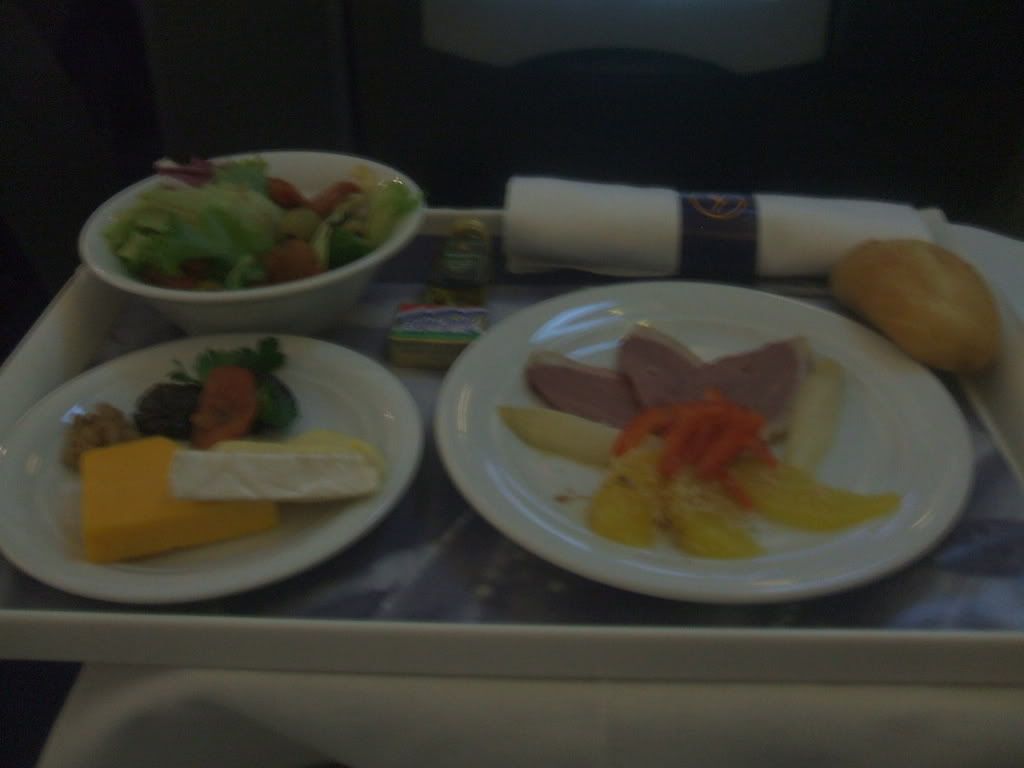 STARTER: I selected the Smoked duck breast served with green asparagus spears, orange fillet and chopped red fillet.
The other option was marinated prawns with palm hearts, mixed pepper salsa and pesto dressing.
Main Course: This is herb crust chicken in mixed herb sauce, mixed rice turned baby marrow and tomatoes.
Alternative available course was Beef fillet and cream pepper corn sauce leek potato mushroom gratin, green beans and baby carrots or the vegetarian meal.
All the meals (except for the cheese) were tasty and satisfactory. Even though I was just flying in Business, I felt carried away that this is the best service you can get on any given flight, and that nothing could be better than this. I managed to get some sleep, which is quite unusual for me on must long flights. Didn't wake up until breakfast.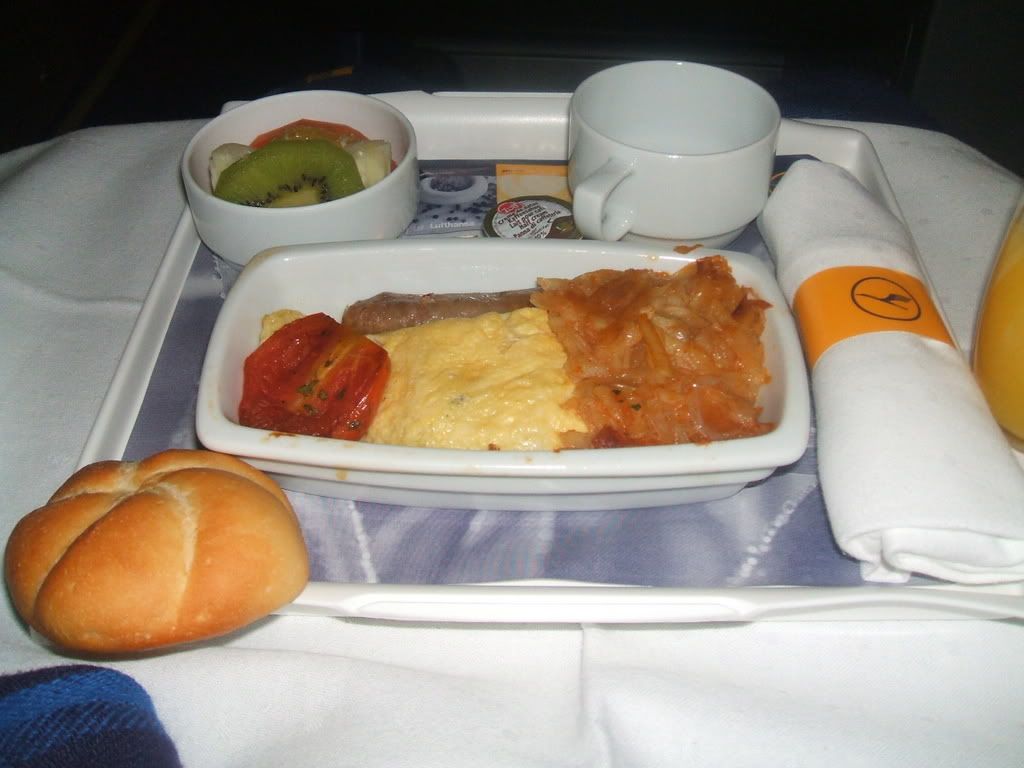 Breakfast was masala omelette served with grilled veal sausage and hash brown potatoes.
Our flight plan had taken us over Niger, Algeria, Tunisia, Sardinia, Corsica, Italy were we flew directly over Milan, Switzerland, West of Munich, before making the descent into Frankfurt. After a smooth landing at 25R, we made a long a taxi to the gate. As with most flights arriving from Africa into Europe, the police were stationed at the gate to check the passports of the disembarking passengers.
RATINGS OUT OF 5 FOR LUFTHANSA 565
1.
AIRCRAFT CONDITION: 4/5 Very good looking cabin. The A340 is a very quiet bird.

2. CABIN CREW ATTITUDE: 4.5/5 Definitely the friendliest crew I've ever encountered. Could it be because its J class?

3. SEATS: 5/5 Superb! Nuff said........

4. FOOD: 4.5/5 Great food.

5. IFE: 4/5 Very good, but needs more choices of channels.

VERDICT

Excellent crew, seats, IFE and food. Lufthansa will always be my favorite airline.
FRANKFURT TO TORONTO
AIRLINE
: Air Canada
FLIGHT NO
: 873
CLASS
: Economy (Y Class)
DATE
: September 5th, 2007
AIRCRAFT
: Boeing 777-333/ER
REGISTRATION
: C-FIUR
DEPARTURE TIME
: 9:55am
ARRIVAL TIME
: 12:50pm
ACTUAL DEPARTURE TIME
: 10:05am
ACTUAL ARRIVAL TIME
: 12:44pm
The airport was already jam packed very early in the morning, which is due to the arrival many transatlantic flights. It also gives you a hint of how busy the airport is. I had only 4hrs till my connecting flight, which was disappointing as I wanted stay longer to do some spottings and explorations and off course wanted to fly the A340-600 that departs at 13:15pm to Toronto.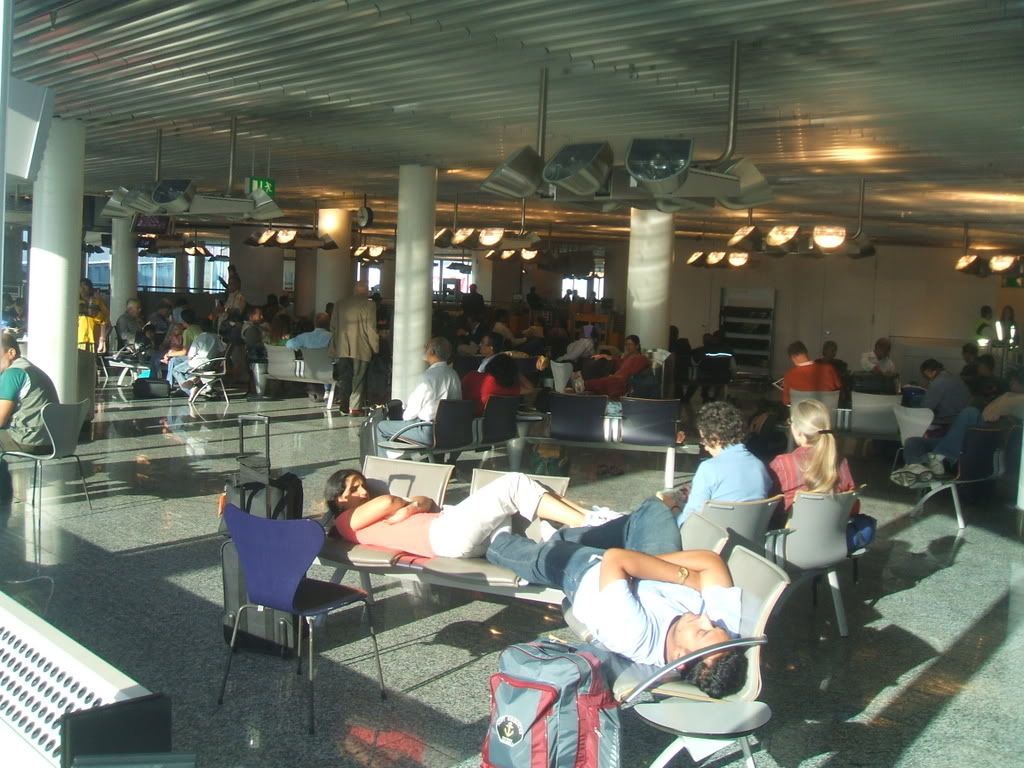 I spent most of the 4hrs wandering about and looking for the best location to spot inbound and outbound traffic. There is a big McDonald's located at the center edge of the terminal and it offered a terrific view of incoming and out going traffic. I thought it was really cool. I was also impressed by the departure boards at the airport (How information rotates) because it was the first time I've seen such type.
For the next flight, I was anticipating the ever disappointing AC 767-300, but was very surprised to see a 77W at our gate. I had spotted the AC tail from afar, but wasn't really sure if it was a 767. The 77W isn't a bad substitute for the A340-600, but since I've flown on one of them during the summer, I wasn't really excited, because since from the beginning, I've set my mind on flying the Airbus. Moreover, I'm not a big 777 fan like most people, I prefer the 747, A330/A340 over the triple seven. Just a month and a half ago, I wouldn't have believed I will be flying three 77W in the space of one month! One good bonus though for this particular flight was that it will be flown by C-FIUR (Air Canada's 5th and newest 777).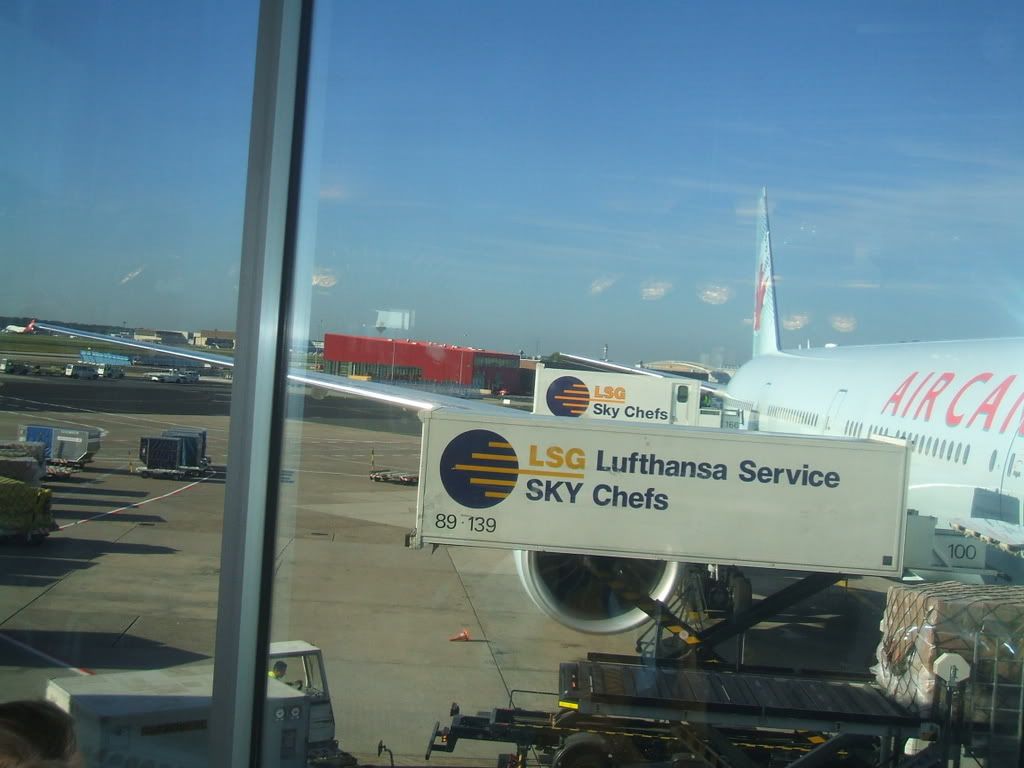 AC 873.
On the other gate to our left was LH 656 to Tel Aviv. For some reason, the whole gate area had been culled of by the police. Appeared as though something is, was or about to happen. It wasn't until I got to Canada, that I heard of the arrests of suspected terrorists made by the German police on that same day (The plot to bomb the airport). But the puzzling thing was that the police were only present at the Tel Aviv gate.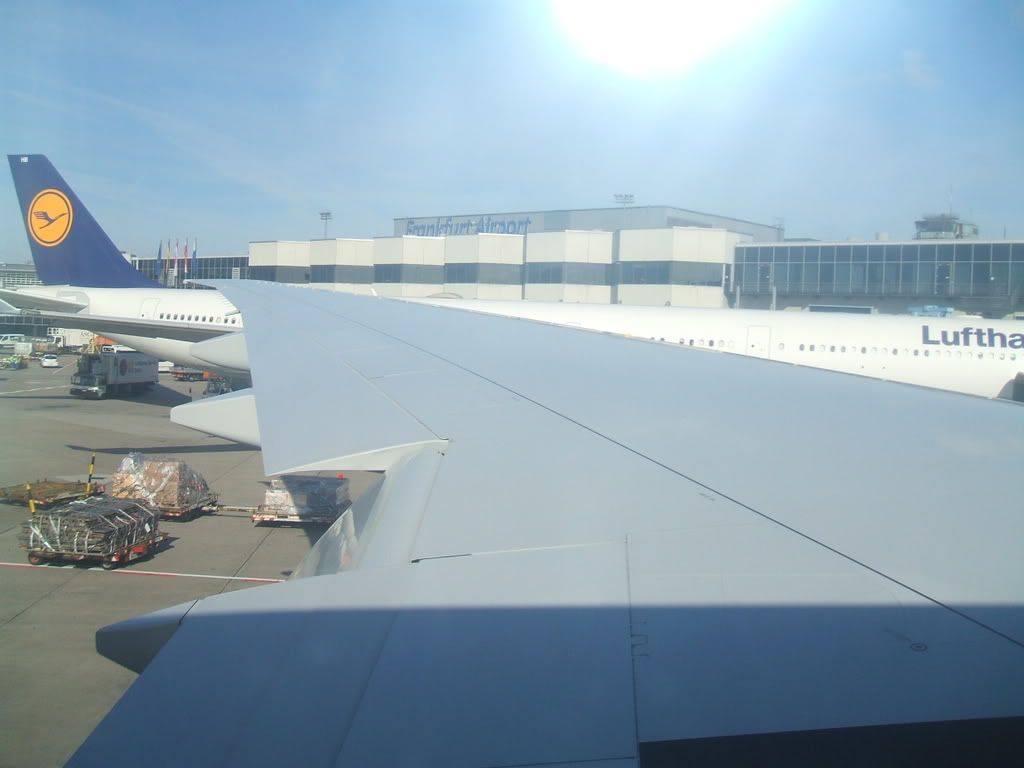 Parked next to LH656 to Tel Aviv.
Boarding was around 9:20am and the process was very fast. Even before 10:00am, boarding was complete which enabled us to depart early. I'm now back in Y Class. Although, the cabin layout of this 777 is the 3-3-3 configuration, the leg room and comfort isn't as good as EK's 3-4-3.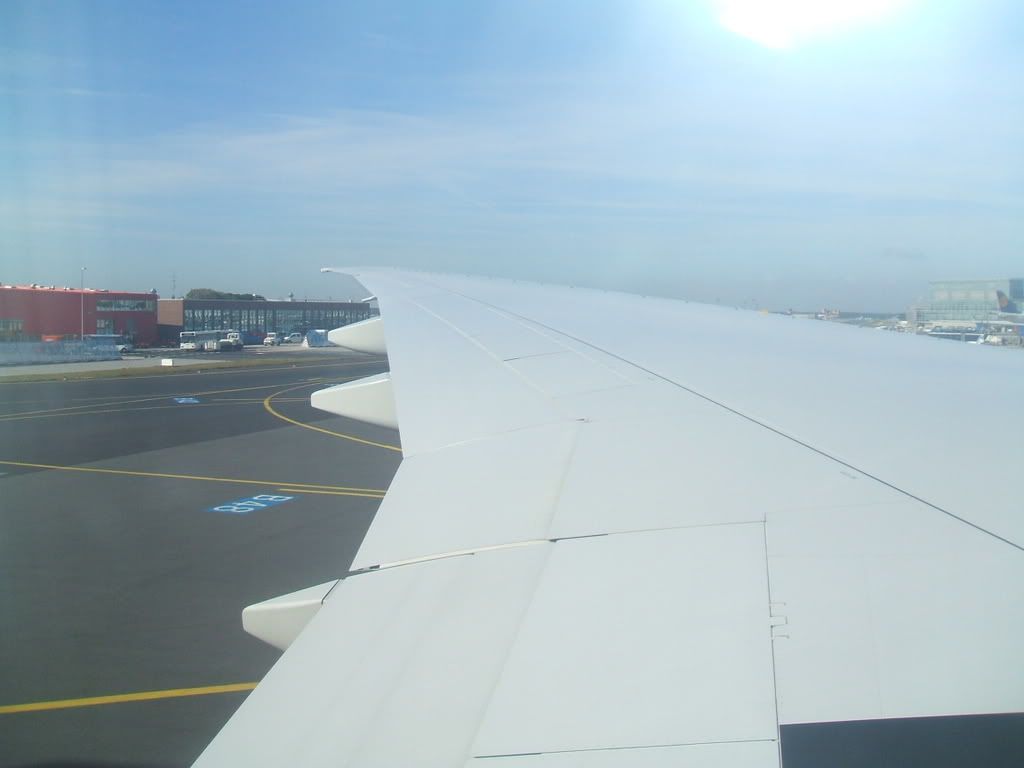 Push back.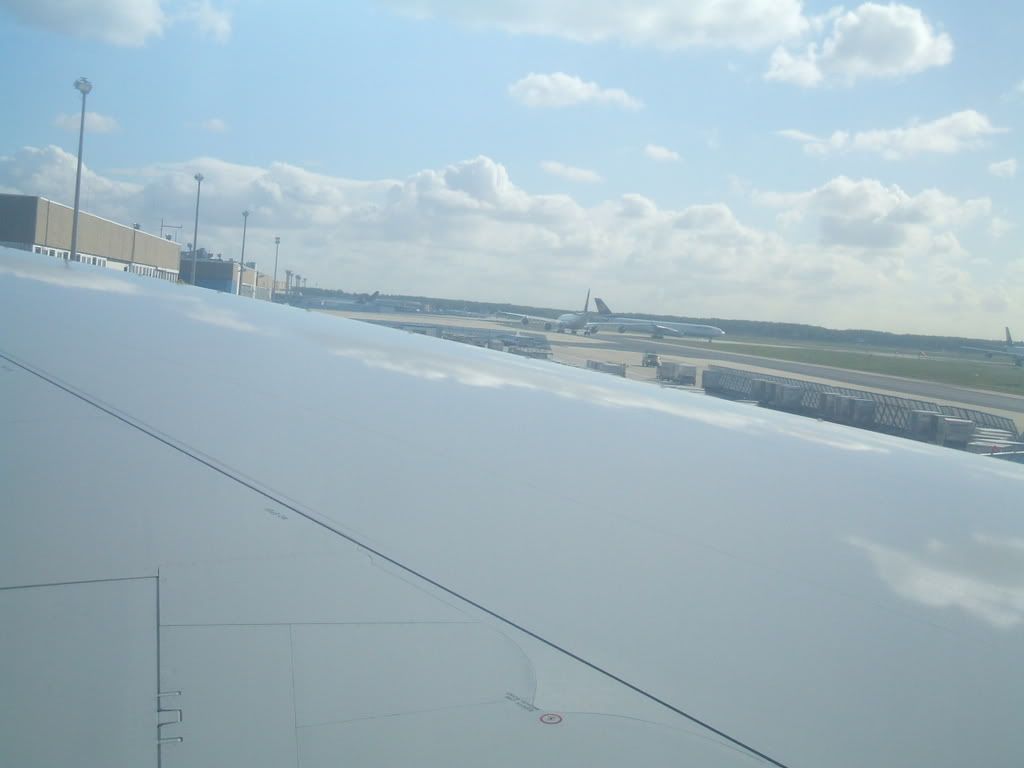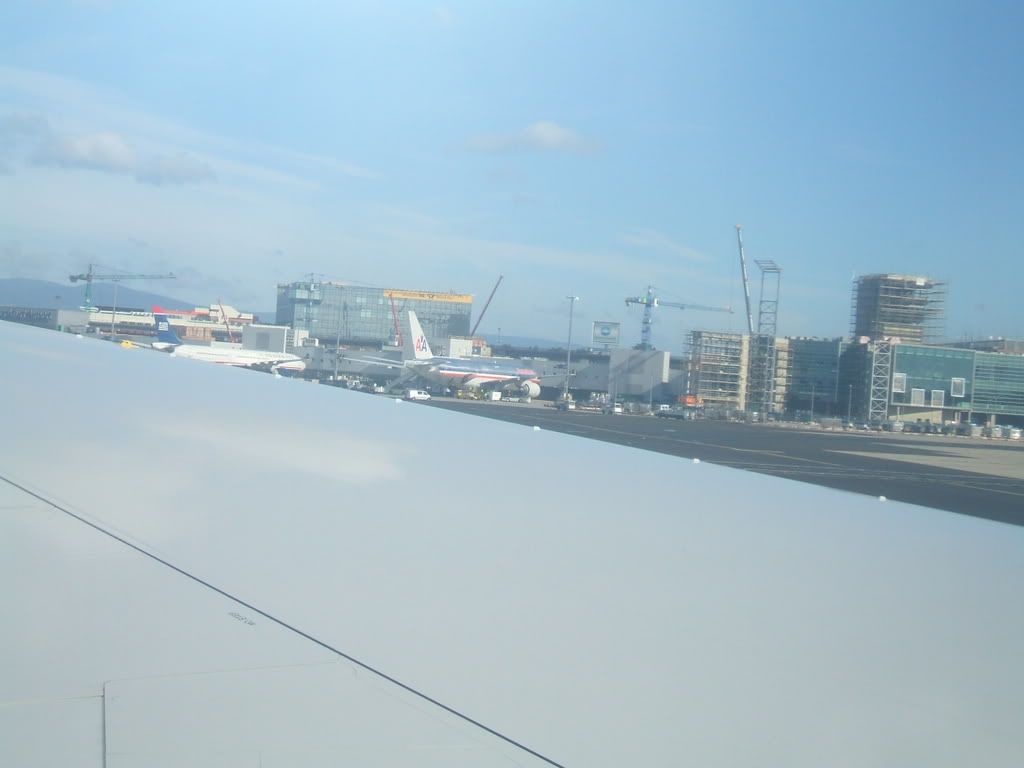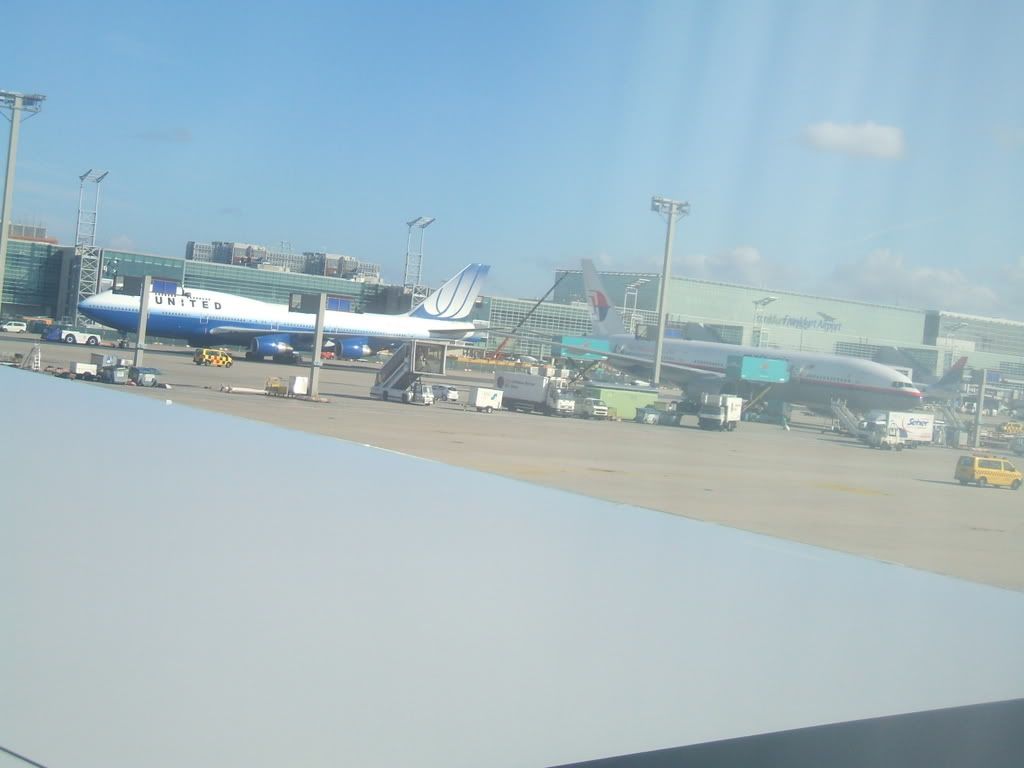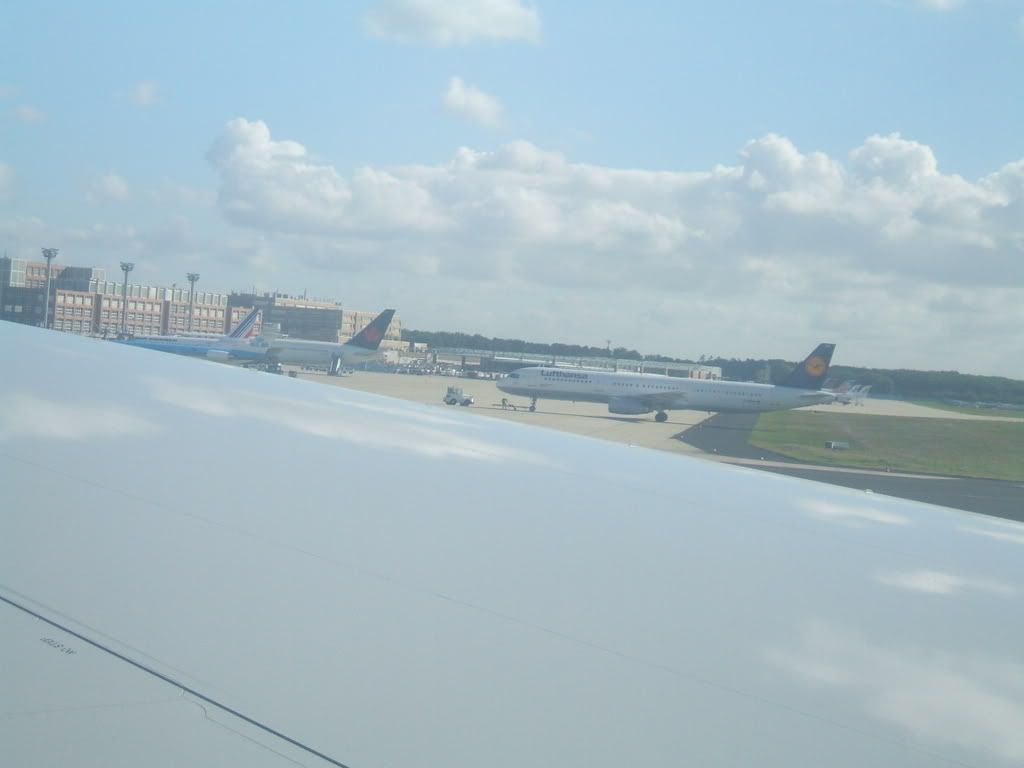 Taxi.
Before push back, I was browsing my AVOD system to tune it to the flight map and was quite disappointed to read the message "THIS FEATURE IS CURRENTLY UNAVAILABLE". I couldn't believe AC had not fixed that yet, as I was on an Embraer 190 flight (YYZ-YYC) last september (a year ago) and that was thesame message I got when I tried accessing the sky map.The only thing I enjoy watching on long flights isn't available, meaning that I wouldn't be able know where we are and get a view of the place, since I had a window seat. Push back was at 10:04 (quite early). The captain came on the speaker and welcomed us onboard and also thanked the passengers for the swift boarding process. The captain anticipated a short taxi, flight time will be 8hrs 6mins, and in a matter of 10mins after push back, we were airborne after a powerful take off from runway 25R.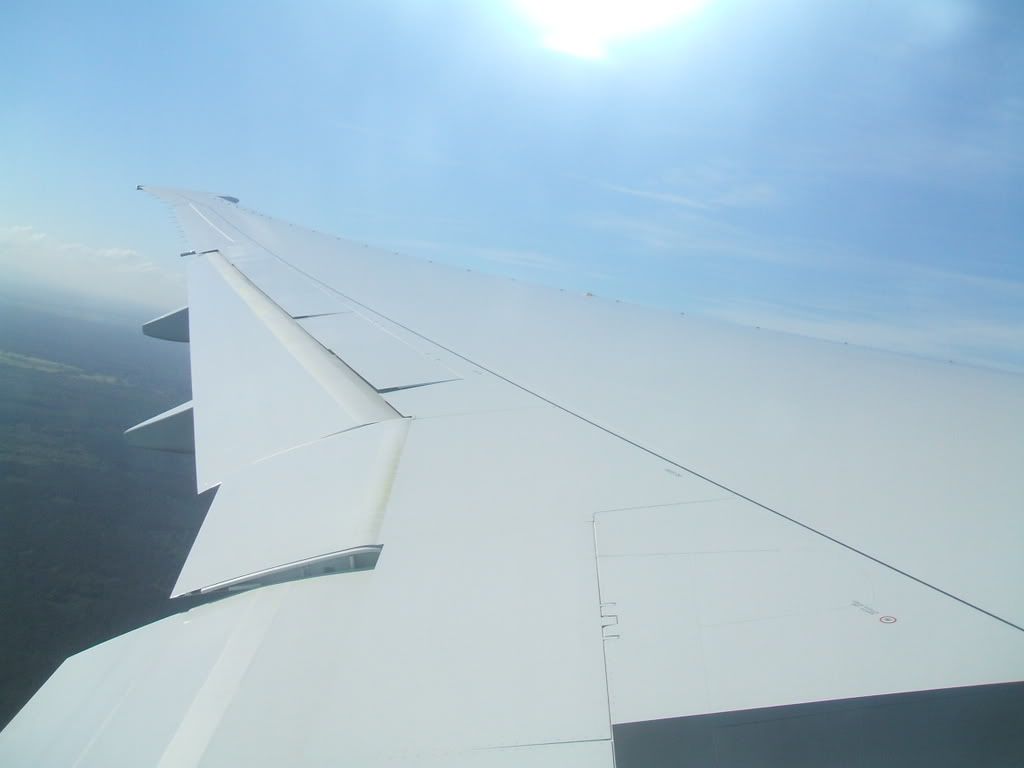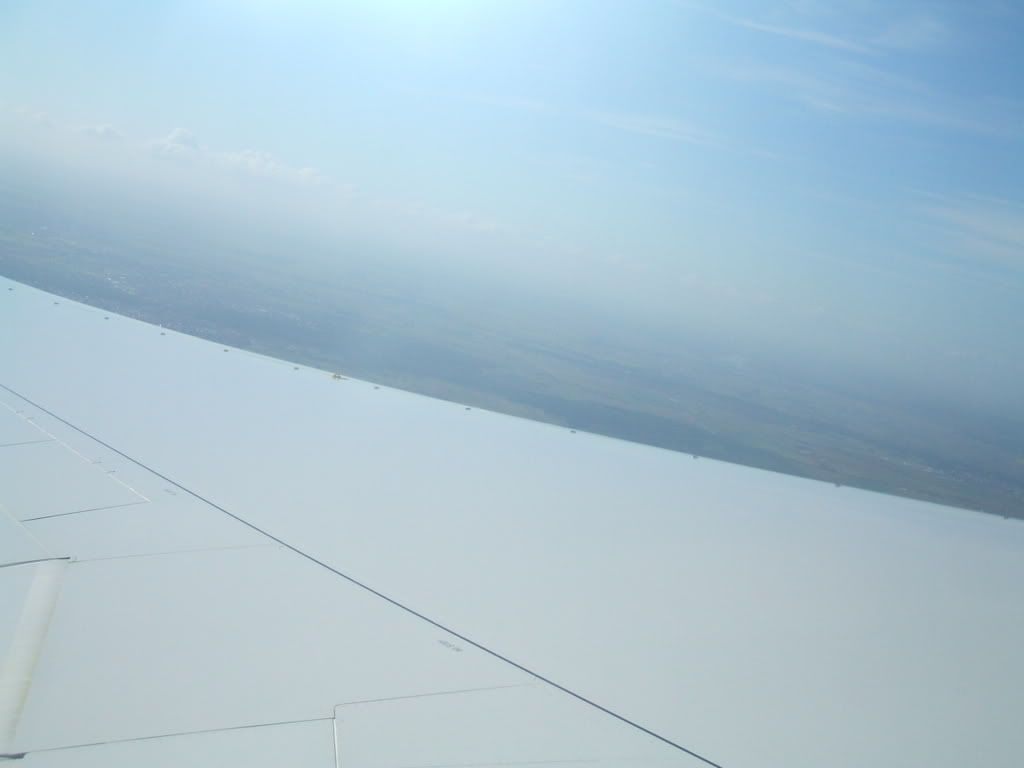 Take-Off.
Here is a very nice picture I found on planepictures.net of our 777 taking off
http://planepictures.net/netshow.php?id=668566
Movies for this flight are listed below
-Analyze This
-Fracture
-Meet the Robinsons
-Shooter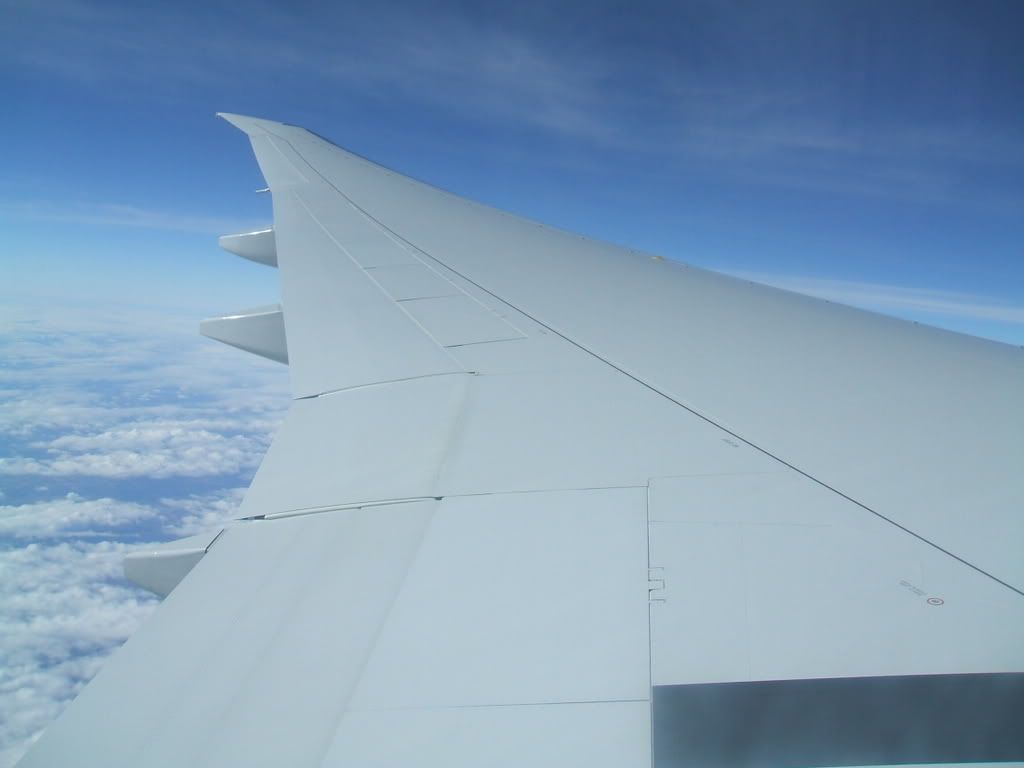 Inflight. The wingflex of the 77W is always impressive to watch.
Since my favorite source of entertainment wasn't working, I decided to have a nap which turned into a deep sleep. In the process, I missed the first serving of lunch. I woke up when the trays for the meals were being packed. I requested for the salmon. The other options being the usual economy style beef or chicken.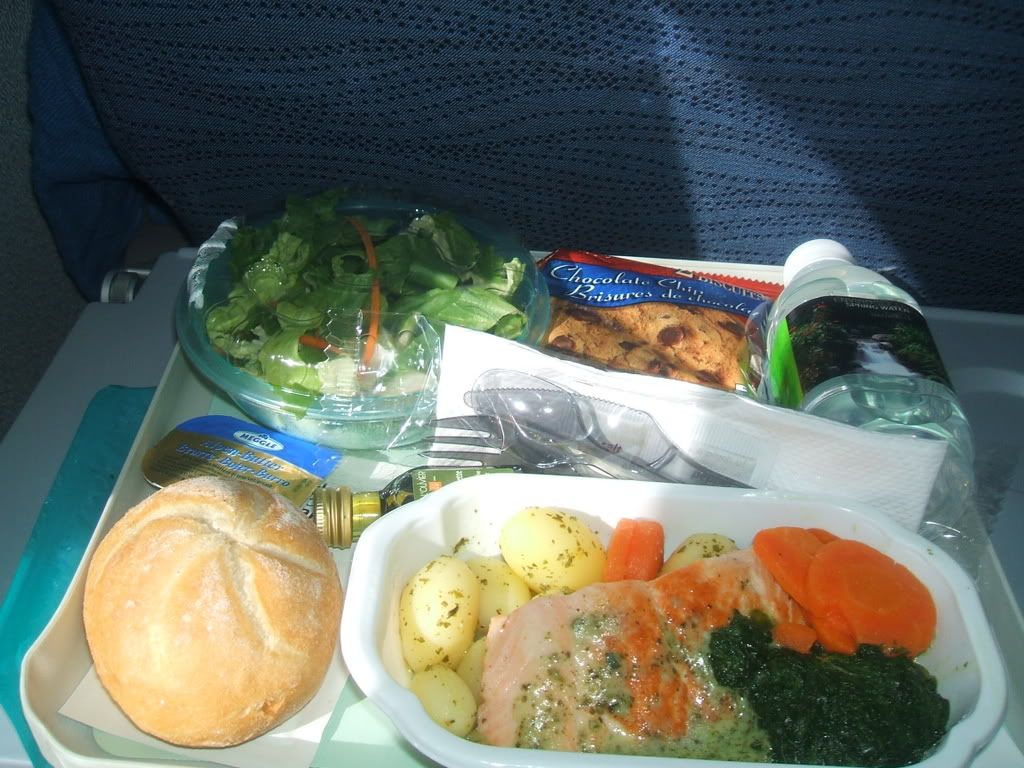 Grilled salmon with boiled potatoes and spinach. Absolutely out of this world.
I tried going back to sleep after that wonderful meal, but couldn't. The flight was almost turbulent free and most passengers were roaming around the cabin freely. Some were standing by the aisle just to get a view of the window. The 777 I noticed is a bit noisier than the 747-400, no wonder those engines are so massive, I thought. I also like the design of the luggage bin which curves, making it impossible almost for one to have a head injury.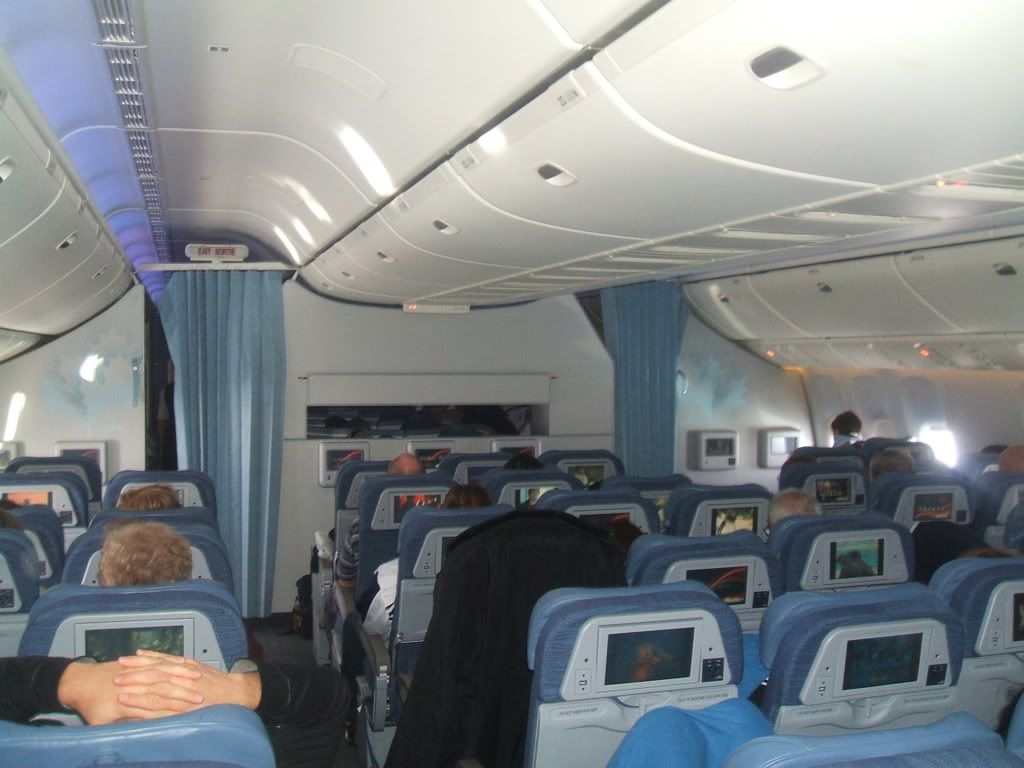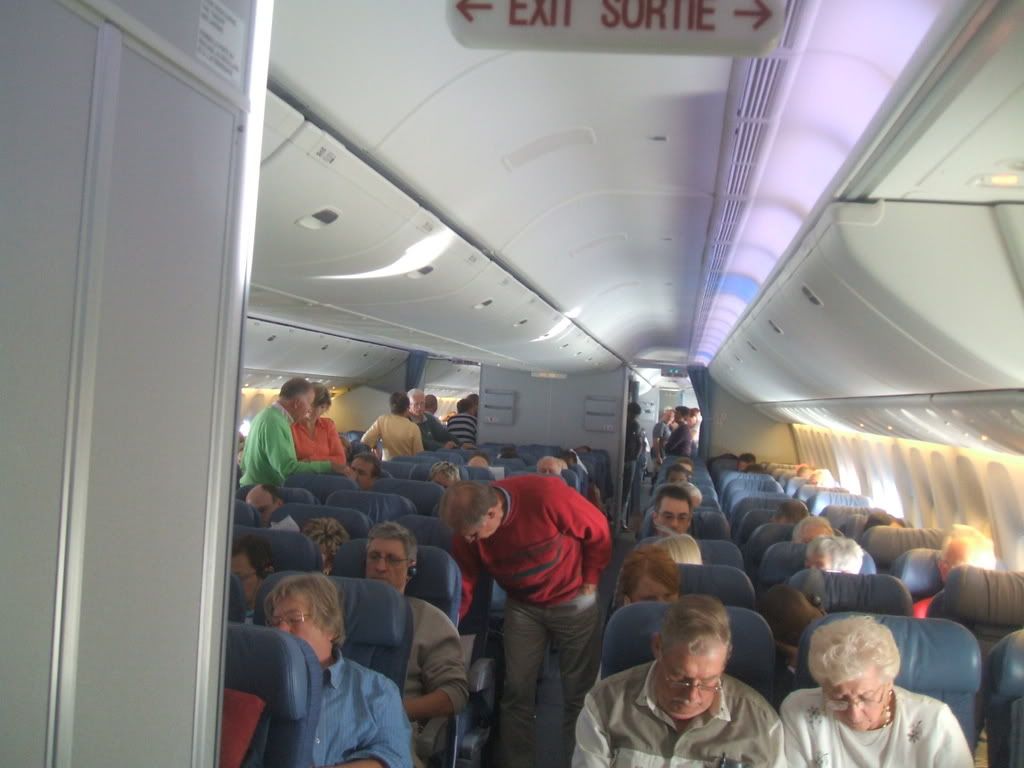 Full house on todays flight. Notice also the nice cabin lighting.
The only time we encountered light turbulence was during our descend. A light snack of Pizza Pie was served shortly before landing. The choices were Pepperoni or Cheese and Tomatoes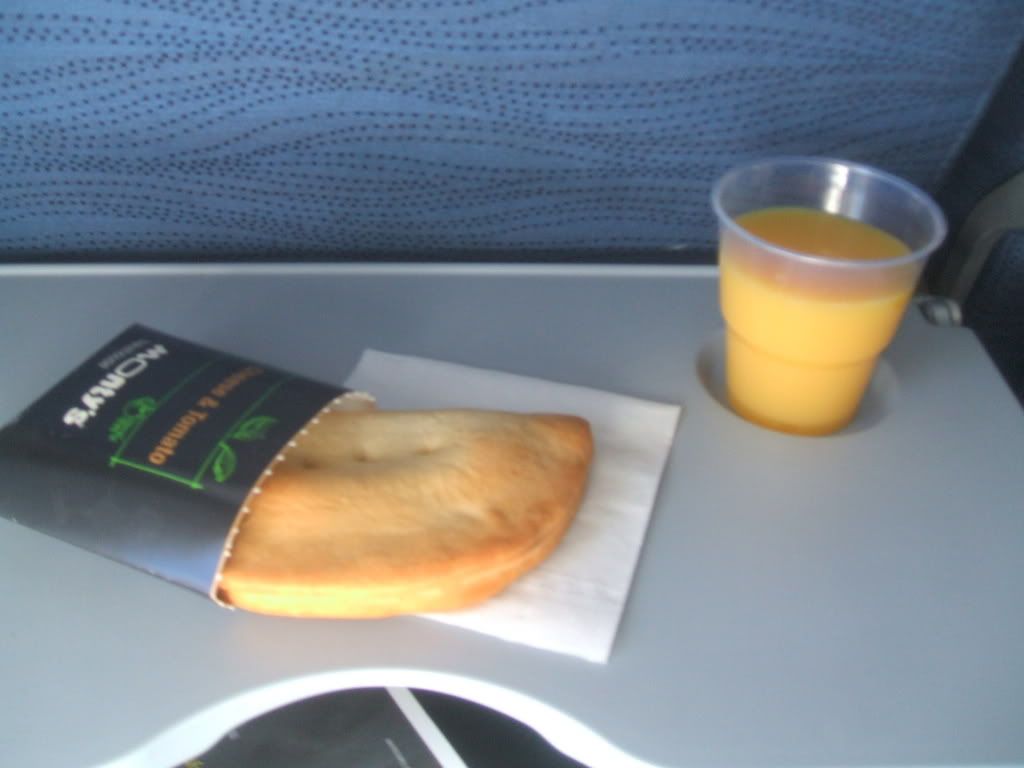 Cheese and Tomatoes Pizza Pie.
As we began our descend, I started experiencing intense pain above my eye and the area between my eyes and nose. The pain was very excoriating. Never have I experienced such pain before, thought my head was gonna explode for a moment. It was also very hard to hide the pain.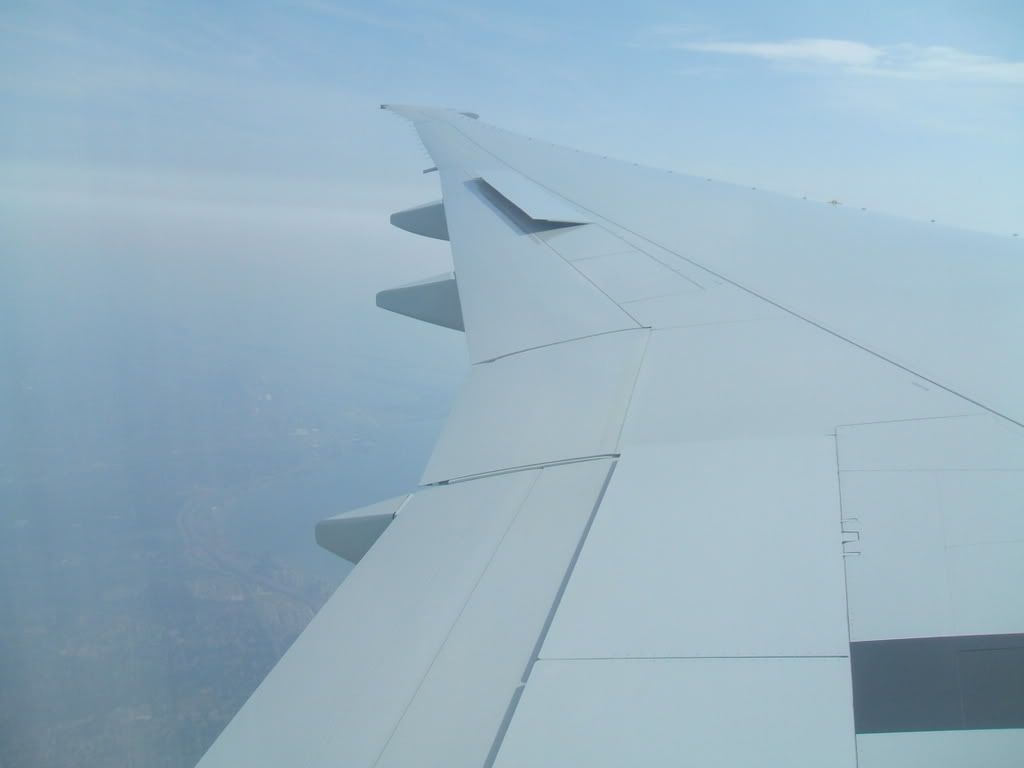 Descending from 35000 feet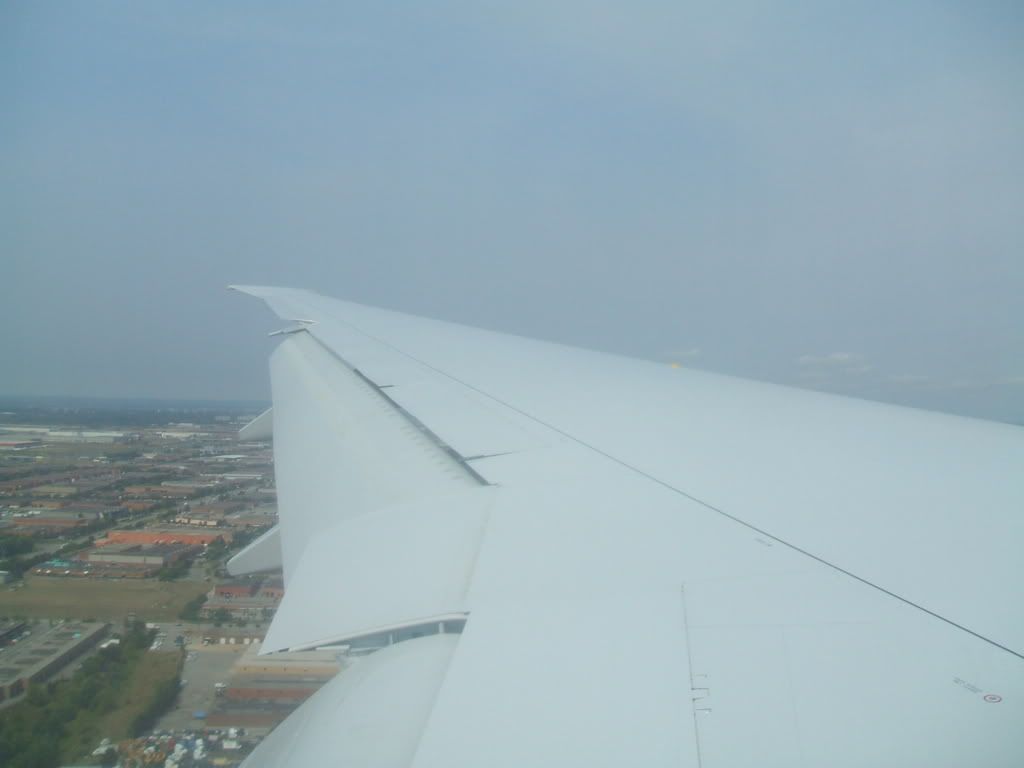 Short on finals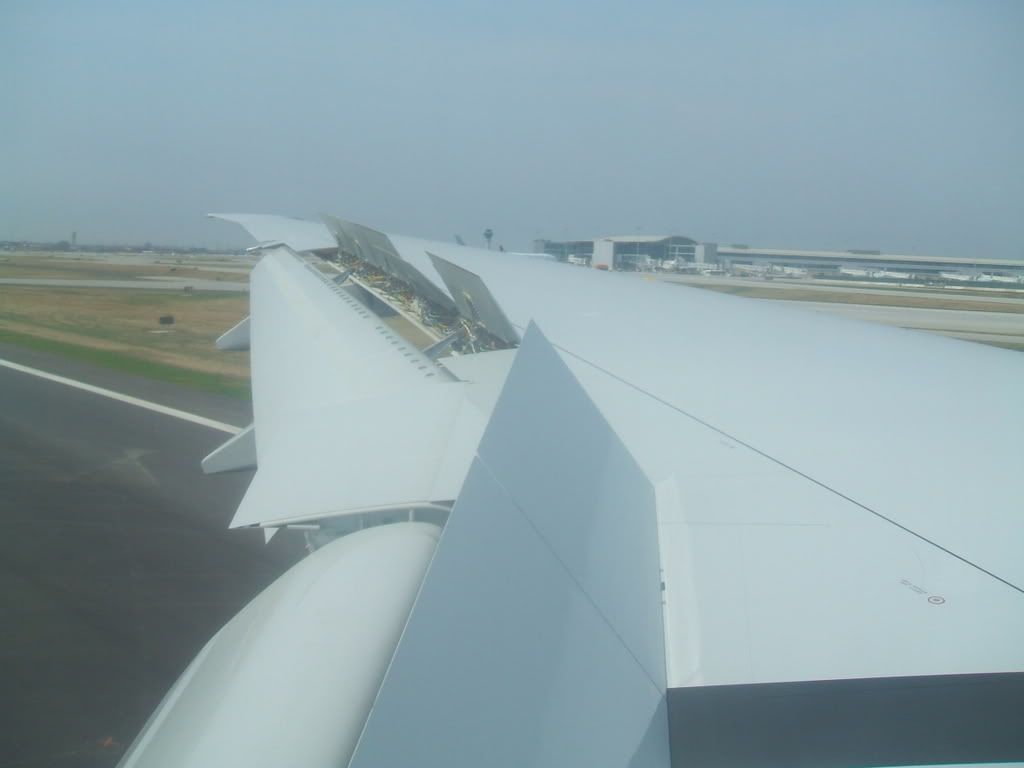 Turning after a very smooth landing on runway 23
After landing, we were put on hold on the taxiway for about 20 mins. The captain told us the reason for was that the control tower cleared us to taxi to the terminal on a taxiway that has restrictions.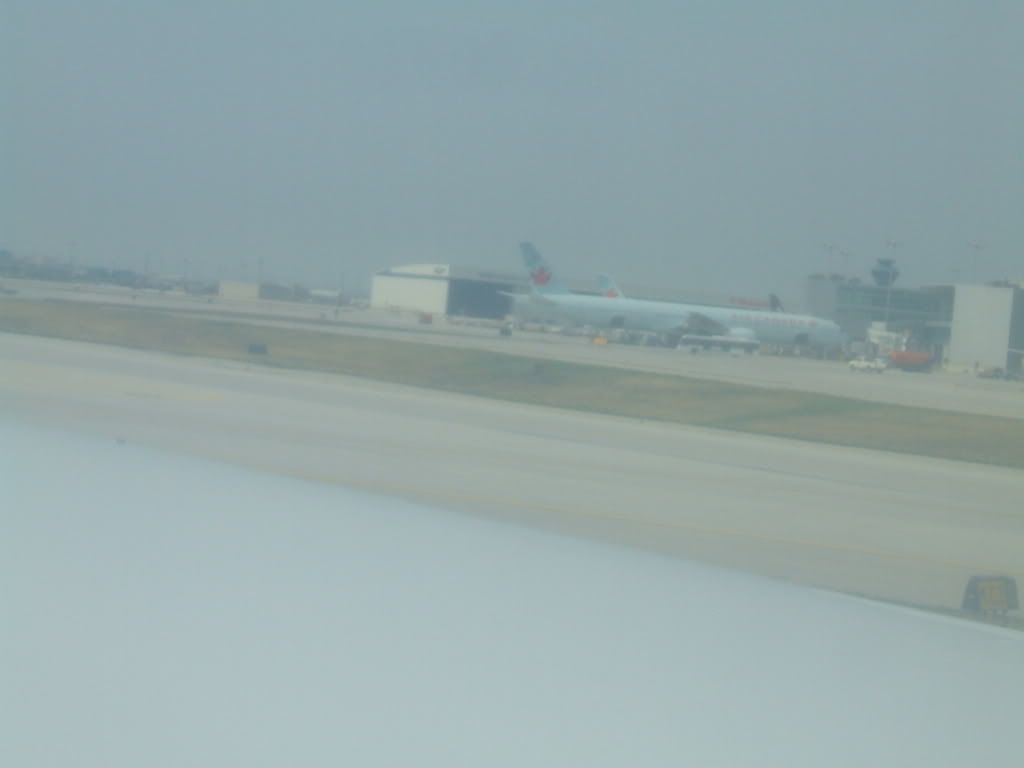 On hold.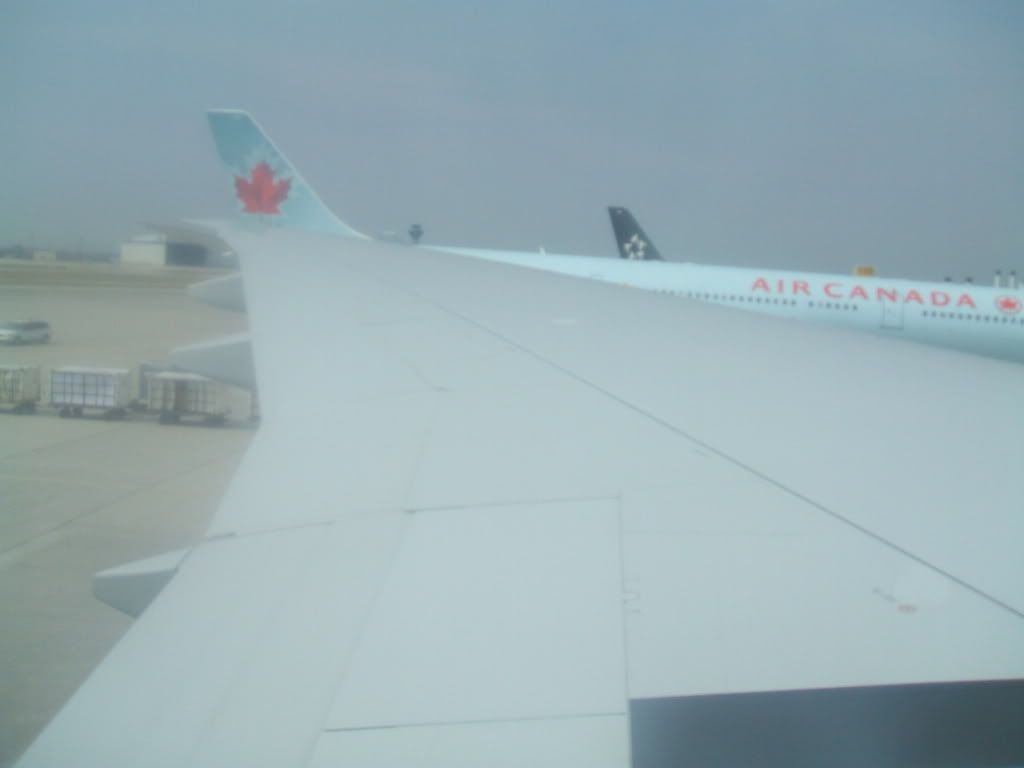 Finally at the gate.
Some customs officials were already at the gate to meet us, so it was a long wait at the gate, especially if you are near the rear of the plane. Had to keep standing for about 20mins before my turn. I also realised my right shoulder was swollen, and the pain didn't make matters any better. After moving from the gate was the agnozing long line wait at immigration.
One more photo of our bird at the gate.
RATINGS OUT OF 5 FOR AIR CANADA 873
1.
AIRCRAFT CONDITION: 5/5 Simply because its a brand new aircraft

2. CABIN CREW ATTITUDE: 3/5 Didn't look cheerful, but tried to make the flight as comfortable as possible for passengers.

3. SEATS: 3/5 Limited legroom and comfort. Also gave me a swollen shoulder.

4. FOOD: 4/5 Very good and decent food. Better than what I got on EK.

5. IFE: 3/5 The lack of Sky map was a set back for me and made the flight less enjoyable, but you must appreciate the fact that they have the best IFE of any North American Airline.


VERDICT

A fairly good flight, but they may need to improve some of their customer services. Will consider flying with them again once their sky map is up and running