SIN-LHR BA 777 1st Class (pics): Continuing Saga
Posted: Tue Sep 18, 2007 10:31 pm
This is the third in a series of Trip Reports detailing my flight experiences on a trip to Europe from Australia in July, 2007. My first report SYD-BKK is here
New QF 1st Lounge & BA10 SYD-BKK 1st Class
(by
Crdaus
Aug 30 2007 in Trip Reports), and my second report is here
TG BKK 1st Lounge & BKK-SIN SQ 1st Class (pics)
(by
Crdaus
Sep 4 2007 in Trip Reports).
This report covers my experience flying BA 1st class from SIN-LHR.
As mentioned in my previous reports, we were travelling on a special BA 1st class companion fare but had to backtrack to SIN after a three day stopover in BKK. After landing at SIN on SQ979, we walked to the new BA/QF 1st class lounge where we had a 3 hour wait before boarding BA16 for London. Thankfully, SQ had checked our luggage through from BKK, so at least we didn't have to worry about that.
The SIN 1st class lounge is shared by both QF and BA and has been recently re-furbished. I think it is still the same physical space, but has been updated.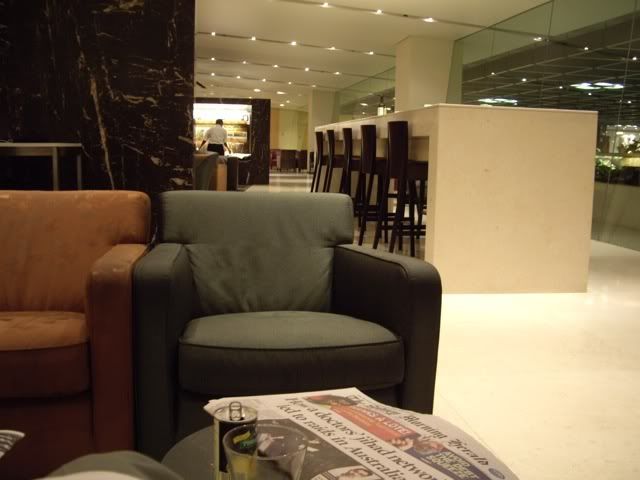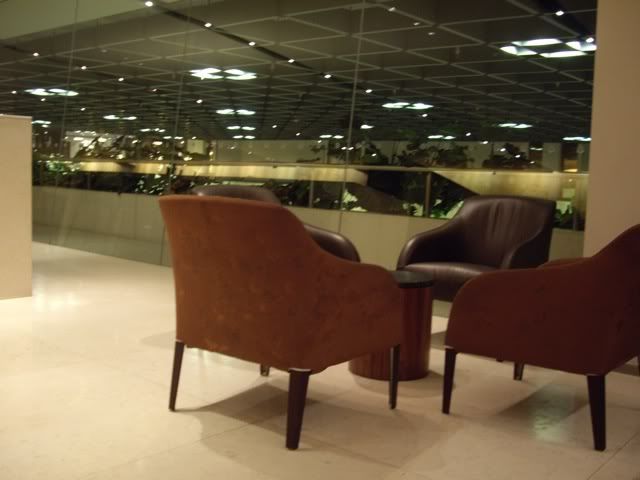 I like the colour scheme, but the layout is rather cramped and confusing. It is a long lounge with glass windows down one side overlooking the terminal area. The food and beverages are served at the entry end, while at the opposite end, and rather difficult to find, are the toilets.
Initially, the lounge was rather busy, but things quietened down later in the evening after most of the other BA and QF flights in transit had left. I found the temperature too warm in the lounge.
The food and beverages on offer were good. You can have a sit down meal if you want, but I decided to wait for the on-board experience, and, as you will see later I am glad I did.
Our boarding gate seemed to be miles away from the lounge, so we didn't waste time getting there when the flight was announced. I can't recall any fuss or crowds when we approached the gate and on boarding we were warmly greeted by name and escorted to our seats. The BA crew were, once again, incredibly friendly and pleased to see us.
BA16, SIN-LHR, a 777-200, scheduled departure 23:15, scheduled arrival 05:55+1, flight time 13:40, seats 2K and 3K.
As usual, champagne and macadamia nuts were offered as soon as we were seated. Then came the procession of hand-outs including toiletry bag, sleeper suit, and menus. Here is the food menu and wine list: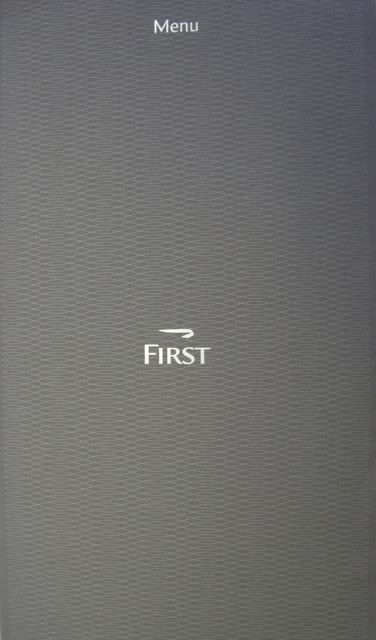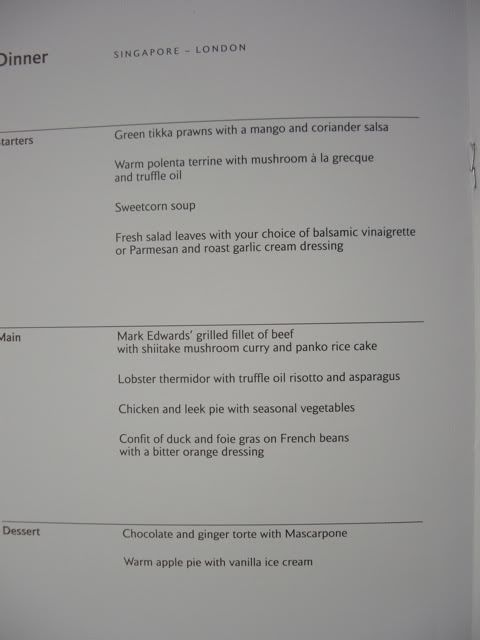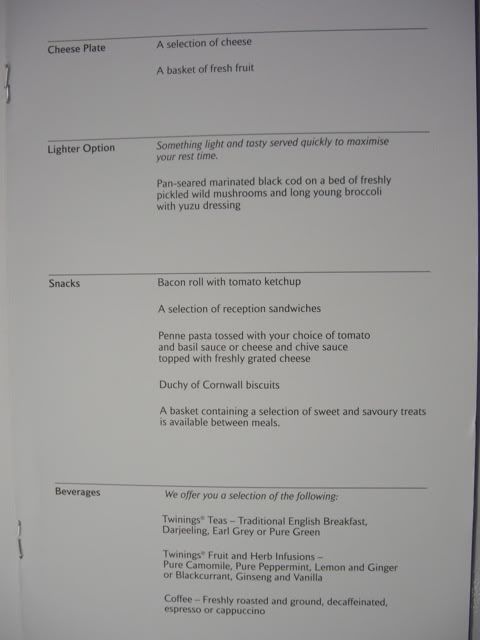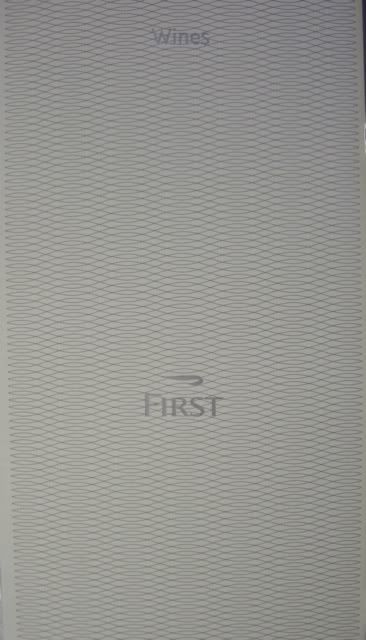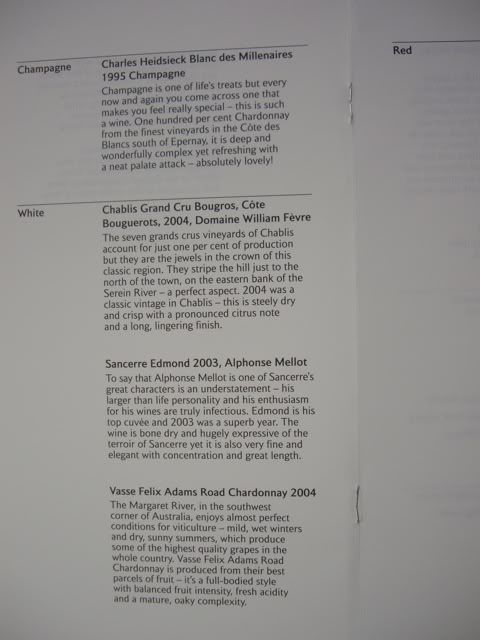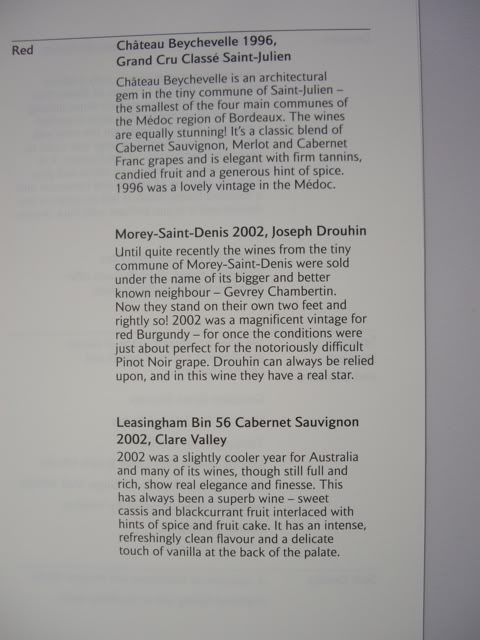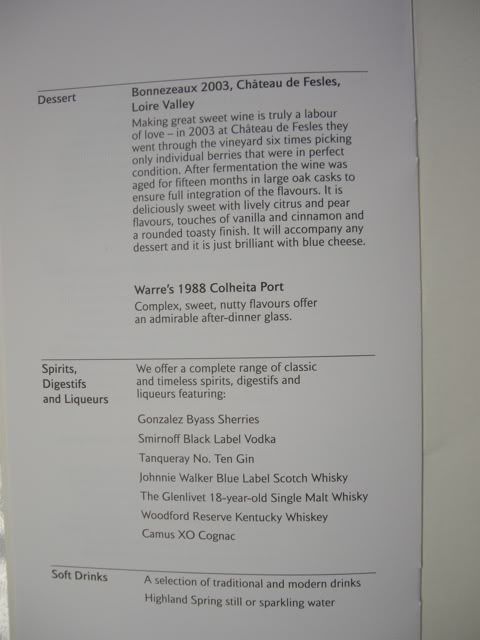 In no time at all, the plane was taxiing for takeoff, and it wasn't a long taxi. We seemed to move from the terminal straight onto the nearest runway and immediately took-off! I don't recall that ever happening before.
The flight left on-time, but soon it was nearly midnight and I had been travelling since 3pm, so I was pleased that cabin service was prompt. As soon as the seat belt sign was extinguished, I changed into my sleeper suit in a miniscule 1st class toilet. I always wait until the plane has taken off before changing, whereas some people do so before the plane even takes off. I have even heard that there have been some pax boarding QF flights already in pyjamas. Tut, tut!!
It was a clear night, and the flight path took us up over Kuala Lumpur where I could clearly see the Petronas Towers all lit up and jewel like. I could tell this was going to be a great flight.
First up were some delicious canapés consisting of a savoury filled puff pastry, a prosciutto covered something, smoked salmon, and a prawn: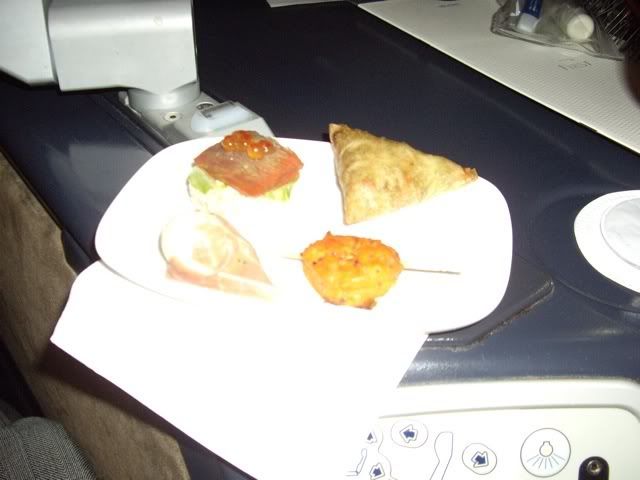 Naturally, I washed this down with a nicely chilled glass of Charles Heidsieck Blanc des Millenaires 1995.
For starters, I had chosen the green tikka prawns with a mango and coriander salsa: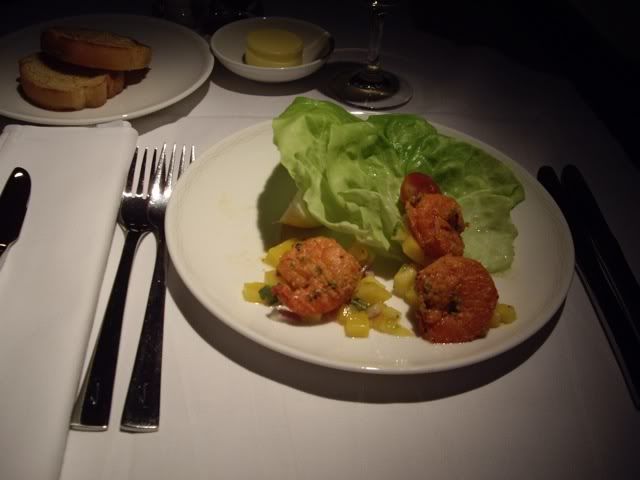 Mmmm. That was yummy. And the garlic bread was a perfect accompaniment.
I followed this with a salad of fresh leaves with asparagus spears and balsamic vinaigrette dressing: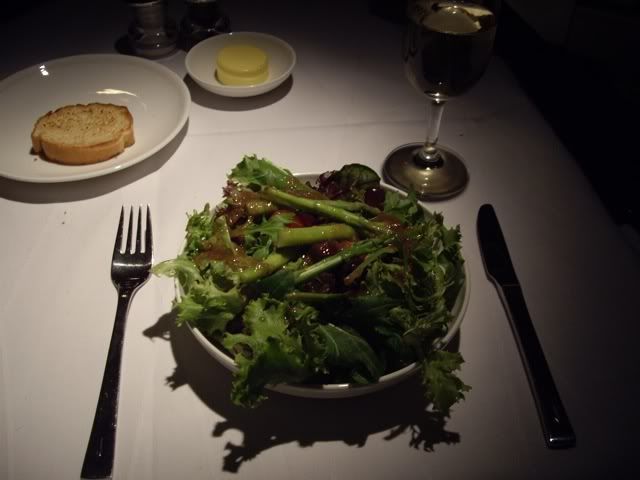 Most refreshing.
Then came the piece de resistance, the Lobster Thermidor with truffle oil risotto, asparagus, and mushrooms: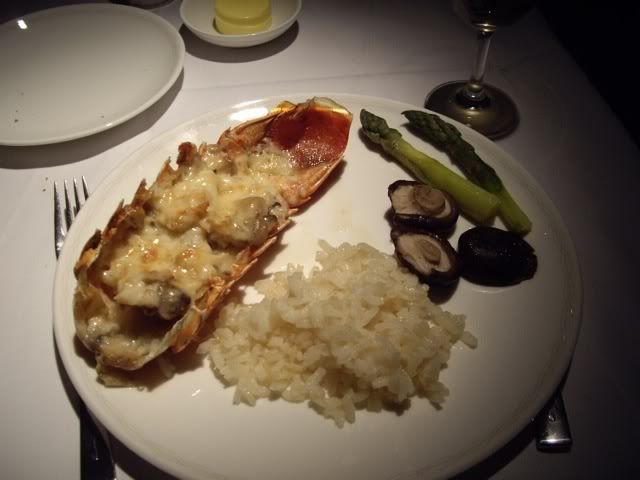 I think this is the first time I have had lobster as a main course in 1st class, and it was spectacularly successful. I could actually taste the lobster. The succulent pieces served in a light cream sauce in the shell. The accompanying rice, mushrooms and asparagus added subtle flavours. Delightful!
The glass of Chablis Grand Cru Bougros, Cote Bouguerots, 2004 matched the course perfectly.
To finish this grand meal, I had a dessert of Chocolate and Gner Torte with Mascarpone:
I probably matched this with a small glass of Bonnezeaux 2003, but I can't remember. Nor can I remember eating after dinner chocolates, although I usually do. I was so sated and tired by this stage – it must have been 2am local - that I didn't bother with having the bed made up, but just fell asleep and didn't stir until 2 hours before arrival at Heathrow.
And at about 2 hours before arrival, the attendants come around to those passengers already awake asking for breakfast orders, so I consulted the menu:
To start, I decided on the chilled fruit juice, bircher muesli, and fresh seasonal fruit plate: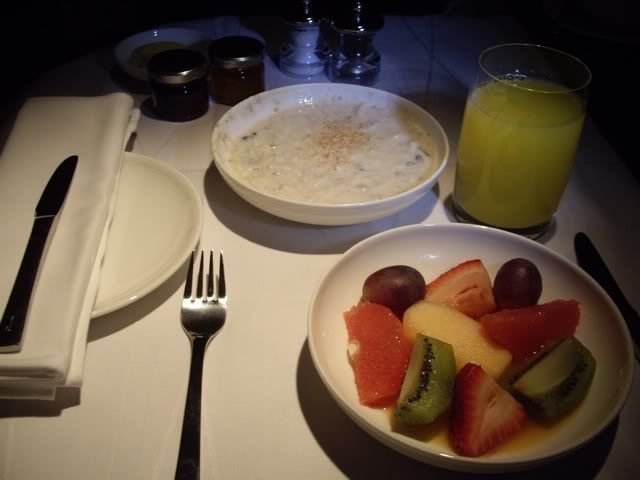 To follow, I didn't feel like the traditional English breakfast but remembered the delicious sandwiches I had on the previous BA flight so I ordered them, together with a cup of tea: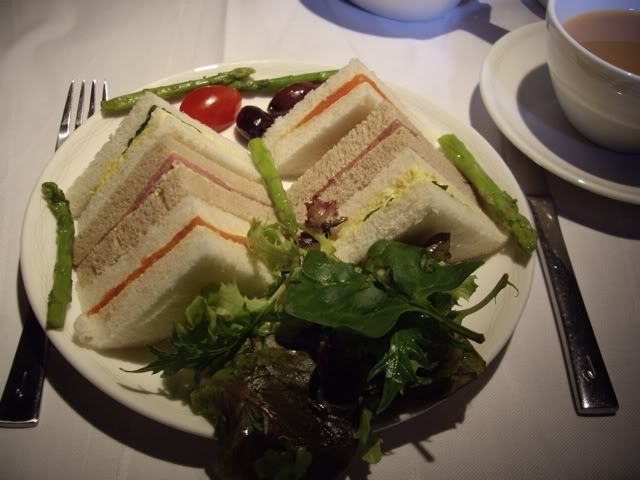 They were somewhat disappointing and not as good as those served on the SYD-BKK sector.
While waiting for the descent into LHR, I took these pictures of the 777 1st class cabin: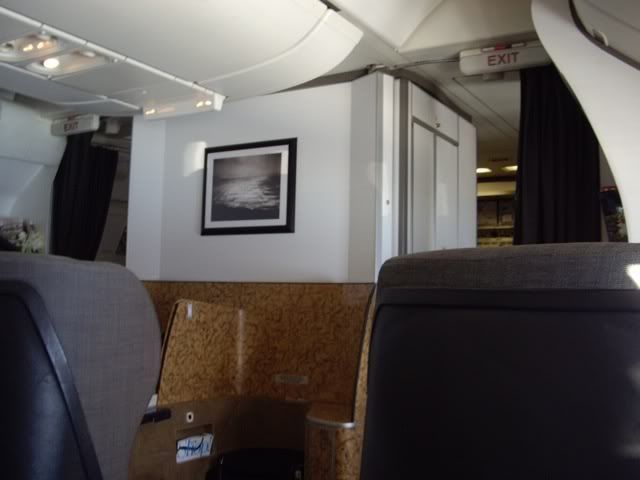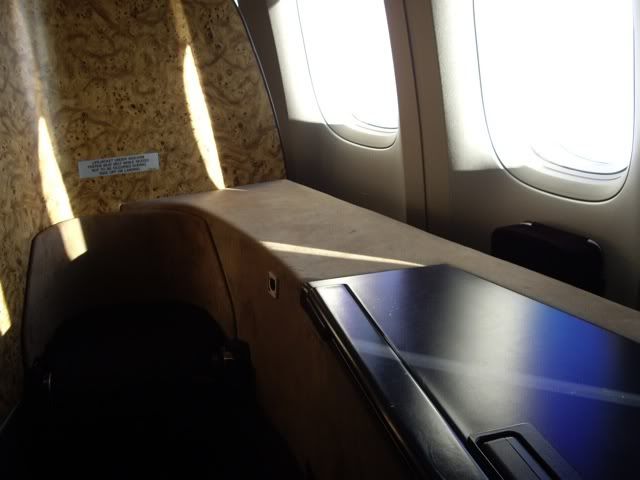 I love the cocoon like privacy of the window seats, and the overall spaciousness of the 777 cabin.
It was a nice morning for our arrival at Heathrow, as the following pictures of our descent show: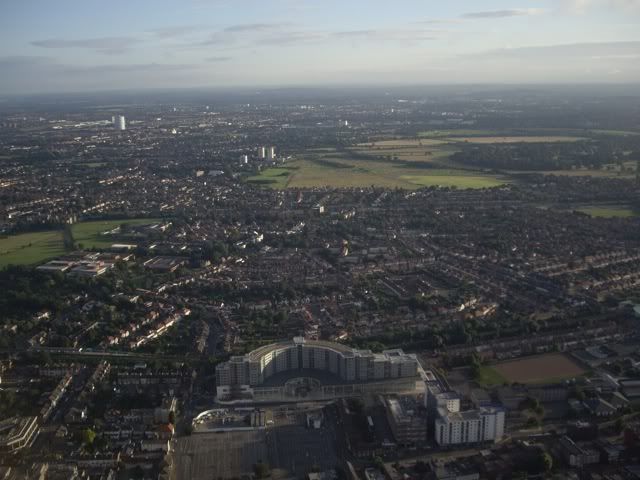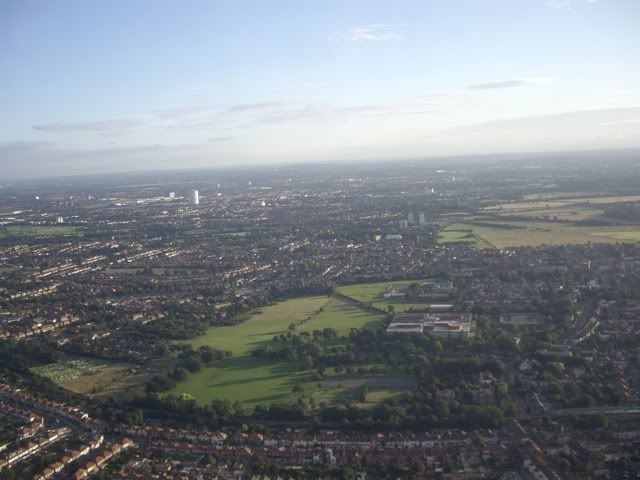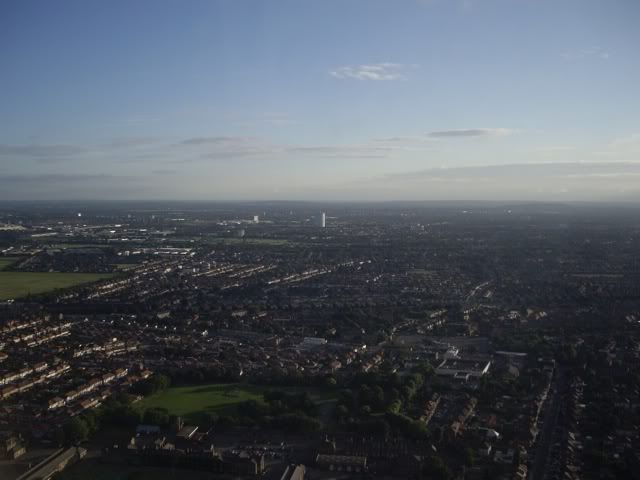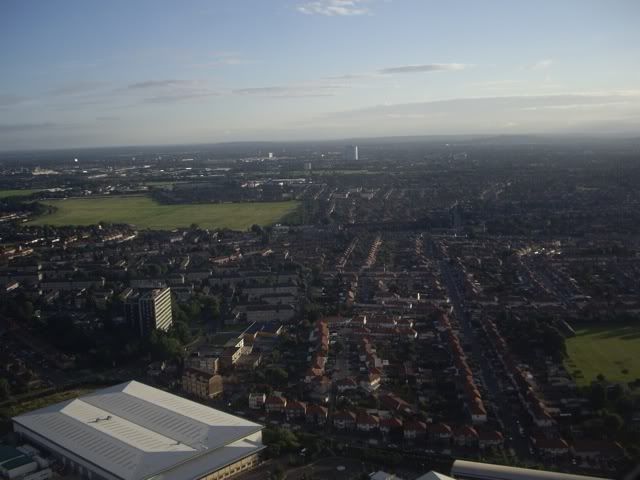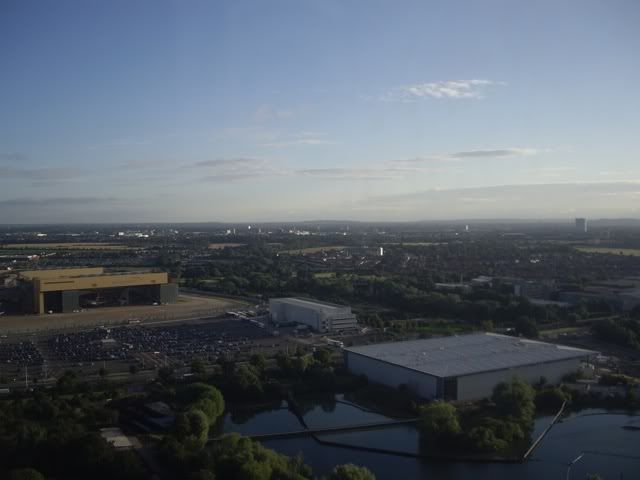 We arrived pretty much on time, but no T4 gates available so had to wait 20 minutes until a bus was sent. This is the second time I have arrived in a 777 to no available gates at LHR. I suppose T5 will alleviate this when it opens next year? The ground staff positioned the stairs at the second door, so 1st class passengers had to scramble with everyone else onto the bus. A second bus was required but nowhere in sight, so as many people as possible stuffed into the first bus. Then the bus seemed to do a tour of the airport. It must have taken another 20 minutes to reach T4. But we needed to get to T1 for a connecting flight to TXL, so the usual fiddling around with security before boarding another bus to get to T1. This is why I really don't like LHR and would avoid it if I could, but when travelling Oneworld to and from Australia, it is almost impossible to avoid LHR.
The 1st lounge at T1 was crowded with the morning peak of business travellers to Europe, but at least I got to have a refreshing shower and then enjoy a famous bacon roll!
Conclusion: the BA service from SIN was really quite good. Again the lack of back-up was obvious – in this case the chaos on the ground when de-planing. This was a rather inglorious finish to what had otherwise been a good 1st class service. I don't know about other travellers, but having to transit Heathrow is now a significant factor in my decisions on which airline to fly and without the discounted ticket and loyalty arrangements, I would have probably gone either SQ or EK because of their connections into Europe. Indeed, after travelling on subsequent sectors with competitively priced business class fares and excellent service on Air Berlin and Spanair (trip reports to be published soon), my future itineraries are likely to contain these carriers as the best way to connect from BA and QF European gateway cities, e.g. FRA rather than LHR.