This is the fourth in a series of Trip Reports detailing my flight experiences on a trip to Europe from Australia in July, 2007. My first report SYD-BKK is here
New QF 1st Lounge & BA10 SYD-BKK 1st Class
(by
Crdaus
Aug 30 2007 in Trip Reports), and my second report is here
TG BKK 1st Lounge & BKK-SIN SQ 1st Class (pics)
(by
Crdaus
Sep 4 2007 in Trip Reports), and my third report is here
SIN-LHR BA 777 1st Class (pics): Continuing Saga
(by
Crdaus
Sep 18 2007 in Trip Reports).
This report covers my experience flying BA, AB, and JK on short haul European hops in business class and affords me the opportunity to compare service offerings of these airlines.
As mentioned in my last report, we were en-route to Berlin and after landing in LHR transferred to T1 for our BA flight to TXL. It was early morning and the 1st class BA lounge was crowded with business commuters crawling all over the abundant breakfast offerings in the lounge. I decided to have shower and change before having anything to eat.
The bathroom was, although smaller than the one I had experienced in T4 on a previous trip, much cleaner: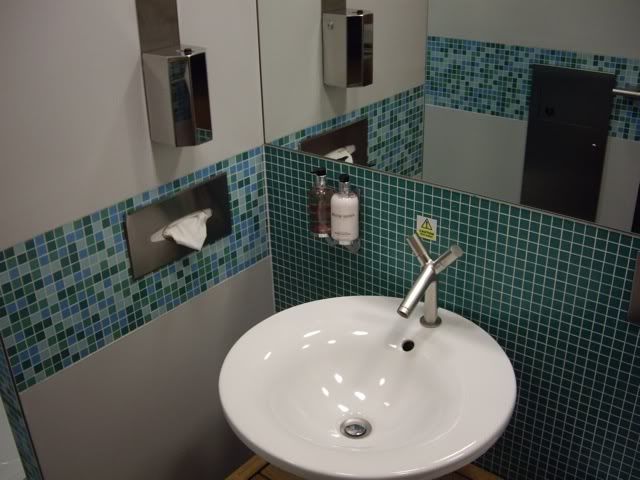 After a refreshing shower, I returned to the lounge and had a cappuccino and a bacon roll. By this time the lounge was less crowded and I had a few minutes to catch up on local news before boarding the flight. On the way to the boarding gate, I took this picture:
LHR-TXL: BA982. Departure: 08:55. ETA: 11:40. Duration: 1:45
Business class. Cost of 2 tickets included in overall BA international fare from Australia.
I had a window seat in the second row on the right: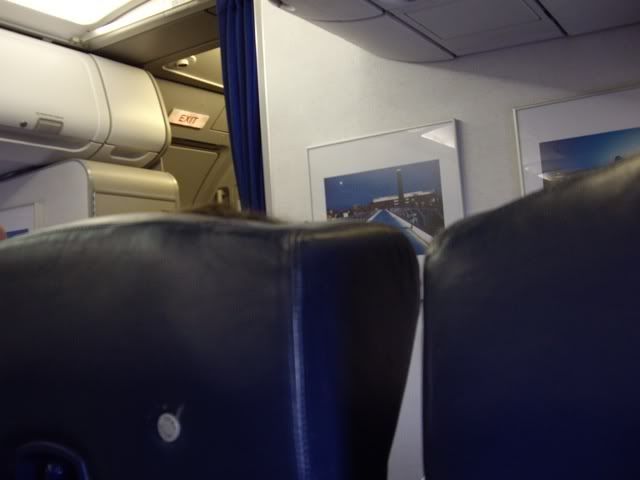 The first thing I noticed about the aircraft was that almost half the cabin was configured as business class seating and the pitch of the seats was extremely tight:
I don't care what the airlines say about seat pitch – if my knees touch the seat in front, then the pitch is too short. Considering I was flying business class, this amount of leg room was appalling.
Soon enough, we were airborne and the F/As busied themselves handing out breakfast trays:
consisting of orange juice, melon and pineapple fruit slices, brioche, and hot breakfast of omelette, bacon, sausage, mushrooms and tomato: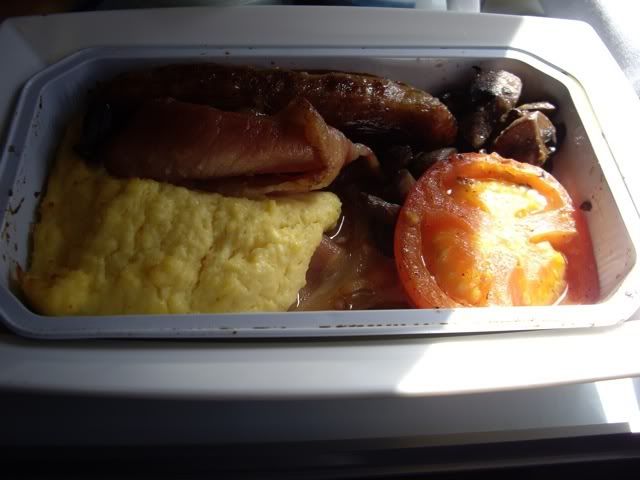 The breakfast was OK and of the usual standard found on BA short-haul.
The flight itself was un-eventful. On descent I took the following pics: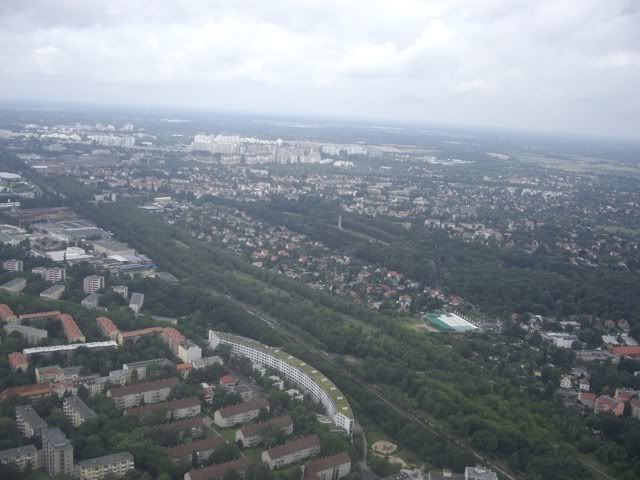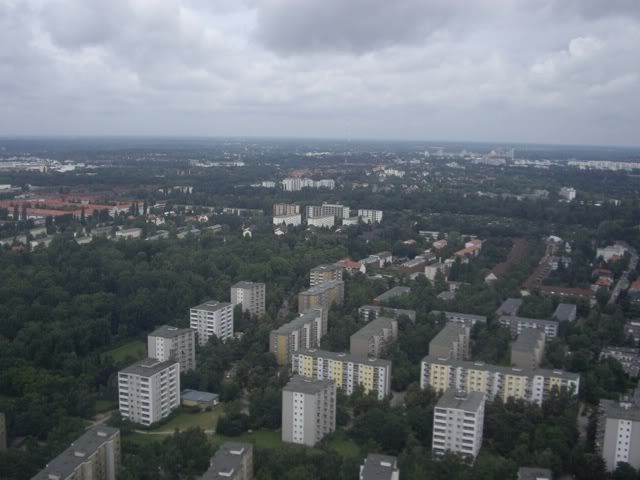 Taxiing to the terminal: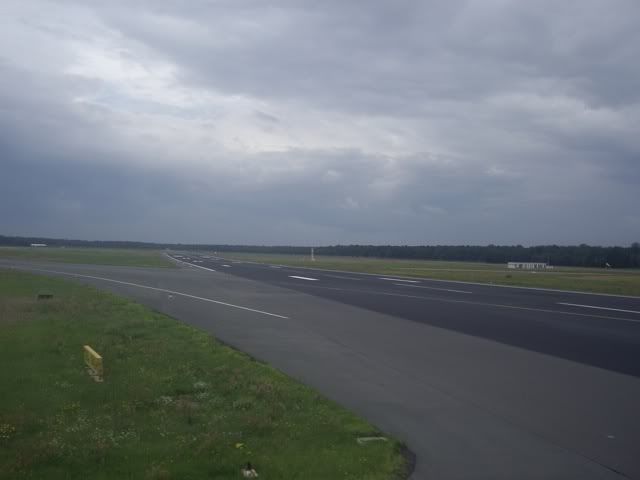 Landing at TXL is like landing at a country airport. It is difficult to believe that this is the main gateway to Berlin. It is very sparse and, at late morning on a week day, quite deserted.
Anyway, this made catching a taxi easy and soon we were at our ultimate destination in Berlin, the Ritz-Carlton in Potsdamerplatz. A nice surprise on our arrival at the hotel was being upgraded to a Club floor room. In my room was this welcoming plate of chocolates:
Notice that the little basket of chocolates itself is made of chocolates: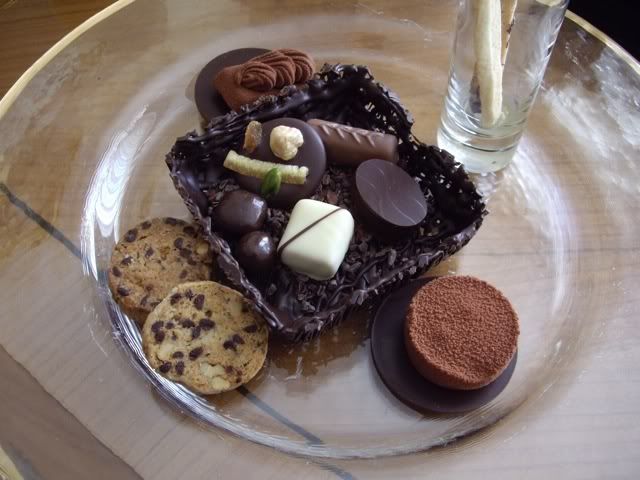 This is a picture of the club floor buffet (blurred I am sorry to say):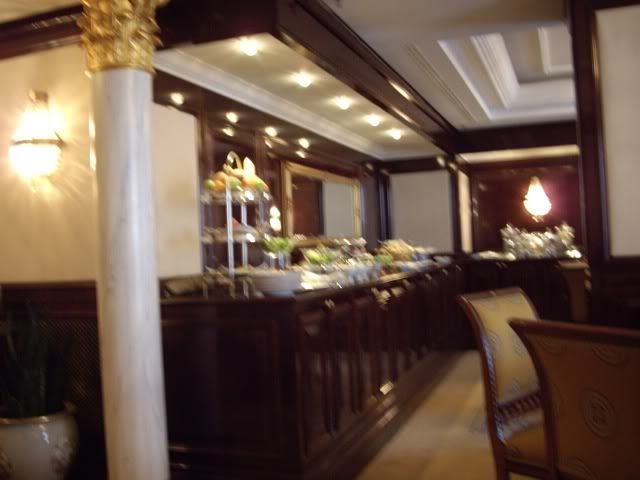 The Ritz-Carlton is an excellent hotel. If you are interested, you can read my review of the hotel here
http://www.tripadvisor.com/Hotel_Rev...e_Ritz_Carlton_Berlin-Berlin.html.
We stayed in Berlin for a week and although we experienced un-seasonal wet and cold weather, we were overwhelmed by the place. It is just so full of historic significance yet displays youthful energy.
The next leg of the journey was a flight to Copenhagen from Berlin. I booked the seats on-line with AB only a couple of days before the flight so probably didn't get such a good deal price wise. Two oneway tickets TXL-CPH cost E460 total. The flight, AB8092, was one hour's duration so I didn't take any pictures. Suffice to say that I was most impressed with the airline, operating as it does a new fleet. My seat on a 737-800 had more legroom than the BA flight from LHR. So much so that I thought I was travelling business class when in fact it was economy! The service from the F/A's was also top notch.
Copenhagen was the port for embarkation on a Baltic cruise, while Stockholm was the ultimate destination. From Stockholm, we flew direct to Barcelona on Spanair business class. Here are the details:
ARN-BCN: JK048. A320. Departure: 15:00. ETA: 18:30. Duration: 3:30.
Business class. Cost of 2 tickets: E386 total.
I had booked this flight via the internet many weeks prior to leaving Australia on this trip and obviously got an excellent price. I was seated in the first row on the left with a window seat. Here is a cabin view from my seat: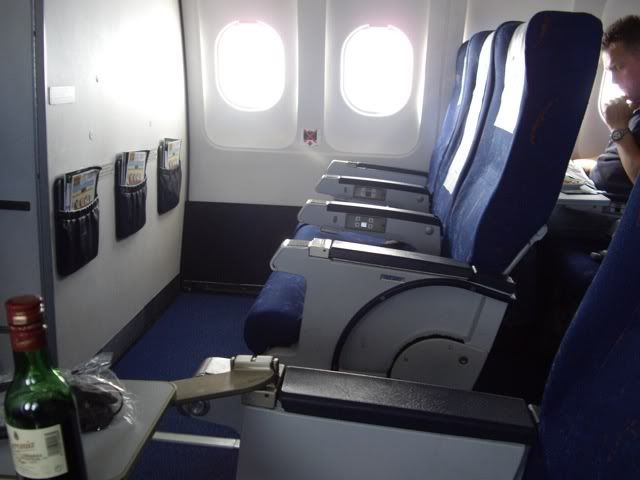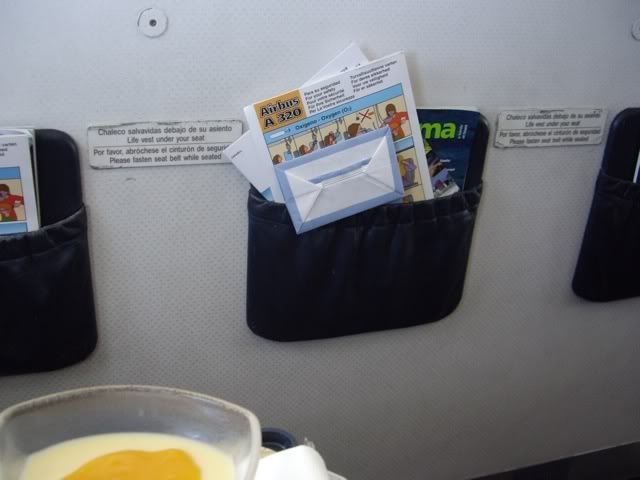 Note the loads of legroom behind the bulkhead, and a few empty seats.
Before lunch, drinks were offered. I chose some red wine with peanuts: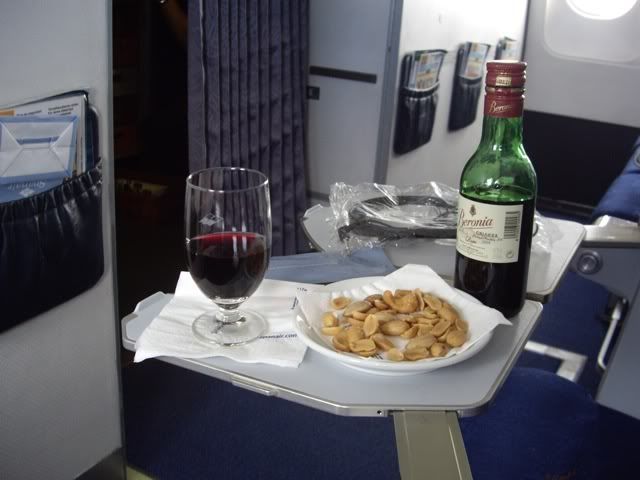 Lunch consisted of a cold savoury starter, followed by a hot dish of steak and vegetables, a small cheese plate with the cheese slices served with a bit of jam, and some sort of custard dessert. Pretty tasty overall and most un-expected for a flight departing at 3pm:
By the time I had consumed the meal and finished the very luscious Spanish red wine I was drinking, we were descending into BCN. Overall, an impressive service and excellent value for money from Spanair. I'll be flying them again.
After a week in beautiful Barcelona and catching up with friends and relatives of my travelling companion, it was time to return to Australia.
The first leg of this involved flying to London.
BCN-LHR: BA481. A320. Departure: 18:30. ETA: 19:45. Duration: 2:15.
Business class. Cost of 2 tickets included in overall BA international fare from Australia.
Checkin at BCN was chaotic as usual. In this case the luggage was being checked through to Melbourne and I was watching for any stuff ups and sure enough nearly had one when the distracted counter clerk mistakenly tagged one of the cases. I alerted him just before the case sailed off on the conveyer belt. He also seemed to fiddle with the boarding passes more than usual – he couldn't print the passes for the connecting flight for some reason – but later at the departure gate, handed them to us. The last thing you want when embarking on a long journey, namely BCN-LHR, LHR-BKK-SYD, SYD-MEL (about 30 hours elapsed) is hassles at either end of it.
We had some time to kill before departure, so rested in the Iberia lounge where at least the seating was comfortable but refreshments were sparse, and the whole lounge was in a poor state of repair with stains on the carpet, in-operative monitors, and staff more interested in talking to each other than looking after guests.
Anyway, on board things improved, but only slightly.
As usual, the leg room was very tight:
After takeoff, the F/A's eventually got around to offering drinks – and a crummy offering at that: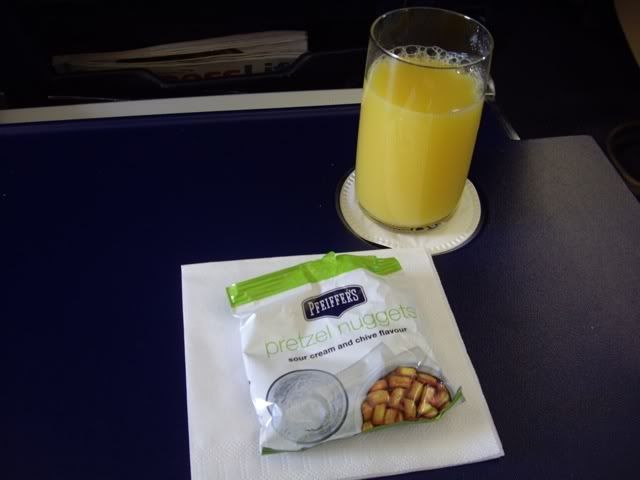 Dinner was just appalling: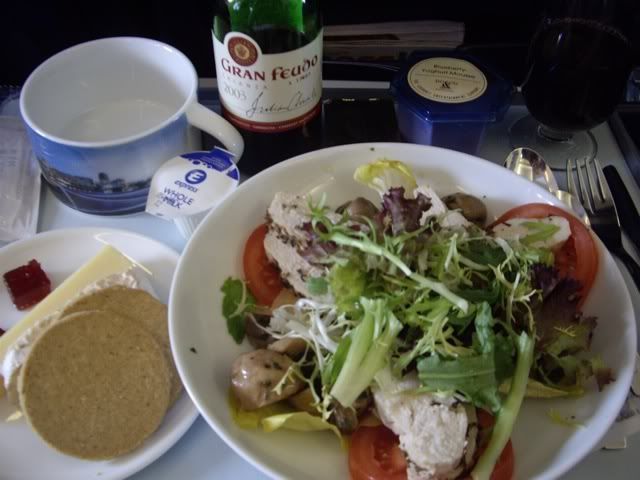 That chicken tasted like cardboard. The "cheese" had no taste whatsoever.
This was not a good start to the long flight home.
Conclusion:
On this trip, the short haul sectors, four of which I have described above on BA, AB, JK, and BA, and QF and SQ (described in my previous reports), have given me the opportunity to compare services on these airlines. While AB wasn't "business class" the leg room, modern aircraft, and pleasant crew more than made up. In the case of JK, they certainly provide a superior product to BA (and, if memory serves me correctly, IB). In fact, I think that BA short haul is dreadful. In future, if the BA fares are not included in my long-haul international ticket price, I won't be flying them if I can avoid it. They pack as many business seats in as they can and provide leg room/seats which I would class as economy. Indeed, QF domestic business class in Australia has more leg room and better service. And for BA to serve such poor food at a designated meal time (departure at 6:30 pm) while JK serve a great meal on a flight departing at 3pm – go figure!
Based on these experiences on short haul flights, the so called "full service", or should I say "legacy", airlines like BA and IB are quite inferior to the newer carriers AB and JK. Indeed, combining newer short haul carriers like these from continental European gateways with international carriers from Australia such as SQ, EK, EY, TG, QF, etc. now offers the dual attraction in future of avoiding LHR, and BA short haul.