….And it most definitely is.
It has become a common standard for practically all airlines to offer meals that you probably would write home about, an IFE system that will keep you company throughout every hour of your flight, a lie-flat seat that could make you feel like you never left your bedroom, and the most advanced aircraft that make you feel like you're not flying altogether…
However, when was the last time you had your call attendant button promptly responded to? Or when was the last time you were addressed by name, not only by crew in your pertaining class, but by ALL crew anywhere and everywhere on board? When was the last time you simply just did not have to ask for something you needed? Is there even a last time?
It is these "non-generic" things that I had once believed are no longer evident when flying today's mainland carriers. Such little gestures are those that could mean nothing in reality, but actually make a significant difference in your on-board experience. It is these little things that go a long way and they are what Cathay Pacific is all about.
Welcome to my 3rd Trip Report.
This TR is on my Cathay Pacific flights from Dubai to Hong Kong and back, including a report on my fantastic holiday in Hong Kong. While I tried to focus mainly on reporting my flights, I got carried away with the pictures of my vacation in Hong Kong. I hope you enjoy it.
My previous TR's are found here:
Cathay Pacific: JFK-DXB
Etihad Airways to Amman Part 1
Etihad Airways to Amman Part 2
Initially, a good a.netter friend of mine was to accompany me on this trip, however, due to unfortunate circumstances, Mr. 9MMAR could not make it. Next time Aziz … Right?
In searching for the most appropriate way to get to Hong Kong, I first came across a promotion that Malaysia Airlines was running. They offered a very attractive deal to HKG in Golden Club Class with decent connection timings. Naturally, a good offer like this coupled with MH's fantastic in-flight service, would have been too good to miss out on.
I initially decided to take MH up on its deal and went to pay my travel consultant a visit (who is also my good friend) in order to make the purchase. He then suggested that he can get me a better fare on Cathay Pacific Business Class non-stop to HKG. Frankly, it was one very generous discount that I could not resist. Instantly I made the booking and purchased my ticket.
In reality, CX was more convenient for me because it did offer a non-stop service to Hong Kong. In addition, being a Oneworld member (RJ), I can accrue points and finally, I would also be flying on a 3-class A333 which does offer the older 'New Business Class' angled lie-flat seats.
Some milestones that I have achieved after this trip are as follows:
1) My first time on an Airbus A330-300;
2) My first time on Cathay Pacific Business Class;
3) My first time to try a lie-flat seat of any kind; and
4) My first time to visit Hong Kong
Approximately 1 week prior to my departure, I had logged on to
www.cathaypacific.com
to see what was on offer in their Duty-Free Pre-Flight Order section. Since I only collect models of airplanes I have been on, I was now entitled to purchasing a CX A333 model. A 1:500 scale model was available (picture at the end of the TR) so I selected it in addition to a CX keychain (picture also at the end of the TR). The selected goods will be brought to you on board for your purchase once you present the confirmation letter to a member of the cabin crew. In my case, I opted to make the purchase on my return leg so as not to carry them around with me.
Thursday September 13th, 2007
At around 12:40 AM I had gotten up from my sleep to drink some water etc. I realized that I can check-in online because the flight opens for check-in 48 hours prior to departure. I checked-in online and selected seat 12A. The flight was looking full about two seats were left open.
A snapshot of Cathay's Online Check-In Interface (not too clear due to resize):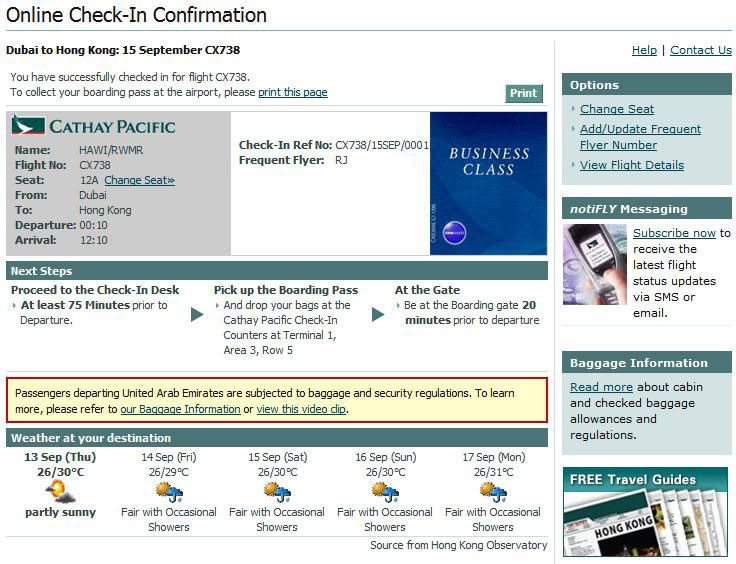 I find Cathay's online check-in service to be very user friendly. In addition you will receive information that only pertains to your departure and arrival airports. For example, information on the new UAE security regulations that have been enforced at DXB was available to me. Also, the exact check-in area and counter numbers used at DXB were accurately stated. Furthermore, you also get your destination's weather forecast for the following few days, which I found to be a decent touch.
Friday September 14th, 2007
I was all packed and ready to go by today. My phone rang at approximately 6:30 PM.
"Hello, is this Mr. Roni Hawi?"
"Yes it is"
"This is Cathay Pacific calling regarding your limo transfer to Dubai Airport, we have you confirmed for a pickup from Abu Dhabi at 9 PM, is this time still ok with you?"
"Actually, would it be possible if you could pick me up at around 8:30 PM?"
"Most certainly sir, may I have directions to your location please?"
I proceeded to give him directions to my house.
I believe that airlines like CX, TG, and SQ contract with Budget rent-a-car to offer premium passengers across the UAE free limousine transfer to/from the airports. This I believe, while possibly not a perk usually offered (not sure), is actually available from the UAE in order to compete with EK.
By around 8:45 PM, my ride to DXB had arrived. The driver had some difficulty in finding my location but eventually I guided him throughout the way. I was however worried that I may not have enough time to comfortably catch my flight. I really hate rushing into things, especially when traveling.
After an hour an a half, we had arrived DXB at around 10:15 PM. I found myself in front of the departure area # 3:

Before going inside, I took a few moments to smoke a cigarette outside and get a feel of the environment at DXB tonight. As it was during the very beginning of the Holy Month of Ramadan here, there weren't many travelers tonight; at least not by Dubai's standards.
I finished smoking then headed inside the departure area. Cathay Pacific's check-in counters are located in the departure area # 3 of Terminal 1, so I was dropped off at the right place.
A random picture of the departure area (Can you spot who is traveling to BKK tonight?):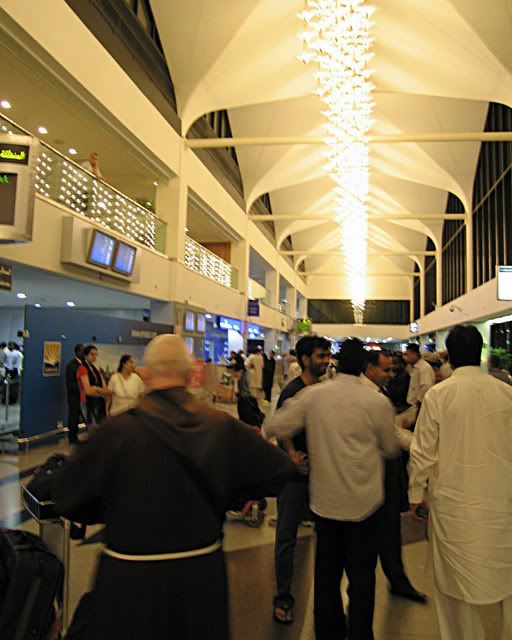 This is where the CX check-in desks are located: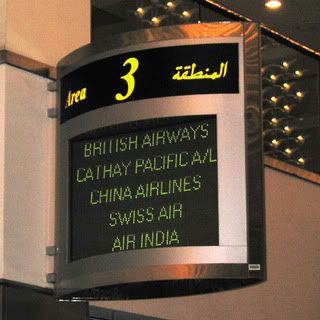 I proceeded through security which did not take so much time and proceeded to the CX check-in desks. By 10:30 PM I had arrived at the Cathay Pacific counters: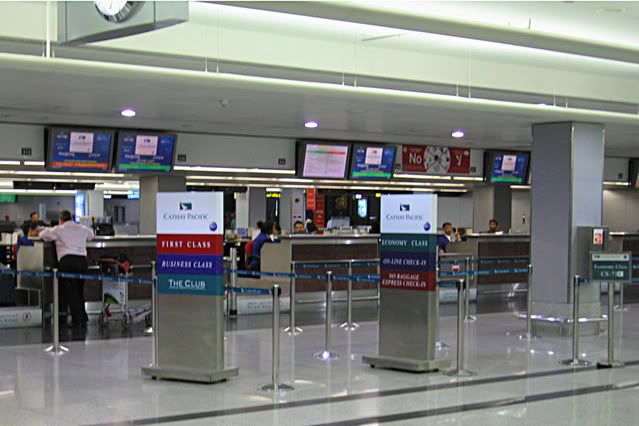 Since the check-in desks were practically deserted I walked up to the first available agent, a cute smiling Chinese lady.
"Good evening sir, how may I help you?"
"Hi, I am traveling to Hong Kong tonight"
"May I see your passport and ticket please?"
I handed her my documents and placed my luggage on the belt. As she processed me for check-in, I thought I would ask her about tonight's aircraft registration. I was always under the impression that you don't ask for the aircraft registrations at check-in, until I traveled with Etihad. Still somewhat hesitant, I asked anyways.
"May I know what the aircraft registration is for tonight's flight?"
"Sir it is an Airbus A330"
"Yes, but what is the registration number?"
"Oh, wait let me check if it is mentioned in the system"
As she attempted a few clicks to check for it on her computer, her colleague told me that it is not usually mentioned in the system.
She then smiled and asked "Do you plan to hijack the plane?" with a chuckle
"No! I'm sorry for asking, I am just into planes that's all, you don't have to tell me what it is"
"It's ok sir, I was just joking"
She then told me that she is afraid of flying, and when she was in Cairo last week, they got delayed because they had to offload one passenger's luggage due to security reasons and that she was scared the whole flight back to DXB.
By 10:35 PM she handed me my boarding pass, ticket, passport, and lounge invitation and said "Have a good flight!"
Boarding Pass:
Lounge Invitation: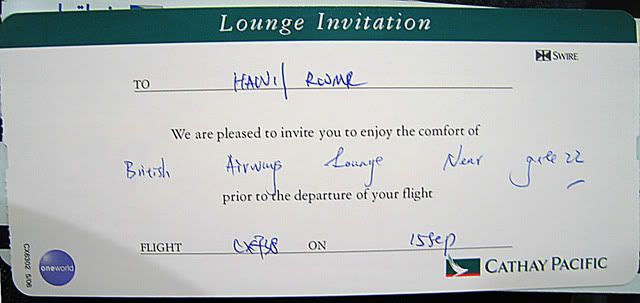 Naturally, being a Oneworld member, Cathay Pacific uses the British Airways Terrace for its premium passengers. I have always wanted to try out one of the BA Terraces, so this was my opportunity.
By 10:40 PM I arrived at immigration. This process was so slow it took forever till I got my turn. Once I got my passport stamped I proceeded to security which was located immediately after immigration. Tonight, security was rather tight. It was very much like that in the USA. Belts and shoes had to come off. Nevertheless it didn't take too long.
After I was done, I proceeded towards the main Sheikh Rashid airside terminal area. Typically, it is a very long walk from immigration/security to get there. Once you get to the building you first arrive into the Duty Free Area. As I got there, I saw that I was somewhat running out of time and I had to at least pay a quick visit at the BA Terrace.
DXB Main Duty Free Hall: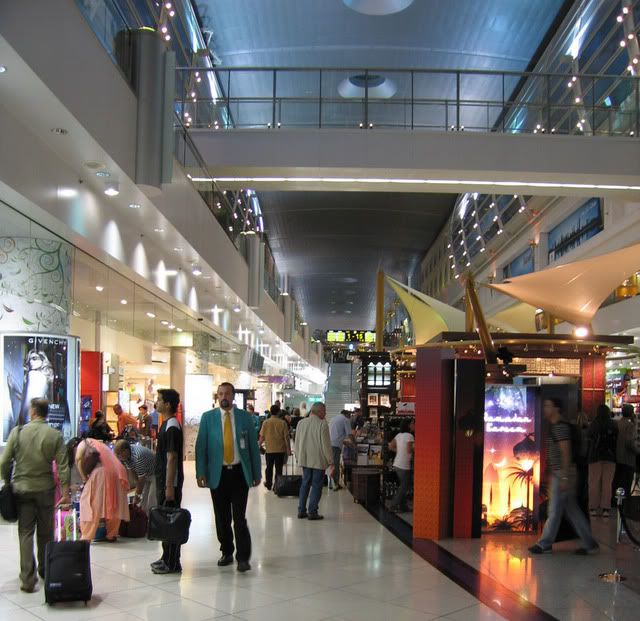 Notice the Cabin Crew here, I believe they were AF Cabin Crew, however, they could have also been for LH, (not sure):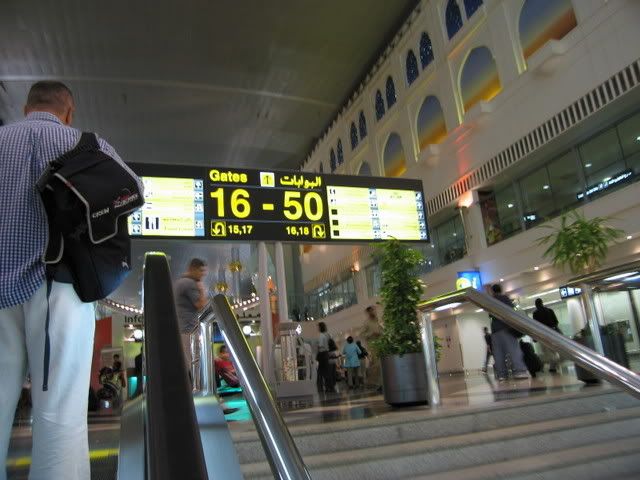 I had only reached the BA lounge at 11:20 PM. I was greeted by a smiling South Asian lady who took my lounge invitation and ushered me to proceed inside. Taking a quick glance around the lounge, I found it to be quite small, however it was quite nice. The main 'terrace' area in the middle of the lounge has a small fountain with seating all around it, which seemed like a nice calm area to sit by.
Some pictures of the BA Terrace at DXB: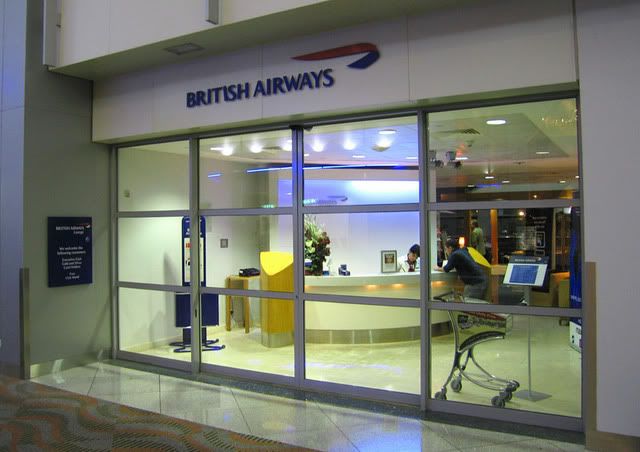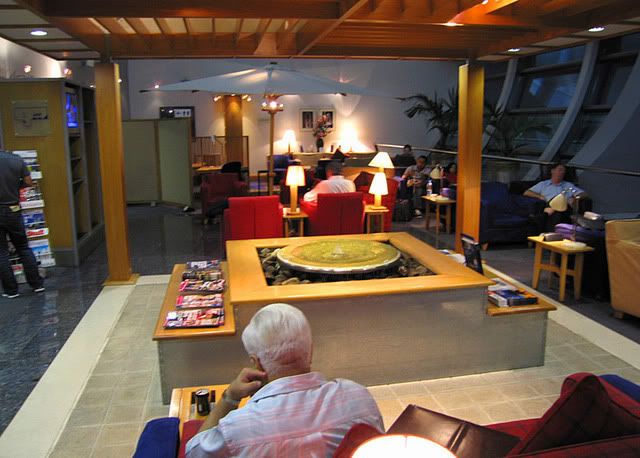 The view from the lounge (KL B772ER To AMS):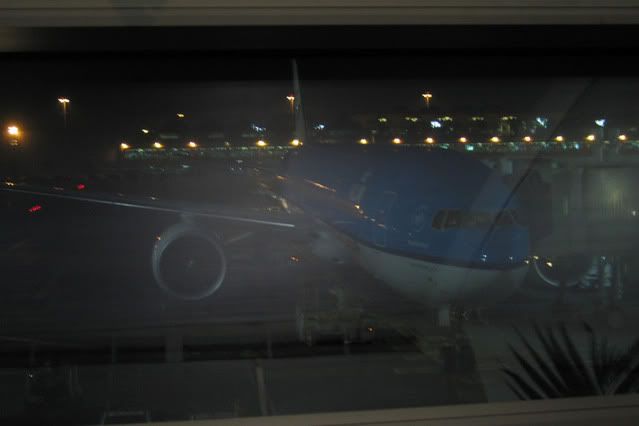 I found a seat to place my luggage in, and headed straight for the food. As evident from the pictures above, the food selection was rather limited, leaving a lot to be desired. As I was looking around, an announcement was made at around 11:30 PM that my flight was ready for boarding. There was no way I was not to sample the food before I got on the plane, so I quickly grabbed a plate and took an Indian Vegetarian pastry. I practically swallowed it rather than chew it, quickly got my stuff, and headed out towards Gate 29. The pastry wasn't anything special, and it was quite cold actually. Sorry I couldn't take anymore pictures at the lounge as time was running out (this is why I hate rushing into things).
When I reached Gate 29, I handed my boarding pass to the DNATA Agent, and as she processed me in, she said "Good evening sir, please wait a few moments in the lounge until your bus arrives. There will be a separate bus for our First & Business Class passengers." I was glad that we were boarding the old manual way, but I wonder why CX prefer not to use the aerobridge at DXB. There was absolutely no congestion tonight, and MANY gates were available. TG, KL, AF, BA, and even Air China were using aerobridges, while we were parked all the way by the Cargo Ramp. Last year we were also deplaned from the same spot. Oh well, either way is fine with me.
Less than five minutes later an announcement was made for First & Business Class passengers to board the aircraft. I guess it was an informal announcement that was made to all of us who had just arrived from the lounge. We were escorted by another DNATA agent to an elevator that took us one level down where our bus was waiting for us. As I got on the bus I quickly took out my camera to take a few snaps of the scenery along the way. Please excuse the quality.
An EK A332 poking its nose: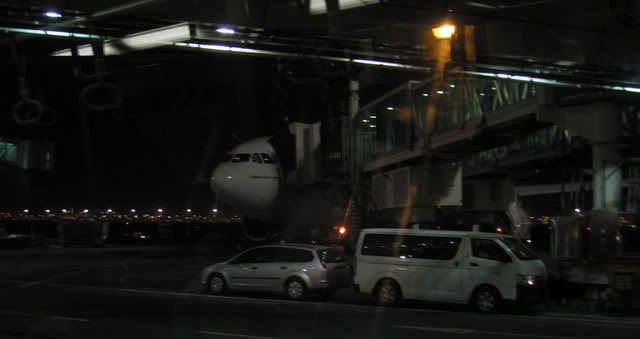 Air China B767 non-stop service to PEK: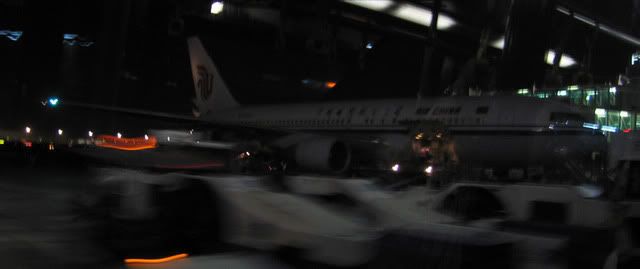 EK 77W (A6-EBH):
EK 77W (A6-EBY):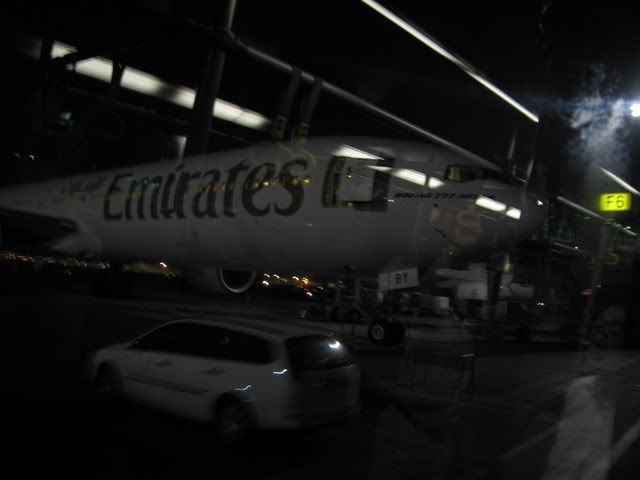 …And finally … after quite the drive, there she was, parked by the ramp, looking beautiful as ever: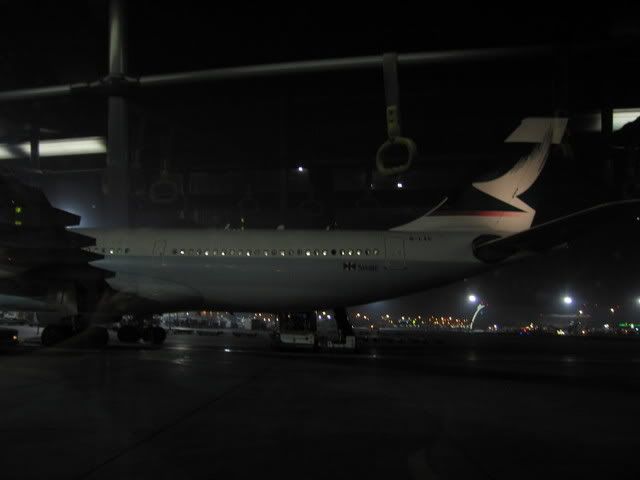 We waited until the economy class passengers ahead of us boarded: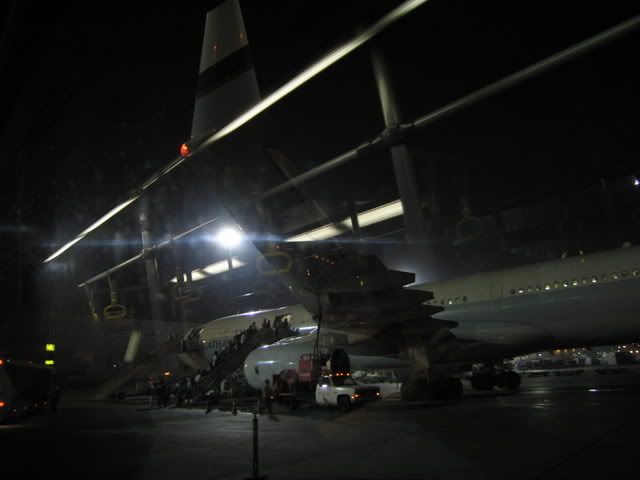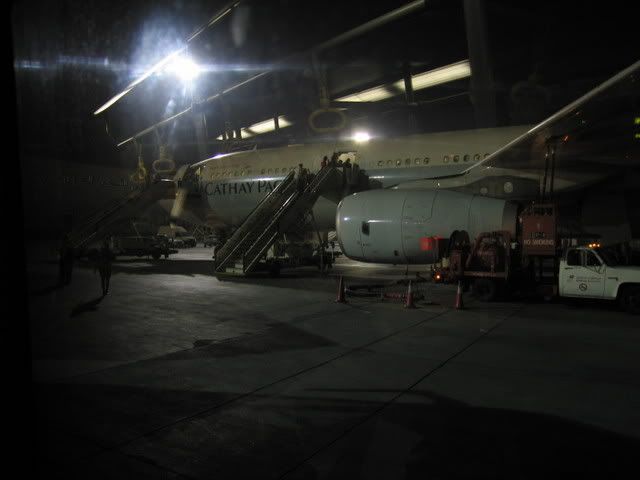 A few moments later, it was our turn: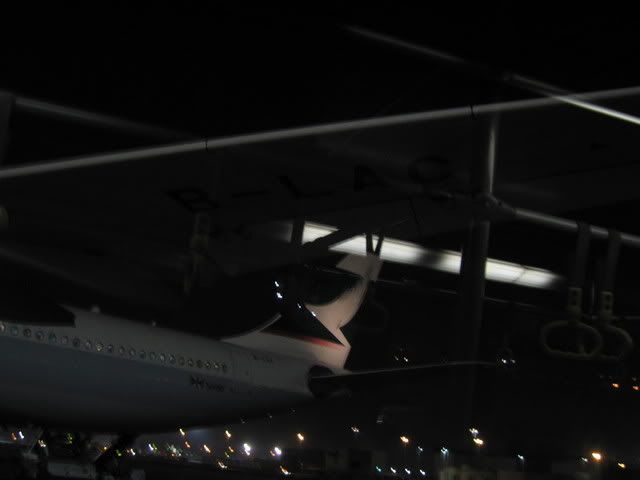 By 11:45 PM, I was on board. I was greeted by a lovely cabin crew who took a quick glance at my boarding pass and said "Mr. Hawi, welcome on board Cathay Pacific, your seat 12A is straight ahead and towards the right."
CONTINUED BELOW