Preamble
Having only yesterday got off a Cathay Pacific A330-300 flight equipped with its new (and not very well received) Business Class, I thought I'd share a short trip report (well, my first actually) and pics, together with some quick comments.
Flight Cathay Pacific Airways CX 722
Registration B-LAE
Kuala Lumpur - Hong Kong
9 October 2007
Dep 1355 Arr 1745 (on time)
Cathay's latest A330-300 was delivered in July 2007 fitted with its new Business Class cabins. Flying mainly on the Sydney and Melbourne runs, it does occasional regional hops like this from HK to KL.
Check in and Boarding
The Malaysia Airlines check-in agent helpfully tells me while handing out my boading pass that "this is a new plane, and a new cabin." Yes I know, I say, that's why I'm flying today!
The cabin is configured 1-1-1 and I am reserved at 21K, the last row in the front cabin. At the gate, my name is called and my seat changed to 22K behind door no.2 because "the PTV at 21K is inoperable." Already? If you follow the conversations going on at Cathay talk and others, you'll know that the new Business Class has been subjected to a lot of flak - from CX friends and foe alike - since it was introduced a couple of months back.
Initial Impressions
Ten rows of Business Class are squeezed in between doors 1 and 2, and another 3 rows are situated in a mini cabin behind door 2. That's where I m seated. With the partition walls and narrow aisles, it strangely feels more like a overnight train than a plane that I am boarding.
The crew is more hassled than usual, and this makes for a slightly chaotic boarding situation. The almost full flight in both J and Y classes doesn't help matters. The normally warm and serene Cathay Pacific Business Class welcome does not materialise: the crew stand awkwardly in corners looking very uncomfortable indeed. Not a good start on what should be an upgraded product offering.
The boarding: rather chaotic at the start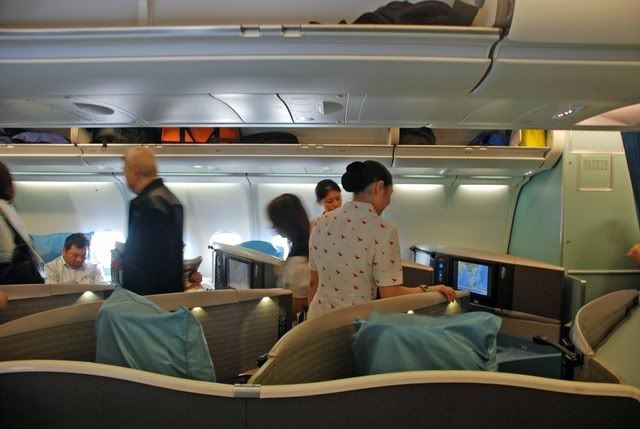 Bulkhead seats have the advantage of having flat surfaces close by; handy for overflowing newspapers and the like. Passengers in other seats may have to contend with having them strewn around their feet.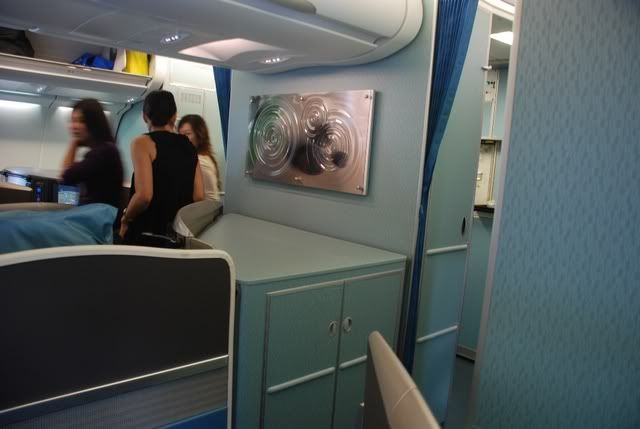 Seat and Service
I plonk myself down at my allocated 22K and first impressions: cramped! The seat is actually not narrow, but the close walls allow for no elbow room whatsoever. My view is of a wall too - but I guess that is marginally better than someone else's feet which is the view from the 'A' side seats. With the angle of the seat and a pillow velcro-ed to the headrest, I am quite confident I'd get a sore neck trying to look out the window, so I give the tarmac a cursory glance and lower the window shades. There are no window seats in Cathay's new Business Class, that I am absolutely certain.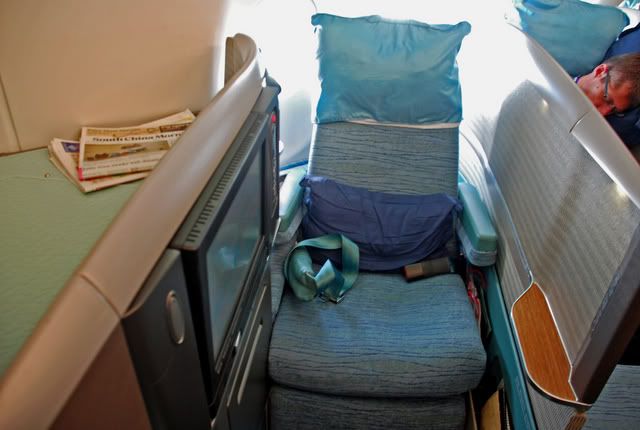 We are 10 minutes late leaving the gate which is not bad considering the late boarding and on our way. Menus, hot towels, juices, champagne are dispensed: the usual CX stuff - only it's not CX as usual. The crew continue to be edgy: they smile but it is an uncertain one. There is none of the friendly confidence that senior crews usually exude on CX. The warmth is not there either. And they forget to address passengers by name - well, at least for this passenger... not that it is such a big deal, but having flown CX more times than I can remember, I can say this is quite rare.
The main Business Class cabin between doors 1 and 2.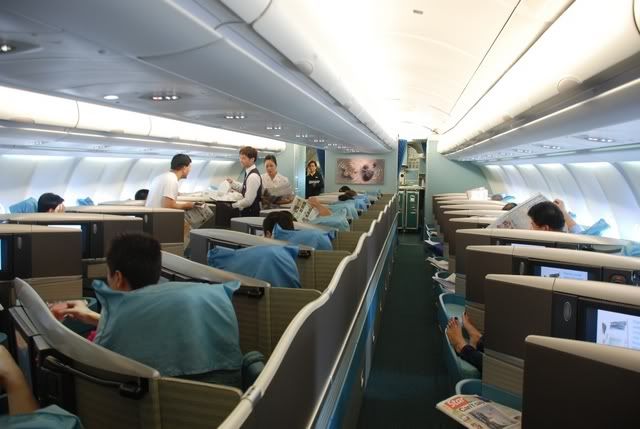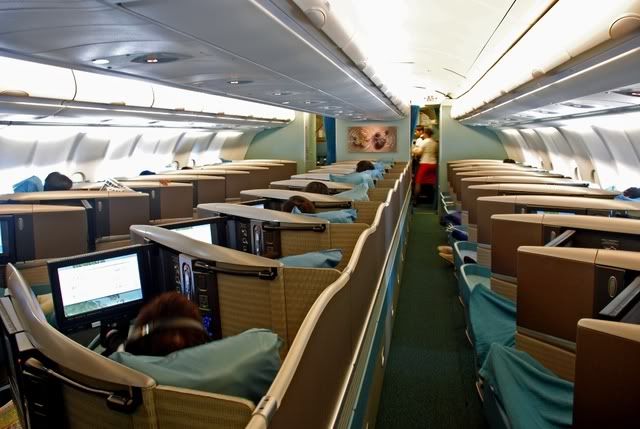 The new AVOD is easy to use and quite responsive. The PTVs are huge. Only problem: they are starting to detach from their mountings. I try to be as gentle as possble, but I don't think the PTV attached to seat 22K will remain attached for very many flights after this. Many have criticised the quality of the fittings on CX's new Business Class, and I can understand why.
The route map displays are real cool.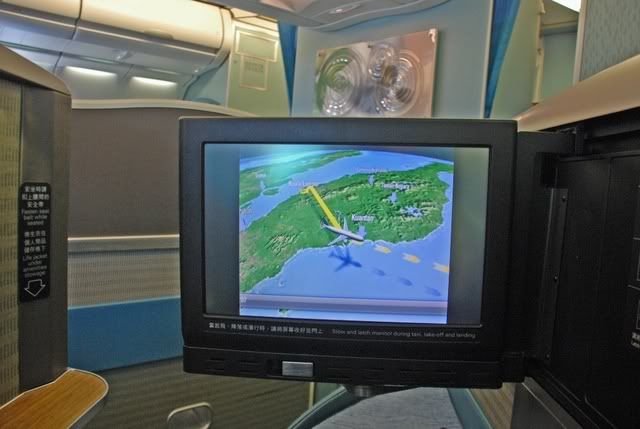 Time to enjoy a movie. The view of this pax from the aisle however can't be very flattering though.
The service is sloooow.. so much slower than I have ever experienced it. The flight time is 3 hours 20 minutes. It takes all of 3 hours - almost the entire flight - for the meal to be served. Just after coffee and as inflight sales are about to start, captain comes on to say we are starting our descent into Chep Lap Kok. The crew must be still finding their feet with the new arrangements. And the cost cutting measures (CX put one less crew member on their newly configured A330s) is having a toll on the service!
It seems the problems fellow a.netter Carfield experienced on the inaugural CX B777-300ER flight are not unique. He writes a much more comprehensive trip report than this here:
CX Boeing 777-300ER Inaugural HKG-ICN RT In J
(by
Carfield
Oct 4 2007 in Trip Reports)
Redeeming features
It sounds like all complaints, but it isn't all bad actually.
I get used to the space eventually and the recline is seamless, which is better than say NZ, where the transformation from seat to bed has to be deliberate.
The seat - as a seat - is rather comfy (if only they could get in more elbow room) and is definitely more comfortable to sit in than SQ's highly acclaimed new Business Class, imo, of course.
As a bed, it fits me fine but I am of average Asian build and height. If you're taller than 180cm, I suspect you'd have an overhang in the aisle.
And we land on time.
The PTV controls, laptop power supply are also sensibly located within reach.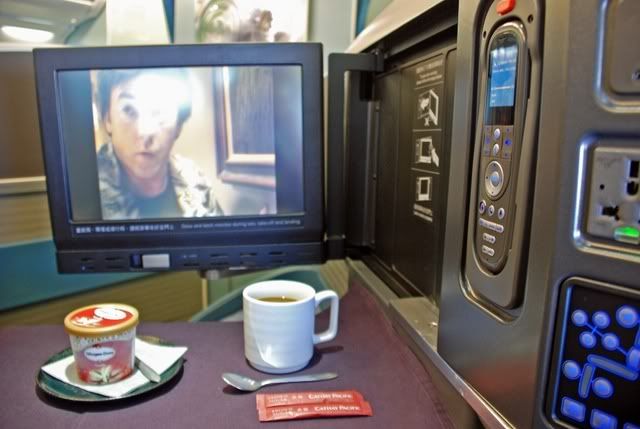 Thanks for reading.